Oslo is a great place to start (and end) your Norwegian adventure, and in this post, we'll share how to spend a Sunday afternoon in Oslo, Norway in the winter.
*P.S. this post contains some affiliate links. At no additional cost to you, we may earn a small commission when you make a purchase.
A Brief Intro to Oslo, Norway
Oslo is a lively and modern city with a unique Nordic feel. Set against a beautiful backdrop of mountains and sea, Viking history and old wooden neighborhoods meet hip districts with innovative architecture and exciting entertainment in Oslo's city center. With its variety of ethnic cuisines, gourmet restaurants, top-quality wine bars, famous clubs and more, Oslo is one of the most appealing urban destinations in the North.
Oslo was founded at the end of the Viking Age in 1040 and established as a key trading place less than a decade later. Since then, Oslo has become the economic and governmental center of Norway, serving as a hub for the banking, shipping and maritime industries and maritime trade. It's Norway's capital city and its most populous city – and it was once ranked number one in terms of quality of life among large European cities.
That being said, Oslo is also one of the most expensive cities in the world, so have your wallet at the ready when traveling here!
How to Get to Oslo from the U.S.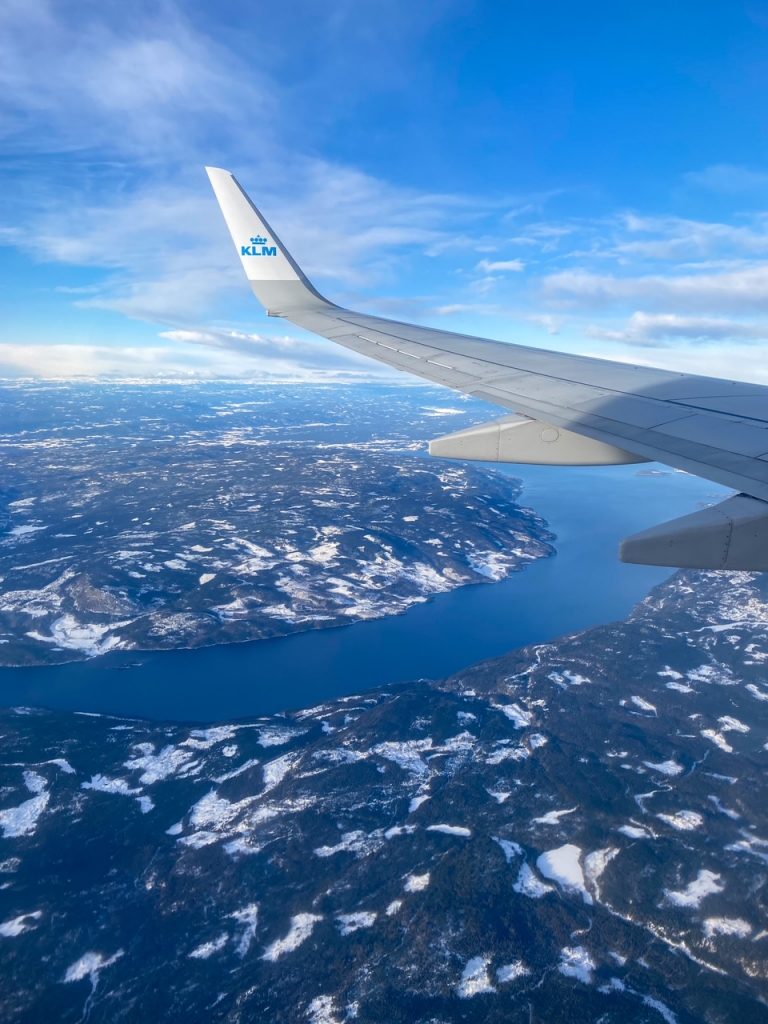 When traveling from the U.S. to Norway, Oslo Airport is one of the cheapest and most convenient airports to fly into. We began our winter Norway trip on a Saturday afternoon, departing from George Bush Intercontinental/Houston Airport (IAH) on an overnight KLM flight. KLM, who is a partner of Delta, was our best option in terms of timing, and we were pleasantly surprised by their fantastic service. Our flight attendant was a solid 10/10!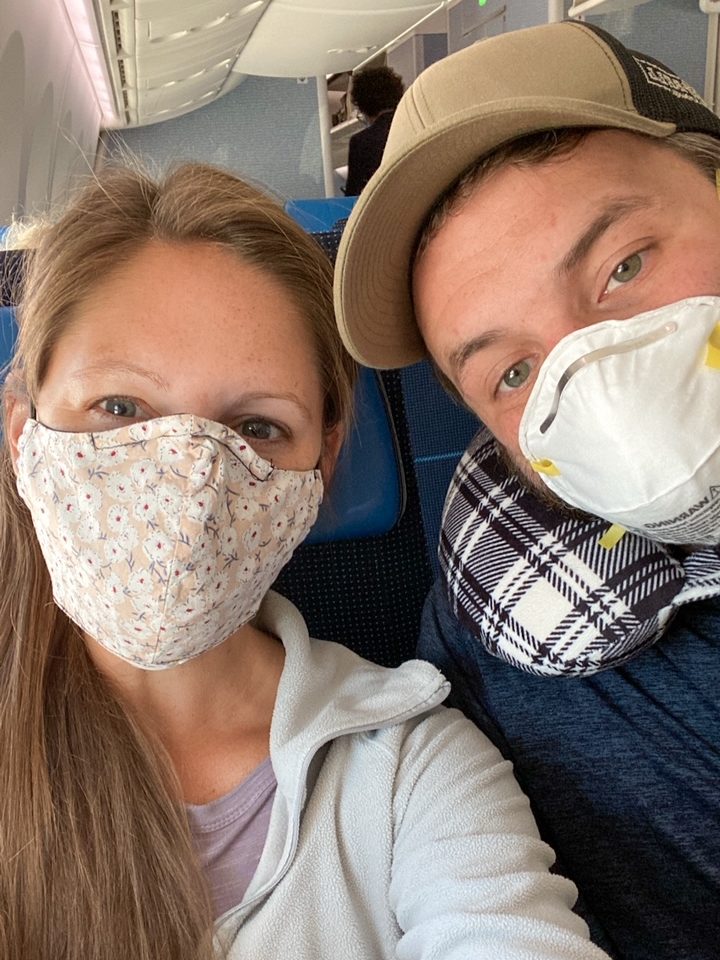 We ate dinner on the plane, which consisted of two options – chicken or pasta – along with some side dishes, non-alocoholic beverages and wine.
A Broad Recommendation: for long haul flights, I typically set my watch/phone to my final destination's time zone and act as if I'm already there. Oslo is 7 hours ahead of Houston, so once we had dinner (around 5 pm or so), I tried to get some sleep.
We arrived at Amsterdam Airport Schiphol (AMS) Sunday morning – right on time and with no issues! If you've read about our experience traveling to Kenya, you know that this was a huge relief for us. Here, we had a 2.5-hour layover before our 2-hour flight to Oslo Lufthavn (OSL).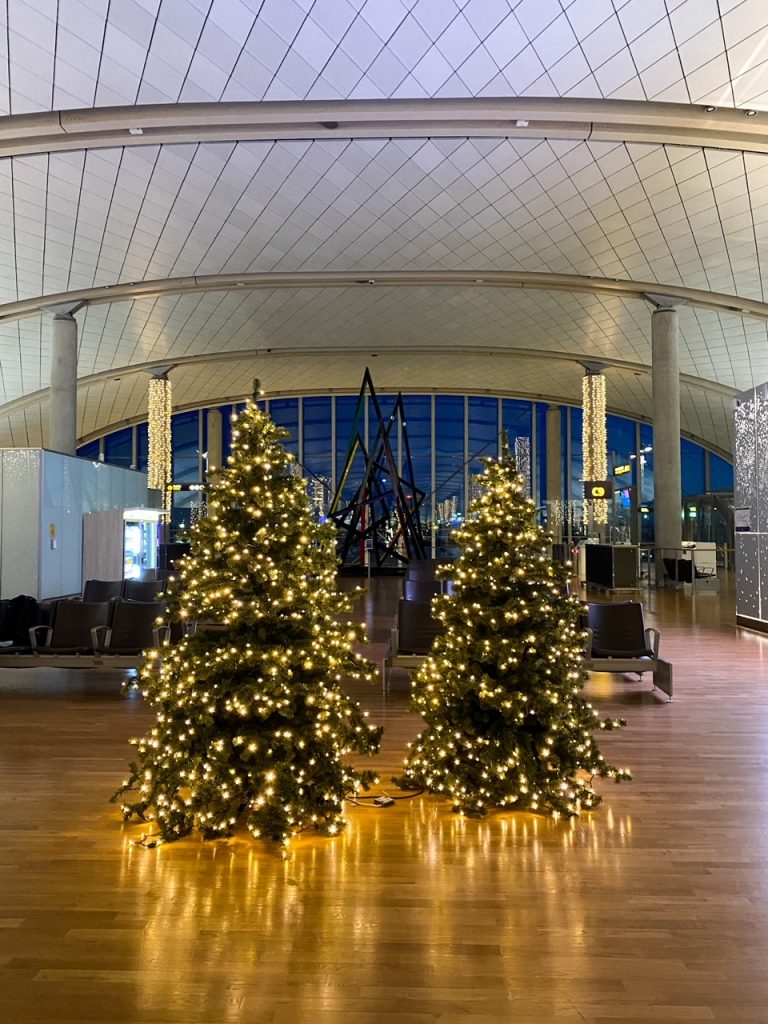 We ended up arriving in Oslo a bit late and had to wait for our luggage. Luckily, we'd prearranged a private transfer through Tumlare Corporation Hungary Kft. to drop us off directly at our hotel in Oslo.
Since it takes about 40 minutes to get from the Oslo Airport to the city center, we used private vehicle transfers on both legs of our trip. Although they're a bit pricier than taking a taxi, train or bus, knowing that we had guaranteed transportation was well worth the cost, even if just for peace of mind.
Where to Stay in Oslo, Norway
Clarion Hotel The Hub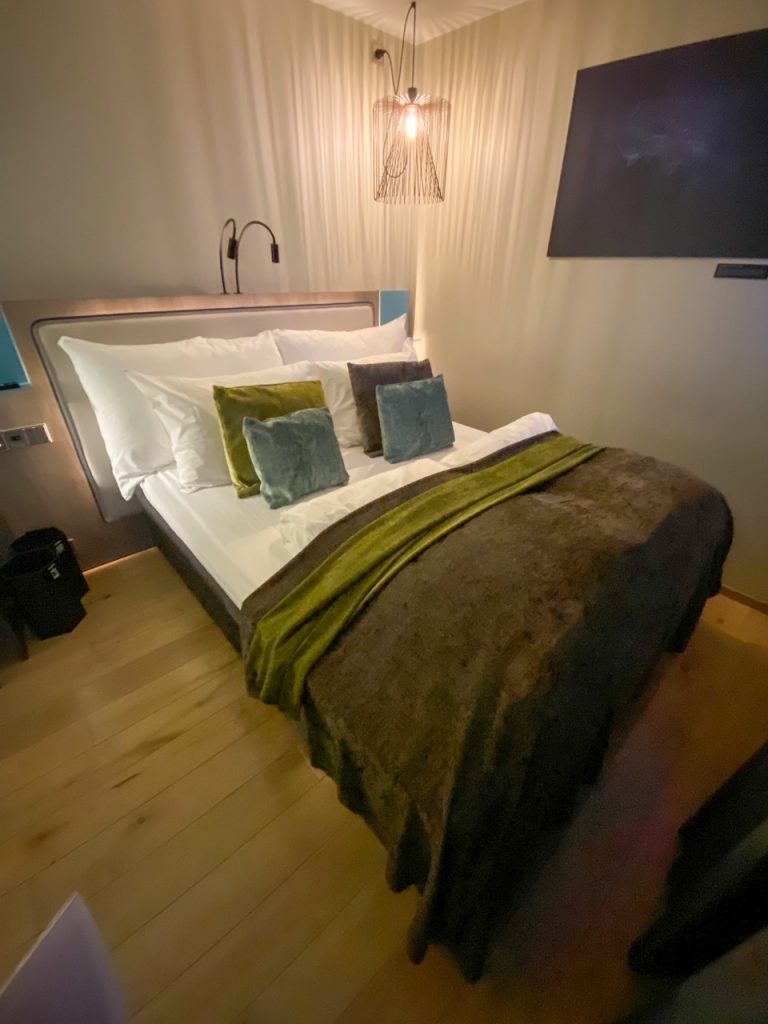 For our first night in Norway, we stayed at the Clarion Hotel The Hub, which is one of the best luxury hotels in Oslo. The hotel has an excellent location, right in Oslo's city center, and is walkable to some of the city's best bars, cafés, shops and restaurants, as well as Oslo Central Station.
Note: this hotel does not allow you to check in before 3 pm without paying an additional fee, but we were able to store our luggage for free.
The hotel offers guests a breakfast buffet, but unfortunately, we left too early the next morning to fully take advantage of this. We were, however, able to take a few snacks with us from the small buffet they'd set up ahead of time, which was nice!
Thon Hotel Opera
For our last night in Norway, we made our way back to Oslo, after visiting Kirkenes, Rotsund, Tromsø, Bergen and Flåm, and stayed at the Thon Hotel Opera. The Thon Hotel Opera is a modern hotel with a great location for sightseeing and public transportation. It's near the Oslo Opera House and Oslo Central Station, and its rooms have views of either the fjord or the city center.
The hotel offers fitness facilities, a restaurant and bar, and free breakfast. Since we had another early morning flight out and missed the free breakfast, the hotel provided us with a boxed breakfast to take with us instead, which we felt was a thoughtful gesture.
At this point during our 12-day Norway trip, we were all a bit tired, and it looks like I forgot to take pictures of this hotel. Guess you'll just have to stay here and see it for yourself!
Should You Get an Oslo Pass?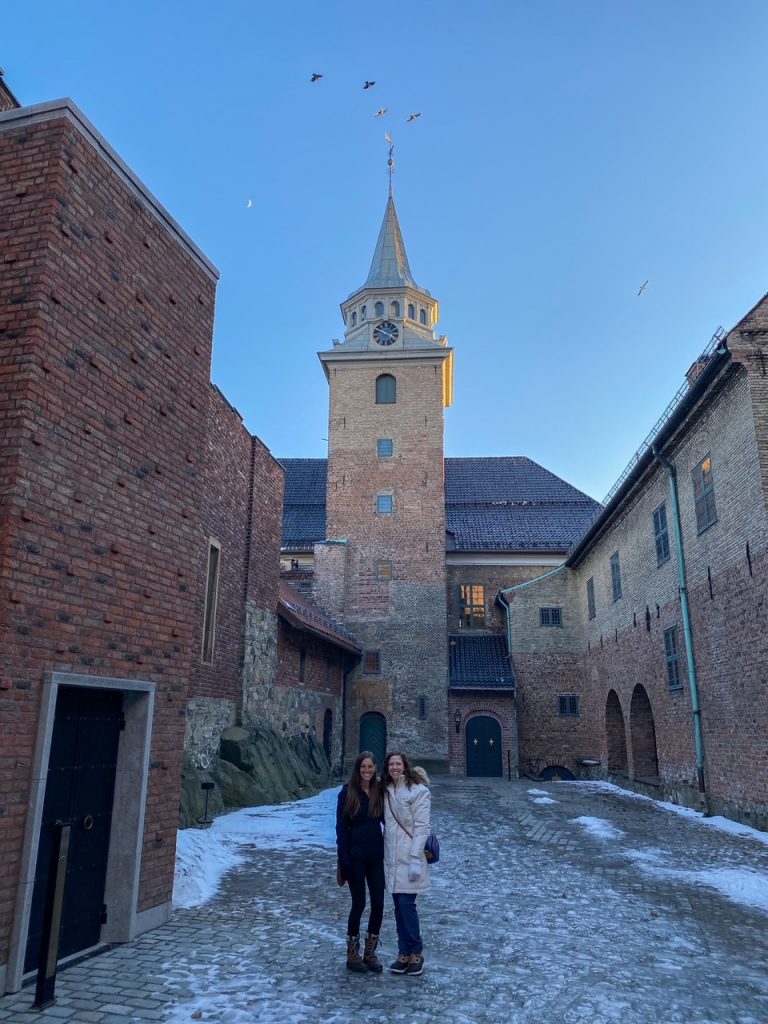 After dropping off our luggage at the hotel, we planned to spend the afternoon exploring with the Oslo Pass. Unfortunately, you can't pick them up on Sundays, and there was no option for getting our passes online without purchasing new ones.
If you get your Oslo Pass online or arrive any other day of the week, the Oslo Pass is likely a great idea! There are tons of things to do in Oslo with the Oslo Pass. It gives you free entry to more than 30 museums and attractions, free travel on all public transport and access to free walking tours, as well as discounts on various attractions, restaurants, concert tickets, bike rentals and more.
The card is active for 24 hours from the time you validate it. It can't be transferred or used by another person and will not be refunded or replaced if unused, lost or stolen.
Sunday Afternoon Oslo Itinerary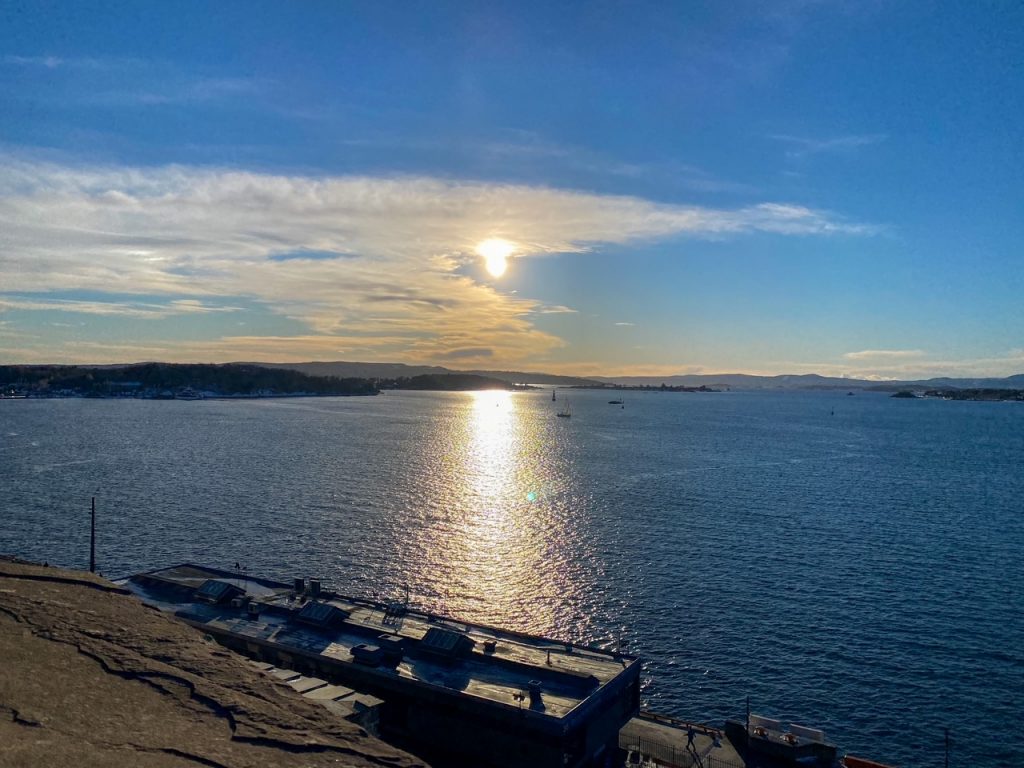 In the beginning of February, which is when we visited Oslo, the sun rises around 8:20 am and sets around 4:45 pm. February is one of Oslo's coldest months with temperatures ranging between 20 and 30 degrees Fahrenheit, and lots of attractions are closed or open for limited hours. This means that we didn't have a lot of time to explore nor were we able to visit some of the attractions at the top of our wish list. I guess we'll just have to go back and do those another time!
A Broad Recommendation: come prepared for cold weather and pack lots of layers, since you'll be in-and-out of buildings throughout the day. We've put together The Ultimate Travel Packing List for Winter in Norway to ensure that you arrive in Norway with everything you need.
Despite the challenges that come with visiting Oslo in the winter (and on a Sunday), we still had a fun day walking around and exploring. Here's what we did.
Walk Around Aker Brygge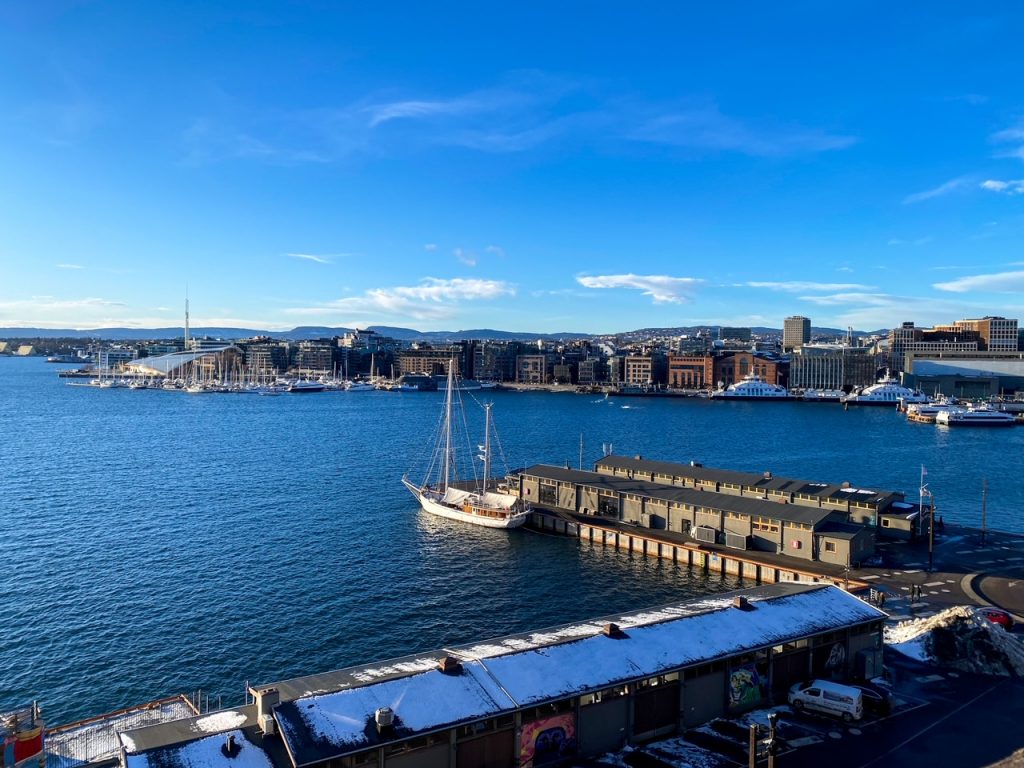 After making our way from the Clarion Hotel the Hub and searching for the Oslo Pass pick-up location, we meandered over to the Aker Brygge neighborhood. Previously an industrial area, the Aker Brygge neighborhood is now a high-end residential area that's popular for shopping, dining and entertainment. Here, you can enjoy a nice walk along the seafront and take in the gorgeous views of the Oslo harbor and fjord.
Explore Akershus Fortress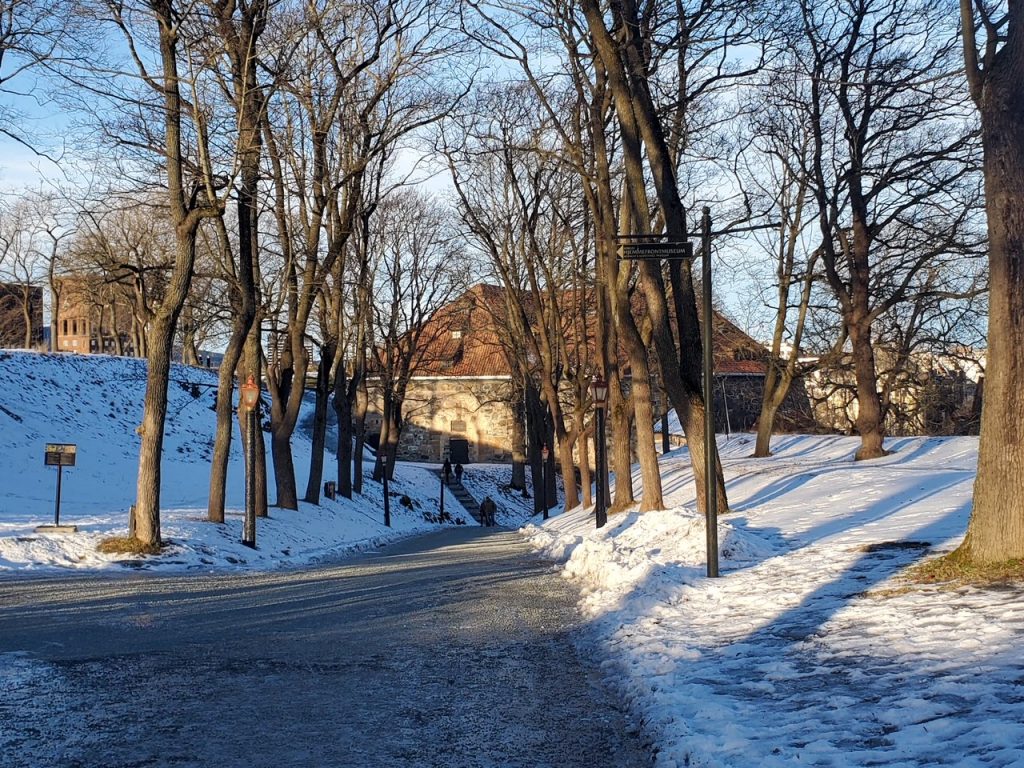 Next, we visited Akershus Fortress, which is normally included with the Oslo Pass. Since our friends arrived the previous day and were able to pick up their passes, they were kind enough to split the entrance cost with us. So, both couples only paid for one adult ticket at 100 NOK (~$10 USD) each.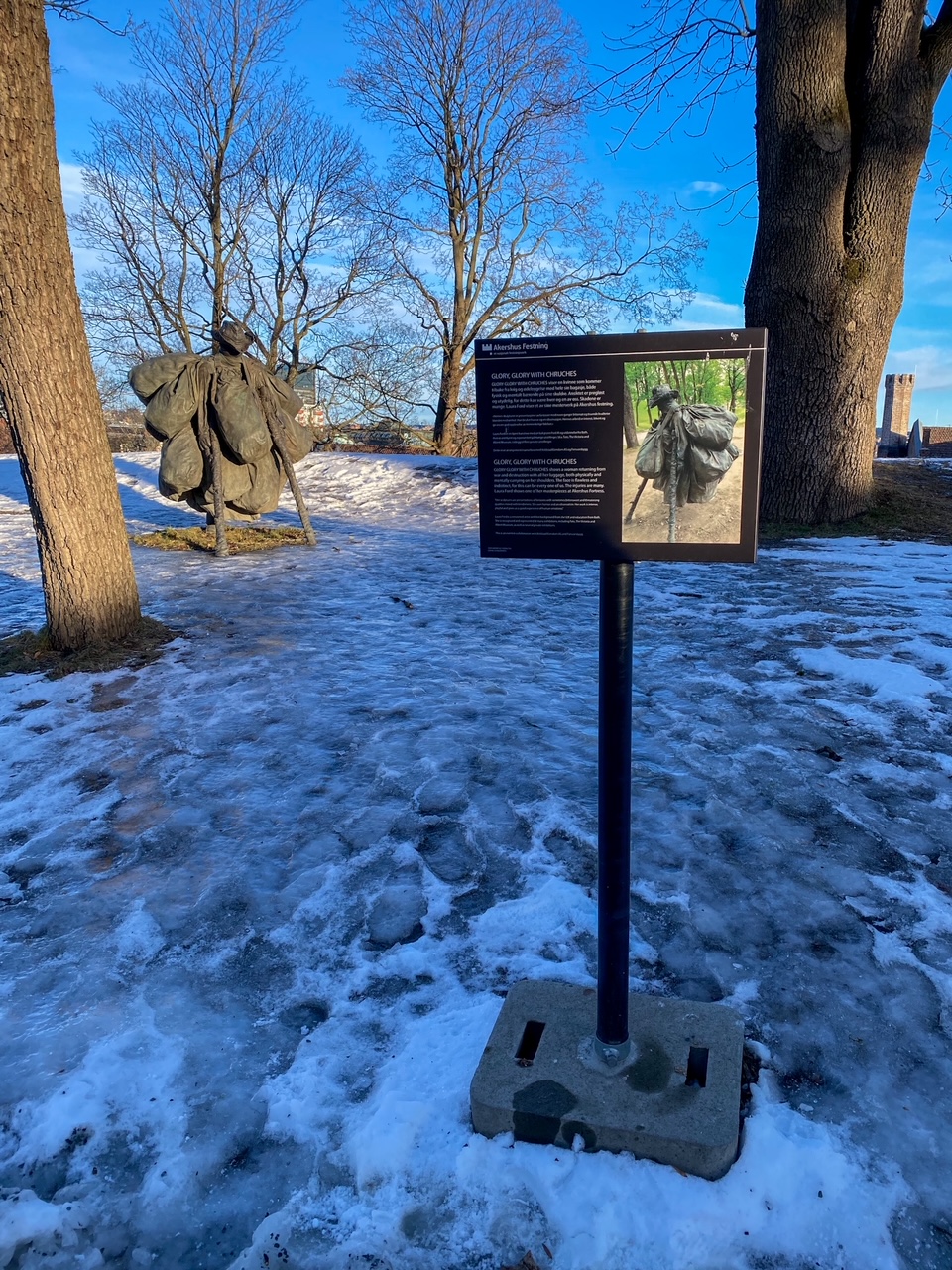 Built in the late 1290s to protect the city and to provide a royal residence in Oslo, Akershus Fortress, or Akershus Castle, is a waterfront, medieval castle and a major landmark of Oslo. Considering that the fortress was strategically important for Norway as a whole, Norway's capital was moved from Bergen to Oslo when the castle became a royal residence.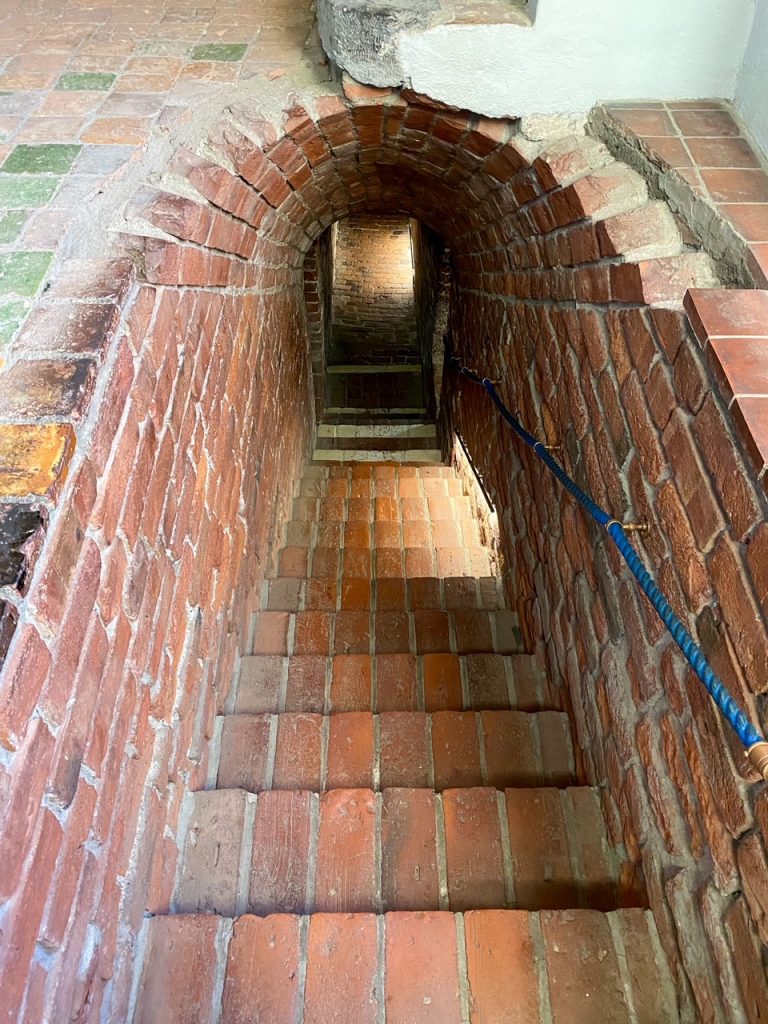 Throughout the ages, Akershus Fortress survived many sieges, primarily by Swedish forces, and its proximity to the sea proved to be advantageous for naval power, which was previously a vital military force. That being said, Akershus Fortress was seized by occupying German forces and used as a prison during World War II.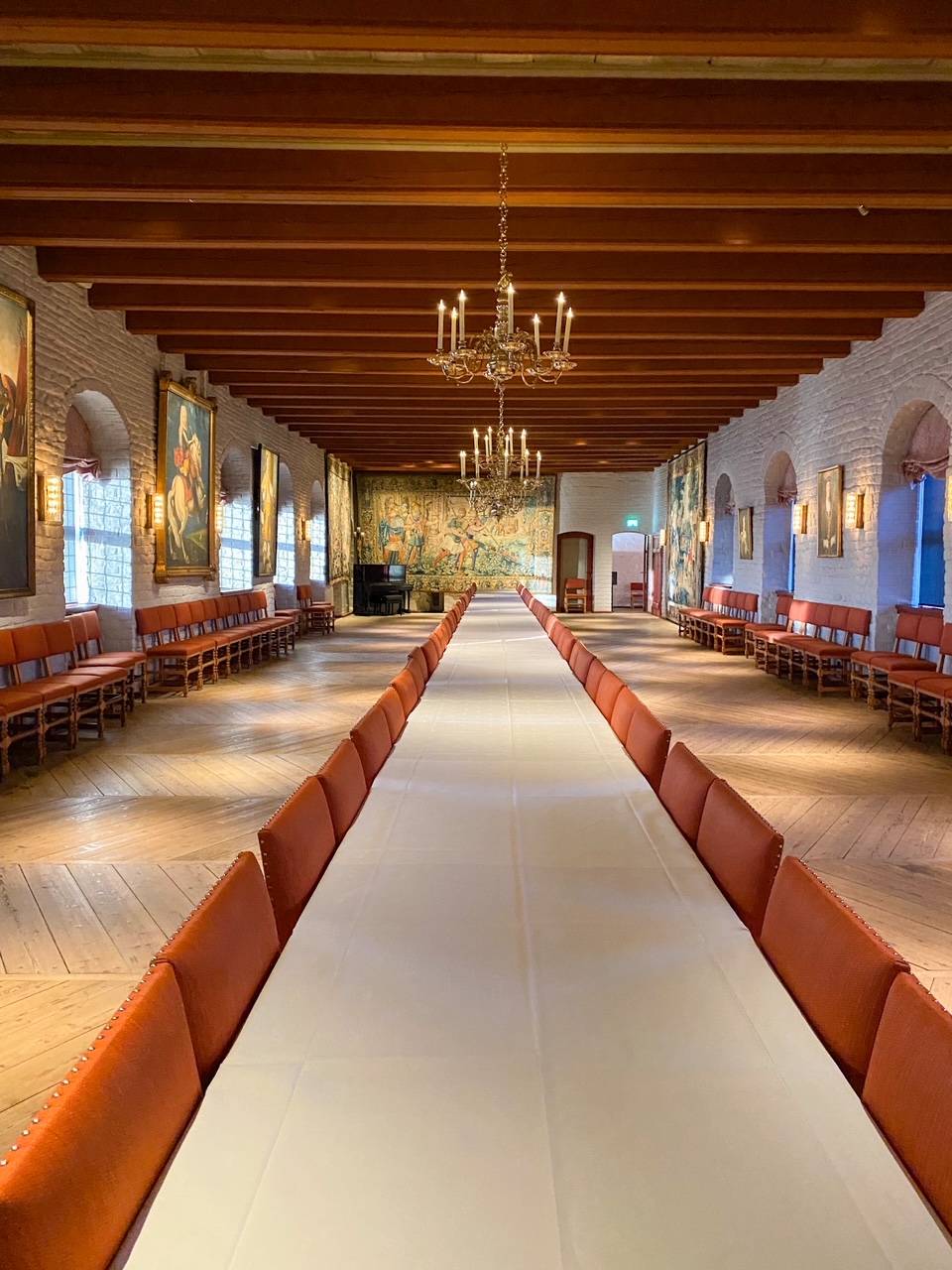 The fortress has also been used as a military base and temporary office of the Prime Minister of Norway. Although still a military area, the fortress is open to the public daily (times vary by season) and is a popular venue for major events, like concerts, public holiday celebrations and ceremonies.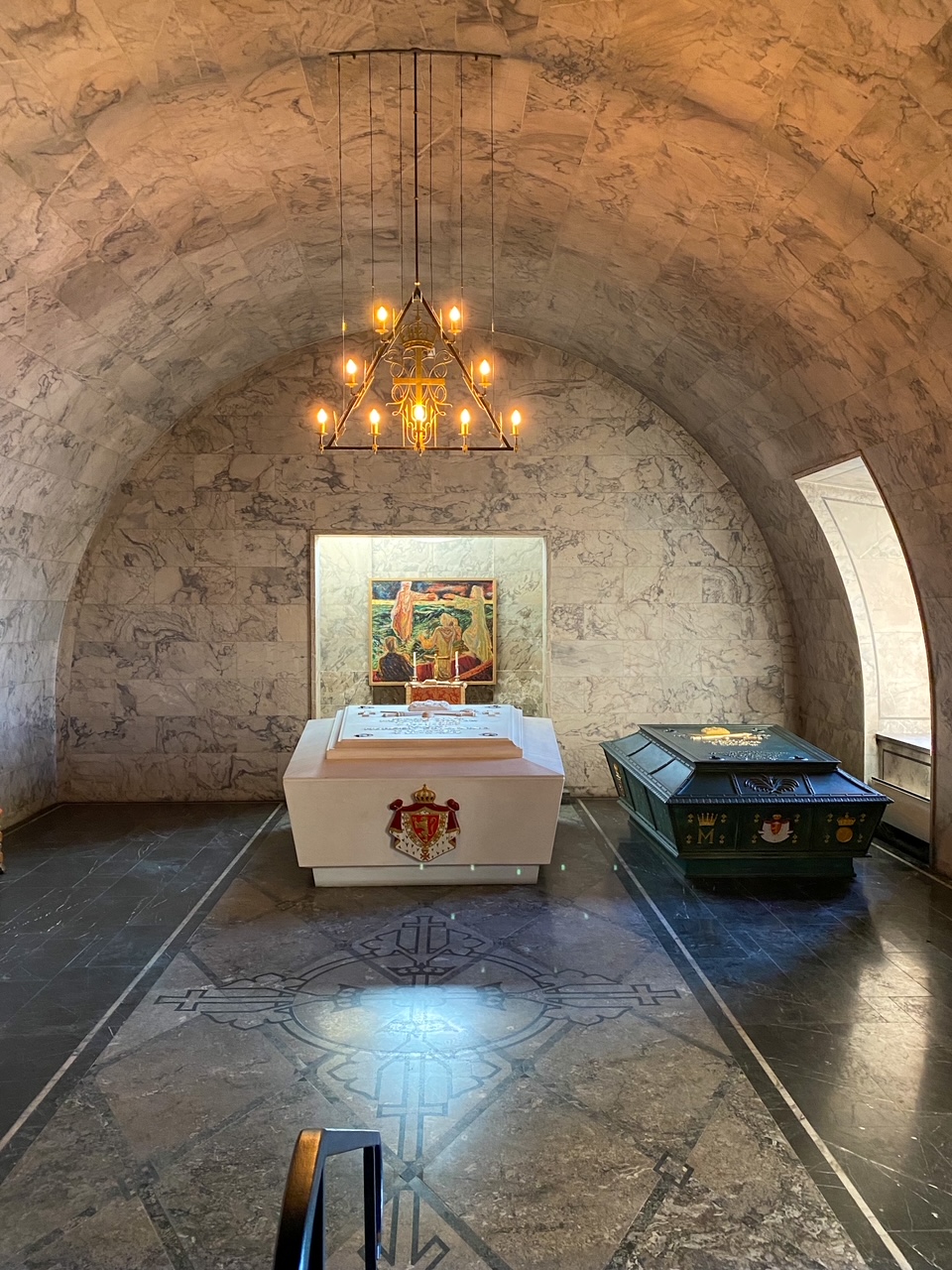 The Chapel is the Norwegian Armed Forces' main church, and the Royal Mausoleum is the final resting place for several Norwegian royals, including King Sigurd I, King Haakon V, Queen Eufemia, King Haakon VII, Queen Maud, King Olav V and Crown Princess Märtha.
Akershus Fortress is also home to two museums, the Norwegian Resistance Museum, which details the German occupation of Norway in World War II, and the Armed Forces Museum, which details Norwegian military history from the Viking Age through the beginning of World War II and the Cold War.
Admire the Oslo Opera House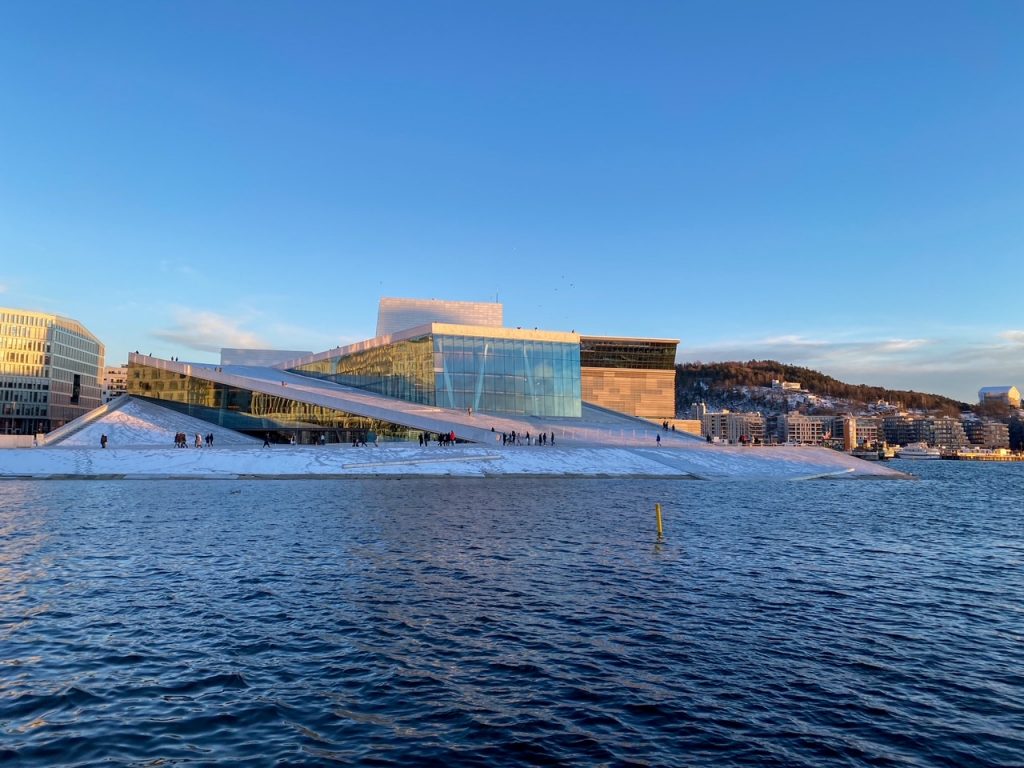 On our way from Akershus Fortress to the Munch Museum, we were able to admire the Oslo Opera House from across the fjord. Home of the Norwegian Opera & Ballet, the Oslo Opera House is the national opera theater in Norway.
Snøhetta, the firm of architects behind the building's design, wanted to create a landscape that draws together the natural beauty of the Olso Fjord and the city, and the distinctive angular architecture makes it appear as if the opera house is rising from the water.
Catch an Oslo Sunset
During our walk, we were also able to catch a lovely sunset over the Oslo harbor. Of course, we took this opportunity to take a few photos!
Mantra by Mister India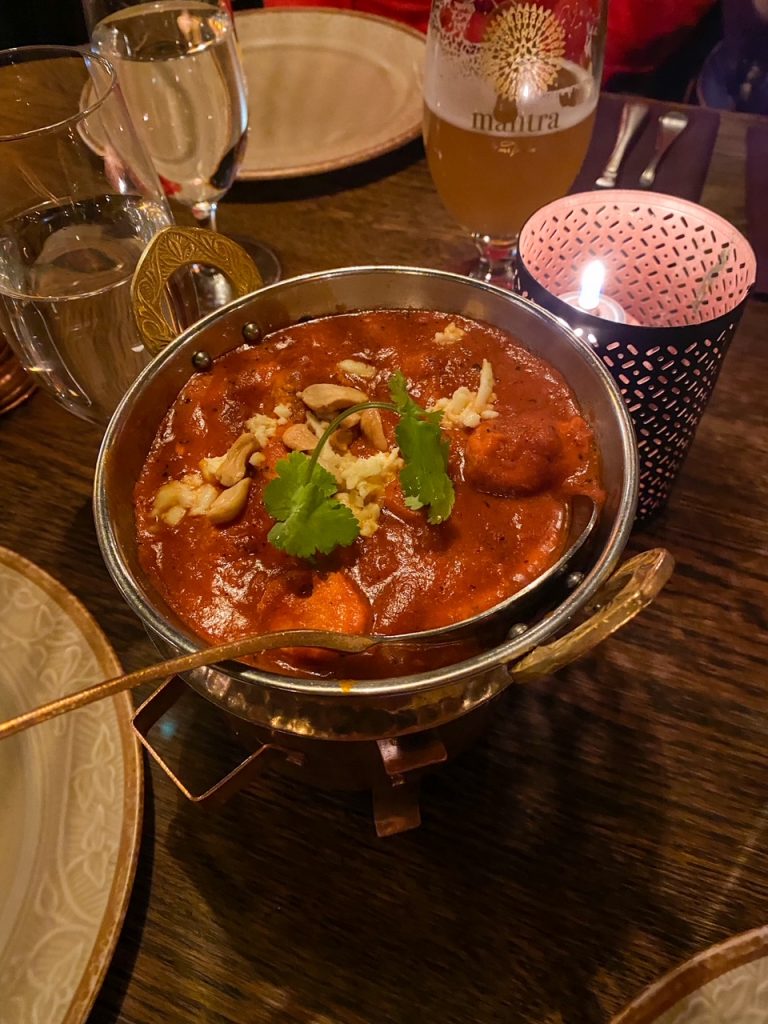 Unfortunately, when we made it to the Munch Museum, they were no longer allowing entry, so we made our way back to the hotel to freshen up and to get ready for dinner.
A Broad Recommendation: if you know what you'd like to do in Oslo, book tickets in advance to ensure you don't end up in the same situation as us, searching for something that's open and accepting visitors during this time of year. Since we were only in Oslo for half a day and a couple nights, we didn't do too much research and took advantage of "slow travel" for a change.
After a weekend full of traveling and exploring, we were ready to unwind at Mantra by Mister India, and we enjoyed a delicious dinner catching up with our friends over some beers, champagne and hearty Indian curry dishes.
Other Things to Do in Oslo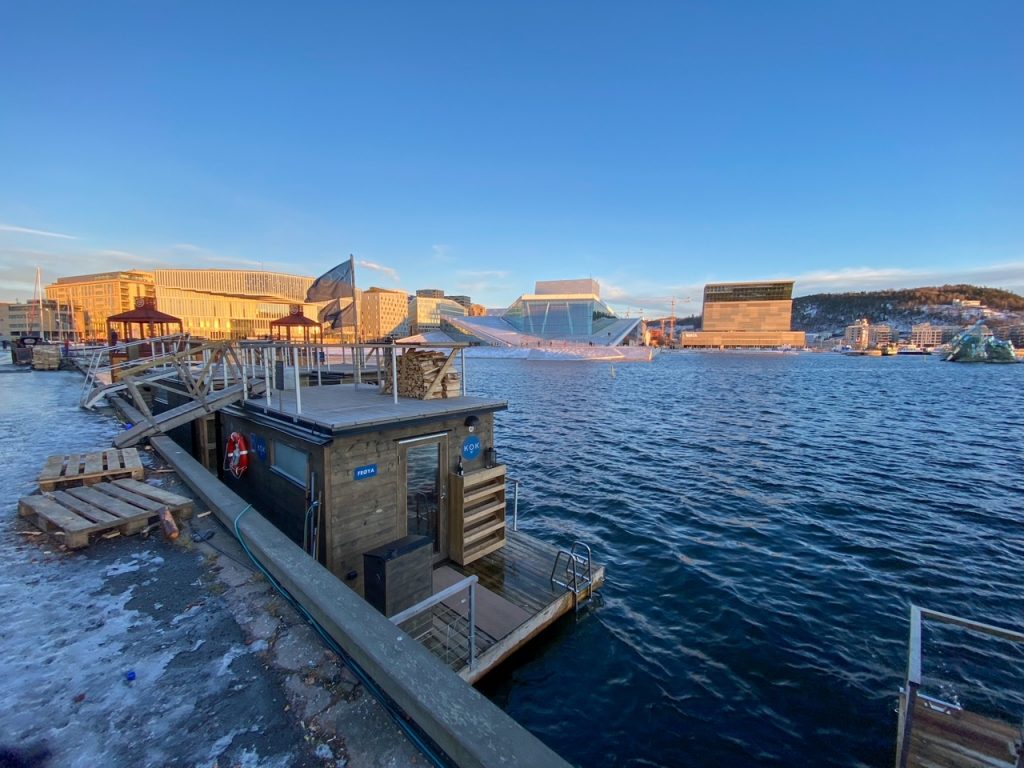 Since we didn't have nearly enough time in Oslo to explore everything, here's a list of activities we'd like to try next time.
Viking Ship Museum
One of the main things we wanted to do during our visit to Oslo was the Viking Ship Museum. Since 1926, the museum has captivated visitors from around the world, giving them the opportunity to see the world's most well-preserved Viking ships up close. Unfortunately, the Viking Ship Museum was closed at the time of our visit and is still closed at the time of this post. It's expected to reopen as the Museum of the Viking Age in 2026.
Munch Museum
The Munch Museum is an art museum dedicated to the life and works of Norwegian artist and expressionism pioneer, Edvard Munch. The collection consists of paintings, graphical prints and drawings and is the largest collection of art by a single artist.
The number of people who can enter at a given time slot is limited, so be sure to get tickets in advance. Although the price of entry is included with the Oslo Pass, pass holders can't book a time slot in advance. There are tickets reserved during each time slot for Oslo Pass holders, but if those are already taken when you arrive, you'll have to wait until the next time slot.
Damstredet & Telthusbakken
Situated just below the medieval church, Gamle Aker kirke, the Damstredet and Telthusbakken neighborhoods of Oslo are both charming and picturesque, showcasing well-preserved wooden houses from the late 1700s and 1800s. A large garden area on the south side side of Telthusbakken also provides a countryside atmosphere and hosts a lovely walking trail known as the Kjærlighetsstien, or "The Love Trail".
The Botanical Garden
Founded in 1814 and situated in the Tøyen neighborhood, the University Botanical Garden is Norway's oldest botanical garden. The collections include more than 5,500 types of plant from around the world and are divided into thematic gardens, including two greenhouses. Although admission to the gardens isn't free, free guided walking tours are occasionally offered.
The Royal Palace
The Royal Palace in Oslo is one of Norway's most important buildings and has played a key role in Norwegian history since 1814. Today, the Royal Palace is the King and Queen's primary residence and the location where the King presides over the Council of State.
The Royal Palace is open to the public during the summer, and guided tours take visitors through some of the Palace's most important rooms, including the Council Chamber, the Banqueting Hall, King Haakon VII's Suite and more.
Oslo Cathedral
Formerly Our Savior's Church, Oslo Cathedral is the main church for the Church of Norway Diocese of Oslo and the parish church for downtown Oslo. The church was consecrated in the late 1600s and was later restored to its original baroque interior in 1950.
The church has mass on weekdays and high mass every Sunday and is used by the Norwegian Royal Family and the Norwegian Government for weddings, funerals and other public events. Guided tours are available but must be booked in advance.
Oslo City Hall
Opened in 1950, the Oslo City Hall is the seat of the city council and administration and home to the largest carillon in the Nordics. Bells play every hour from 7 am to midnight with tunes ranging from classical pieces to more recent pop selections.
Forty-five-minute guided group tours provide insight into the history of Norway and Oslo City Hall and are offered in Norwegian, English, German, Spanish and French.
The Nobel Peace Center
The Nobel Peace Center is a showcase for Alfred Nobel, the Nobel Peace Prize and the Peace Prize laureates. Through exhibitions, conventions and digital experiences, the ideals that the Nobel Peace Prize represents come to life. Note: the Nobel Peace Center will be closed for refurbishment until April 2023.
Holocaust Center
The Holocaust Center presents a modern exhibition of images, film, items and text detailing the persecution and genocide of European Jews during the Holocaust. The annex building MINO also contains an exhibition about racism in Norway. Entry to the center is included with the Oslo Pass.
Norwegian Museum of Cultural History
The Norwegian Museum of Cultural History is Norway's largest museum of cultural history. The open-air museum contains 160 historic buildings from rural and urban Norway from the Middle Ages to the 20th century. The Gol Stave Church is one of five medieval buildings on premise and dates back to the 1200s. Indoor exhibits feature Norwegian folk costumes, folk and church art and Sami culture and help to paint a picture of how people lived in Norway from 1500 onward.
The Kon-Tiki Museum
The Kon-Tiki Museum follows the expeditions of famous explorer, Thor Heyerdahl, from his Pacific Ocean crossing in 1947 on the balsa wood raft Kon-Tiki to his later voyages on the reed boats Ra, Ra II and Tigris. The museum showcases objects from his expeditions, including the original Kon-Tiki raft and the Ra II.
Vigeland Sculpture Park
Vigeland Park showcases the life work of Gustav Vigeland, Norway's most famous sculptor. The park consists of more than 200 sculptures made of granite, bronze and wrought iron and is the result of more than 40 years of work. Such works as the Monolith, the Fountain, and the Bridge are some of the park's main attractions.
Holmenkollen Ski Museum
Founded in 1923, the Holmenkollen Ski Museum is located at the base of the Holmenkollen ski jump and is the world's oldest ski museum. Holmenkollen is regarded as one of the most famous sports arenas in the world, hosting ski jump competitions every year from 1892 to 2008 and the World Championships in 2011.
The top of the tower offers one of Oslo's best views, and the arena offers other activities such as Frisbee golf, abseiling, ziplining and more. Unfortunately, the Ski Museum and café will be closed until the end of 2023 for remodeling. Entry is typically free with the Oslo Pass.
A Broad Recommendation: this Oslo Panorama Tour includes transportation by coach with stops at both Holmenkollen Ski Jump and Vigeland Sculpture Park. Although we didn't do this tour ourselves, we have used Viator in other places, including Paris, France, Dublin, Ireland and Edinburgh, Scotland and have had great experiences with them!
Tusenfryd Amusement Park
Tusenfryd is Norway's largest amusement park, located about 20 minutes south of Oslo in Vinterbro. The park features several roller coasters, water rides, kiddie rides and more, as well as a small water park. We visited Tivoli Gardens during our time in Copenhagen, Denmark and had such a blast, so we know we'd love to visit Tusenfryd someday too!
A Sauna Session on Oslo Fjord
Oslo's fjord-side saunas are located along the harbor promenade in Oslo's city center. Each has their own special features, some including a warm, wood-fired sauna combined with refreshing baths and others with cold showers, 360-degree views and more. After some international travel and lots of exploring, a session at one of these saunas sounds like an awesome way to end the day!
This list is far from exhaustive; these are just the attractions that have piqued our interest. Visit Oslo has more information about all there is to do in Oslo, including attractions, events, accommodations, transportation, restaurants and more.
We hope you'll plan your visit to Oslo soon and take advantage of all this great city has to offer!
Ready to plan the rest of your winter Norway trip? Check out these blog posts for more information:
XOXO Sara at Travel A-Broads