Located in the northeastern part of Norway, Kirkenes is a small town in the Sør-Varanger Municipality. It sits on a peninsula along the Bøkfjorden, a bay that feeds into the larger Varanger fjord, and shares a border with Russia.
*P.S. this post contains some affiliate links. At no additional cost to you, we may earn a small commission when you make a purchase.
A Brief History of Kirkenes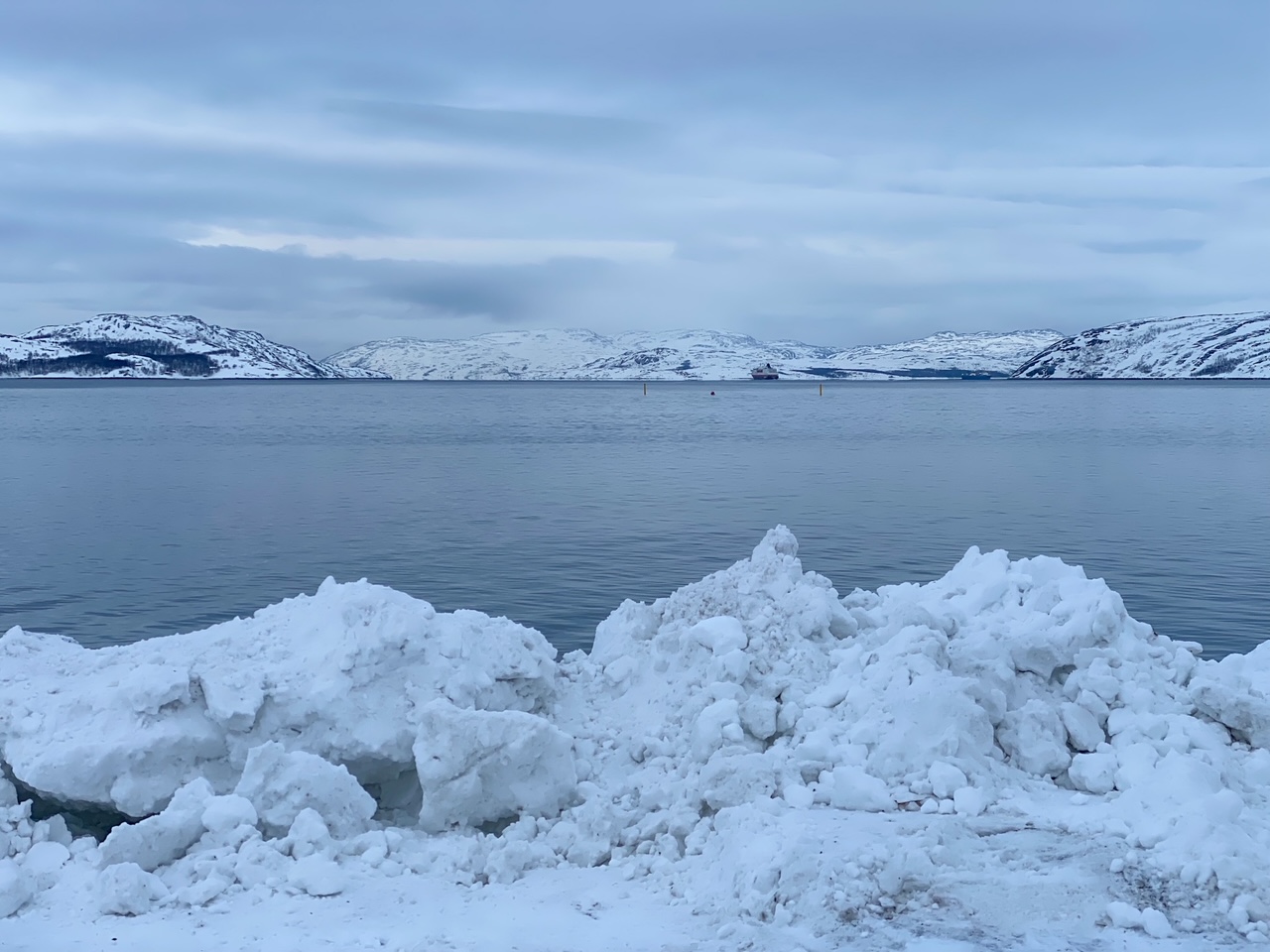 During WWII, Kirkenes was occupied by Nazi Germany and served as one of the many bases for the Germans' Kriegsmarine and Jagdgeschwader 5.
When the Germans launched Operation Barbarossa, which was code name for the invasion of the Soviet Union, Kirkenes found itself on the frontline of the war. In fact, the number of German soldiers outnumbered the locals many times over.
During this time, Kirkenes was subject to constant air raids. The town experienced more than 1,000 alarms and more than 300 air attacks, making it one of the most bombed European towns. As the air raids became more frequent, civilians moved into the mines where they lived safely for two to three months. When all was said and done, only 13 houses survived the war.
The Borderland Museum in Kirkenes focuses on the town's experience during WWII, specifically emphasizing how people experienced the events as they unfolded.
After the war, steel was a hot commodity, and the mines in Kirkenes became a source of wealth for all of Norway. At the time, this made Kirkenes one of the wealthiest communities in the country. The town was rebuilt and the population increased, but sadly, the success was short-lived; the mines became unprofitable in the 1970s and were completely shut down in the mid-1990s.
Weather in Kirkenes, Norway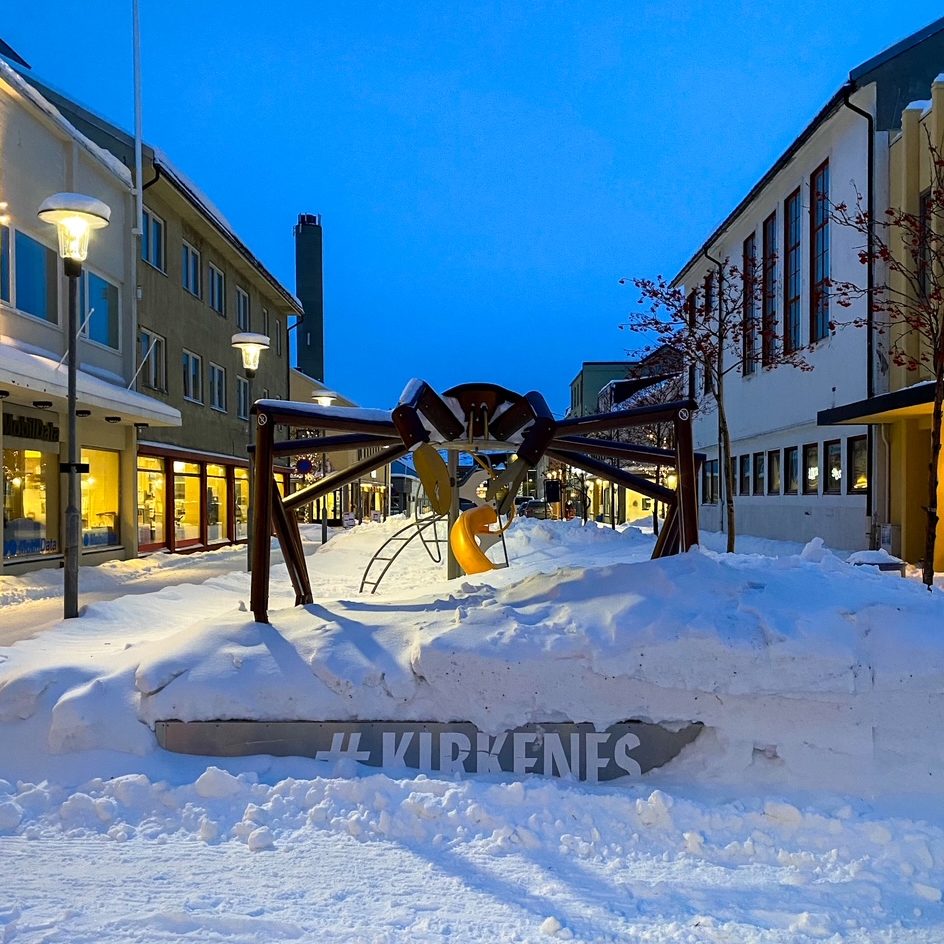 Kirkenes experiences below freezing temperatures all day long from November through March, with milder temperatures ranging from 30-60°F the rest of the year.
Due to its location 250 miles north of the Arctic Circle in Norway, the area experiences midnight sun from mid-May through the end of July and polar nights from the end of November to mid-January. Because of this, winter is the best time to visit Norway for Northern Lights.
When we visited in February, the sun rose around 8 am and was already setting just after 2 pm!
What to Pack for Kirkenes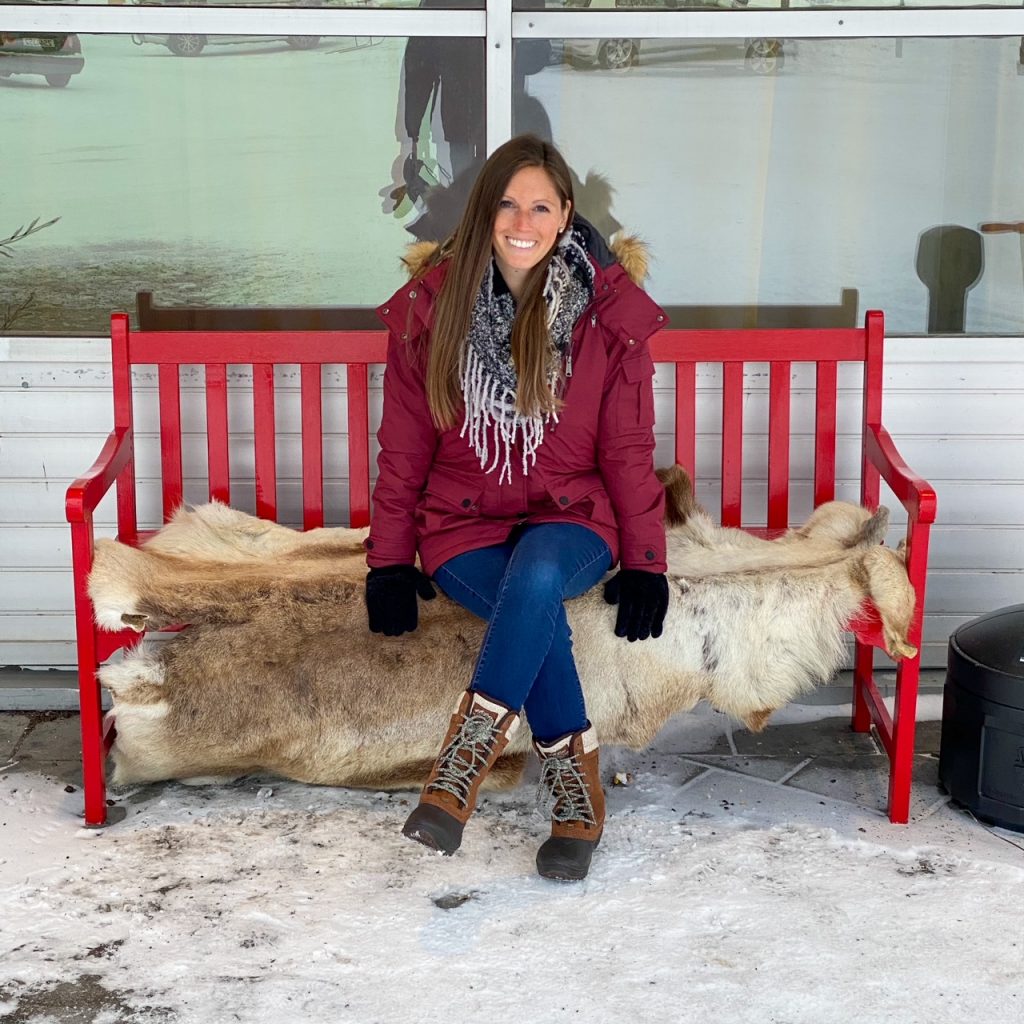 The most important thing to remember for your trip to Norway is your passport! Consider making a photocopy of your passport, bank/debit and credit cards, and any insurance and vaccination cards in case they get lost. It's also a good idea to have some cash on hand for emergencies.
During the time of our visit, we had to take Covid tests to get back into the U.S. This is no longer a requirement, but you may still want to bring test kits and extra masks in case you start feeling ill while traveling or in Norway – safety first!
Speaking of safety, don't forget to pack a first aid kit; it's always good to be prepared, especially when traveling internationally. You should also pack any medications you take regularly, feminine products and any other medications you may want to have handy like medicine for sinus congestion, cough, upset stomach, etc.
Temperatures above the Arctic Circle can get extremely cold, so you'll want to pack lots of layers to make sure you stay comfortable and warm. Here's what we packed for our trip:
Base layer: a base layer is essential in Norway, especially at night when the sun goes down and temperatures drop below freezing. I brought two pairs of these WEERTI Thermal Underwear for Women, and they worked great under my clothes. Any fleece or thermal pajamas will do, and even thick yoga pants work fine (I wore these during the day and my thermal underwear at night).
Top middle layer: on top of your base layer, you'll want a fleece jacket or heavy sweatshirt. You could also add a down or fleece vest if you have one. I wore something similar to this Women's Crescent Full Zip Sweatshirt by The North Face, and it kept me pretty warm. It was also nice to have something like this to wear around the hotels instead of my big, bulky jacket.
Top outer layer: a puffy, wind-proof shell jacket like this Wantdo Women's Quilted Winter Coat Warm Puffer Jacket is perfect for Norway. I especially love that they offer so many different color options; pick something bold to stand out against that wintry Arctic landscape! I also brought my Women's Thermoball Full Zip Jacket for days that we weren't outside for as long.
Bottom outer layer: snow pants are also a must for winter in Norway. These Postropaky Women's Outdoor Snow Ski Pants are waterproof and will keep you warm. If you'd rather not use ski or snow pants, go with a pair of fleece-lined track/wind pants at a minimum; sweatpants and cotton pants aren't wind or waterproof, and you'll get cold if they get wet.
Waterproof snow boots: we wore our snow boots around 75% of the time we were in Norway and nearly the entire time we were in Kirkenes. I really like these Shellista II Mid Snow Boots by The North Face. You may also want to bring hiking or running shoes for your flights, but you won't need much more in terms of footwear.
Wool socks: of course, you'll need some warm socks to wear under your snow boots. I brought these Soft Thick Comfort Casual Cotton Warm Wool Crew Winter Socks, and they were comfortable and fit perfectly under my boots. They were nice to wear around the hotel rooms as well.
Scarf and hat: be sure to complement your outer attire with a warm scarf and a hat or ear warmer headband. I liked this Loritta Womens Ear Warmers Headband that I could easily tuck away into a purse or coat pocket when I wasn't wearing it.
Gloves/mittens: waterproof gloves are an absolute must for your trip to Kirkenes, Norway. These Tough Outdoors Women's Ski Gloves are engineered for warmth and dry quickly after getting wet. They're also easy to clean, which came in handy after a reindeer feeding excursion we did in Tromso. They're also available in different sizes, which was important to me, as I have small hands.
Thin liner gloves: a pair of thin liner gloves are great to tuck under larger gloves or mittens to provide an additional layer of warmth. These Aegend Lightweight Running Gloves have a touch screen feature which makes using your phone and taking pictures easier in the cold weather.
Balaclava/neck gaiter: although some excursions provide balaclavas, you still may want to bring your own. We bought this 2 Pack Winter Neck Warmer Gaiter Fleece by KGC, but unfortunately, it didn't arrive until after we left for our trip. We ended up having to borrow balaclavas at the Snowhotel Kirkenes.
Some other things you should pack for your visit to Kirkenes, Norway include:
Face mask, eye mask and ear plugs for the plane
Nicer sweaters and jeans for dinners
Pajamas
Sunglasses – the sun reflects brightly off the snow
Sunscreen – yes, you can get sunburn in Norway in the winter!
Chapstick and an overnight lip sleeping mask
Toiletries
Tissues
Hand sanitizer
Swimsuit – there will be saunas and hot tubs
Slippers or sandals for walking to/from saunas
Wet bag – a small waterproof bag in case you need to pack a wet swimsuit
Small bookbag or dry bag for excursions
Waterproof cell phone case – this is perfect for taking photos in the snow
Reusable water bottle – it's safe to drink the water in Norway!
Camera/GoPro
How to Get to Kirkenes, Norway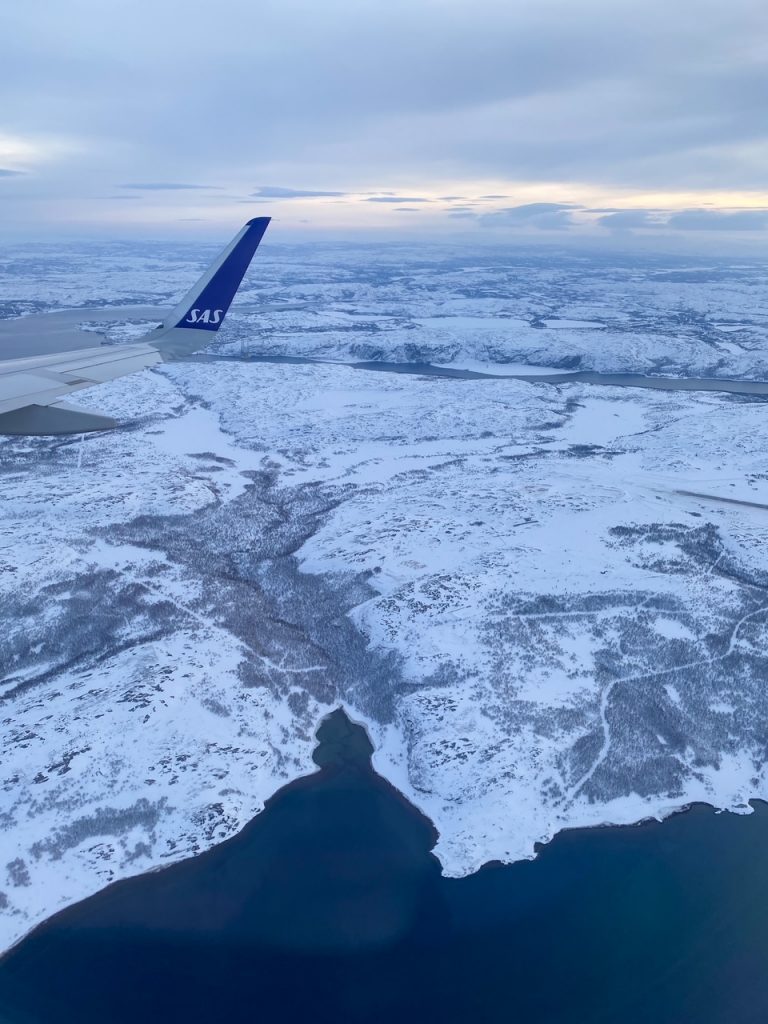 We started our trip from Oslo, Norway (arriving the day prior from Houston, Texas) and arranged a private transfer through Tumlare Corporation Hungary Kft. from our hotel to the Oslo Gardermoen Airport (OSL). From here, we took a 9 am flight via SAS Airlines.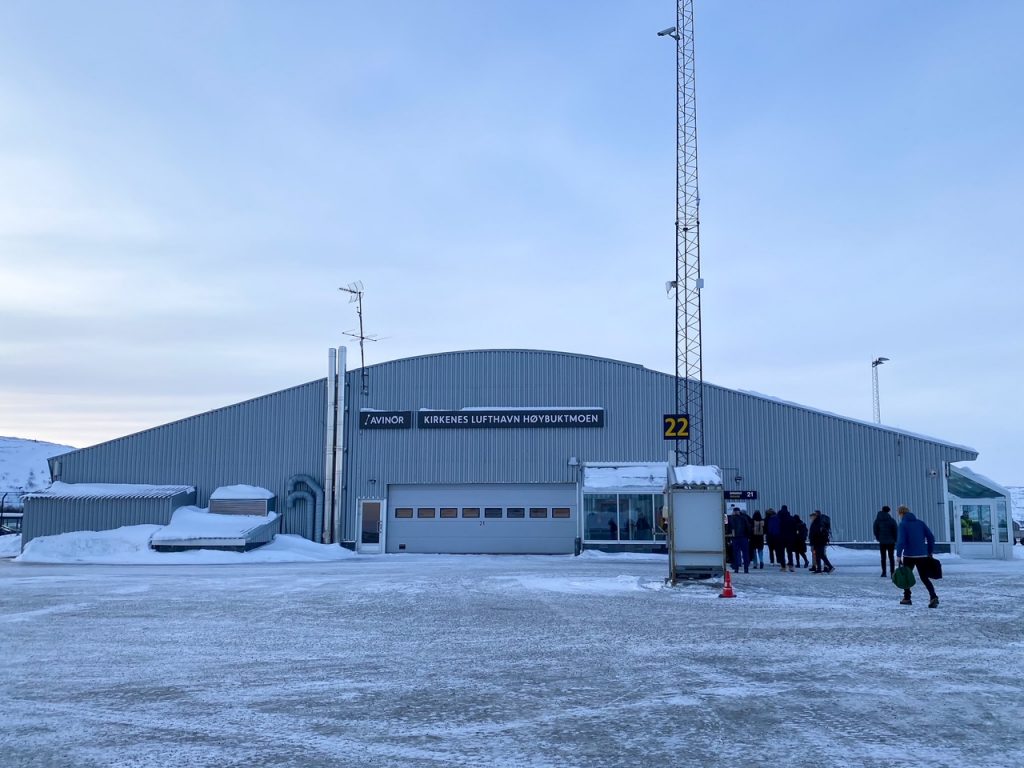 Around 11 am, we arrived at the Kirkenes Airport (KKN), which at the time, was the smallest airport we'd ever seen! Luckily, we had another prearranged private transfer through Tumlare to our hotel, which ensured we had no issues with transportation from this small airport.
Where to Stay in Kirkenes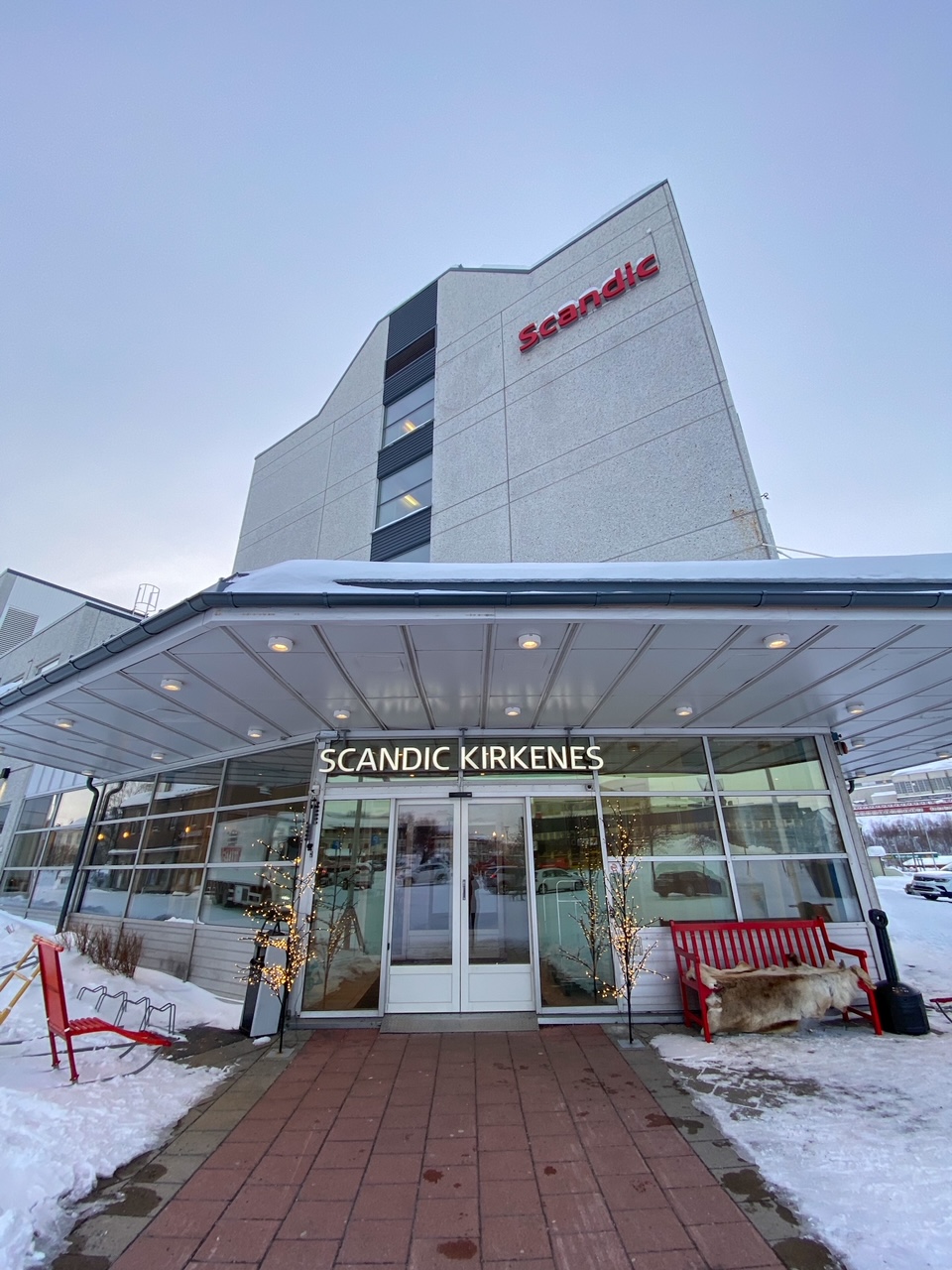 We spent two full days in Kirkenes, staying one night at the Scandic Kirkenes and one at the Snowhotel Kirkenes.
The Scandic Kirkenes boasts a central location and has an onsite restaurant that was open for dinner during our visit. Guests are offered a free breakfast buffet, but unfortunately, we left too early the next morning to take advantage of this.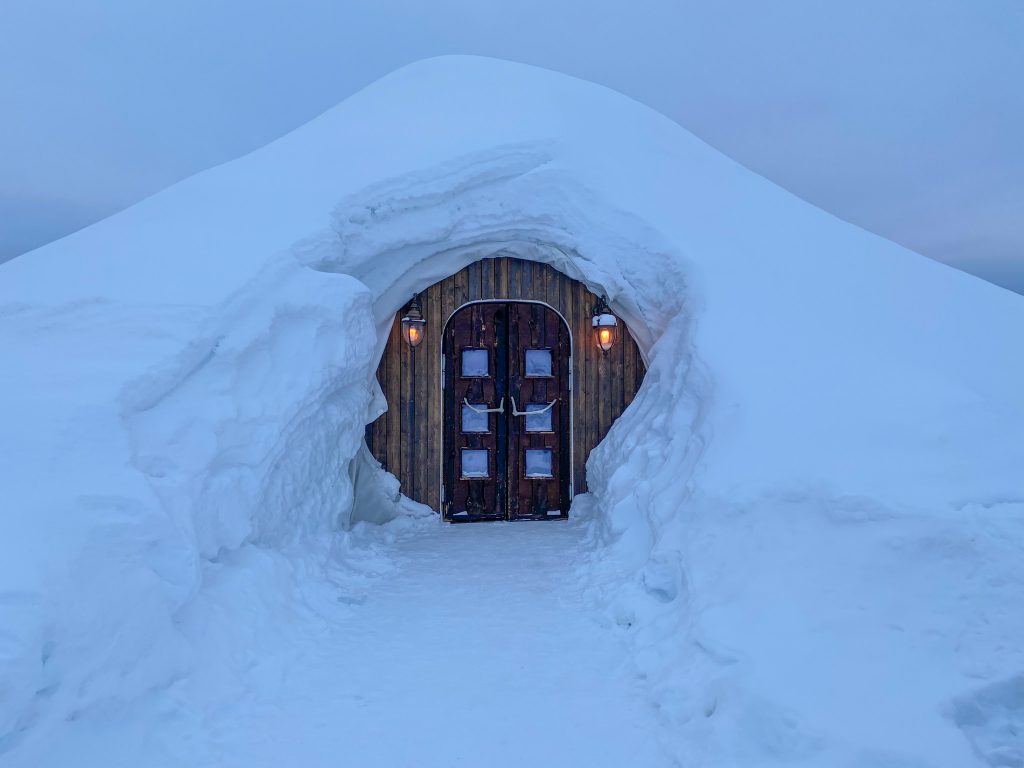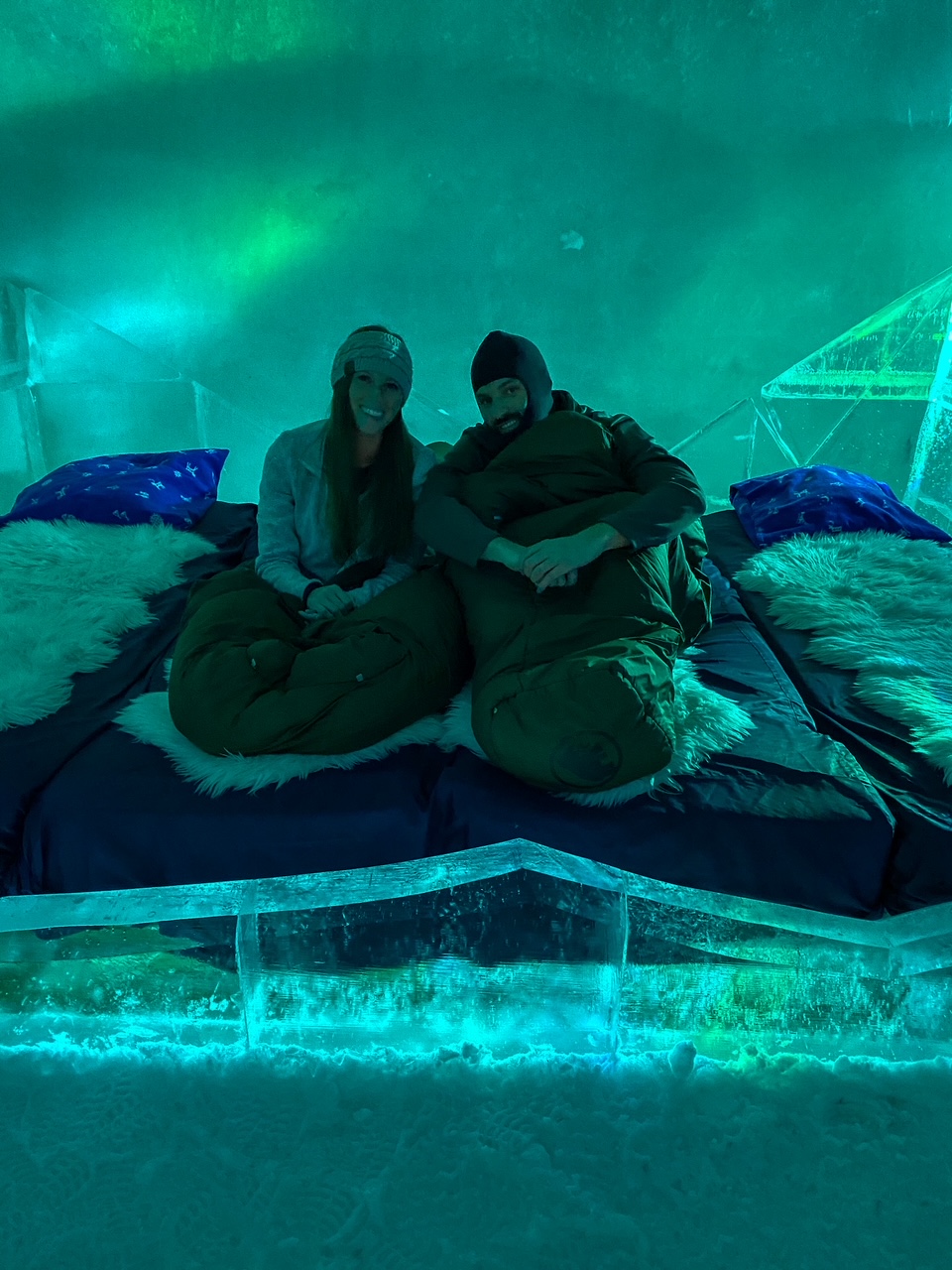 The Snowhotel was the world's first hotel completely made of snow and ice and is rebuilt every winter with a new theme and new ice sculptures to go along with it.
They're open 365 days a year and offer tons of activities and excursions, including the opportunity to sleep among the snow and ice! A stay at the Snowhotel includes both breakfast and dinner, transfer to and from another hotel in Kirkenes, access to the reindeer, huskies and puppy farm, a thermal sleeping bag, snowshoes, skis, snowsuits and boots for borrowing, and luggage service.
We've dedicated an entire post about how to plan your stay at the Snowhotel Kirkenes.
What to Do in Kirkenes
To be honest, there isn't much to do in Kirkenes in February (other than visiting the Snowhotel and taking advantage of their excursions) – almost everything was closed!
Our driver mentioned a viewpoint that we should check out, but other than that, we spent most of the day just walking around and exploring at our own leisure. To our surprise, most restaurants didn't open for lunch until 1:30 pm at the earliest. So, we spent the morning popping into shops and searching for some touch-screen gloves, since mine hadn't been delivered in time for our trip, and making some other stops along the way.
Photograph Kirkenes Church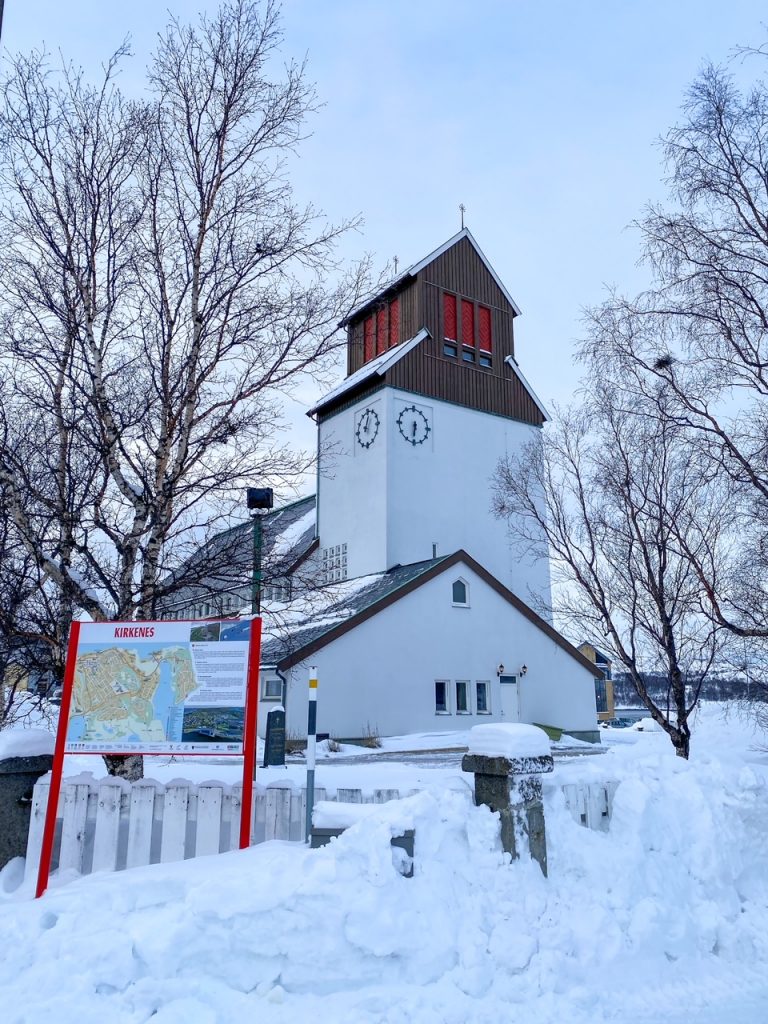 As we stumbled along the snow-covered streets of Kirkenes, we passed by the charming and quaint Kirkenes Church. The town's population is under 4,000 people, and this is their main church.
Admire the View from Thon Hotel Kirkenes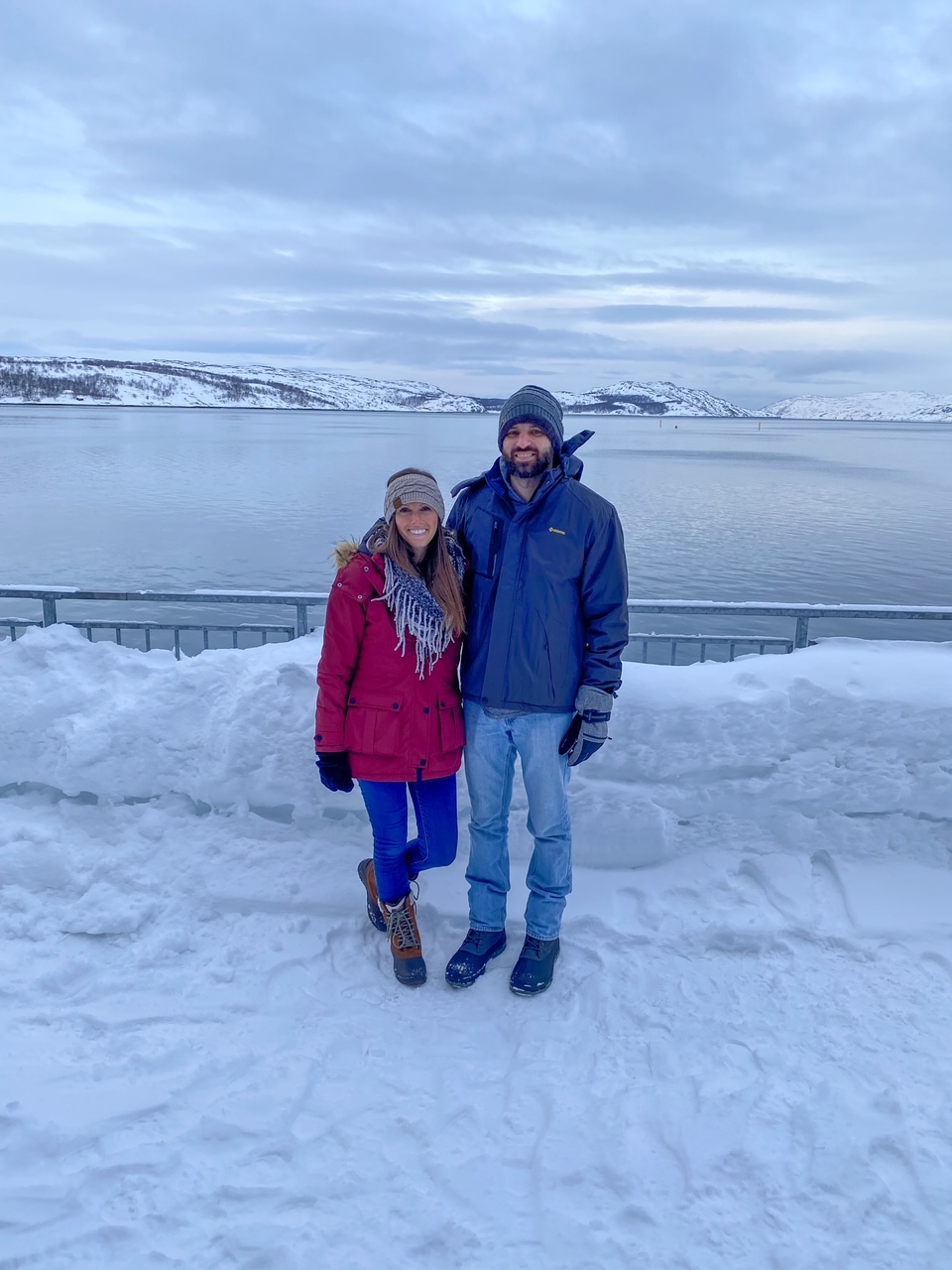 As we continued to explore, we ended up at the Thon Hotel Kirkenes, which has a beautiful view of the water. Obviously, this was a fabulous photo opp, and we spent some time here taking pictures!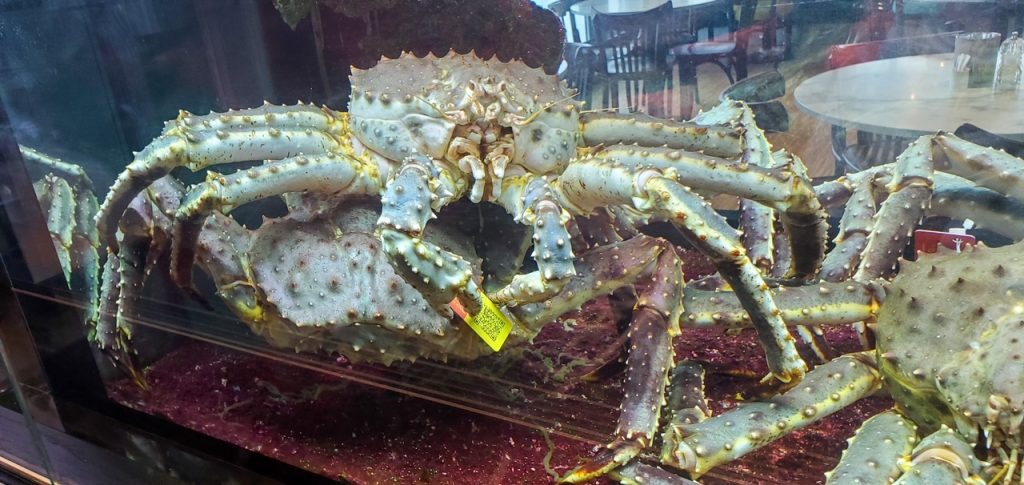 The hotel also has a restaurant, but it wasn't open yet when we stopped here.
Do Some Shopping at AMFI Kirkenes
Next, we found ourselves at the AMFI Kirkenes where we went inside to warm up and where I finally found some touch-screen gloves! We also found a liquor store – the Vinmonopolet Kirkenes – where we stocked on provisions for our game night at the hotel. Luckily, our friends were prepared and brought some board games to Norway!
Have Lunch at Bangkok Restaurant Kirkenes
But before board games, we had a couple of other things we still wanted to do – like finally eat! So, we stopped at Bangkok Restaurant Kirkenes right when it opened at 1:30 pm. The food was delicious and really hit the spot after a full morning of traveling and walking around Kirkenes. I highly recommend the Tom Yam soup and thought the red curry looked yummy too.
Hike to Prestfjellet Viewpoint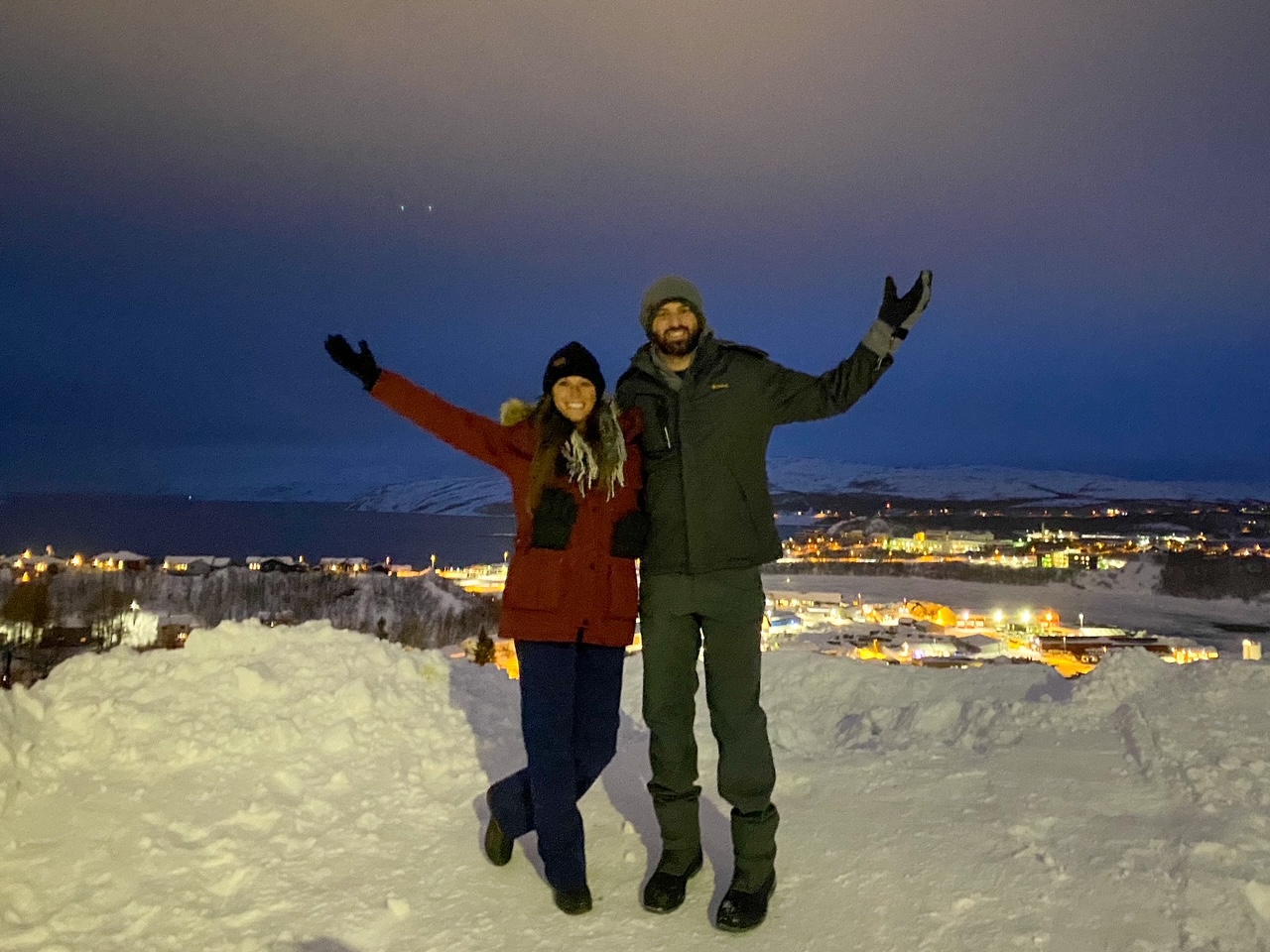 After lunch, we dropped off our provisions back at the hotel and set off in search of the viewpoint that our driver had mentioned. I don't have the exact location, but I believe the viewpoint is called Prestfjellet, and it offers a nice view of the entire town.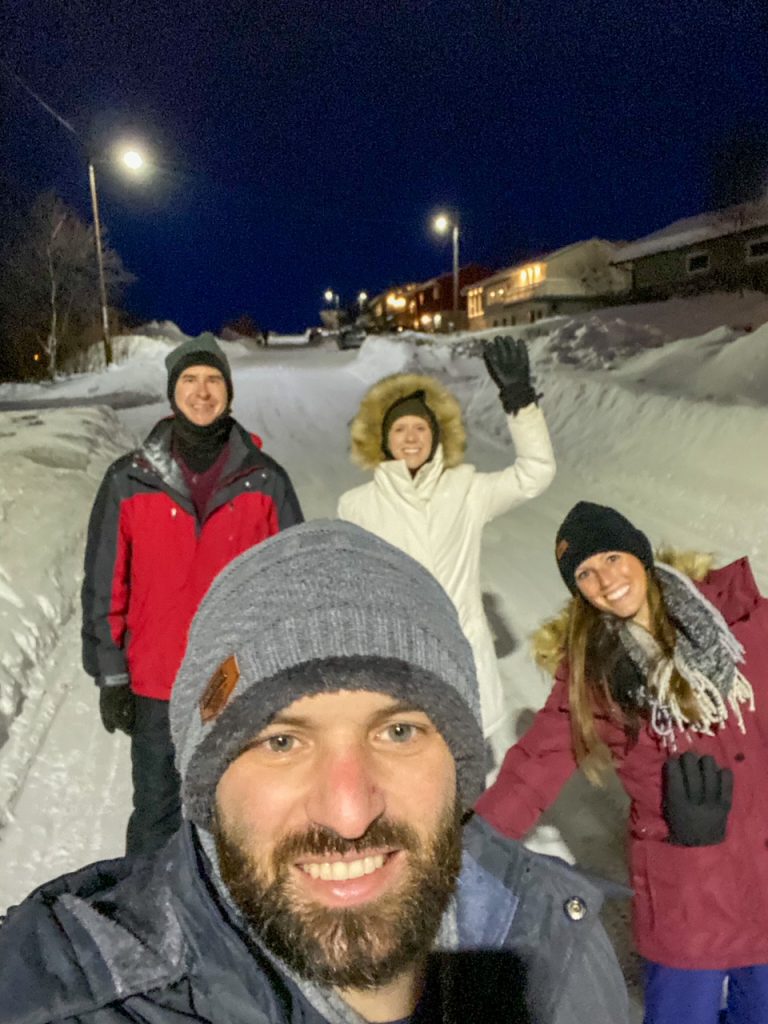 Since the sun had set while we were at lunch, we were able to see the town all lit up from the top of the hill. On the way down, we goofed off a bit and had a mini-snowball fight. Don't goof off too much though, as the roads can get slick with all the snow and ice! Make sure to take your time and watch your step while walking here.
Try an Excursion at the Snowhotel Kirkenes
The Snowhotel Kirkenes offers lots of excursions that provide visitors with an opportunity to witness the Northern Lights or to experience other arctic activities. Here are some of the ones we did.
Hunt the Northern Lights by Husky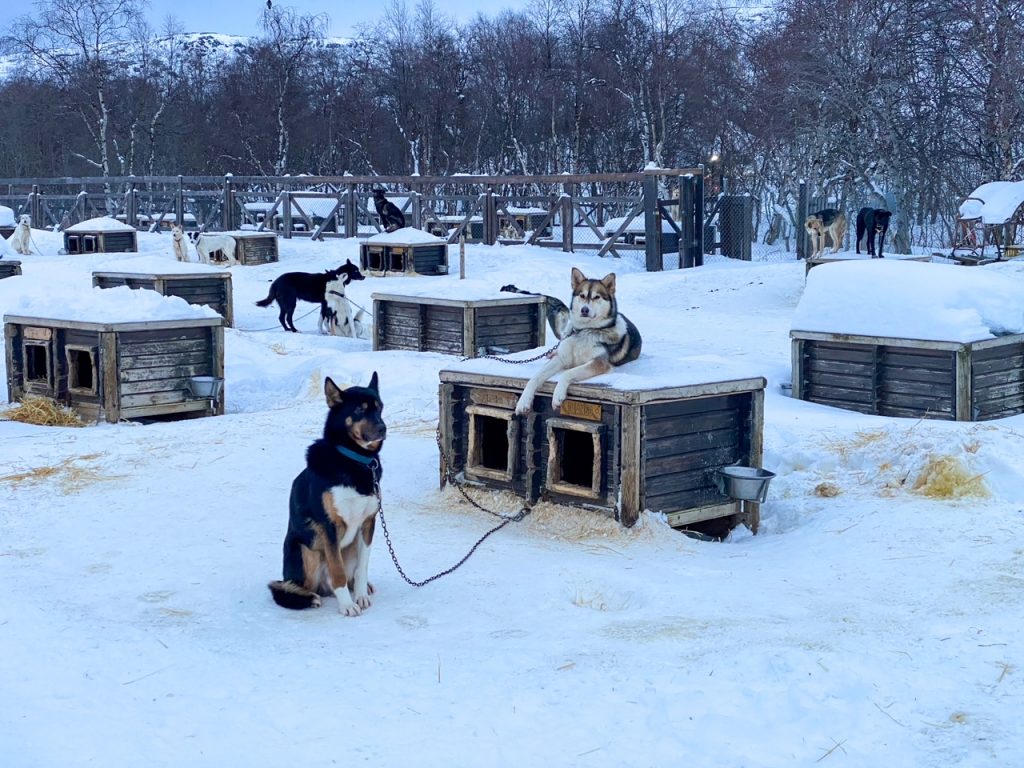 On this tour you're picked up from your hotel in Kirkenes and driven around by a dog musher and a team of enthusiastic huskies as you go hunting the Northern Lights by dogsled. The tour lasts for about an hour and takes you over fjord ice and through lightly forested, arctic wilderness. On the way back, you may even get an opportunity to drive the sled yourself!
We did this tour our first night in Kirkenes, after hiking Prestfjellet, and had such a blast! Although we didn't get to see the Northern Lights, we still really enjoyed this husky experience.
Note that the Snowhotel Kirkenes offers transportation to and from the Scandic Kirkenes, as well as other hotels in the area.
King Crab Safari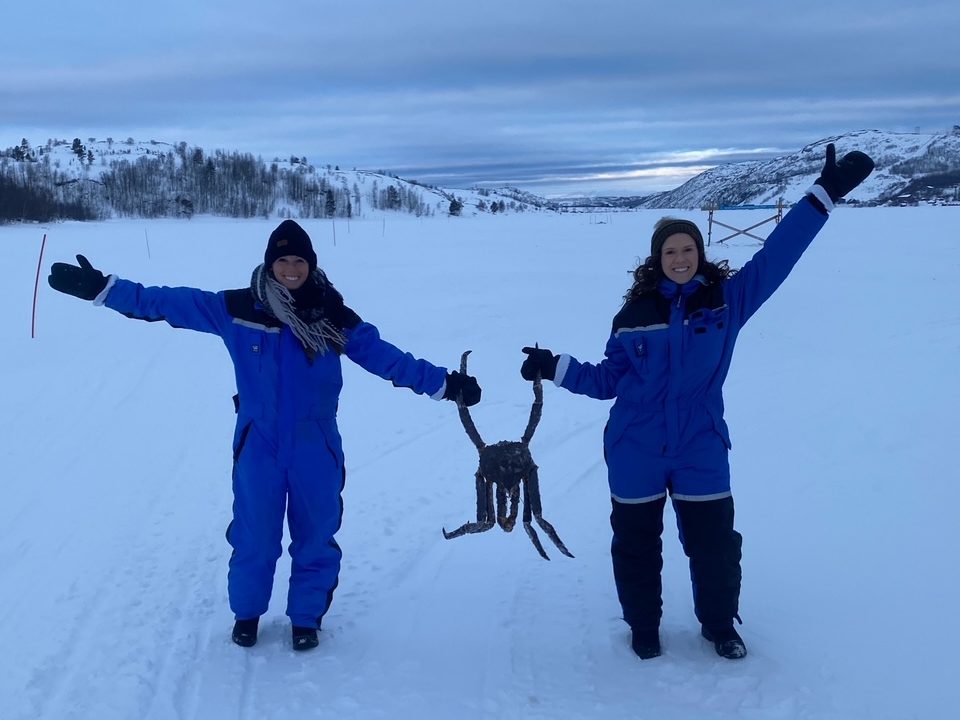 The King Crab Safari is another fun excursion that offers transportation to and from the Scandic Kirkenes. During this tour, you'll take a snowmobile-led sled to a frozen fjord, where you'll learn interesting facts about the Norway King Crab, watch your guide pull a large trap full of crabs out of a hole in the ice, and take photos with your catch.
When you get back to the Snowhotel Kirkenes, you'll learn how the crabs are cooked/steamed before having some for lunch. The crab legs are served northern Norwegian style, and your guide will teach you how to eat them.
We did this excursion the morning of our second day in Kirkenes, and it was so much fun! If I had to choose one excursion offered by the Snowhotel Kirkenes, it would be this one.
Hunt the Northern Lights by Bus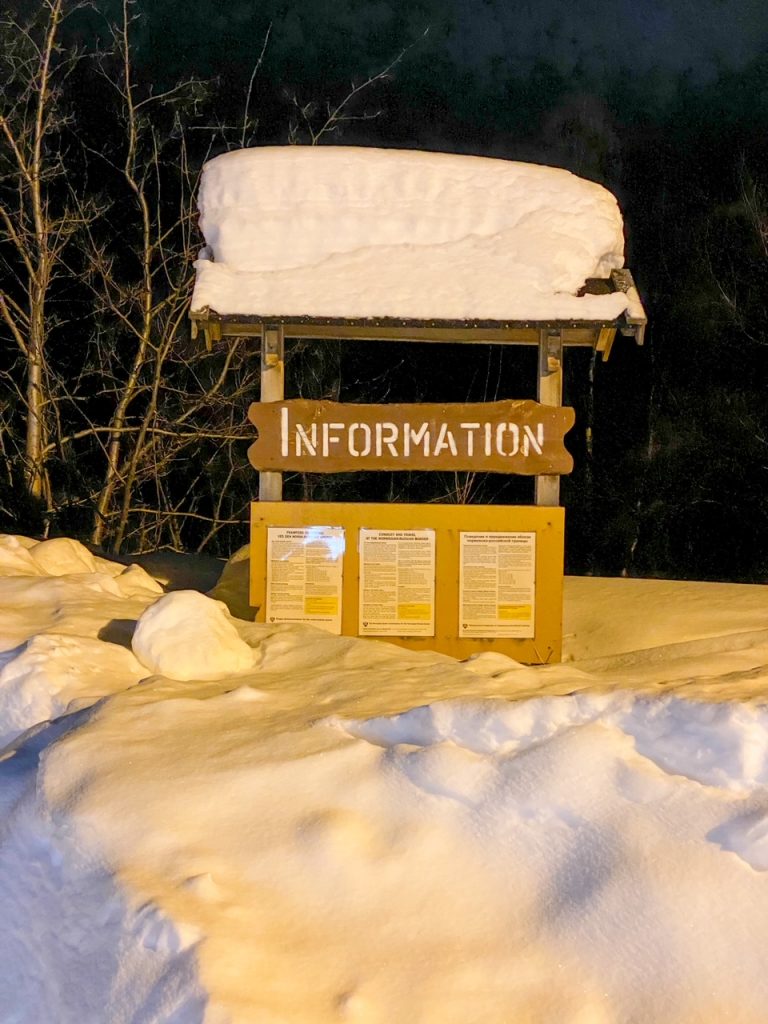 During this Northern Lights Safari, you'll be driven either east toward the Russian border, west toward Finland, or south into the Pasvik Valley, depending on which area offers the best chance of catching the elusive Northern Lights. En route, you'll learn a bit about the Northern Lights, Kirkenes and the surrounding area.
Unfortunately, we didn't see the Northern Lights during our tour, but we got to visit the Russian border, which was pretty neat! Similar to the Snowhotel's other excursions, this tour offers transportation to and from your hotel in Kirkenes.
Final Thoughts
Kirkenes, Norway is a great place to stay to take advantage of arctic activities and polar nights. Start planning your visit today; you won't regret it!
Ready to plan the rest of your winter Norway trip? Check out these blog posts:
XOXO Sara at Travel A-Broads