Tromsø is a seaside arctic city located on the island of Tromsøya in Northern Norway and is a great place to visit in the winter.
From hiking, skiing, dog sledding, reindeer feeding and whale watching to museums, art galleries, ice domes and floating saunas, this Norwegian gem has it all! Read on to learn more about how to get to Tromsø, where to stay in Tromsø and what to do for three days in Tromsø.
*P.S. this post contains some affiliate links. At no additional cost to you, we may earn a small commission when you make a purchase.
A Bit About Tromsø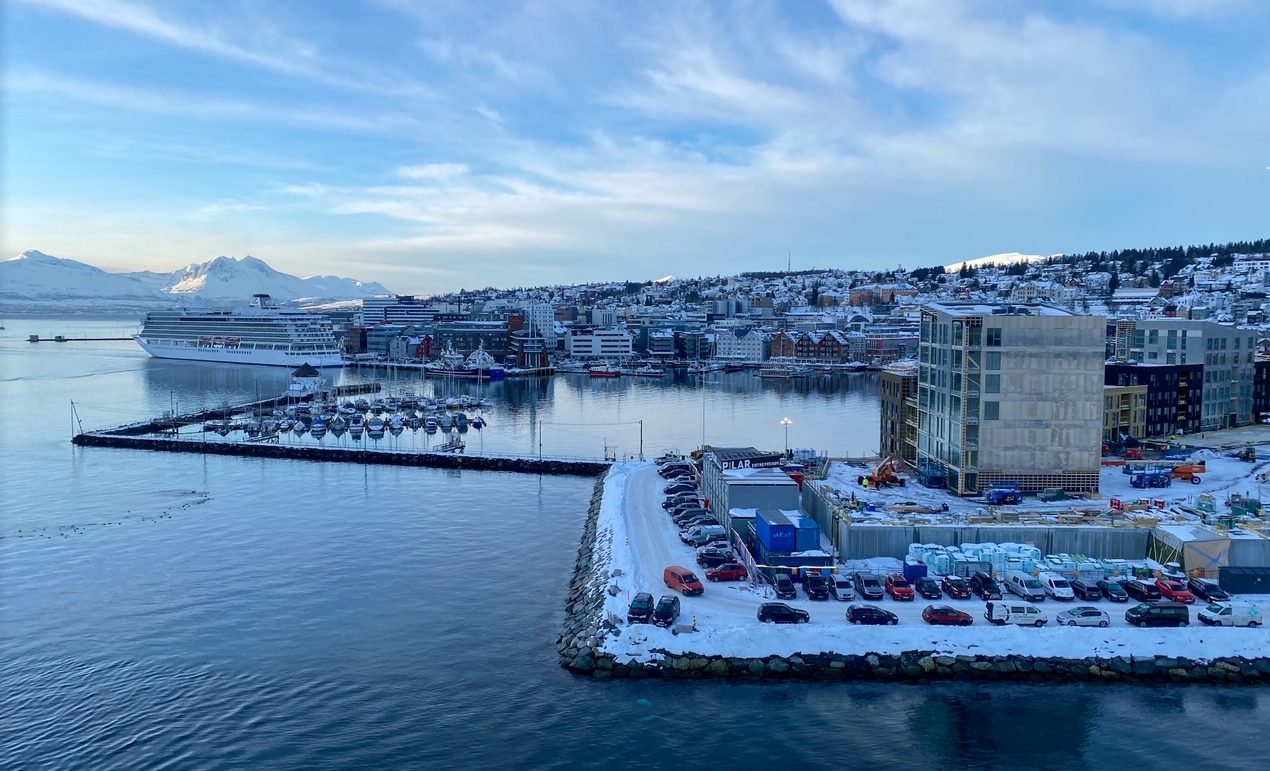 Tromsø is the largest urban area in Northern Norway and the third largest north of the Arctic Circle, following Murmansk and Norilsk in Russia. It was nicknamed the "Paris of the North" in the late 19th century for its decadent restaurants, bustling nightlife, interesting culture, and overall sophistication compared to the rest of rugged Northern Norway.
Tromsø's location 217 miles north of the Arctic Circle renders annual polar days (a.k.a. midnight sun) and polar nights depending on the season, and a visit to Tromsø in the winter promises excellent chances of catching the dazzling Northern Lights! In fact, Tromso is one of the best places in the world (and in Norway) to see the Northern Lights.
Tromsø's location north of the Arctic Circle also means that it gets quite cold here. Refer to our travel packing list for winter in Norway to ensure you've packed appropriately.
How to Get to Tromsø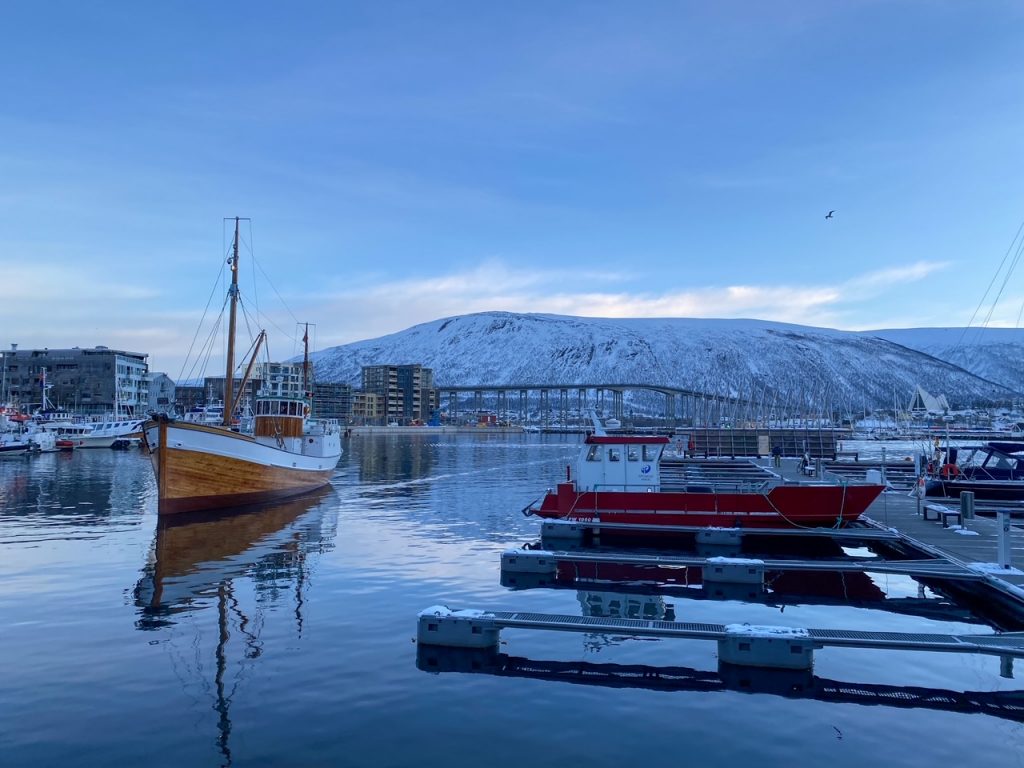 Since we were on a twelve-day Norwegian adventure, we flew via Wideroe from the Sørkjosen Airport to the Tromsø Airport after seeing the Northern Lights at Lyngen North Glass Igloo Hotel.
From the airport, we took the bus into the city center, then walked the two blocks to our hotel, the Scandic Ishavshotel. The bus departs every five to ten minutes, and it's a fifteen minute ride to the city center.
Where to Stay in Tromsø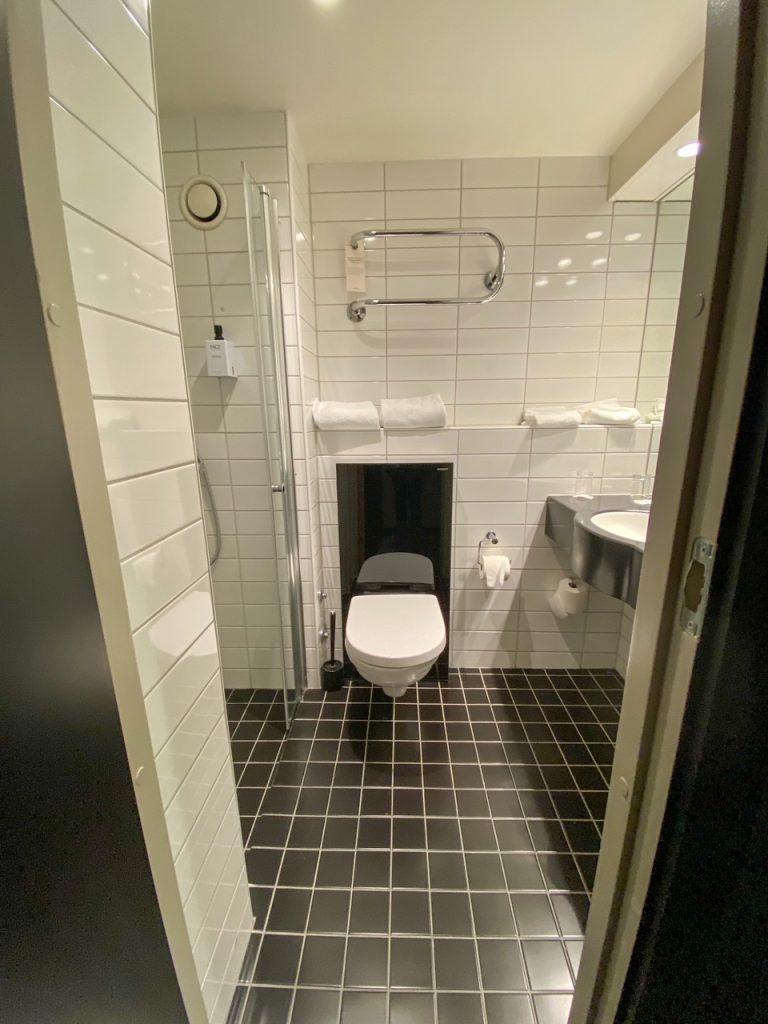 We arrived at the Scandic Ishavshotel in the early morning, and they were able to hold our bags while we did some sightseeing. The Scandic Ishavshotel is conveniently located in Tromsø's city center, making it walkable to many of the city's main attractions. The hotel offers elegant rooms with stunning harbor views and an award-winning breakfast buffet. There's also a restaurant on site that offers fresh seafood and locally produced meat via a modern à la carte menu.
Three-Day Tromsø Winter Itinerary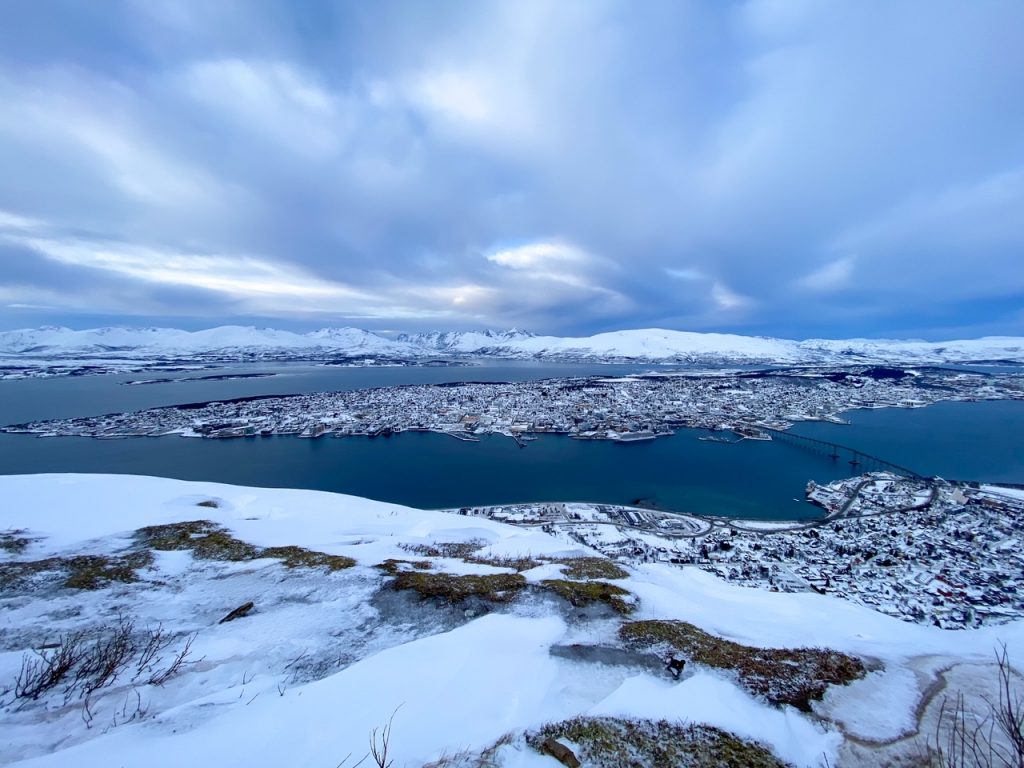 Tromsø is a lively city full of culture and Arctic cuisine. It's location, nestled among beautiful mountains, fjords and islands, creates endless opportunities for fun Arctic activities. You won't be bored here, that's for sure!
Day 1 in Tromsø
Visit the Oldest House in Tromsø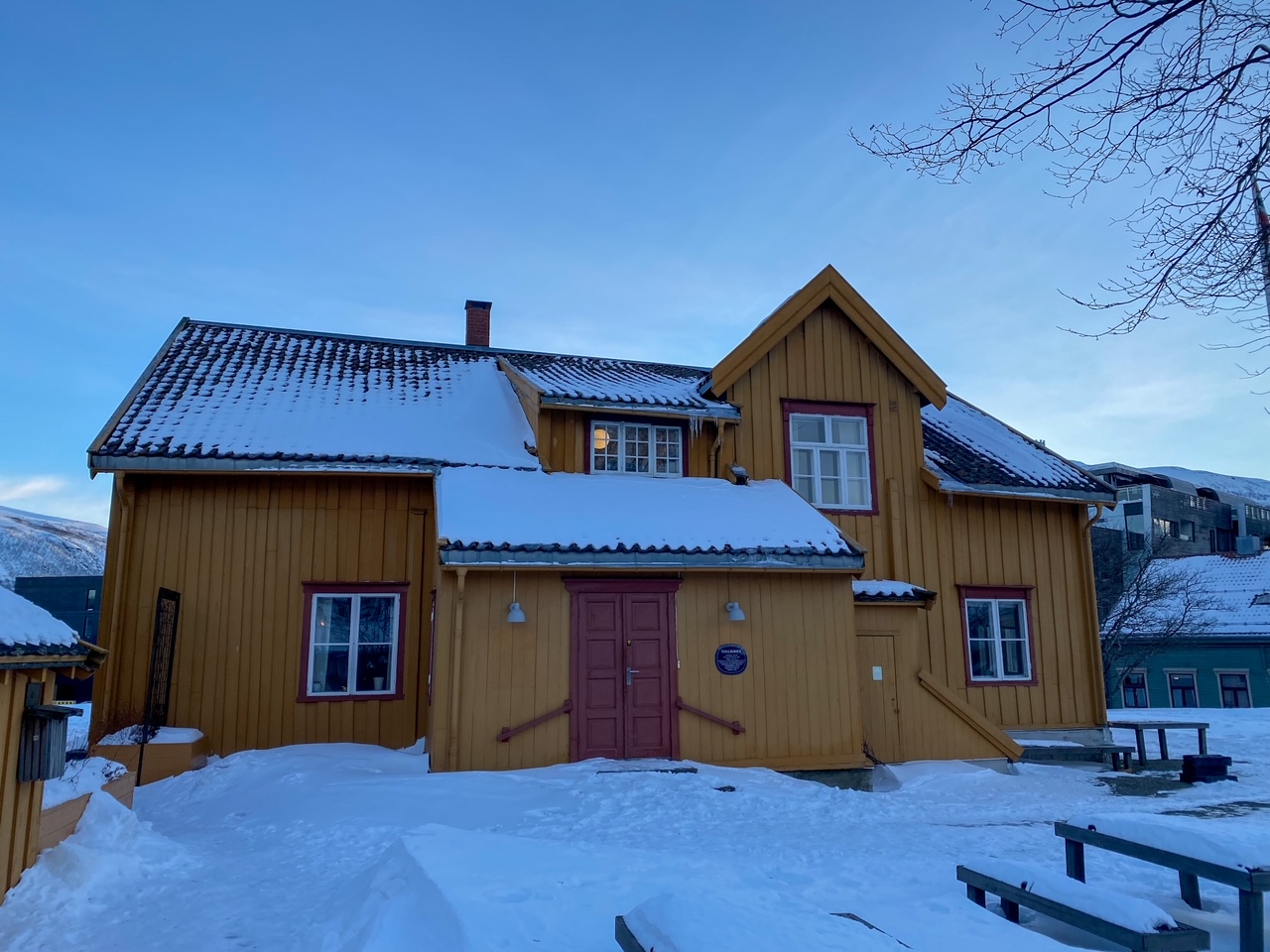 Unlike its namesake in Stockholm, Sweden, which is the world's oldest open-air museum and zoo and showcases different houses and farmsteads from around the country, Skansen Tromsø is a single historic building.
Initially built as a customs station in 1789, Skansen is now the oldest house in Tromsø. It's alleged that the foundations are remnants of medieval fortifications, dating as far back as the 13th century – wow!
Skansen has a café that's open during the summer, but we couldn't go inside during our visit in Februrary.
Walk Across Tromsø Bridge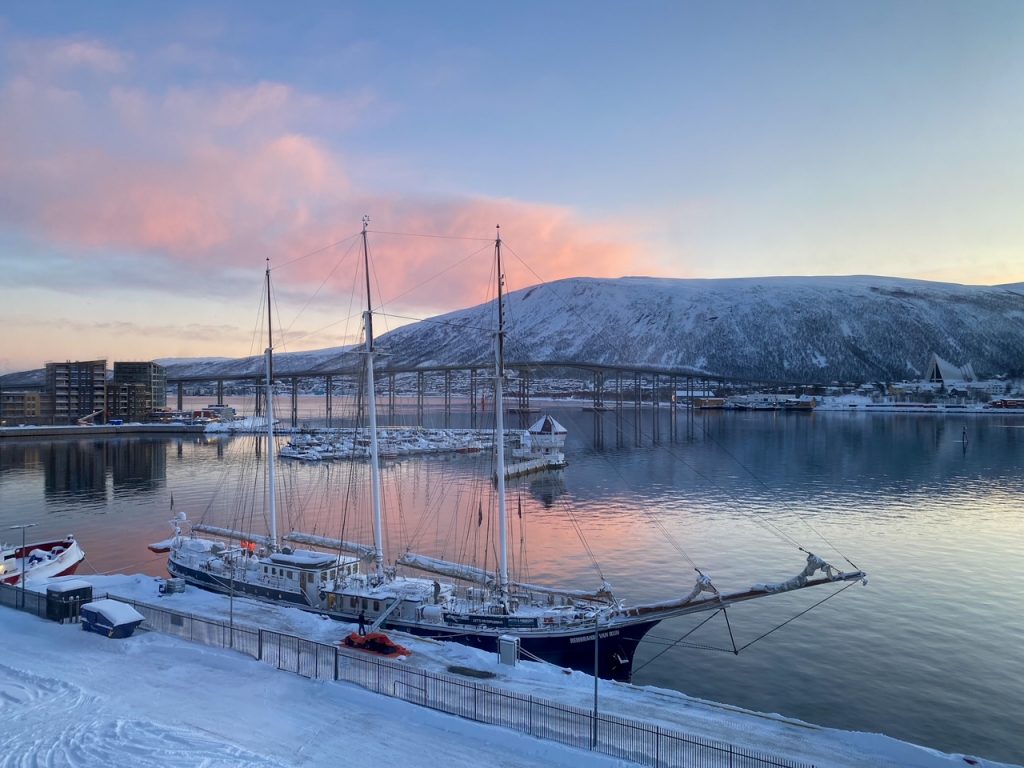 The Tromsø Bridge is a cantilever road bridge that crosses the Tromsøysundet strait between the mainland (Tromsdalen) and the island of Tromsøya – and it's one of the most important landmarks in Tromsø.
Opened in 1960, the 3,399-foot-long bridge was the first cantilever bridge in Norway and the longest bridge in Northern Europe. And, it replaced an inefficient ferry system, which was previously the only way to get across the strait. Given that Tromsø Bridge leads directly to the city center of Tromsø, it also boosted the growth and development of the city.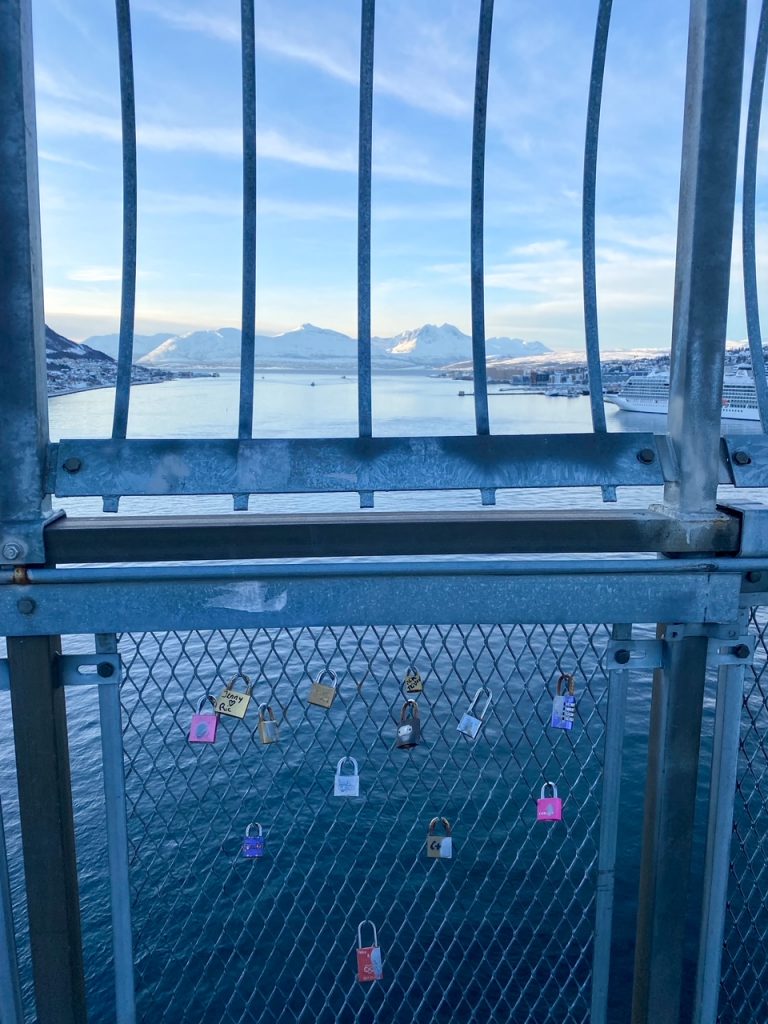 Tourists and locals alike can walk across using the footpath on the south side of the bridge. There's also a bike path on the north side.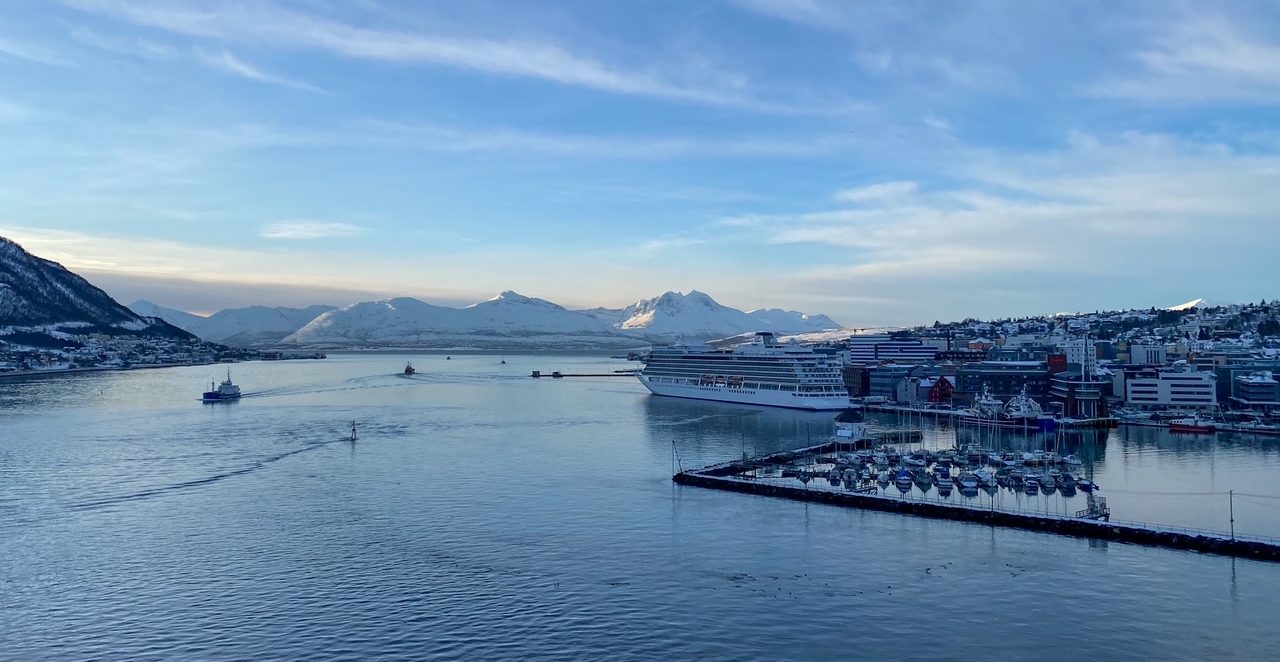 And, the views from the bridge are out of this world, so take your time and take them all in!
Admire the Churches of Tromsø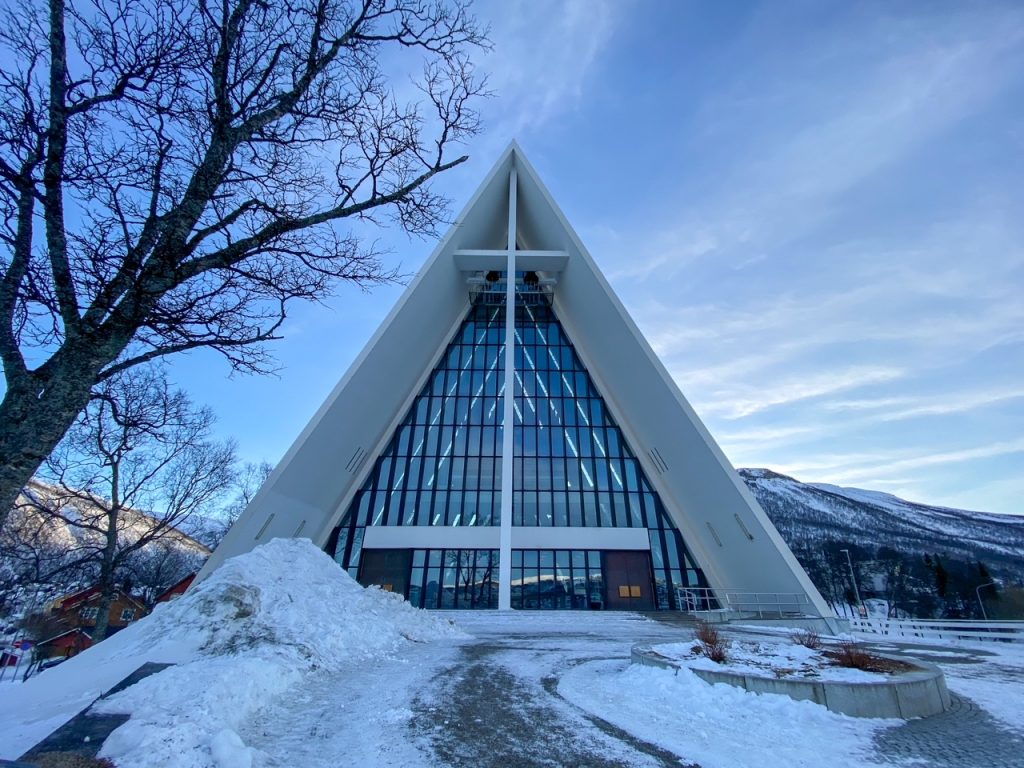 Consecrated in 1965, Tromsdalen Church, i.e. the Arctic Cathedral, is a parish church of the Church of Norway in Tromsø. It's located across the Tromsø Bridge in the Tromsdalen valley and is constructed from mainly concrete and metal.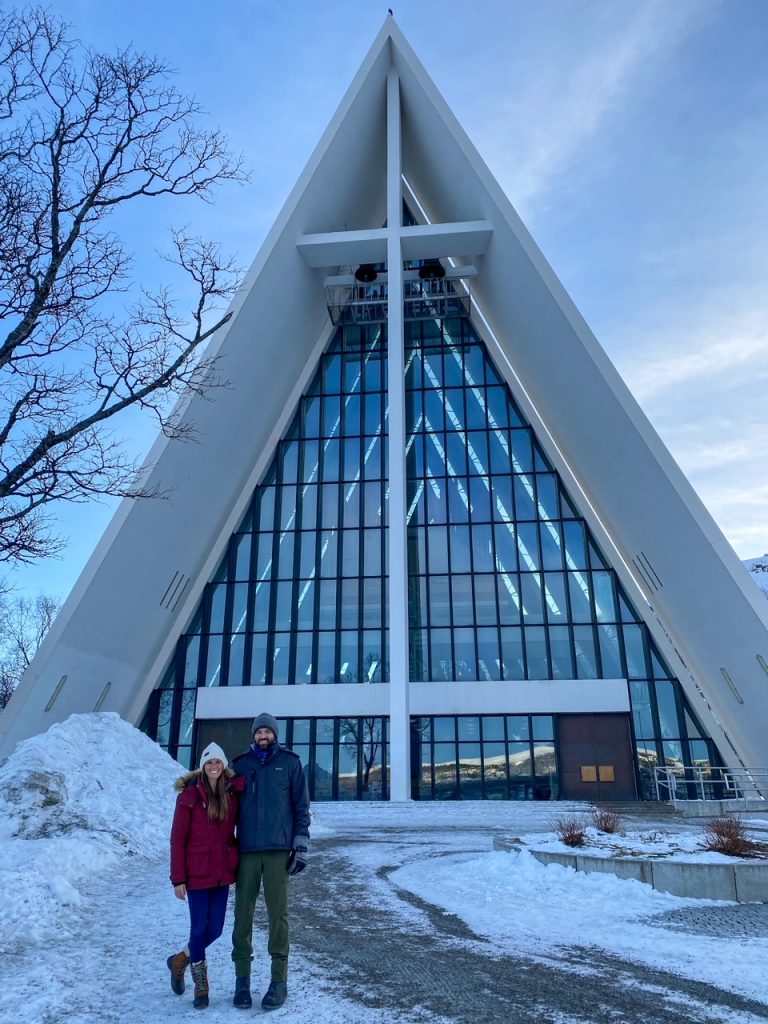 The church is commonly called "Ishavskatedralen", which translates to "Cathedral of the Arctic Sea", or more simply "Arctic Cathedral", but despite its nickname, it is not a cathedral.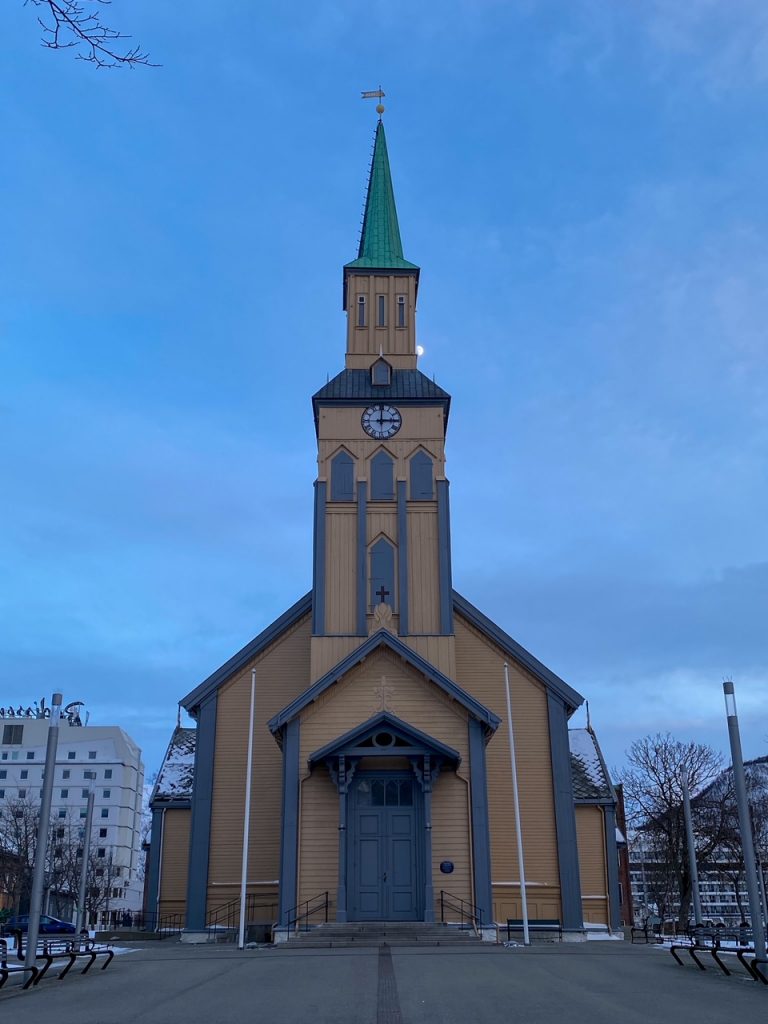 Its sleek and modern design makes the Arctic Cathedral one of the most popular churches to visit in Tromsø, but there are other notable churches here too. The Tromsø Cathedral is the only wooden cathedral in Norway, and the Cathedral of Our Lady, Tromsø is the northernmost Catholic cathedral in the world.
Ride the Fjellheisen Cable Car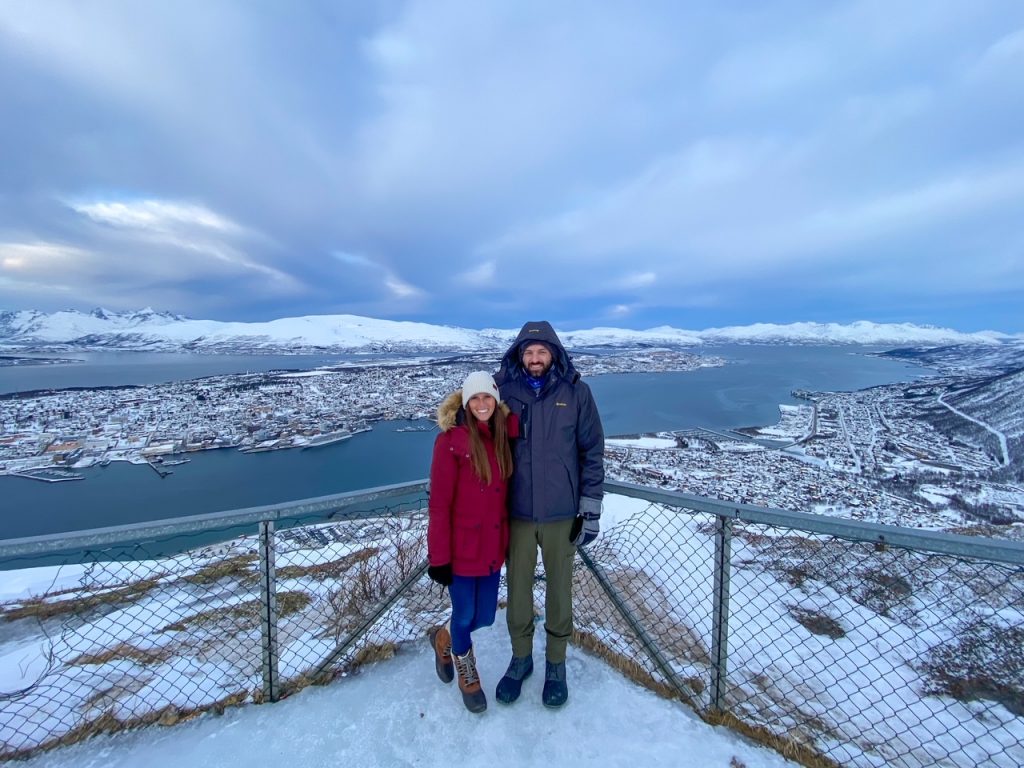 Built in 1961 by a shipping company that operated extensively in polar expeditions in the Arctic and Antarctic, Fjellheisen is Tromsø's most popular tourist destination.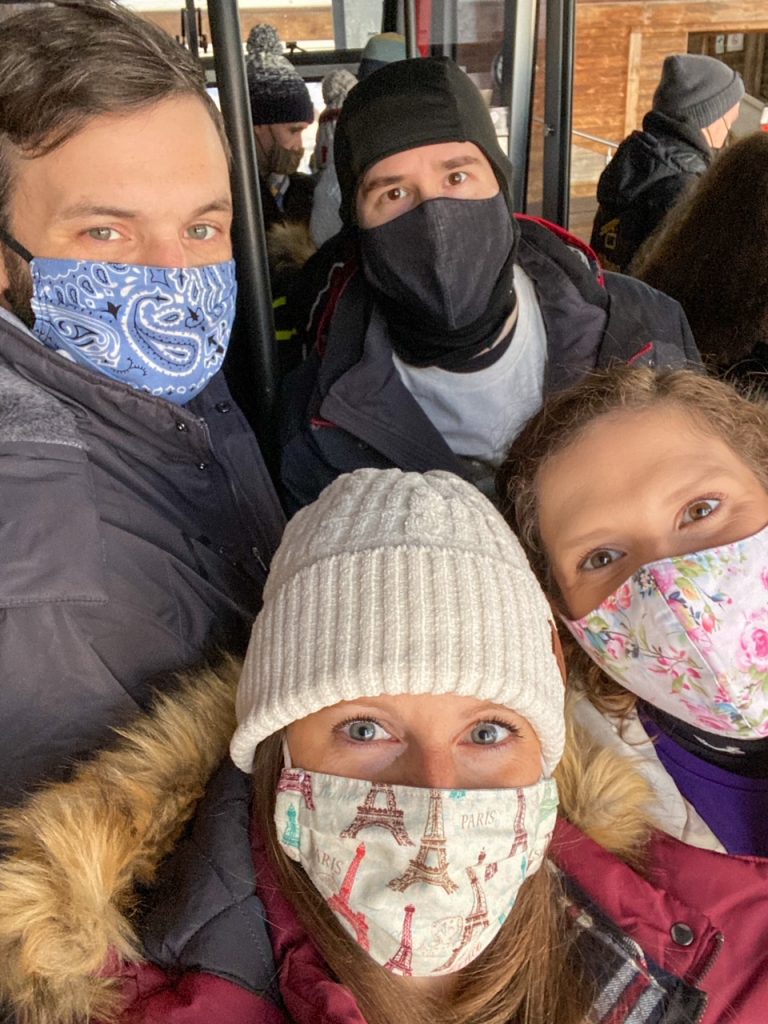 A four-minute cable car ride starting from Solliveien in Tromsdalen takes visitors up Storsteinen mountain. At nearly 1,400 feet above sea level, the top offers epic, panoramic views of Tromsø, Tromsdalstinden mountain, the Tromsø Bridge, and the Tromsøysundet strait below.
There's also a restaurant at the top called Fjellstua Restaurant, which offers food and refreshments, warmth from the cold winter weather and fantastic views.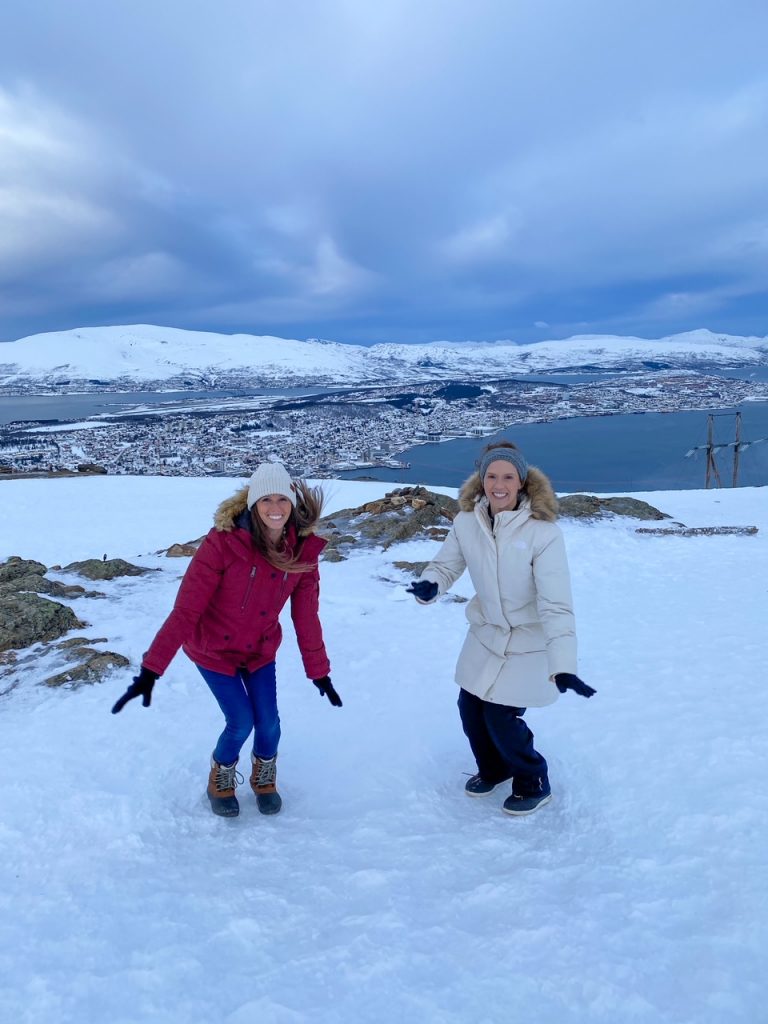 Fjellheisen is also a gateway to various arctic activities like hiking, snowshoeing, paragliding and more. Plus, it's one of the best places to see the Northern Lights in Tromsø!
It takes approximately 45 minutes to reach Fjellheisen from the city center by walking, 15 minutes by bus and 10 minutes by taxi.
Chase the Northern Lights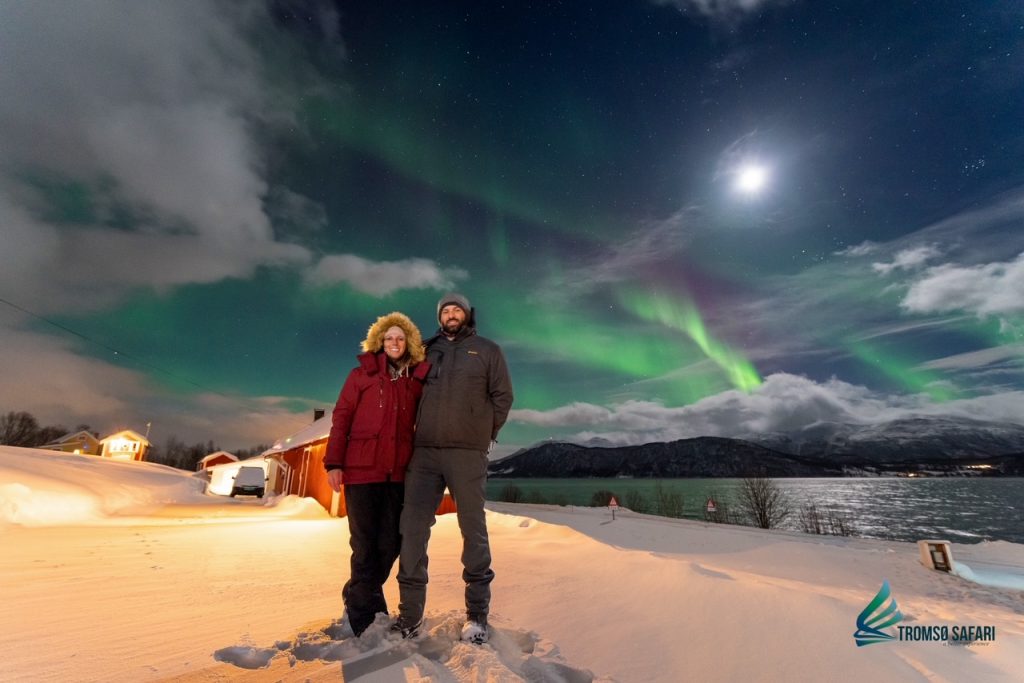 Provider: Tromso Safari AS, now called Best Arctic
Meeting time/location: 6 pm at Radisson Blu Hotel
Duration: 5-7 hours, returning to Tromsø between 11:30 pm -1:30 am
Price (at the time of this post): 1,590 NOK (~$160 USD) for adults, 1,390 NOK ($140 USD) for youth aged 13-16, and 850 NOK ($86 USD) for children aged 4-12
Included: transportation to and from a private Aurora Safari Camp, a knowledgeable, English-speaking guide, toilet facilities, warm overalls, advice on how to take Aurora photos, use of tripod (limited availability), high-resolution photos, dinner and non-alcoholic drinks
Not included: gratuities/tips
Seeing the Northern Lights is a bucket list experience for most travelers visiting the Arctic, and because of its location north of the Arctic Circle and inside the aurora oval, Tromsø is one of the best places in the world to do so!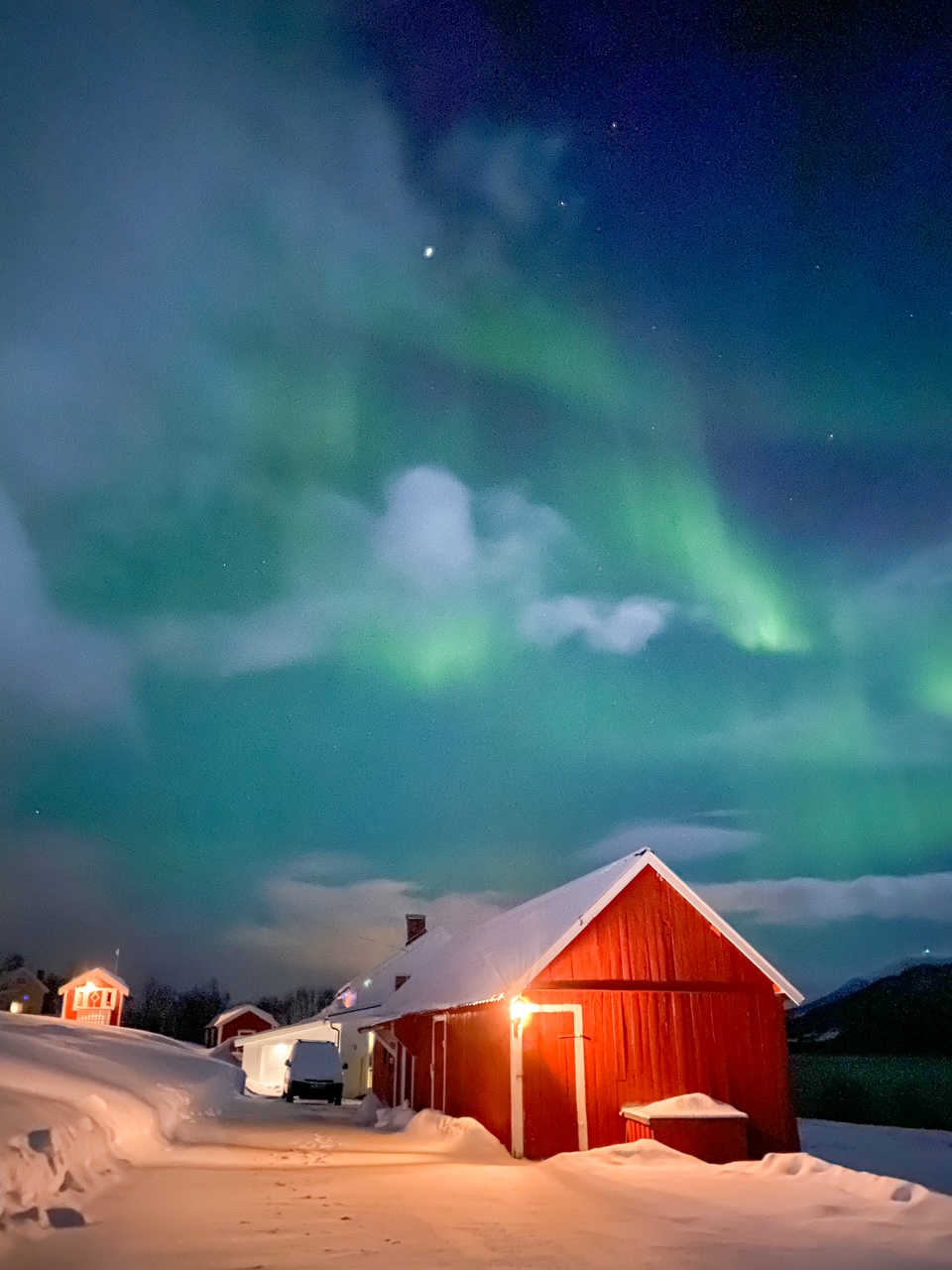 Best Arctic offers a local, sustainable and social 'Northern Lights Safari to Aurora Base Camps' tour. During this tour, transportation is provided via bus to one of their four private camps around the Tromsø region.
A local, experienced guide will check the weather forecast before departure, selecting the camp with the best chances of clear skies. And, if weather conditions are poor, they'll take you to a different location to improve your chances of seeing the enchanted Northern Lights.
On the way, the guide will share information about the tour, the area, and more and show a video about the Northern Lights.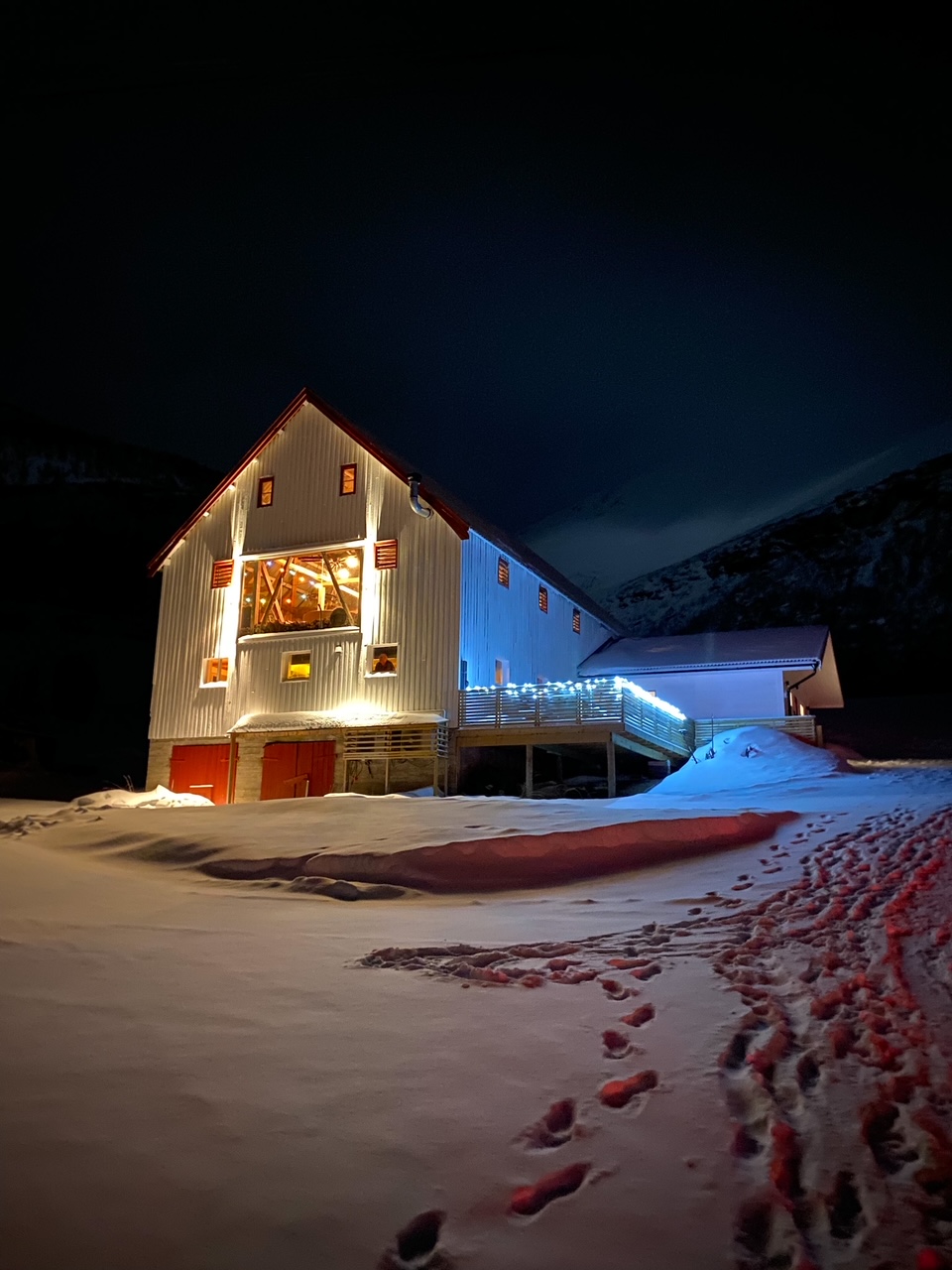 Waiting for the Northern Lights to appear in the Arctic winter can be challenging and cold, so Best Arctic has warm shelters (either a small house or Sami tent) with toilet facilities where visitors can hang out, enjoy a meal of locally-made soup or stew and some coffee or tea, and wait for the elusive Northern Lights to appear.
A Broad Recommendation: remember to wear warm clothes, a thermal base layer, snow pants, coat, gloves, ear warmer headband or hat, scarf, wool socks, and boots. It can get really cold out there, and you won't want to miss a minute of this incredible natural phenomenon!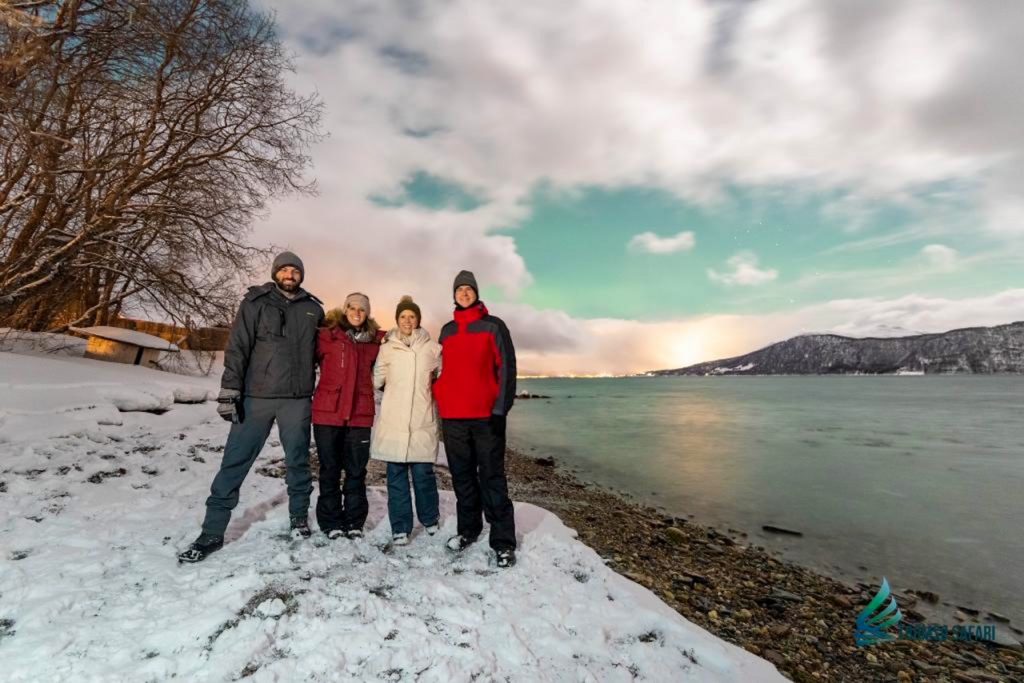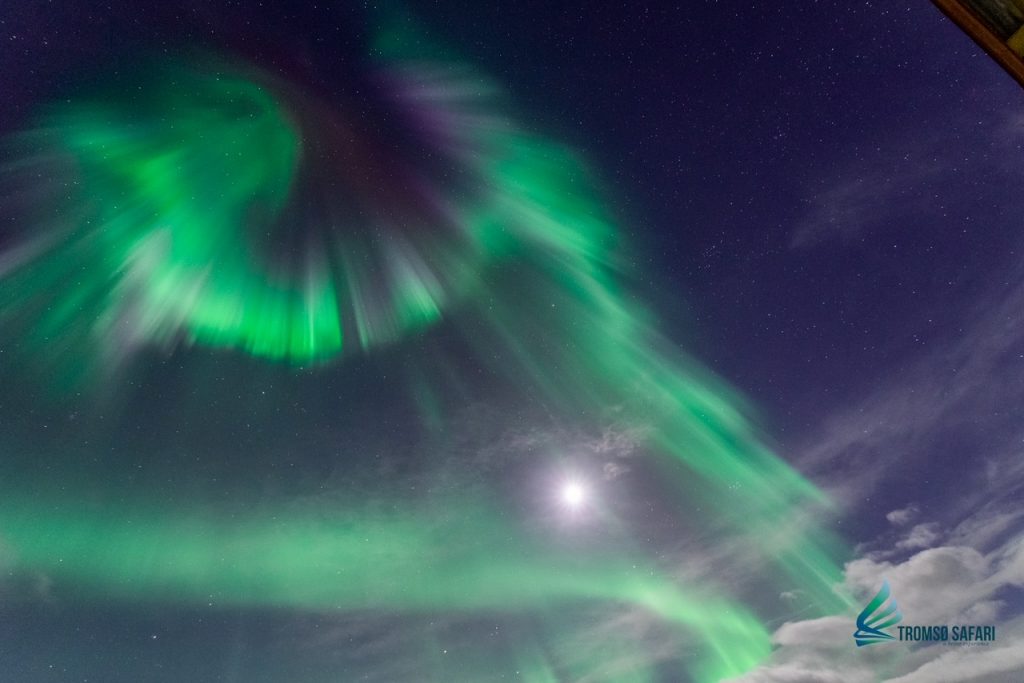 If the Northern Lights do make an appearance, a guide will take some photos to ensure you can relive this moment for years to come.
We had so much fun on this excursion and were so excited to see the Northern Lights! Plus, we love that Best Arctic is dedicated to creating a more sustainable economic model for the region and tourism. They divide the income from this tour between the bus drivers, guides and the owners of the camps, who use local businesses to supply food for the tours.
A Broad Recommendation: the best time to see the Northern Lights in Tromsø, Norway is from September to early April, so plan accordingly. We visited in February and got a 5 out of 5 star Northern Lights show according to our guides!
Day 2 in Tromsø
See the Seals at Polaria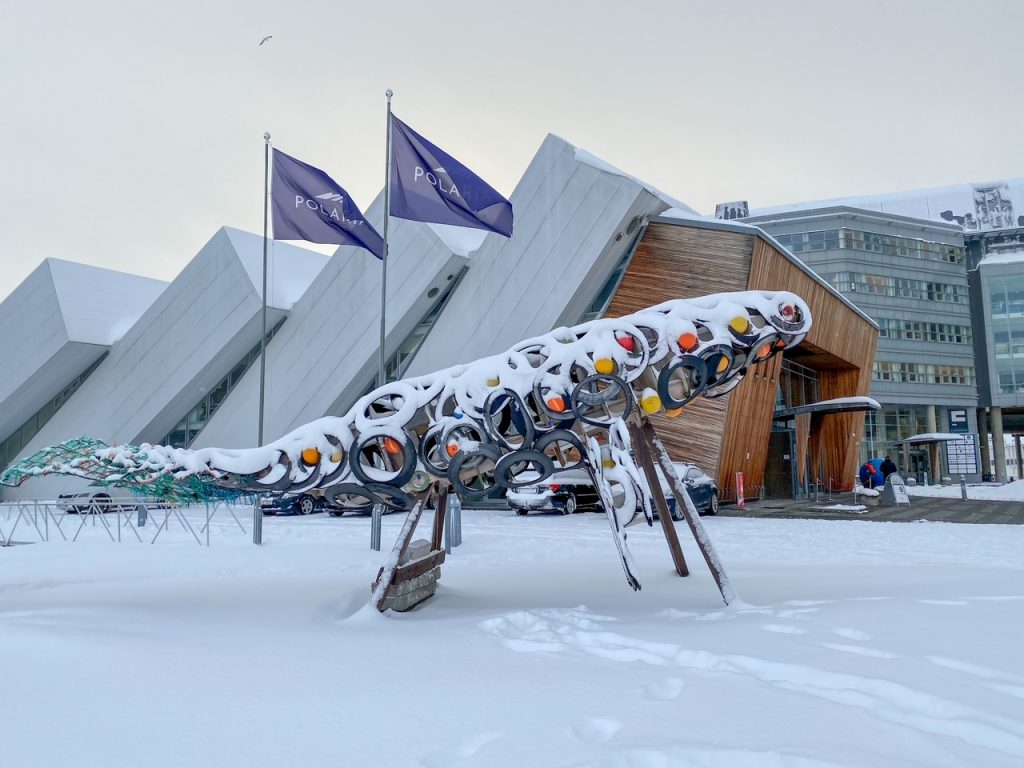 Open daily from 10 am – 4 pm, Polaria is an Arctic experience center and one of two places in Europe where you can see bearded seals up close. And, it's a fun experience for the whole family!
Polaria's mission is to increase awareness about the climate and environment, ensuring a better future for generations to come. They also focus on disseminating research that takes place in the High North, i.e. the Arctic territory and waters.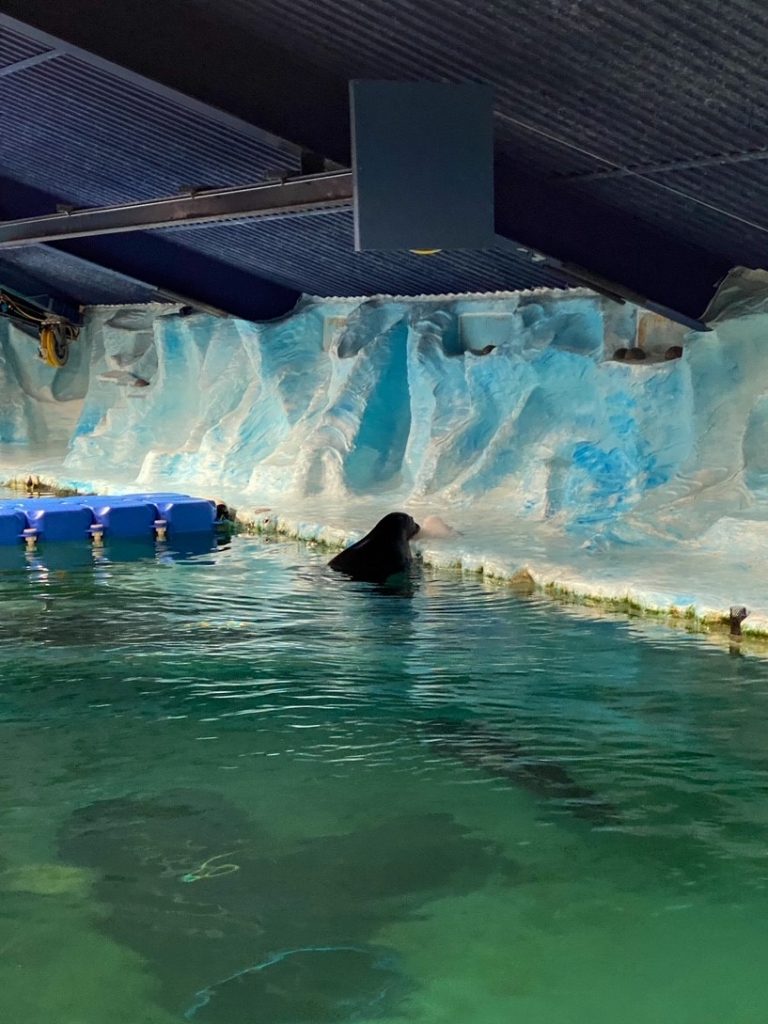 The aquarium is home to four active and playful seals, two bearded seals from Svalbard and two harbor seals from Lofoten. And, the training and feeding of these seals is one of Polaria's most popular exhibitions.
In addition to their exhibitions, Polaria also has a small aquarium with Arctic fish and animal species like catfish, lesser spotted dogfish, and the infamous Norway king crab.
Drink at the Oldest Pub in Tromsø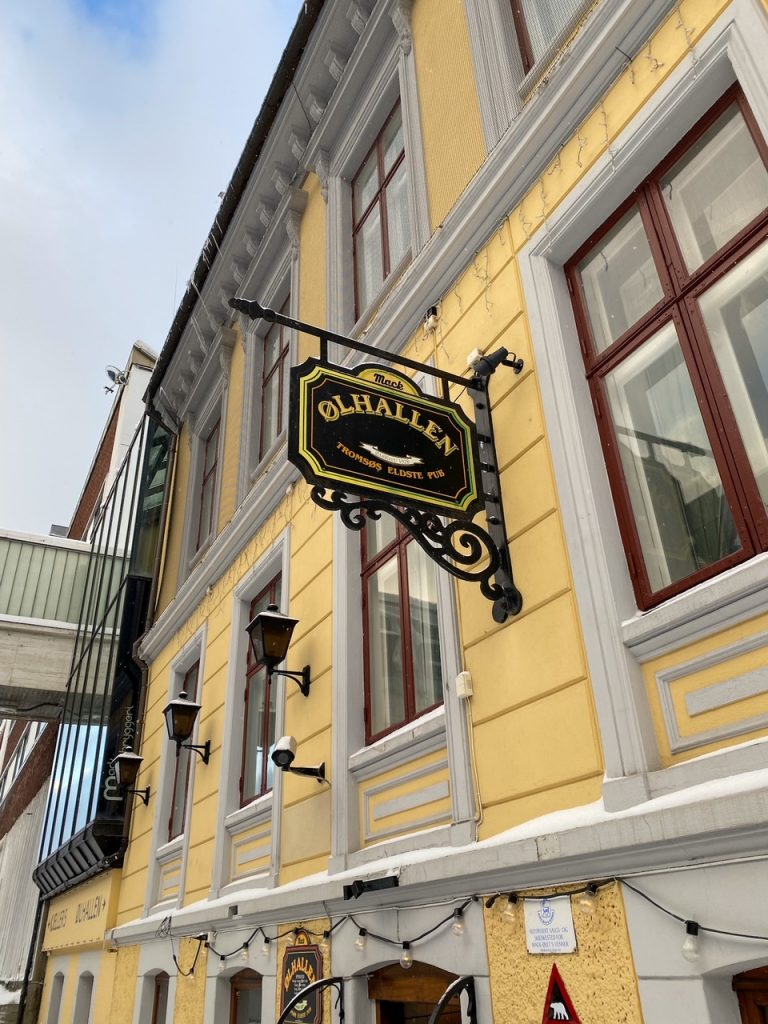 Opened in 1928, Mack's brewpub, Ølhallen, is the oldest pub in Tromsø, and Mack is the northernmost brewery in the world – how neat!
Referred to simply as "The Hall" in its younger years, it was known as a sanctuary for fishermen, farmers, and townspeople. Today, Ølhallen is one of the most iconic places in Tromsø, serving quality Norwegian beer from one of the largest tap selections in Europe – 72 taps to be exact!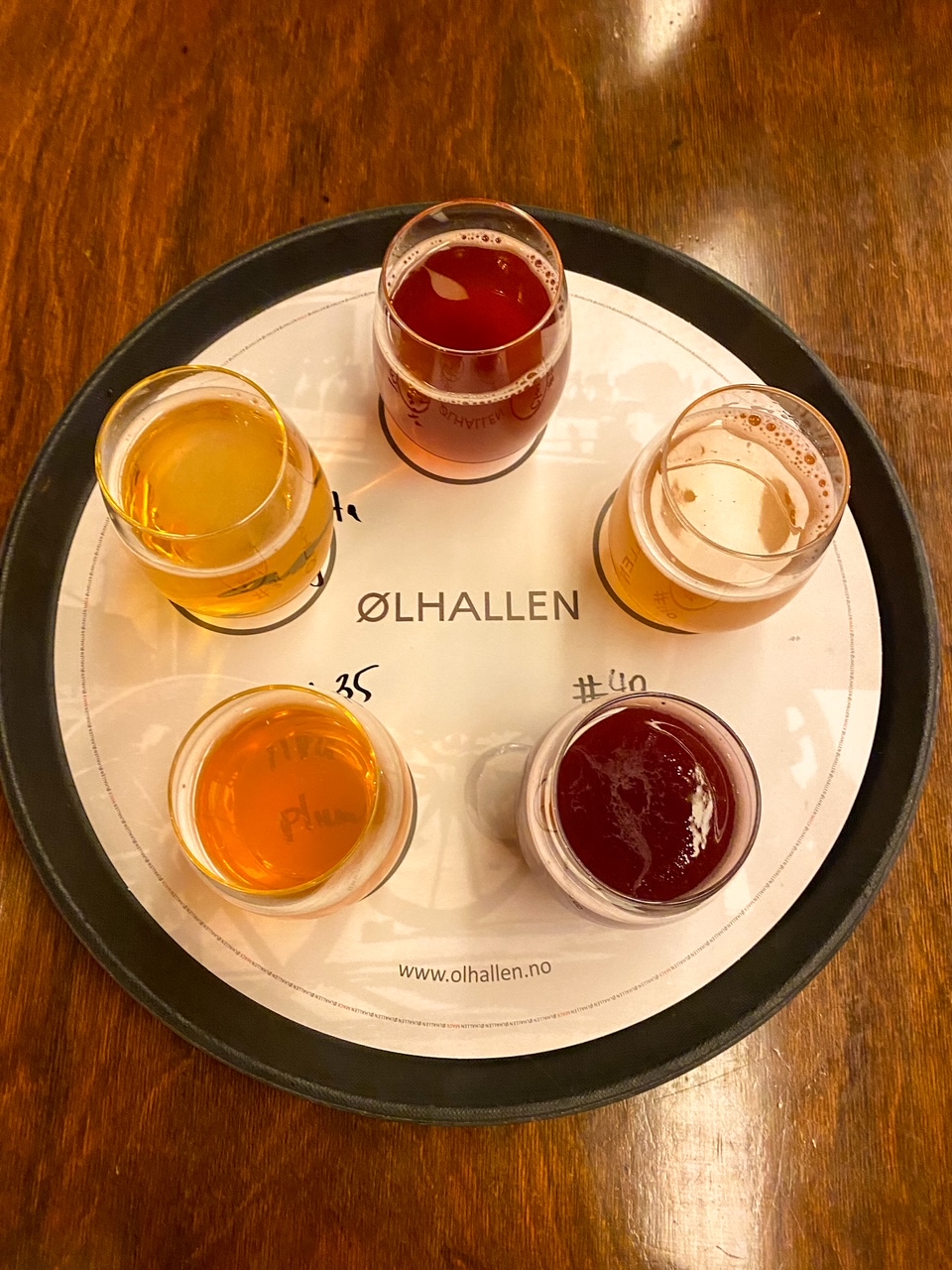 We spent a lovely afternoon here tasting various selections of beers and ciders and enjoying the cozy, European pub vibe.
As they say on their website, "you haven't been to Tromsø if you haven't visited Ølhallen", so be sure to fit this into your Tromsø itinerary.
Visit Norway's Only Troll Museum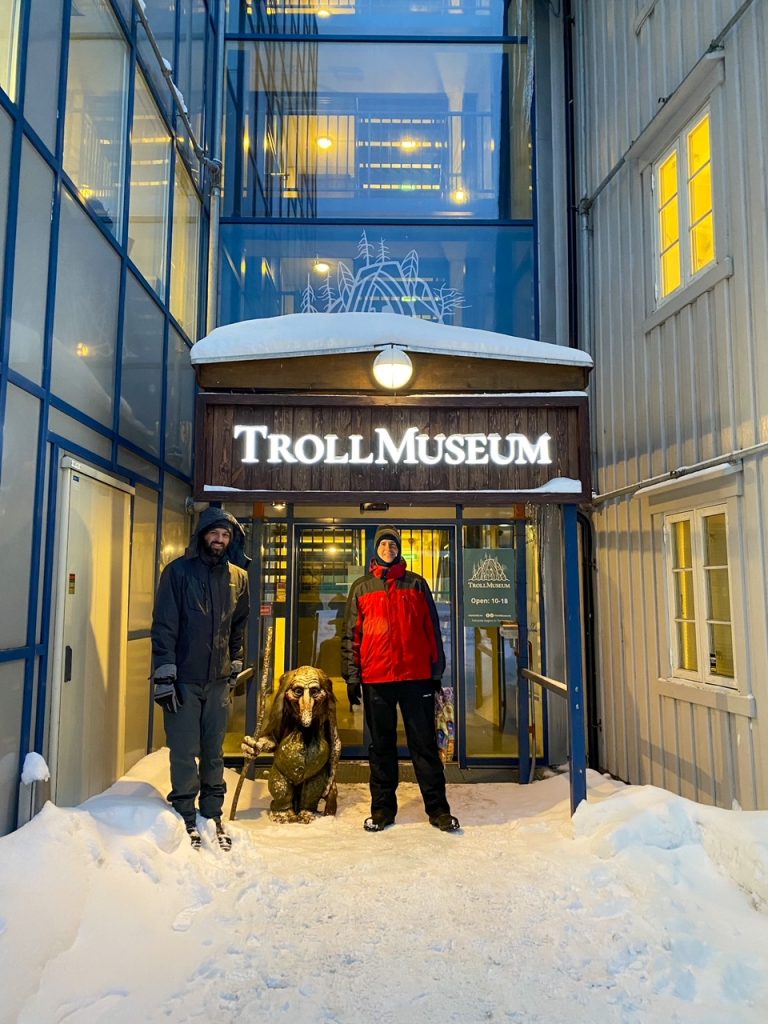 The Troll Museum in Tromsø is the first and only troll museum in Norway and offers fun for both adults and children alike.
Created using augmented reality technology, the exhibits in the Troll Museum come to life, as you learn about Norwegian fairy tales and legends and Norse folklore. You can even see what you'd look like as a troll!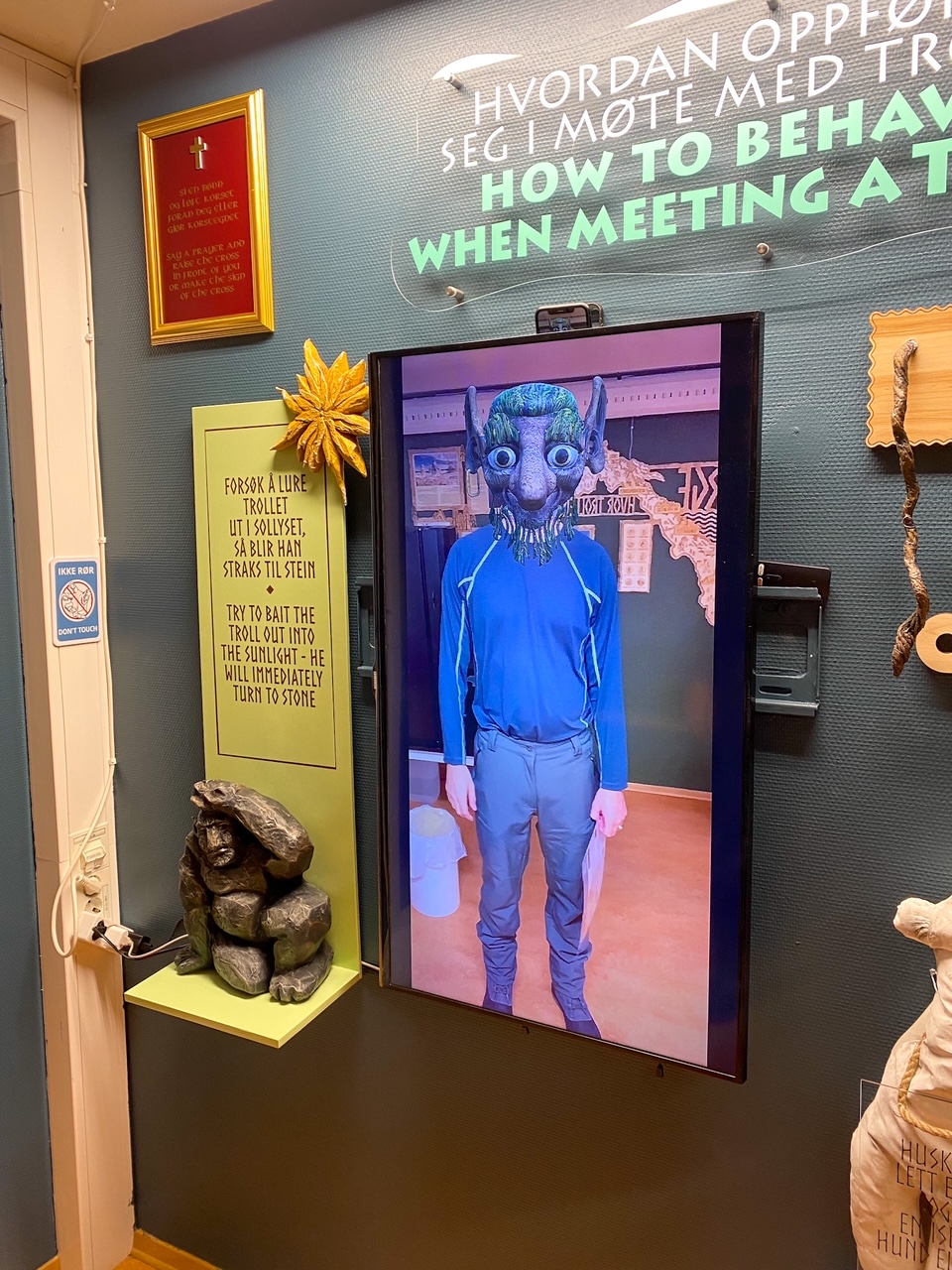 The museum is made up of two halls, one of which follows the "road of trolls" and another which is called the "home of the sea troll". There's also a separate library and game room. Give yourself about an hour to see the entire exhibit and to play some of the games.
Learn Sami Culture & Feed the Reindeer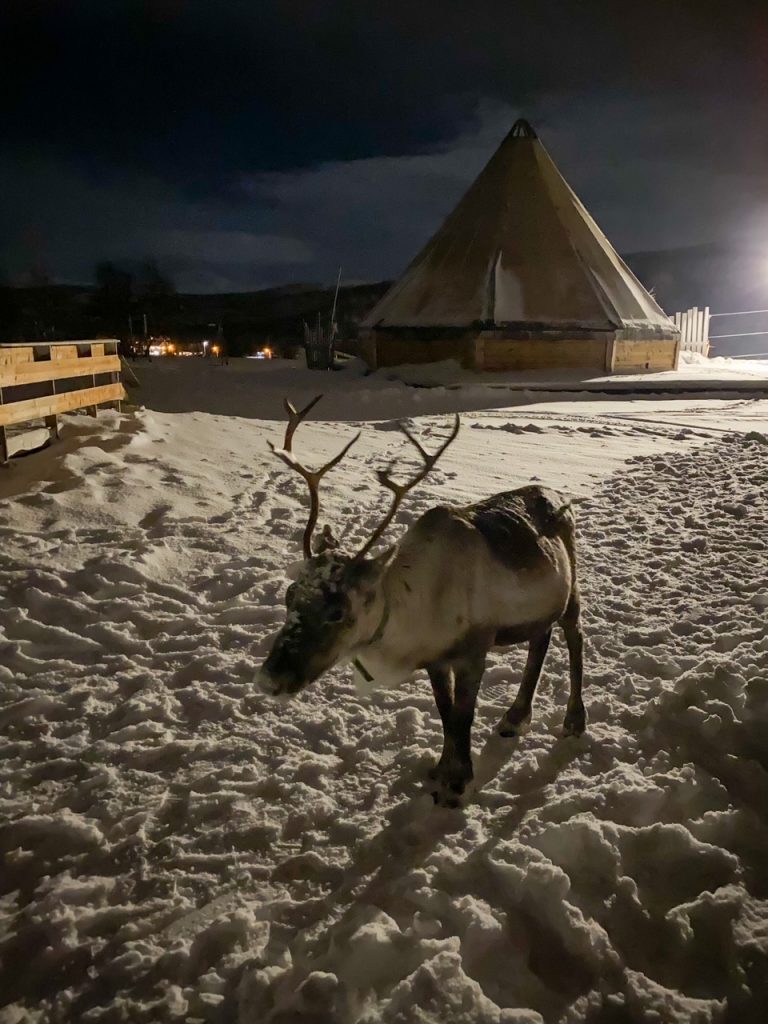 Provider: Tromso Safari AS, now called Best Arctic
Meeting time/location: 5:30 pm at Radisson Blu Hotel
Duration: 4-5 hours
Price (at the time of this post): 1,295 NOK (~$132 USD) for adults, 700 NOK ($72 USD) for youth aged 6-12, and free for children aged 5 and under
Included: transportation to and from the camp, a knowledgeable, English-speaking guide, dinner and non-alcoholic drinks, and a Sami presentation
Not Included: gratuities/tips
A trip to Tromsø wouldn't be complete without interacting with some reindeer, and Best Arctic offers an excursion to do just that!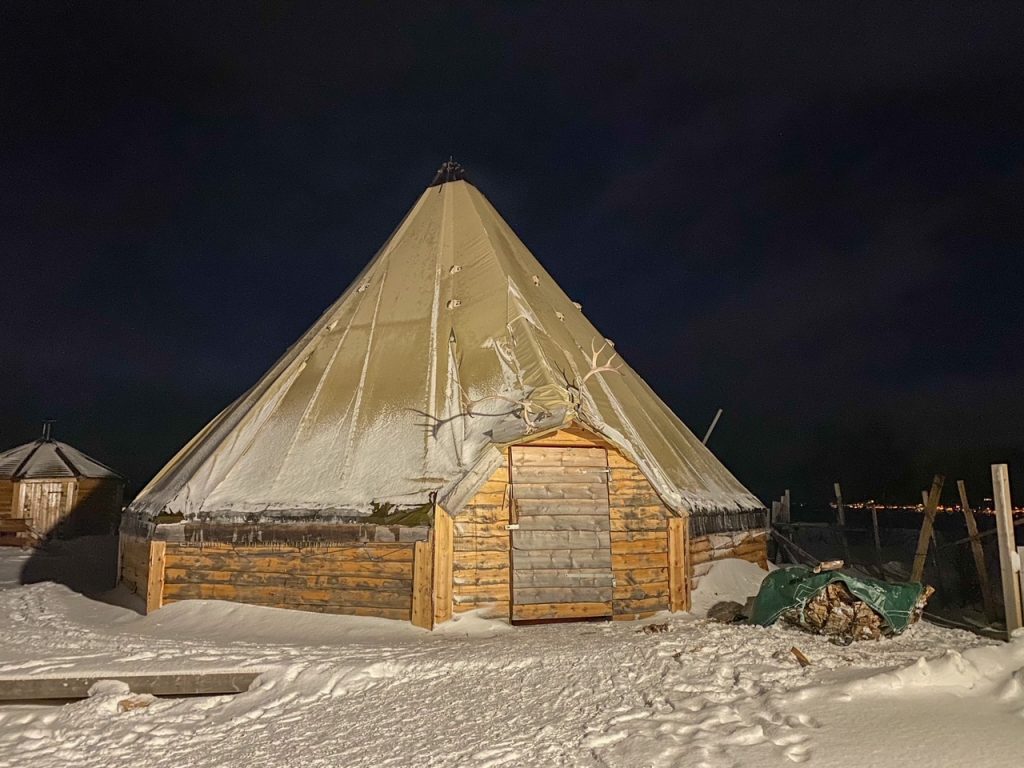 After a 30 to 45-minute drive east toward the Lyngen Alps area, you'll arrive at a traditional Sami camp, where you'll be invited into a lavvu (a Sami herdsmen's tent) and gather around a fire to listen to stories about Sami culture and to hear a joik (a traditional Sami song).
Who are the Sami? The Sami were the first indigenous people of Northern Europe and Scandinavia, with a strong presence in parts of Norway, Sweden, Finland and Russia. Studies suggest that the Sami people were the first people to inhabit the Arctic after the Ice Age and have been here for more than 9,000 years – wow!
They're best known for their nomadic, reindeer herding lifestyle. Reindeer also play an important role in Sami history and culture, contributing to food, storytelling, legends, clothes and handicrafts.
Although the Sami people are integrated into modern society, they retain some ancient traditions such as joik, duodji (handicrafts) and reindeer husbandry, and around 10% of reindeer herders maintain all traditions.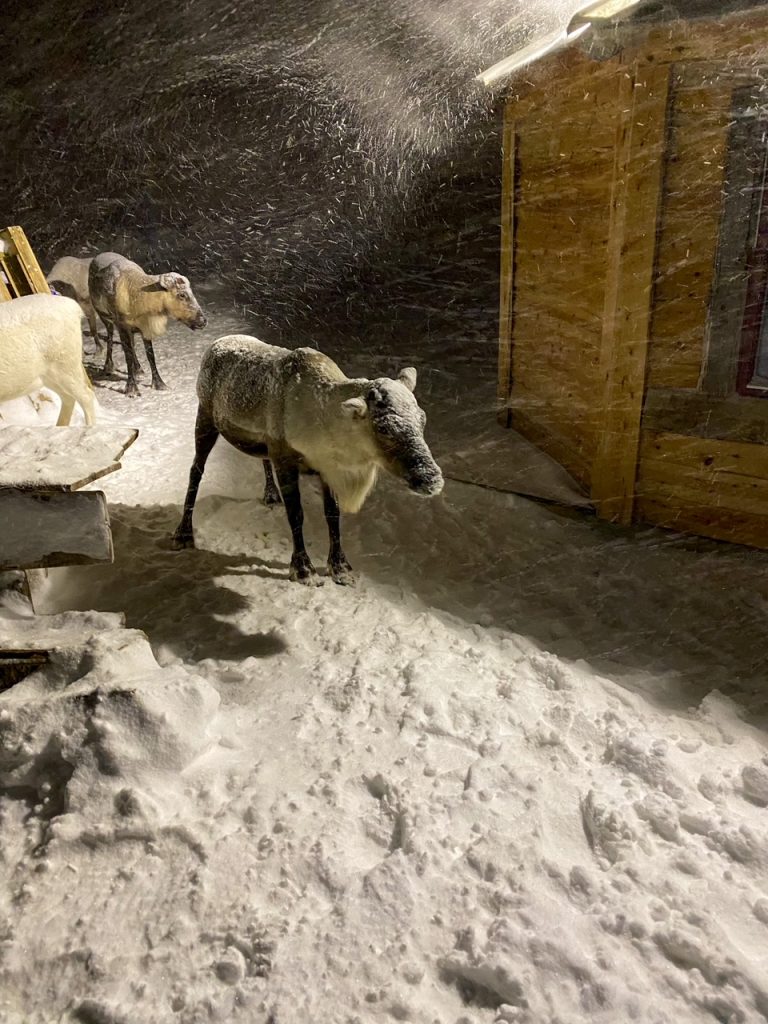 There are about 250,000 semi-wild domesticated reindeer in Norway, and you'll get to interact with a herd of around 200 of them! You'll be given a bucket of reindeer food, and the reindeer will come up to you and eat directly from your hands – or from the bucket if you prefer.
This is such a fun experience, as you get to see the different personalities of the reindeer, ranging from timid to excited to aggressive, and you get to spend as long as you'd like (within reason) refilling your buckets and feeding them.
A Broad Recommendation: although reindeer are friendly, social animals, be sure to watch out for their antlers. They can be a bit clumsy and may accidentally hit you or rip your jacket if you're not careful.
If you're lucky, you may also get to see the Northern Lights!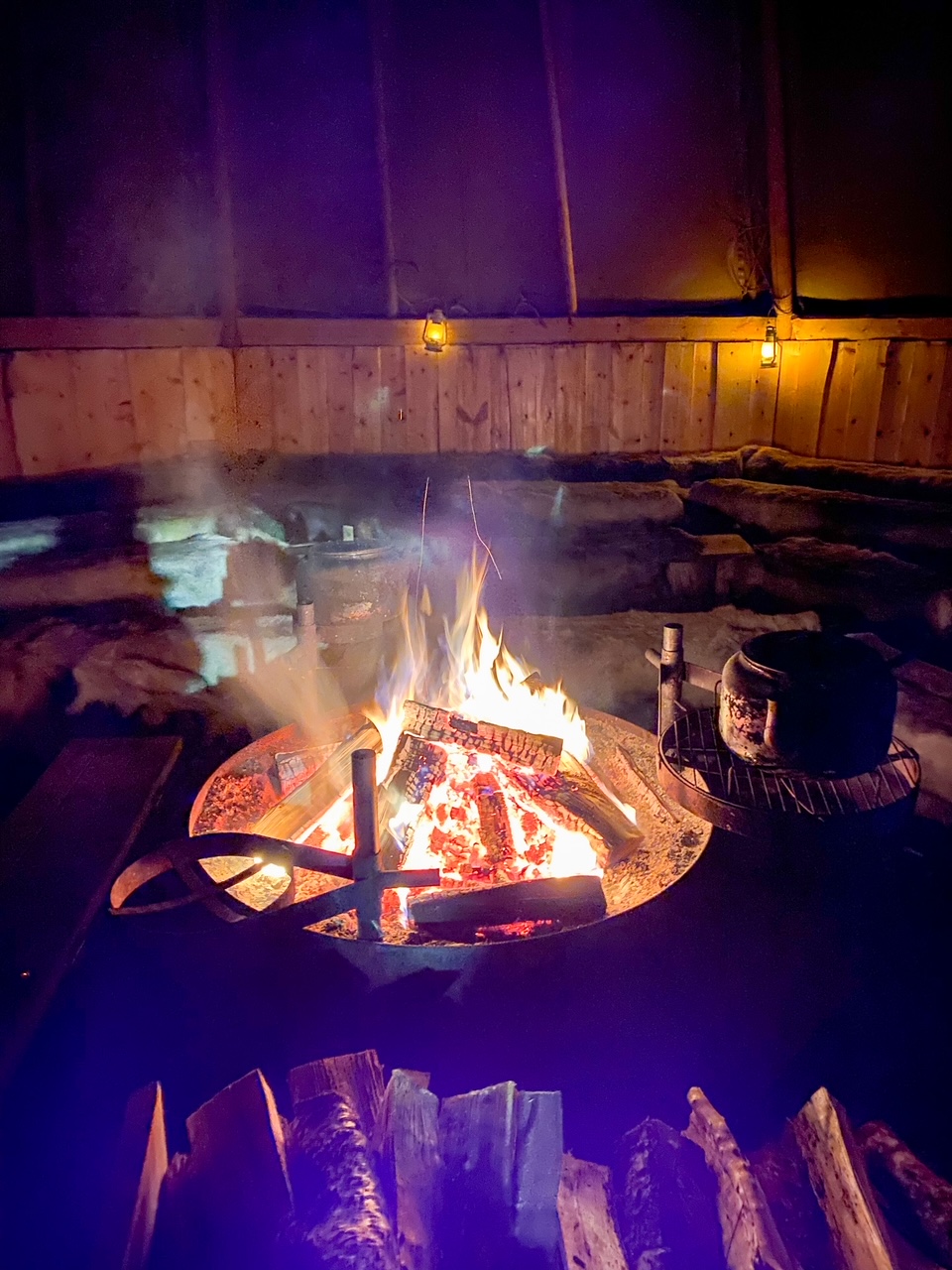 After the feeding, guests are invited inside a warm gamme (a traditional Sami hut) for hot drinks and a traditional Sami three-course meal. The meal includes a salad, bidos (a traditional Sami reindeer stew that is often served at Sami weddings) and a dessert.
Have Drinks at Agenturet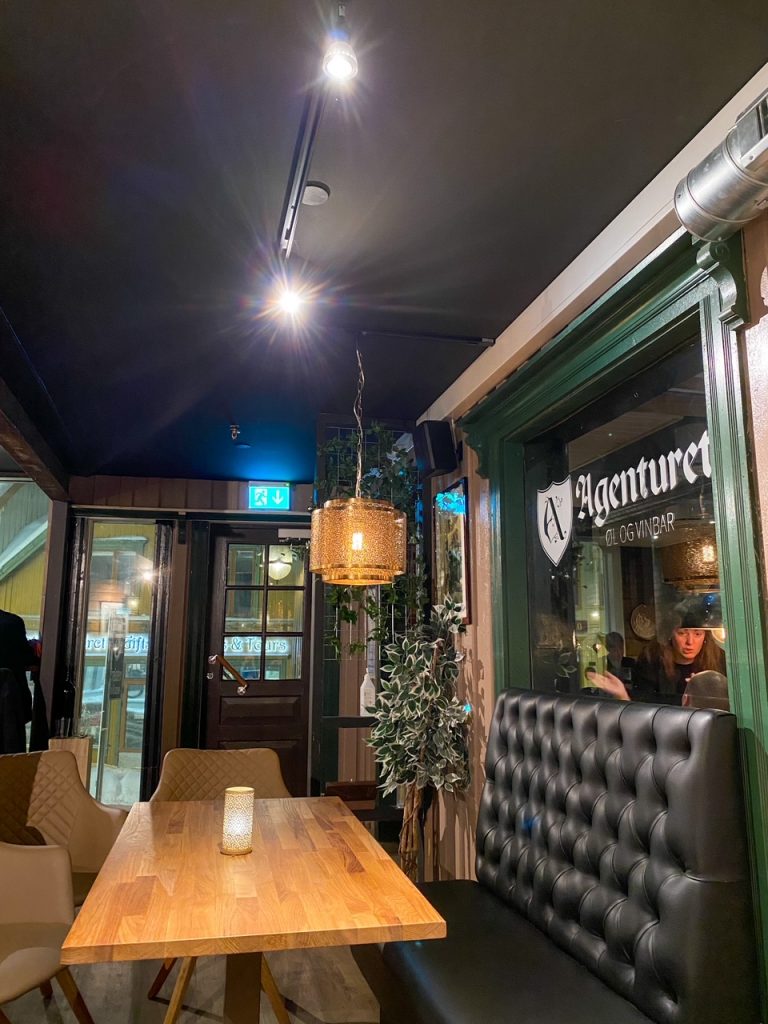 Agenturet, or The Agency, is a bar and bistro in the city center of Tromsø that's best known for its warm and cozy atmosphere. The building has three floors, with a beer and wine bar on the first and a gin bar and bistro on the second, and its historic timber walls date all the way back to 1837 when it was first built.
The Agency has the motto, "if YOU are doing well, WE are doing well!". They also source local materials and support local producers whenever possible. What's not to love?
Day 3 in Tromsø
Explore Downtown Tromsø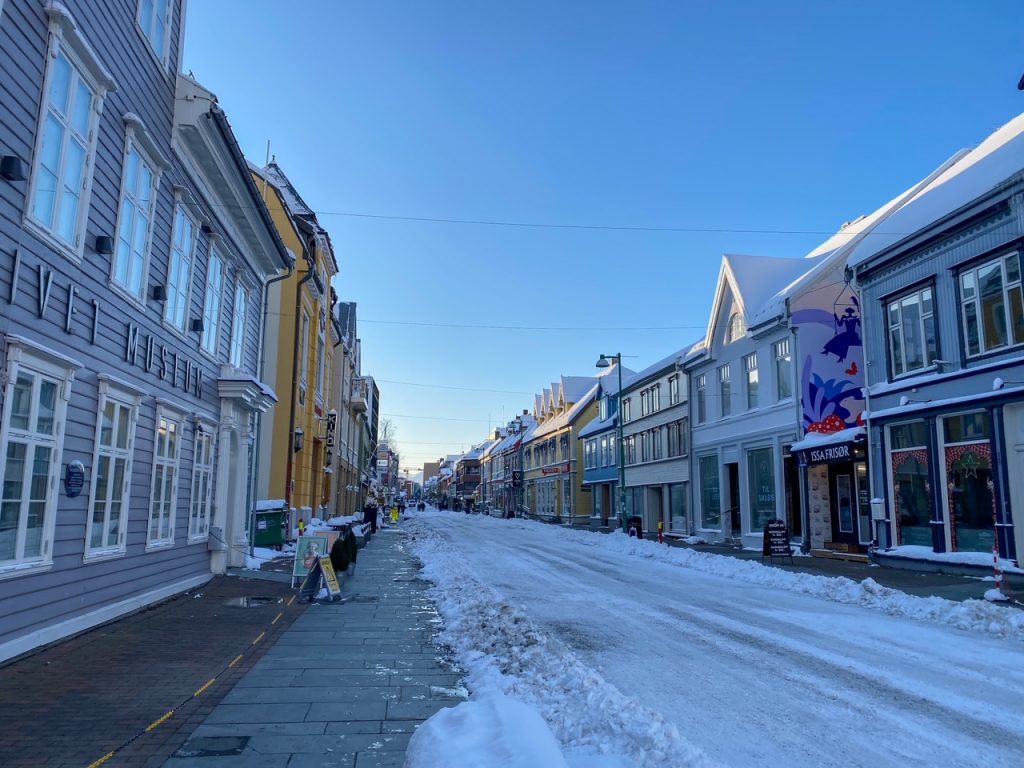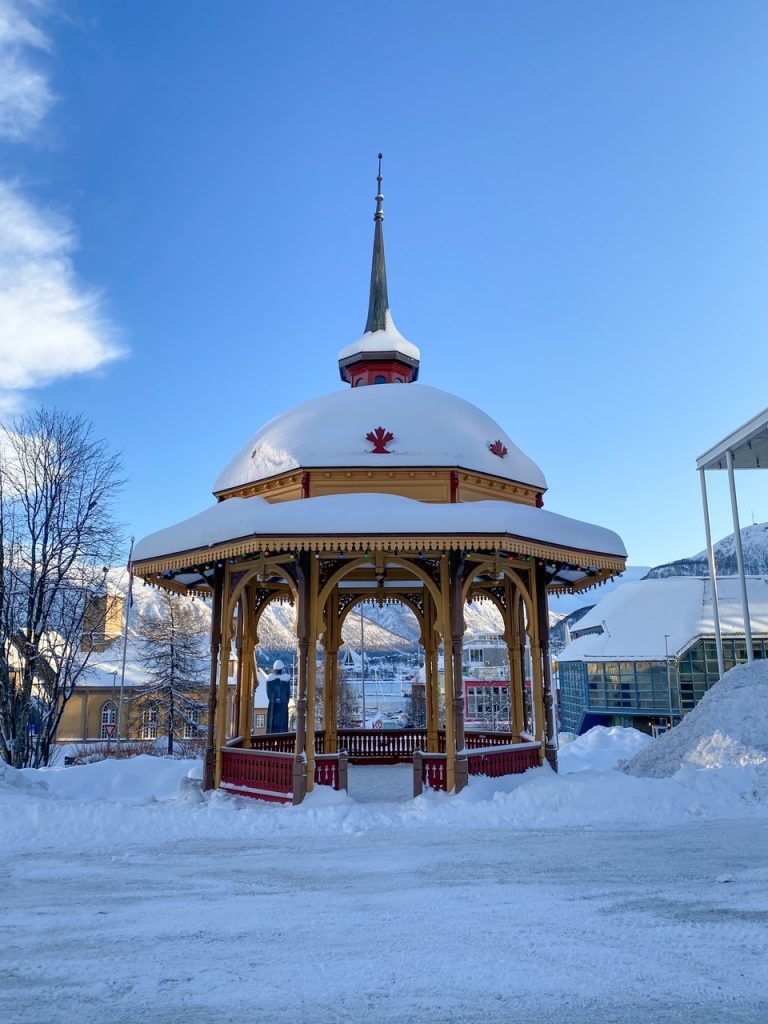 Spend any spare time you have in Tromsø exploring the city center. Pop into the Perspektivet Museum or the Polar Museum, admire the wintry views of the harbor, explore the shelves at the Tromsø City Library and Archive, and more!
Other Things to Do in Tromsø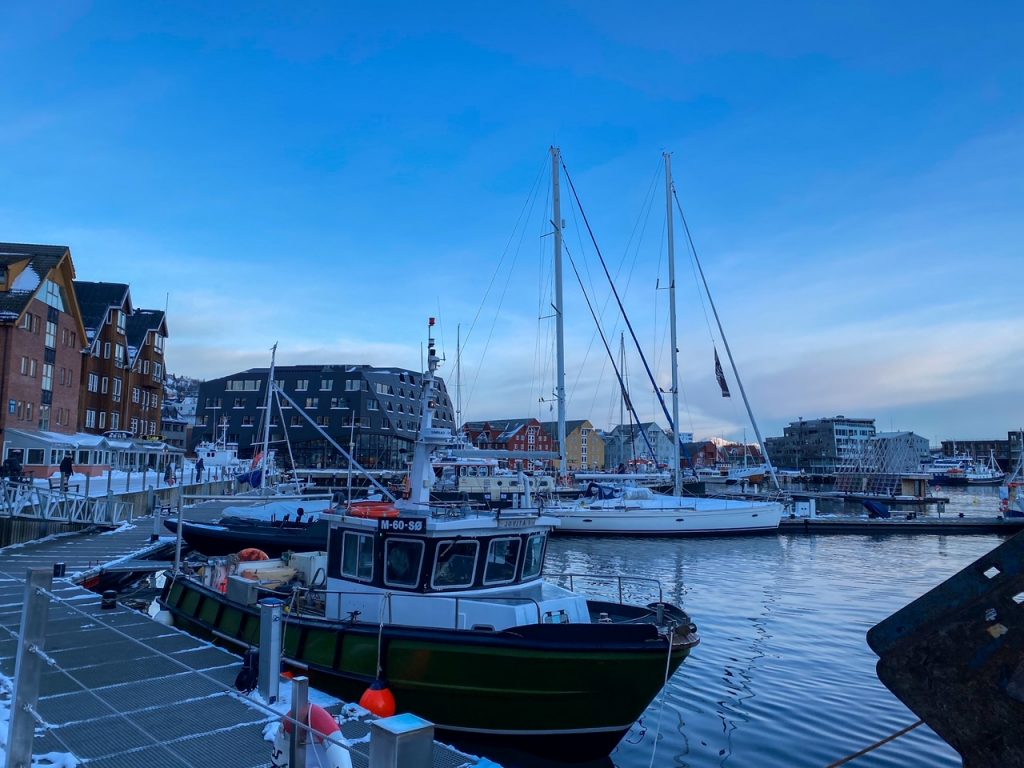 Unfortunately, we didn't have time to do everything that Tromsø has to offer. Here's a list of other activities that you may want to try during your visit!
A Broad Recommendation: always remember to check availability and opening times. Some of these activities are seasonal and weren't open during our visit in February, and others have modified winter hours.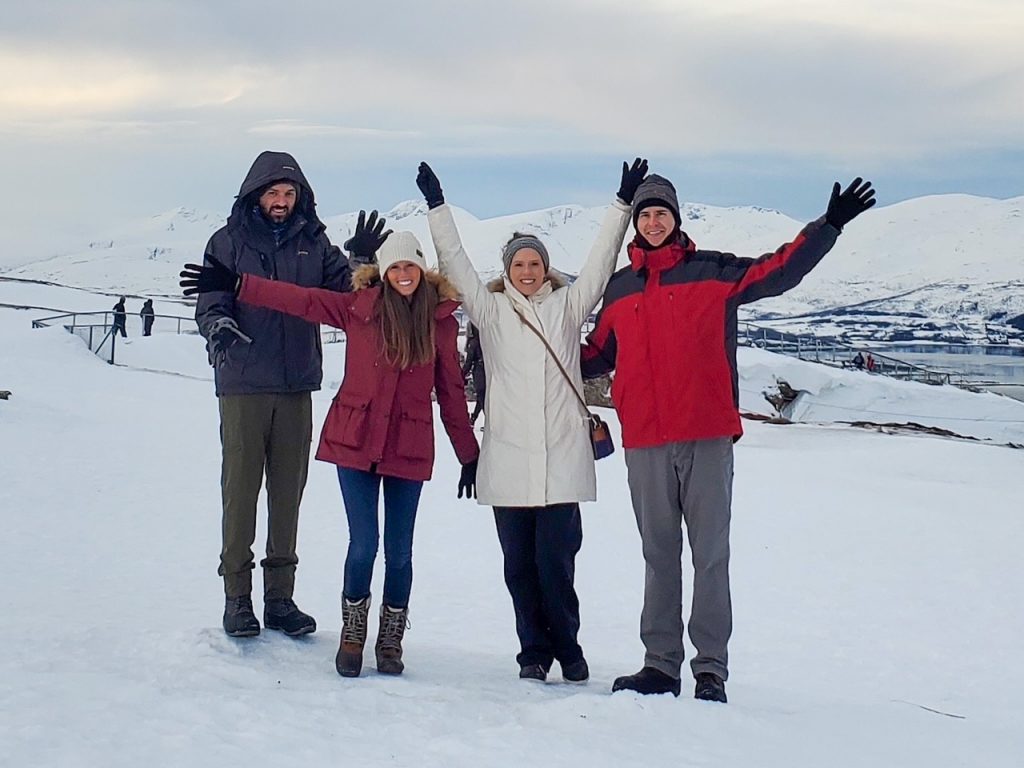 Ready to plan your trip to Tromsø? Feel free to leave us a comment below with any questions you may have!
Ready to plan the rest of your winter Norway trip? Check out these blog posts:
XOXO Sara at Travel A-Broads