Capitol Reef National Park was the third official stop on our Southwest U.S. national parks road trip (after Zion National Park and Bryce Canyon National Park). We spent almost a full day here before driving to Arches National Park.
Capitol Reef is one of the lesser known Utah national parks, making it a hidden treasure of undiscovered cliffs, canyons, domes and bridges. Its name comes from the Capitol Dome, an impressive sandstone rock formation on site that resembles the U.S. Capitol building.
The park is located in the Waterpocket Fold, a geologic monocline or a wrinkle in the Earth's crust, that formed over millions of years. It extends for nearly 100 miles from Thousand Lake Mountain to Lake Powell.
Capitol Reef became a national park in 1971 in an effort to preserve these unique geologic features, along with archeological evidence, diverse plant and animal communities, and the homesteads of the area's earliest inhabitants.
The area has been home to people for thousands of years, and their history is still evident throughout the park. Petroglyphs and painted pictographs remain from the Fremont Culture dating back to around 500 CE (Common Era), and the Fruita Rural Historic District boasts the Gifford House store and museum, an old school house, one of the largest historic orchards, and more.
Where is Capitol Reef National Park Located?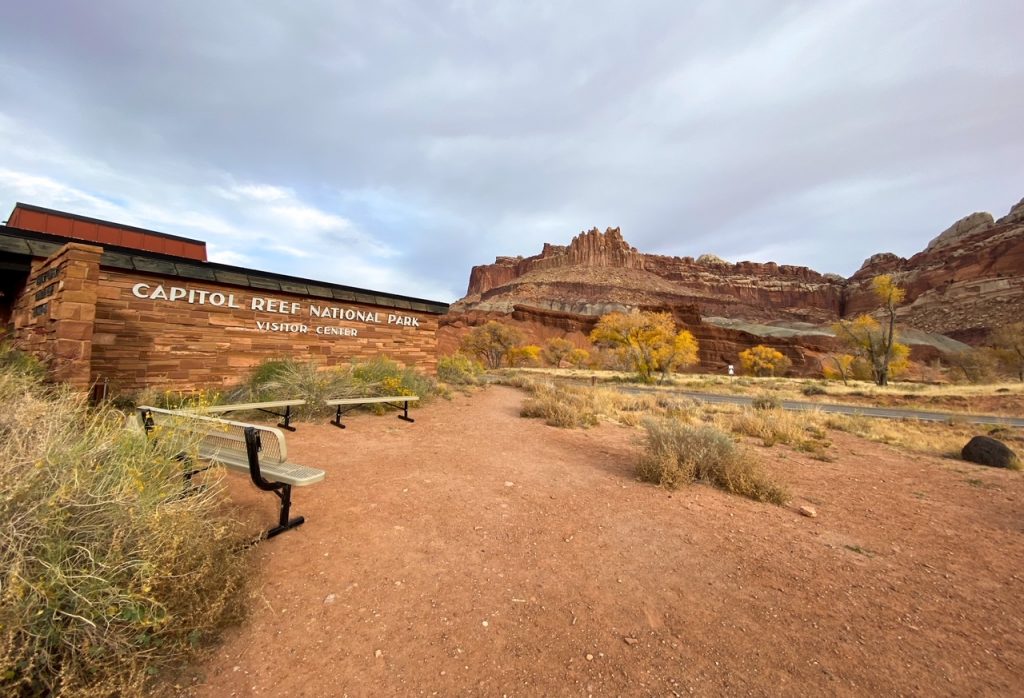 Capitol Reef National Park is located a few minutes west of Torrey in Utah's south-central desert.
Getting to Capitol Reef National Park
We visited Capitol Reef National Park as a part of a larger U.S. Southwest road trip. We flew into the McCarran International Airport and started our trip from Las Vegas.
The drive from Las Vegas to Capitol Reef is around five hours, but we stopped at Zion National Park and Bryce Canyon National Park along the way (over the course of several days) to break up the drive.
If you decide to follow the route that we did, note that there are multiple ways to get from Bryce Canyon to Capitol Reef. We recommend going through Escalante and hiking the Lower Calf Creek Falls Trail on your way.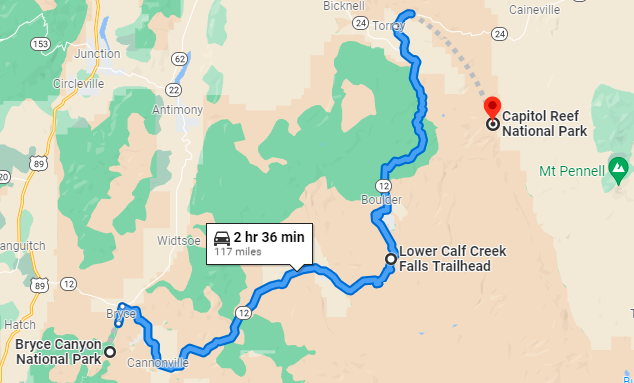 Flying into Salt Lake City International Airport is another option and is just under a four-hour drive to Capitol Reef.
Grand Junction Regional Airport is actually the closest airport to Capitol Reef National Park (about a three hour drive), but it's smaller and less convenient than flying into Las Vegas or Salt Lake City.
A Broad Recommendation: due to the lack of cell service throughout this area, you should download Google offline maps and pack extra water, snacks and warm clothes in case of an emergency.
Capitol Reef National Park Entrance Fees
Entry fees vary depending on vehicle type and pass duration. Check out the National Park Service website for more information. The cost at the time of our visit was $20 for private vehicles and was valid for seven days.
A Broad Recommendation: we'd recommend that you forego individual national park entrance fees altogether and instead invest in the U.S. Park Pass. It's valid for a full year and covers your entry to thousands of national parks and other federally managed lands.
Capitol Reef National Park Covid Response
All visitors, regardless of vaccination status, must wear a mask inside NPS buildings, in crowded outdoor spaces and on enclosed public transportation. This was strictly enforced during our visit.
Capitol Reef National Park Lodging
Camping Near Capitol Reef National Park
The Fruita Campground sits adjacent to the Fremont River and is Capitol Reef's only developed campground. Surrounded by a historic orchard, the 71 sites each have a picnic table and firepit and/or above ground grill. The campground is open year-round and offers reservations from March through October. The cost will increase to $25.00/night in 2022.
There are two free primitive campgrounds in more remote parts of the park, Cathedral Valley Campground and Cedar Mesa Campground. These are both relatively small sites and are first-come, first-served. You can find more information on the NPS website.
Hotels Near Capitol Reef National Park
We stayed at the Broken Spur Inn & Steakhouse, one of the closest properties to the famous scenic drive that leads through Capitol Reef National Park.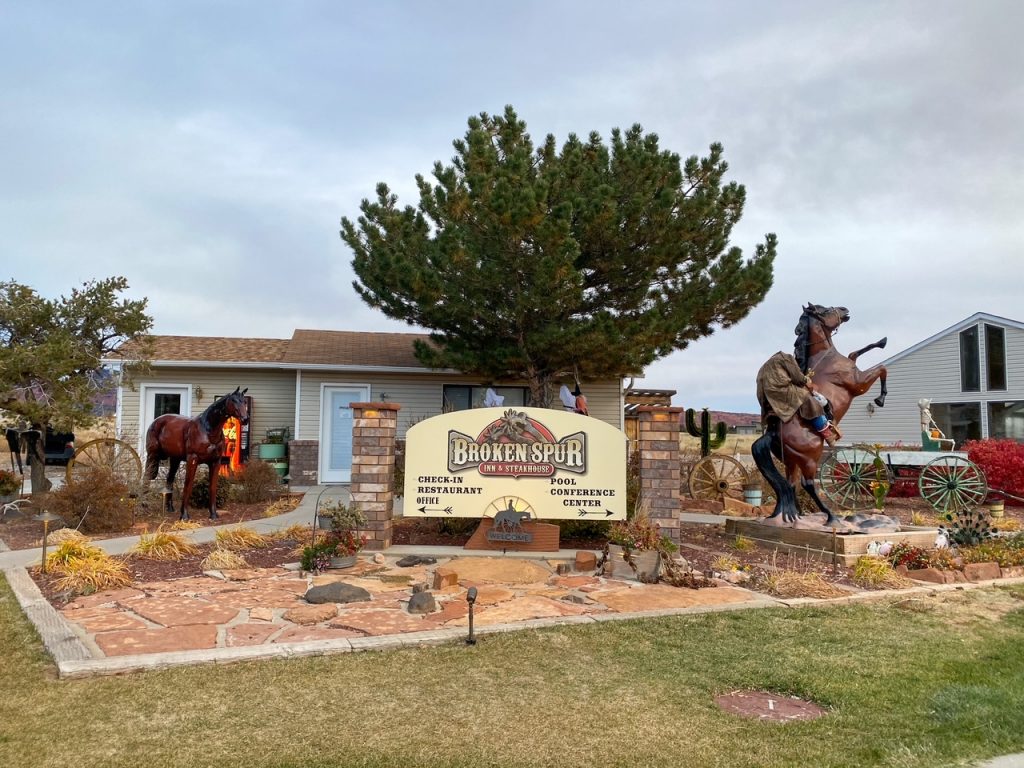 This hotel is like a small town in and of itself; there's a restaurant, indoor pool and hot tub, gift shop, playground area, and recreational area with volleyball, basketball, horseshoes and tetherball.
They also offer a neat glamping experience in Conestoga Wagons. These are replicas of the wagons used by pioneers in the American West; each has its own private bathroom, electricity, AC, heating, Wi-Fi, microwave, fridge and more. I wish we would've looked more into these during our trip – that was definitely a missed opportunity!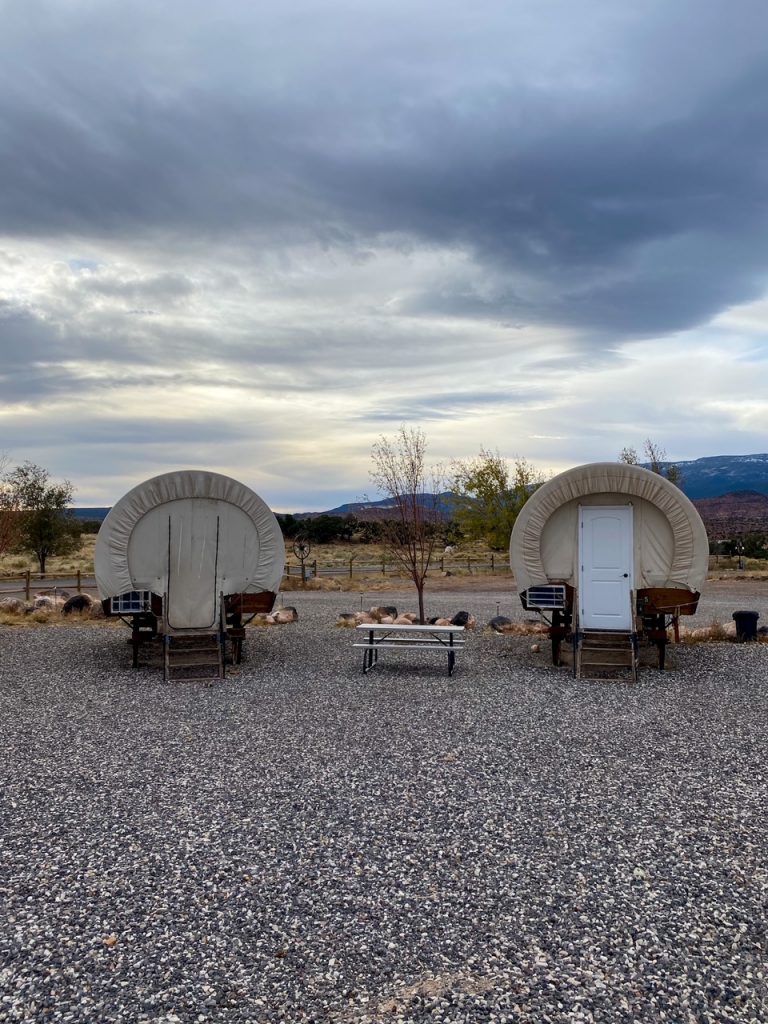 Breakfast is also included with your stay here. We booked through hotels.com and paid just under $120 for the night. We recommend using hotels.com to book your stay here too or to find other hotels in the area more suitable for your needs.
A Broad Recommendation: I love booking stays on hotels.com. They offer great deals and give you one free night for every ten nights you complete. I also use Rakuten at the time of my purchase to get cash back – so awesome!
Eating in Capitol Reef National Park
The nearest grocery store and restaurants are located in Torrey. We packed our lunch and ate in our rental car – nothing fancy!
Capitol Reef National Park Weather
Capitol Reef gets all four seasons, but because of the varied elevations and landscapes throughout the park, the weather can vary drastically within seasons as well.
Winter poses the chance of occasional snow storms and cold weather; spring offers chilly mornings and moderate daytime temps as fruit trees begin to bloom; summer poses the chance of monsoons and flash flooding with hot and arid temps; and fall offers great hiking conditions, fruit-picking opportunities and gorgeous fall foliage.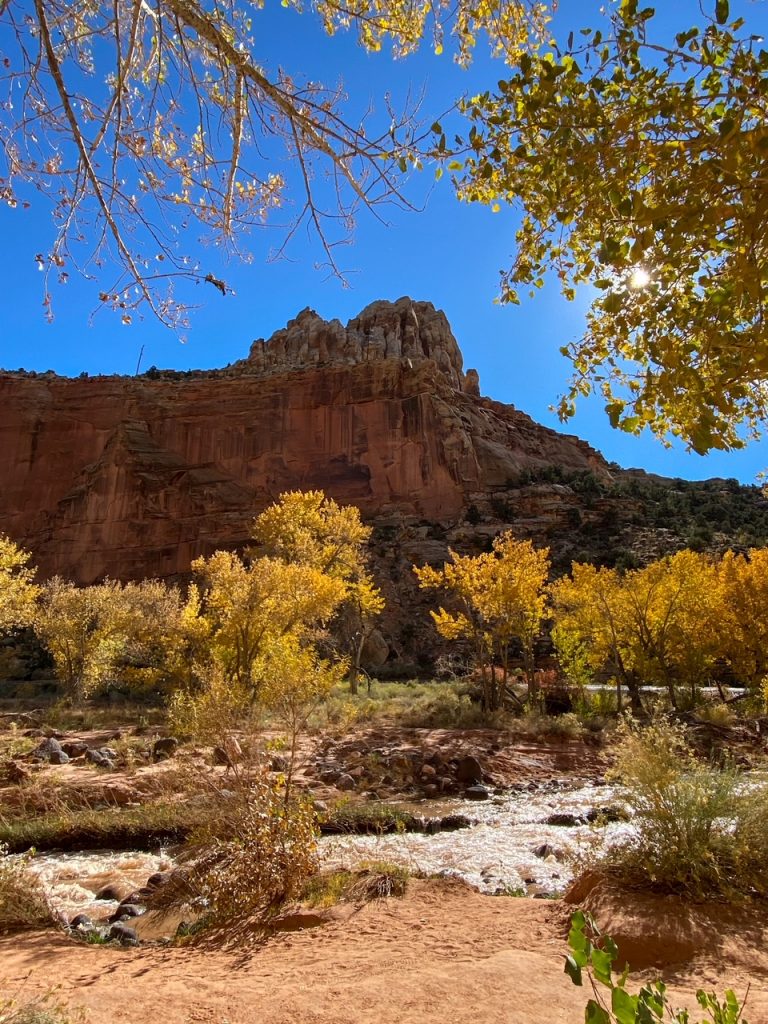 We visited at the very end of October – on Halloween – and it was sunny but chilly during our daytime visit. It was perfect hiking weather!
Capitol Reef National Park One-Day Itinerary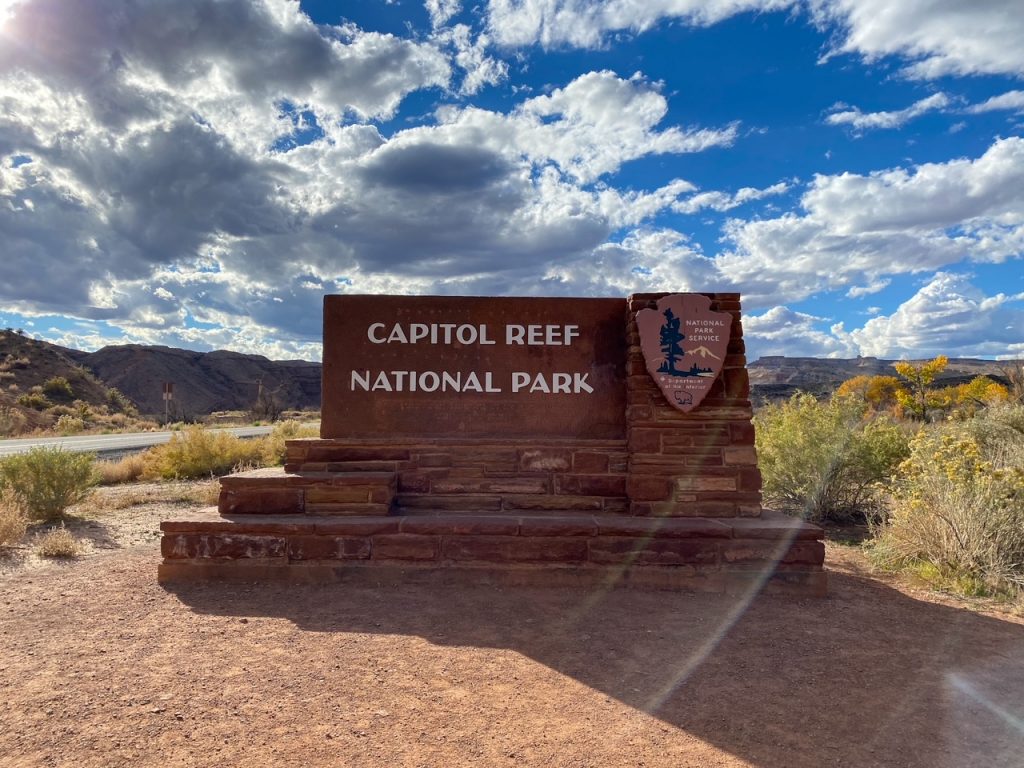 Hike the Cassidy Arch Trail
Drive along the Scenic Drive
Stop at the Gifford House (and get a pie!)
Hike the Hickman Bridge Trail
Visit the Fremont Petroglyph Panels
Make a quick stop at the Fruita Schoolhouse
Stroll around the Goosenecks Trail
Stop at Panorama Point
Things to Do in Capitol Reef National Park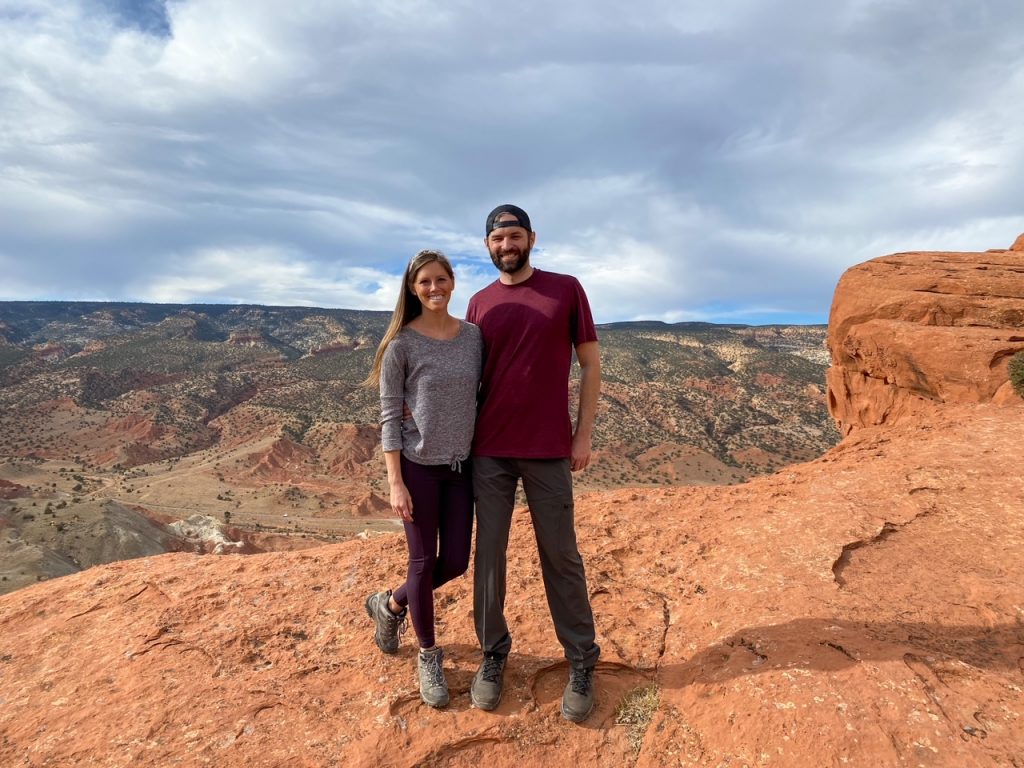 Capitol Reef National Park Hikes
Hiking is one of the main things to do at Capitol Reef, and it's a great way to experience the park's natural beauty!
There are fifteen day hiking trails with trailheads located along Utah Highway 24 and the Scenic Drive. These hikes range from easy strolls to strenuous, steep climbs over uneven and difficult terrain. Here are the ones we did and therefore can suggest:
Cassidy Arch Trail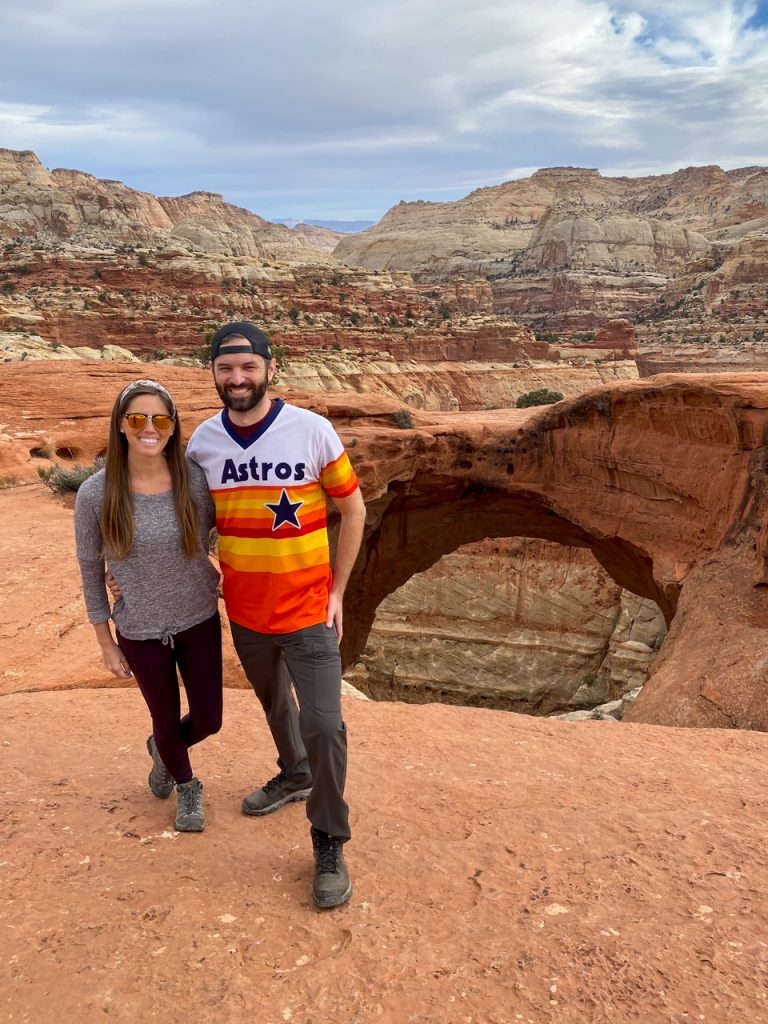 Named after the American criminal, Butch Cassidy, Cassidy Arch is located off of Grand Wash Road, a rocky spur road off of the Scenic Drive. The Cassidy Arch Trail is part of the larger Frying Pan Trail, which also connects to the Cohab Canyon Trail.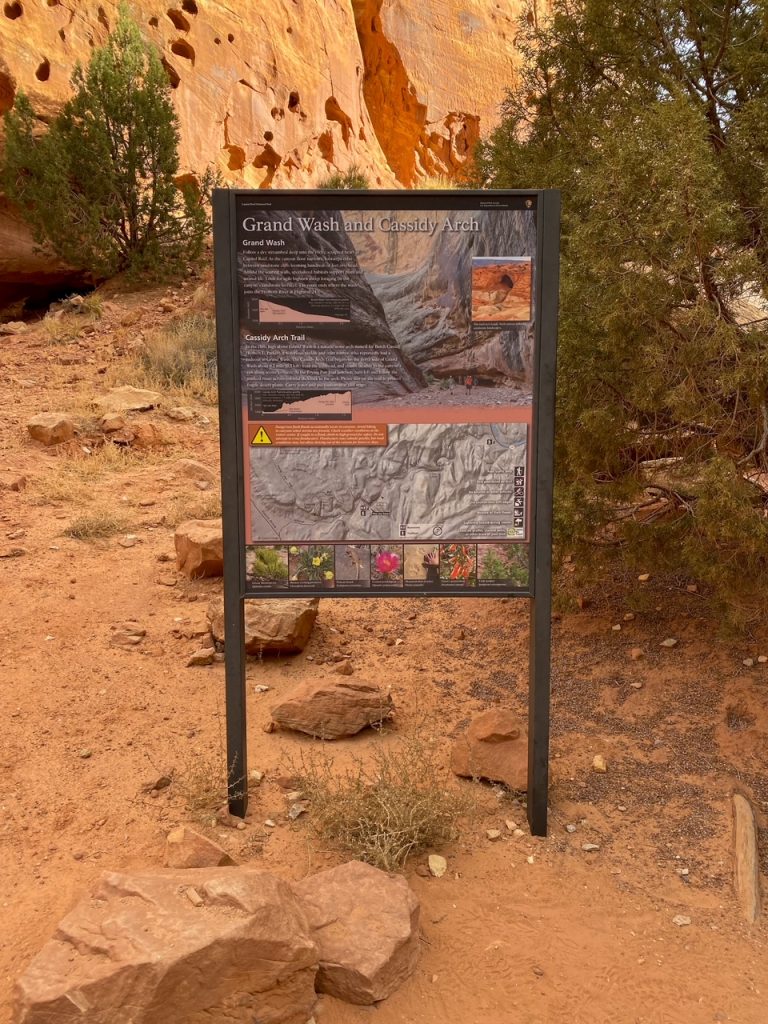 The trail is around 1.7 miles one-way, ending above the arch itself, and requires some trail finding skills. If you follow the rock cairns along the way, you should be fine though!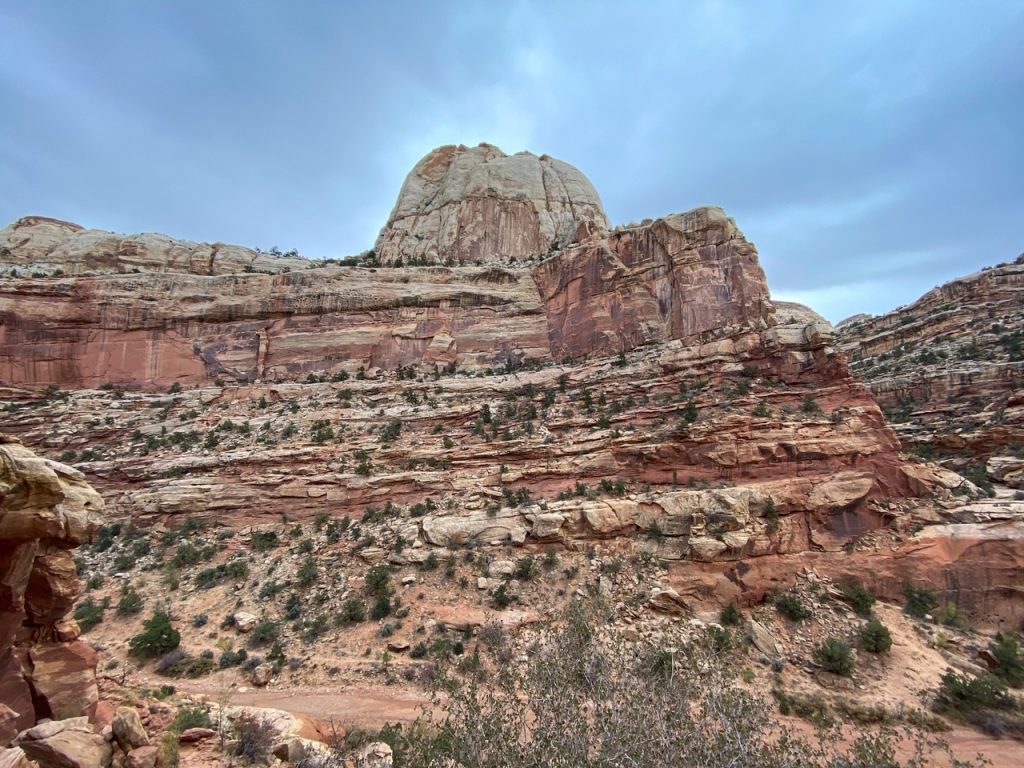 The beginning of the hike is a bit strenuous, as it's uphill and rocky, but it levels off as you continue to traverse across the slick red rocks. Along the way, you can stop and take a breather while admiring the gorgeous canyon views.
Hickman Bridge Trail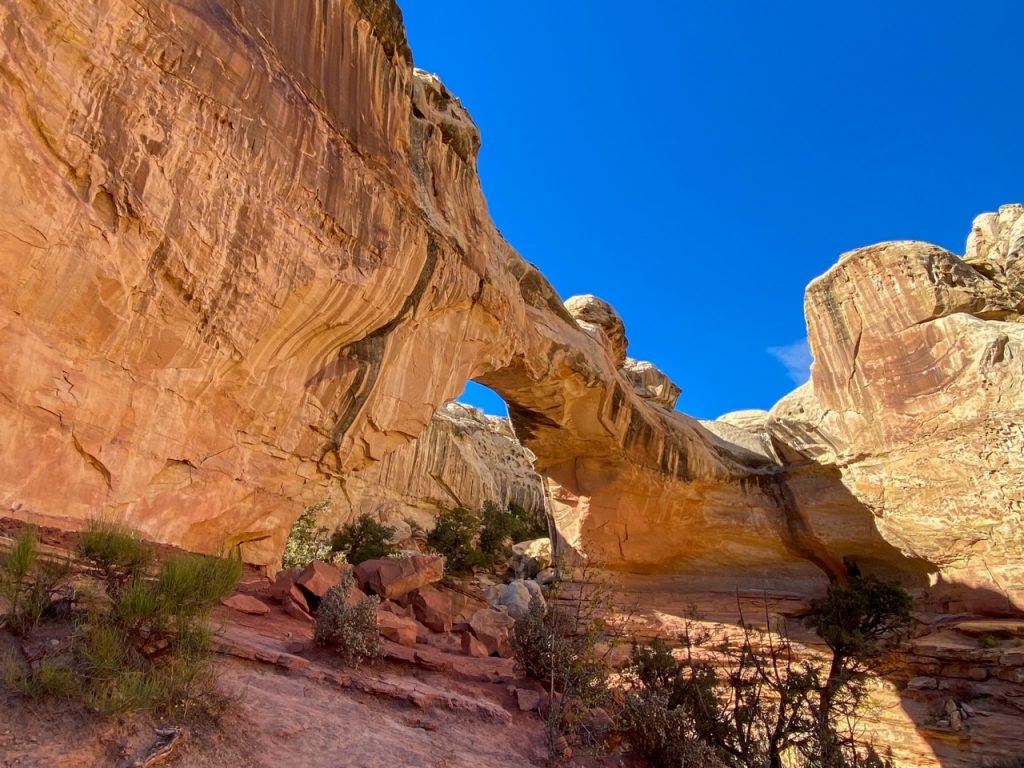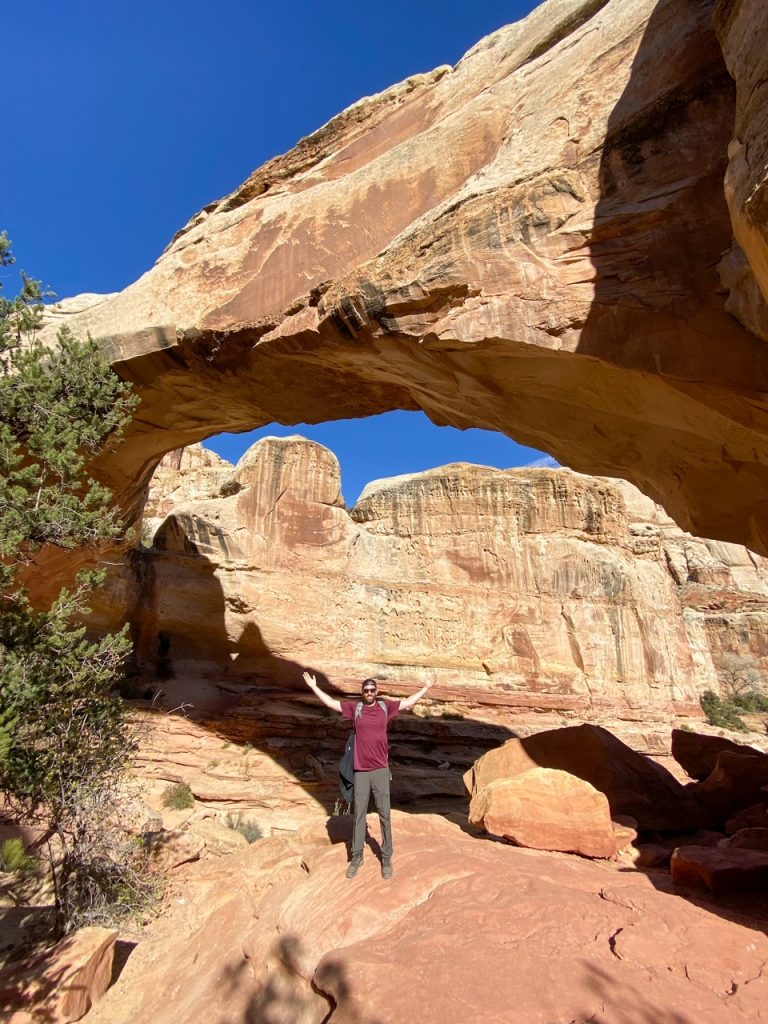 The Hickman Bridge Trail is an easier, albeit moderate, hike that leads to a 133-foot natural bridge with beautiful canyon views along the way. The trail is 1.8 miles round-trip, and you'll also get to see a smaller arch called the Nels Johnson Natural Bridge. We read that this hike is really pretty at sunset, though we weren't able to visit during sunset ourselves.
Goosenecks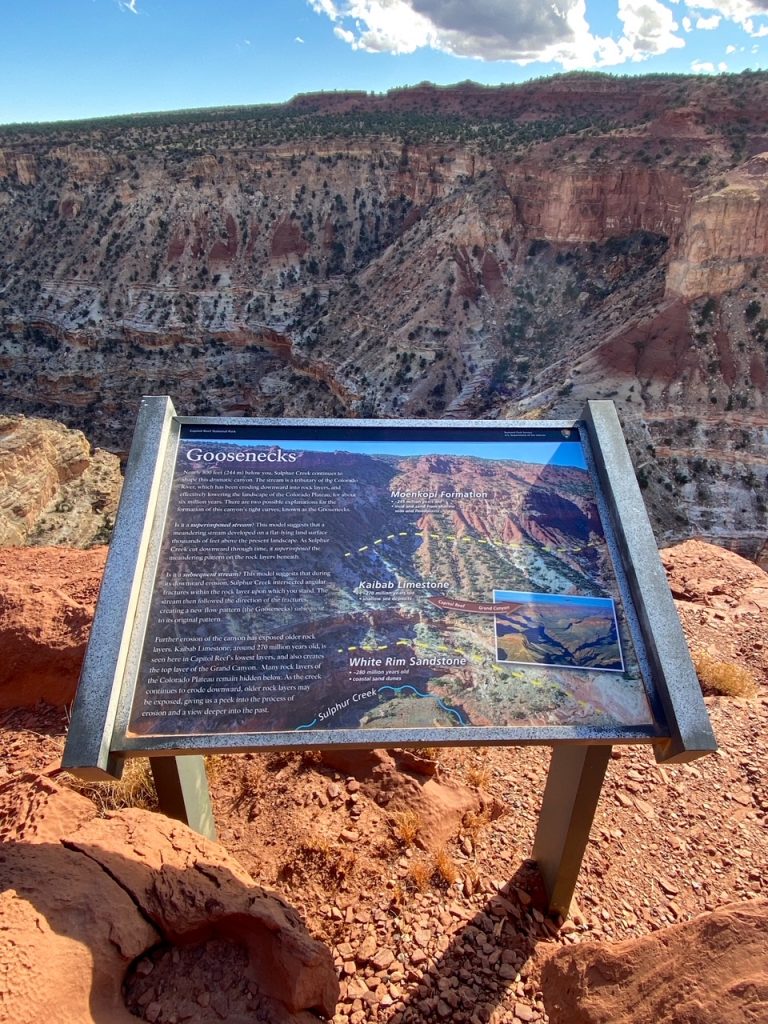 The easy 0.2-mile-round-trip Goosenecks trail offers dramatic canyon views and is a nice add-on to your day of hiking.
Other Trails in the Park
We also researched the following hikes prior to our visit:
Chimney Rock Loop – 3.6 miles round trip – good for sunset with panoramas of the Waterpocket Fold cliffs
Grand Wash – 4.4 miles round trip – deep canyon view and narrows; you don't need to do the entire trail to get the full experience
Sunset Point – 0.8 miles round trip – panorama views that are great at sunset
Cohab Canyon – 3.4 miles round trip – panoramas at the spur trail viewpoints, views of Fruita, and hiking through hidden canyons
Unfortunately, we didn't have enough time to do all of these, so we'd love to hear how they are if you hike them!
For more information on all of the day hikes at Capitol Reef, check out the NPS website.
Backcountry Hiking Trails
Capitol Reef National Park also offers some backcountry hiking opportunities along twisting gorges, into narrow slot canyons, and to impressive viewpoints above the Waterpocket Fold. The most popular backcountry hikes are the Upper and Lower Muley Twist Canyons and Halls Creek. There are other backcountry hiking opportunities in the Cathedral Valley area. Permits are required for camping outside of the established campgrounds and are available for free at the park's visitor center.
Drive Along the Scenic Drive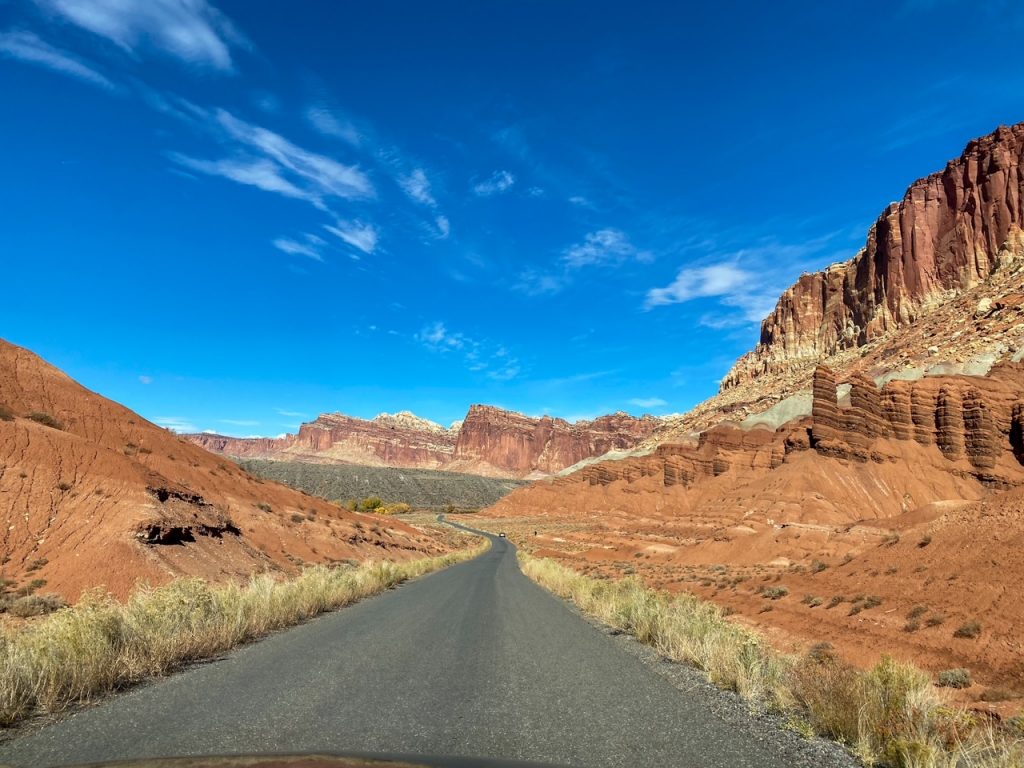 The 7.9-mile Scenic Drive is a must-do during your visit to Capitol Reef. The drive offers views of incredible and unique landscapes as you go. For more information, check out the NPS website.
Give yourself about an hour and half to complete the drive and to take in the breathtaking views that Capitol Reef has to offer.
Eat a Pie at the Gifford House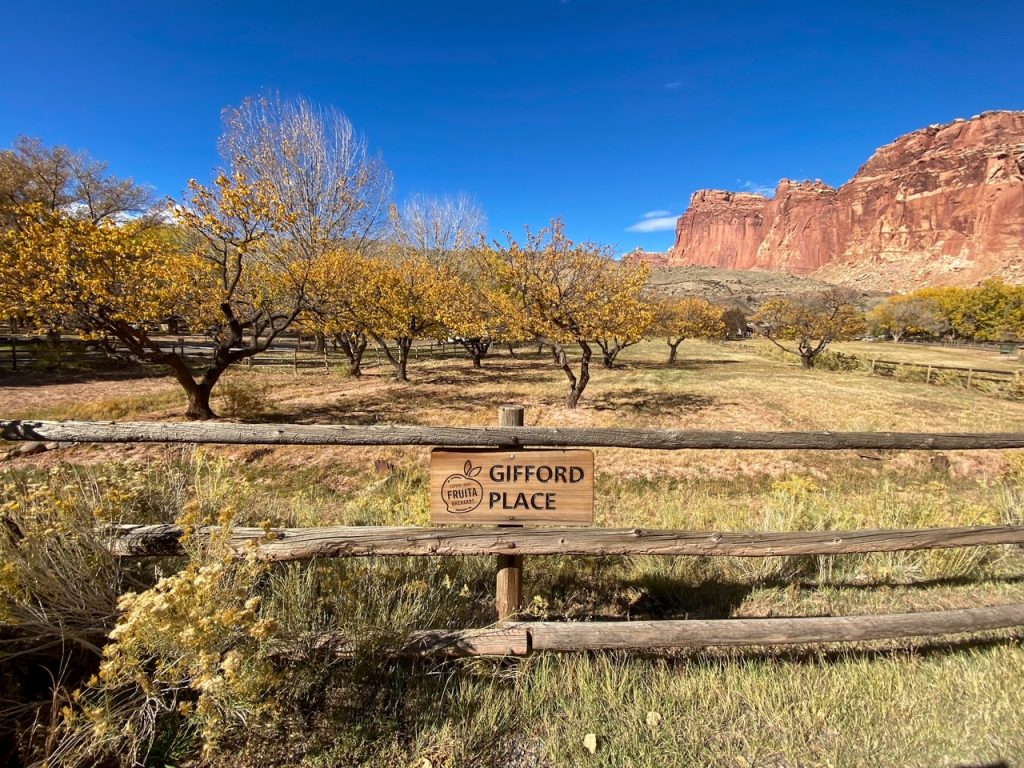 The historic Gifford Farm lies in the heart of the Fruita valley. According to the NPS website, the original Gifford Home was built by polygamist Calvin Pendleton in 1908; he was also responsible for building the barn and smokehouse, as well as the rock walls near the house.
After Pendleton, the Jorgensen family occupied the home from 1916 until Jorgensen sold the homestead to his daughter and son-in-law (Dewey Gifford) in 1928.
The Gifford family occupied the home for 41 years after that from 1928-1969. During these years, the family added various features like a kitchen, bathroom, utility room and carport. The Giffords were the last residents of Fruita and sold their home and land to the National Park Service in 1969.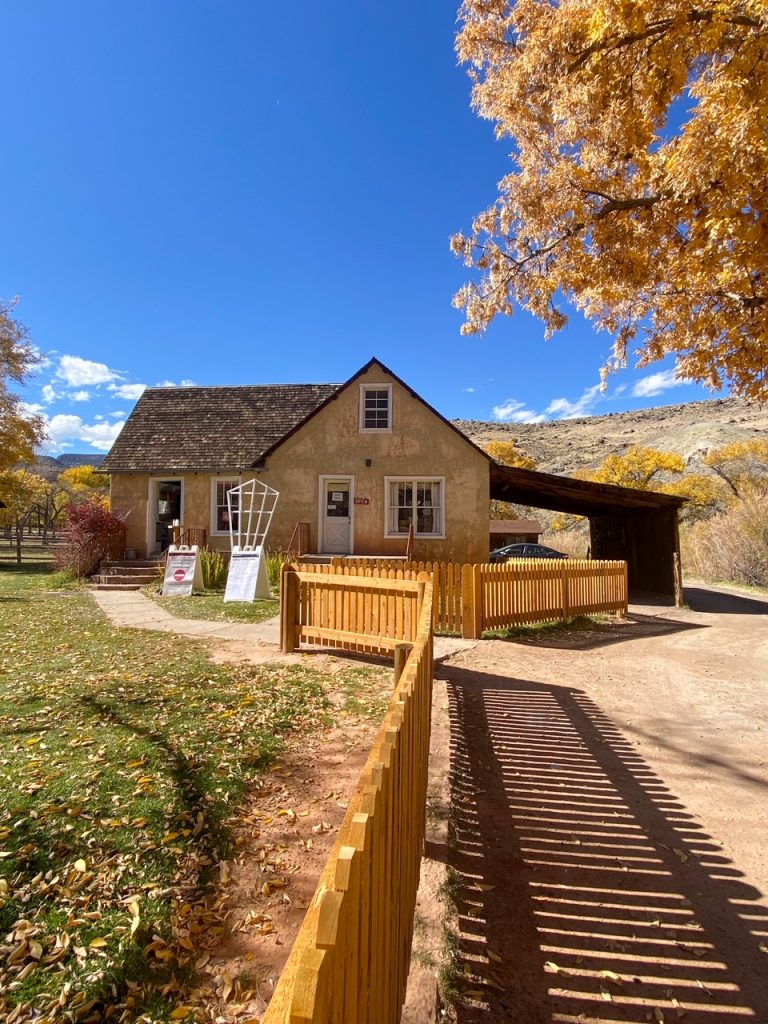 Today, utensils and household tools, quilts, rugs, soap, candles and toys are sold out of the former kitchen. There's also a selection of books, jams and jellies, as well as locally baked fruit pies and homemade ice cream; we recommend trying a pie!
The Gifford House is open from March 14 (Pi Day – haha) through October 31 (the day we were there – lucky us!). There is also a parking lot and picnic area onsite.
Admire the Petroglyph Panels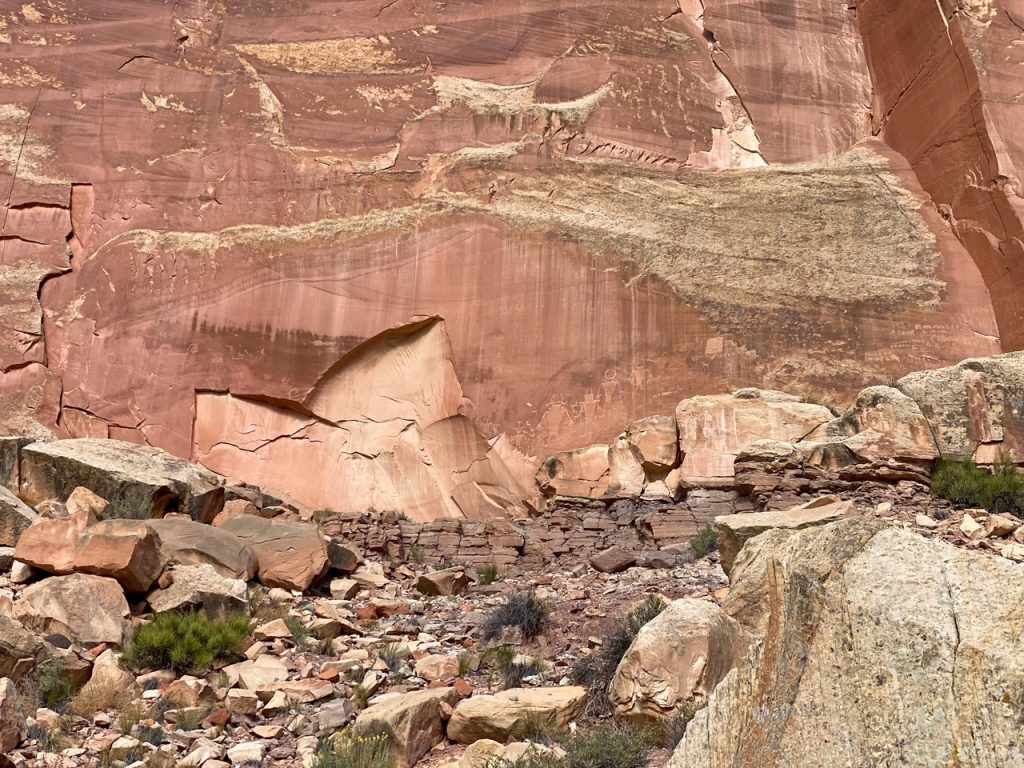 The Fremont Culture lived in what is now Utah from 300-1300 Common Era (CE). Petroglyphs, i.e. images carved into/painted onto stone, from the Fremont Culture still remain today and are accessible via a short boardwalk trail near one of the entrances to Capitol Reef National Park.
Many of the drawings are of humans and animals, but there are also other designs. This site, along with all other archeological sites here, is protected, and there's a hefty fine for vandalism. Stay on the trail and help to preserve this beautiful piece of history.
Stop at Fruita Schoolhouse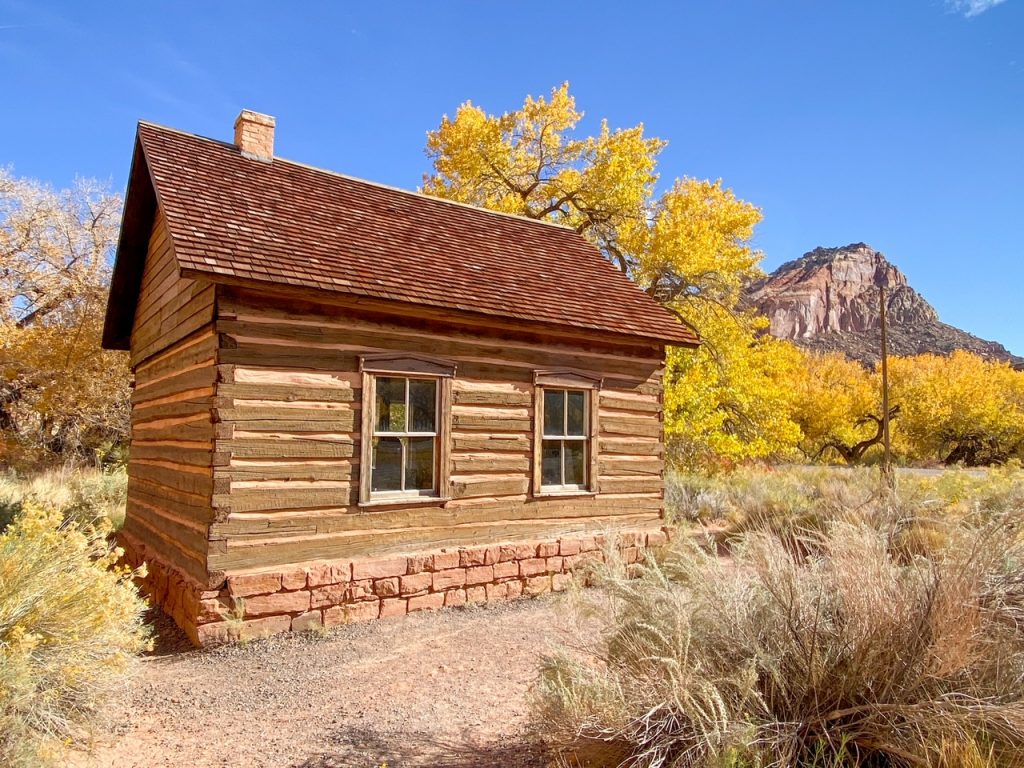 Nestled below the Wingate Sandstone cliffs, the single-room Fruita Schoolhouse was built in 1896. It was used to teach the children from the eight large families that lived in Junction (later called "Fruita"). The schoolhouse hosted classes of all sizes, and many of the students were quite unruly, according to the on-site audio guide.
During its years of operation, the building was also used for dances, town meetings, elections, church youth activities, and celebrations. However, the school was discontinued due to lack of students in 1941.
Capitol Reef National Park Photography
Sunrise
The Cathedral Valley District is a more remote area of Capitol Reef National Park and sometimes requires a high clearance vehicle; you can find out more about current conditions at the Visitor Center. If you can, do the two-hour drive to the Temple of the Sun for incredible views at either sunrise or sunset.
Sunset
Besides the Cathedral Valley District, which is a bit more difficult to get to, there are several options for watching the sunset in Capitol Reef National Park. Here are a few that we learned about:
Hickman Bridge Trail – a moderate 1.8-mile round trip hike with canyon views
Chimney Rock Loop – a strenuous 3.6-mile round trip hike with panoramas of the Waterpocket Fold cliffs
Sunset Point – an easy 0.8-mile round trip hike with panorama views that are best at sunset (naturally, per its name)
Despite being less popular, Capitol Reef is a beautiful and unique national park that deserves a visit at least once. We hope you'll start planning your visit soon!
Pin this post for later, and continue along our road trip with The Best Hikes in Arches National Park.
XOXO Travel A-Broads