Flåm is a small, fairytale-like village in Vestland county, Norway – and it's one of the best places to visit in Norway in the winter! This post is based on our own experiences and focuses on what to do for 24 hours in Flåm, Norway in the winter, as well as how to get there, where to stay, and more.
*P.S. this post contains some affiliate links. At no additional cost to you, we may earn a small commission when you make a purchase.
Where is Flåm?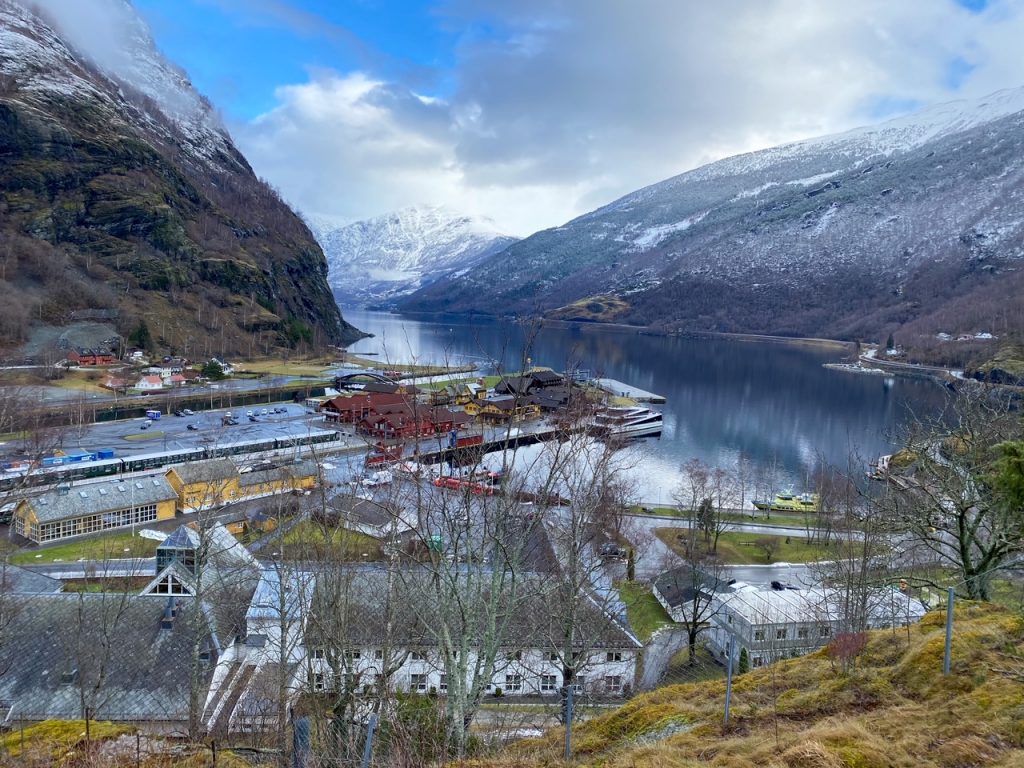 The name Flåm translates to 'plain, flat piece of land' or 'a plain between steep mountains', which is fitting considering that Flåm sits in the Flåmsdalen Valley and is surrounded by large, serrated mountains. It's located in Scandinavia's gorgeous southwest fjord region at the end of the Aurlandsfjord, an 18-mile branch of the larger Sognefjorden, Norway's longest fjord.
What is Scandinavia, you may ask? The Scandinavian peninsula consists of three countries, Norway, Sweden and Denmark, all of which share a similar history, language and culture.
Is Flåm Worth Visiting?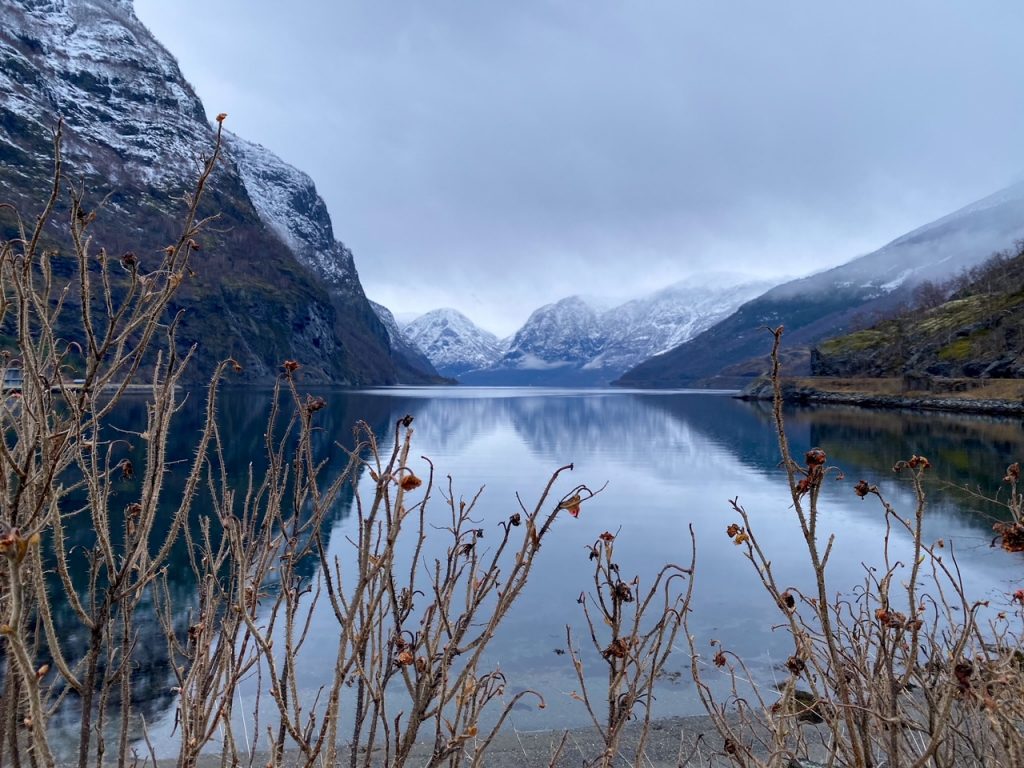 We think so! Flåm is worth a visit whether you're traveling to Norway in the summer or winter. Since the late 19th century, Flåm has been a popular tourist destination, receiving nearly 450,000 visitors a year.
Most visitors arrive by train or boat, which happen to be two of Flåm's most popular attractions. However, Flåm also offers lots of outdoor activities like hiking, biking, swimming and kayaking, in addition to cultural experiences like the Flåm Railway Museum, a historic church and the heritage railway line.
Winter Weather for Flåm, Norway
We visited Flåm, Norway in February, a time of year when the average daily temperature ranges from the low teens to the mid-twenties (°F), and there's more than a 40% chance of rain or snow.
In February, the sun rises around 8:15 am and sets around 5:15 pm, meaning there are still plenty of daylight hours to explore.
A Broad Recommendation: be sure to pack lots of warm clothes, including a coat, gloves, boots, a thermal base layer or long johns, a fleece jacket or sweatshirt, an ear warmer headband or hat, wool socks, etc. If you get cracked lips easily like me, you may also want to bring a lip sleeping mask to apply at night.
Despite the colder temperatures, February, and winter in general, is a great time to visit Flåm. You'll see breathtaking fjord views, lined with frozen waterfalls, and avoid the crowds that summertime brings to this UNESCO World Heritage area.
How to Get to Flåm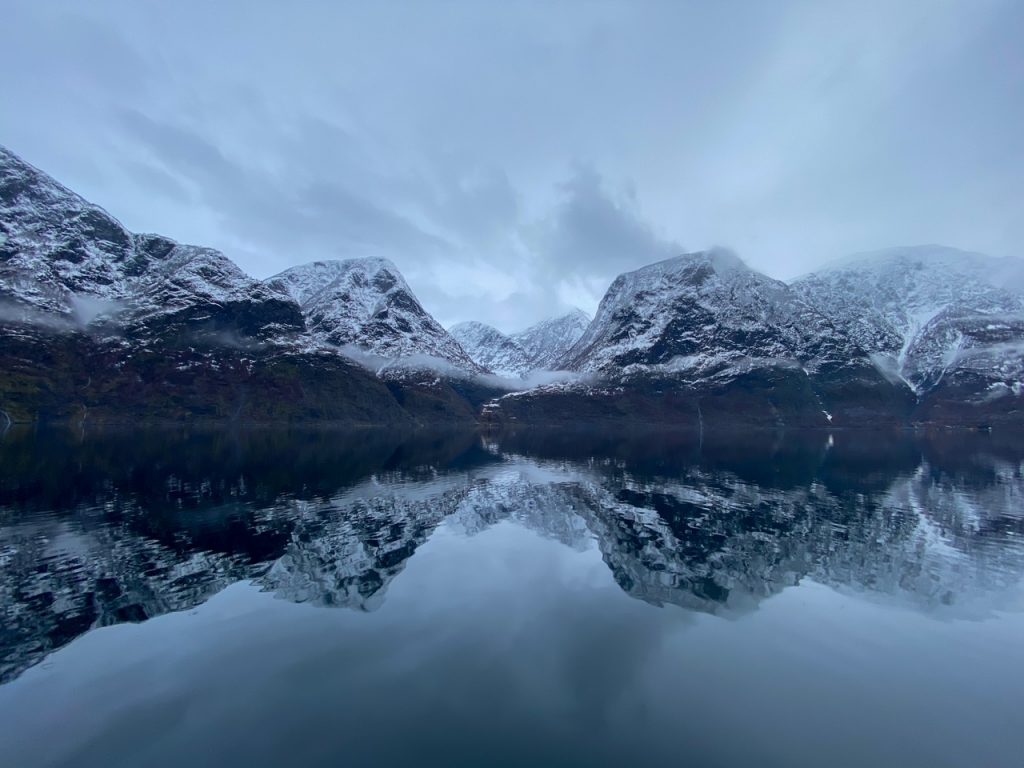 Flåm is a great detour for those traveling between Bergen and Oslo, and its picturesque location has made it one of the key stops on the infamous Norway in a Nutshell tour.
In fact, we actually did part of the Norway in a Nutshell tour on our way from Bergen to Flåm, traveling from Bergen to Voss, Voss to Gudvangen and Gudvangen to Flåm.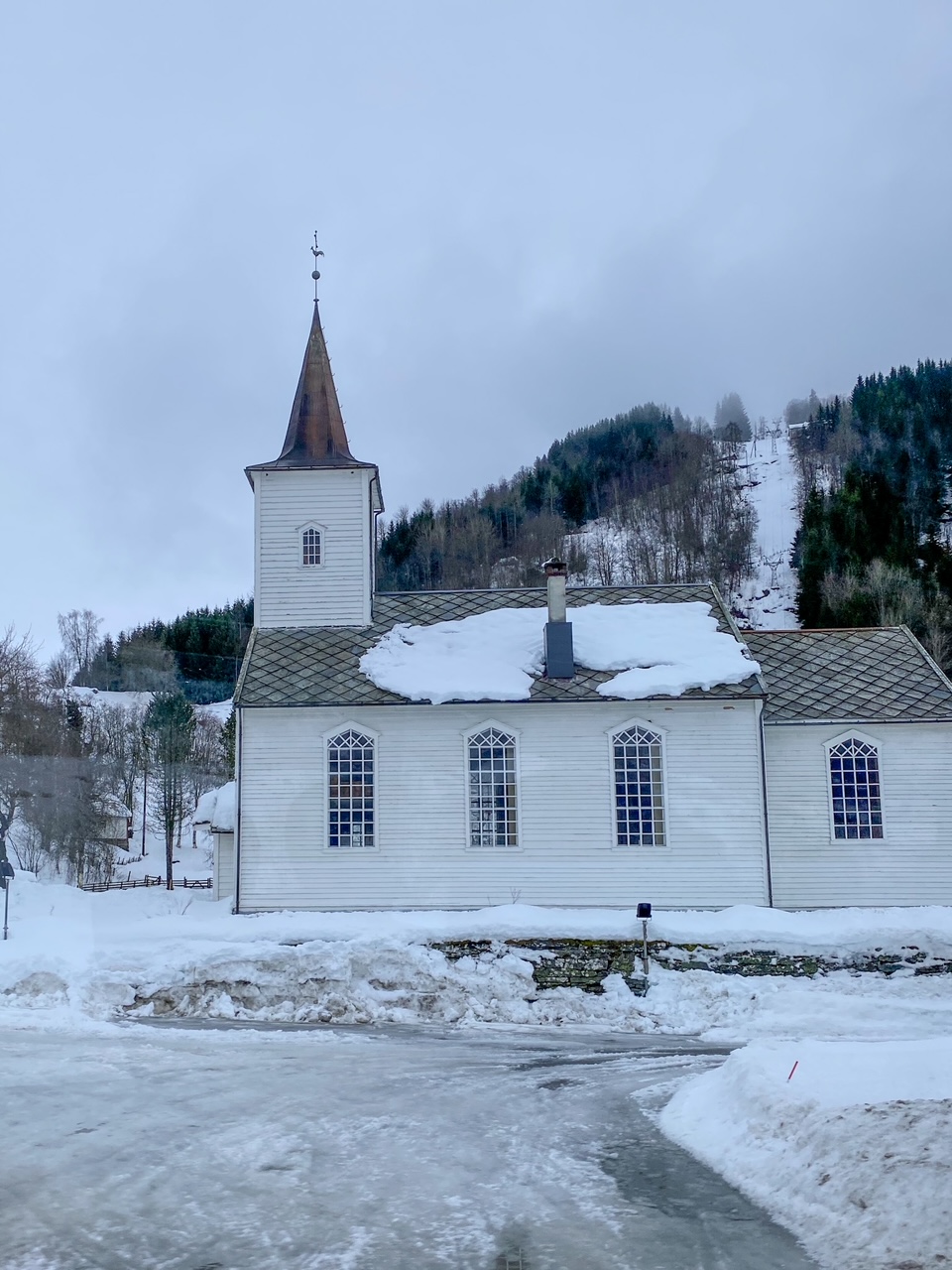 We left Bergen around 8:30 am on an hour-and-fifteen-minute-long train ride to Voss via the Bergen Railway. When we arrived in Voss, we hopped on a bus for the hour-long journey to Gudvangen. Both the train and bus offered stunning views of wintry Norwegian landscapes and small charming towns and villages along the way.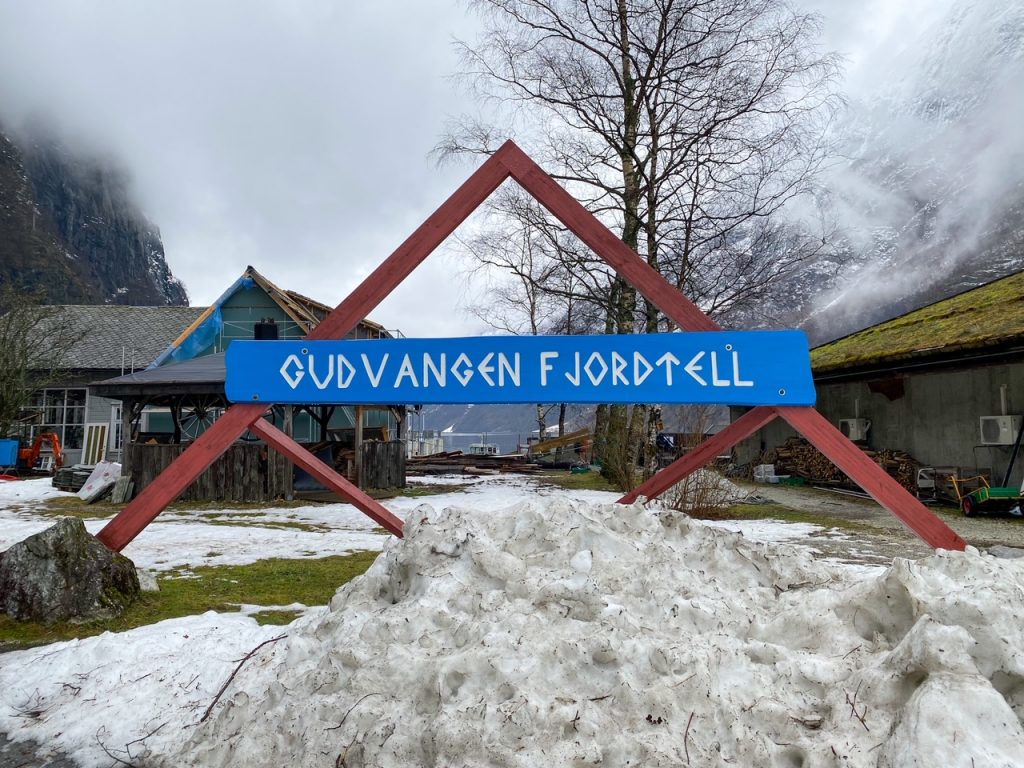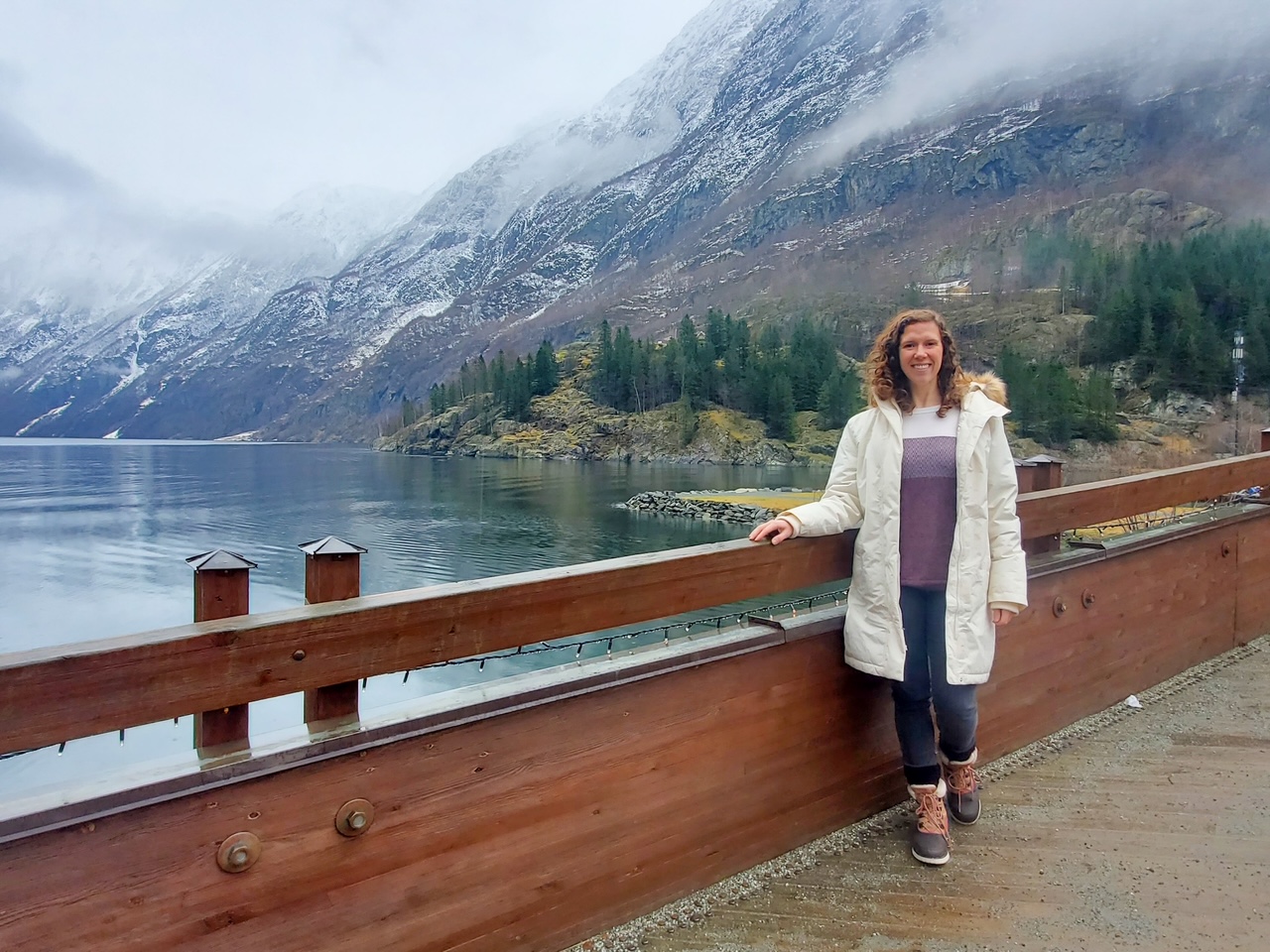 When we arrived in Gudvangen, we walked around and admired the gorgeous scenery for about an hour before boarding our fjord cruise.
A Broad Recommendation: there's a café, restrooms and a souvenir shop in Gudvangen. However, at the time of our visit, the café wasn't open. I'm not sure if this was due to Covid protocols or the season, but be sure to pack some snacks just in case!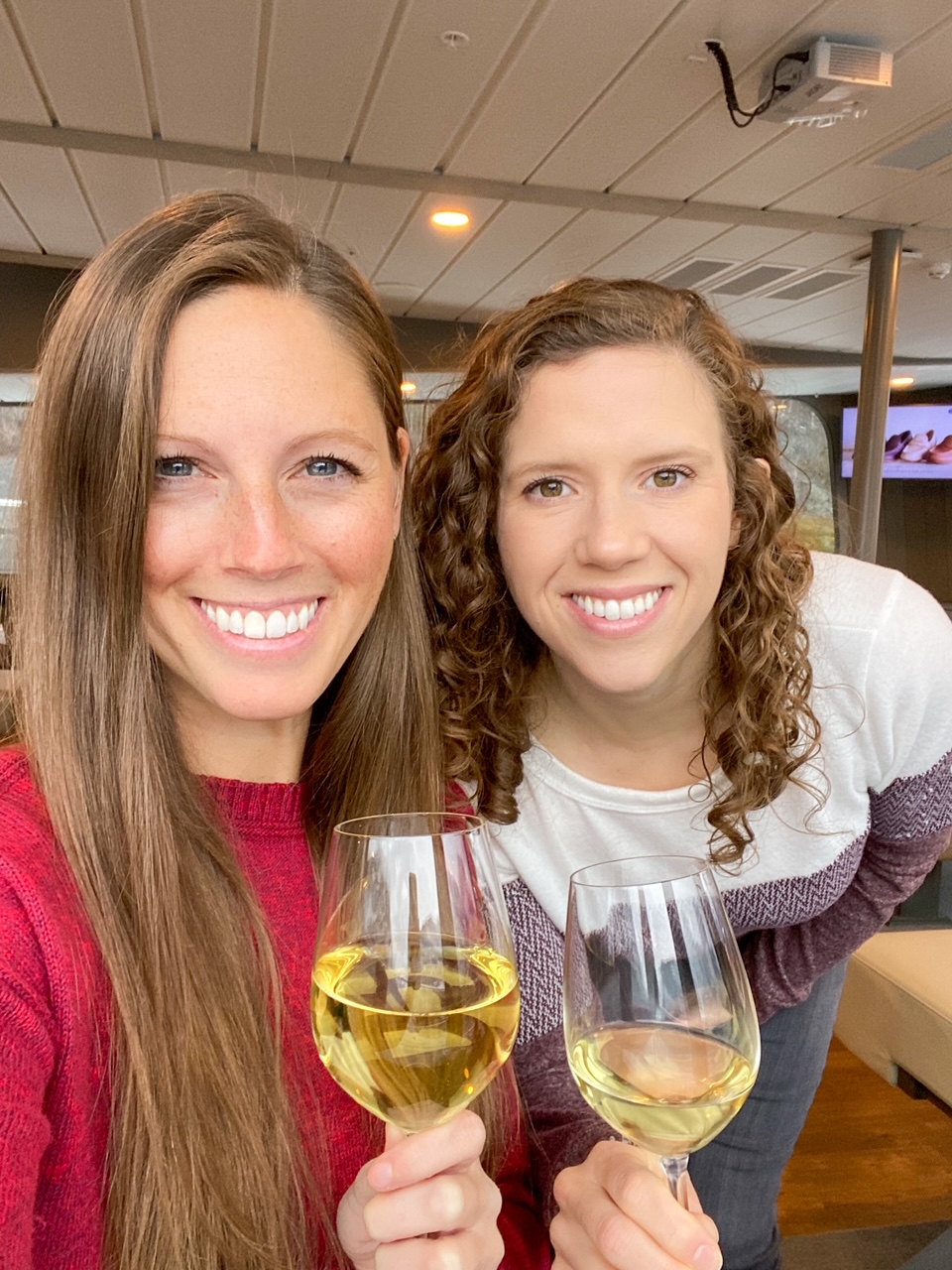 The two-hour cruise from Gudvangen to Flåm is absolutely incredible! We boarded a small cruise ship, picked seats (and basically had an entire section to ourselves), and enjoyed some refreshments on board. Note: there aren't assigned seats, so you can roam around the boat freely.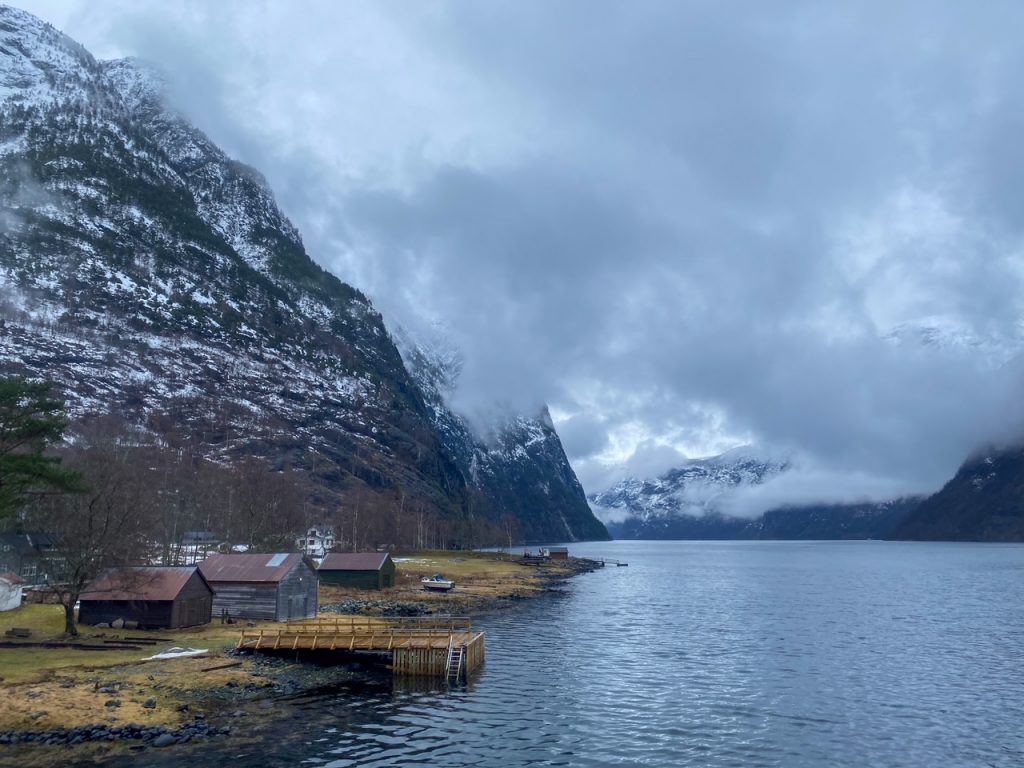 The fjords are part of a World Heritage Site, and the views from the boat were out of this world! During the cruise, you travel through the Nærøyfjord, the narrowest of Norway's fjords, and the Aurlandsfjord, one of the most spectacular branches of the Sognefjord. Both fjords are surrounded by dramatic mountains, sweeping valleys, icy waterfalls and tiny villages, and at times, it felt as if we were in a real-life watercolor painting.
Because we were here in the winter, it was extremely cold on the fjords, but we did step outside a few times to take some photos. Refer to this travel packing list for winter in Norway to ensure you pack appropriately.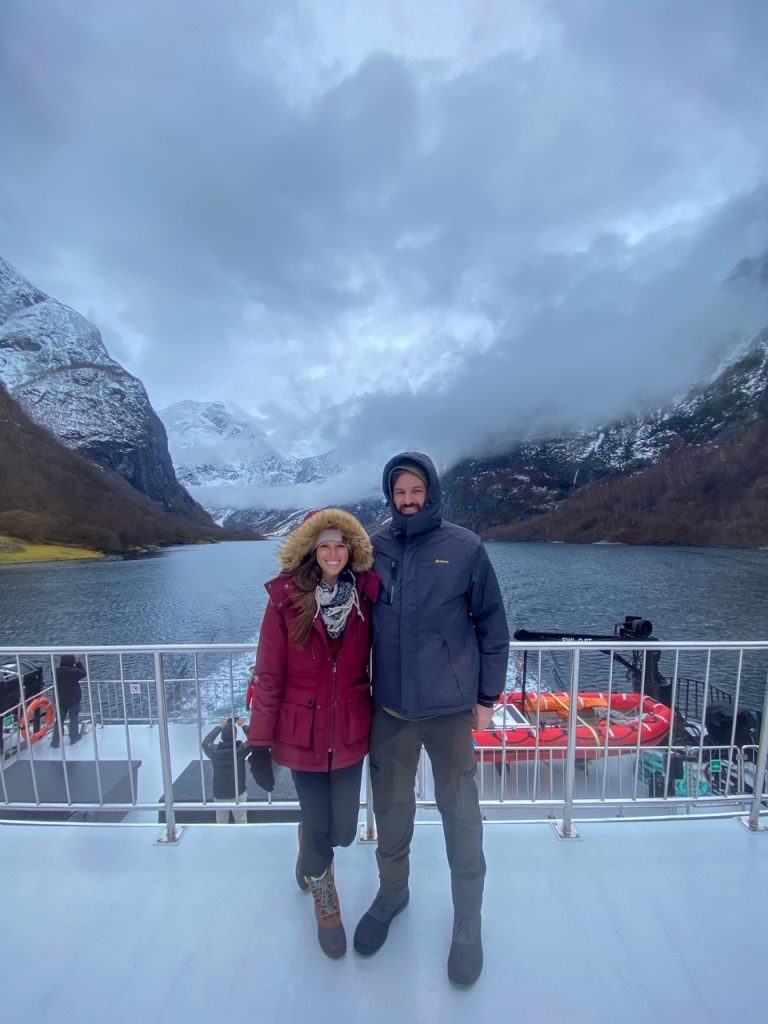 Note that the Norway in a Nutshell tour isn't the only way to get to Flåm. Located around 43 miles away, the Sogndal Airport is Flåm, Norway's closest airport. Another option is taking the European route E16 highway, the main west-east road that runs through Northern Ireland, Scotland, Norway and Sweden, and between Oslo and Flåm and Flåm and Bergen.
Where to Stay in Flåm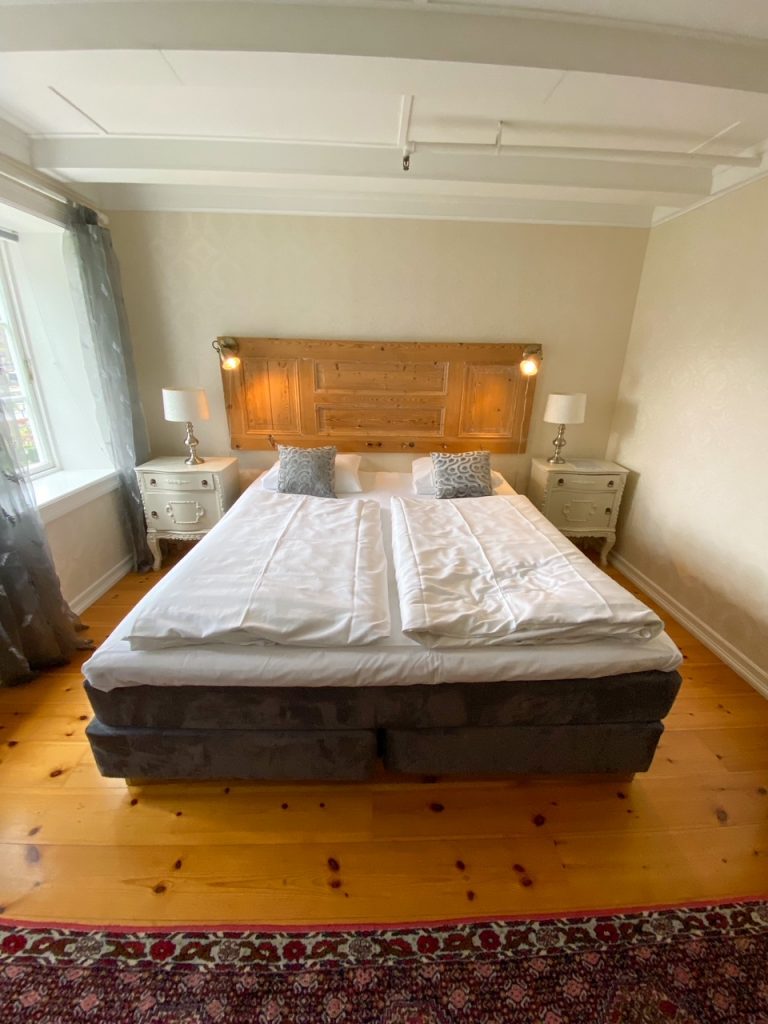 A stay at the Fretheim Hotel in Flåm, Norway is a great experience, and it's one of the best lodging options in the area.
Built as a posting inn for visiting fishermen by wealthy businessman, Christian Fretheim back in 1870, the Fretheim Hotel now hosts 122 rooms, each reflecting different periods in the hotel's history. The 'Historical Rooms', where we stayed, are furnished with antique furniture, king-size double beds and espresso machines, and maintain the quaint charm that made the hotel so popular more than a century ago.
Other room categories include the 'Storehouse Fretheim Hotel', 'Historical Tower Suite', 'America Rooms', 'Junior Suites', and more.
Things to Do in Flåm, Norway for 24 Hours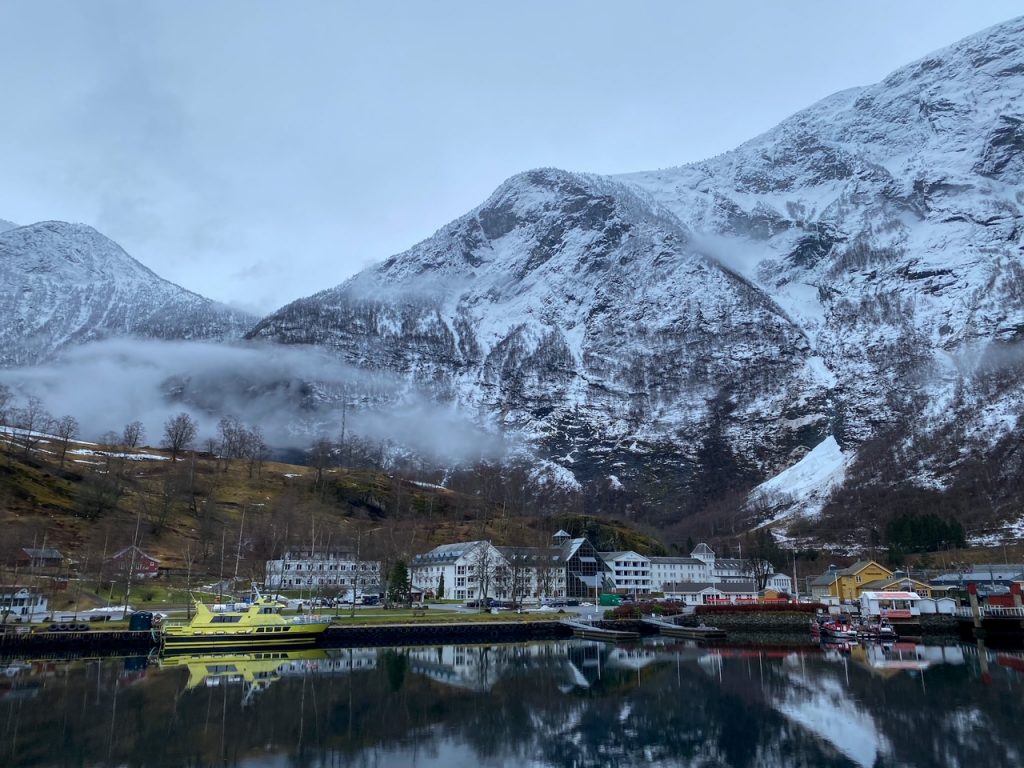 We arrived in Flåm, Norway just after 2 pm, walked to the Fretheim Hotel, checked into our rooms and still had plenty of time to explore afterwards! Flåm is compact, which means you can explore the entire village in one day.
Lunch at Flåm Bakery
First, we needed some food. So, we made our way to Flåm Bakery to try a couple of their homemade, Italian-style pizzas. Despite being on her own and busy with other customers, the woman behind the counter was very kind and worked as quickly as possible to get us our pizzas, and boy, were they yummy (and fresh)!
Note: Flåm Bakery also offers sandwiches, baked goods, sweets, coffee and more.
Flåm Visitor Center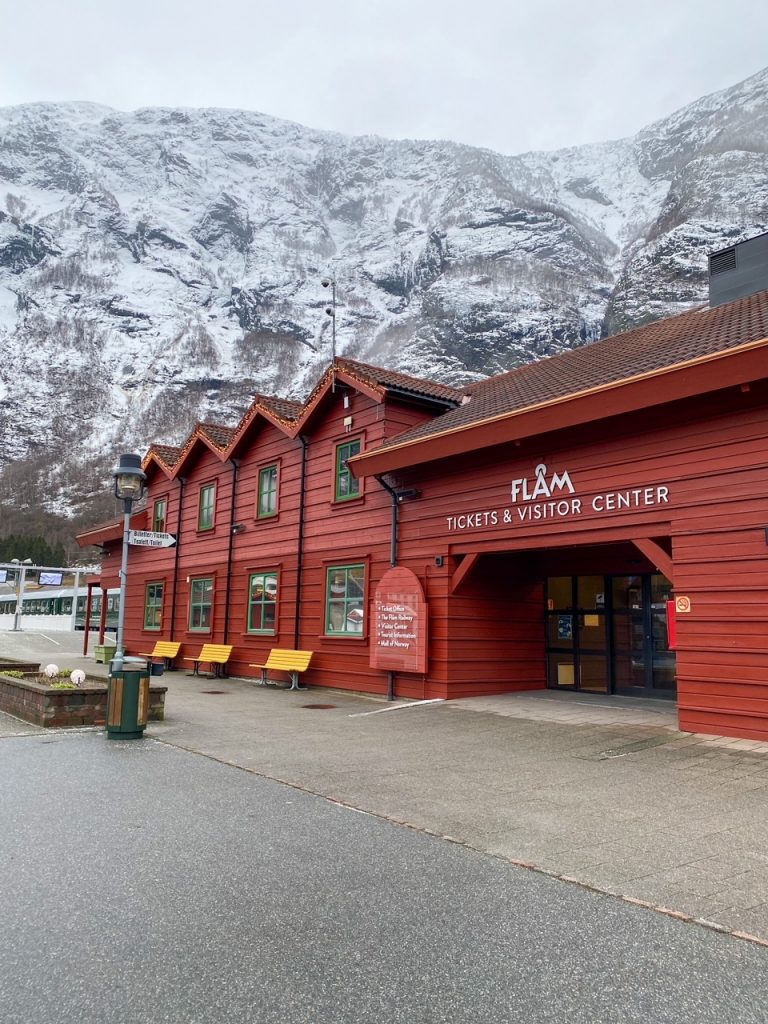 Next, we popped into the Flåm Visitor Center to get some information about the area and to use the restrooms. If you're interested in booking train tickets, fjord, ziplining or guided hiking tours, or other excursions, this is the place to do that.
Walk Around Flåm Harbor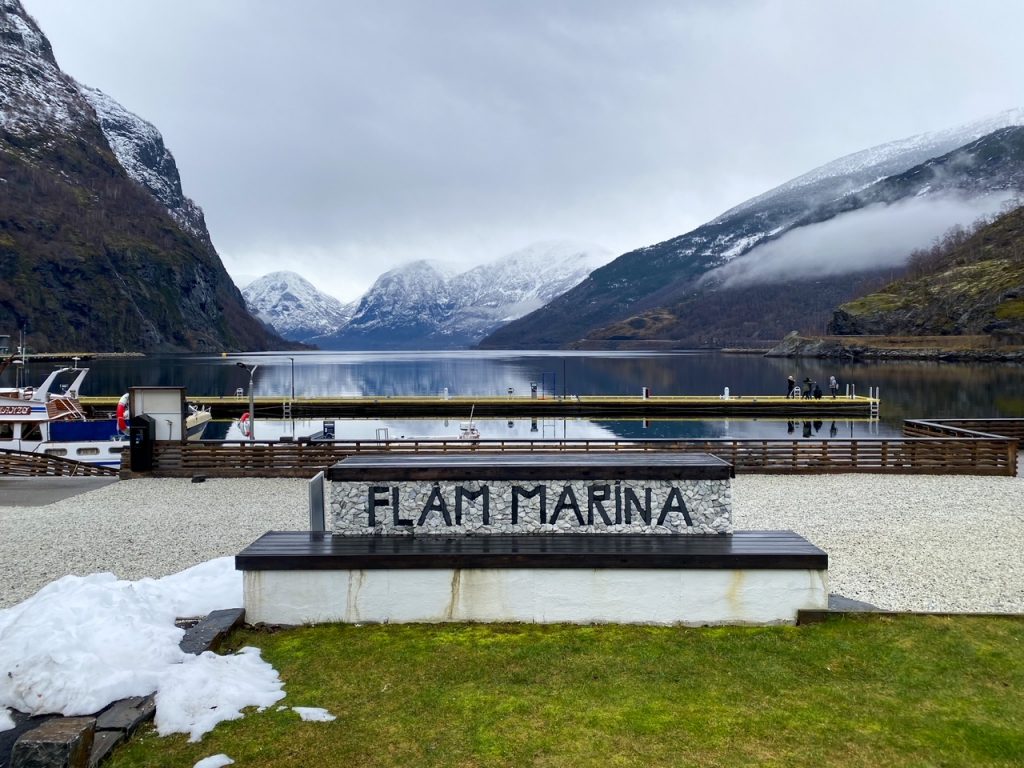 Next, we spent an hour or so walking around Flåm Harbor and enjoying the incredible scenery. We even saw an avalanche at some point, which was kind of crazy (and loud)!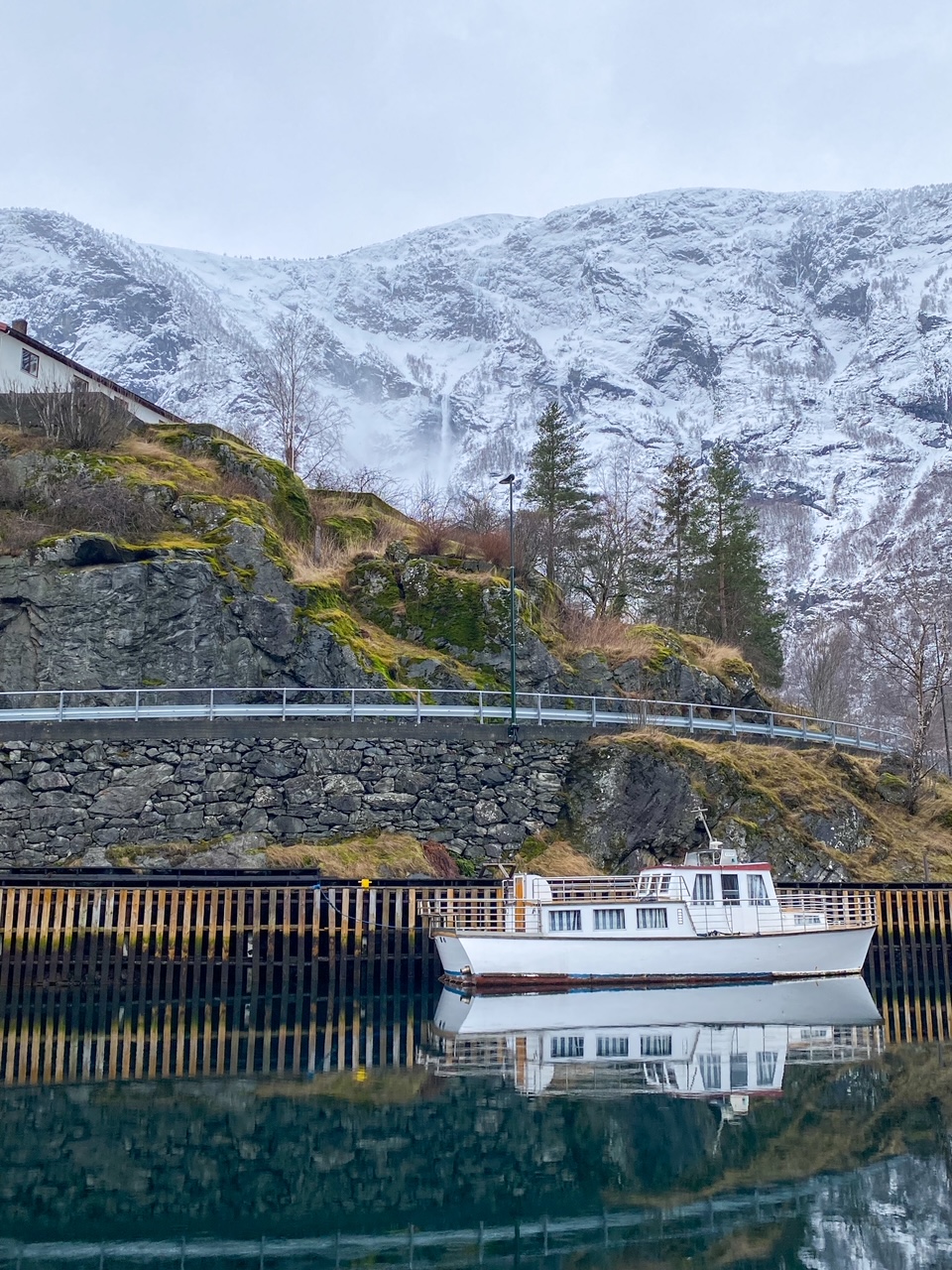 The pier in particular was one of our favorite photo spots in all of Flåm. I mean, just look at those views!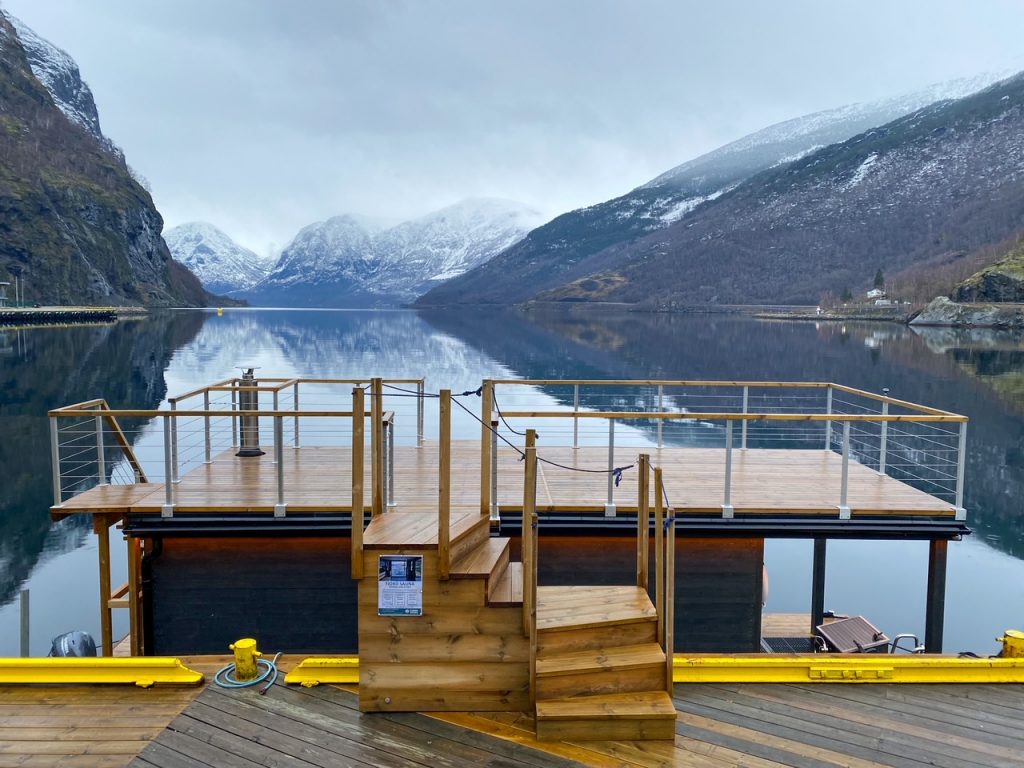 Along our walk, we spotted Fjord Sauna AS, a floating sauna on the Aurlandsfjord. Fjord Sauna AS offers several options, including the 1.5-hour 'Shared Sauna' and the 1.5- or 2-hour 'Private Sauna'. You can alternate your time between basking in the steaming hot sauna and taking a dip in the ice cold fjord for a rejuvenating experience with additional health benefits.
Unfortunately, we weren't able to book a last minute time slot with Fjord Sauna AS, so we didn't get to try this out ourselves. I've been to a Nordic spa in Alberta, Canada that focused on hydrotherapy and absolutely loved it, so I can imagine I'd enjoy this one too!
Dinner at Ægir BrewPub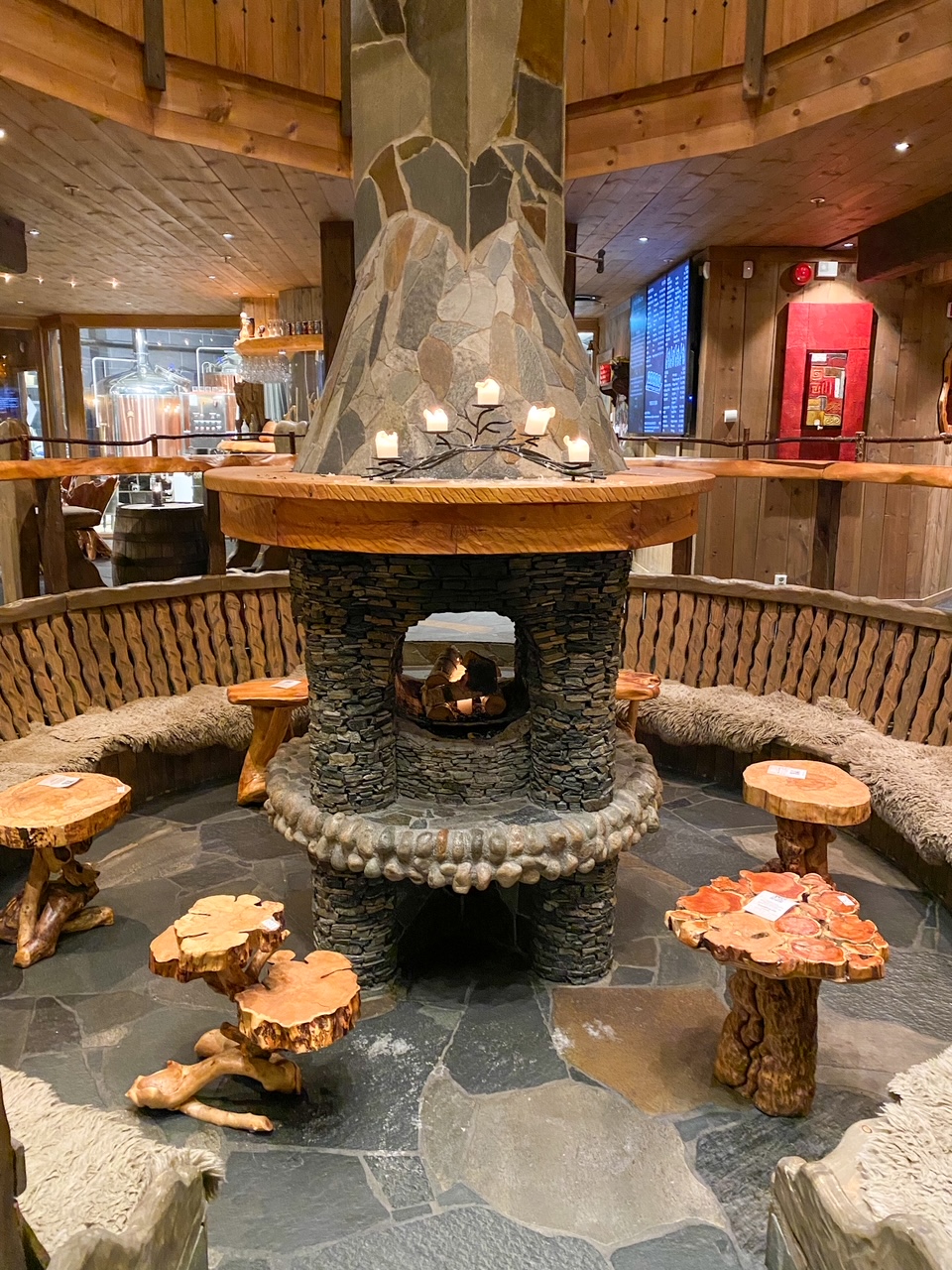 Around 7 pm, we headed to Ægir BrewPub. Opened in 2007, Ægir is a Viking-inspired brewpub in Flåm and one of the best craft breweries in Norway.
Ægir BrewPub is part of Flåmsbrygga, a cluster of buildings that host hotel rooms, conference centers, a restaurant and a café. The building was inspired by Norse mythology and boasts driftwood walls, adorable wooden chairs and tables, fur rugs and a beautiful fireplace.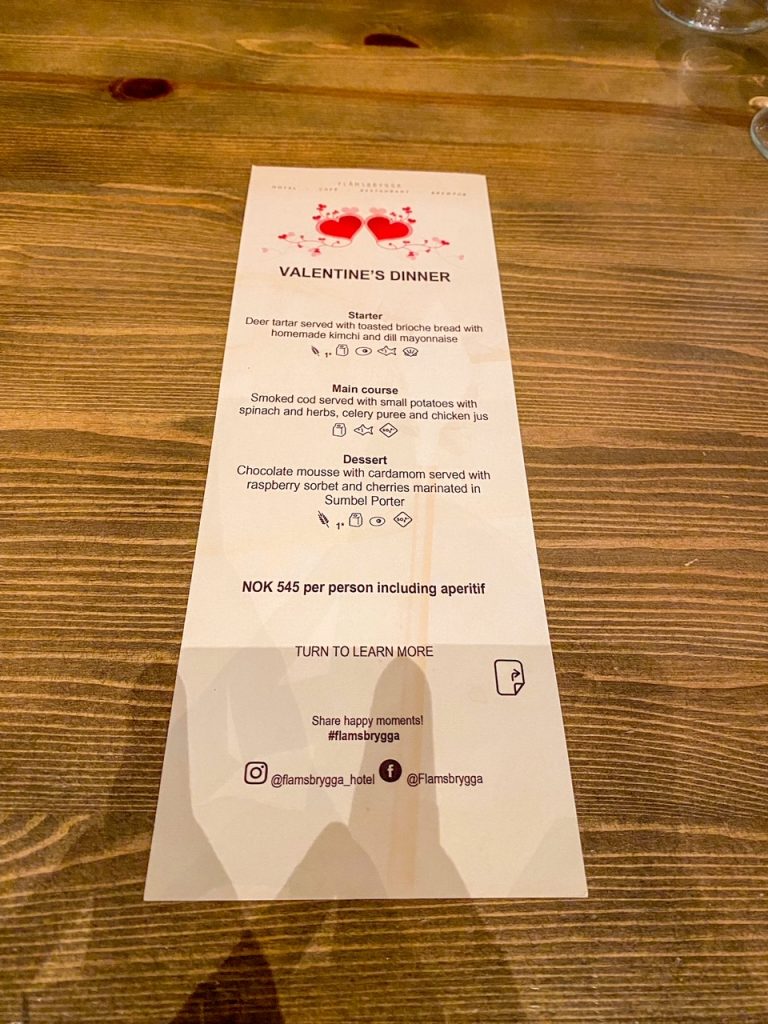 We started our evening on the first floor, where we had a special Valentine's Day dinner, before heading back to the ground floor to try some of Ægir's award-winning beers.
Board Games at Fretheim Hotel
We ended our evening back at the Fretheim Hotel, where we hung out in one of the lounge areas, had a couple of drinks and played some board games.
Flåm Church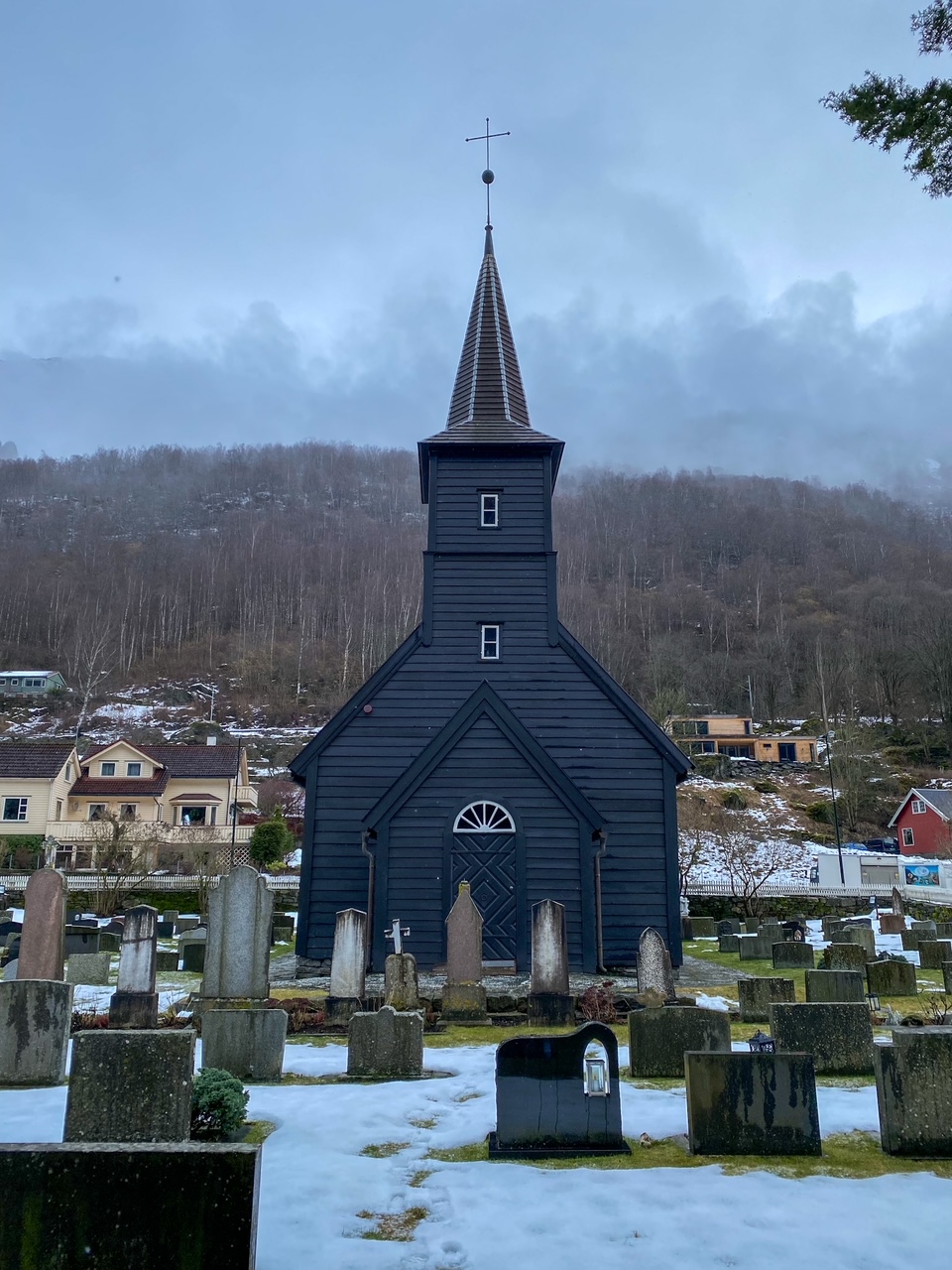 The next morning, we had breakfast at the hotel (which was only okay and wasn't included in the price of our stay) before hiking to Flåm Church.
Built in 1670 to replace an old stave church, Flåm Church is a well-preserved, wooden church that functions as a parish church of the Church of Norway. Set in Flåm's peaceful old town, the church boasts a traditional Norwegian style with beautifully painted walls, elegant chandeliers and wooden pews that seat around 160 people.
Unfortunately, we weren't able to go inside during our visit, but if it's anything like its exterior, I'm sure the church's interior is a sight to behold.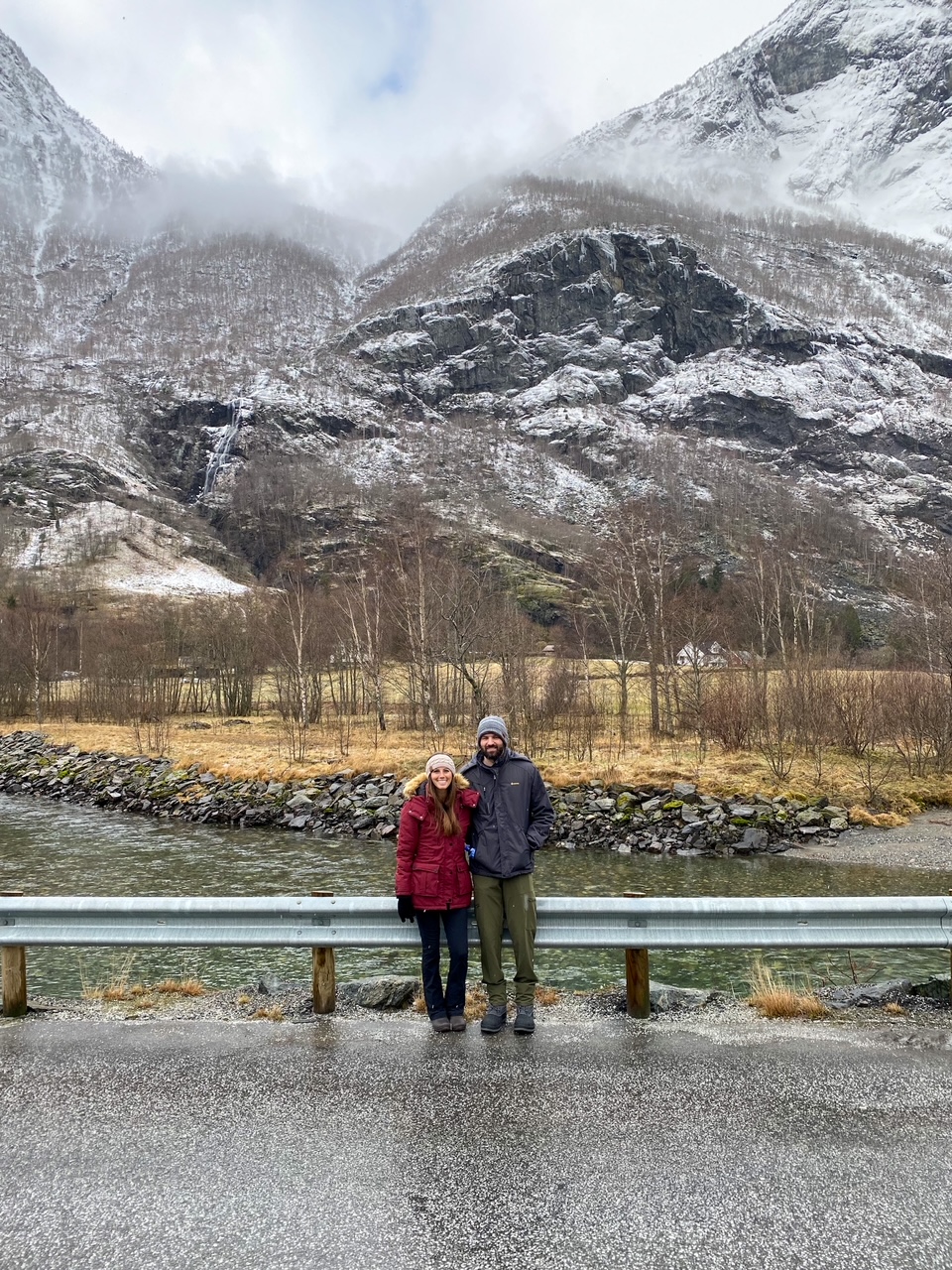 The walk to Flåm Church is lovely, as the path winds around the river and runs parallel to the Flåm Railway for some time. In total, we spent about an hour and a half walking to Flåm Church and back to the Fretheim Cultural Park.
Fretheim Cultural Park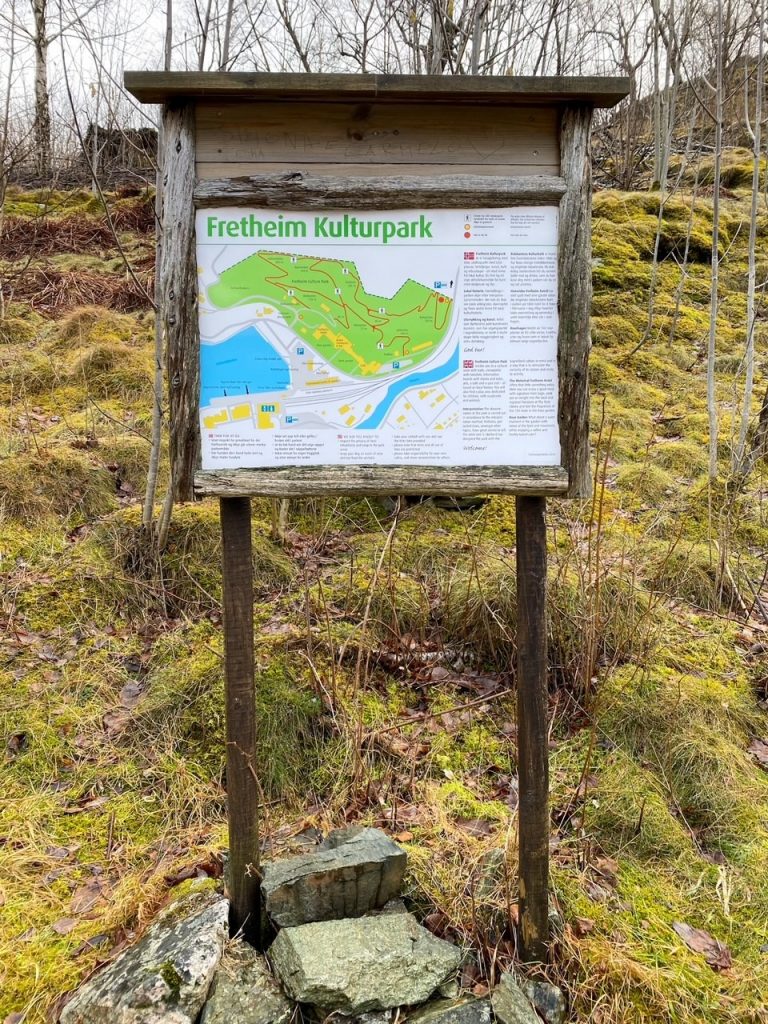 On the way back from Flåm Church, we did an easy hike through the Fretheim Cultural Park. Located on a hill directly behind the Fretheim Hotel, the park is made up of various pathways that feature a series of art installations and sculptures along the way.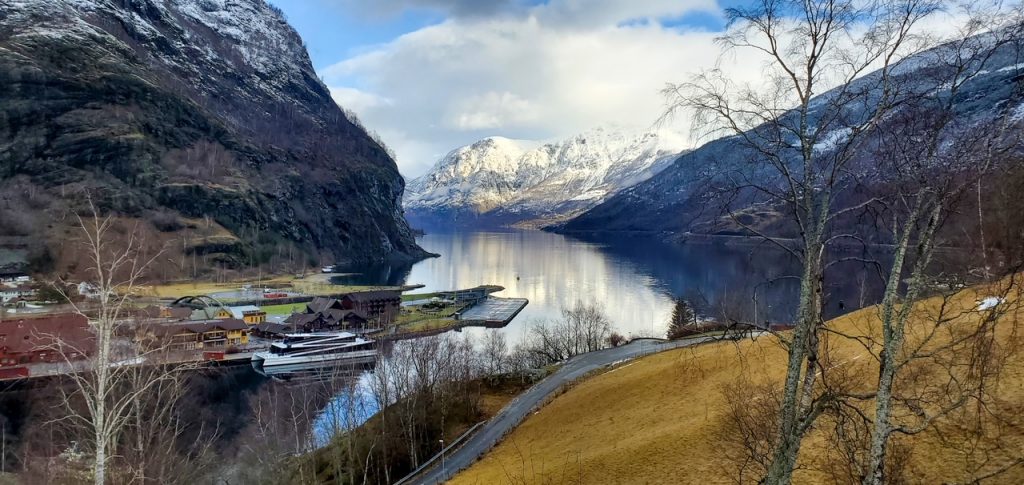 And, several of the pathways offer magnificent views of the mountains, waterfalls and fjord! We spent about 30 minutes roaming around and taking a bunch of pictures here before making our way back down the hill.
Lunch at the Furukroa Café
After our morning of light hiking in Flåm, Norway, we went for lunch at the Furukroa Café. Also a part of Flåmsbrygga, the café offers a rotating lunch menu, along with some consistent staples like pizza, burgers, fish and chips, etc. We enjoyed our food and were practically the only ones here, which was nice.
On our way to the Flåm Railway Museum, we stopped at Flåm Bakery again to pick up a couple sandwiches and some fresh baked goods for our journey back to Oslo from Flåm.
Flåm Railway Museum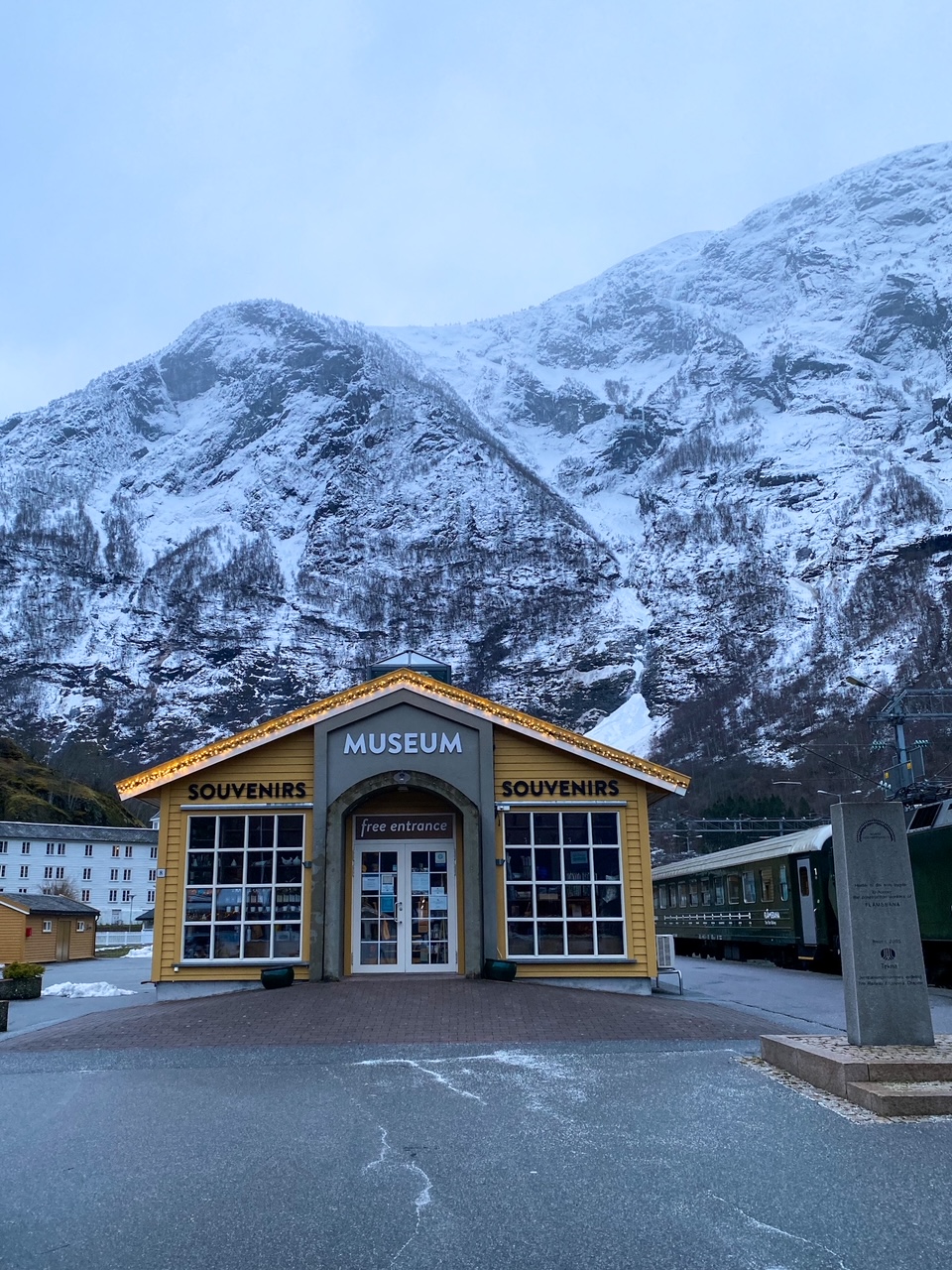 Situated directly next to the Flåm Station in a former rail station building, the Flåm Railway Museum features photos, videos and artifacts that take visitors on a journey back through the railway's lengthy history.
The completion of the Flåm Railway was no easy feat. It took more than fifteen years of construction and a total of 70 years of planning – wow! – with many legal and technical challenges along the way. The museum showcases some of these challenges, as well as the hardworking people involved in the construction. Believe it or not, eighteen of the twenty tunnels were actually built by hand!
Entrance to the Flåm Railway Museum is free, and don't forget to check out the souvenir shop on your way out. Note: you won't need a ton of time here, since the museum is small.
Ride the Flåmsbana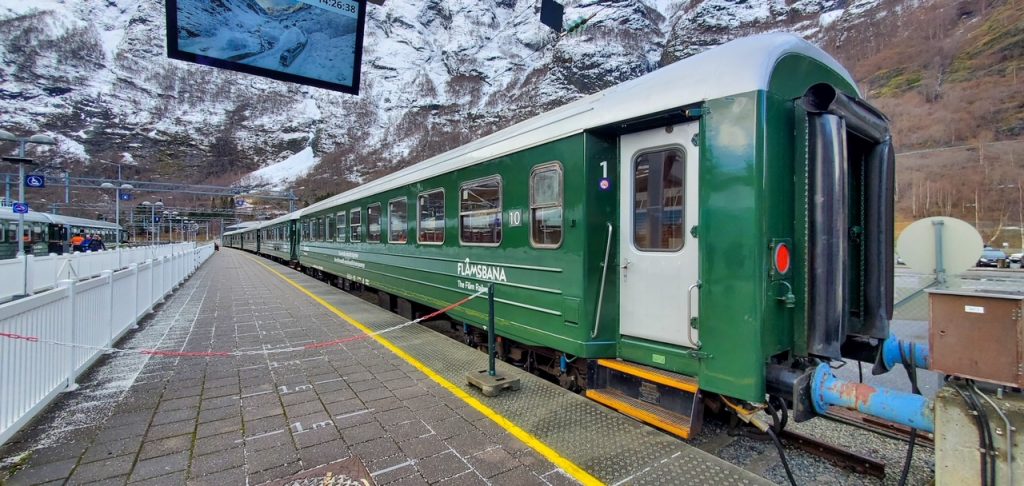 On our way back to Oslo, we embarked on Flåm's most popular and Norway's third most popular tourist attraction, the historic Flåm Railway.
The 12-mile Flåm Railway (Flåmsbana) runs between the towns of Flåm and Myrdal and is widely recognized as one of the most beautiful railways in the world.
The railway's construction was financed by the Norwegian Parliament in 1923, and by the early 1940s, steam-powered trains were in regular operation, further strengthening the connection between southwest Norway with Bergen and Oslo.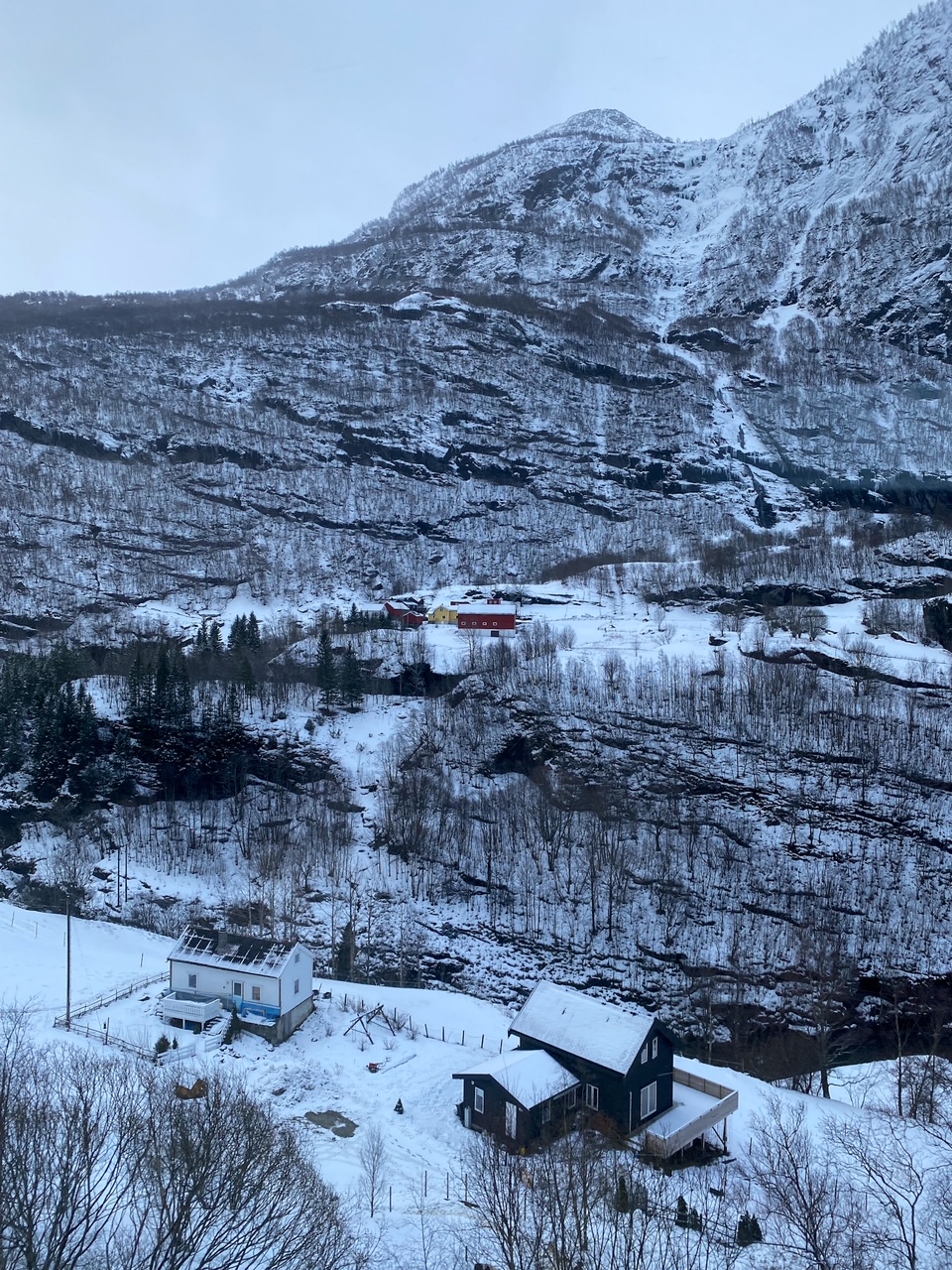 The Flåm Line was – and still is – considered a feat of Norwegian engineering. The track follows a route high up into the mountains at a gradient of 5.5% for nearly 80% of the journey, making it one of the steepest railway lines in the world.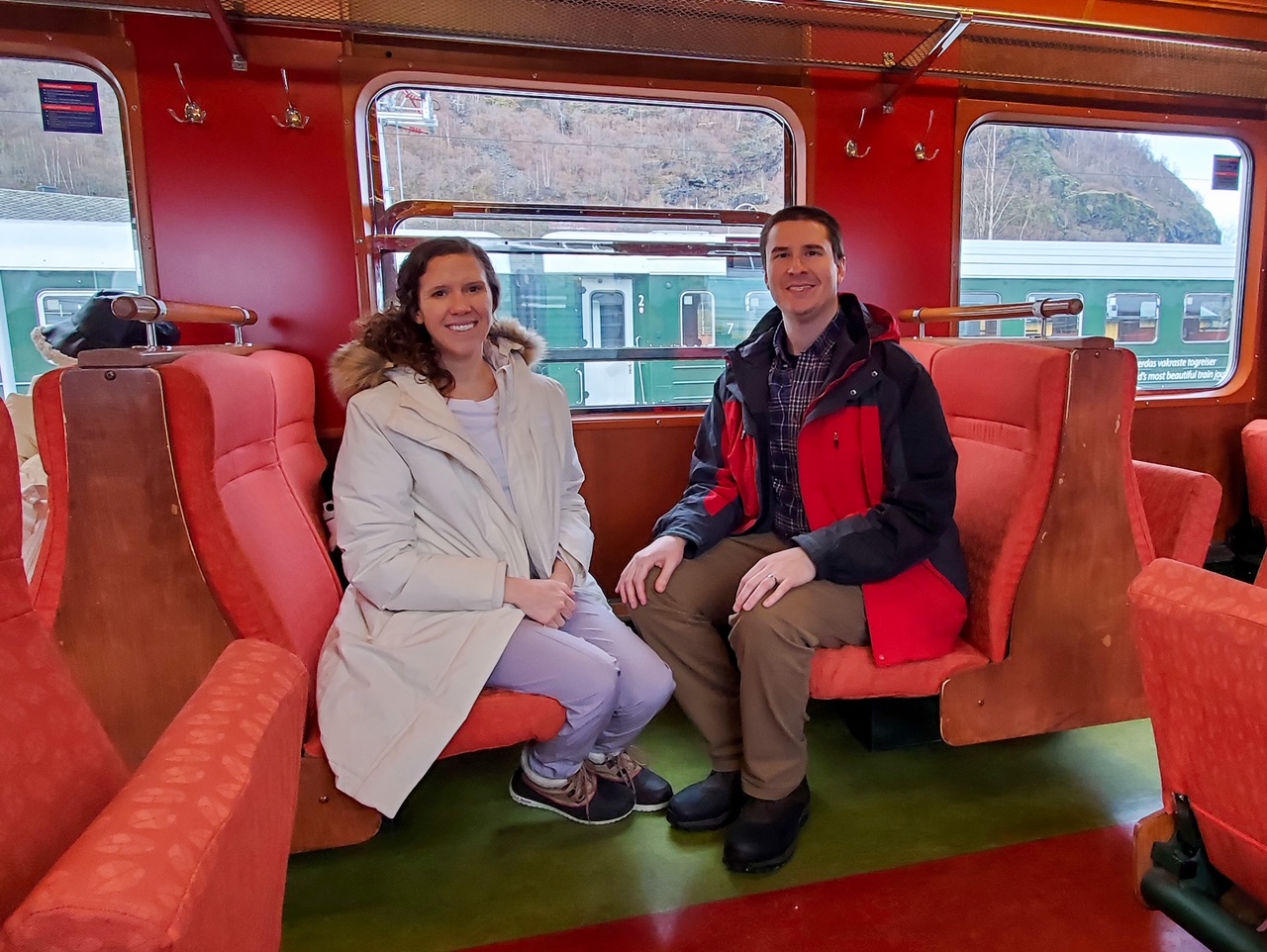 The ride offers breathtaking views of the fjords, mountains, waterfalls and countryside, and since seats aren't assigned, travelers can move around freely. This is especially true in the winter when there are fewer tourists.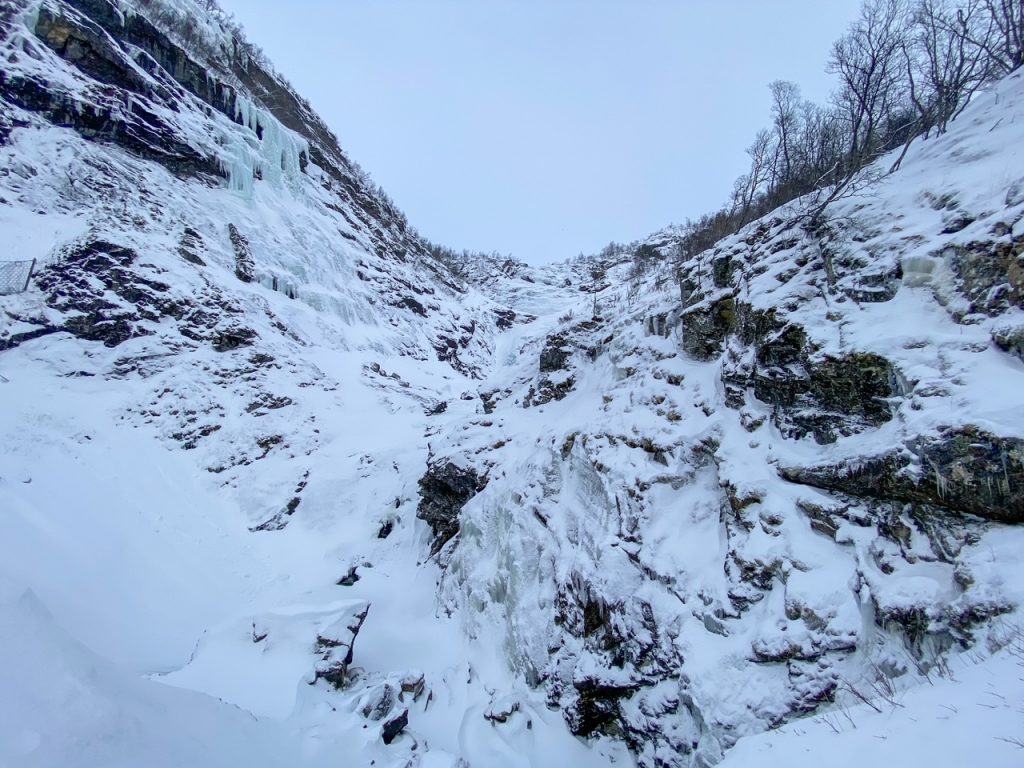 In addition to seeing several waterfalls from the comfort of our vintage train car, there was also a short stop at Kjosfossen. Kjosfossen has a total fall of more than 700 feet, but since we were traveling in the winter, this waterfall, like many others we saw, was completely frozen over.
Note: the journey from Flåm to Myrdal takes around one hour.
Other Things to Do in Flåm, Norway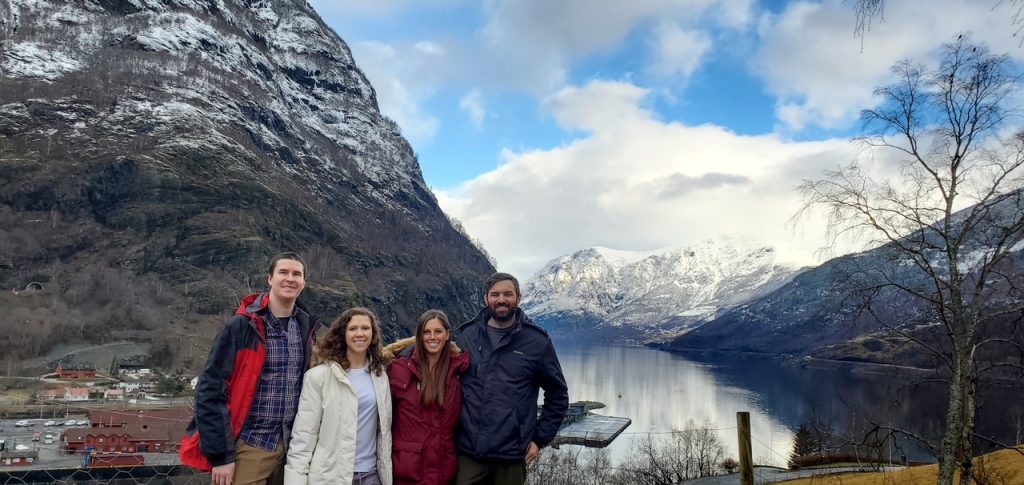 Despite being small, Flåm and the surrounding area offer lots of other activities that we didn't have time to do this time around. Here are some of the things we'd like to try on our next visit to Flåm.
Note: some of these are a bit further out and may require transportation to get there, so be sure to plan accordingly.
Final Thoughts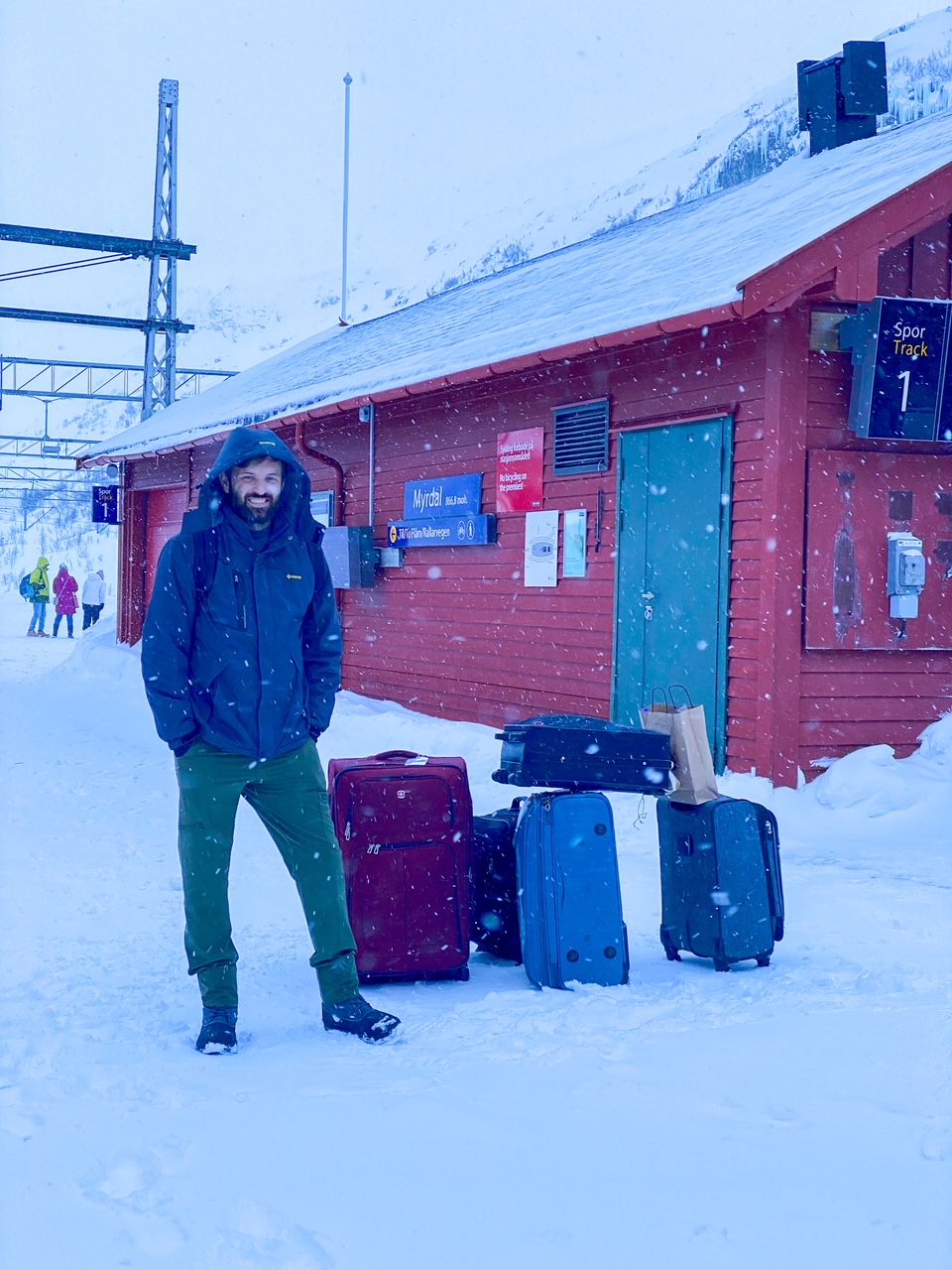 As we embarked on the five-hour journey back to Oslo from Myrdal via the Bergen Railway, we reminisced on all the fun we had on our epic 12-day Norwegian winter adventure.
We'd started in Oslo and stopped in Kirkenes, where we went dog sledding, caught some Norwegian King Crabs and stayed overnight in a hotel made of snow and ice; Rotsund, where we saw the Northern Lights from the comfort of our own glass igloos; Tromsø, where we saw the Northern Lights again and got to hand-feed reindeer; Bergen, where we explored a UNESCO World Heritage Site; and finally, Flåm, where we took an epic fjord cruise through the Aurlandsfjord and Nærøyfjord. Wow, what a trip it had been!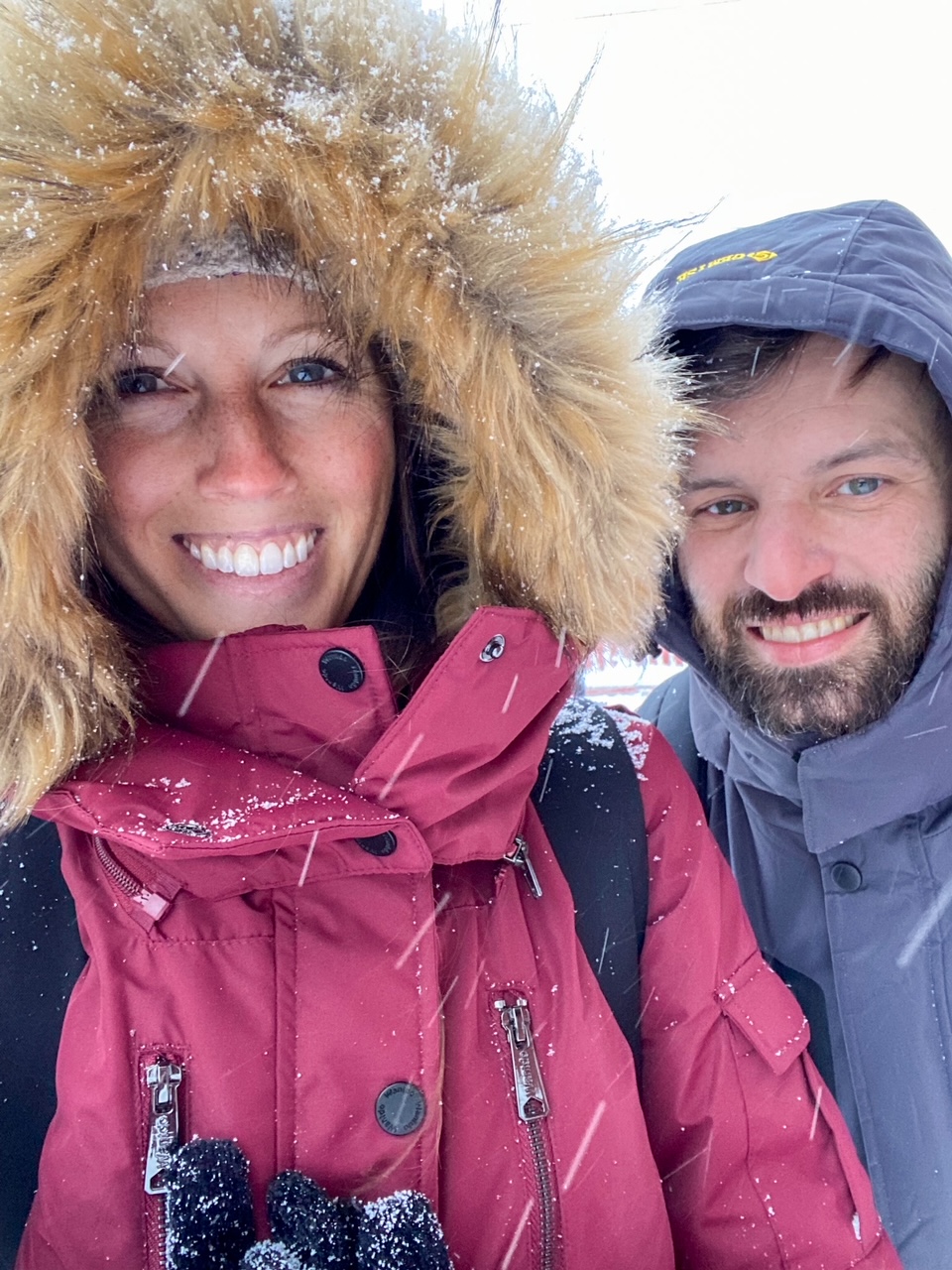 Would you consider visiting Norway in the winter? We sure hope so! Bundle up, and stay tuned for our next adventure. And, we hope you've enjoyed reading about our time in Norway!
XOXO Sara at Travel A-Broads