Bergen is a city and municipality in Vestland county – and it's one of the most beautiful places in Norway to visit! Despite being Norway's second largest city, Bergen has a small town feel that charms and delights both tourists and locals alike.
The city was founded in 1070 by King Olav Kyrre, but trading in Bergen dates back to the 1020s. For centuries, Bergen was a major European trade and sea port. It was even the biggest town in Norway for some time and served as Norway's capital in the 12th and 13th centuries – wow!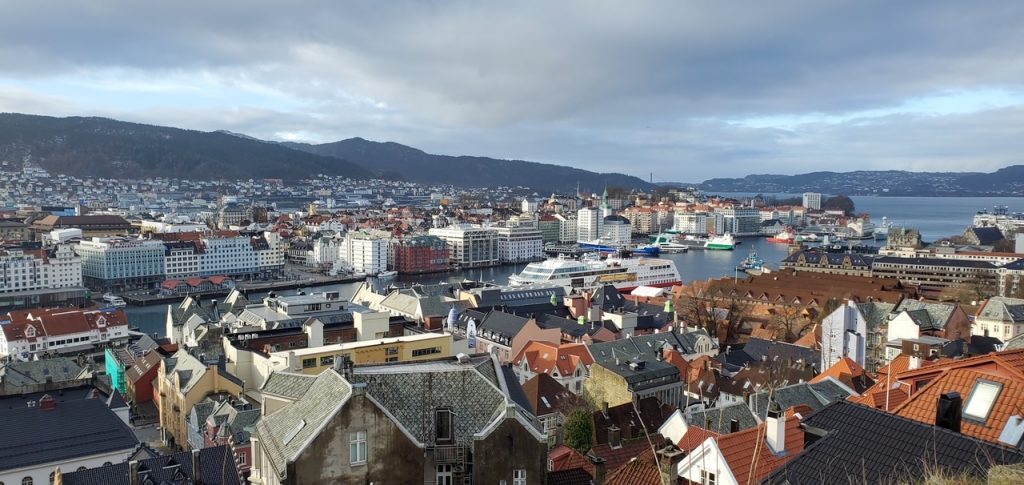 Now, the city is an international center for the shipping, marine, maritime, renewable energy and offshore petroleum industries, and a national center for education, finance, media and tourism. It's also home to a UNESCO World Heritage Site called Bryggen – more on that later!
You'll definitely want to add Bergen to your winter Norway itinerary, and this post will help you do just that. Read on to learn where to stay, where to eat, and what to do in Bergen and more.
*P.S. this post contains some affiliate links. At no additional cost to you, we may earn a small commission when you make a purchase.
What is Bergen Famous For?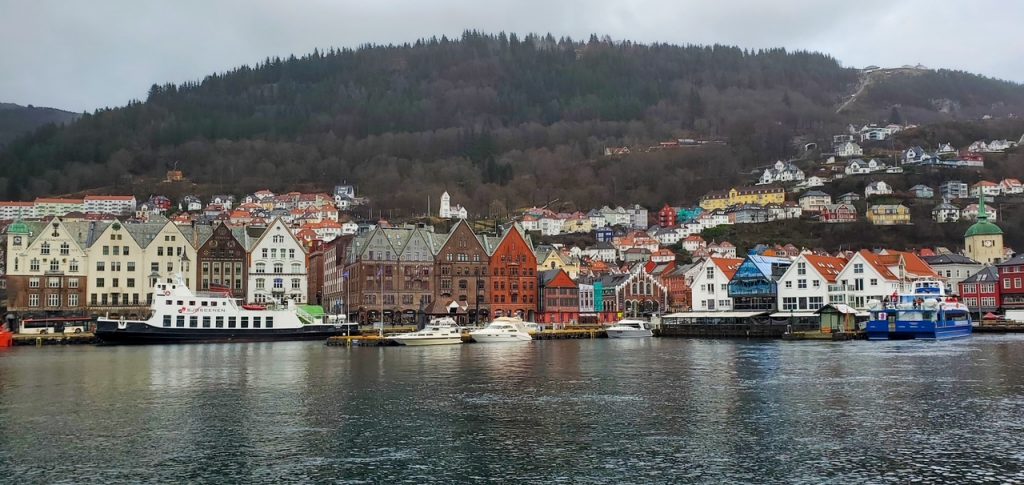 Bergen was originally named Bjørgvin, which translates to the "meadow between the mountains". Its location among seven mountains and some of the best fjords in Norway has also earned Bergen nicknames like "the city of seven mountains" and "the fjord capital of Norway".
Bergen has a rich cultural scene and is home to some of the most famous composers and artists in the world, including Edvard Grieg, Ole Bull, Alan Walker, Kygo, the Kings of Convenience, Annie, and Röyksopp.
However, what Bergen is most famous for is its high levels of rainfall. Wait, what? Yes, you read that correctly! Bergen, Norway is the rainiest city in all of Europe, rounding out the top of the charts for the highest average rain days per month (12.7 days) and the highest average daily rainfall (0.35 inches). And, to answer your inevitable question: yes, it did rain while we were in Bergen, haha.
Check out our travel packing list for winter in Norway and be prepared for all kinds of weather in Norway.
How to Get to Bergen, Norway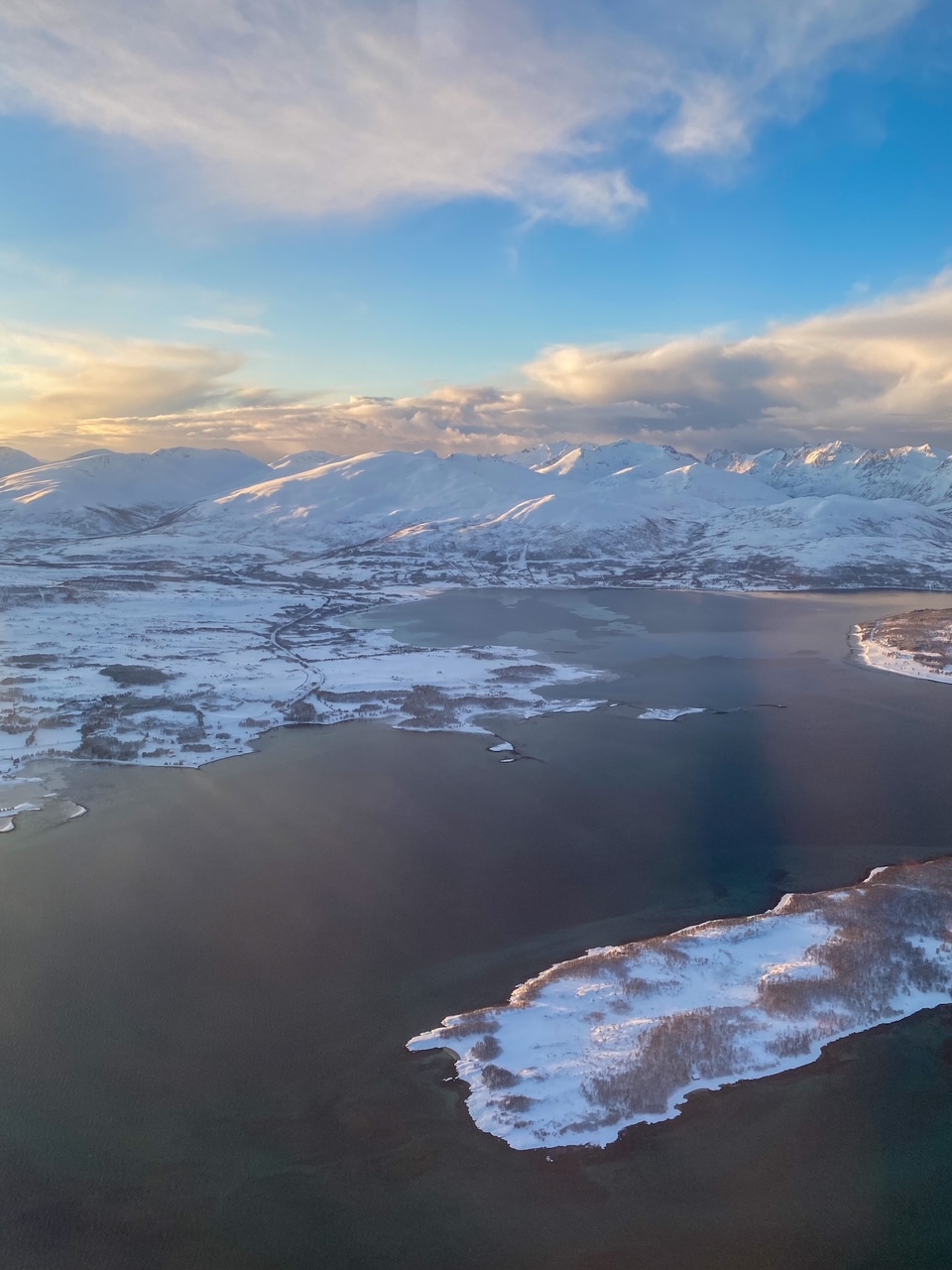 We made our way to Bergen after spending seven days traversing Norway, visiting Oslo, Kirkenes, Rotsund and Tromsø, staying overnight at the Snowhotel Kirkenes, and watching the Northern Lights from a glass igloo.
We took a 2.5-hour Wideroe flight from the Tromsø Airport (TOS), arriving at the Bergen Airport (BGO) around 5 pm. Since we booked our trip through a travel agent, we opted for a private transfer through Tumlare Corporation Hungary Kft. to our hotel in Bergen.
However, it's easy to take public transportation like the airport bus service, Flybussen, or the light-rail system, Bybanen, from the Bergen Airport to the Bergen city center.
Where to Stay in Bergen, Norway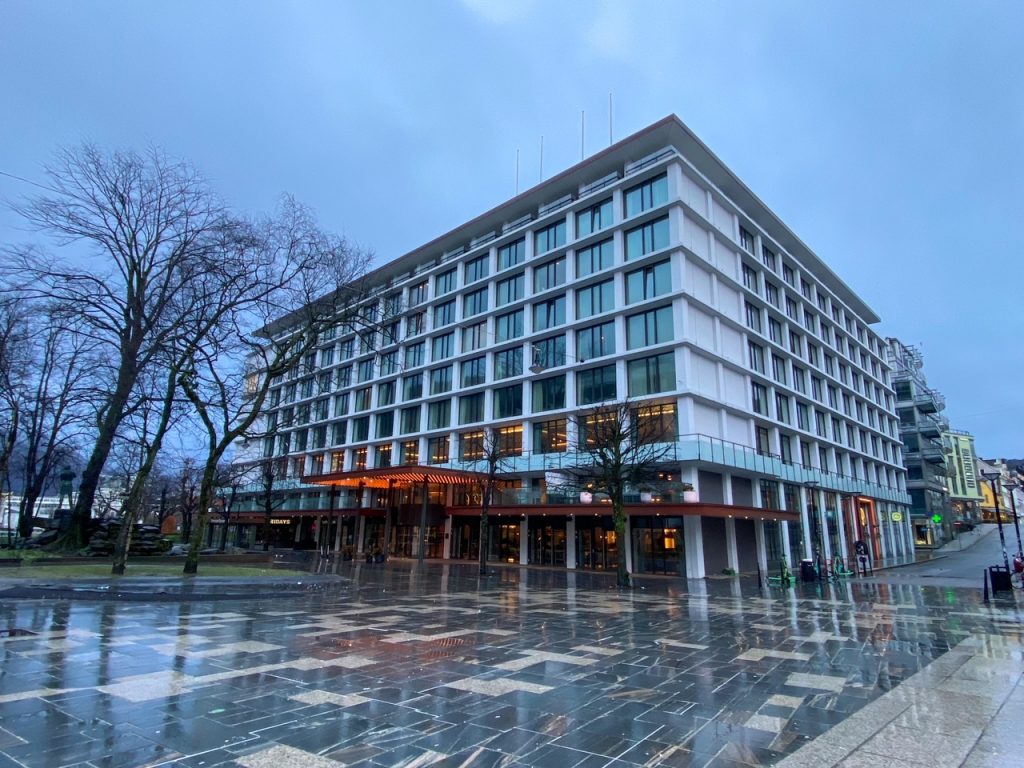 We stayed right in the city center at the Hotel Norge by Scandic. Hotel Norge first opened in 1885 and has since become one of Bergen's most prominent hotels.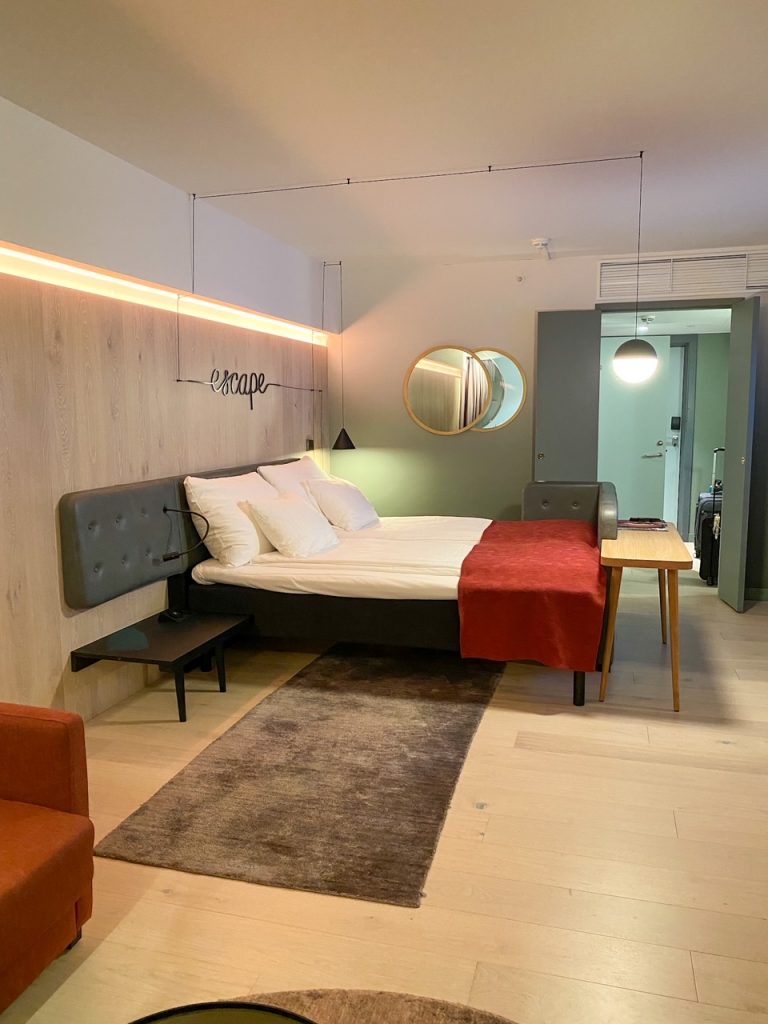 And, we can attest that a stay at Hotel Norge is a great experience. Our rooms had floor-to-ceiling windows with beautiful lake views, the breakfast was phenomenal, and the bar was cozy and offered great drinks. With a central location, bars and restaurants are also easily within walking distance.
What to Do in Bergen in One Day
There are so many things to do in Bergen and the surrounding area, and given that Bergen is a compact city, it's easy to explore on foot. In fact, it only takes about 15 minutes to travel from one end of the city to the other!
Here's what we did during our full day in Bergen.
Breakfast at Hotel Norge
We started our day with a delicious breakfast buffet made from local ingredients. Breakfast was included with our stay at Hotel Norge and served in Restaurant Nova. Note: guests who aren't staying at the hotel can also enjoy the buffet for a fee.
Private Bergen Walking Tour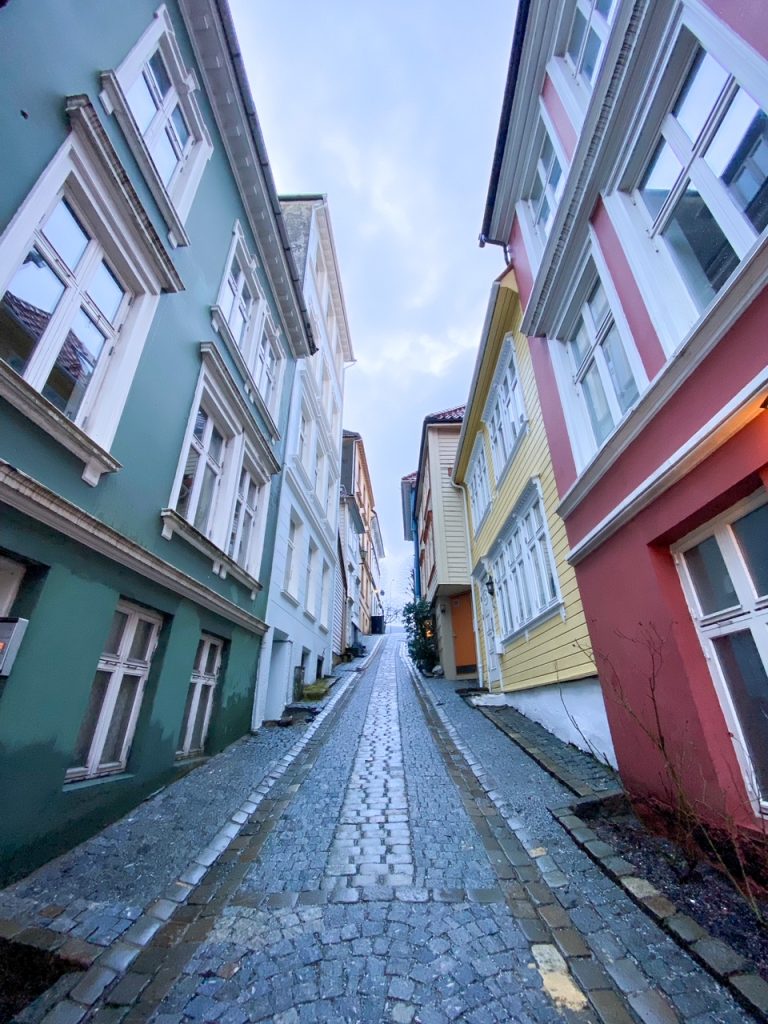 After breakfast, we met our guide in the hotel lobby and began our three-hour private Bergen walking tour via Bergen by Expert.
Torgallmenningen Square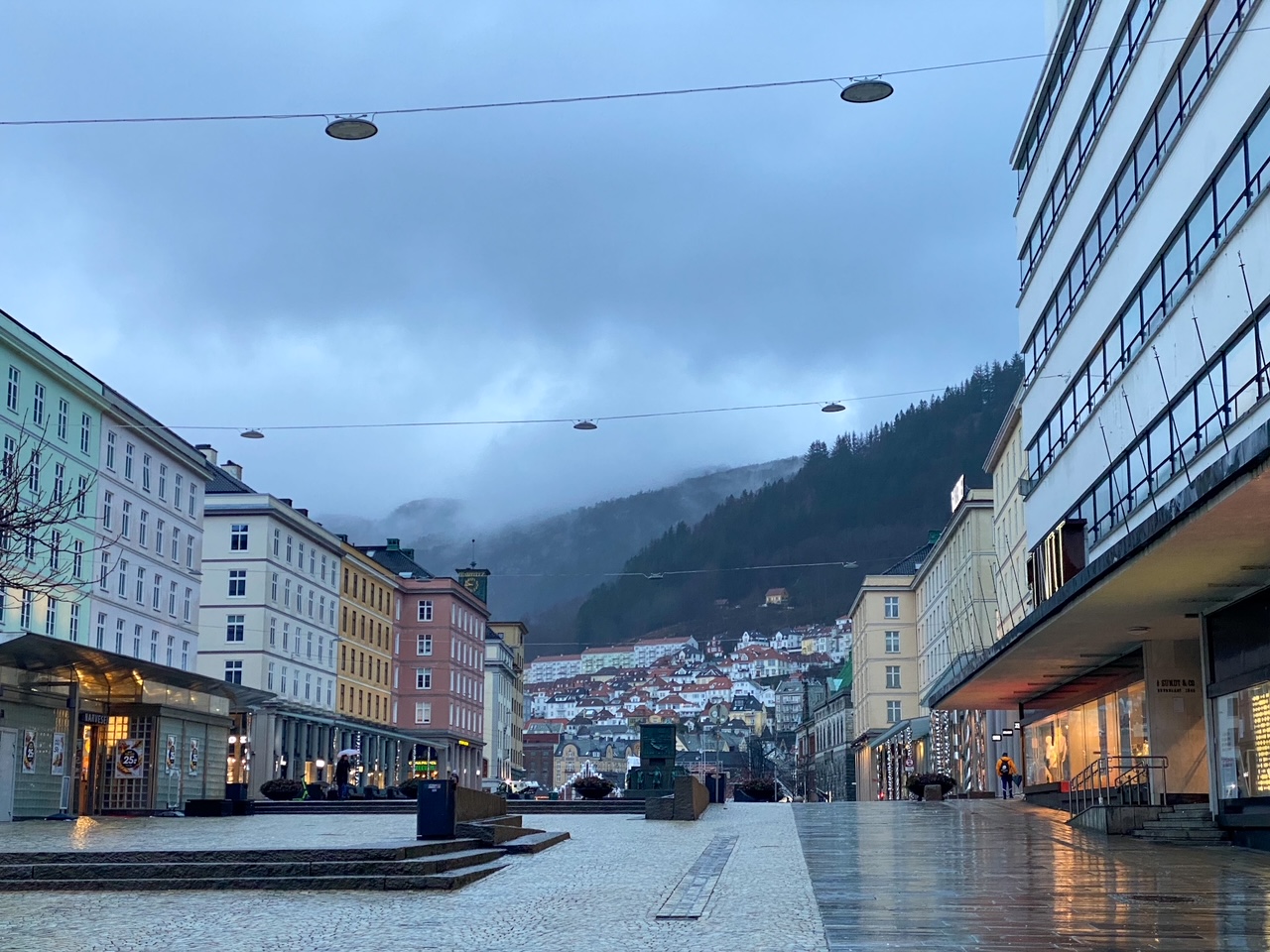 Our tour began right outside our hotel at Torgallmenningen Square. Located in the heart of the city, Torgallmenningen is Bergen's main street and square and serves as a popular meeting place for locals and tourists alike.
Similar to many other European cities like Edinburgh, Copenhagen and Stockholm, Bergen has endured many fires. With narrow streets lined with wooden buildings, entire neighborhoods would become engulfed in flames and burn down. Torgallmenningen was designed to mitigate future fires, and buildings were upgraded in a Scandinavian neoclassical style with glass roofs. Torgallmenningen has since been deemed Norway's "best-designed town square".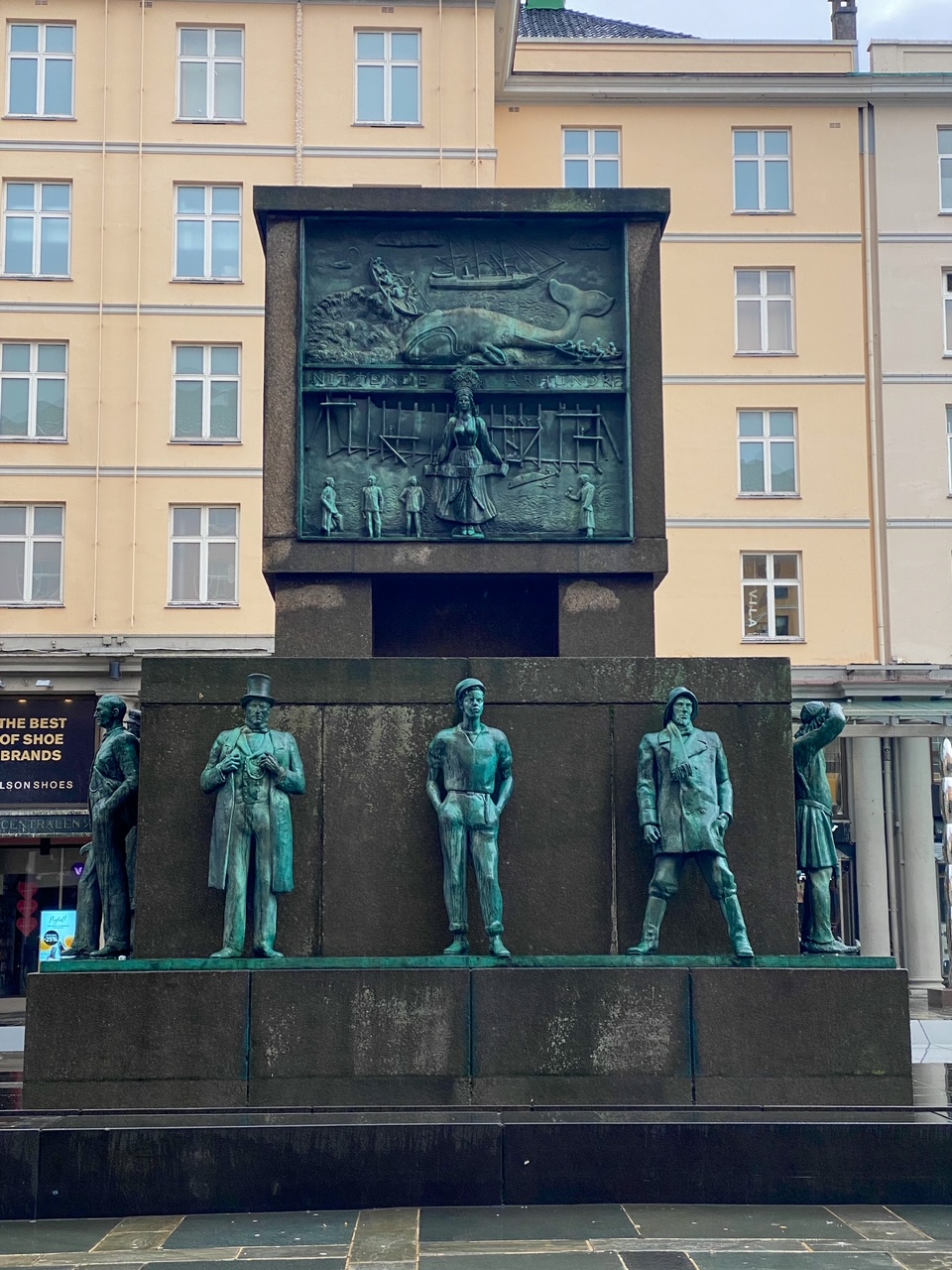 Torgallmenningen consists of a pedestrian thoroughfare lined with shops, malls and cafés and is surrounded by green space. It starts at the Maritime Monument, a statue depicting Norwegian sailors through the ages, and ends at Ole Bulls Plass.
It's notable that Bergen is a university city, meaning its nightlife is strongly influenced by the students. Often, students (and residents of Bergen) will say to "meet at the Blue Stone", a monument located at the intersection of Torgallmenningen and Ole Bulls Plass. This area is also popular for festivals, concerts and large public events, and there's access to the bus lines and light rail on adjacent streets.
When we were here, Norway had just dropped its mask mandates and students and locals alike went wild, looting the streets with masks, beer cans and wine bottles.
Museums & Churches of Bergen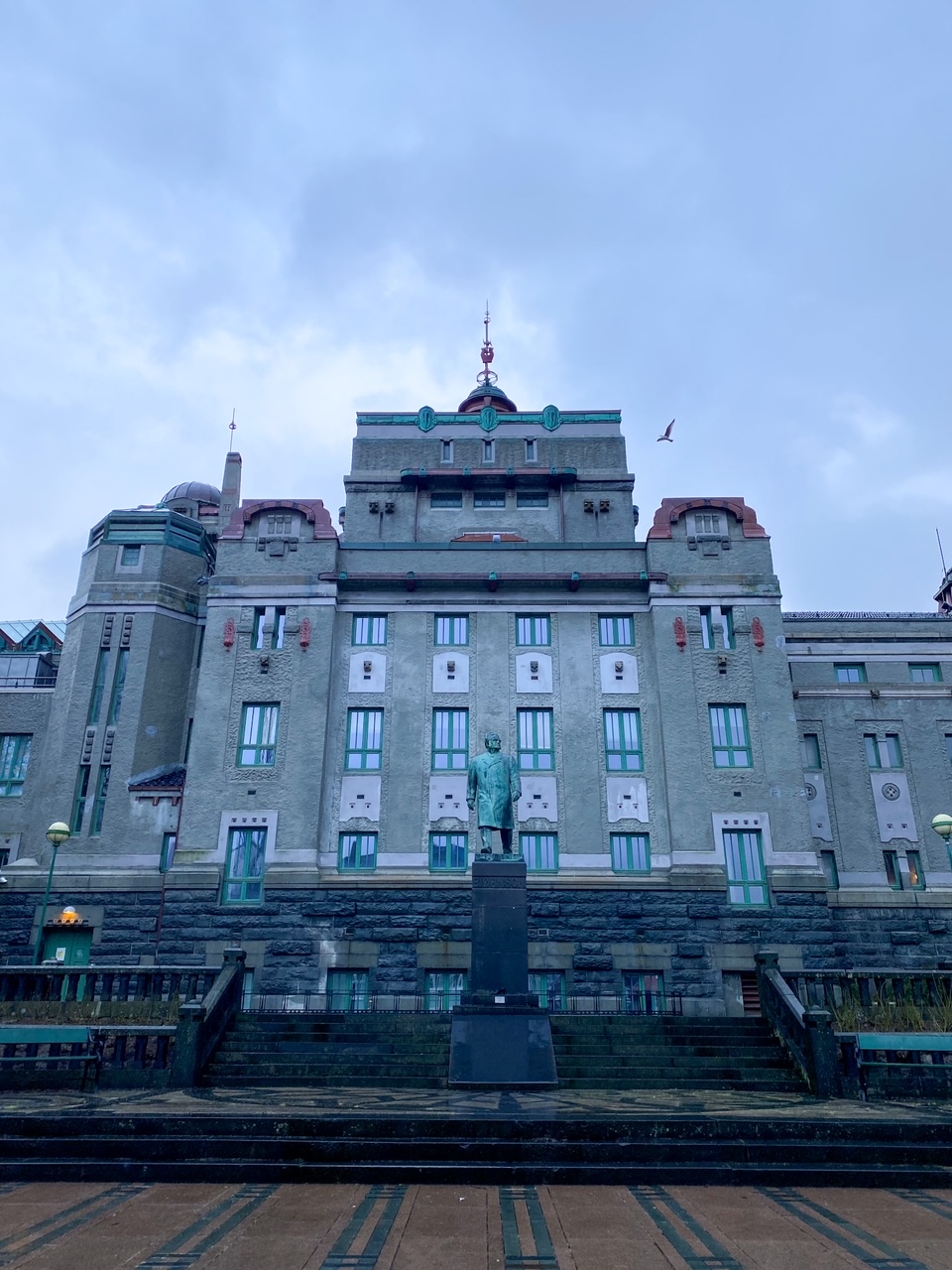 As we continued our walk, we passed by St. John's Church, St. Mary's Church, and various museums, historical buildings and statues.
Charming Bergen Neighborhoods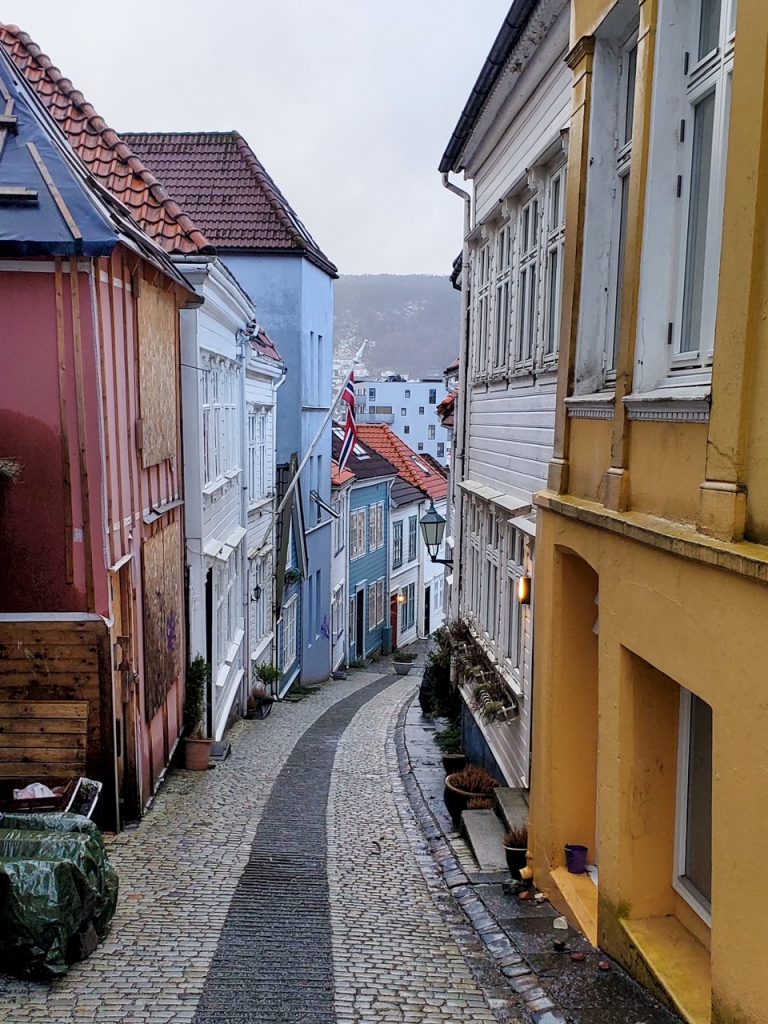 Then, we began wandering through the charming streets of Bergen. The streets are lined with beautiful wooden architecture and filled with boutique shops, art studios and restaurants, and we couldn't get over how picturesque everything was! Some of the buildings reminded me of doll houses.
Bergen's Vivid Street Art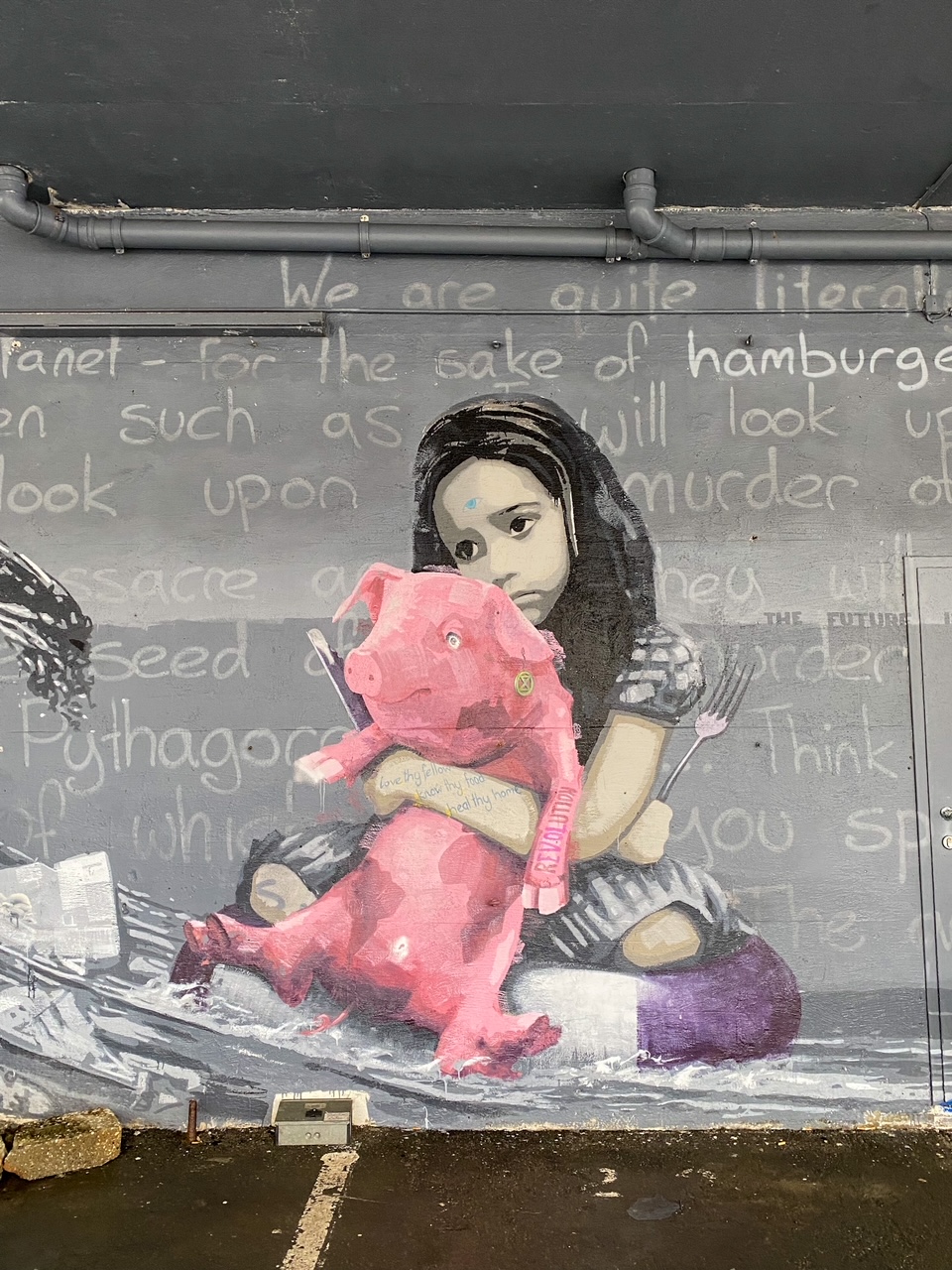 In addition to being famous for its old wharf and wooden houses, Bergen has also become the street art capital of Norway. Walls and corners of the city are adorned with paintings created by local artists, who hope "to make Bergen a more colorful place". With the dreary weather Bergen experiences, this facelift is just what the doctor called for!
The artists interpret and comment on the world around them, using current events to shape their work. We saw lots of street art during our walk, but some of my favorites are shown above.
The Infamous Fish Market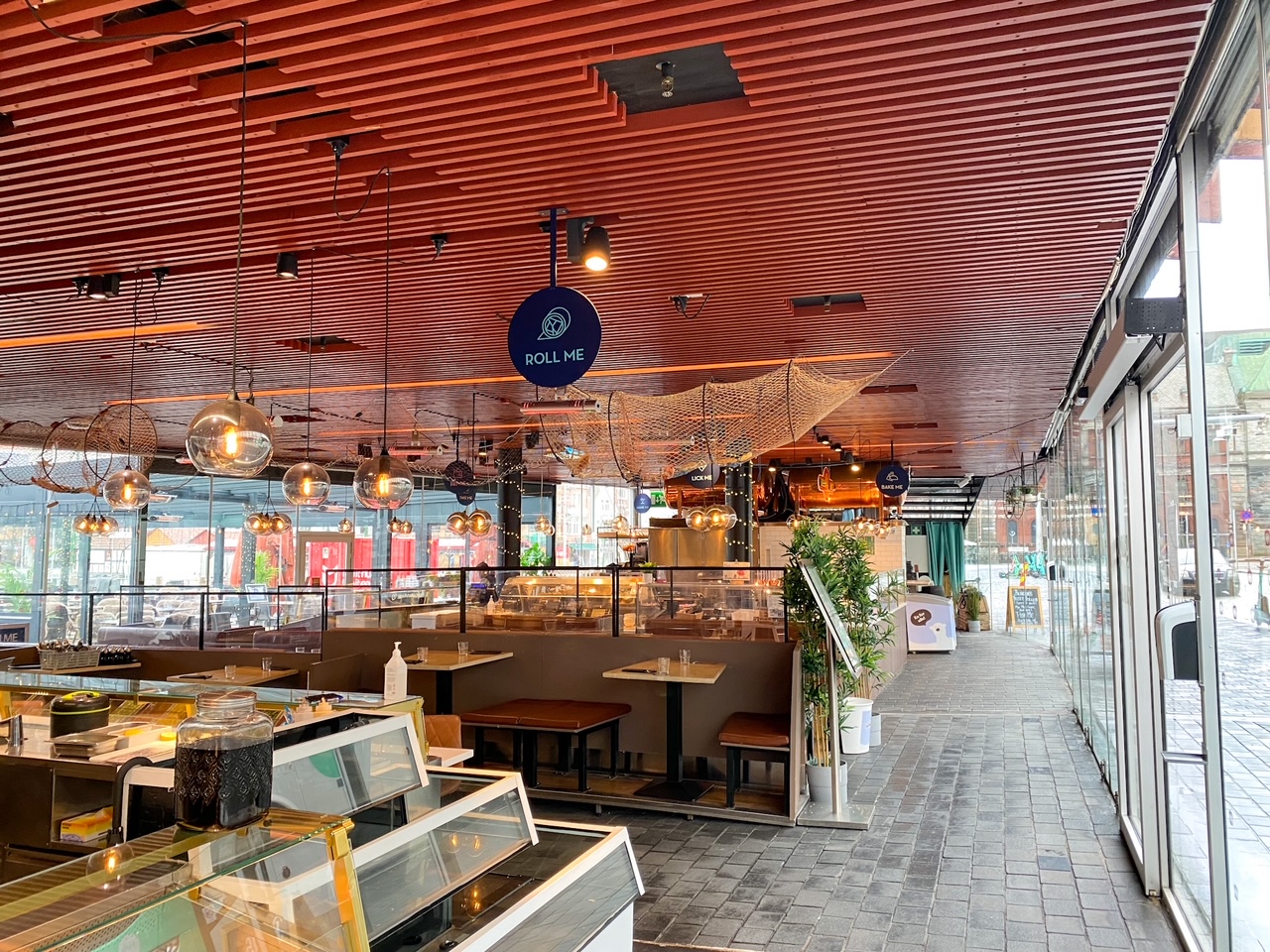 Located in the heart of the city, the Fish Market is one of the most popular places to visit in Bergen and one of the most visited outdoor markets in Norway.
Since the 1200s, the Fish Market has been a meeting place for merchants and fishermen, though its location has changed since then. In 1556, the Fish Market was moved to its current location and established as Bergen's central trading venue. Today, visitors can purchase fresh seafood, fruits and vegetables or eat at one of the lovely restaurants on site. The indoor Fish Market, which opened much more recently in 2012, is open all year, whereas the outdoor Fish Market is open only during the summer.
World Heritage Site Bryggen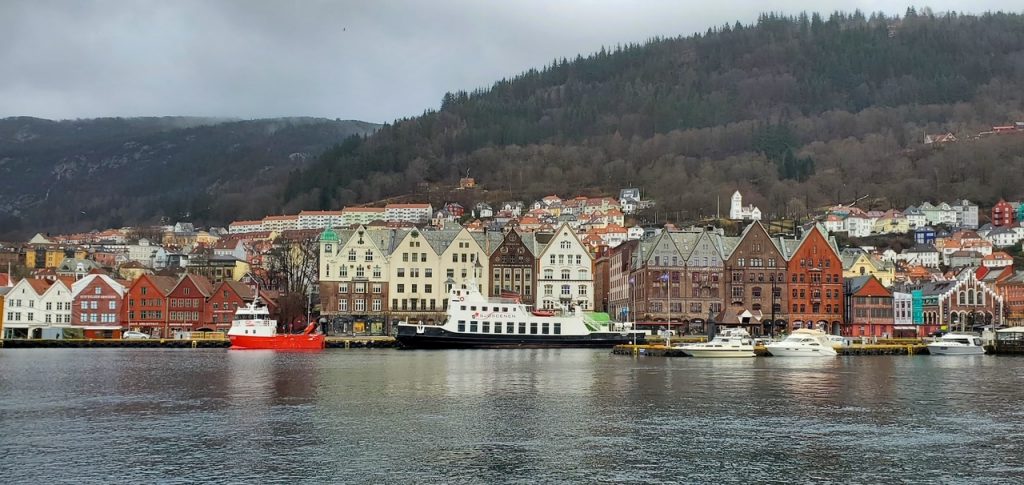 Just a short walk from the Fish Market, Bryggen, a.k.a. Tyskebryggen or the "dock", is a series of old commercial buildings that sit along Bergen's Vågen harbor. The 62 remaining buildings make up a significant part of Bergen's historic wooden city and are a reminder of the town's importance as part of the Hanseatic League's trading empire in the 14th to mid-16th centuries.
Bergen is one of Northern Europe's oldest port cities and was established as a center for trade by the 12th century. In 1350 the Hanseatic League, a medieval commercial and defensive confederation of merchant guilds and market towns, established an office in Bergen and gradually acquired ownership of Bryggen to control stockfish trade from Northern Norway. The Hanseatic League established a total of four overseas offices, and Bryggen is the only one that was preserved.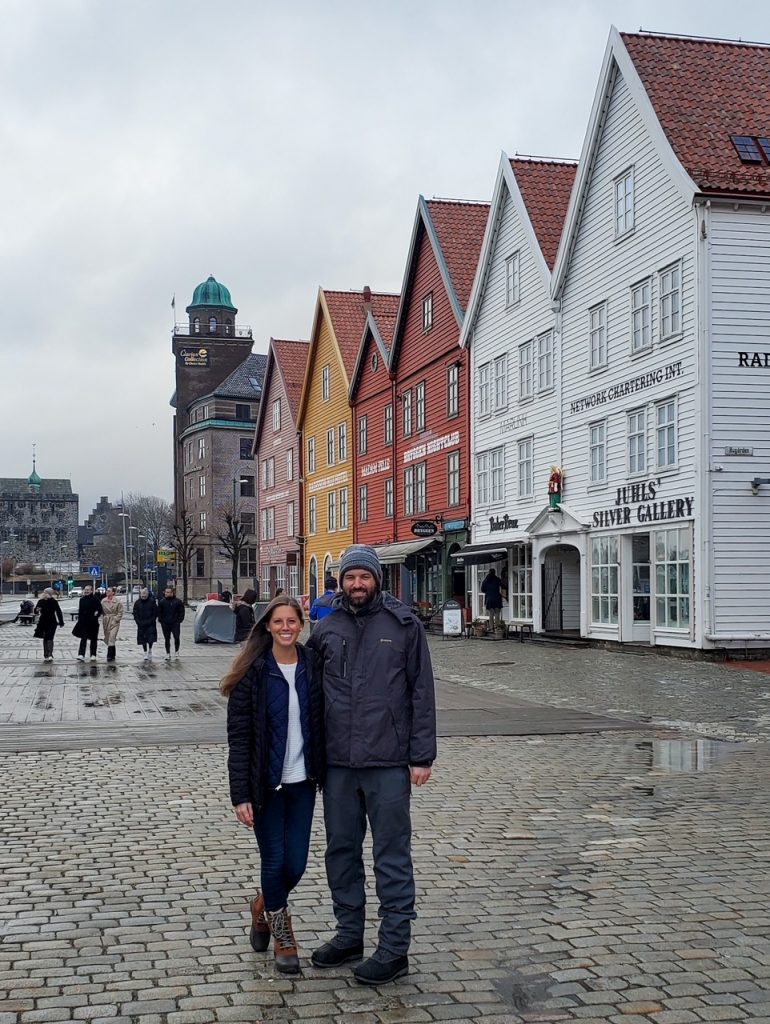 Sadly, much like the rest of Bergen, Bryggen has also experienced many fires. After each fire, Bryggen has been rebuilt, closely following the previous property plan and building techniques. In an effort to demonstrate how Bryggen once functioned, offices and dwellings are maintained in the front, warehouses in the middle and assembly rooms, kitchen facilities and stone cellars in the back.
Around a quarter of the houses date back to 1702, when they were rebuilt after a fire – and some have stone cellars that date back to the 15th century. Another fire in 1955 provoked the opening of the Bryggens Museum – more on that in a bit!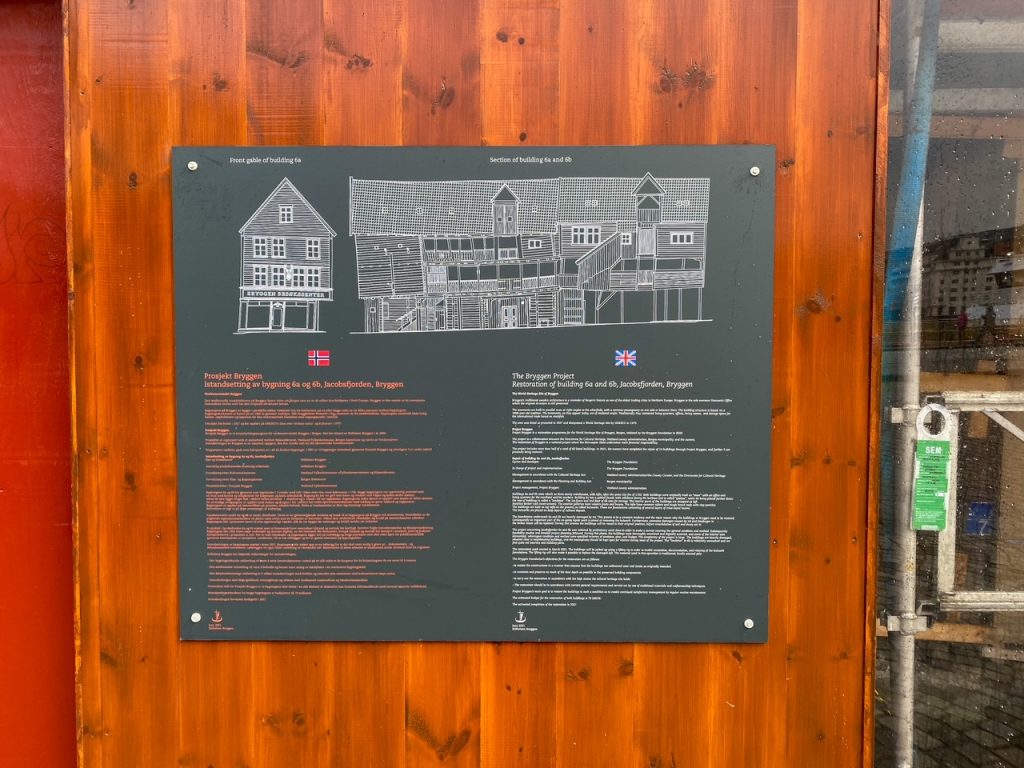 Further, Bryggen was deemed a UNESCO World Heritage Site in 1979, and "The Bryggen Project" was established in 2000 to monitor, safeguard and restore Bryggen over time.
Mount Fløyen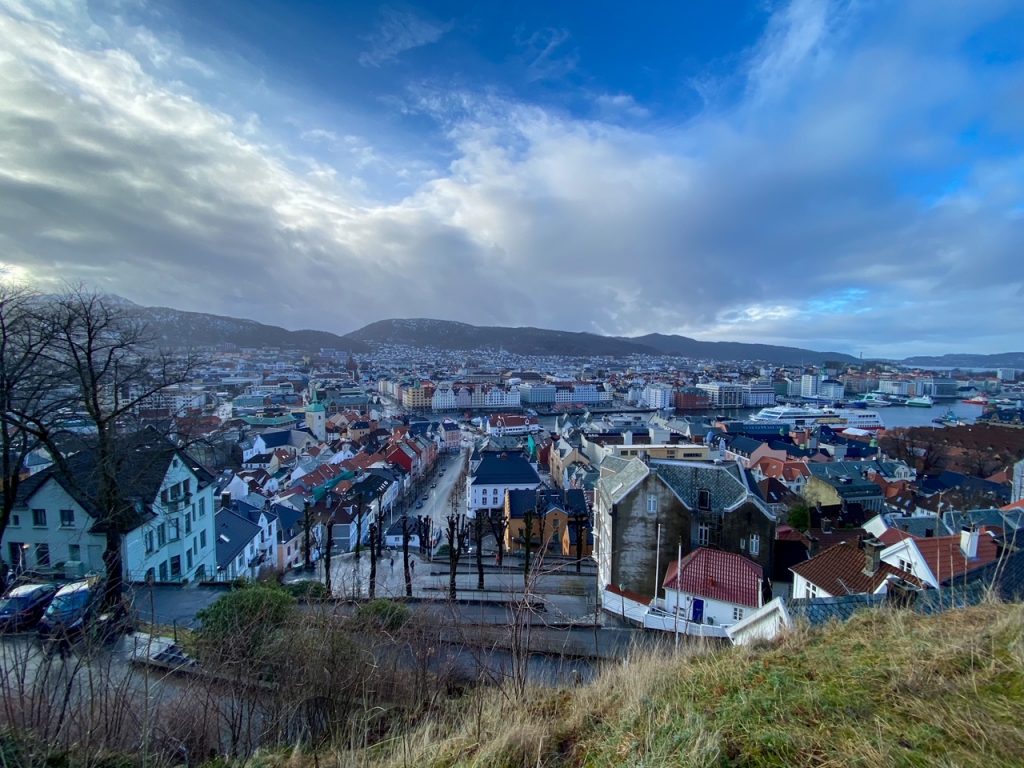 At the end of our tour, we made our way to the base of Mount Fløyen. With an elevation of 1,300 feet, Mount Fløyen is the closest of the city's seven mountains and offers incredible views of the Bergen peninsula.
The top of Mount Fløyen can be reached by the Fløibanen or by walking. The Fløibanen is an electric cable funicular that pulls two wagons between Mount Fløyen and the Vetrlidsallmenningen station in the Bergen city center. With three stations, Promsgate, Fjellveien and Skansemyren, each with their own viewpoints, the Fløibanen is Bergen's most popular tourist attraction.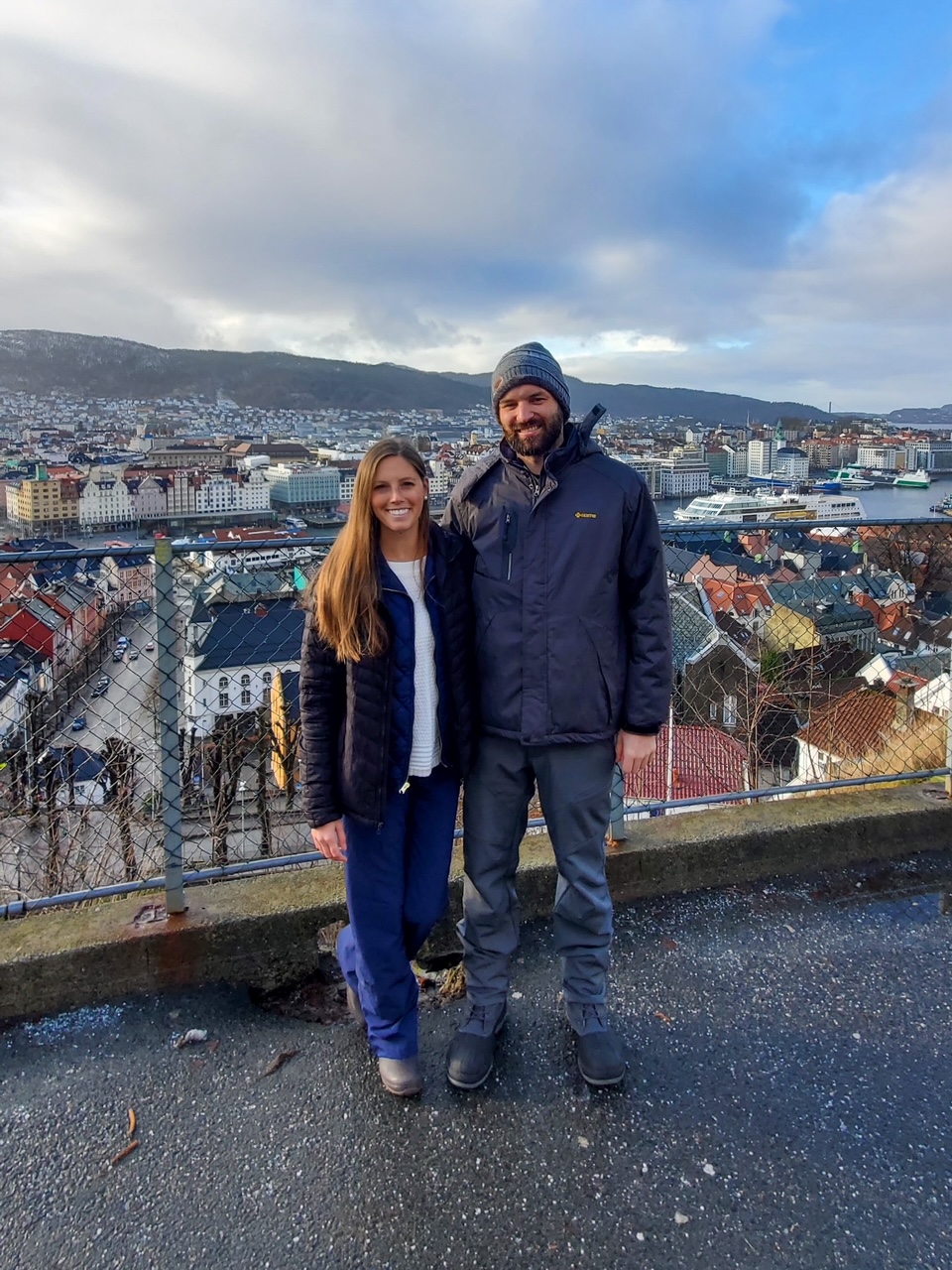 Although we only walked to Promsgate, the lowest of the Fløibanen stations, we were still impressed by the magnificent views of the cityscape, mountains and fjords. This station also hosts the Skansen Fire Station, which was built in 1903 in response to a devastating fire that ravaged the city a couple years prior.
Since we were wrapping up our three-hour walking tour, we didn't go all the way to the top of Mount Fløyen. Instead, we spent a couple minutes here enjoying the scenery and taking some photos. That being said, the top of Mount Fløyen offers several hiking opportunities, the most popular being the hike to Mount Ulriken via the Vidden Trail, and we'd love to come back to do some of those one day!
Bergenhus Festning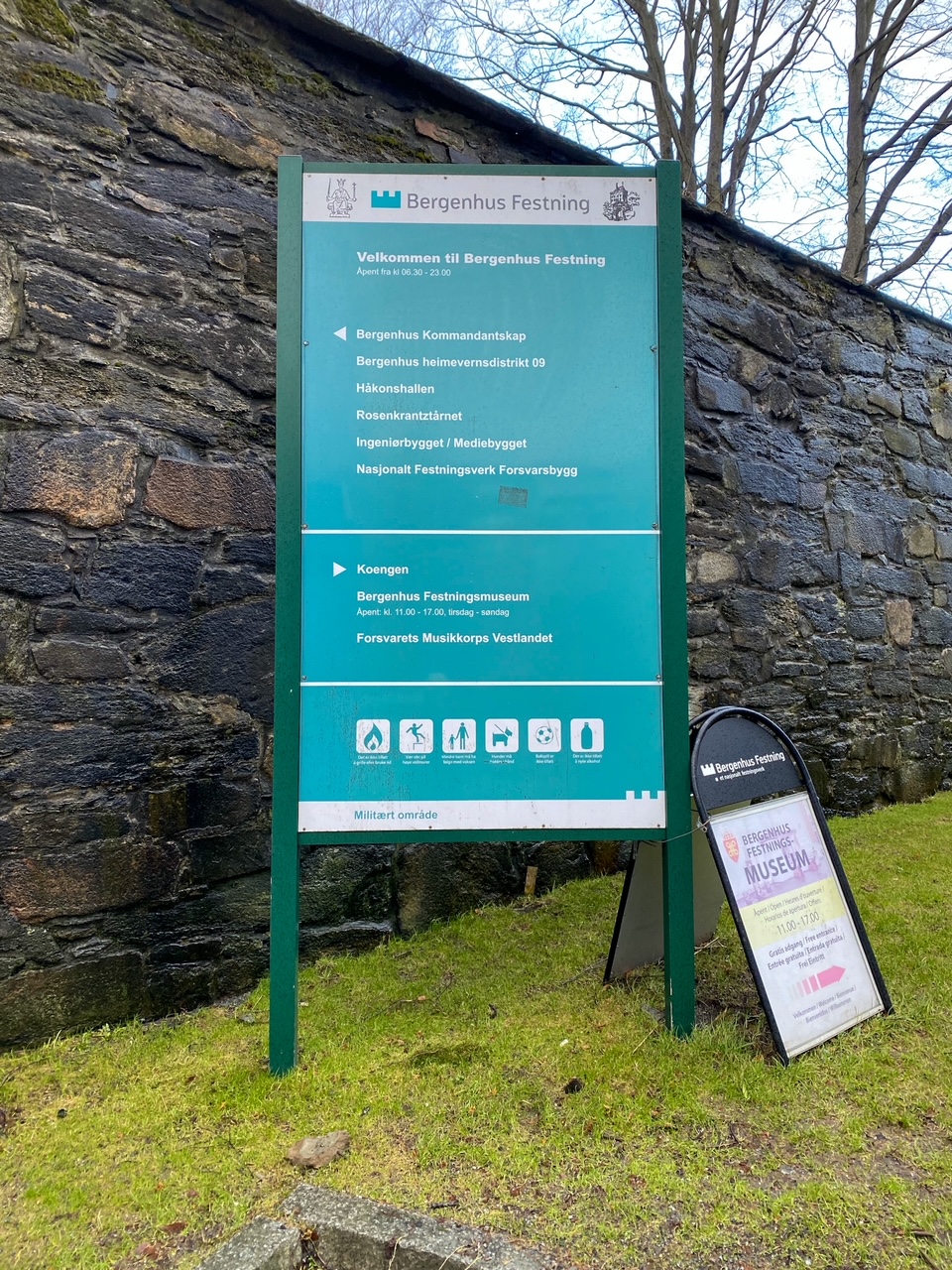 After our lovely walking tour, we decided to continue exploring Bergen on our own. Bergenhus Festning, i.e. Bergenhus Fortress, is a fortress located at the entrance of the Vågen harbor and one of the oldest and best preserved stone fortifications in Norway.
In medieval times, Bergenhus Festning contained the royal residence in Bergen and was the site of several royal coronations and weddings. It was also the burial site for at least six kings, as well as other members of the royal family.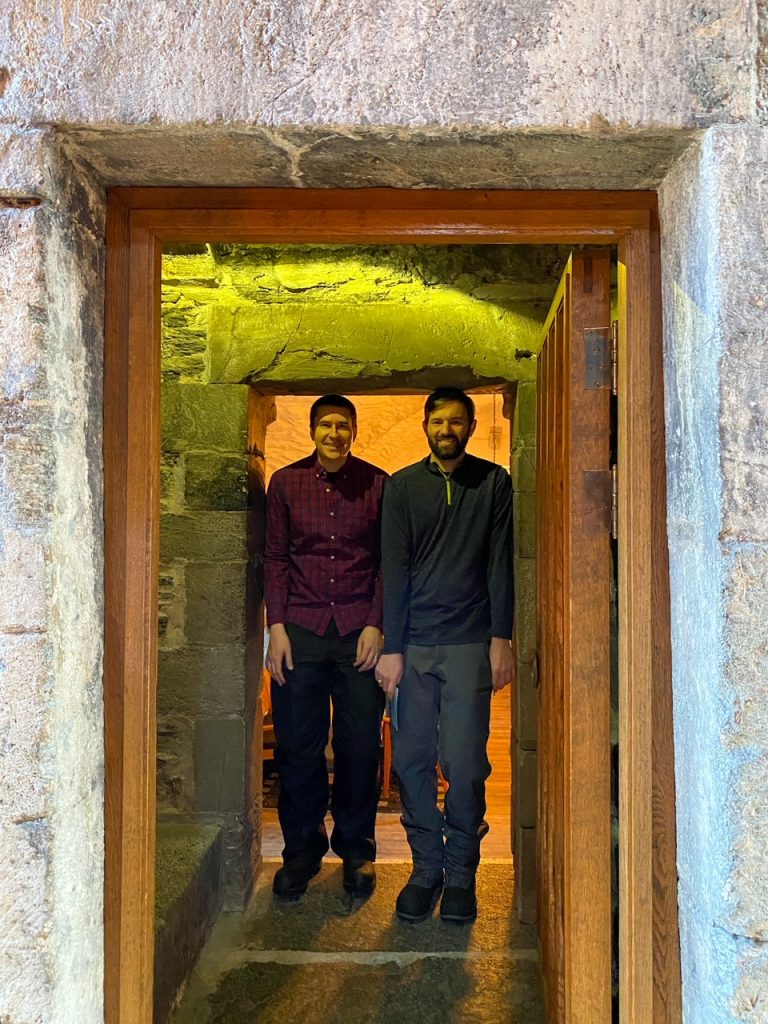 The fortress is made up of buildings that date as far back as the 1240s and others that were built all the way up until World War II. However, the foundations are presumed to have been laid before 1100, around the time of King Olav Kyrre.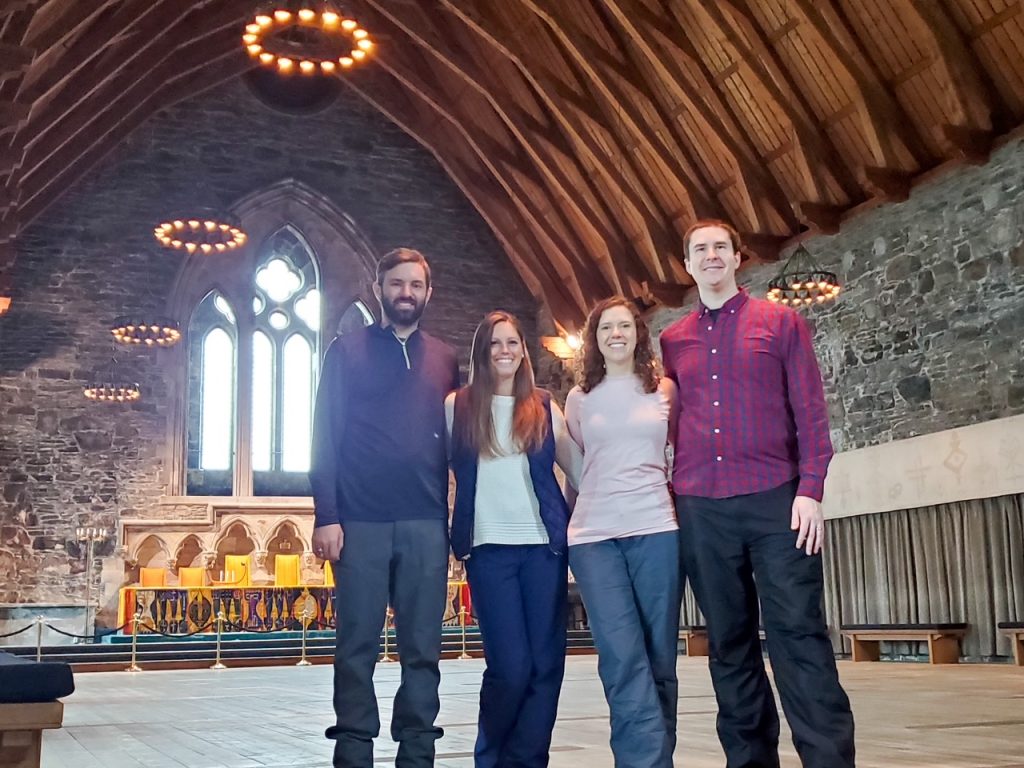 Of the medieval buildings, a stone hall, known as Haakon's Hall, and a defensive tower, now part of Rosenkrantz Tower, remain. The hall was built in a Gothic style around 1260, and at the time, was the royal palace's largest building. The tower was built around ten years later and had a royal apartment on the top floor.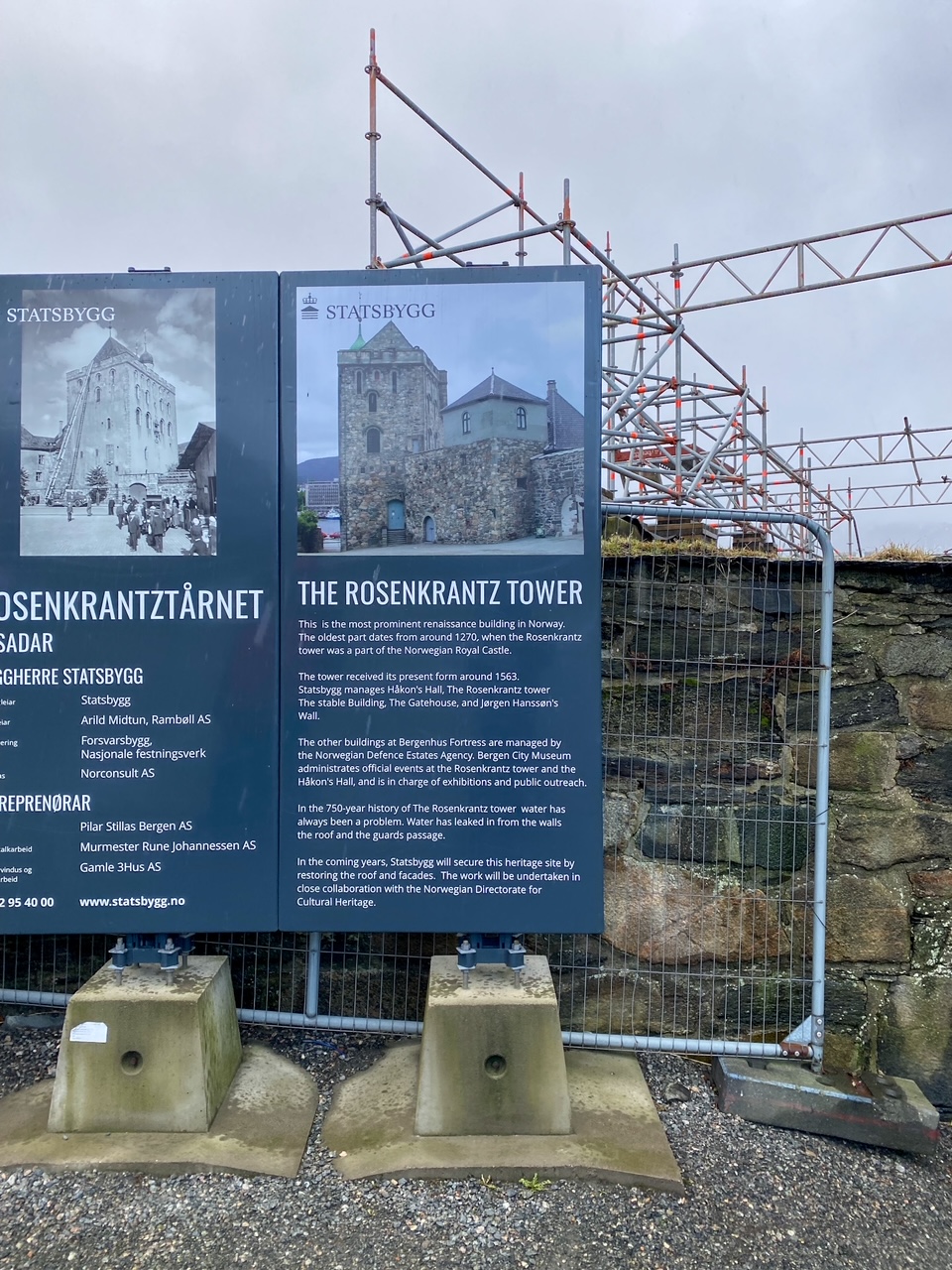 Rosenkrantz Tower was erected on top of the medieval tower between 1560 and 1568 when Erik Rosenkrantz was governor of Bergenhus Fortress. The building housed dungeons on the ground floor, residential rooms for the governor above, and positions for cannons on the top floor. The tower eventually served as a magazine for gunpowder from the 1740s to the 1930s.
Now, the hall is used for concerts, banquets, etc., and both the hall and the tower are tourist attractions. Note: unfortunately, during the time of our visit, Rosenkrantz Tower was closed for restoration, so be sure to check if it's open again before your visit!
Lunch at the Daily Pot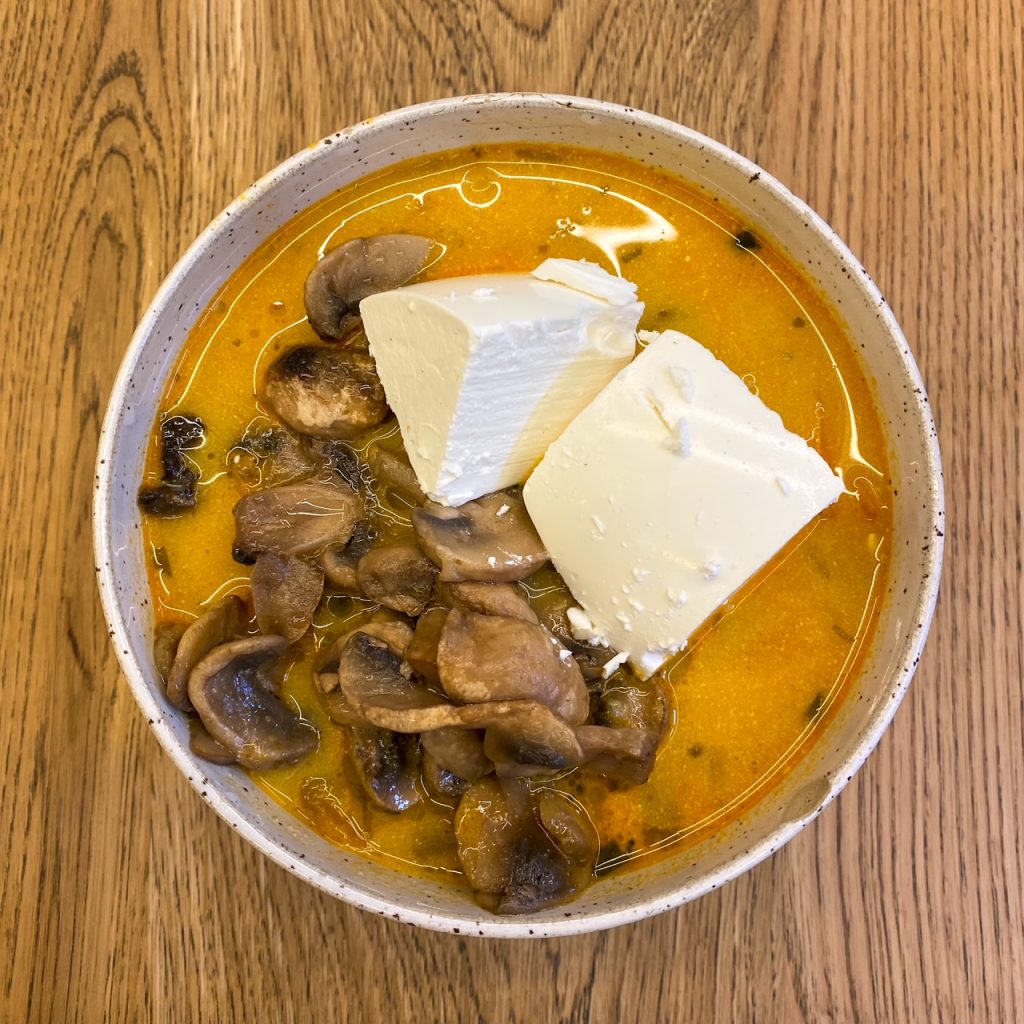 After a morning of walking and exploring, we were ready for some food! For lunch, we enjoyed a delicious meal at the Daily Pot. Located in a charming, historic building right in the heart of Bergen, the Daily Pot is an innovative eatery with a mission "to introduce guests to the world of clean eating through delicious food".
They serve nutritious dishes, ranging from soups, sandwiches, power bowls and more, and their ingredients are high-quality, fresh, organic and ethically-sourced. Plus, their menu changes weekly to provide customers with a new experience every time they visit – how neat!
A Broad Recommendation: the restaurant is small and only able to accommodate 30 guests at a time. Make a reservation in advance to ensure that you'll have a seat. Even with a reservation, my boyfriend and I had to sit separately from the other couple we were with.
The Bryggens Museum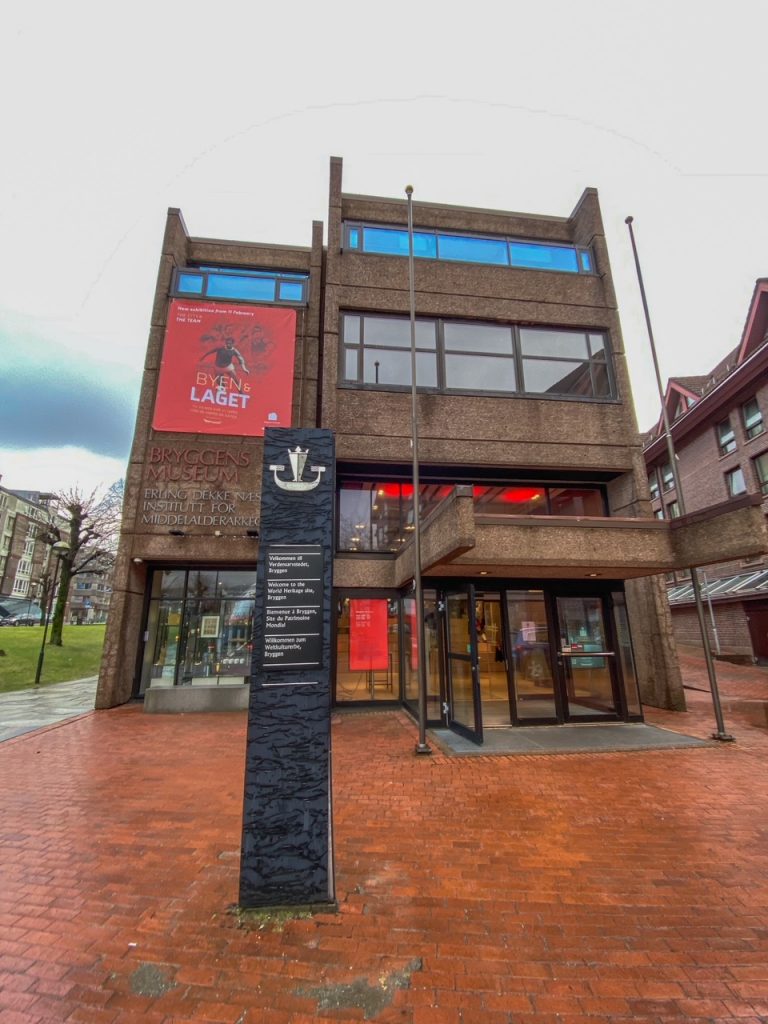 When parts of Bryggen burnt down in 1955, a thirteen-year-long archaeological excavation commenced and hundreds of thousands of objects were uncovered, providing insight into life in Bergen during the Middle Ages. Another fire in 1976 led to controversial discussions about Bryggen's future, and the Bryggens Museum was built on part of the site that was cleared by the fire. In fact, the remains are actually part of the museum's permanent exhibit.
The Bryggens Museum's main exhibit, "Below Ground", showcases runic inscriptions, ceramics from Europe and the Middle East, a unique Guddal (a village in the Fjaler Municipality in Vestland County, Norway) garment that's nearly 1,000 years old, and more.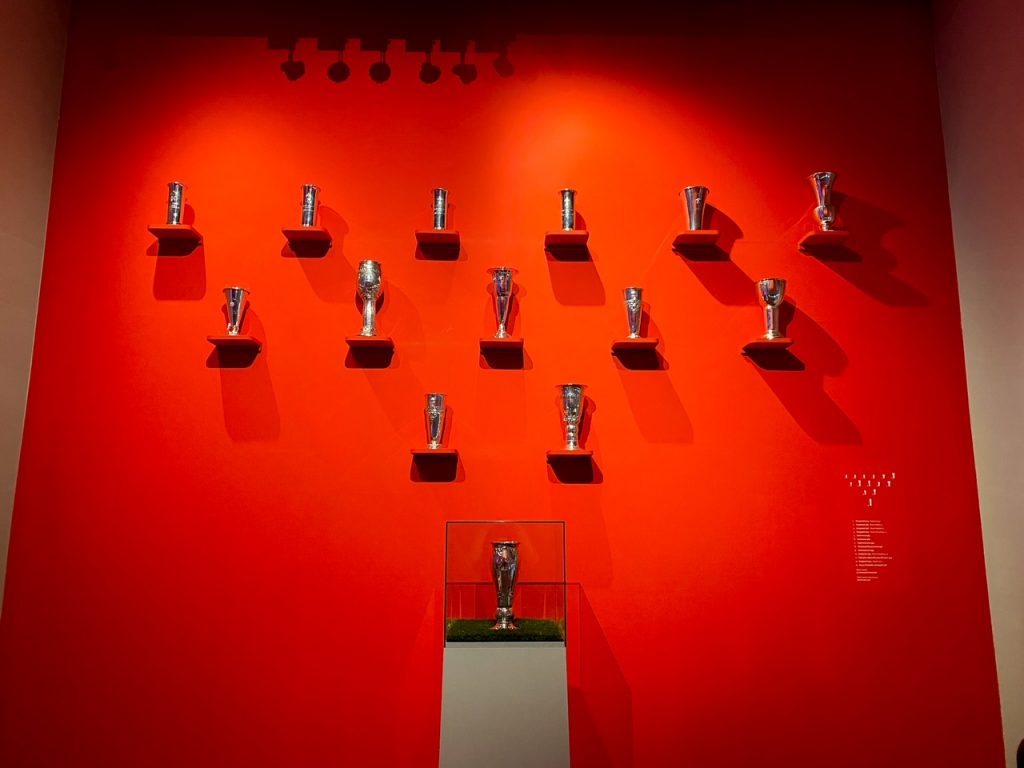 The museum also hosts an exhibit called "The City and the Team" that showcases the history of Bergen and Brann over the last hundred years. Founded in 1908, Sportsklubben Brann is Bergen's premier football team, and as the song goes, 'Byen er Bergen og laget er Brann' (the city is Bergen, and the team is Brann). The exhibit captures the spirit of the city and provides an exciting tour inclusive of games and interactive activities.
Dinner at Bryggeloftet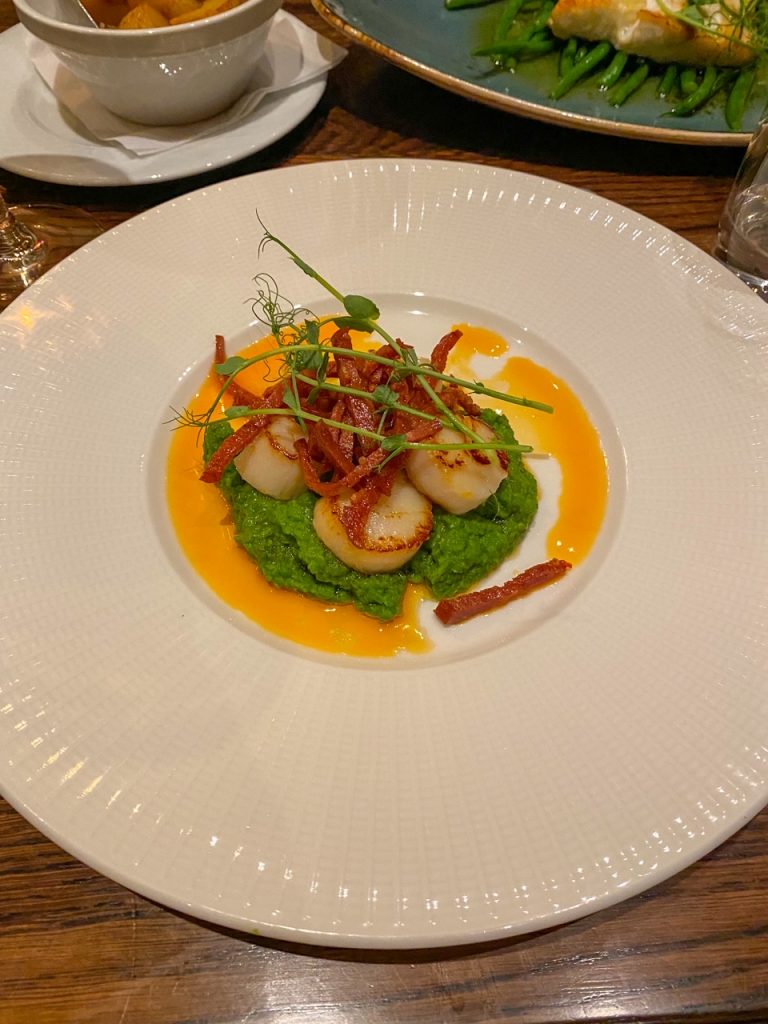 Bryggeloftet & Stuene Restaurant is a historic, family-run restaurant that dates back to the early 1900s – and it's one of the best Bergen, Norway restaurants!
The Bryggeloftet, their upstairs dining room, is divided into small and large gathering rooms and offers gorgeous harbor views. The Stuene, their ground floor dining room, dates back to 1910 and boasts a traditional design steeped in heritage and history.
We enjoyed a fun and unique dining experience in the Bryggeloftet, as we tried authentic Norwegian seafood and meat dishes over a couple glasses of rosé and local beer.
A Broad Recommendation: again, be sure to make a reservation in advance. Bryggeloftet & Stuene is the oldest restaurant in Bergen, and you won't want to miss your chance to dine here!
Other Things to Do in Bergen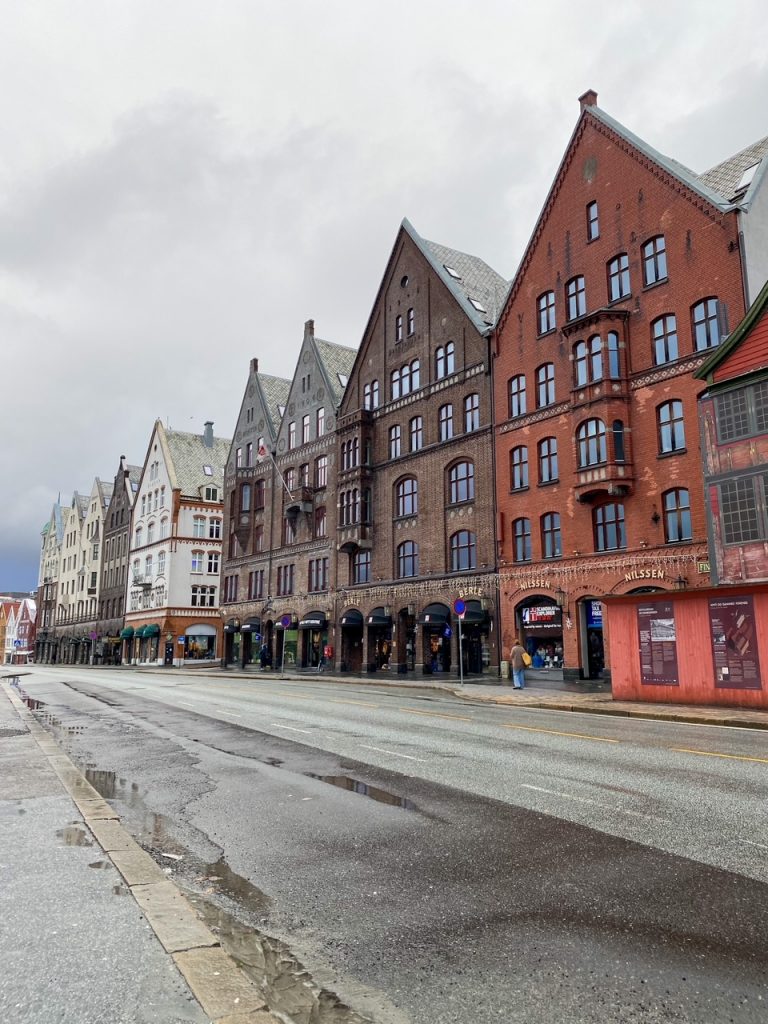 Of course, one day in Bergen certainly isn't enough time to do it all. Here are some things we'd like to add to our itinerary for next time.
Plan More of Your Norway Trip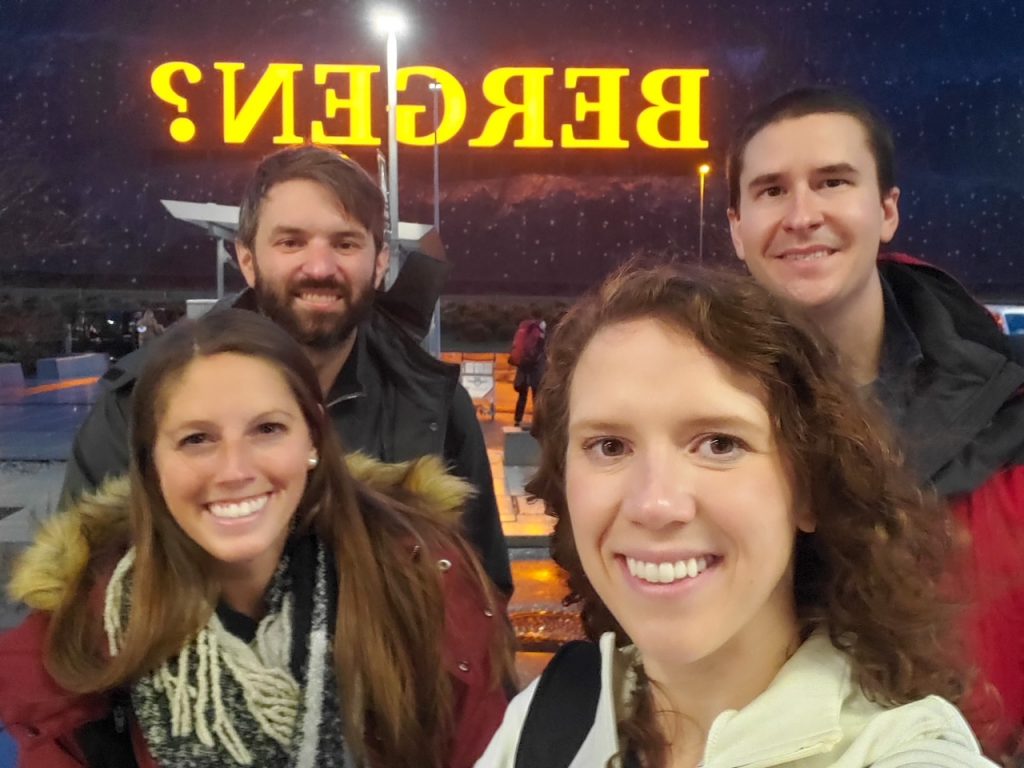 Now that you know what to do in Bergen for one day, it's time to plan the rest of your winter Norway trip. Here are some other posts to help make your trip to Norway a success!
XOXO Sara at Travel A-Broads