The Snowhotel Kirkenes is the world's first hotel completely made of snow and ice! It's rebuilt every winter with a new theme and new ice sculptures to go along with it – how neat is that?
This post focuses on our experiences at the Snowhotel Kirkenes, the activities we did and the amenities we took advantage of.
*P.S. this post contains some affiliate links. At no additional cost to you, we may earn a small commission when you make a purchase.
Where is Kirkenes Located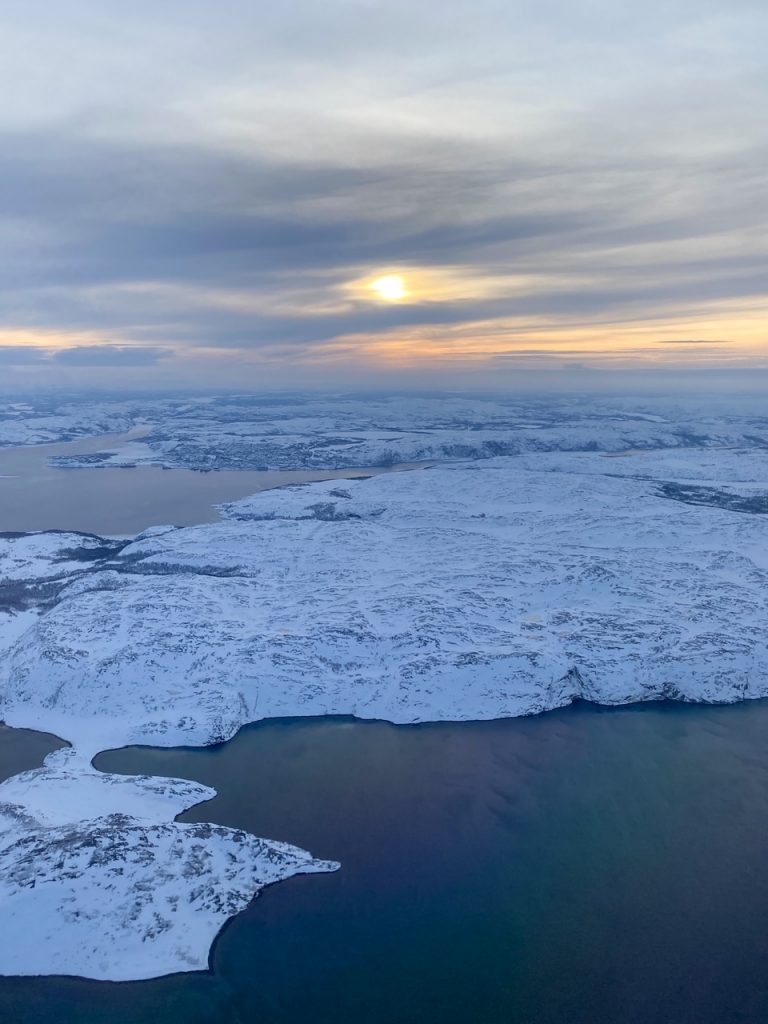 Kirkenes is located in the northeastern part of Norway near the Russian border, and it's the perfect place for an awesome arctic adventure. It sits 250 miles north of the Arctic Circle on a peninsula along the Bøkfjorden, a bay that feeds into the larger Varanger fjord.
How to Get to Kirkenes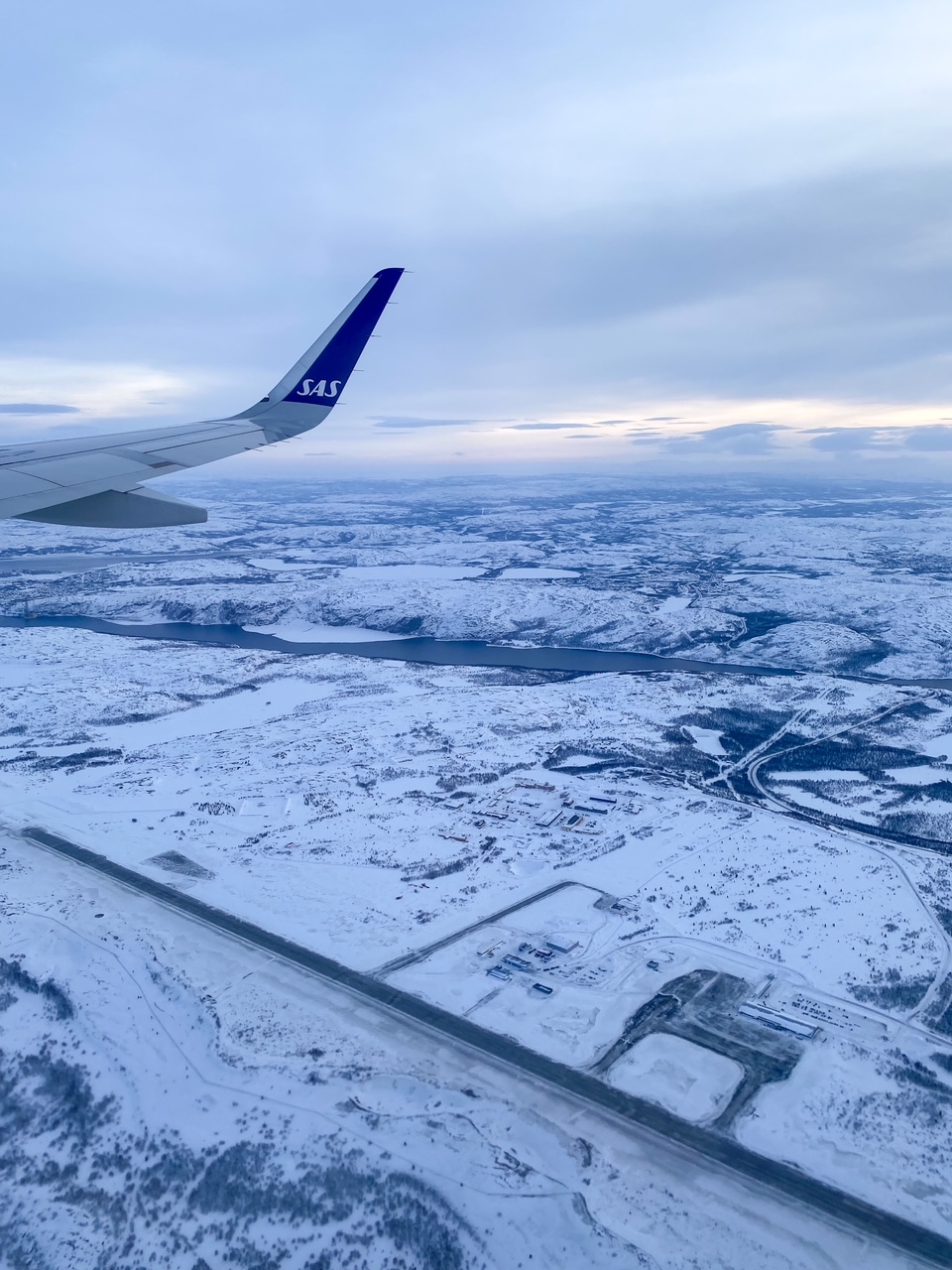 We started our trip from Oslo, Norway. We arranged a private transfer through Tumlare Corporation Hungary Kft. from our hotel, the Clarion Hotel The Hub, to the Oslo Gardermoen Airport (OSL). From here, we flew to the Kirkenes Airport (KKN) via SAS Airlines.
At the time, KKN was the smallest airport we'd ever seen. Luckily, we had another prearranged private transfer through Tumlare to our hotel! This ensured that we had no issues with transportation from this small airport, as public transportation isn't prevalent here.
When to Visit the Snowhotel Kirkenes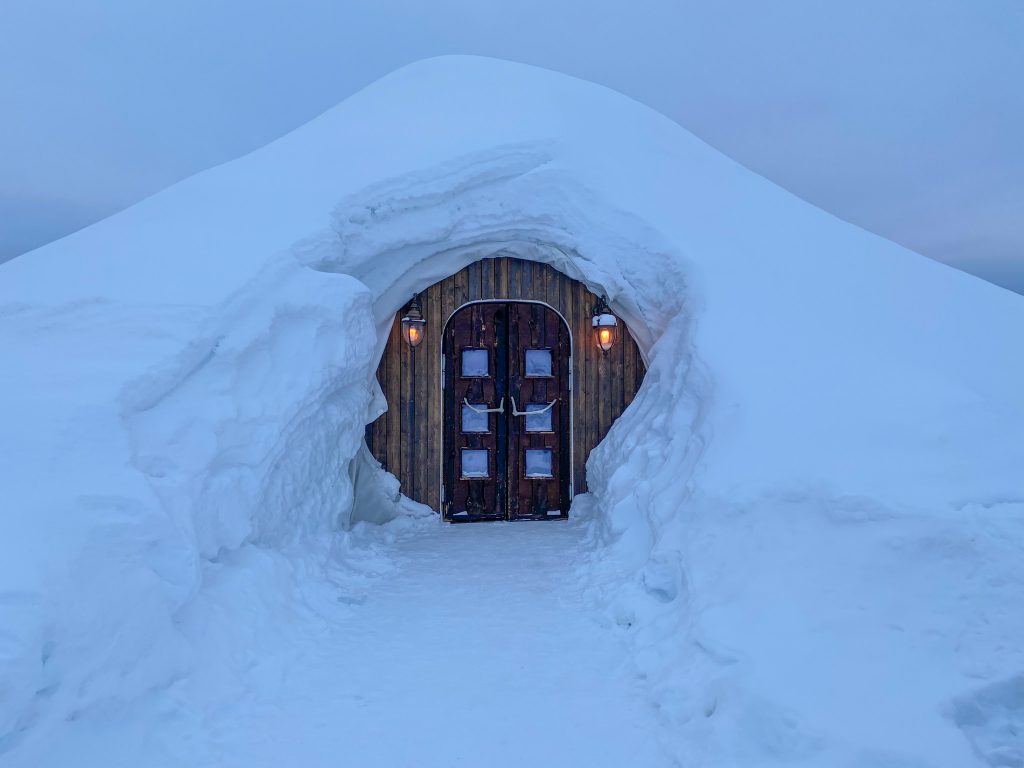 With below freezing temperatures all day long, November through March is the best time to visit the Snowhotel Kirkenes.
Due to its location above the Arctic Circle, Kirkenes experiences polar nights from the end of November through mid-January, meaning there's also a good chance of spotting the Northern Lights!
Sleeping at the Snowhotel Kirkenes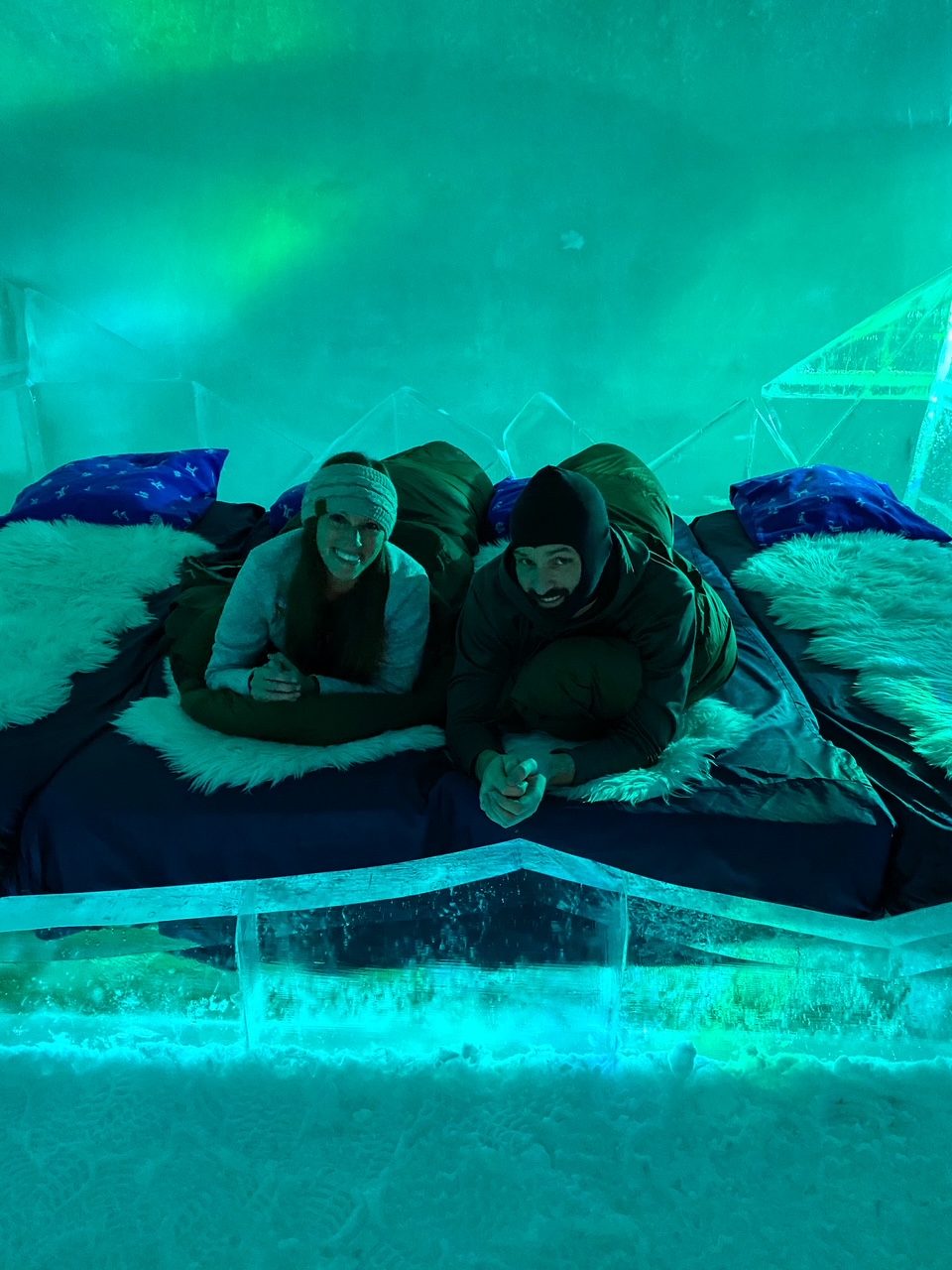 At the Snowhotel Kirkenes, guests have the incredible opportunity to sleep among the snow and ice. All the rooms have their own themes, and during our stay, there was only one other couple at the hotel, other than the couple we were with, so we had our pick from practically all of them!
Since the bedrooms are kept at a chilly temperature of -4 degrees Celsius, there's a common room with lockers, restrooms, showers and saunas, as well as a "warm lounge" that's accessible 24 hours a day.
Before bed, you'll be given a brief overview of how to sleep in the Snowhotel properly. Then, you'll pick your sleeping bag, a balaclava and some cozy, wool socks (all provided) and head to your room to hunker down for the night.
A Broad Recommendation: wear as few layers as possible to avoid your sweat freezing overnight. Don't cover your nose or mouth with the balaclava, as your breath can cause condensation and freeze too. We recommend sleeping in a thermal base layer or long johns, a fleece jacket or sweatshirt, an ear warmer headband or hat, and the complimentary balaclava and wool socks. I actually doubled up on socks, putting on my own wool socks first then the ones provided on top. If you get cracked lips easily like me, you may also want to apply a lip sleeping mask overnight. And, it probably goes without saying, but be sure to use the restroom before you head off to bed. Once you get tucked in, you won't want to get up again anytime soon!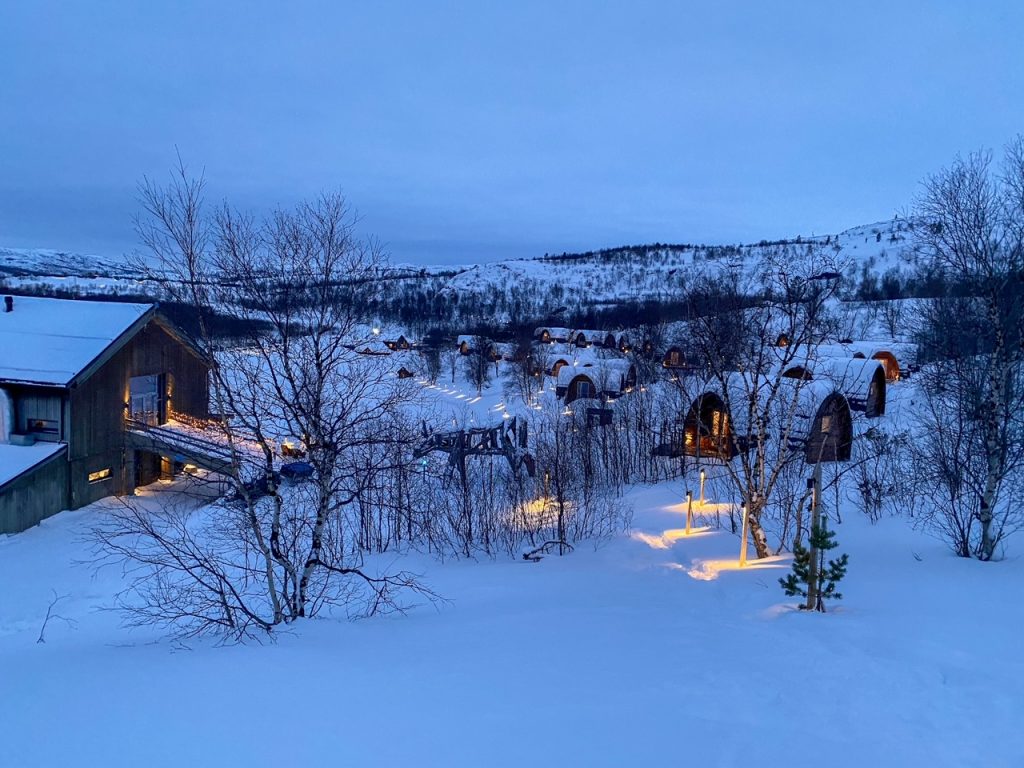 If you'd prefer to skip staying the night in the Snowhotel, you can stay in one of the Gamme Northern Light Cabins instead. The cabins are inspired by the traditional hunting and fishing huts found in the Lapland wilderness, i.e. the Sami areas of the Arctic, and give you a luxurious experience right in the middle of the wilderness! They're open year-round, and an overnight stay includes breakfast and a three-course dinner.
What to Do at the Snowhotel Kirkenes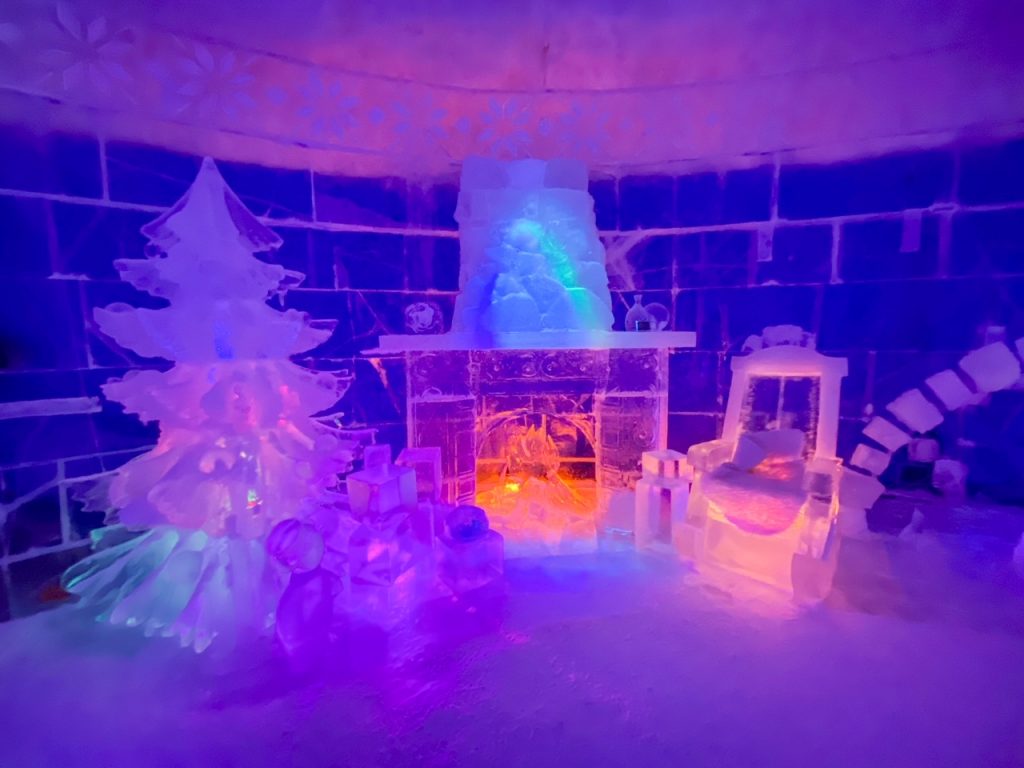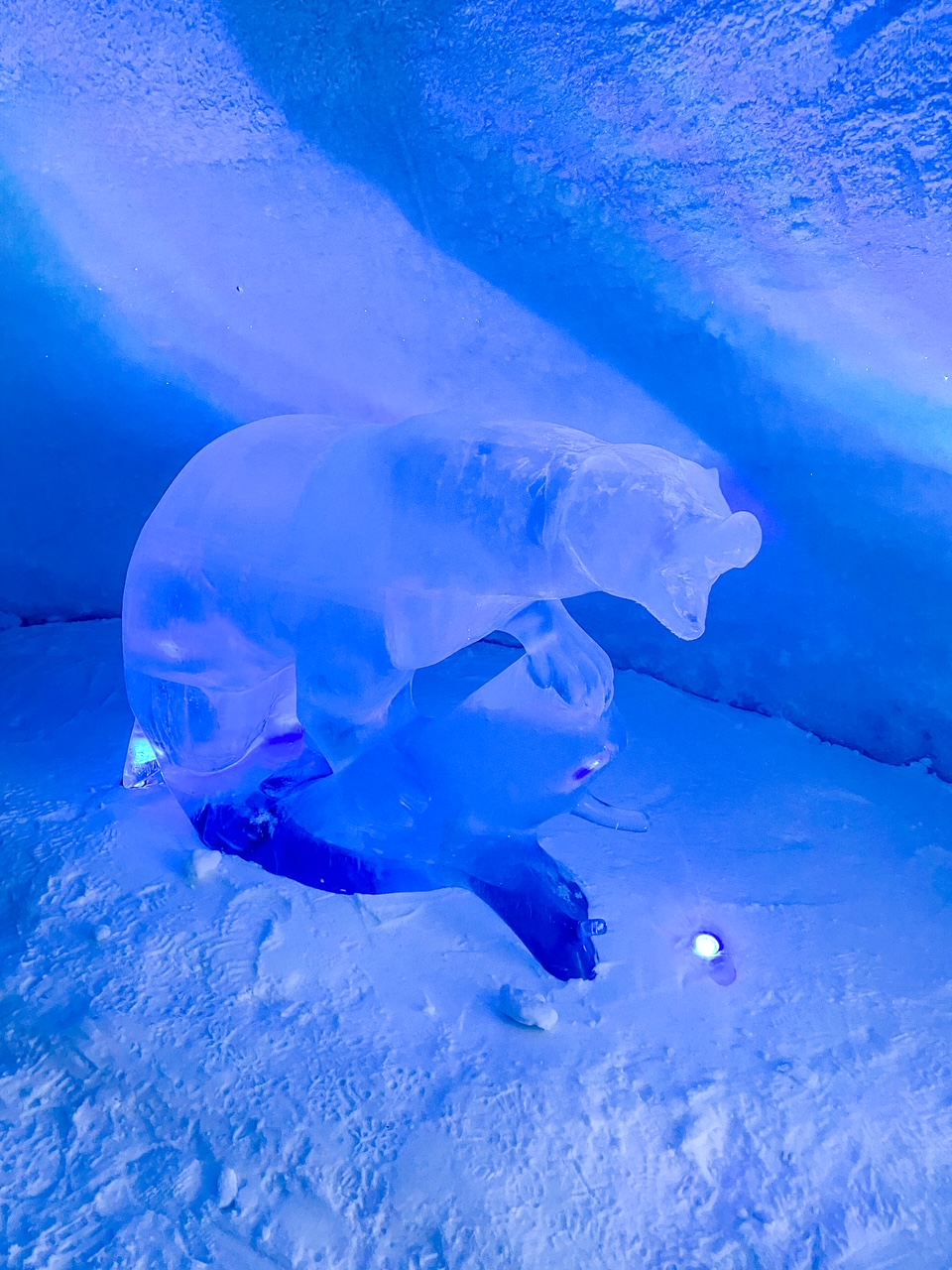 The Snowhotel Kirkenes is open year-round and offers all types of activities to keep you entertained no matter what the season.
A stay at the Snowhotel also includes breakfast and dinner, transfer to and from your hotel in Kirkenes or the airport, access to the reindeer, huskies and puppy farm, a thermal sleeping bag, snowshoes, skis, snowsuits and boots for borrowing, and luggage service.
Here are some of the things we took advantage of during our visit (in February) and can thus recommend!
Explore the Snowhotel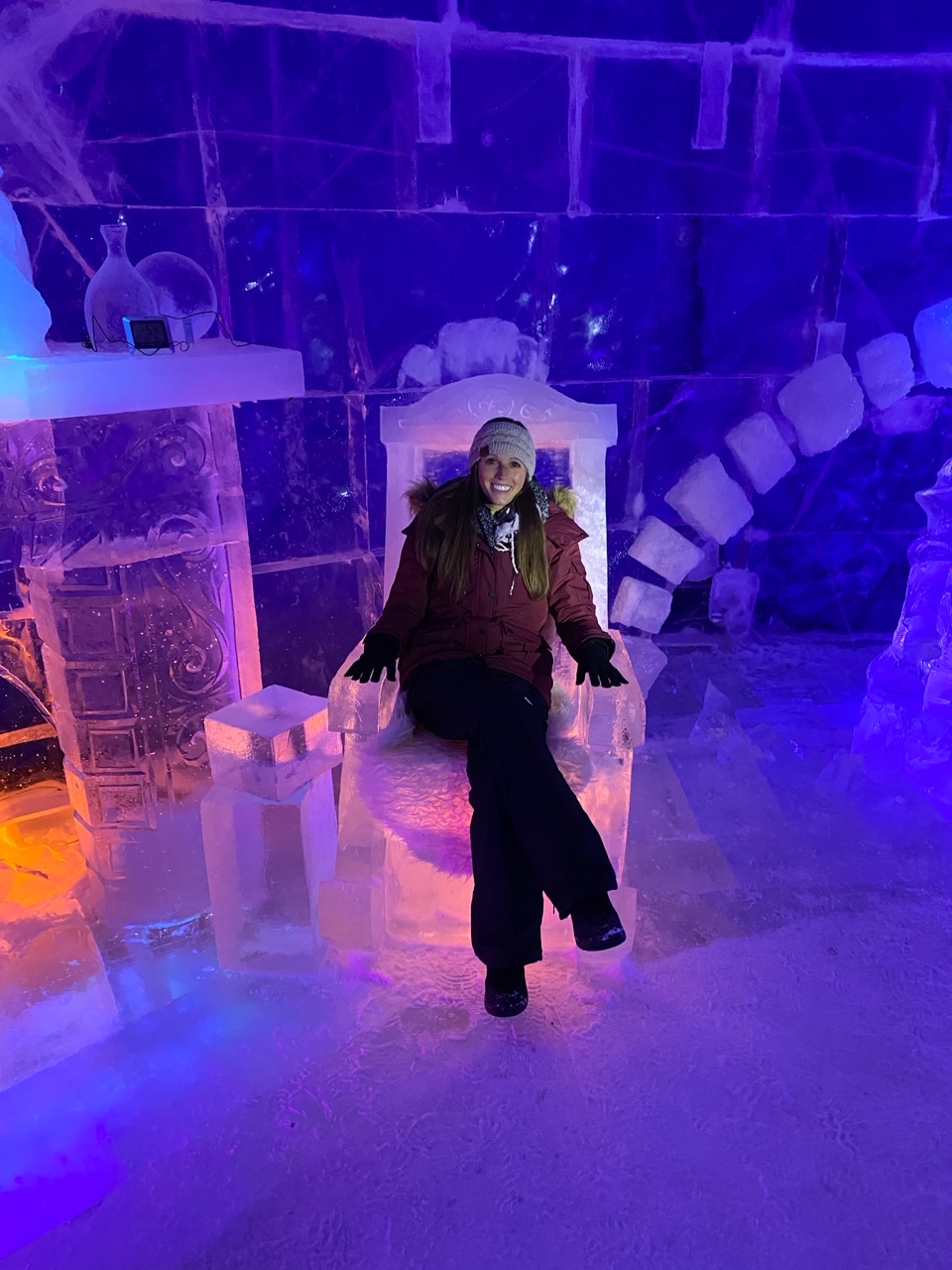 Since we were two of three couples staying at the Snowhotel during the time of our visit, we were able to check out all of the rooms (and pick whichever one we wanted)! Each room has its own theme, ranging from Christmas-themed to Disney's Frozen to arctic animals and more.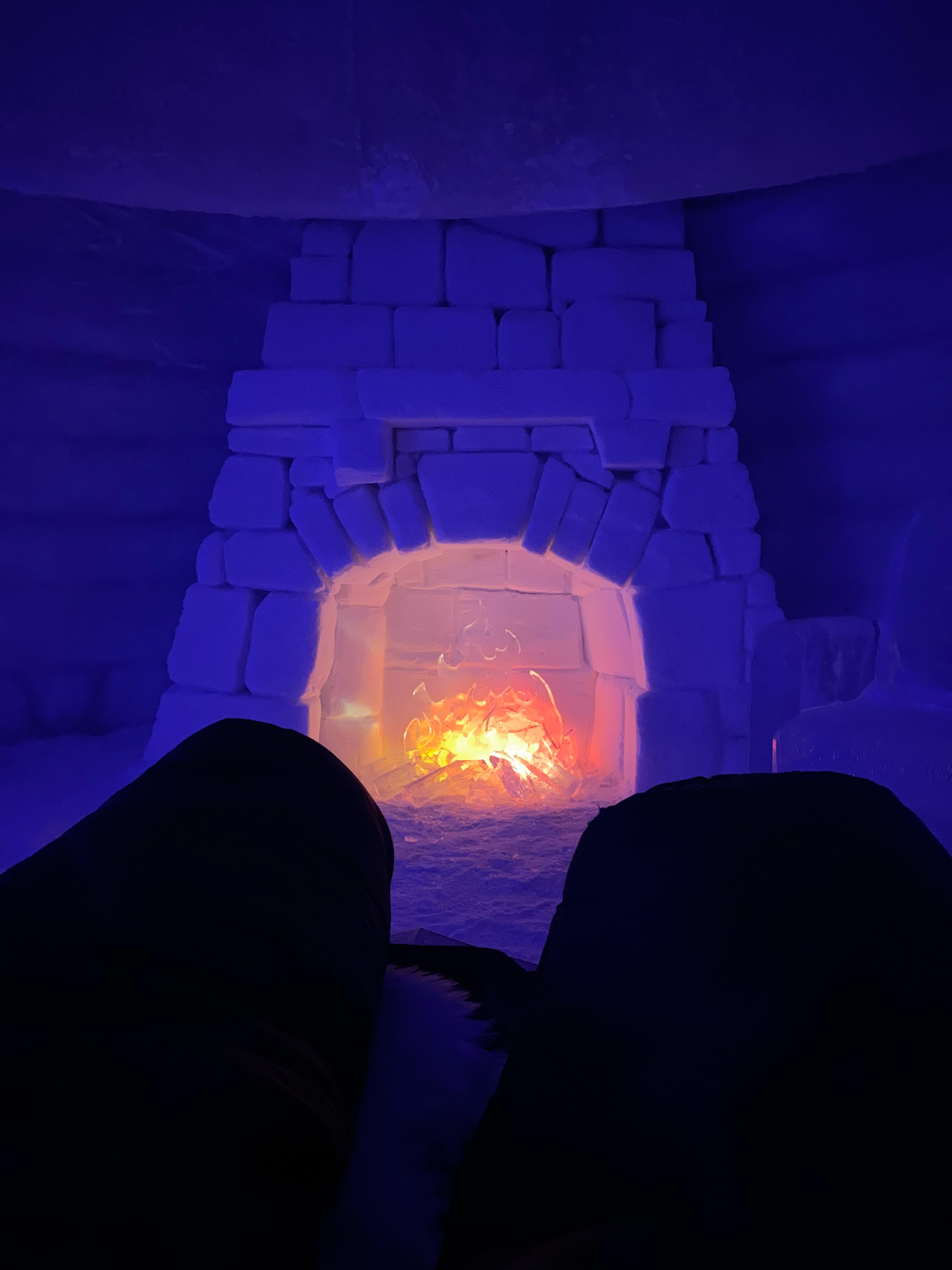 We also got to witness some ice carving and the creation of new rooms while we were there – so neat! In fact, the room we chose didn't even have a curtain up in the doorway because it had just been completed that day. Since we were bundled up in our own sleeping bags, we decided we didn't really need too much privacy, haha.
Have a Drink at the Ice Bar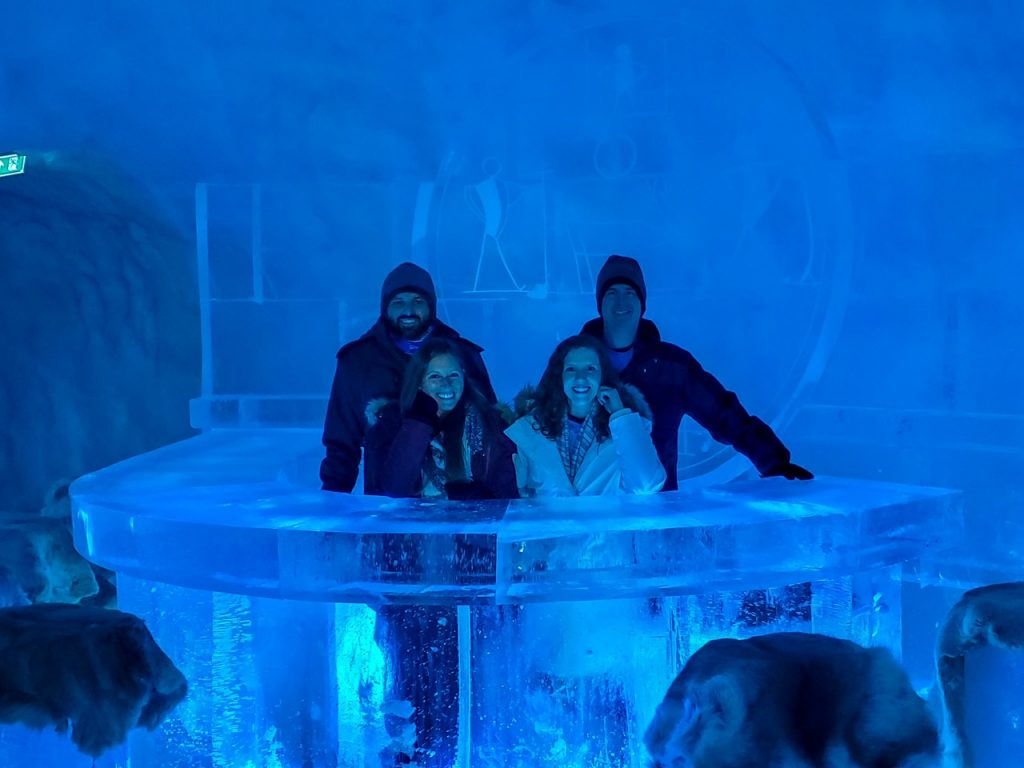 Unfortunately, the ice bar was closed during our visit due to Covid-19 restrictions. We would love to come back and have a couple of drinks here one day, but for now, all we have are some photos.
Visit the Huskies & Puppies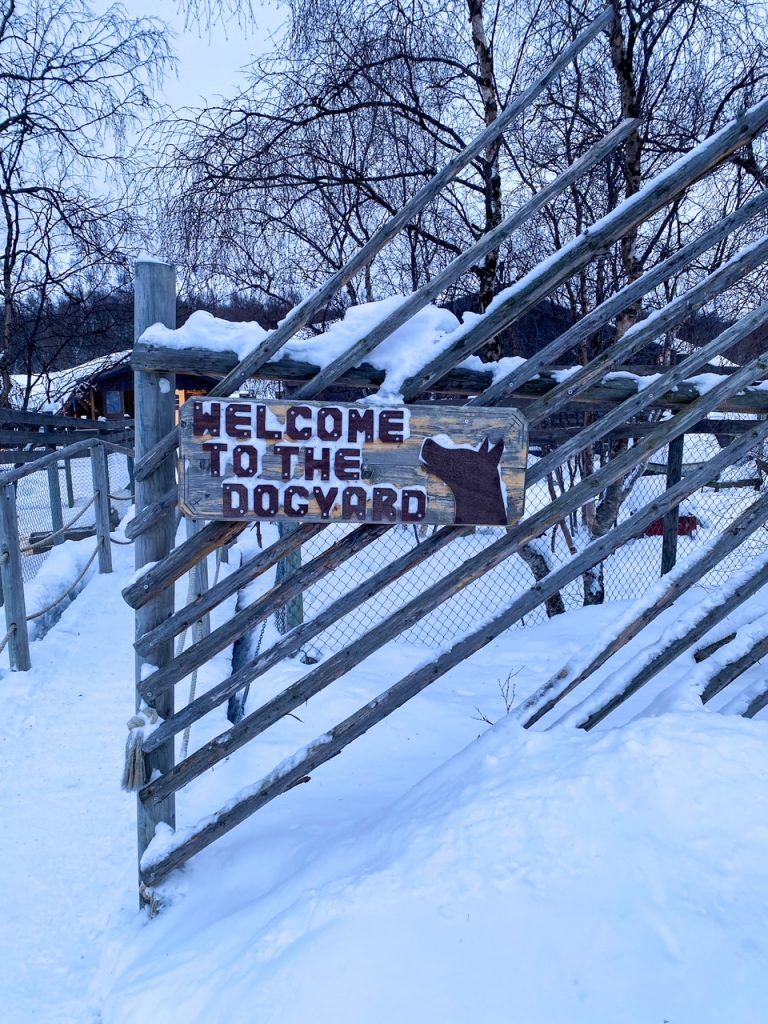 When staying at the Snowhotel Kirkenes, you can visit with the huskies and husky puppies whenever you'd like. During our visit, one of us was even allowed to go inside the husky puppy pen and play with some of them!
Feed the Reindeer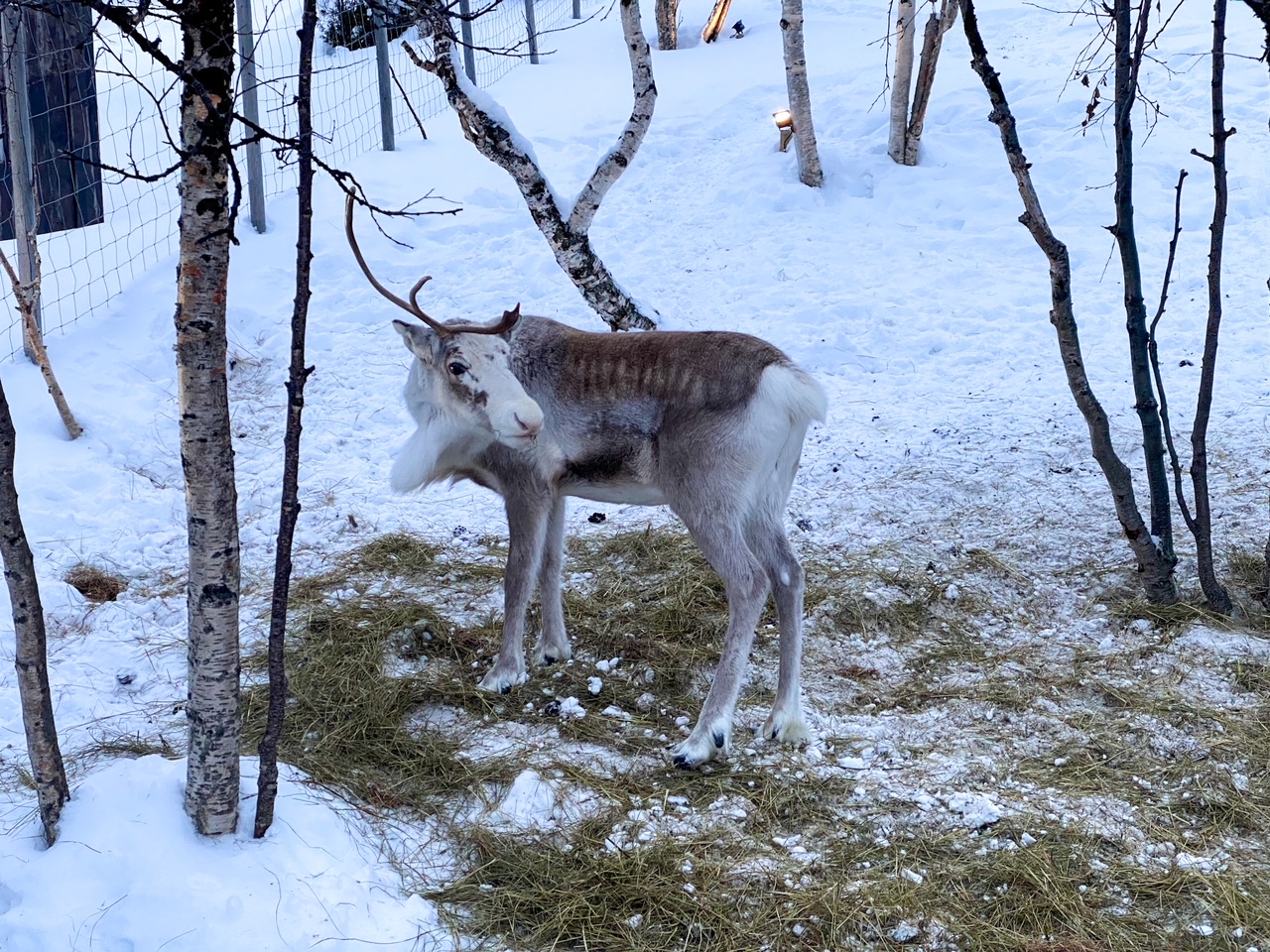 You can also spend some time admiring the reindeer that live on premise and even feed them!
Go Snowshoeing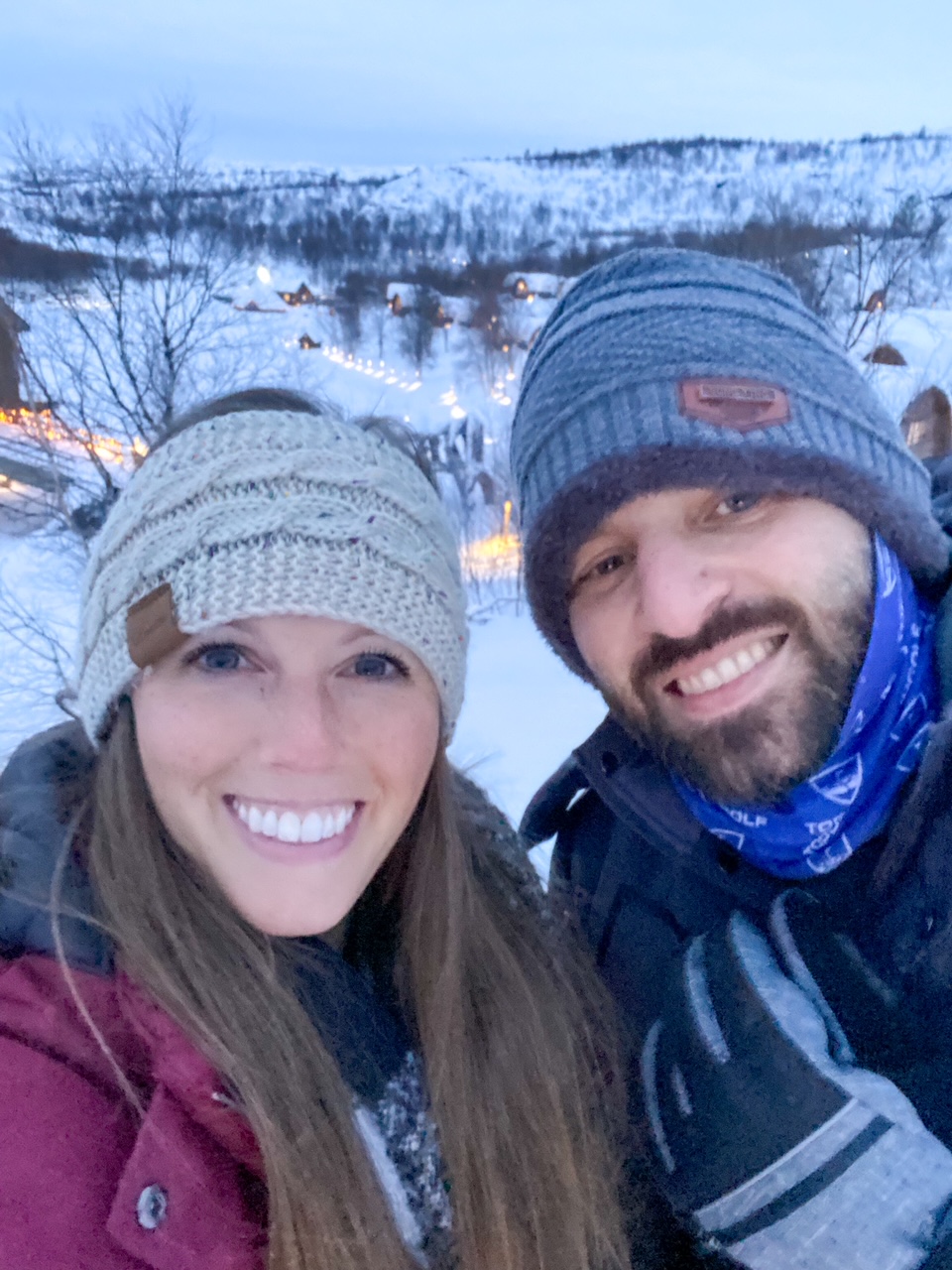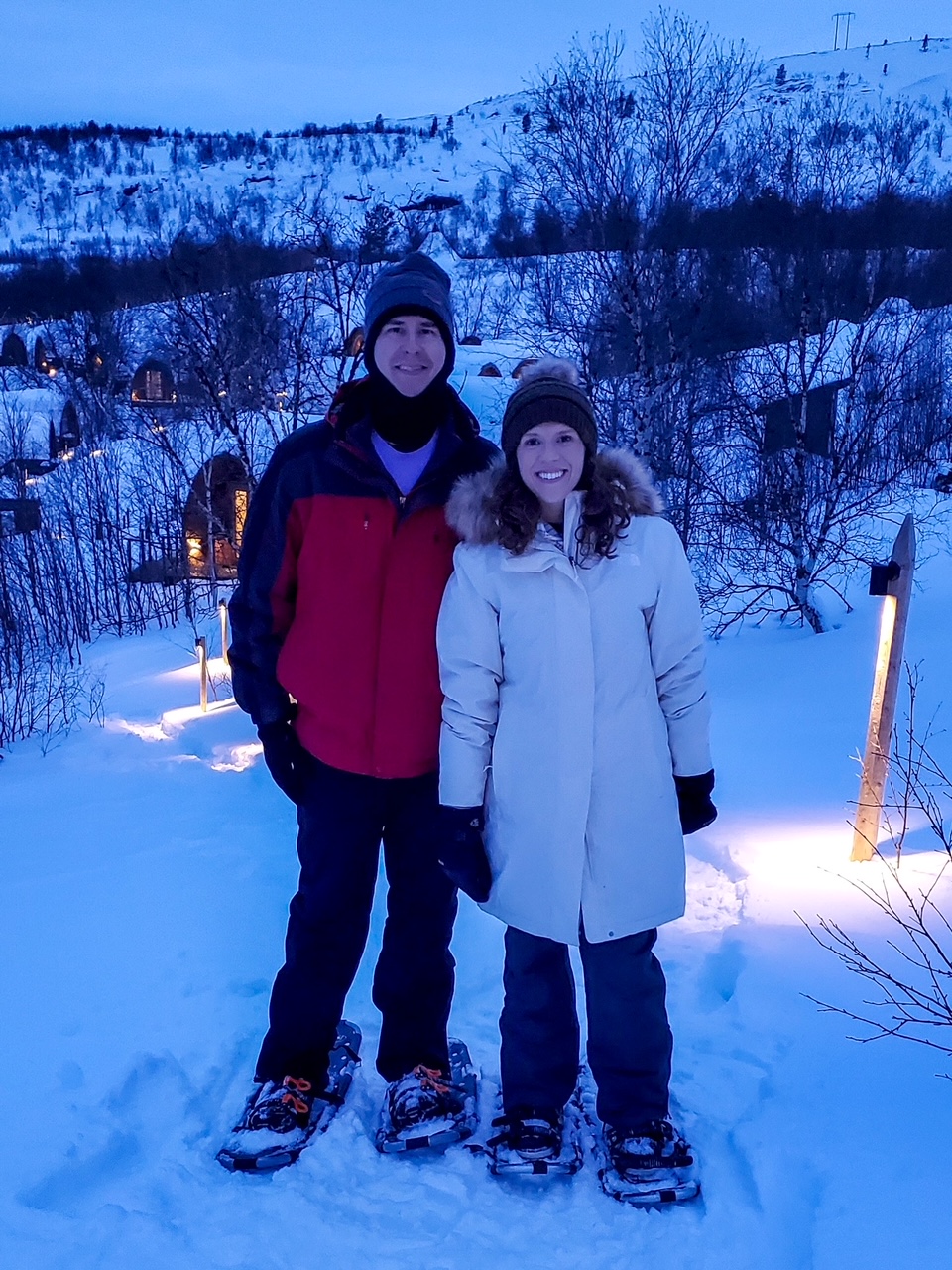 When staying at the Snowhotel Kirkenes, you have access to snowshoes and are able to try some of the trails. We didn't make it very far, but this was a fun experience, since none of us had ever tried snowshoeing before! Note: it gets dark early in February, so make sure to time this right and be careful if you're going to be finding your way back in the dark.
Sit Outside by the Fire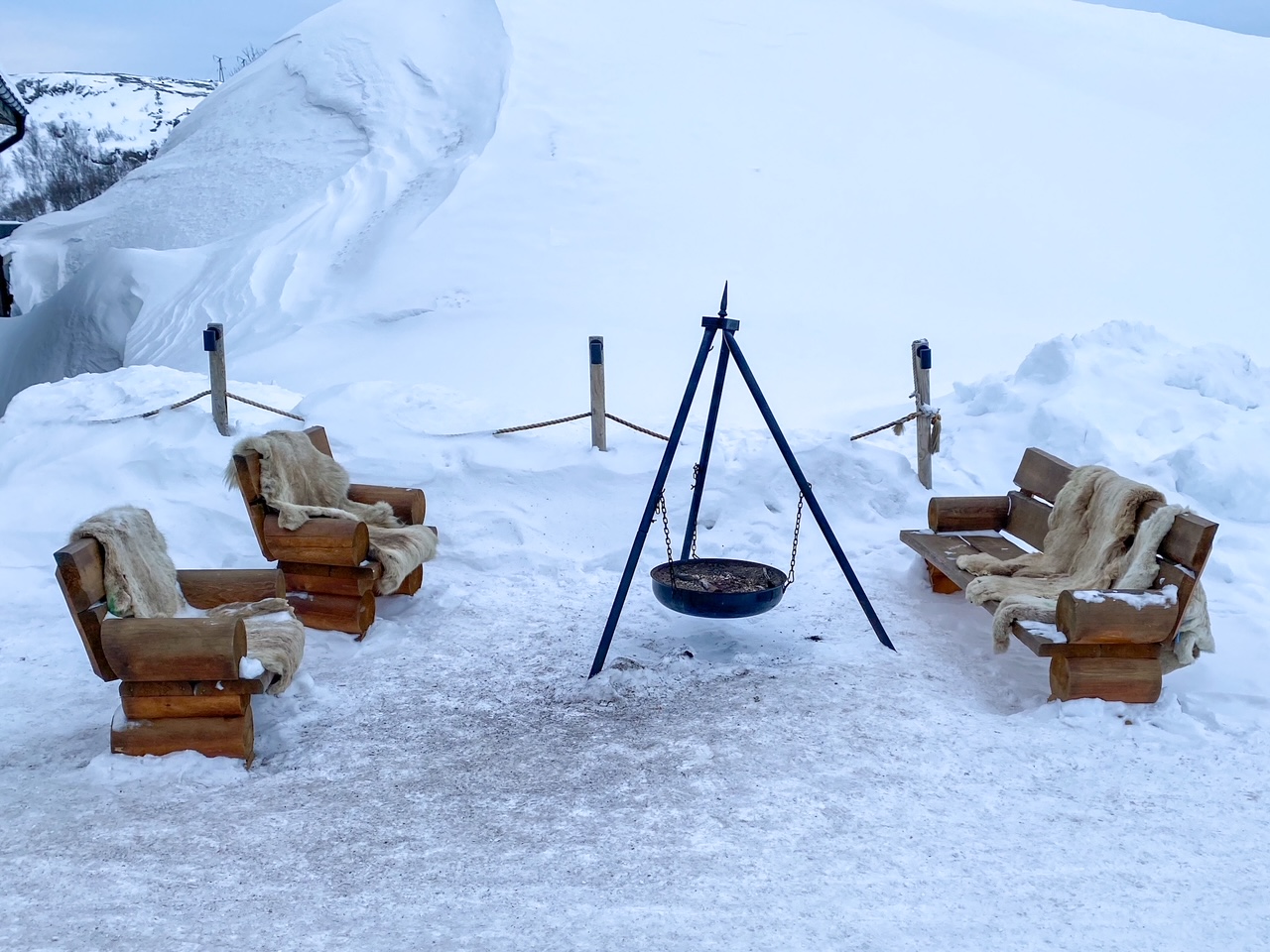 The property also offers some cute spots to sit outside and enjoy a fire. We grabbed a couple of drinks and hung out here for a while before dinner.
Play Games in the Lodge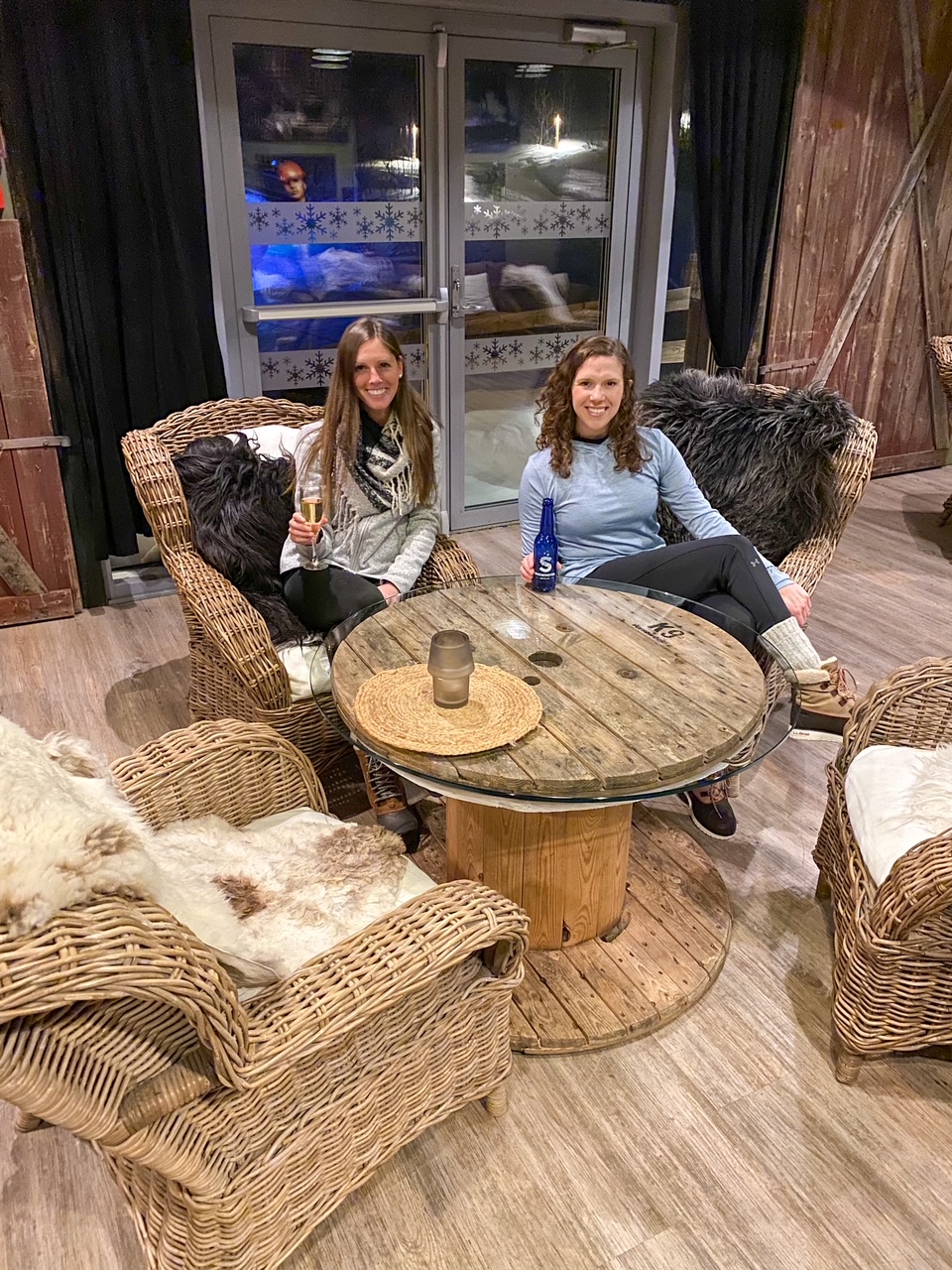 We also played a couple board games inside the lodge before dinner. They have some games here (not sure if they're in English though), but our friends brought their own from home, so we played those instead.
Enjoy a Delicious Meal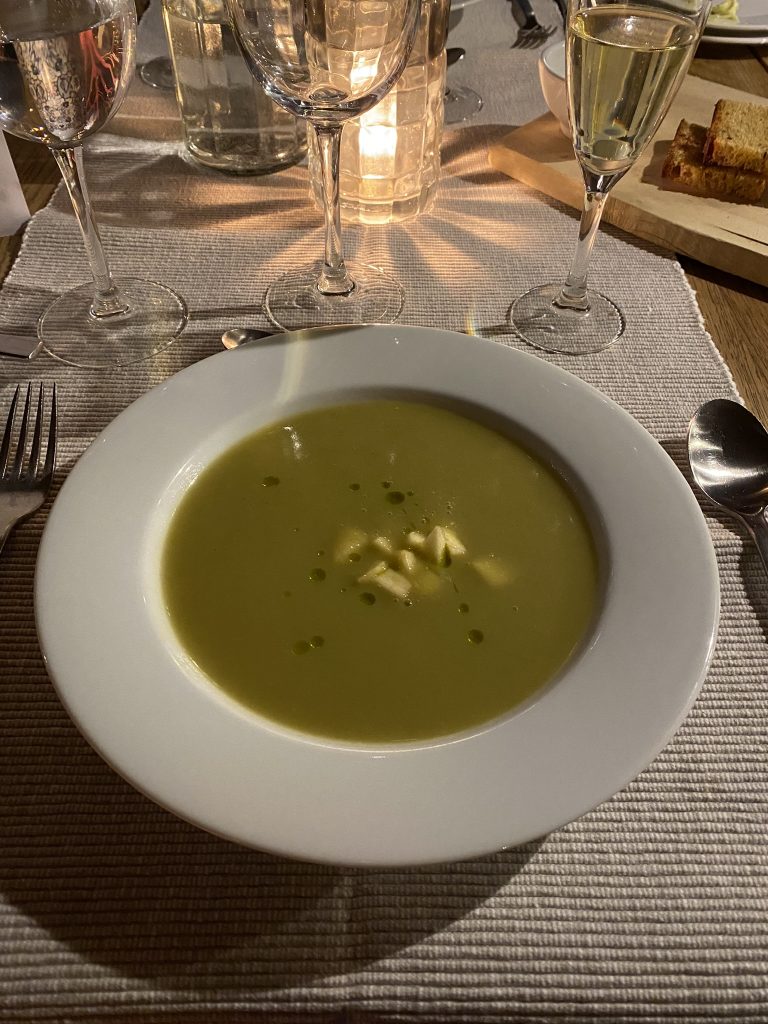 Get ready for a relaxing, fine dining experience after a long day of winter activities. Dinner is included with your stay at the Snowhotel Kirkenes, and it sure is yummy!
Snowfun Program
The Snowhotel Kirkenes also typically offers a Snowfun Program, but this was not included in the 2021 and 2022 winter seasons, so we, unfortunately, didn't get to take advantage of it. Be sure to check it out if you're planning your trip for 2023!
Snowhotel Kirkenes Excursions
The Snowhotel Kirkenes takes full advantage of the area's polar nights, offering several excursions that provide visitors with an opportunity to witness the Northern Lights. They offer non-Northern Lights related excursions as well, and all of these can be added on to your stay for an additional fee.
Hunting the Northern Lights by Husky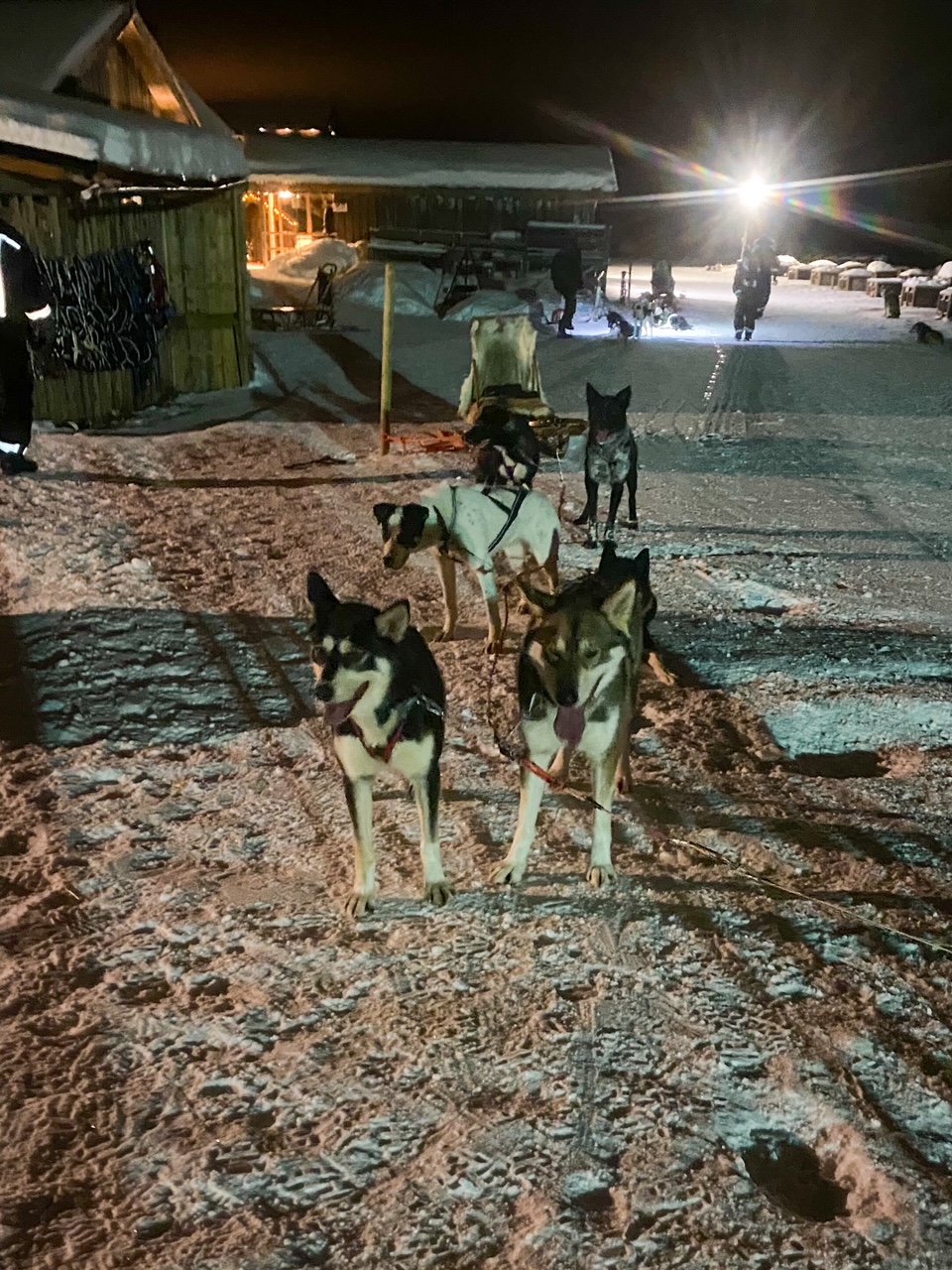 Availability: 12/1 – 4/15
Pick-up time: 9 pm (but there are other options)
Duration: 2 hours (1 hour of dogsledding)
Cost (at the time of this post): 2300 NOK (~$230 USD)
What's included: guide, warm clothing (overalls, shoes, mittens, balaclava), transfer to and from your hotel in Kirkenes (Thon or Scandic)
What's not included: tips/gratuities, food
The Snowhotel Kirkenes offers several husky experiences, and we chose the Hunting the Northern Lights by Husky tour. Since we stayed at the Scandic Kirkenes our first night in Kirkenes, and this tour offers pick-up and drop-off from that hotel, it was the perfect option for us!
After a 15 minute drive from our hotel, we "suited up" into the warm clothing provided by the Snowhotel Kirkenes.
A Broad Recommendation: although we wore our own base layers, snow pants, coats, gloves, boots, etc., we highly recommend wearing the overalls provided by the Snowhotel Kirkenes over your winter gear. You should also wear a balaclava, earmuffs or both. I also recommend using the Snowhotel's fleece-lined boots. I wore my own, and even with two pairs of wool socks underneath, my feet were freezing about halfway into the excursion – it gets pretty cold out there! Check out our packing list for winter in Norway for more on what to pack and wear.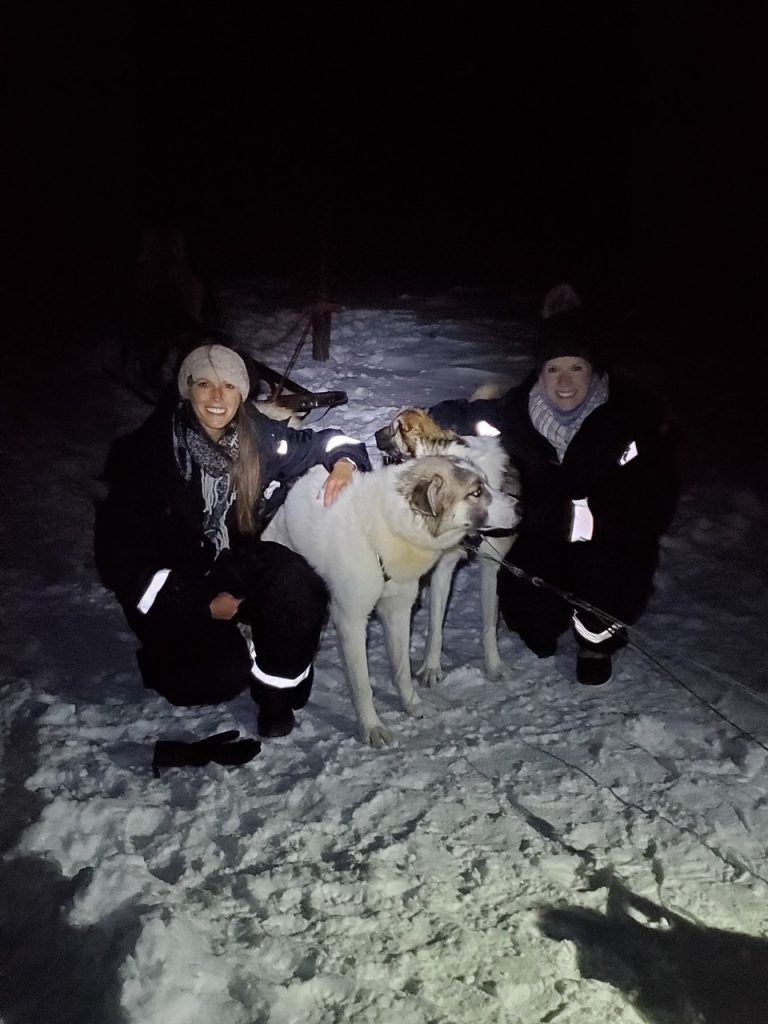 Next, we met up with our dog mushers and headed to the dog yard to meet the huskies, who would lead our sleds. From here, we were driven around by our dog mushers on two-person sleds and went searching for the Northern Lights.
Be ready to get comfy because one person straddles the other on the sled, and the dog musher stands on the back. It's also notable that the huskies use the bathroom frequently, so be ready to see and smell that as you go, haha.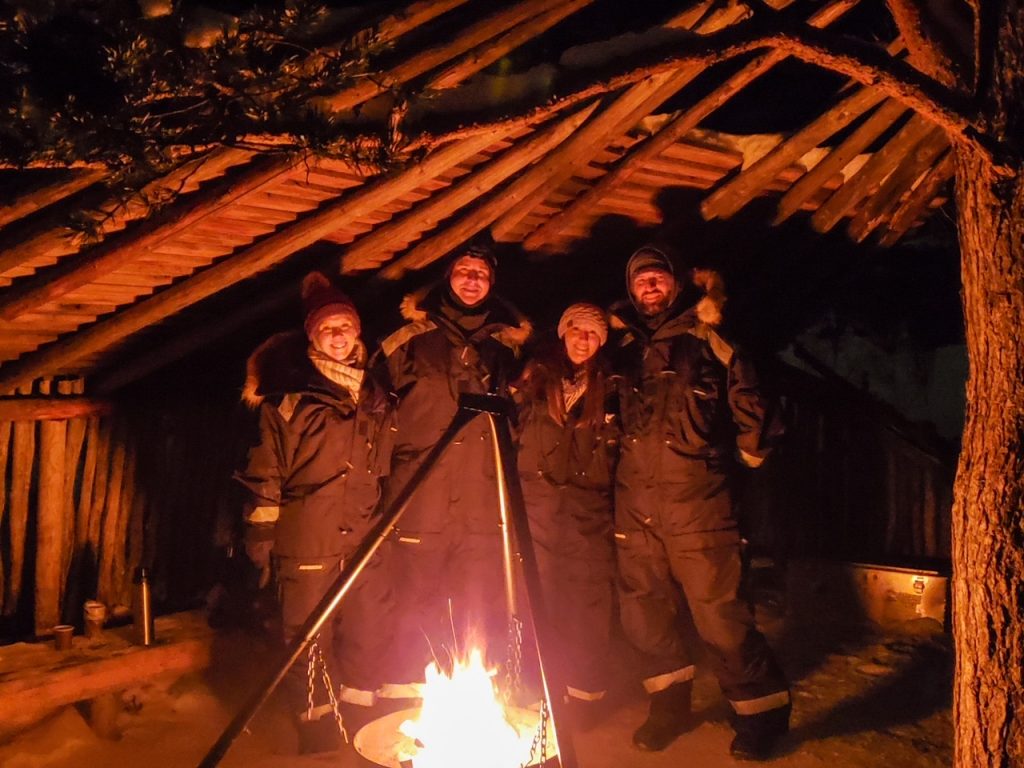 The tour was around six miles long and took us over fjord ice and through lightly forested, arctic wilderness. There was a short stop along the way to give the dogs a break and for us to grab a hot drink (juice). Then, on the way back, we were given the opportunity to drive the sled ourselves. This was the best part of the tour in my opinion!
At the end of the tour, our dog musher guided us back to the Snowhotel Kirkenes camp, and our driver took us back to our hotel in Kirkenes.
We had high hopes of seeing the Northern Lights during our first night above the Arctic Circle, but unfortunately, we weren't so lucky. Thankfully, the Snowhotel offers other opportunities for potential Northern Lights sightings.
A Broad Recommendation: this tour can be booked separately or as part of the Arctic Highlights Package, which also includes two nights in a Gamme Northern Light Cabin (or one night in a cabin and one in the Snowhotel) and the King Crab tour. We only spent one night here, so we didn't take advantage of this package, but if you're staying longer, it's definitely worth considering!
Norway King Crab Safari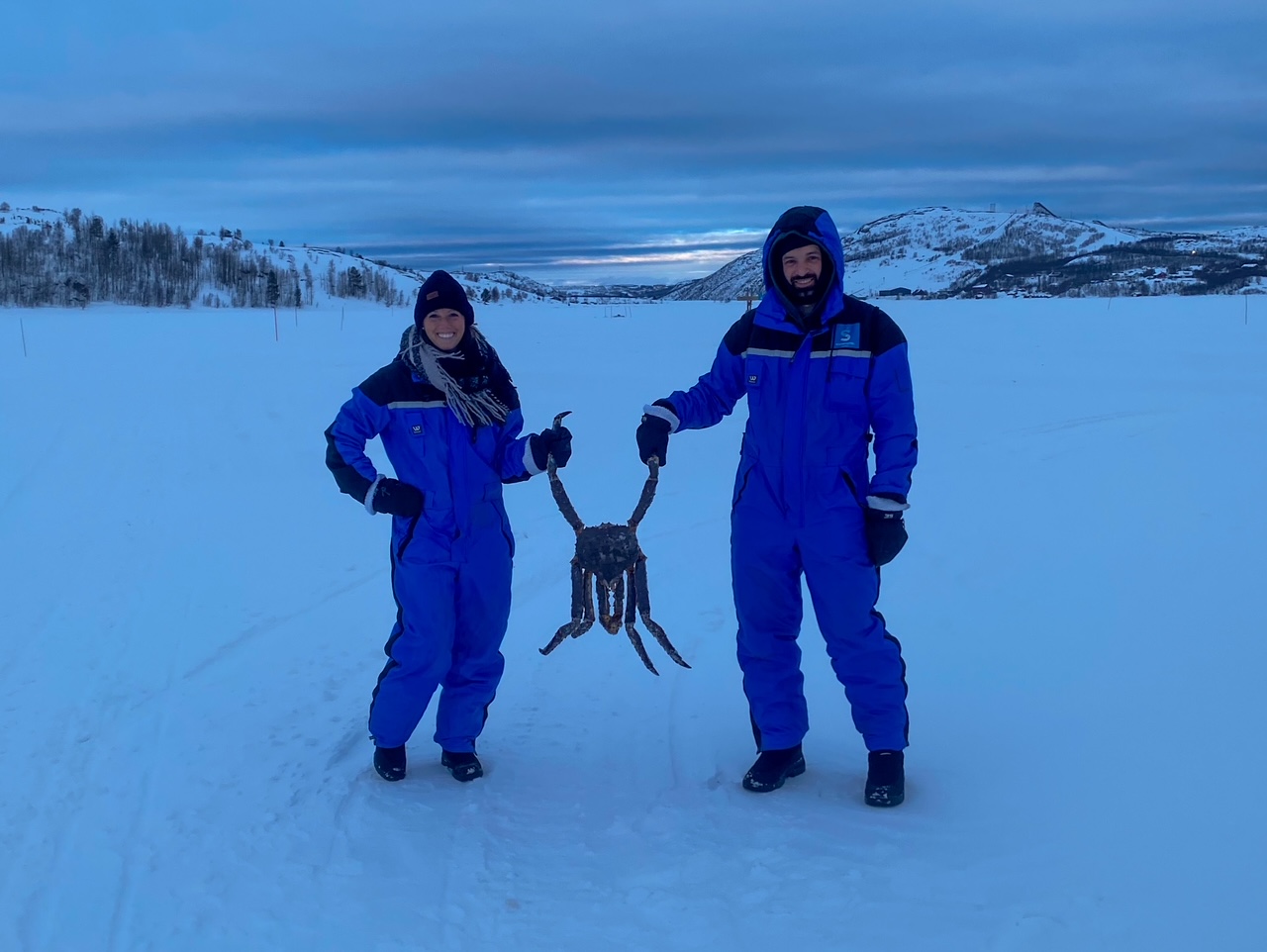 Availability: 12/1 – 4/30
Pick-up time: 9:30 am (but there are other options)
Duration: 4 hours
Cost (at the time of this post): 2300 NOK (~$230 USD)
What's included: guide, fresh Norway King Crab meal, warm clothing (overalls, shoes, mittens, balaclava), transfer to and from your hotel in Kirkenes (Thon or Scandic)
What's not included: tips/gratuities, food
Our second day in Kirkenes was spent entirely at the Snowhotel Kirkenes, taking advantage of some of their activities and excursions. Luckily, our King Crab Safari tour also offered pick-up (and drop-off if needed) from our hotel in Kirkenes.
When we arrived, our luggage was loaded up to be transferred to the hotel's luggage storage room. Then, similar to the husky tour, we were brought to a changing station to get ready for our excursion. Here, our guide gave us a brief safety talk and helped us find the appropriate clothing.
A Broad Recommendation: although we were already wearing snow pants, we decided to wear the Snowhotel-provided overalls as well. I also switched into the Snowhotel boots, given how cold my toes got the night before. I highly recommend you do the same! You have the opportunity to hold some crabs, and you won't want to get anything on your own clothes, or you may smell like crabs for days!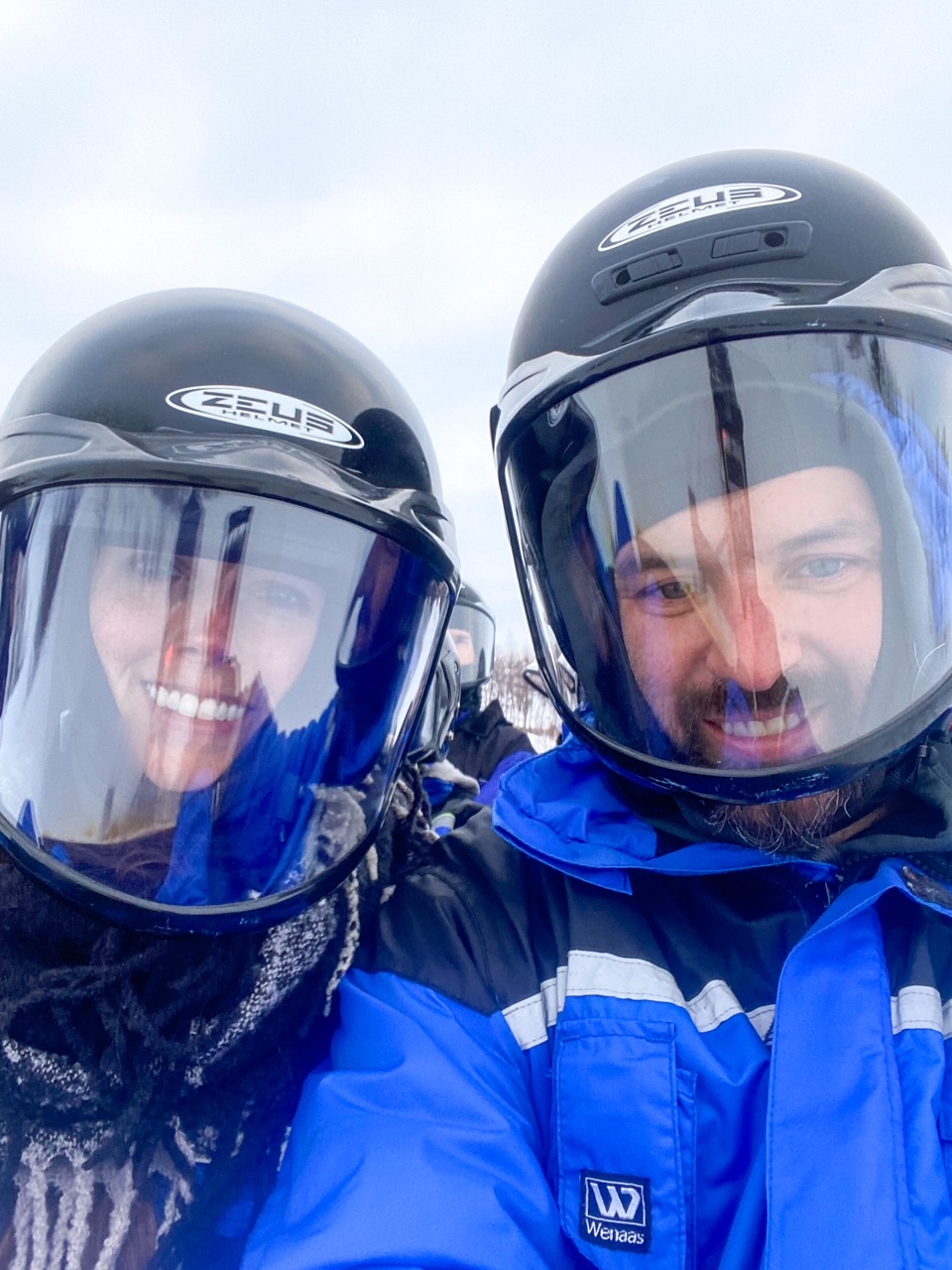 After we were all bundled up, we took a snowmobile-led sled to the frozen fjord. Here, we watched our guide pull a crab trap out of a hole in the ice and got a brief history lesson.
The giant King Crab species originated on the Kamtchatka peninsula in Russia. In the 1960s, they were accidentally released into the Murmansk fjord, and by the late 1970s, fishermen in Kirkenes had started to discover them in their waters. This new species was initially seen as a nuisance, but overtime, they've become a regional delicacy.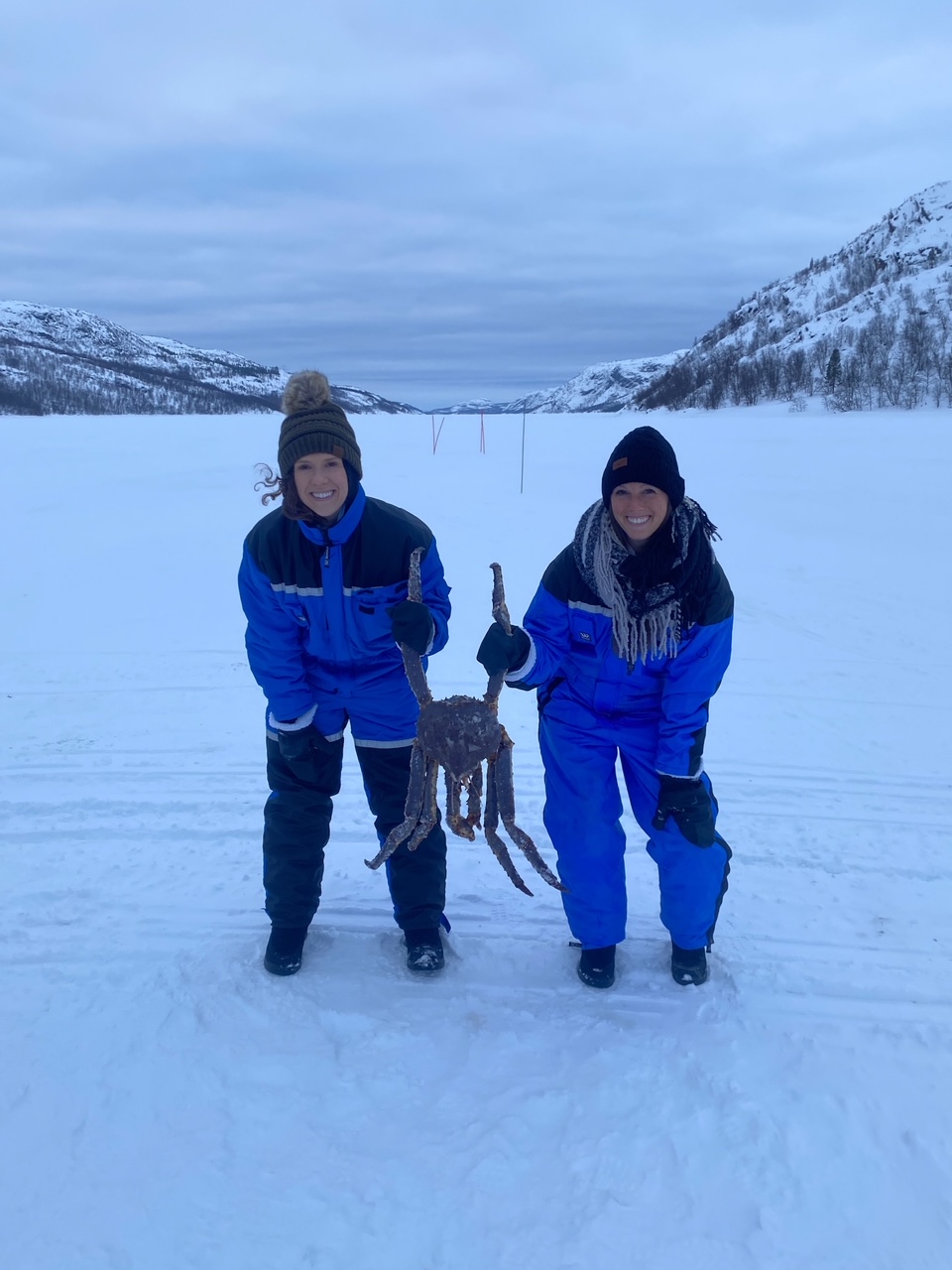 No excursion is without a fun photo opp! We were able to hold up the crabs for some silly photos before heading back to the Snowhotel to "cook our catch".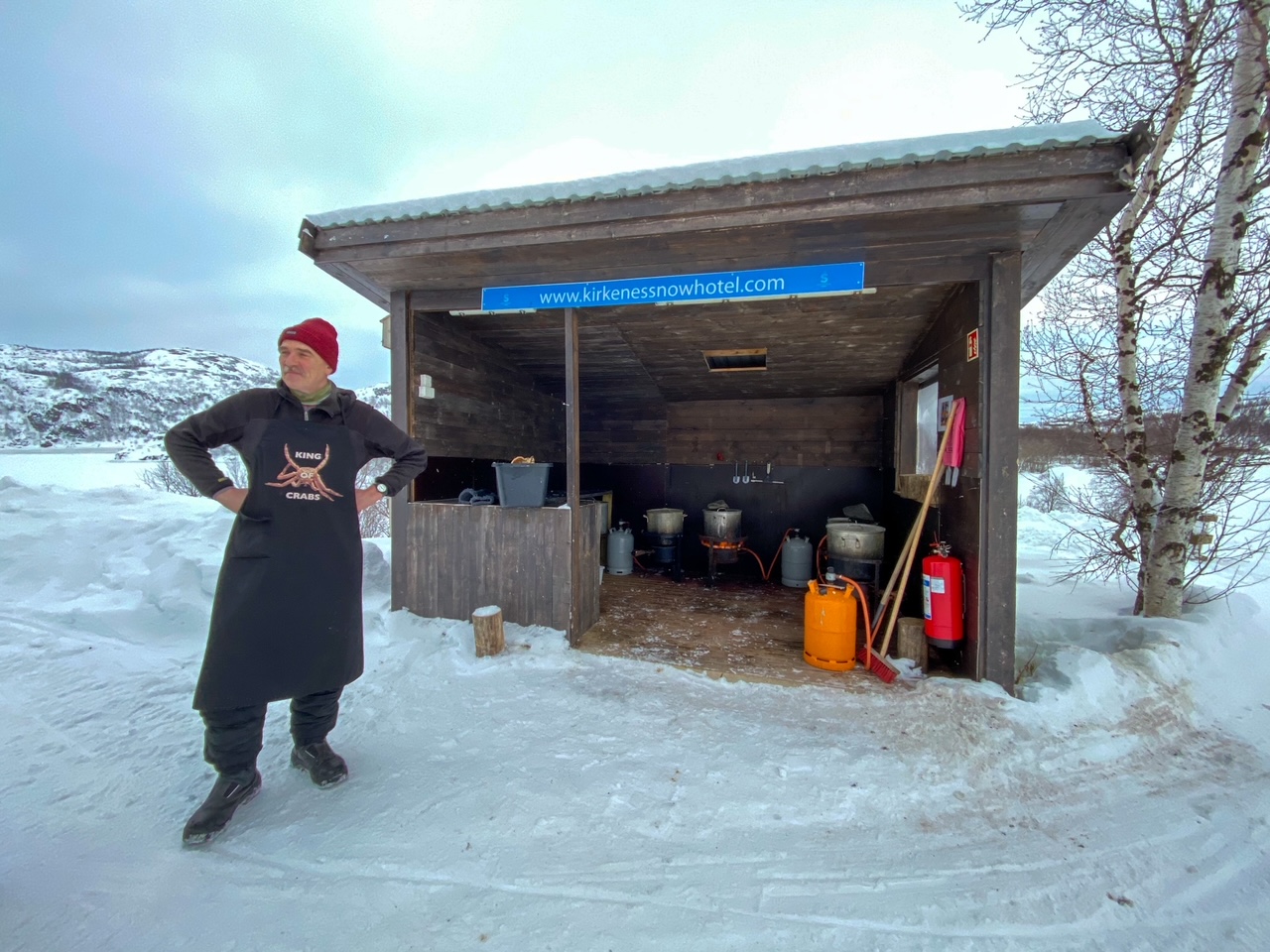 When we got back, we changed back into normal clothes and headed outside to watch our guide steam the crabs. For some reason, no one else stuck around for this, so we were able to ask him lots of questions.
After chatting a bit, we headed inside to the restaurant where we ordered some drinks and waited for our meal.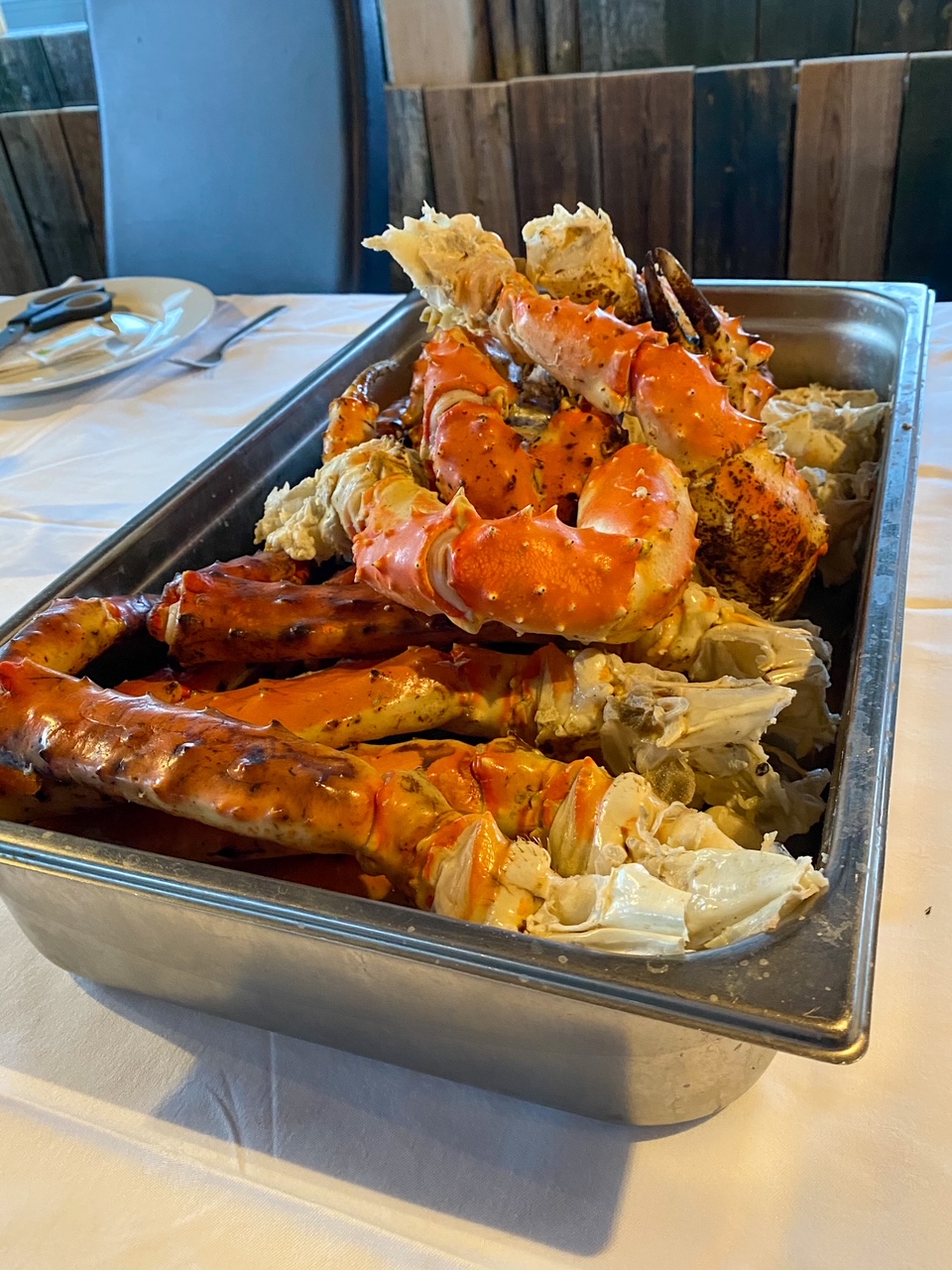 Our guide then taught us how to open the crab legs and eat them in northern Norwegian style, i.e. with bread, butter, mayonnaise and lemon. Everything was so delicious, and just one leg practically filled me up – these King Crabs are no joke!
It's funny how much fun we had on this excursion, considering it wasn't one that we were most excited about. We highly recommend the King Crab Safari for your visit to the Snowhotel Kirkenes!
Hunting the Northern Lights by Bus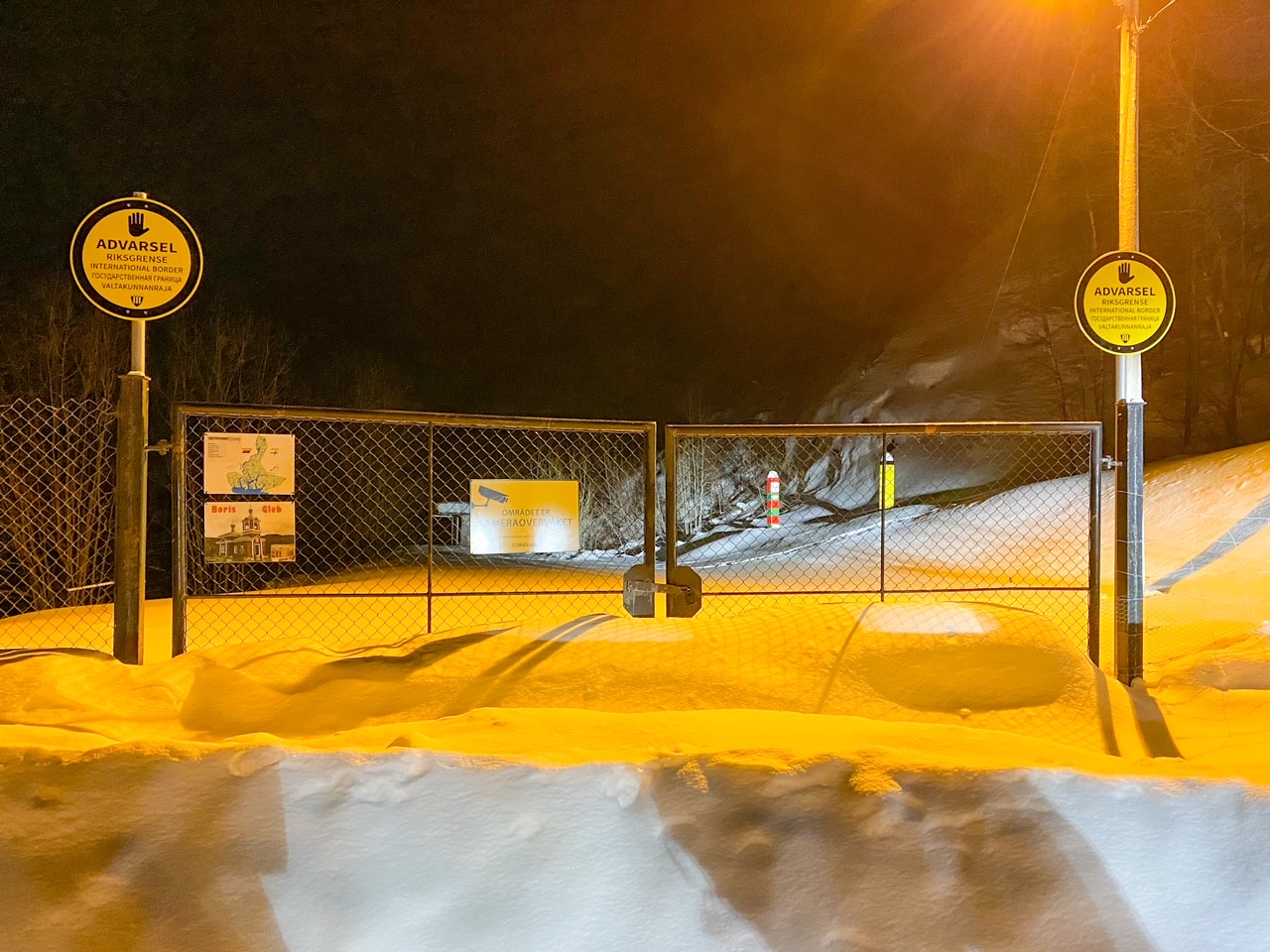 Availability: 9/1 – 4/15
Pick-up time: 9 pm
Duration: 3 hours
Cost (at the time of this post): 1000 NOK (~$100 USD)
What's included: guide, hot juice, transfer to and from your hotel in Kirkenes (Thon or Scandic)
What's not included: tips/gratuities, food
To optimize our chances of seeing the Northern Lights, we booked a last minute Hunting the Northern Lights by Bus excursion (basically right before the office closed for the day).
A Broad Recommendation: book your tours in advance, as they could fill up or there may not be a guide available. We booked our tour the same day, and the staff had to scramble to find a guide last minute.
To start off the tour, our guide checked the forecast to determine the best viewing area for the elusive Northern Lights. There were several options to consider: traveling east toward the Russian border, west toward Finland, or south into the Pasvik Valley. Our guide determined that heading east was the best option this particular evening.
Along the way, he taught us a bit about the Northern Lights, as well as the area and people. He was quite the talker, but we enjoyed hearing some of his stories.
Unfortunately, we didn't see the Northern Lights (again), but our guide made our trip worth while, as he drove us to the Russian border. Note that a visa is required to cross into Russia, and taking even one step across the border could result in a hefty fine. There are also some photography restrictions here, so we just snapped a quick photo of the gate and were on our way.
Since Kirkenes is so close to the Russian border, locals can apply for a multiple-entry visa, giving them access to towns across the border. Many locals do this to fuel up their car with cheap Russian petrol and/or to teach Russian in schools. Russians also come to Kirkenes to shop.
Final Thoughts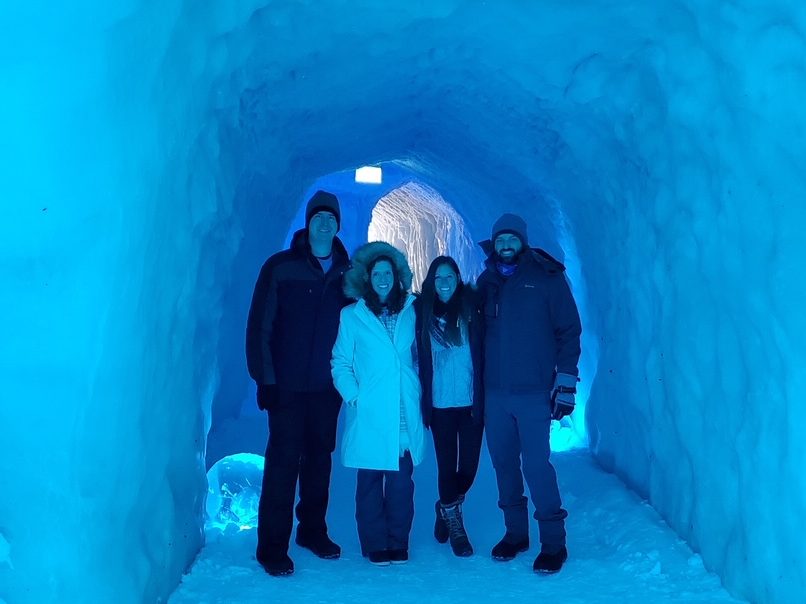 Despite missing the Northern Lights both nights, we still had a great time and would call our stay at the Snowhotel Kirkenes a success! Of course, we didn't have time to do everything. Check out some of the other Snowhotel Kirkenes activities, and start planning your Norwegian winter getaway today!
Would you consider staying at the Snowhotel Kirkenes? Which activity or excursion would you do first?
Ready to plan the rest of your winter Norway trip? Check out these blog posts:
Looking for other places to visit in Scandinavia? Check out these blog posts:
XOXO Sara at Travel A-Broads