After visiting Zion National Park and Bryce Canyon National Park, we continued on our Southwest road trip to Capitol Reef National Park. On the way from Bryce Canyon to Capitol Reef, we explored the Escalante area, and we're happy we did!
We hiked to Lower Calf Creek Falls, one of the few active waterfalls in the southern Utah desert, and were blown away by its beauty.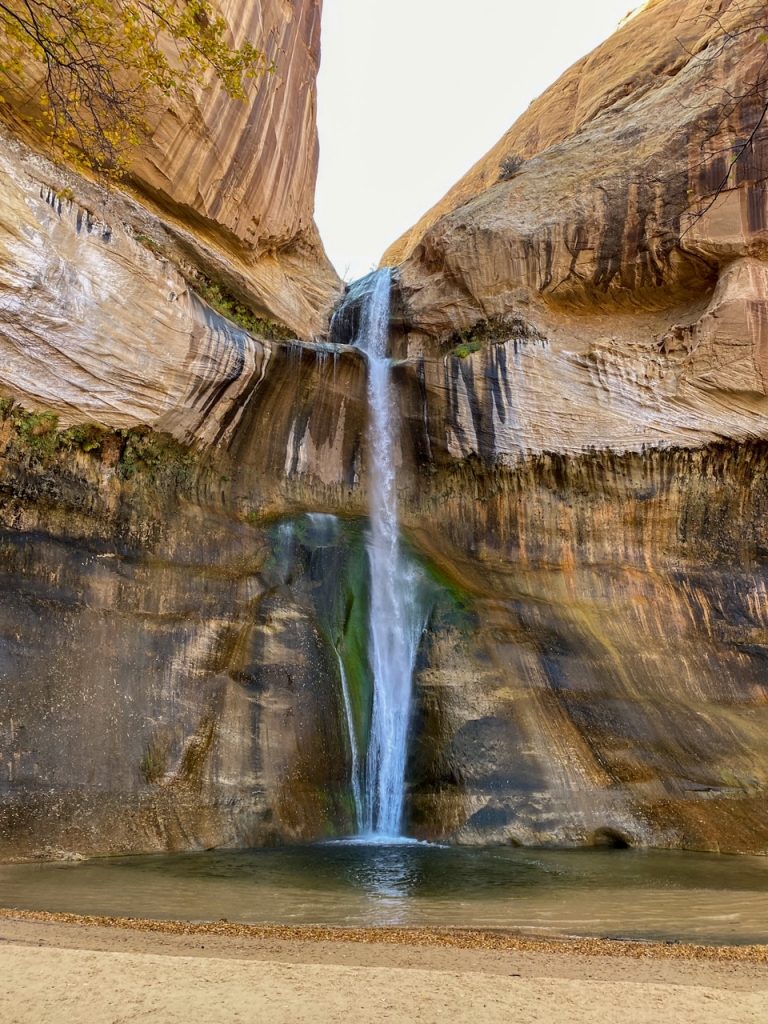 Where is Lower Calf Creek Falls Located?
Lower Calf Creek Falls is located in the Staircase-Escalante National Monument off of the Utah Scenic Byway 12 between Escalante and Boulder.
The GPS coordinates for Calf Creek Campground and the Lower Calf Creek Falls Trailhead are (37.793186, -111.413820).
How Much Does Lower Calf Creek Falls Cost?
There's a $5 per vehicle fee to be paid at the day-use parking lot.
When's the Best Time to Visit Escalante?
Most people visit between March and June and in September and October; we visited during the tail end of that range in late October. In our opinion, this is the best time to visit Escalante, as well as the surrounding area. There were no crowds during our visit, and we loved all of the fall foliage this time of year!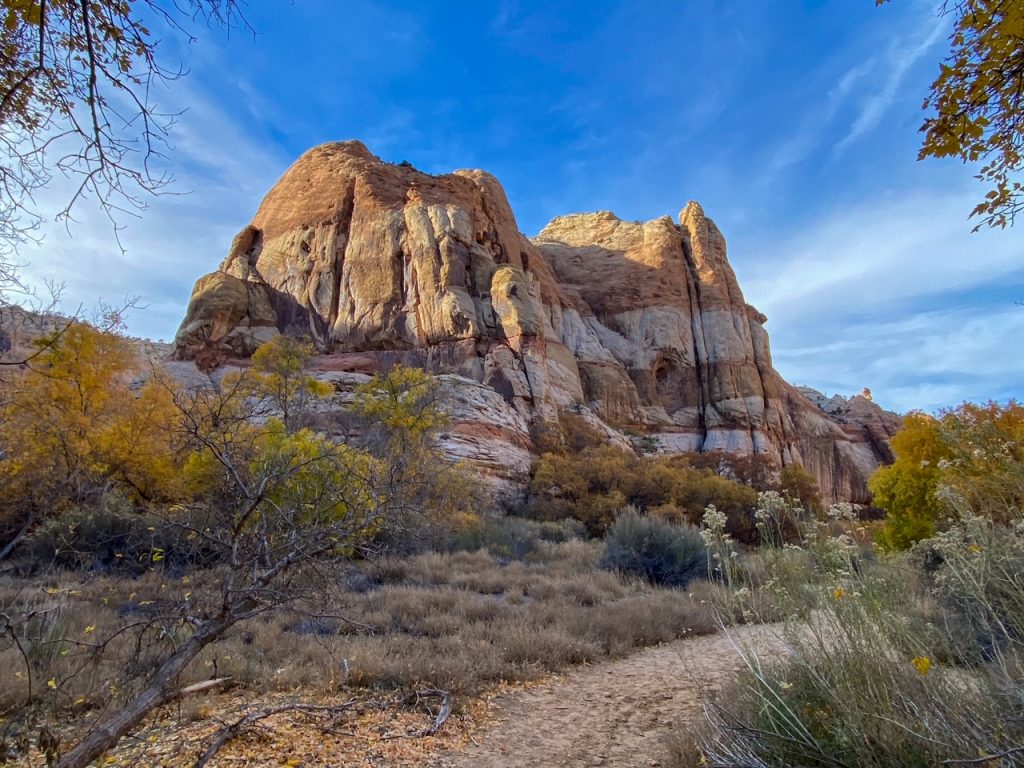 The Lower Calf Creek Falls trail is a popular hike, especially in summer months; if you're visiting then, you may want to go during the week to avoid the crowds.
The weather varies drastically by season. Temperatures can reach 90 degrees or more in the summer and drop below freezing in the winter; spring and fall offer milder temperatures.
Temperatures were in the 50s when we visited, since we were there late in the day. This was great for hiking, but we were a bit chilly near the waterfall and definitely didn't do any swimming.
How to Get to Lower Calf Creek Falls
If you're road tripping to Utah's Mighty Five, you'll likely be visiting the Escalante area on your way from Bryce Canyon National Park to Capitol Reef National Park or vice versa.
There are multiple ways to get from Bryce Canyon to Capitol Reef. To pass through Escalante, you'll want to take the route along UT-12 E.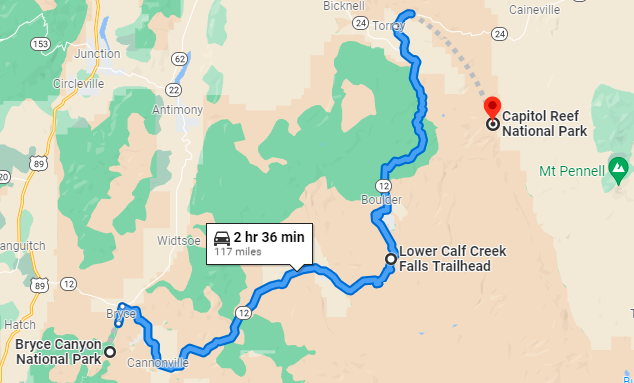 Calf Creek is a stream located in the Staircase-Escalante National Monument, and there are two waterfalls, upper and lower falls. The Lower Calf Creek Falls Trail is right off the Utah Scenic Byway 12 and is easily accessible, making it the most popular of the two.
Where to Stay Near Escalante or Boulder
Camping is available onsite at the Calf Creek Campground for $10; it's offered on a first-come, first-serve basis. Thus, you'll want to arrive early in the day if you plan to get a campsite. Dogs are allowed in the camping area, but they must be kept on a leash at all times.
We stayed at Red Ledges Inn the night before (near Bryce Canyon National Park) and at Broken Spur Inn & Steakhouse (near Capitol Reef National Park) the evening of our hike.
We used hotels.com to book both stays and paid less than $60 for the Red Ledges Inn and just under $120 for the Broken Spur Inn.
A Broad Recommendation: I love booking stays on hotels.com and have used them throughout Asia and the United States. They offer great deals and give you 1 free night for every 10 nights you complete. Who doesn't love free stuff? I also use Rakuten at the time of my purchase to get cash back – how neat!
Are Dogs Allowed on the Trail?
Dogs are permitted at the campground and on the trails, as long as they're leashed. We actually saw lots of folks walking their dogs here!
How to Hike the Lower Calf Creek Falls Trail
To find the trailhead, start at the day-use parking area and follow the road through the campground for 0.2 miles. There are signs pointing in the direction of the trailhead and then a prominent sign where it begins.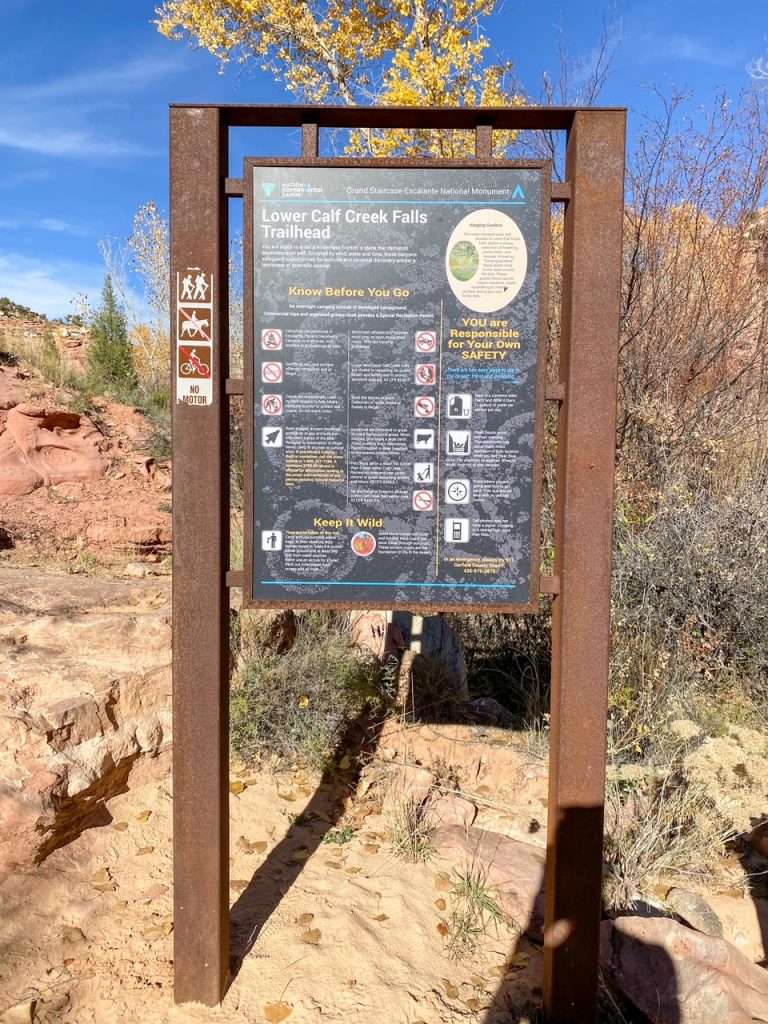 The trail is around 6 miles round trip (out-and-back) and is relatively flat. It can become challenging at times, since much of the hike is over slick red rock and through sand. Note to self: hiking through sand is not particularly fun in hiking boots!
Personally, I felt that the beginning of the hike was most strenuous, as it's rocky and uphill. We even contemplated turning back at one point, since we were tired from all of the hiking we did at Bryce Canyon National Park that morning, and it was already late afternoon, but we sure are happy we didn't; the waterfall view at the end was so worth it!
Along the way, you'll pass through wetlands, fields of rabbitbrush, groves of Gambel oak, and woodlands of junipers and pinyon pines. There's an active population of beaver in the area, so you'll likely see some beaver dams too.
You'll also come across several granaries built by the Freemont Culture, which inhabited Utah from AD 700 to AD 1300, and some pictograph panels showcasing Freemont-style rock art; how neat is that?!
When you reach the end of the trail, you'll walk through some dense greenery and arrive at a breathtaking waterfall. Lower Calf Creek Falls descends from a 126-foot-tall mineral-streaked cliff of Navajo Sandstone into a deep pool, or swimming hole.
In the summer, you'll likely find kids, dogs and even some adults cooling off in the pool at the base of the falls. In the late fall, you'll find us playing around right in front of the pool taking pictures with our Fugetek selfie stick & tripod – haha.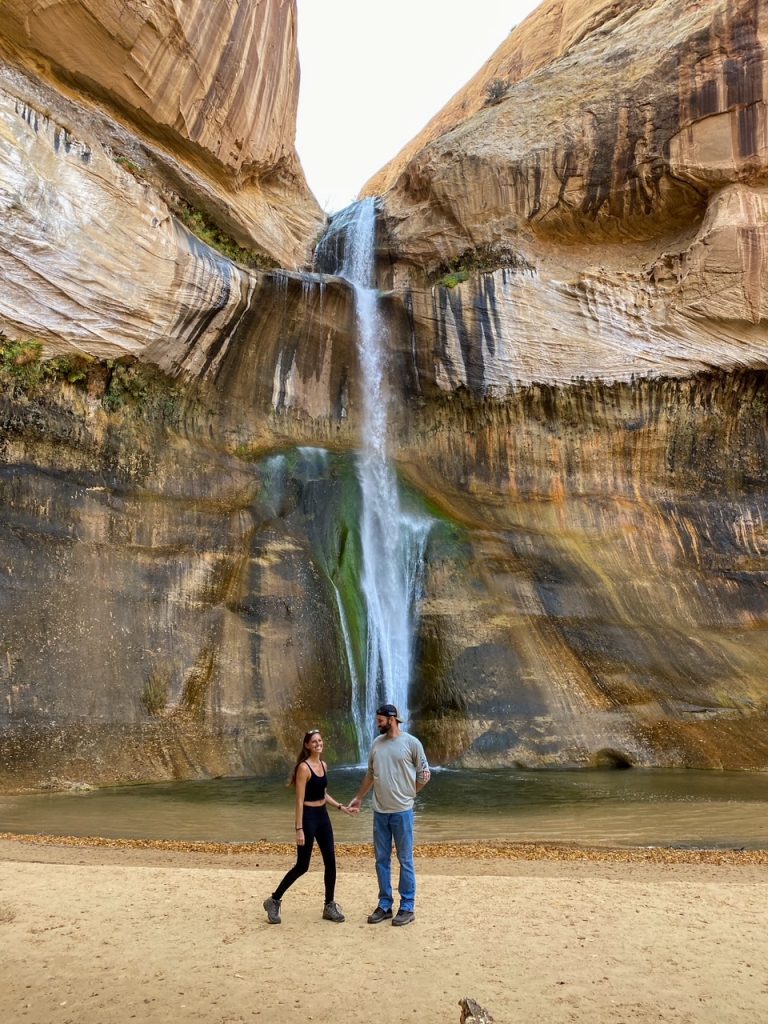 This is the perfect spot for a picnic or a quick rest before heading back the way you came.
A Broad Recommendation: You'll be hiking for several hours. Remember to pack lots of water, snacks, sunblock and extra clothes to layer. Temperatures change throughout the day, and the area around the waterfall was much cooler than the rest of the trail.
You should plan to spend around 3 hours hiking here; it took us around 2.5 hours, and we spent around 30 minutes admiring the waterfall and taking pictures.
If you're looking for something less crowded, Upper Calf Creek Falls also has hiking and swimming opportunities.
Note: there are no facilities along the trail, so you'll want to make sure to use the restroom at the parking lot before beginning this hike. Remember to always pack out all trash and pick up after your pet.
Other Hikes in the Escalante Area
The Escalante area offers lots of exciting hiking opportunities! Note that some of these trails require a vehicle that's equipped for driving on bumpy, washboard dirt roads.
Upper Calf Creek Falls
Escalante Natural Bridge
Escalante Petrified Forest State Park
Devil's Garden (more of a leisurely walk among sandstone rock formations)
Zebra Slot Canyon
Peek-a-Boo and Spooky Slot Canyon
Coyote Gulch
Wire Pass to Buckskin Gulch
A Broad Recommendation: Due to the lack of cell service throughout this area, you'll want to make sure to download Google offline maps and to pack extra water, snacks and warm clothes in case of an emergency.
We loved our quick visit to the Escalante area! And, we would highly recommend a visit on your way from Bryce Canyon to Capitol Reef or vice versa.
Pin this post for later, and follow along with us on our Southwest U.S. road trip with How to Spend One Day in Capitol Reef National Park.
XOXO Travel A-Broads