After a fun, albeit quick, trip to Stockholm, Sweden, my friend, Stephanie, and I were off to spend some time in Copenhagen, Denmark!
Getting to Copenhagen
We left from Stockholm Central Station early in the morning and took a five hour or so train ride to Copenhagen. Tickets were around $50 per person through GoEuro at the time.
When we arrived at Copenhagen Central, we connected to 7-Eleven's WiFi and started investigating how to take a bus to Østerport, where we would be staying. Figuring out the bus routes was a little confusing at first, but we eventually found our way!
A Broad Recommendation: Do some research before your trip to familiarize yourself with the bus routes. It might even be a good idea to plan out multiple route options. And, if you're able to get live updates instead of relying on the posted bus schedules, even better! This will hopefully save you a lot of time as you navigate around Copenhagen, Denmark.
Where to Stay in Copenhagen
We chose an Airbnb for just under $160 per person for four nights. Our fabulous host communicated with us several times before our visit and sent us lots of recommendations. Unfortunately, right before I shared this blog post, I noticed he removed all of his listings, so I won't be able to refer you to him.
The flat was situated in Østerbro, which is one of the best places to stay in Copenhagen. Østerbro is a posh area with broader streets, more green space and a calmer vibe than many of the other neighborhoods we considered. And, Øster Søgade, the street on which we stayed, used to be called the path of love – how cute!
Copenhagen, Denmark Through Time
Our host gave us a bit of a history lesson prior to our visit. Here's what we learned:
Copenhagen means "port of buying goods".
Founded in 1167, Copenhagen's oldest parts remain underground near the Town Hall Square.
Originally, Copenhagen was a small city behind protective moats; the moats were replaced by parks around 1856.
Copenhagen has a mix of Renaissance and Neoclassical buildings, ranging from the 1600s and from 1770 to 1840, respectively; and, it maintains a Medieval street structure.
Many of the Medieval buildings got destroyed during fires in 1728 and 1794 and the bombing of the British in 1807; you can assume that homes that look like they're falling apart are from before that period.
The fires led to stricter building legislation; the "cutting of corners", i.e. chamfering of buildings in Old Town, allowed fire-fighting vehicles to move more quickly throughout the city. And, this ultimately led to more openness in modern Copenhagen's plazas.
Pretty interesting stuff!
The rest of this blog post details what we did during our time in Copenhagen, Denmark; it can also be used as a suggested itinerary for your own visit. For more specific information about traveling to Copenhagen, what to pack, how to get around the city, and other handy tips, check out our "Denmark Travel Tips: A-Broad Overview" page.
Day 1: Visit Nyhavn
Spend the Afternoon in Nyhavn
Shortly after settling into our Airbnb, Stephanie quickly learned the bus system – no help from me and my terrible sense of direction – and we headed to Nyhavn to begin exploring.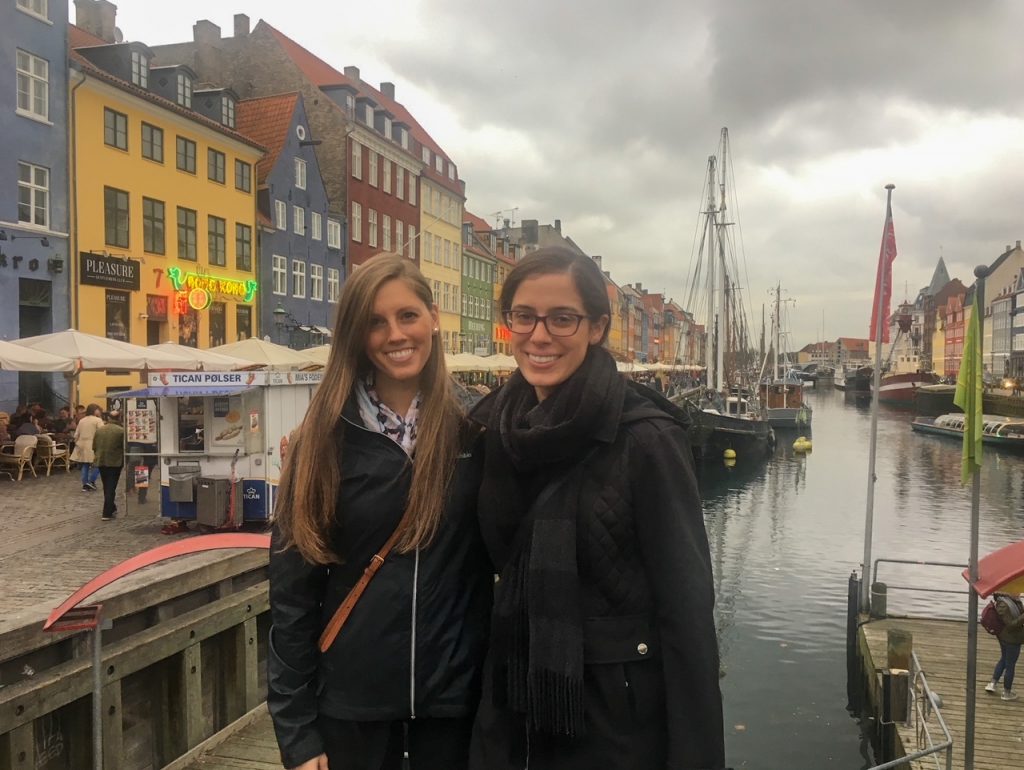 Nyhavn, or "New Harbor", is one of the most well-known neighborhoods of Copenhagen. Brightly colored 17th and 18th century townhouses, bars and restaurants line the canal; the oldest house, No. 9, dates all the way back to 1681! The canal also hosts several historic ships, some of which have a history of being used as smuggling vessels, fishing boats or ferries.
Although a picturesque and popular tourist spot now, Nyhavn has a less glamorous history. It was originally a commercial port where ships from all over the world docked and was notorious for drinking and prostitution.
Despite its sinister past, Nyhavn is a must-visit for any trip to Copenhagen!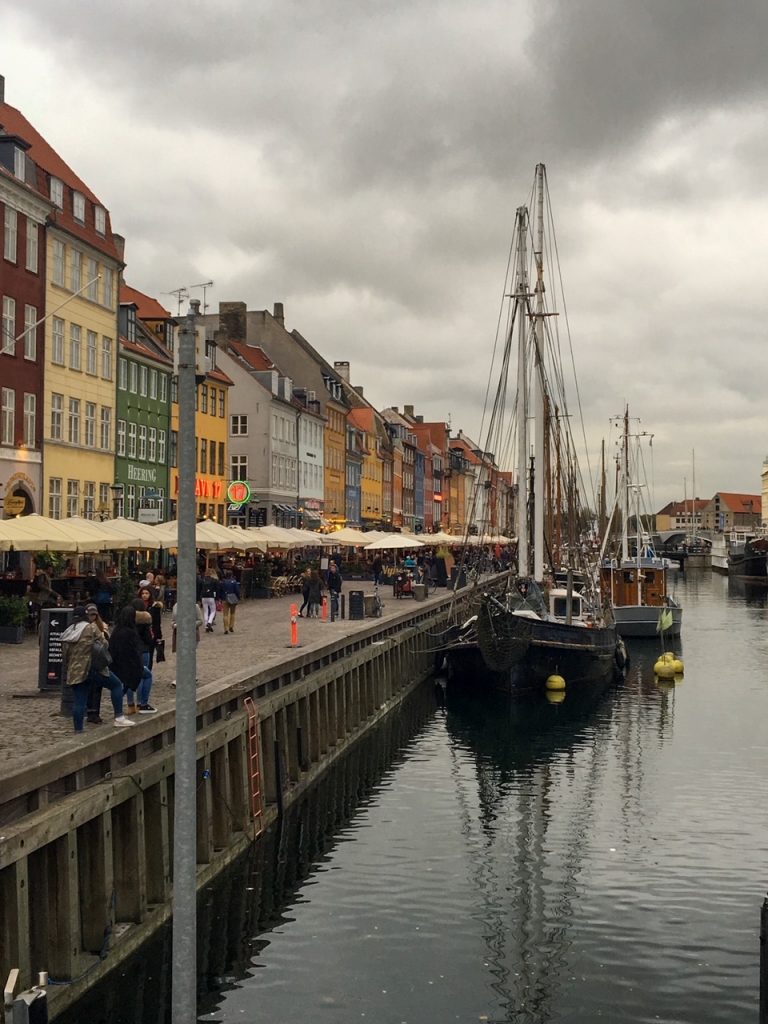 Eat Dinner Along the Canal
We walked around and explored for a bit until the sun started to set. It had gotten significantly colder, so we decided to warm up at one of the outdoor restaurants along the canal. Lots of restaurants here had outdoor seating options with beautiful views, and Barock Harbour Grill was no exception. Since temperatures can get chilly in October, the restaurants provide blankets and heaters to ensure a comfortable experience.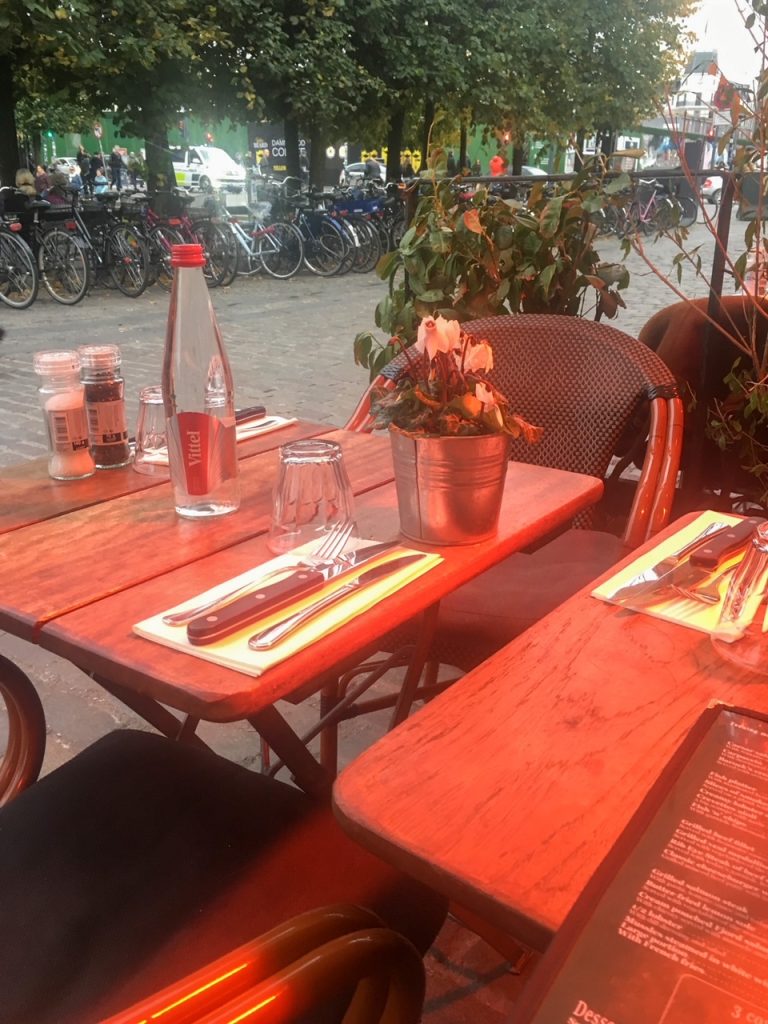 I ordered mussels and a Somersby Apple Cider, Stephanie had a burger and fries, and we both enjoyed our meals. Note: we definitely spent more than expected here; dining in Denmark is expensive, and water isn't free.
After a long day of traveling and a lot of walking, we decided to head back and rest up; we had three full days of exploring ahead!
Day 2: Explore on Foot
Have Breakfast at Dag H
We had our first breakfast in Copenhagen at Dag H, which was a very short walk from our Airbnb. The restaurant had an elegant feel and a relaxed environment, and we both enjoyed our meals (and my Bloody Mary). Although most meals felt rather expensive to us, this one wasn't too bad.
Do a Free Walking Tour
After breakfast, we met up with Copenhagen Free Walking Tours at City Hall, i.e. Rådhuspladsen, for our "Grand Tour of Copenhagen". We booked our spots online, arrived fifteen minutes early and used the restrooms inside before the tour started. In our experience, free walking tours are a great way to spend time in Copenhagen, Denmark!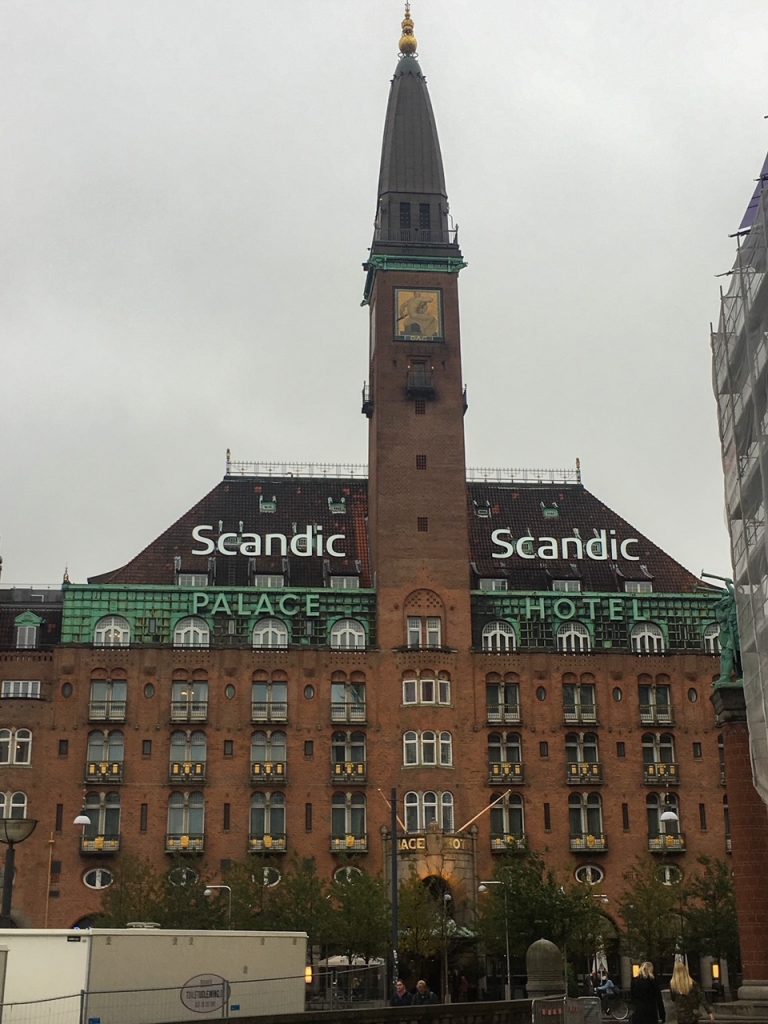 We enjoyed our three hours of walking and exploring, filled with stories of the rich history of Copenhagen. Our tour guide, Rikke, was ever so delightful and funny and shared lots of interesting information:
Copenhagen is a major city sitting on the edge of the Baltic Sea.
It started as a small fishing town, but over time, Copenhagen eventually became the capital of Denmark.
The city has tragically burned down – more than once.
Hygge is a Danish word describing a cozy or charming lifestyle.
Candle-lit and marvelously decorated homes make for cozy Danish holidays; Rikke lightly joked about how the candles may have been a contributing factor to the various fires that ravaged the city.
Despite its track record with fire, Copenhagen has been voted the "most livable city", and Danes are considered some of the happiest people on earth.
During your tour, here's what you'll do:
Stop at Christiansborg Palace
Our first stop was a quick one at Christiansborg Palace. We stood outside and admired horses trotting by before walking by the Royal Library gardens.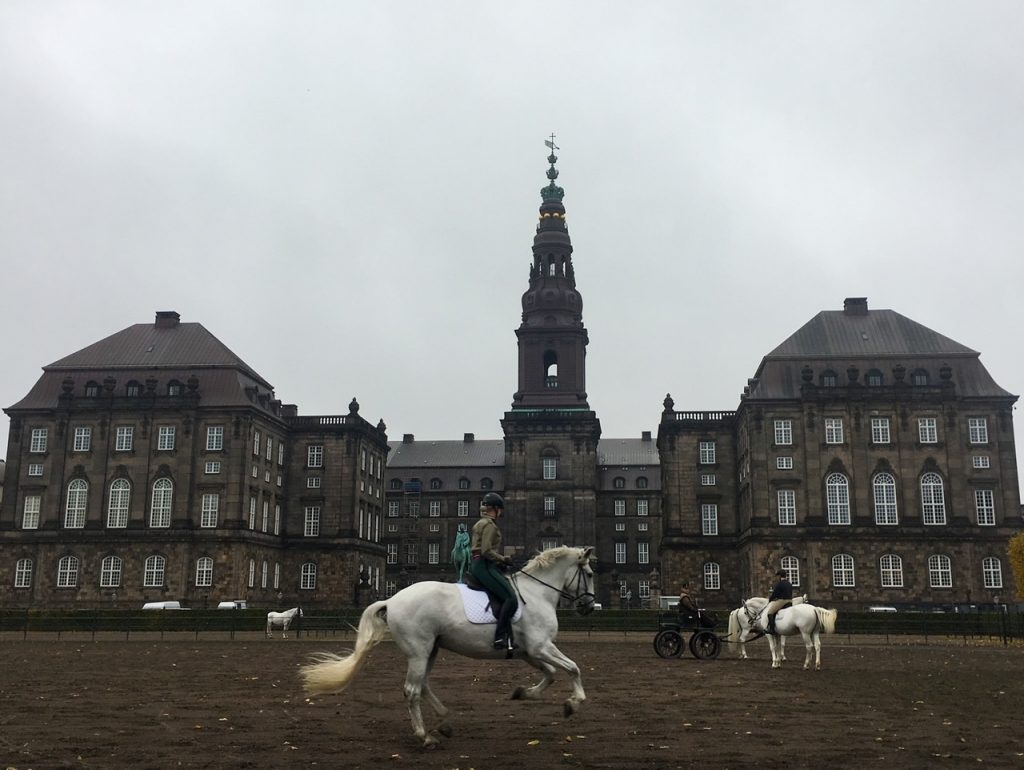 Since the stop was so short, we decided we would come back the next day to learn more and to get the full experience.
Try a Hot Dog & Explore Nyhavn
Next, we made our way through the old City Center back to Nyhavn Harbor where we ate dinner the prior evening.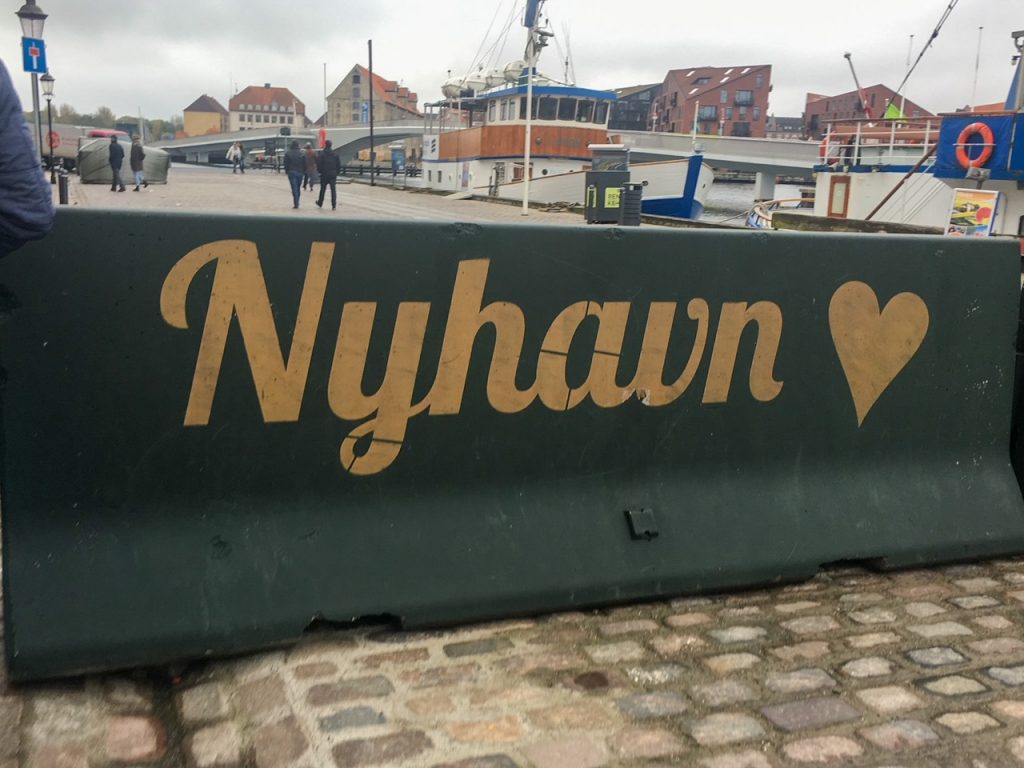 Per our guide, we had to try a famous Danish hot dog. They're a popular local delicacy, packed with ketchup, mustard and other sauces, and topped with pickles and crunchies – and we can attest that they're delicious!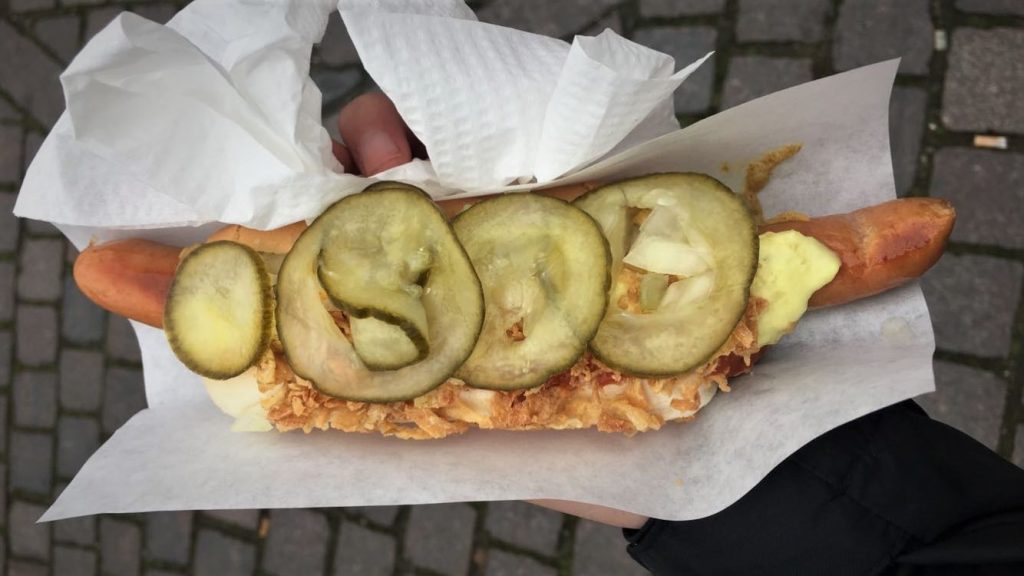 A Broad Recommendation: Get a hot dog, and request all of the toppings they offer. I'm not a huge hot dog fan, but these are amazing. It may seem strange, but it's also standard to get chocolate milk with your dog. As they say, when in Denmark, do as the Danes do!
As we continued walking, we saw a number of lovely buildings and learned more about Copenhagen's interesting history.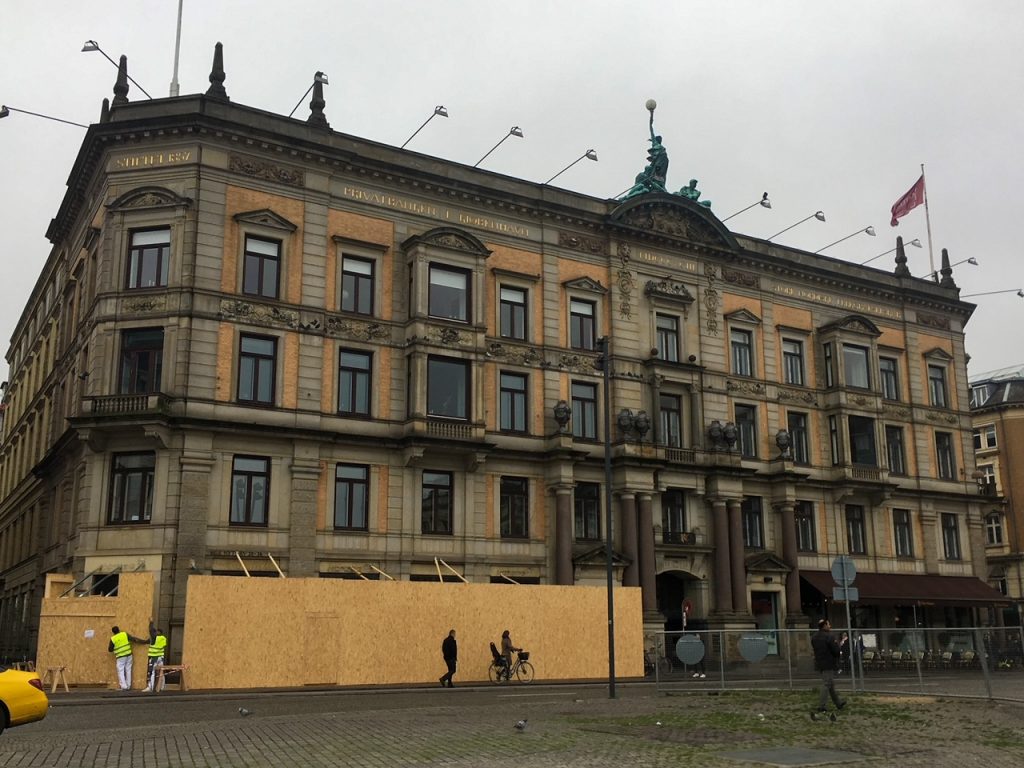 We also made our way along the waterway where we were able to snap lots of beautiful photos, despite the less than optimal weather conditions.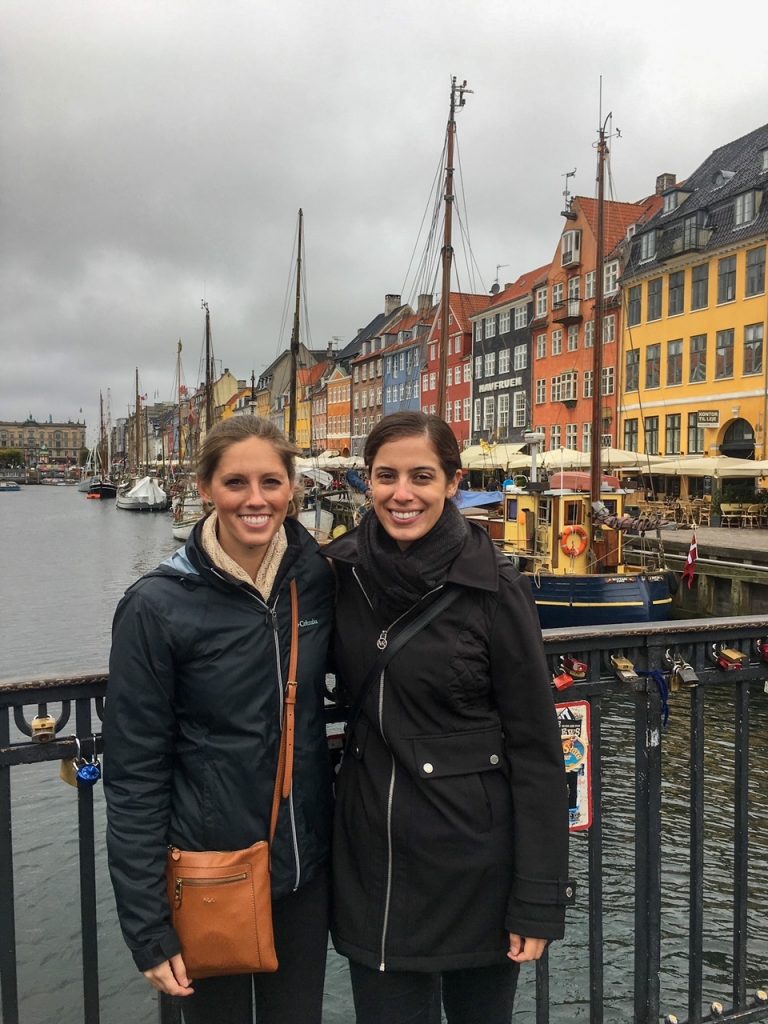 We learned that Nyhavn was home to Danish author, Hans Christian Anderson. You may remember reading some of his fairy tales as a child! Memorial plaques mark two of his former homes.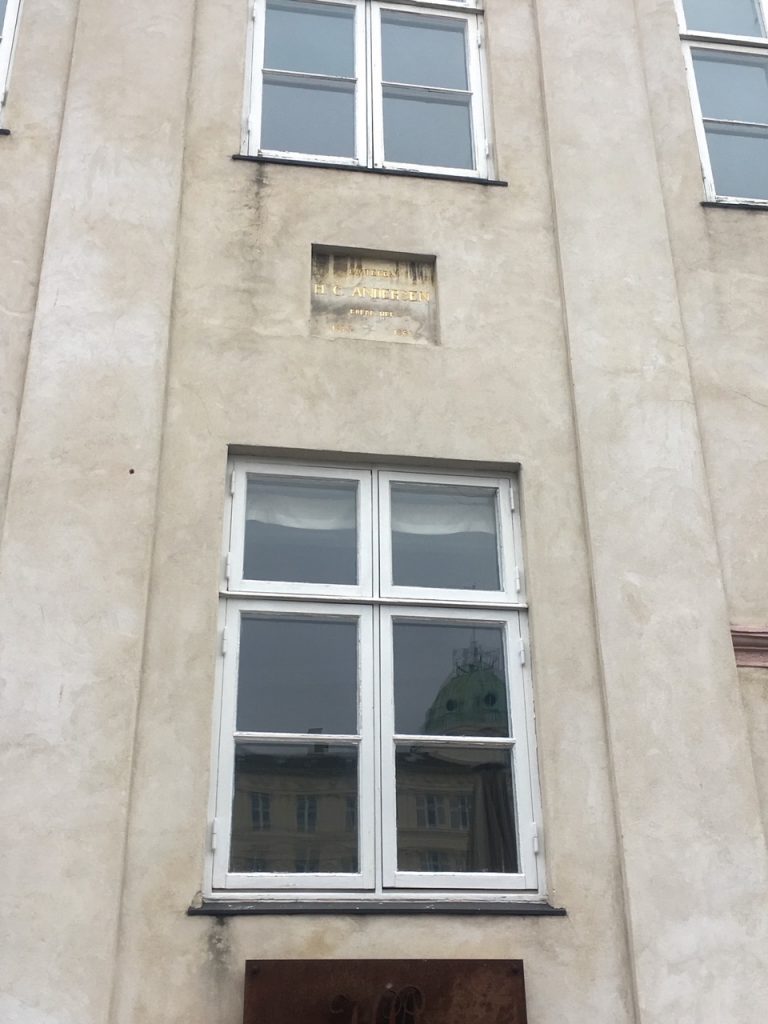 End at the Royal Palace of Amalienborg
The tour officially ended at the Royal Palace of Amalienborg. The palace was originally built for four noble families, but when Christiansborg Palace burned down in 1794, the royal family moved in instead. The Danish royal family still lives here to this day; if the flag is up, that means that the queen is home.
Stephanie remembers how weird it felt being able to stand in the courtyard and that the royal family seeming so easily accessible. The prince and his family even drove by us on their way out!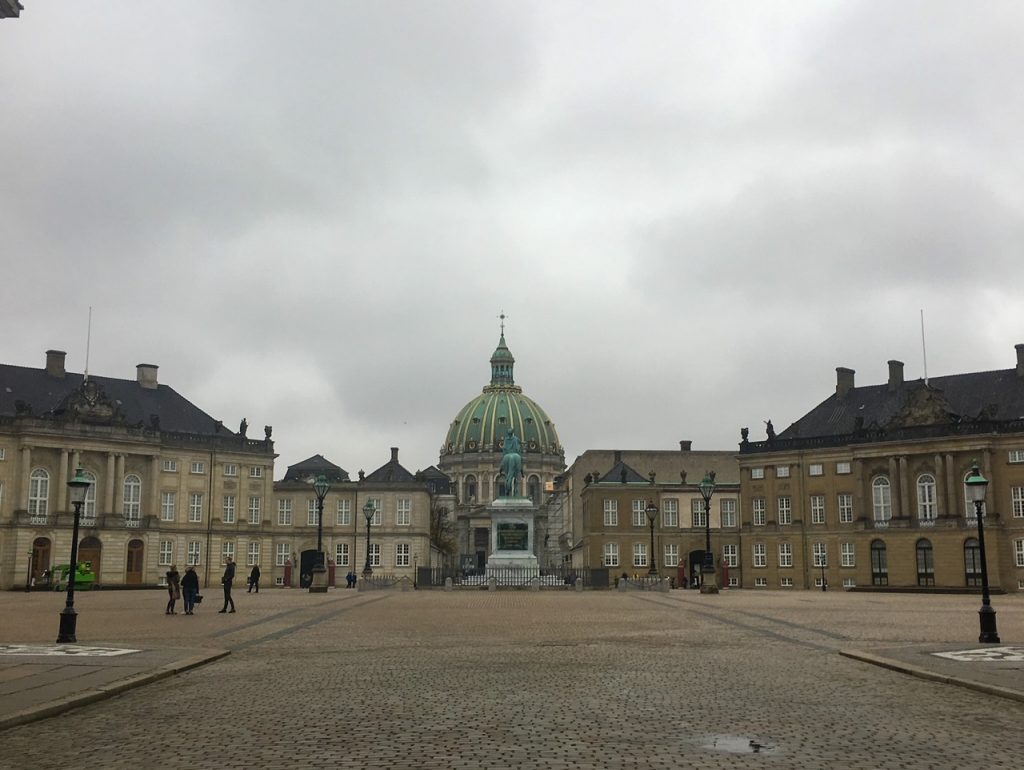 From the palace square, you can watch the changing of the guards – the famous Royal Guard, Den Kongelige Livgarde. I even got to snap a picture with one of them; although, I got a little too close by accident and had to back up!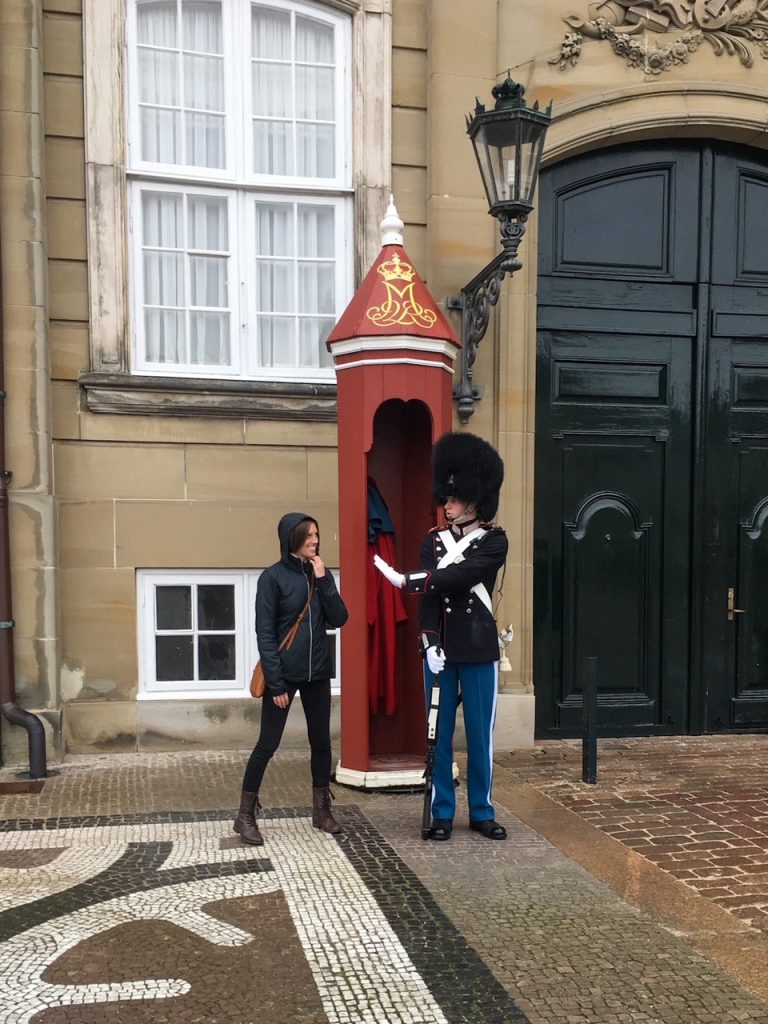 Note: With a Copenhagen Card, you get free admission to Amalienborg. The Amalienborg Museum presents a history back ~150 years and reflects the taste of the period and the personalities of the monarchy at that time. We didn't go in, since we were with the group tour, but this is good to know for future reference.
A Broad Recommendation: We would highly recommend Copenhagen Free Walking Tours, specifically their "Grand Tour of Copenhagen". It was free aside from tipping our guide, which was well earned. Rikke was warm, welcoming, knowledgeable, professional and funny. She loves sharing her passion for the city, and it really made for a wonderful experience! They offer tours every day of the year, and groups larger than ten can book a private tour.
Visit One of Copenhagen's Most Iconic Tourist Attractions
After the guided tour, some of the group decided to continue exploring together. We passed several sculptures and a lovely church as we made our way to the Little Mermaid.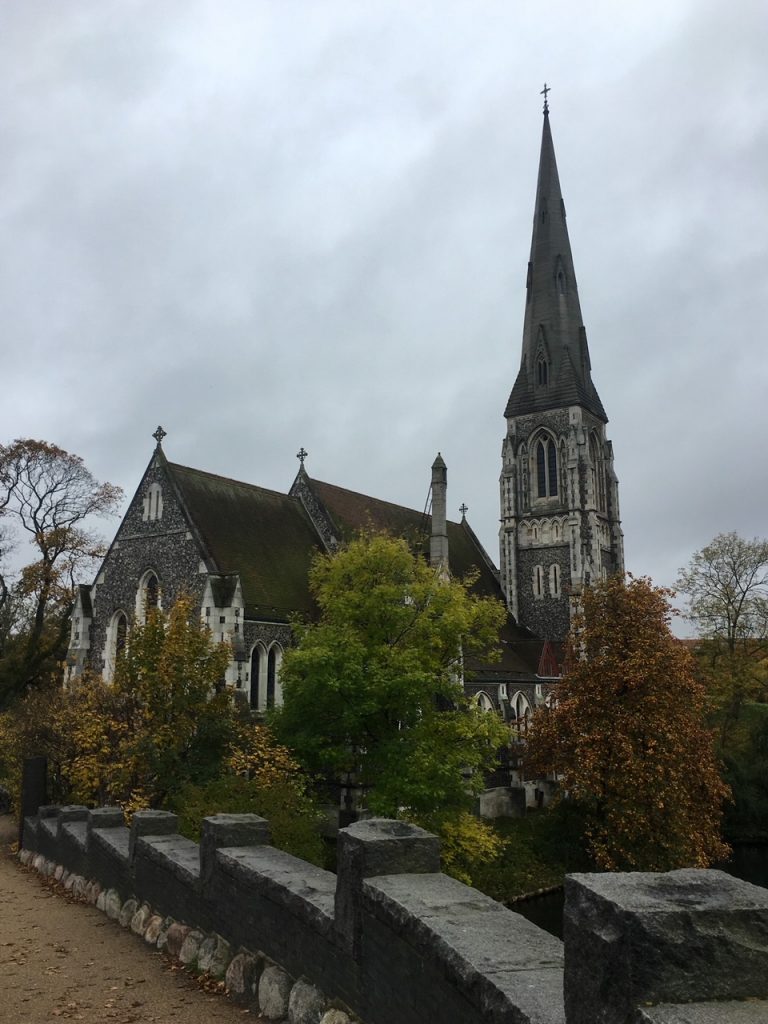 The Little Mermaid is arguably (and strangely) one of Copenhagen's most iconic tourist attractions. Inspired by Hans Christian Andersen's famous fairy tale, the sculpture was gifted from Danish Carl Jacobsen to the City of Copenhagen in 1913.
Sadly, the Little Mermaid has been vandalized on more than one occasion, ranging from losing her head or an arm to getting completely covered in paint. Luckily, she's always restored back to her former glory, and we were able to see her in this state.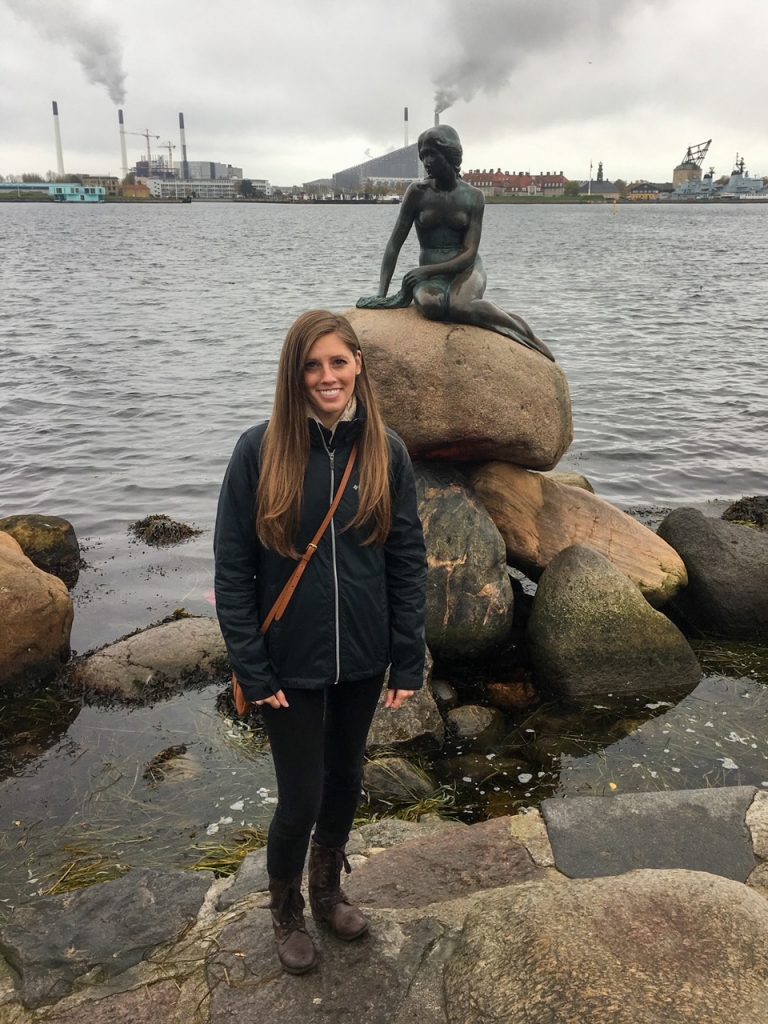 Enjoy the Autumn Weather at Kastellet, i.e. The Citadel
Next, we made our way to Kastellet, a fortress shaped like a star which serves as military barracks; it has a nice park that we strolled around and provides lots of photo ops.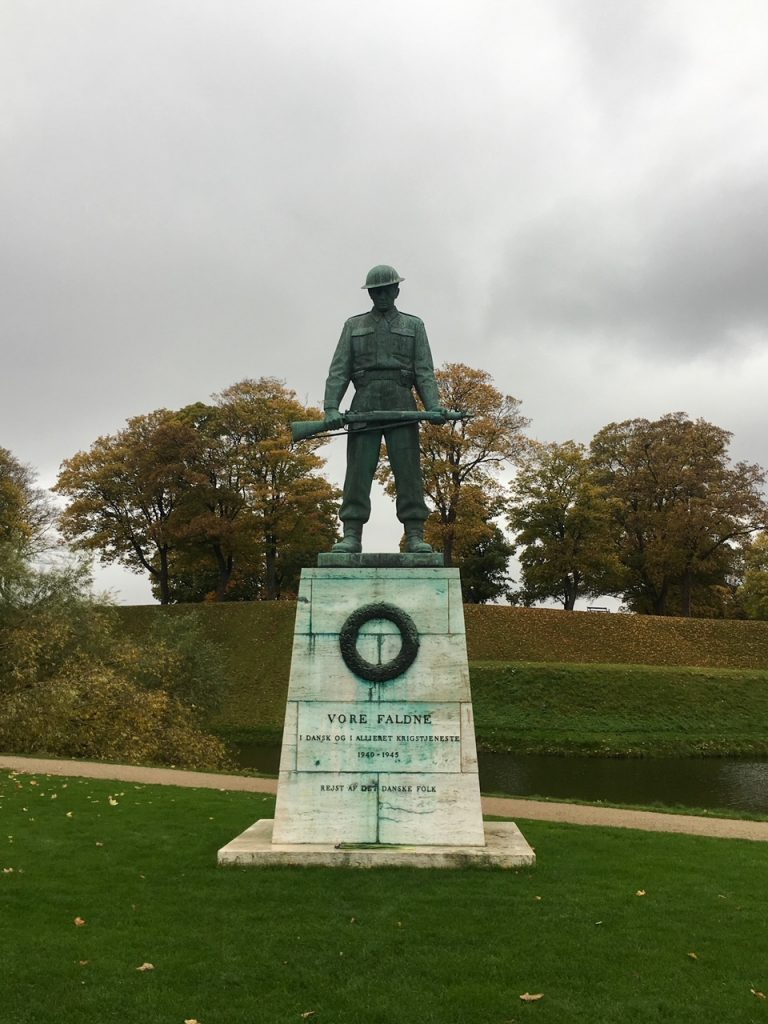 Autumn in Copenhagen is gorgeous with the colorful fall foliage, and I just couldn't stop taking pictures. Living in Houston, Texas where the leaves don't change much and growing up on the East Coast of the U.S., it's a season I miss. So, I really enjoyed our stroll.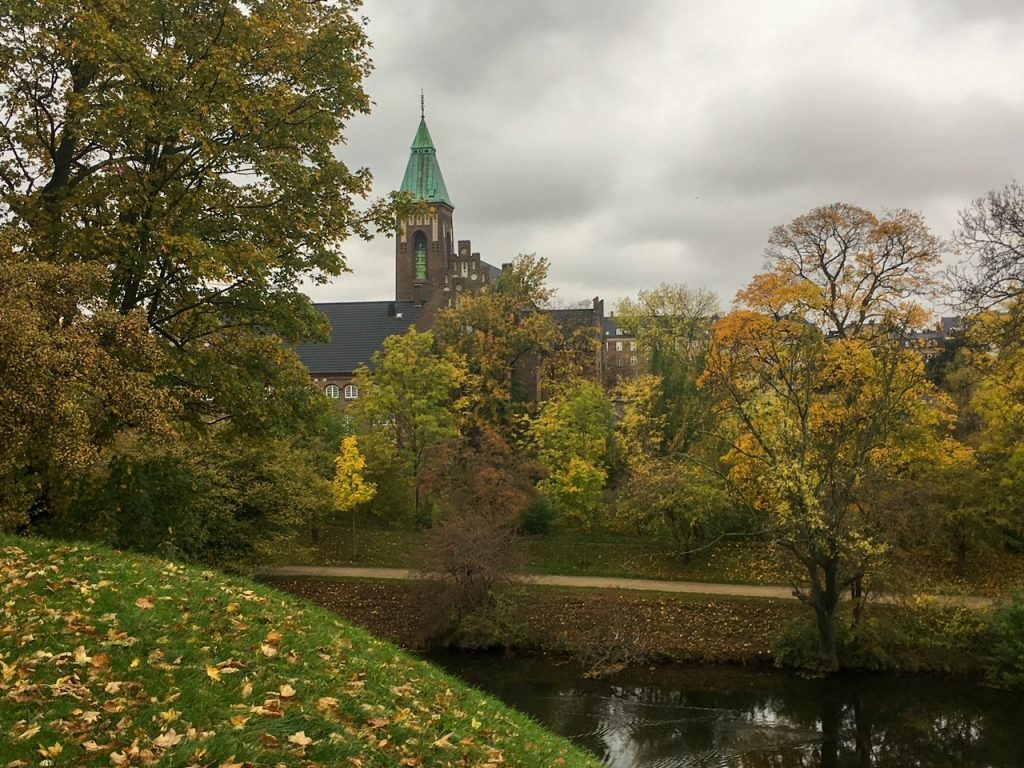 Go For Another Walking Tour
We met back up with our tour guide and a new group of folks for another tour through Copenhagen Free Walking Tours, the "Christianshavn Tour". Like I mentioned earlier, free walking tours are a great way to spend your time in Copenhagen, Denmark!
Again, we arrived fifteen minutes early, this time at Højbro Plads at 3 PM. We saw and did so many things this day that I can't remember much about the second tour. I know we both enjoyed it, but I couldn't tell you much of what we learned. These are some of the photos we took.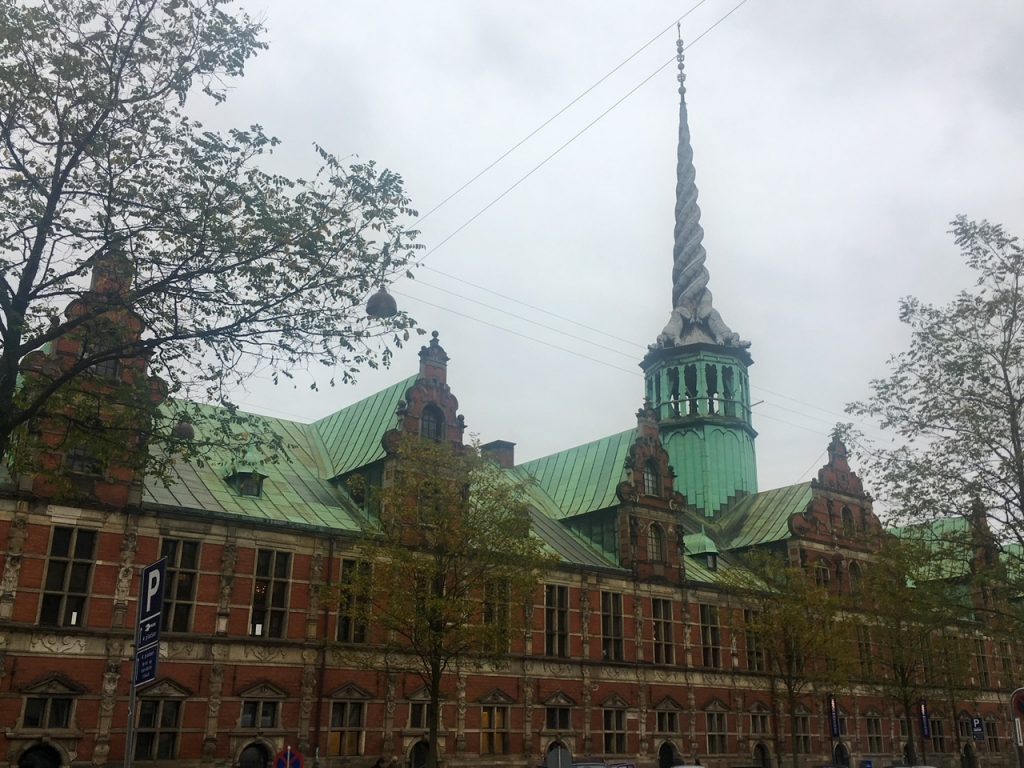 Explore Freetown Christiania
The tour lasted around three hours, ending at the entrance to Freetown Christiania, another popular tourist attraction. Christiania is a commune that inhabits around 1,000 people; popularized for its hippy-like vibes, it has restaurants and cafes where you can eat or grab a beer.
In 1971, Christiania was founded on a former military complex by a group of hippies and outcasts as a breakaway anarchist commune. Over time, it developed into a self-contained society that has rejected state control and yet still manages to live in harmony with the rest of Copenhagen, Denmark. Early on, it became well-known for its Pusher Street, where dealers typically work in pop-up stalls selling drugs like marijuana (no hard drugs).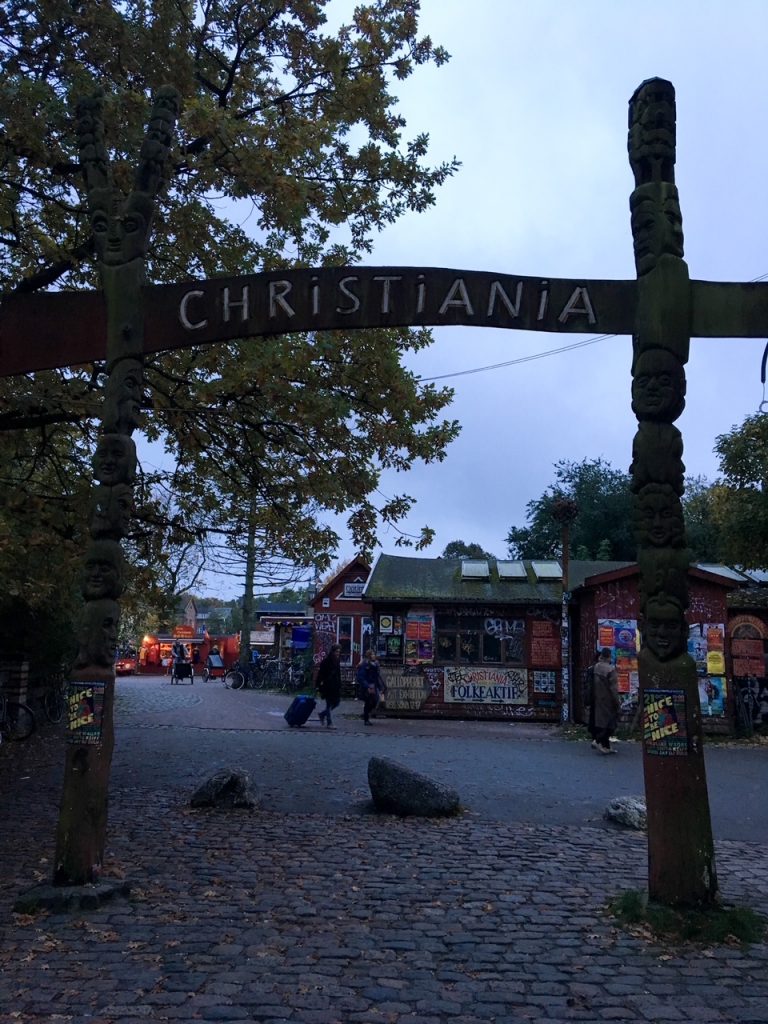 Today, many of the original inhabitants still live in the collectively controlled village, flaunting self-made, unique, artistic homes with a seventies feel. There are also many eco-friendly restaurants, art galleries, music venues and even a schoolhouse.
A Broad Recommendation: Since drugs are consumed and sold freely here, and the area around Pusher Street is controlled by organized criminal groups, you should NOT take photos here (other than at the entrance). We heard some scary stories about folks being threatened or having their phones smashed. You also shouldn't run or talk on the phone here; we personally chose to leave our phones in our purses during our visit.
Given that it was already getting late, we chose to explore quickly on our own, though we heard there are guided tour options. We only stayed for around twenty minutes for fear of the sun setting and being alone inside after dark.
Reminisce About Papirøen
We ended our action-packed day at Papirøen, otherwise known as Paper Island, which is sadly no longer open (it was in the process of shutting down shortly after our visit back in 2017). The building formerly hosted lots of food trucks, with indoor and outdoor seating options and live music. The place had a wonderful vibe, and we were able to pick from an assortment of food and drink options.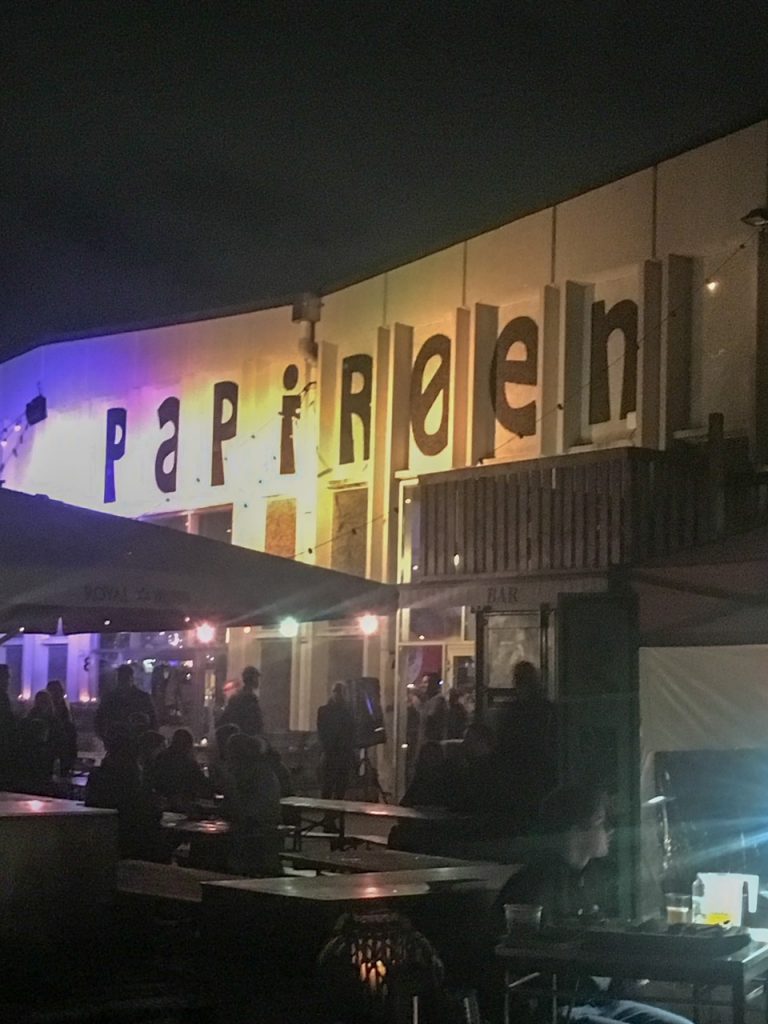 The view from Papirøen on our walk back to Nyhavn was so charming. Unfortunately, we both had iPhone 4s's at the time and couldn't really capture its awe; this photo was our best attempt!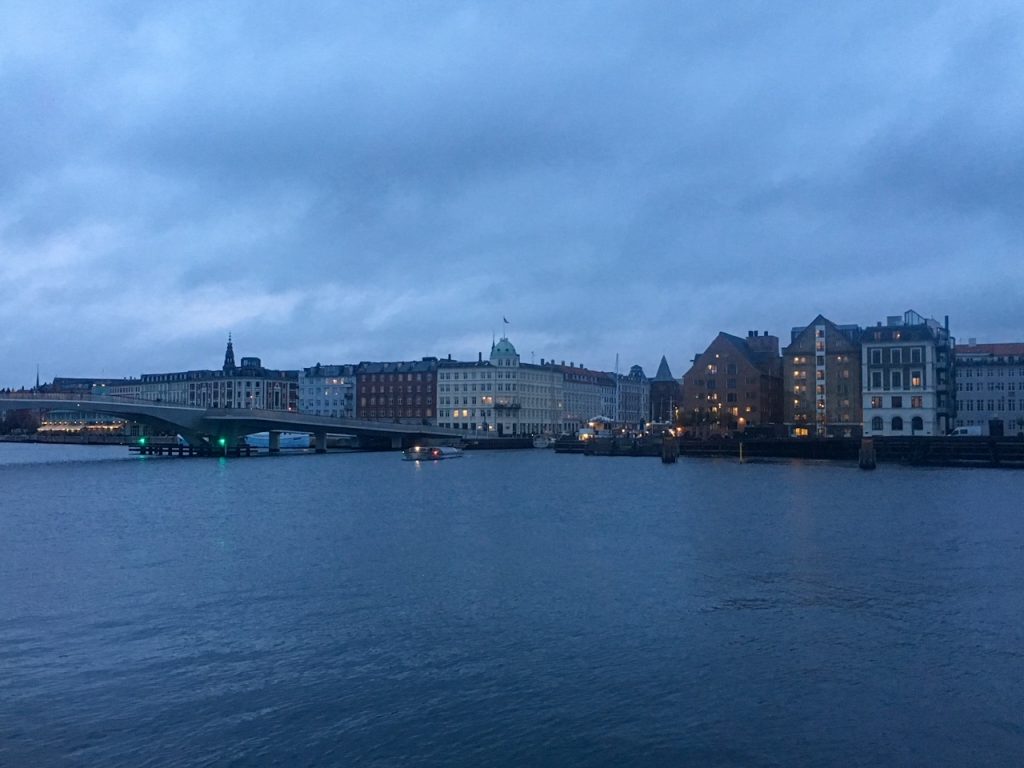 Day 3: Visit a Brewery & Do Some Shopping
Enjoy Breakfast at Cafe G
The next morning, we grabbed breakfast at Cafe G, which had a warm, welcoming vibe and tasty breakfast and sweets options.
Take in Breathtaking Views of the City at The Round Tower
After breakfast, we kicked off our overcast morning with 360 degree views of Copenhagen from Rundetaarn, i.e. The Round Tower.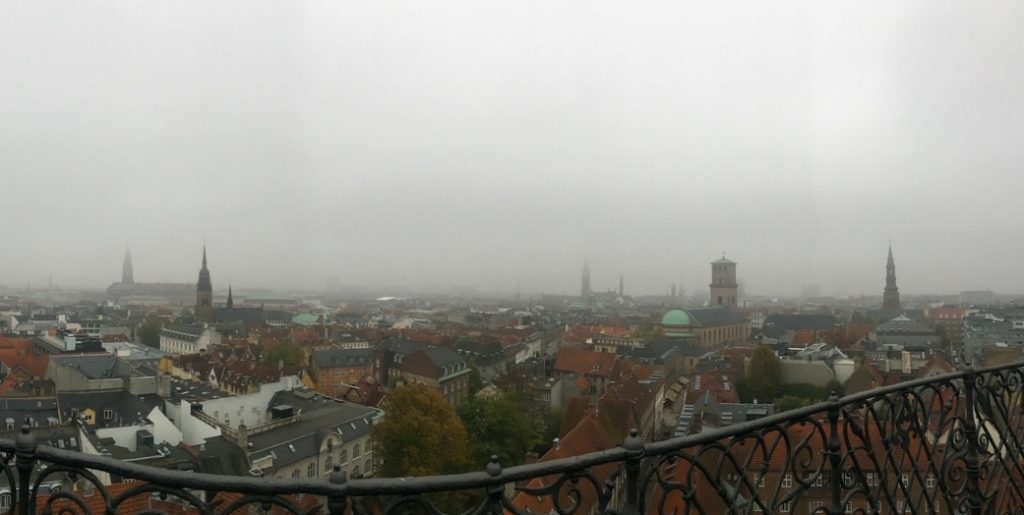 Built by King Christian IV as part of the Trinity Complex – the observatory at the top of the tower, the Trinity Church and the University Library above the church – the Round Tower was completed in 1642 and has remained a major tourist attraction of Copenhagen, Denmark throughout time.
As we climbed up the Spiral Ramp, we passed by the planetarium. And, when we reached the top, we saw the oldest functioning observatory in all of Europe.
Note: the spiral ramp is the only way up to the top of the tower, the Library Hall and the Bell Loft, so be prepared to exert some energy and maybe get a little dizzy in the process.
Although it was somewhat hard to see, the views from the top were still incredible. I mean, can you imagine what it would look like on a clear day?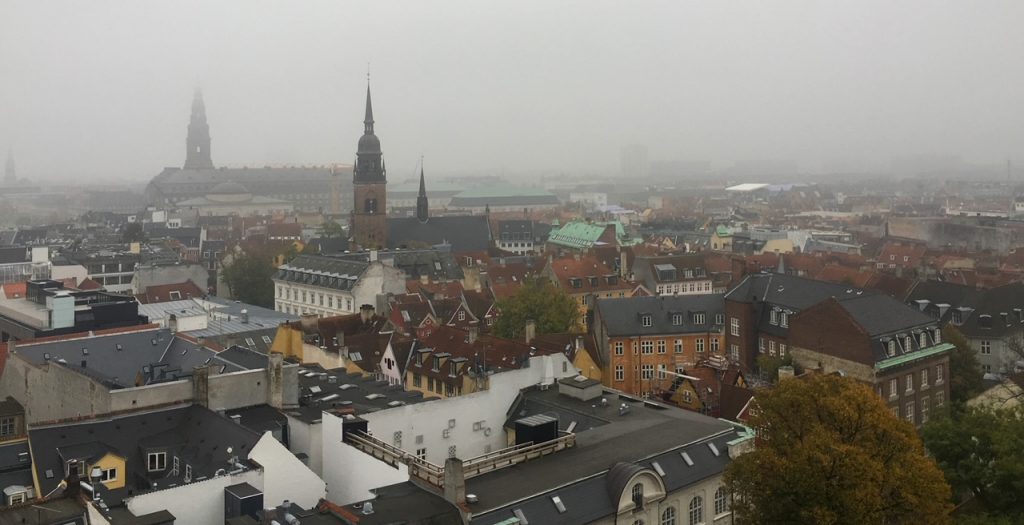 On our way down, we stopped at one of the open recesses in the Spiral Ramp where you can step onto the glass floor and look down into the depths of the Round Tower's hollow core. We also stopped at the Library Hall to admire an art exhibit and to pop into the gift shop. There was also a cute café here!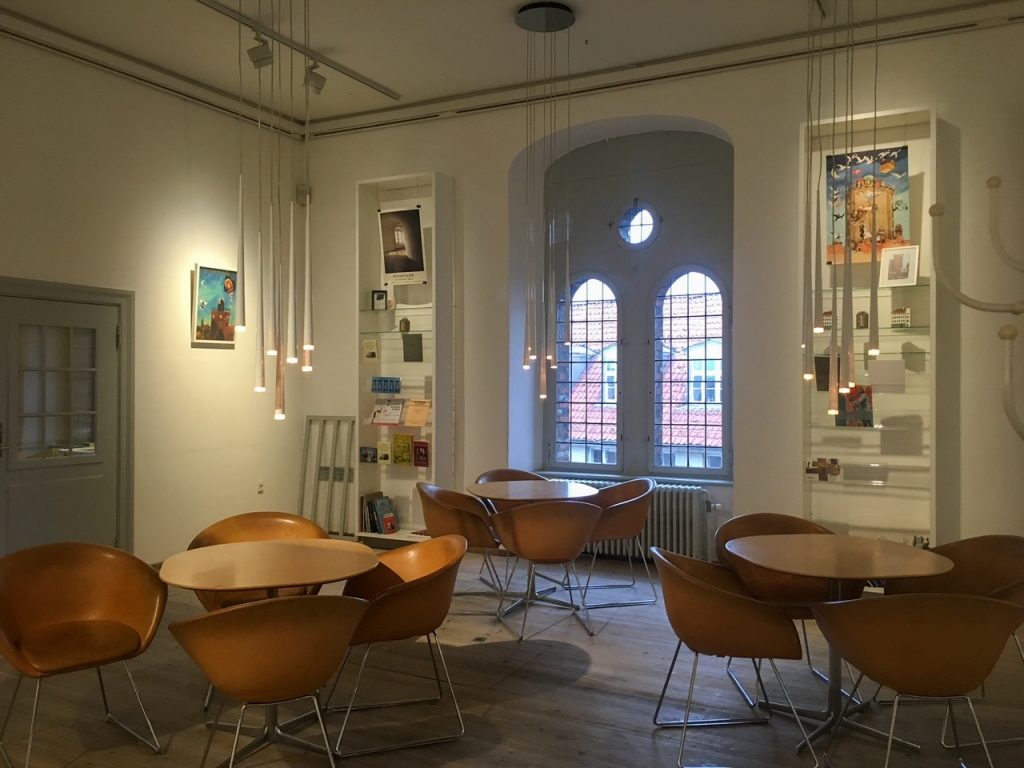 The cost to visit Rundetaarn is 40 DKK (~$6 USD) for adults. We didn't end up paying though, since we opted in for the Copenhagen Card; check out our Denmark: A-Broad Overview for more information on the benefits of purchasing one of these.
The Church of Our Saviour is a great alternative if you're looking for epic city views. The price and views are comparable, but you'll have to climb 400 steps to get to the top.
Spend the Afternoon at Carlsberg Brewery
We'd really wanted to visit Carlsberg Brewery during our time in Copenhagen, Denmark. Situated just about twenty minutes from where we were staying in Østerbro, the brewery was founded in 1847 by J. C. Jacobsen and has become the fourth largest brewery in the world. It's a global brewer of its flagship brand, Carlsberg, among its other brands, Tuborg, Kronenbourg, Somersby, Baltika, Grimsbergen, and more than 500 local beers.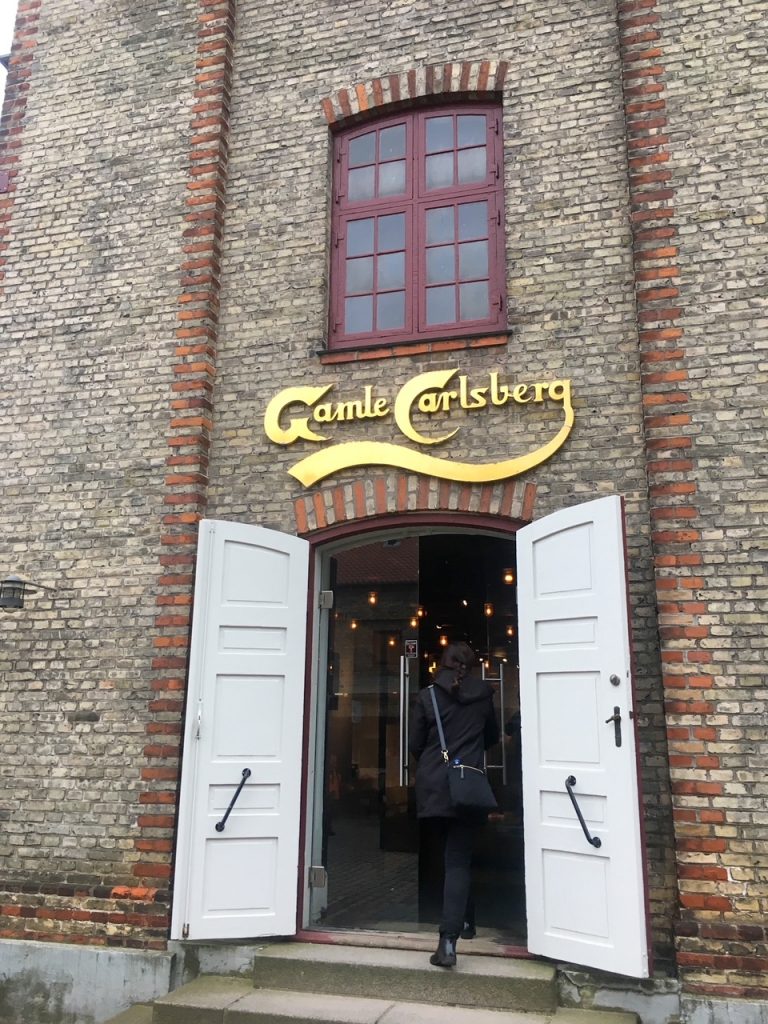 Here, we took a self-guided tour and observed the brewing process. One of the first exhibits we saw housed thousands of old beer bottles, lined up perfectly in rows. We saw beer bottles throughout time, some of which had some eerie symbols and branding and reflected the history of Copenhagen and Denmark.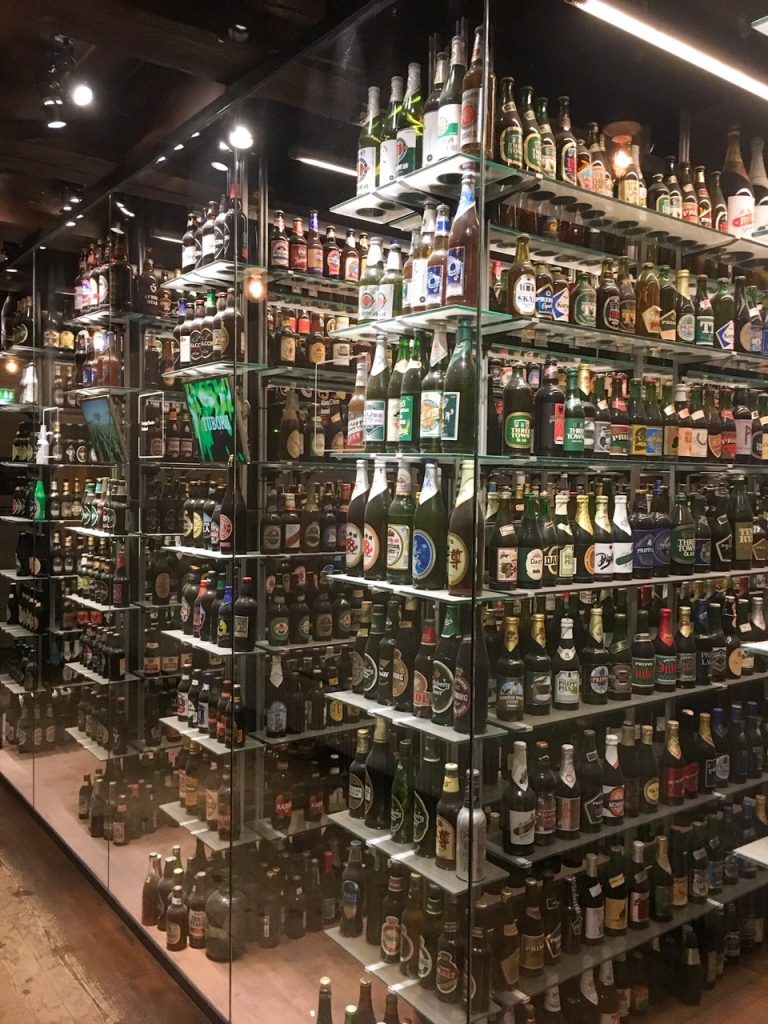 After the tour, we did a beer/cider tasting, which we both really enjoyed. I mean, who doesn't enjoy great conversation over a couple of drinks?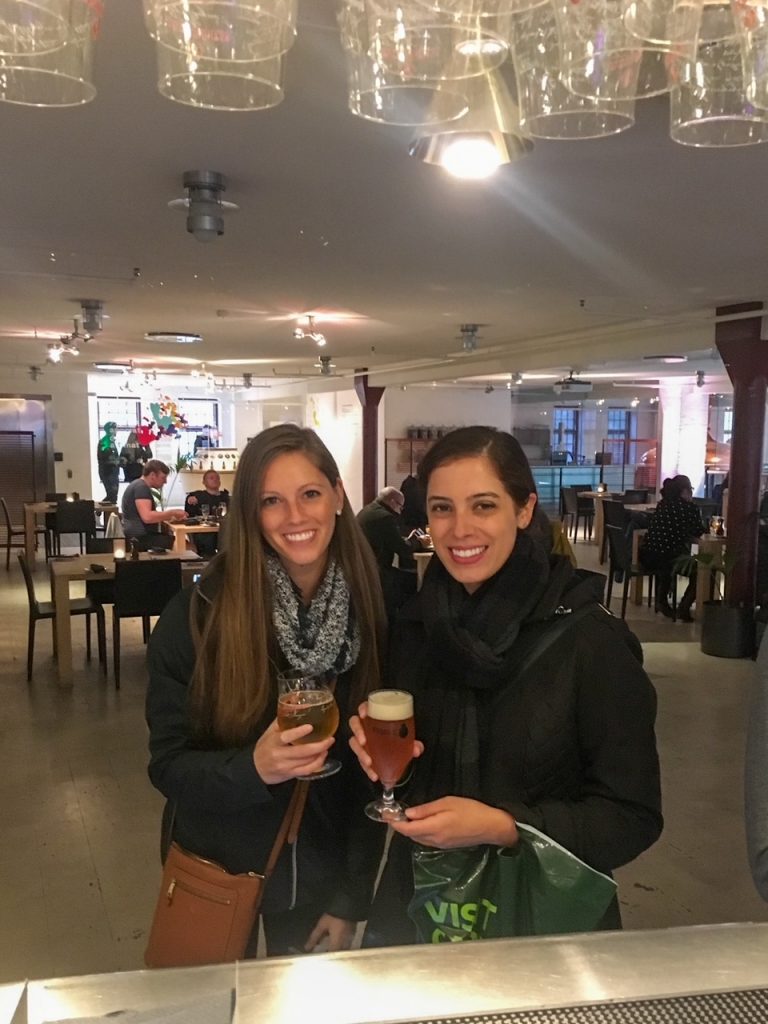 We stopped at the gift shop for some souvenirs before heading outside for a super fun carriage ride. We rounded out the afternoon with horses, Otto and Luisa, who basically became our new best friends; sorry, we don't remember our driver's name – whoops!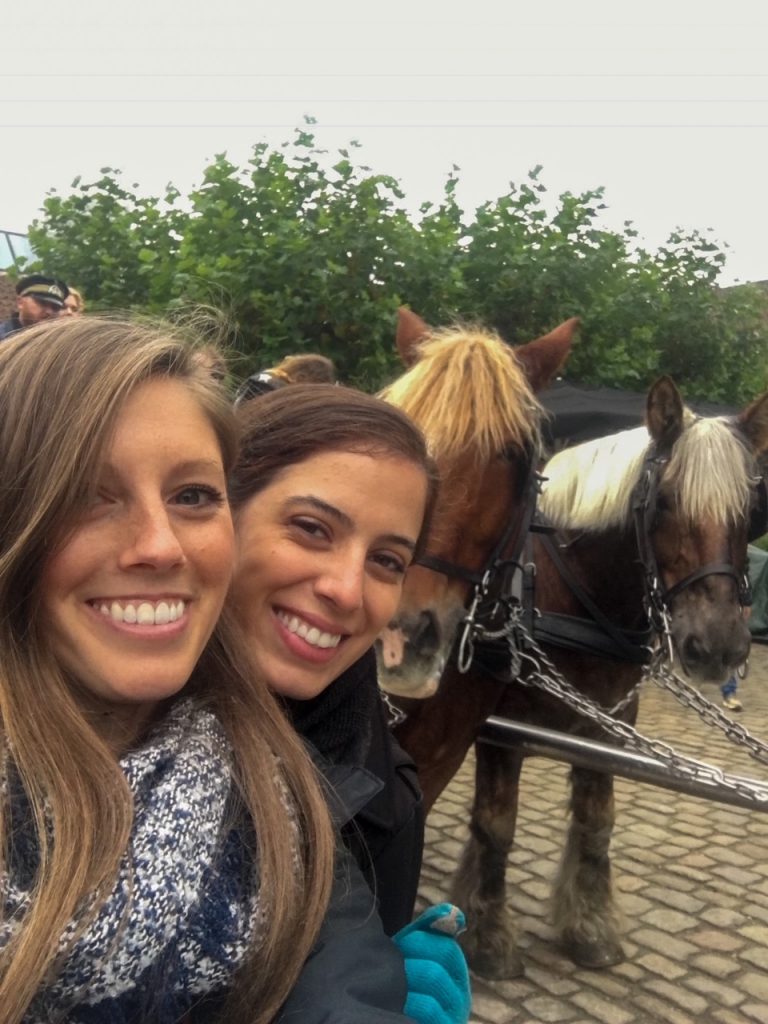 We couldn't stop laughing, as we bumped around on the cobblestone streets and attempted to take at least one respectable selfie. This is the best we could come up with!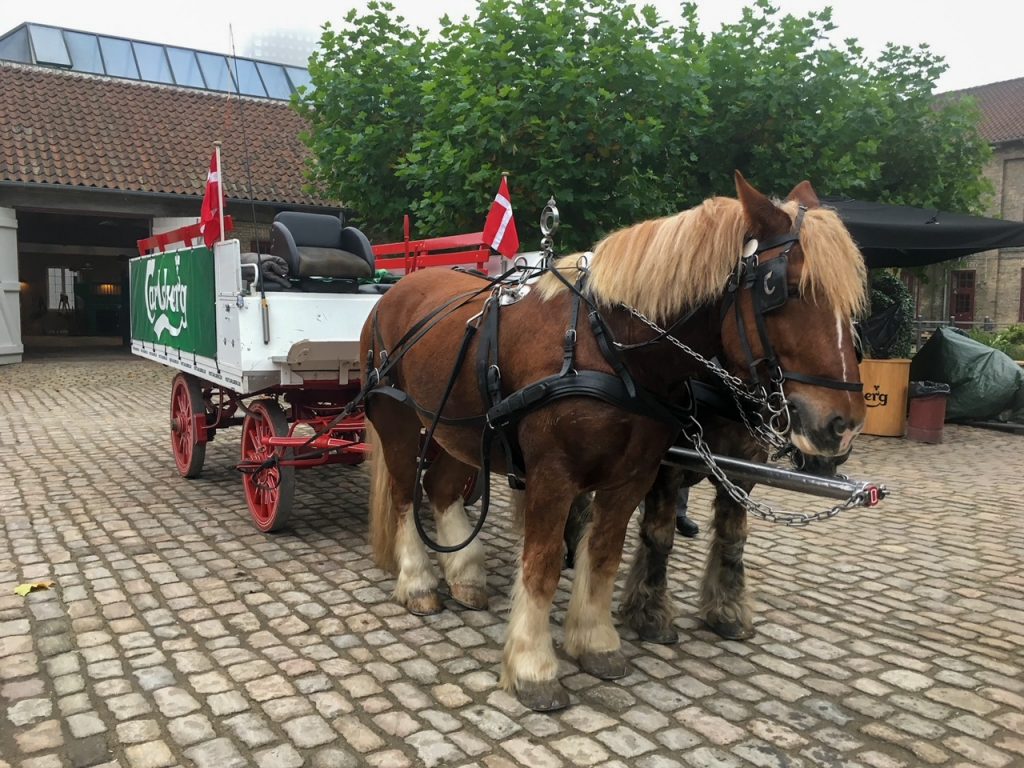 Stroll Along Strøget & Shop for Souvenirs
After an endearing visit to Carlsberg, we made our way back into town and to Strøget, one of the longest car-free, pedestrian shopping streets in all of Europe. Strøget hosts various shops, boutiques, department stores, cafes and restaurants. During summertime, there are food trucks and live music – too bad we didn't get to experience that!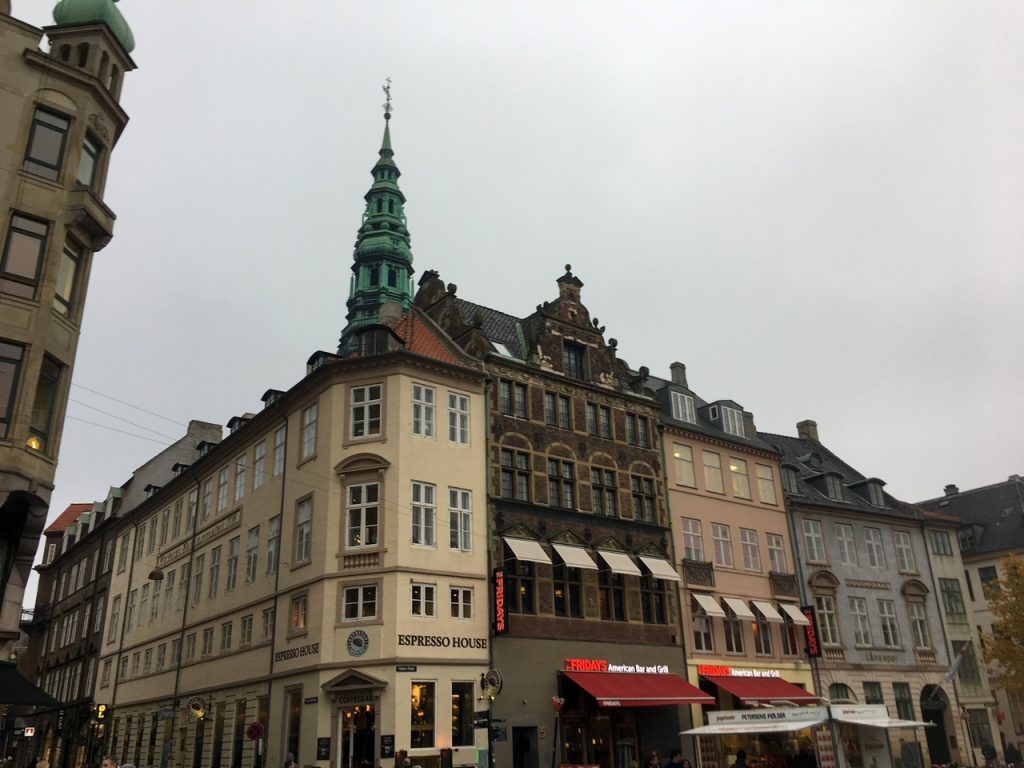 We searched for some souvenirs and treats, which we totally loaded up on, before heading on to our last excursion of the day. I always try to find a piece of jewelry and/or a Christmas ornament everywhere I go as a way to remember my travels and to bring different pieces of the world back home with me. In this case, I picked some emerald earrings that I still love and wear today.
A Broad Recommendation: check out some of the side streets in Strøget for cheaper souvenirs, as many of these will have better deals than the pricier shops along the main streets.
Revisit Christiansborg Palace and Go Inside
We ended our day back at Christiansborg Palace, which houses the Danish Parliament, the Supreme Court and the Ministry of State. Although still used by the Royal Family at times throughout the year, some areas are open to the public. Among those are the Royal Representation rooms (the Knights' Hall and the Queen's tapestries included), the Royal Stables, the Royal Party Kitchen, the ruins and the Christiansborg Castle Church.
Admission prices vary depending on which area you would like to visit, ranging from 60-95 DKK (~$9-15 USD) each, or you can get a combined ticket for around 160 DKK (~$25 USD). Luckily, we had the Copenhagen Card, so we were able to explore free of charge.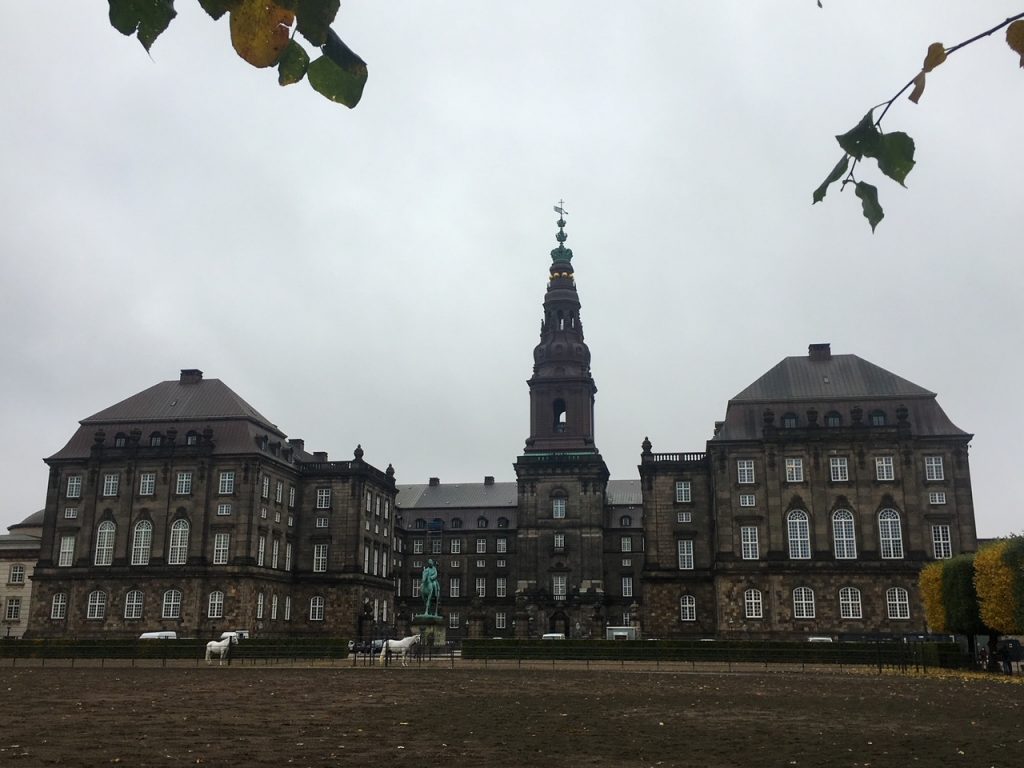 Since two of the prior castles burned down, Christiansborg Palace, as it appears today, has stood only since 1928. It was home to many kings and queens for centuries before then and was named after King Christian 6.
King Christian 6 demolished Copenhagen Castle and built the first Christiansborg Palace in 1740, only to have it burn down a mere fifty years later. The equestrian facility survived the fire, and even to this day, it still houses the royal horses.
Just under a century later, the castle burned for the second time, only leaving the Castle Church behind (in addition to the equestrian facility).
First, we visited the Royal Party Kitchen, which boasts one of Europe's largest collections of copper cookware and was once used for large royal gatherings.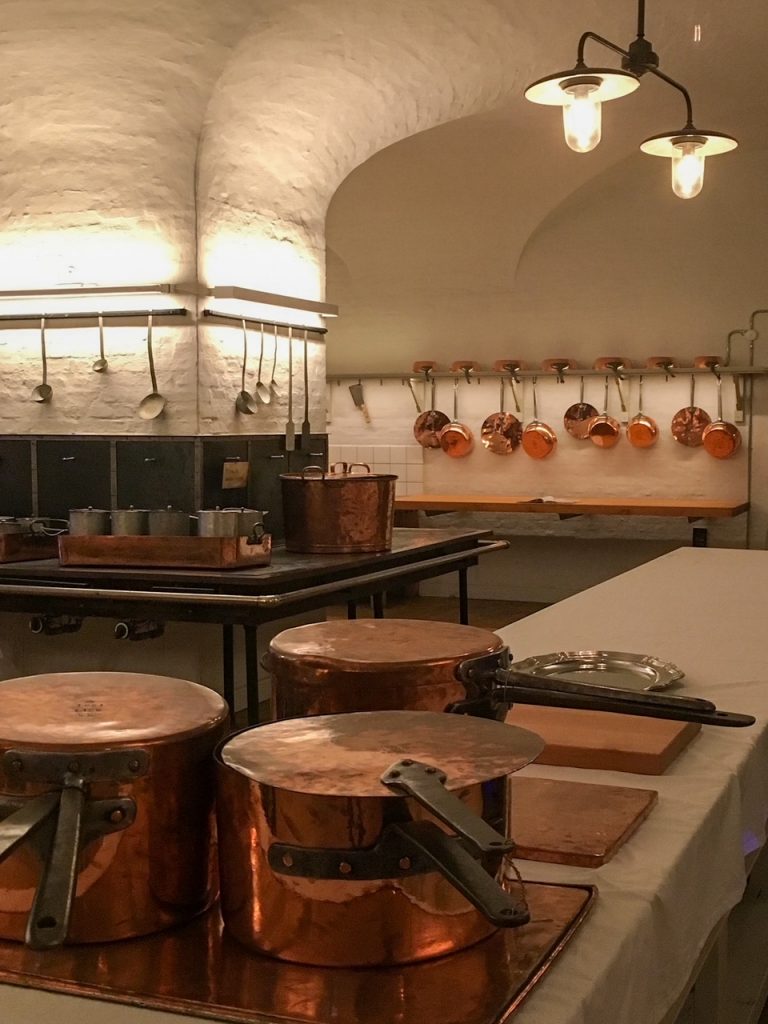 Then, we were given little booties to cover our feet, as we made our way through the Royal Reception Rooms.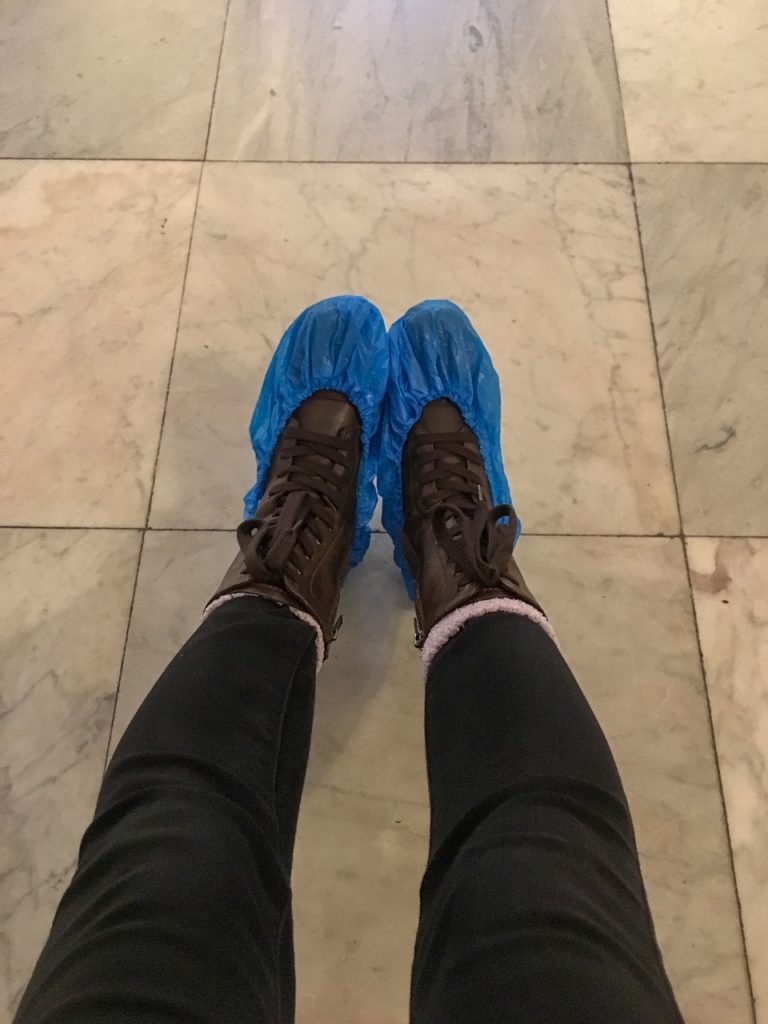 The Throne Room is where the Queen receives kings, presidents and ambassadors during state visits, galas and banquets. Although she doesn't use the thrones, they remain as a tribute to the absolute monarchy that ran from 1660 to 1848. Luckily, they survived the 1884 fire.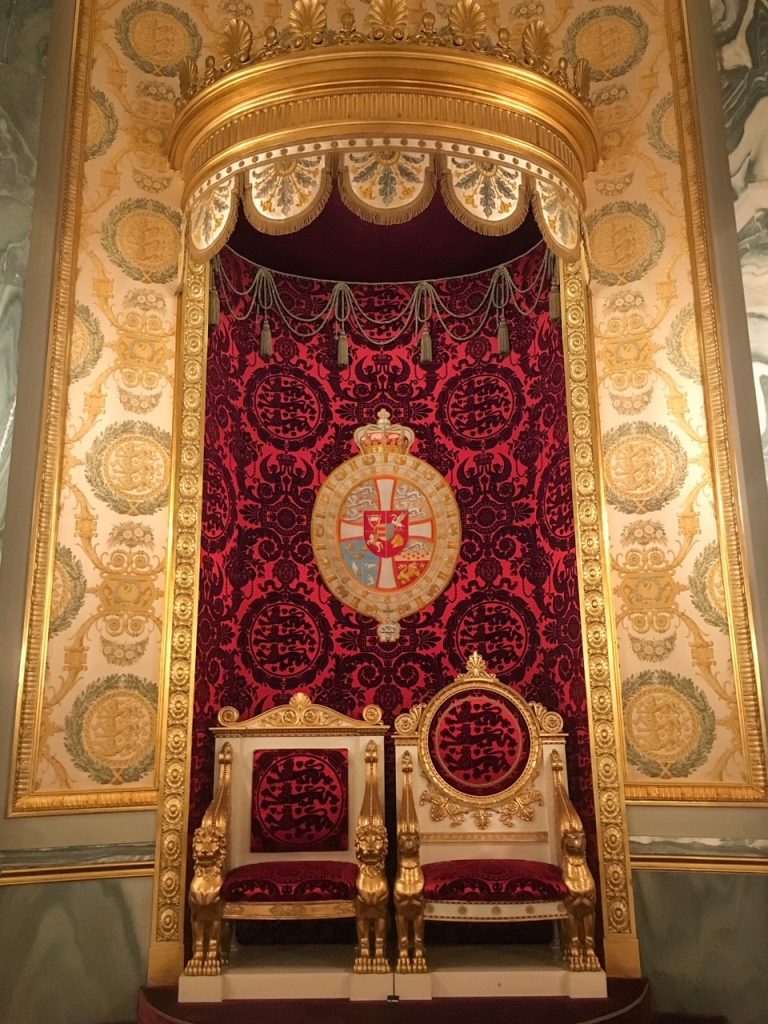 The Queen's Library houses the Royal Family's private collection, starting in the mid-1700s. Ten percent of the Queen's collection sits here, while the rest of her collection remains at Amalienborg Palace.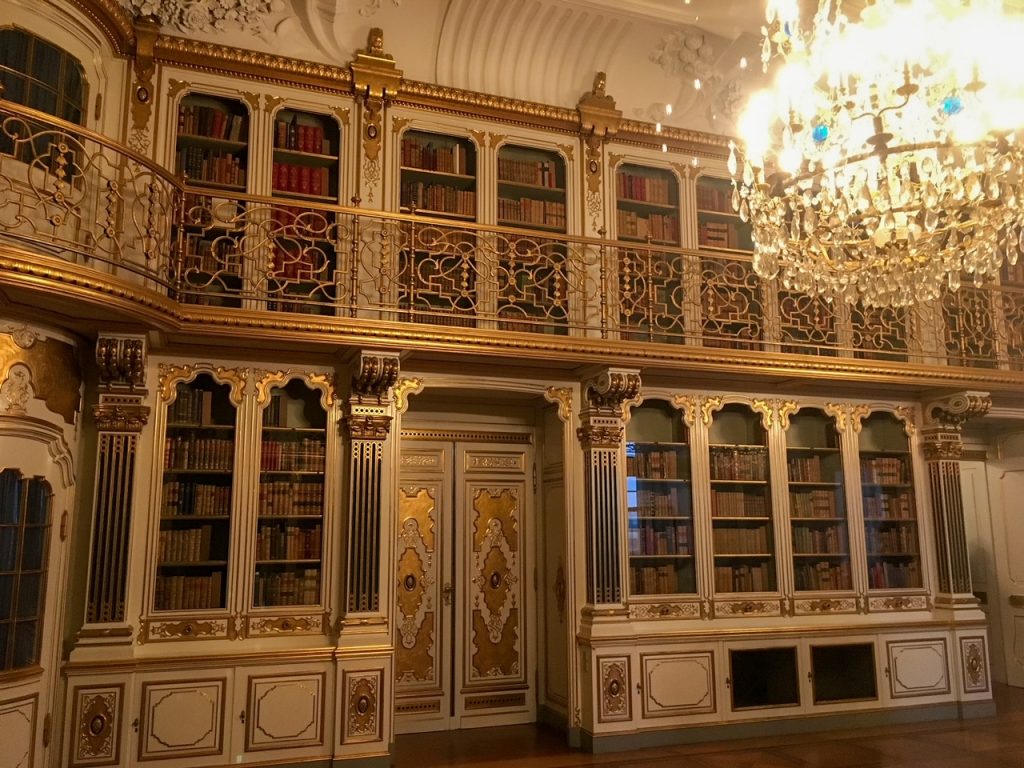 The incredible Great Hall is the "heart of the palace". This is where the Queen hosts her gala dinners, banquets and state visits; it also serves as a ballroom. Colorful tapestries cover the walls and glass chandeliers line the ceilings – it's quite a sight!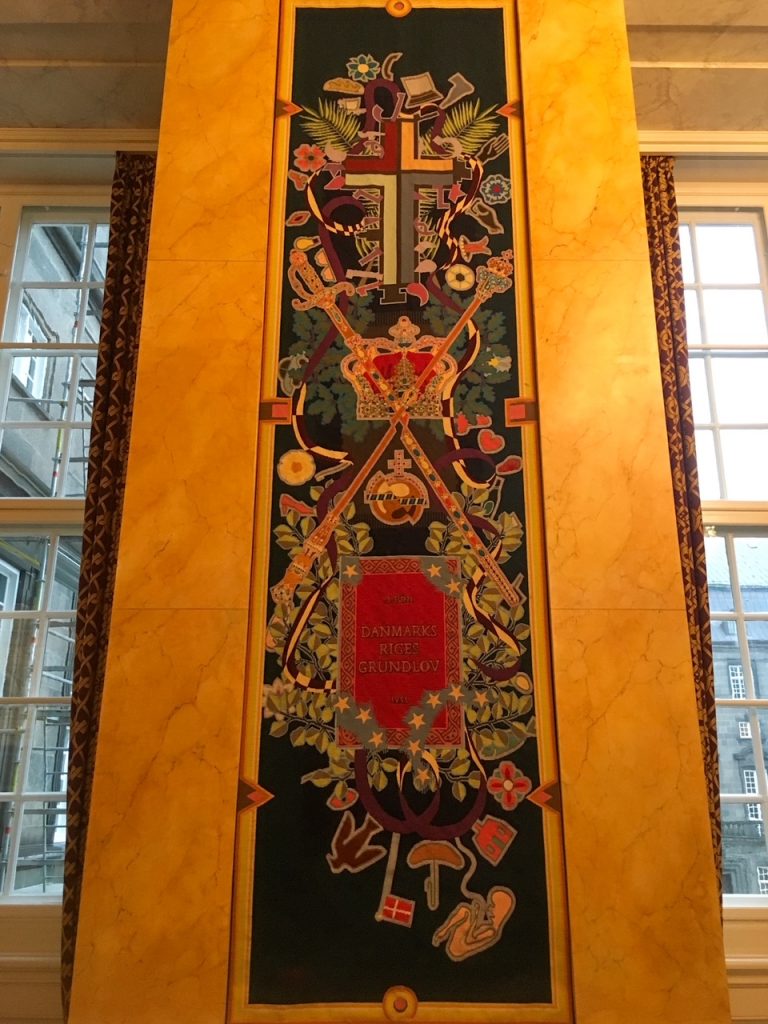 Finally, we made our way to the ruins under the castle. To be honest, I thought this was creepy, especially with it being late in the day and the exhibits starting to close. We didn't have much time to explore and definitely didn't want to get stuck down here!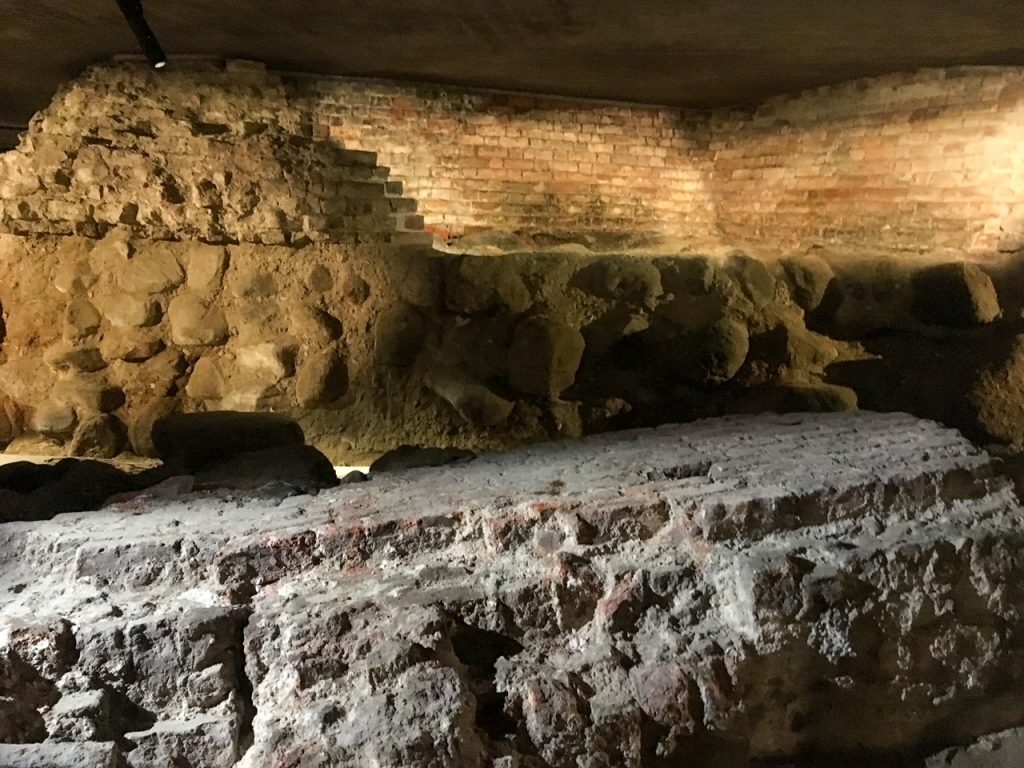 The largest and oldest ruin is the ring wall from the Bishop Absalon's 12th century castle. It was once used to protect the castle and was decorated with severed pirate heads to warn off intruders.
The other major ruin, which I don't believe we were able to see in our rush, is the foundation of the "Blue Tower". The largest tower of the Copenhagen Castle, the "Blue Tower", imprisoned political criminals, to include Christian 4's daughter, Leonora Christine, who spent nearly twenty-two years there after her husband was convicted of treason.
A Broad Recommendation: the Danish Royal Palaces website has tons of history and other relevant information, including opening hours, locations and pricing, for not only the Christiansborg Palace but also for other palaces around Denmark. Check there to learn more and to plan your visit.
Dinner at Tacopop Taqueria
For dinner, we tried a hole in the wall place called Tacopop Taqueria; anyone who knows me knows that I love tacos and will try them anywhere in the world – even in places like Denmark that aren't really known for their tacos.
We sat inside and took our time before trudging back through the rain. Another fun-filled day was in the books, and we just had one day left of exploring before our time in Copenhagen, Denmark was to come to a close.
Day 4: Castle Hopping
Walk Through the Botanical Garden
On the last full day of our trip, we decided to check out the Botanical Garden. We arrived right when it opened, and there were no crowds – such a nice way to start the day!
Located in the center of Copenhagen, the garden covers almost 25 acres and is home to more than 13,000 plant species. It's most well-known for its historical glasshouses dating all the way back to 1874. The old Palm House (pictured here) is the most notable of the twenty-seven glasshouses on premises.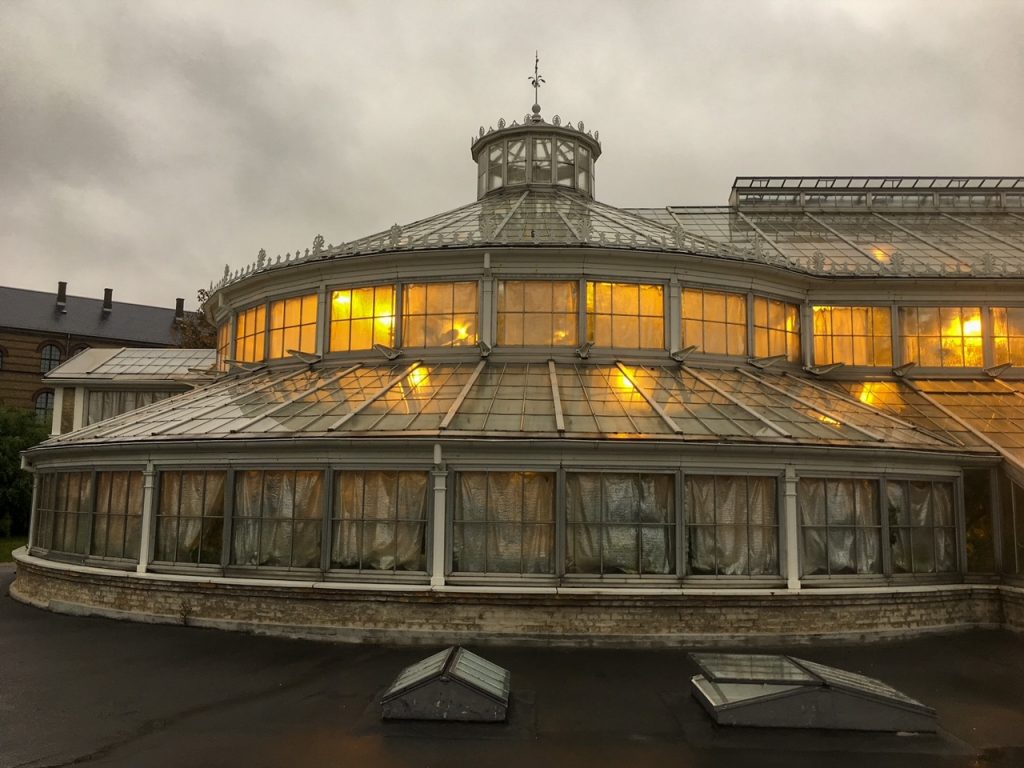 Although guided tours are available (not sure if these are free or not), we just walked through by ourselves. It was free to enter. The Butterfly House, which opened the year after our trip, takes visitors throughout the summer, and there's a café onsite.
Take a Tour of Rosenborg Slot
We decided to head to Starbucks for a quick breakfast, then made our way to Rosenborg Slot. If you're using your Copenhagen Card, you'll still need to visit the ticket office when you arrive.
A Broad Recommendation: You can only bring a small bag into the castle, but there are lockers on site; you'll need a 20 kroner coin to use one, and it'll be returned when you pick up your belongings. The Kongernes Samling Rosenberg website has pricing, discounts and other important information.
Due to the old-fashioned nature of the medieval Copenhagen Castle, a young Christian IV desired a residence more fitting of his style and character. Over the course of nearly thirty years beginning in the early 1600s, he created a small summer palace, i.e. the "pleasure palace", which transformed through several phases into the castle that stands today.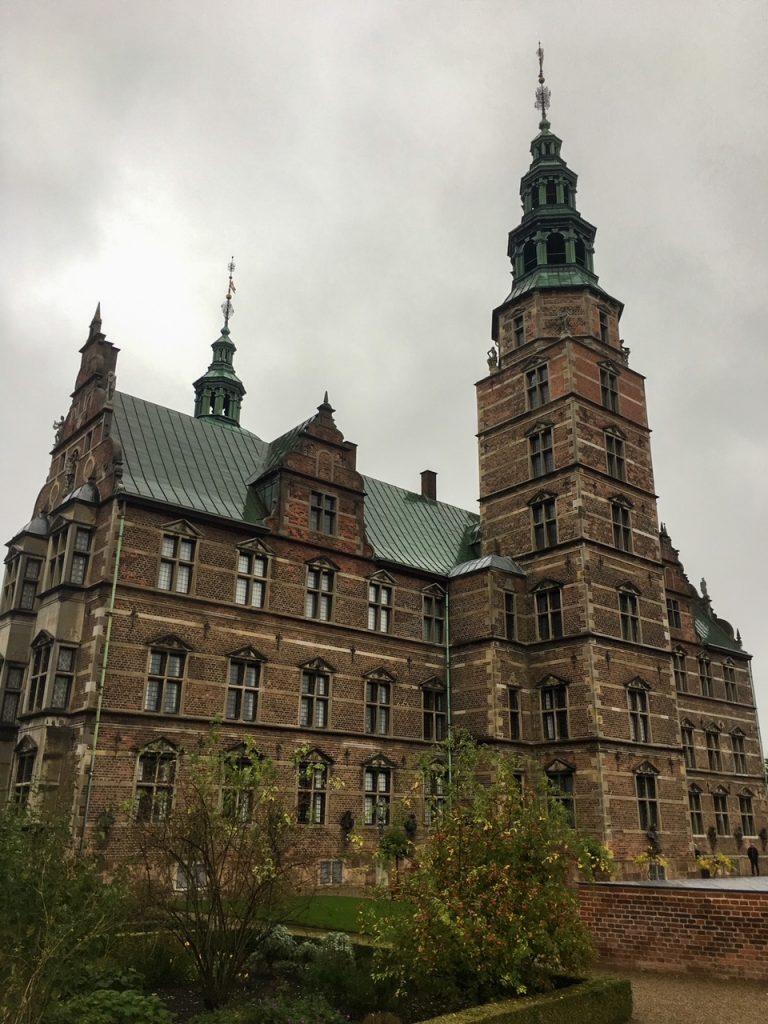 Being his favorite castle, Christian IV decided he would like to die here and ultimately passed away in his bed chamber.
The castle has a Dutch Renaissance style. It served as a royal residence until roughly 1710 with the exception of two occasions – the fire at Christiansborg Palace in 1794 and the English attack on Copenhagen in 1801.
The interiors are unique and well-preserved. This includes twelve tapestries displayed in the Great Hall that Christian V had woven to showcase his victories during the Scanian War.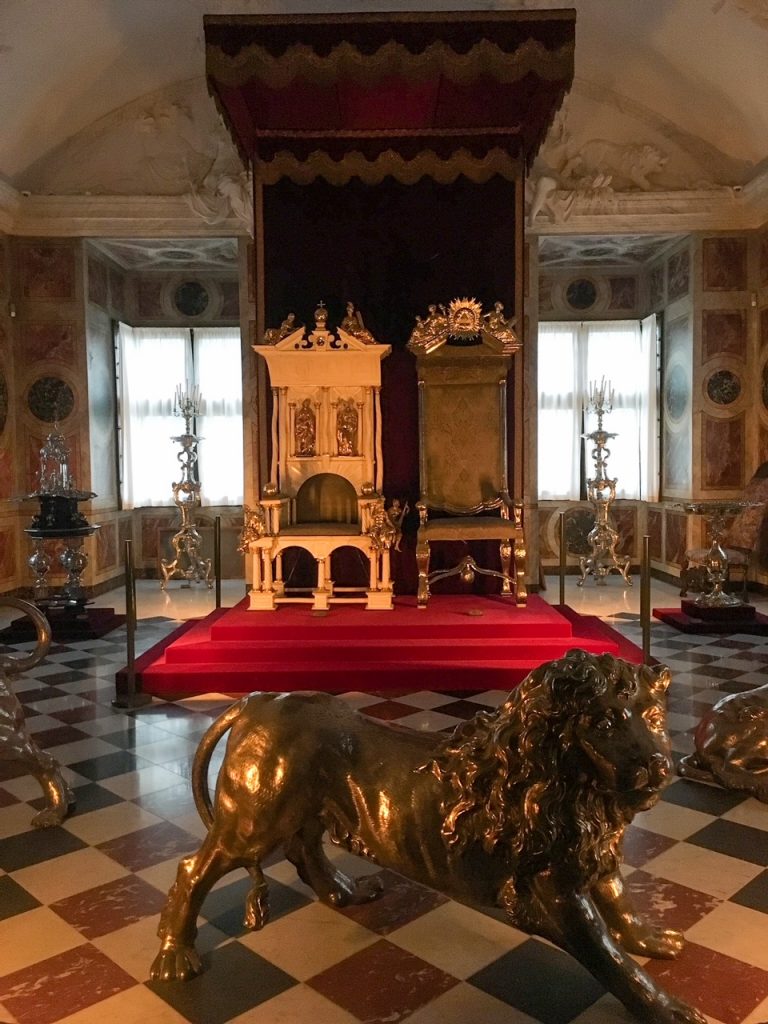 We were able to walk through rooms of retired jewelry, precious stones, and crowns, which were awe-inspiring.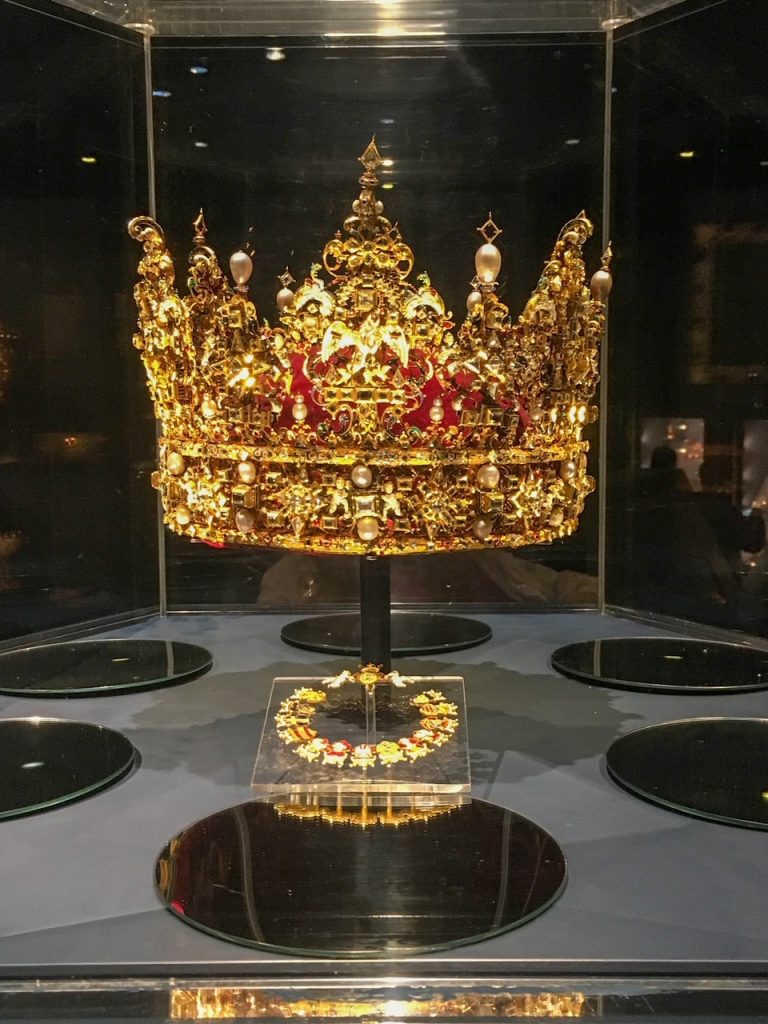 Visit Kronborg Castle
Next, we took a forty-five minute train ride from Copenhagen's central station to Helsingør, a port city in eastern Denmark that overlooks the Øresund strait. From here, we walked close to fifteen minutes to the UNESCO World Heritage Site, Kronborg Castle.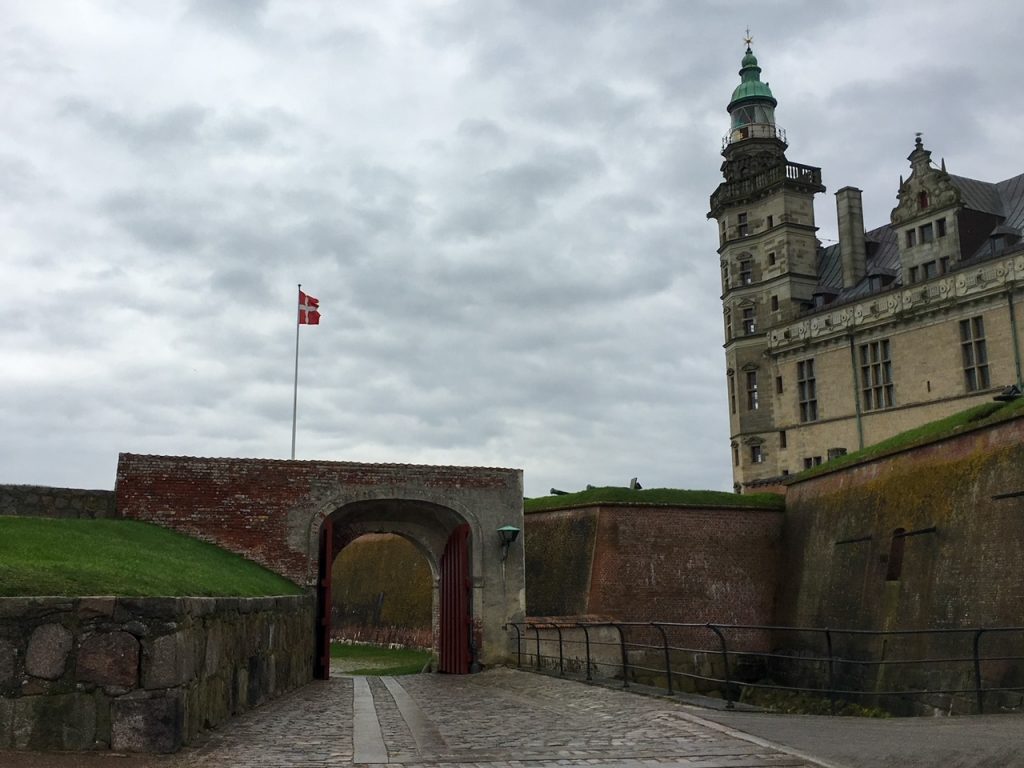 Kronborg Castle is the most famous Danish castle, known worldwide as the castle of Shakespeare's Hamlet. Hamlet's spirit is still alive in Kronborg, and in the summer you can experience scenes from the play performed on the open-air stage in the courtyard. Unfortunately, since we were there in October, we didn't get to see this.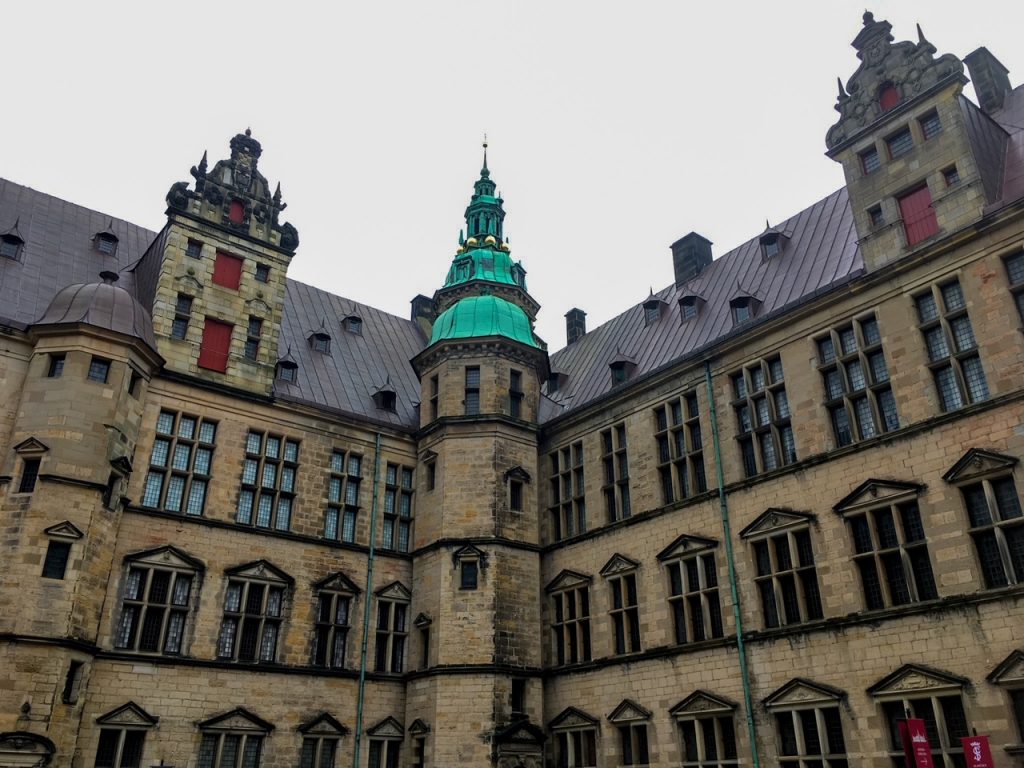 The "Sound Dues" required all foreign ships passing through the Øresund strait, regardless of departure location or destination, to pay a toll to the King. These dues ended up making up around two thirds of Denmark's state income in the 16th and 17th centuries, and if anyone refused to stop and pay, Helsingør and Helsingborg could use cannons to open fire and sink the ship.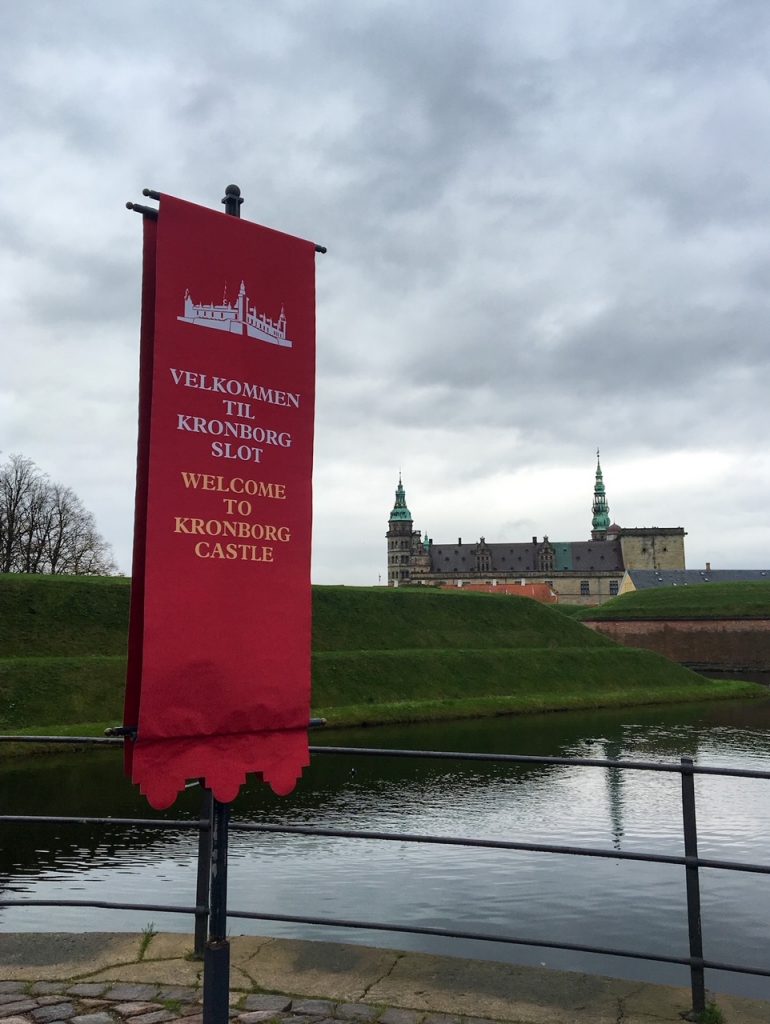 The towers, columns, sandstone and copper roof were thus affordable during this time, and Kronborg Castle became one of the most majestic castles of the Renaissance period, known to most sailors, merchants, diplomats and aristocrats of the time.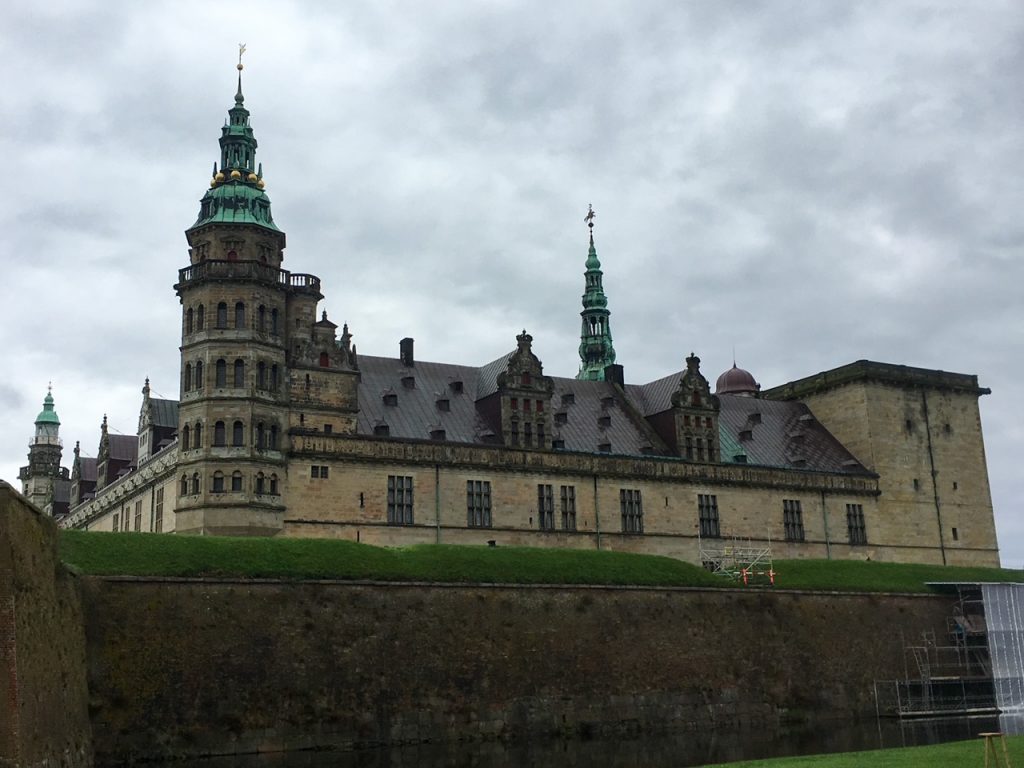 Naturally, a fire destroyed most of the castle's furniture and paintings, as well as its copper roof in the mid-1600s; I say "naturally" because of Copenhagen's unfortunate track record of catching fire throughout its history. The lavish court life and the castle's fortune disappeared, and the castle was re-purposed as a fortress and barracks for the Danish army.
We were able to go inside and climb to the top where we took in these breathtaking views.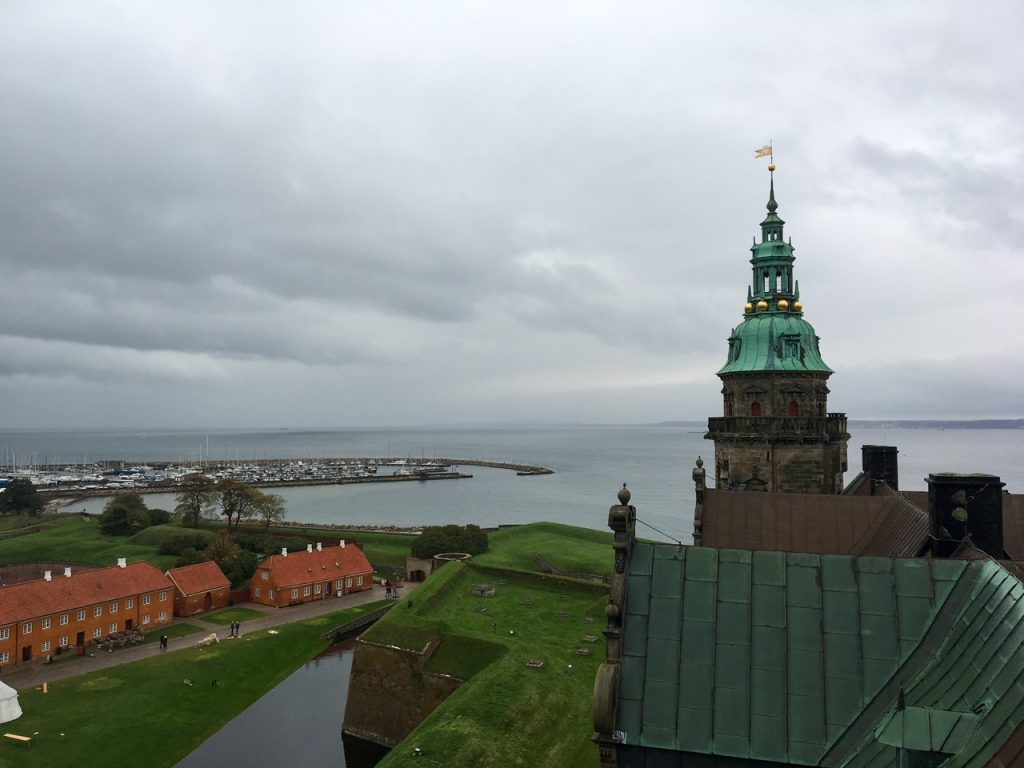 We stopped at a café for snacks, then walked around the cute town for a bit before making our way back to Central Copenhagen.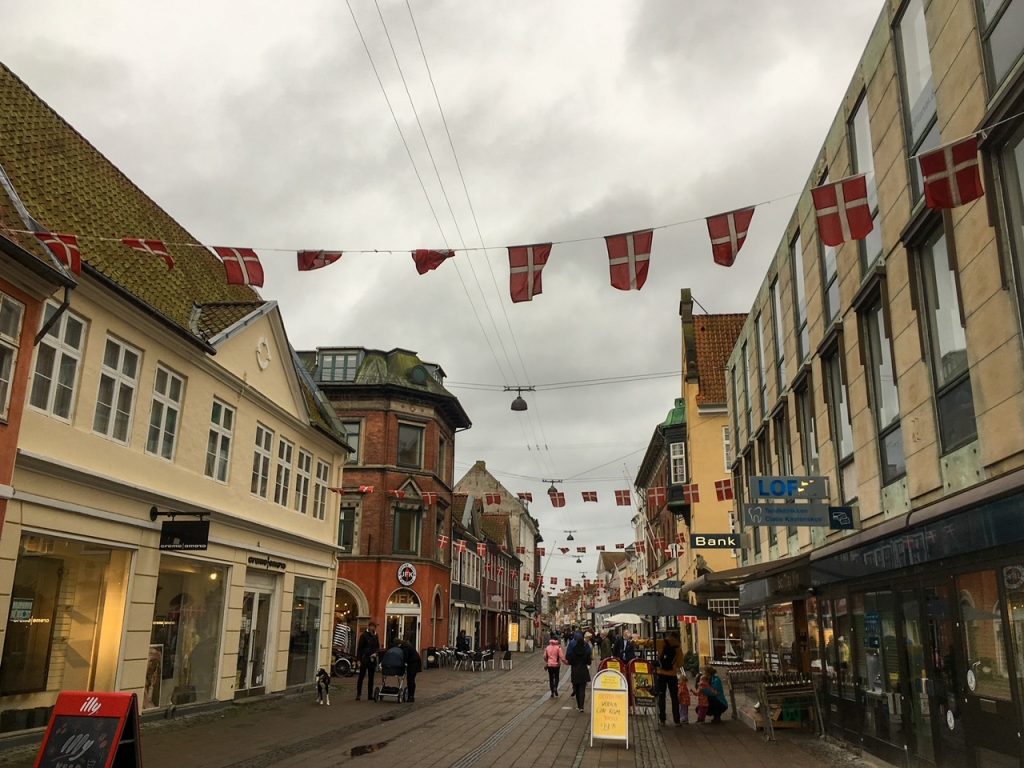 Experience Halloween at Tivoli Gardens
One thing I really wanted to do was to visit Tivoli Gardens. Tivoli opened in 1843 and is the second oldest operating amusement park in the whole world. How neat! This is a must-see for any visit to Copenhagen.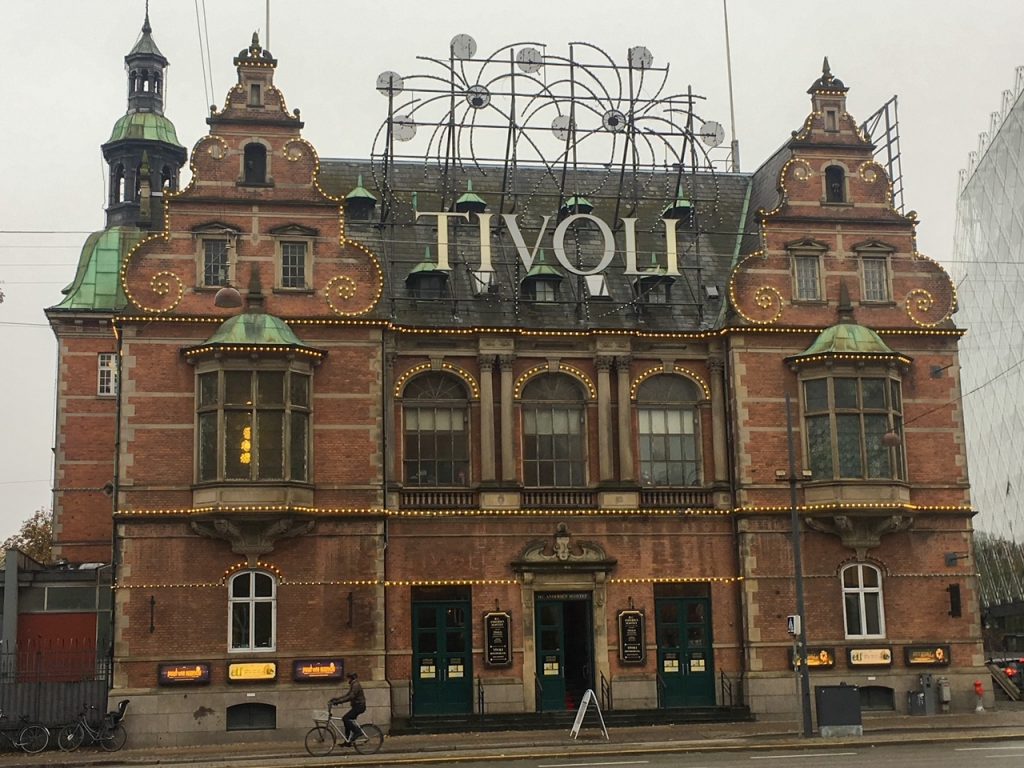 The park is home to Rutschebanen, one of the world's oldest operating wooden roller coasters. There's also a Concert Hall and Pantomime Theater, and restaurants and snack/drink stalls throughout the park. It's also believed that Tivoli inspired one of Hans Christian Andersen's fairy tales.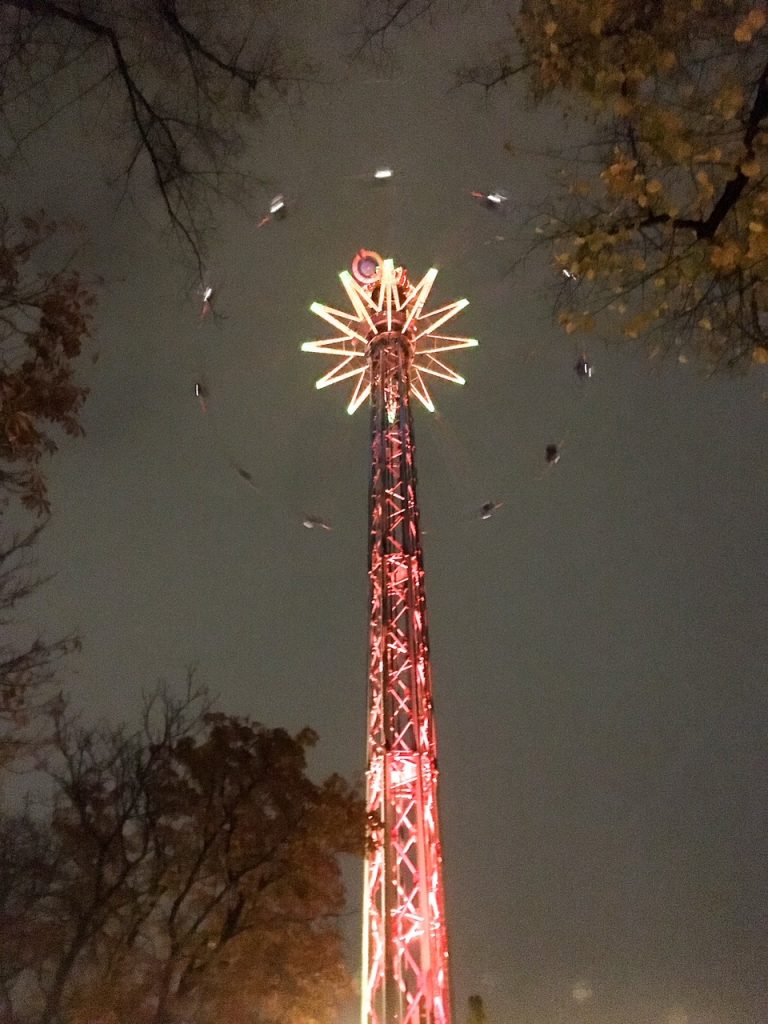 When Denmark was occupied during World War II, parts of Tivoli tragically – you guessed it – burned down. A group of Nazi supporters snuck in and left bombs in the Concert Hall, Glass Hall, Arena Theater, and other large spaces, devastating the park and leaving many injured. Luckily, the park was rebuilt and restored to its former glory.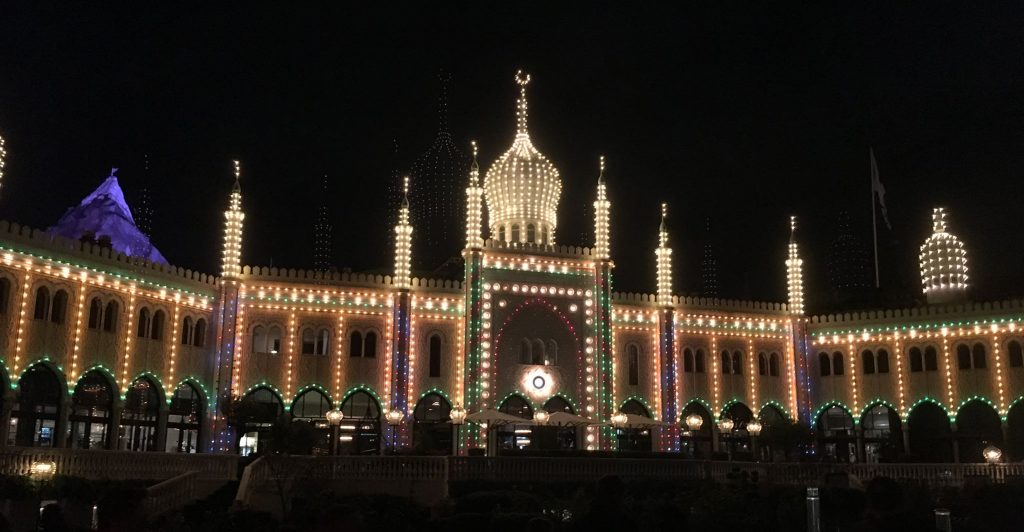 Tivoli's first Halloween celebration was in 2006 – lucky for us because we got to experience it for ourselves just a little more than ten years later! We arrived just as it was getting dark, and the entire park was decked out in Halloween decorations. Witches hung from the swing ride, and we saw lit-up pumpkins everywhere we turned.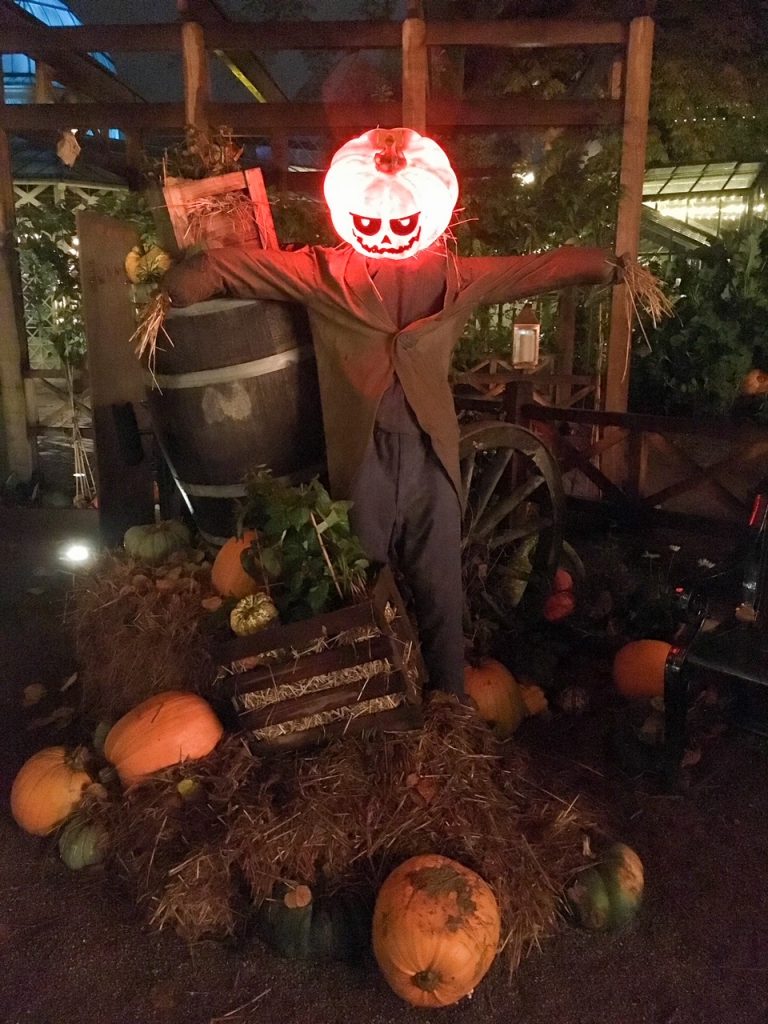 Tickets vary between 120-160 DKK (~$19-25 USD) depending on the season; note that admission pricing doesn't include rides. Unfortunately, we didn't go on any of the rides, so no suggestions for you there. We just ate dinner and drank some mulled wine as we walked through the park and watched one of the light shows. It was a fun experience even without riding the rides, though!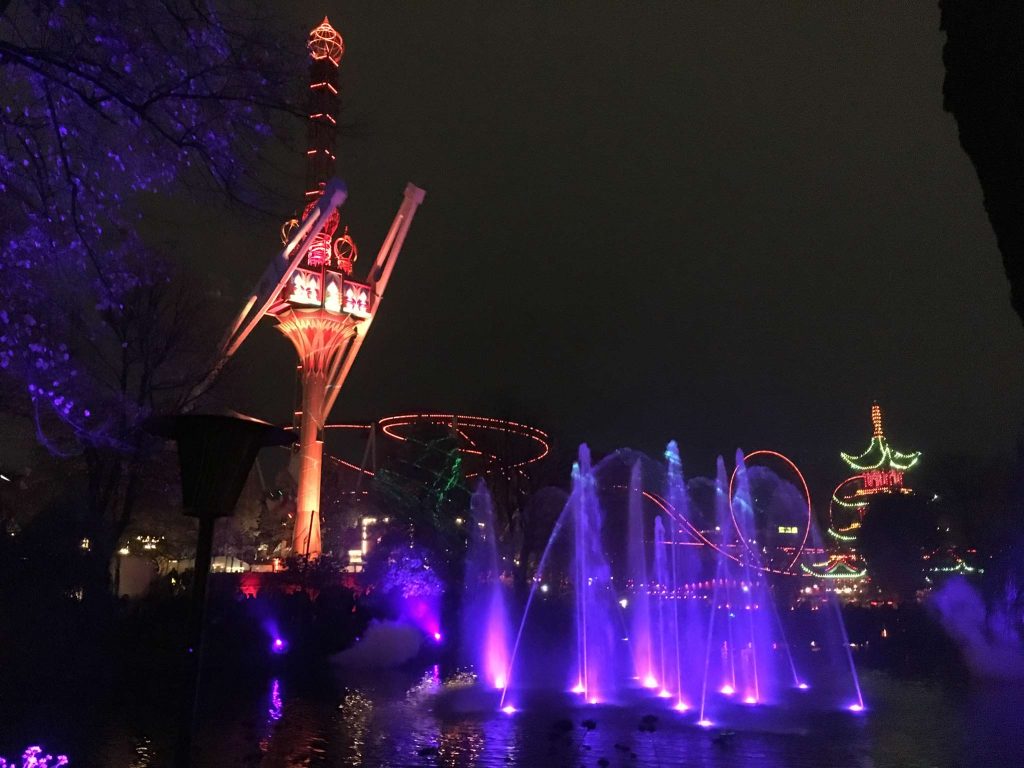 We came across this lit-up carriage over by the merry-go-round. So cute!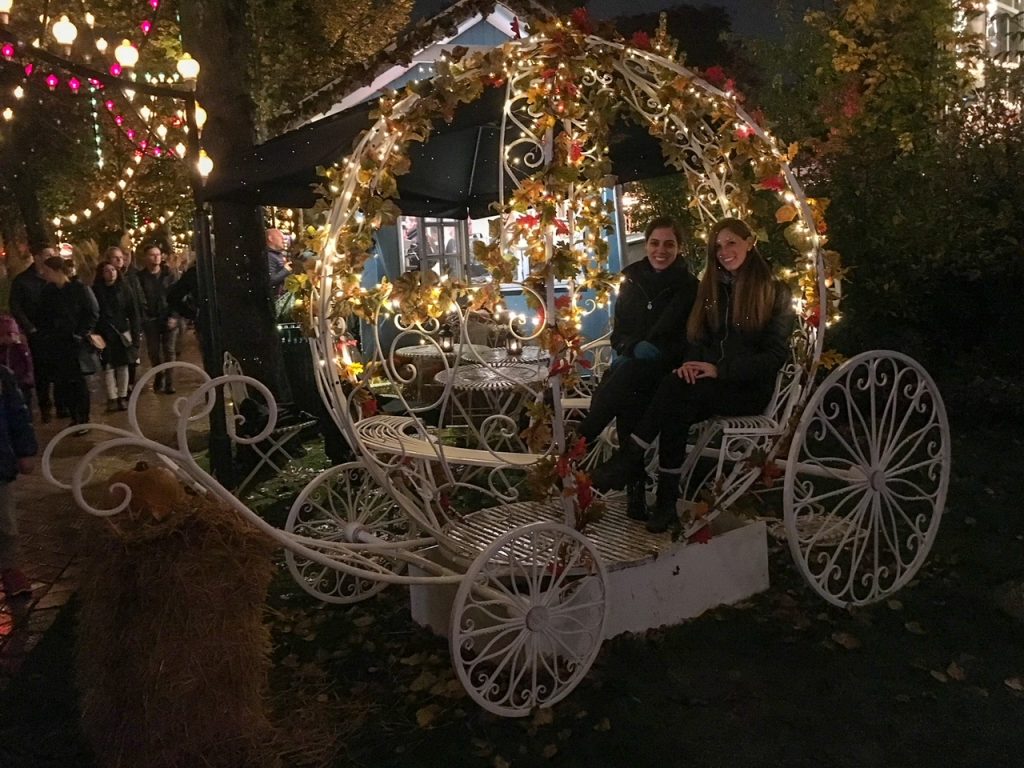 Head Home After an Amazing Time in Copenhagen, Denmark
To our dismay, our time in Copenhagen, Denmark was coming to an end, but we were happy to end our trip on such a high note!
We left early the next morning, since both Stephanie and I had early afternoon flights. On my way back, I stopped in Baltimore and was lucky enough to grab dinner with my aunt, cousins and a couple of friends. I spent the night in Maryland, and hung out with my parents the next day before heading back to Houston. What a special way to end a wonderful trip!
A Broad Recommendation: Sometimes there are delays or other issues that can impact your travels. For this reason, I try to schedule longer layovers when traveling on different airlines. On my way to Sweden and back from Denmark, I intentionally scheduled stops in Baltimore where I have friends and family that I could visit with. You could also use a long layover like this to explore another city. This is a fun way to begin and end any trip!
Check back in soon to see where we went next, and let us know in the comments below if you've ever spent time in Copenhagen or would consider visiting Denmark.
Looking for something else to read next? Check out some of our other blog posts from our European adventures:
And, don't forget to pin it!
XOXO Travel A-Broads