Planning a winter trip to Norway? Winter is the best time to visit Norway for the Northern Lights! Places to visit in Norway in the winter include Oslo, Kirkenes, Rotsund, Tromsø, Bergen and Flåm, and each offers its own charm and lots of fun winter activities and excursions. Use this post to help plan your own twelve-day Norway itinerary and take advantage of all the things that Norway has to offer in the winter.
*P.S. this post contains some affiliate links. At no additional cost to you, we may earn a small commission when you make a purchase.
Things to Know About Norway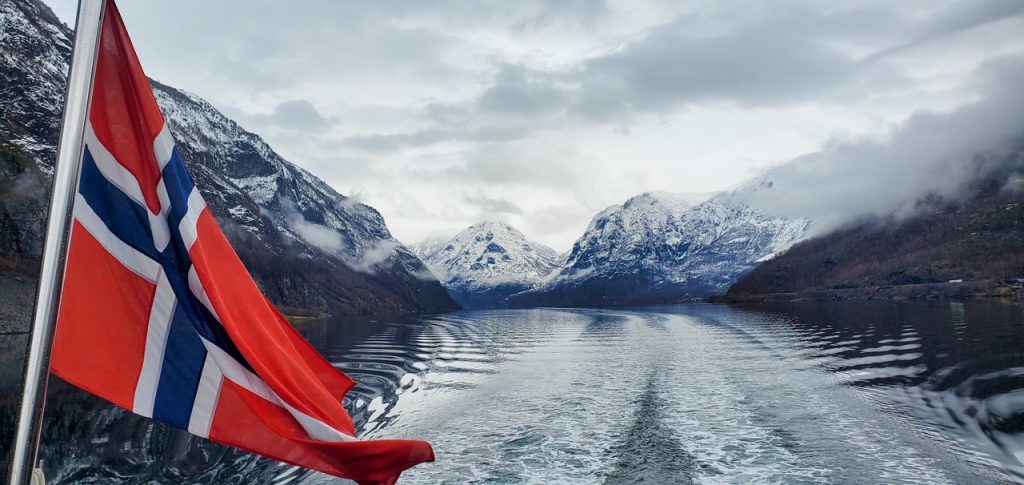 Norway is a Nordic country and part of Scandinavia. Nordic countries include Norway, Sweden, Denmark, Finland and Iceland. Scandinavia, on the other hand, includes only Norway, Sweden, Denmark.
The official language in Norway is Norwegian, but nearly everyone we interacted with spoke English.
The official currency in Norway is the Norwegian Krone (NOK). Although travelers don't necessarily need to have Norwegian Krone on hand, since most places accept credit cards, it's important to note that Norway is an expensive country, and traveling here isn't cheap!
Norway is one of the safest countries in the world, and we felt safe during our entire trip. Of course, it's still a good idea to be cautious and aware of your surroundings at all times.
Norway in the winter is COLD, especially if you plan to visit Northern Norway like we did. Refer to our travel packing list for winter in Norway to ensure you're prepared!
One of the main things Norway is famous for is the Northern Lights. If seeing the Northern Lights is on your bucket list, like it was for us, plan your trip between November and February to increase your chances of seeing them. It's possible to see them as early as September and as late as April, but November through February is peak season for the Northern Lights in Norway.
Where to Begin Your Norway Itinerary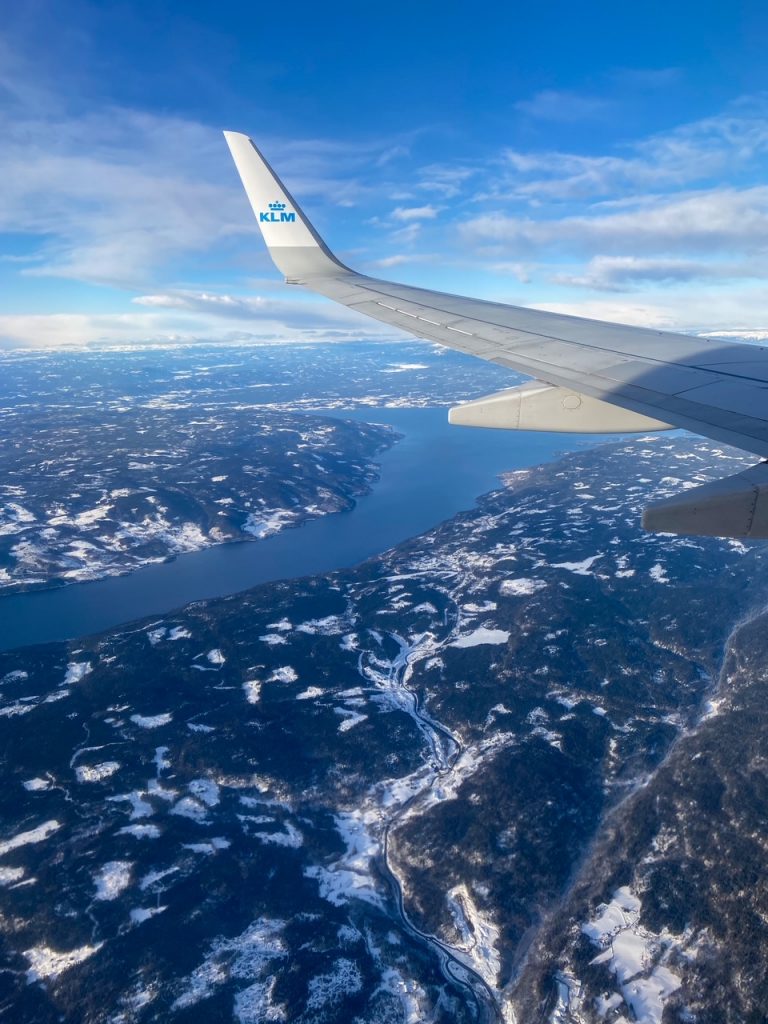 Where should you start and end your epic winter Norway trip? Flying in and out of Oslo is a great option. If you get an evening flight from the United States, you'll likely arrive in Norway the next morning or afternoon, giving you some time to explore that same day.
Flying in and out of Tromsø or Bergen are other great options, but you'll need to modify the winter Norway itinerary presented here. You could also consider flying into one of these airports and out of the other. The options are truly endless!
Norway Cities Map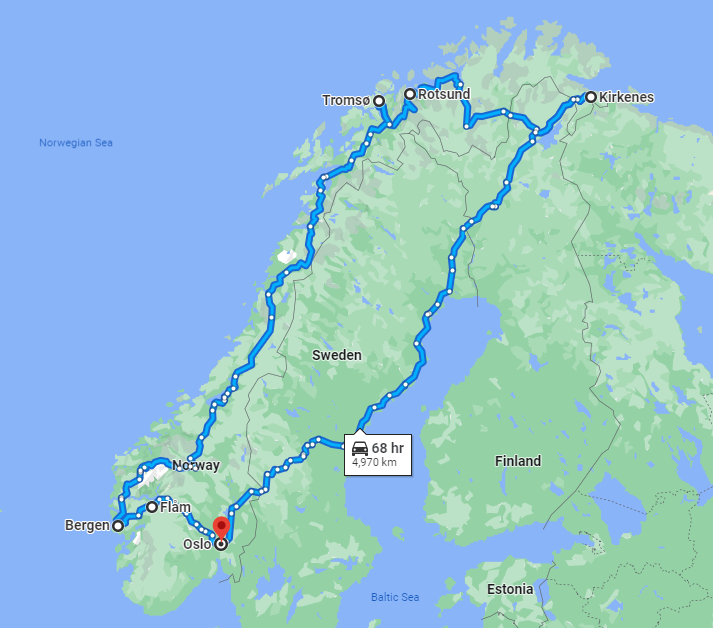 Before our visit, we had no idea how big the country of Norway was! During our trip to Norway, we flew from Oslo to Kirkenes, Kirkenes to Sørkjosen with stops in Vadsø and Tromsø, Sørkjosen to Tromsø, and Tromsø to Bergen. We also took a train, bus and fjord cruise from Bergen to Flåm and trains from Flåm to Myrdal and Myrdal to Oslo. Getting around this country is no joke, so be sure to pack your Kindle and headphones and have some books, audiobooks and podcasts downloaded and at the ready.
Winter Norway Itinerary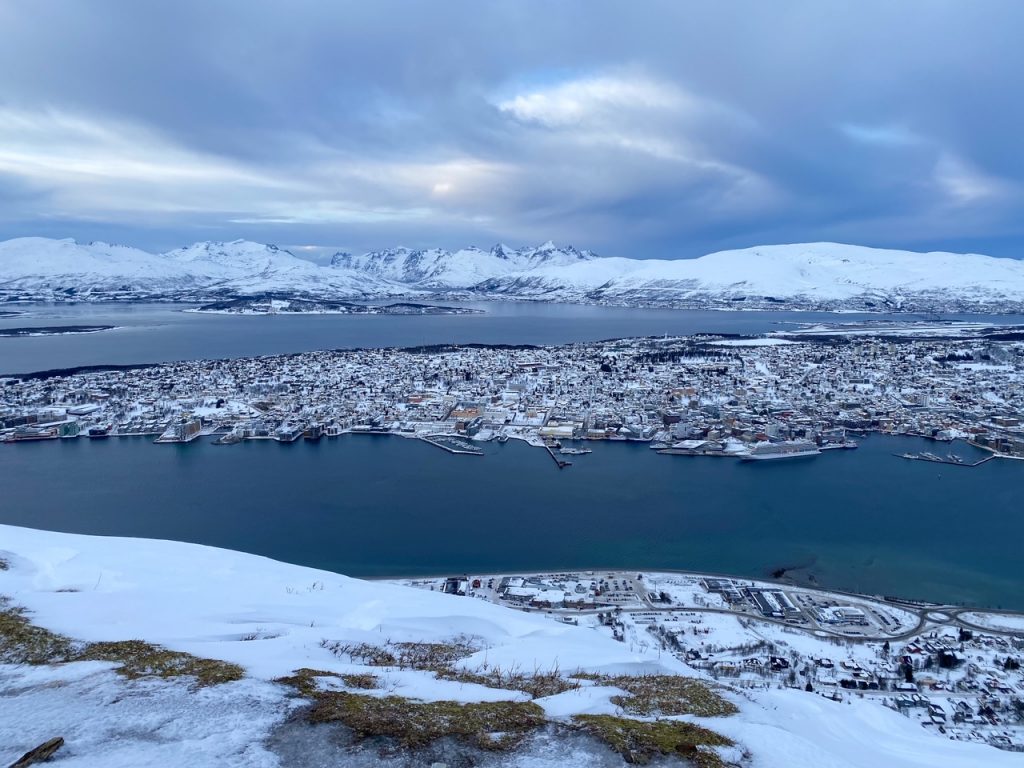 Here's the itinerary we followed during our Norway trip in February. We felt that this itinerary gave us the opportunity to see a ton of what Norway has to offer in the winter and optimized our chances of seeing the elusive Northern Lights!
Day 1: Fly to Oslo
Day 2: Arrive and spend the afternoon in Oslo
Day 3: Fly to and spend the day in Kirkenes
Day 4: Transfer to and spend the day (and night) at the Snowhotel Kirkenes
Day 5: Fly to Sørkjosen, transfer to Rotsund, and stay in a glass igloo
Day 6: Fly to and spend the day in Tromsø
Day 7: Explore Tromsø
Day 8: Explore Tromsø, and fly to Bergen
Day 9: Explore Bergen
Day 10: Travel to Flåm via the 'Norway in a Nutshell' tour, and spend the afternoon in Flåm
Day 11: Explore Flåm, and travel back to Oslo via the historic Flåm Railway
Day 12: Fly back home from Oslo
A Broad Recommendation: always remember to check availability and opening times for excursions and activities in Norway in the winter. Some activities are seasonal and weren't open during our visit in February, and others had modified winter hours.
Oslo, Norway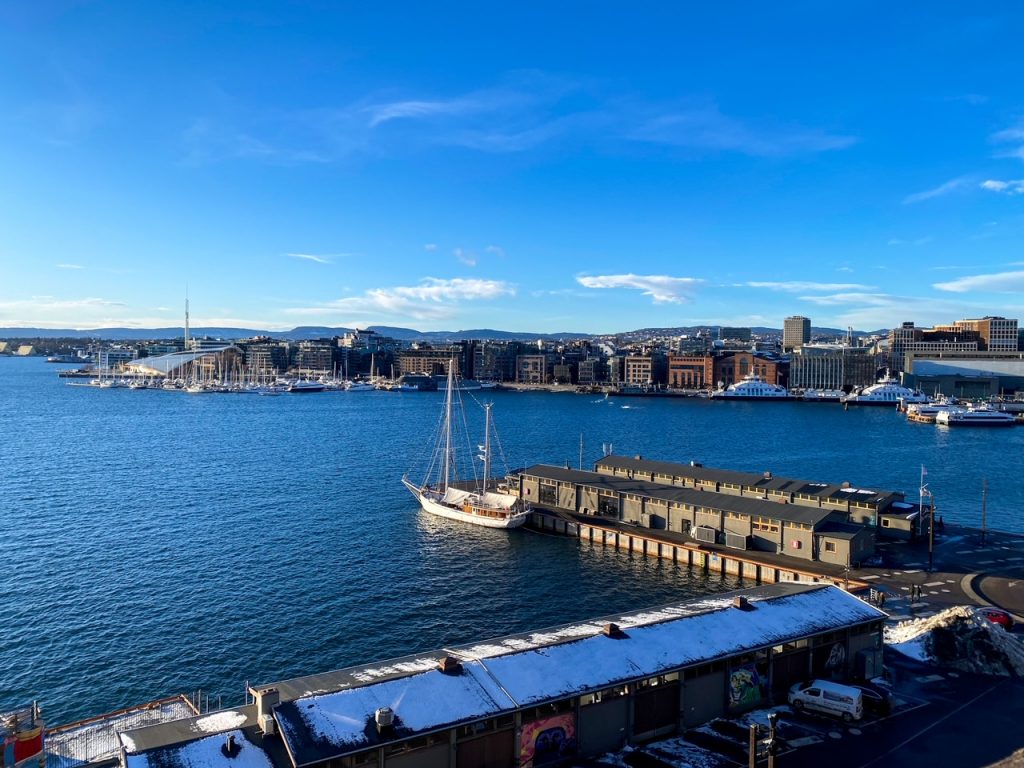 Located on Norway's southern coast, at the head of the Oslofjord, Oslo is a great place to start and end your winter Norwegian adventure.
Oslo dates all the way back to the Viking Age and is now a lively and modern city with a unique Nordic feel. Set against a backdrop of mountains and sea, Norway's capital city boasts a cityscape scattered with artwork, neighborhoods of old wooden houses, museums brimming with Viking history, a city center full of gourmet restaurants, top-quality wine bars, famous clubs and more, making it one of the most popular urban destinations in the North.
We recommend kicking off your winter Norway itinerary with at least a half a day in Oslo. Here's how to spend a Sunday afternoon in Oslo, Norway in the winter:
Arrive in Oslo
Check into your hotel and/or drop off your luggage
Walk around Aker Brygge
Explore inside Akershus Fortress
Admire the Oslo Opera House
Catch a sunset over the Oslofjord
Have dinner at Mantra by Mister India
If you have more time in Oslo, you may also consider visiting one of Oslo's many museums, exploring some of Oslo's most charming neighborhoods, spending some time in nature at the University Botanical Garden, touring some of Oslo's most important historical buildings, admiring the life works of some of Norway's most famous artists and sculptors, riding the rides at Tusenfryd Amusement Park, or relaxing in one of Oslo's fjord-side saunas.
Kirkenes, Norway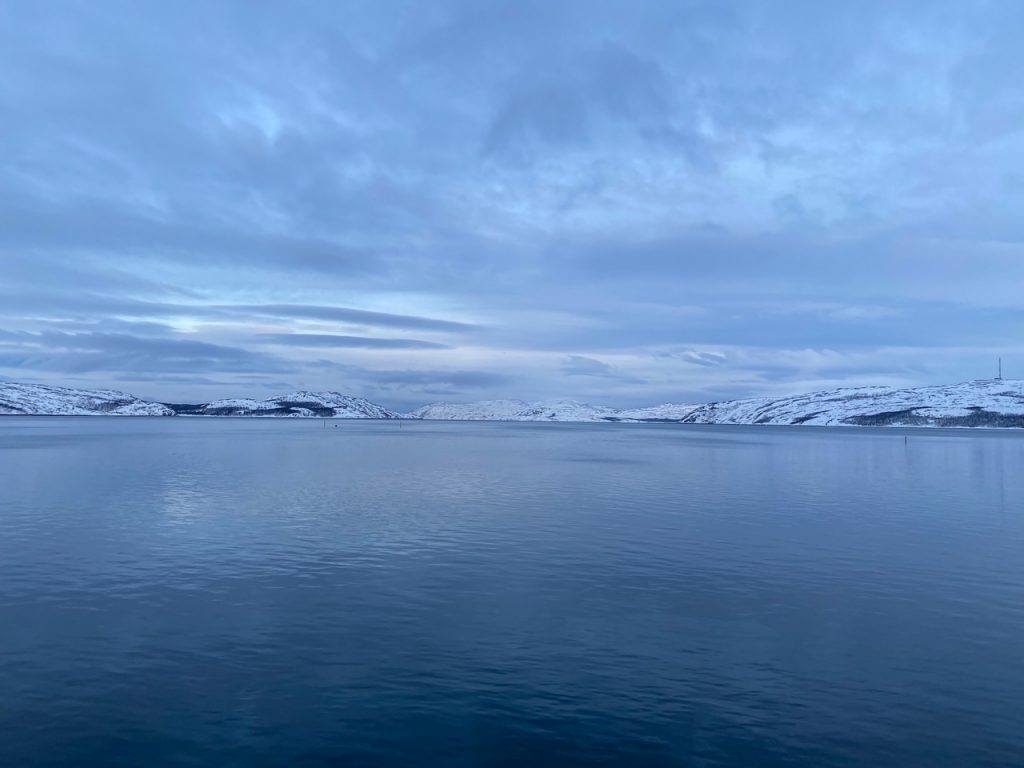 Located in the northeastern part of Norway, along the Russian border, Kirkenes is a small town with a lot of history.
Due to its location 250 miles north of the Arctic Circle, the area experiences polar nights from the end of November to mid-January, making Kirkenes a great place to see the Northern Lights. And with its below freezing temperatures all day long from November through March, Kirkenes is also a great place to try some arctic activities.
We recommend two days in Kirkenes, one day exploring the town of Kirkenes and one day at the Snowhotel Kirkenes. Here's how you can have an awesome Arctic adventure in Kirkenes, Norway and make the most of your stay at the Snowhotel Kirkenes:
Day 1:
Fly from Oslo to Kirkenes on an early morning flight (~2 hours)
Check into your hotel and/or drop off your luggage
Take photos of Kirkenes Church
Admire the view from Thon Hotel Kirkenes
Do some shopping at AMFI Kirkenes
Have lunch at Bangkok Restaurant Kirkenes
Hike to Prestfjellet Viewpoint
Hunt the Northern Lights by Husky at the Snowhotel Kirkenes
Day 2:
Transfer to the Snowhotel Kirkenes
Go on a Norway King Crab Safari
Explore the Snowhotel
Have a drink at the Ice Bar
Visit the huskies and puppies
Feed the reindeer
Go snowshoeing
Sit outside by the fire
Play games in the lodge
Enjoy a delicious meal
Hunt the Northern Lights by Bus
Stay overnight in the Snowhotel
If you have more time in Kirkenes, you could also consider a visit to the Borderland Museum or trying out some of the Snowhotel's other activities.
Rotsund, Norway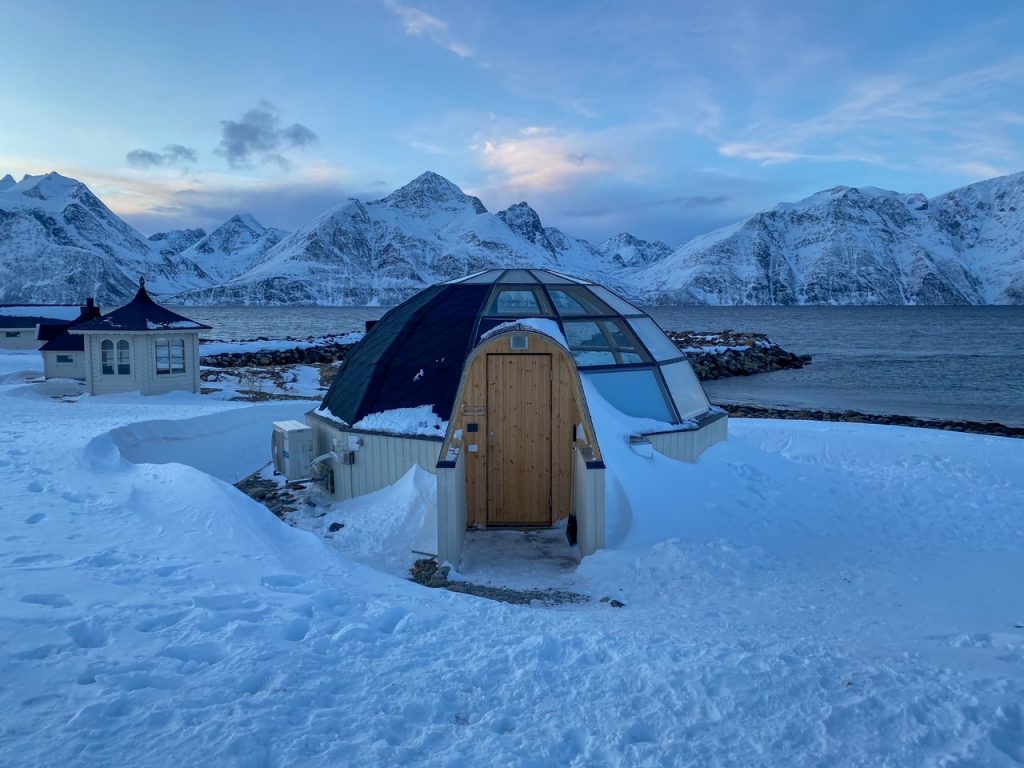 Rotsund is a village in Nordreisa Municipality in Troms og Finnmark county, Norway and home to the magical Lyngen North Igloo Hotel.
Lyngen North Igloo Hotel offers 180 and 360 igloos with floor-to-ceiling windows and epic views of the gorgeous Lyngen Alps, Lyngenfjord and Northern Lights-filled skies. The igloos are perfect for couples looking for a romantic getaway, and the hotel also offers a restaurant and lounge.
You'll definitely want to add this unique experience to your winter Norway itinerary! We recommend spending at least half a day here. Here's our suggested itinerary so you can hopefully see the Northern Lights from a glass igloo in Norway too:
Fly from Kirkenes to Sørkjosen (~3 hours with quick stops in Vadsø and Tromsø)
Take a private transfer to the Lyngen North Igloo Hotel
Explore the surrounding area
Have lunch at Restaurant Solvind
Play board games in the lounge area
Have dinner at Restaurant Solvind
Hang out and have drinks in the hot tub
Stay overnight in a glass igloo – and hopefully see the Northern Lights!
If you have more time in Rotsund, consider trying out some of Lyngen North's outdoor activities or excursions. In the winter, a hotel partner offers dog sledding, snowshoeing, skiing and snowmobiling tours. In the summer, the hotel offers a range of do-it-yourself activities like kayaking, hiking, stand-up paddle boarding, fishing boat rentals and electric bike rentals.
Tromsø, Norway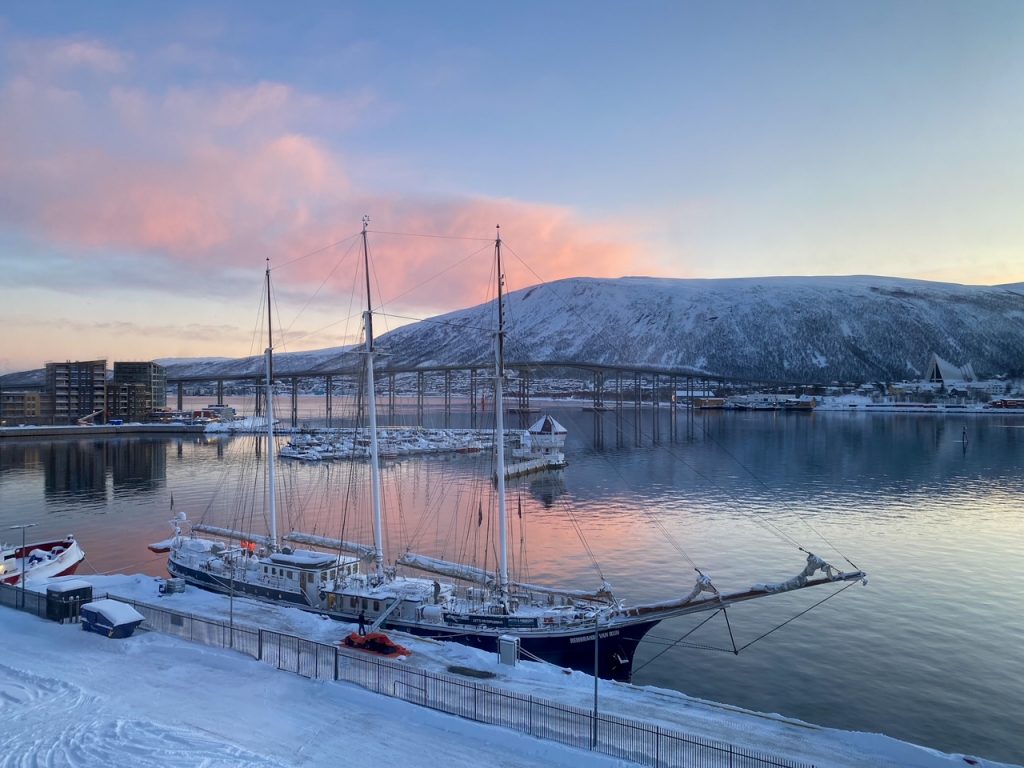 Just a 25-minute flight from Sørkjosen, Tromsø is a city in the Tromsø Municipality in Troms og Finnmark county and the largest urban area in Northern Norway.
It was nicknamed the 'Paris of the North' in the late 19th century for its decadent restaurants, bustling nightlife, interesting culture and overall sophistication compared to the rest of rugged Northern Norway. But, that's not all Tromsø has to offer!
The city's location 217 miles north of the Arctic Circle makes Tromsø one of the best places in Norway (and in the entire world) to see the Northern Lights. Plus, Tromsø also has a ton of outdoor activities to take advantage of – especially in the winter! – like hiking, snowshoeing, dog sledding, skiing, reindeer feeding, whale watching, and visits to the ice domes and floating saunas.
This Norwegian gem truly has it all! Here's how we recommend spending three days in Tromsø in the winter:
Day 1:
Fly from Sørkjosen to Tromsø on an early morning flight (~25 minutes)
Check into your hotel and/or drop off your luggage
Visit the oldest house in Tromsø
Walk across Tromsø Bridge
Admire the churches of Tromsø
Ride the Fjellheisen cable car
Chase the Northern Lights with Best Arctic via a Northern Lights Safari
Day 2:
See the seals at Polaria
Drink at the oldest pub in Tromsø
Visit Norway's only Troll Museum
Learn Sami culture & feed the reindeer with Best Arctic
Have drinks at Agenturet
Day 3:
Explore Downtown Tromsø
Fly to Bergen (~2.5 hours)
Tromsø is a large city, so you won't be able to do and see it all in just three days. If you can spend more time in Tromsø, you could consider tasting your way through Tromsø's best brews with a 3-hour Tromsø Beer Safari, visiting the famous Tromsø Ice Domes, searching for whales and orca on a Silent Whale Watching Tour, mushing a team of huskies on a Self-Drive Husky Dog Sledding Adventure, exploring the area on foot via a Small-Group Snowshoeing Tour, paddling around the Norwegian fjords on a Winter Sea Kayaking Guided Tour, smelling the flowers at the world's northernmost botanic garden, the Arctic–Alpine Botanic Garden, trying out the interactive exhibits at the Northern Norwegian Science Center, admiring Norwegian art at the Nordnorsk Kunstmuseum, visiting Norway's first planetarium, the Northern Lights Planetarium, or relaxing in one of Tromsø's floating saunas.
Bergen, Norway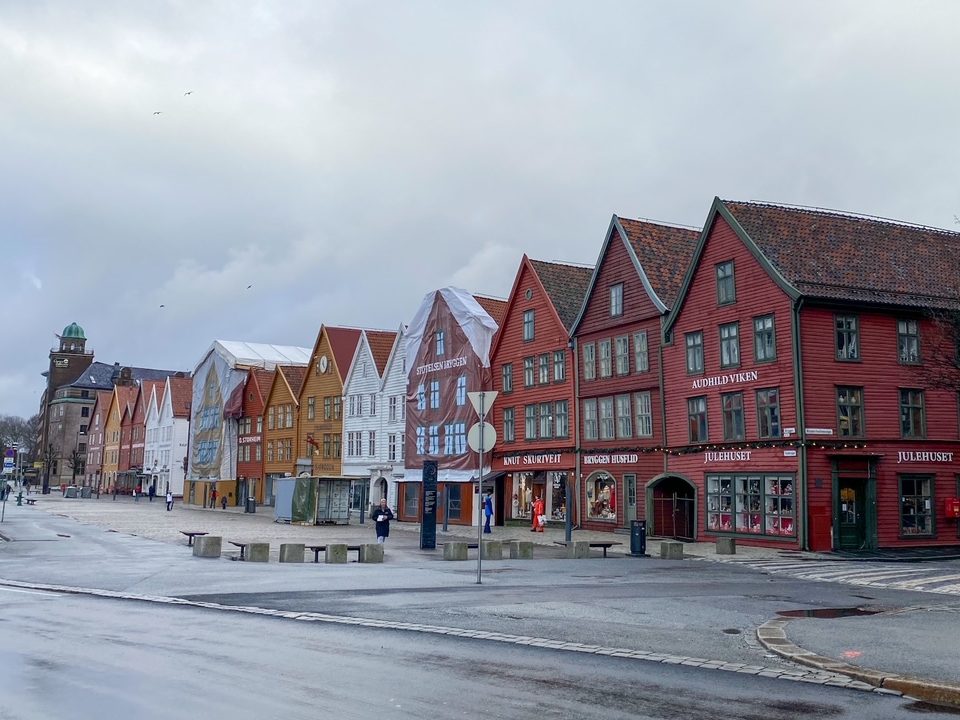 Just a 2.5-hour flight from Tromsø, Bergen is a city and municipality in Vestland county, Norway. Despite being Norway's second largest city, Bergen has a small town feel and is beautifully situated between seven mountains and several stunning fjords. With picturesque, old wooden buildings lining Bergen's harbor, a UNESCO World Heritage Site and a rich cultural scene, Bergen offers many activities for tourists and locals alike.
For centuries, Bergen was a major European trade and sea port and served as Norway's capital in the 12th and 13th centuries. Now, the city is an international center for the shipping, marine, maritime, renewable energy and offshore petroleum industries, and a national center for education, finance, media and tourism.
Bergen is a must-add to your winter Norway itinerary. Here's how we suggest you explore the colorful city of Bergen in one day:
Have breakfast at Hotel Norge
Take a Private Bergen Walking Tour, which also includes the following:

Torgallmenningen Square
Museums & churches of Bergen
Charming Bergen neighborhoods
Bergen's vivid street art
The infamous Fish Market
World Heritage Site Bryggen
Mount Fløyen

Walk around Bergenhus Festning
Have lunch at the Daily Pot
Explore the Bryggens Museum
Have dinner at Bryggeloftet
If you have more than one day in Bergen, you could also consider visiting some of KODE's art museums and Bergen's most famous composers' homes, checking out the world's biggest gingerbread town (during the holiday months), catching a performance at the Gamle Bergen Museum, doing a guided tour at the Hanseatic Museum and Schotstuene, experiencing dark tourism at the Leprosy Museum, meeting the sea animals at Norway's largest aquarium, the Bergen Aquarium, tasting your way through Bergen on a Food and Culture Walk, or taking a guided fjord, hiking, biking or snowshoeing tour from Bergen.
BONUS: Norway in a Nutshell Tour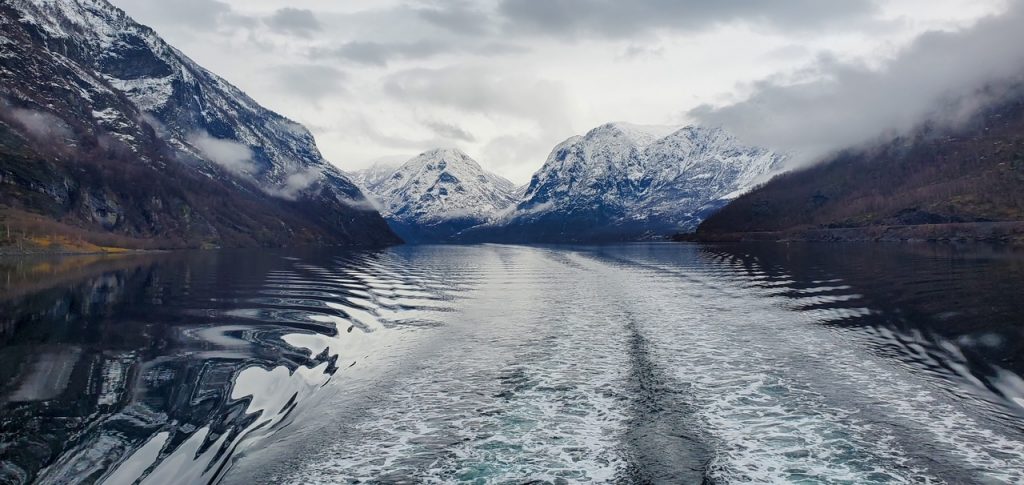 As a bonus experience, take the 5.5-hour 'Norway in a Nutshell' tour from Bergen to Flåm. Travel from Bergen to Voss via the Bergen Railway, Voss to Gudvangen via bus and Gudvangen to Flåm via fjord cruise. The train ride is about an hour and fifteen minutes, the bus ride is an hour and the fjord cruise is two hours. Each leg of the journey offers epic wintry views, but the views from the fjord cruise are out of this world.
The fjords are part of a World Heritage Site, and the cruise takes travelers through the Nærøyfjord, the narrowest of Norway's fjords, and the Aurlandsfjord, one of the most spectacular branches of the Sognefjord. And, both fjords are surrounded by dramatic mountains, sweeping valleys, icy waterfalls and tiny Norwegian villages.
Flåm, Norway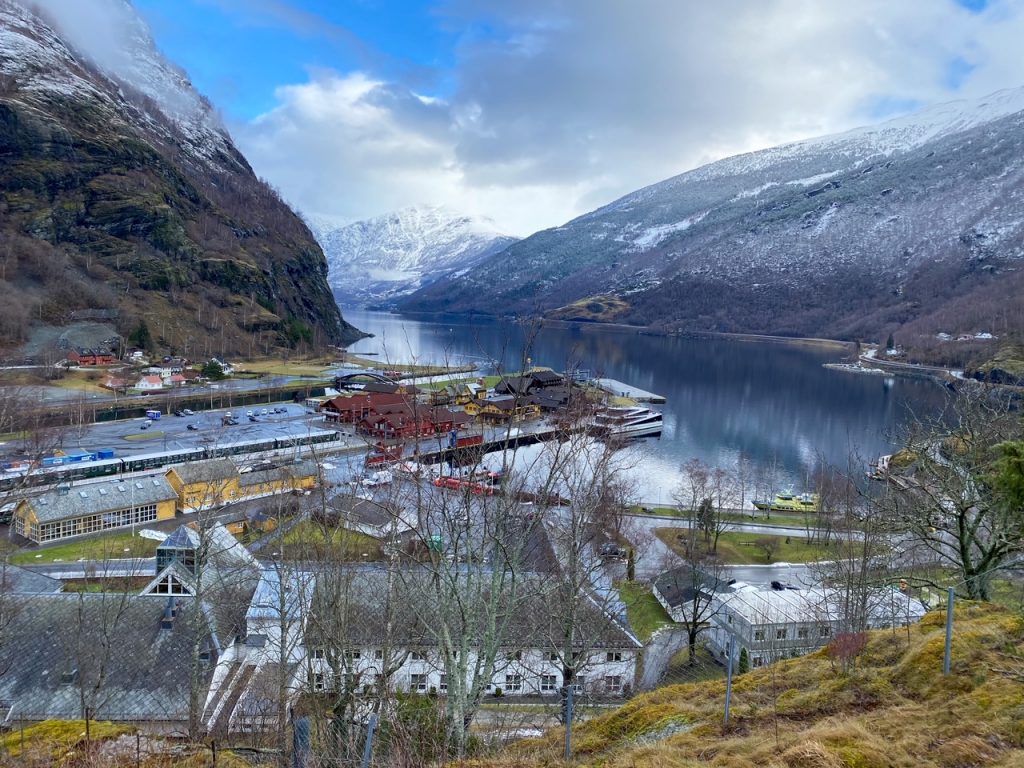 Flåm is a quaint village in western Norway – and it's one of the best places to visit in Norway in the winter! Flåm sits at the end of the Aurlandsfjord in Scandinavia's magnificent southwest fjord region and is surrounded by vast, serrated mountains.
Flåm has been a popular tourist destination since the late 19th century and offers awesome outdoor activities like hiking, biking, swimming, kayaking, fjord cruises, ziplining and more, in addition to cultural experiences like the Flåm Railway Museum, a historic church and the heritage railway line.
Flåm is a great stop for those traveling between Bergen and Oslo, and its picturesque location has made it one of the key stops on the infamous 'Norway in a Nutshell tour'. We recommend ending your winter Norway itinerary with twenty-four hours in Flåm. Here's what we suggest you do while you're there:
Day 1:
Arrive in Flåm
Check into your hotel and/or drop off your luggage
Have lunch at Flåm Bakery
Get information from the Flåm Visitor Center
Walk around Flåm Harbor
Have dinner at Ægir BrewPub
Play board games at your hotel
Day 2:
Hike to Flåm Church
Walk around the Fretheim Cultural Park
Have lunch at the Furukroa Café
Explore the Flåm Railway Museum
Ride the Flåmsbana
If you have more time in Flåm, you may consider visiting one of Norway's most famous and best-preserved churches, Borgund Stave Church, checking out the unmatched scenery from the spectacular Stegastein Viewpoint, getting your adrenaline fix on the longest zipline in the Nordic region, Flåm Zipline, exploring Aurlandsfjord and Nærøyfjord via a kayak tour, or hiking to some of Flåm's most beautiful waterfalls.
BONUS: Historic Flåm Railway Trip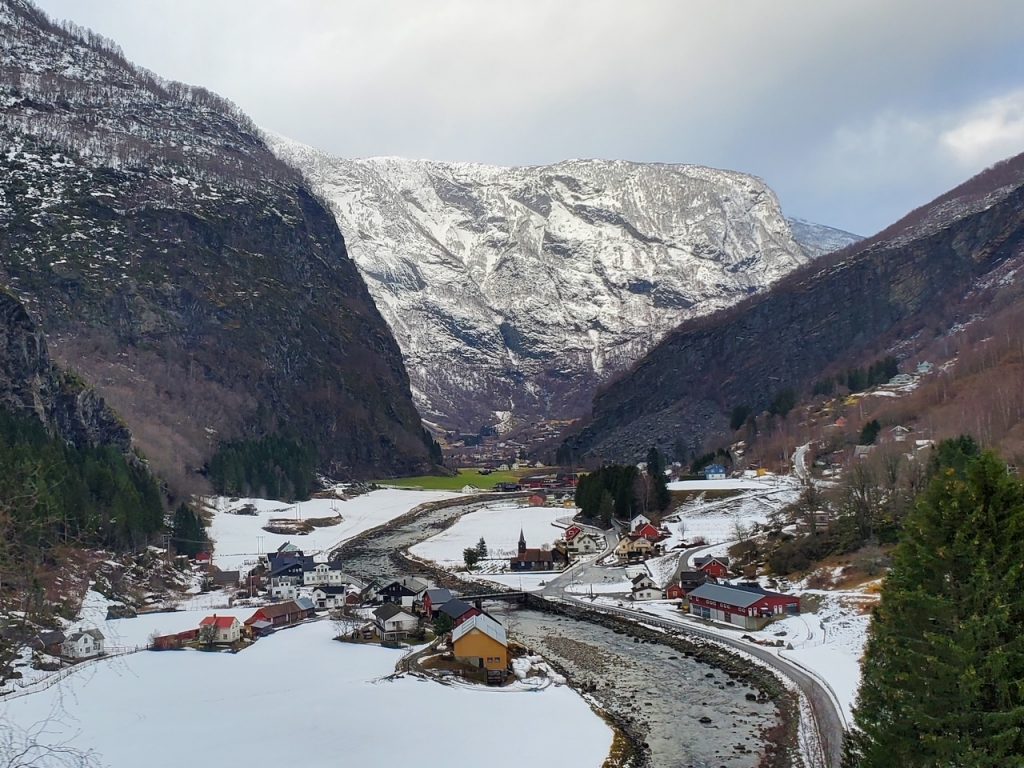 As another bonus, take the historic Flåm Railway to Myrdal on your way back to Oslo. The 12-mile Flåm Railway (Flåmsbana) runs between the towns of Flåm and Myrdal and is widely recognized as one of the most beautiful railways in the world. It's Flåm's most popular and Norway's third most popular tourist attraction.
The Flåm Railway was – and still is – considered a feat of Norwegian engineering, and it's one of the world's steepest railway lines. A ride on Flåmsbana offers breathtaking views of the fjords, mountains, waterfalls and countryside, and a short stop along the journey allows visitors to admire the breathtaking Kjosfossen waterfall.
Final Thoughts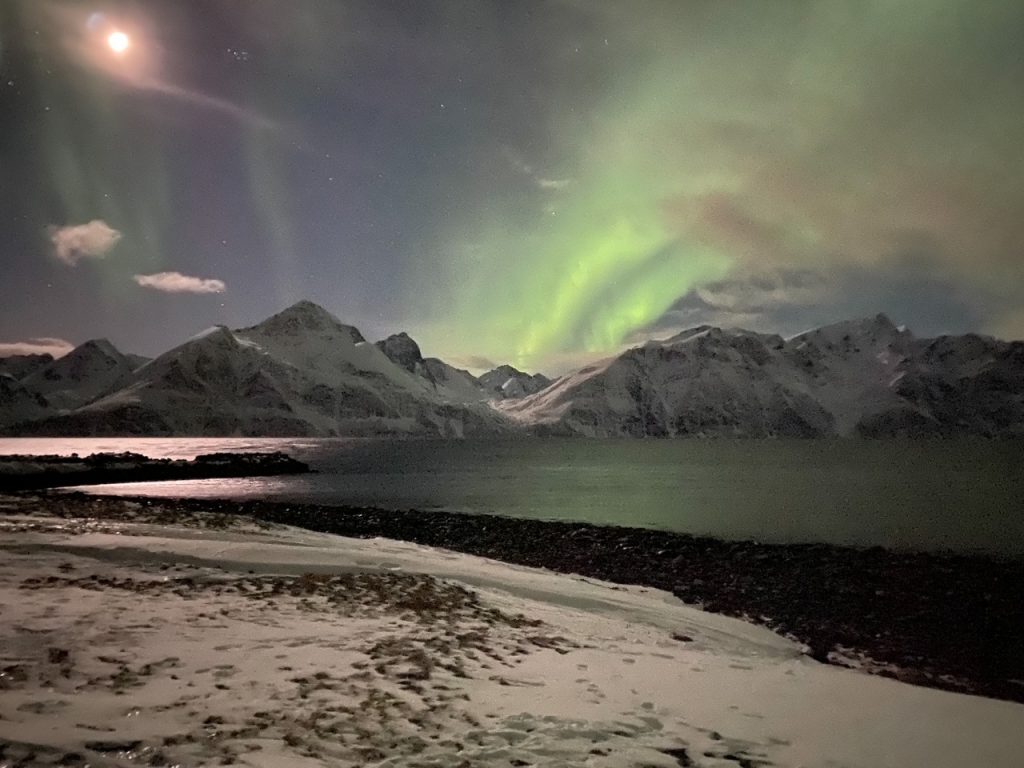 There you have it! With a bit of planning you can easily visit many of Norway's main winter attractions all in one trip. We hope you enjoy your visit to Norway and are blown away by the beauty of this country!
XOXO Sara at Travel A-Broads