After two days in Normandy and a visit to Versailles and Paris, my friend, Katie, and I were off to Ireland. We spent five days in Ireland, and Dublin was our starting point for all of our activities and day trips. If you're looking to plan a visit to Ireland too, then we've got you covered!
*P.S. this post contains some affiliate links. At no additional cost to you, we may earn a small commission when you make a purchase.
Getting from Paris to Dublin
Getting to Dublin was quite an adventure even though the flight time from Paris to Dublin was relatively short.
We woke up around 6 a.m. to catch our shuttle from Porte Maillot to Paris Beauvais Airport (BVA), which ended up leaving early (luckily with us on it!). Although we arrived well before our flight time, we ended up waiting for almost two hours to check-in!
While we were waiting, people kept cutting in front of us, as the lines weren't clearly defined, and no one was enforcing any sense of order. When we got to the check-in station, we realized what the hold up was. There was literally one guy in all of passport control checking people's info – crazy!
Luckily for us (I guess), our flight ended up getting delayed too, so we didn't miss it. Overall, our experience with the BVA airport was pretty terrible, and I wouldn't recommend flying from here if you can avoid it.
All that said, we still made it to Dublin around noon and had enough time to make it to our first excursion – thank goodness! Now, we were ready for our Ireland vacation.
Where to Stay in Dublin, Ireland

Instead of searching through all the hotels in Dublin, we chose to stay in a "cosy room at a beautiful home near UCD". The room was perfect for the two of us, and our hosts were friendly, accommodating and great at communication. They even gave us some information and tips for exploring the area! We also didn't have any problems getting into central Dublin via bus or taxi.
A Broad Recommendation: I'm a huge fan of Airbnb and tend to choose them over hotels due to lower rates. I always read tons of reviews before choosing a host and almost exclusively stay with 'superhosts', who are thoroughly vetted and highly rated by others travelers. Our Airbnb was just over $200 total for four nights for the two of us, which was super affordable!
Getting Around Dublin
Dublin is a compact city, making it easy – and sometimes most efficient – to navigate on foot. However, when walking isn't an option, the Dublin Bus system or taxis are your next best bets. Note that there is no subway system in Dublin.
We had a fun time learning to navigate the Dublin Bus system, which we used almost exclusively, since our Airbnb was not in central Dublin. If you've read our Normandy or Versailles and Paris posts, then you know that Katie and I are not great with directions, haha. If we can figure out public transportation in Dublin, then you can too!
Dublin buses don't accept credit card, which makes things a bit tricky. They only accept exact fares in coins or prepaid tickets. If you plan to pay in coins, make sure to have the exact amount ready to go when you board. Keep in mind that if you don't have the exact amount and overpay, you won't get any change back.
Investing in a reloadable Leap Visitor Card is another option if you plan to use public transportation frequently in Dublin. Not only is it more convenient, but the card also offers lower fares on each journey.
A Broad Recommendation: although we eventually got the hang of things, we had a tough time communicating with some of the bus drivers, and they weren't very helpful when we were confused or lost. This may have just been our experience, but we recommend saving offline maps or mapping your route out before hopping on a bus, especially if you won't have cell service.
Currency for Dublin, Ireland
The currency for Dublin, Ireland is the Euro (€). Although credit cards are widely accepted, consider keeping some cash on hand in case you're ever in a pinch. Cash is also always great for tipping shuttle drivers, tour guides, etc. We each ordered about €200 in advance from our banks to bring with us on our trip.
Summer Weather in Ireland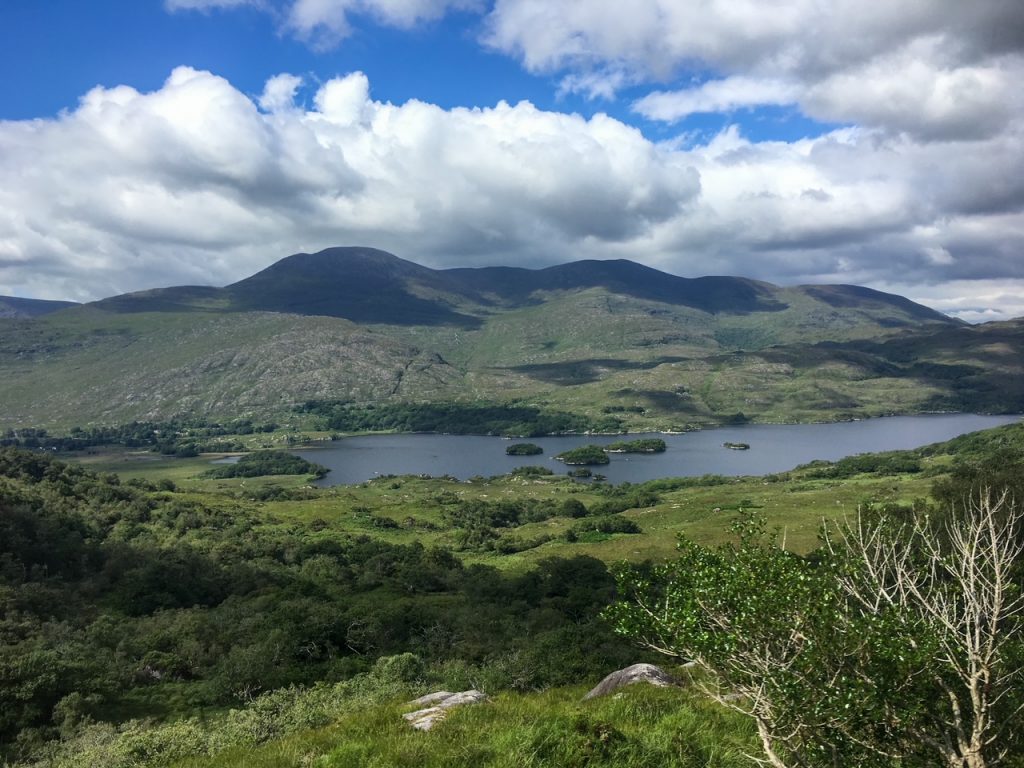 Coming from Houston, Texas, I was a huge fan of the weather in Ireland! Summer temperatures are generally between 60-70°F, and there's frequently a chance of rain. Don't forget to pack your rain jacket and some cozy sweaters to layer. Somehow, we got pretty lucky the entire trip, as I don't recall getting any rain while we were there.
5 Days Ireland Itinerary Without a Car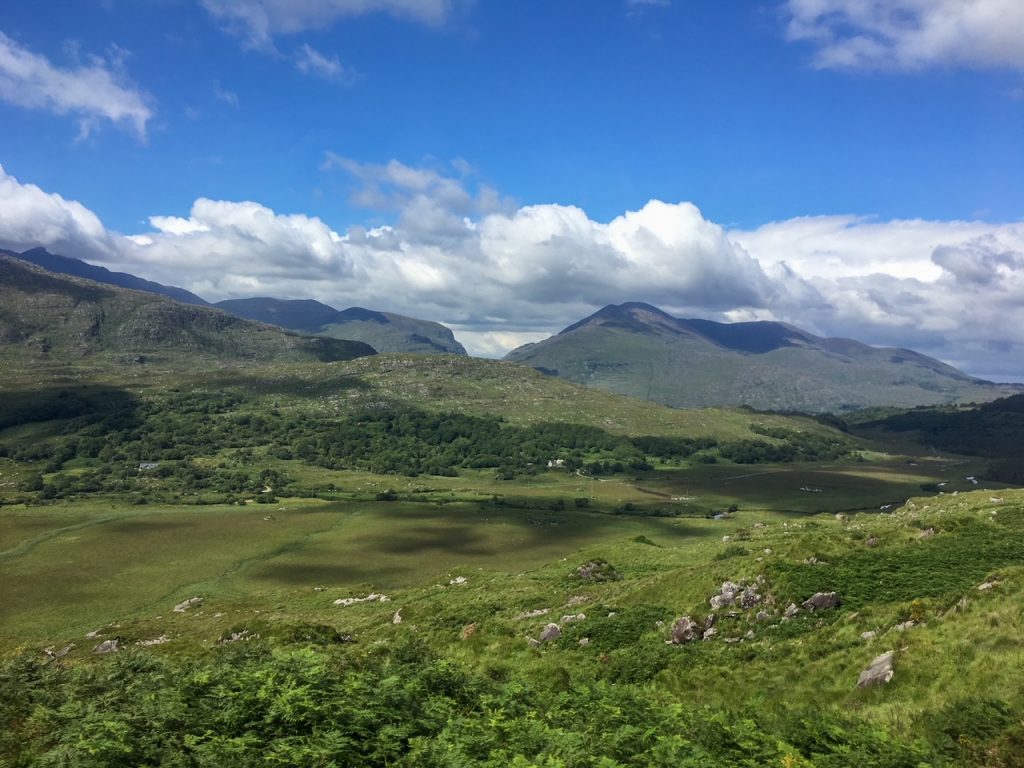 Here is the five-day itinerary from our visit to Ireland. We didn't have a rental car, so we booked several day trips that started in Dublin and took us around the country. You can tailor this itinerary based on how much time you have in Ireland.
Day 1: Flight from Paris to Dublin, check into Airbnb or hotel in Dublin, and timed-entry Guinness Tour
Day 2: Ring of Kerry Rail Trip Tour
Day 3: Northern Ireland Highlights Day Trip
Day 4: Cliffs of Moher Day Trip
Day 5: Check out from Airbnb or hotel in Dublin and flight from Dublin to New York City
The rest of this post focuses on our experience following this itinerary.
Day 1: Explore Dublin, Ireland
Visit the Guinness Storehouse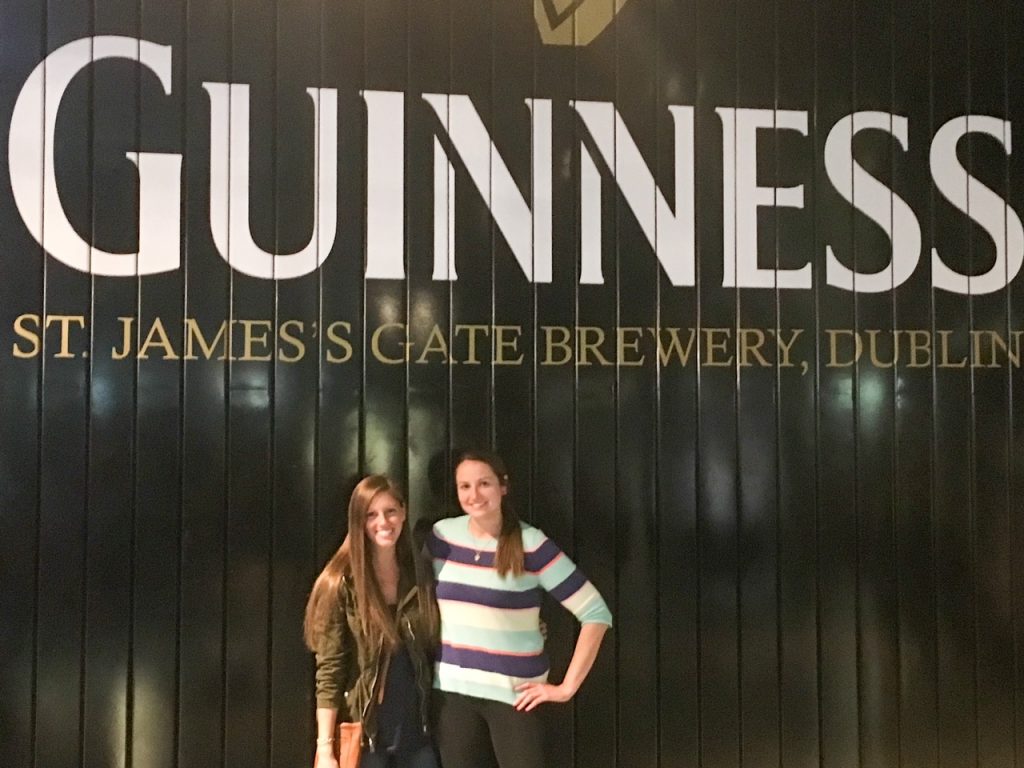 If you only have one day in Dublin, Ireland, a visit to the Guinness Storehouse is a no-brainer! It's one of Ireland's most popular tourist attractions and was a great way to start our Irish adventure.
A Broad Recommendation: make sure you're on time! If you arrive more than 30 minutes late, you'll be deferred to the next available time slot. If there's a cost difference for that time slot, you'll be required to pay the difference.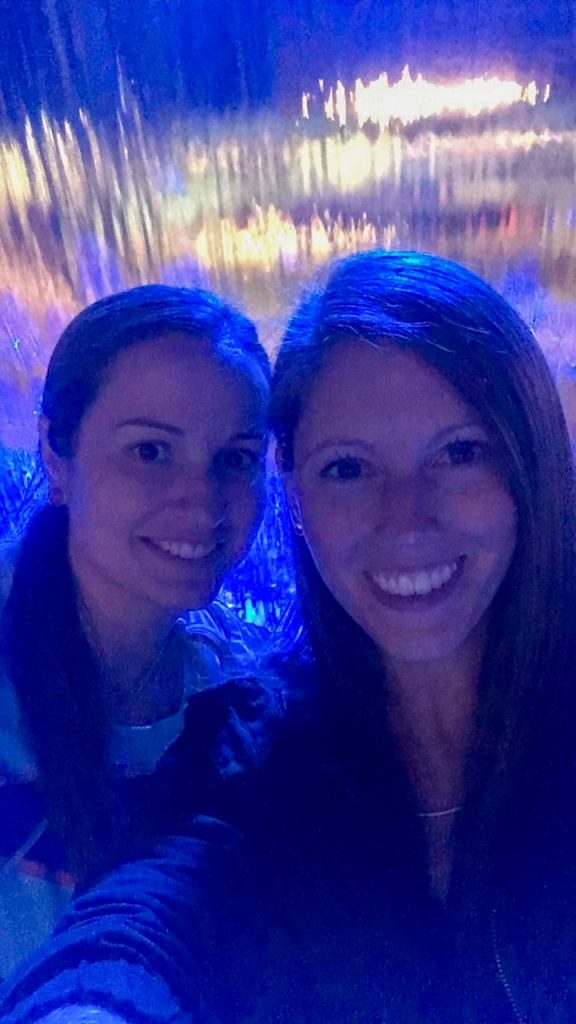 A Broad Recommendation: get your tickets in advance, as the tours have a tendency to fill up. Having your ticket ahead of time allows you to bypass the lines and ensures your spot in the tour. Plus, the prices online are sometimes cheaper than in person. We paid €20 per person for the most basic option.
We spent a couple hours wandering through the seven floors of the Guinness Storehouse. Throughout the tour, we received a history lesson about Guinness and Ireland and an in-depth account of the brewing process.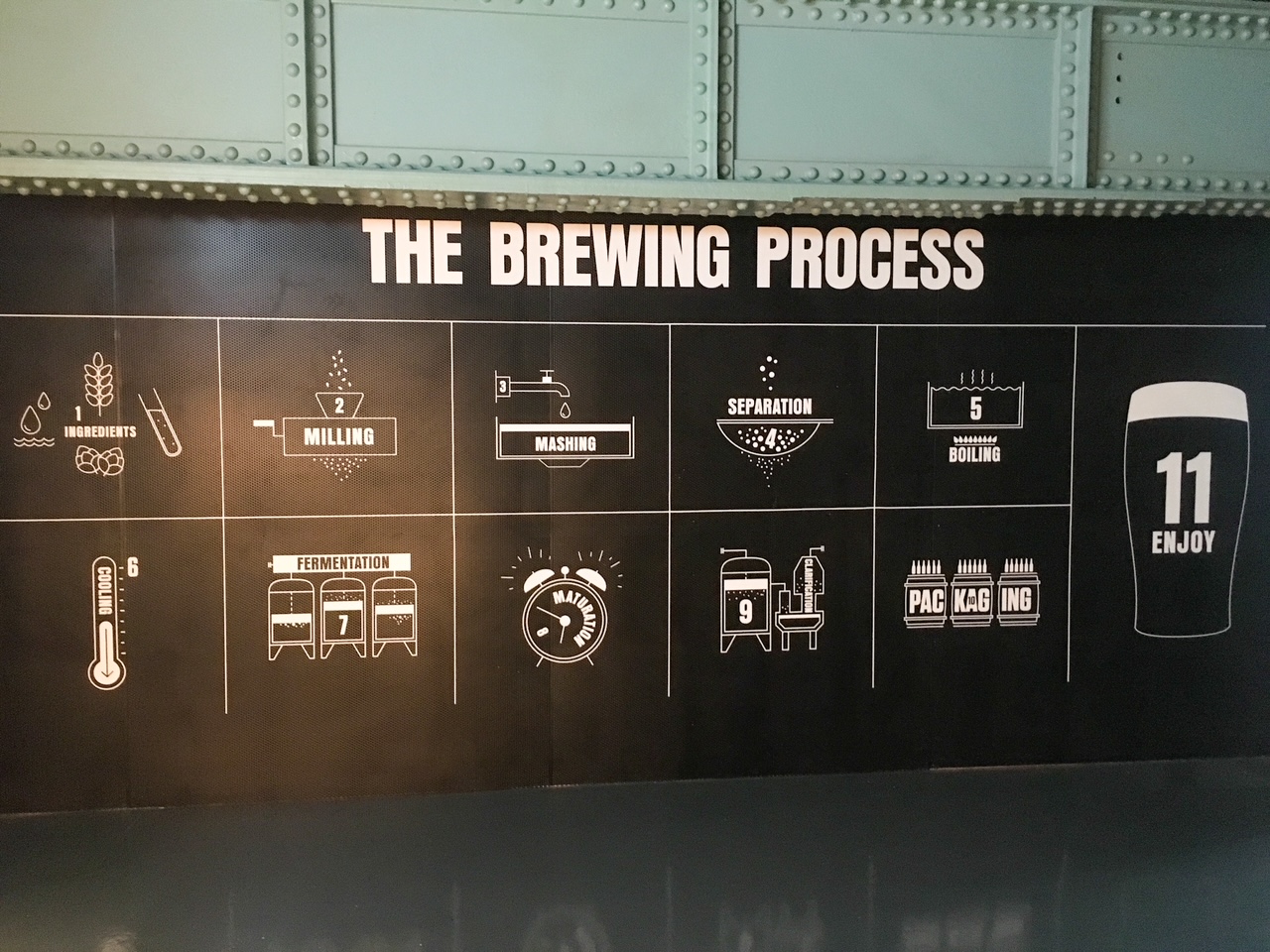 Near the end of the tour, we entered the Guinness Academy, where we learned the perfect pour.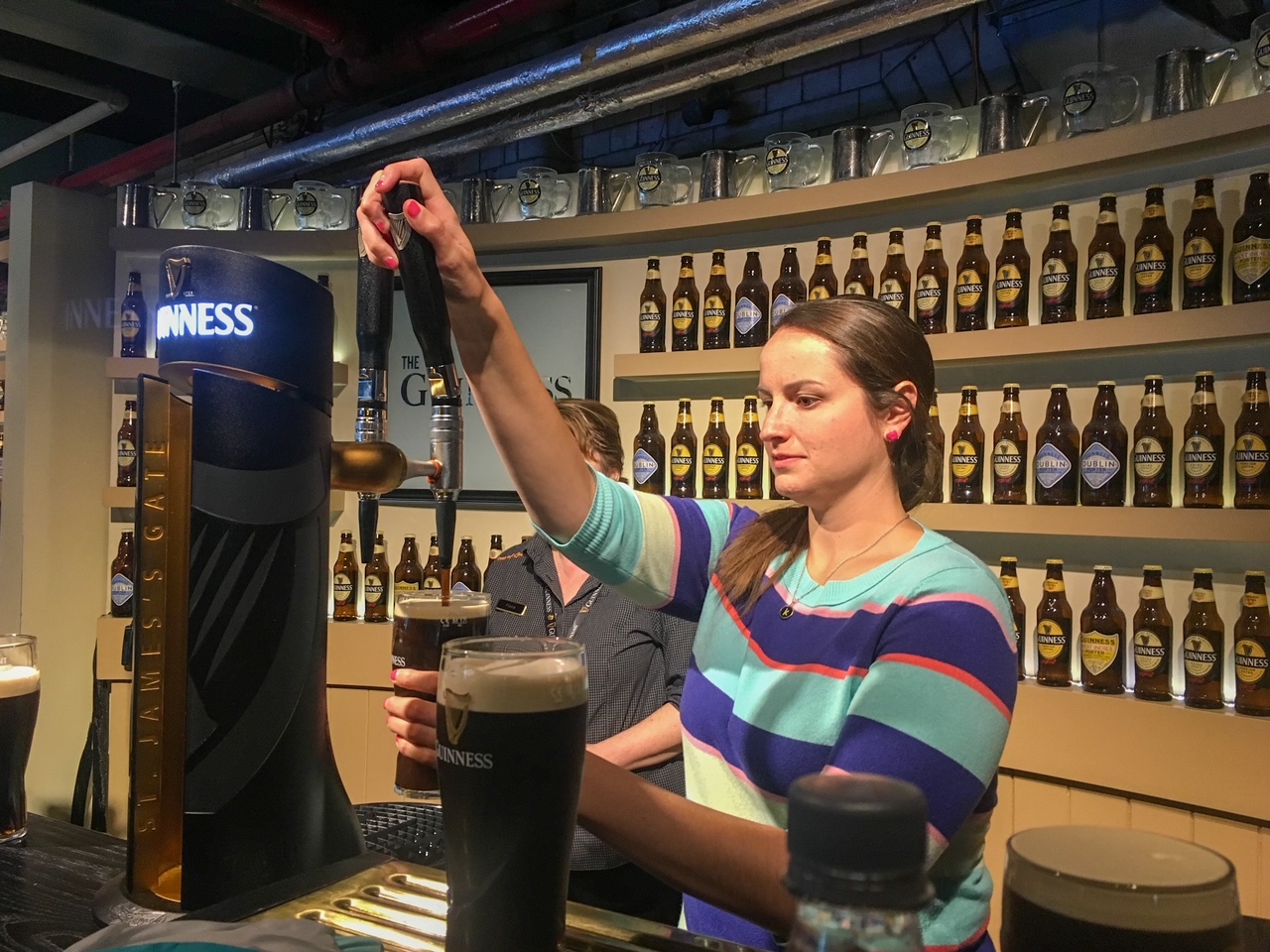 I must say that the staff behind the bar was fantastic! One lady even let us go behind the bar for a photo opp and took the picture for us, so we wouldn't have only selfies and individual pictures from the tour.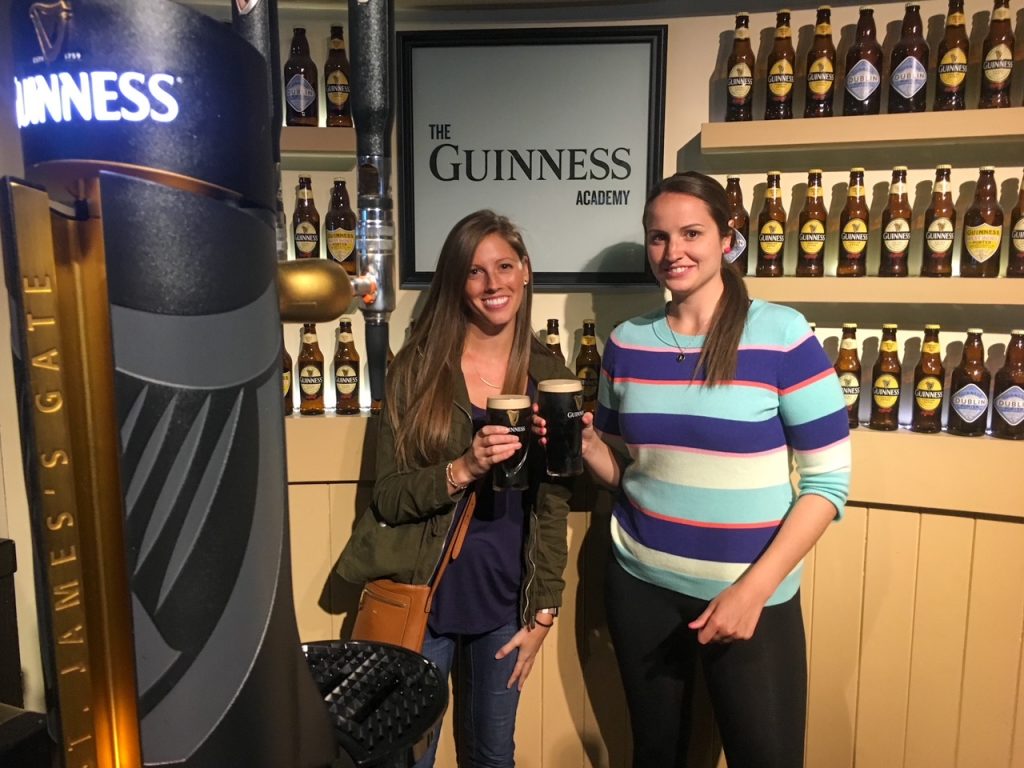 On our way out, we also received personalized certificates from the Guinness Academy to verify that we were indeed taught the perfect pour!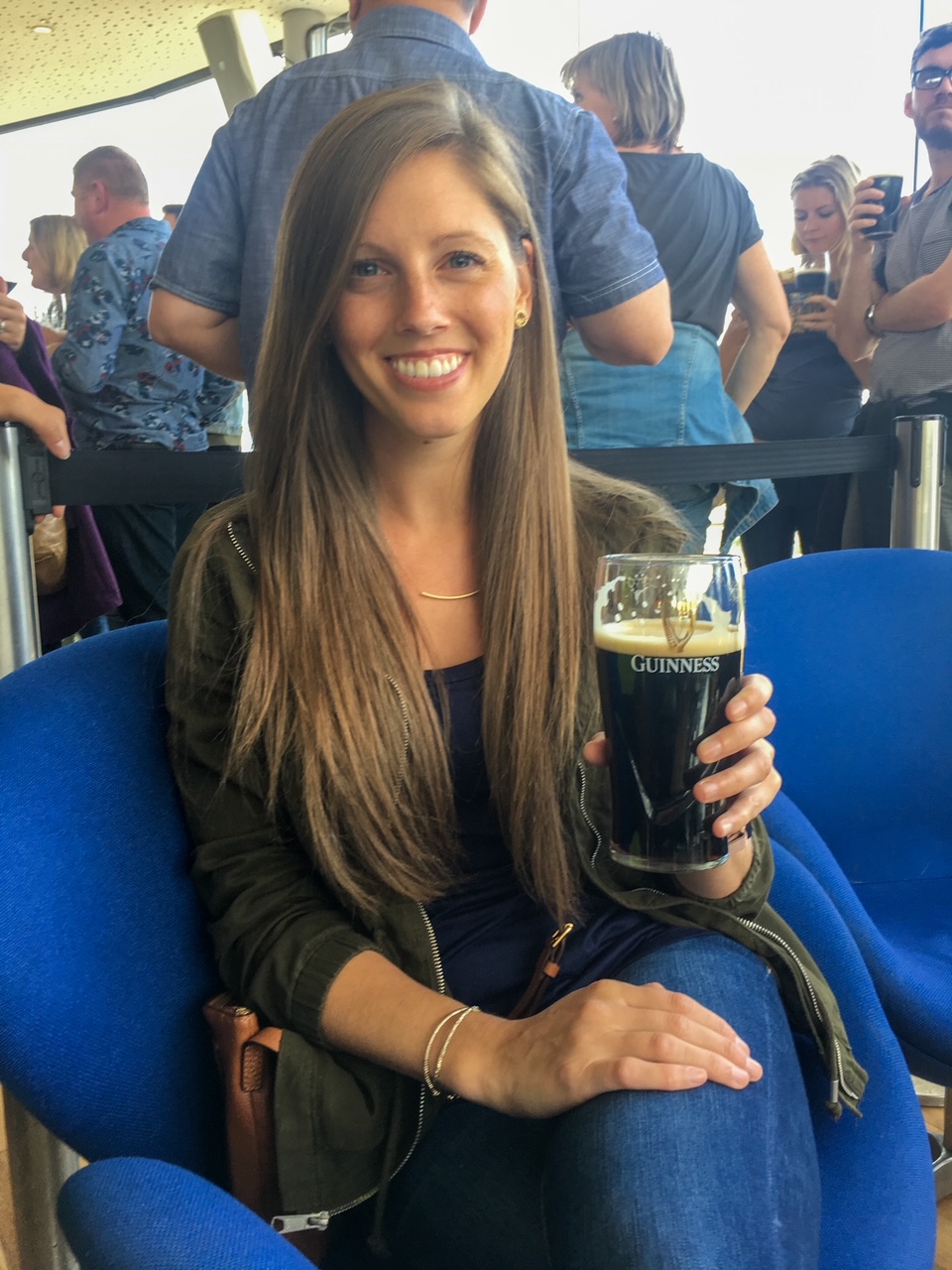 The tour ends with beautiful panoramic views of the city from the Gravity Bar, where you can sit and relax while sipping on your Guinness. It's needless to say that you should give yourself plenty of time at the Guinness Storehouse to fully enjoy the experience!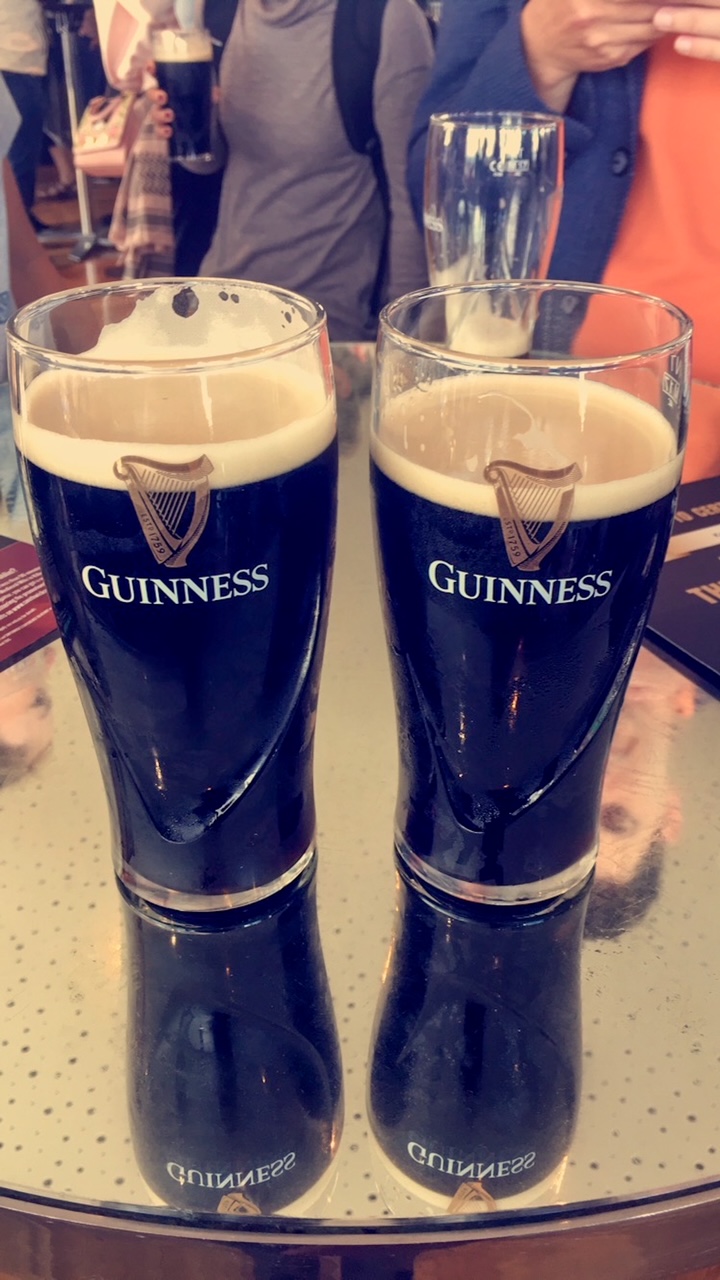 As per our usual, we somehow managed to make a couple of friends up here too. Either that or they just really wanted to photo bomb our pictures, haha.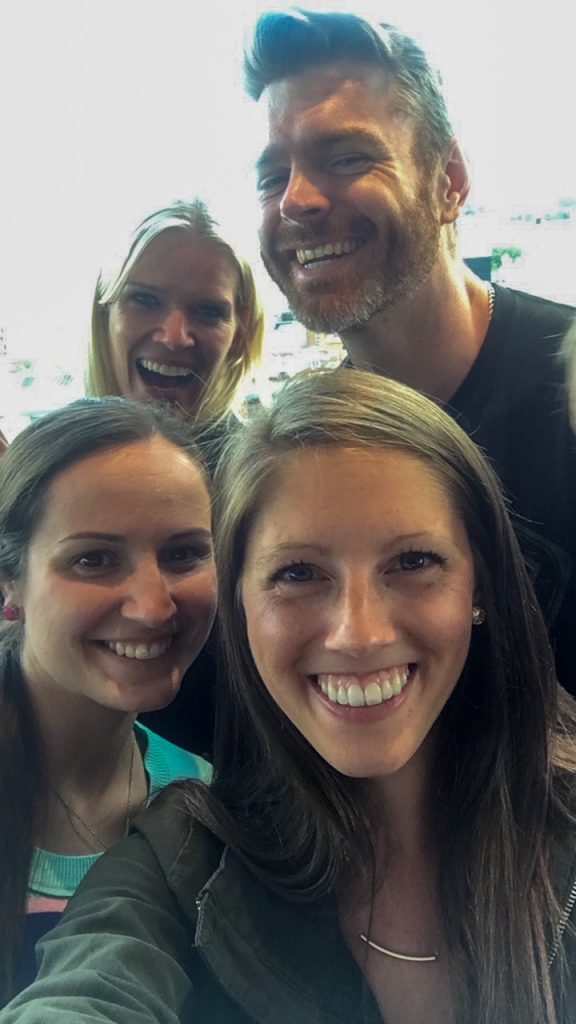 Finally, we stopped by the gift shop to get a couple of souvenirs for our families.
Eat Dinner at Ireland's Oldest Pub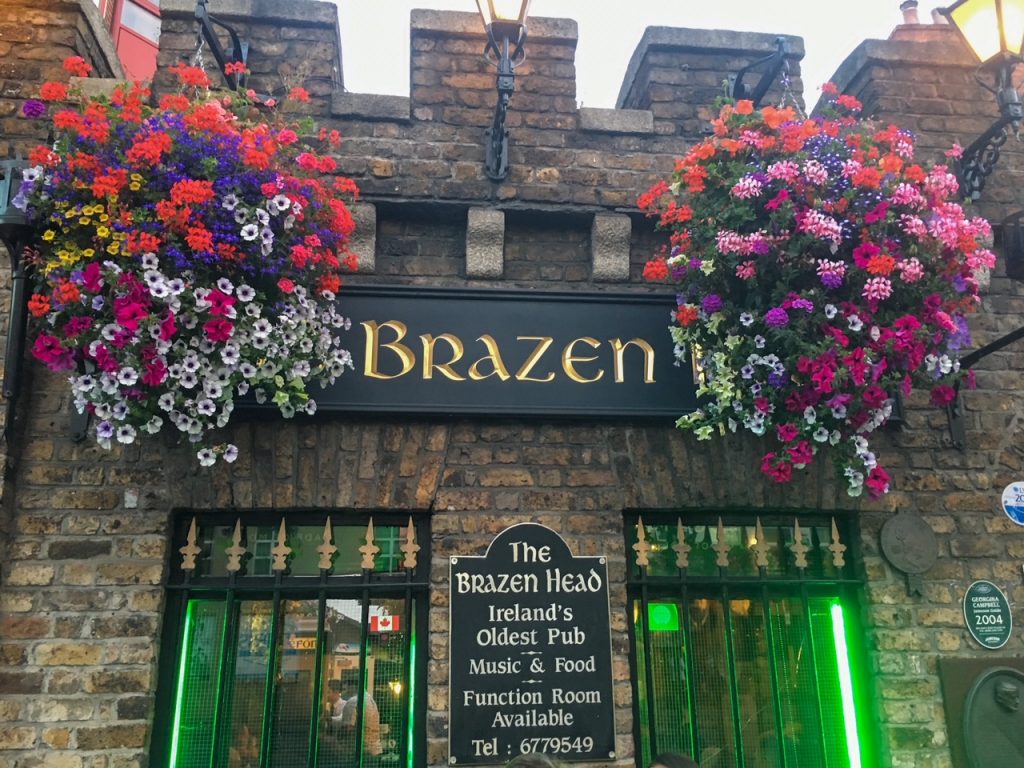 Where to eat in Dublin, Ireland? After our tour, we moseyed around to the closest spot we could find with an appetizing menu posted outside. The Brazen Head is where we landed. Come to find out, we were actually eating at Ireland's oldest pub, dating all the way back to 1198!
The pub had reasonably-priced, yummy food (although I'm pretty sure we both went with American dishes), and there was an Irish band playing by the bar while we were there, making it an even more enjoyable experience.
Our first day in Dublin was such a blast! We highly recommend stopping at The Guinness Storehouse for a unique and fun experience and topping off your evening with some traditional Irish music and pub food at The Brazen Head.
If you have more time in Dublin, you could also consider visiting some of these sites that celebrate Dublin writers; you know we sure do love a good book!
Day 2: Ring of Kerry Rail Trip from Dublin
What is the Ring of Kerry?

The Ring of Kerry is a popular, scenic drive around the Iveragh Peninsula in southwest Ireland. The more than 100-mile route starts and ends in Killarney and offers breathtaking views of rolling green hills, white sandy beaches, magnificent mountains, stunning lakes, awe-inspiring cliffs, seaside villages and more.
As you make your way through Ireland's rocky southern coast, you'll witness some of County Kerry's highlights like the Lakes of Killarney, Macgillicuddy Reeks, Carrantuohill (Ireland's highest mountain), Ladies View, and Dingle Bay.
A visit to the Ring of Kerry is a must for any Ireland trip!
How to Visit the Ring of Kerry

Before our trip, we booked a full-day Ring of Kerry Rail Trip from Dublin.
The morning of, we scheduled a taxi for 6:30 a.m. through the FREE NOW app (previously mytaxi) and made our way to the Heuston Station, i.e. Dublin Heuston. Here, we met up with a Railtours Ireland representative for our 7 a.m. start time. Note that the price of the tour includes train tickets and reserved seating.
A Broad Recommendation: always arrive early for group tours to ensure there are no issues with your reservation. This particular tour suggested arriving at least twenty minutes early. Understand that the train will NOT wait for you. If you miss it, you won't be able to catch up with the group.
Luckily, the train had free WIFI and some breakfast options, since it was a long train ride. When we arrived around 11 a.m., we hopped onto a coach bus and headed to Killarney in County Kerry to begin our guided tour.
I'm not sure how we got so lucky, but the bus was nearly half-empty, and we were able to spread out and enjoy the epic views from various angles! Much of the drive was along the coastline, and we were grateful to get the most beautiful weather too.
A Broad Recommendation: the roads around the Ring of Kerry are narrow, making it difficult for tour buses to pass one another, so all tour buses run in a counterclockwise direction. If you're planning to drive yourself, go in a clockwise direction to avoid getting stuck behind all of the tour groups.
Sheep Herding Demonstration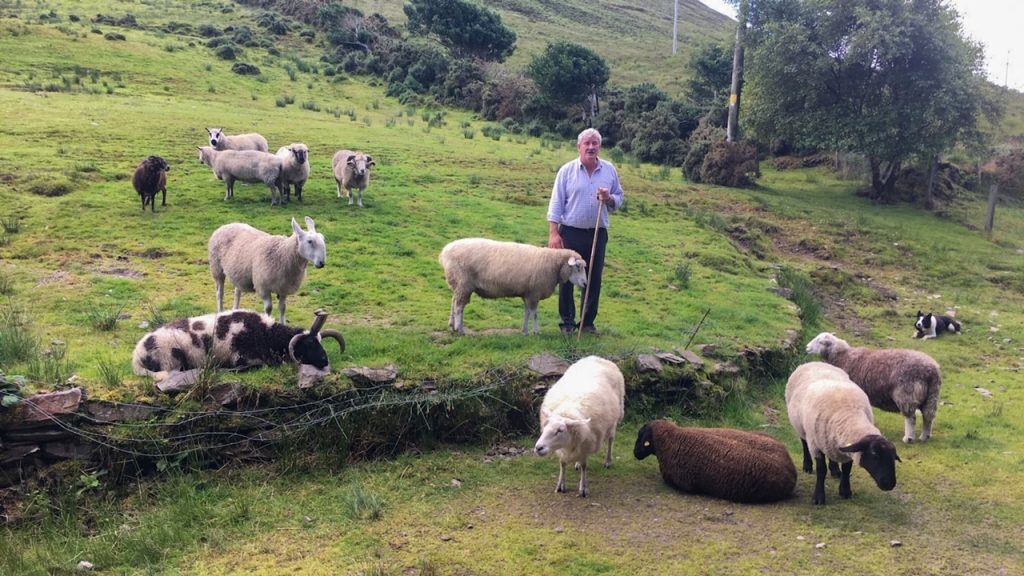 By noon, we made it to Kells. Here, we watched a sheep herding demonstration led by a shepherd and a couple of Border Collies – so neat!
Note that you'll have to pay extra to see this demonstration. I think it was only €5 or €10 though and was well worth the money in our opinion.
Breathtaking Views from the Bus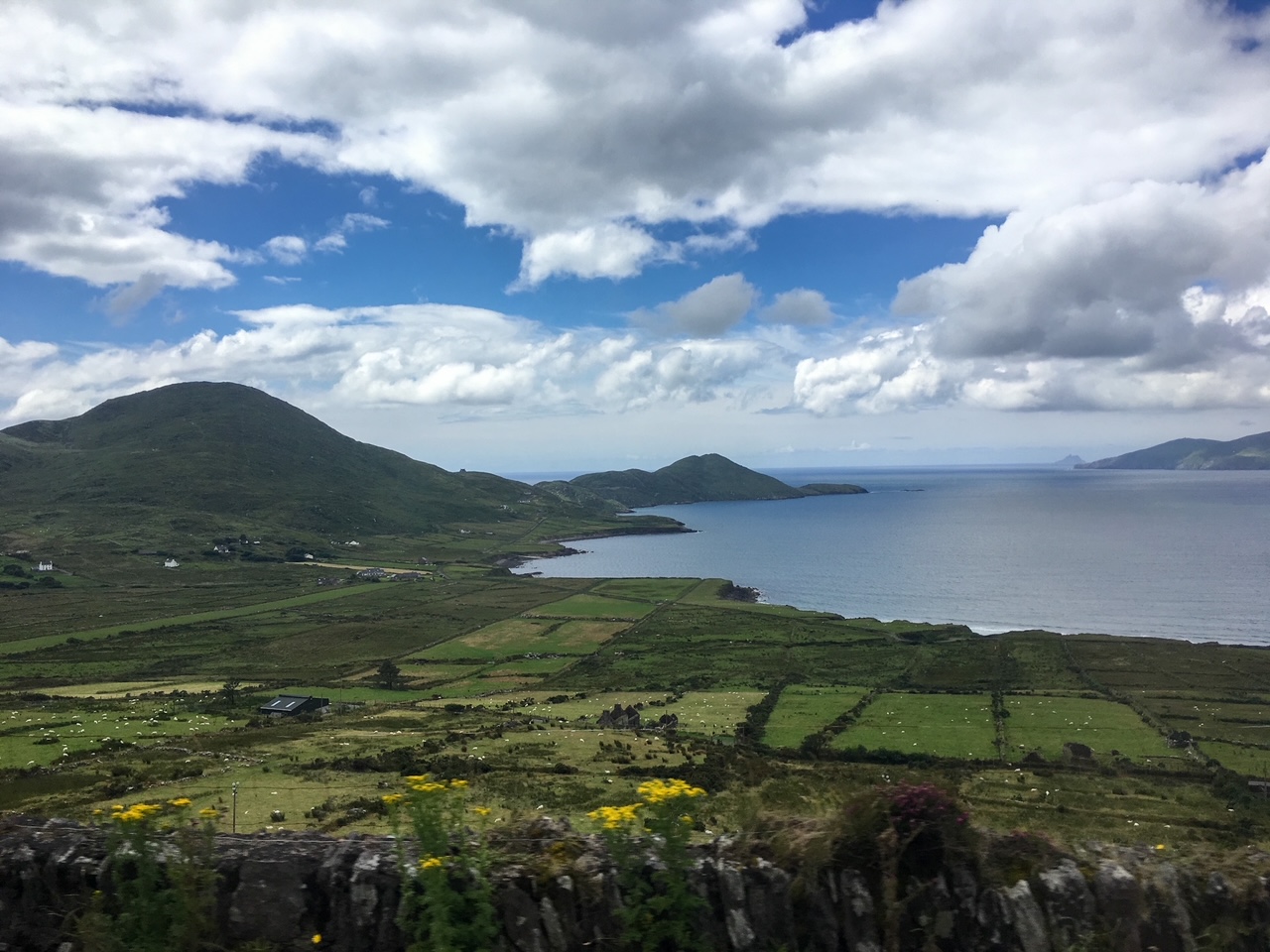 After this stop, most of the sightseeing was done while en route. This didn't bother us one bit; the views of the Irish countryside were absolutely stunning. Plus, we were happy to be able to sit back, relax and take it all in.
A Broad Recommendation: if you're able to take a tour versus driving yourself, we highly recommend it! It's so nice not having to worry about driving and focusing on the roads while enjoying the scenery. Also, if you're not familiar with driving on the left-hand side of the road, this can be especially daunting on the narrow roads along this route.
Even through the bus windows, the views were still absolutely incredible!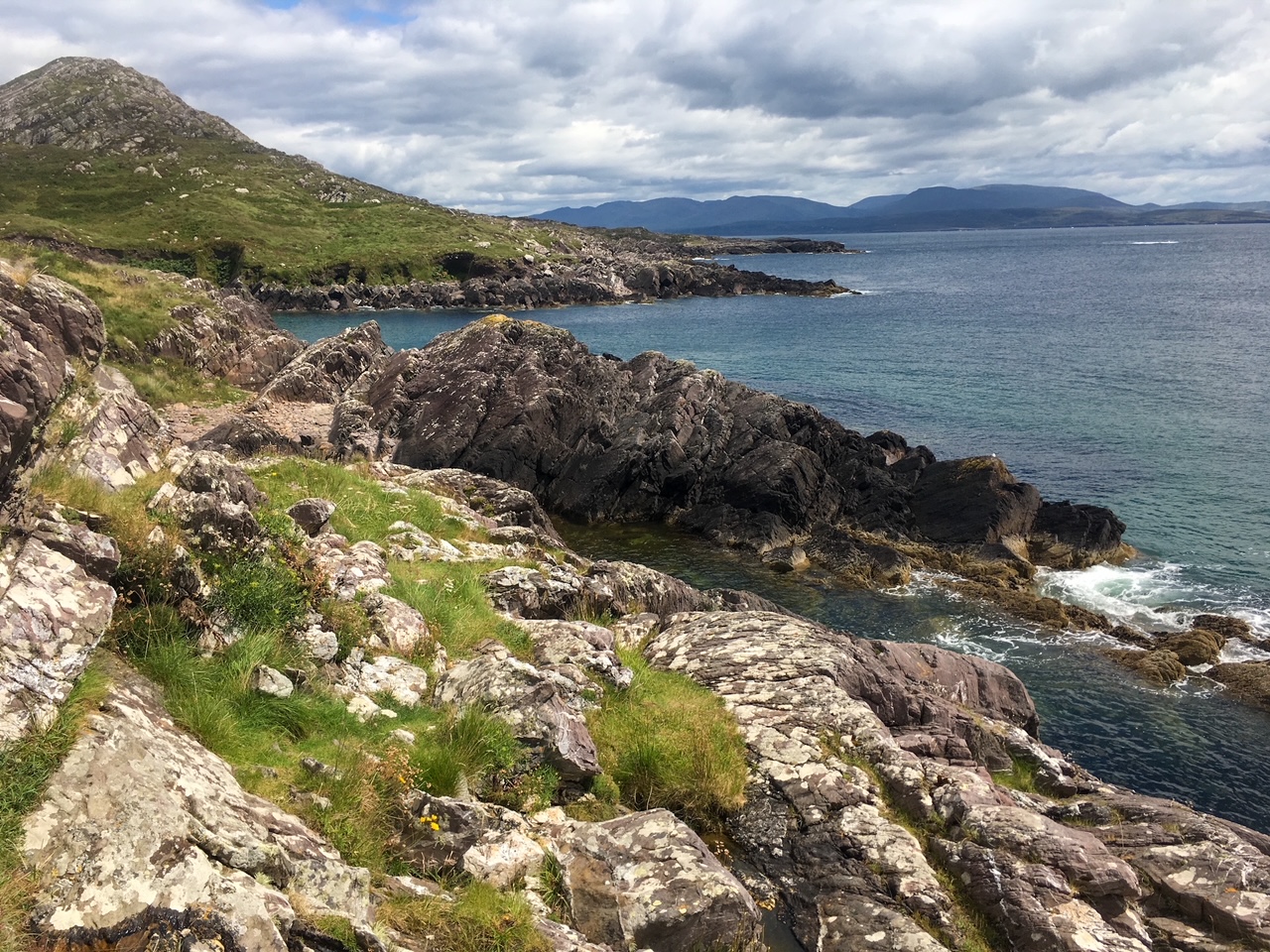 Stops at Scenic Pull-Offs
We made numerous stops throughout the day to take [a lot of] photos. And, our stop in Waterville was a great opportunity to get some pictures together.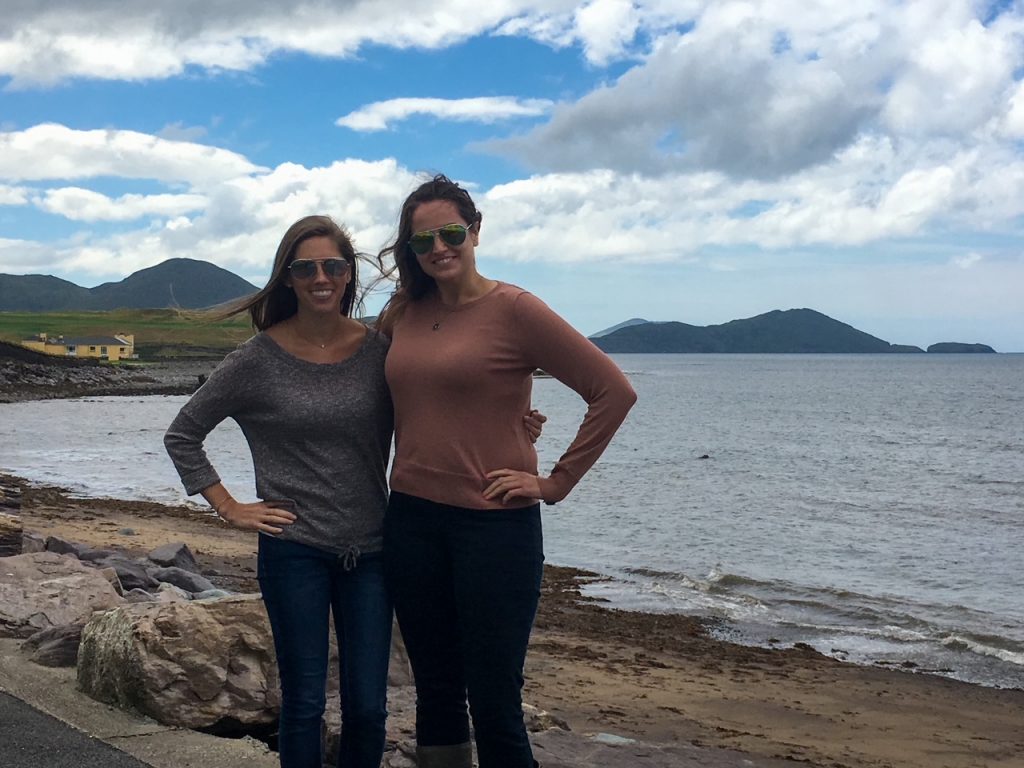 We even captured these gems of our failed attempts to get a "cute jump shot". Our tour guide was wonderful and tried his very best to capture our mid-air enthusiasm!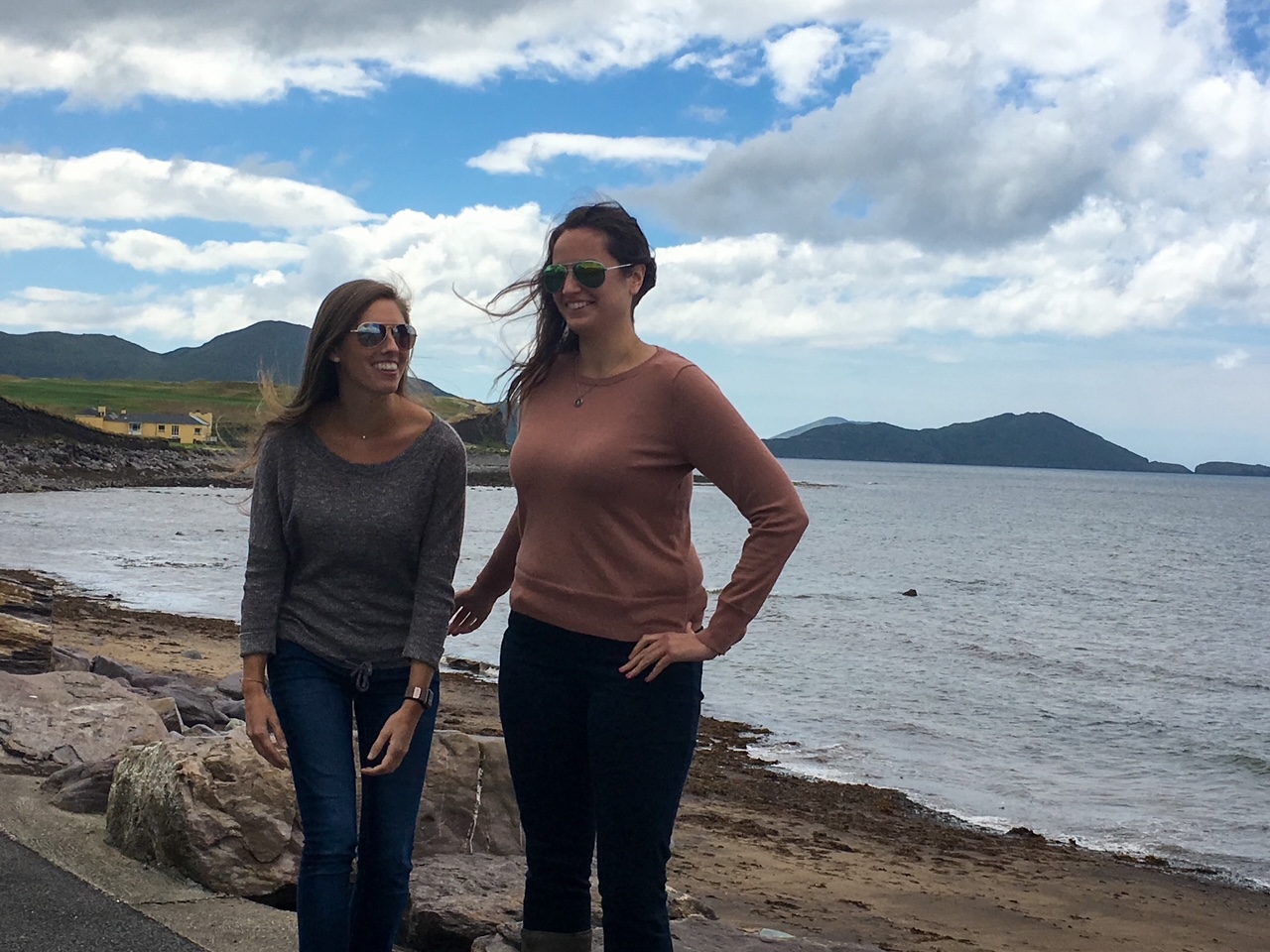 A Broad Recommendation: we stopped for a coffee break early on and got to peruse some gift shops. There were also several restroom breaks throughout the day. However, if you're a picky eater, we would recommend packing some snacks or your own lunch. I can't remember when or where we stopped for lunch, but I do recall it being later in the day. I also recall not having many options.
The Lakes of Killarney offer stunning vistas, and County Kerry boasts Ireland's highest mountain range, the Macgillicuddy Reeks, with the highest peak, Carrantuohill, at just over 3,400 feet. And, we were able to stop to take some more photos at each of these spots.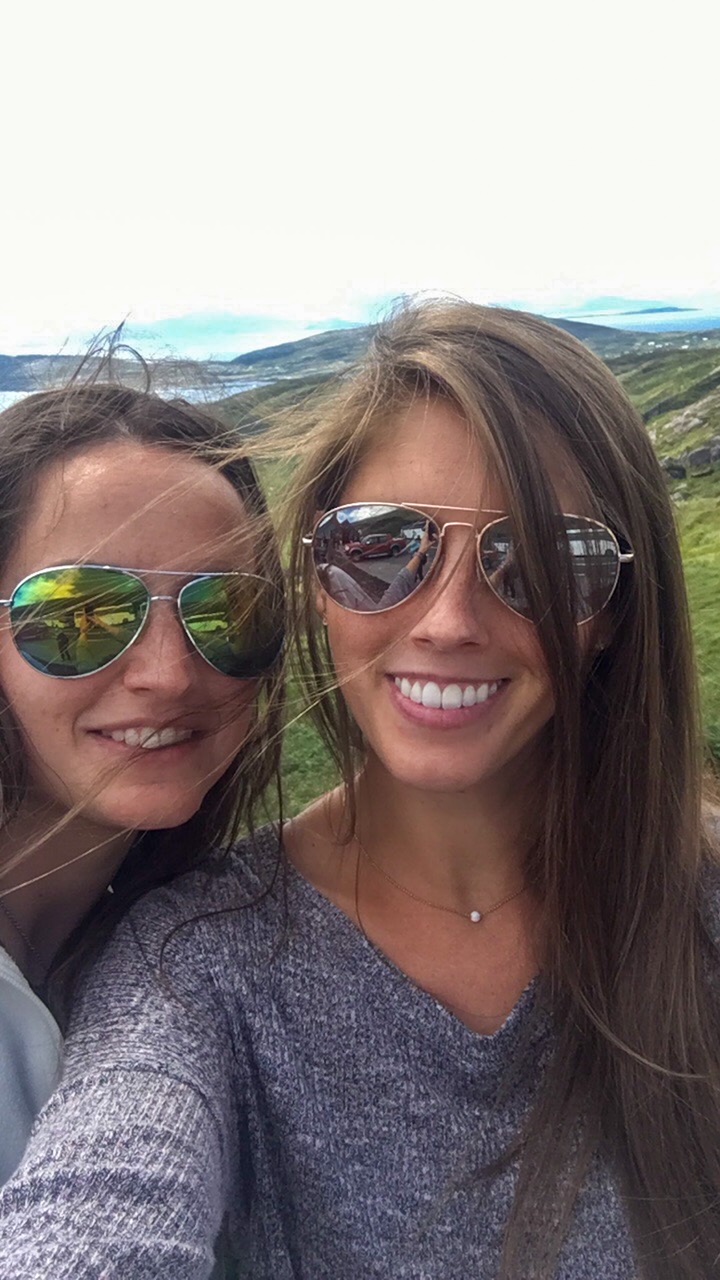 We returned via Ladies View through the magnificent Killarney National Park. The "Ladies View" refers to the time Queen Victoria visited the Ring of Kerry in 1861. This specific spot was a favorite of her ladies-in-waiting.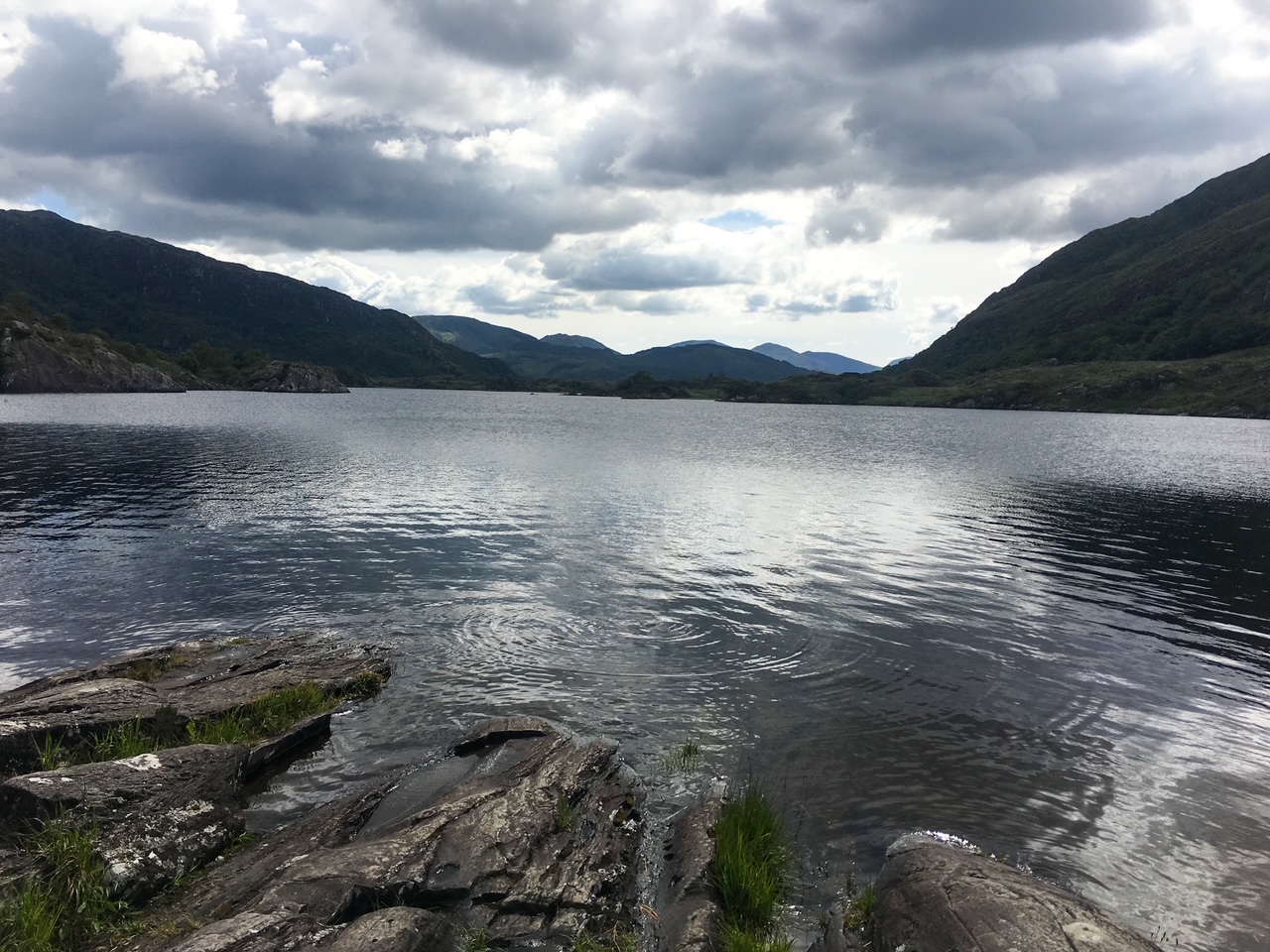 A Broad Recommendation: okay, so I have to be real here. Going back in time and trying to remember all the places we stopped at was super challenging. I need to give to Snapchat a quick shoutout, as I was able to use the data stored in my history to retrace some of our steps.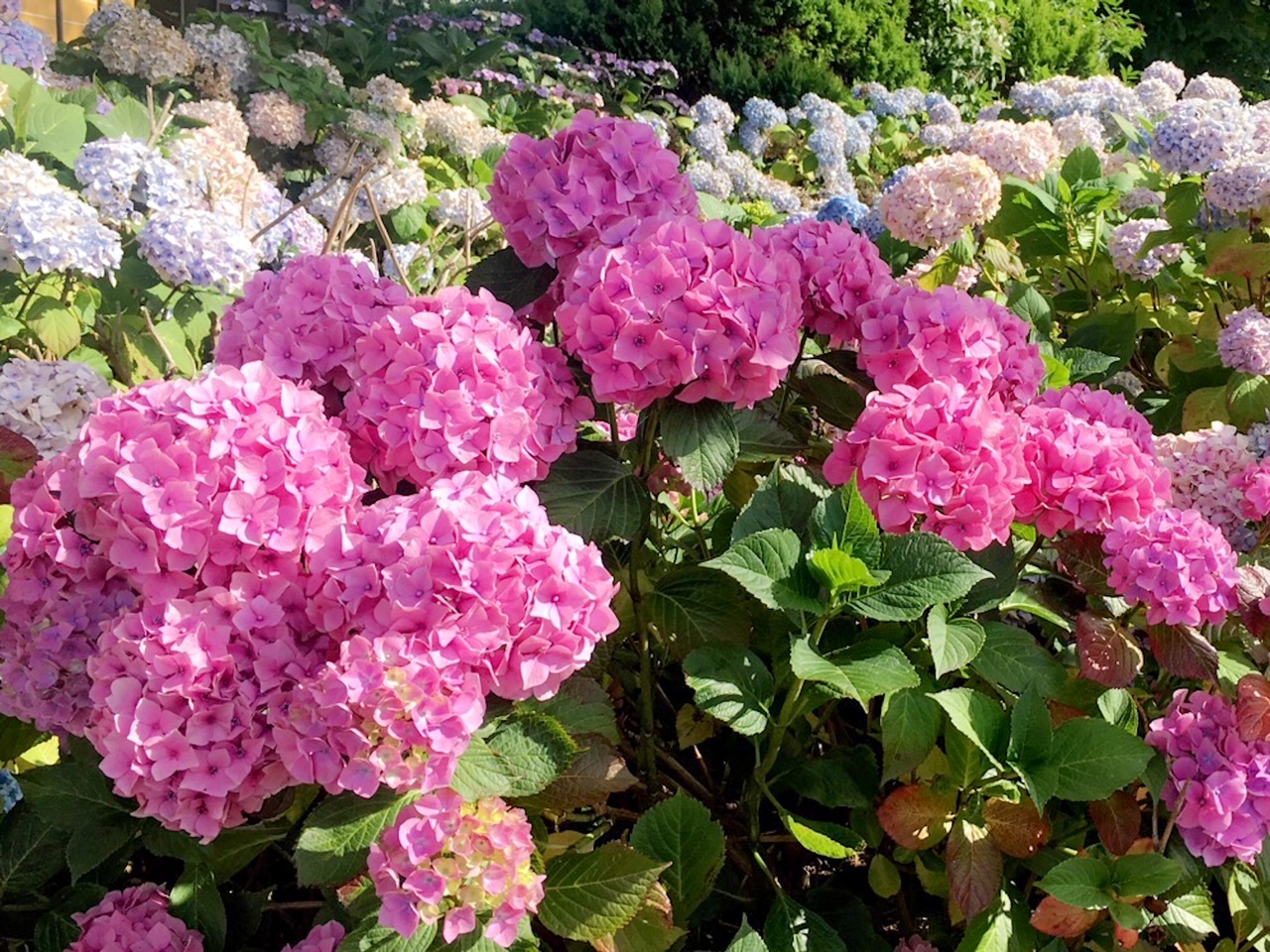 Between 5 and 6 p.m., we made it back to Killarney, where we grabbed dinner before our train ride back to Dublin. On the way back, we read, listened to music and napped.
A Broad Recommendation: can you tell that we absolutely loved this tour? We booked through Viator for just under $250 for the two of us, and it was honestly worth every penny. Our guide was absolutely wonderful, and the scenery was breathtaking!
Day 3: Northern Ireland Highlights Day Trip

The next day, we embarked on another jam-packed day trip, the Northern Ireland Highlights Day Trip Including Giant's Causeway from Dublin through Wild Rover Tours. There were two pick-up spots, so we naturally chose the Starbucks option to grab some drinks and breakfast for our journey.
We arrived fifteen minutes early for our 7 a.m. departure and entered a completely packed, air-conditioned coach bus. Even though we were early, we just barely found seats together all the way in the back.
A Broad Recommendation: if you choose to do this excursion, be prepared to sit for a while. This was another long day of driving, but luckily, the coach had free WIFI. The drive to Northern Ireland was around two hours, and we had a twenty minute stop to use the restrooms and to get some coffee and snacks.
Belfast Black Cab Tour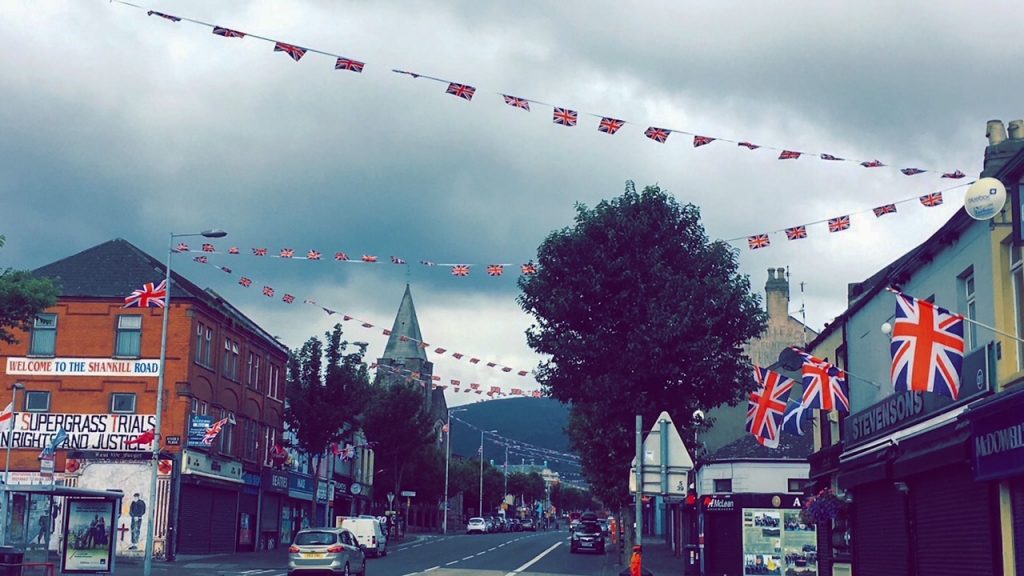 When we arrived in Belfast, we were given two options for our two-hour stop:
Visit the Titanic Belfast, a maritime museum located on the site of the former Harland and Wolff shipyard where the Titanic was designed and built, or
Take a Belfast Black Cab Tour, stopping at the Falls and Shankill neighborhoods, to learn about Belfast's troubled history.
I had originally wanted to do the Titanic tour, but Katie was leaning more towards the Black Cab Tour, so we decided to do that one – and, it turned out to be a great choice.
Belfast is Northern Ireland's capital. It's sadly most well-known for The Troubles (1968-1998), a period of violent, sectarian conflict between Protestant unionists and Roman Catholic nationalists.
An eery, albeit safe, private cab and walking tour took us through the streets where the upheaval of the Northern Ireland Civil Rights Movement gave rise to extremist-led street riots, sensational bombings, and massacres. More than 30,000 civilians, police officers and soldiers were wounded or killed during this time.
Intricate murals depicting the political and religious turmoil overwhelm the streets. One area illustrates a more gut wrenching, visual timeline of the violence leading up to the Good Friday Agreement of 1998, which brought an end to the fighting.
Throughout the tour, our driver, who alluded to being an active participant in the conflict, shared surreal stories and regrettable experiences that he and his family had endured.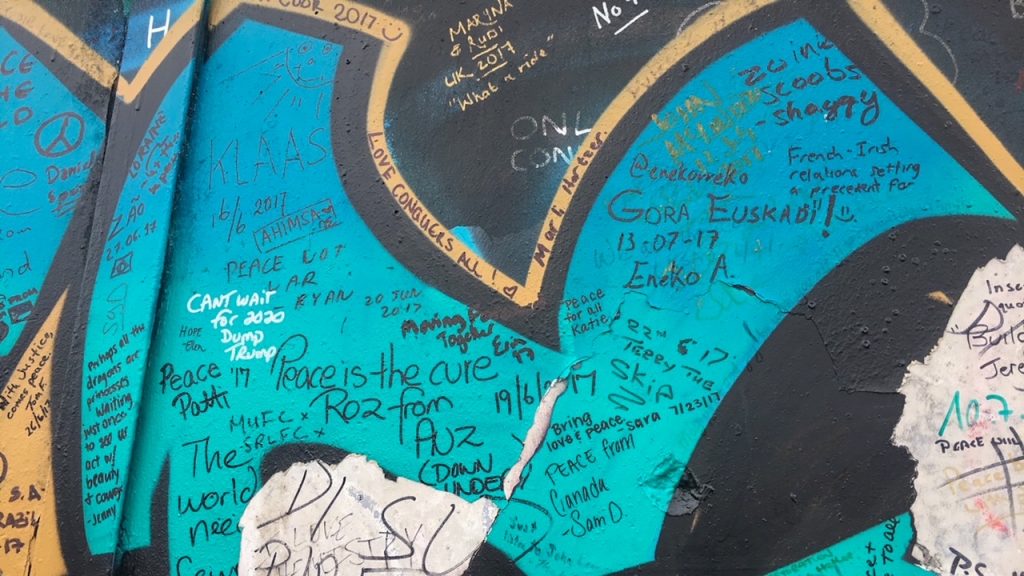 At the tail end of our cab tour, we were humbled to sign the Peace Wall. This wall segregates the Falls Road Catholic and the Shankill Road Protestant communities.
Originally built as temporary structures to minimize the violence between predominantly Catholic and Protestant neighborhoods, the peace walls have since become wider, taller and more numerous due to their effective nature, and are now seemingly permanent.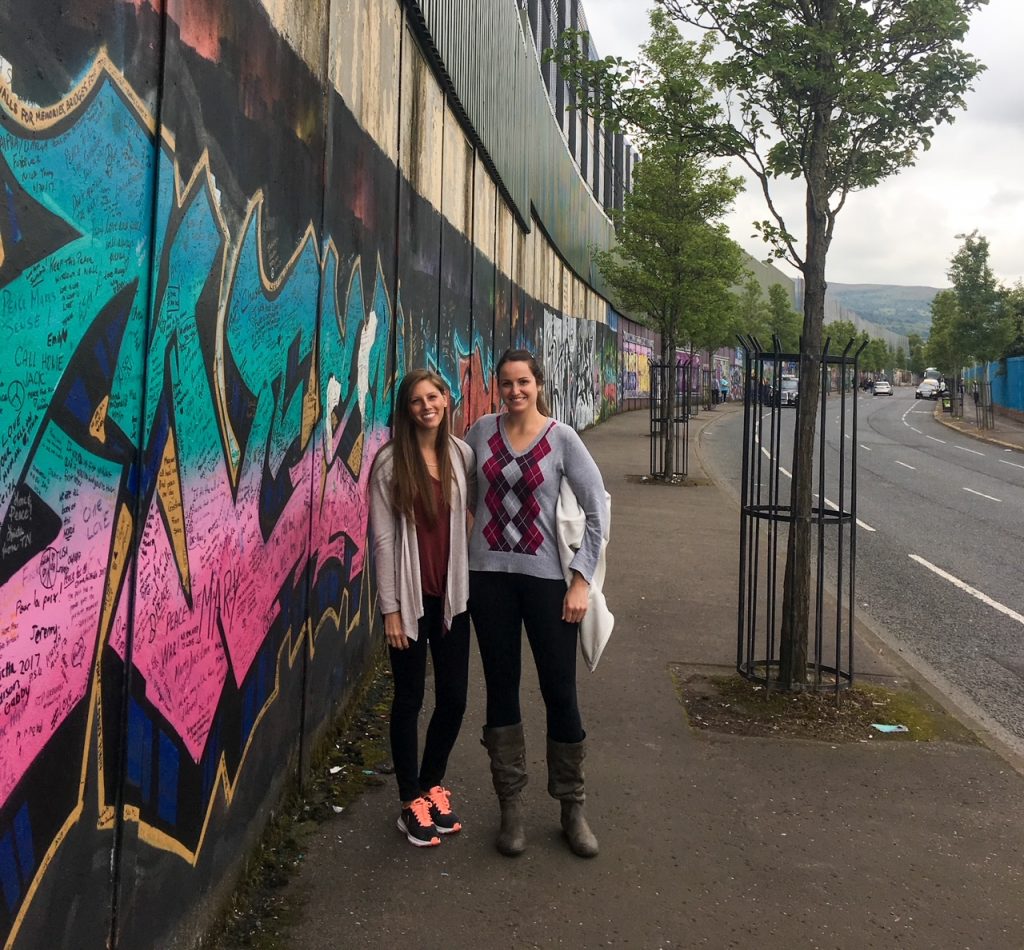 We reflected amongst ourselves on the powerful and somber experience before boarding the bus and heading to our next stop.
A Broad Recommendation: we found the Belfast Black Cab Tour to be a profound and unique experience. Not only did we learn a lot about the history of Belfast, but we also heard personal stories that our guide willingly shared, making the visit even more impactful. Note that this was also included in the price of our booking.
Out of respect for the communities we visited, we chose to not take many pictures. We mostly spent our time observing and reflecting. That being said, you'll just have to visit here during your Ireland trip and explore this area for yourself.
The Giant's Causeway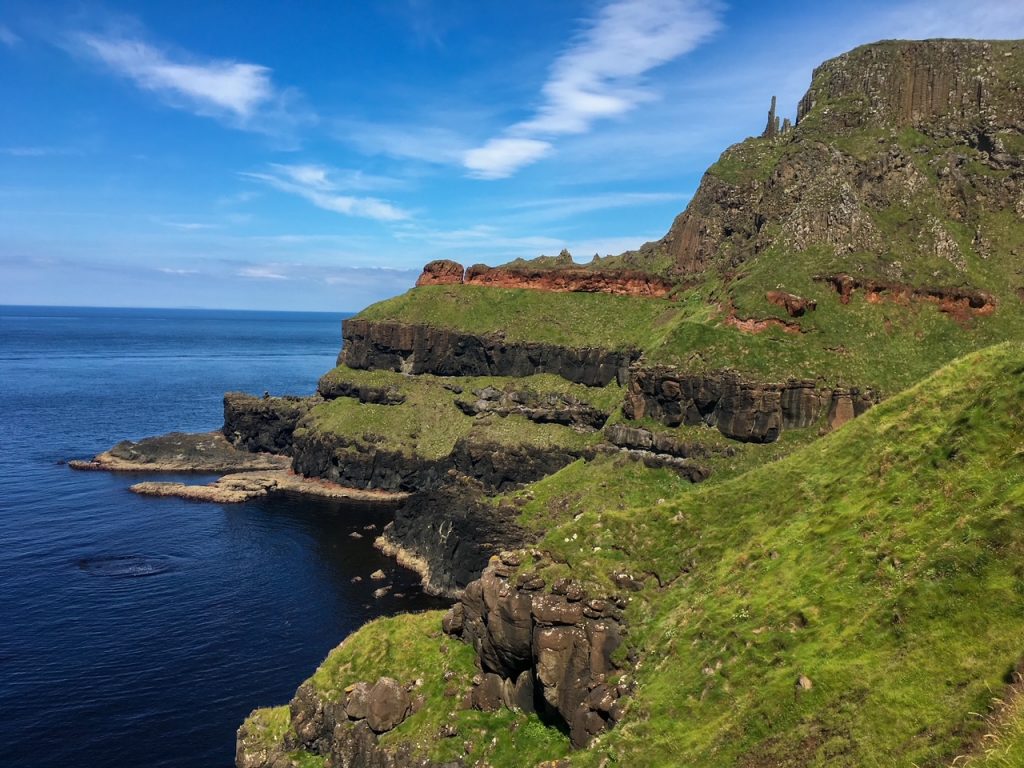 En route to the Giant's Causeway, we rode along the Antrim Coast and admired the dramatic, rocky coastline and incredible sea views. In Bushmills, we passed by the medieval Dunluce Castle, which more recently served as the "House of Greyjoy" in the TV series, the Game of Thrones.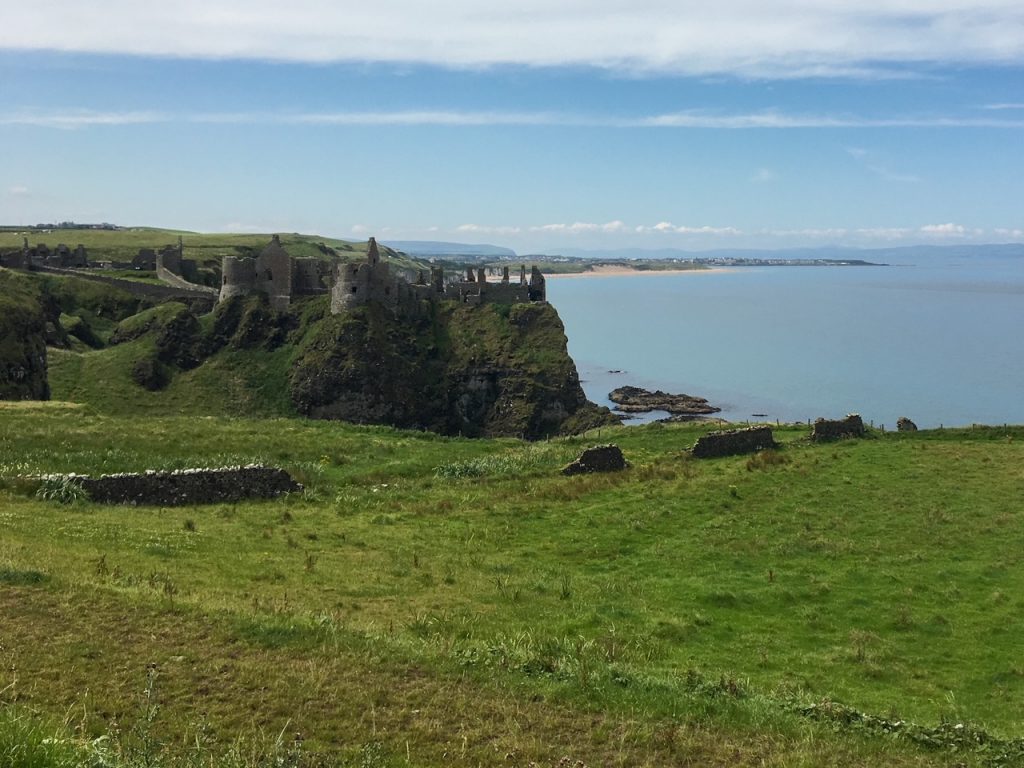 After around two hours of driving, we arrived at the Giant's Causeway Visitor Center. Here, we got to walk around, eat lunch and admire a true geological phenomenon – the Giant's Causeway.
A Broad Recommendation: it's important to note that the Republic of Ireland (officially named Ireland) and Northern Ireland, which is part of the United Kingdom, are two separate countries. Northern Ireland uses the pound sterling (£) instead of the euro, so keep that in mind for your visit here. Most likely, you'll be able to pay by card, but it's not a bad idea to have some cash on hand.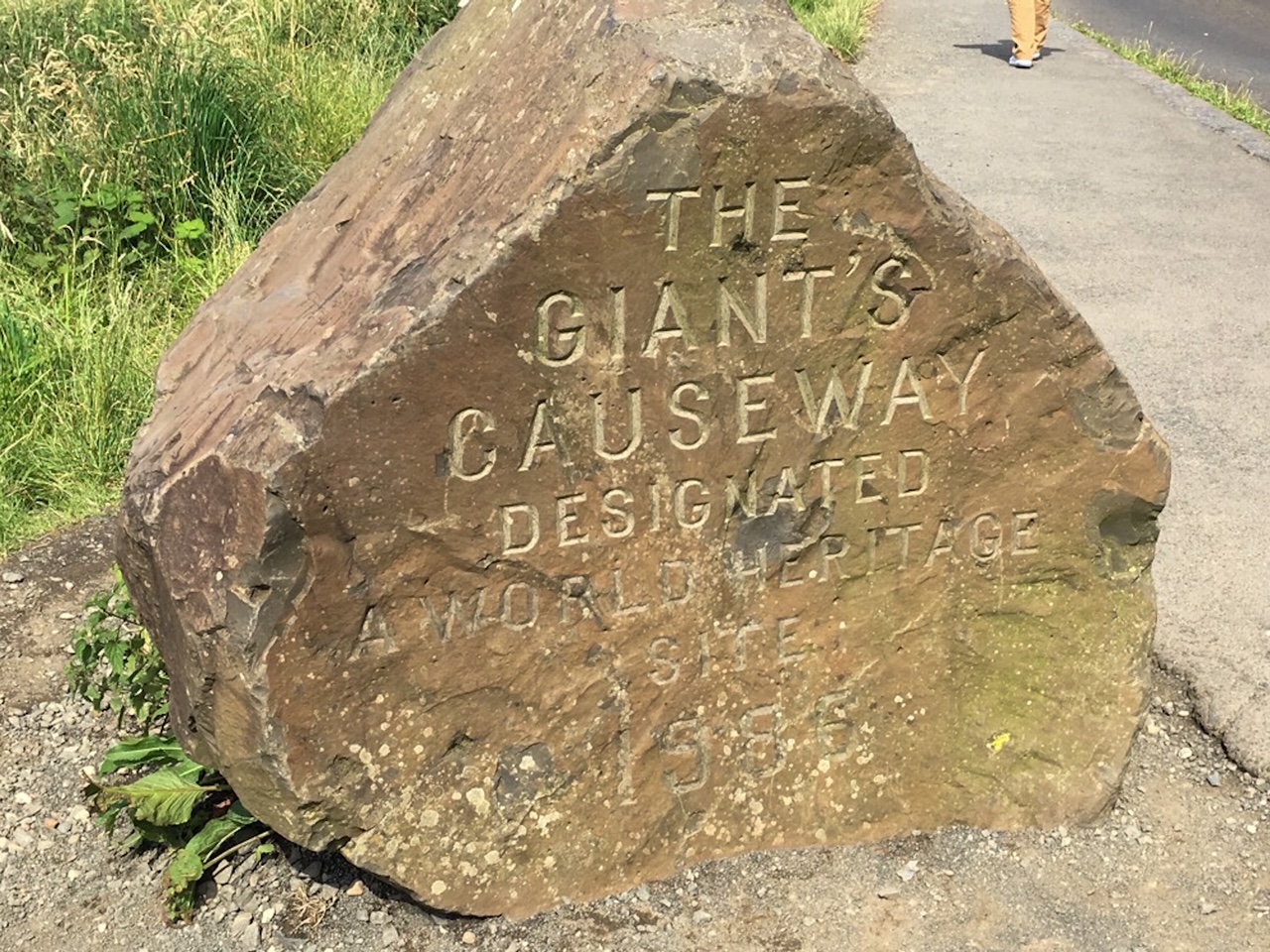 According to local legends, the Giant's Causeway was created while two rival giants from Ireland and Scotland were preparing for battle. But, geological research reveals that the thousands of polygonal-shaped, black basalt columns protruding from the sea were actually formed from volcanic activity during the Tertiary period.
Similar columns exist in Iceland at the Vatnajökull National Park, in the United States at Wyoming's Devil's Tower and in Scotland on the island of Staffa.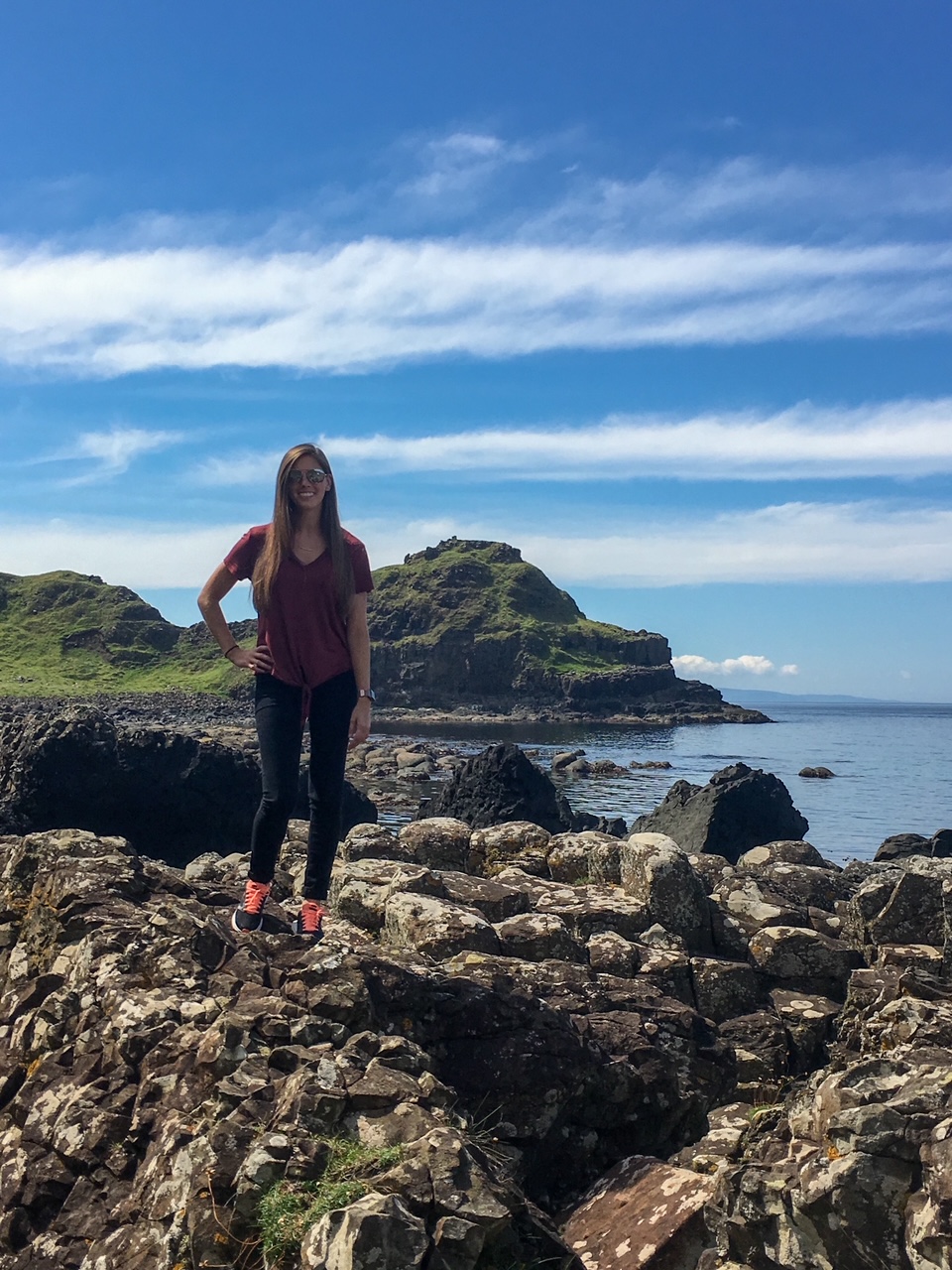 The Giant's Causeway is a UNESCO World Heritage Site and has contributed to the development of the earth sciences and basaltic volcanism studies, and to understanding the Earth's geological history.
We were able to explore for the better half of an hour, and a bit of hiking offered some epic views!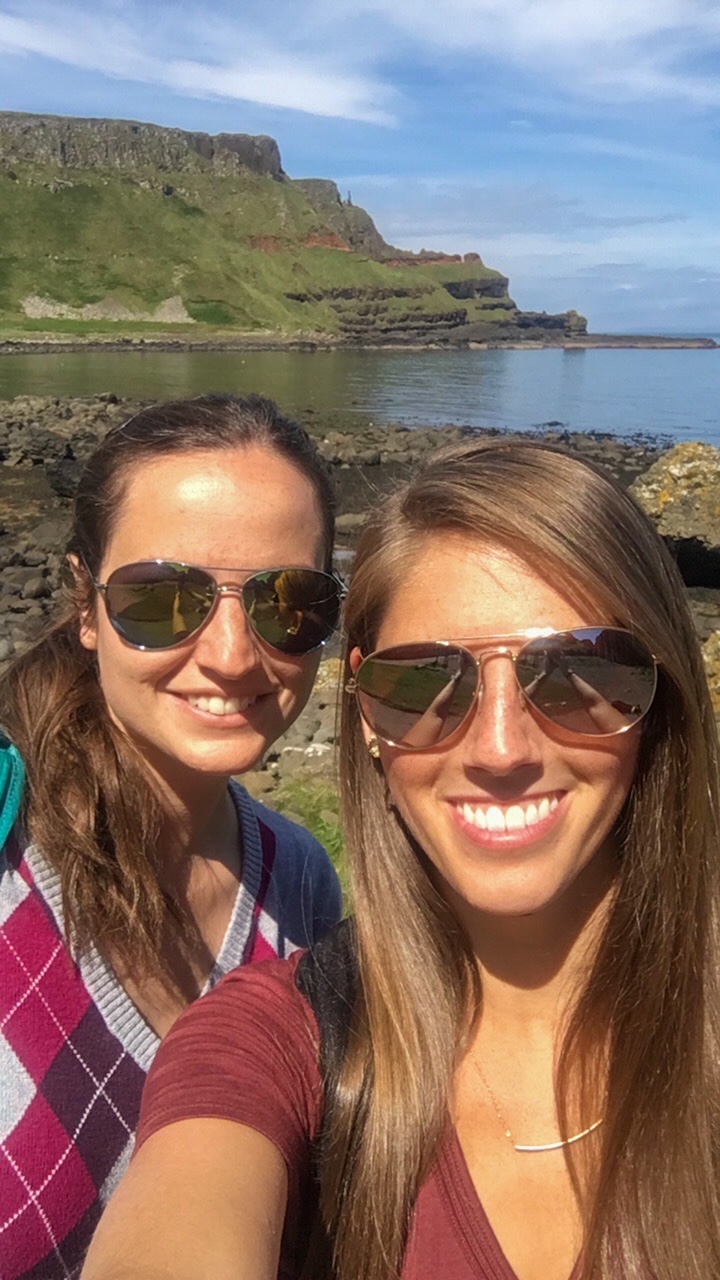 A Broad Recommendation: wear tennis shoes for this excursion if you plan to walk around or hike. Although this is another optional experience, you're not going to want to miss it, and you'll have a much better time if you're wearing comfortable footwear!
In my opinion, the Giant's Causeway is another must-do during your visit to Ireland. In fact, it's one of Northern Ireland's most popular tourist attractions.
Carrick-a-Rede Rope Bridge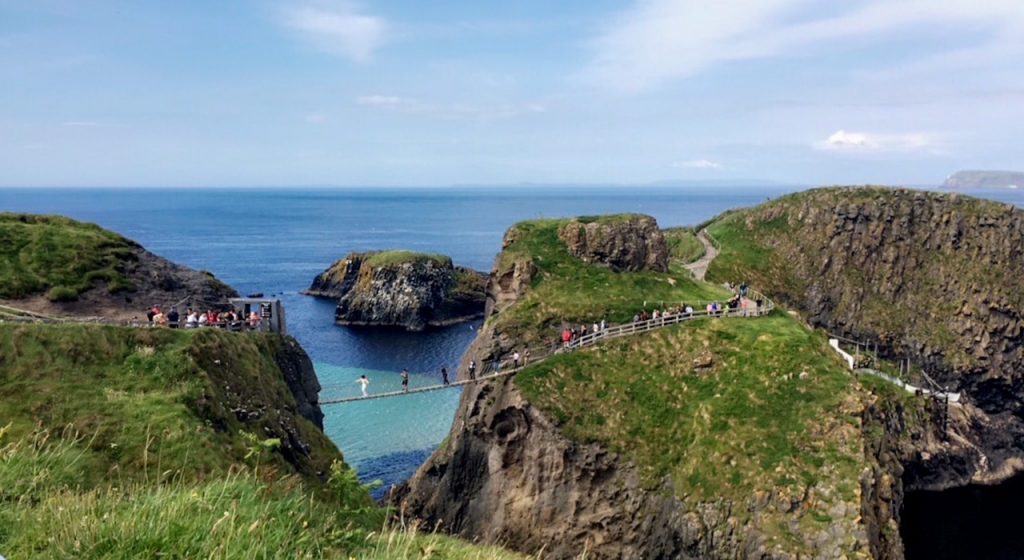 Not far down the road was our next stop: the Carrick-a-Rede Rope Bridge, where we crossed the swaying, ~100-foot-high rope bridge.
Fun fact: several scenes from the Game of Thrones were filmed here too!
Given that we were so far north and the weather was unseasonably beautiful (and warm), we were able to see Scotland in the distance. According to our guide, this was practically unheard of for this time of year!
Perhaps this was foreshadowing for my future trip to Scotland that I would take almost exactly five years later.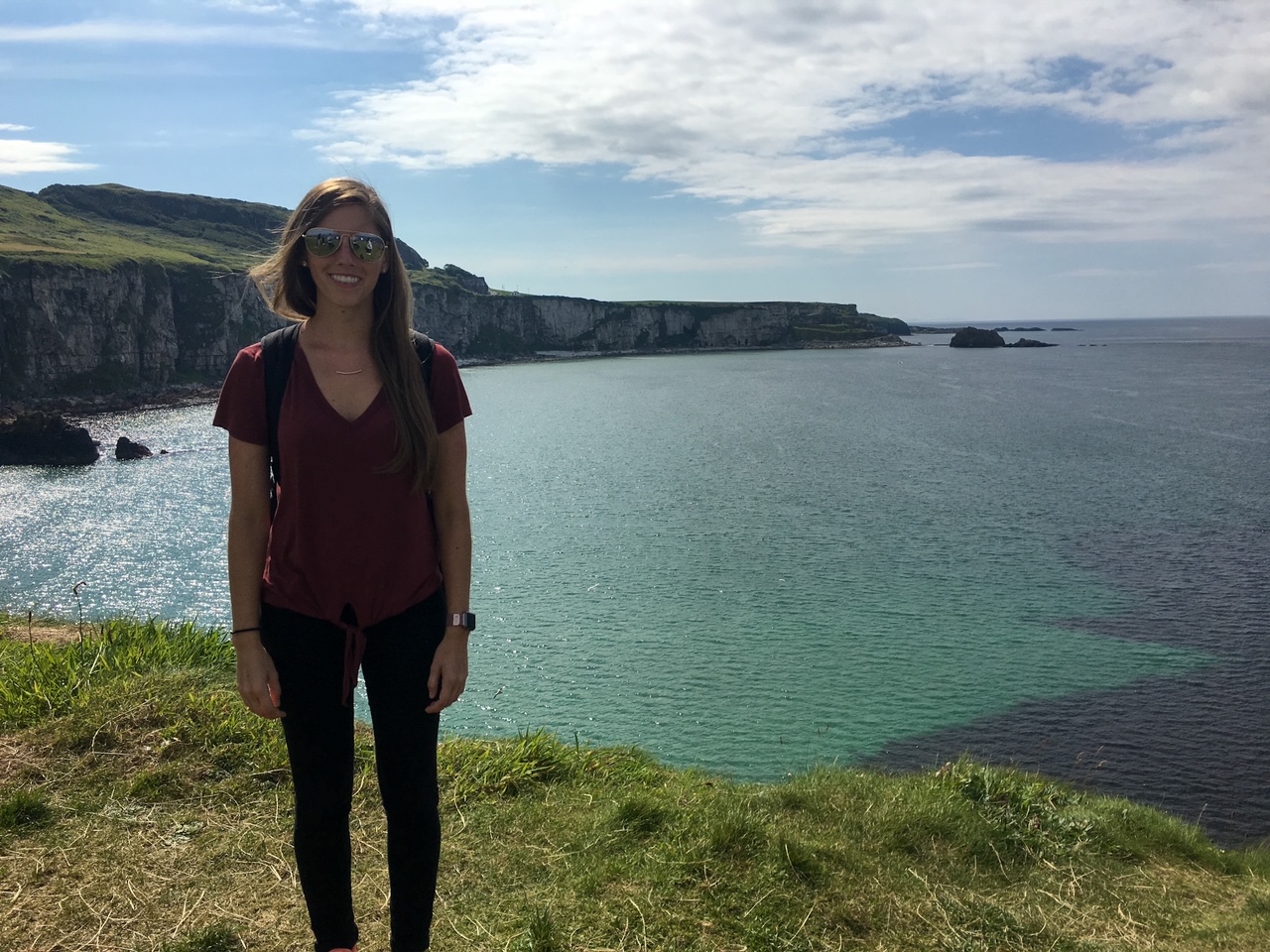 We stayed at this spot for around an hour and a half, giving us plenty of time to explore before hopping back on the bus for our journey back to central Dublin. Note that tickets for the bridge crossing were also included in the tour.
A Broad Recommendation: this was another wonderful tour that we highly recommend for any visit to Ireland. The tour offered a variety of experiences and boasted breathtaking views throughout the day. We booked through Viator again and paid around $170 for two people.
After a 12+ hour day of sightseeing, we were totally pooped! We had a casual dinner and listened to some live music at The Temple Bar Pub. Then, we headed back to our Airbnb for the night.
Day 4: Cliffs of Moher Day Trip from Dublin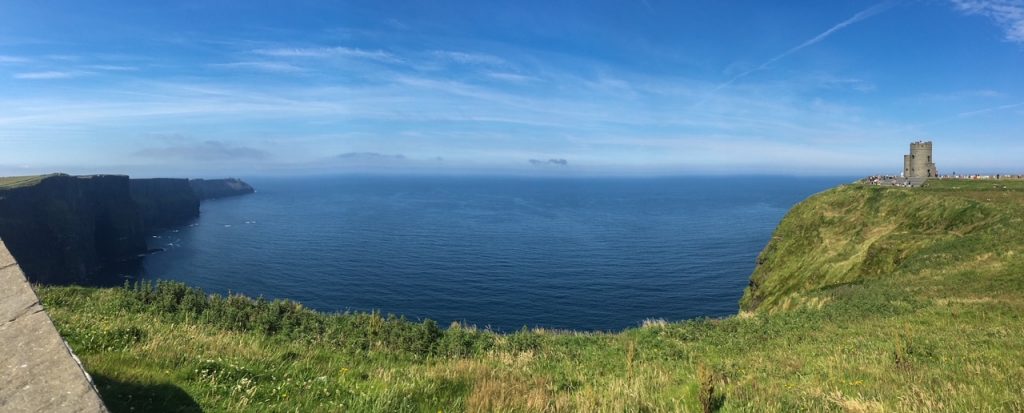 Another day, another day trip from Dublin! We woke up early to meet our group around 7 a.m. at the Molly Malone Statue in Dublin. This is where we started our final tour, the Cliffs of Moher Day Trip from Dublin.
Again, the coach bus had air conditioning, as we made the three-hour or so journey out to County Clare. We took advantage of the quick stop along the way to use the restrooms and to buy some snacks. Otherwise, we were so tired that we ended up napping most of the way there.
Cliffs of Moher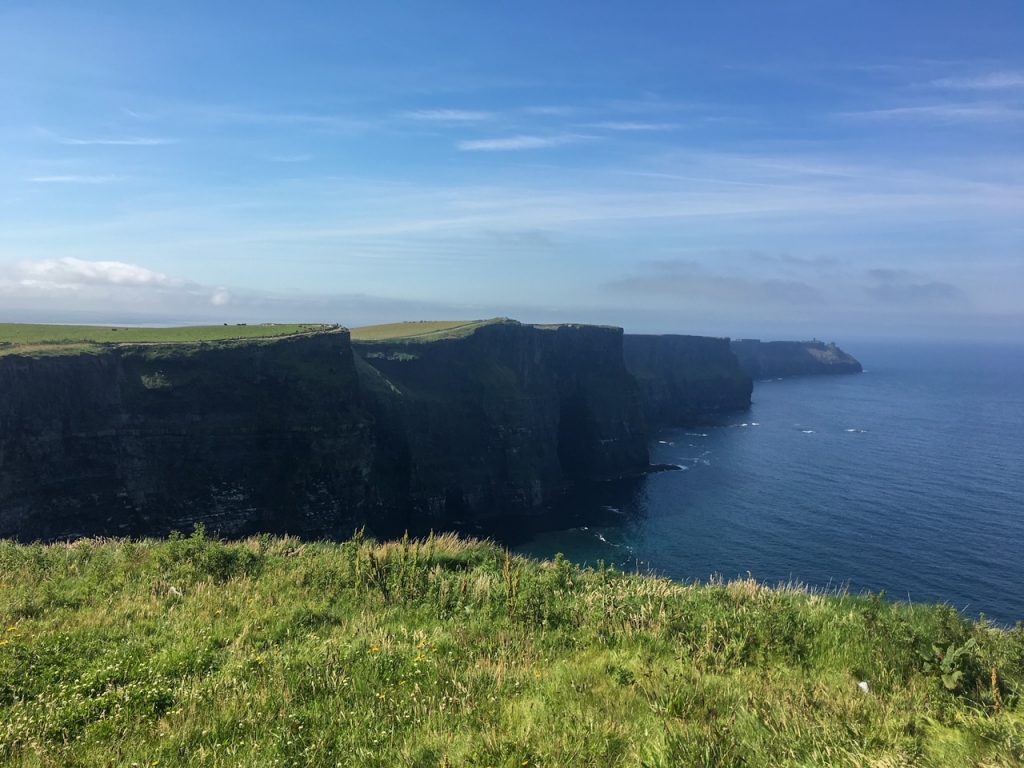 When we arrived at the Cliffs of Moher around 11 a.m., we were given about an hour and a half to walk around and explore the rugged, gorgeous landscape.
Named after a ruined promontory fort, the cliffs overlook the Atlantic Ocean on the west coast of Ireland near Liscannor Village. They extend for around five miles, and at their highest point, they reach more than 700 feet tall.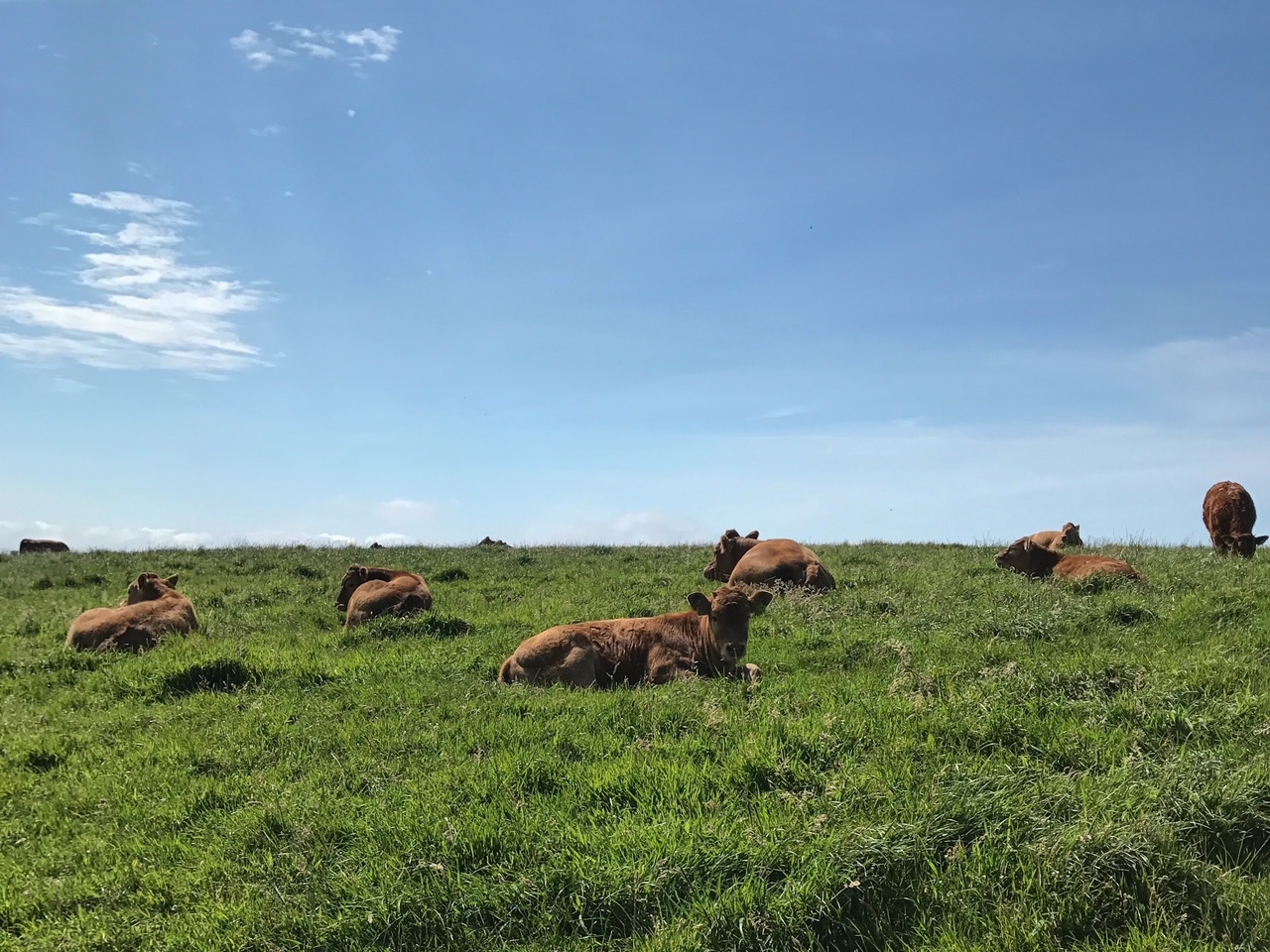 The panoramic views were spectacular, as we admired this exquisite geological wonder. We took one of the trails to get a different vantage point, but couldn't go off too far, as we had to make it back to the bus on time. We did, however, make it far enough to see some pretty cute cows!
Before our trip, I'd gotten a brand new Apple Watch and had just started wearing it. Naturally, I ran right into one of the cliffs here and scratched it all up – whoops! I guess the silver lining is I can tell everyone that the scratches are from the Cliffs of Moher, which is pretty cool, haha.
A Broad Recommendation: although there is a TON of sitting on the bus, we recommend bringing or wearing tennis shoes. The stops are fairly short and there's lots to see, so you won't want to be slowed down by your choice of footwear.
Although the Cliffs of Moher are Ireland's most popular tourist attraction, this wasn't my favorite excursion. I actually preferred our visits to the Ring of Kerry and the Giant's Causeway over this day trip. That said, if you've never been, a visit to the Cliffs of Moher should still be on your Ireland itinerary!
A little after 12:30 p.m., we stopped at the village of Doolin for lunch. Note that lunch was out-of-pocket.
Burren National Park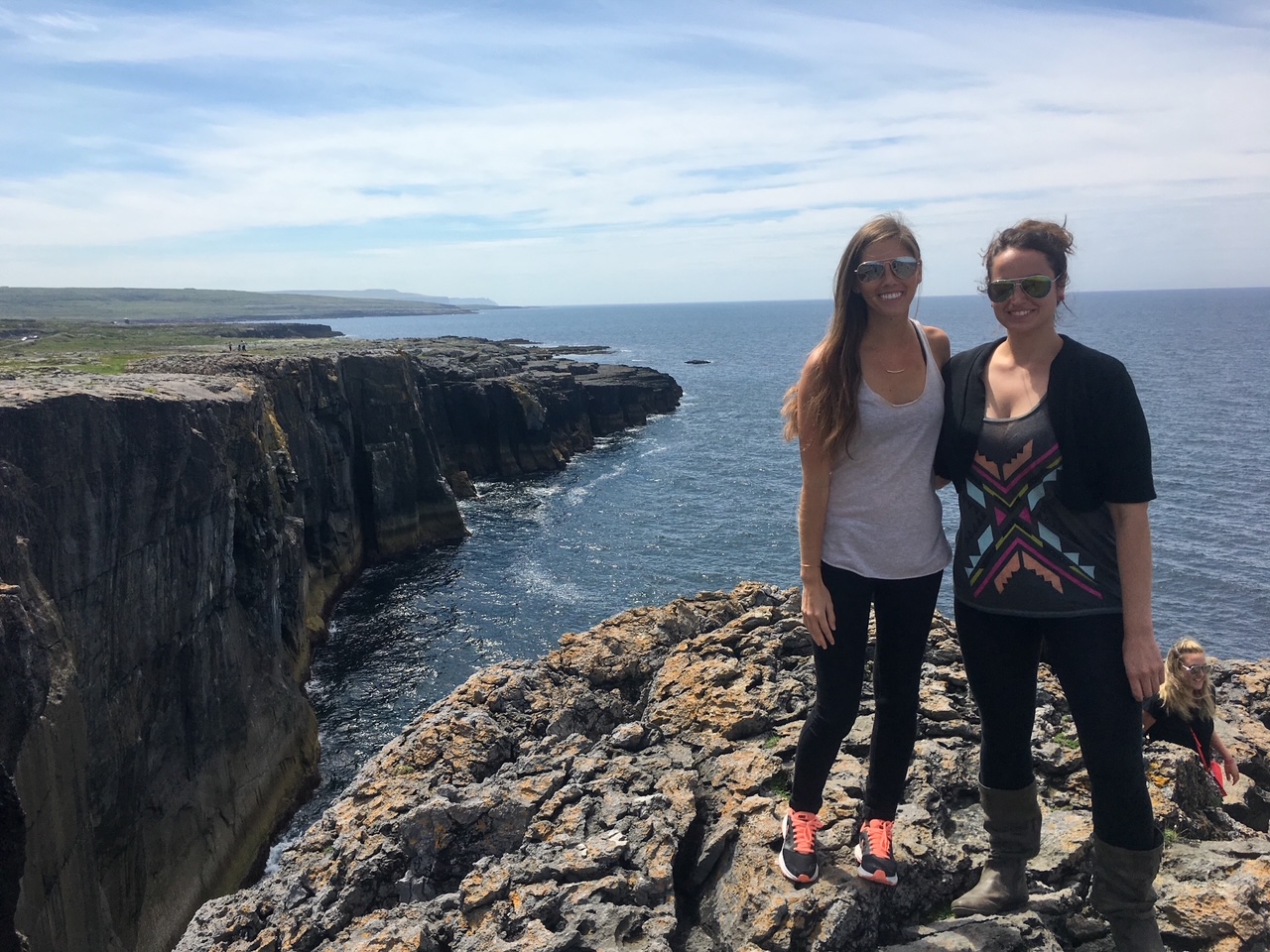 Next, we headed to Burren National Park, a rocky limestone terrain along the coast. The plants and flowers that grow within the rocky crevices here can only be found in this part of Ireland. We likened our experience here to walking on the surface of the moon, haha. Some of the formations were out of this world!
We spent around forty minutes here before heading up the west coast onto Galway.
Galway
Our last stop of the day was the Latin Quarter in Galway, which boasts brightly painted pubs, live music, street performers, and cafes. We spent a couple of hours perusing the shops, buying some souvenirs, and enjoying a quick coffee break at one of the local cafes.
Although we thought this was a super cute area, we did feel a bit rushed, as we had to make it back to the bus for our three-hour journey back to Dublin.
A Broad Recommendation: we loved all of these day trips, but after doing three in a row, we were SO worn out! If we were to visit Ireland again, we'd probably only do two day trips and spend our last day in Dublin. The Cliffs of Moher Tour was operated by Irish Day Tours and cost around $115 for two people. We, again, booked through Viator.
Day 5: Fly Home From Dublin
The next morning, we departed from our Airbnb around 7 a.m., taxied to the Aircoach pick-up location, and headed back to the airport. We had no issues this morning and actually got seats together in a two-seater row on the plane!
At some point, we both got up to use the restroom and ran into this lovely older woman, who introduced herself and began sharing stories about her travels and childhood. She shared that she grew up in New York and had lived in Africa, where she gained her most valuable life experiences. She'd also traveled all around Europe and biked around Italy; her stories were truly extraordinary!
At the time, she'd been married for 50 years and was a nurse. She'd also been volunteering for a newspaper, for which she converted research papers into more widely-consumable articles. Her volunteer work eventually led her to starting her own TV show in Upstate New York. Her daughter was also a best-selling author, and she shared some tips about how to start writing a book, which has always been a dream of mine.
We ended up talking for more than two hours, and our flight to New York flew by, literally! I ended up getting the woman's contact information, and we actually kept in touch.
When we arrived at John F. Kennedy International Airport (JFK), Katie's mom dropped me off at my new terminal before they headed back to Baltimore. Unfortunately, I didn't realize that I probably was better off just staying in the airport and walking or taking a shuttle to my new terminal.
After a stressful experience on my way from Houston to Paris, I had to book a last minute American Airlines flight for the last leg of my trip. Considering I was five hours early, I wanted to check to see if there were any earlier flight options.
When I got in line, I noticed that the American Airlines staff was goofing off, ignoring their customers, and taking a long time with the customers they'd actually gotten around to supporting. After 45 minutes, I made it to the service desk only to be told that I couldn't switch my flight. Oh, did I mention that I was third in line? Unfortunately, in my experience, this is nothing new for American Airlines. I've experienced poor customer service with this airline several times.
I ended up having to go through security again, since I had left the airport to switch terminals. By the time I got through, my wait had shortened to just two hours – another silver lining, I suppose!
A Broad Recommendation: Don't leave the airport if you don't have to. If you do, you'll have to go through security again, so it's better to just make your way through the airport.
Luckily, this flight and my connection flight were both uneventful. Had there been more flight options when I booked, I definitely would've gone with a direct flight though.
Our trip to France and Ireland was definitely one for the books! I got back safe and sound and was home just for one week before it was time for my next trip: a weekend in Chicago, Illinois.
XOXO Sara at Travel A-Broads