Welcome to our India page! Here are some of the places we visited and the guidelines we followed during our trip to India. Of course, this list is far from comprehensive, and we always recommend you do your own research before traveling.
*P.S. this post contains some affiliate links. At no additional cost to you, we may earn a small commission when you make a purchase.
OUR BLOG POSTS
As I was approaching my 30th birthday, I was thinking of all of the ways I could celebrate my big day – I wanted it to be special and inspiring as I entered into a new decade of my life. Since I love to travel, finding a new place to explore was on the top…

---

If you read our Delhi post, you know that we went to dinner at a wine bar and stayed up late the night before our planned 3:00 AM trip to Agra. Apparently, the wine hit us ladies pretty hard because we slept through all of our alarms (we are talking about six different alarms here).…

---

Known as the "Pink City" for its trademark terracotta pink buildings, Jaipur is a beautiful and interesting city to visit.

---
BEFORE YOU GO
Check out the U.S. Department of State – Bureau of Consular Affairs website for any travel advisories, cautions, vaccinations, visa/document requirements, etc. prior to traveling to India. Note: there had been a Level 2 travel advisory in place for India since March 8, 2019 at the time of our travel, which meant we needed to exercise increased caution while traveling here.
An Indian travel visa is required to enter the country and cannot be purchased on arrival. An e-Visa can be purchased 100% online through the Government of India, and a basic tourist visa allows for a stay of 30 days. Give yourself a few weeks to allow for processing time, and don't forget to print it out after you are approved and pack it with your passport.
You will need a Type D plug adapter like this one from Hero Travel Supply:
Pack your own medicine and feminine products, as there may not be ones that you are accustomed to readily available.
WHILE YOU'RE THERE
India's currency is the Indian Rupee (INR). We were able to exchange U.S. Dollars at our hotel; just a heads up that Sara tried to get Indian currency through her bank before the trip and was unable to.
Don't drink the water! Or brush your teeth with it. You will need to purchase water bottles throughout your trip.
India's culture is conservative, and you should dress appropriately. Covering your shoulders (and sometimes head) is customary inside temples, and you will be required to leave your shoes outside.
We had no issues leaving our shoes anywhere but would suggest wearing a cheaper pair of sandals that you aren't too attached to if you're worried about it.
If there is someone watching over your shoes, it's customary to tip – 10 INR is usually sufficient.
We each carried a simple, lightweight scarf every day to cover up with inside temples and chilly restaurants; it's simple to keep one tied around your purse, and it even adds an extra layer of "security", i.e. covering the zipper, while walking around in touristy areas.
Here are some of our favorite items that we bought for our trip:
We recommend bringing water, snacks, bug repellent, tip money, tissues, sandwich baggies, hand sanitizer, lip balm, sunblock, a scarf, a cross-body or secure purse/wallet, and sunglasses on any of your excursions.
Here are our favorite travel-sized bug spray and lotion:
If you'd feel more comfortable having a money belt or wallet to wear under your clothes, we have also used and can recommend these:
Don't pet the stray dogs. We know, we know; they're adorable, but they also could have rabies or be carrying other diseases, so it's best to keep your distance.
It's common to come across these types of toilets in India, i.e. squat latrines or squat toilets; mentally prepare yourself: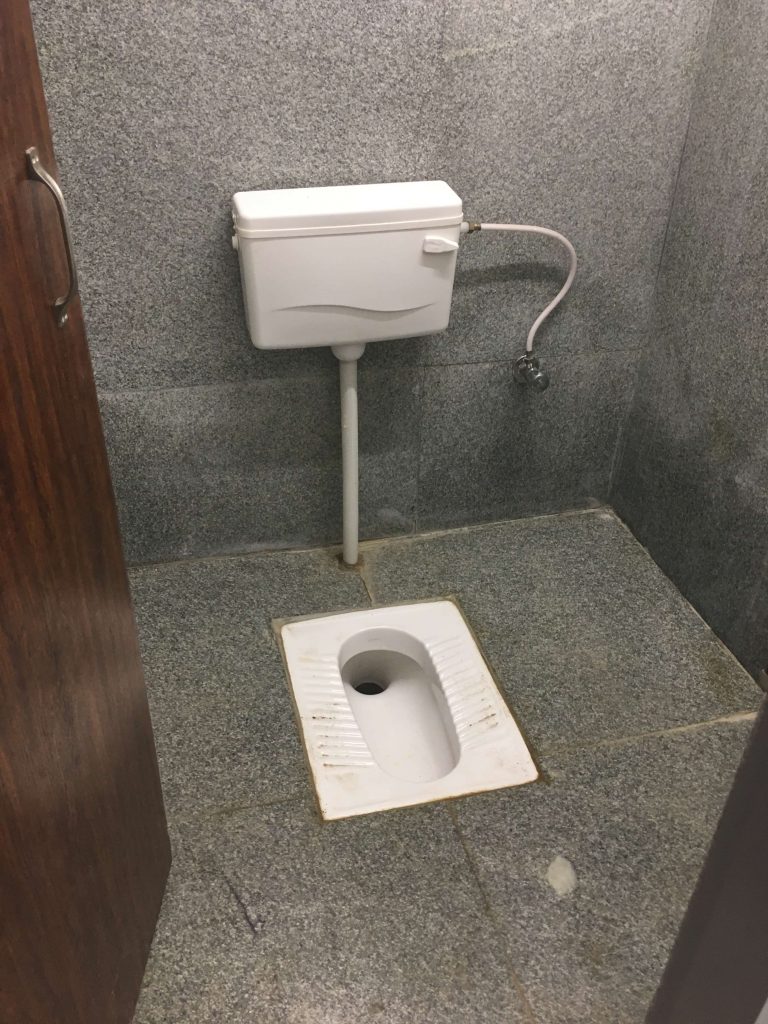 There are usually normal toilets nearby if you aren't comfortable using one of these; but sometimes, this is your only option. We recommend this female urination device for such occasions:
The restrooms many times will not be fully stocked with toilet paper or soap/hand sanitizer, so it's smart to carry your own each day just in case.
People may ask you to take pictures with them. Just decline! In some cases, there will be laughing/mocking for doing so; simply ignore and walk away. If you say "yes" to one person, you will get swarmed with other people asking to take your picture.
Tipping is accepted for any and all favors but is always at your discretion. We tipped with these guidelines in mind:
Driver used for an entire day or excursion: 500 INR
Guide used for an entire day or excursion: 1000 INR
Someone watching over shoes, taking photos or helping with some other small favor (solicited or unsolicited): 5-10 INR
If you want to take a picture of anyone (like a snake charmer, someone walking with an elephant, etc.): 5-10 INR
Restaurants: 5%-10% of the bill unless a service charge is already included
We would love to hear your tips for India. Feel free to leave your ideas for us in a comment below, and don't forget to pin it!
XOXO Travel A-Broads