Planning a trip and wondering what to pack for winter in Norway? We've got you covered! Winter is the best time to visit Norway for the Northern Lights, and given that some of the best places to visit in Norway in the winter are located above the Arctic Circle, you're going to want to make sure you've packed appropriately!
*P.S. this post contains some affiliate links. At no additional cost to you, we may earn a small commission when you make a purchase.
Winter Weather in Norway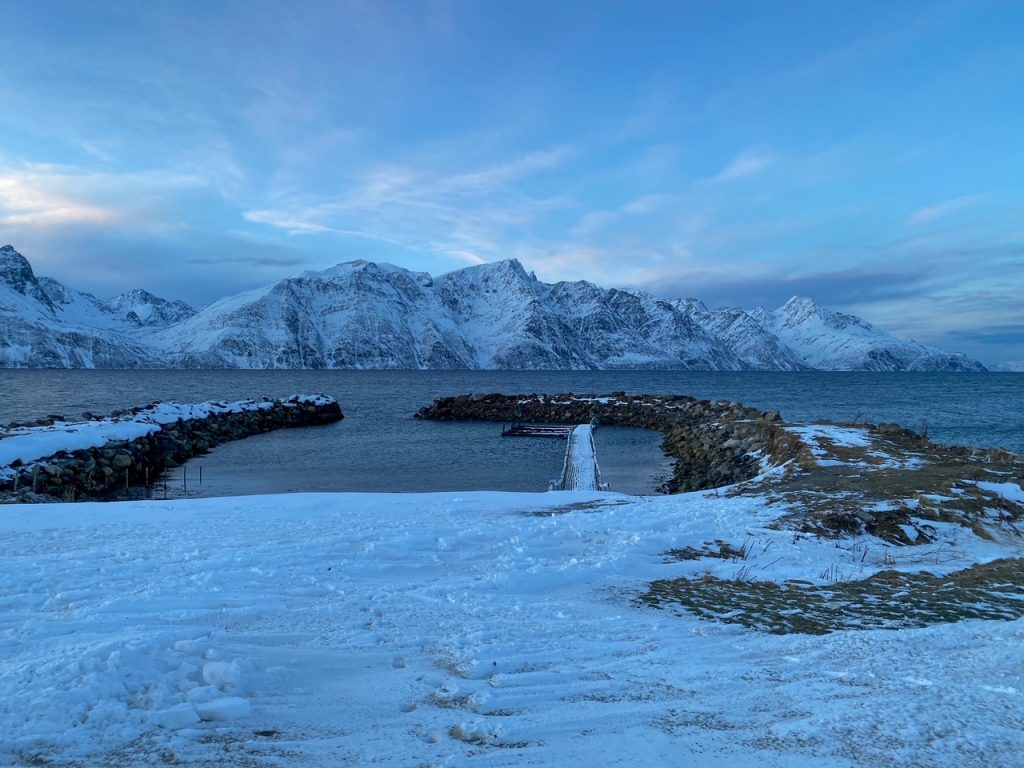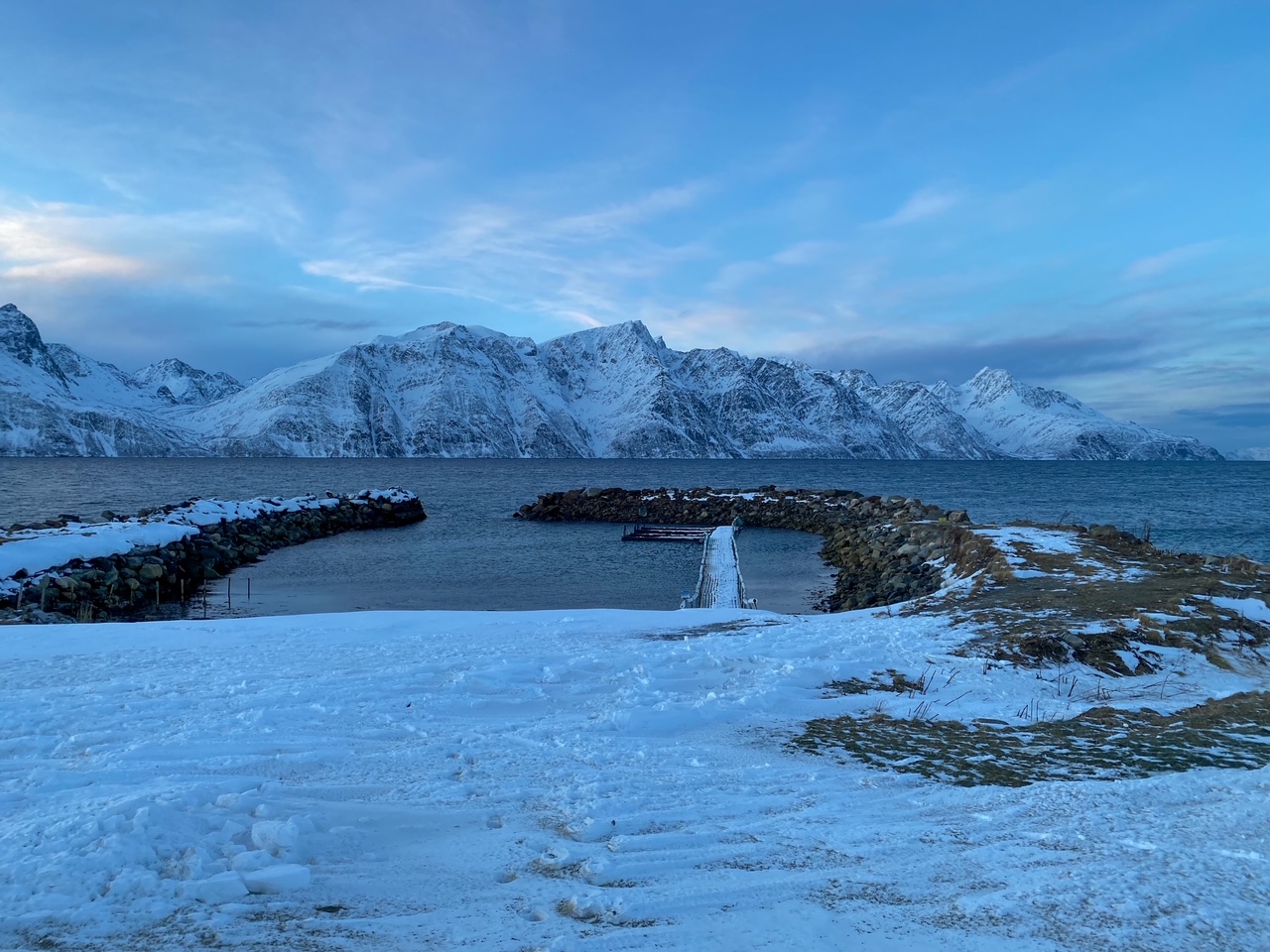 Winter in Norway is COLD, especially in Northern Norway, which should definitely be on your winter Norway itinerary.
Winter months in Norway include December, January and February. Although the average temperature in Norway in the winter is around 20 degrees Fahrenheit (°F), Norway is a huge country and temperatures vary wildly from region-to-region.
On average, winter temperatures range between 23-34°F in Oslo, 6-24°F in Kirkenes, 16-32°F in Rotsund, 22-32°F in Tromsø, 32-41°F in Bergen, and 28-42°F in Flåm. Brrr!
Why Visit Norway in the Winter?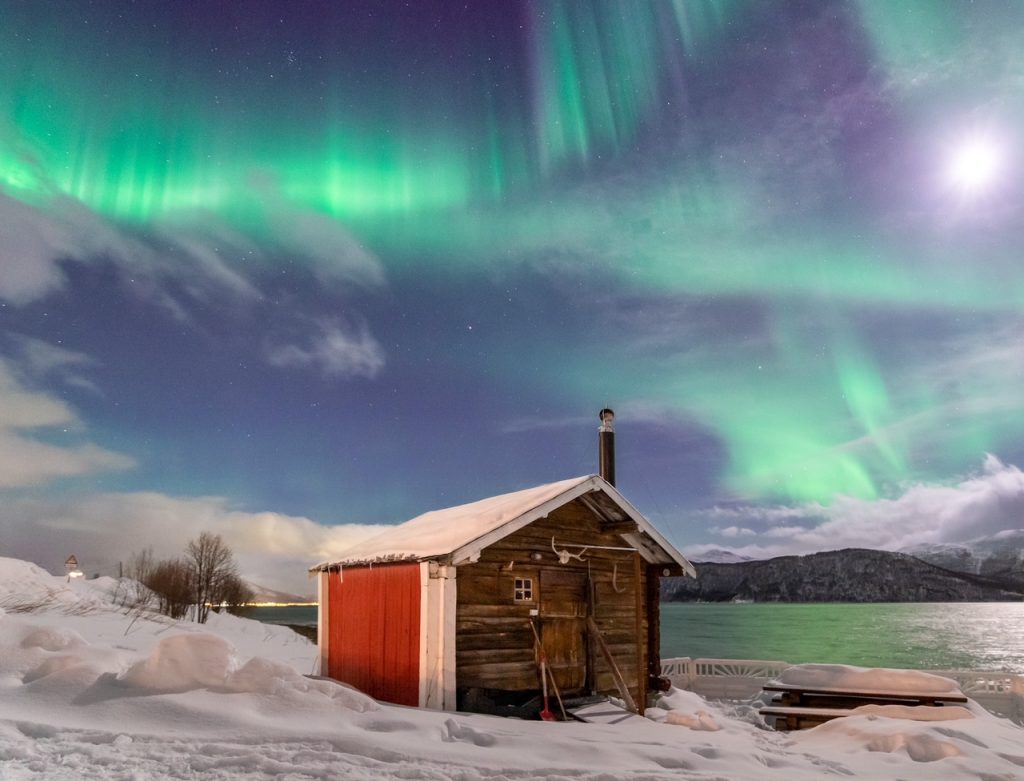 In the winter months, Norway transforms into a snow-covered wonderland, providing opportunities for lots of fun winter activities like skiing, snowshoeing, dog sledding, whale watching and more. Winter in Norway is also a great time to experience some of the world's most scenic train journeys and charming Christmas markets.
But, perhaps the most popular reason to visit Norway in the winter is the chance of spotting the illusive Northern Lights! From the middle of November through the end of January, nights are long throughout Norway, and in parts of Northern Norway, the sun only briefly peaks out over the horizon or doesn't rise at all, creating ideal conditions for chasing the Northern Lights. Though the Northern Lights are most commonly seen in the north, they can occasionally be seen in other regions of Norway too.
Note: the Northern Lights can be seen as early as October and as late as March, but the winter months are still your best bet.
What to Pack for Winter in Norway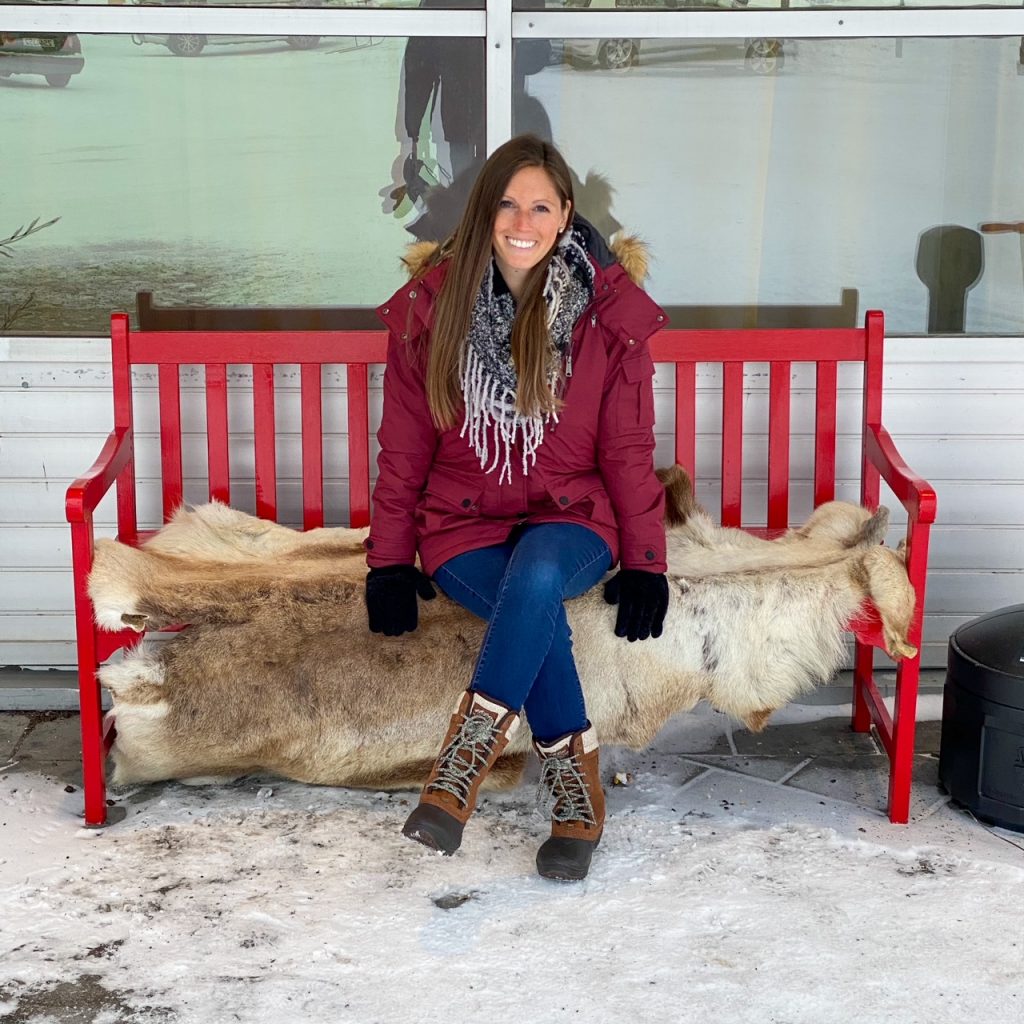 So what should you pack for winter in Norway?
First things first, remember to pack your passport! This is the most important thing you'll need when traveling to Norway. Consider making a photocopy of your passport, bank/debit and credit cards, and any insurance and vaccination cards in case they get lost. It's also a good idea to have some cash on hand for emergencies.
During the time of our visit, we had to take Covid tests to get back into the U.S. Although this is no longer a requirement, you may still want to bring test kits and extra masks in case you start feeling ill while traveling or in Norway – safety first!
Speaking of safety, don't forget to pack a first aid kit; it's always good to be prepared, especially when traveling internationally. You should also pack feminine products, medications you take regularly, and any other medications you may want to have handy like medicine for sinus congestion, cough, upset stomach, etc.
Next, you'll want to pack lots of warm clothes that you can layer on each day. Even if temperatures don't look too bad on paper, the wind chill will make you feel much colder, especially if you're by the water. Here's what we packed for our trip:
Base layer: a base layer is essential in Norway, especially when the sun goes down and temperatures drop below freezing. I brought two pairs of these WEERTI Thermal Underwear for Women, and they fit perfectly under my clothes. Any fleece or thermal pajamas will do, and even thick yoga pants work fine (I wore these during the day and my thermal underwear at night).
Top middle layer: on top of your base layer, you'll want a fleece jacket or heavy sweatshirt. You could also add a down or fleece vest if you have one. I wore something similar to this Women's Crescent Full Zip Sweatshirt by The North Face, and it kept me pretty warm. It was also nice to have something like this to wear around the hotels instead of my big, bulky jacket.
Top outer layer: a puffy, wind-proof shell jacket like this Wantdo Women's Quilted Winter Coat Warm Puffer Jacket is perfect for Norway. I especially love that they offer so many different color options; pick something bold to stand out against that wintry Arctic landscape! I also brought my Women's Thermoball Full Zip Jacket for days that we weren't outside for as long.
Bottom outer layer: snow pants are also a must for winter in Norway. These Postropaky Women's Outdoor Snow Ski Pants are waterproof and will keep you warm. If you'd rather not use ski or snow pants, go with a pair of fleece-lined track/wind pants at a minimum; sweatpants and cotton pants aren't wind or waterproof, and you'll get cold if they get wet.
Waterproof snow boots: we wore our snow boots around 75% of the time we were in Norway and nearly the entire time we were in Northern Norway. I really like these Shellista II Mid Snow Boots by The North Face. You may also want to bring hiking or running shoes for your flights, but you won't need much more in terms of footwear.
Wool socks: of course, you'll need some warm socks to wear under your snow boots. I brought these Soft Thick Comfort Casual Cotton Warm Wool Crew Winter Socks, and they were comfortable and fit perfectly under my boots. They were nice to wear around the hotel rooms as well.
Scarf and hat: be sure to complement your outer attire with a warm scarf and a hat or ear warmer headband. I liked this Loritta Womens Ear Warmers Headband that I could easily tuck away into a purse or coat pocket when I wasn't wearing it.
Gloves/mittens: waterproof gloves are an absolute must for your trip to Norway. These Tough Outdoors Women's Ski Gloves are engineered for warmth and dry quickly after getting wet. They're also easy to clean, which came in handy after our reindeer feeding excursion in Tromsø. They're also available in different sizes, which was important to me, since I have small hands.
Thin liner gloves: a pair of thin liner gloves are great to tuck under larger gloves or mittens to provide an additional layer of warmth. These Aegend Lightweight Running Gloves have a touch screen feature which makes using your phone and taking pictures – which you will likely be doing a lot of – easier in the cold weather.
Balaclava/neck gaiter: although some excursions provide balaclavas, you still may want to bring your own. We bought this 2 Pack Winter Neck Warmer Gaiter Fleece by KGC, but unfortunately, it didn't arrive until after we left for our trip. We ended up having to borrow balaclavas during our visit to the Snowhotel Kirkenes.
If you have the right winter clothes, you'll be able to enjoy your time in Norway come rain or shine (or snow, haha). Note: for your base and middle layers, wool is typically better than cotton or polyester, and for your outer layer, waterproof materials will help to protect you from the wind and rain/snow.
Some other things you should pack for your Norway trip include:
Face mask, eye mask and ear plugs for the plane
Nicer sweaters and jeans for dinners
Pajamas
Sunglasses – the sun reflects brightly off the snow
Sunscreen – yes, you can get sunburn in Norway in the winter!
Chapstick and an overnight lip sleeping mask
Toiletries
Tissues
Hand sanitizer
Swimsuit – there will be saunas and hot tubs
Slippers or sandals for walking to/from saunas
Wet bag – a small waterproof bag in case you need to pack a wet swimsuit
Small bookbag or dry bag for excursions
Waterproof cell phone case – this is perfect for taking photos in the snow
Reusable water bottle – it's safe to drink the water in Norway!
Camera/GoPro
Is there anything else you would recommend packing for a winter trip to Norway? Let us know in the comments below.
Plan Your Winter Norway Trip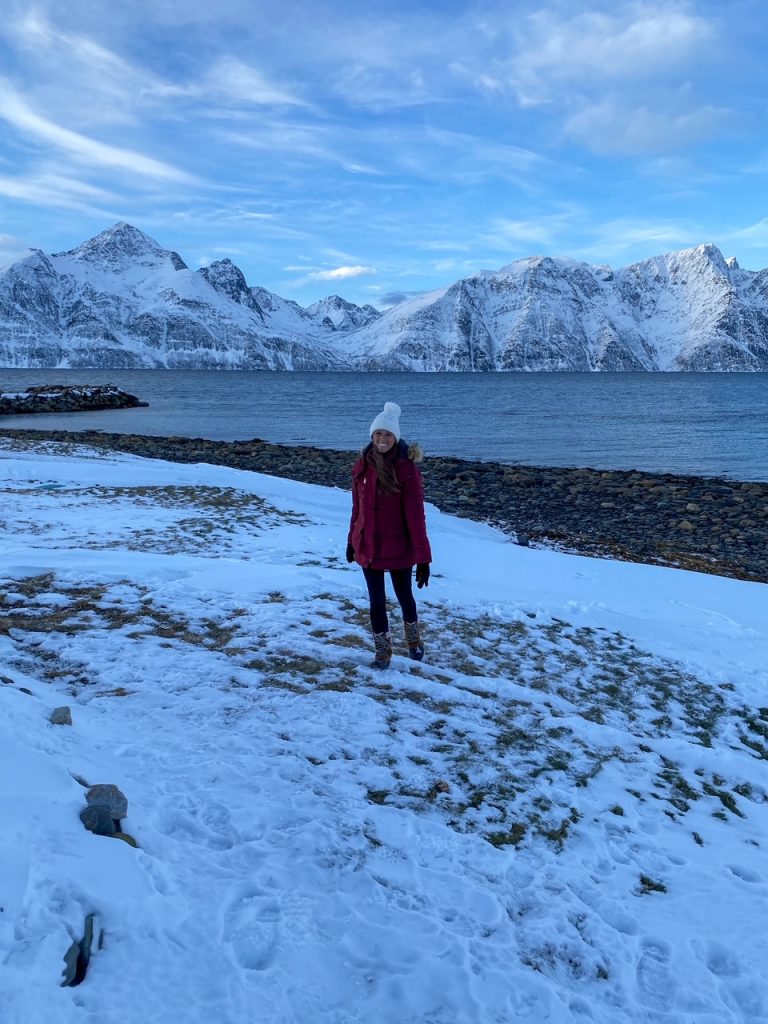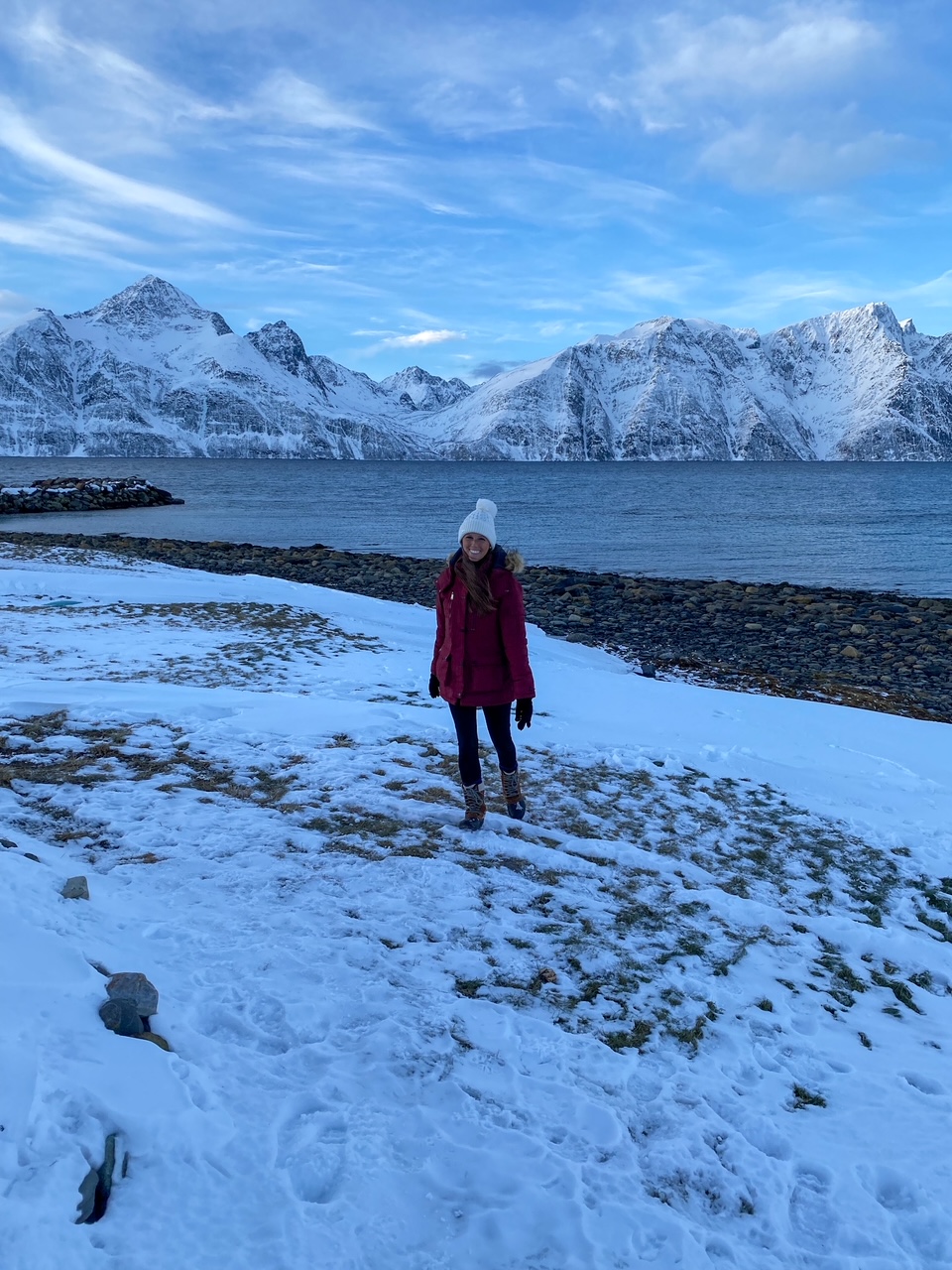 Now that you know what to wear for winter in Norway, you can start planning your trip! The following blog posts are loaded with information about where to stay, where to eat and what to do in some of the best places to visit in Norway in the winter:
Happy planning!
XOXO Sara at Travel A-Broads