My friend, Katie, and I had just spent two days in Normandy, France and traveled back from Normandy to Paris by train. We were set to wrap up our trip to France with a visit to Versailles and an evening exploring Paris. But similarly to our initial arrival in Paris a few days prior, this time around wasn't without it's [minor] challenges, haha.
*P.S. this post contains some affiliate links. At no additional cost to you, we may earn a small commission when you make a purchase.
Our Paris, France Hotel Experience
When we arrived at the Gare Saint-Lazare, we embarked on an exciting, WIFI-free adventure to find our hotel, the AC Hotel Paris Porte Maillot. First, we started frantically looking for the bus stop and walked in every which wrong direction until we finally found it. Luckily, we already had bus tickets – although, neither of us can remember why or how – and we hopped on the next bus and proceeded to what we thought was the right stop. Unfortunately, we were wrong. So, we popped into the closest hotel, where someone was kind enough to give us directions. Clearly, neither of us are great navigators!
When we finally found our hotel, we saw more than a hundred teenage girls de-bus and walk in right in front of us. Talk about bad timing! We really should've tried harder to not get lost. The girls were pretty loud, and Katie and I were sweating, since we'd just walked a bunch, there was no air conditioning, and everyone was crammed into the small waiting room.
After waiting 37 minutes – yep, I timed it, haha – to check-in, we were really craving some sleep. But, all the waiting paid off because we ended up getting upgraded to a nicer room! Unfortunately (again), when we got to the elevator, it wasn't working properly, and we had to wait a bit longer for a hotel staff member to help us. We're proud to say that we stayed in good spirits throughout this entire experience, and by 3 a.m., we were finally in our room and ready for bed.
Note that the hotel staff were actually super nice. It was no fault of theirs that we had this crazy check-in experience.
The next morning, we were pretty tired, and Katie kept joking that she was a "hot mess and couldn't function". But, despite our exhaustion, we left the hotel around 8 a.m. to embark on an eight-hour, guided Versailles Bike Tour.
The Best Versailles Bike Tour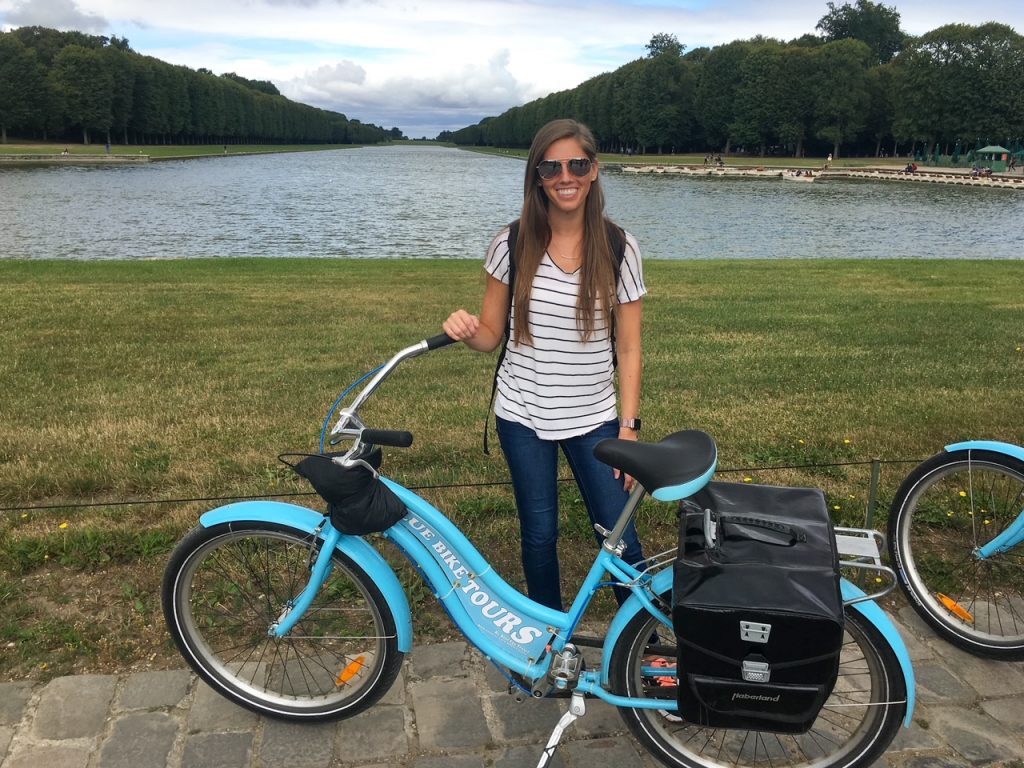 Is Versailles worth visiting if you only have one day in Paris? We think so! A visit to Versailles is the perfect day trip from Paris.
How to Get from Paris to Versailles
It's pretty easy to get from Paris to Versailles, especially if you book the Versailles Bike Tour with Palace Timed Entry Ticket & Marie-Antoinette's Domain through Viator. Train tickets are included in the tour, and a guide will be waiting for you at the Gare Saint-Lazare, where your visit to Versailles officially begins. The journey from Paris to the Versailles Château Rive Gauche station is around 35 minutes.
Pick a Bike for the Tour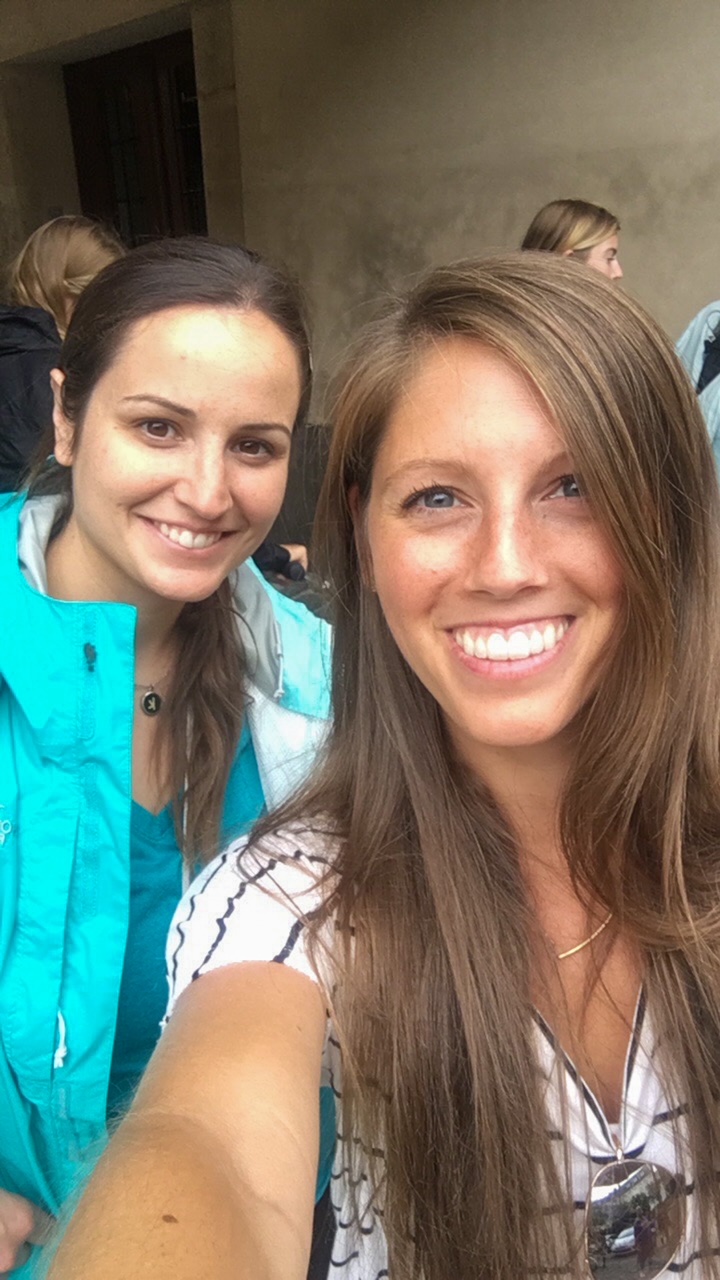 Once we arrived, we were hooked up with some cool bikes (and helmets); my bike's name was Daft Punk, haha. Despite still being tired and there being some light rain, we started off the day with lots of laughs and were excited for our adventure!
A Broad Recommendation: don't forget to pack your rain jacket. It rained most of the day during our visit to Versailles, and it's always good to be extra prepared when traveling. If you're not up for biking around in the rain, here are some other ideas for spending a rainy day in Paris.
Stop at Place du Marché Notre-Dame
First, we stopped at the Versailles Farmers' Market to pick up some food for our lunch. We thought it was neat that the market opened back in the time of Louis XIV and had lots of local specialties. However, this stop wasn't included in the tour price, and we ended up spending around $75 for just fruit and cheese; this seemed a bit expensive to us.
Admire the Bassin d'Apollon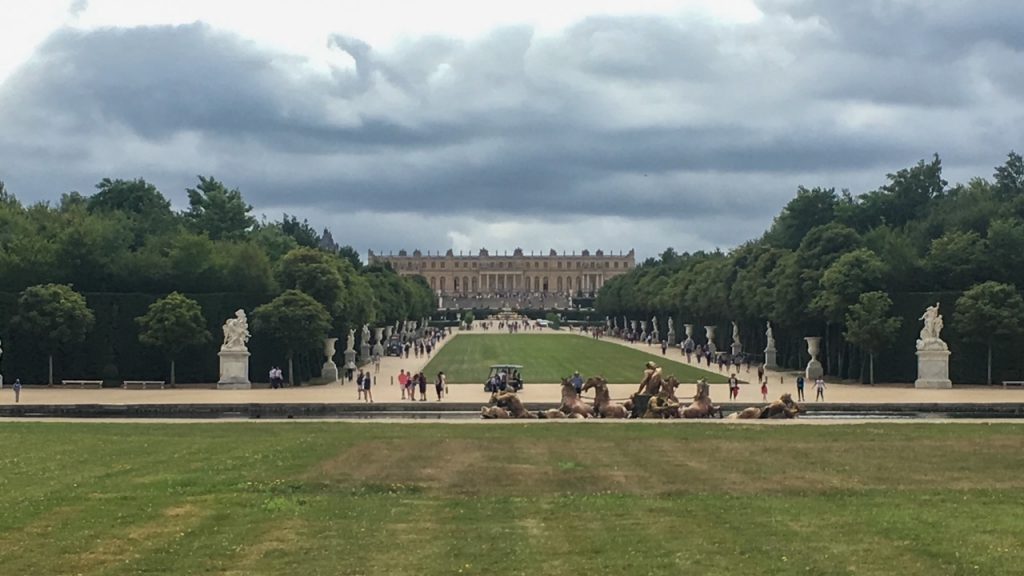 After stocking up on snacks, we rode past the beautiful Palace of Versailles and the Bassin d'Appollon, or the Fountain of Apollo. Fountains, and water features in general, are an important part of any French garden. And, the Fountain of Apollo is probably the most famous of those at the Palace of Versailles.
The fountain sits in a large basin between the end of the Great Lawn and the Grand Canal. It depicts the Greek Sun God, Apollo, rising from the water in a four-horse chariot for his daily task of moving the sun across the sky and bringing light to the world. This served as an homage to King Louis XIV, who called himself "the Sun King" and thought himself to be like Apollo, as he brought light and wealth to his country.
Bike Around Versailles
From here, we zipped through the lush, green Royal forests. This is where French Royalty used to hunt stag, pheasant, wild boar and fox.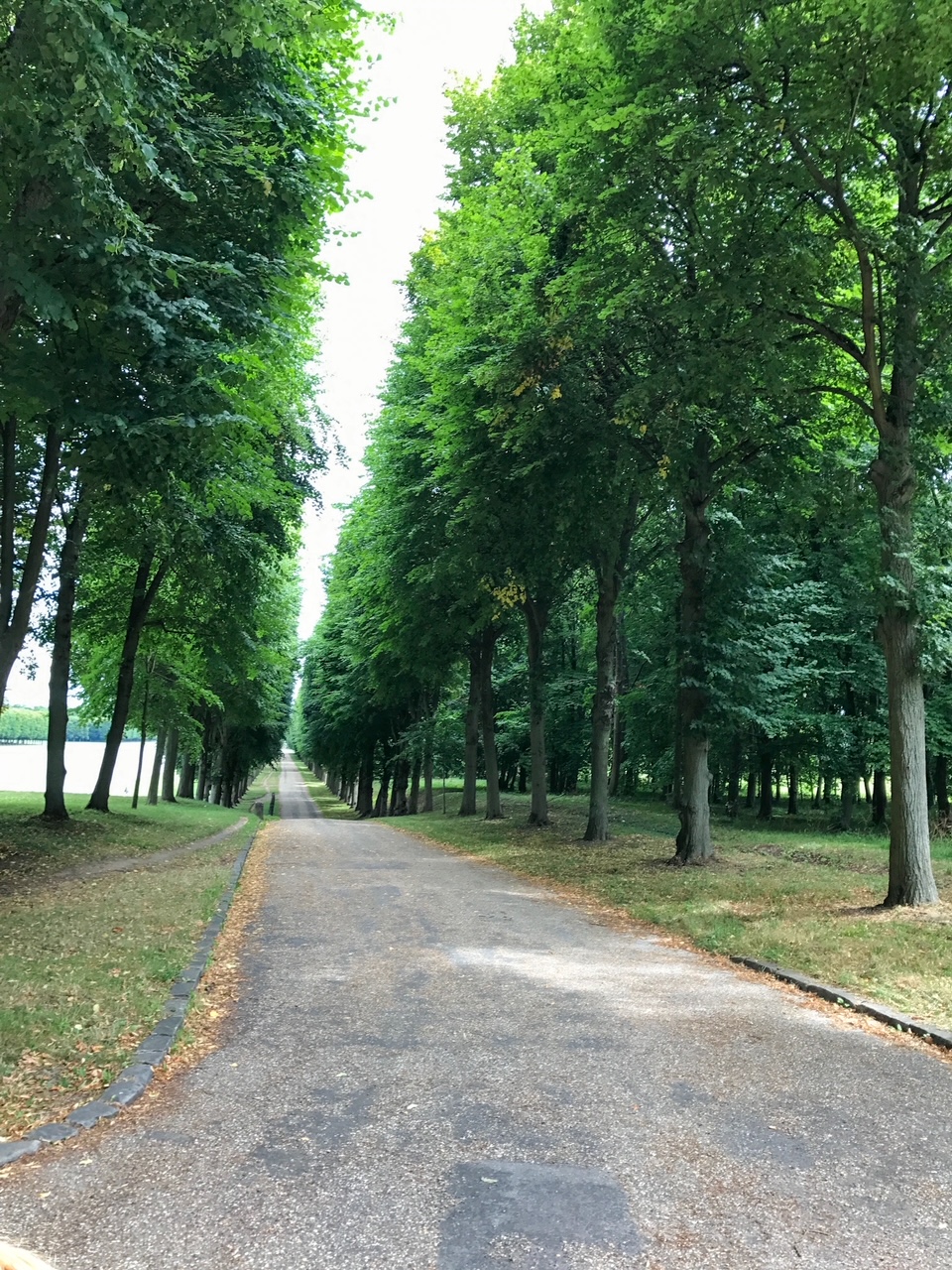 Although it was drizzling, we still had such a blast biking around and trying to shamelessly take selfies.
Lunch at the Grand Canal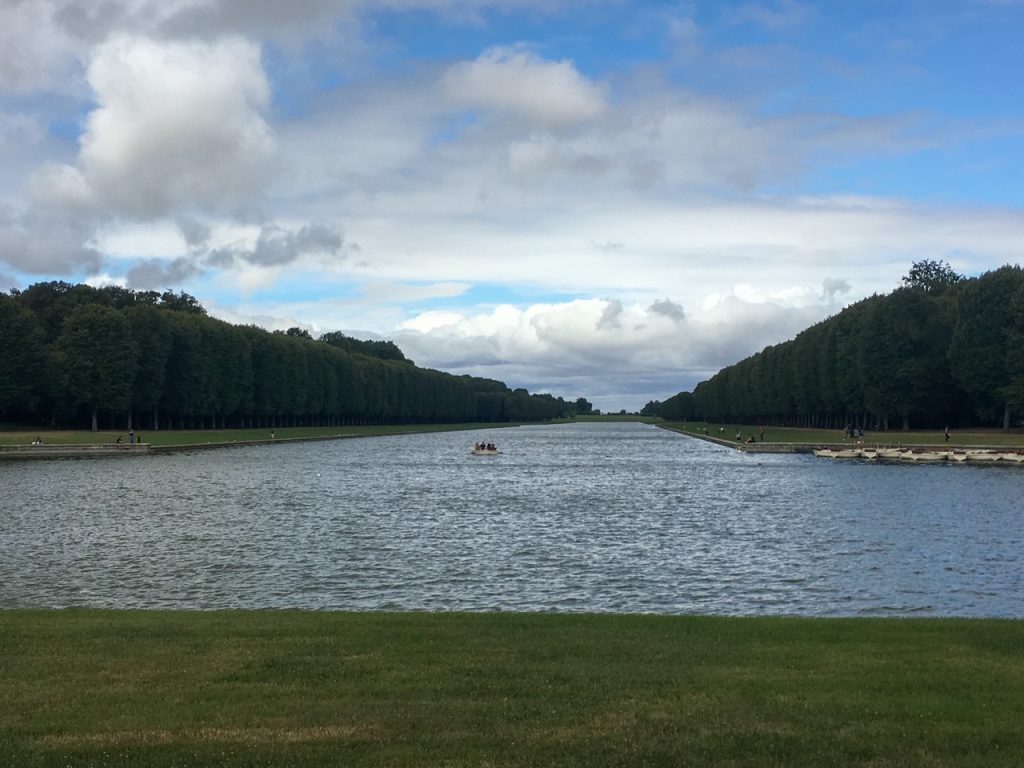 After biking for about 45 minutes, we parked by the Grand Canal, the largest lake in Versailles.
The cross-shaped Grand Canal is about one mile long and 200-feet-wide and took eleven years to complete. Lined with various trees like beech, oak, ash and wild cherry, the Grand Canal was used to host royal events, parties, theater sets, fireworks and more. And, during Louis XIV's reign, it even hosted a three-masted ship, rowboats, and some gondolas from Venice.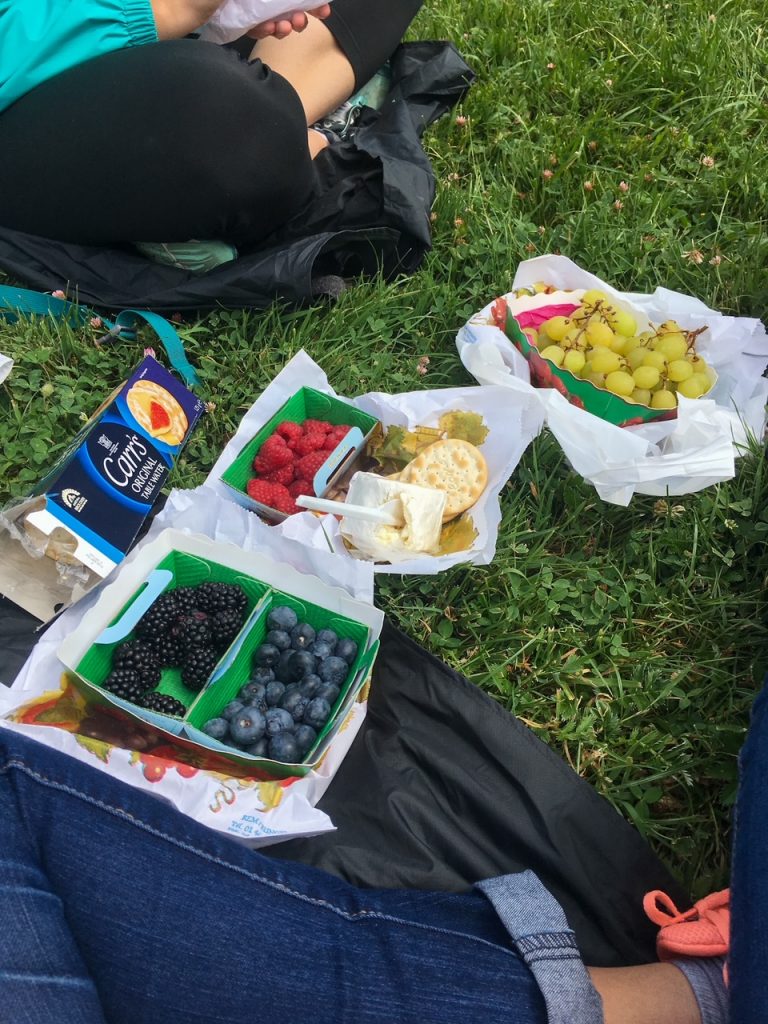 Here, we sat on the grass and enjoyed our fresh fruit, cheese and crackers, while our guide gave us a very impressive, condensed version of French history. We always love a good history lesson, so this was a nice addition to our lunch break!
Visit The Estate of Trianon
Next on the itinerary was The Estate of Trianon, which was originally created to provide more intimate, relaxed spaces for the royal family, while maintaining close proximity to the main palace. We visited three of the main areas, all of which boast magnificent gardens and lavish architectural styles:
The Grand Trianon Palace
The Petit Trianon Palace
The Queen's Hamlet
The Estate of Trianon was included our tour price, and we explored each area for around 45 minutes.
Le Grand Trianon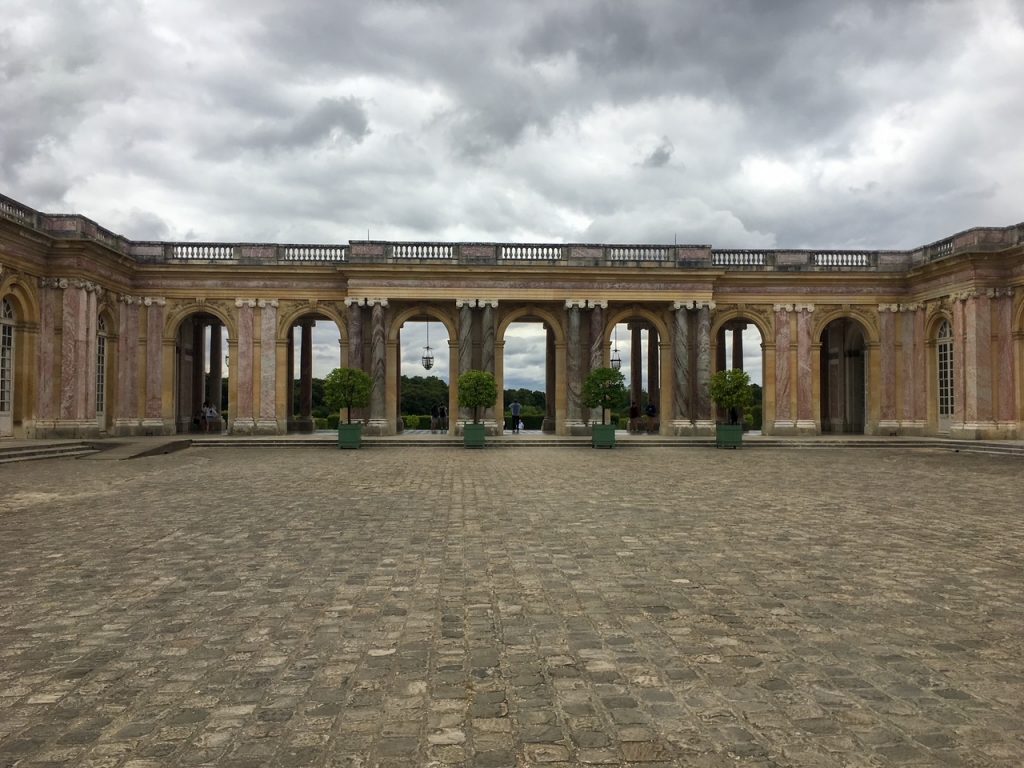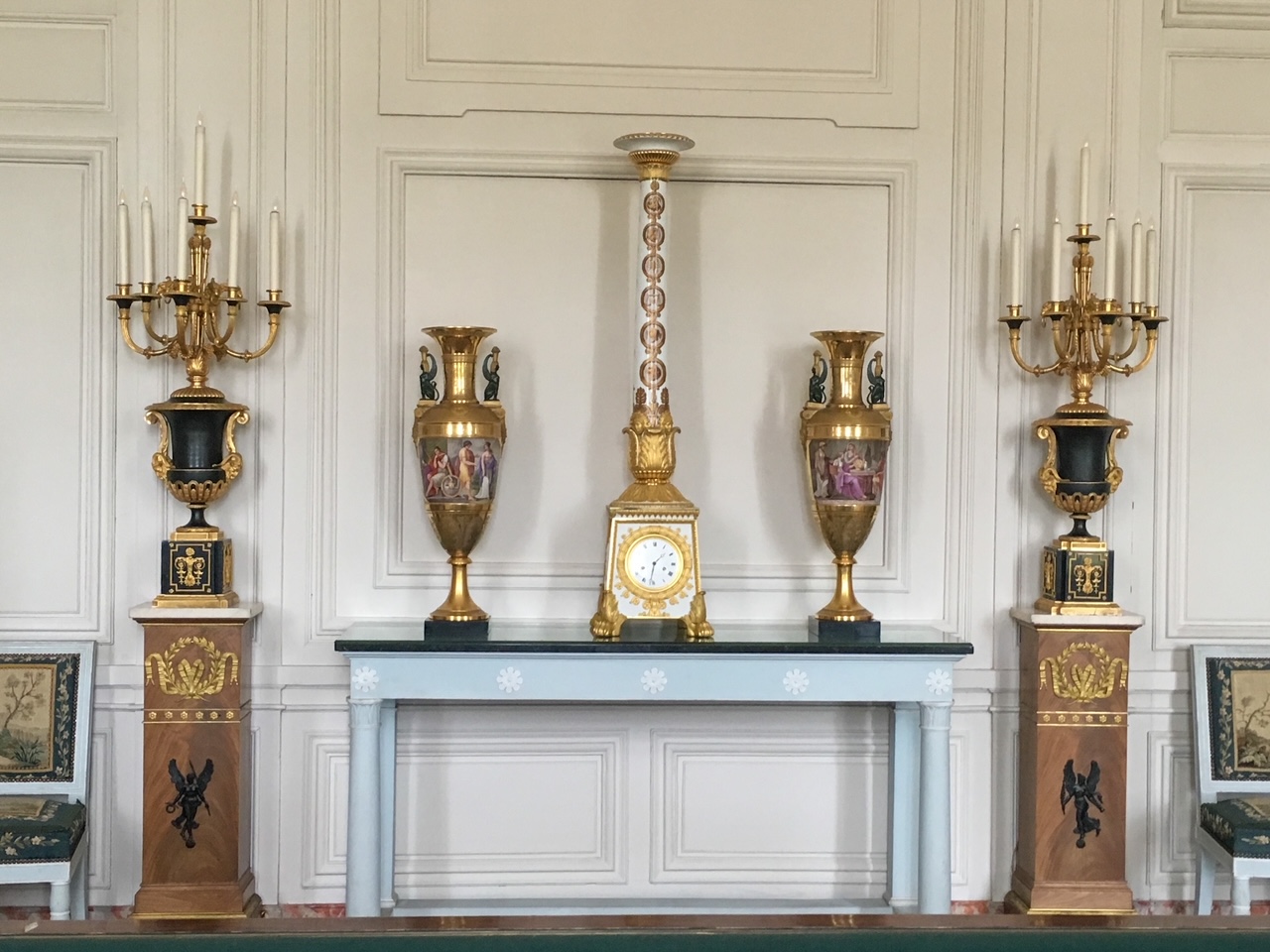 First up was the Grand Trianon, which was originally called the Marble Trianon. The Grand Trianon was built by Louis XIV as a place where he could go to escape from daily life in the court and pursue his affair with Madame de Montespan.
Influenced by Italian architecture, the palace has a courtyard on one side and beautiful gardens filled with orange trees, flowerbeds and shrubbery on the other.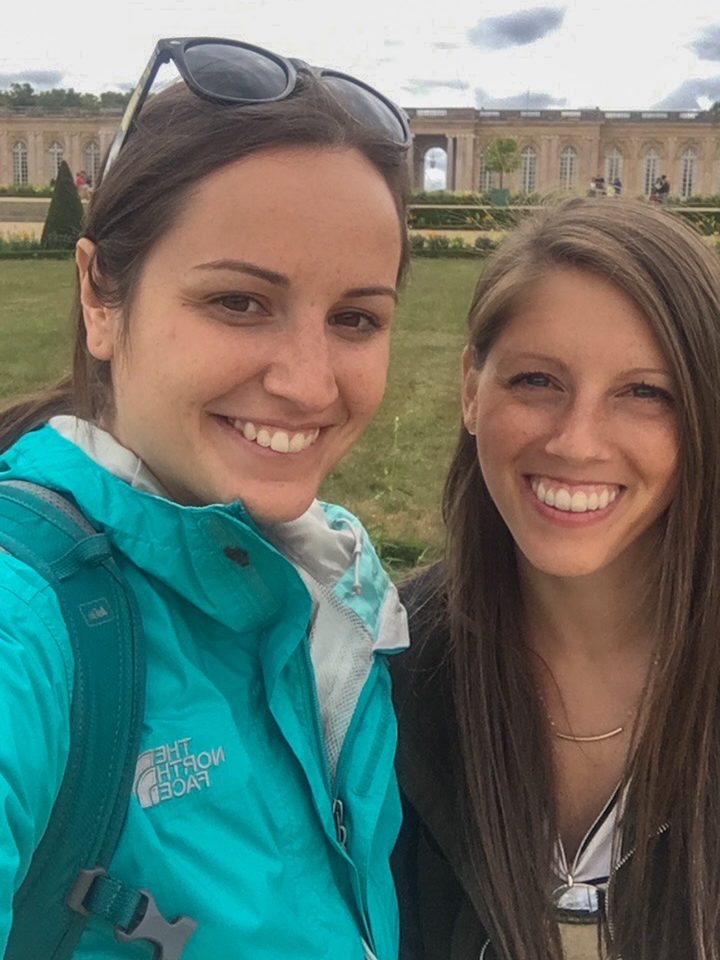 The palace was later used as a summer house and as a place to stay for other leaders, such as King Stanislaw I and Napoleon.
Le Petit Trianon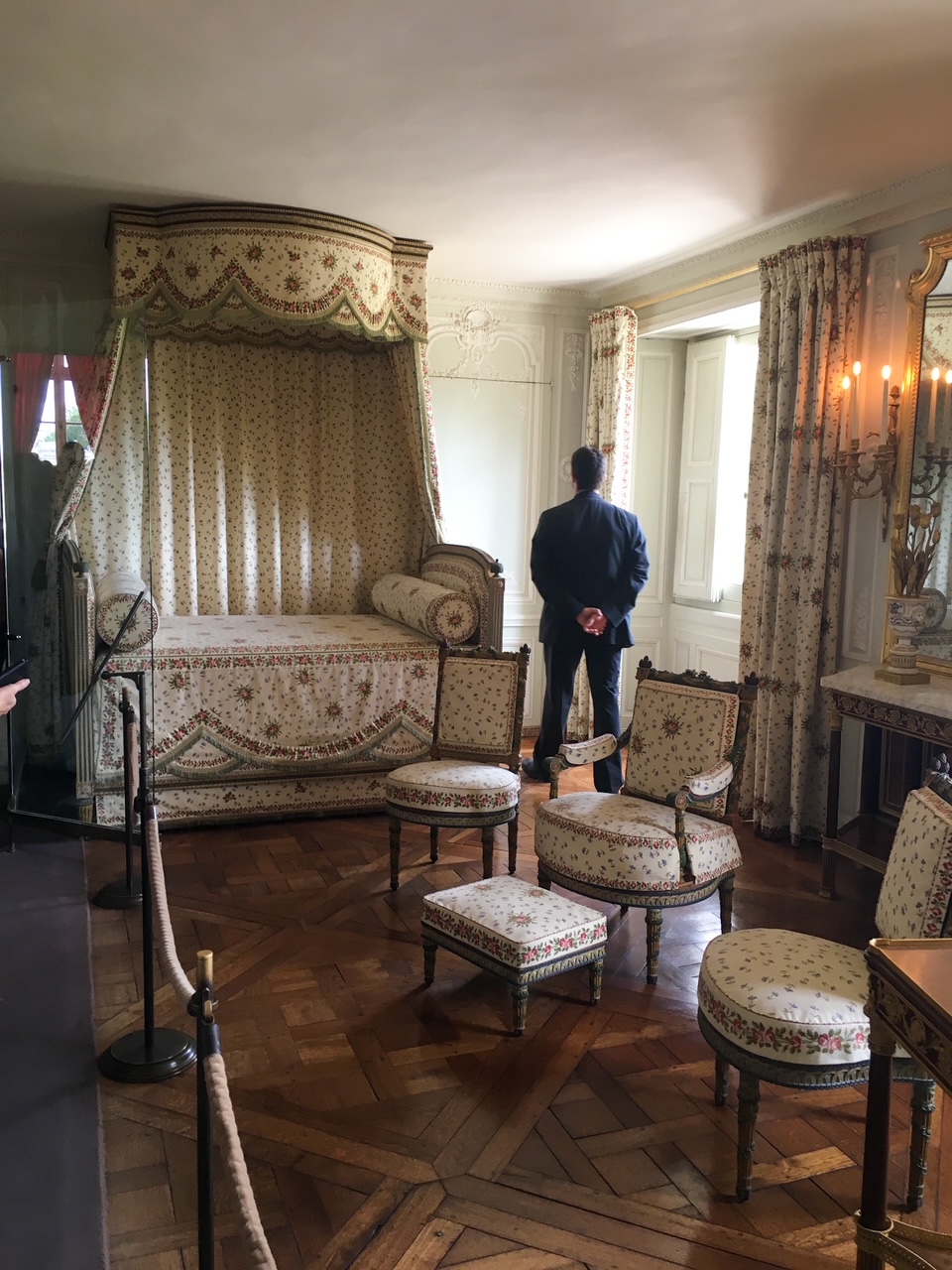 Next was the Petit Trianon, which was built by Louis XV for his favorite mistress Madame de Pompadour (yes, you read that correctly!). Unfortunately, she died before its completion, so her successor, Madame du Barry reaped the benefits of the privacy that this spot offered. This spot also provided a sanctuary for the king to expand upon his passion for the botanical sciences.
Marie Antoinette was later gifted the Petit Trianon by Louis XVI and became quite attached to it. To keep up with the contemporary tastes of the time, she remodeled Louis XV's once beloved botanical gardens and installed an Anglo-Oriental Garden in its place.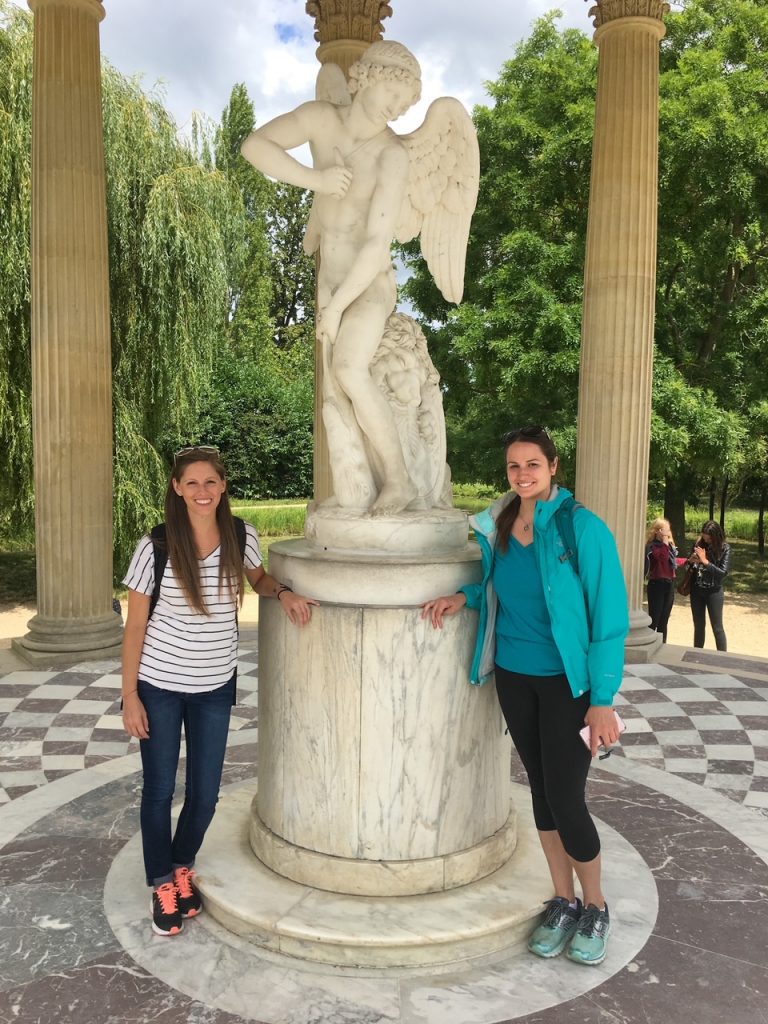 One of the structures she added was the Love Monument, which depicts a copy of Bouchardon's sculpture Cupid Cutting His Bow from the Club of Hercules standing atop a platform. We joked about this spot after the trip because Katie didn't want to take yet another photo here. But, I have to say that it ended up being one of our best of the day!
Le Hameau de la Reine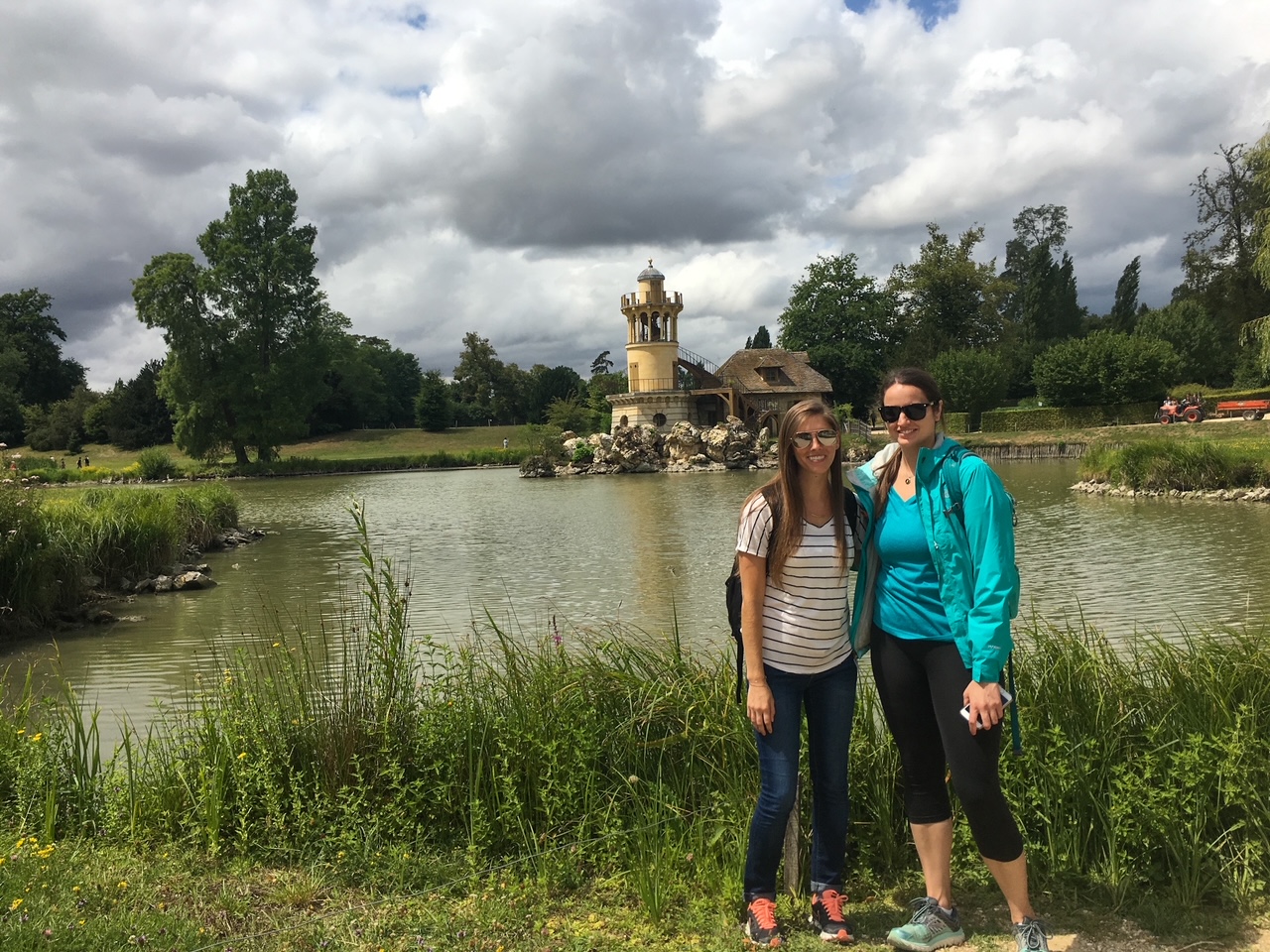 Next on the agenda was the Queen's Hamlet – one of my favorite spots of the day! Rich with history, we learned about Marie Antoinette's private village and farm. Here, she came to seek relief from royal life, to take walks, and to host small gatherings with her friends. The grounds also were also used for her children's education, and she was even rumored to have brought lovers here.
The grounds surround a pond and are home to various cottages and buildings like a windmill, dairy, theater, salon, billiard room and boudoir. During her lifetime, Marie Antoinette's farm was fully managed and housed several animals from Switzerland. It also had vineyards, fields, orchards and vegetable gardens.
Tour the Palace of Versailles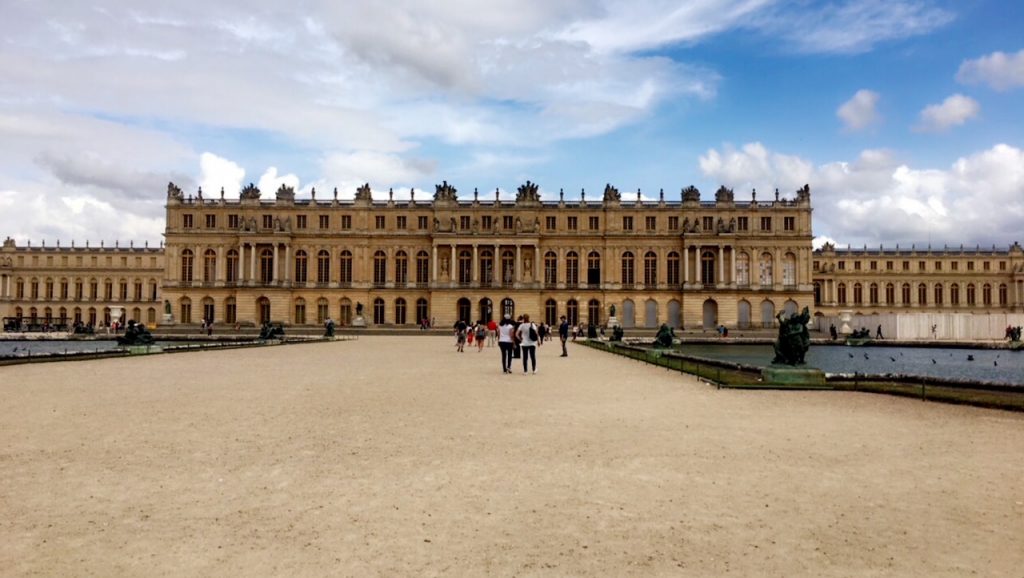 Our final stop for the day was the Palace of Versailles. Here, we were able to bypass the lines and head straight inside – another advantage of our Versailles Bike Tour! Our tour guide left us here to explore the King's apartments and the Hall of Mirrors. We tipped him and said our goodbyes, then broke away from the group.
Important note: the tour ends here – not back in Paris where it started. However, you will be given a train ticket to get back to Paris from Versailles.
Despite being allowed to stay as long as we wanted, we didn't spend more than fifteen minutes inside the palace. There were so many tourists inside, and some folks didn't maintain personal space very well. With the crowds and the lack of air conditioning, it was just too much for both of us.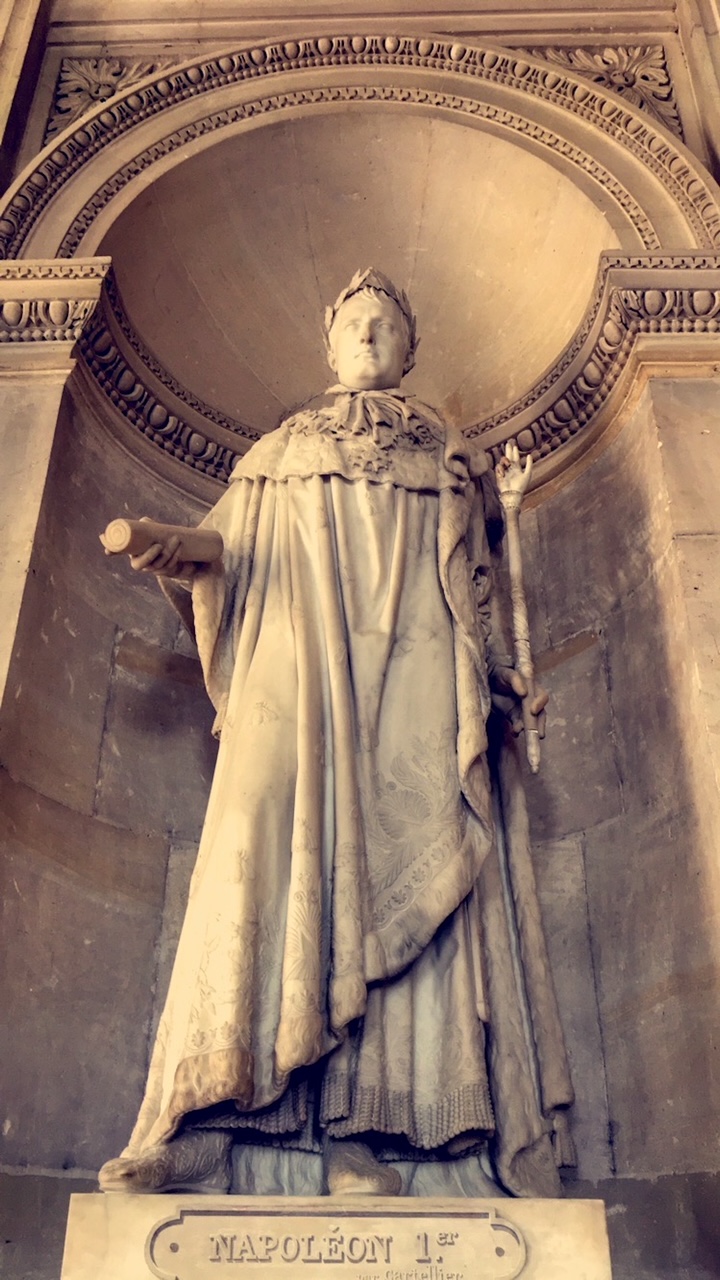 It's notable that everything we did see was absolutely beautiful! And, we were even able to get another selfie, haha.
Versailles Palace Hall of Mirrors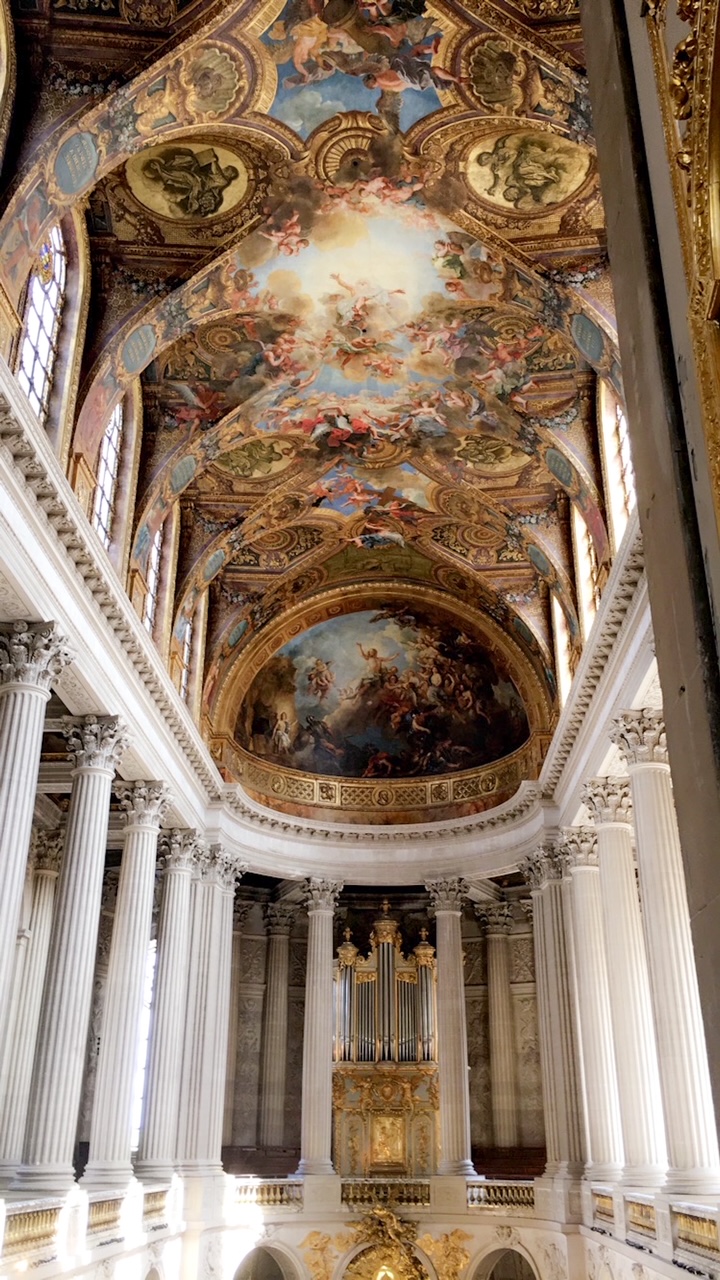 That being said, we couldn't leave without seeing the infamous Hall of Mirrors. This area was the most impressive thing we saw here and holds some historical importance as well.
The Hall of Mirrors was designed with materials that were of great luxury at the time. This was done to "show off" and to emphasize the economic, political and artistic success of France. It's also notable that the Treaty of Versailles was signed here in 1919, ending the First World War.
Versailles Palace Gardens

Outside, we spent a couple minutes checking out the gardens before heading out. Commissioned to be built by Louis XIV, the gardens have more than than 2,000 acres of beautiful landscapes, perfectly trimmed trees, and a lake.
A Broad Recommendation: we both loved our Versailles bike tour through Viator and can highly recommend it! Our guide was delightful, and the tour was very interesting and informative. For a full eight hours of fun, we spent a total of $220 for two people.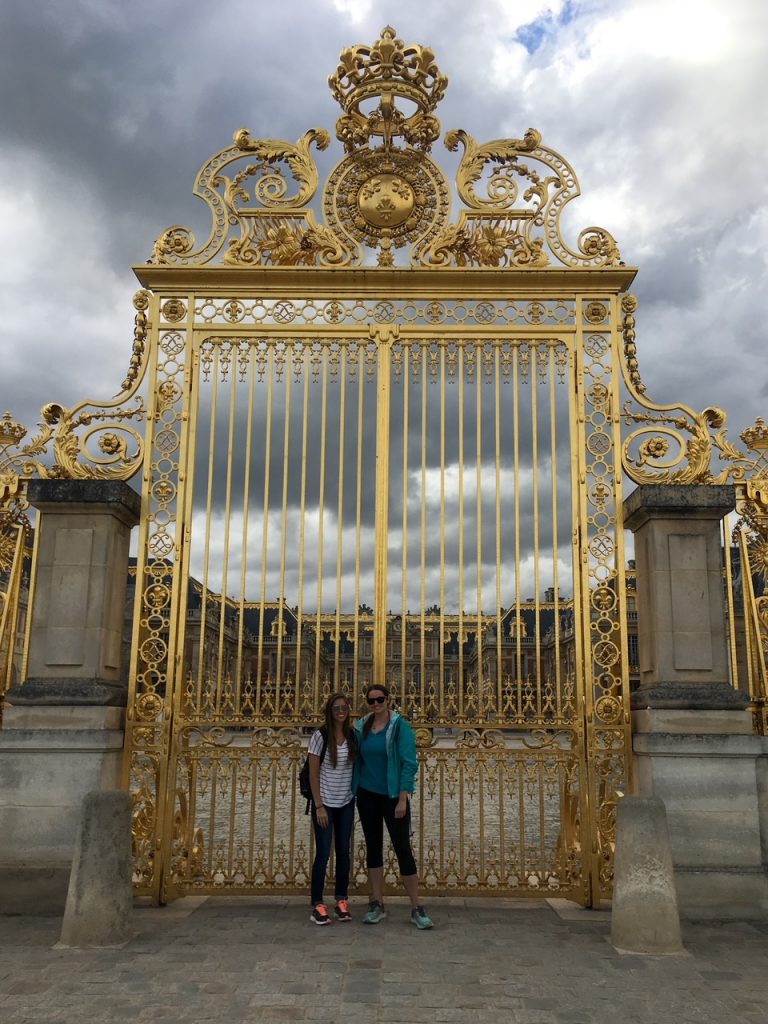 A Broad Recommendation: although we learned a lot of history on our tour, this just scratches the surface. The official Château de Versailles website has more information about the palace and its history.
After a fun visit to Versailles and momentarily getting lost again when trying to find the train station, we made our way back to Paris.
What to Do in Paris in the Evening
But wait, there's more! We got back around 7 p.m., and the sun was still shining, so we decided to do some more exploring. And, we surely couldn't visit Paris without seeing the Arc de Triomphe and the Eiffel Tower.
Stop at the Arc de Triomphe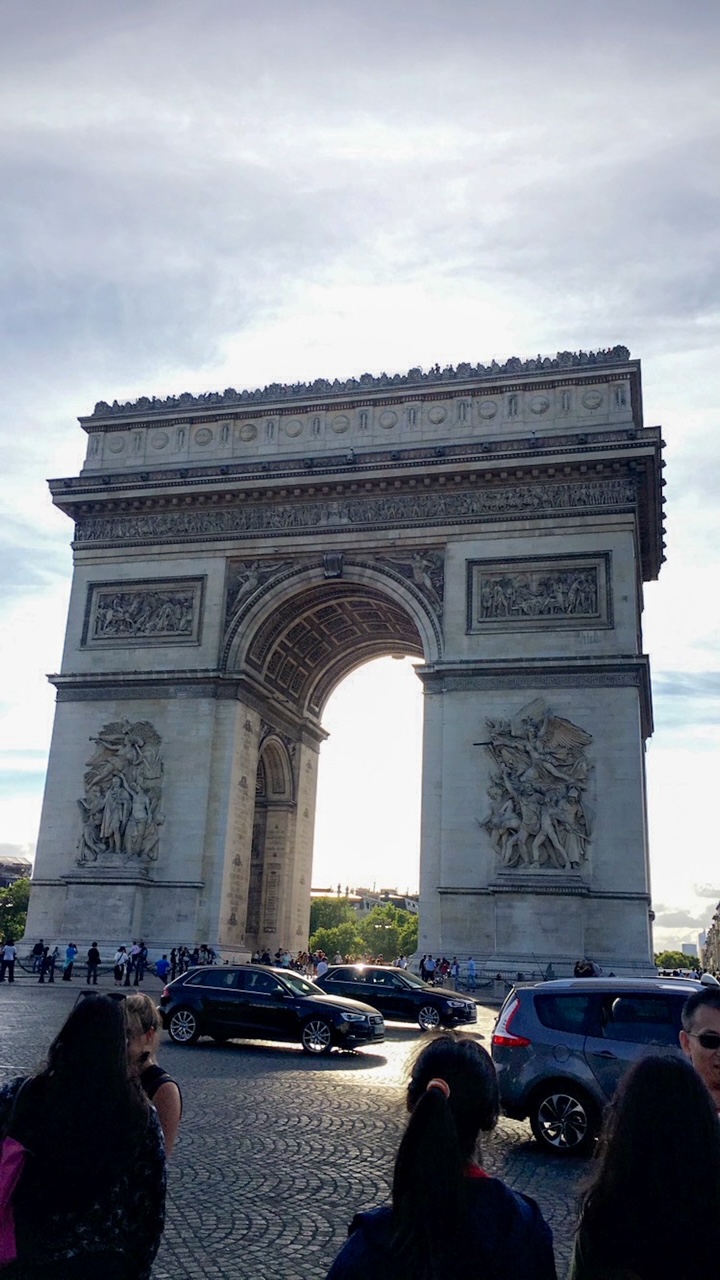 Sitting at the western end of the Champs-Élysées, the Arc de Triomphe is one of Paris's most famous monuments. It honors the soldiers who fought in the French Revolutionary and Napoleonic Wars. And, beneath its vault lies the Tomb of the Unknown Soldier from World War I, where a flame of remembrance is rekindled daily.
We didn't go inside during our visit. You can check the official Arc de Triomphe website for more information about that and other services here.
Admire the Eiffel Tower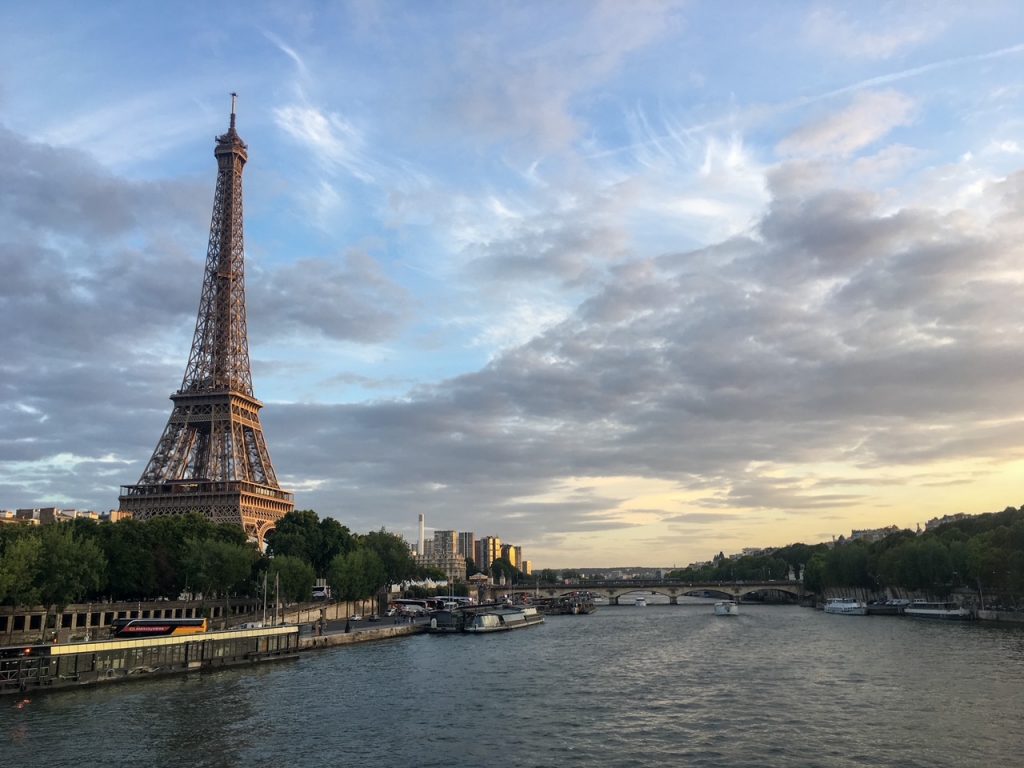 From here, we walked to the Eiffel Tower. The Eiffel Tower is not only France's most well-known cultural icon, but it's also one of the most recognizable structures in the world. It's also the most-visited paid monument in the world – wow!
Constructed as the entrance to the 1889 World's Fair, the Eiffel Tower's design was initially criticized by France's leading artists. Can you believe that?!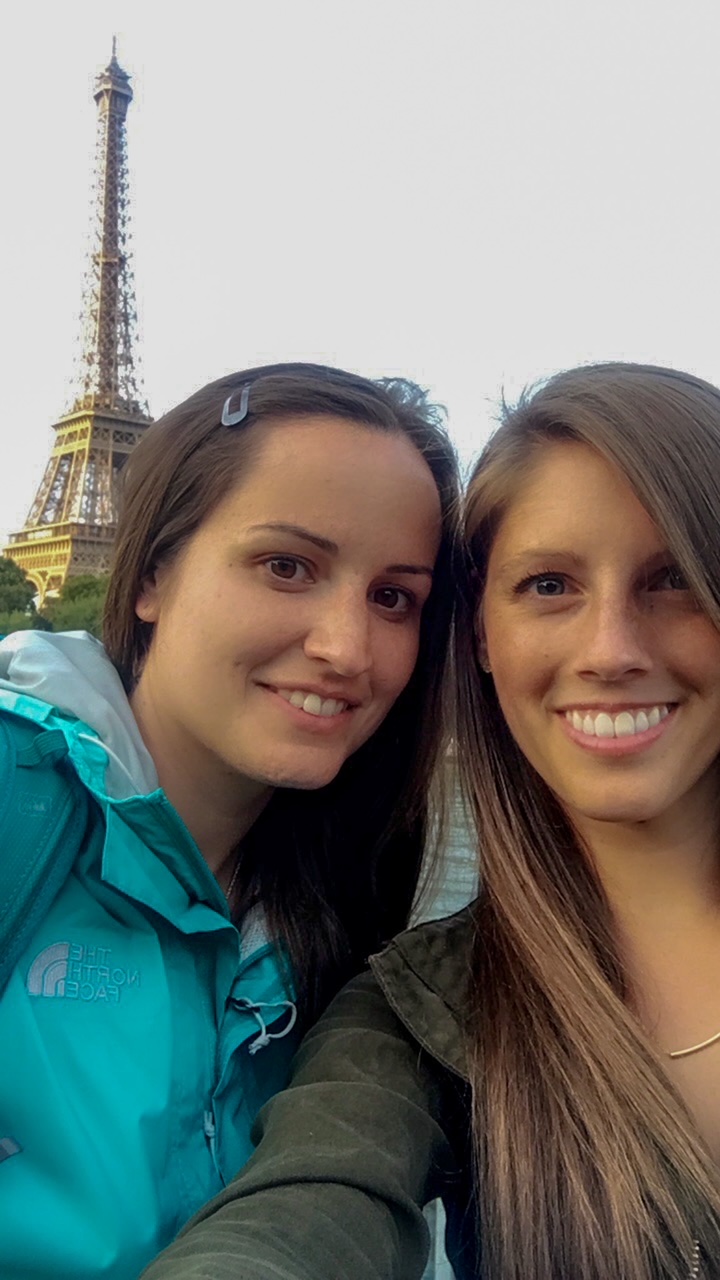 At 1,063 feet tall, the Eiffel Tower is the height of an 81-storey building, surpassing the Washington Monument at the time to become the tallest man-made structure in the world. Fun fact: the Chrysler Building in New York City was actually taller than the Eiffel Tower until a broadcasting aerial was added to the top of the tower.
The tower has three levels for visitors and restaurants on the first and second levels. It's notable that there are elevators in case you plan on going inside. Check out the official Eiffel Tower website for more history and information for your visit.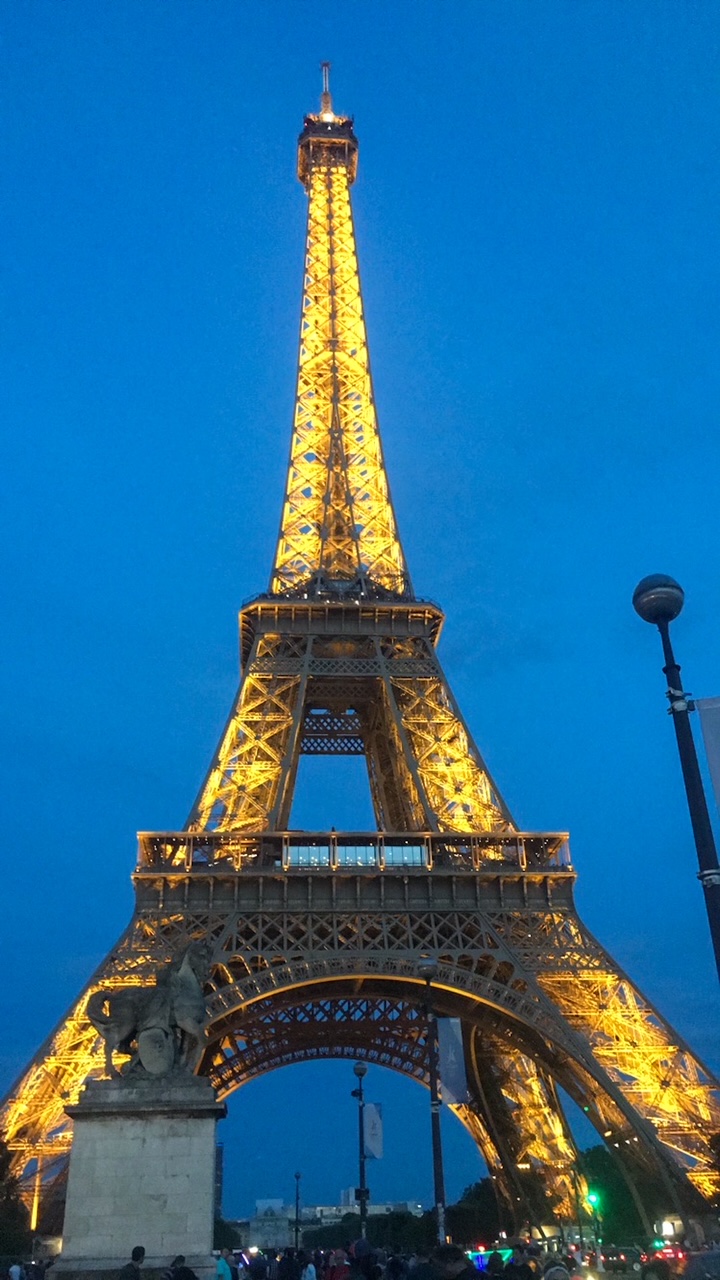 Naturally, while we were here, we became friends with a couple from Baltimore who noticed that I was wearing a Baltimore Ravens backpack. We got to chatting with them for a few minutes, and they offered to take our picture!
Wrapping Up Our Visit to Versailles and Paris
It was now getting dark, so to be safe we attempted to find a bus back to our hotel. Of course, we got lost again (only briefly!) and found ourselves with deactivated room keys when we finally made it back. Luckily, the hotel staff was once again very kind and got our room keys fixed in a jiffy.
Sadly, our quick stint in France was ending, but we were excited to head to Ireland the next morning. Check back in to see what we did there – and to find out if we had any trouble getting there!
XOXO Sara at Travel A-Broads