One of the top things to do in Norway in the winter is to stay in a glass igloo and search for the Northern Lights, and Lyngen North Igloo Hotel is the perfect place to do this!
*P.S. this post contains some affiliate links. At no additional cost to you, we may earn a small commission when you make a purchase.
What is Lyngen North?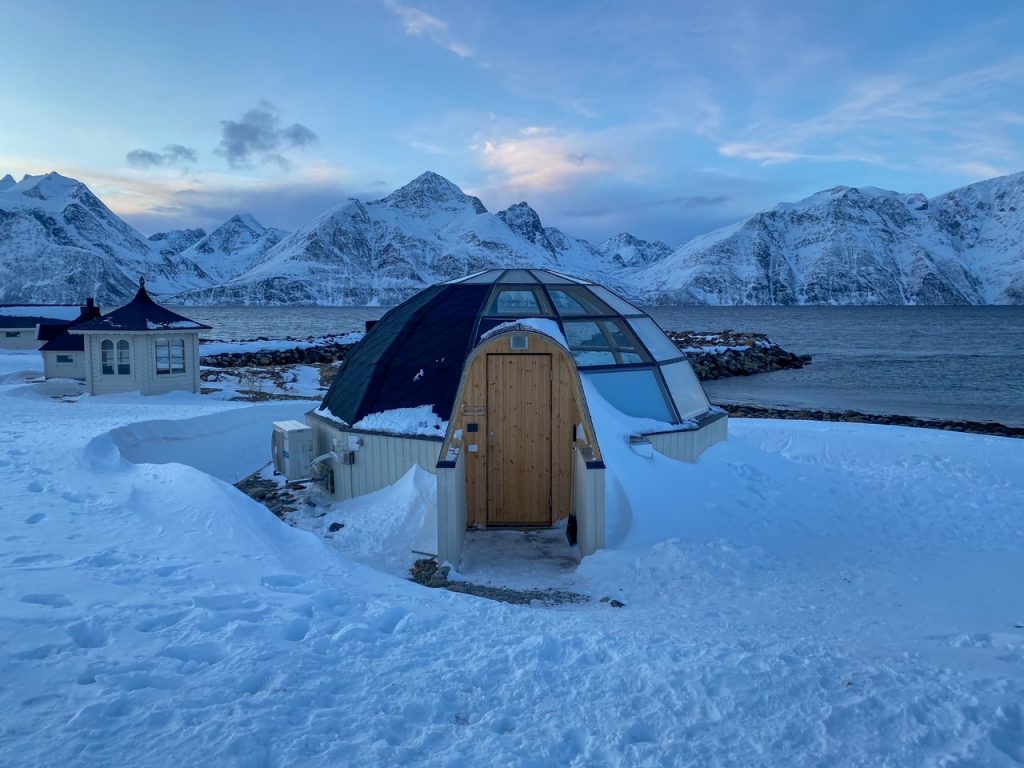 What started as a small, homemade boat marina on the Spåkenes peninsula in Northern Norway, the Lyngen North Igloo Hotel is now a secluded glass igloo hotel, boasting several 180° and 360° glass igloos, a restaurant and a lounge.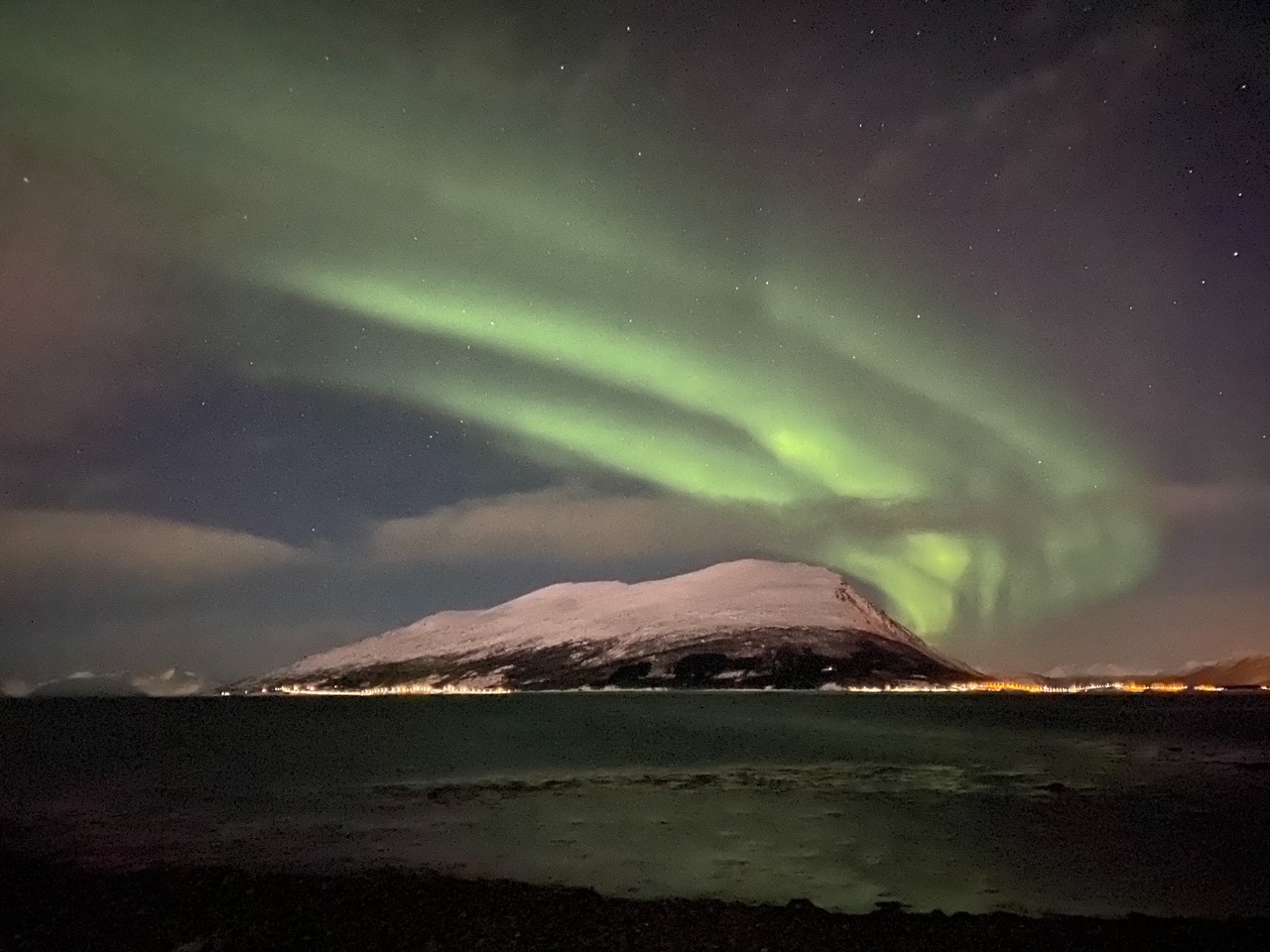 Situated along the Lyngenfjord, the igloos offer floor-to-ceiling windows with incredible views of the gorgeous Lyngen Alps, Lyngenfjord and aurora borealis-filled skies. These igloos are especially great for couples – like us! – looking for a romantic getaway and for viewing the Northern Lights from bed.
How to Get to Lyngen North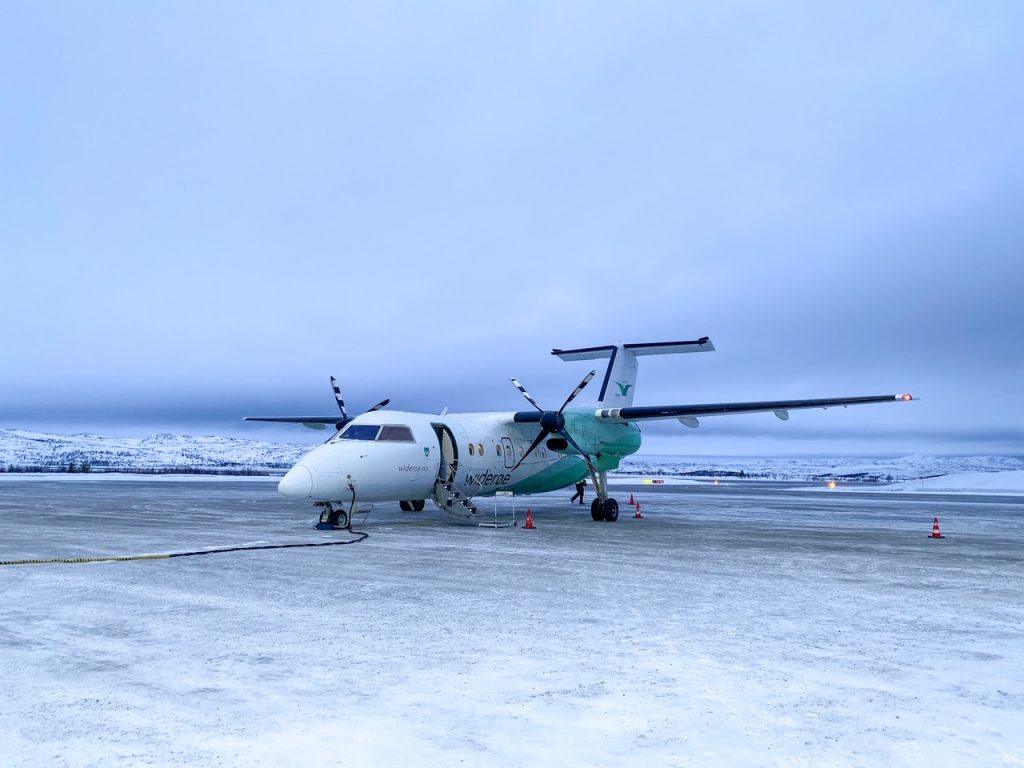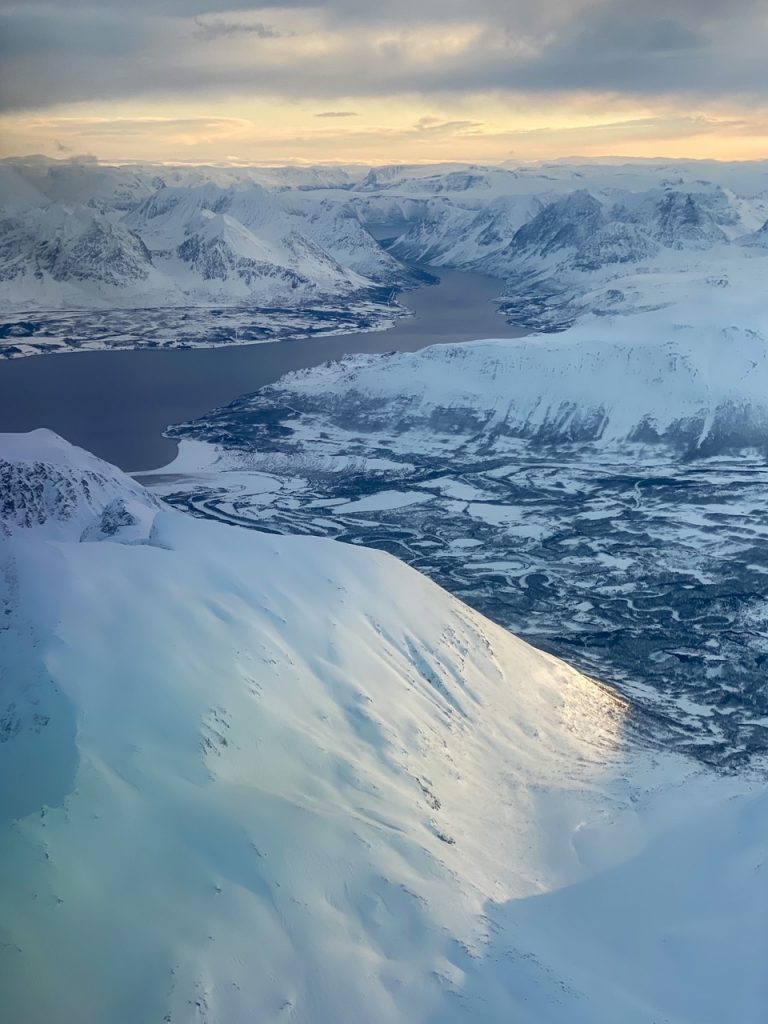 We scheduled a private vehicle transfer from the Snowhotel Kirkenes to the Kirkenes Airport (KKN) via Tumlare Corporation Hungary Kft. We departed from KKN on an early morning Widerøe flight, arriving at Vadsø Airport (VDS) a mere 15 minutes later.
Next, we departed from VDS on another Wideroe flight, arriving at Tromsø Airport (TOS) about an hour later. Then, we flew from TOS to Sørkjosen Airport (SOJ), again via Wideroe, where we were picked up by another private transfer and taken to the Lyngen North Igloo Hotel. Clearly, it takes some effort to get here!
What's it Like to Stay at Lyngen North?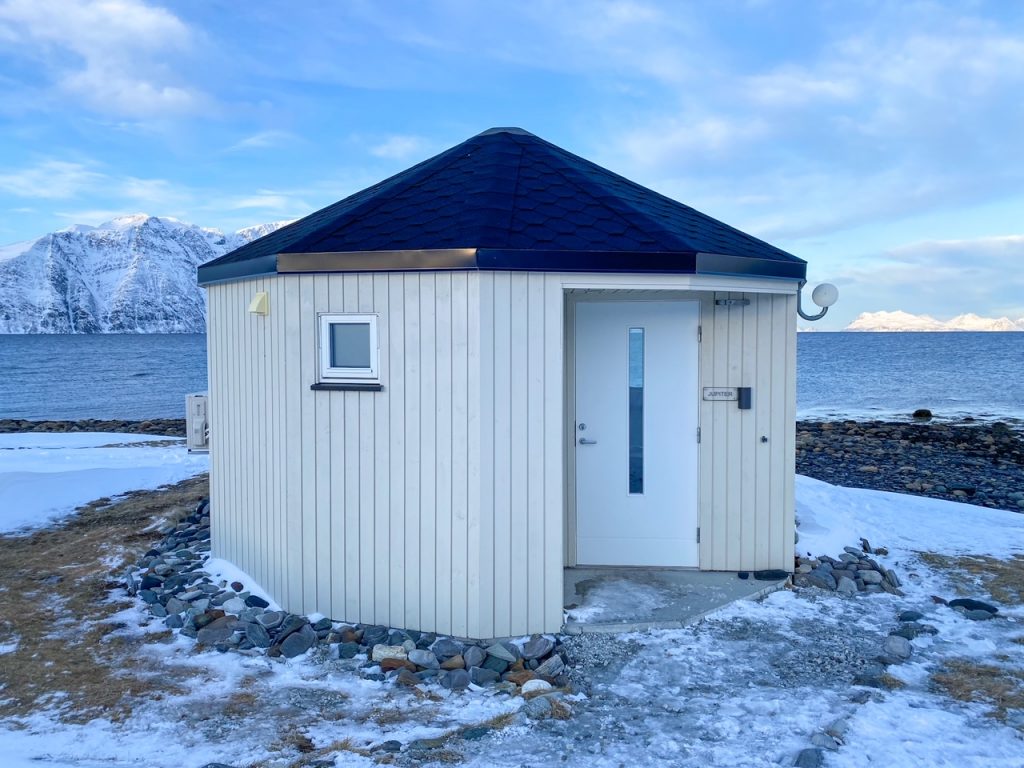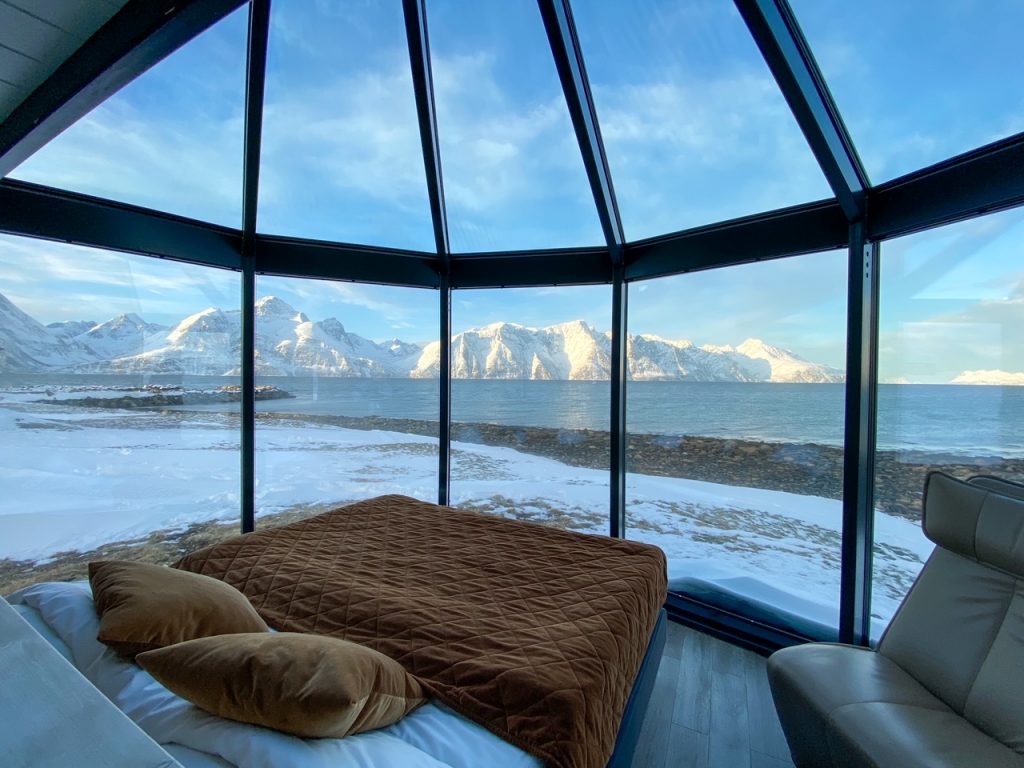 It's safe to say that staying at Lyngen North Igloo Hotel is like a dream come true! Each igloo is designed for two adults and has a double or queen bed, an ensuite bathroom with a water closet, shower, heated floors and basin, a seating area with a table, WiFi, coffee and tea, and free parking. Three layers of insulated glass and a heat pump help to keep the cold out, and blinds provide additional privacy.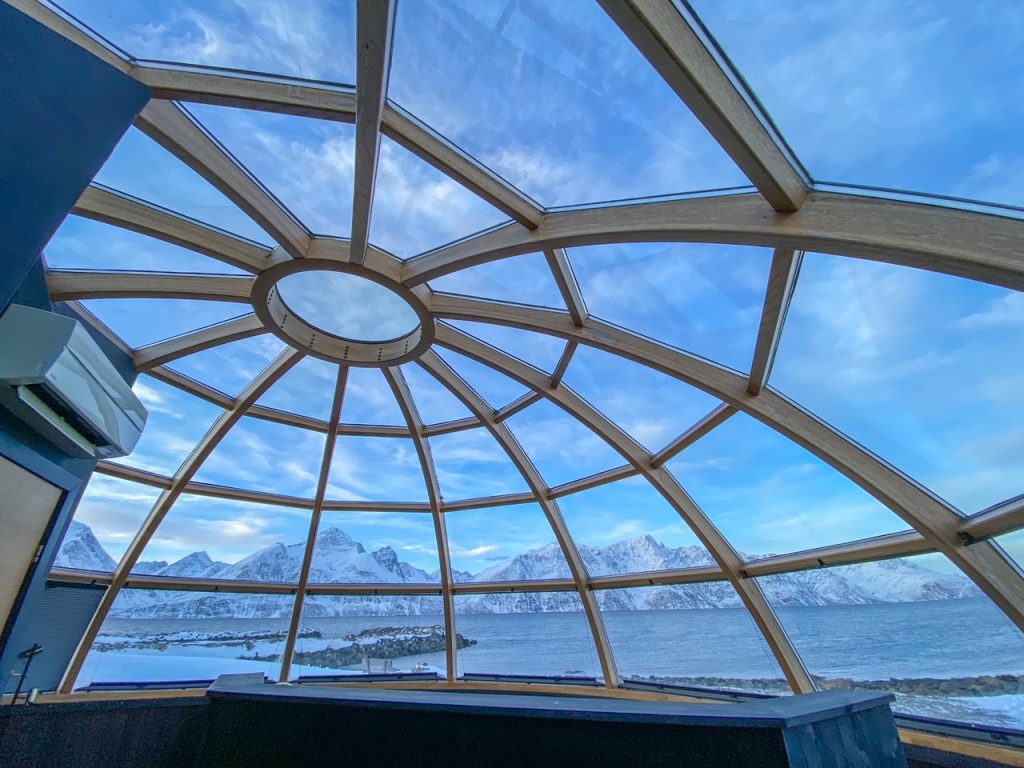 A Broad Recommendation: book your stay at the Lyngen North Igloo Hotel as early as possible. Although both types of igloos have the same amenities, there are some differences in the shape and glass façade and the size of the bed. The 360º igloos offer a better view of the night sky – which is one of the main reasons for staying here! – whereas the 180º igloos offer a better view of the surrounding landscape. When we visited, there was only one of each available, so each couple stayed in a different type of igloo.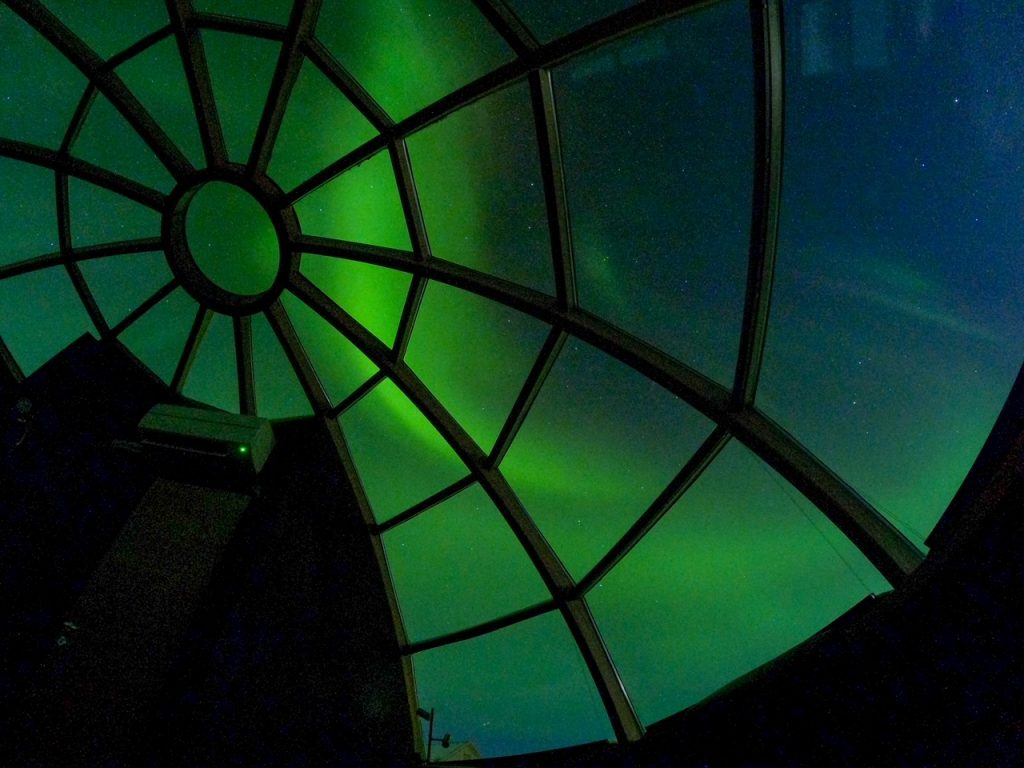 During our stay, we were lucky enough to witness a glorious night of Northern Lights-filled skies! We'd been looking forward to this our entire Norway trip and had been disappointed during our visits to Kirkenes and the Snowhotel Kirkenes. After talking to someone on staff the next day, we learned that we'd seen a 4.5 out of 5 star performance!
Note: it gets extremely cold here, especially once the sun goes down, so we've put together The Ultimate Travel Packing List for Winter in Norway to ensure you come prepared.
Is There Dining at Lyngen North?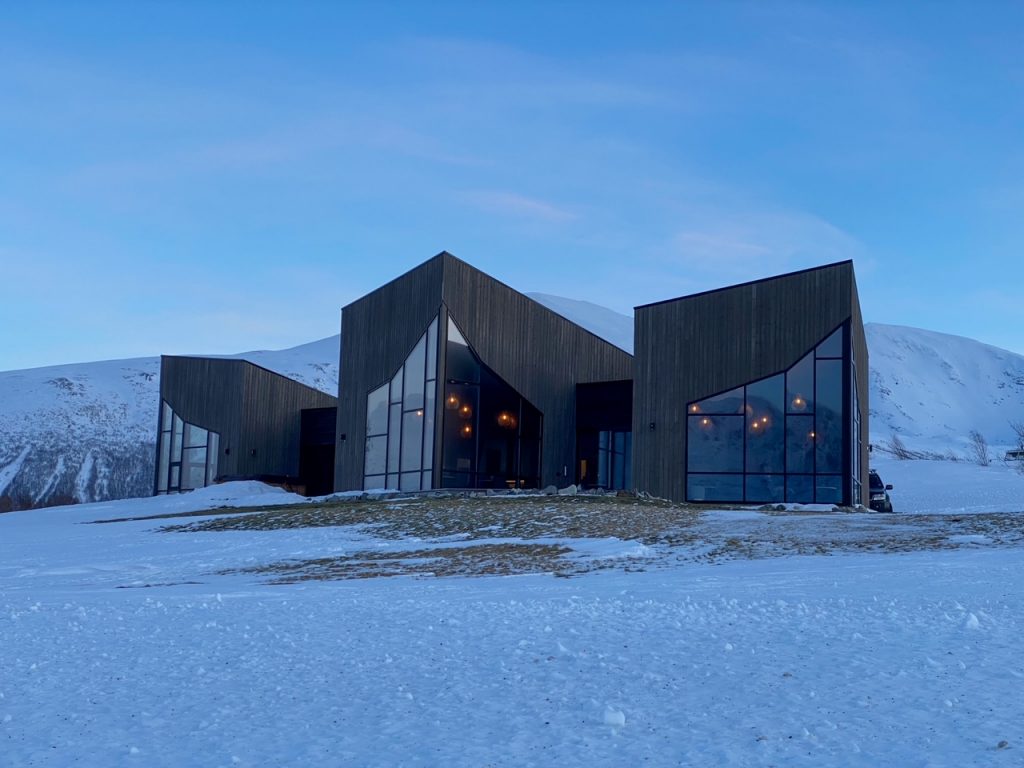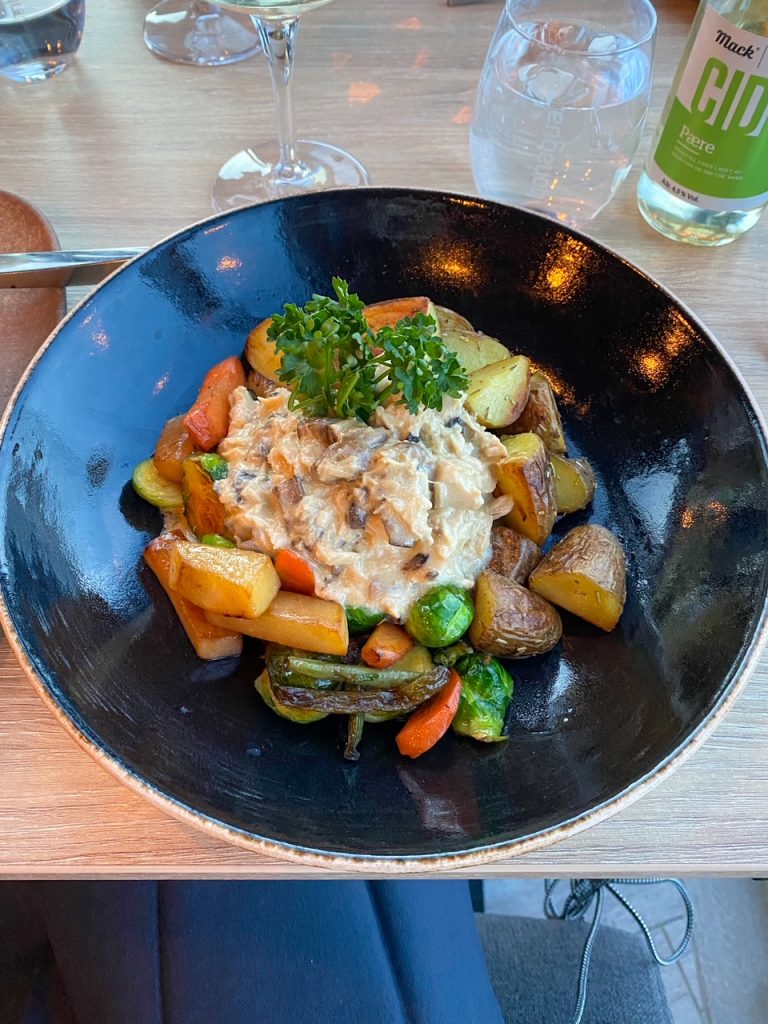 The short answer is yes! The onsite Restaurant Solvind offers a unique and delicious dining experience. Relax and unwind with a glass of local wine, cider or beer as the chef prepares a magnificent lunch or three-course dinner using local produce, varying from reindeer, chicken, beef, cod, halibut, shrimp, lamb, pork and more. The chef will make sure to abide by any dietary restrictions as well; just let them know when you arrive!
However, it's notable that when we arrived, there were no food services available. Luckily, we'd brought some snacks along and were able to munch on those. There are no other restaurants within walking distance from the hotel, so be prepared to wait to eat until lunch or dinner services are available.
Table reservations aren't required for Lyngen North guests. However, if you're not staying at the hotel, you'll need to reserve a table in advance.
Other Things to Do at Lyngen North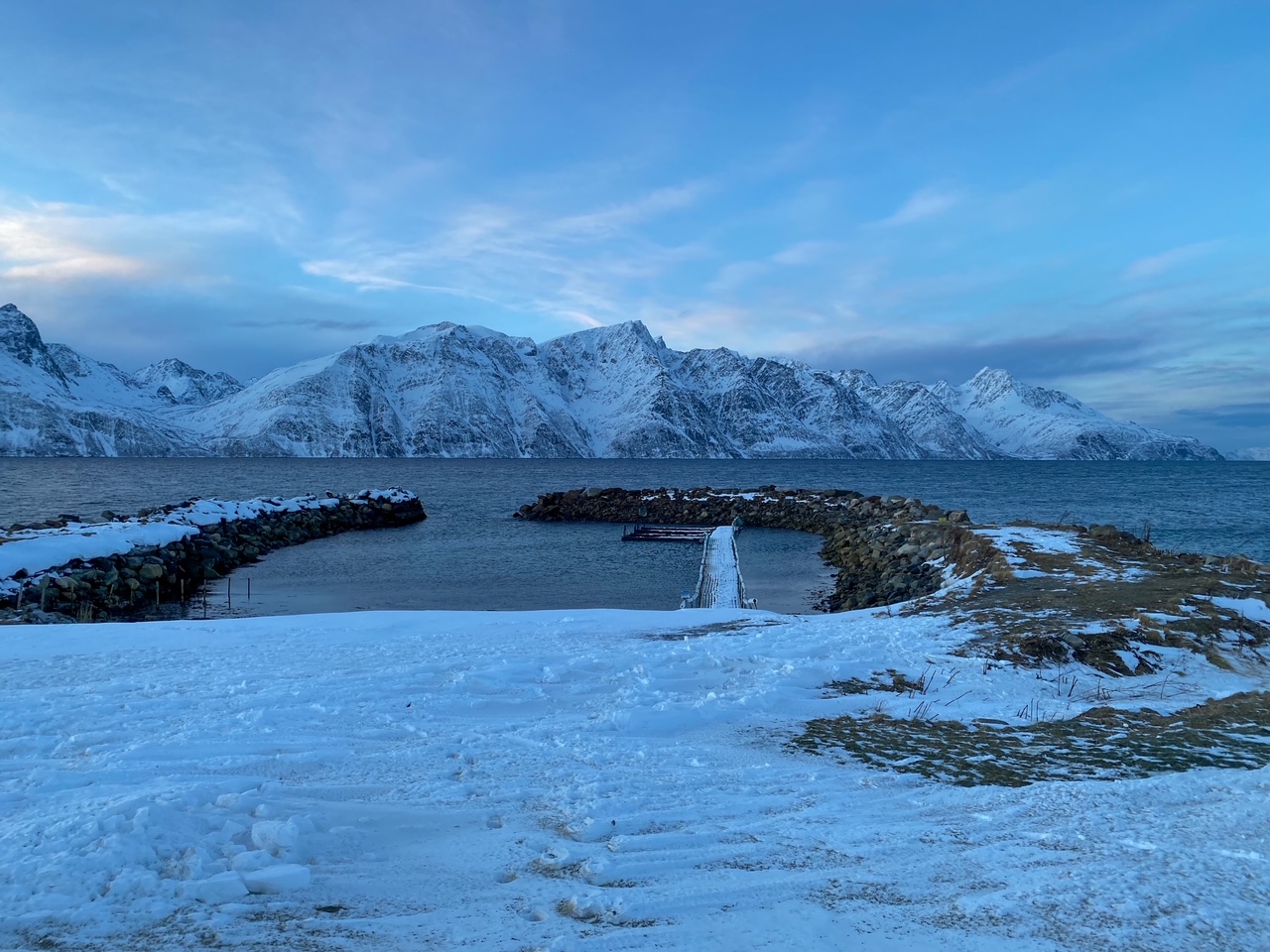 Next to the restaurant is a lounge where you can hang out, read a book, play board games, etc., and outside is a hot tub that can be used by guests for an additional fee.
For longer stays, Lyngen North also offers lots of outdoor activities. In the winter, the hotel offers guided tours through a partner, where you can go dog sledding, snowshoeing, skiing and/or snowmobiling. In the summer, the hotel offers a range of do-it-yourself activities like kayaking, hiking, stand-up paddleboarding, fishing boat rentals and electric bike rentals.
Since we were only here for one night, we took advantage of the hot tub but didn't have time to try any of the other activities. They sure do sound like fun though!
Is staying in a glass igloo in Norway on your bucket list? If so, you won't want to miss a visit to Lyngen North. Be sure to add this unique experience to your winter Norway itinerary today!
Ready to plan the rest of your winter Norway trip? Check out these blog posts:
XOXO Sara at Travel A-Broads