At the beginning of 2017, I asserted that I was going to travel to Europe at least once that year, and somehow I ended up receiving two separate invitations to do just that! My friend, Stephanie, had a friend living in Stockholm, Sweden and invited me to come along on her visit. We would start our journey here and then head to Copenhagen, Denmark.
A Quick Intro to Stockholm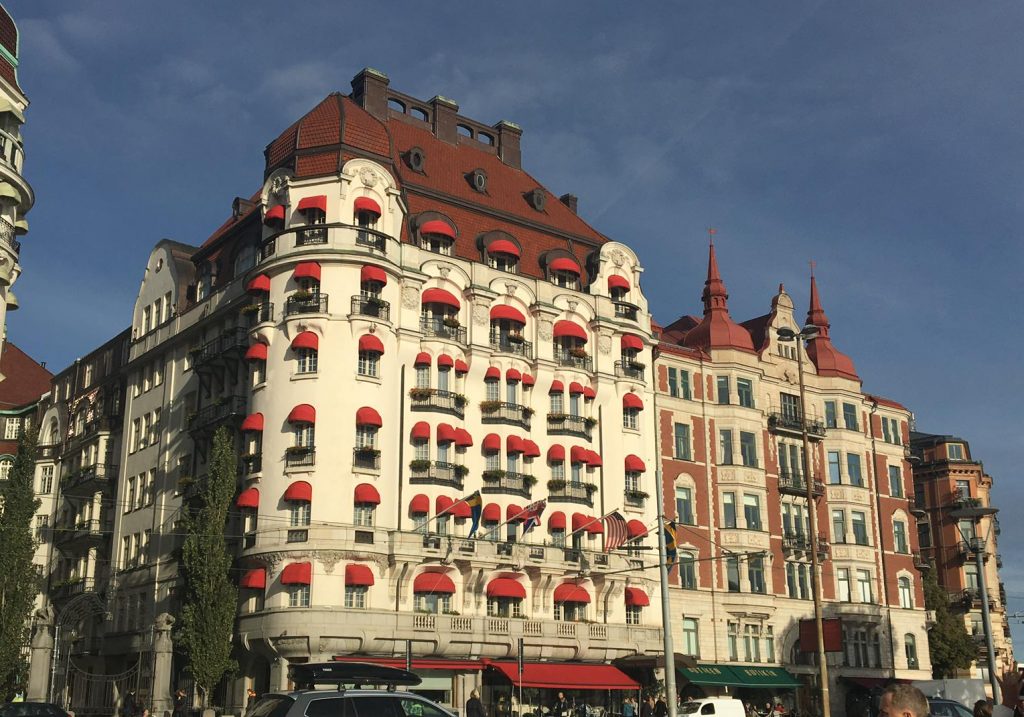 One of Sweden's largest cities, along with Gothenburg and Malmö, Stockholm is made up of fourteen islands, connected by 57 bridges that spread across the Baltic Sea. And, we made it to five of them during our trip!
Beckholmen
Djurgården ✔️
Helgeandsholmen ✔️
Kastellholmen
Kungsholmen ✔️
Lilla Essingen
Långholmen
Reimersholme
Riddarholmen
Skeppsholmen
Stadsholmen (Gamla Stan) ✔️
Stora Essingen
Strömsborg
Södermalm ✔️
This blog post details what we did during our three days together in Stockholm, Sweden. For more specific information about traveling to Stockholm, what to pack, how to get around the city, and other handy tips, check out our Sweden travel tips.
Getting to Stockholm, Sweden
Stephanie left from Dulles, Virginia and took an overnight flight to Stockholm, Sweden with a layover in Reykjavik, Iceland. She arrived midday on Friday the 13th – spooky! To give you an idea of pricing, she flew with Icelandair and paid just under $400 for her one-way flight.
Stephanie lived it up for a couple of days in Stockholm while I was still en route. She explored Gamla Stan, checked out some local markets, and was introduced to "fika", i.e. a break where people enjoy coffee and light snacks and relax with others. She enjoyed meals at:
And, she enjoyed drinks at:
I flew with Southwest from Houston, Texas to Baltimore, Maryland early Saturday morning. Considering I booked with points, I only paid the $5.60 fee. Since I had a long layover in Baltimore (where I'm originally from), I met a friend for brunch before heading back to the airport for my overnight flight.
With just a quick layover in Reykjavik the next morning, I was off to Stockholm and finally arrived around noon. I flew with WOW Air, which no longer exists, but just to give an idea on pricing, I paid just around $315 for my one-way flight.
From the Stockholm Arlanda Airport (ARN), I took the Arlanda Express (for 280 SEK or ~$40 USD at the time). Forty minutes later, I arrived at Stockholm Central Station where I met up with Stephanie and her friend, Jordyn. Huge shout out to these ladies for giving me all the details I needed to quickly and easily navigate the airport – and for meeting me, so I didn't have to take the metro alone.
Where to Stay in Stockholm
We were lucky enough to have a free place to stay during our visit, since Jordyn was living in Stockholm at the time. However, there are lots of unique boutique hotels in Stockholm that you could consider for your stay!
Day 1: Djurgården, Helgeandsholmen & Kungsholmen
After a quick stop at Jordyn's apartment to drop off my bags, we started walking around and exploring.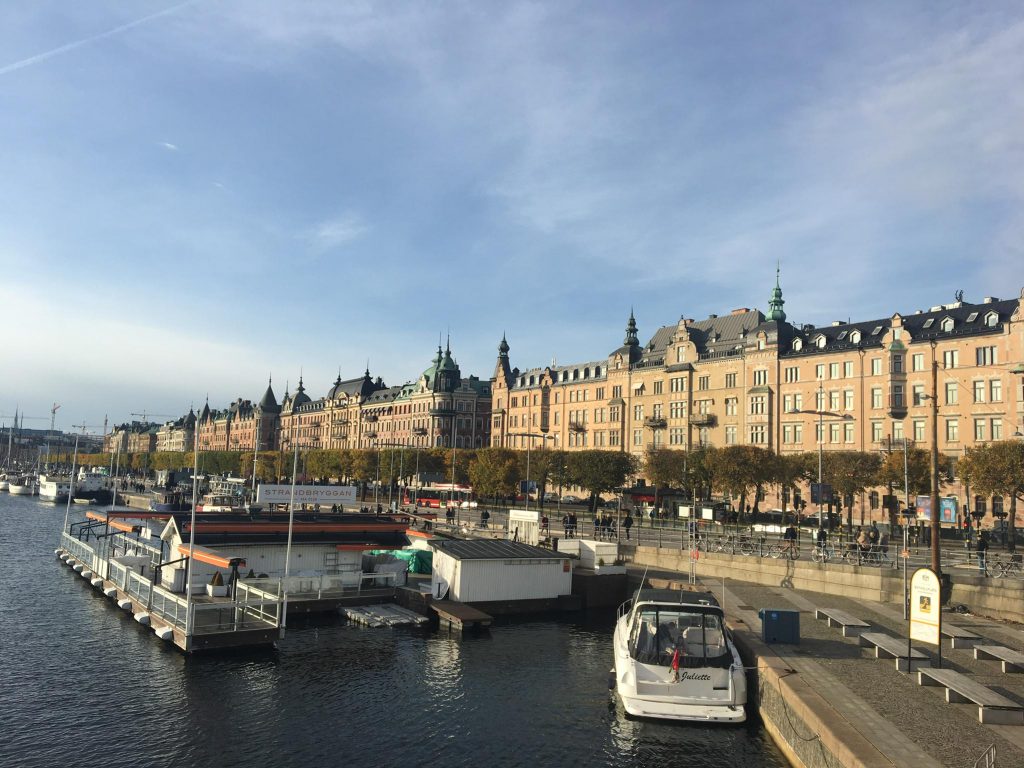 Located on the southeast coast of Sweden, Stockholm is the capital and is nicknamed the "Venice of the North". We visited in October, and since I live in Houston where we barely get any fall foliage, I couldn't get over how beautiful all of the colors were. Stockholm is truly stunning in the fall!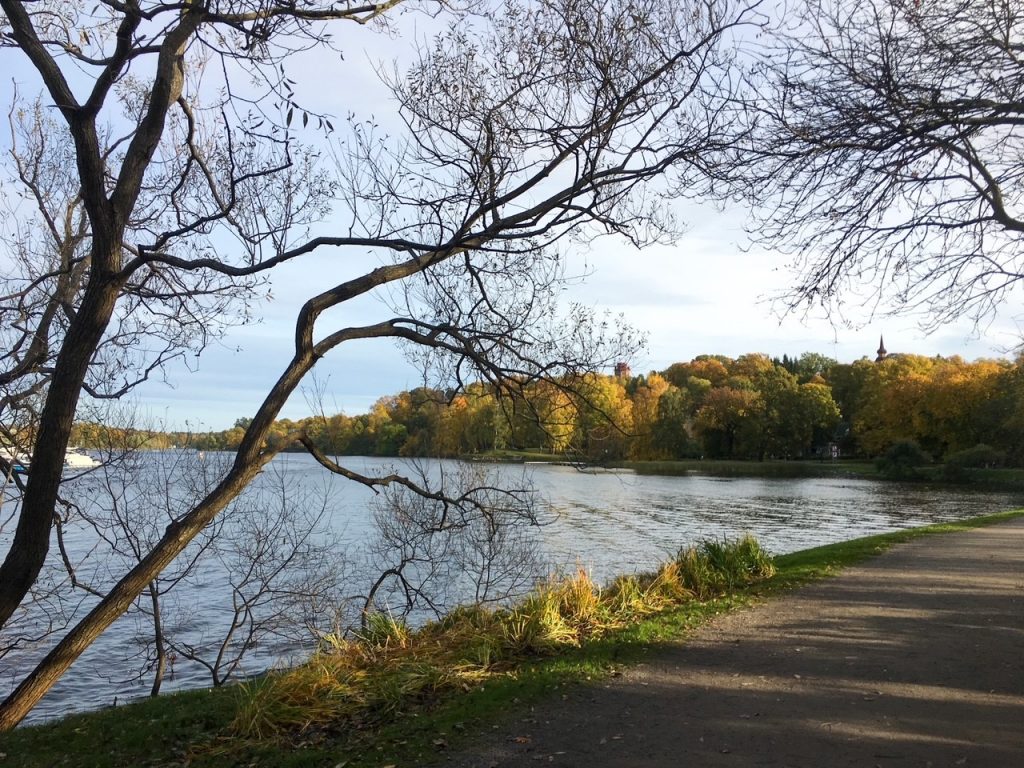 Although we feel that fall is one of the best times to visit, there are lots of festive things to do in Stockholm in the winter, making it another great time to visit.
Stop 1: Lunch at Rosendals Trädgård
Via ferry, we headed over to Djurgården, one of Stockholm's many islands, and had a late lunch at Rosendals Trädgård. This place was super neat, boasting gardens, an artisan bakery, a greenhouse café and more.
Rosendals promotes a farm-to-market or farm-to-fork concept and uses their own bio-dynamically grown vegetables. This means that they work with natural processes such as composting and crop rotation.
Luckily, we made it just in time before they started to close up for the evening. We chose from various pastries, soups, and sandwiches, as well as vegetables, herbs and fruits harvested from the gardens, and we sat at a table outside. Unfortunately, we didn't take any pictures, so you will have to visit to see it for yourself!
A Broad Recommendation: We loved this spot and definitely recommend a visit. You can't make table reservations, and it was pretty busy when we arrived. Give yourself some time if you plan to eat at the café. It's also notable that the menu changes weekly, and they are cash-free.
After lunch, we hopped back on the ferry to continue our exploration, and as we left Djurgården, we had a great view of the Gröna Lund Amusement Park.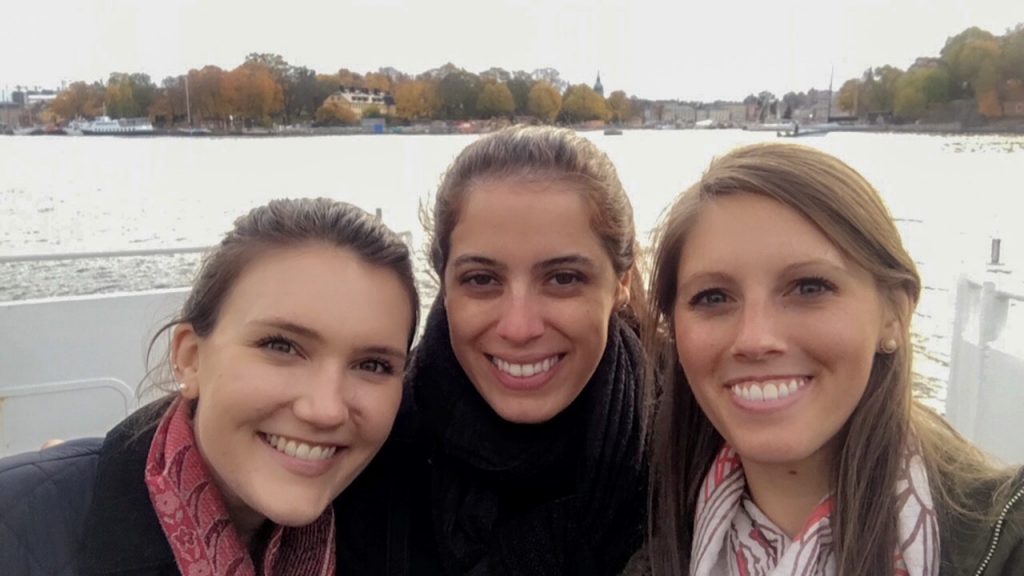 Along the way, we saw Kastellet, a small citadel located on top of a hill on the islet Kastellholmen. The citadel historically served as a lookout post for incoming ships and to warn off any visitors with malicious intent. The Swedish flag flying high above signifies that Sweden is at peace.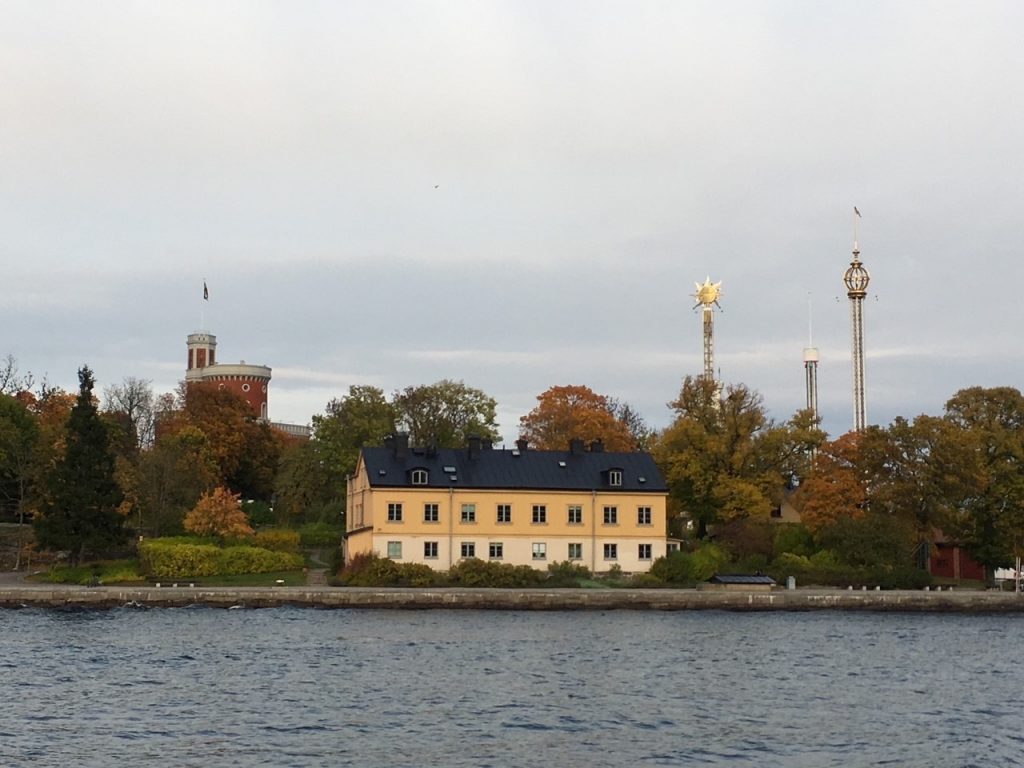 Stop 2: Walking Around Riksdagshuset
We passed by the Parliament House (Riksdagshuset), which takes up a large portion of Helgeandsholmen, and boasts beautiful architecture.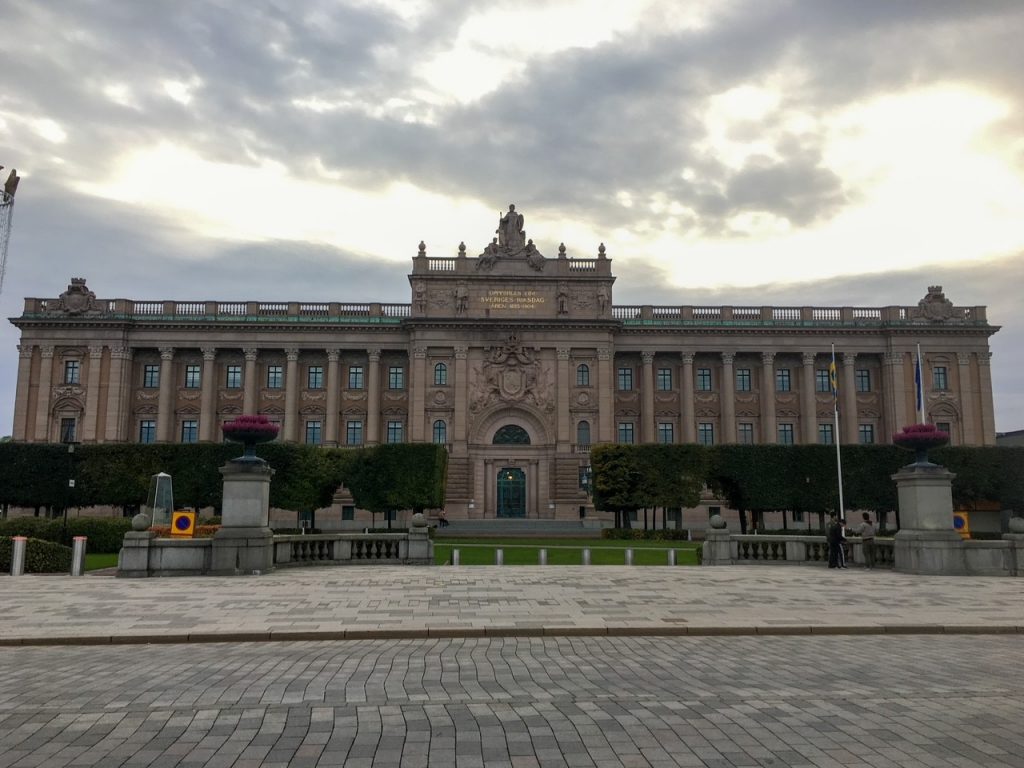 We spent some time walking around and taking in the gorgeous views. Given that Stockholm is made up of so many islands, there's water nearly everywhere you turn here!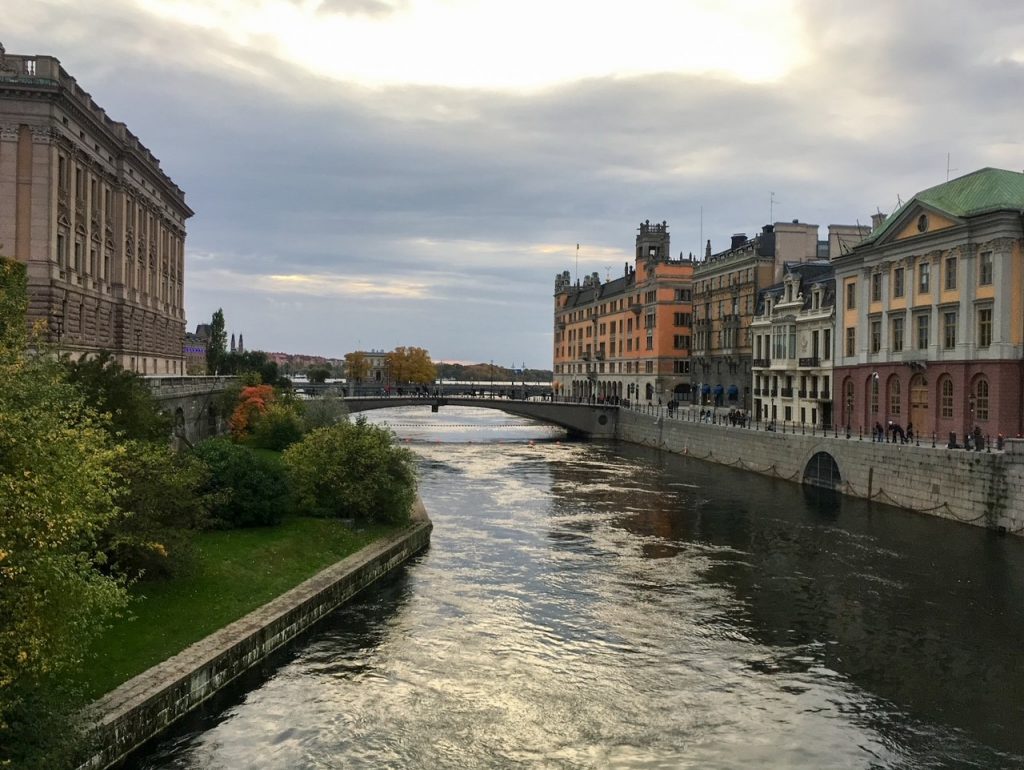 Stop 3: A Stop at City Hall for Sunset
Finally, we made our way over to Kungsholmen to check out City Hall and to conclude our afternoon adventure. From here, we had a beautiful view of Stadsholmen and watched the sunset.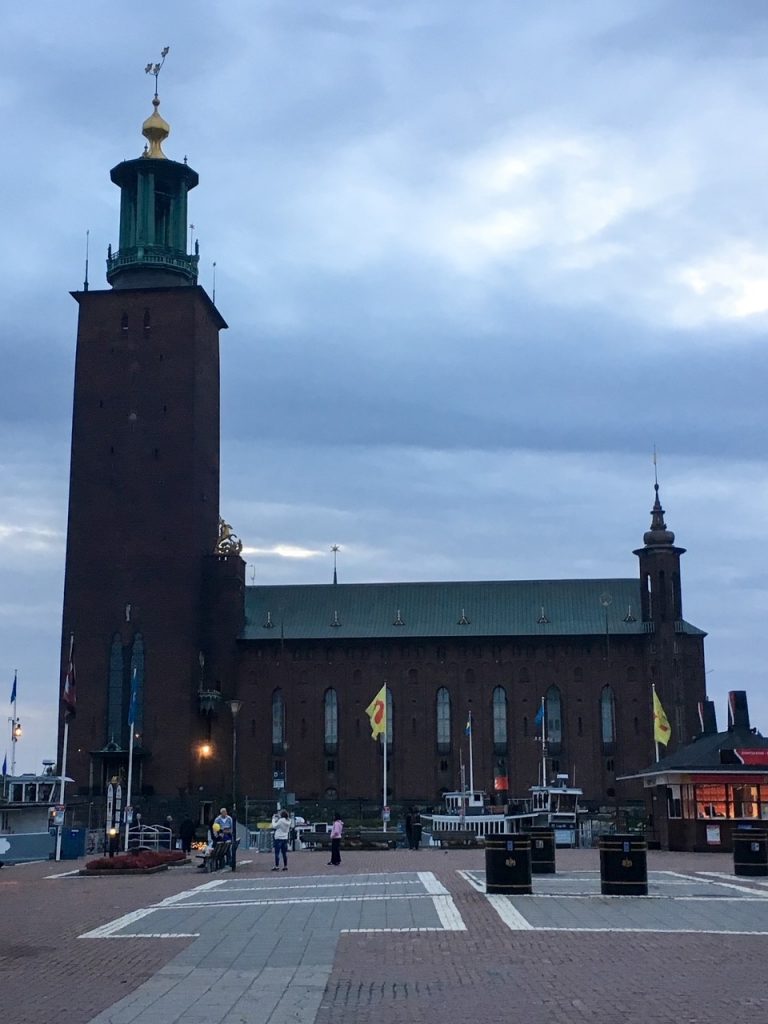 Stop 4: Games at Biljardpalatset
Later that evening, we headed to Biljardpalatset to play shuffleboard and a rousing round of Yahtzee – one of my favorites – before calling it a night.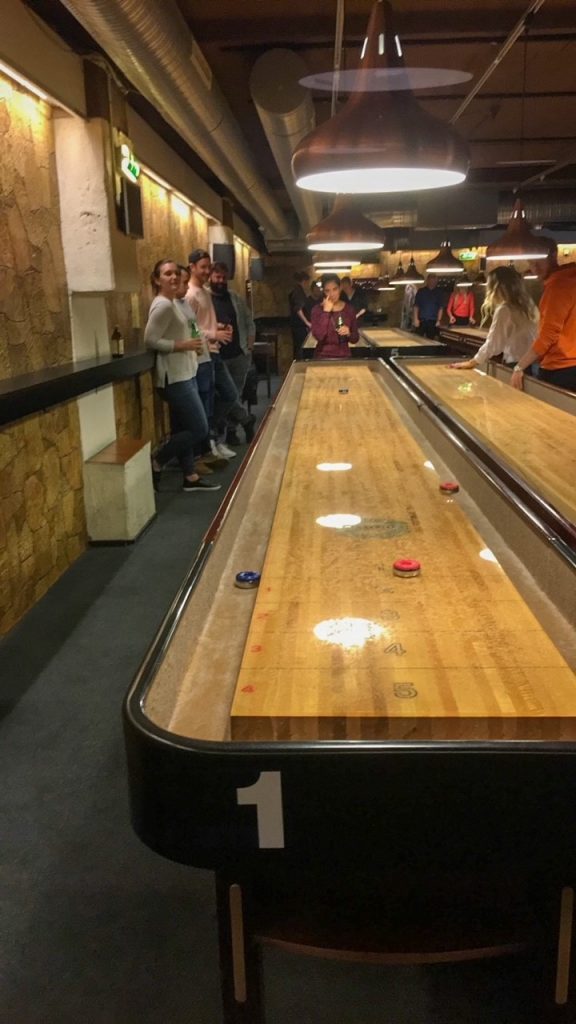 Day 2: Djurgården, Stadsholmen and Södermalm
Stop 1: Skansen
The next morning, we woke early and headed back to Djurgården to explore Skansen, the world's oldest open-air museum. There was an admission cost, but I can't remember how much it was at the time; the current cost is around $25 and varies by season.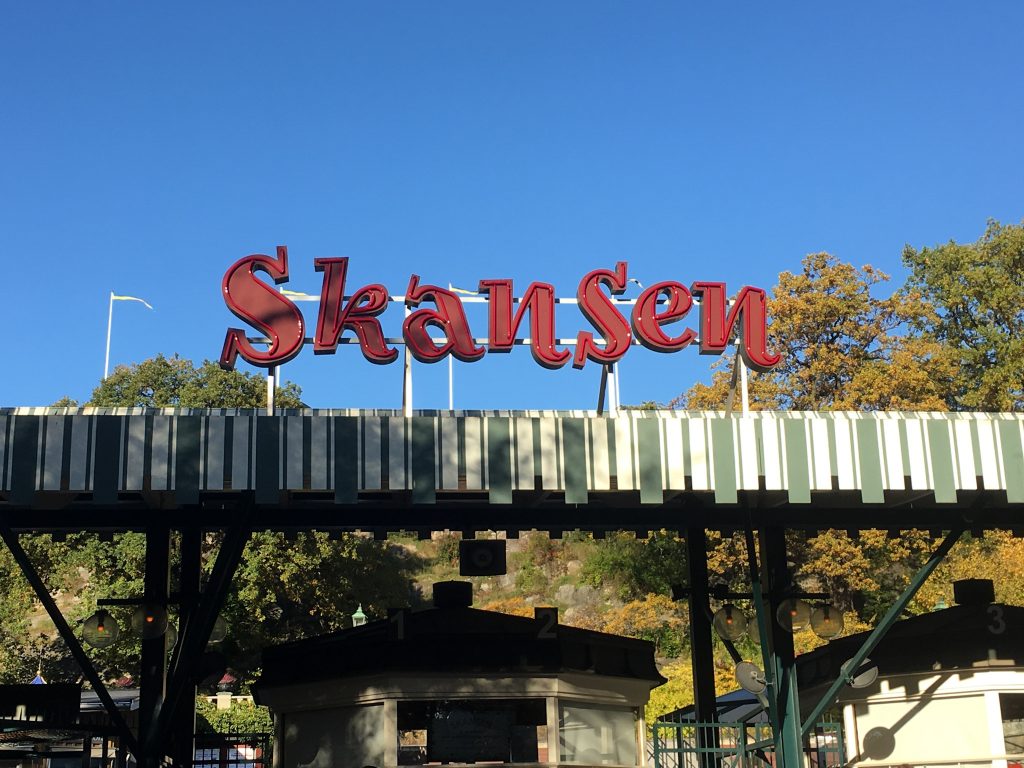 We strolled through the park, admiring Swedish houses and farmsteads dating back to the 18th century. We also enjoyed a tour led by a wonderful character dressed in costume.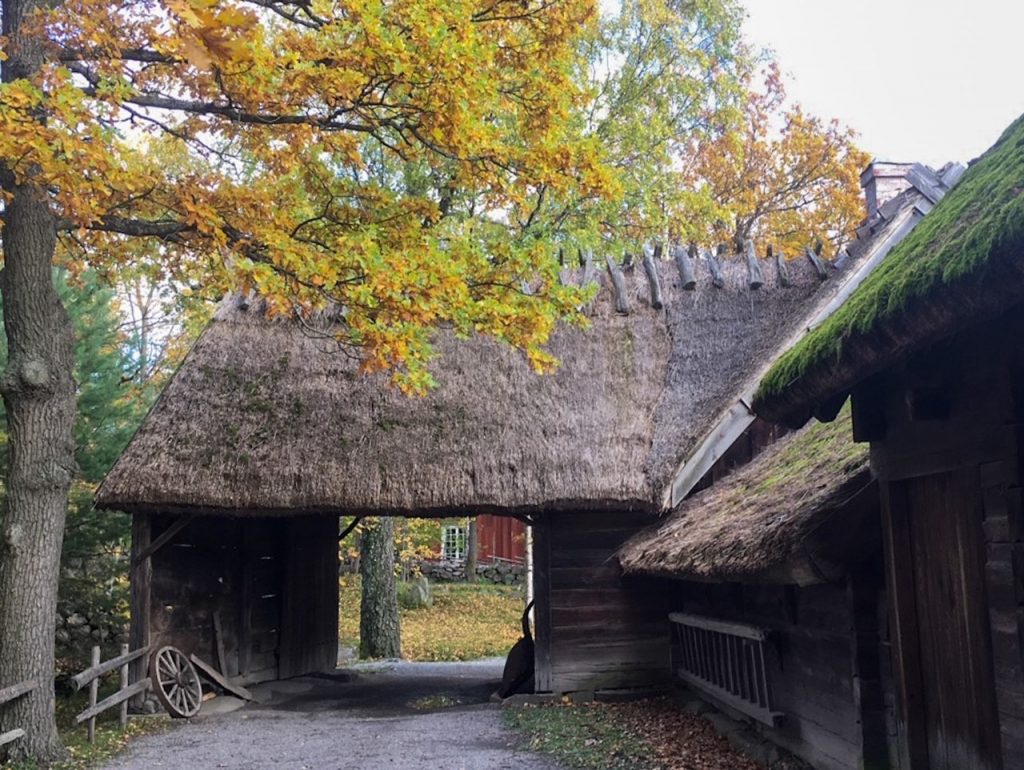 The Seglora Church, which was once slated for demolition, dates back to the 18th-century and is still used for weddings, christenings and concerts. In fact, it's one of the most popular churches for weddings in all of Sweden!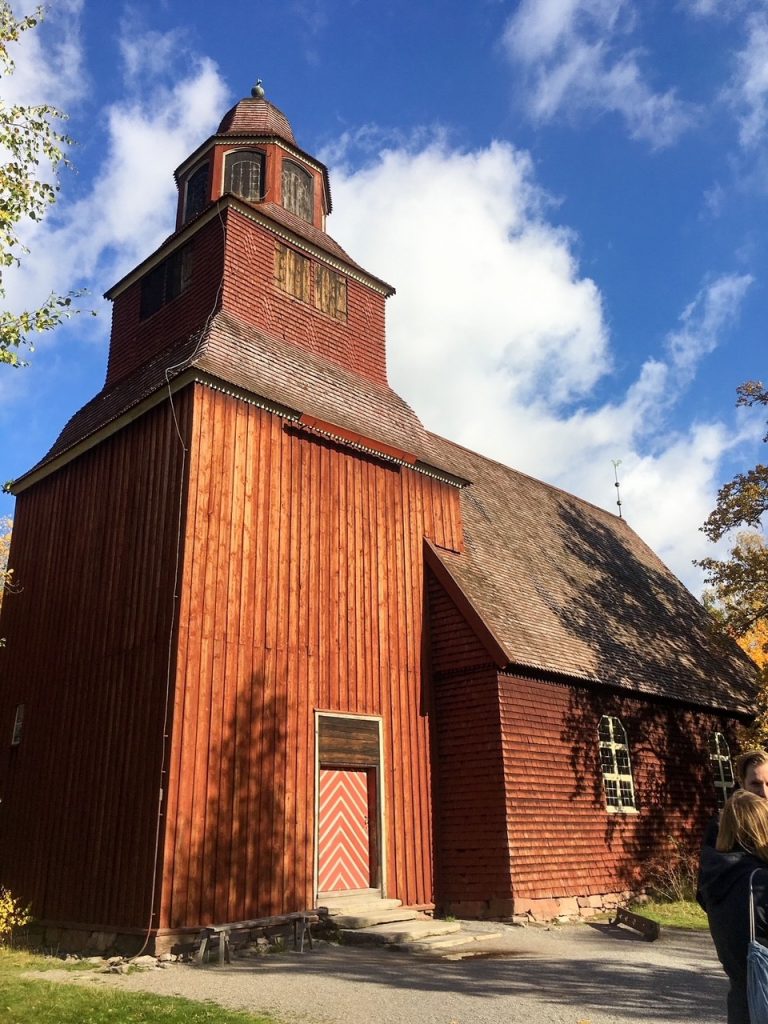 As we continued our walk, we saw beautiful male peacocks roaming around freely, as well as lots of Nordic animals (which luckily weren't just roaming around).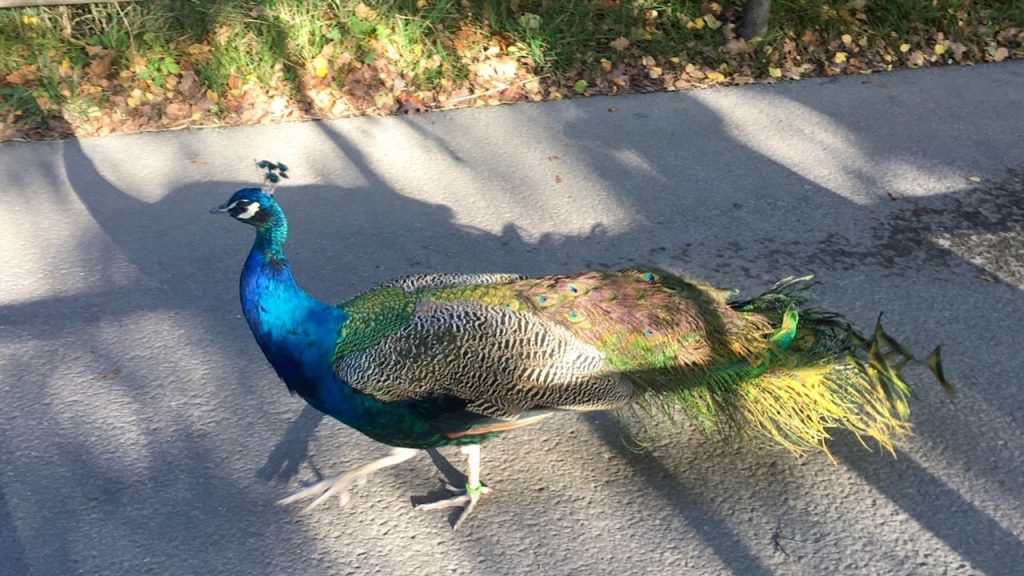 The Linderöd pig is the last native pig breed left in Sweden; it has a more rounded body shape, more hair and more varied coloration than modern breeds.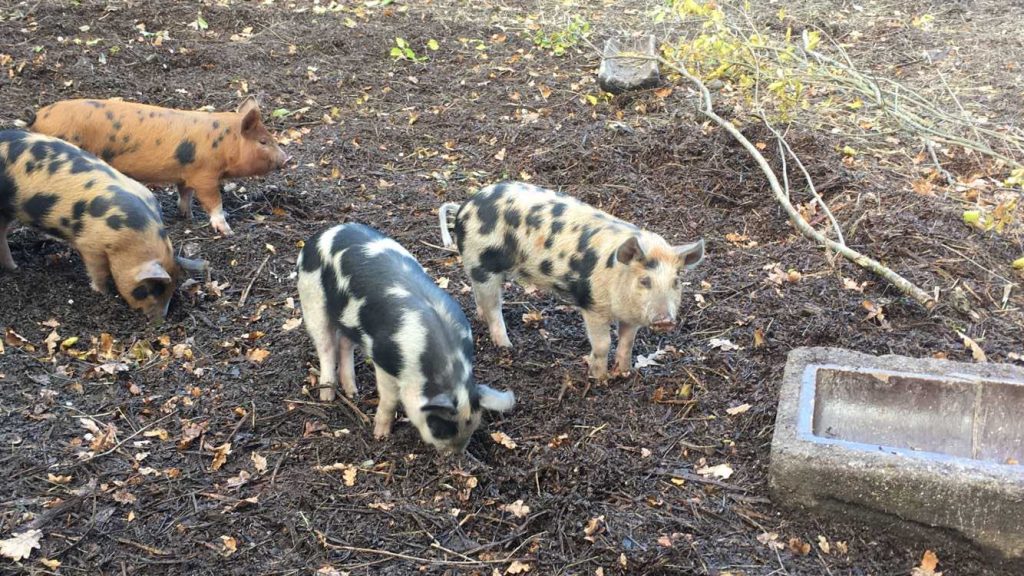 The wolf, along with the brown bear, is the largest predator in Sweden, and the lynx is Sweden's only wild cat.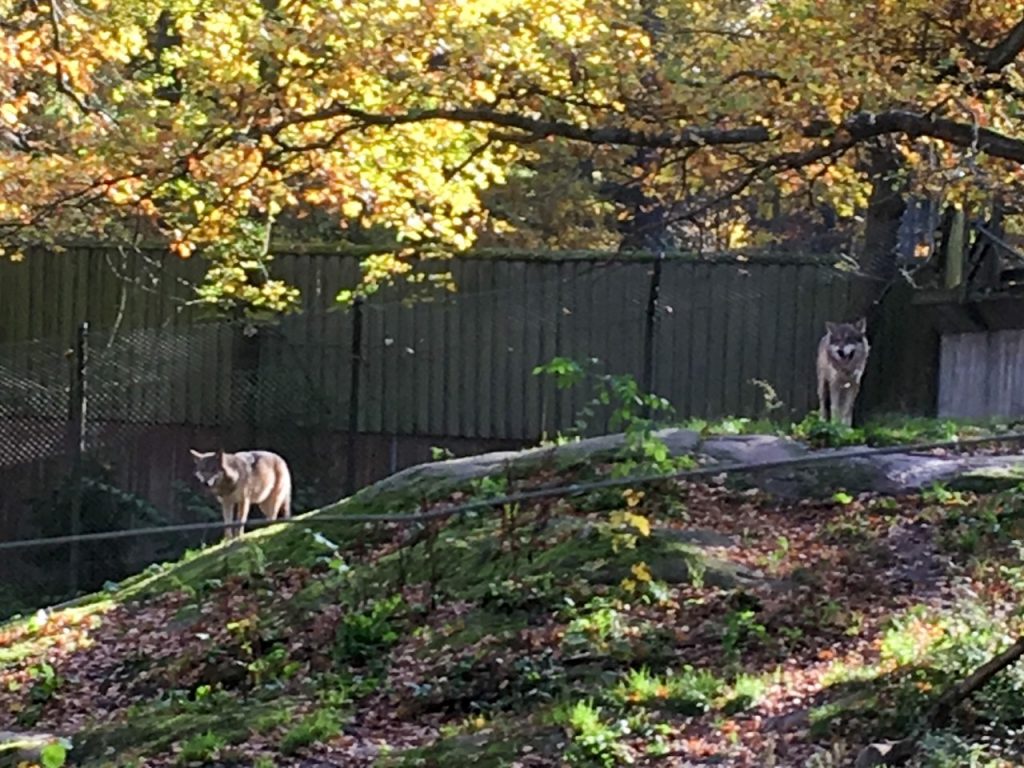 We also saw some horses, domesticated reindeer, European bison, and owls, as well as moose, which we learned, became somewhat of a symbol for Sweden, being its largest land animal.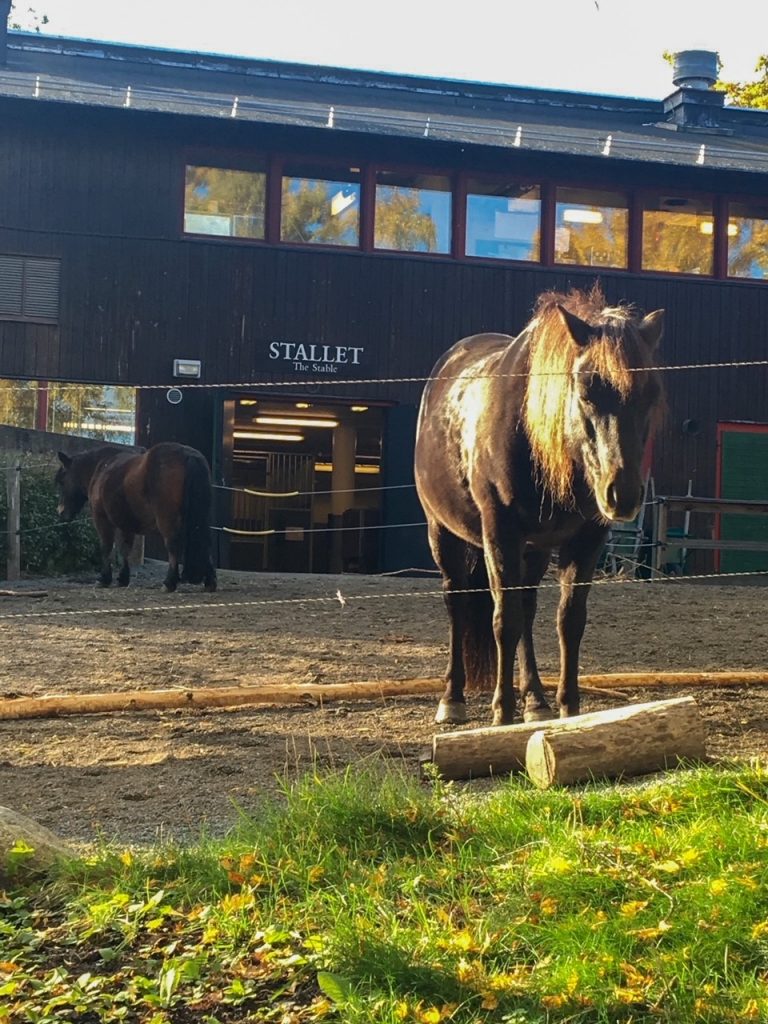 We played around a little here too, capturing a couple of photos sitting on top of some carved bears.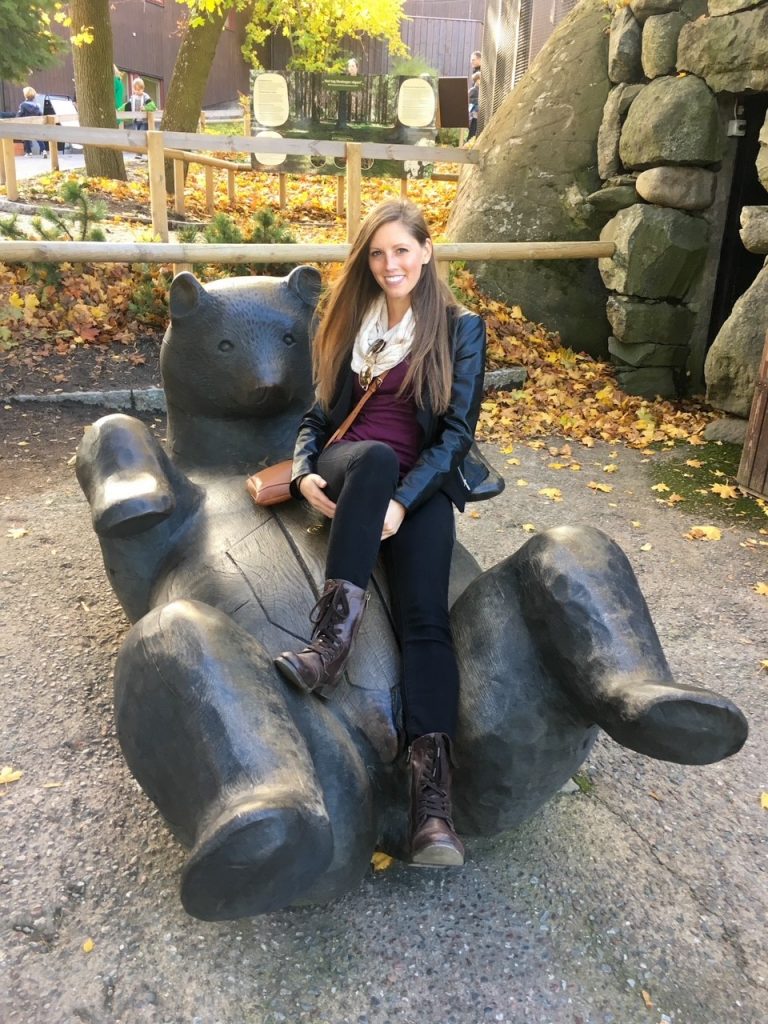 Next, we came across the Ölstastenen and Hanstastenen Rune stones, both of which come from Uppland. Vikings used runes for their written alphabet, as memorials for close relatives, or to mark important events. There are more than 2,500 rune stones throughout the country, many of which date back to the 11th century near the end of the Viking period.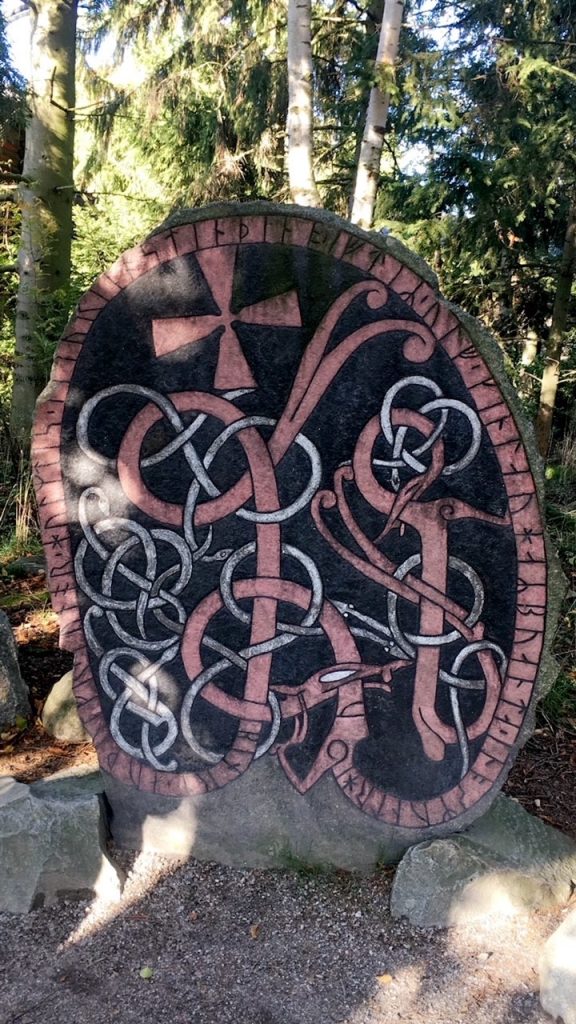 As we meandered onward, we came across some breathtaking views of the fall foliage with the Nordic Museum in the background. We obviously needed to capture a cute picture here too!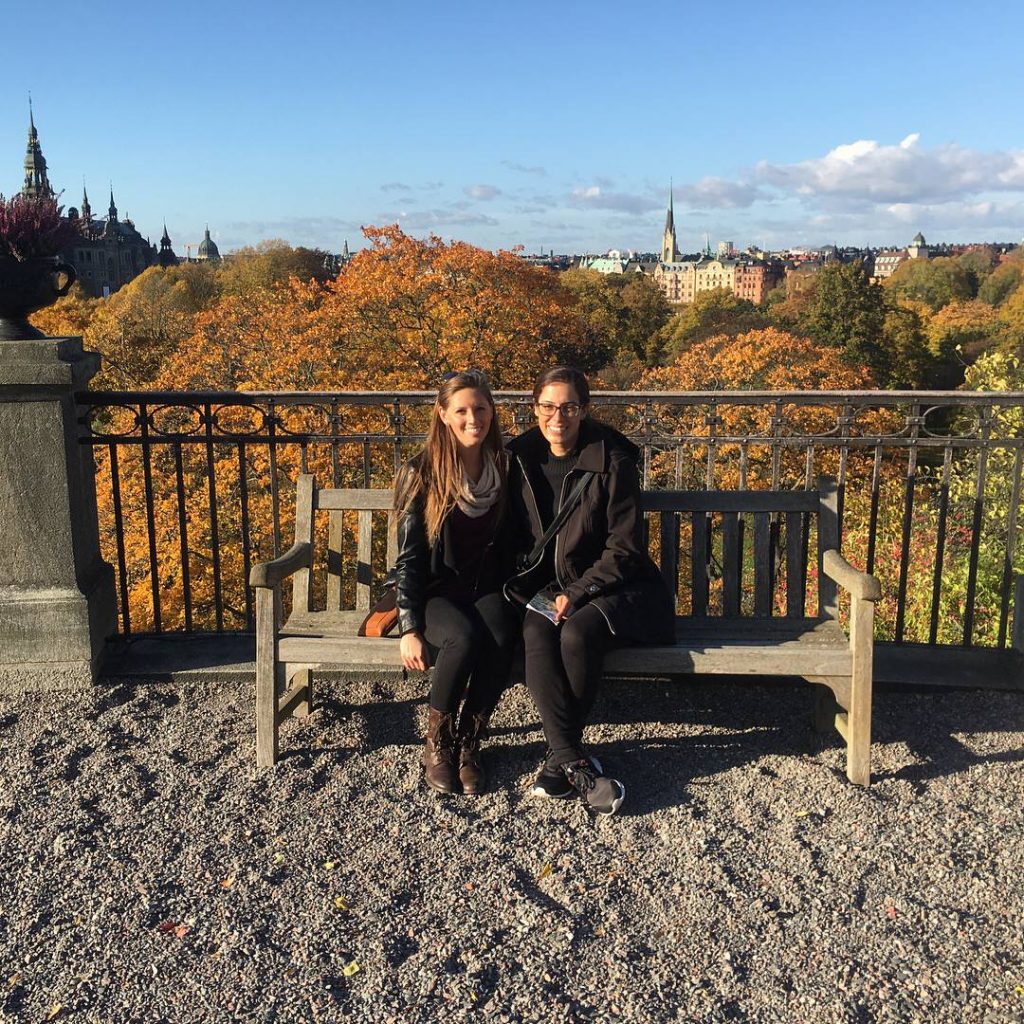 There was so much to see and explore here, and we were having such a blast! Next, we came across some traditional Swedish windmills.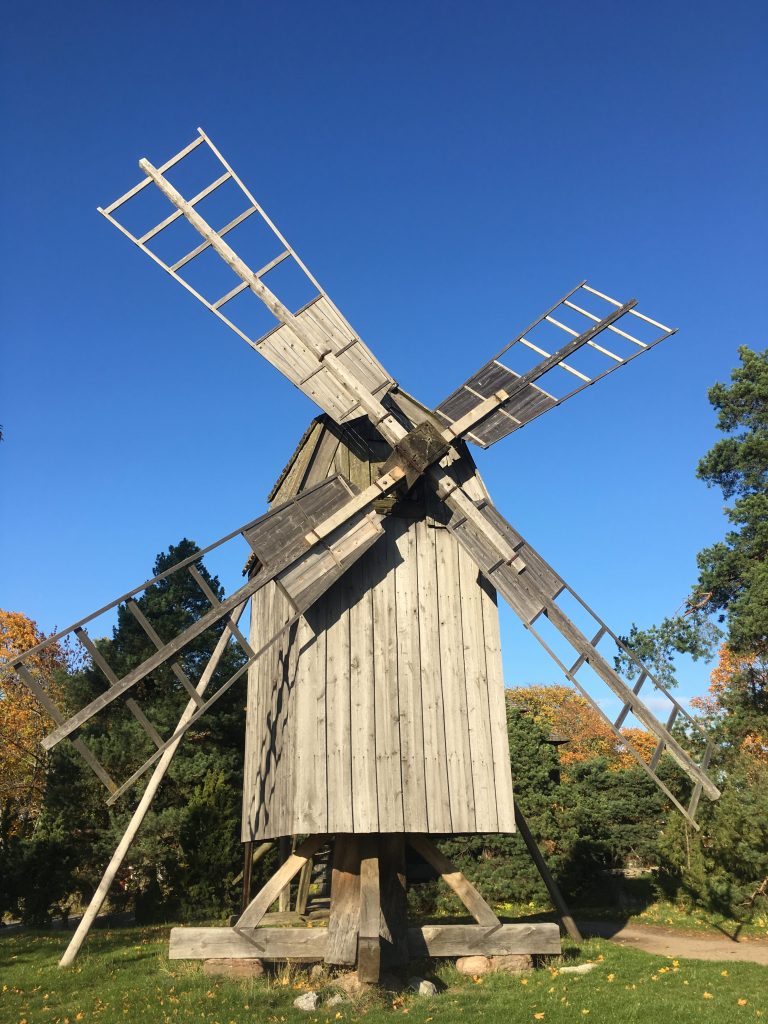 After a full morning of adventures, we ended our visit in Skansen's Town Quarter. Here, we walked along cobblestone streets and popped into some souvenir shops, to include a glass workshop, where we watched glassware being manufactured.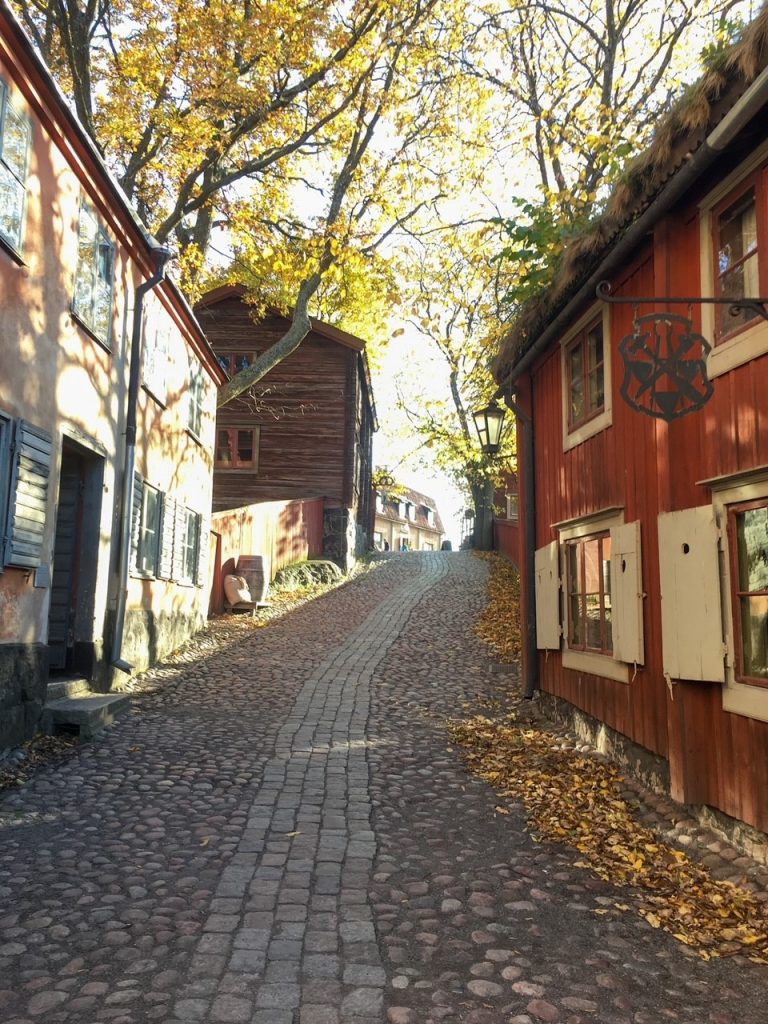 Stop 2: Gamla Stan
It was now late afternoon as we made our way through Gamla Stan, the city's old town with cobblestone streets and colorful 17th- and 18th-century buildings.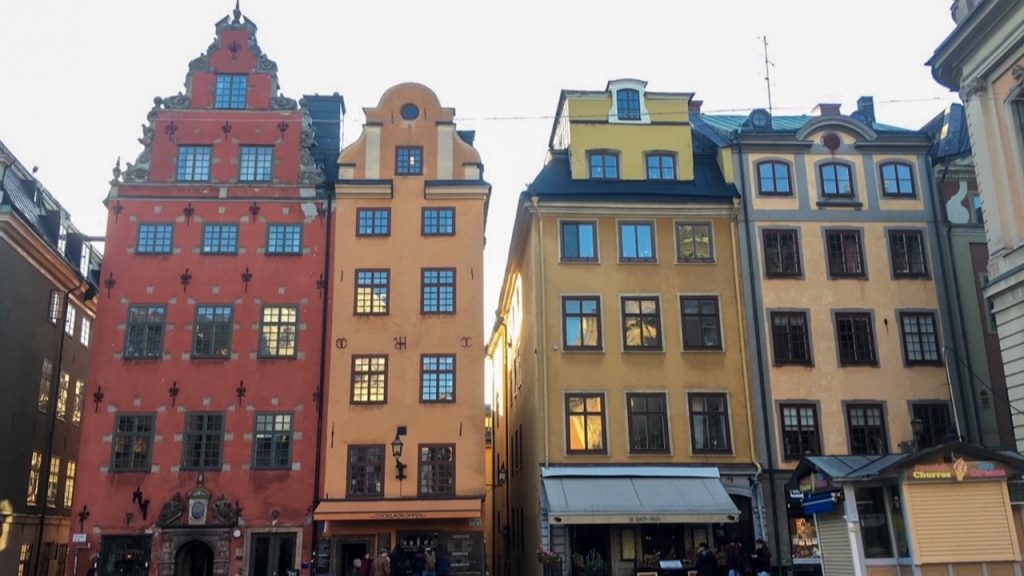 We admired the medieval Storkyrkan Cathedral, the oldest church in Gamla Stan, and the Kungliga Slottet, or the Royal Palace. Although the official residence of the king of Sweden, the Royal Palace is mainly used for official ceremonies.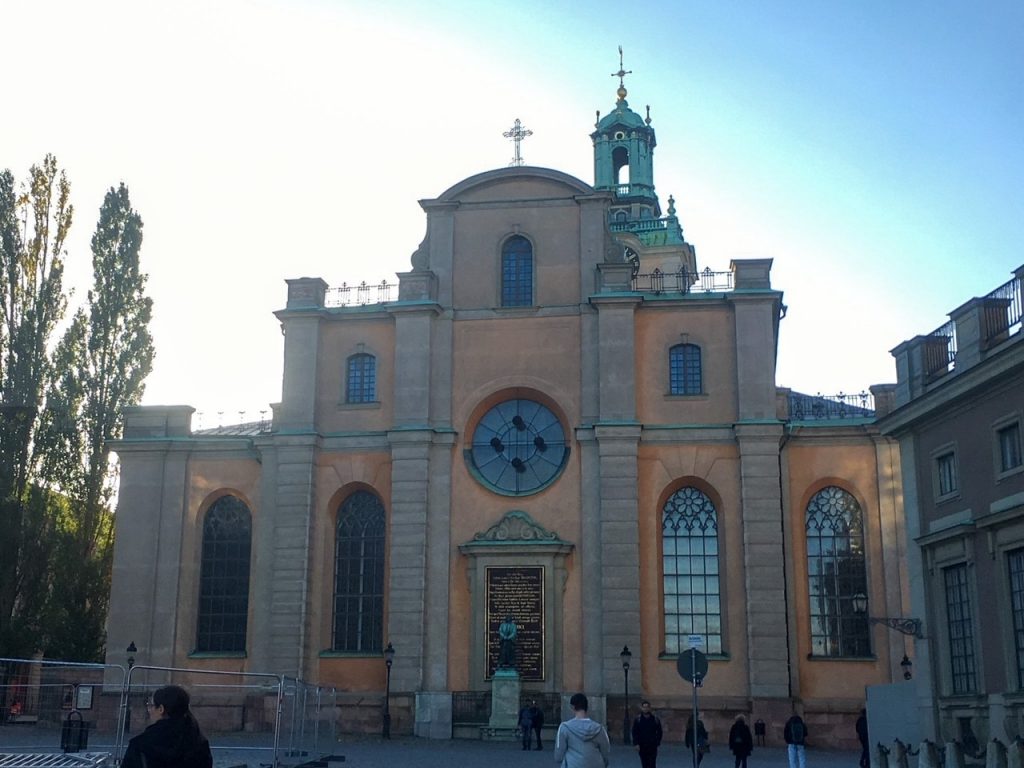 As we continued walking around, we were amused to come across some Halloween decorations that lined the streets – how festive!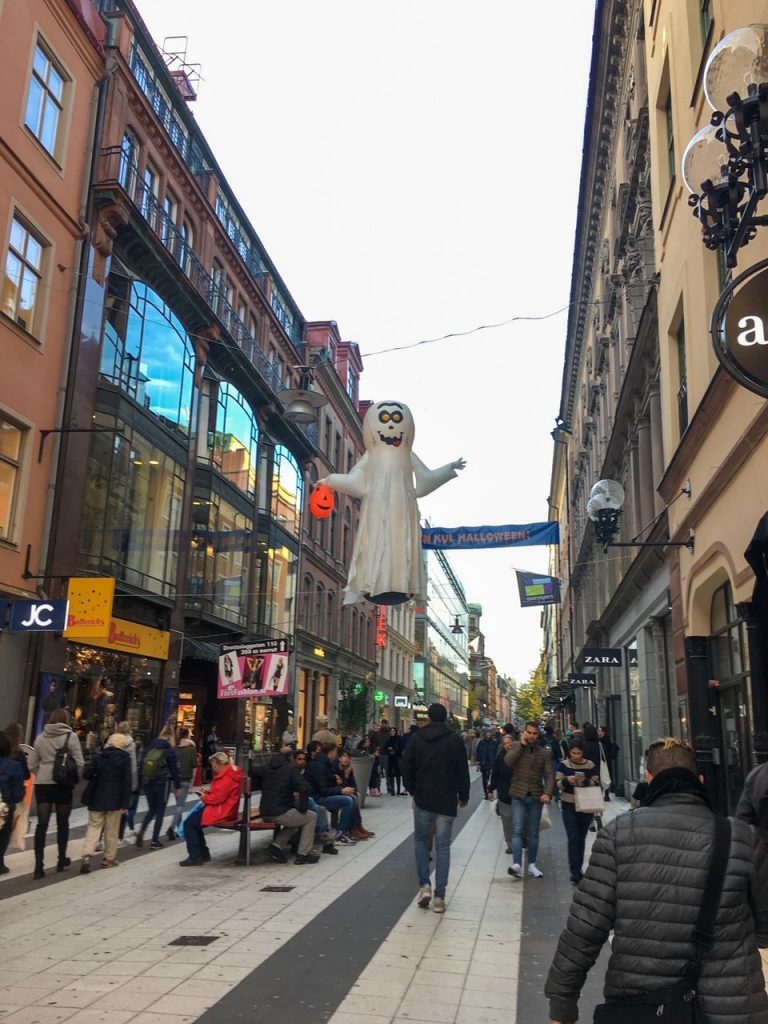 Stop 3: Fotografiska
We rounded out our action-packed day with a trip to the Fotografiska museum, which at the time was featuring Paul Hansen's Being There exhibit. We really enjoyed ourselves and found the exhibit to be especially interesting. It cost us around $20 USD to get in, and there were also meal and snack options.
Day 3: Djurgården and Stadsholmen
Stop 1: Vasa Museum
Our last full day in Stockholm, Sweden started back on Djurgården at the Vasa Museum. This is the most visited museum in Scandinavia and houses the world's most well preserved 17th century ship.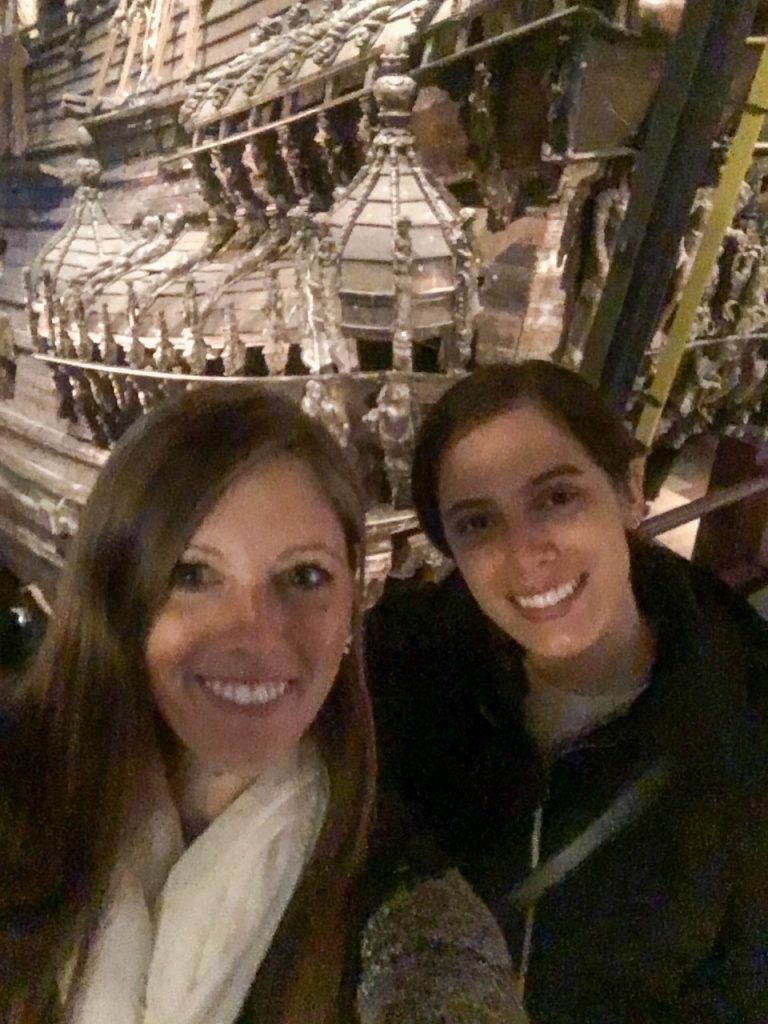 The Vasa warship set sail in August of 1628, when within minutes, it capsized and sank in the Stockholm harbor. Given that it was its maiden voyage, the crew members were able to bring their families and guests aboard the Vasa; luckily, all but thirty of the crew and guests survived. Among those who did not survive was the original captain, Captain Hans Jonsson, who had been replaced by Söfring Hansson.
Three hundred and thirty-three years later, the warship was salvaged from the sea bed and is now on display for tourists and locals to admire.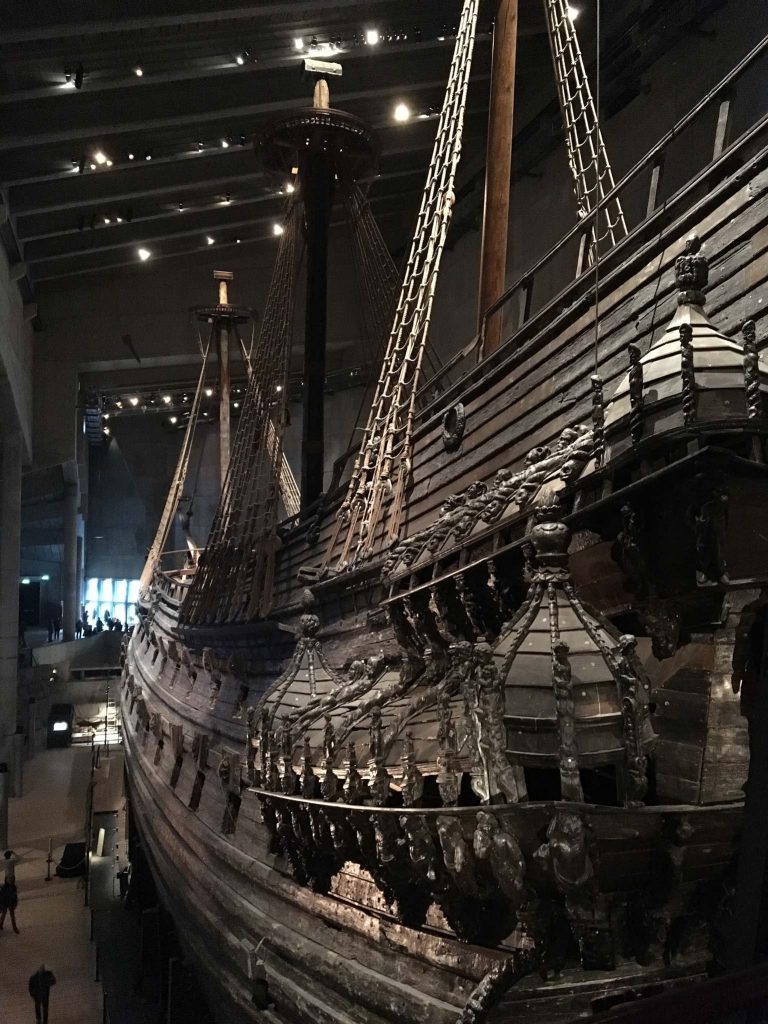 The museum boasts a ton of history and various exhibits, some of which are interactive. There's also a restaurant where you can enjoy lunch or a light snack.
A Broad Recommendation: We spent a couple of hours here, including our lunch, which was plenty of time to see the main exhibit and to stroll through some of the others. If you want to sit through some of the videos and spend more time on the other exhibits, you may need a couple more hours here. The museum also offered free WiFi.
Stop 2: The Nordic Museum
Next, we moved on to the Nordic Museum, which is Sweden's largest museum of cultural history and ethnography. The museum houses stories and objects depicting the life and people of the Nordic region, to include fashion, homes, photography, folk art, textiles, etc. throughout history.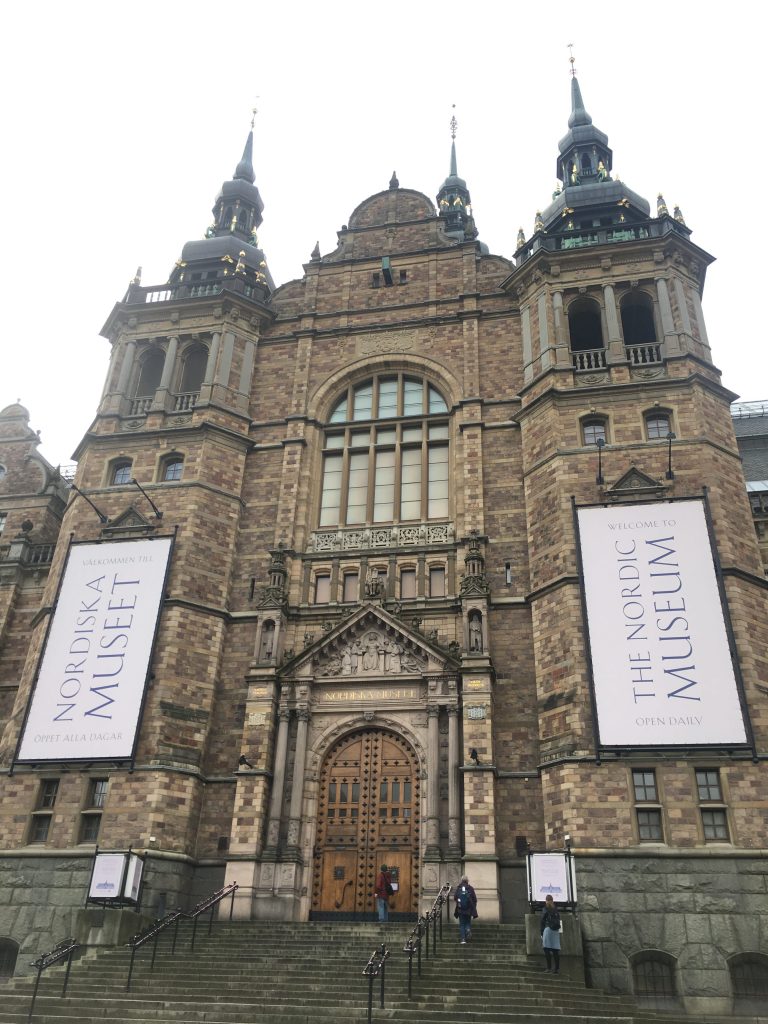 The museum is free to visit unless you'd like to experience some of the special exhibits, and you can easily get lost in the vast four floors, so make sure you give yourself enough time to fully enjoy the experience without feeling too rushed. Again, the museum offered free WiFi.
Note: Skansen, the Vasa Museum and the Nordic Museum are all located on the same island, but because we wanted to give ourselves plenty of time to explore, we split our visit up over multiple days.
Stop 3: Lunch at Chokladkoppen
We made our way back to Gamla Stan, where we stopped at Chokladkoppen for a snack/second lunch. The restaurant had a low-key, relaxing vibe, and I ordered the chicken curry sandwich, which was a little too heavy for me but had a good taste.

Stop 4: Nobel Prize Museum
To round out our sightseeing in Stockholm, we decided to check out the Nobel Prize Museum, which boasts exhibitions, school programs and lectures depicting the Nobel Prize's various fields, to include the natural sciences, literature, and peace. Swedish inventor and industrialist, Alfred Nobel, created the prize to reward those who had "conferred the greatest benefit to humankind" and contributed to a better world.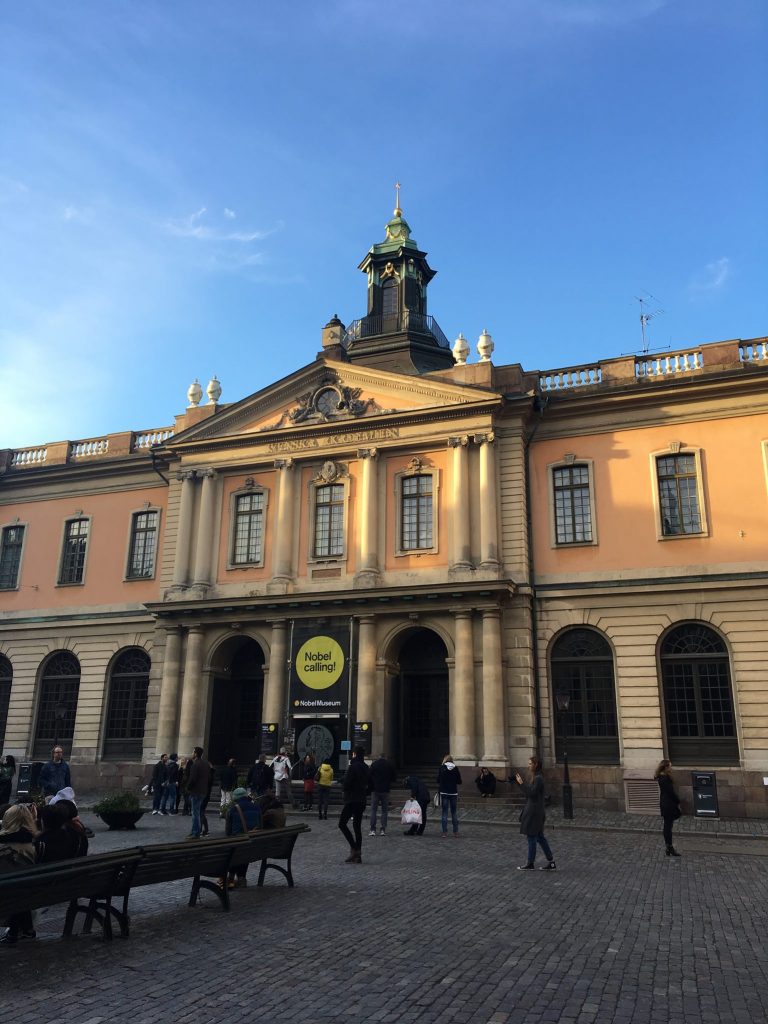 The admission cost was 130 SEK (~$14 USD) for adults at the time of our visit, and they only accept credit card. The museum also has free WiFi.
Stop 5: Hard Rock Café
We chose Hard Rock Café for our last dinner – I know, we went all out! – since we were craving something fried. We were ready to call it a night shortly after to prepare for our early morning departure to Copenhagen.
When all was said and done, we were able to explore five of the fourteen islands that make up Stockholm, Sweden, spending most of our time on Djurgården and Stadsholmen. We both absolutely loved our visit here, so it looks like we will have to make our way back to explore the rest!
Have you ever been to Stockholm? Leave your recommendations for us in a comment below.
Looking for something else to read next? Check out some of our other blog posts from our European adventures:
And, don't forget to pin it!
XOXO Travel A-Broads