You may not have considered a visit to the Pacific Northwest—specifically Seattle—in February, but there's lots to do here for three (or more) days during the winter. My boyfriend, Tim, and I traveled to Seattle for our friends' wedding, which gave us an opportunity to explore the city and some of the surrounding area during a time of year that we wouldn't have originally thought to visit. This post focuses on our long weekend in Seattle and the itinerary we followed for the three full days we were there.
*P.S. this post contains some affiliate links. At no additional cost to you, we may earn a small commission when you make a purchase.
How to Get to Seattle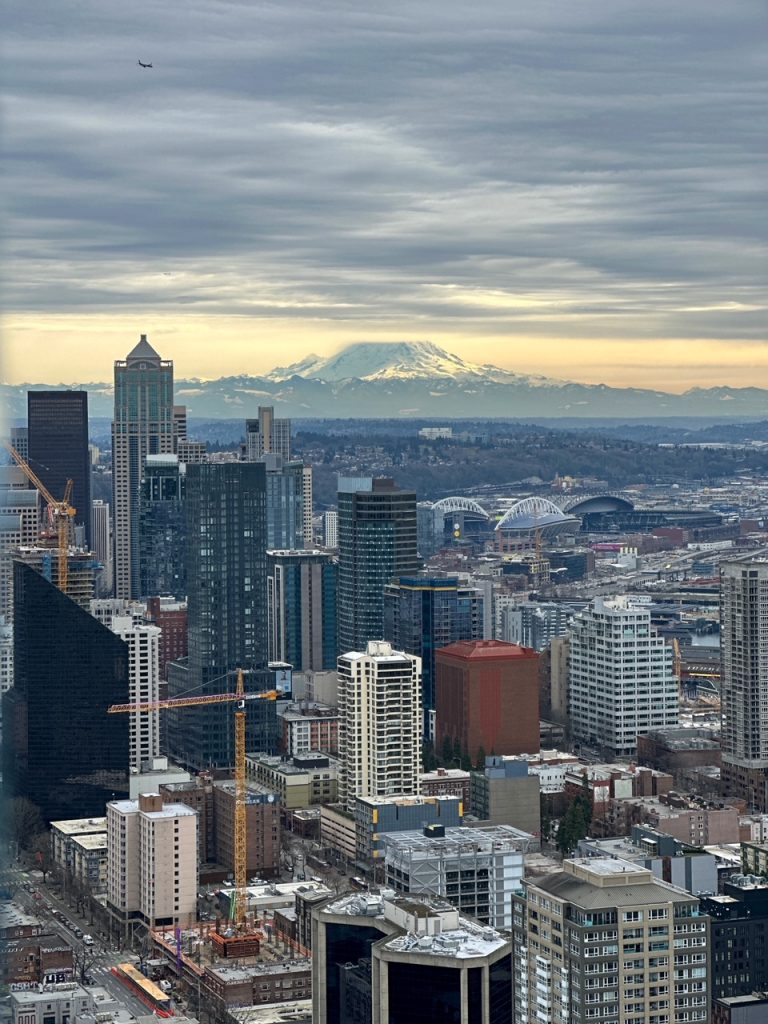 We flew from Houston (IAH) to Seattle (SEA) on a Wednesday evening flight to avoid missing work that day.
A Broad Recommendation: The flight from Houston to Seattle is around five hours, so be sure to pack your Kindle, iPad and noise-canceling Airpods for the journey.
Once we landed, we took an Uber from the Seattle-Tacoma International Airport to our hotel in downtown Seattle for around $45. However, we learned after our trip that you can take the Link Light Rail from the airport into downtown Seattle for much less—like around $3! Though, this option does take double the time.
If you have more time or would prefer not to fly, you could reverse our West Coast Road Trip From Seattle to Austin itinerary, starting in Houston instead, and take your time getting to Seattle, while making various stops along the way.
Where to Stay in Seattle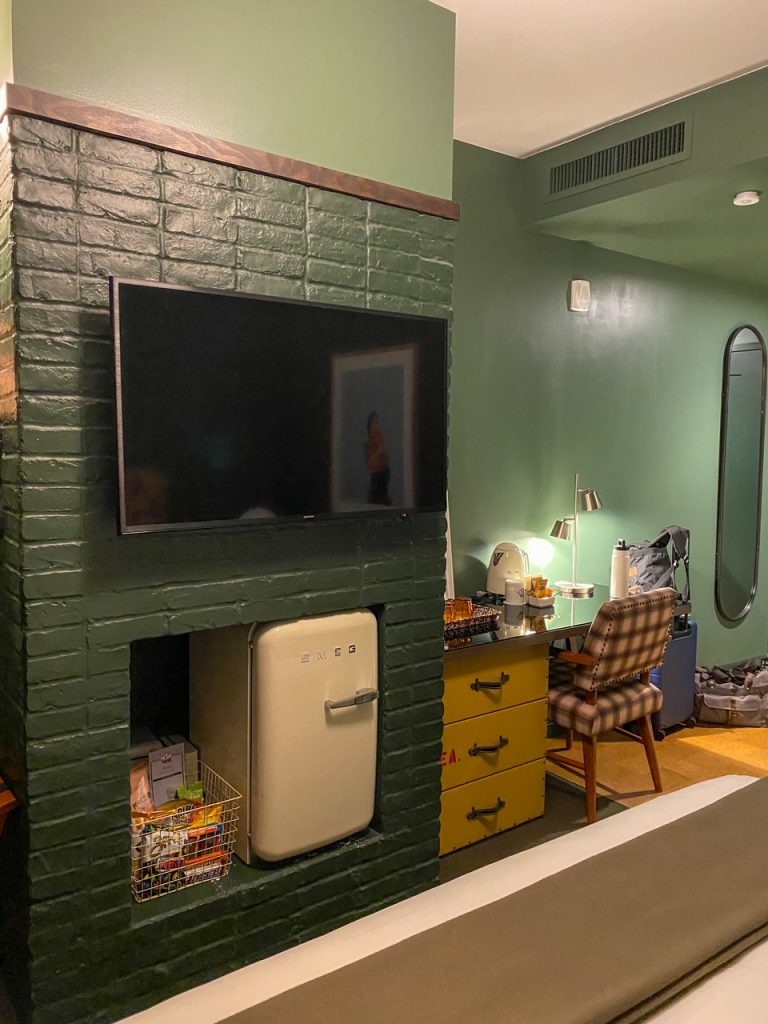 We found the Palihotel Seattle on hotels.com and were instantly in love; it's one of the cutest downtown hotels in Seattle, Washington! The hotel boasts old school charm, sits just up the hill from Pike Place Market, and is connected to a diner and bar.
A Broad Recommendation: I love using hotels.com because they give you one free night for every ten nights you complete or a discounted night if your eleventh stay is more expensive than the average cost of your first ten. I also use Rakuten at the time of my purchase to get cash back.
We got in late Wednesday evening and had no problem checking in. When we were set to check out on Friday, the hotel was also able to hold our luggage for us (for free), so we could explore without carrying it around all day.
For the last two nights of our trip, we stayed with some friends near Seattle's Chinatown-International District at this Stylish Urban Retreat w/ Rooftop Deck. This gorgeous home has four bedrooms, each with queen beds, and an incredible rooftop deck with views of the Seattle skyline.
Seattle 3-Day Itinerary
There's so much to do in Seattle and the surrounding area no matter when you visit, and we felt that this itinerary gave us a good mix of activities, especially since it was Tim's first time exploring the city!
Day 1: Explore Seattle
Pike Street Coffee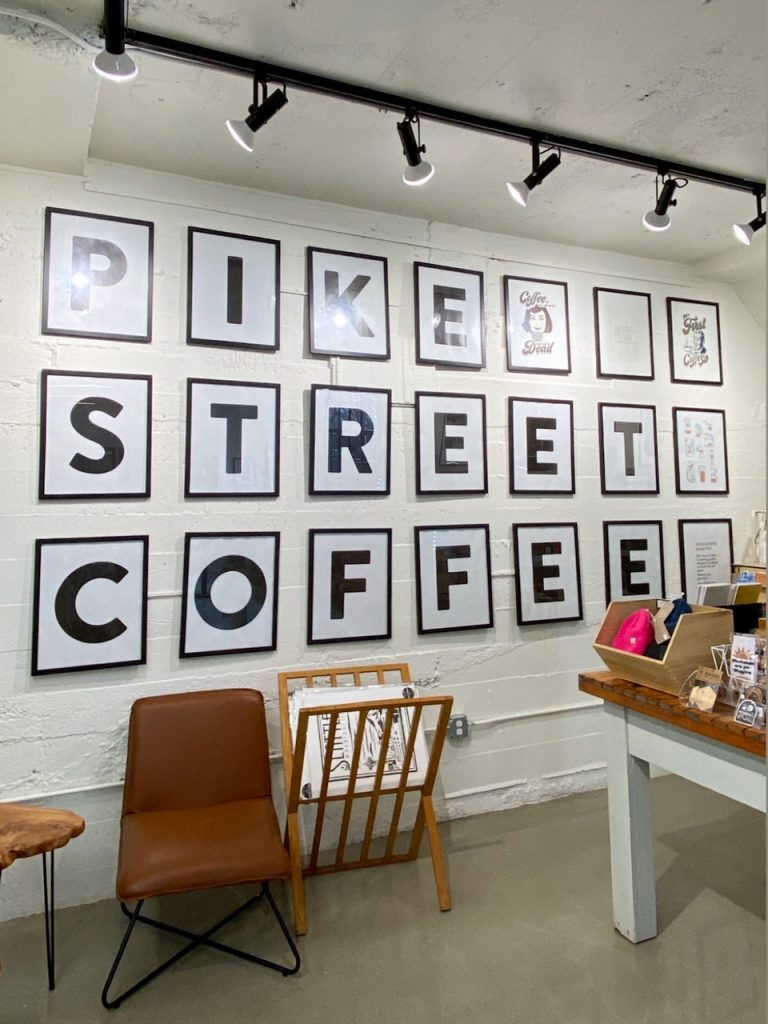 We started our first full day in Seattle at Pike Street Coffee, which was just a short walk from our hotel. I had the Tumeric Chai Latte and Tim tried their Drip Coffee, both of which were unique and yummy.
Space Needle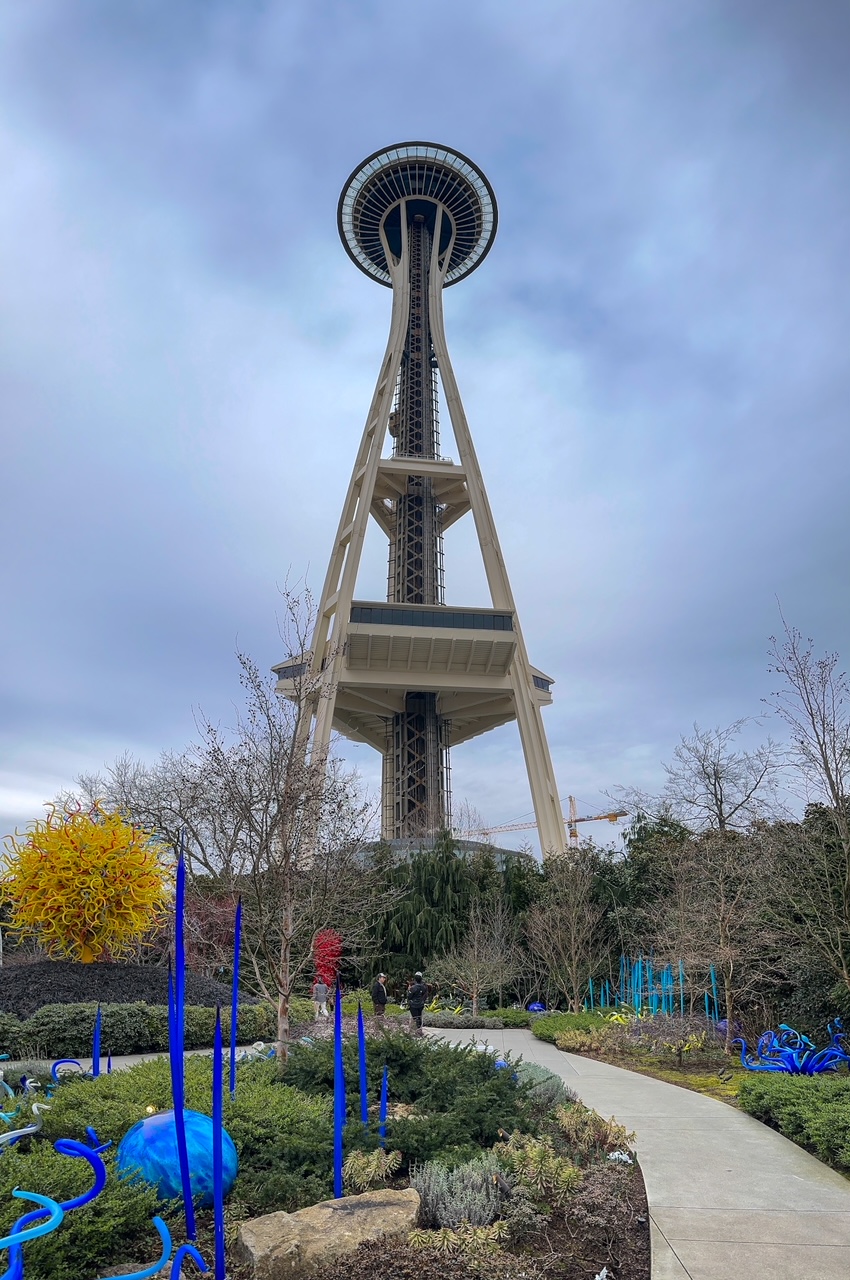 Next, we made our way to the Space Needle. The Space Needle is one of the most recognizable and most photographed structures in the world and is a must-see on anyone's first trip to Seattle. It was built for the 1962 World's Fair, and its design was inspired by the Space Age.
Fun fact: Other famous structures that were built for the World's Fair include the Eiffel Tower in Paris (1889) and the original Ferris Wheel in Chicago (1893).
The 605-foot-tall Space Needle is located at the Seattle Center and offers 360-degree panoramic views of downtown, Mount Rainier, the Puget Sound, and the Cascades and Olympic mountain ranges from its multi-level observation decks. There's also a bar and café on-site, so you can sip your drink, have a snack and take in the breathtaking views all at once!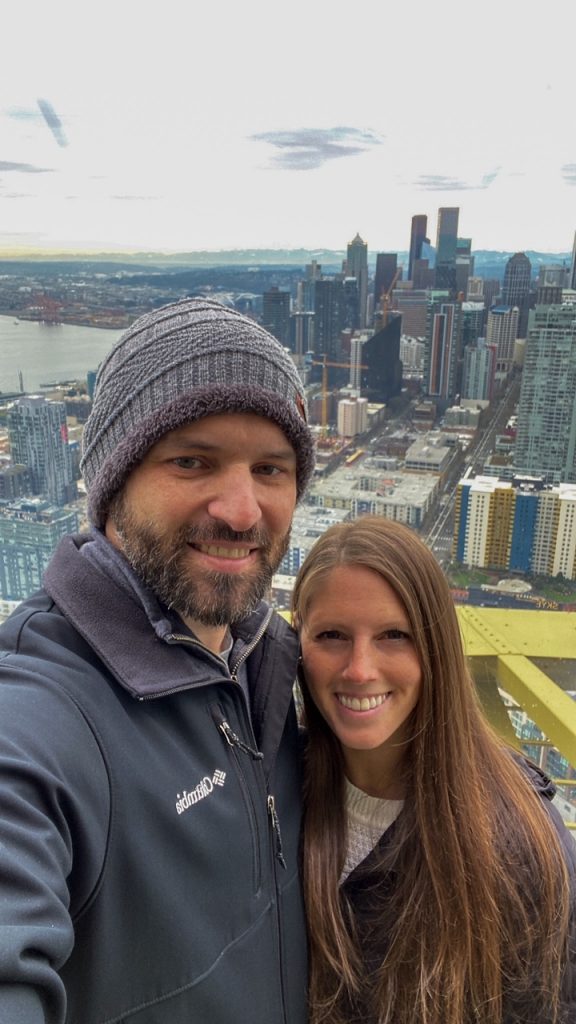 Purchase your tickets in advance, so you can reserve your time slot; Space Needle Tickets cost between $30-39 for adults. If you also plan to visit Chihuly Garden and Glass, consider the Space Needle and Chihuly Garden and Glass Combination Tickets, which cost between $60-65 on the official website and around $50 through GetYourGuide.
Another option is getting a Seattle CityPASS for $119. The pass includes entrance to the Space Needle and the Seattle Aquarium, plus your choice of three of the following: Chihuly Garden and Glass, Museum of Pop Culture, Argosy Cruises Harbor Tour and the Woodland Park Zoo.
A Broad Recommendation: Be sure to check if the CityPASS will actually save you money. Of the list above, we only visited the Space Needle, Chihuly Garden and Glass, and the Seattle Aquarium, so it was cheaper to get the Space Needle and Chihuly Garden and Glass Combination Tickets and pay separately for the Seattle Aquarium. Had we planned to visit at least one of the other attractions, the CityPASS would've been worth it.
Chihuly Garden and Glass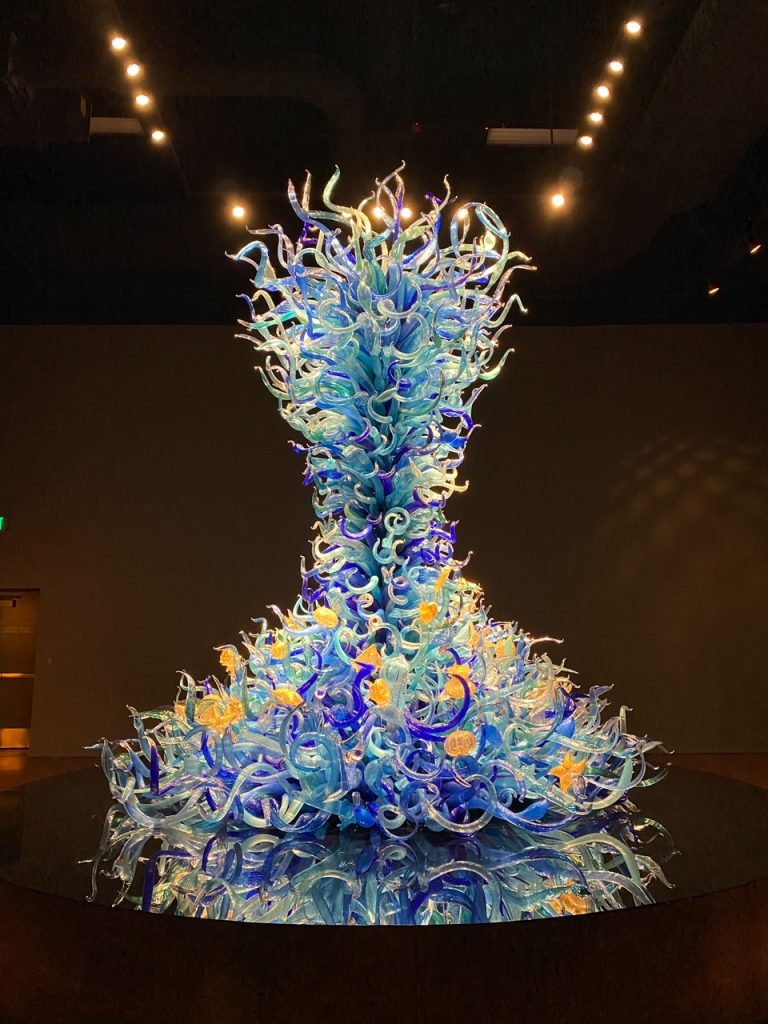 Directly next to the Space Needle is Chihuly Garden and Glass, which showcases the work and career of locally-born, world-renowned glassblower Dale Chihuly. His work is included in more than 200 museum collections worldwide, and this exhibit is the most comprehensive collection of his art to date. It features eight 'Galleries', three 'Drawing Walls', the infamous 'Glasshouse' and the lovely, lush 'Garden'.
The 'Glasshouse' is a 40-foot tall, glass and steel structure that houses an expansive 100-foot-long sculpture that looks like a cluster of red, yellow, orange and amber flowers. This piece is the centerpiece of the entire exhibition.
Individual Chihuly Garden and Glass Tickets cost between $30-35 on the official website or around $25 through GetYourGuide.
Kanak Indian Cuisine
After a morning of exploring, we were ready for lunch. Kanak Indian Cuisine is a hole-in-the-wall spot in downtown Seattle and has some of the best Indian food in town. Tim and I split the Samosa Chaat and Tikka Masala, and everything was delicious.
The Hart and The Hunter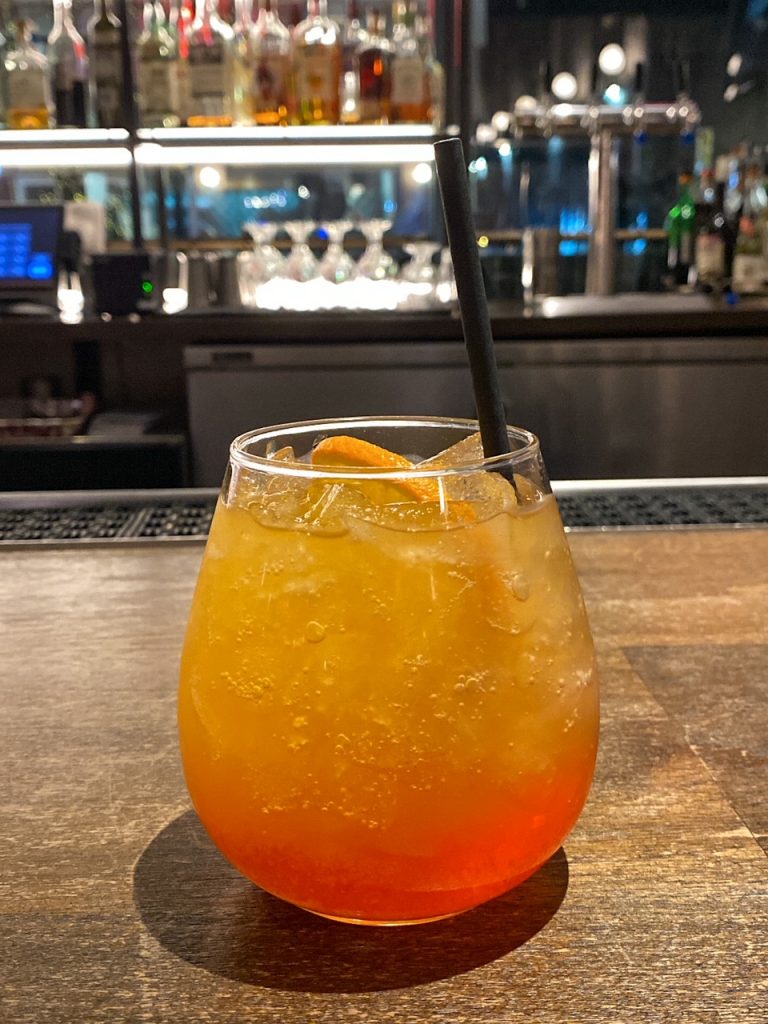 After lunch, we headed back to our hotel to freshen up and to get ready for dinner. On our way out, we stopped for drinks at The Hart and The Hunter, a laid-back Americana diner attached to the Palihotel Seattle. We loved everything about our hotel, and The Hart and The Hunter was no exception with its cute décor and retro vibe.
Boat Bar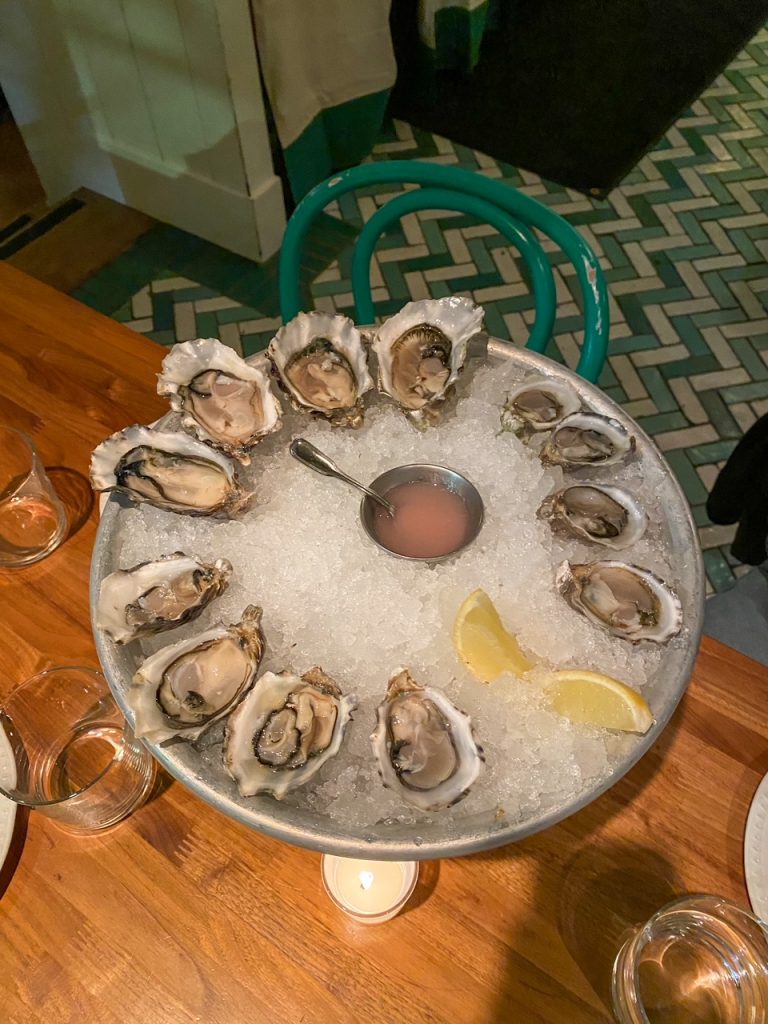 When we finished our drinks, we took an Uber to Boat Bar and met up with our friends, Mel and Daniel, for dinner.
A Broad Recommendation: It's a good idea to make reservations for dinner, especially if you have a certain restaurant in mind, as things tend to book up quickly—even in February!
Boat Bar's menu is inspired by its creators' travels to France and features raw and cooked seafood and meats, a France-focused curated wine list and classic cocktails.
We started our meal with some oysters, which were delicious, followed by several shareable dishes like the cheese crostini, steak tartare, Baja blue prawns, grass-fed, dry-aged burger, and steak frites.
Bathtub Gin & Co.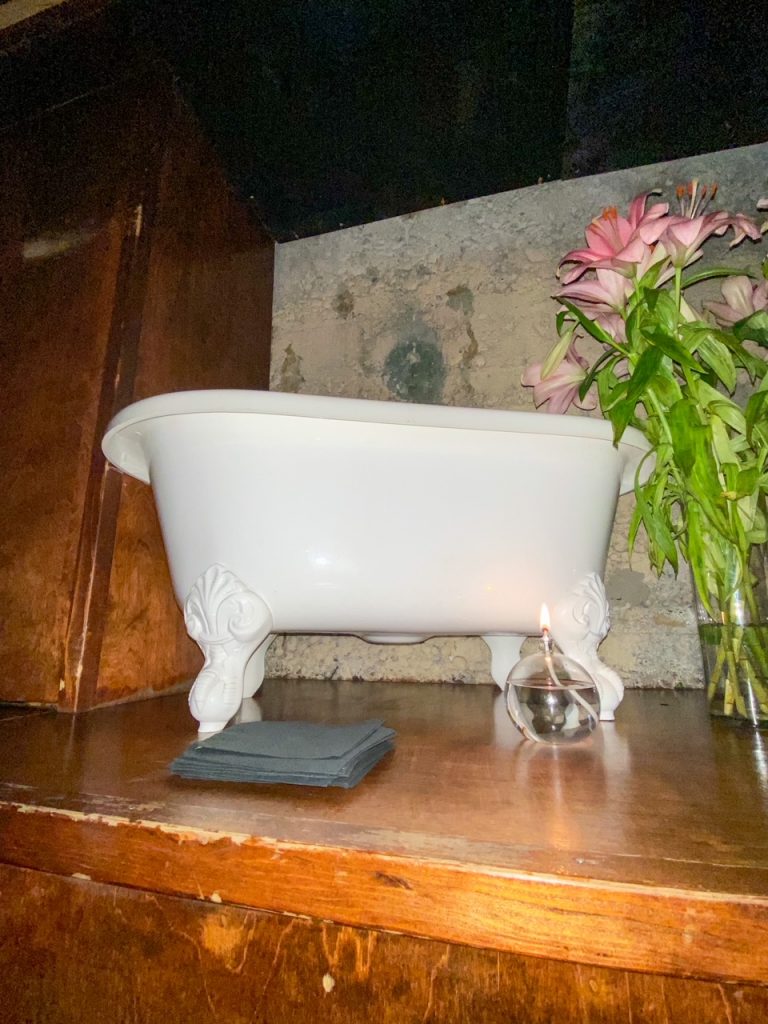 Next, we made our way to Belltown for drinks at Bathtub Gin & Co. This multi-level cocktail bar features a wide selection of liquors from around the world and specializes in prohibition-style cocktails.
To find Bathtub Gin & Co., you'll walk down a quiet alley and knock on the door. Since it's so popular (and small), you may have to wait a while to get in. Once you're inside, you'll be transported back in time, as the speakeasy is located in the former boiler room of The Humphrey, one of the largest of the pre-1930 apartment buildings still standing in Belltown.
Screwdriver Bar
We ended our night at Screwdriver Bar, a neighborhood rock n' roll basement bar in Belltown, where we met up with the bride- and groom-to-be for some pre-wedding weekend celebration drinks. In my opinion, this bar is nothing to write home about, but we had fun catching up with friends and didn't have to wait to get in.
Day 2: Explore Seattle
Sound View Cafe
After checking out from our room and storing our luggage at the Palihotel Seattle, we met up with Mel and Daniel again and grabbed breakfast at the Sound View Cafe. The café is located in Pike Place Market and offers yummy meals with gorgeous views of the Puget Sound. It's open for breakfast, lunch and dinner.
Seattle Aquarium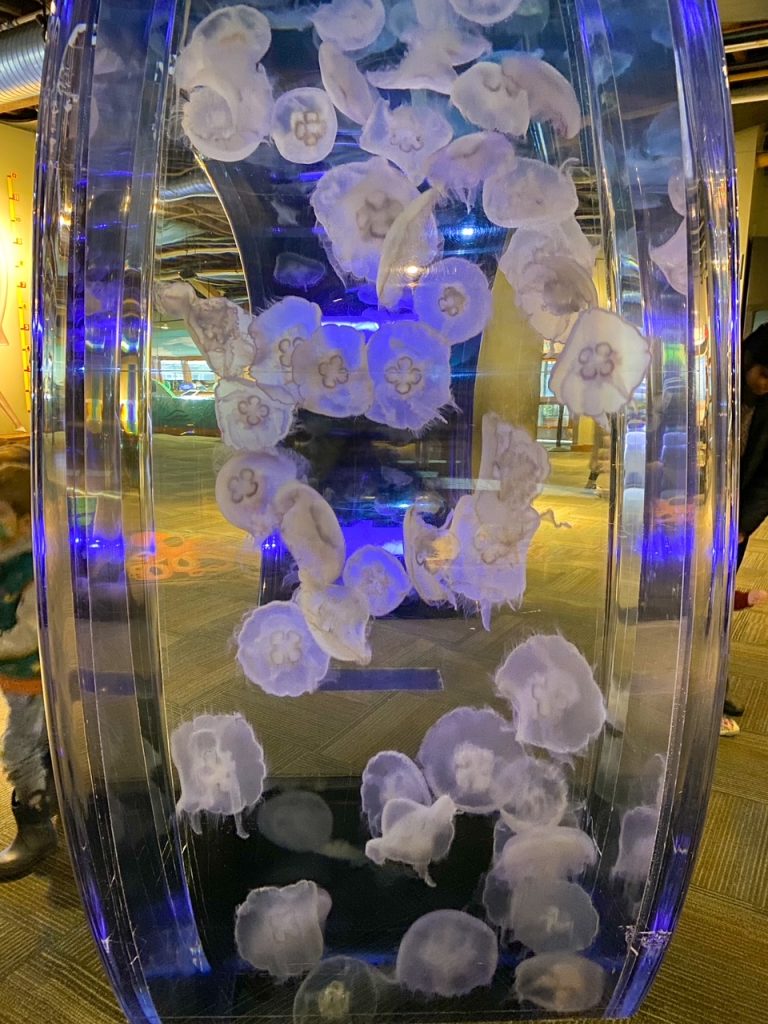 We spent the rest of the morning walking around the Seattle Aquarium, where we watched an octopus devour a crab, some amusing northern fur seals interact with one another, and two, cute sea otters during their feeding and cleaning time.
The Seattle Aquarium offers fun and interesting ways to learn more about the Puget Sound, including hands-on marine experiences, while also providing education around conservation efforts. And, the staff we spoke with, specifically the woman who taught us about the sea otters, seemed extremely passionate and knowledgeable.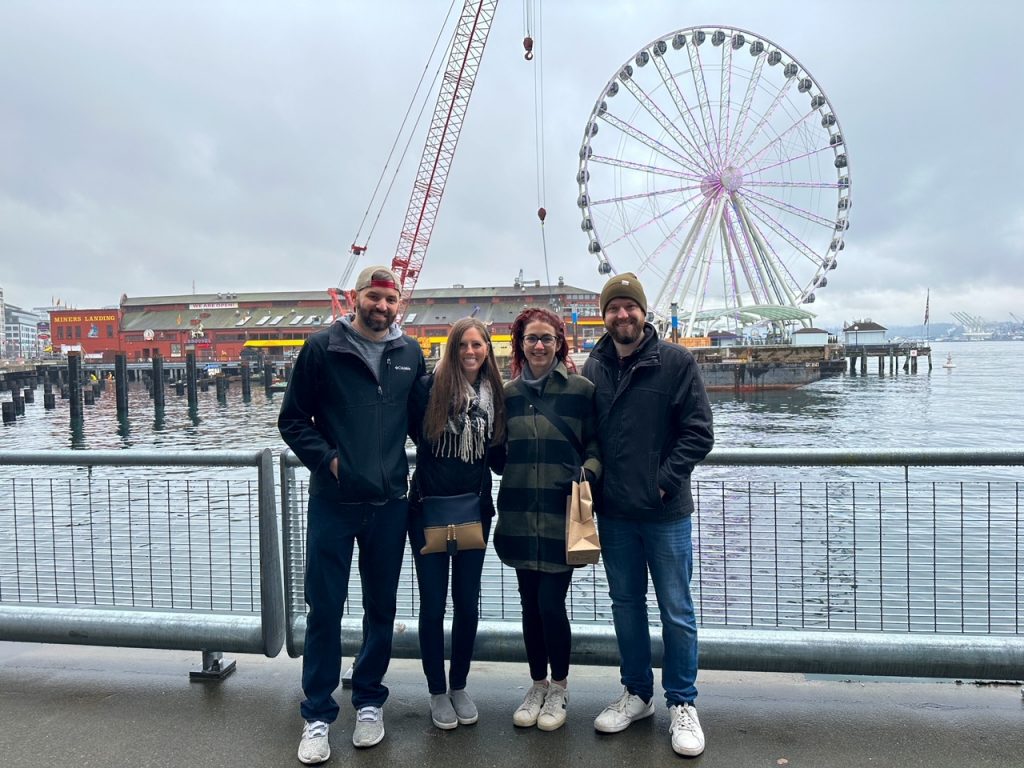 A Broad Recommendation: When you exit the Seattle Aquarium, be sure to stop for a quick photo opp with the water and the Seattle Great Wheel in the background!
The aquarium uses a timed ticketing system, so you should consider booking your tickets in advance if you have a preferred entry time. However, we arrived right around 9:30 am when it opened and were able to buy tickets (for $36 per adult) and enter right away.
Pike Place Market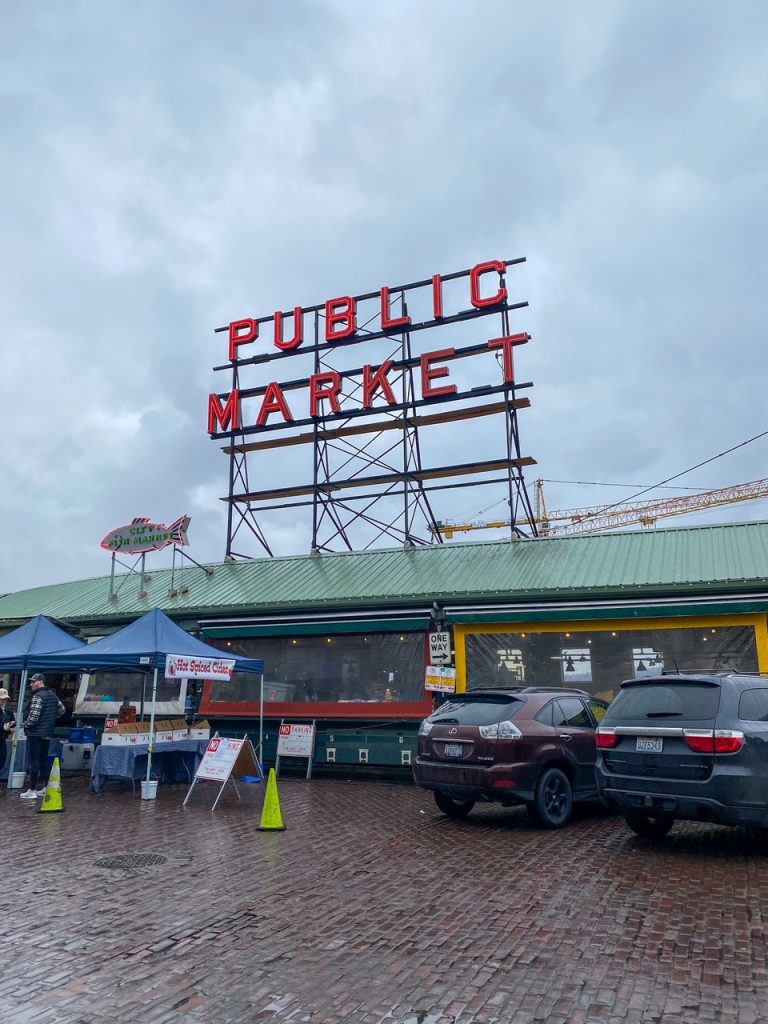 From the iconic market sign, the infamous fish-tossing tradition and the [disgusting] Gum Wall to the original Starbucks and the more than 200 local artisans selling fresh produce, seafood, flowers, handicrafts and more, you'll find a little bit of everything at Pike Place Market—and you'll need plenty of time to explore its six levels.
Founded in 1907, Pike Place Market is one of the oldest, largest and most popular public markets in the United States and has been a Seattle icon for more than a century. It spans nine historic acres in the center of downtown and is considered "the soul of Seattle".
Each day, locals and tourists alike visit the market to shop, eat and explore and to support the hundreds of farmers, crafters and small businesses that call the market their "home".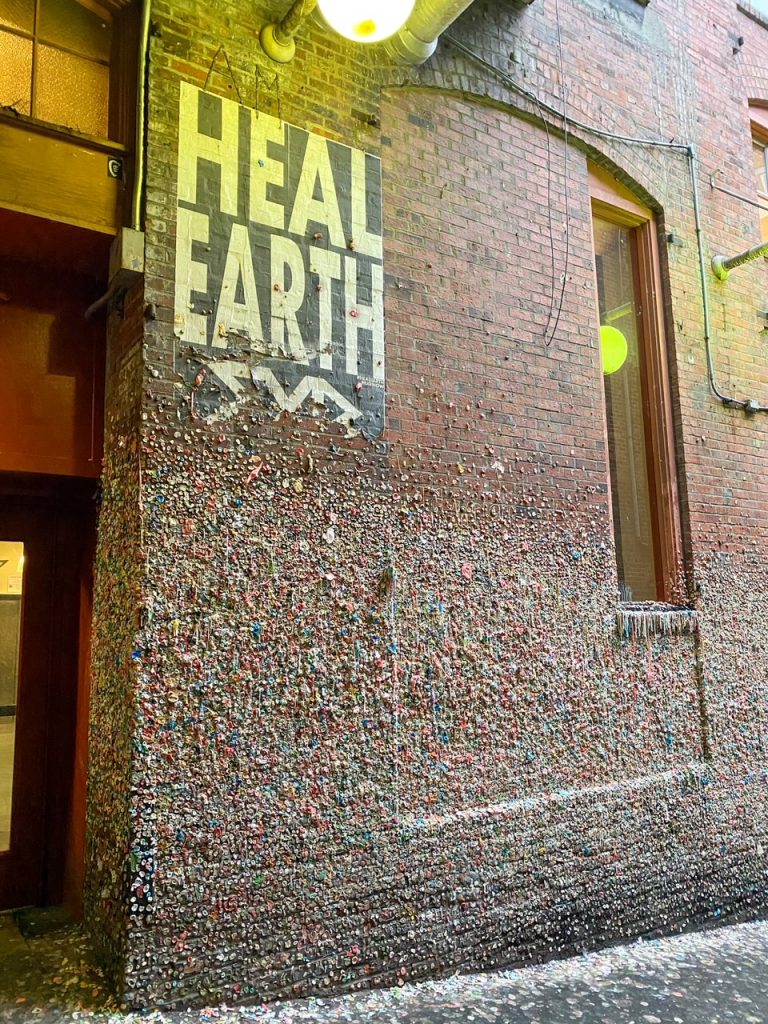 Though we didn't do a food tour, I'd researched a few before our trip, including the Chef Guided Food Tour of Pike Place Market, and we stopped at many of Pike Place Market's must-sees like Chukar Cherries, MarketSpice, Beecher's Handmade Cheese, Frank's Quality Produce and Pike Place Chowder.
We were also sure not to miss the popular Gum Wall—a brick wall covered in thousands of pieces of chewing gum. That said, this alley is pretty gross, and I couldn't stay long because of the smell.
Reuben's Brews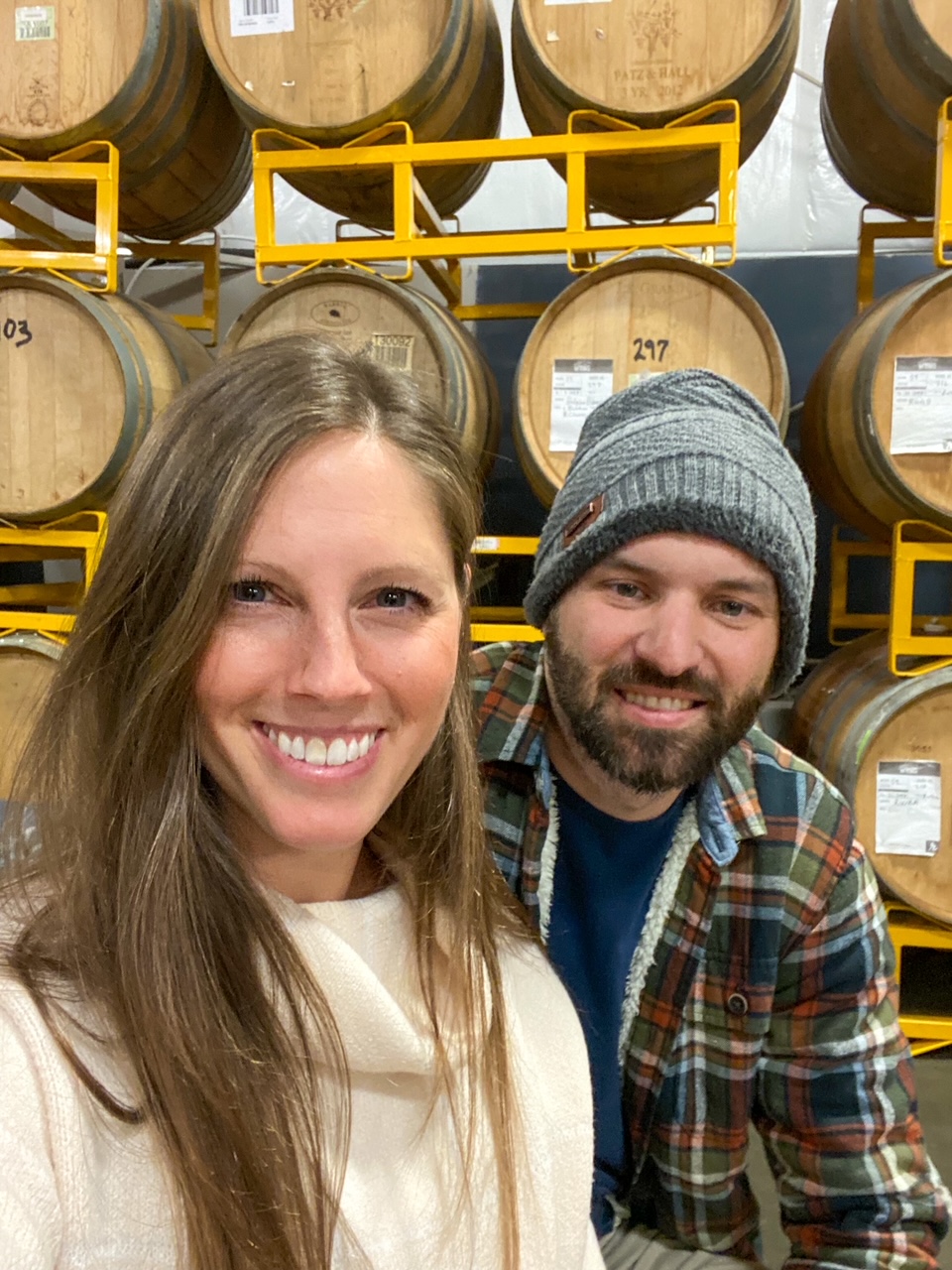 After a fun day of exploring, we checked into our Airbnb and headed to the Barrel House at Reuben's Brews for our friends Ryan and Jorie's welcome event.
Reuben's Brews is a family brewery that designs each beer with intention and hopes to grow each visitor's love of beer. Though a wedding welcome event likely won't be on your itinerary, we did enjoy our evening here, and you may want to stop here to try some of their beers or ciders.
Ozzie's
Once the welcome event wrapped up, a group of us headed to Ozzie's, a notable bar in lower Queen Anne, to sing karaoke. Although some of our group did eventually get to sing, the wait was extremely long and the DJ seemed to play favorites, allowing regulars to perform multiple times before anyone else. So, if karaoke is your end goal, this place may not be your best bet. There's also a cover to get in.
Day 3: Explore Beyond Seattle
Bainbridge Island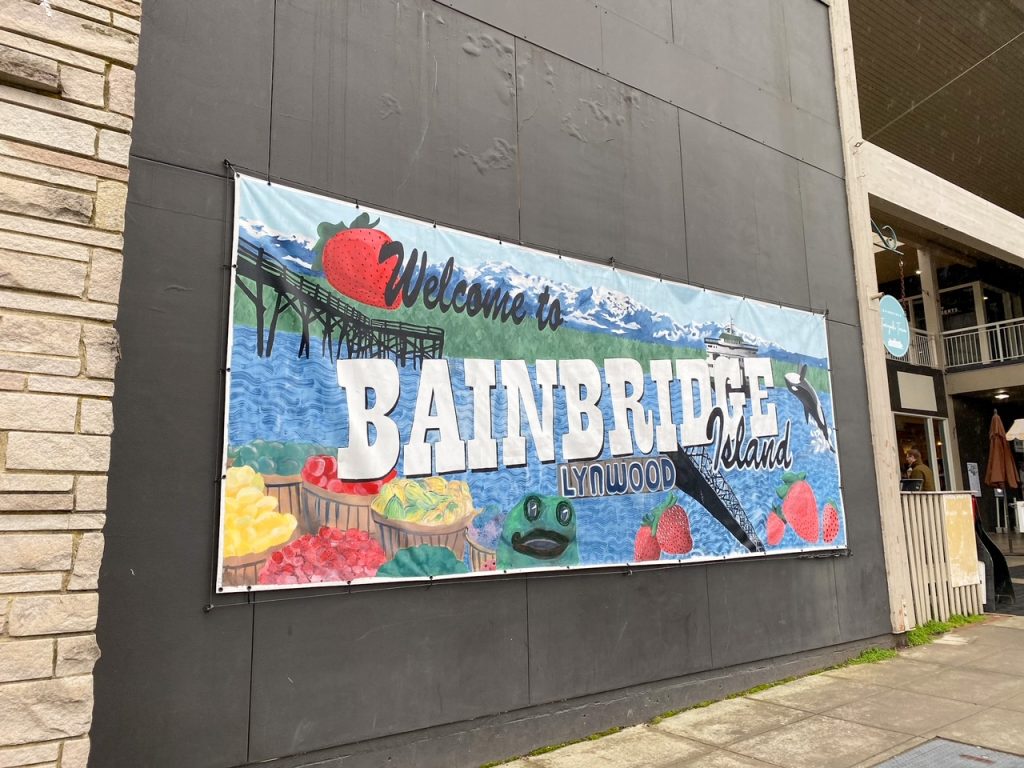 One of the activities that came highly recommended to us by both locals and former tourists alike is a trip across the Puget Sound to Bainbridge Island.
Bainbridge Island is a small city west of Seattle that's known for its natural beauty and rustic character, and although it's just 35 minutes by ferry from Seattle's Pier 52, a visit to Bainbridge Island is like stepping into another world.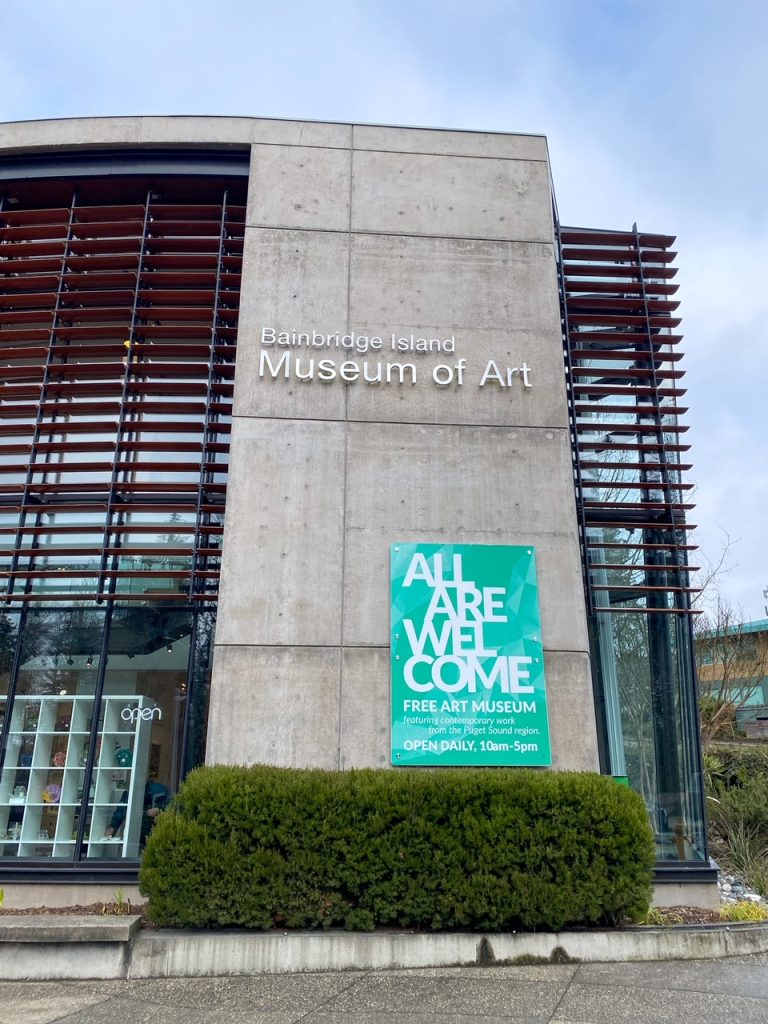 Take a stroll through downtown Winslow and pop into its cozy shops, cafés and restaurants. While you're there, be sure to check out Blackbird Bakery for some coffee and baked goods and Mora Iced Creamery for some uniquely-flavored ice cream. If you plan to stay for lunch, check out the Harbour Public House and try some of their infamous hamburgers or fish and chips.
Before returning back to Seattle, check out the Bainbridge Island Museum of Art, which showcases contemporary art from local artists and offers free admission!
We only spent a couple hours on Bainbridge Island, since we were limited on time. If you have more time, consider visiting one of the island's wineries, hike or bike through the forested Bloedel Reserve or Fort Ward State Park, walk along the waterfront Hawley Cove Trail, or rent a kayak, canoe or paddle board and explore by water.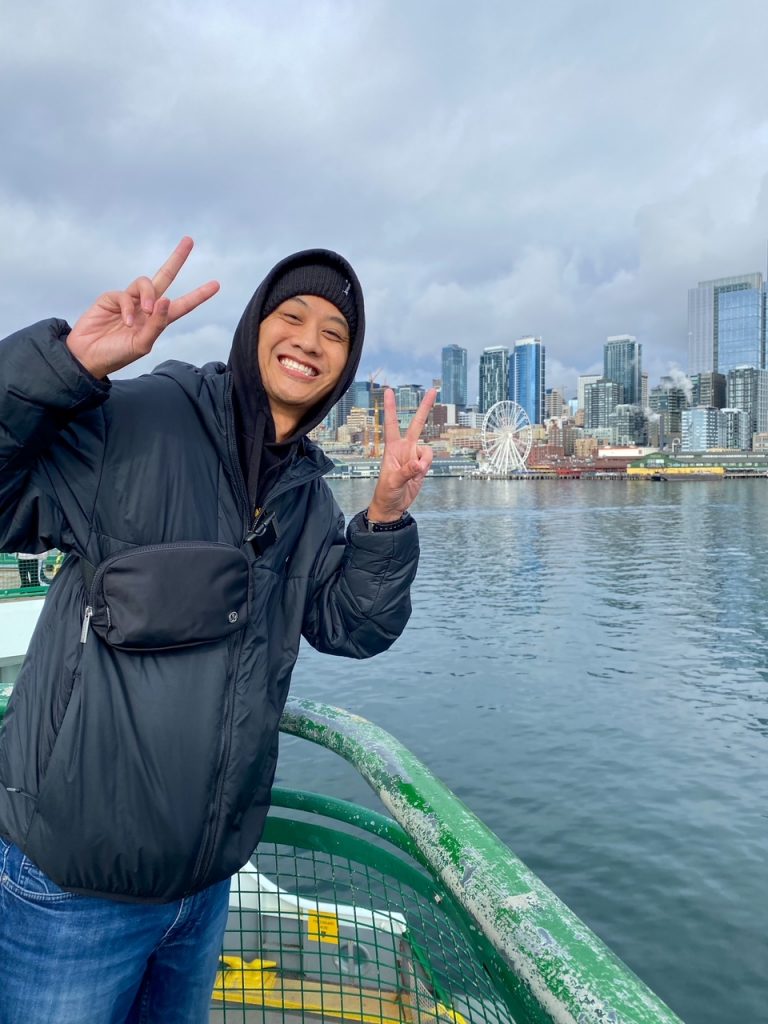 Washington State Ferry boats can carry up to 200 cars and 2,500 passengers. If you're walking onto the boat, be sure to arrive around 15 minutes before departure, choose from one of the many seats inside, pick up something from the café, and walk outside to check out the incredible view of Seattle's skyline from across the water.
A Broad Recommendation: Only pay for the fare from Seattle to Bainbridge Island. The fare from Bainbridge Island to Seattle is free for those walking on. We followed the Washington State Department of Transportation's ferry schedule during our visit.
Seattle Great Wheel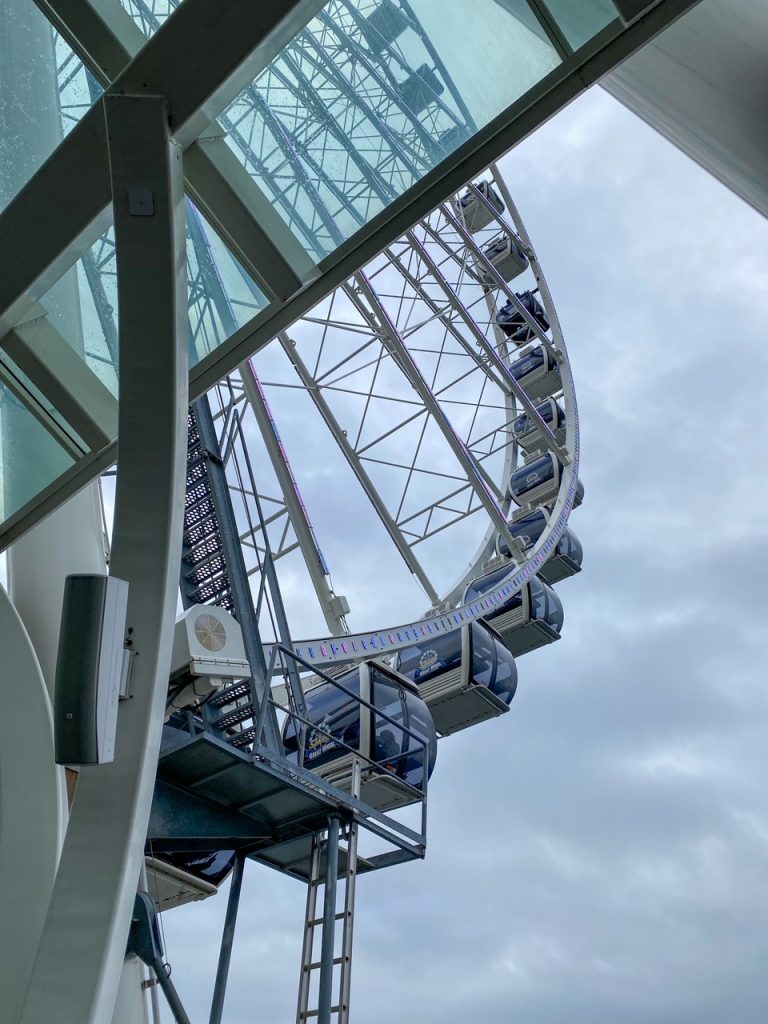 When we arrived back to the mainland, Tim, our friend Steven (who had met up with us on Bainbridge Island), and I headed over to Pier 57 for a quick ride on the Seattle Great Wheel.
Although it's only around ten years old, the 175-foot-tall Seattle Great Wheel has quickly become a notable feature of Seattle's skyline.
The ride lasts about 15 minutes—enough time for three revolutions—costs $14 for adults, and offers gorgeous views of the city, waters and mountains in the distance. The gondolas are climate controlled and can fit up to eight passengers each, though you won't have to ride with folks outside of your own party if you're traveling with less than eight people.
Wedding Reception at THE 101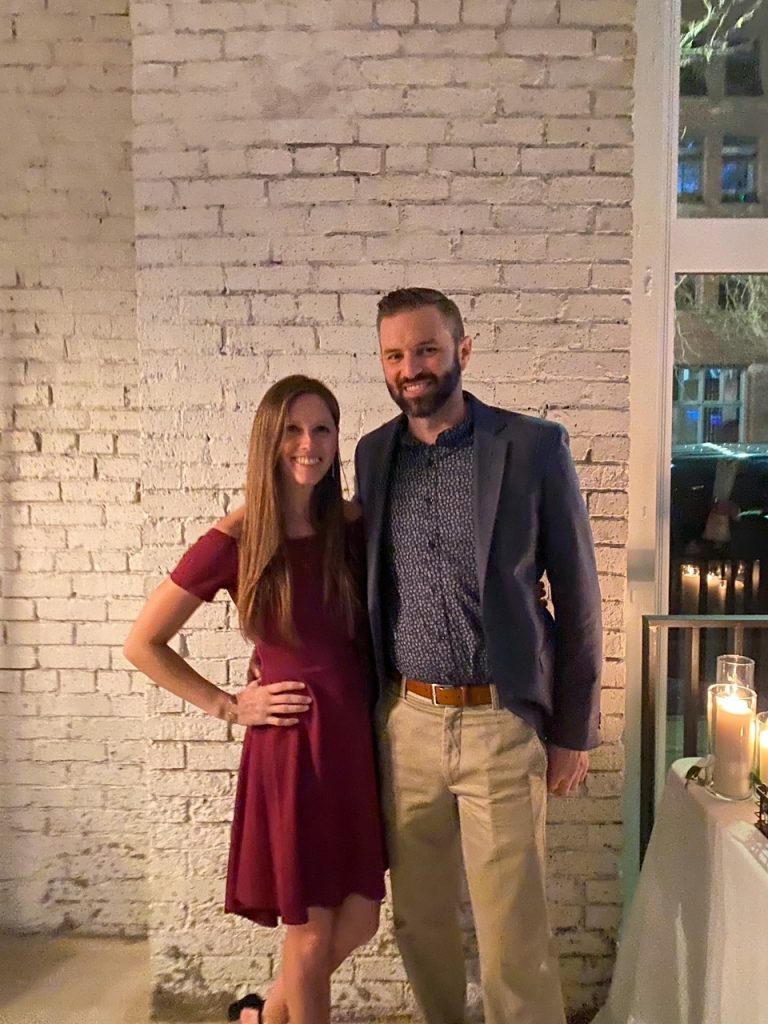 After a fun three days of exploring Seattle and the surrounding area, it was time for the main event—Ryan and Jorie's wedding reception at THE 101. The rest of the evening was spent eating, drinking and being merry with old and new friends and lots and lots of dancing. What a perfect way to end our trip!
The next morning, we attended a post-wedding brunch, but the service wasn't great, so I won't be including the details here, before flying back from Seattle to Houston on an afternoon flight. Don't forget that you "lose" two hours flying home!
Other Things to Do in Seattle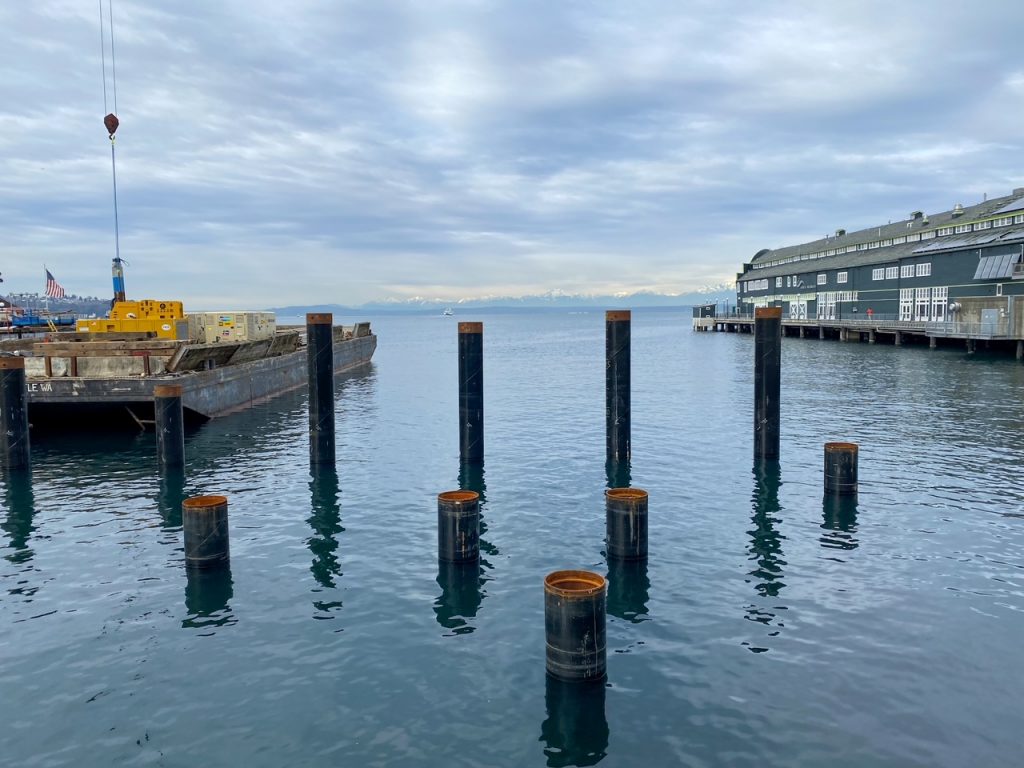 Of course, you can't see everything that Seattle has to offer in just three days, so here's a list of things we'd like to try next time:
Final Thoughts
Well, there you have it! Hopefully we've given you more than enough ideas for how to spend three days in Seattle in the winter. Have you ever been to Seattle? If so, what would you add to this itinerary? Let us know in the comments below.
XOXO Sara at Travel A-Broads