Come July, I decided it was time for a vacation before I got super busy at work in the fall, and given we are living in a COVID-19 world, I came to the conclusion that this meant I was going to have a vacation with me, myself, and my dog, Misha.
I knew by this time that I would most likely be moving back to Texas by the end of the year, so I wanted to use the time I had left in the Pacific Northwest (PNW) while I was here. I had been to Mt. Rainier a few years before when some family visited, but I had always wanted to go back to hike and enjoy the area for a longer period of time, so I started to look into planning a trip out there.
*P.S. this post contains some affiliate links. At no additional cost to you, we may earn a small commission when you make a purchase.
When I started my research, I realized dogs are only allowed on the campgrounds, parking lots, and paved roads at Mt. Rainier but not allowed on any of the trails. With a bit more poking around, I found Crystal Mountain, which has views of Mt. Rainier from the summit, and allows dogs on all of the trails!
Crystal Mountain, it turns out, is best known for skiing, as you can stay in one of the lodging locations and walk out the door with a gondola only a few steps away. Given I was traveling alone, and I don't own proper camping gear, I opted to stay at one of these hotels.
Only one has dog friendly rooms, The Village Inn, but all three hotels are right next to each other, so that was no problem. I have stayed at a few dog-friendly hotels in my day, but this one went above and beyond to make Misha feel at home.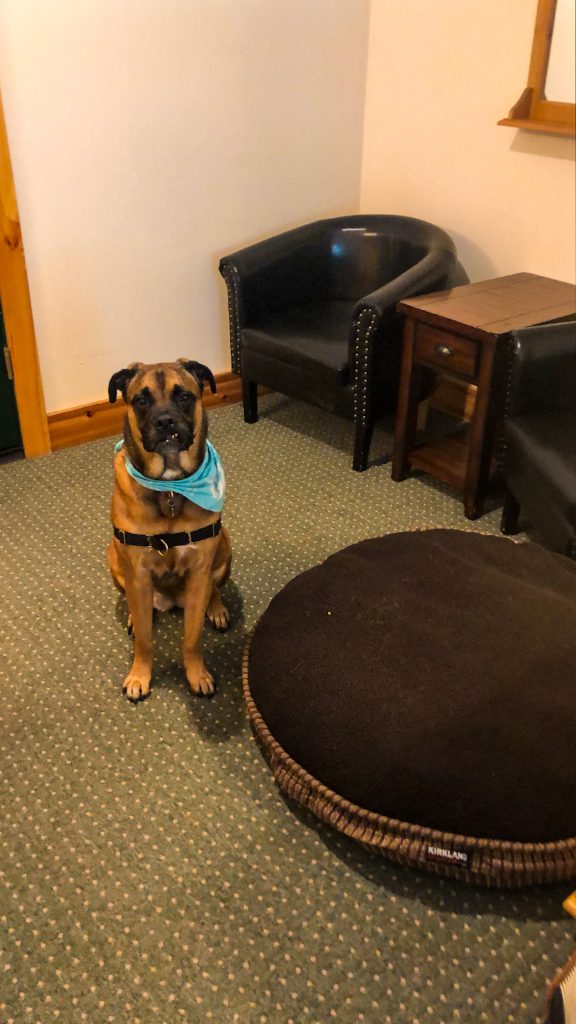 They had a dog bed with a treat on it ready for her when we arrived, though she slept in the big bed with me anyway – haha.
Once we were checked in, I headed over to the Mt. Rainier Gondola to buy a ticket.
A Broad Recommendation: Purchase your ticket online ahead of time to avoid lines and to make sure that you can get the time frame you want!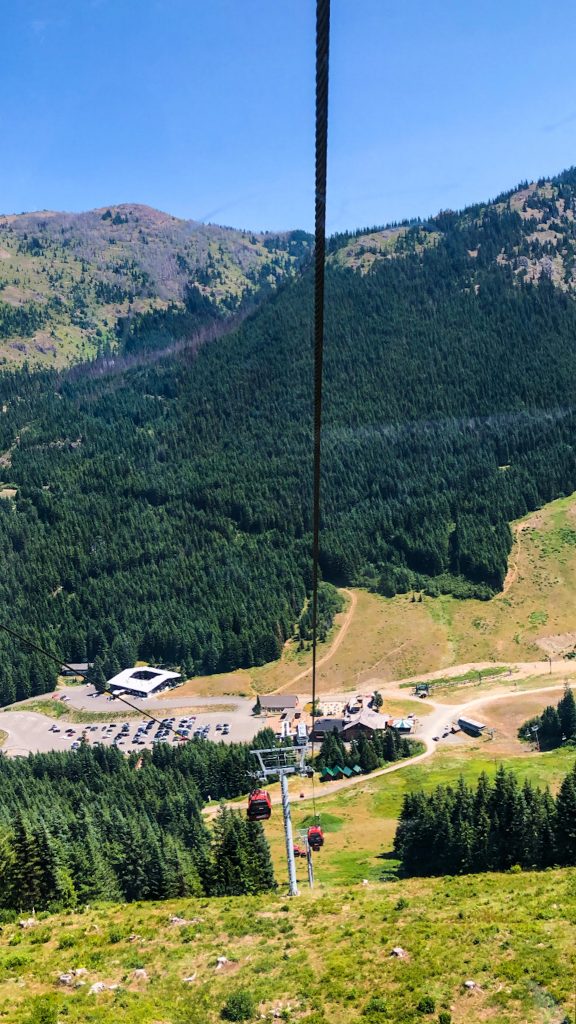 The gondola allows dogs in the summer months, so it was quite an adventure getting Misha on it because they slow down but don't stop, and this freaked her out a bit.
Once we were on it though, she did super well, and the gondola takes you over 2,400 feet up to the summit where we grabbed lunch at the Summit House Restaurant, along with some pictures before hiking our way back down.
A Broad Recommendation: If you want to enjoy the views and skip the hike, you can buy a round trip ticket for the gondola; or, you can do the opposite and hike your way up the mountain if you are feeling extra adventurous!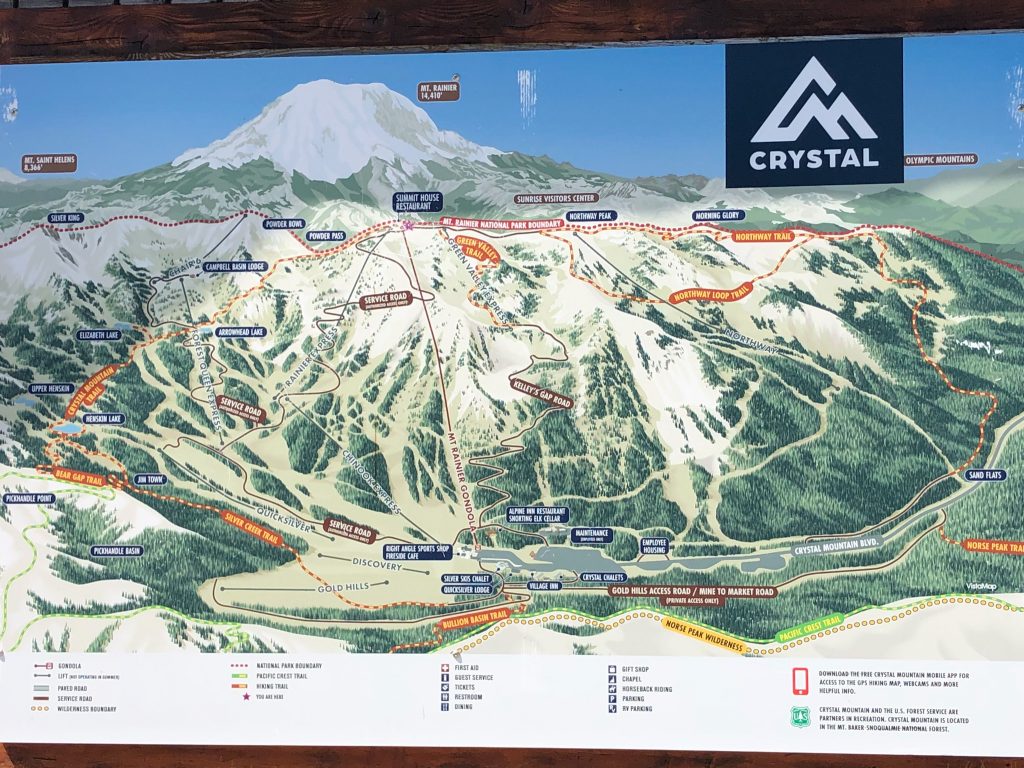 When hiking down the mountain, there are two main trail options; we came down via the Crystal Mountain Trail, which feeds into the Silver Creek Trail and takes you right back to the hotel parking lot.
Although the first few miles had very little covering, the trail was clear and had gorgeous views and lots of beautiful flowers. Other than a couple making their way up the mountain with about a mile to go and a father with his three kids on their way down the mountain, we were the only ones out there that day!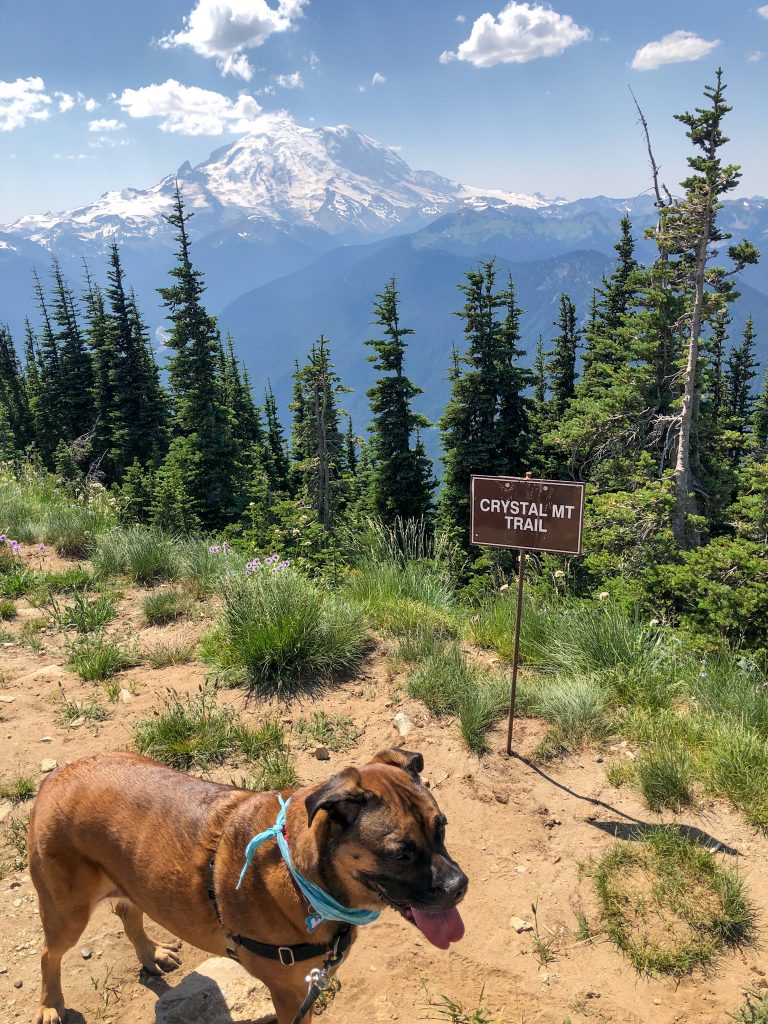 About halfway down, so approximately 2.5 miles into a 5 or 6 mile hike, Misha started to resist walking, which is super unusual for her during a hike. I soon realized she had hurt her paw – the pad of one of her paws was torn (I later learned from her vet that she likely got a blister that popped open).
Given we were on the mountain, there was very little I could do for her until we got back to the room.
Fortunately, we found some shade and tree coverage after a while, and about 3 or so miles in, we arrived at a gorgeous lake where we stopped and took a break for her to play in the water. She isn't a great swimmer but likes to pretend!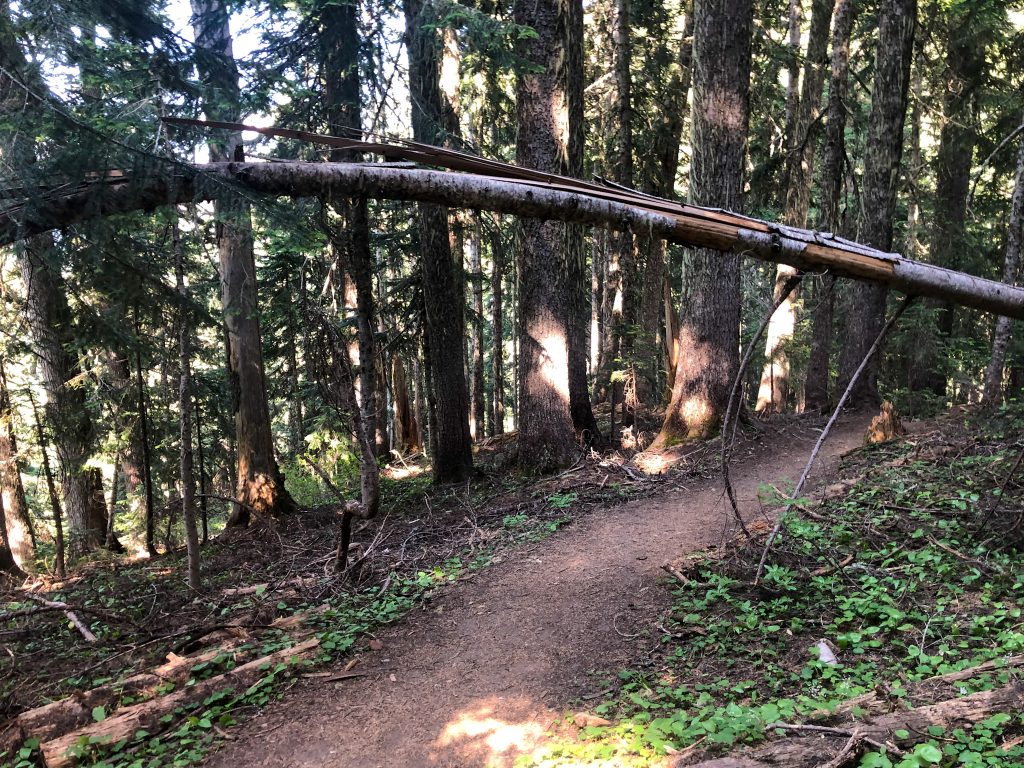 At the lake, we switched to the Silver Creek Trail, which meant we were more than halfway down the mountain, but by this point, Misha was really hurting. Eventually, she just plopped down and didn't want to keep walking. And, as you can see, she isn't exactly a small dog, so I was getting pretty nervous that we wouldn't make it back down.
Fortunately, we were far enough down that I had a bit of cell service and was able to call my mom to tell her where I was and what was going on. That way, if I really wasn't able to get her down and needed help, she could call the hotel for me.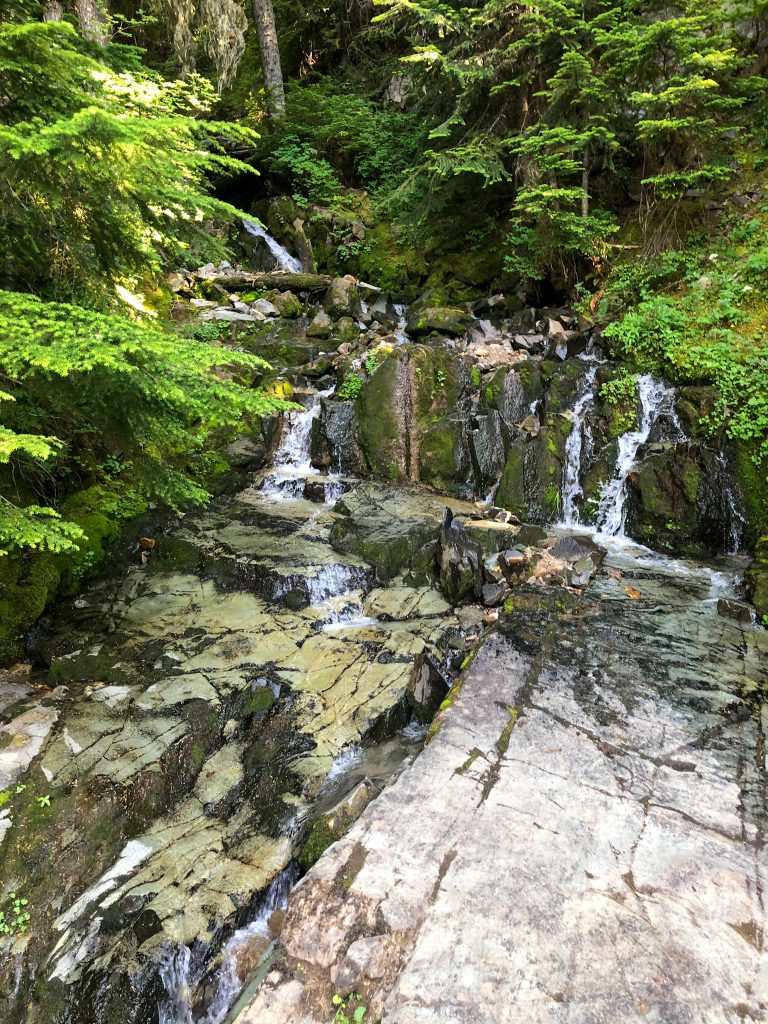 Generally speaking, I would say that taking a break and enjoying the view isn't the worst thing that could happen on a hike. It's a great reminder to just experience and enjoy life as it's happening; unfortunately for us, she lost steam in a spot that had a ton of mosquitoes, so both of us were getting a bunch of bug bites while she laid on the ground.
So naturally, I picked up my 75 pound dog and carried her down the mountain for about a quarter mile – I may or may not have cried for a second before pulling myself back together, haha.
We did eventually make it to the room where I got her paw cleaned up and called her vet to schedule an appointment as soon as possible. But this ended up being a prime example that trips do not always go as planned, as we were supposed to stay for a second day of hiking and clearly, we were going to have to change our plans.
A Broad Recommendation: We didn't make it there, but the Pacific Crest Trail is walking distance from the hotel, so if you are able to stay longer you can hike a portion of this 2,600-mile-long trail!
After getting cleaned up, I walked over to the Alpine Inn Restaurant; I would have brought Misha to the outdoor seating area, but she was done for the day. The food was really great, and I got to work on not feeling uncomfortable eating alone – so a good day overall for some personal growth.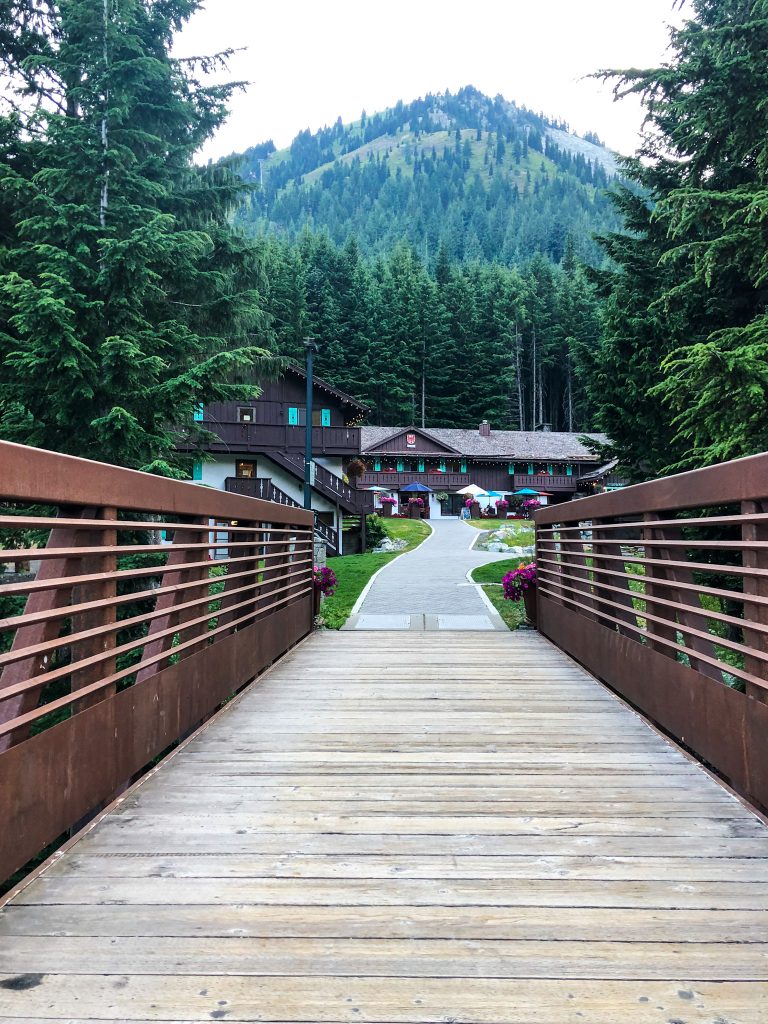 After dinner, I decided to grab a drink at the bar downstairs, and because of COVID-19 and Washington law, everything closed by 10 PM, also meaning alcohol could no longer be served. Talking to the bartender though, I got some good ideas for alternate plans the next day, since Misha would not be able to hike.
Instead of hiking, I took one of the bartender's recommendations, and we hopped in the car and drove into the Rainier National Forest to go to one of the overlooks and enjoy the view.
Of course, there are trails in this area for anyone interested in hiking, but given the situation, I just soaked up the views. We were on tiny mountain roads getting up there, which I had never driven on before.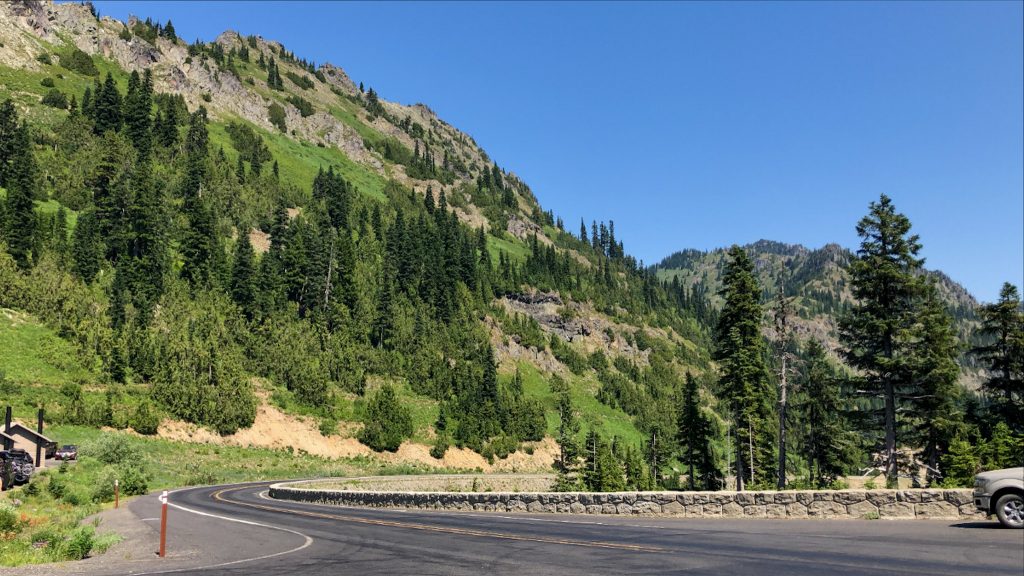 I was so nervous! I don't think I've ever been so stressed driving before, and of course, when I went to drive back, I had no cell service, so I just drove back the way I had come until I reached an area where I had cell service again.
From there, we headed to Snoqualmie Falls, about 45 minutes from Seattle and a little bit out of the way, but I had planned on being out and exploring anyway, since the vet couldn't see Misha until the next day.
Snoqualmie Falls is a 268-foot waterfall, and today, the area is known for great sightseeing, hiking and as a beautiful wedding venue. However, these falls have a lot more meaning to the Snoqualmie Native American Tribe, to whom it has a spiritual meaning that gave birth to many legends.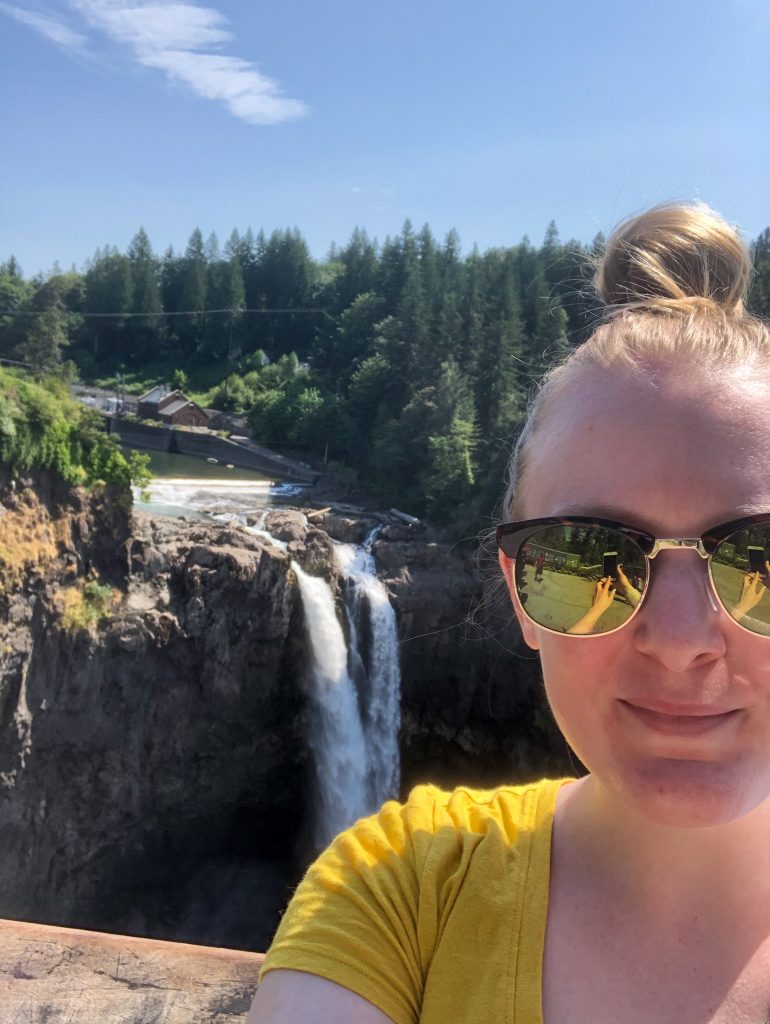 After enjoying the falls from the viewing deck, I headed home with my injured pup.
A Broad Recommendation: Even when you are hiking these days, be sure to have a mask handy to keep yourself and others safe. Pictured above, I had my mask hanging off one ear for a quick picture. When hiking, I had it in my pocket for easy access if we were passing by any people.
Despite her injury, Misha is completely recovered and healthy now if anyone is concerned! I wouldn't have traded this trip for anything, and it was a really great reminder that plans don't go the way we want them to every time, and that you can still have a fabulous experience along the way.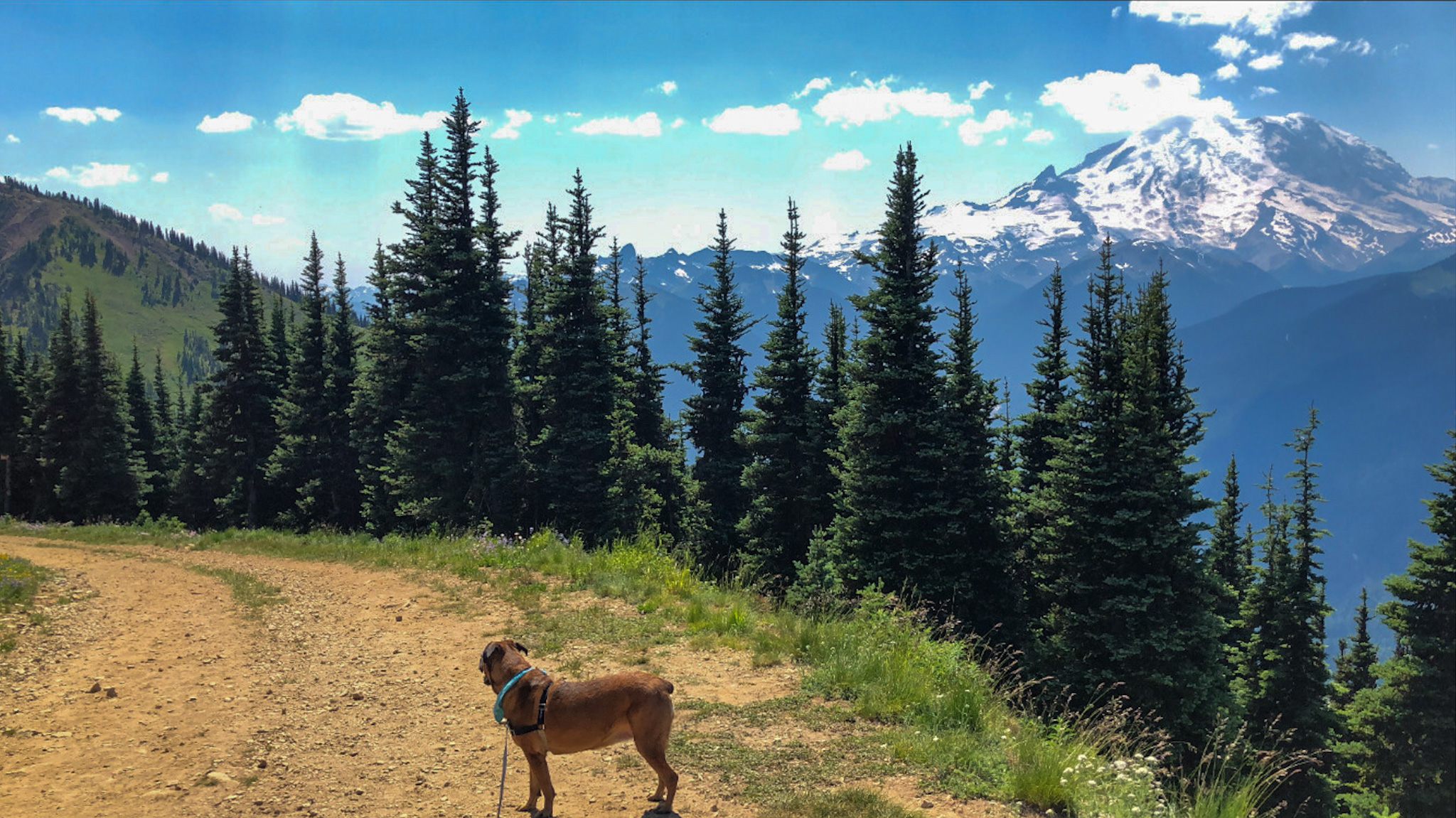 For those who are considering a solo hike soon, here are a few tips for your adventure:
Look at a trail map ahead of time and take a picture so you know where you are going and can refer back even if you lose cell service.
Pack a small first aid kit and some toilet paper! Put the toilet paper in a sandwich bag so you'll have somewhere to put it after use.
Pack lots of water and a small snack – I like to use a Camelbak or similar backpack and bring a protein bar or some nuts.
Always bring a rain jacket – weather can be unpredictable, and it's better to have it and not need it than the other way around!
The PNW offers many adventures; check out some of our others here:
And, don't forget to pin it!
XOXO Travel A-Broads