Candace and I met in late 2016 at a personal development course – back when we were both still living in Houston, Texas. We became closer friends as we did several other programs together, and one of these brought us to Chicago, Illinois in mid-2017.
We decided to take advantage of the situation, since neither of us had been before, and we booked two extra days to explore the area before and after our weekend course.
---
A BROAD SUMMARY
---
Flights: HOU > MDW booked through Southwest Airlines; $200 round-trip
Lodging: Arts District Near McCormick/Loop/Lake/Museums booked through Airbnb; $228 total for three nights split between the two of us
Eats: note that all of these were labeled as $ or $$ on Google
Attractions: Check out the Choose Chicago website for more details on all of the attractions we explored during our trip and much more! Here are some of our favorites:
Cloud Gate ("The Bean")
Chicago Riverwalk
Buckingham Fountain
Navy Pier
Wrigley Field
---
I left Houston early Friday morning and after a two and a half hour flight, I arrived at Chicago Midway International Airport just before 9 AM. From here, I took an Uber to our Airbnb, which cost me about $24.
When I arrived, I noticed that the complex where our Airbnb was located was quite funky and had plants everywhere, and I was surprised to find that the sleeping situation was legitimately a shared room, not just a shared bathroom. There was merely a curtain up between our room and the hosts' room, and they planned to be there all weekend – interesting!
Note: our hosts were wonderful, and this wasn't the end of the world by any means. But, given we were there for a personal development course, it wasn't ideal, since we couldn't talk and work on our homework once they went to sleep. At least it's a funny story now!
Then, I checked my voicemail and realized that Candace had missed her flight from Austin, after waking up at 6:10 for a 6:00 AM flight. As soon as she realized, she drove straight to the airport, which turned out to be a great choice. The airline told her that since she arrived within two hours of her flight time, they wouldn't charge her to get on a new one. Unfortunately, there weren't any more direct flights, so she was going to have to fly to Baltimore (my old stomping grounds 😊) before heading up to Chicago, and that was going to take some time – eek!
And with that, our plan to get to Chicago early and spend the day together exploring was just not going to happen. Luckily, one of our hosts was working from home, and she was incredibly sweet. She made me (and herself) some breakfast and gave me lots of information regarding what to do and how to get around the city. 
Then, somehow the stars just so happened to align, and her neighbor stopped by to mention that he was heading to a Chicago Cubs game for the afternoon. This was the perfect opportunity for me to learn the public transportation system, as I followed him into the city – with his permission of course.
Also, if you are thinking that the stars aligned because her super cute, single, 30-year-old neighbor just so happened to pop in to escort me to a baseball game, it wasn't like that at all. This guy was probably in his mid- to late-fifties and literally just let me follow him to the train and helped me get to the right stop. We didn't sit together or talk again once we arrived at Wrigley Field – haha. But, it was very kind of him to show me the way and very much appreciated.
A Broad Recommendation: Always be aware of your surroundings and keep your belongings close when walking around or taking public transportation, especially if you are a woman traveling alone!
On the way there, I booked a last minute Outfield Upper Deck Box ticket for just around $13 and was on my way to see the New York Yankees play the Chicago Cubs at the infamous Wrigley Field.
Originally known as Weeghman Park, Wrigley Field (renamed in 1926) was built in 1914, making it the second oldest major league ballpark right behind Boston's Fenway Park, which was built in 1912.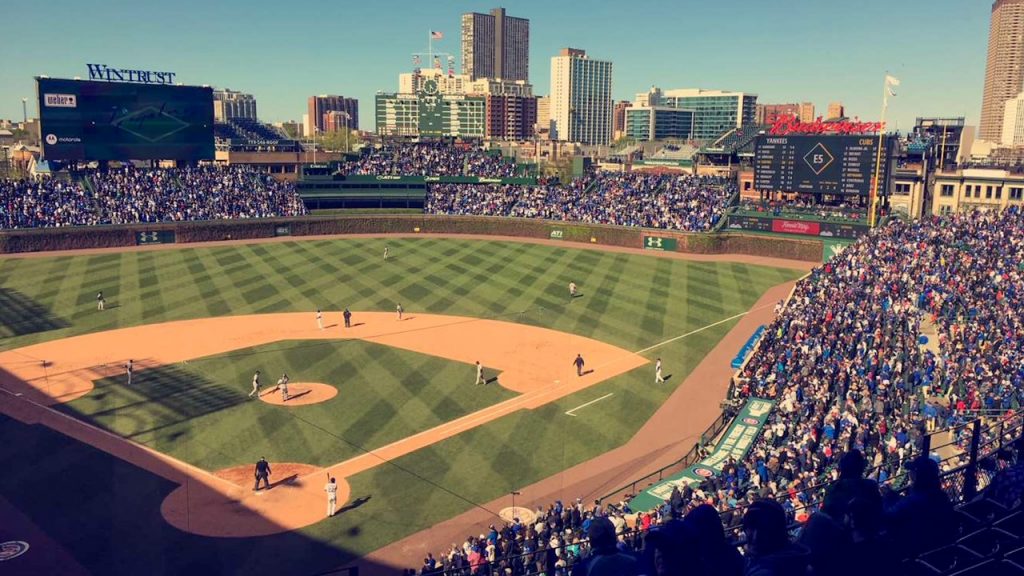 It's famous for several events in major league baseball to include the following (among many others):
The great no-hitter pitching duel between Jim "Hippo" Vaughn and the Reds' Fred Toney on May 2, 1917 – this is especially neat since it was almost exactly 100 years prior to my visit
Babe Ruth's "called shot" in 1932
Gabby Hartnett's "Homer in the Gloamin" in 1938
Pete Rose's 4,191st career hit, which tied him with Ty Cobb for the most hits in baseball history in 1985
Sammy Sosa's 60th home run in the 1998, 1999 and 2001 seasons
The Cubs clinching a post-season series at Wrigley Field for the first time in franchise history in 2015 
At the end of a game, Wrigley Field has a tradition of flying either a white flag bearing a blue "W" or a blue flag with a white "L" above the scoreboard, denoting a win or a loss, respectively. More information and history about the ballpark can be found on the Official Chicago Cubs Website.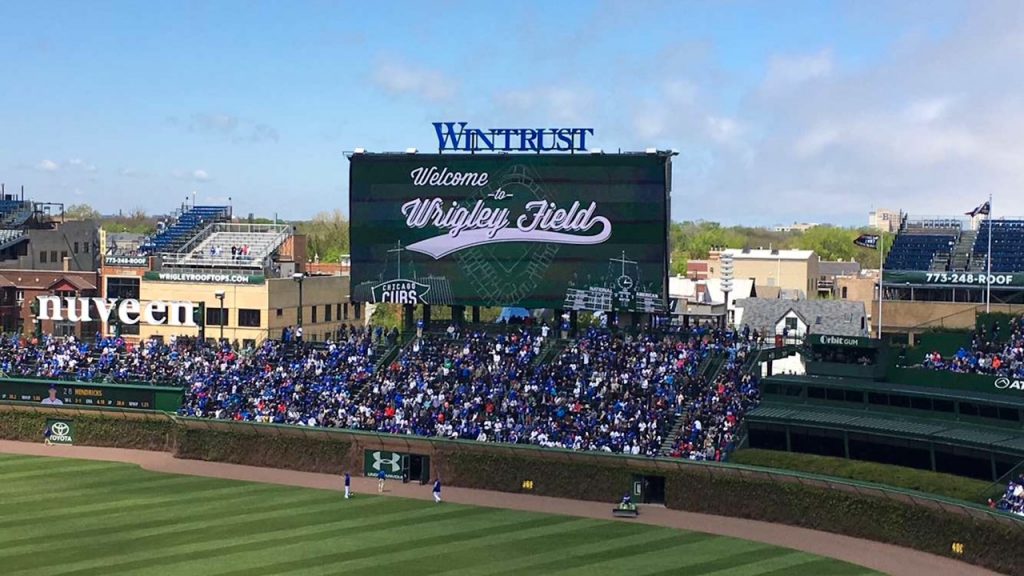 Did you know that Chicago is quite cold, even in May? I was FREEZING! It was so windy – I guess they don't call it the "Windy City" for nothing, and I was in dire need of some gloves.
A Broad Recommendation: pack a coat, scarf, hat and gloves for your visit even in some of the spring or fall months you would expect to be warmer. The wind-chill can get seriously intense, and if you're going to be outside for an extended period, you're going to want to bundle up and stay warm.
I found my way to a gift shop inside, bought gloves, and picked up some food and a beer. I seriously thought I saw Ben Higgins' parents on my way back up to my seat – any fans of The Bachelor? – but that was neither confirmed nor denied since. Ha!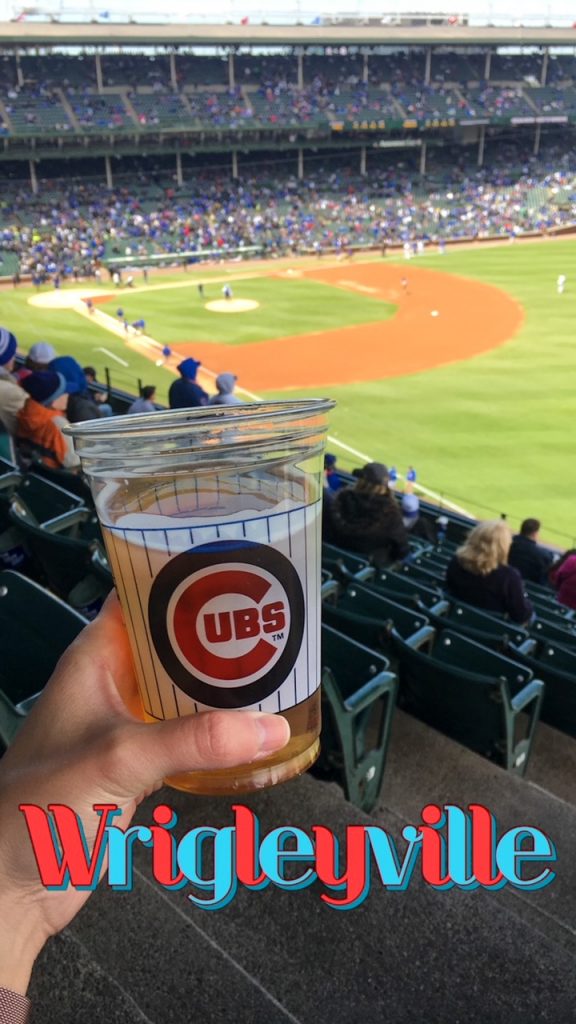 When I found my seat, I noticed that I was surrounded by what seemed to be some unwelcoming regulars. I'm all about making friends per my earlier endeavor, but it seemed that I would be watching the game without much conversation other than some messaging on my phone with friends.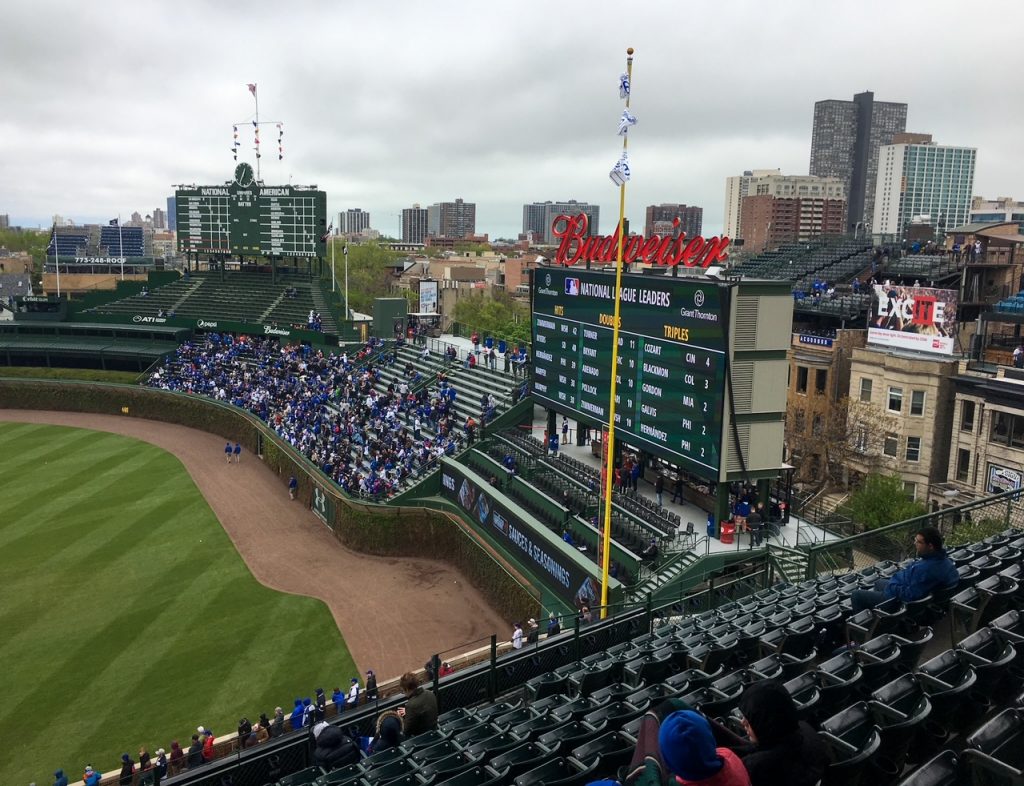 At the end of the game, I did, however, find myself chatting outside with some random people. And shortly after, I was on a rooftop taking in the views and hanging out with them – I told you that I always make friends! If there's a will, there's a way, as they say.
*See me stealing some random dude's sombrero here, as you do.
Luckily by now, Candace had made it to Chicago and was planning to meet up with me as soon as she could. Around 6 PM, we made our way to another infamous Chicago icon – The Bean.
Cloud Gate, aka "The Bean", is one of Chicago's most popular tourist attractions and is located in Millennium Park in Chicago's downtown Loop.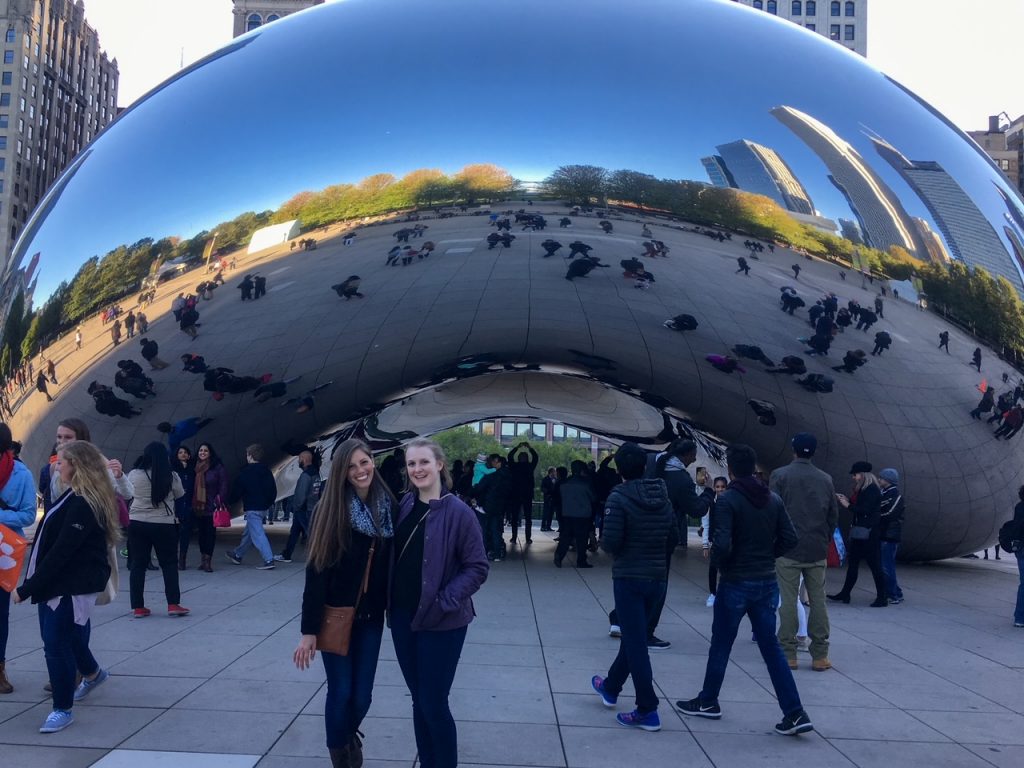 Designed by Indian-born British sculptor, Anish Kapoor, and unveiled in 2004, The Bean is one of the world's largest permanent outdoor art installations. Inspired by liquid mercury, its stainless steel surface reflects the city's skyline and the park's surrounding green space, and visitors can walk underneath it to check out their reflections from below – which we obviously did.
And only because we are both totally obsessed with elephants, I have to share that The Bean weighs approximately 110 tons, which equates roughly to the weight of fifteen adult elephants – now that's pretty heavy!
For dinner, we headed to Pizano's Pizza and Pasta on Madison Street, which was a very short walk from The Bean. We originally chose this place because we felt like we had to try a Chicago deep-dish pizza. But, we ended up getting their thin crust pizza instead, since we both typically like that better. We had a great experience here, then Ubered back to our Airbnb (for ~$20) and called it a night.
The next two days were filled with personal development, which is what had brought us to Chicago in the first place. We enjoyed coffee and breakfast from Peet's Coffee on E. 7th Street both mornings, I had lunch from Jimmy John's on S. State Street and we reconvened for dinner from Niu B Sushi on S. Michigan Avenue.
After an intense and moving weekend, we headed out Monday morning for a bit more exploring before our evening flights back to Houston.
Our first stop was Buckingham Fountain, i.e. the centerpiece of Grant Park and one of the largest fountains in the entire world.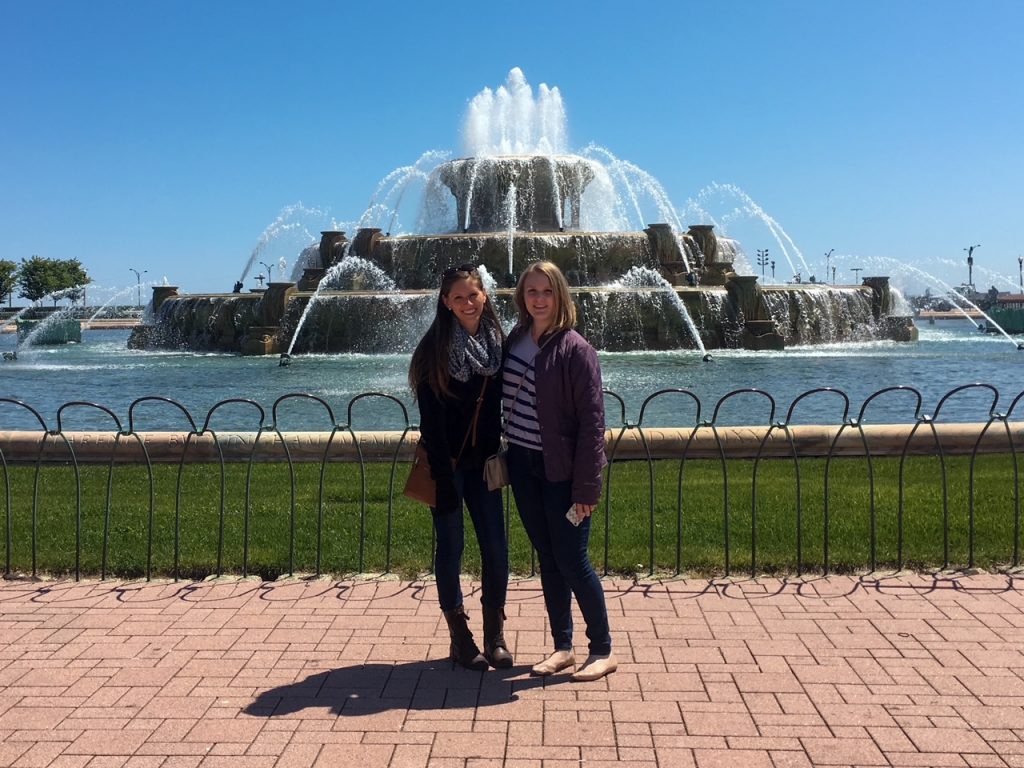 Commissioned by avid art collector, Kate Sturges Buckingham, as a memorial for her brother and inspired by one of the fountains at the Palace of Versailles in France, this fountain is literally fit for a king. It's double the size of the original and cycles through 15,000 gallons of water per minute.
Buckingham Fountain comes to life with an hourly, 20-minute water show during the day (between the months of May and October) and a magical light and music show every hour on the hour at night.
Unfortunately, we didn't get to see either of these while we were there. There's also a lot more to do at Grant Park, but we just didn't have time to do everything during this visit.
Along our walk, we were able to catch some pretty spectacular views of the Chicago River and the cityscape.
Next, we made our way to Navy Pier, which sits along the shoreline of Lake Michigan and is among some of the most visited destinations in the world – who knew?!

Known as the "People's Pier", this area welcomes nearly two million visitors each year and is usually lively with events, dining, shopping and attractions like some of these:
The Centennial Wheel and Pier Park – fairground rides
Amazing Chicago's Funhouse Maze – a self-paced, full sensory 4,000 square feet maze experience
Crystal Gardens – a one-acre, botanical garden with a six-story glass atrium
Chicago Shakespeare Theater – as the name implies, it's a theater that performs Shakespeare's productions
AMC Navy Pier IMAX Theatre
At the time, there was a Rolling Stones show called "Exhibitionism," which showcased hundreds of artifacts from the group's 50-plus-year career. Had we enough time, Candace would've loved to check this out, considering she is obsessed with them.
We spent quite a bit of time just walking around here, exploring the area, and taking in the views.
But, we were mainly just so excited to ride on the swings and to take a couple of spins on the Centennial Wheel!
Fun fact: The first ever Ferris wheel, also referred to as the Chicago Wheel, was named after designer George Washington Gale Ferris Jr.; it was introduced during the World's Columbian Exposition of 1893 in an attempt to rival the newly completed Eiffel Tower in Paris – one of our most favorite landmarks in the world. How cool!
Navy Pier's first Ferris wheel was inspired by that one and added to the park in 1995. It was eventually replaced in 2016, just a year before our trip, by the Centennial Wheel to honor the Navy Pier's 100th anniversary. The wheel still stands as an iconic part of Chicago's skyline and serves as a part of Chicago's cultural history.
The rides were $22 per person – totally worth it considering you can see 360-degree views of the city and Lake Michigan from both of them. So fun!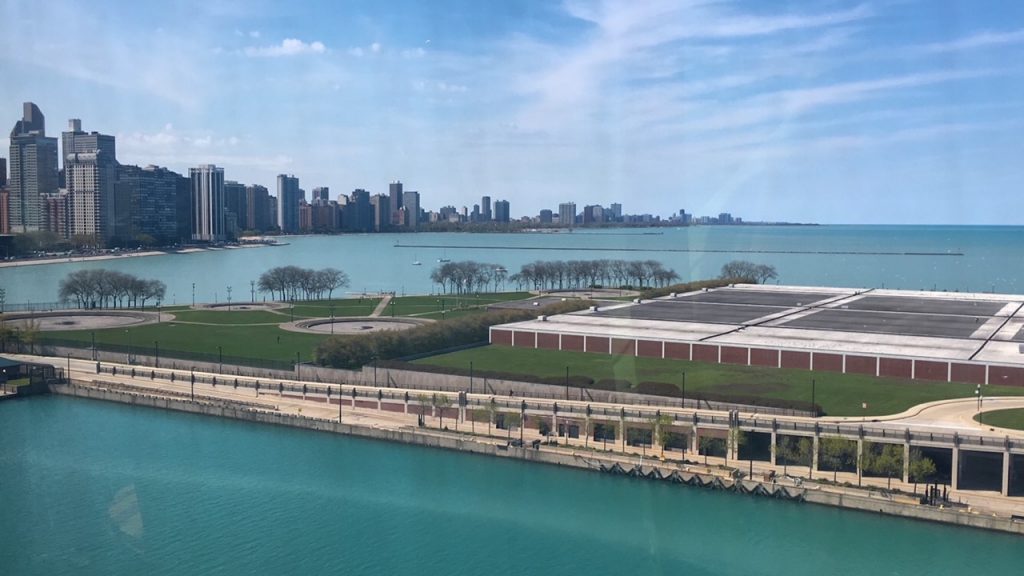 We grabbed a late lunch at Margaritaville, which was mediocre at best, before heading back to the Chicago Midway International Airport – this time by public transportation, which we had mastered in just a couple days. We hopped on our flights around 8:30 PM. Three hours and a $25 Uber ride later and we were back home and already eager for our next adventure!
Although we weren't able to fit all of these in, one of my friends, who has visited Chicago many times and whose sister lived in Chicago for six years, suggested several activities. I would be remiss if I didn't include them here:
Shedd Aquarium – indoor public aquarium that opened in 1930 and was once the largest indoor facility in the world; it currently holds some 32,000 animals
Lincoln Park Zoo – founded in 1868, it's the fourth oldest zoo in North America and one of the few zoos in the United States with free admission
Architecture Boat Tour – cruise down the Chicago River and check out the spectacular skyline, while an onboard guide details the events that helped shape the architectural history of Chicago. She highly recommended this one!
Skydeck Chicago at Willis Tower – located on the 103rd floor of the former Sears Tower, it offers clear observation boxes and views that extend to four states – woah! We really wanted to do this, but just didn't have the time.
360 Chicago Observation Deck – enjoy breathtaking views from the 94th floor of the John Hancock Building, have a drink at BAR 94, and experience Tilt, the highest thrill ride in Chicago
Giordano's – an Italian restaurant known for its deep-dish pizza
Lagunitas Brewing Company Chicago – a lively taproom that offers beer tastings, snacks and live music
Candace and I have both been back since this trip (together actually), but we haven't explored nearly enough of this bustling city. Guess that means we will need to go back again!
Have you been to Chicago? What are some of your recommendations?
XOXO Travel A-Broads