We had the pleasure of spending three days in Amsterdam in June and were able to see some of the city's highlights. This post focuses on our three-day Amsterdam itinerary, including how we got there, where we stayed, where we ate, what we did and more.
*P.S. this post contains some affiliate links. At no additional cost to you, we may earn a small commission when you make a purchase.
A Brief Intro to Amsterdam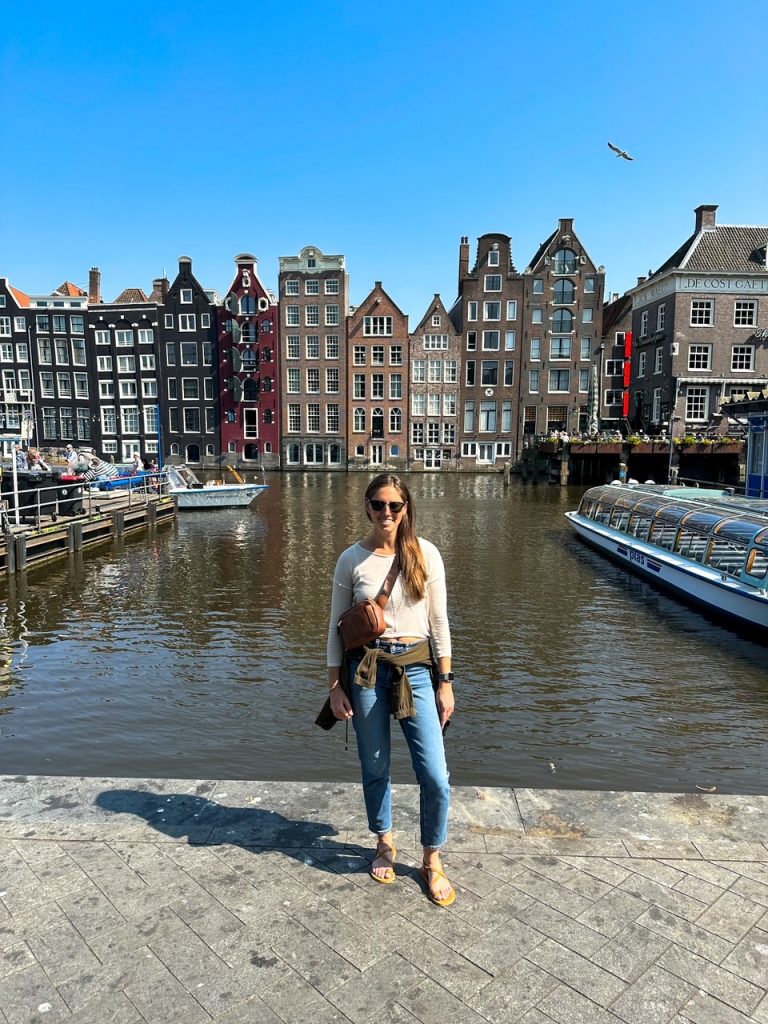 Amsterdam, i.e. "The Dam on the River Amstel', is the capital and most populous city of the Netherlands and one of the best-preserved cities in all of Europe. It's often referred to as the "Venice of the North" because of its division into around 90 islands, which are linked by thousands of bridges, and large network of canals, which are designated a UNESCO World Heritage Site.
Originally a small 12th-century fishing village, Amsterdam became a major world port in the 17th century during the city's Golden Age. At the time, the Netherlands was an economic powerhouse, and Amsterdam was the leading center for finance, trade and the production of secular art. The Amsterdam Stock Exchange, which was founded in 1602, is one of the oldest stock exchanges in the world – wow!
Amsterdam is also considered to be one of the most multicultural cities in the world and has a long history of openness, liberalism and tolerance. It's well known for its nightlife and is home to several world-famous nightclubs, like Melkweg and Paradiso, too.
Amsterdam's most notable residents include painters Rembrandt and Vincent van Gogh, philosophers John Locke and René Descartes, and Holocaust victim Anne Frank.
How to Get to Amsterdam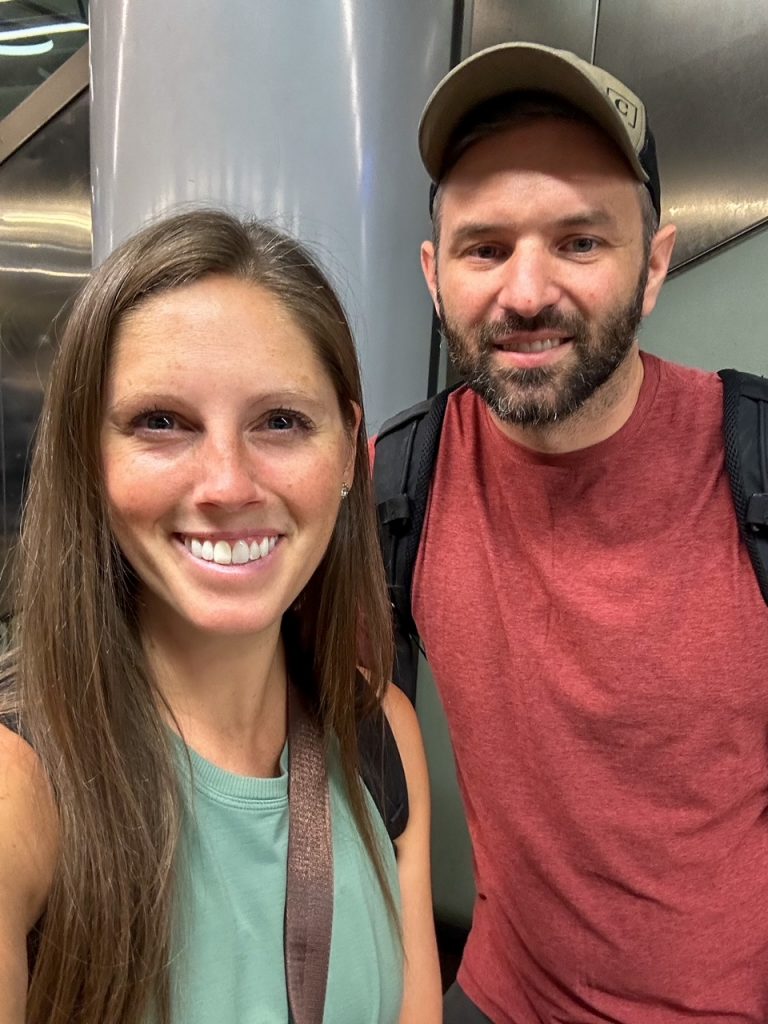 We booked a direct, overnight flight from Houston to Amsterdam with a flight duration of 9 hours and 30 minutes. When we arrived in Amsterdam the next morning, we went through customs (which took about an hour) and took the railway line from Schiphol International Airport (airport code: AMS) to Amsterdam Central Station, which took about 15 minutes.
Luggage Storage in Amsterdam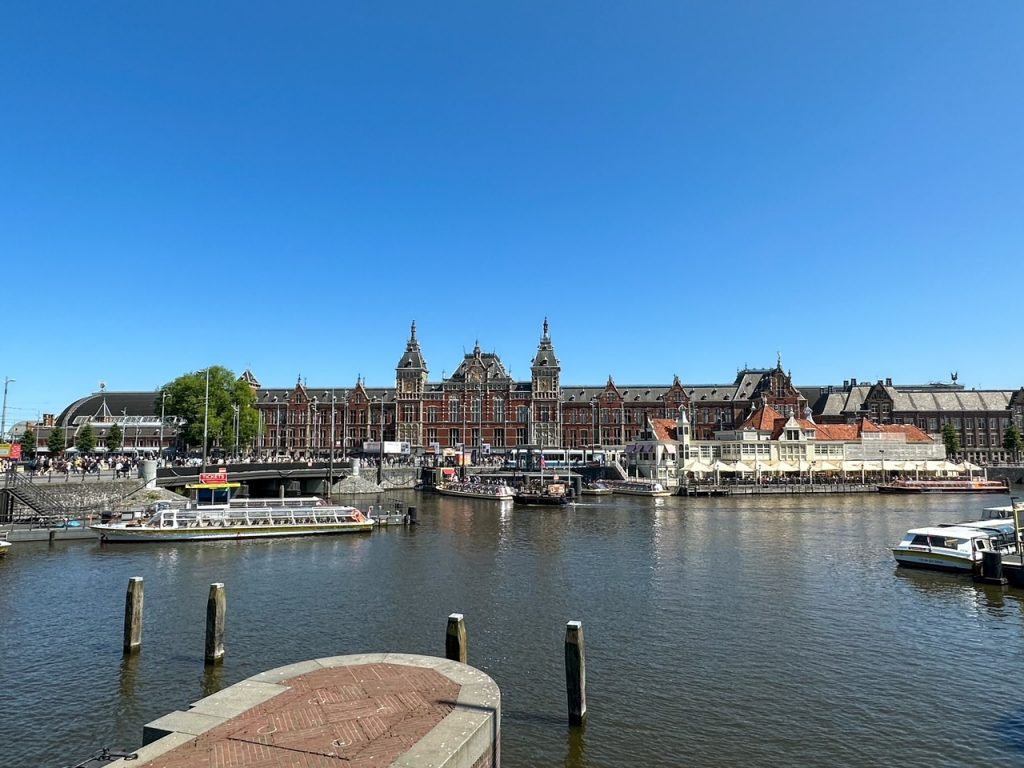 Since our hotel check-in wasn't until after 3:00 pm, we stored our luggage at Amsterdam Central Station. This was super convenient and cost us €8.50 per locker; each locker fit a carry-on-sized suitcase and a bookbag. Note: there are different sized lockers; we went with the larger option.
Budget-Friendly Amsterdam Hostel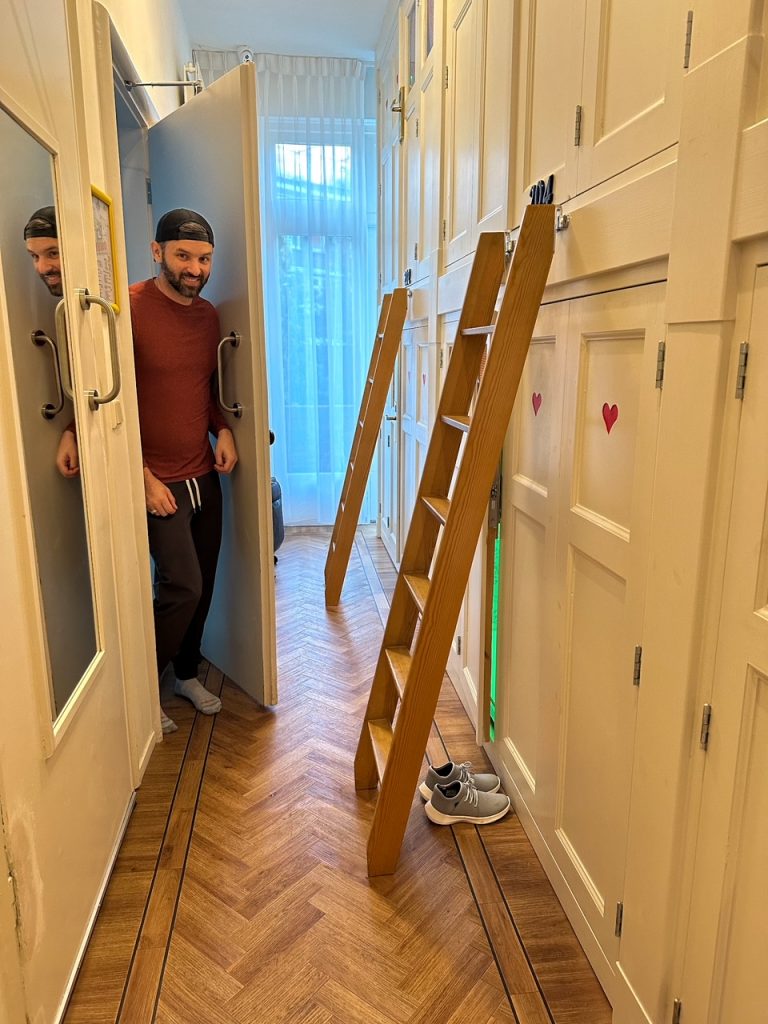 For lodging, we chose De Bedstee Capsules Hotel because of its central location in Amsterdam's Museum Square. This location was convenient for those early morning reservations at the Rijksmuseum and Van Gogh Museum.
When we arrived, we were pleasantly surprised by the staff working behind the counter. They were so friendly and attentive! I will say that we were also a bit surprised by the size of the rooms (and not in a good way). When we checked in, we were told that our carry-on-sized luggage probably wouldn't fit in our room and that we'd have to store it on a completely different floor of the hotel. Luckily, they did fit, and we didn't have to deal with that – phew!
That being said, this hotel, which is actually more like a hostel, is a budget-friendly option compared to other Amsterdam hotels in the city center. Each private cabin includes a comfy mattress, towels, Wifi, a media panel for your phone and flight cabin-sized luggage storage (which looks like a small bookshelf at the end of the bed).
A Broad Recommendation: remember to bring flip flops to use in the bathroom. You'll be sharing toilets and showers with other travelers during your stay.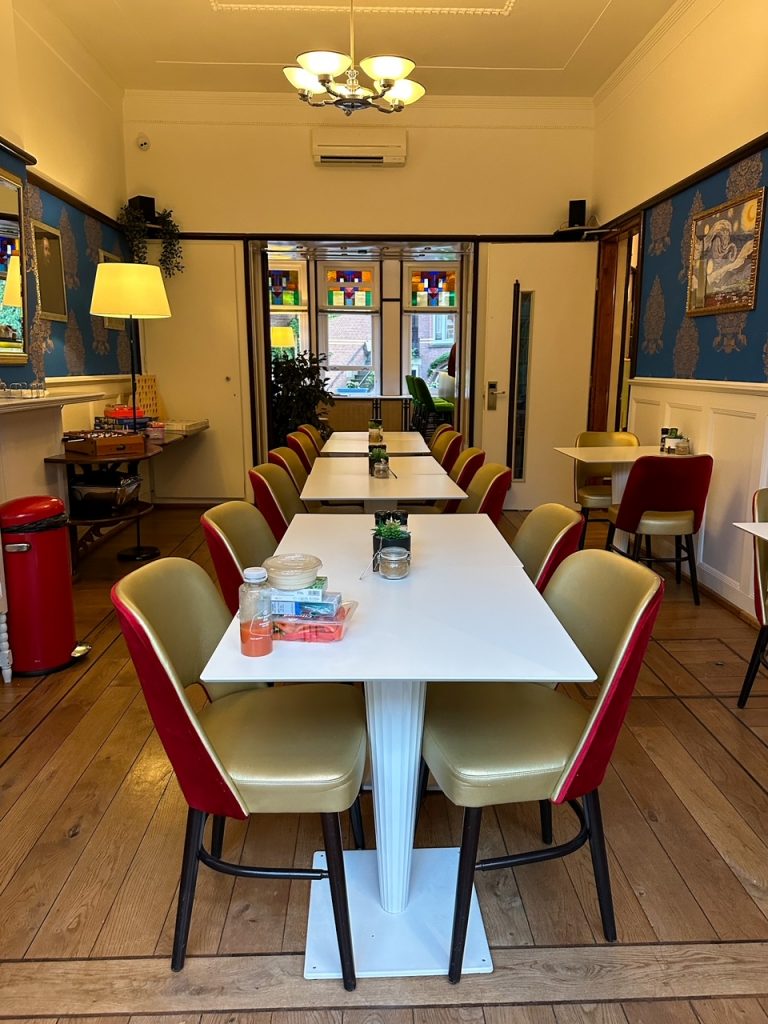 The hotel also offers a common space where travelers can hang out and socialize, as well as a bar that's open from 10:00 am to 11:00 pm (though we never saw anyone behind the bar). Breakfast is also served daily from 8:00 to 10:00 am (for an additional fee). We didn't spend much time here other than to sleep, so we can't speak to the hotel's amenities, but the common space looked cute!
Weather in Amsterdam in June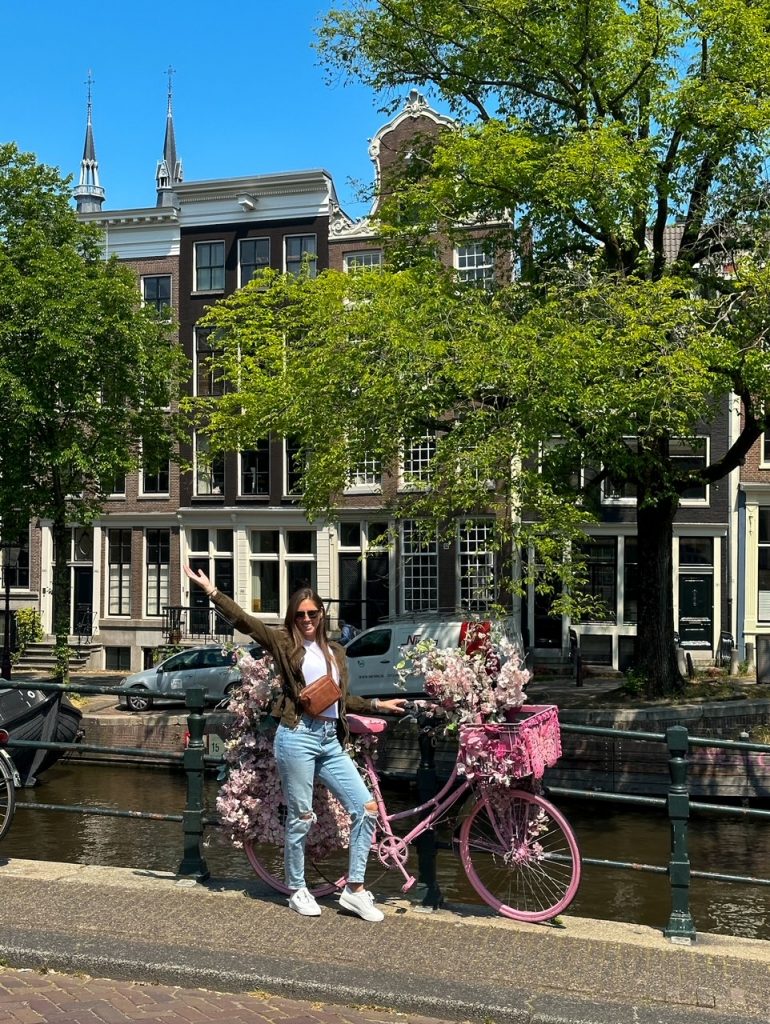 Summer months in Amsterdam (June through September) are warm with average low temperatures ranging from 50 to 55°F and high temperatures ranging from 66 to 70°F. However, Amsterdam sometimes experiences days in the high 80s, so you should be prepared for all types of weather.
In the summer in Amsterdam, the sun sets between 7:30 and 10:00 pm. We visited in early June, and the sun didn't set until around 10:00 pm each night, providing plenty of time to explore the city and to fit in lots of activities.
A Broad Recommendation: Autumn is the wettest season in Amsterdam, and in the Netherlands in general, but you should still pack your rain jacket, as there are still some rainy days throughout the rest of the year.
Amsterdam Netherlands Currency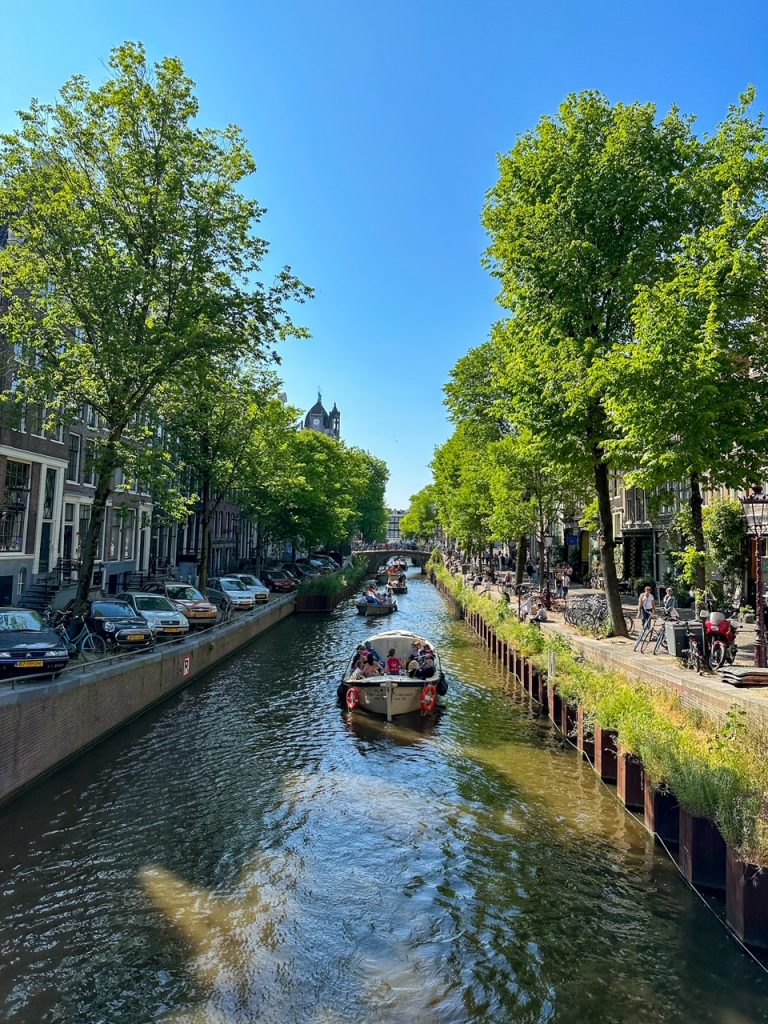 The currency in Amsterdam and all of the Netherlands is the Euro (€). Other currencies are not commonly accepted, but credit cards are. We got out around €200 prior to our two-week Europe trip, used cash sparingly throughout our trip, and still had around €40 to spare.
The I Amsterdam City Card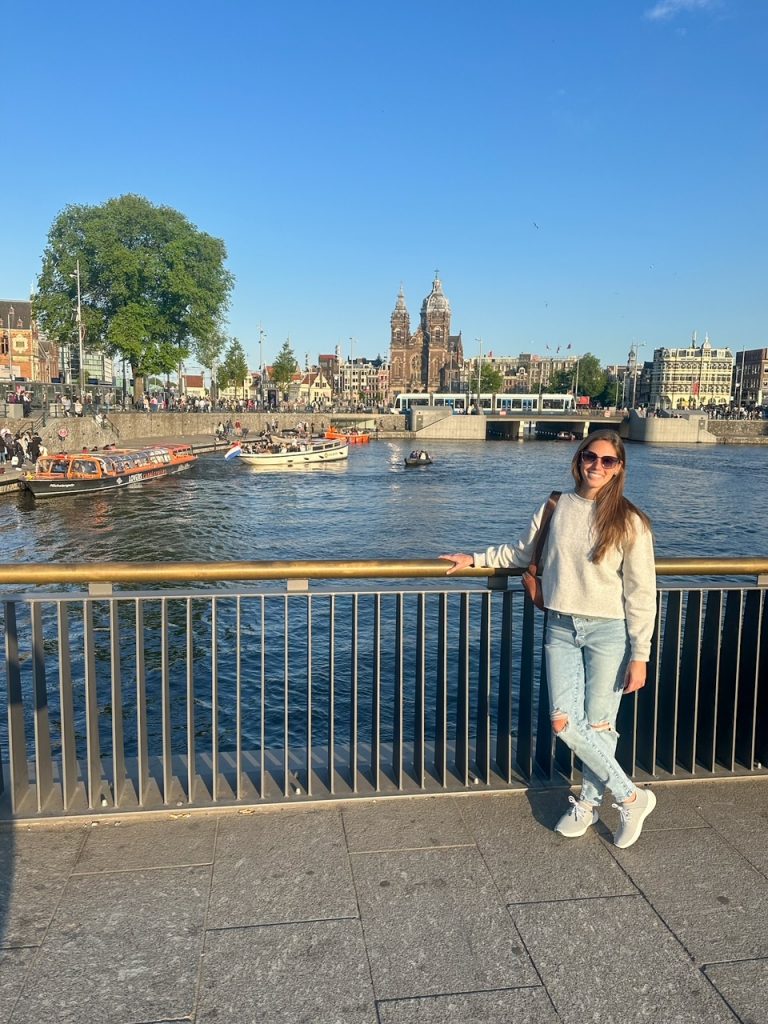 After much debate, we decided to purchase the I Amsterdam City Card. Though it was a close call based on the activities presented in this itinerary, convenience won out, and we did end up saving a bit of money by doing so.
Our 3-Day Amsterdam Itinerary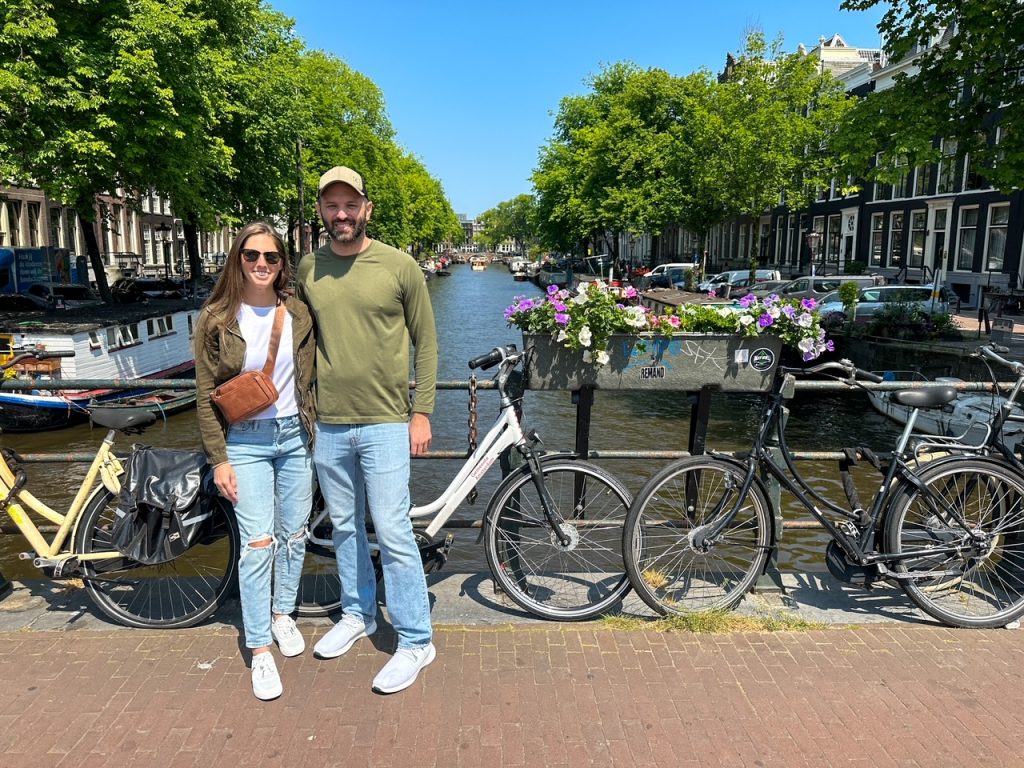 Three days in Amsterdam in June is the perfect amount of time to explore the city and to see many of the most popular tourist attractions. Here's our three-day Amsterdam itinerary.
Day 1 in Amsterdam in June
9:20 am: Arrive in Amsterdam
11:00 am: Transfer to Amsterdam Central Station & store luggage
1:30 pm: Lunch at Loetje
2:00 pm: Free Walking Tour
5:00 pm: Amsterdam Tulip Museum
5:45 pm: Anne Frank House (book 6 weeks in advance)
7:15 pm: Homomonument
7:45 pm: Pick up luggage & check in to hotel
10:00 pm: Snack & beers at Gruter Café
Day 2 in Amsterdam in June
9:00 am: Rijksmuseum
12:30 pm: Lunch at Greenwoods
1:45 pm: Bloemenmarkt
3:30 pm: Begijnhof Chapel
4:45 pm: Drinks at Mata Hari
5:15 pm: Our Lord in the Attic Museum
6:45 pm: A'DAM LOOKOUT Tower
8:00 pm: Dinner at Wok To Go
9:00 pm: LOVERS Canal Cruise
Day 3 in Amsterdam in June
9:00 am: Van Gogh Museum
11:00 am: Check out of De Bedstee Capsules Hotel
11:30 am: Store luggage at Amsterdam Central Station
12:30 pm: Lunch at Piqniq
2:00 pm: De Nieuwe Kerk
2:45 pm: Oude Kerk
3:15 pm: Pick up luggage, head to airport & fly to Barcelona
*Note: if you're looking to do some day trips, you should add a couple more days to your itinerary.
Things to Do in Amsterdam in June
There are so many things to do in Amsterdam in June. Here is a more detailed account of each of our days in Amsterdam and what we recommend doing.
Day 1 in Amsterdam in June
Lunch at Loetje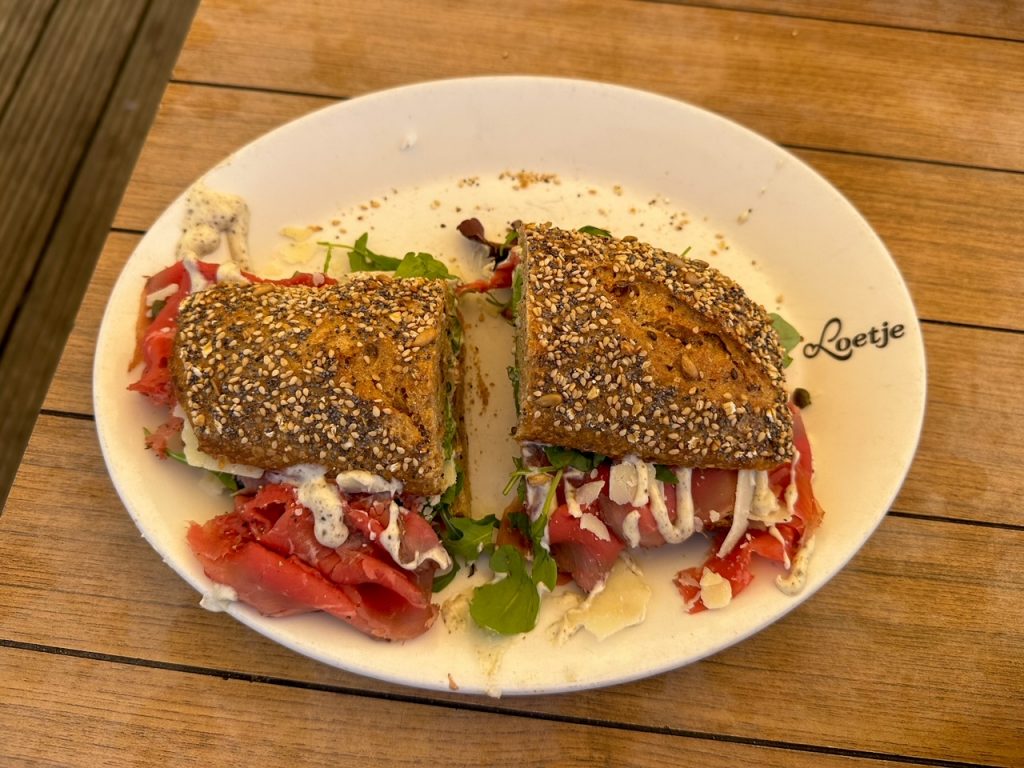 After dropping off our luggage at Amsterdam Central Station, we stumbled upon Loetje, a yummy steak restaurant right by the station. We sat on the outdoor terrace, which overlooks the water, and enjoyed the food and overall experience.
A Broad Recommendation: Many restaurants allow smoking in their outdoor areas. Loetje is one of these restaurants. If you don't like the smell of smoke, you may want to consider eating elsewhere, as we were surrounded by smokers here.
Free Walking Tour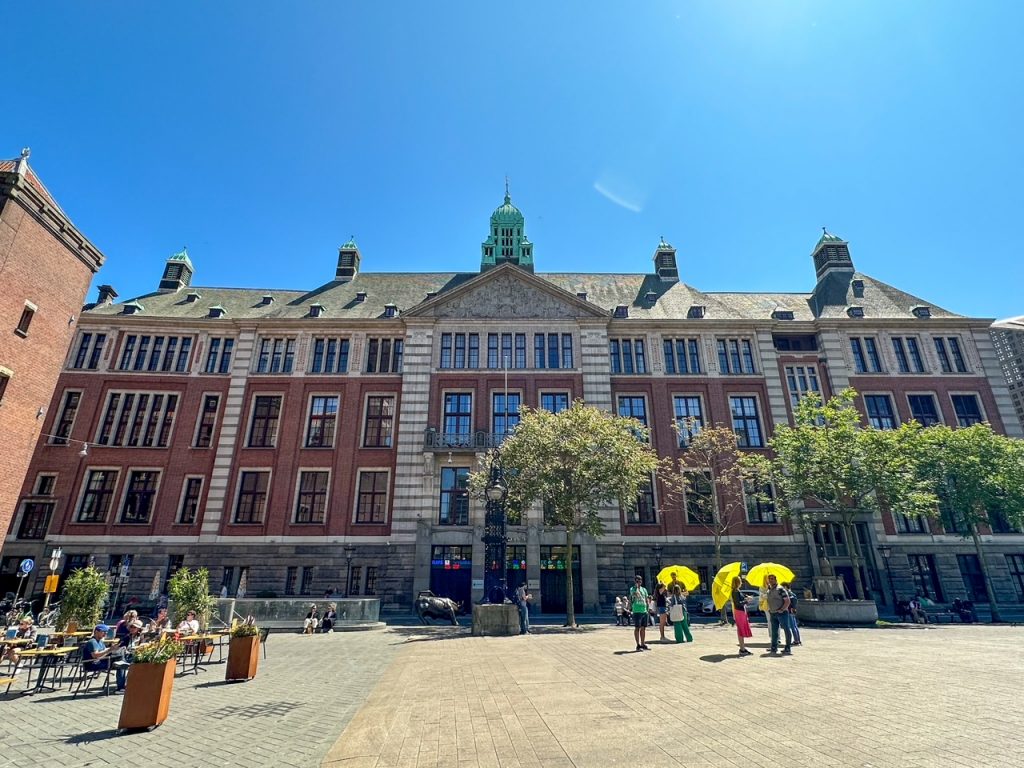 Hours: Depends on the tour
Cost: Free, and you choose how much you'd like to tip
Free walking tours are a great way to explore a new city, as they take you to some of the city's major landmarks while also teaching you a bit of the city's history and getting you acquainted with your surroundings. Plus, doing a walking tour early in your visit helps ward off any remaining jet lag from your flight too!
We'd booked a free walking tour prior to our trip, but when we arrived in Amsterdam, we were notified that it'd been canceled. So, we booked a last minute tour with FreeDam Tours via GuruWalk.
FreeDam Tours was founded in 2016 with a mission to become the best walking tour company in Amsterdam. Their guides are knowledgeable and funny and love what they do, and their tours showcase the perfect mix of history, modern life, culture, art and personal anecdotes to provide a unique perspective on life in Amsterdam.
'The #1 Best Rated Walking Tour in Amsterdam' began at the Amsterdam Stock Exchange (Beursplein 5) and lasted about 2.5 hours. Along the way we stopped at notable places such as De Oude Kerk, the Red Light District, Nieuwmarkt, Ons' Lieve Heer op Solder, Damrak, Dam Square, and more.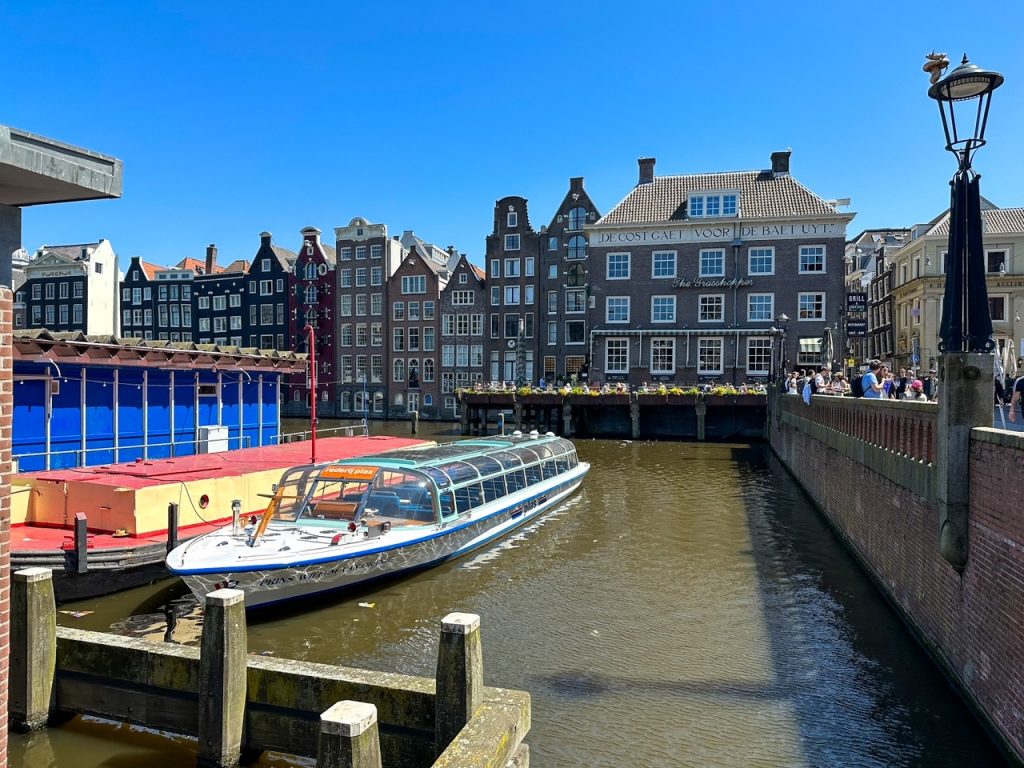 Our guide, Daan, was super energetic and engaging and taught us a lot about Amsterdam's history and culture. For example, we stopped at the oldest part of the city, which was named after the Amstel River and created by essentially building a city over the sea. Thus, the saying "God created the earth, but the Dutch created the Netherlands" was born.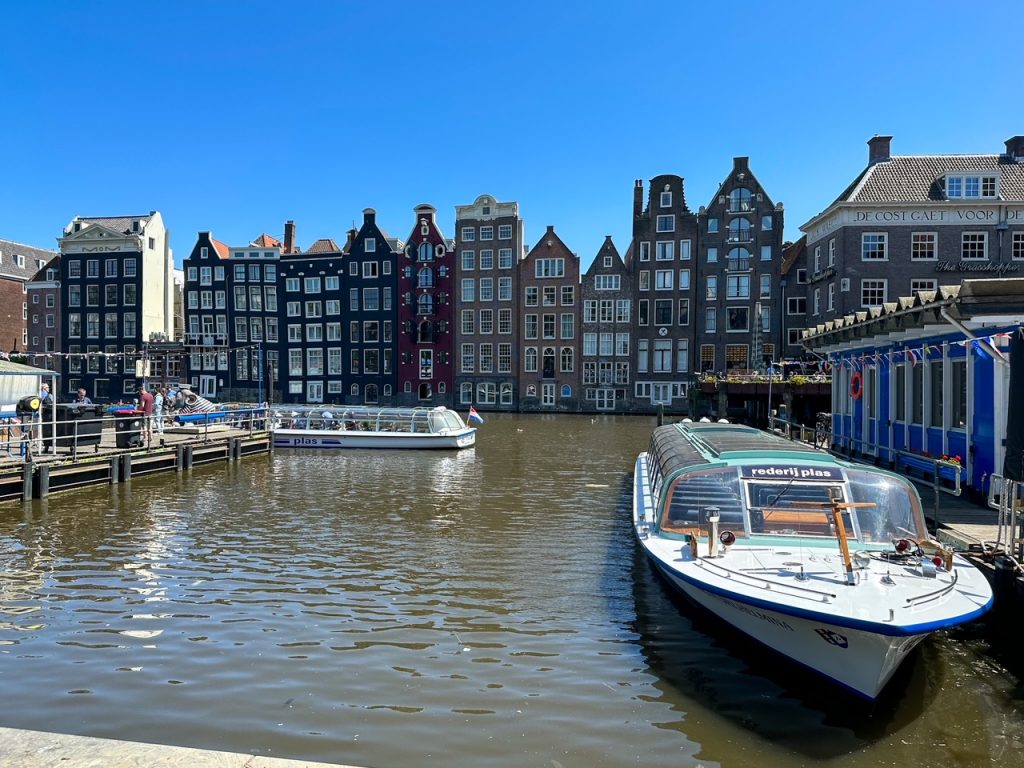 The houses that sit along the water were originally built for trading, and most of them are tall and narrow, since taxes were imposed based on building width. Dutch houses were also built leaning slightly forward or with the top of the house jutting out. This design was to enable a pulley system, allowing folks to easily move things from the water to different levels of the house.
All of Amsterdam's buildings are also built on wooden poles that go down to solid sand, as a part of the transition from wood to stone and then to concrete. Similar to other European cities like Stockholm, Copenhagen and Bergen, Amsterdam experienced several fires during the 12th and 13th centuries that ravaged its wooden homes, thus creating the need for stone and concrete foundations.
Though some old buildings are falling down now, the city is a UNESCO World Heritage Site, so they can't be torn down completely. To alleviate this issue, a couple floors or levels of these buildings are demolished to make them safer.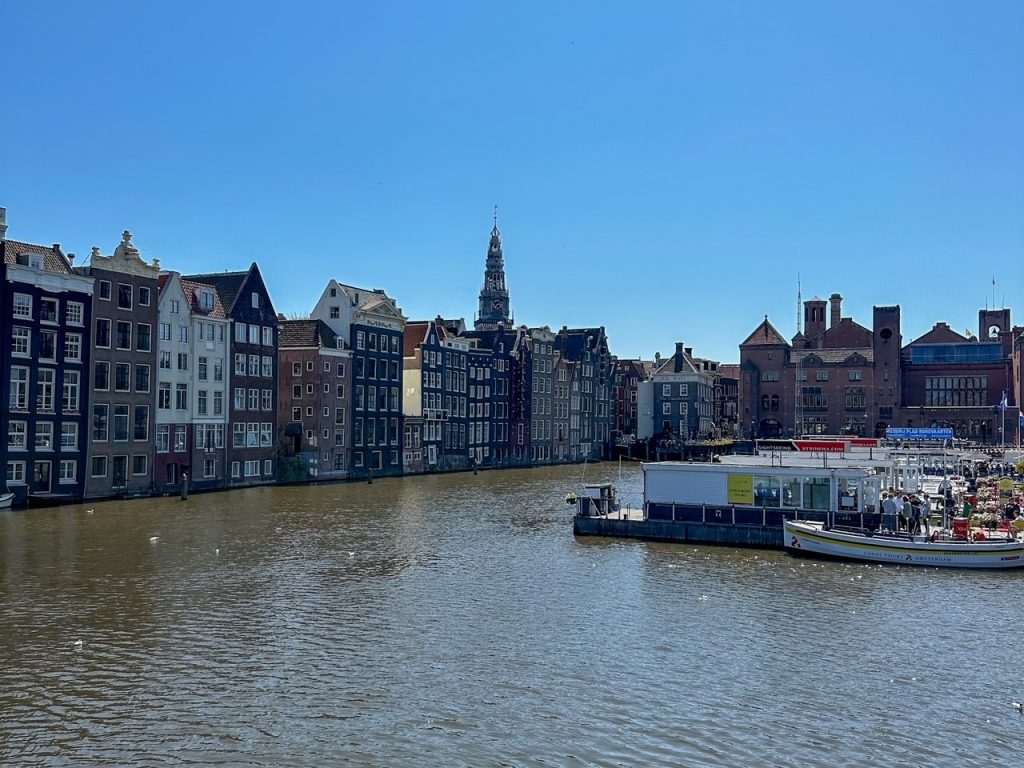 We also learned about the infamous Red Light District. Interestingly enough, this area was created intentionally as a way to keep all of the sailors, drinking and prostitution in one area of the city. The district was built next to the Oude Kerk, which allowed the church to profit off of sailors' sins. Sailors were asked to come to the confessional and to pay per sin, and eventually, a drive-thru confessional was implemented to expedite the process. This may seem silly, but most of the money went back into the city to help the poor, sick and underprivileged.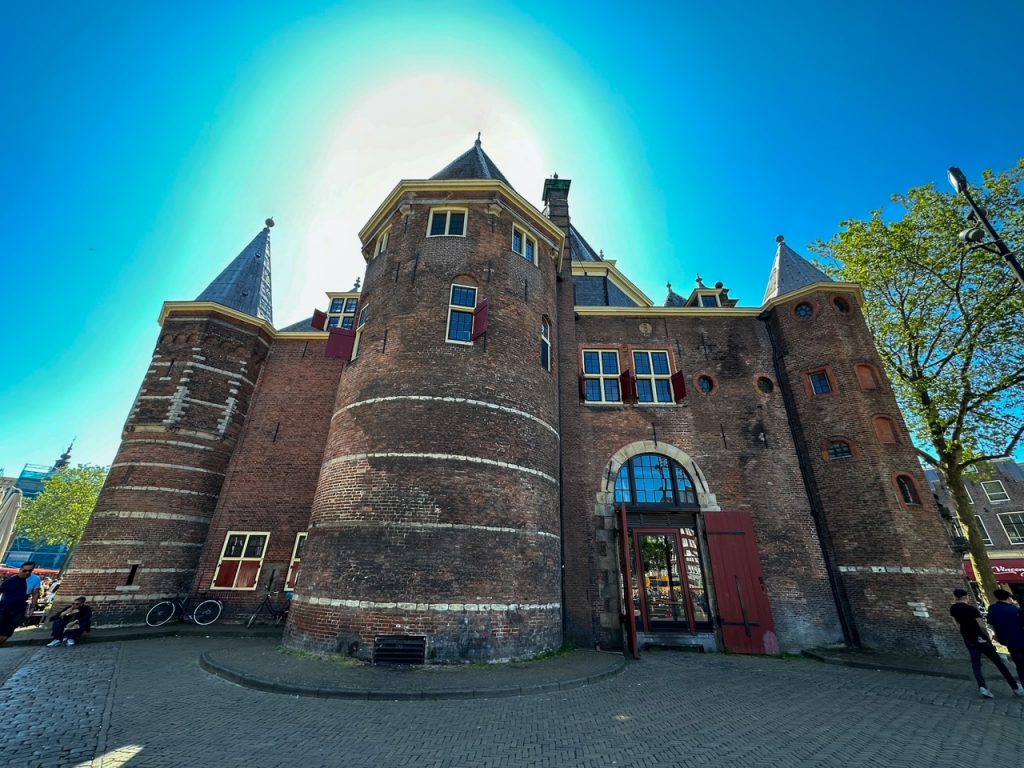 We also stopped at Niewmarkt, one of Amsterdam's oldest squares, which has one of the only castles in the city (which also happens to be the city's second-oldest building).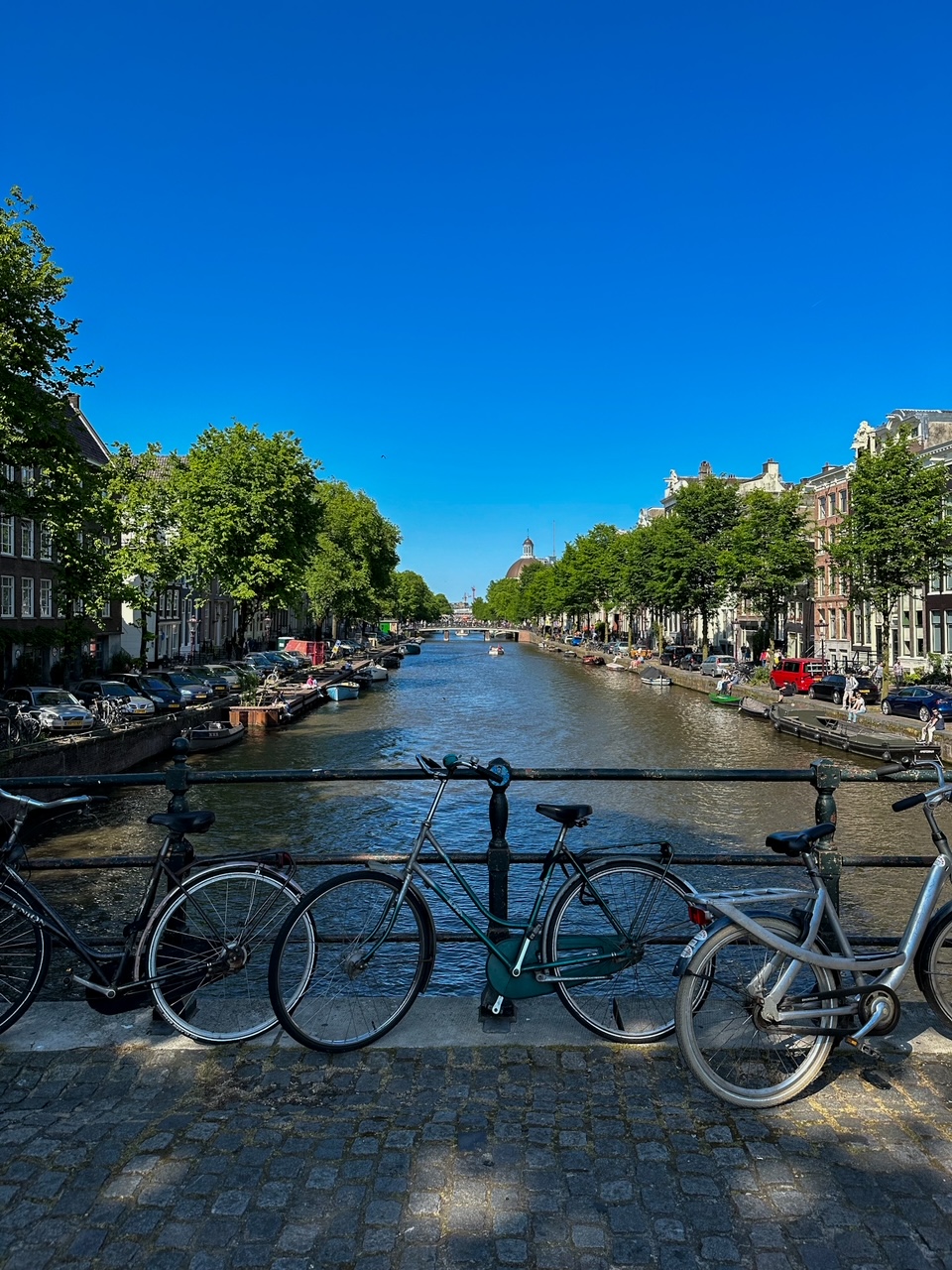 Some other fun things we learned during our tour are:
There are around 1.5 million bikes in Amsterdam for a population of around 950,000, and between 6,000-8,000 bikes are sifted out of the canal each year (even though it's illegal to throw bikes in the canal).
Café and bar are interchangeable in Amsterdam, as you can drink coffee at bars and beer at cafés, and outdoor seating is a big deal.
'Lekker' is a word to describe good things, i.e. pleasant, enjoyable, delicious, etc.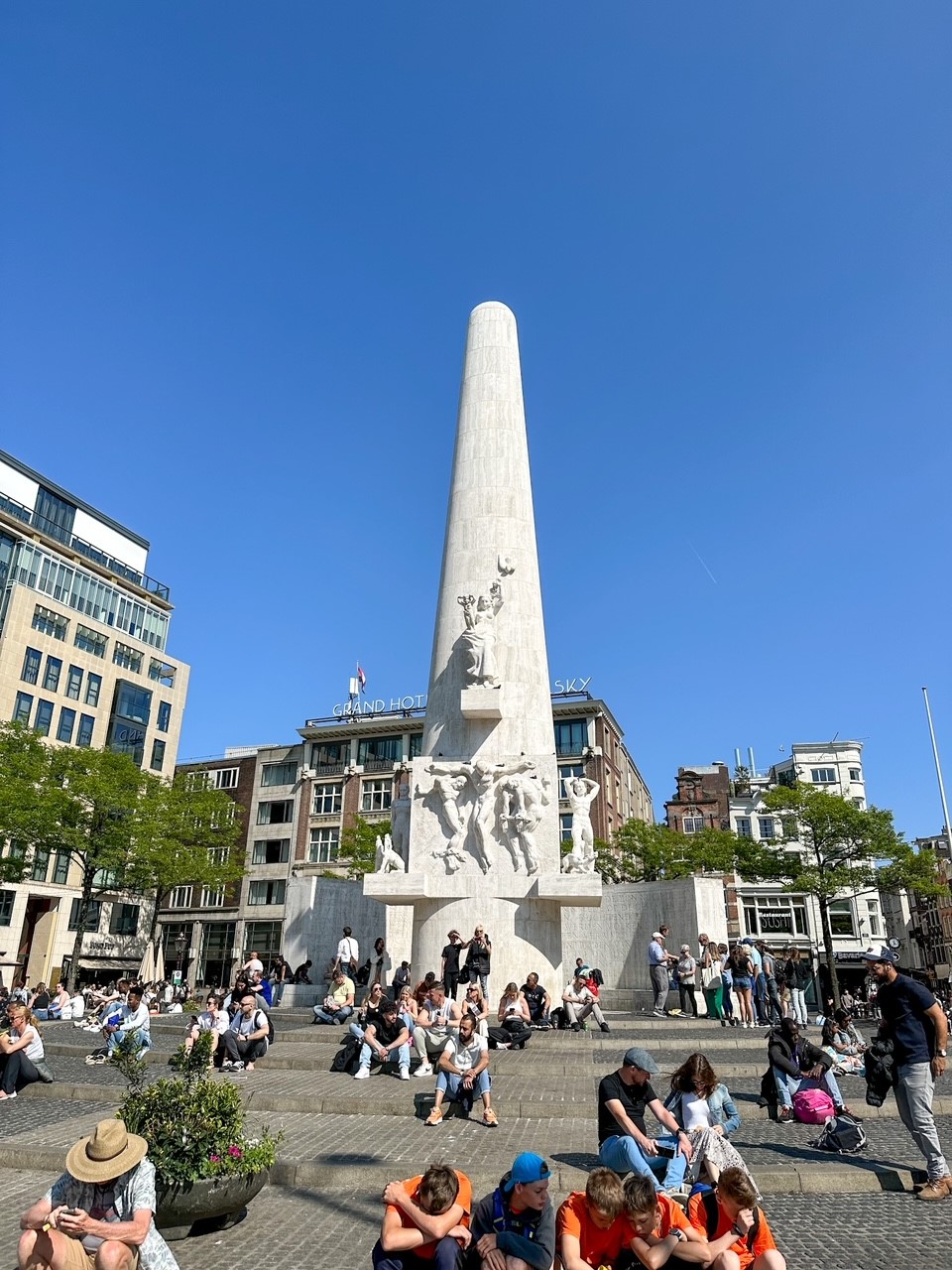 Our tour ended near the National Monument and the Royal Palace Amsterdam and was a great way to kick off our visit!
A Broad Recommendation: Free walking tours are totally free to book, and there are no cancellation fees. However, the guides don't get paid by the companies they "work" for, which means that they rely on your tips. Some people give €10 and others give more. The great thing is that you get to choose the price based on the value you feel you got out of the experience. We tipped €50 for the two of us – and, our guide was super appreciative. Note: we were able to tip via credit card.
Amsterdam Tulip Museum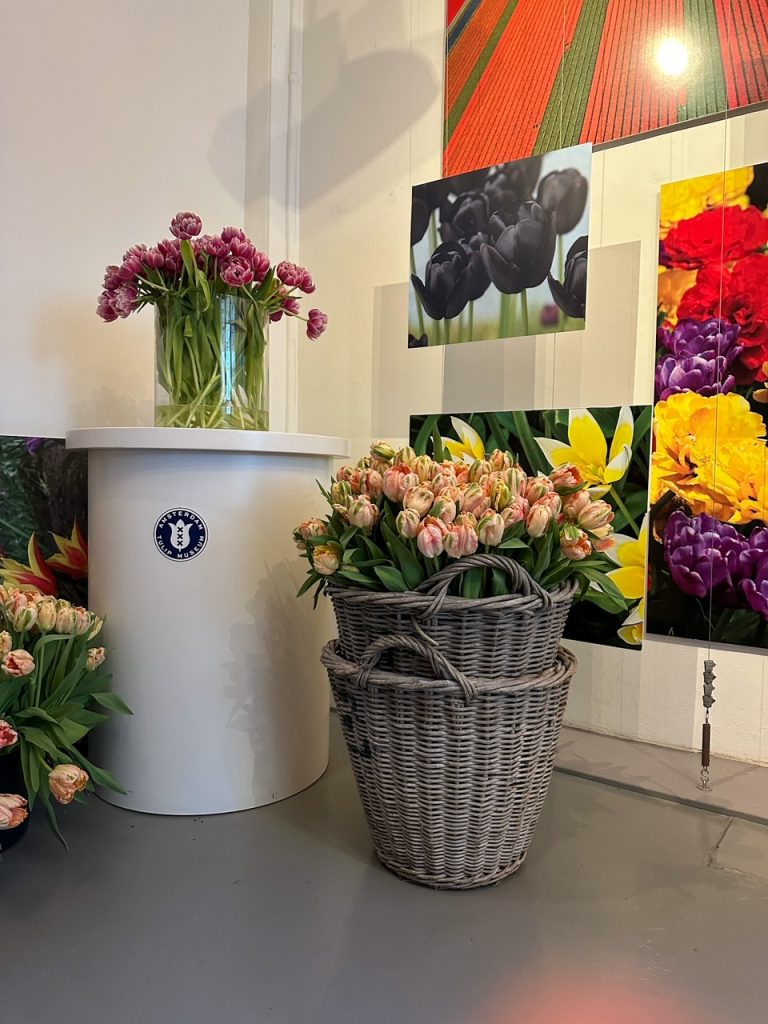 Hours: Daily, 10:00 am – 6:00 pm
Cost: €5 (included in the I Amsterdam City Card)
Next, we made our way to the Amsterdam Tulip Museum. This cute and quirky museum walks visitors through the centuries-long history of the tulip, from its initial discovery in Central Asia to present time via a collection of photographs, videos and more.
Since tulip season runs from March through May, travelers visiting Amsterdam during other times of the year get an opportunity to experience tulips out of season at the Amsterdam Tulip Museum. The museum only takes about 15 to 30 minutes to walk through, so it can easily be added to any itinerary.
Anne Frank House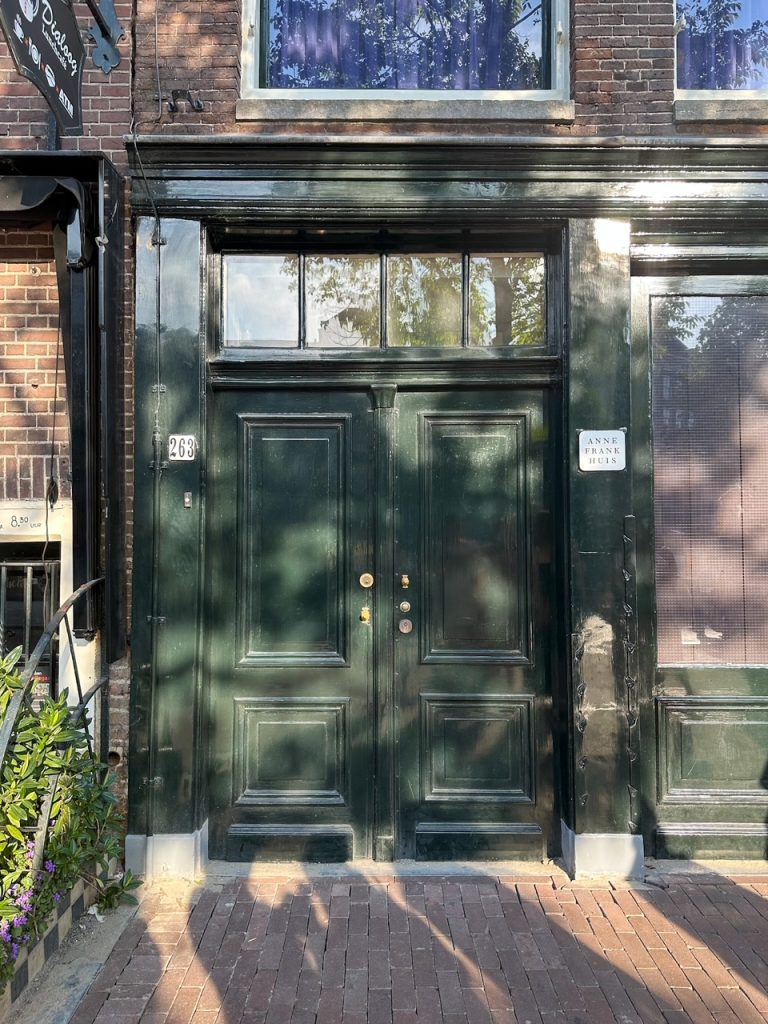 Hours: Daily, 9:00 am – 10:00 pm
Cost: €16
The next stop on our itinerary was the Anne Frank House, which is located right down the street from the Amsterdam Tulip Museum.
Jewish Anne Frank and her family hid from the Nazis from 1942 to 1944 during the Nazi occupation of the Netherlands. When Anne's sister, Margot, received a call-up to report to a labor camp in Nazi Germany in July of 1942, the Frank family went into hiding the next day. Two years later, they were discovered, and sadly, in 1945, Anne died in the Bergen-Belsen concentration camp.
During their two years in hiding, Anne wrote about life in the Secret Annex in a diary that she'd received for her 13th birthday, and her stories, thoughts and feelings have since been shared across the world.
A Broad Recommendation: Read The Diary of a Young Girl and watch A Small Light prior to your visit to learn more about Anne Frank, her family and their experience in hiding at the Secret Annex.
Today, we're able to visit the Secret Annex and get a small glimpse into what life might've been like during those times. The free audio tour supplements your visit and provides information about each room and its inhabitants, as well as general information about World War II and the persecution of the Jews.
A Broad Recommendation: Tickets for the Anne Frank House go on sale six weeks in advance, and a pre-booked time slot is required for your visit. Be sure to buy your tickets as early as possible, as they do sell out quickly. I set an alert on my phone for exactly six weeks out to ensure that we wouldn't miss our chance to visit.
Note: photography is not allowed inside the museum.
Homomonument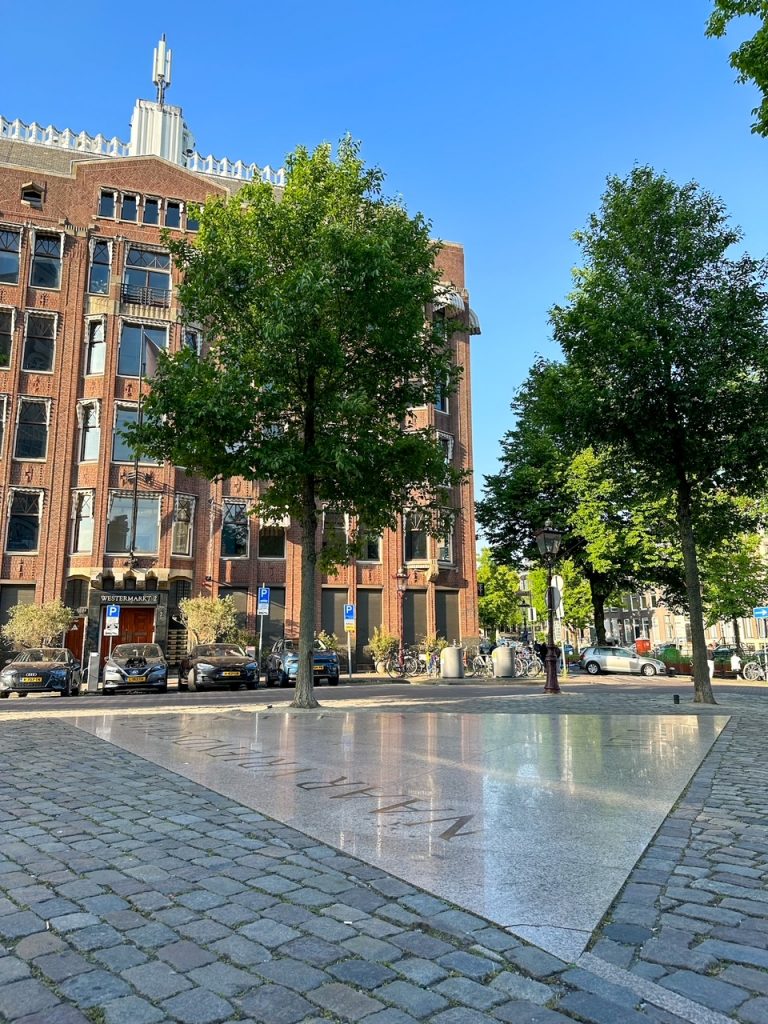 Unveiled in 1987, the Homomonument is the largest monument in the world dedicated to homosexuality and remembrance. It sits on the bank of the Keizersgracht canal, near the historic Westerkerk church and the infamous Anne Frank House.
What was initially an effort to commemorate the gay men and women who lost their lives in World War II, the monument goes beyond that. It commemorates all LGBTQ+ people who have been or are still being persecuted because of their sexual orientation.
The monument is made up of three large, granite, pink triangles, which together, form a larger triangle. The three points of the larger triangle are symbolic. One corner points towards the National War Memorial on Dam Square; another points across the canal to the Anne Frank House; and the third points towards COC Amsterdam, a local chapter of COC Netherlands (a Dutch LGBTQ+ rights group).
Light Snacks & Beers at Café Gruter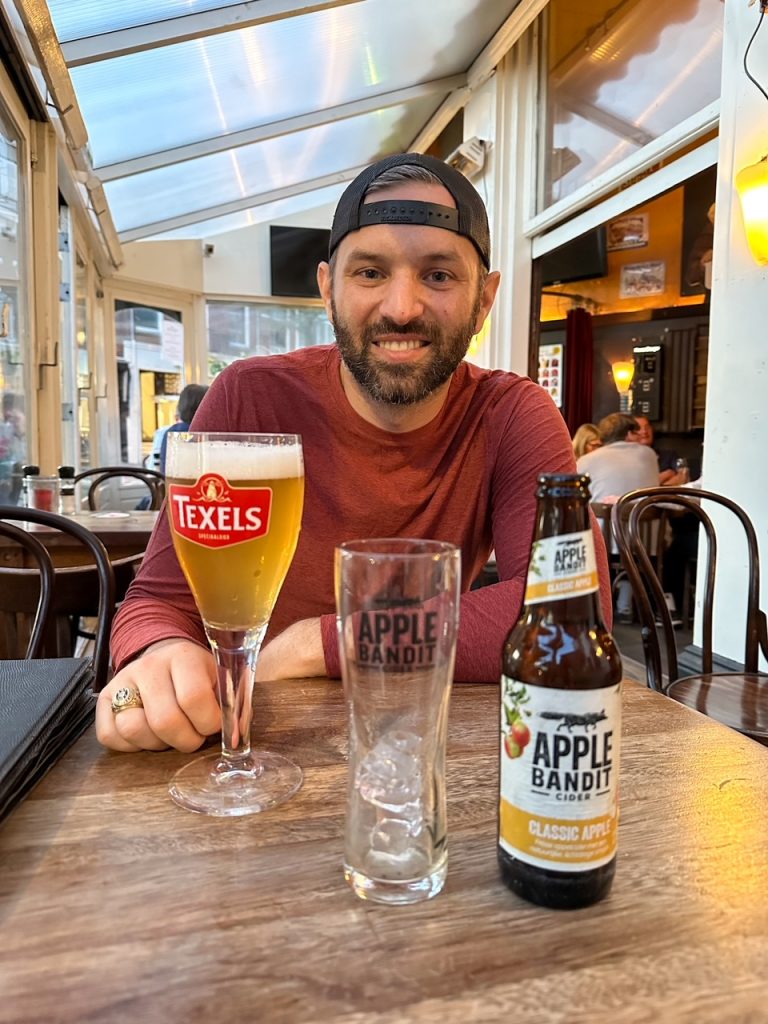 After passing by the Homomonument, we made our way back to Amsterdam Central Station to pick up our luggage, then hopped on a bus (which is included in the I Amsterdam City Card) and made our way to our hotel to check in.
By the time all was said and done, it was nearly 10:00 pm, and all of the restaurants close to our hotel were closed. Unfortunately, we hadn't eaten dinner yet and were starving! Luckily, we came across Café Gruter, which was still serving food, and were able to get some snacks and local drinks.
Our first day in Amsterdam was a huge success, and we were already looking forward to day two!
Day 2 in Amsterdam in June
Rijksmuseum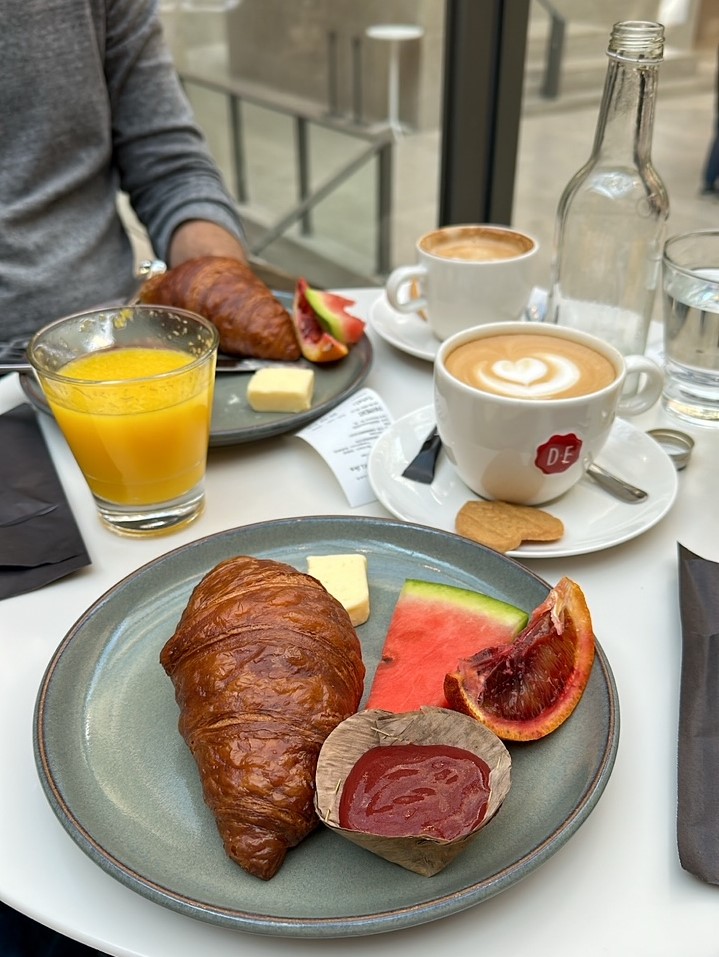 Hours: Daily, 9:00 am – 5:00 pm
Cost: €22.50 (included with the I Amsterdam City Card)
We started our second day in Amsterdam with an early-morning time slot (and breakfast) at the Rijksmuseum.
The Rijksmuseum is the largest art museum in the Netherlands and one of the most famous art museums in the world. In fact, it was the most visited museum in the Netherlands in 2013 and 2014, with more than 2 million visitors each year.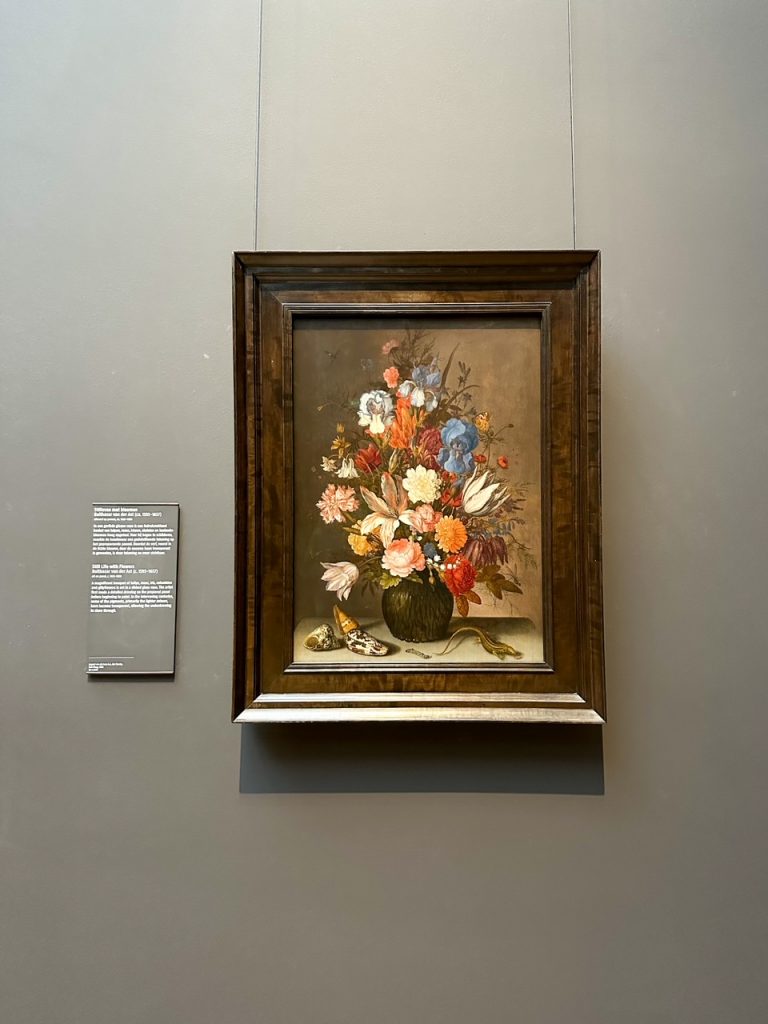 The museum has more than 8,000 objects of art and history, dating as far back as the 1200s. Masterpieces by Rembrandt, Frans Hals and Johannes Vermeer are a major draw of the museum, as well as its small Asian collection.
A Broad Recommendation: Remember to book your time slot in advance even if you have the I Amsterdam City Card, as time slots do book up quickly and are required for entry.
Lunch at Greenwoods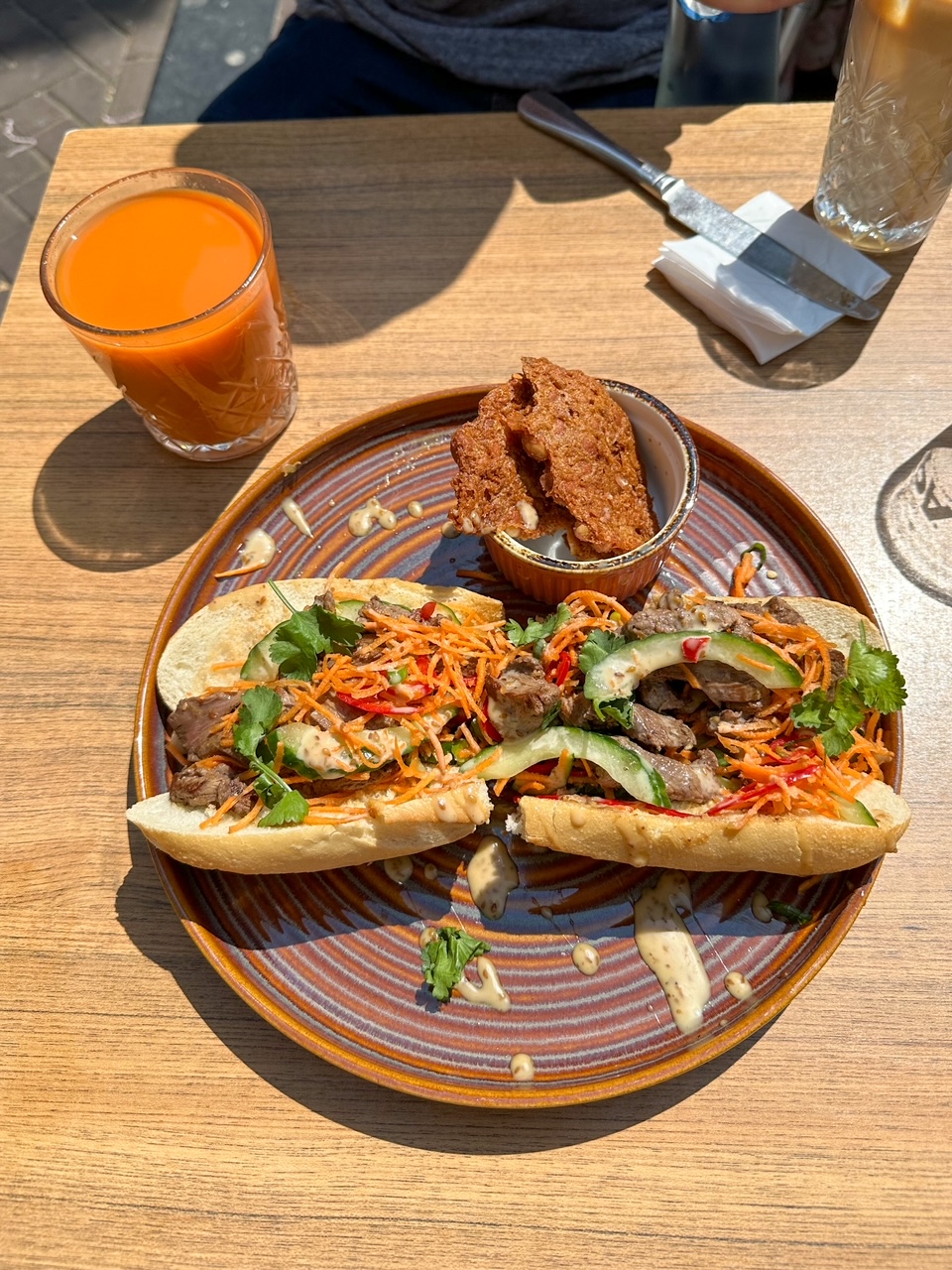 For lunch, we made our way to Greenwoods via Leidesplein, a square located in the heart of Amsterdam that's typically buzzing with street performers and busy restaurants and home to some of the city's most popular bars, dance clubs and music venues.
Greenwoods is a popular all-day breakfast/brunch spot that serves unique and delicious dishes and usually has a line out the door. We waited for around ten minutes, which wasn't bad at all, and split a delicious Vietnamese Steak Sandwich for lunch. We also heard their eggs benedict are to die for if you're looking for a breakfast option.
Bloemenmarkt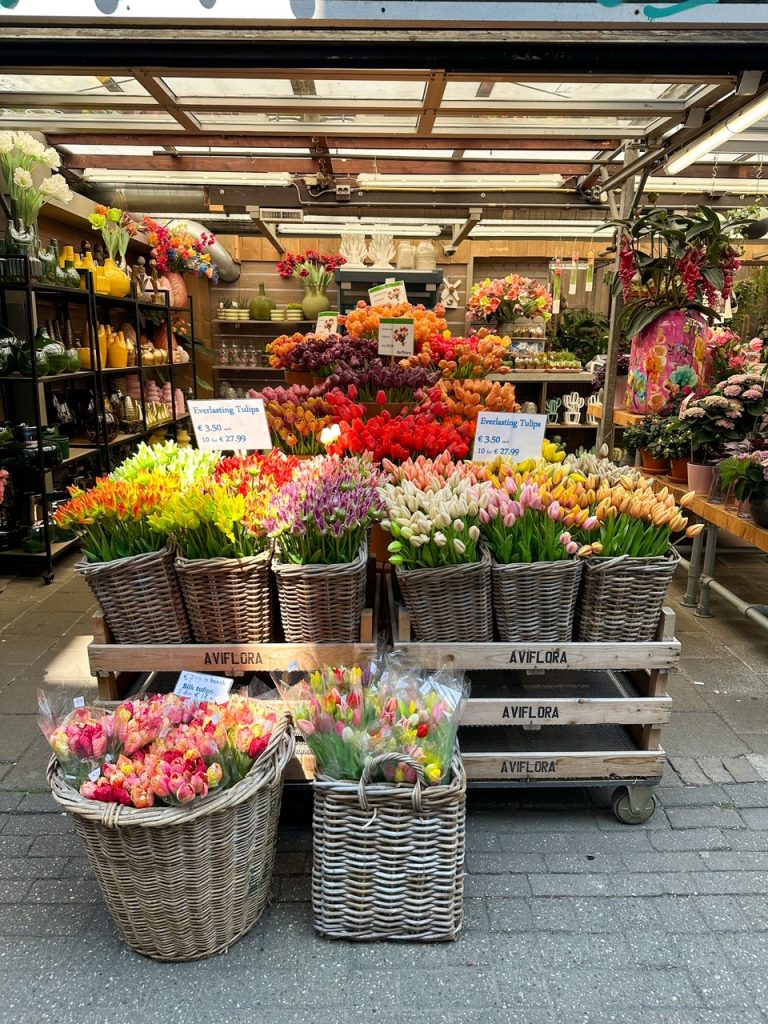 Hours: Monday – Saturday, 9:00 am – 5:30 pm & Sunday, 11:30 am – 5:30 pm
Cost: Free
Founded in 1862, the Bloemenmarkt is the world's only floating flower market, and it sure is a sight to behold. In the Middle Ages, Amsterdam was surrounded by a moat, called the Singel, which now forms the innermost ring of the city and gives the city center a horseshoe shape. The market sits on the Singel Canal between Muntplein and Koningsplein and consists of various flower stalls and souvenir shops, some of which feature fantastic flower displays.
The market is one of the main suppliers of tulips to tourists, but you'll also find many other types of flowers here, including geraniums, narcissus and more. You can buy bouquets, single flowers or bulbs, and the bulbs are ready for export, so you can take them home with you too.
Fun fact: in December, the Bloemenmarkt also sells various types of Christmas trees.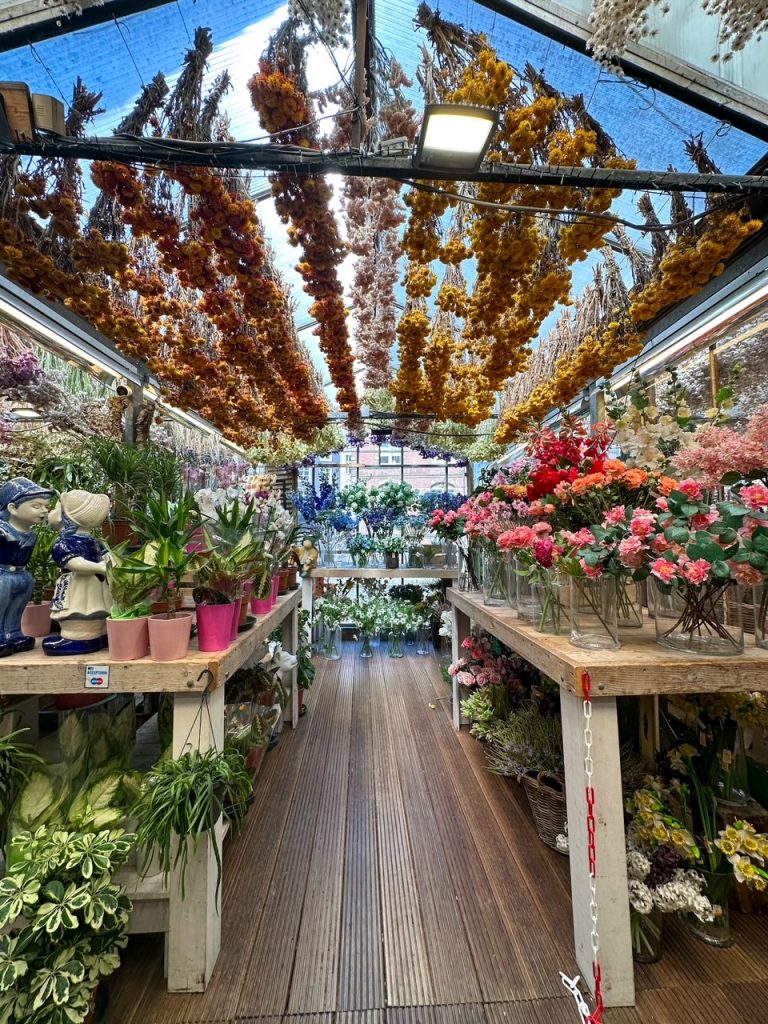 This was by far one of my favorite things we did in Amsterdam! I couldn't get over how cute and colorful this market was, and we spent nearly two hours exploring here. And, all of the souvenirs we brought home for friends and family were from here; every shop offers lots of classic Dutch souvenir options like seeds and grow kits, wooden tulips, clogs, magnets, ornaments and more.
Begijnhof Chapel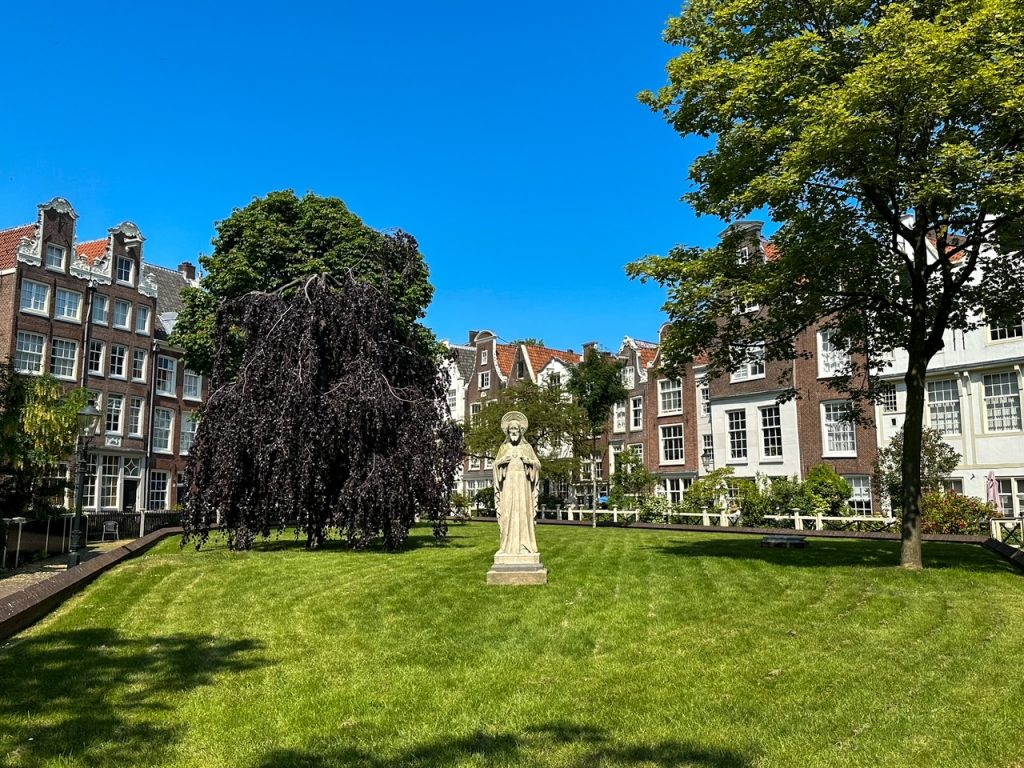 Hours: Monday, 1:00 – 6:30 pm, Tuesday – Friday, 9:00 am – 6:30 pm & Saturday – Sunday, 9:00 am – 6:00 pm
Cost: Free
Also located within the Singel, the Begijnhof is the only inner court in Amsterdam that was founded during the Middle Ages. The Begijnhof was originally created as a sanctuary for the Beguines, a group of women who lived like nuns (without taking monastic vows).
During its inception, the Begijnhof was entirely encircled by water and sat at medieval street level, which means that it's now around three feet below the rest of the old city center. The courtyard consists of a group of historic buildings, including Amsterdam's oldest surviving house, 'Het Houten Huis' (No. 34.), the Catholic Begijnhof Chapel, and the English Reformed Church.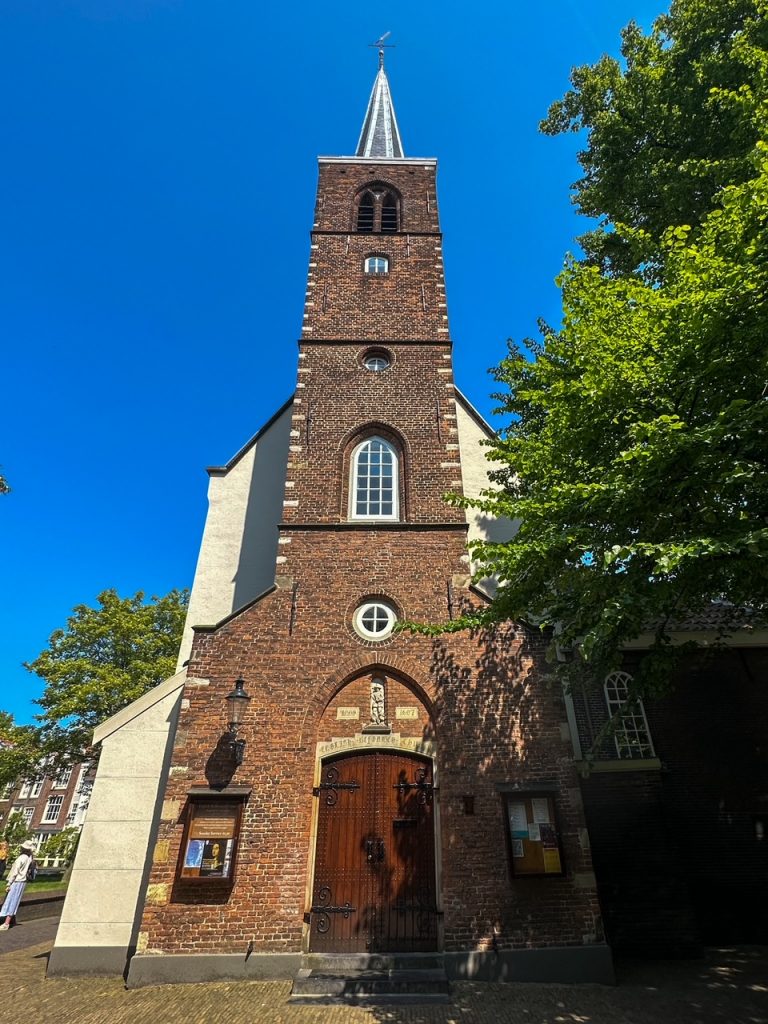 The Engelse Kerk, i.e. the English Reformed Church, is one of Amsterdam's oldest buildings, dating back to the end of 15th century, and still boasts its original medieval tower. Until 1578, Amsterdam was almost completely Roman Catholic, but when the Protestants gained power, Catholic magistrates were dismissed, and churches, monasteries and convents were confiscated by Protestant authorities. This included the church of the Beguines' court, which was handed over to the English and therefore renamed as the 'English Reformed Church'.
In response, the Catholics began creating churches in their homes, where they could practice their faith in private. Since it didn't look like a church from the outside, building plans for the Begijnhof Chapel were approved by Protestant city council members. And, the chapel was built right across from the English Reformed Church and dedicated to St John the Evangelist and St Ursula.
Note: you're able to go inside the chapel, but remember this is a residential area and most of the buildings are private dwellings, so be quiet and respectful during your visit.
Drinks at Mata Hari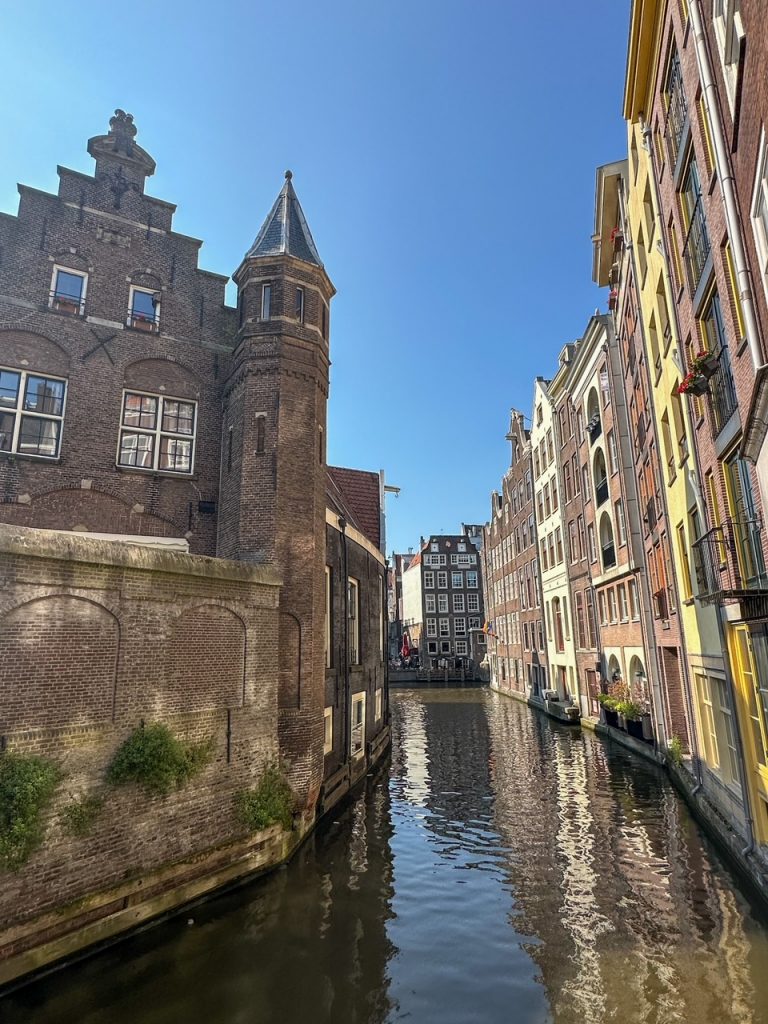 Since we had a bit of time between our visit to the Begijnhof Chapel and our scheduled time slot for the Our Lord in the Attic Museum, we decided to stop for drinks at Mata Hari.
Mata Hari is a restaurant with a canal-side terrace and a vintage vibe. It's named after an exotic dancer and double spy from the Netherlands, who became a symbol of flamboyant Europe at the beginning of the last century. From their terrace, you can enjoy a cup of coffee or a glass of local beer or cider, while people watching in the Red Light District.
Note: the service was a bit slow outside, but we didn't mind the change of pace and enjoyed the canal view.
Our Lord in the Attic Museum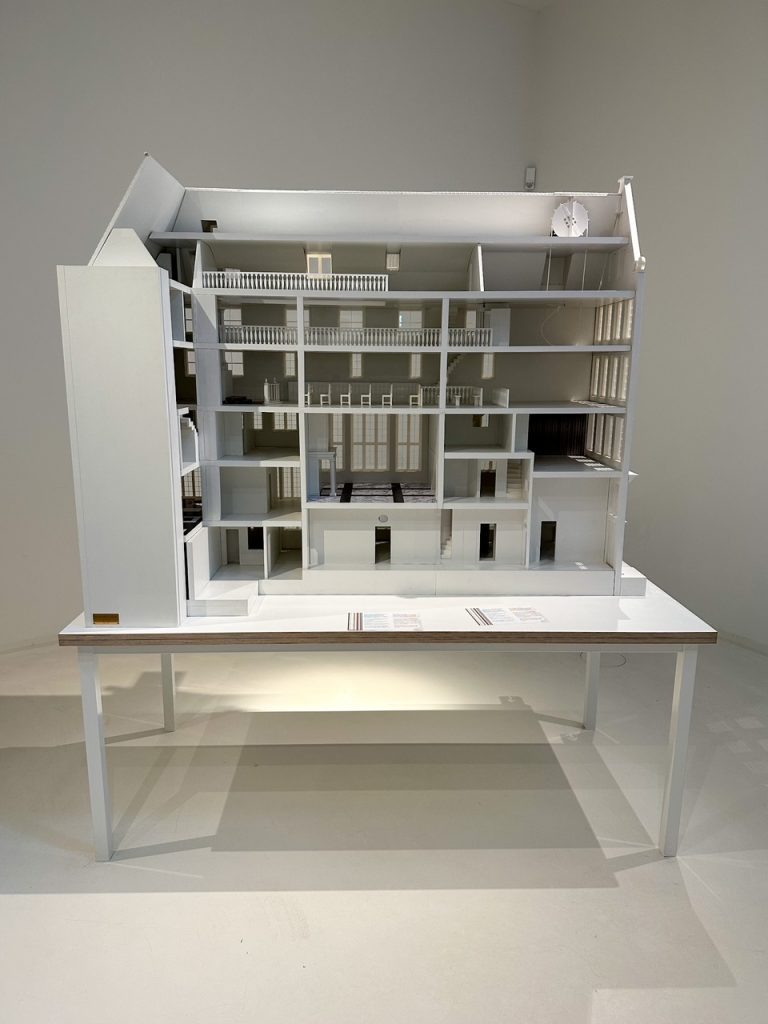 Hours: Monday – Saturday 10:00 am – 6:00 pm & Sunday 1:00 pm – 6:00 pm
Cost: €16.50 (included with I Amsterdam City Card)
Hidden in the heart of Amsterdam, the Ons' Lieve Heer op Solder (Our Dear Lord in the Attic Museum) offers visitors the opportunity to journey through a well-preserved 17th century canal house. Narrow hallways and a set of stairs lead to historically refurbished living quarters, kitchens and bedrooms that showcase old Dutch furniture, paintings, religious artifacts and more, and end in the highlight of the museum: a secret church in the attic.
Similar to Begijnhof Chapel, this secret Catholic church was commissioned in 1663 by wealthy Catholic merchant and homeowner, Jan Hartman, to provide a space where Catholics could practice their faith in private. And, it's incredible to see in person!
A Broad Recommendation: Again, you'll want to book a time slot in advance even if you have the I Amsterdam City Card. Give yourself at least one full hour before closing time to explore this hidden gem. We felt rushed during our visit and wished we would've booked an earlier time slot.
A'DAM LOOKOUT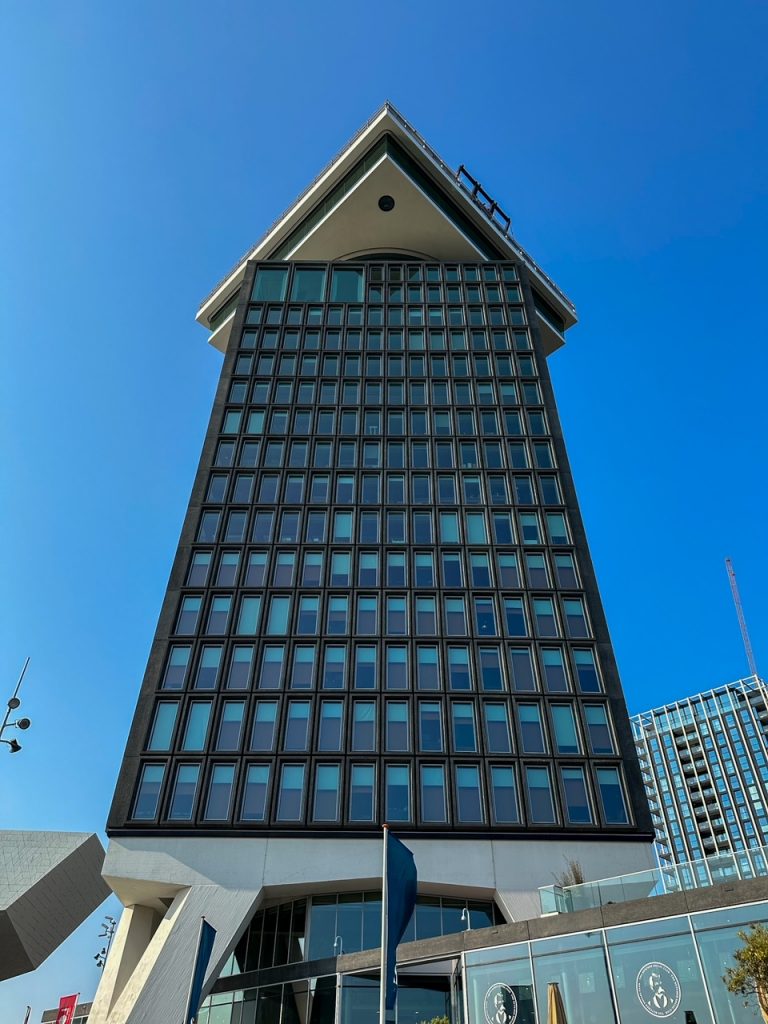 Hours: Daily, 10:00 am – 10:00 pm (last admission at 9:00 pm)
Cost: €14.50 + €6 for the swing
Located at the top of A'DAM Tower in Amsterdam North, A'DAM LOOKOUT is an observation deck that offers unparalleled, panoramic views of Amsterdam. From here, visitors can see Amsterdam's city center, port, canals and more.
What's more is A'DAM LOOKOUT also offers a state-of-the-art interactive exhibition and free audio tour about Amsterdam's history and culture, in addition to a Sky Bar and the Amsterdam VR Ride, a virtual reality rollercoaster through the city.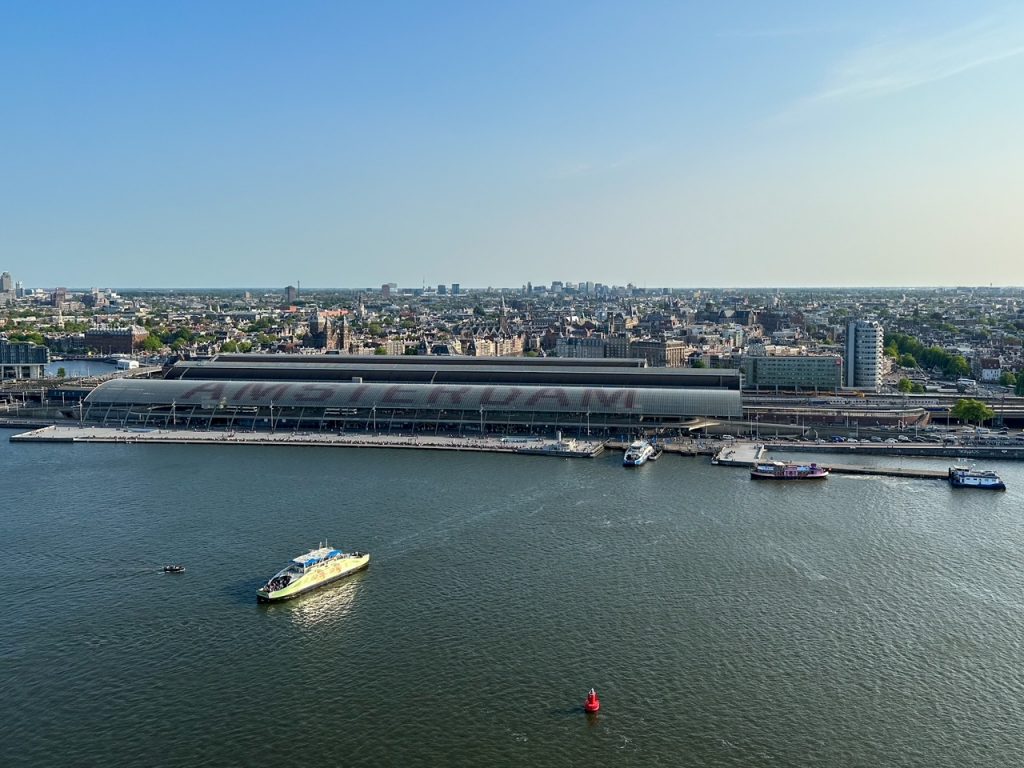 However, the main highlight is A'DAM LOOKOUT's 'Over the Edge', Europe's highest swing. Visitors swing back and forth over the edge of the tower at more than 300 feet above the ground with epic views of Amsterdam below.
Note that the Amsterdam VR Ride and 'Over the Edge' experiences are add-on tickets and can be booked in combination with your entrance ticket. You'll also get a number of free photos of your experience, as seen below.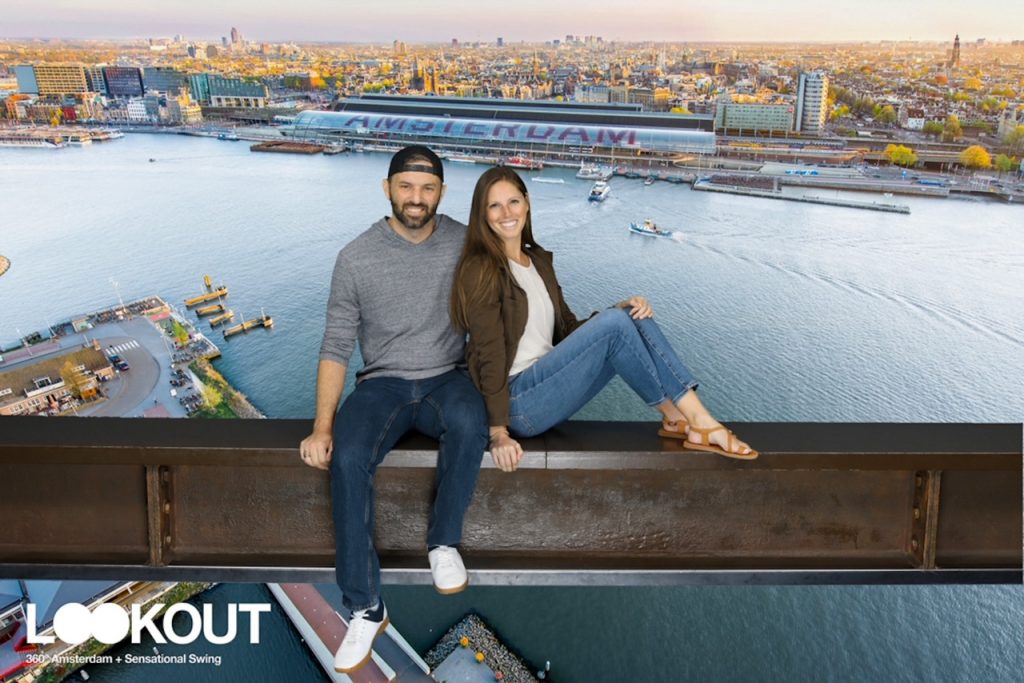 A Broad Recommendation: If you plan to take a ride on 'Over the Edge', be sure to book your time slot in advance. If you wait until you arrive to buy your tickets, they may already be sold out or you might have a long wait ahead.
To reach A'DAM LOOKOUT, take the free ferry F3 to Buiksloterweg from behind Amsterdam Central Station, followed by a short walk along the IJ waters. It's only a 2 minute ride on the ferry, and the ferry runs all day.
Dinner at Wok To Go
Since we were pressed for time, we decided to have dinner at a fast-casual, Asian street food spot called Wok To Go. This was reminiscent of Tim's previous trip to Amsterdam, since he and his friend frequented Wok To Walk, a similar style restaurant. Though this was a quick option, we were impressed by the service and food quality; the person behind the counter was kind, and the food came out within minutes – and was tasty!
LOVERS Canal Cruise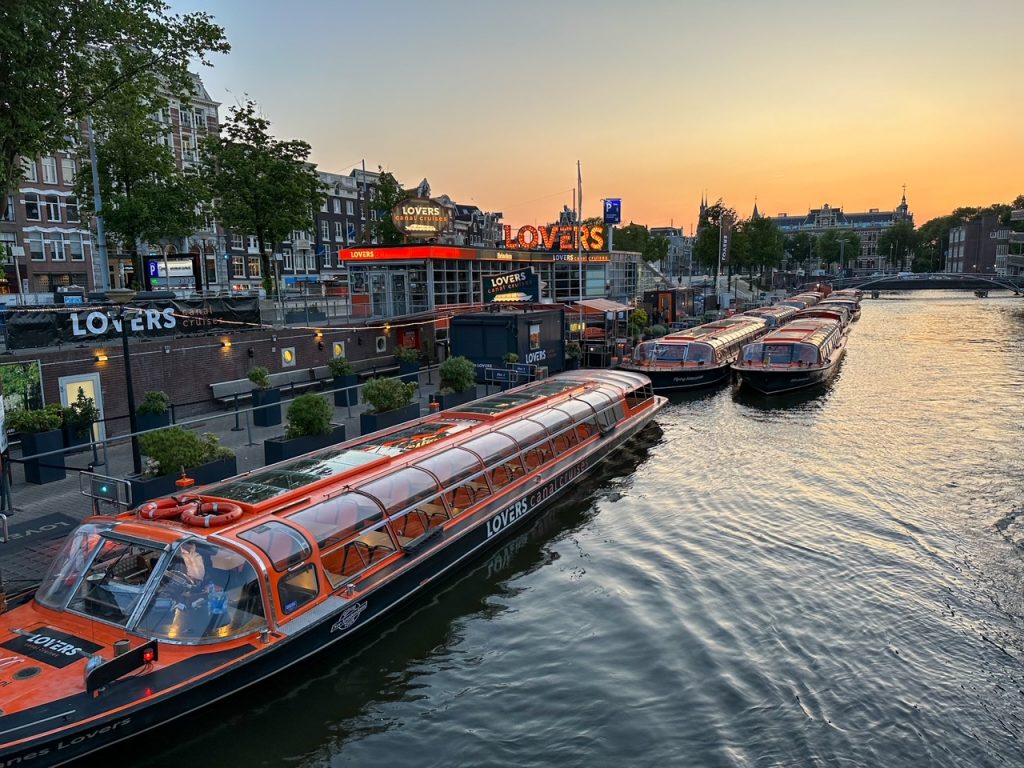 Hours: Daily, 10:00 am – 9:00 pm (last cruise at 9:00 pm)
Cost: €16 (included with the I Amsterdam City Card)
We ended our second day with a sunset canal cruise. We'd originally booked a 60-minute 'Amsterdam Classic Boat Cruise with Live Guide, Drinks and Cheese', but this was canceled unexpectedly due to technical issues (so many random cancelations on this trip!). So, we decided to book a last minute LOVERS Canal Cruise, which is included with the I Amsterdam City Card. Luckily, they had our preferred time slot available!
The water is the ideal vantage point to see some of Amsterdam's gorgeous architecture and to discover some of the city's main attractions. During this one-hour canal cruise, we passed by the world-famous Anne Frank House, the charming Nine Streets, the picturesque Magere Brug ('skinny bridge'), the capitvating Westerkerk church, the unique NEMO Science Museum and more.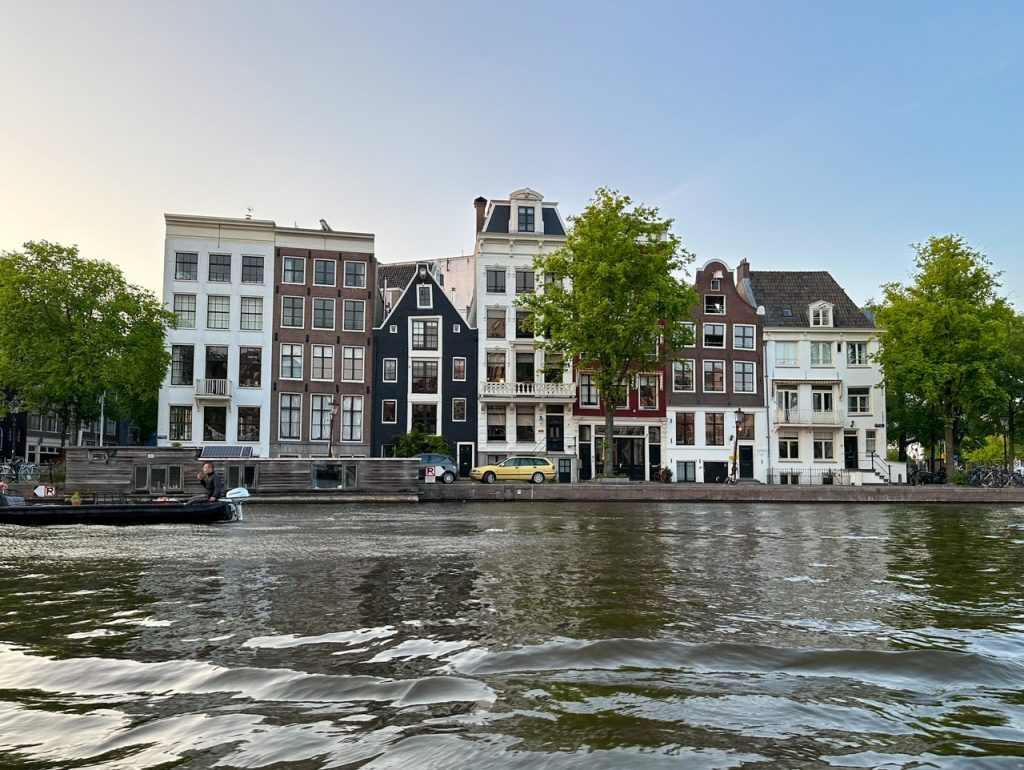 You'll leave this cruise in awe of the beauty of Amsterdam's canals, which were dug during the Dutch Golden Age and later recognized as a UNESCO World Heritage site in 2010.
LOVERS also provides an audio tour during the canal cruise, and we learned several more interesting things about the city, like:
Many canal houses have gardens and summer houses in the back.
The canals are close to 10 feet deep.
There's a specific boat to pick up bikes that have been thrown into the canals.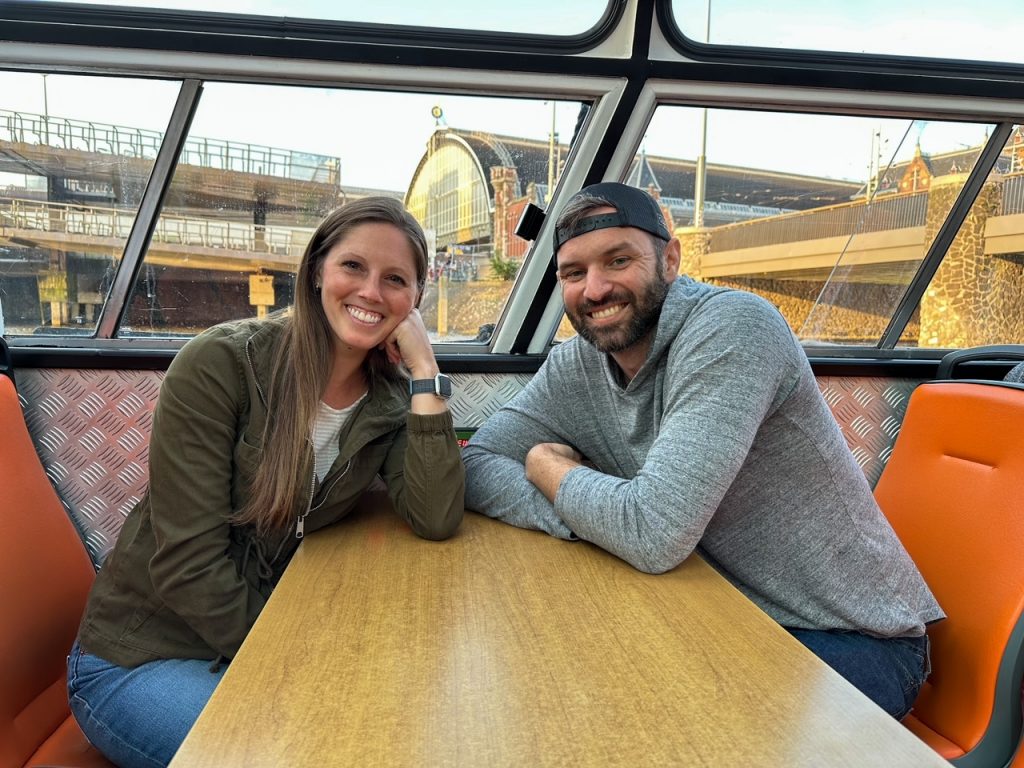 A Broad Recommendation: It was pretty chilly out at 9:00 pm when we hopped on our canal cruise. Be sure to bring a jacket along or book an earlier time slot for your cruise.
Day 3 in Amsterdam in June
Van Gogh Museum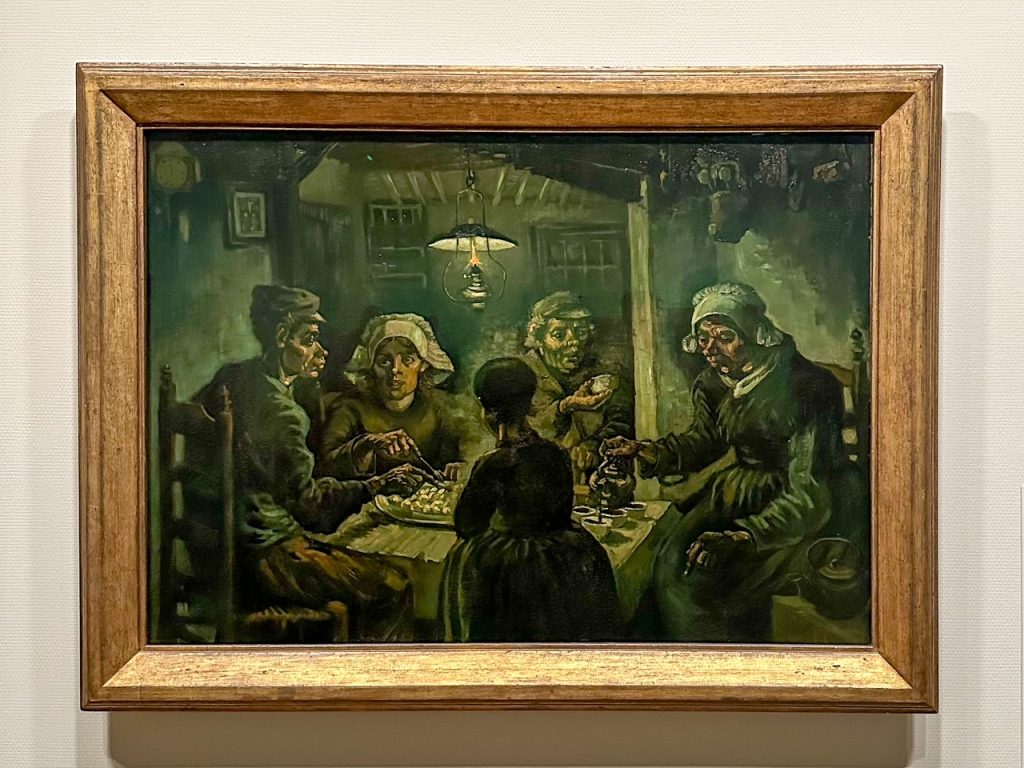 Hours: Daily, 9:00 am – 6:00 pm
Cost: €20
Once the most-visited museum in the Netherlands, the Van Gogh Museum houses the world's largest collection of artwork by Dutch, Post-Impressionist painter, Vincent van Gogh.
Van Gogh (1853-1890) became an artist at the age of 27, and though he was not widely appreciated during his lifetime, he would later become one of the most famous and influential figures in Western art history.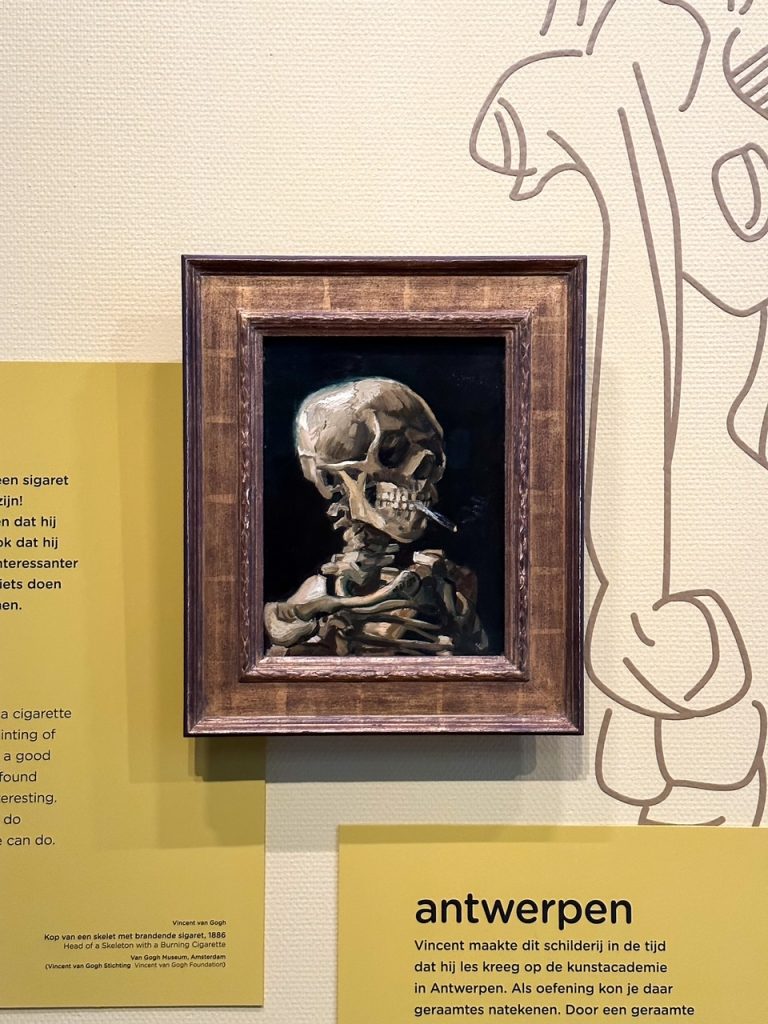 The Van Gogh Museum's main exhibition chronicles the various phases of Van Gogh's work, showcasing more than 200 paintings, including nine of his self-portraits and some of his earliest works dating back to 1882, 500 drawings, 750 letters and more.
The museum also displays notable works by Van Gogh's contemporaries from the Impressionist and Post-Impressionist movements, in addition to hosting various exhibitions about 19th-century art history.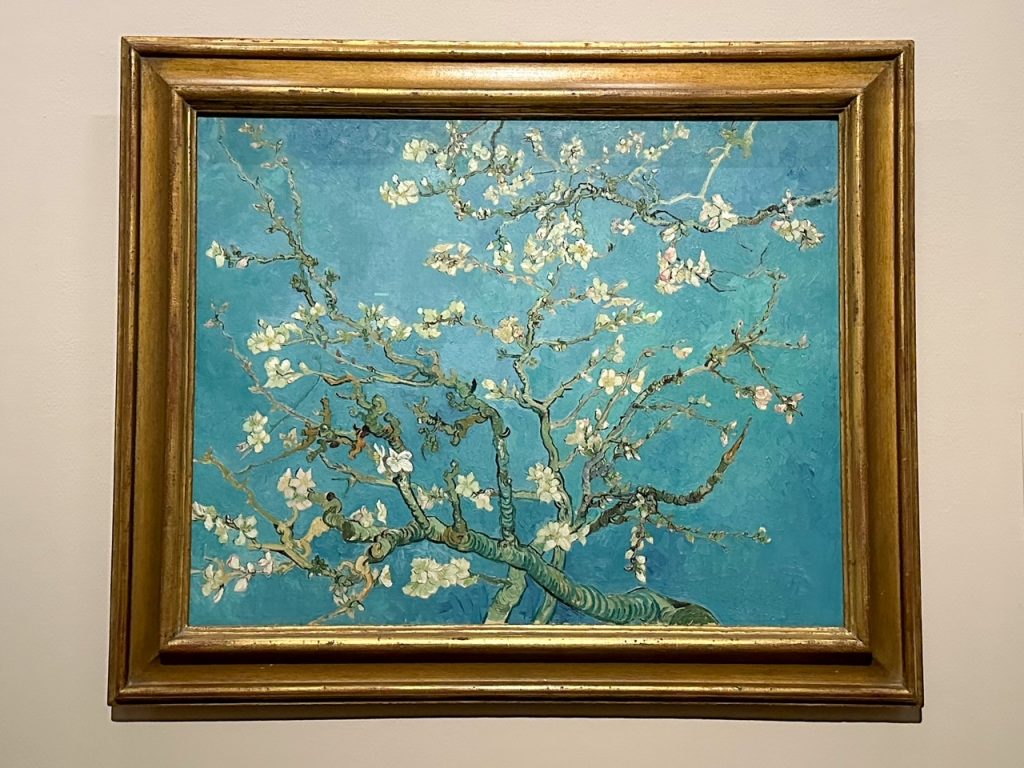 In 2019, the Van Gogh Museum launched the 'Meet Vincent Van Gogh Experience', an immersive, multisensory exhibition about Van Gogh's life and works. The exhibition has since toured globally, and we actually visited the one in Houston back in 2021!
The Van Gogh Museum is located at the Museum Square in Amsterdam South and is close to other notable museums like the Rijksmuseum and Stedelijk Museum, as well as Amsterdam's world-renowned concert hall, the Concertgebouw.
Lunch at Piqniq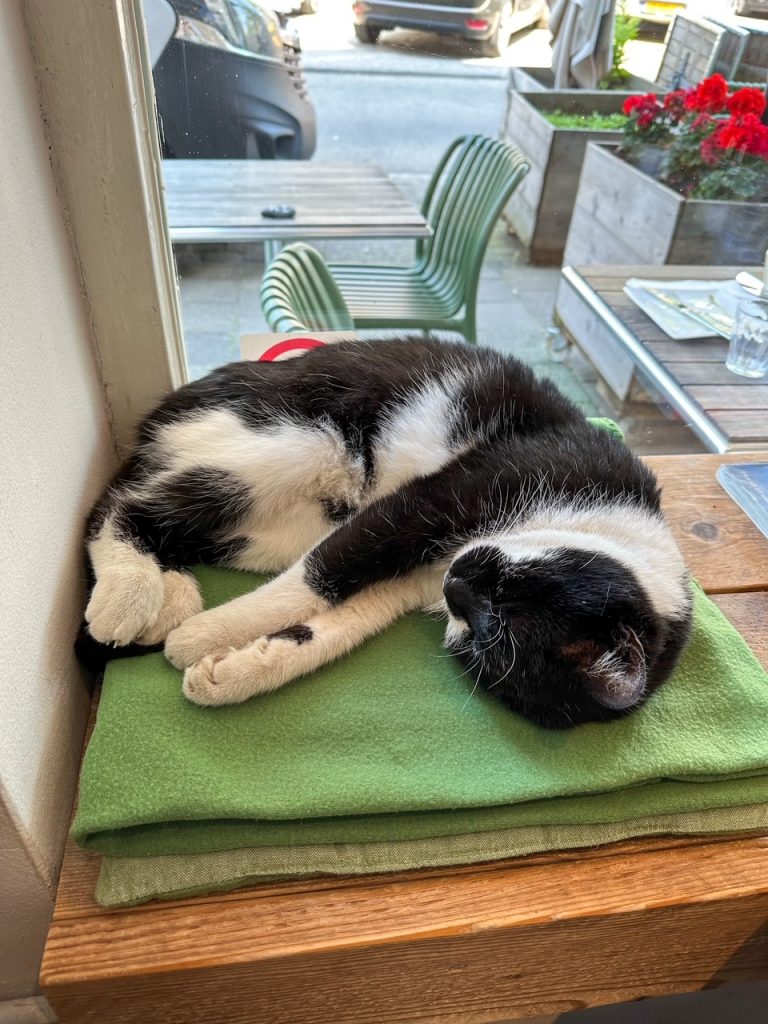 Piqniq is a small, cozy restaurant that serves gourmet sandwiches, salads, soups, quiches and cakes in smaller portions so you can try more than one thing! They offer breakfast, lunch and high tea or you can get yourself an adorable takeaway picnic basket.
We tried a couple of items off their seasonal specials menu, as well as a couple from their normal menu, and everything was pretty yummy. Plus, we made a new cat friend too!
Note that Piqniq is closed on Tuesdays and Wednesdays.
Oude Kerk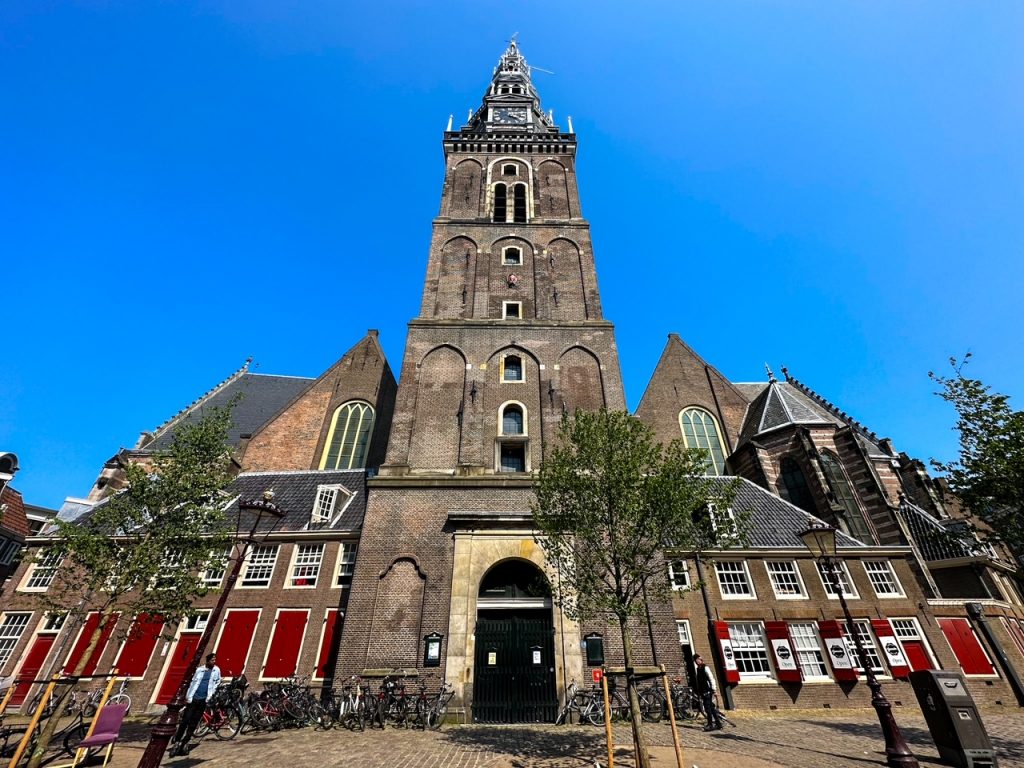 Hours: Monday – Saturday 10:00 am – 6:00 pm & Sunday 1:00 pm – 5:30 pm
Cost: €13.50 (included with I Amsterdam City Card)
Consecrated in 1306, the Oude Kerk, i.e. the Old Church, is Amsterdam's oldest building. It stands in De Wallen on Oudekerksplein (Old Church's Square), which is actually named after the church.
Around 1213, a wooden chapel was erected, and the structure was eventually replaced by the stone church that exists today. Of course, various renovations have been completed since then.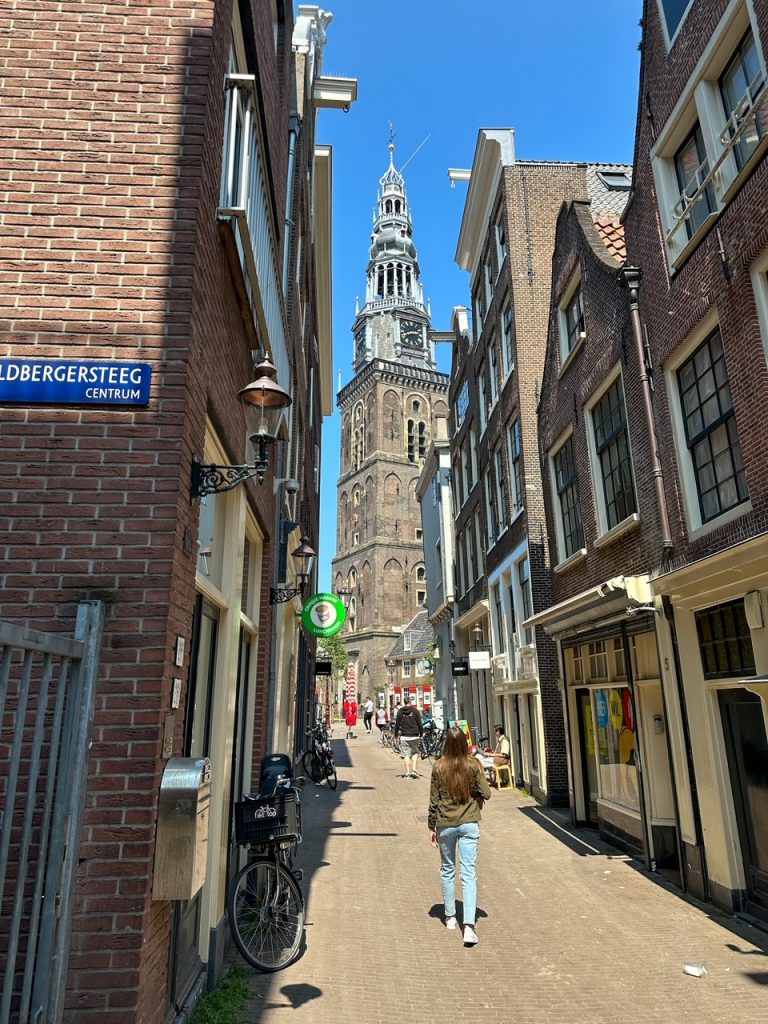 The Oude Kerk's ceiling is the largest medieval wooden vault in Europe, with Estonian oak planks dating back to 1390, and its floor is made up entirely of gravestones – 2,500 graves to be exact – since the church was built on a cemetery.
Since the Reformation in 1578, the Oude Kerk has been a Calvinist church, and it's also Amsterdam's newest art institute (since 2012), boasting a permanent exhibit on its history and that of the city of Amsterdam.
De Nieuwe Kerk
Hours: Daily, 11:00 am – 6:00 pm
Cost: €15.50 (included with I Amsterdam City Card)
Consecrated in 1409, De Nieuwe Kerk, i.e. the New Church, dates back to the Middle Ages and is one of Amsterdam's oldest and most impressive historical monuments.
Although this may seem like a strange name for a 15th-century building, its name distinguishes De Nieuwe Kerk from its predecessor, the 13th-century Oude Kerk. As Amsterdam's growth skyrocketed, the church on the 'old side' of the Damrak (previously a canal) couldn't keep up with its parishioners, and a second church was built on the 'new side' of the canal.
For centuries, De Nieuwe Kerk served many purposes in addition to being a place of worship and a cemetery. For example, it was used as a commercial exchange, a musical venue and an auditorium.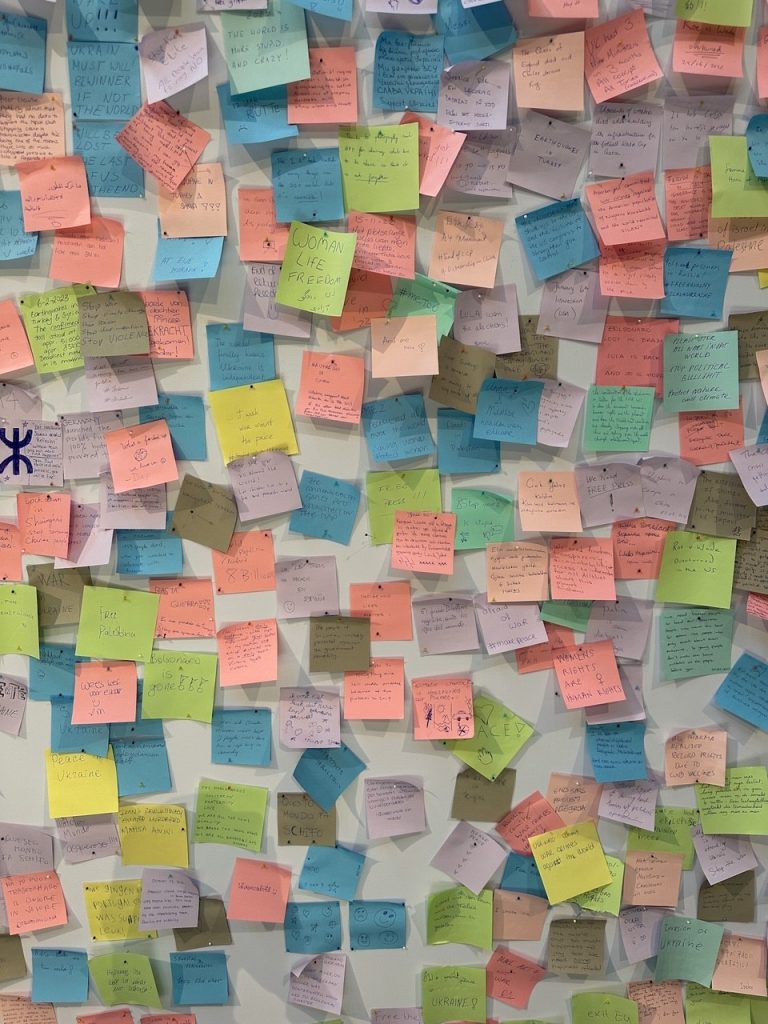 Now, the church is used to showcase high-profile exhibitions about art, photography and more and receives around 250,000 visitors each year, making it one of the most popular venues in the Netherlands.
De Nieuwe Kerk is located on Dam Square, adjacent to the Royal Palace Amsterdam.
A Broad Recommendation: Be sure to check out De Drie Fleschjes (The Three Little Bottles), which is located just behind De Nieuwe Kerk. Established around 1650, it's Amsterdam's oldest tasting room. Plus, if you purchased the I Amsterdam City Card, you'll receive a free shot of Dutch gin (jenever). Unfortunately, we didn't have time to stop here, but we wish we would've!
Where to Eat in Amsterdam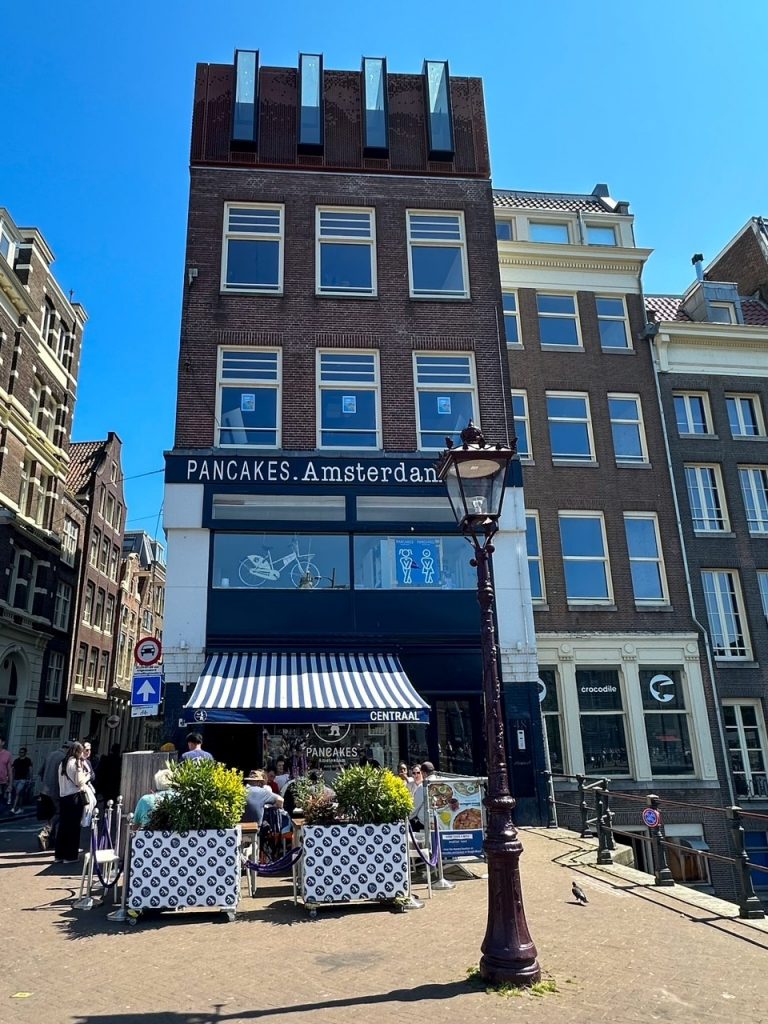 We aren't huge foodies and only tried a few restaurants during our visit, but here are some recommendations we got from others before our trip.
Breakfast
Lunch
Dinner
A Broad Recommendation: If you want to feel like a local, pick up a snack from FEBO, a chain of Dutch walk-up fast food restaurants similar to a vending machine.
Other Things to Do in Amsterdam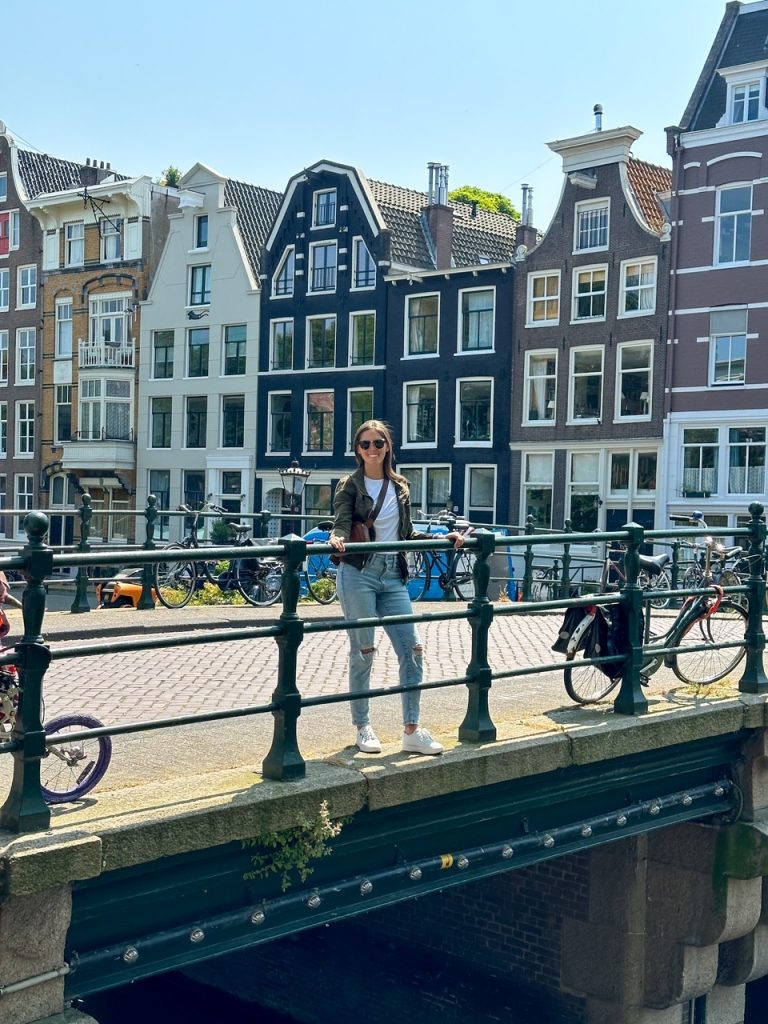 Of course, it's impossible to see and do everything in just three days in Amsterdam in June. Here are some of the things we missed and would like to do next time.
Take the short train ride to Haarlem and explore the area
Rent a bike and explore Her Amsterdamse Bos
Visit the Catboat, a refuge for stray and abandoned cats
Take a day trip to Zaanse Schans, an open-air museum that shows what life was like in the Netherlands in the 18th and 19th centuries
Have you ever been to Amsterdam? What would you recommend adding to this itinerary?
XOXO Sara at Travel A-Broads