Planning to spend 3 days in Barcelona this summer and looking for that perfect mix of exciting attractions and entertaining experiences to maximize your time here?
My boyfriend, Tim, and I spent 3 days in Barcelona in June and with so many things to do in Barcelona, especially in the summer, it can be overwhelming narrowing things down. From famous historical sights and architectural marvels to beautiful beaches and fun neighborhoods to delicious food and epic views, our 3-day Barcelona summer itinerary has it all!
Ready to get started? Pack your most comfortable walking shoes, and read on to learn what to do for 3 days in Barcelona, how to get here, where to stay, where to eat and more.
*P.S. this post contains some affiliate links. At no additional cost to you, we may earn a small commission when you make a purchase.
A Brief Introduction to Barcelona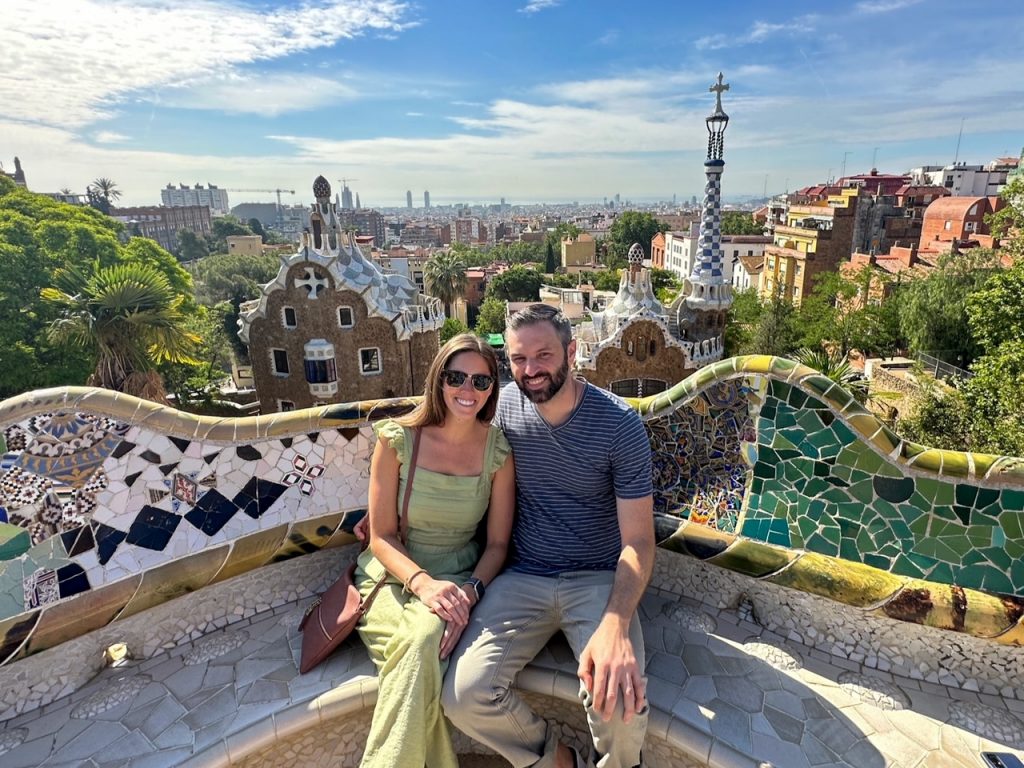 Located on the northeastern coast of Spain, Barcelona is the capital and largest city of the autonomous community of Catalonia, an important cultural hub and a popular tourist destination.
The city is home to famous architects like Antoni Gaudí and Lluís Domènech i Montaner, whose works have been designated UNESCO World Heritage Sites, as well as two of the most prestigious universities in Spain: the University of Barcelona and Pompeu Fabra University.
Barcelona is also known for hosting the 1992 Summer Olympics, in addition to many other international sporting events, tournaments and exhibitions.
How to Get to Barcelona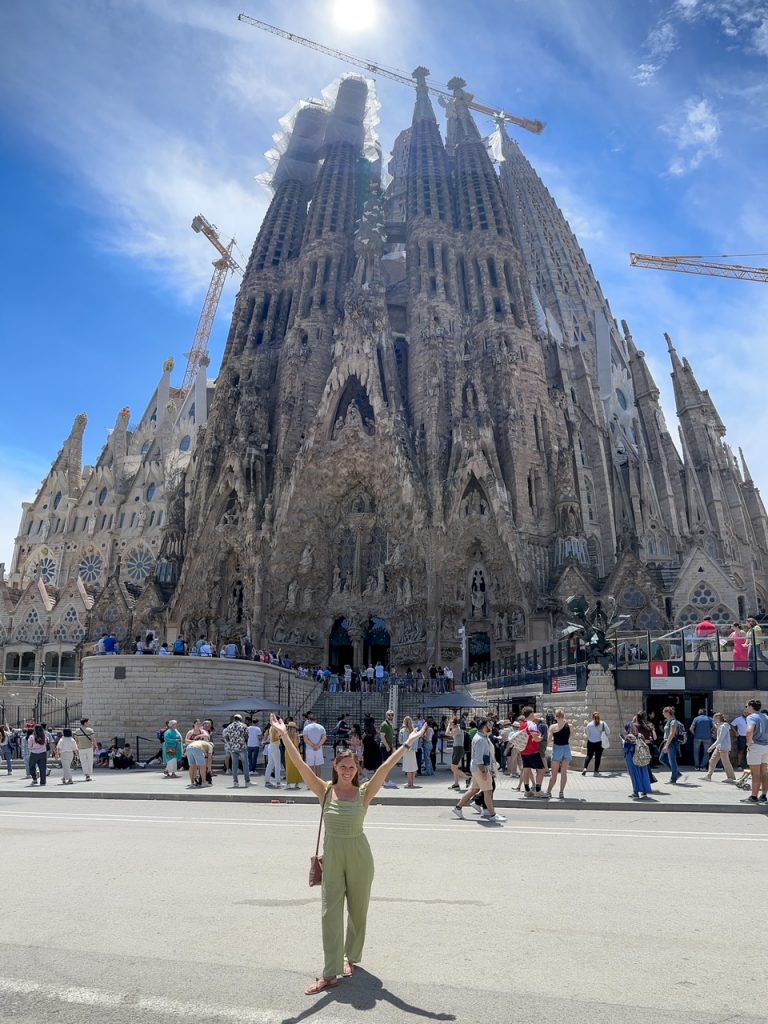 We took a 2 hour and 20 minute evening Vueling flight from Amsterdam Airport Schiphol (AMS) to Barcelona–El Prat Airport (BCN), the main airport in Barcelona, and had a great experience.
When we arrived at Barcelona-El Prat Airport, we bought tickets for the Aerobus, which departs from airport terminals T1 and T2 every 5-20 minutes and drops off at Pl. Catalunya, Pl. Espanya, Gran Vía-Borrell and Pl. Universitat. The buses operate 24/7, 365 days a year, including weekends and public holidays and cost around €6.75.
Unfortunately, we didn't know where we were going and hopped off at the wrong spot – whoops! – so we had to walk about 30 minutes to get to our hotel. We should've gotten off at Pl. Catalunya after around 35 minutes on the bus, then walked the 10 minutes to our hotel.
Another option is the metro line L9 Sud, which connects T1 and T2 with Barcelona's city center and runs every 7 minutes; tickets cost €4.5. In hindsight, we probably should've considered this option, since the metro is open from 5:00 am to midnight, and we arrived well within that window. The Liceu Metro station was located just a few feet from our hotel, and the journey from the airport would've taken around 55 minutes.
There are other options for getting from Barcelona Airport to city center, but these are two of the most convenient.
A Broad Recommendation: There are several cards that provide transportation discounts. The Hola BCN! Travelcard gives travelers unlimited travel on all public transportation, including train and metro journeys to and from the Barcelona-El Prat Airport. The T-casual card is an individual travel card valid for 10 intermodal journeys for up to 6 zones (the cost increases for each additional zone). Finally, the T-familiar card is a multi-person travel card valid for 8 journeys in 30 consecutive days from the first validation. We ended up buying two of these, which was sufficient for this 3-day itinerary! Note: we were able to share the card, but we took more than 8 journeys, which is why we needed two.
Budget-Friendly Barcelona Hotel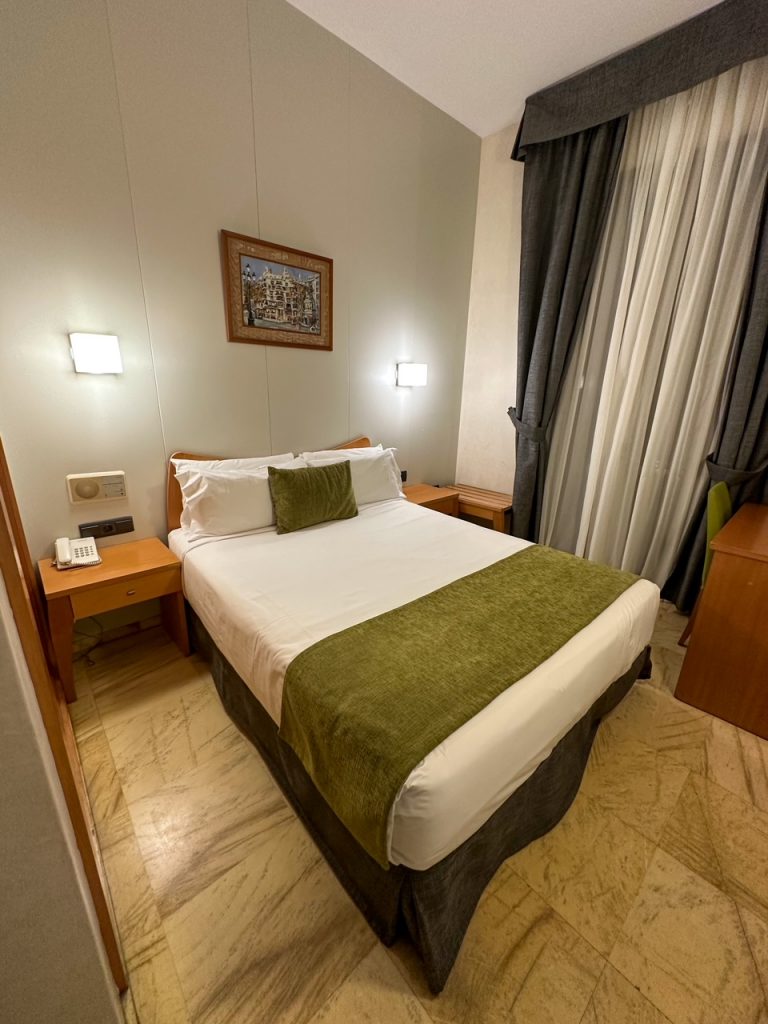 We stayed at Hotel Flor Parks, which is located right in the heart of Barcelona's city center on one of the city's most popular streets, La Rambla. The surrounding area is full of restaurants, artisan shops and exciting nightlife, though we luckily couldn't hear any noise from our hotel room!
We had a lovely stay at Hotel Flor Parks; the room was clean, the bed was comfy and the location was ideal. And though we didn't get to take advantage of this amenity, the hotel also offers a rooftop terrace with beautiful views of the city. We paid around $860 for four nights split between the two of us.
Weather in Barcelona in June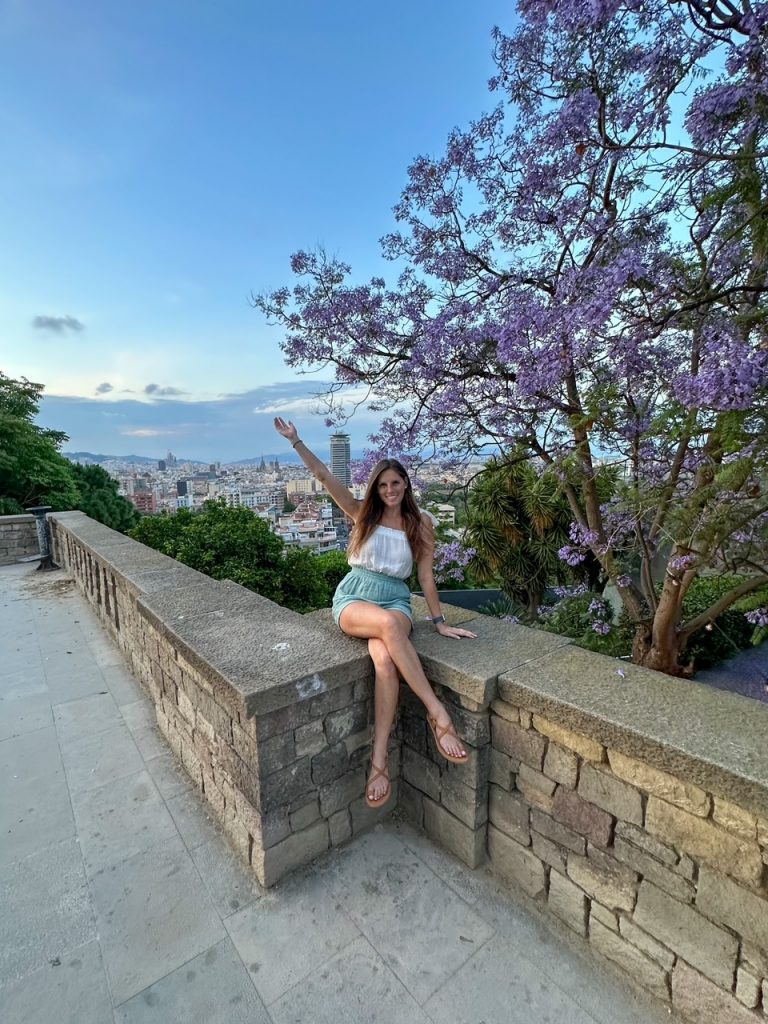 Summer months in Barcelona (June through September) bring with them lots of sunshine and great beach weather. Average daily temperatures range from 64 to 77°F. However, Barcelona can experience evening and early morning temperatures as low as the mid-40s and days in the high 80s, so be prepared for all types of weather. Bring a mix of spring and summer outfits, a light jacket for cooler evenings, sunglasses, sunscreen and comfortable walking shoes.
In the summer in Barcelona, the sun sets around 9:20 pm, which means you'll have plenty of time to explore the city each day.
Barcelona Currency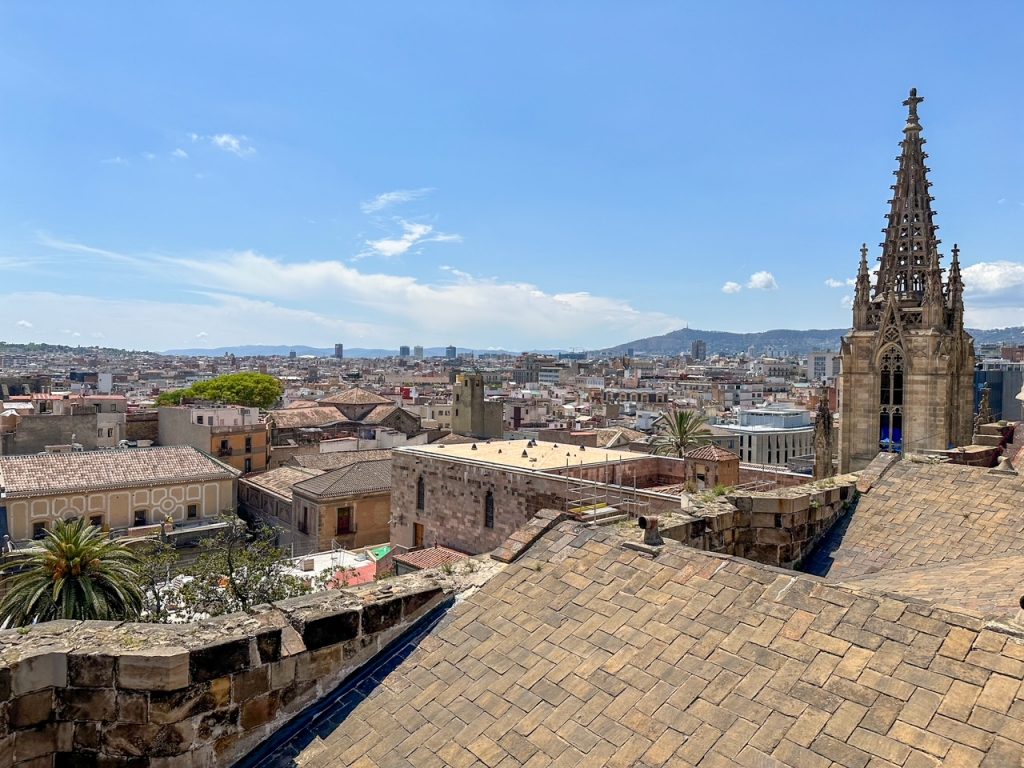 The currency in Barcelona and all of Spain is the Euro (€). Other currencies are not commonly accepted but credit cards are. We got out around €200 prior to our two-week Europe trip, used cash sparingly throughout our trip, and still had around €40 to spare.
A Broad Recommendation: Petty theft is common in Barcelona, so always be aware of your surroundings and never carry around too much cash. You should only carry the amount of cash that you think you'll need for the day. If you're traveling with someone else, split up your cash amongst yourselves and consider carrying around only one credit card and leaving another at your hotel. You could also use one of these undergarment wallets to hide your cash and cards: Lewis N. Clark RFID Blocking Stash Wallet, StashBandz Unisex Travel Money Belt, or DAITET Money Belt.
Should I Get a City Card for 3 Days in Barcelona?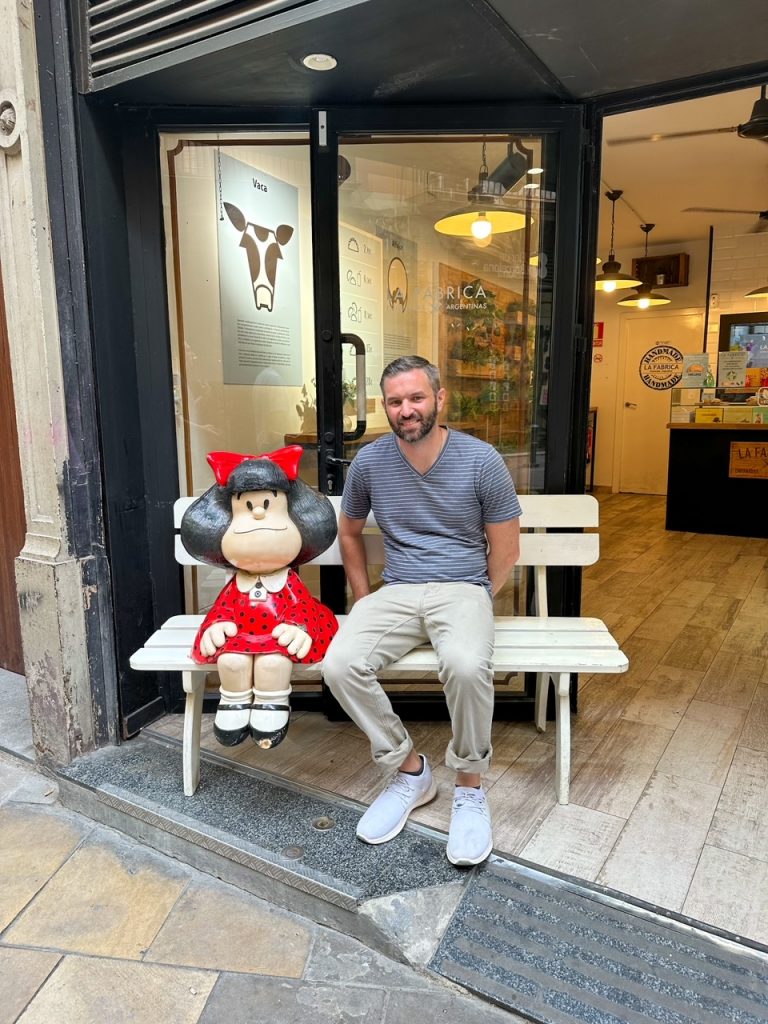 We considered the Go Barcelona Pass, Barcelona City Pass and Barcelona Card but decided that none were beneficial based on the 3-day Barcelona itinerary presented here. These might be worth looking into if you plan to stay longer or do more activities included in one or more of the cards. Use this Barcelona Discount Passes post to decide if one of these might be beneficial for your visit.
Our 3-Day Barcelona Itinerary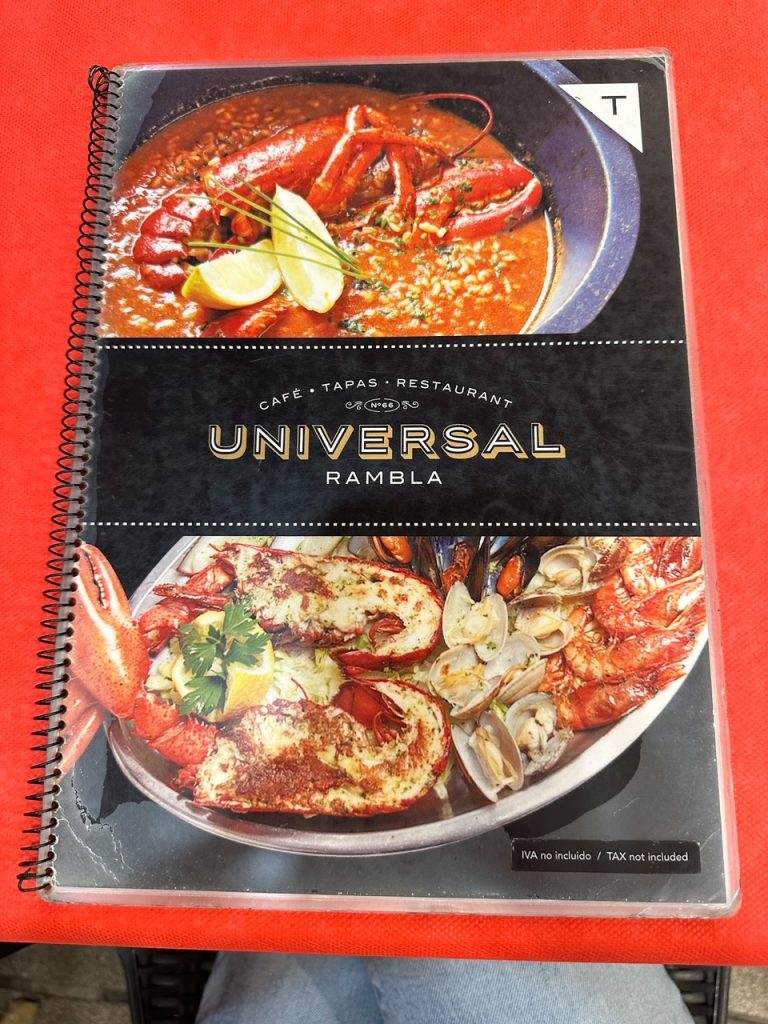 Since we arrived the evening prior to 'Day 1' on this 3-day Barcelona itinerary, we had dinner at Universal Rambla, a tapas restaurant right across the street from our hotel. This place is a total tourist trap, but it was really convenient, and we were hungry after another half day of traveling, so we weren't too worried about it. The food was fine and just what we needed before resting up before our first full day in Barcelona.
The rest of this 3-day summer itinerary includes many must-see spots that you definitely shouldn't miss on your first trip to Barcelona!
3 Days in Barcelona: Day 1
Free Tour of the Barcelona Old Town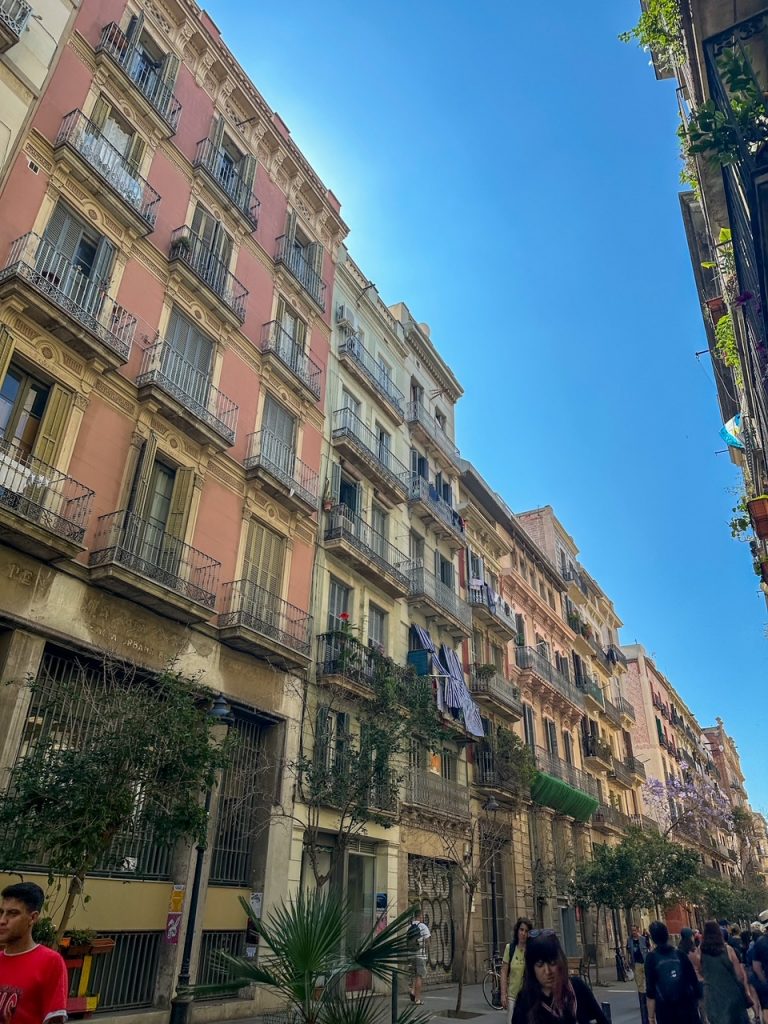 Hours: Varies depending on the tour
Cost: Free to book, and you can tip however much you'd like
Visit Time: 2 hours
We started our first full day in Barcelona with a 'Free Tour of the Old Town of Barcelona' with DonkeyTours Barcelona.
The tour focused on the Gothic Quarter and El Born, two charming neighborhoods that are lined with narrow streets and tiny alleyways, historic sites, cute boutiques, popular squares, and yummy restaurants and wine bars. The Gothic Quarter dates all the way back to the Roman Empire, whereas El Born is a medieval area of the city.
A Broad Recommendation: Consider carrying around a refillable water bottle. Barcelona has some of the highest quality drinking water in the world, and there are fill up stations throughout the city, so there's no need to buy water unless at a restaurant.
During the tour, we heard about more than 2,000 years of history, from Roman Barcino, through the Middle Ages, up until present day Barcelona and visited some of Barcelona's most famous cathedrals, markets and squares. Here are some of the places we stopped at.
Remains of the Roman Aqueduct
The Roman aqueduct of Barcelona was built during the 1st century BC and carried water from the springs of Moncada to the colony of Barcino. The remaining arches of the ancient aqueduct can be seen today and are attached to a building in the Vuit de Març Square, next to the Cathedral of the Holy Cross and Saint Eulalia.
Fossar de Les Moreres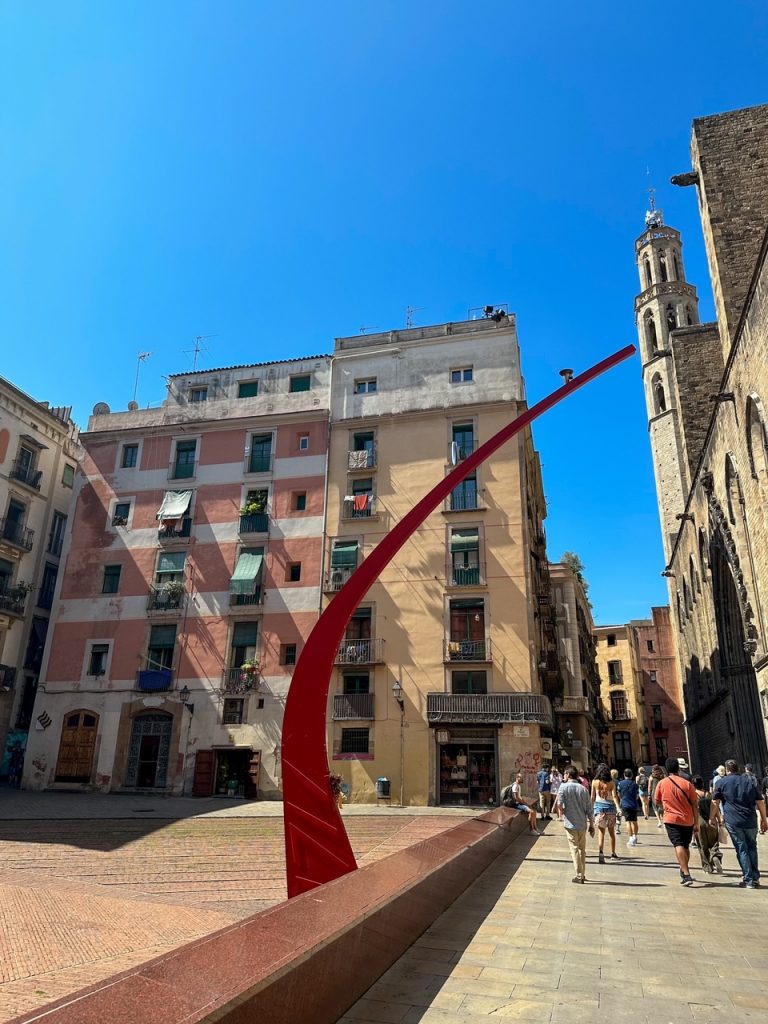 The Fossar de les Moreres is a memorial square that sits adjacent to the Santa Maria del Mar Cathedral. Following the Siege of Barcelona at the end of the War of the Spanish Succession in 1714, the plaza was built over a graveyard dedicated to the fallen defenders of the city.
The plaza features a memorial with a torch of eternal flame and is used for public ceremonies and celebrations each year on the National Day of Catalonia (September 11th), which commemorates the fall of Barcelona.
Plaça del Rei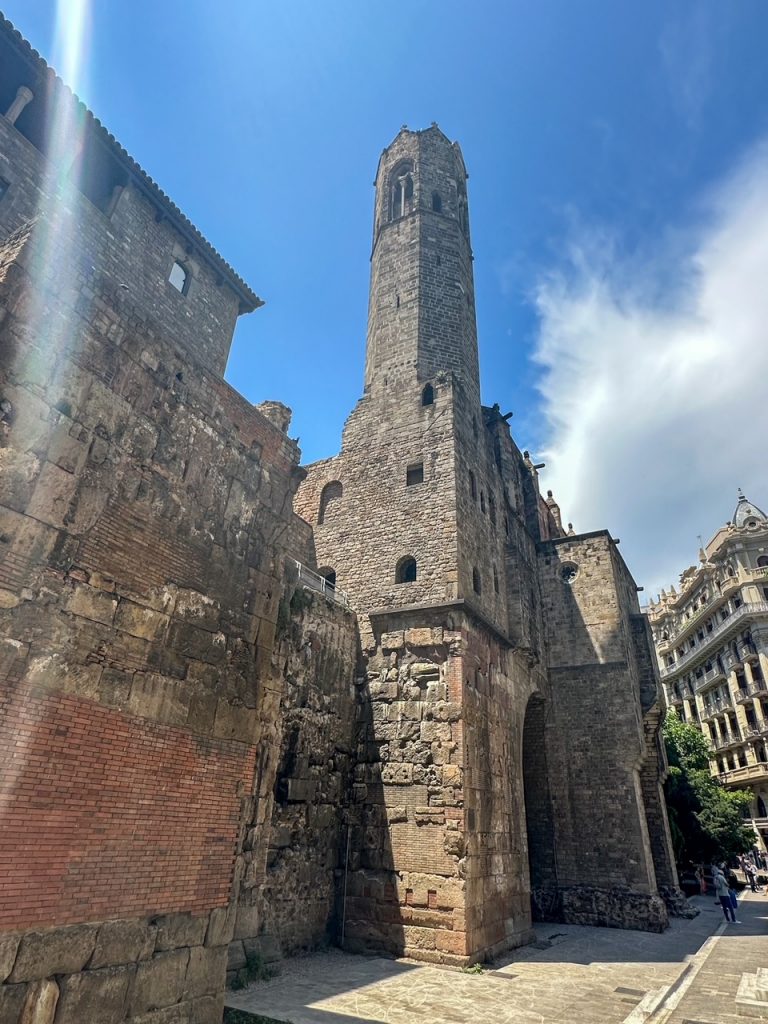 Plaça del Rei, i.e. King's Square, is a 14th century medieval public square, enclosed by the royal palace, Palau Reial Major, and its surrounding buildings.
The palace was once the residence of the Catalan counts from the 13th to the early 15th centuries, but the history of the building can be traced all the way back to the 11th century.
The surrounding buildings include the 14th century Royal Chapel of Santa Àgata, the 15th century Watchtower of King Martí, the 16th century Lieutenant's Palace, and the 15th-16th century Casa Clariana-Padellàs, which was moved to this location stone-by-stone in 1931 – wow! – and is now home to the Barcelona History Museum.
Temple of Augustus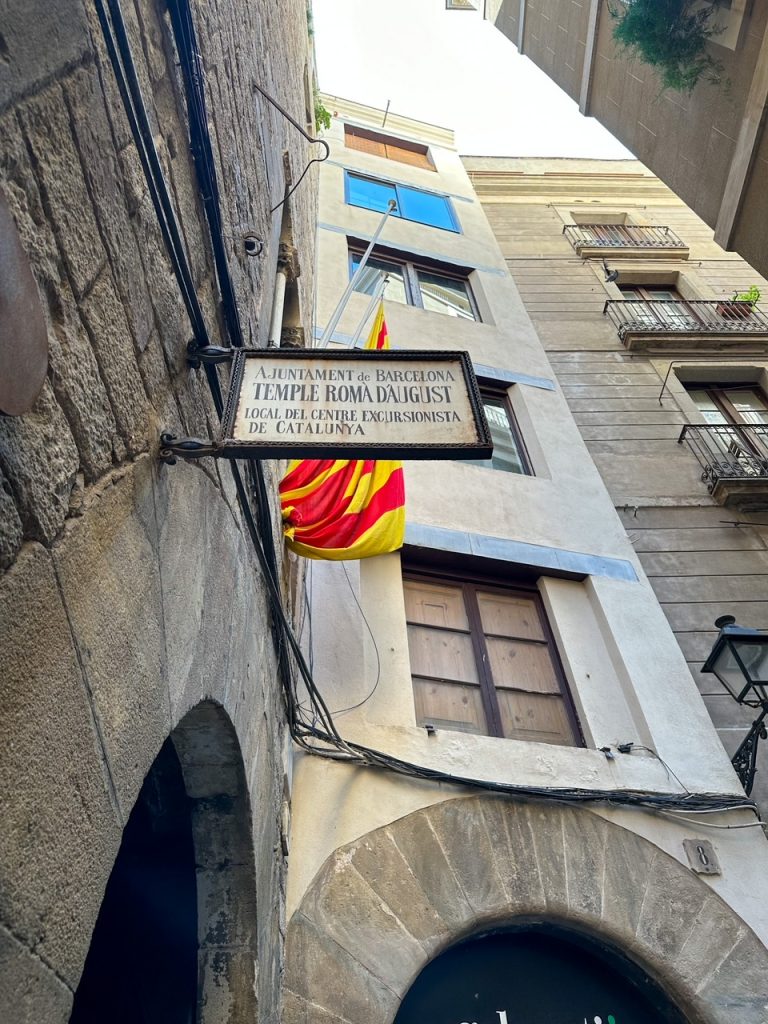 Did you know that there are four 2,000-year-old Roman columns hidden within Barcelona's Gothic Quarter? The Temple of Augustus was built during the Imperial period in the colony of Barcino and served as the central building on Tàber Hill. It was demolished at some point, and its ruins weren't discovered again until the late 19th century. The four remaining columns are now located at Carrer del Paradís number 10 – how cool!
Plaça de Sant Jaume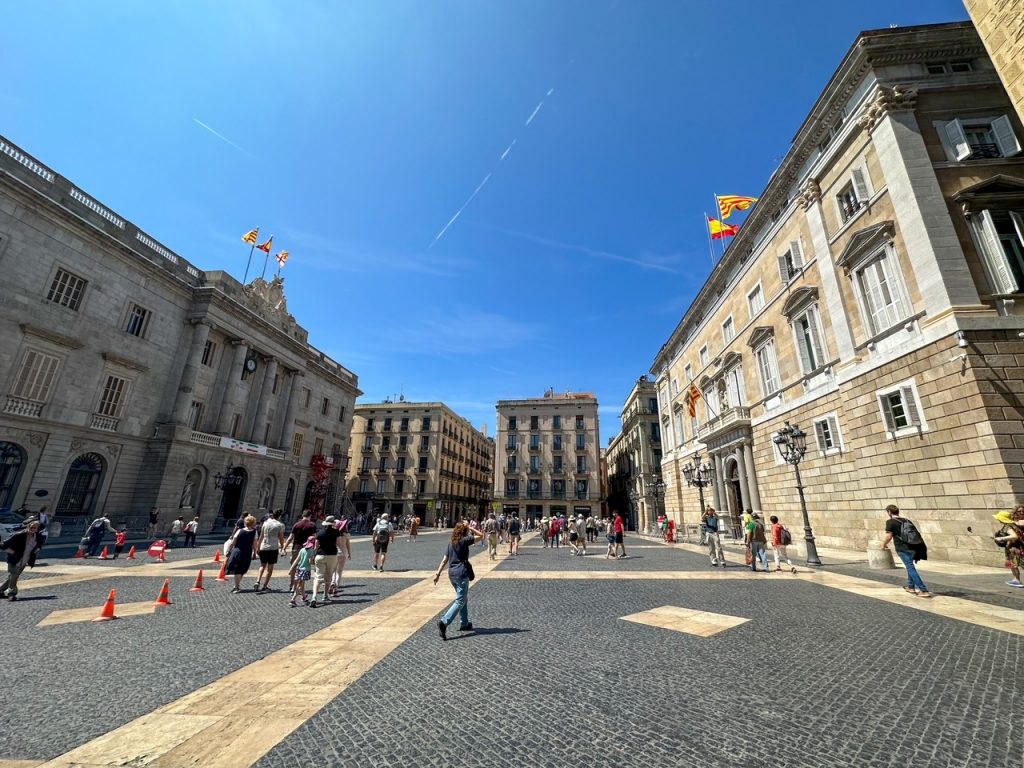 The Plaça de Sant Jaume, i.e. Saint James's Square, sits in the center of the Old City and is the administrative heart of both Barcelona and the surrounding Catalonia. It was once home to the Temple of Augustus and the Forum, where daily meetings of the city council took place, and is now home to both the Palau de la Generalitat and the Barcelona City Hall.
The square also serves as a gathering place for festivals and public celebrations.
Jewish Quarter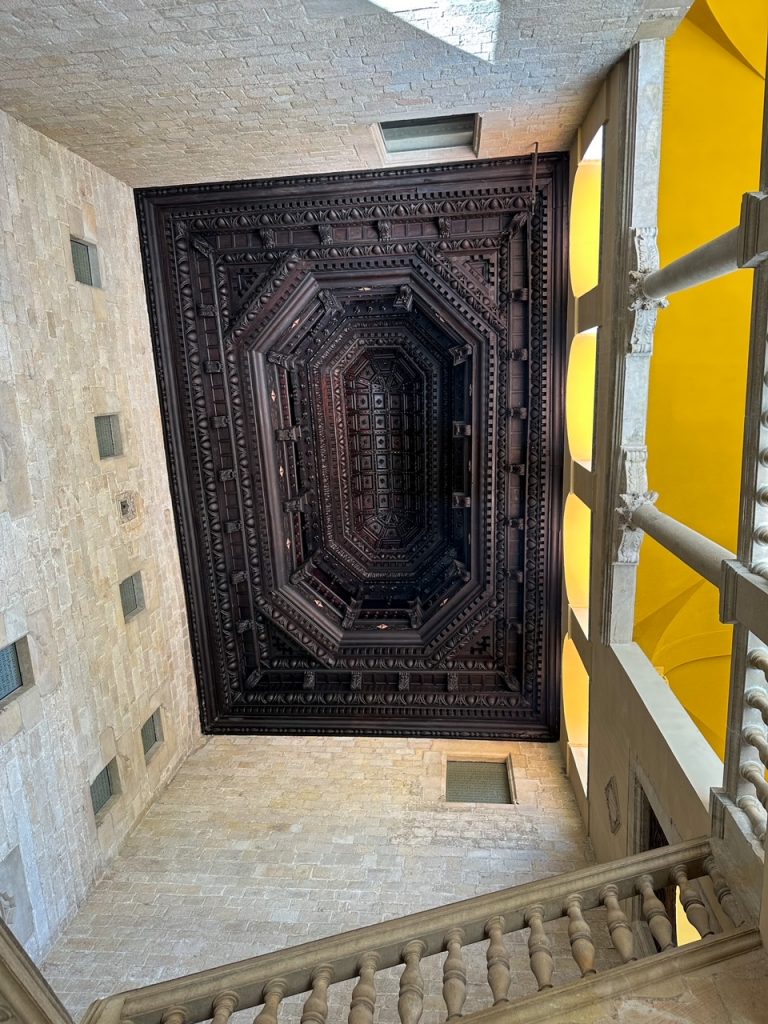 The Jewish Quarter, i.e. El Call, is located in the Gothic Quarter. Archaeological evidence suggests that there was a Jewish community in Barcelona as early as the 1st century AD, shortly after the city was founded, but the quarter became home to the city's Jewish community during the Middle Ages, when they were confined to this small area of the city.
During the 14th century, when Europe was ravaged by the Bubonic Plague, it's estimated that around 60% of Spain's population perished. Needing someone to blame, the Jews were accused of poisoning the city's water supplies and in August of 1391, angry mobs assaulted the Jewish Quarter, murdering an estimated 300 people. Those who survived were either forced to convert to Christianity or to leave Barcelona, and the buildings of El Call were either destroyed or became property of the King.
Today, you can learn about the history of Barcelona's Jewish population at the MUHBA El Call museum, see the remains of two medieval mikvahs and visit the Shlomo Ben Adret Synagogue, one of the oldest synagogues in Europe.
Church of Saint Philip Neri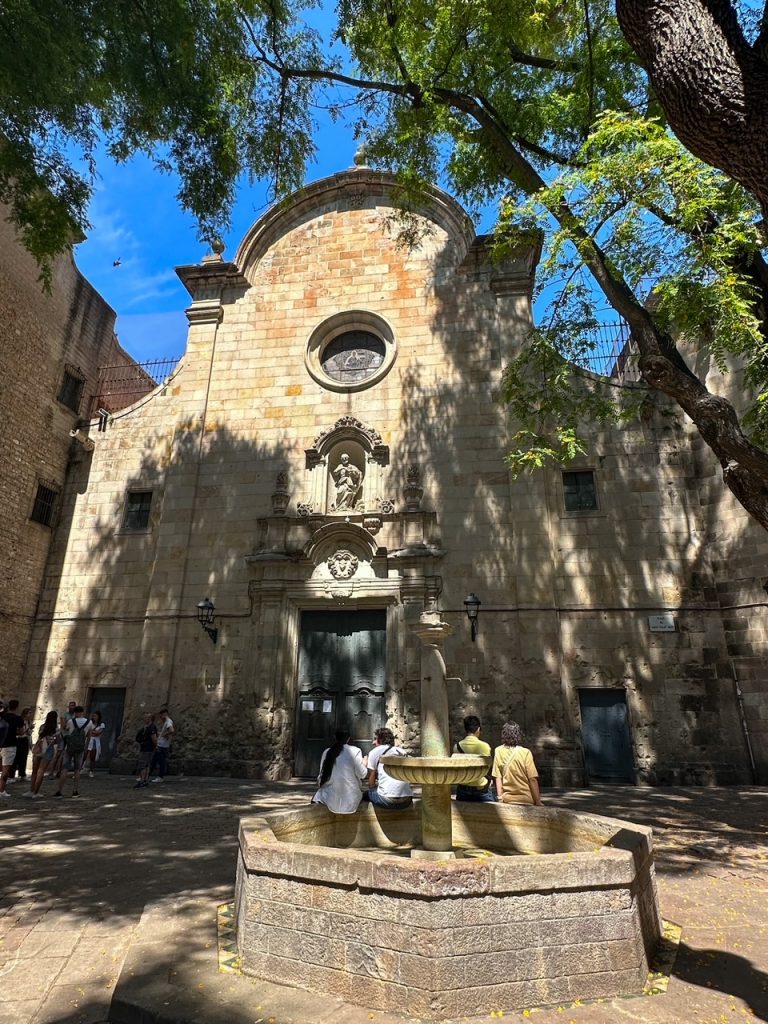 Constructed between 1721 and 1752, the Church of Saint Philip Neri is a baroque-style church that was bombarded by Franco's air forces during the Spanish Civil War in 1938. It's located in the Plaça de Sant Felip Neri, and remnants of the explosion can still be seen today on the church's façade.
We stopped at several other places that we revisited later in the day, such as the Cathedral of the Holy Cross and Saint Eulalia and Santa Maria del Mar Cathedral – more on these later!
A Broad Recommendation: Free walking tours are totally free to book, and there are no cancellation fees. However, the guides don't get paid by the companies they 'work' for, which means that they rely on your tips. Some people give €10, and others give more. The great thing is that you get to choose the price based on the value you feel you got out of the experience. We tipped €40 between the two of us for our 'Free Tour of the Old Town of Barcelona' and were able to pay by credit card.
Lunch at Cuines Santa Caterina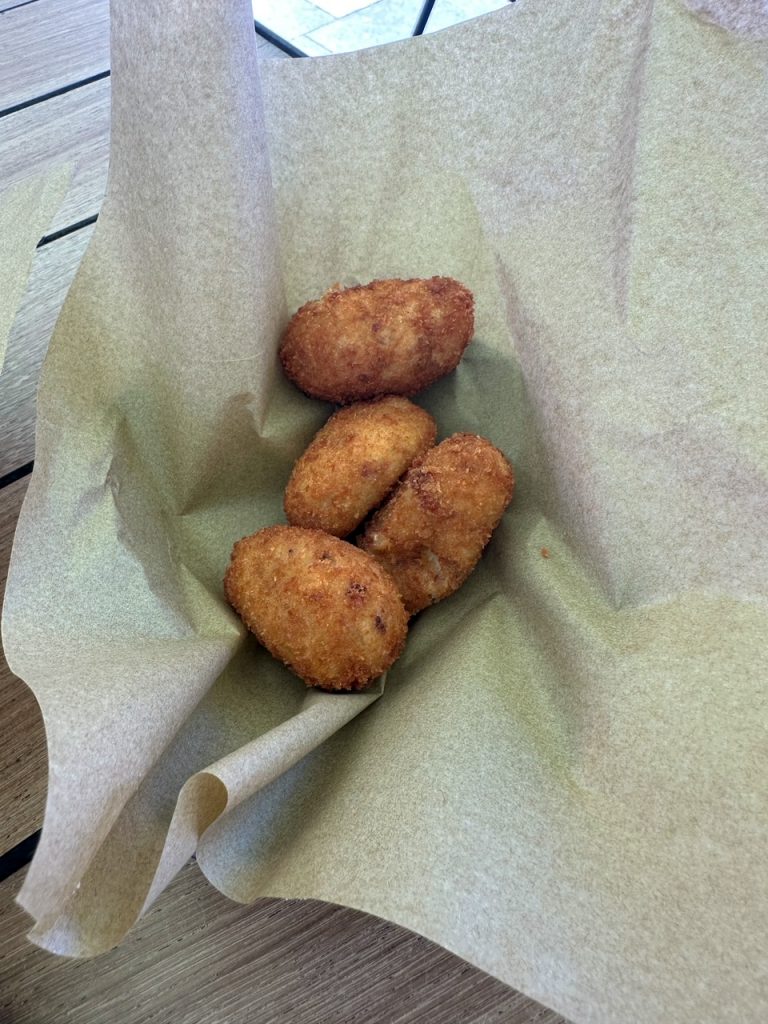 After a full morning of walking and exploring, we grabbed lunch at Cuines Santa Caterina, an Asian, Mediterranean and Italian fusion restaurant located at the Mercat de Santa Caterina in El Born. This restaurant was recommended by our guide, and the food was delicious.
A Broad Recommendation: Do NOT leave your cell phone sitting on the table (or out at all) while eating at restaurants in Barcelona. Again, petty theft is common here, and someone could easily snatch it off the table when you're not paying attention. The same goes for purses and bookbags. I used this CLUCI belt bag as both a crossbody bag and a fanny pack throughout our Europe trip and kept it on while eating.
The Cathedral of the Holy Cross and Saint Eulalia (Barcelona Cathedral)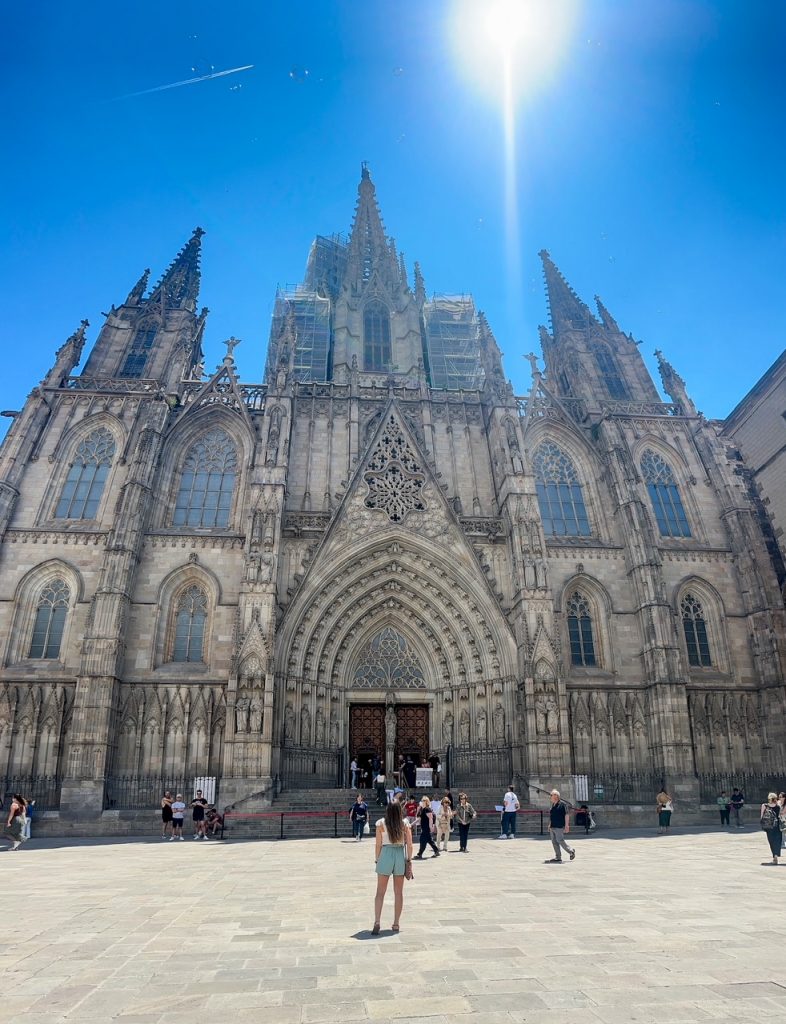 Hours: Monday – Friday: 9:30 am to 6:30 pm (last entry at 5:45 pm), Saturday: 9:30 am to 5:15 pm (last entry at 4:30 pm) & Sunday: 2:00 pm to 5:00 pm (last entry at 4:30 pm)
Cost: €11
Visit Time: 1 hour
One of the spots that we revisited after our free walking tour was the Cathedral of the Holy Cross and Saint Eulalia, i.e. the Barcelona Cathedral or the Gothic Cathedral.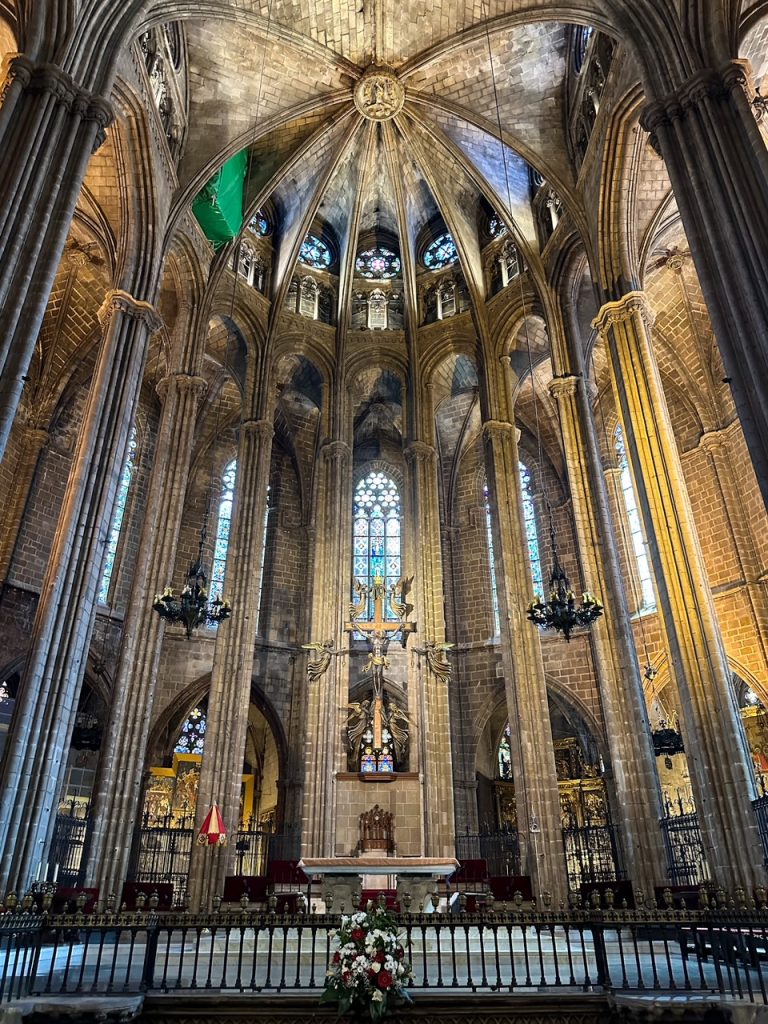 Constructed between the 13th and 15th centuries, the Barcelona Cathedral is the seat of the Archbishop of Barcelona. It boasts a neo-Gothic façade, which was added in the late 19th century, and a roof made up of gargoyles and animals, both domestic and mythical. The cathedral is dedicated to Barcelona's co-patron saint, Eulalia.
According to Catholic tradition, Eulalia was a 13-year-old Roman Christian virgin who suffered martyrdom for challenging the persecution of Christians. It's said that Eulalia was stripped and flagellated in a public square, then tortured 13 times, once for each year of her life. The tortures culminated in Eulalia being placed into a barrel full of knives and rolled down a street. Following her death, a dove is said to have flown out of her mouth and a sudden and miraculous snowfall (in mid-spring) covered her body like a garment.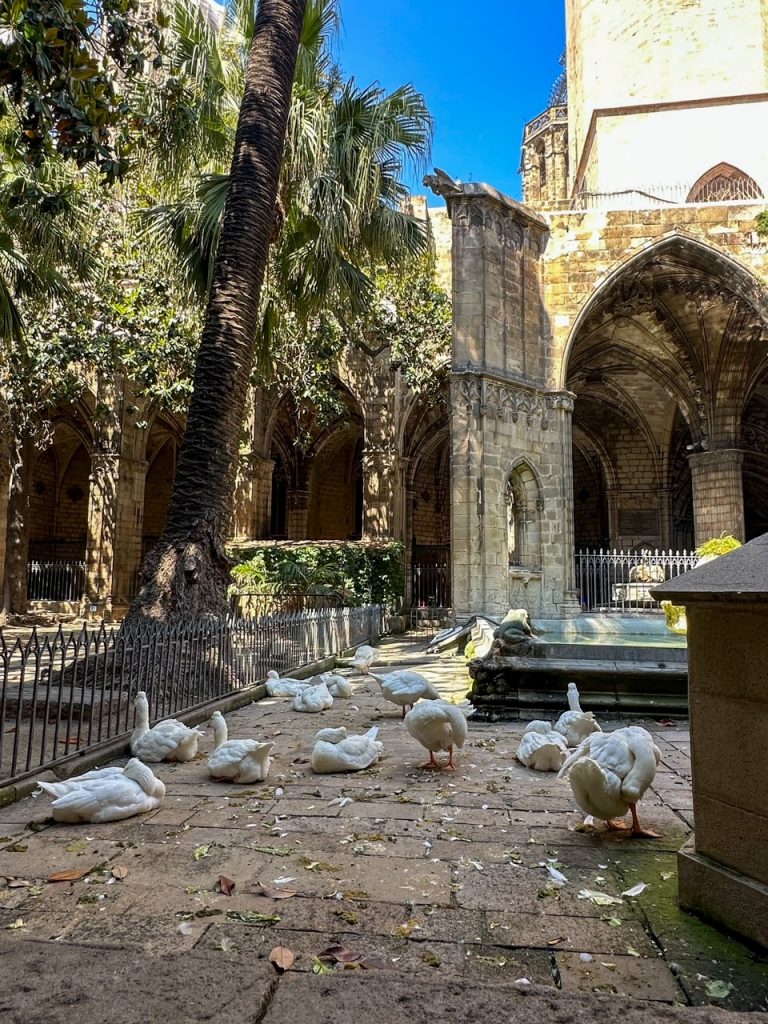 The body of Saint Eulalia is entombed in the cathedral's crypt, so be sure to check this out (you can see it through the bars). Also be sure to visit the secluded cloister, where 13 geese are kept to represent the age of Saint Eulalia when she was martyred.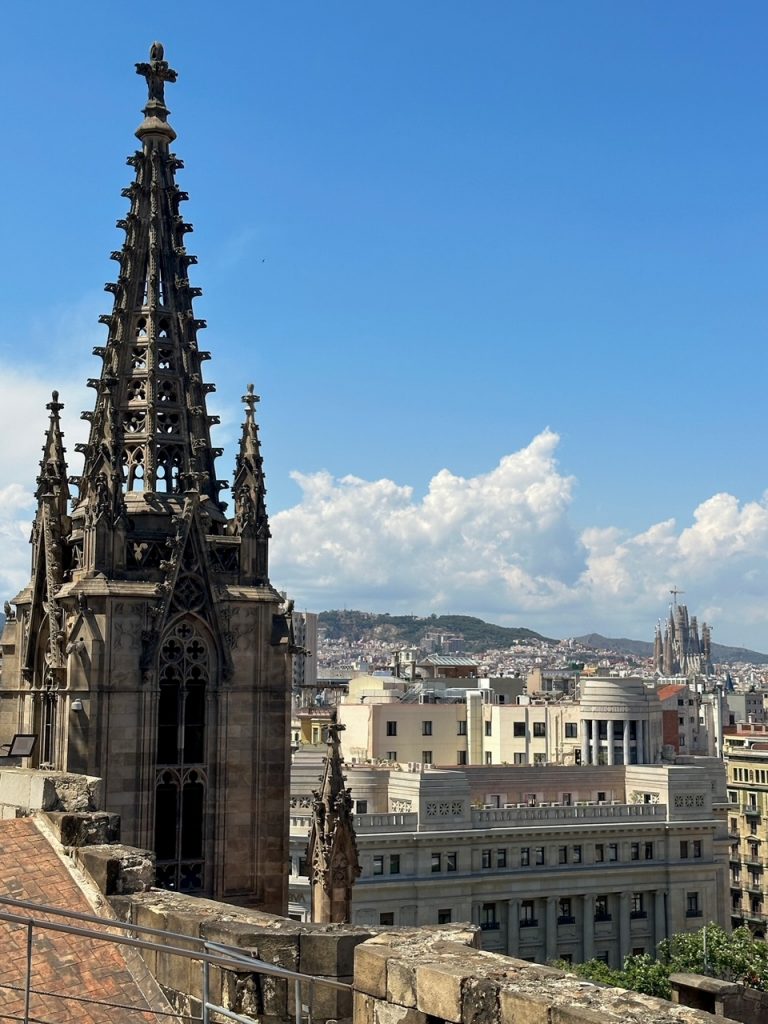 You can also visit the cathedral's rooftop terrace, which offers great city views, but keep in mind that it closes 30 minutes before the rest of the church.
A Broad Recommendation: Carry a jacket or scarf around with you, as many churches require your shoulders and knees to be covered, as was the case at the Cathedral of the Holy Cross and Saint Eulalia. You will be denied entry if you don't follow the dress code.
Santa Maria del Mar Cathedral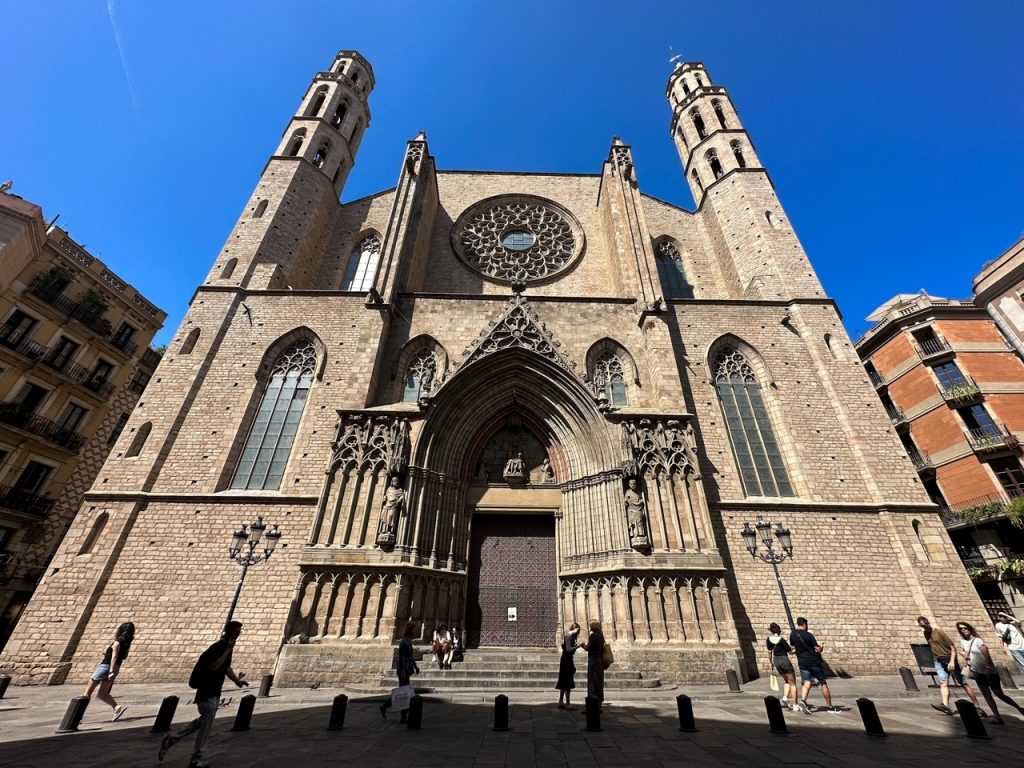 Hours: Monday – Saturday: 9:00 am to 1:00 pm and 5:00 to 8:30 pm & Sunday: 10:00 am to 2:00 pm and 5:00 pm to 8:00 pm
Cost: Free entry before 1:00 pm or after 5:00 pm; €5 otherwise + €8.50 for the rooftop
Visit Time: 30 minutes
Next, we made our way back to the Basí­lica Santa Maria del Mar, a 14th century Gothic cathedral that's considered to be one of the symbols of Barcelona.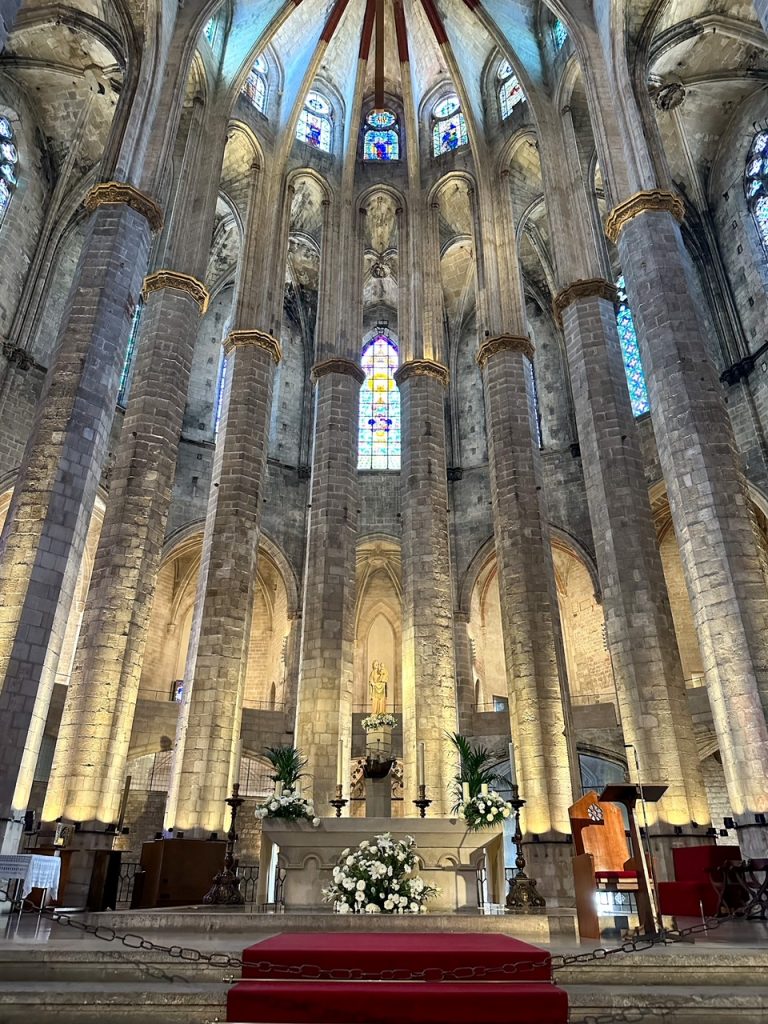 Built between 1329 and 1383 and consecrated in 1384, Santa Maria del Mar is the only surviving church in the pure Catalan Gothic style. In the Middle Ages, church construction typically took more than a century and involved changes in architectural style. But, the construction of the Santa Maria del Mar took just 55 years, resulting in a uniform-looking architecture.
Santa Maria del Mar also offers epic city views from its rooftop terrace, and you get to climb a fun spiral staircase to get up there!
Montjuïc Area & Montjuïc Castle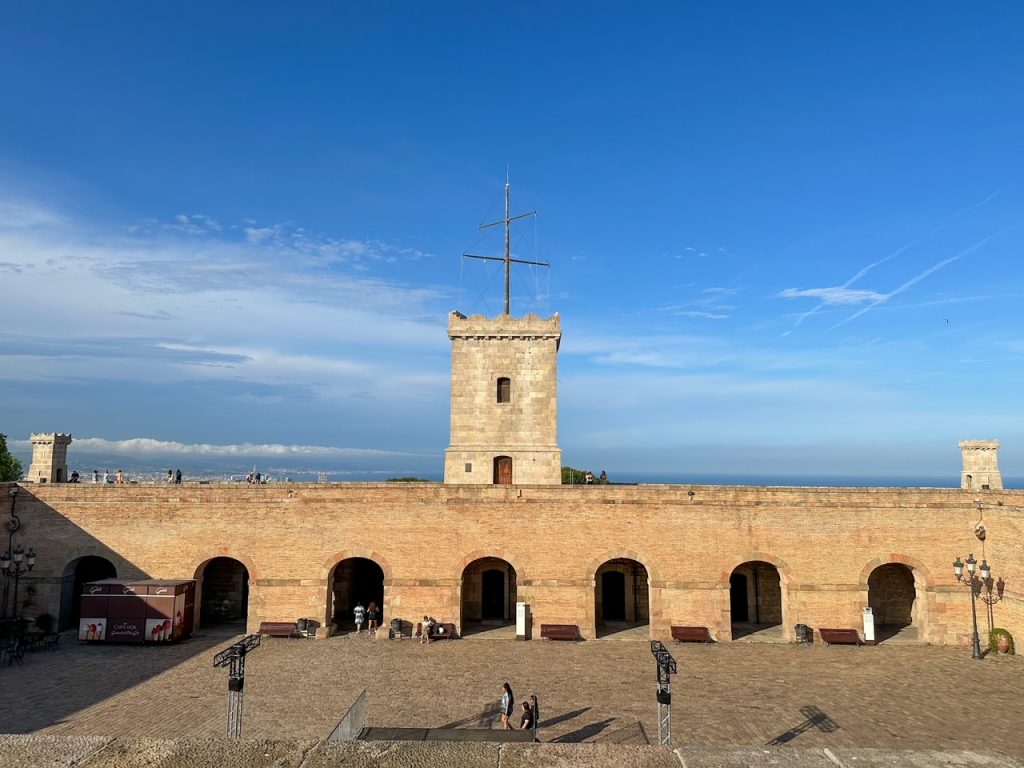 Hours: March – October: 10:00 am to 8:00 pm (last entry at 7:30 pm) & November – February: 10:00 am to 6:00 pm (last entry at 5:30 pm)
Cost: €9
Visit Time: at least 4 hours to explore the Montjuïc area & 1 hour specifically for Montjuïc Castle
We spent the rest of our afternoon on Montjuïc, i.e. Jewish Mountain, specifically exploring the Castell de Montjuïc, i.e. Montjuïc Castle. To get there, we took two separate funiculars.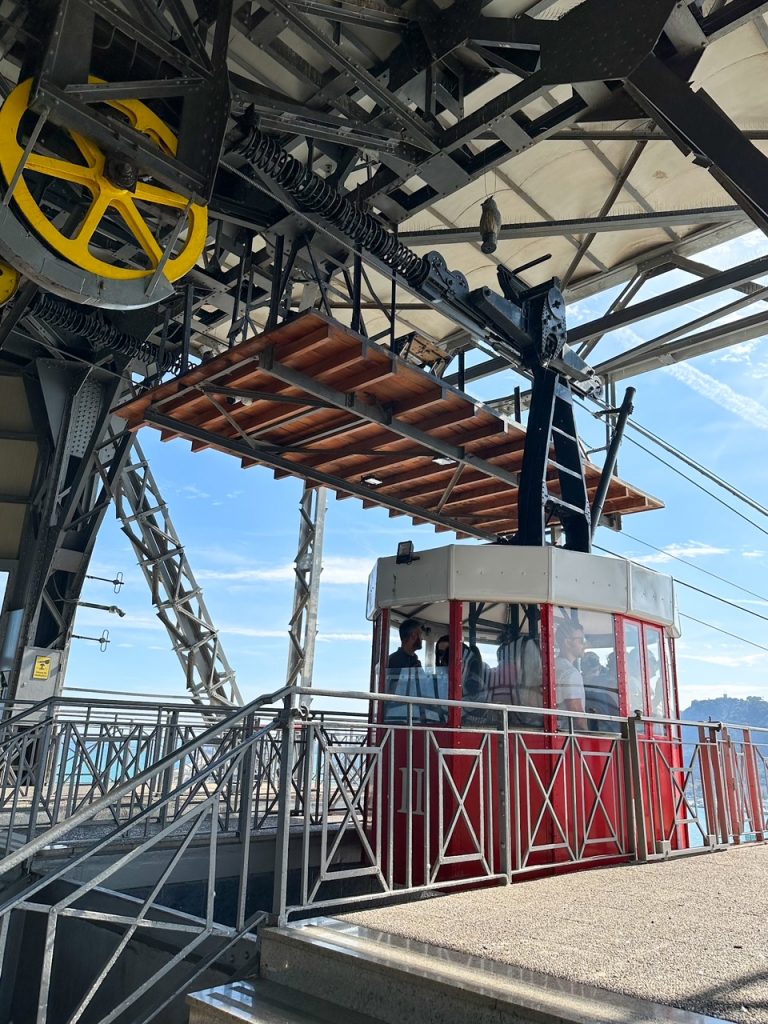 First, we took the Port Cable Car from the Torre San Sebastian Tower in Barceloneta, which cost €12.5 one-way (or €20 round-trip). Aboard the cable car, we had gorgeous, panoramic views of Barcelona's cityscape and coastline, and when we exited, we almost immediately found several great photo spots overlooking the city.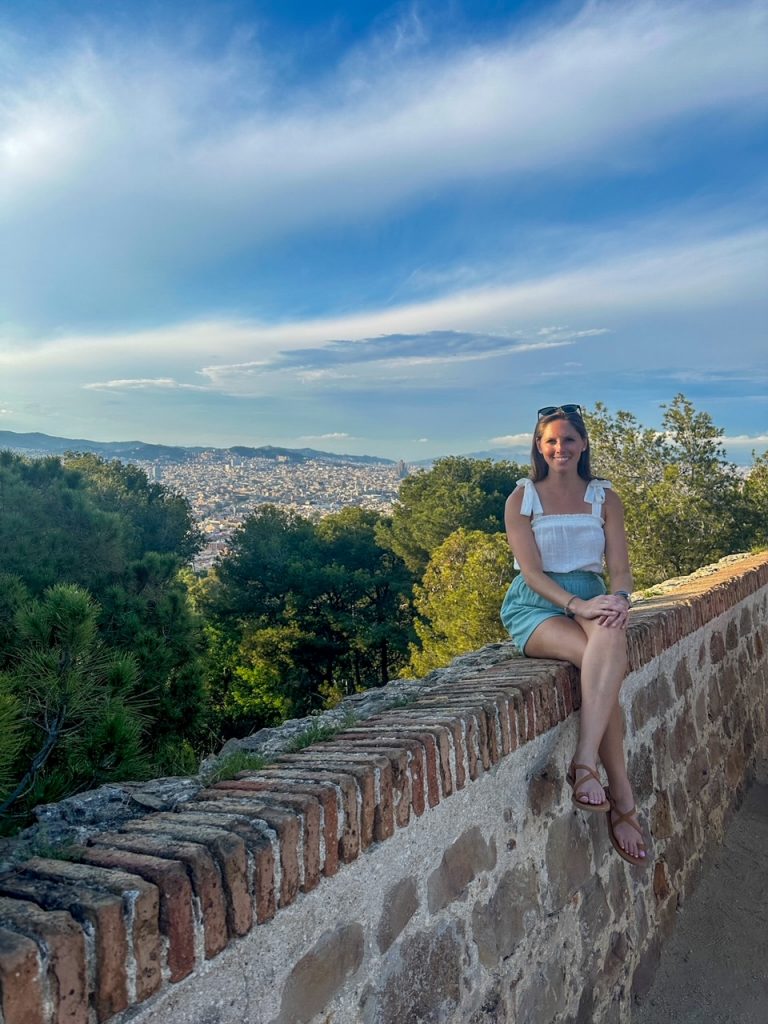 A Broad Recommendation: The Port Cable Car closes relatively early (it closed at 8:00 pm during our visit in June and closes even earlier during other times of the year). Be sure to time your visit accordingly, prepare alternate transportation for your way back or wear a good pair of shoes for walking back down the mountain.
After a short walk up the hill, we made our way to the second funicular, the Montjuïc Cable Car, which offers even better city views and takes visitors directly to Montjuïc Castle. A round-trip ride on the Montjuïc Cable Car costs €15.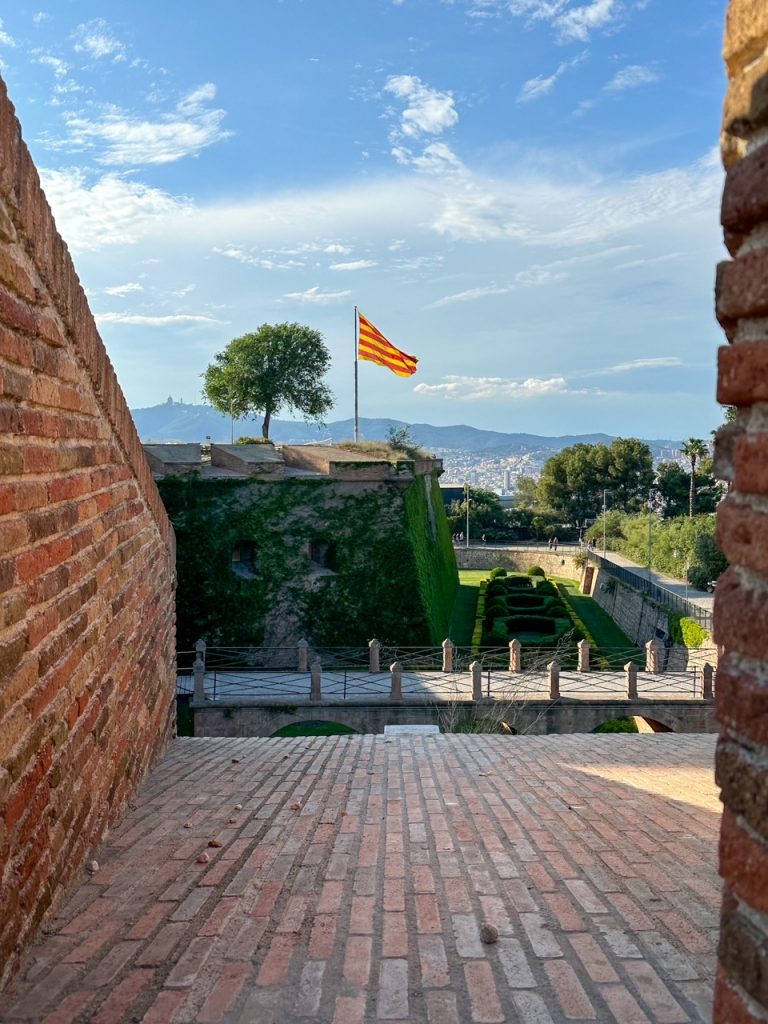 Montjuïc Castle is an old military fortress that dates back to the 17th-century and now hosts a military museum. We got here close to closing time, so we just walked around for a bit and took in the epic views of the city and sea from the top.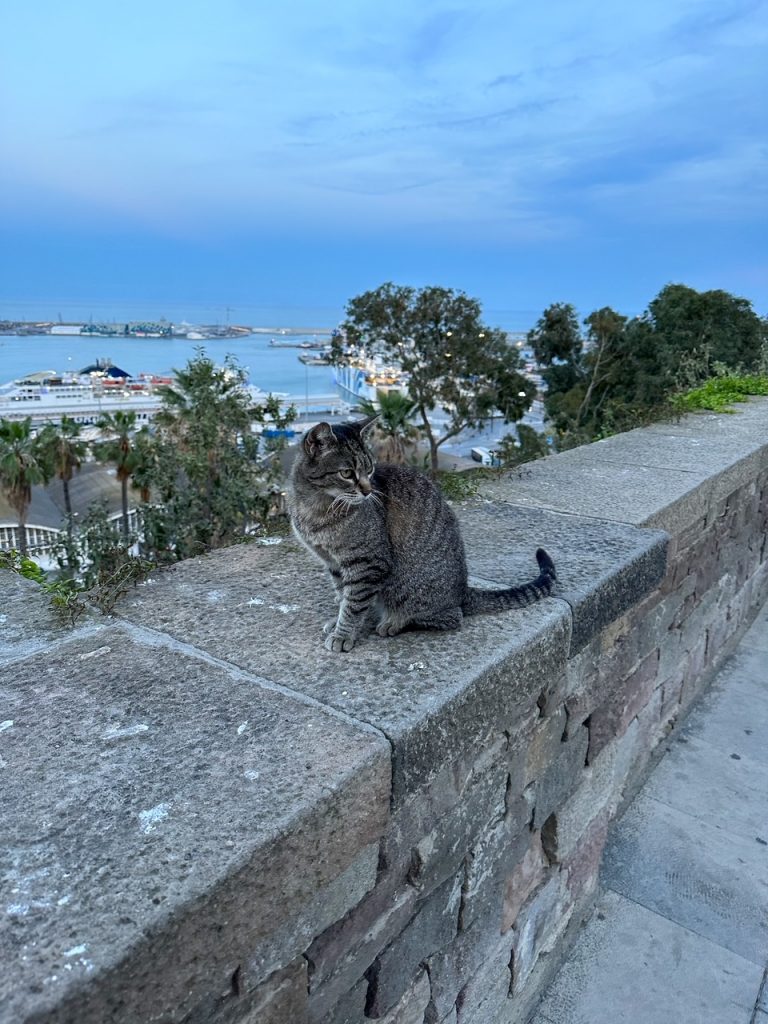 Since the Port Cable Car was closed by the time we were done at the Montjuïc Castle, we had to walk back down to Barceloneta. While doing so, we witnessed a beautiful sunset and made another cat friend (we met our first cat friend earlier in our trip in Amsterdam).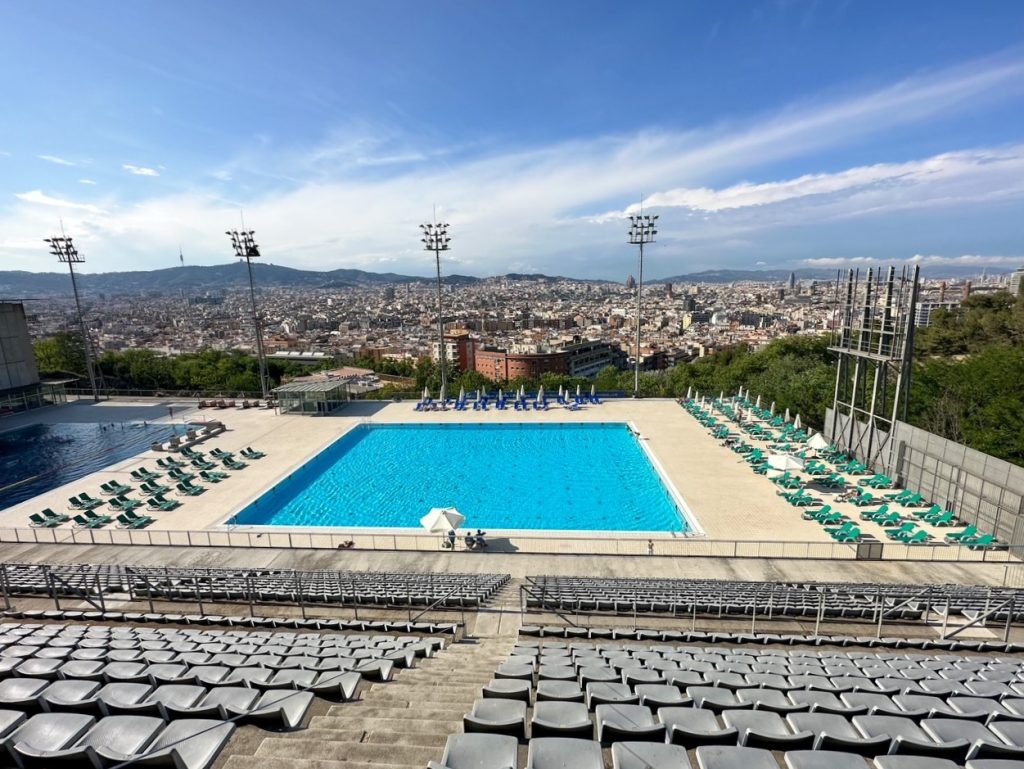 Note that there's a lot more to do on Montjuïc than just visiting the castle, so don't make the same mistake that we did by getting here so late in the day. Here are some of the things we missed:
Dinner at La Catalana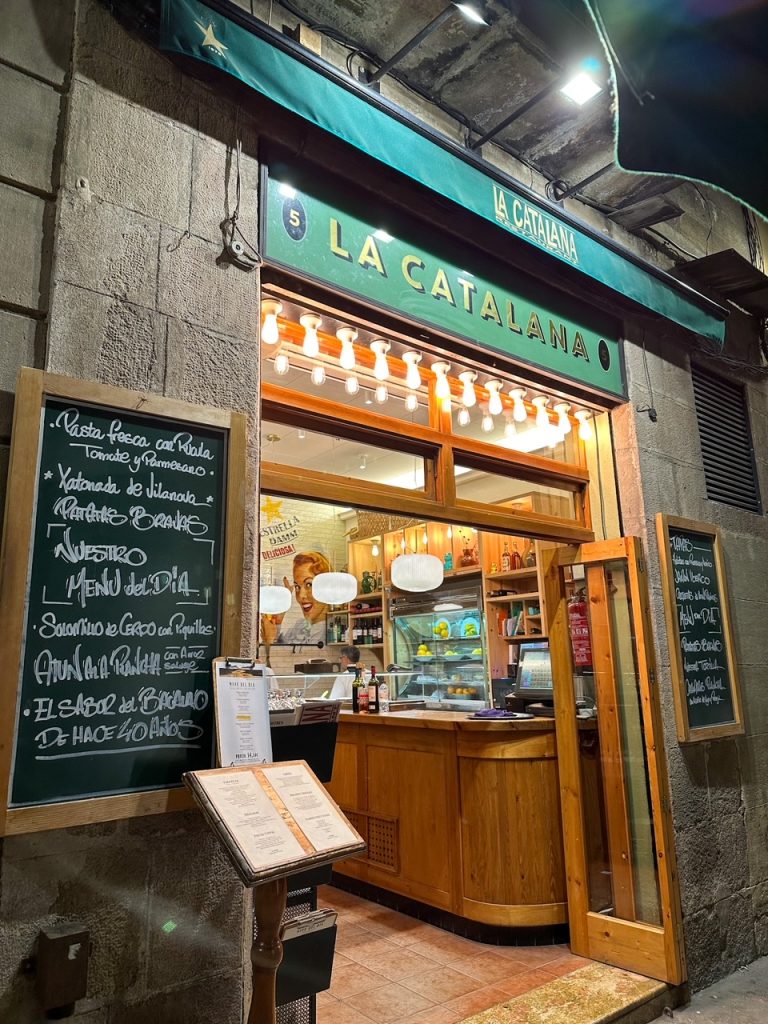 After a lot of walking all afternoon and evening, we were famished and ready for dinner. When we made it down the mountain and back to El Born, we randomly stumbled upon Bar Restaurant La Catalana and decided to eat outside on their patio. Tim enjoyed his food, but I really disliked mine and thought it was way too expensive for what we got. I personally wouldn't recommend eating here, but Tim may beg to differ!
3 Days in Barcelona: Day 2
Breakfast at Liadisimo Cafeteteria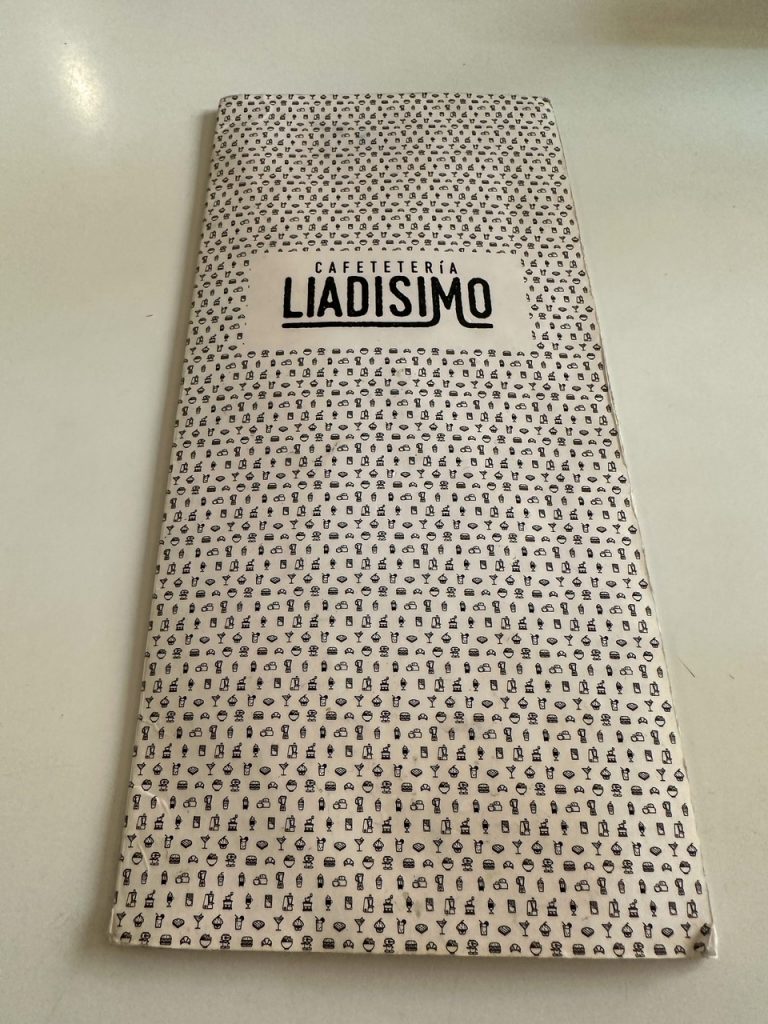 The next morning, we took our time and made our way over to the Gràcia neighborhood, where we planned to visit Casa Vicens later that afternoon. We walked around the area and popped into Liadisimo Cafeteteria, a breakfast and brunch spot, where we enjoyed some granola bowls and coffees.
Naturally, we made yet another (sleepy) cat friend here! Can you tell I love cats?!
Casa Vicens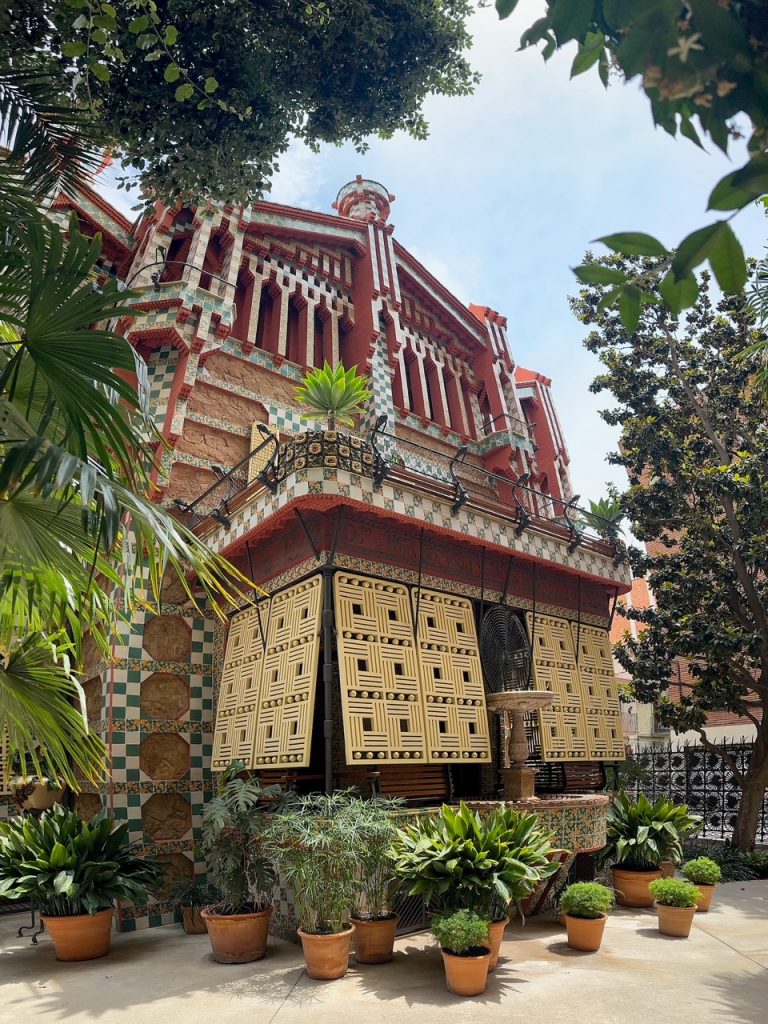 Hours: April – October: 10:00 am to 8:00 pm & November – March: Monday from 10:00 am to 3:00 pm & Tuesday – Sunday from 10:00 am to 7:00 pm
Cost: €18
Visit Time: 1.5 hours
Then, it was time for our visit to Casa Vicens, which was one of my favorite things to do in Barcelona, Spain.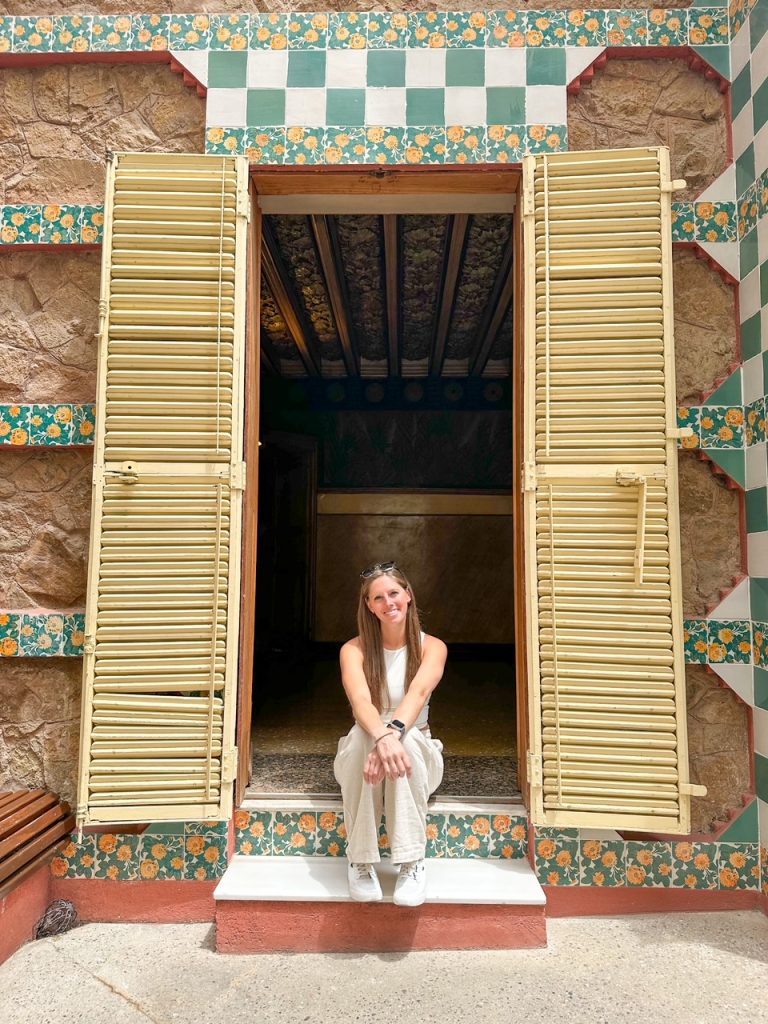 Antoni Gaudí is Barcelona's most famous architect. His quirky method of blending Gothic and Art Nouveau is recognized around the world, and his masterpieces are speckled throughout the city of Barcelona. His work ranges from single-family homes to housing blocks, religious buildings, palaces and more, and six of them are listed as UNESCO World Heritage Sites.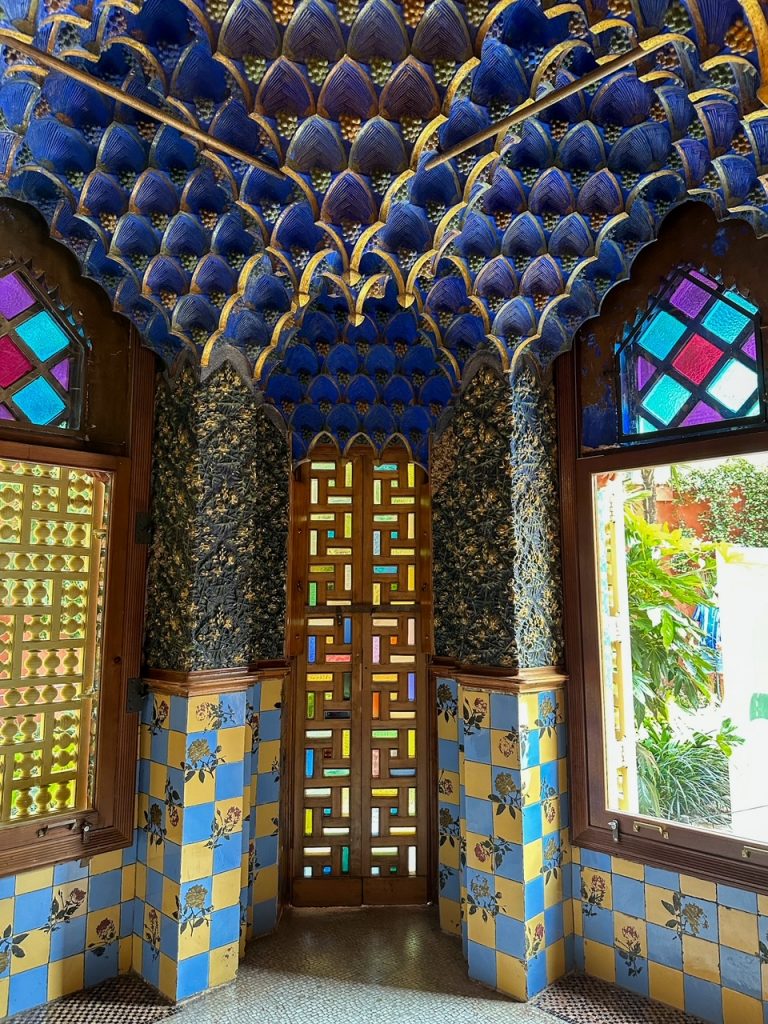 Among the six is Casa Vicens, which is the first house Gaudí ever designed. Casa Vicens is a bit of a hidden gem, as it's much smaller and much less visited than his other buildings, and it's absolutely gorgeous inside and out.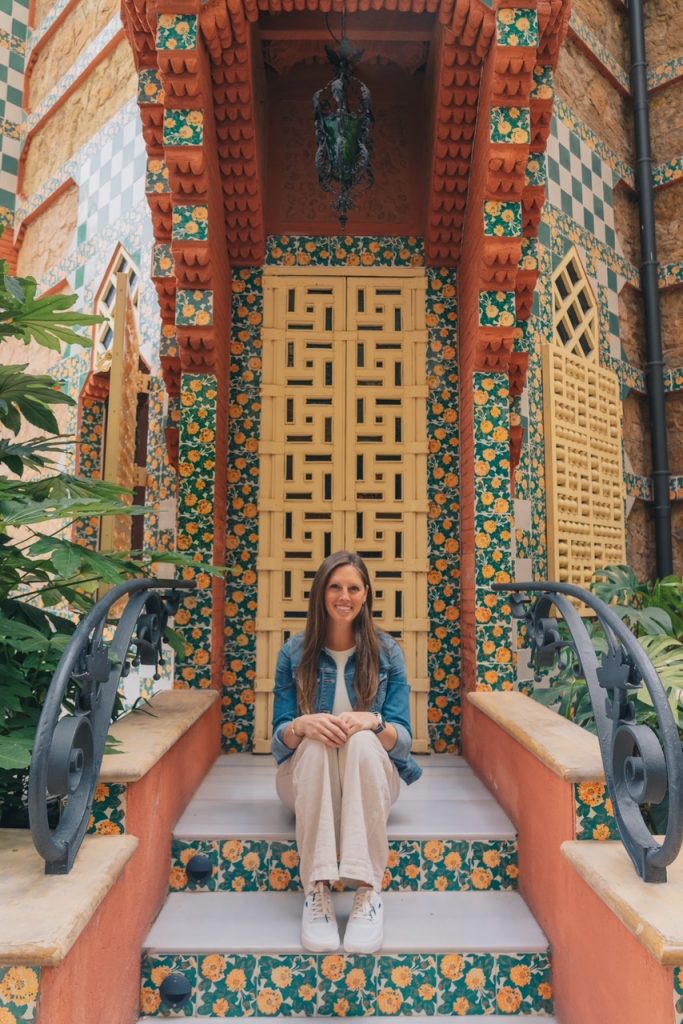 A free audio guide was included with our visit, and it made all the difference. We also paid a little extra to do a quick photoshoot before touring the house, which was well worth it in my opinion!
Recinte Modernista de Sant Pau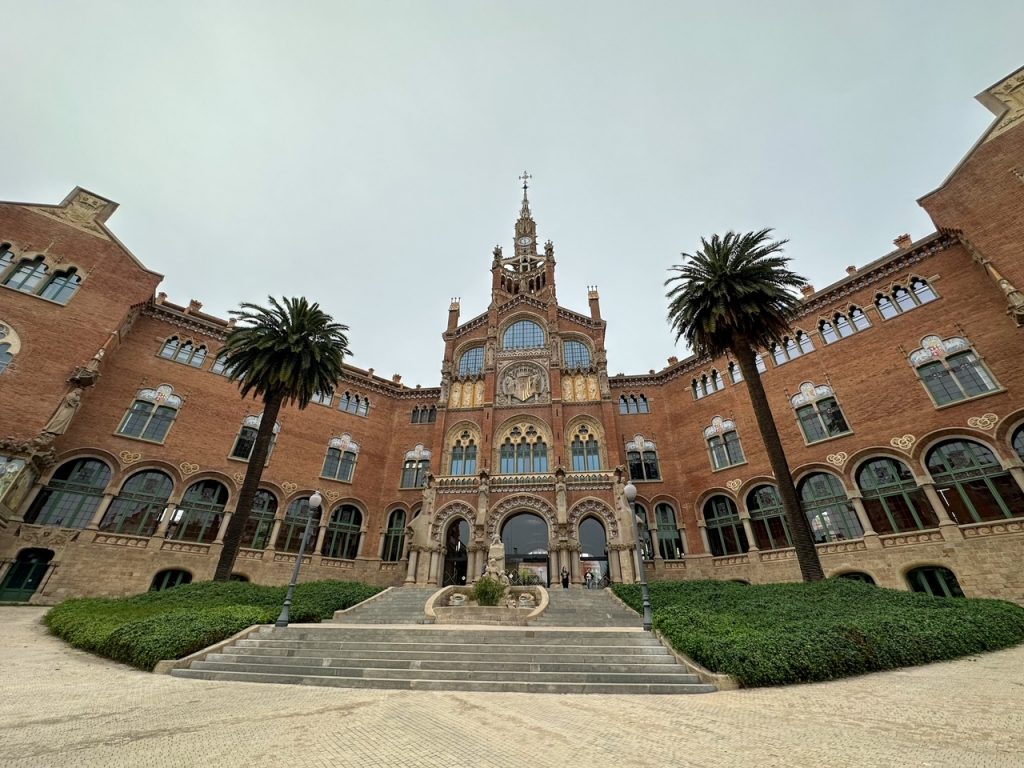 Hours: April – October: 10:00 am to 6:30 pm & November – March: 10:00 am to 5:00 pm (last entry is 30 minutes before closing)
Cost: €16 for a self-guided visit + €4 for an audio guide
Visit Time: 2-2.5 hours
Next, we visited another somewhat hidden gem, Recinte Modernista de Sant Pau.
At the start of the 15th century, Barcelona merged six small hospitals, all of which were founded by religious orders or individuals, into a single new hospital, the Hospital de la Santa Creu. The new center intended to improve administrative procedures and the management of resources, and that it did. The Hospital de la Santa Creu functioned for more than five centuries as the main hospital of Barcelona. And, not only did the hospital serve to care for the sick, but it also had a role in taking in and training orphaned children, in addition to making substantial contributions to the evolution of medicine.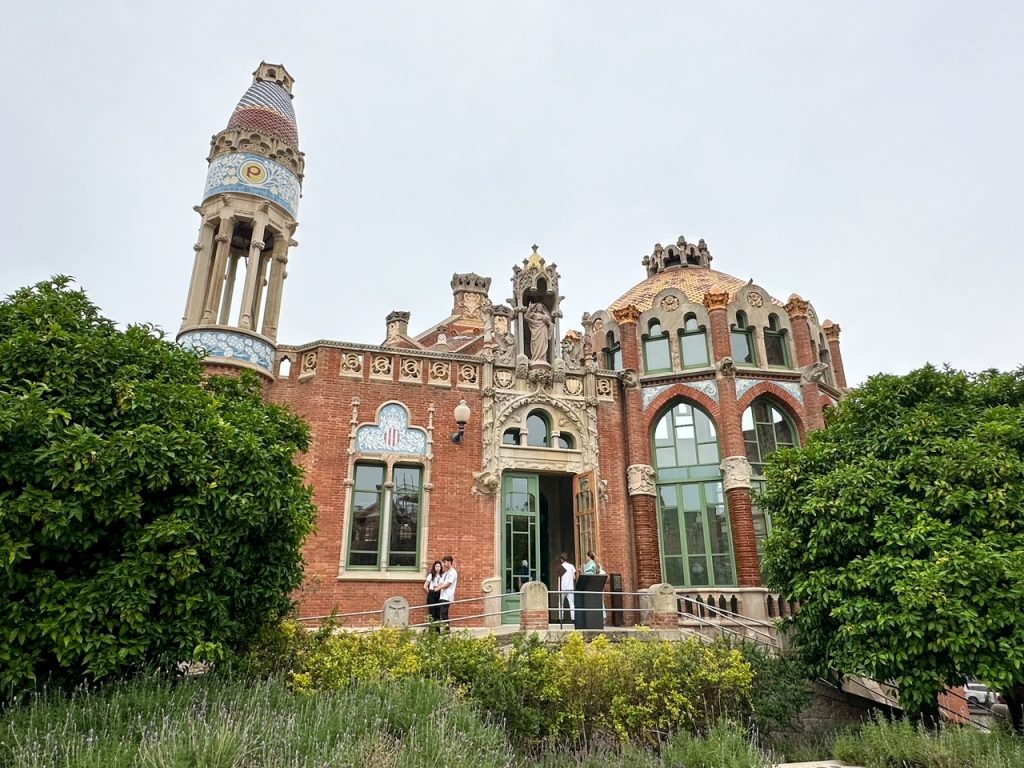 In the 19th century, the Hospital de la Santa Creu could no longer keep up with Barcelona's rapid growth and advances in medicine. And, thus, plans to build a new hospital, the Hospital de Sant Pau, were conceived.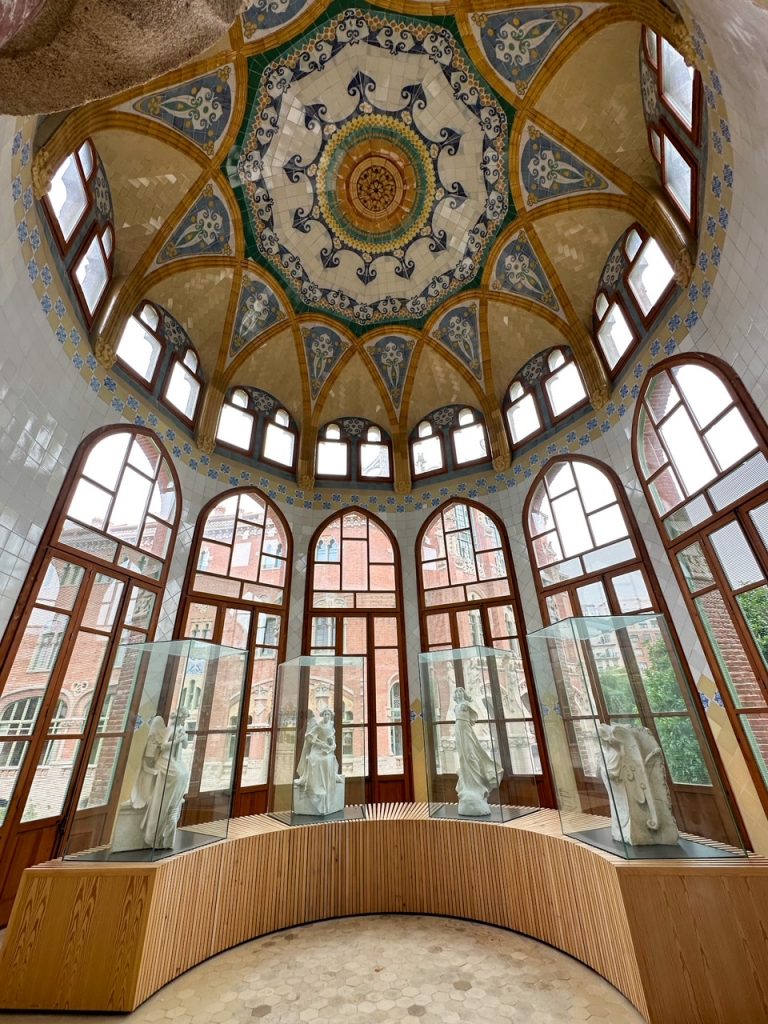 The project was entrusted to Catalan architect Lluís Domènech i Montaner, a prominent figure of Catalan Art Nouveau. Formally opened in January 1930, the hospital boasted a series of separate pavilions, each of which was assigned to a different medical speciality, surrounded by gardens (which were installed to help with patients' treatment and recovery) and interconnected by a network of underground tunnels.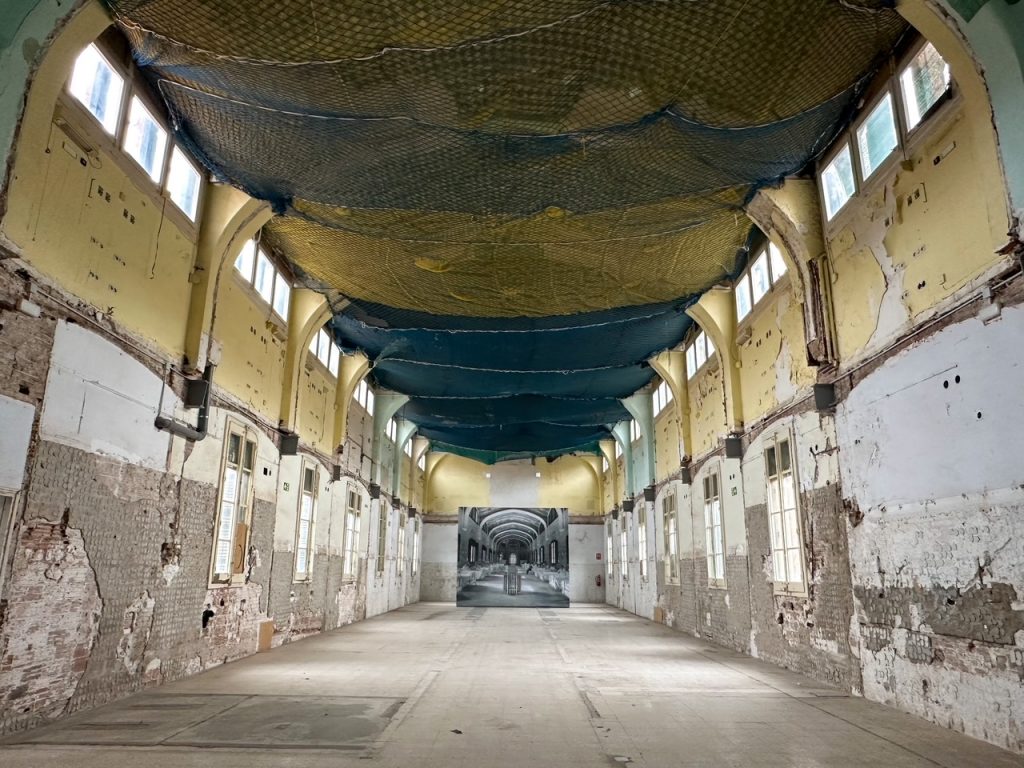 Sant Pau served as the main hospital of Barcelona until the autumn of 2009, when its healthcare activities were transferred to a more modern building.
This magnificent complex consists of the largest collection of Art Nouveau buildings in Europe, and a thorough restoration has established Sant Pau as a prominent landmark of Barcelona and Catalonia. Sant Pau was declared a Historic Artistic Monument in 1978 and recognized as a UNESCO World Heritage Site in 1997.
Aperitif at Creps Barcelona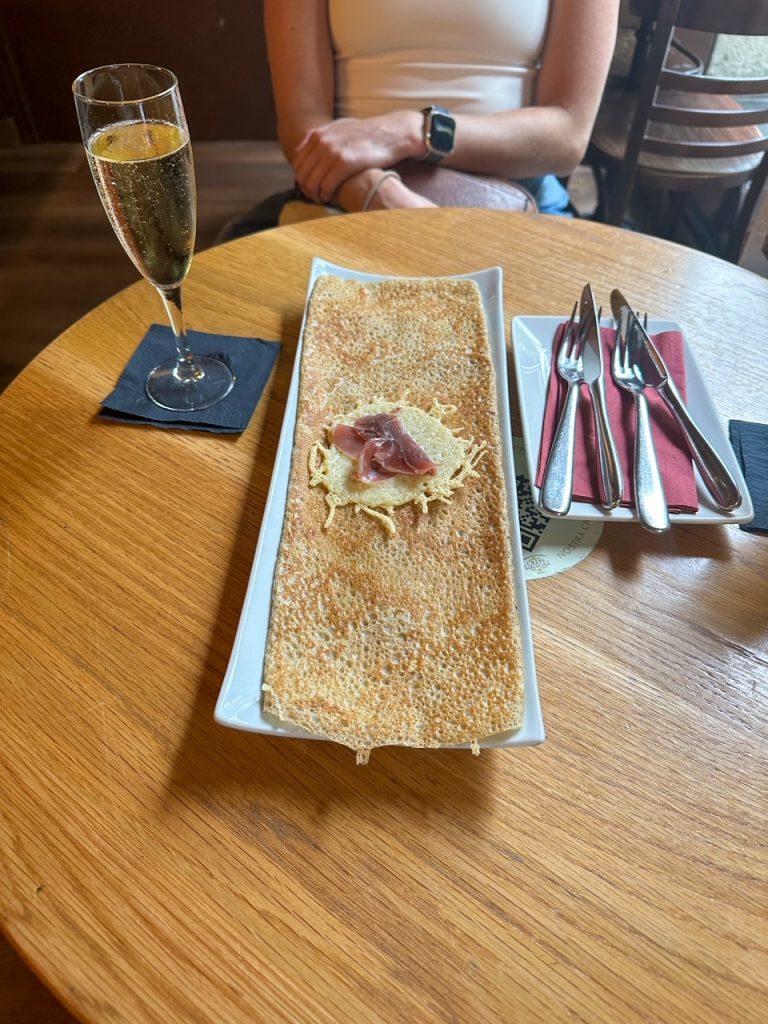 After an afternoon of exploring, we'd worked up an appetite. So, we stopped into Creps Barcelona, an authentic creperie from Brittany, where we tried one of their savory crepes and a local beer and Cava. And, everything was delicious!
Stop at Casa Batlló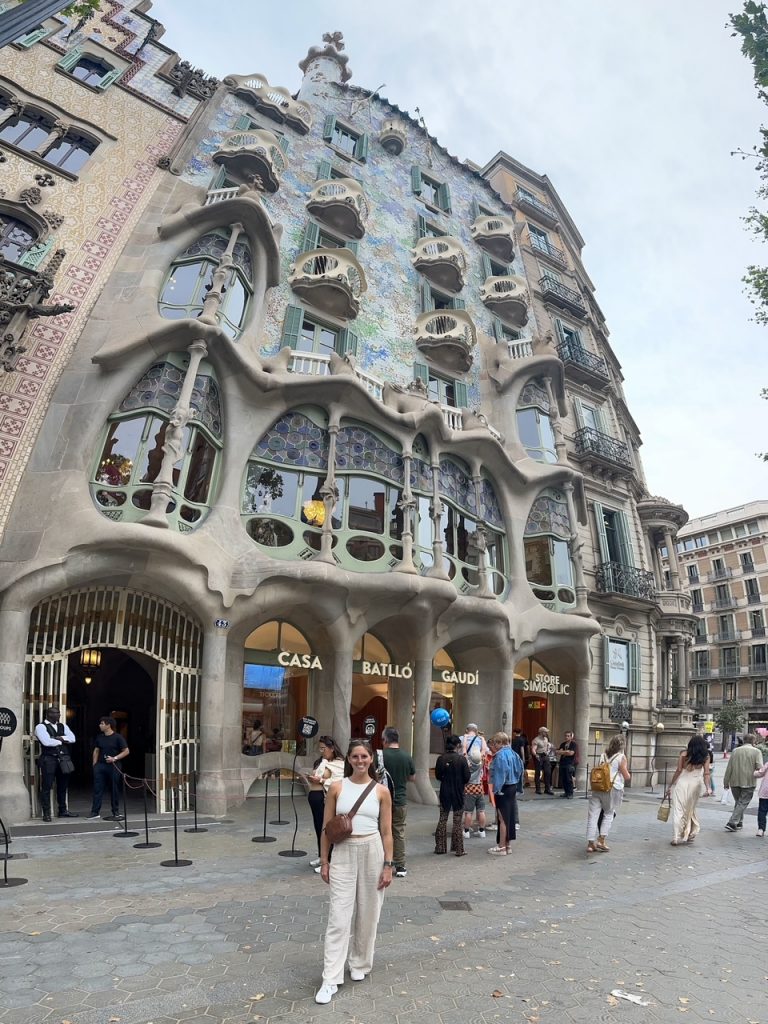 Hours: 9:00 am to 8:00 pm (last entry at 7:15 pm)
Cost: €29
Visit Time: 1.25 hours
Located at number 43 on the "Block of Discord" on Paseo de Gracia, Casa Batlló is another one of Antoni Gaudí's gems and an icon of Barcelona. It's also a UNESCO World Heritage Site and a must-see for visitors interested in Gaudí's work and modernism in general.
Between 1904 and 1906, several prominent architects reformed old houses to compete for the Barcelona City Council's urban awards. All of the houses were done in the modernist style and are situated in this area. They include Casa Amatller, Casa Josefina Bonet, Casa Mulleras, and Casa Lleó Morera (which was designed by Lluís Domènech i Montaner, the same guy that created Sant Pau).
Although we arrived too late to go inside, we were able to take a couple photos from the outside and would love to go inside on a future trip to Barcelona!
Dinner & Drinks in Barceloneta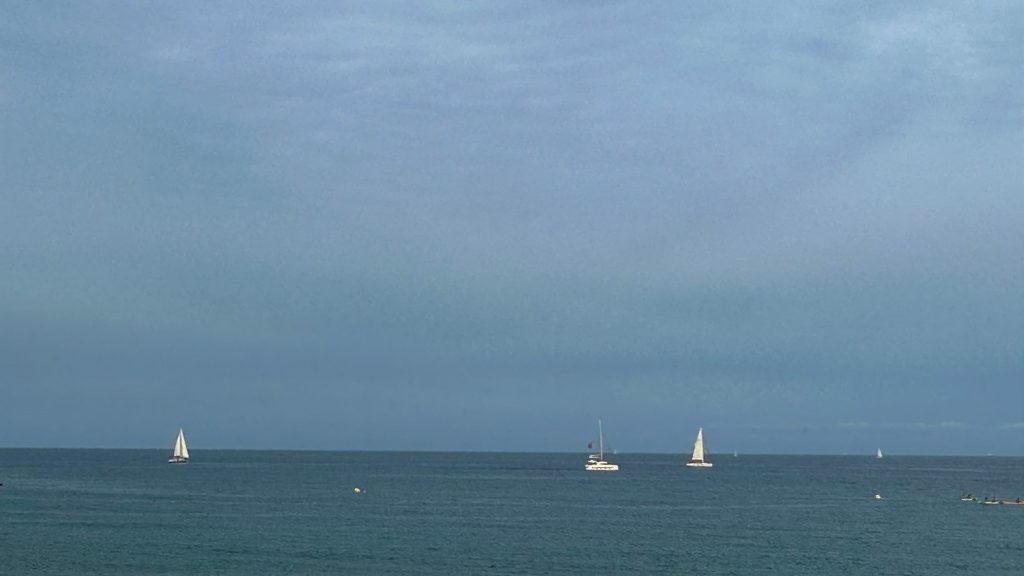 After meeting up with our friend, Steven, who was also in Barcelona with his family, we headed to Barceloneta. Barceloneta is a seaside neighborhood with sandy beaches where locals and visitors alike can surf, sunbathe, dine at traditional tapas bars and seafood restaurants and enjoy some of the best nightlife in the city.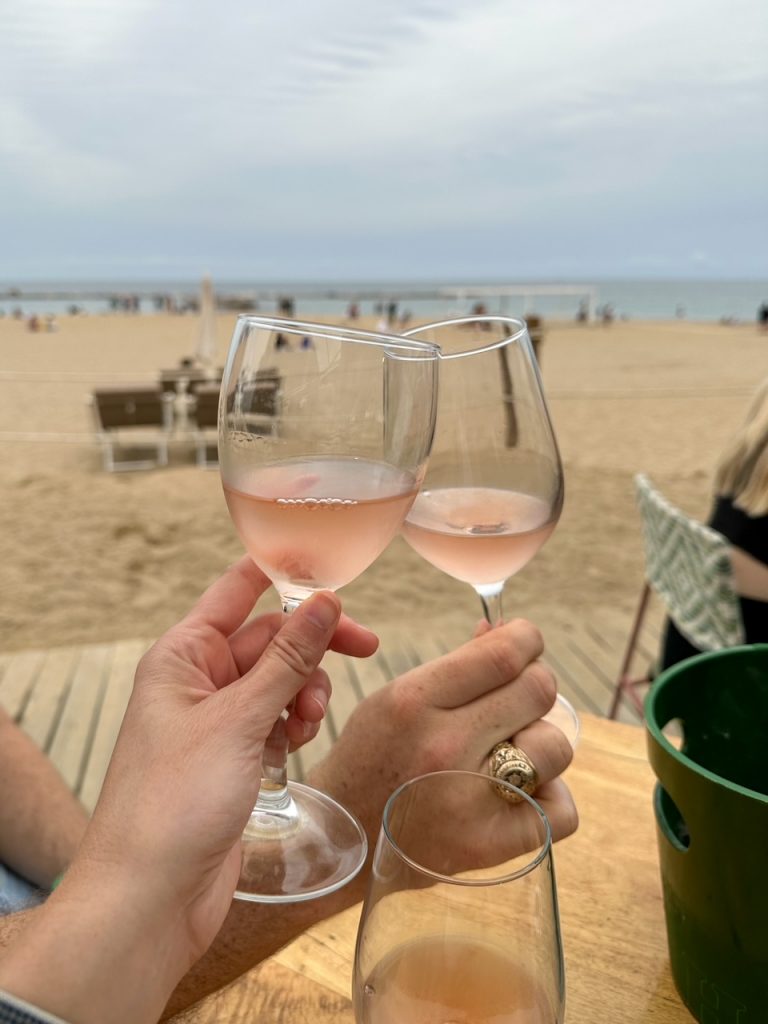 Here, we wrapped up our day with dinner and drinks at Chiringuito Chambao, a beach bar with yummy prawns tacos (and mediocre service), and more drinks at El Dique (amazing service, but we only had drinks).
A Broad Recommendation: We would've loved to have spent more time in Barceloneta and done a beach day. If you have more time, definitely add this to your itinerary. Note that you should keep an extra close eye on your belongings here, as Barceloneta is especially notorious for pickpockets.
3 Days in Barcelona: Day 3
Park Güell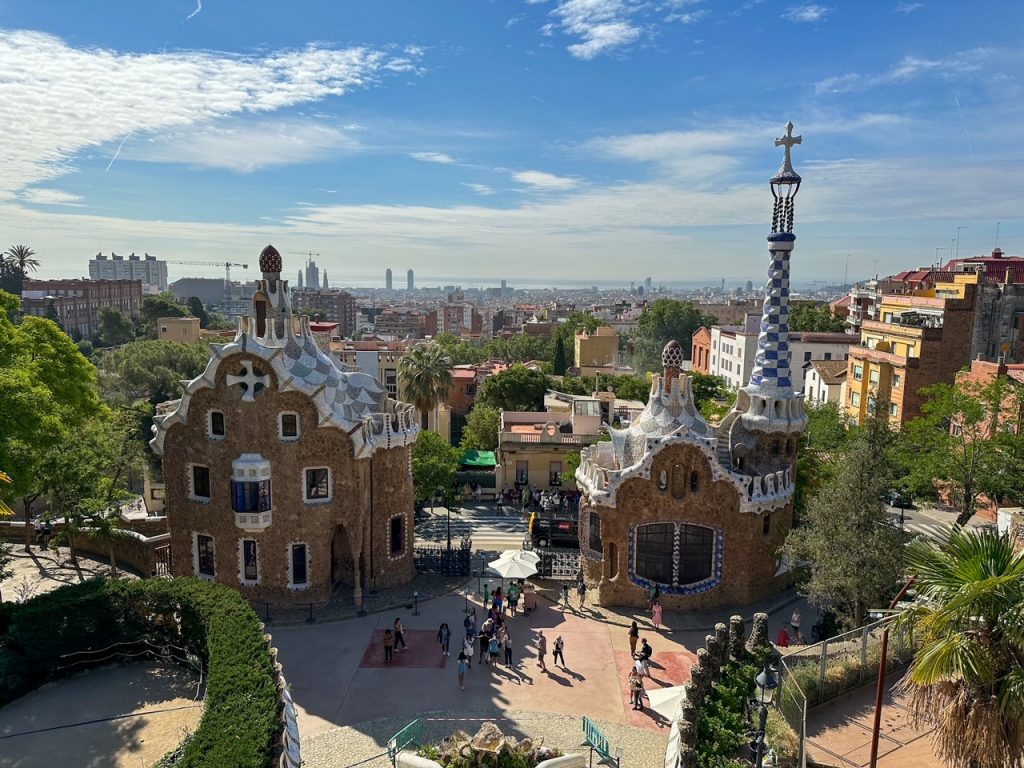 Hours: September – June: 9:30 am to 7:30 pm & July – August: 9:00 am to 7:30 pm
Cost: €10
Visit Time: 1.5-2 hours
We started our third day in Barcelona at Park Güell, another famous Gaudí site and one of the most impressive public parks in the world.
Park construction began in 1900 by request of local businessman and count Eusebi Güell. He intended for Gaudí to design a residential area for wealthy families with 60 houses. But, by 1914, they hadn't been able to sell the plots of land and the project was abandoned with only two of the 60 houses built.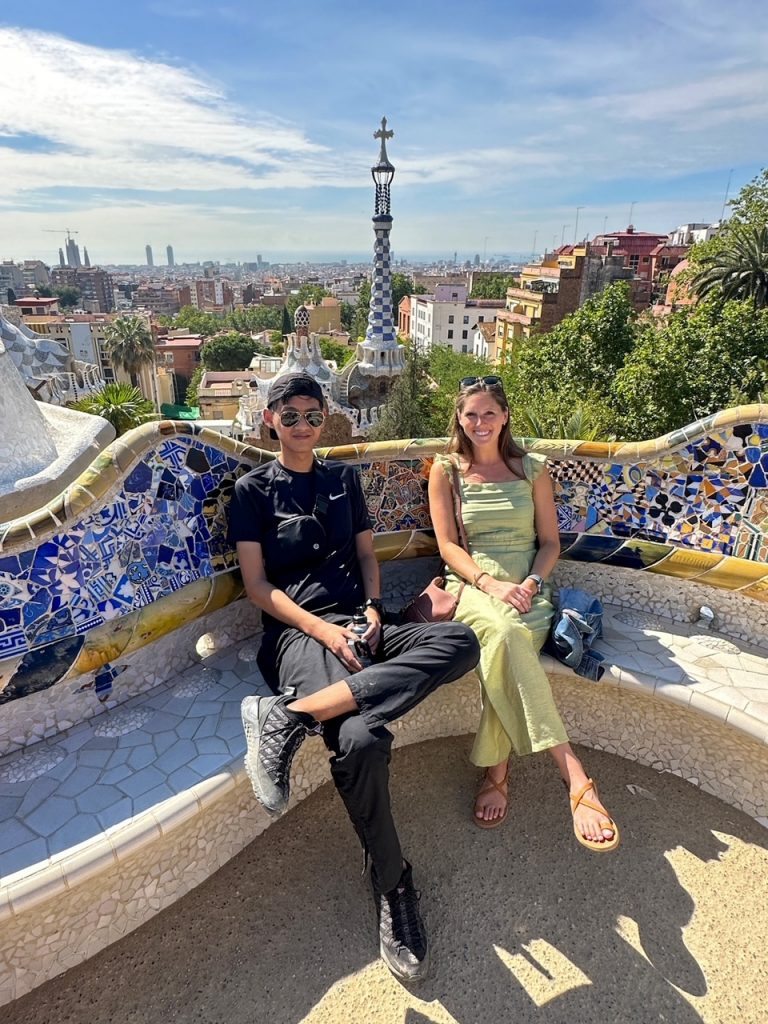 Park Güell was officially opened as a public park in 1926 and was later declared a UNESCO World Heritage Site in 1984. It's one of the best examples of Catalan Modernism, and though never fully completed, it remains one of Gaudí's most colorful, imaginative and playful works.
Some of the highlights of the park include the two houses, Casa del Guarda, which is now a museum, and Pabelló de l'Aministració, which is now a souvenir shop, the magnificent staircase with the 8-foot-long mosaic salamander, and La Plaça, i.e. The Square, which is encircled by a colorful, mosaic bench and supported by the 86 columns that form Sala Hipòstila. The park also offers some of the best views in Barcelona, as it's located on Carmel Hill.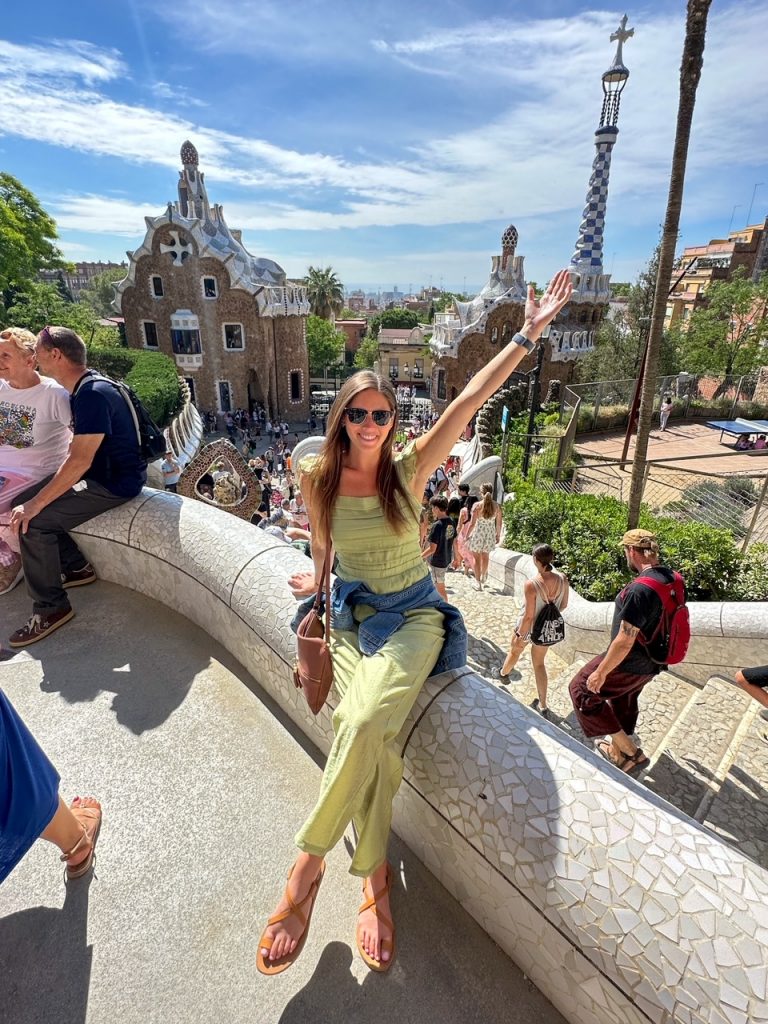 The rest of Park Güell is forest area, which features a set of trails and pathways where locals and tourists alike can go for a jog or stroll.
A Broad Recommendation: To avoid long lines, buy your tickets in advance on Park Güell's official website. If you want to beat the crowds, book the first time slot of the day and try to visit on a weekday. Be sure to arrive no later than 30 minutes after your specified time slot or you won't be admitted. Once inside the park, you can stay as long as you want. Also note that you'll need to climb a huge hill to get to the entrance. Be sure to leave extra time to do this (and mentally prepare yourself for some strenuous morning exercise!).
Park Güell is a must-see for all first time visitors to Barcelona, as it's one of Barcelona's most famous landmarks. That being said, the park gets extremely crowded even during the first time slot of the day, and in my opinion, the crowds took away from the overall experience.
Lunch at Bar Dakmar in Gràcia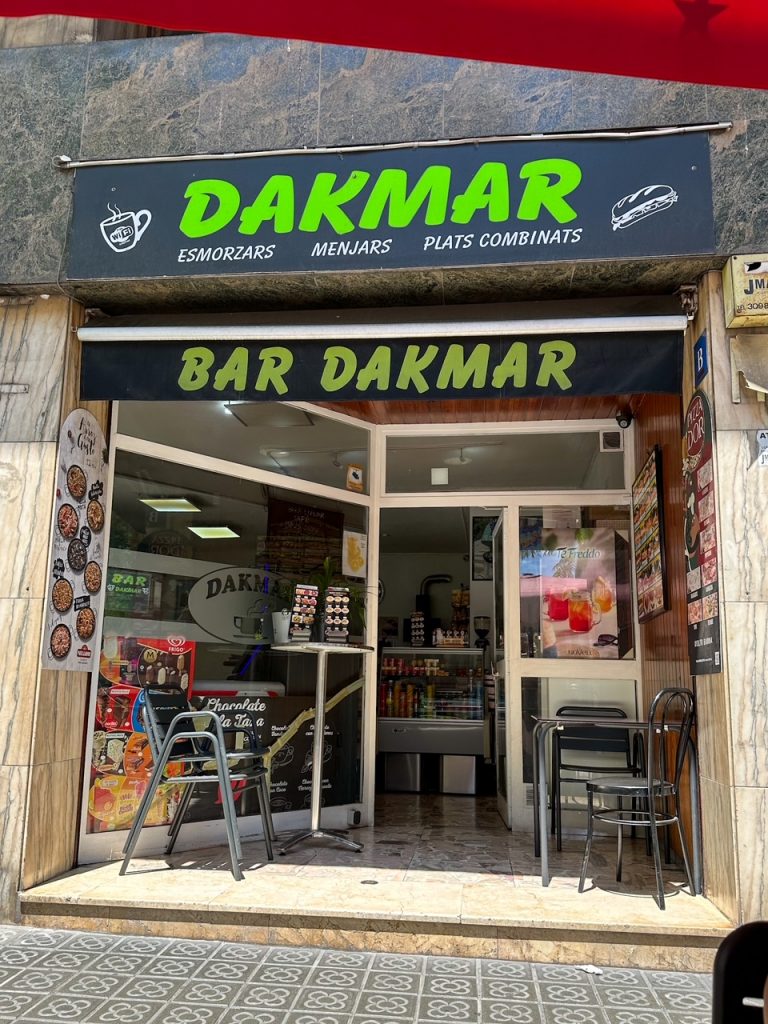 Of course we couldn't leave Barcelona without trying some paella, so we stopped at Bar Dakmar, a convenient sidewalk restaurant frequented by locals in the Gràcia neighborhood, to do so.
The Gràcia neighborhood features narrow streets, tucked away squares and lots of sidewalk cafes and restaurants. Be sure to also stop at the clock tower in the Plaça de la Vila de Gràcia and do some window shopping along the Carrer de Verdi.
Sagrada Família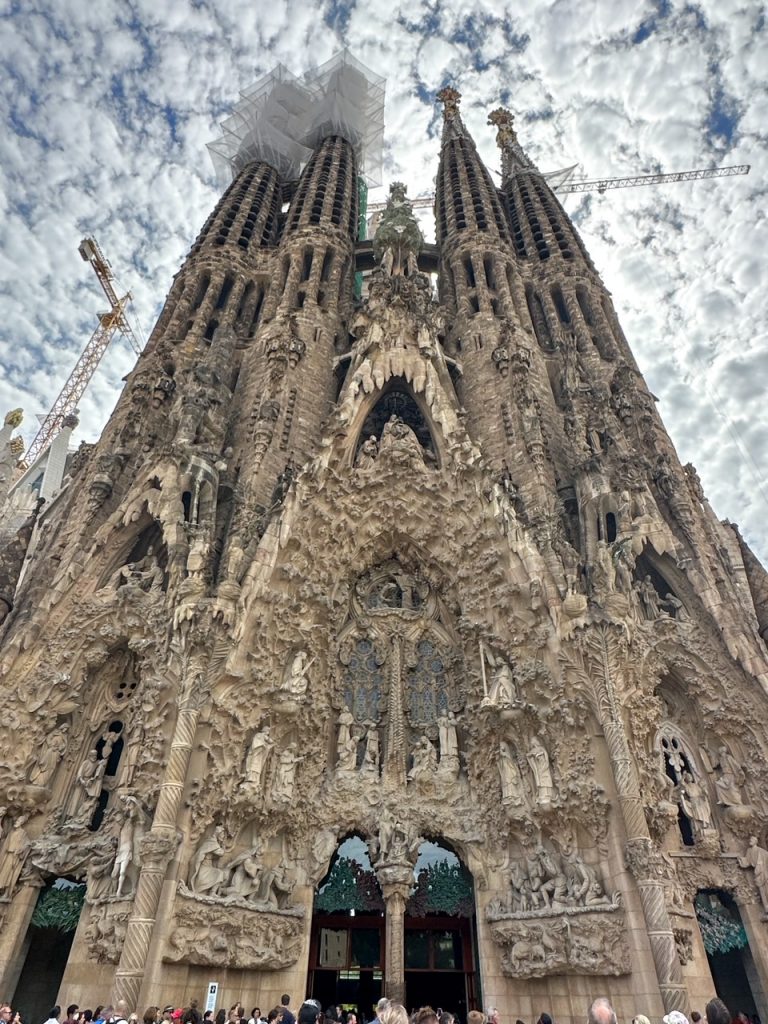 Hours: November – February: Monday – Saturday 9:00 am to 6:00 pm & Sundays 10:30 am to 6:00 pm; March & October: Monday – Saturday 9:00 am to 7:00 pm & Sundays 10:30 am to 7:00 pm; April – September: Monday – Saturday 9:00 am to 8:00 pm & Sundays 10:30 am to 8:00 pm
Cost: €26
Visit Time: 2 hours
Then it was time for the main event, Sagrada Família! Sagrada Família is the largest unfinished Catholic church in the world and the last and most famous work of architect genius Antoni Gaudí. After more than 140 years, the Roman Catholic minor basilica is still under construction with a hopeful completion date of 2026, the 100th anniversary of Gaudí's death.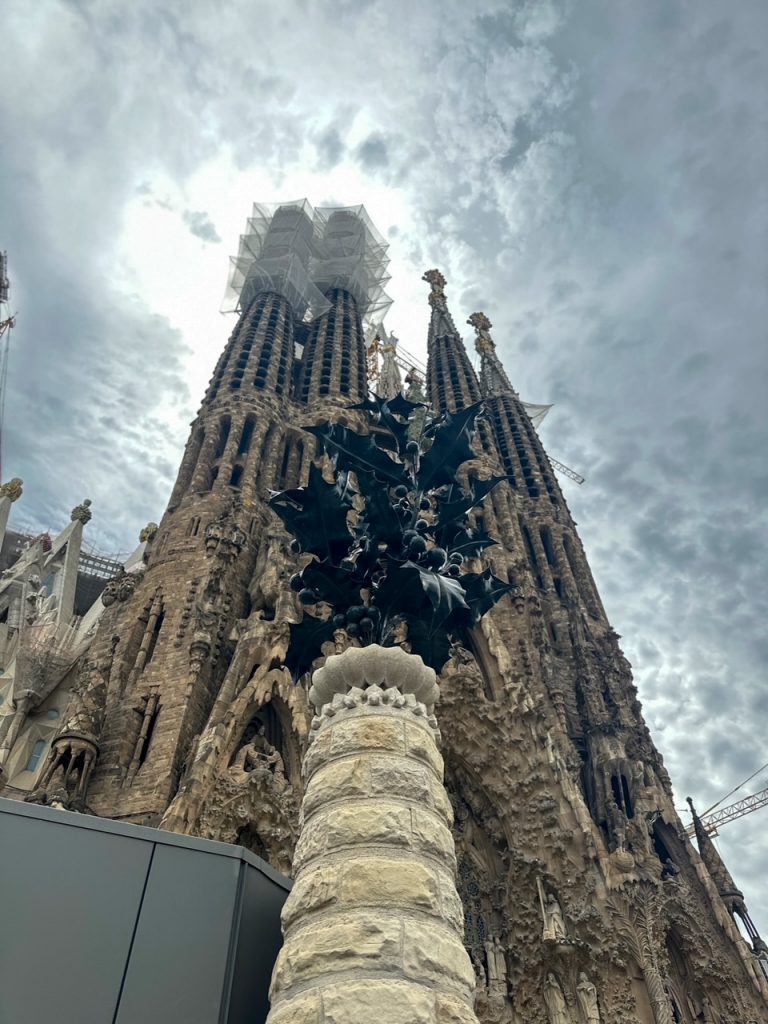 Located in the Eixample neighborhood, Sagrada Família is a UNESCO World Heritage Site and another must-see attraction in Barcelona. The church boasts a unique Gothic style with nature-inspired designs and curvilinear Art Nouveau forms and was consecrated by Pope Benedict XVI in November 2010.
A Broad Recommendation: Sagrada Família is a Catholic church, and visitors must dress appropriately. See-through clothing, swimwear, festival clothing, etc. is not permitted, and shoulders and knees must be covered at all times. Note that sandals are permitted – I was nervous about this but had no issues once we arrived.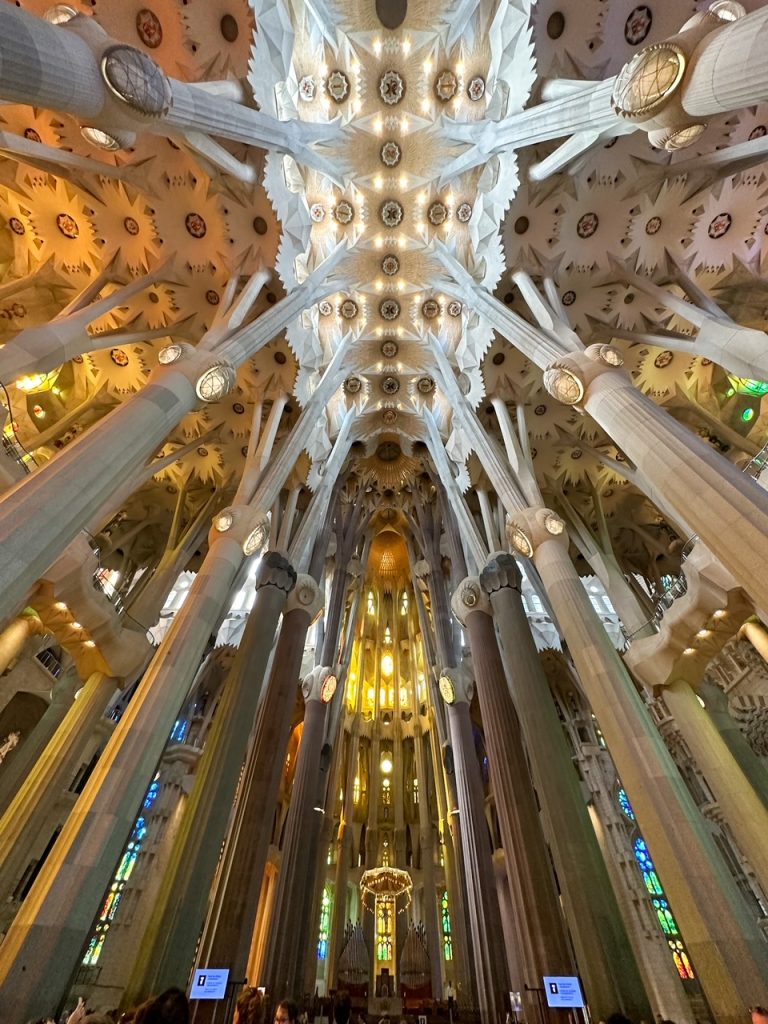 A Broad Recommendation: Skip climbing the towers, as the views of the city are better from other places (see some of the other rooftop terraces we visited above).
Your entry ticket includes access to the Sagrada Família official app, where you can manage your tickets and download the free audio guide. However, they do not include a tower visit. For a stress-free experience, be sure to download the app before your visit.
A Broad Recommendation: Buy your tickets in advance, as time slots fill up quickly and do sell out. Tickets can be purchased up to two months in advance on the Sagrada Família official website. Be sure to arrive on time or you won't be able to enter. Once inside, you can stay as long as you want.
Picasso Museum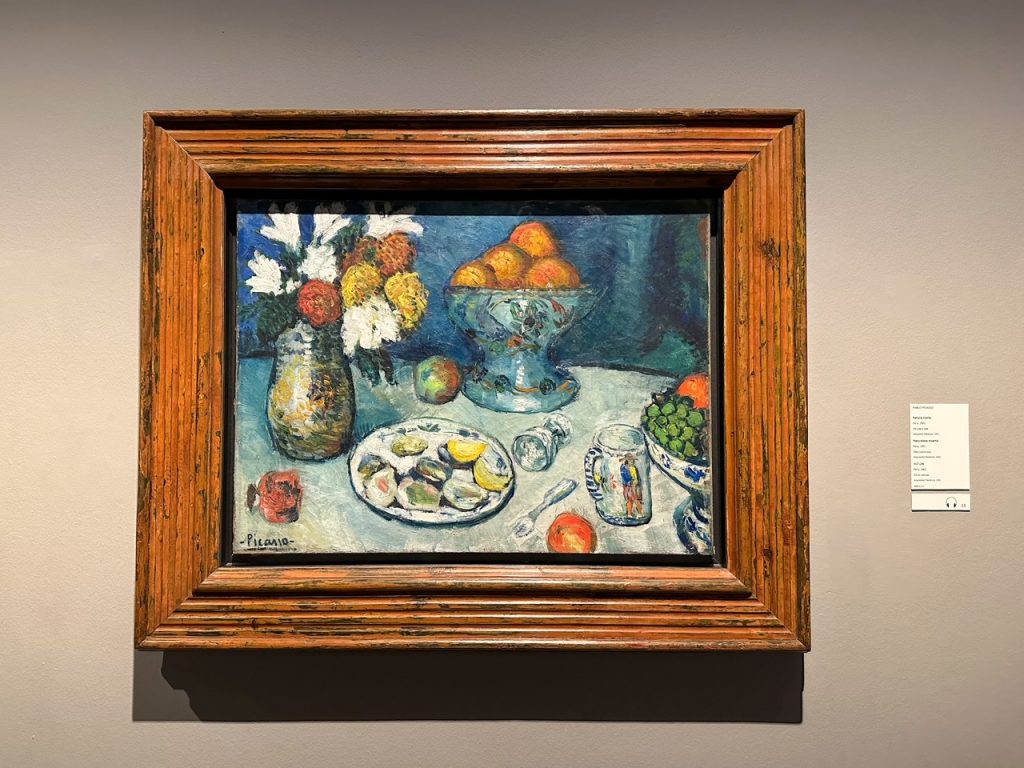 Hours: Tuesday – Sunday: 9:00 am to 8:00 pm (last entry at 7:30 pm); closed on Mondays
Cost: €14 online & €15 at the ticket office; Free entry on Thursday from 5:00 pm to 8:00 pm, the first Sunday of each month & other select dates
Visit Time: 30-45 minutes
Next, we made our way to the Picasso Museum.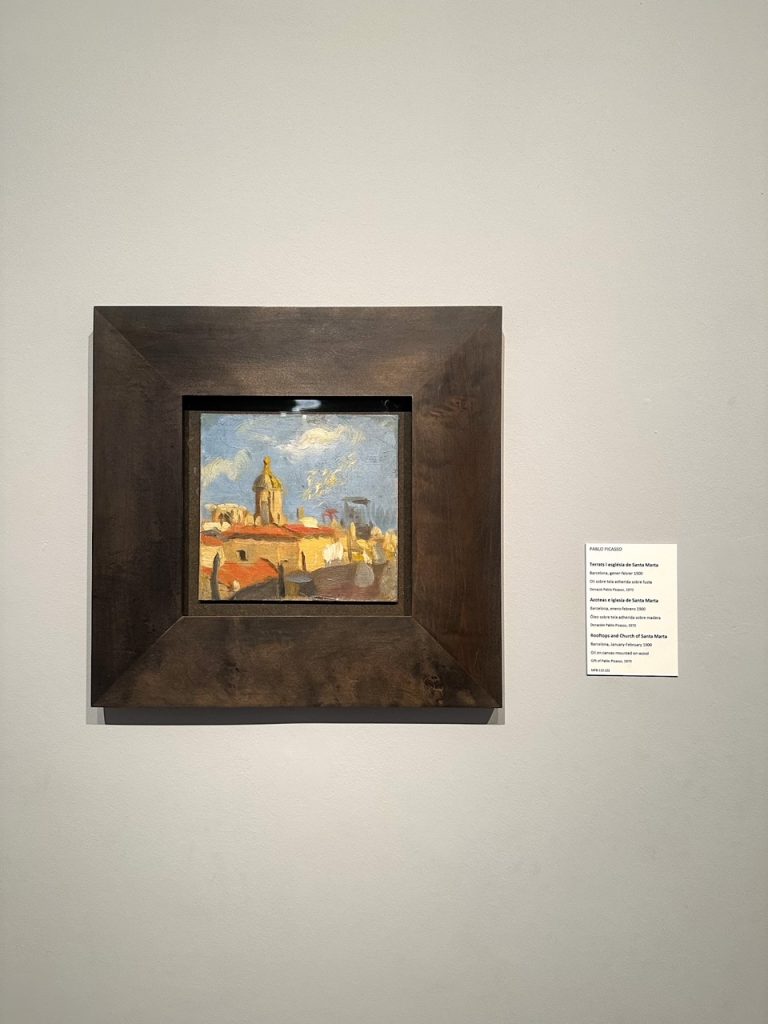 Housed in a series of connected medieval palaces in the La Ribera neighborhood, the Picasso Museum showcases more than 4,000 pieces of artwork by 20th century Spanish artist Pablo Picasso.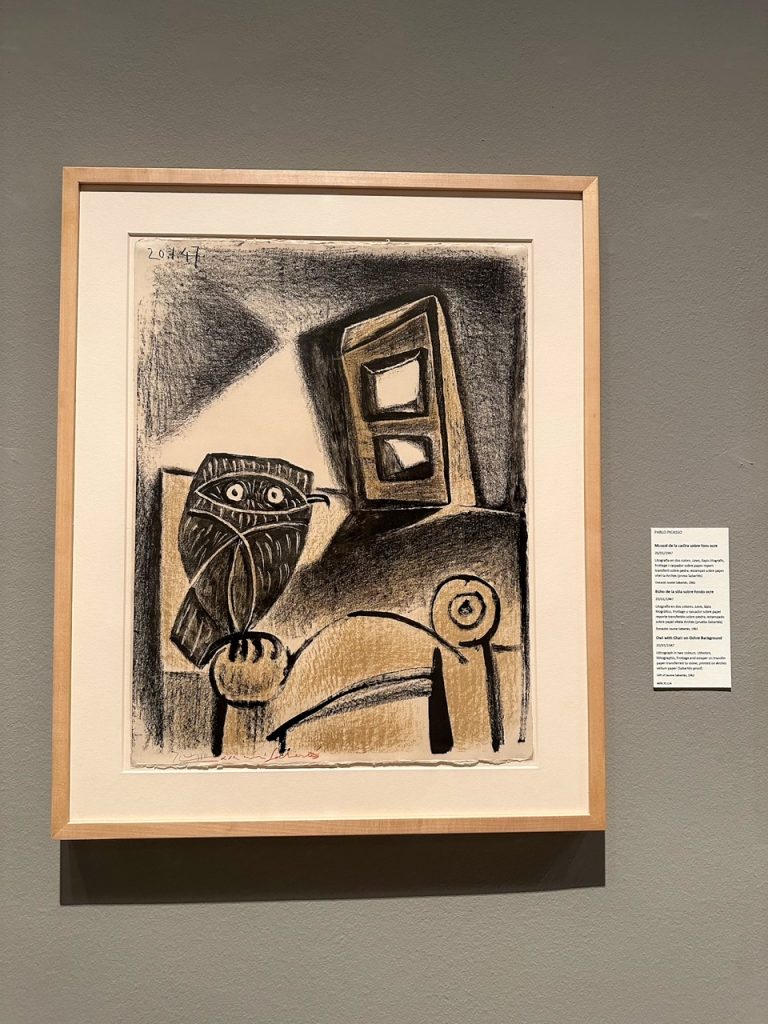 Opened to the public in March 1963, this is the first and one of the largest museums dedicated to Picasso's work and the only one created during his lifetime. The collection includes two of his first major works, The First Communion (1896) and Science and Charity (1897), among many other notable works.
Dinner Cal Pep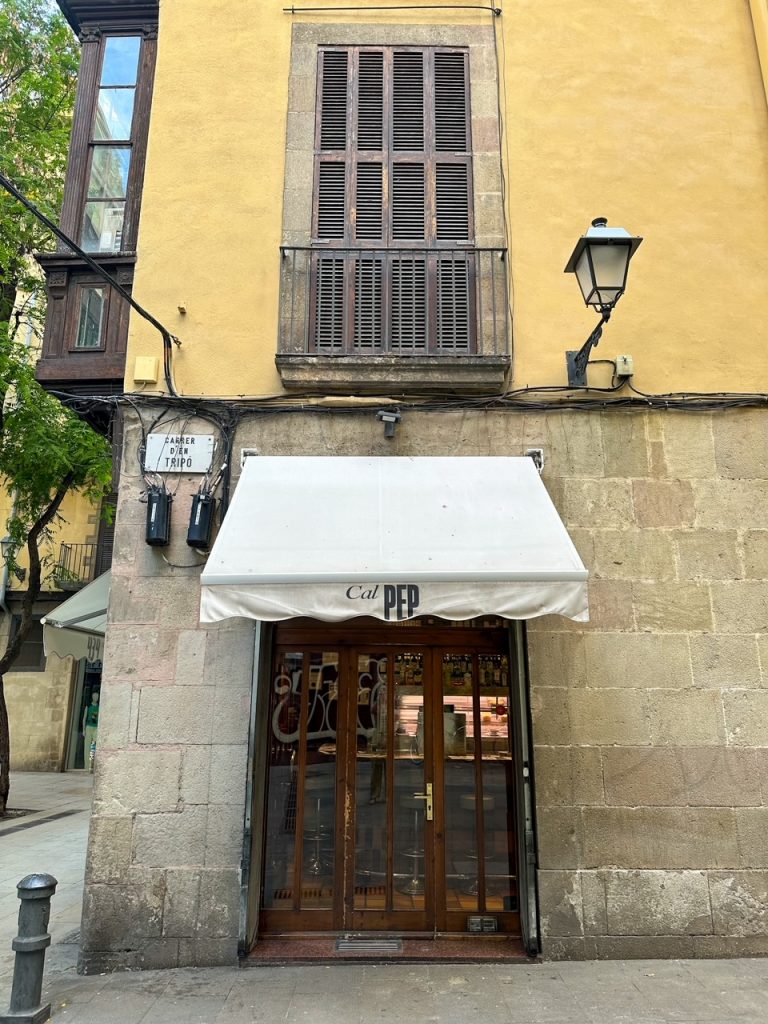 Our last evening in Barcelona was spent eating at Cal Pep, a popular local restaurant where small groups of less than four can sit at the counter and larger groups are seated in a small, charming dining room for an incredible dining experience.
We got here around 30 minutes before opening time to wait in line, as they don't take reservations. And, somehow we managed to get two tables large enough to seat the three of us and Steven's family.
Once seated, all you need to do is let your waiter know what you'd like to drink and if you have any dietary restrictions, and they will take it from there. Cal Pep's expert waiters will design a selection of fresh, seasonal tapas for you and your party to share. If you're seated at the counter, you'll get to see some live cooking. Our only regret is that we didn't sit at the counter because we would've loved to see this, but we still had an incredible experience.
Sorry, we didn't take any photos of the food, since we were too busy enjoying our meal, but it was delicious, and the service was top notch! So, you'll just have to check out this place for yourself.
Other Things to Do for 3 Days in Barcelona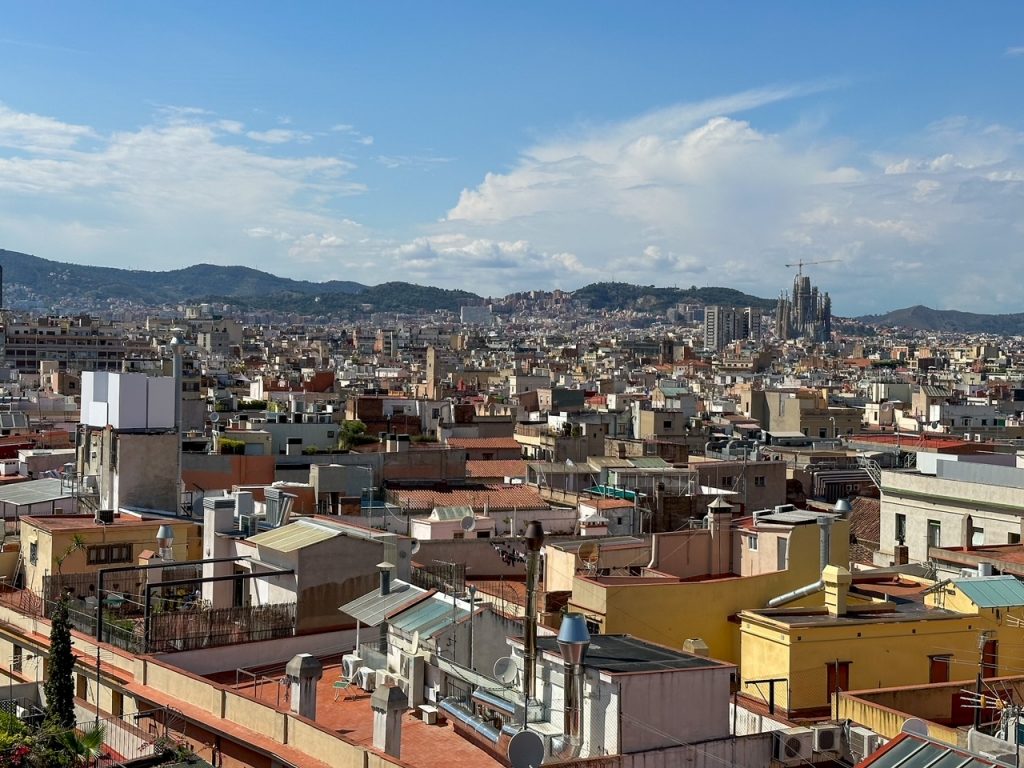 Of course, 3 days in Barcelona isn't enough time to see everything that this exciting city has to offer. Here are some of the things we'd like to do on our next trip to Barcelona.
La Boqueria: Located on La Rambla, La Boqueria is a huge public market that's hundreds of years old (the first mention of a market here dates back to 1217). Here, you'll find fresh foods like meats, cheeses, vegetables and fruits, as well as cooked food served to go or at one of the sit-down counters. El Quim and Bar Pinotxo both offer counter seats and serve delicious local bites and Catalan dishes.
Barcelona History Museum: Here, guests descend below the Plaça del Rei through 40,000 square feet of Roman ruins and archaeological remains from Barcelona's former medieval city. Visits are accompanied by a helpful, free audio guide.
Casa Mila: Casa Mila, i.e. 'La Pedrera', was Gaudí's last private home design and, like many of his other works, has since been named a UNESCO World Heritage Site. Visits are self-guided and include a free audio guide.
Palau Güell: Located just off La Rambla, Palau Güell is another one of Gaudí's masterpieces and another UNESCO World Heritage Site and somewhat hidden gem.
Parc de la Ciutadella: This public park features gravel paths, century-old trees, tropical vegetation, interesting sculptures and more.
Tibidabo: At nearly 1,700 feet, Tibidabo is the tallest hill in the Serra de Collserola mountain range and offers epic views of Barcelona. Things to check out include the Tibidabo Panoramic Area, the Temple of the Sacred Heart of Jesus, Tibidabo Barcelona (one of the oldest amusement parks in the world), Collserola Park, and the Torre de Collserola.
Day trip to Girona or Montserrat: Girona is another city in Spain that's known for its medieval architecture, walled Old Quarter and Roman remains, and Montserrat is a gorgeous mountain range that's home to some of Spain's most important religious sites.
Well, that's a wrap for our 3-day Barcelona summer itinerary! Have you ever been to Barcelona? What would you add to this itinerary?
XOXO Sara at Travel A-Broads