Looking for a day trip from Edinburgh, Scotland? A day trip from Edinburgh to Glencoe, Loch Ness and the Scottish Highlands is a great option!
In July 2022, two of my girlfriends, Kelsey and Stephanie, and I spent five days in Scotland. Although we stayed in Scotland's capital city, where there are plenty of things to do, we wanted to explore beyond the city limits and to spend some time out in nature.
So, we decided to book a couple of day trips from Edinburgh, Scotland to see other parts of the country. The first was our Loch Ness, Glencoe and the Highlands Small-Group Day Tour from Edinburgh that we booked through Viator. This post focuses on our experiences with this tour, specifically where we stopped and what we learned along the way.
Note that one day isn't enough time to see everything, as there are tons of places to visit in the Scottish Highlands, but we felt that this day trip gave us a great sense of what the Scottish Highlands has to offer.
*P.S. this post contains some affiliate links. At no additional cost to you, we may earn a small commission when you make a purchase.
Starting Our Day Trip from Edinburgh
Our day trip from Edinburgh began at 8 a.m., leaving from Rabbie's Cafe Bar (6 Waterloo Pl, Edinburgh EH1 3EG, UK). We rode in style in a 16-seat Mercedes mini-coach and were accompanied by a jovial and knowledgeable guide.
A Broad Recommendation: Rabbie's requests that you check-in at least 15 mins prior to your departure time. We recommend getting there even earlier to grab some coffee/breakfast and to use the restroom. Luckily, the travel time between stops is never more than two hours.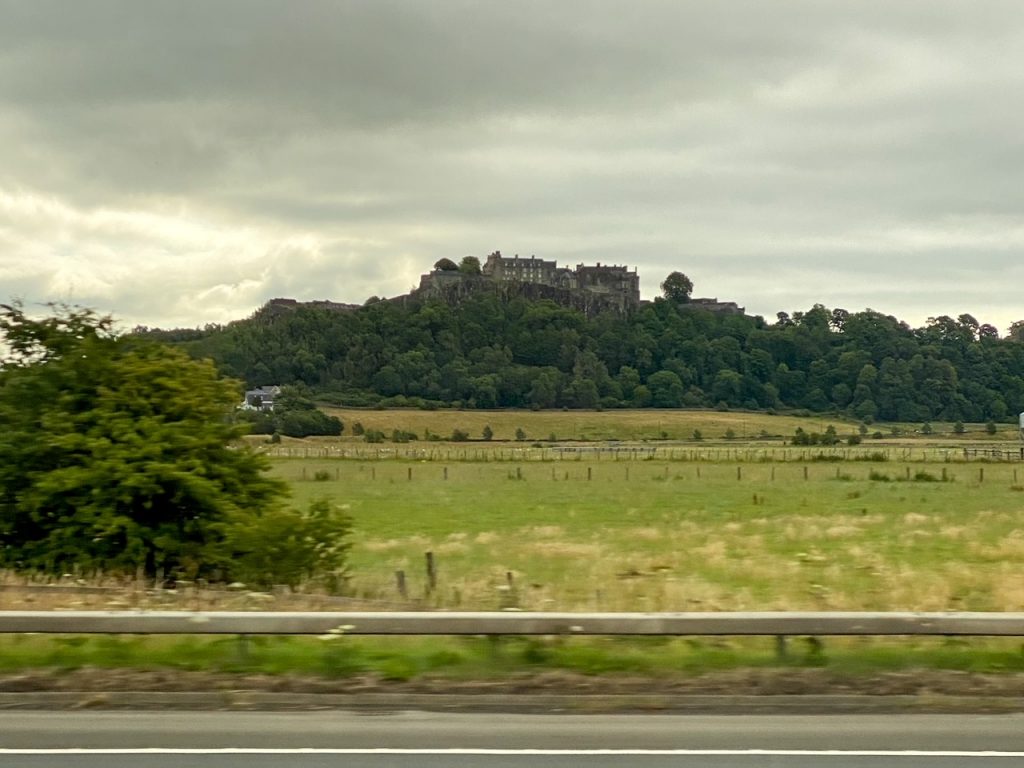 On the way to Glencoe, our guide shared about the history of Scotland. We also passed by various sites of significance, like Stirling Castle, the National Wallace Monument, the Kelpies, the Three Bridges, and Linlithgow Palace – the birthplace of Mary Queen of Scots.
A Broad Recommendation: this is a 12-hour-long tour, so be sure to pack some snacks and to wear comfy clothes. You may also want to pack a coat or rain jacket. Some of the places we stopped at were on the colder side, and it rained a bit during our visit.
Stop 1: The Cabin at Loch Lubnaig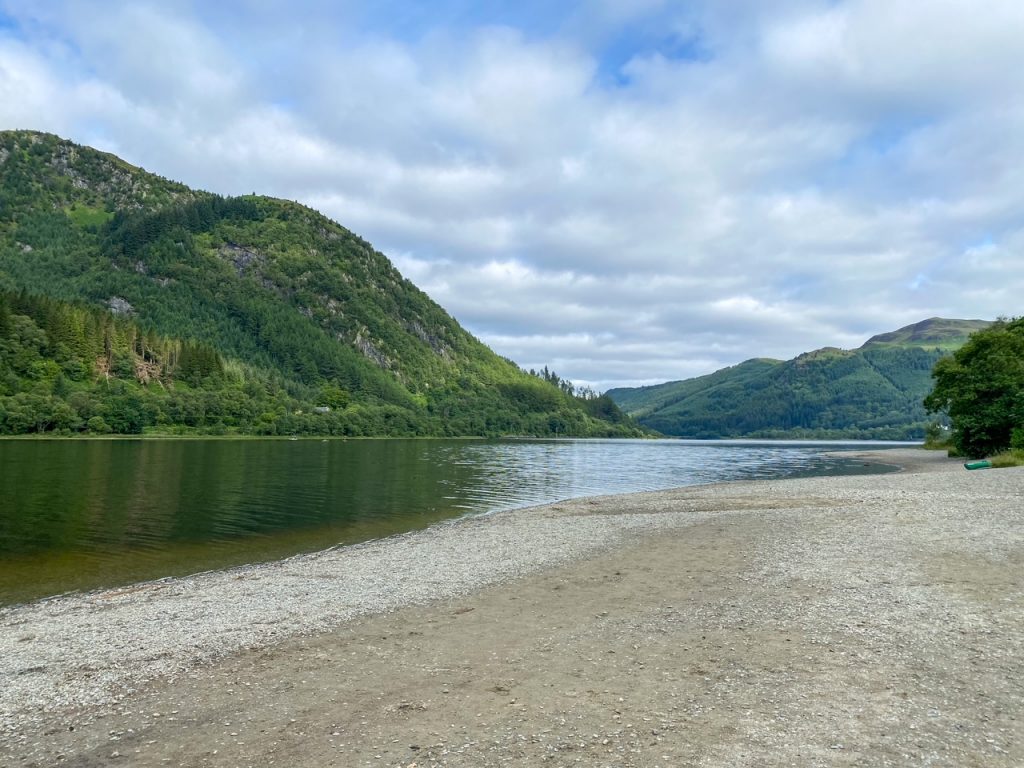 By 9:30 a.m., we arrived at our first stop, The Cabin at Loch Lubnaig. Here, we were able to use the restrooms, to grab some breakfast sandwiches, and to enjoy the beautiful loch views.
Fun fact: "loch" is the Scottish Gaelic word for "lake", and a "lochan" is a small loch.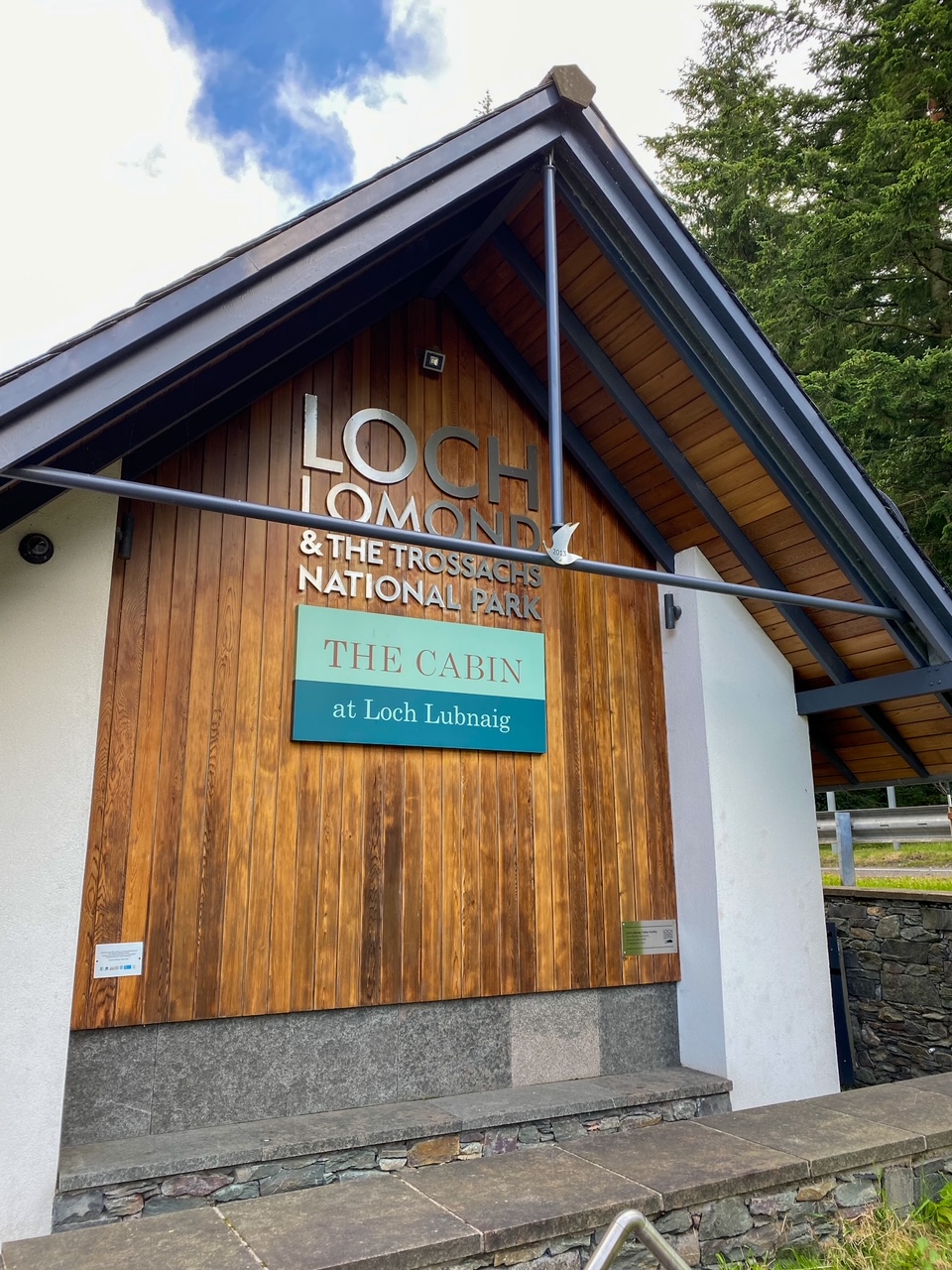 P.S. do you recognize Stephanie from some of my other posts? Back in 2017, she and I spent three days in Stockholm, Sweden and four days in Copenhagen, Denmark together!
We saw some folks kayaking, stand-up paddle boarding and plunging into the freezing cold water; some were even in speedos!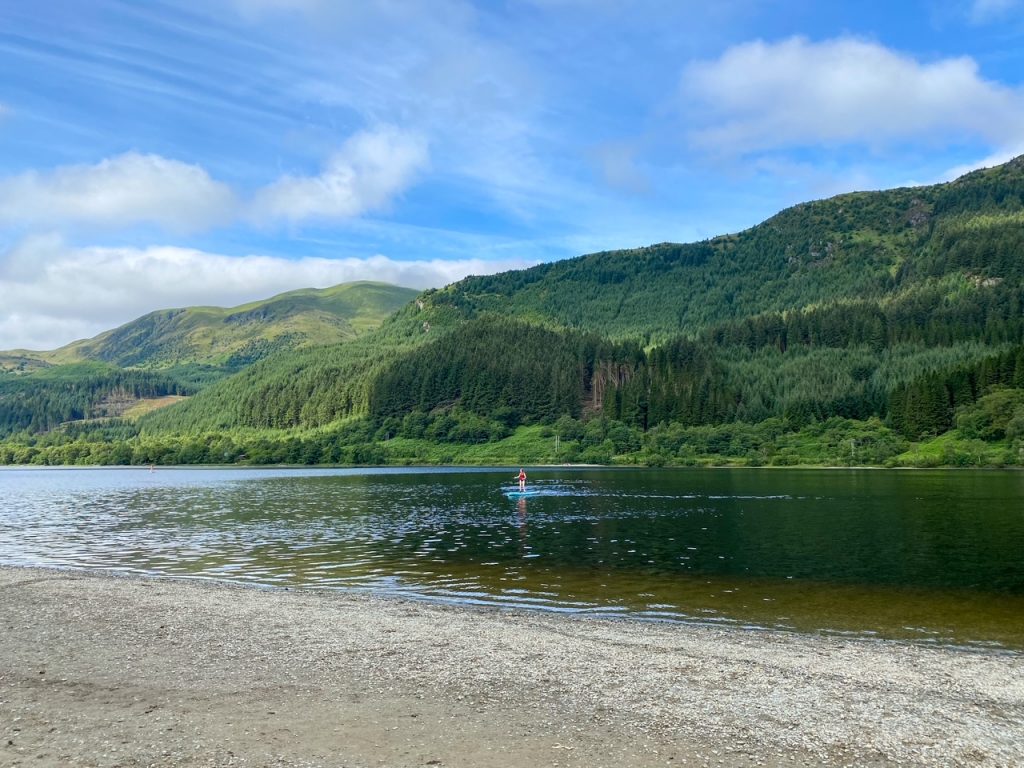 After about twenty minutes, we hopped back on to the mini-coach and continued on our way to Glencoe.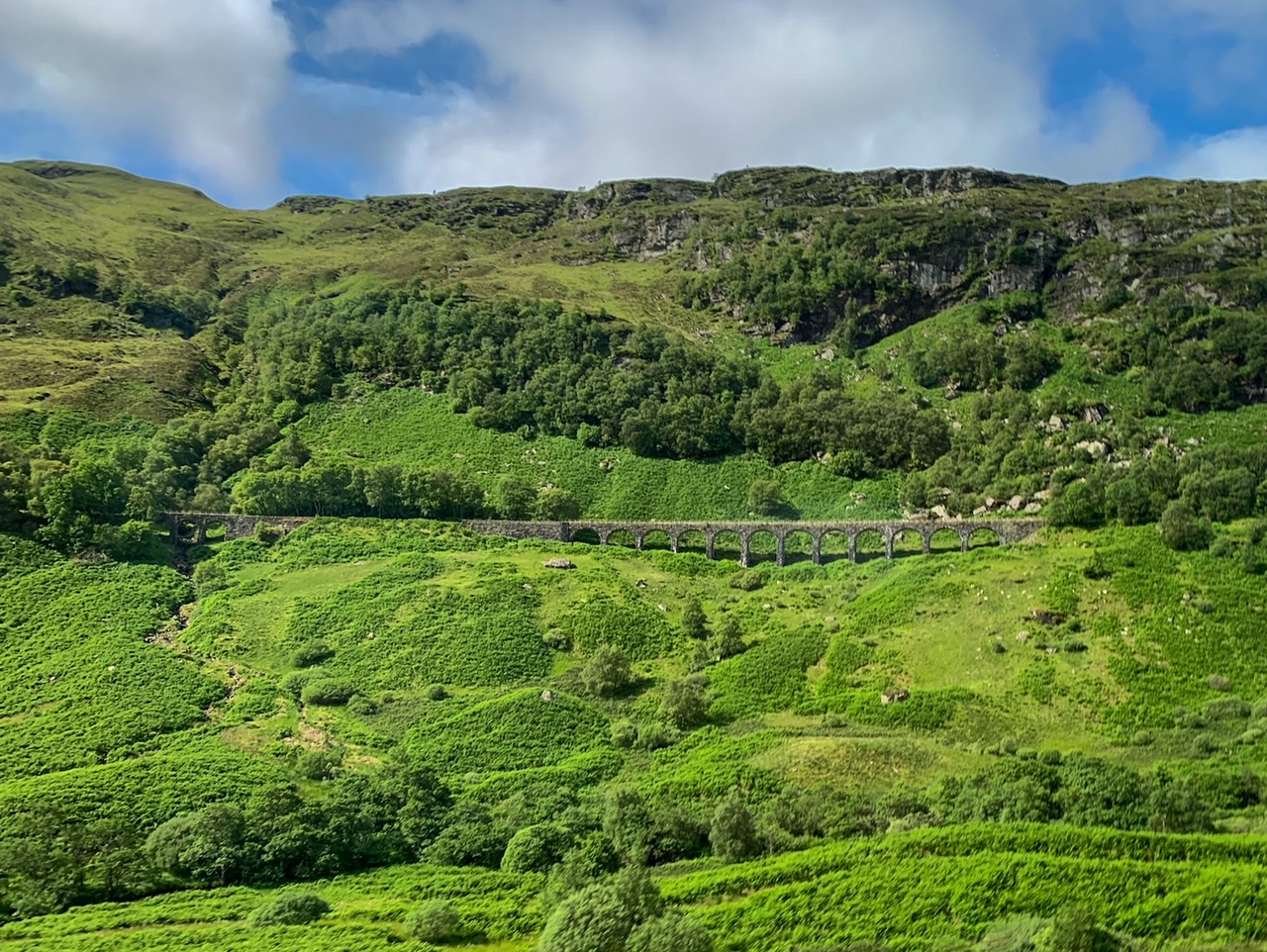 The scenery was out of this world! At one point, we passed by this cool bridge that gave us Harry Potter vibes. Note: this is actually the Avon Aqueduct, and it's the largest aqueduct in Scotland.
Stop 2: Glencoe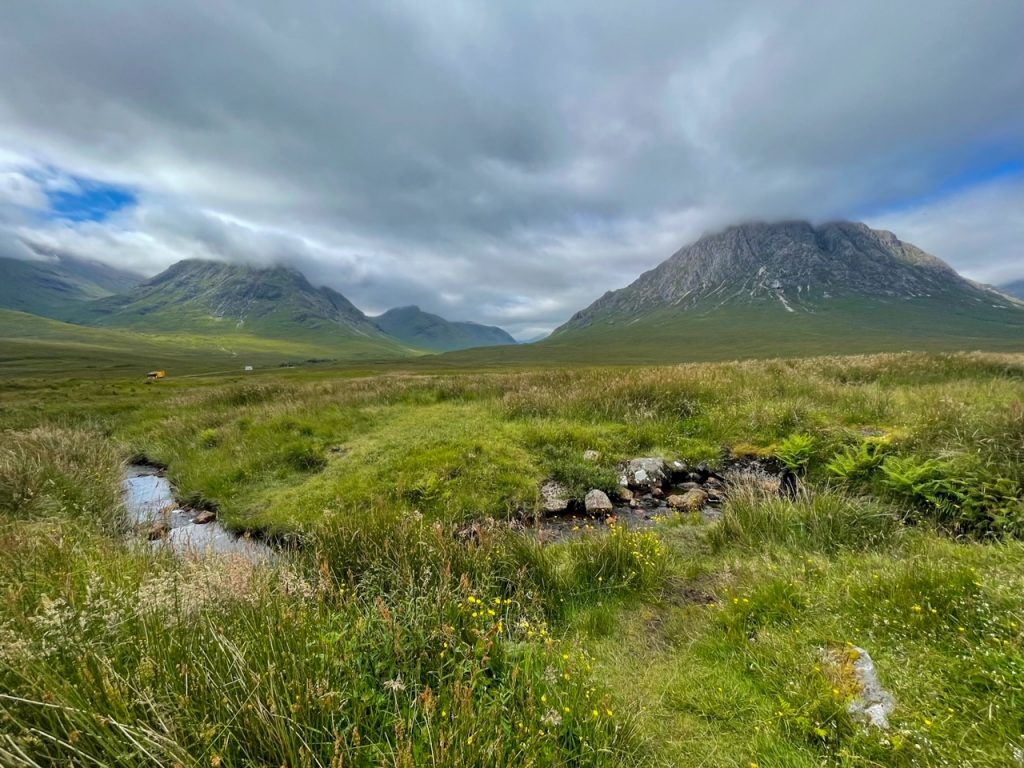 Next up, was Glencoe, i.e. the glen of sorrows. Known for both its beauty and its history, Glencoe is one of Scotland's most famous landscapes.
The Massacre of Glencoe
During the drive, our guide told us about the Massacre of Glencoe, which took place on February 13, 1692. When new monarchs, William III and Mary II, replaced King James II and VII on the English and Scottish thrones – woah, that was a lot of numbers, sorry! – many Scottish clans remained loyal to their predecessor. The Jacobites, i.e. the supporters of King James VII, revolted in what was known as the Jacobite rising of 1689 in an attempt to restore King James VII to the throne.
Two years later, the Scottish government offered an indemnity to all Jacobite clan chiefs in return for taking an oath of allegiance. When Alexander MacDonald missed the deadline, the king ordered military punishment, and more than a hundred soldiers attacked the clan without warning. Many escaped, but the chief and close to thirty Clan MacDonald members and associates were killed.
Although similar events occurred throughout Scottish history, the brutality of the massacre shocked contemporaries. And, this event persisted Jacobitism in the Highlands during the first half of the 18th century.
Scotland's Unusual Geology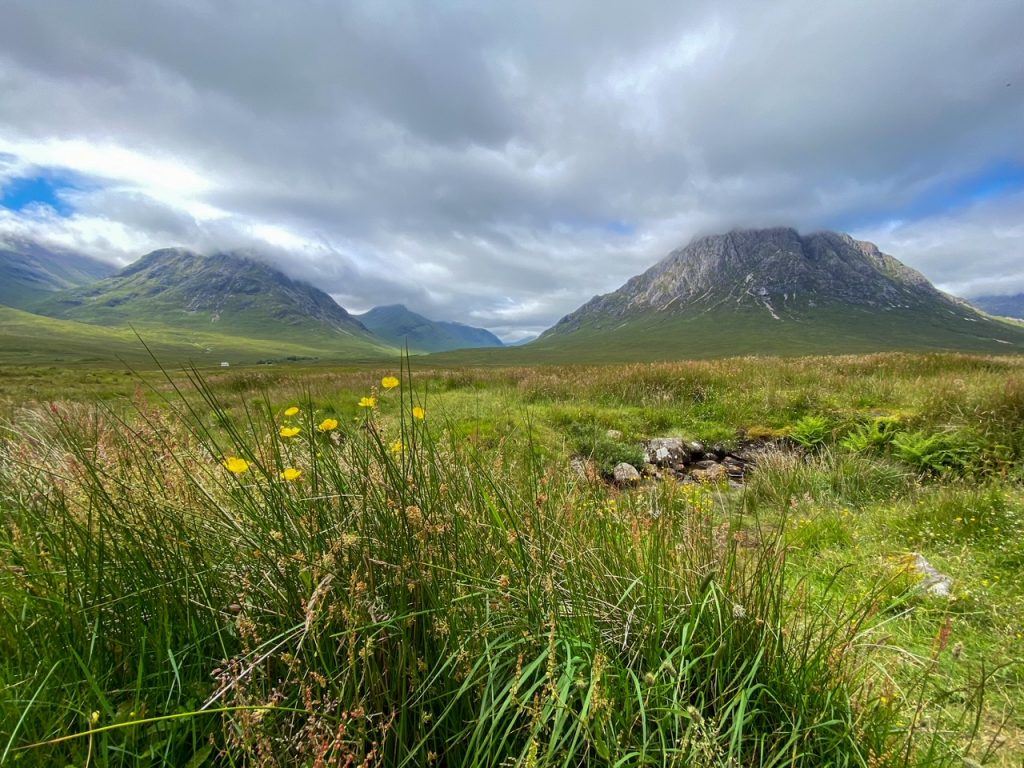 Scotland's geology is uniquely varied for a country of its size. It has three main geographical subdivisions: the Highlands and Islands, the Central Lowlands, and the Southern Uplands. And, each of these has geologically distinct attributes.
Glencoe is located in the Highlands of Scotland. The Highlands and Islands are located to the north and west of the Highland Boundary Fault. This area is home to ancient rocks from Cambrian and Precambrian times, as well as some of the highest elevations in the British Isles, to include Ben Nevis – the highest peak at 4,409 feet.
The Central Lowlands, or the Midland or Central Valley, is an area of low-lying land that sits between the Highland Boundary Fault and the Southern Uplands Fault. This region contains a rift valley that experienced intense volcanism, leaving behind various Paleozoic formations.
Finally, the Southern Uplands are located south of the Southern Uplands Fault and just north of the English border. A range of hills and mountains that extend for almost 120 miles comprise most of this area – woah!
How Scotland was Formed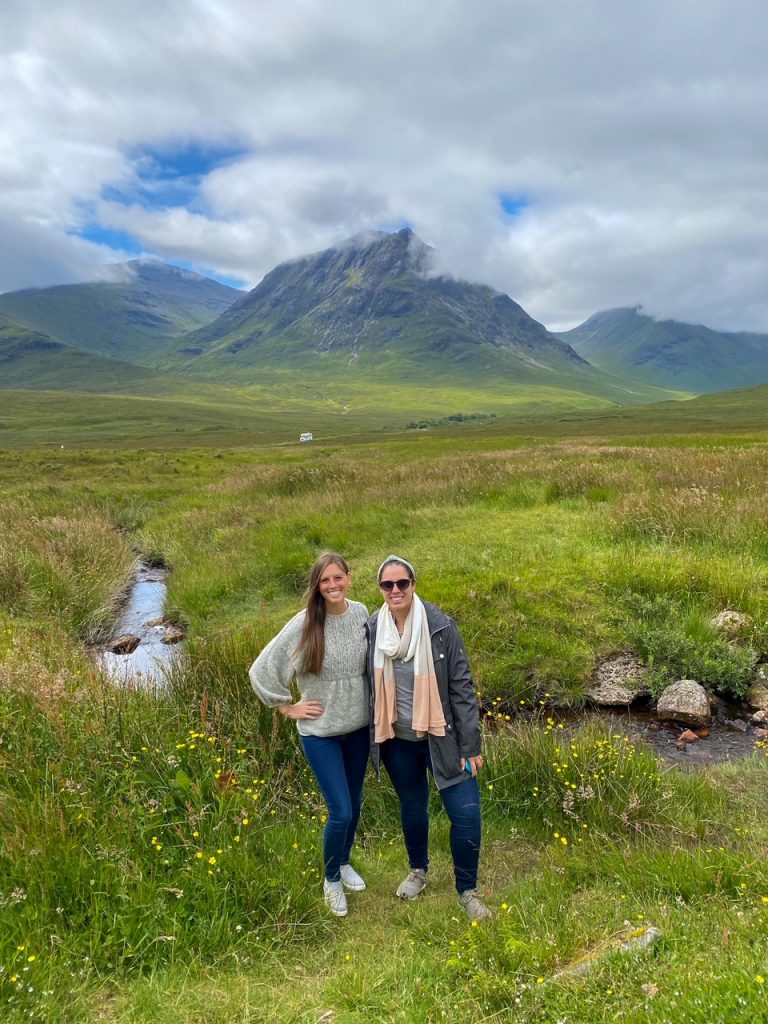 We also learned about the formation of Glencoe and Scotland as a whole. I thought this was fascinating, so naturally, I had to share some of what we learned here!
Between 600 and 400 million years ago, the Iapetus Ocean existed between the paleo-continents of Laurentia, which contained most of present-day North America and Greenland and part of Scotland; Baltica, which contained much of Scandinavia and western Europe; and Avalonia, which contained what are now England and Wales, as well as parts of Ireland, France, Belgium, Atlantic Canada, and New England.
As the ocean closed, a series of continental collisions known as the Caledonian mountain-building event, or Caledonian Orogeny occurred. The three continents formed one big landmass, i.e. Euramerica, and Scotland and England came together.
These collisions also formed the Caledonian Mountains, the remains of which stretch from modern-day Norway to the Appalachian Mountains of North America. By the end of the Caledonian Orogeny, Scotland's geological foundations were solidified.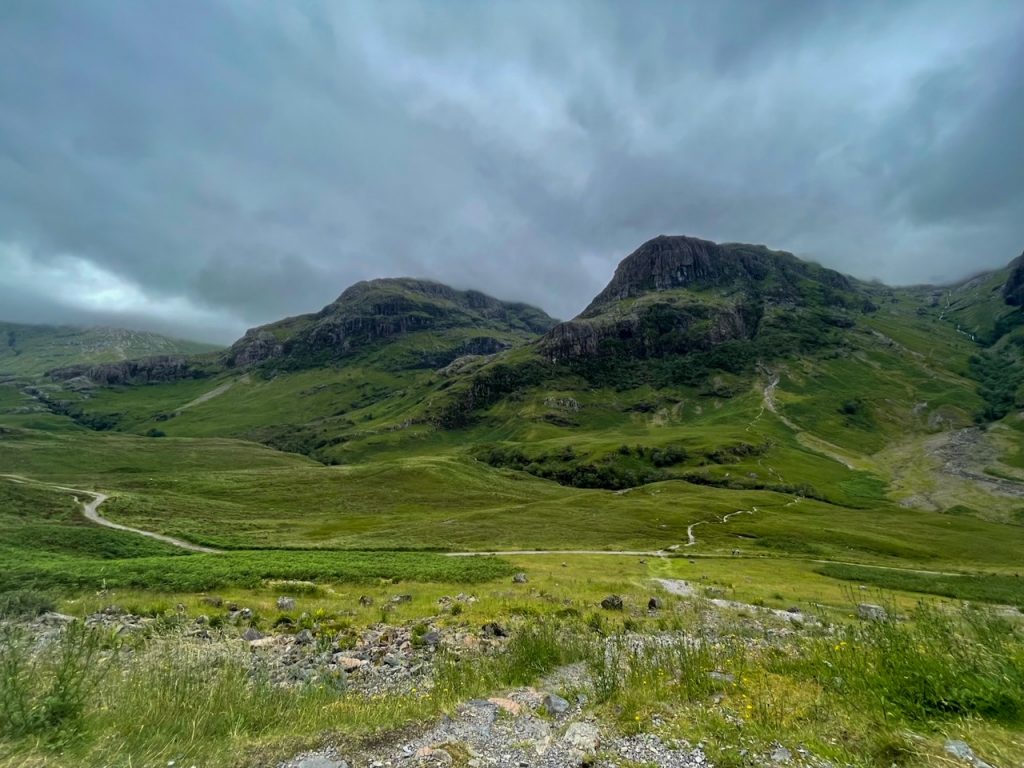 More recently, during the Ice Ages about 10,000 years ago, Scotland was completely covered in ice. Glacial erosion, along with subsequent sea level changes, helped to shape the landscapes that exist today. For example, glaciation carved out the deep, u-shaped valleys of Glencoe that we see today.
The mountains of Glencoe consist of some of the oldest sedimentary and volcanic strata in the world. The Great Glen, which runs for 62 miles along the Great Glen Fault, is the most seismically active area in Britain. Luckily, there hasn't been any significant volcanic activity here since 1901.
What We Saw in Glencoe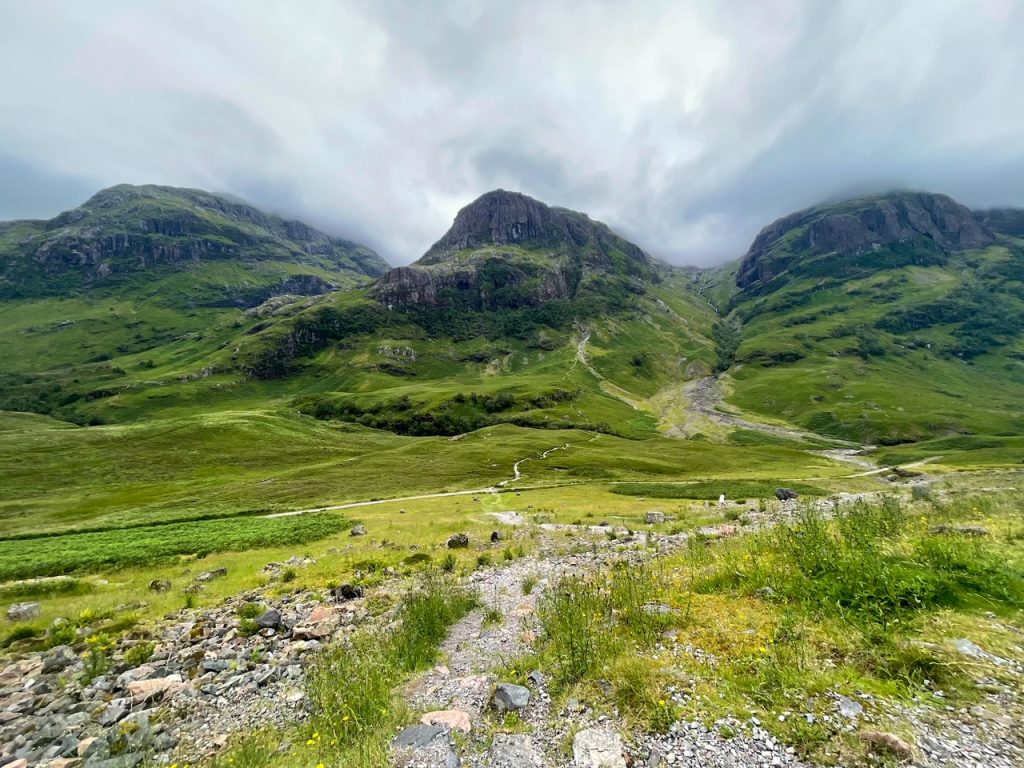 Arriving from the south, we first saw the peaks of the Buachaille Etive Mor and Buachaille Etive Beag, i.e. 'The Great' and 'The Little' Herdsmen of Etive. We also saw three steeply-sided ridges of the Bidean Nam Bian mountain range, i.e. the famous 'Three Sisters of Glencoe'.
Stop 3: Fort Augustus & Loch Ness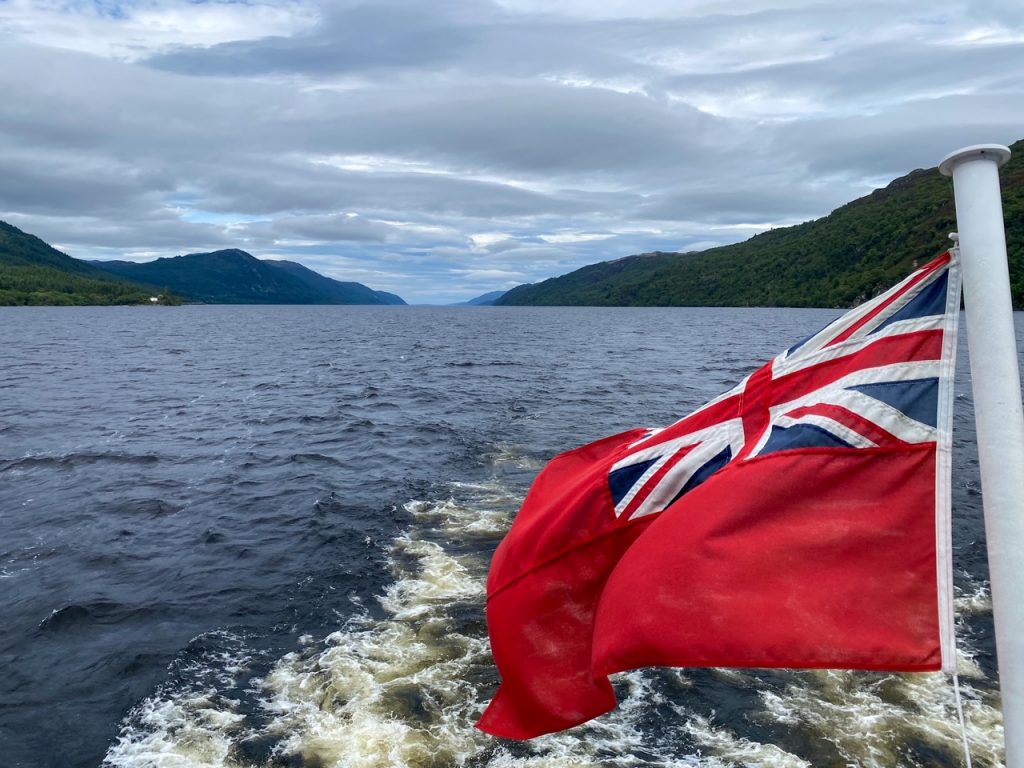 The next stop on our day trip from Edinburgh was Fort Augustus. Fort Augustus is home to the Caledonian Canal and Scotland's most famous loch, Loch Ness.
Exploring Fort Augustus
Here, we had the option of taking a cruise on Loch Ness or staying in town and eating lunch. We opted for the cruise – when in Loch Ness, do the cruise! We made sure to pick up some snacks during our previous restroom stop so we wouldn't go hungry.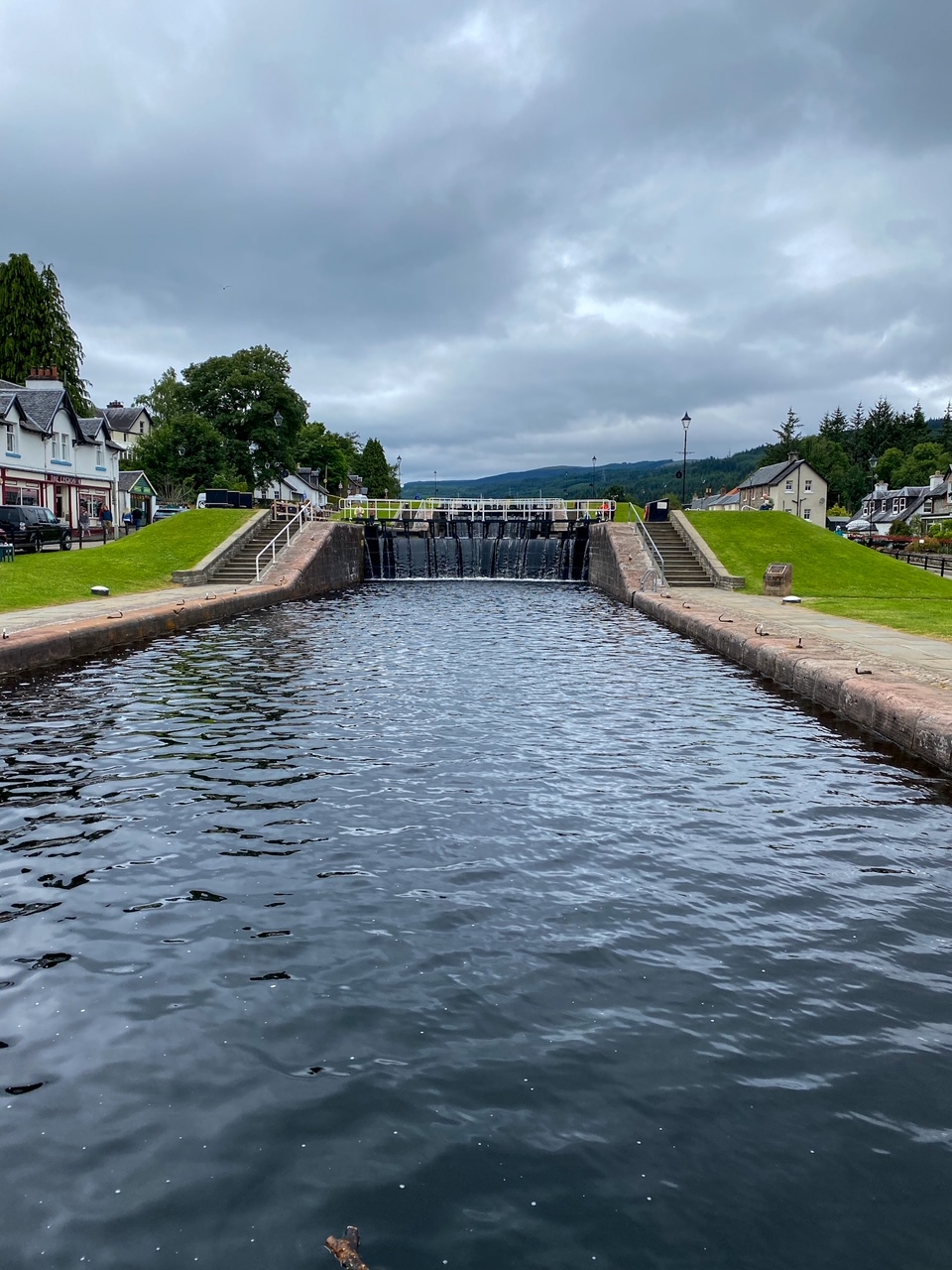 Then, we had about 30-45 minutes to walk around and souvenir shop before the cruise, which was perfect for us!
A Broad Recommendation: get in line early for the Loch Ness cruise. When we boarded the cruise, we realized that we'd waited too long to get in line, and we weren't able to sit together on the top deck. We probably could've found seats together in the enclosed area downstairs, but we wanted to be outside.
Cruising Loch Ness
Needless to say, this cruise was CROWDED. Be prepared to be close to other people, especially if you're seated on either side of the boat. People will crowd around you and even invade your personal space to take photos. Luckily, we could move around. At one point, we found our way to the back of the boat, where we were able take better photos.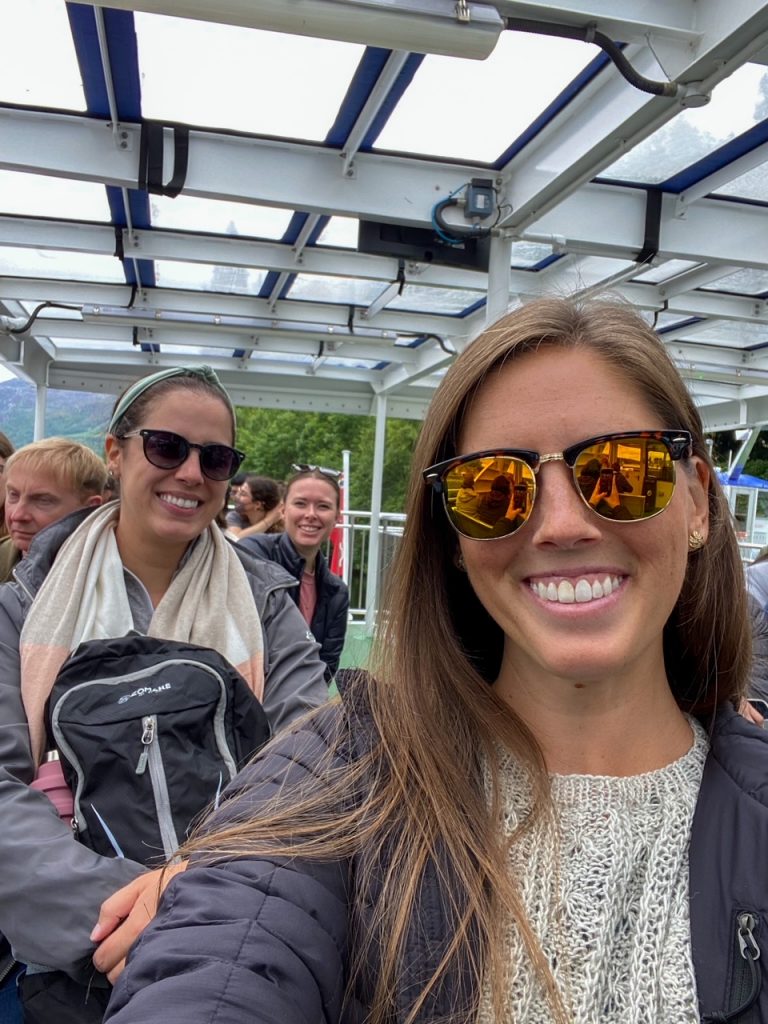 The cruise was about an hour long and was informative. We learned a lot about the loch and the famous monster that lives within its depths.
Information About Loch Ness
Flowing from the River Ness, Loch Ness is a freshwater loch in the Scottish Highlands that extends for approximately 23 miles southwest of Inverness. At 22 square miles and 755 feet deep at its deepest point, it's the second largest Scottish loch after Loch Lomond and the second deepest after Loch Morar.
Extraordinarily, Loch Ness is so large that you could fit the world's population three times over inside it. It contains more water than any other lake in the United Kingdom (UK) and all of the lakes in England and Wales combined – wow!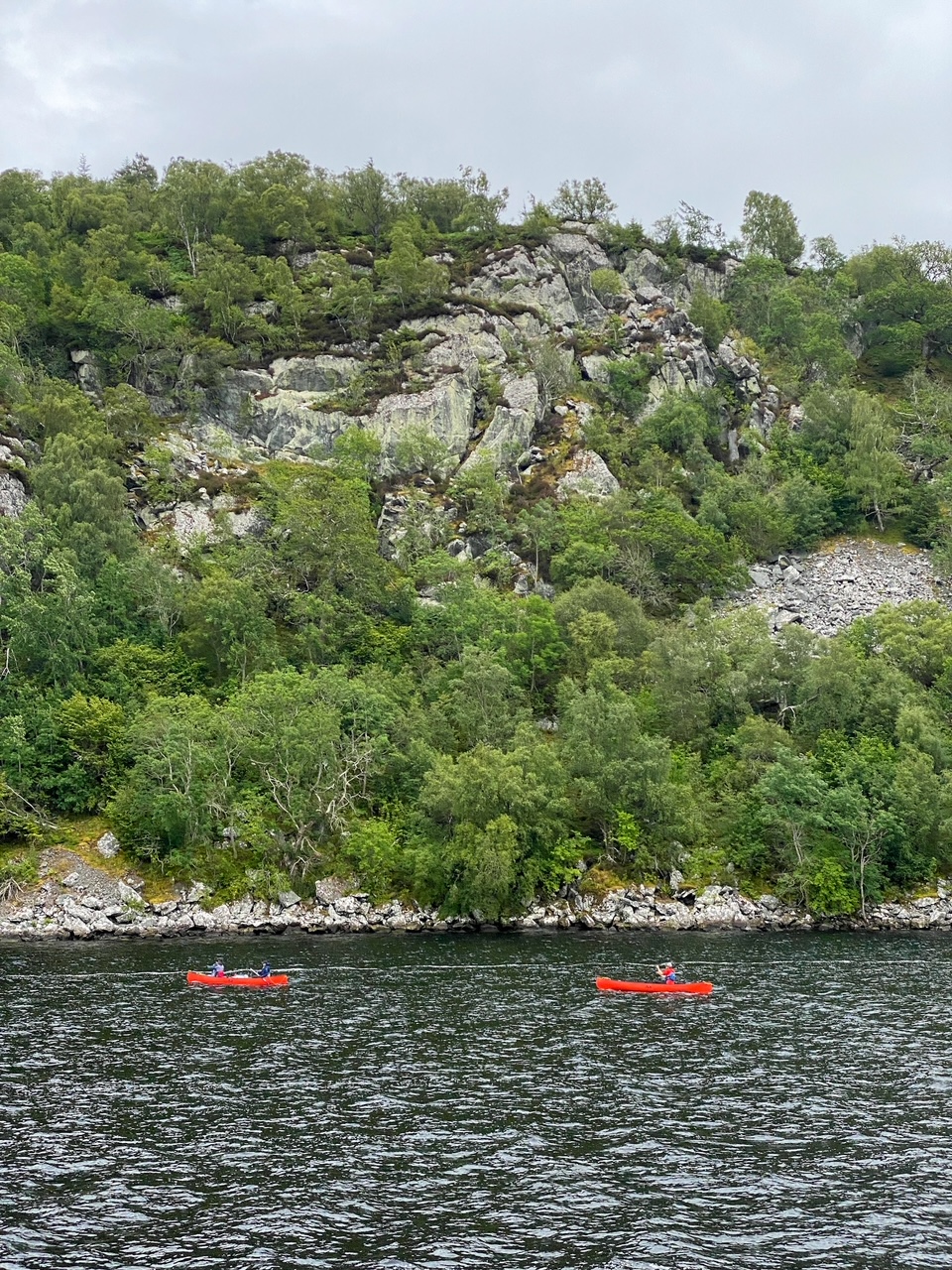 You'll notice that the water is really murky. This is due to a high peat content in the soil.
We also learned that one side of the loch has never been touched. This means that it's the same as it was during the Ice Age – how cool is that? There are no trails, no wildlife was ever introduced, and the closest road is five miles away. And, about four years ago, a new tree species dating back to the Ice Age was discovered here!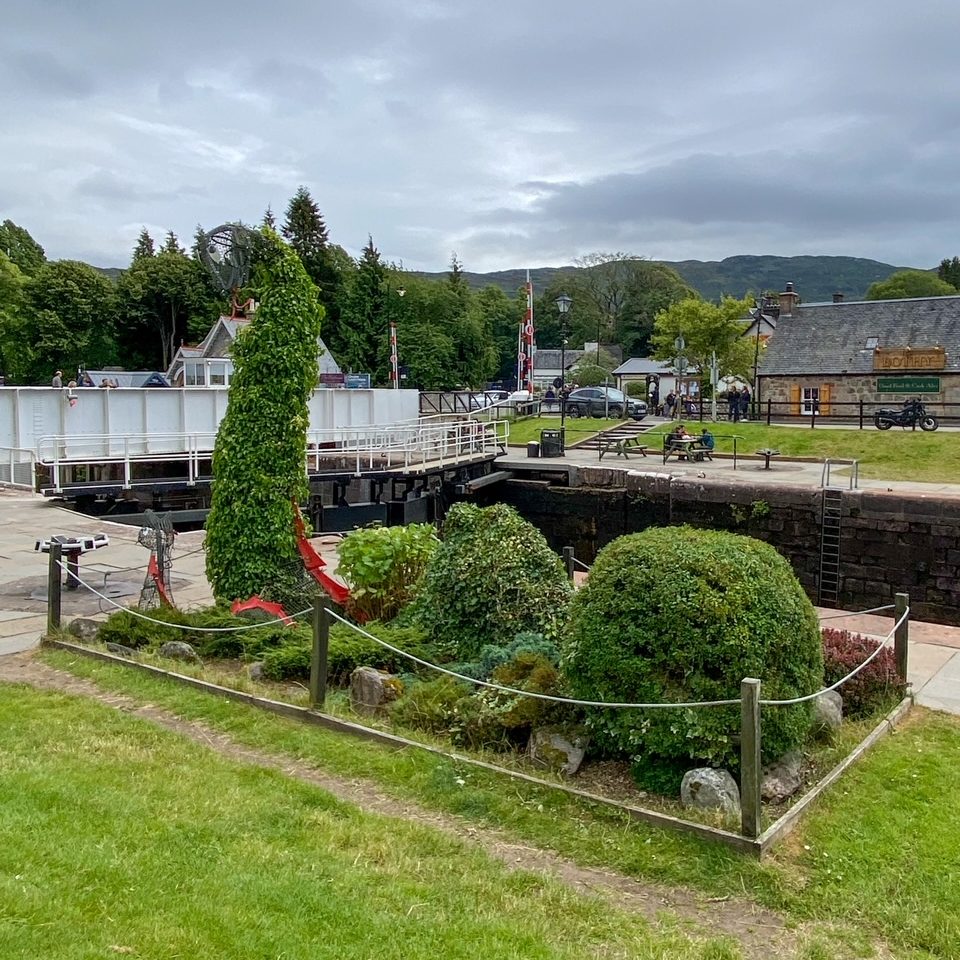 All that said, Loch Ness is probably best-known as the home of the Loch Ness Monster. The Loch Ness Monster, affectionately known as "Nessie", was popularized when a photo of it first emerged in 1933. There have been thousands of eye-witness accounts and sightings ever since, and the legend lives on. Unfortunately, we didn't have a Nessie sighting on our tour, but maybe you will!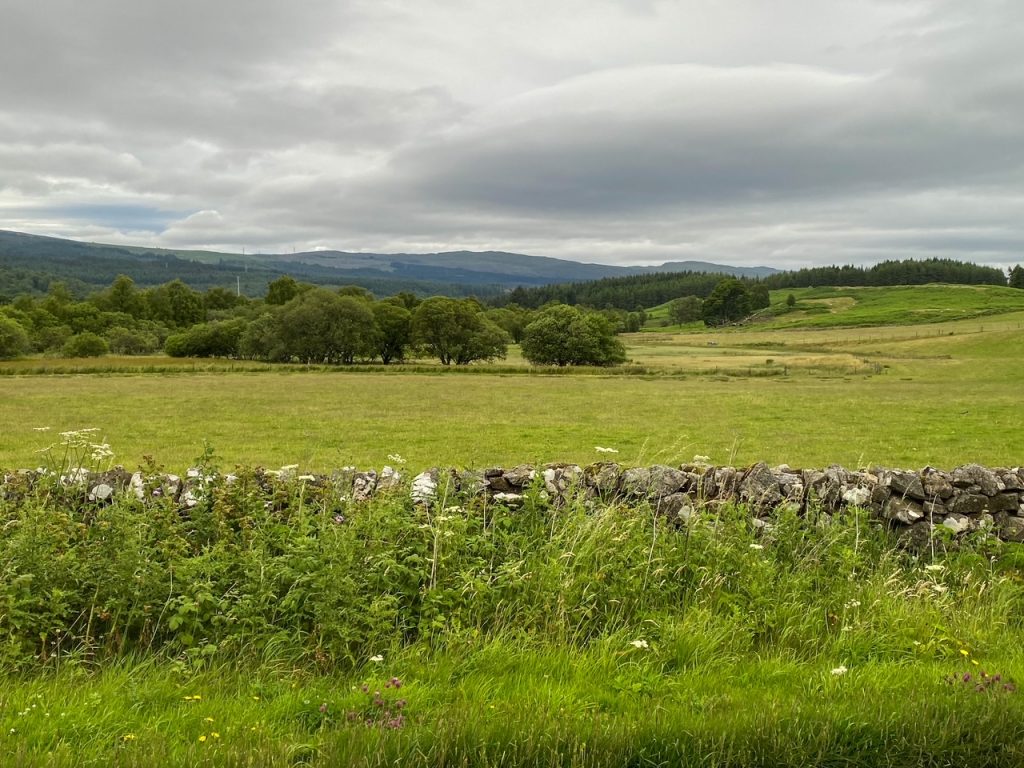 After the Loch Ness cruise, we continued on to Cairngorms National Park via Spean Bridge. And, despite some light rain, the beautiful views continued along the way!
Stop 4: The Commando Memorial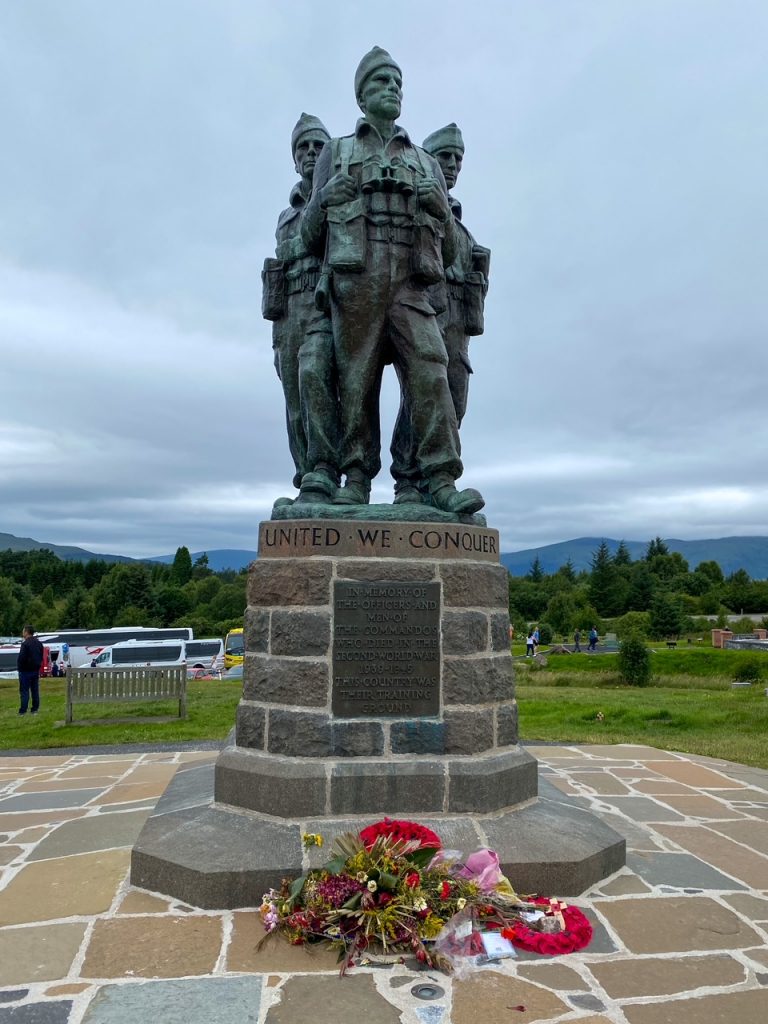 On our way to Cairngorms National Park, we made a quick stop in Lochaber to see the Commando Memorial.
The memorial is dedicated to the men who fought with the original British Commando Forces during World War II. During this time, more than 1,700 commandos lost their lives, and many others were injured.
Unveiled in 1952 by the Queen Mother, this is one of Scotland's best-known monuments. The memorial stands at 17 feet tall and depicts three commandos who are dressed in WWII uniforms and faced south towards Ben Nevis.
A Garden of Remembrance was later added to the site. The garden is the designated final resting place for the ashes of many surviving World War II Commandos, as well as the Marine Commandos and those who died in more recent conflicts such as the Falklands War and the wars in Afghanistan and Iraq.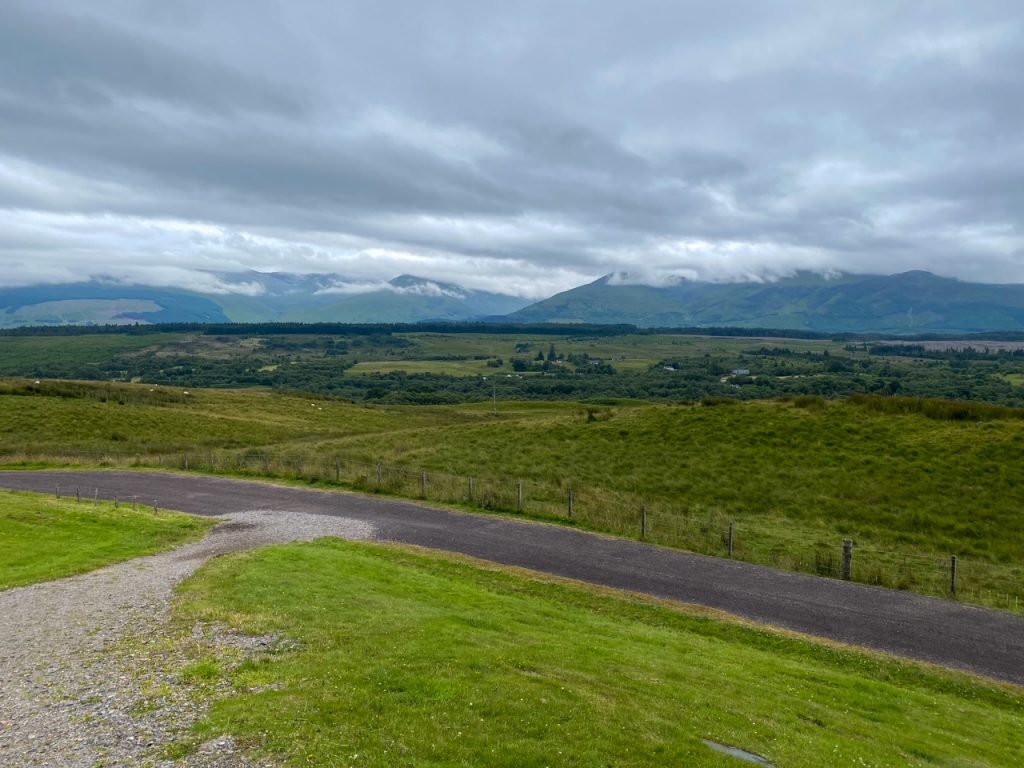 This memorial is not only popular because it's a place to pay your respects, but it also has beautiful scenery. During our visit, we were lucky enough to see a bagpipe performance, which our guide told us isn't typical.
Note that this stop didn't have restrooms, but the next stop just minutes away in Spean Bridge did.
Stop 5: Cairngorms National Park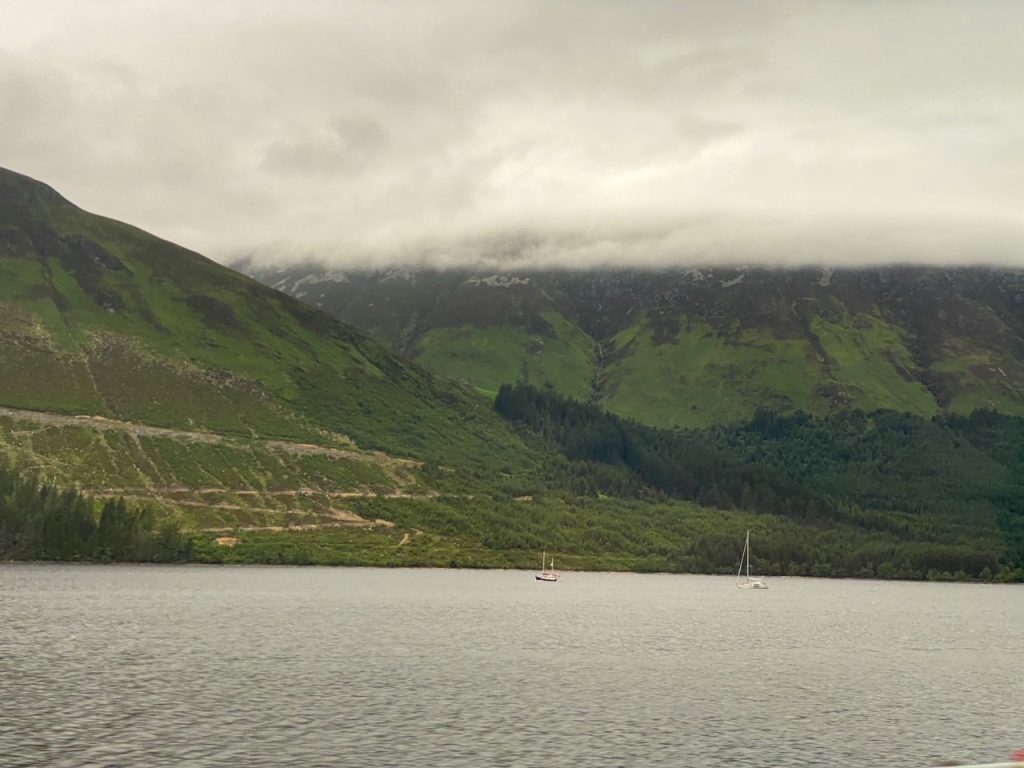 The final official stop on our day trip from Edinburgh was Cairngorms National Park.
Information About Cairngorms
Located in the Scottish Highlands, 127 miles north of Edinburgh, the Cairngorms National Park is the largest national park in the UK, sitting at twice the size of the Lake District National Park in North West England. The park covers a large part of the eastern Highlands and west Aberdeenshire and parts of Moray, Angus, Perth and Kinross.
A quick aside: Scotland was a bit late to the party when it comes to national parks, designating its first one, Loch Lomond and The Trossachs National Park, in 2002 and its second, Cairngorms National Park, in 2003. However, Cairngorms National Park was extended in 2008 and 2010, and the Scottish Government plans to establish at least one more national park by 2026.
Cairngorms National Park was deemed "one of the top 20 places to visit in the world" by National Geographic Traveler Magazine – and for good reason! It's world-renowned for its gorgeous landscapes and outdoor activities, which include water and snow sports, wildlife watching, hiking, cycling and more.
The park is also home to four of the five highest mountains in the UK, some of the cleanest lochs and rivers in Europe, a quarter of Scotland's native forest, and a quarter of the endangered species in the UK – now that's impressive!
More than 1.9 million people visit Cairngorms National Park each year, with more than 50% coming from Scotland, 25% from somewhere else in the UK, and the remaining from around the world.
Scottish Highland Cows Visit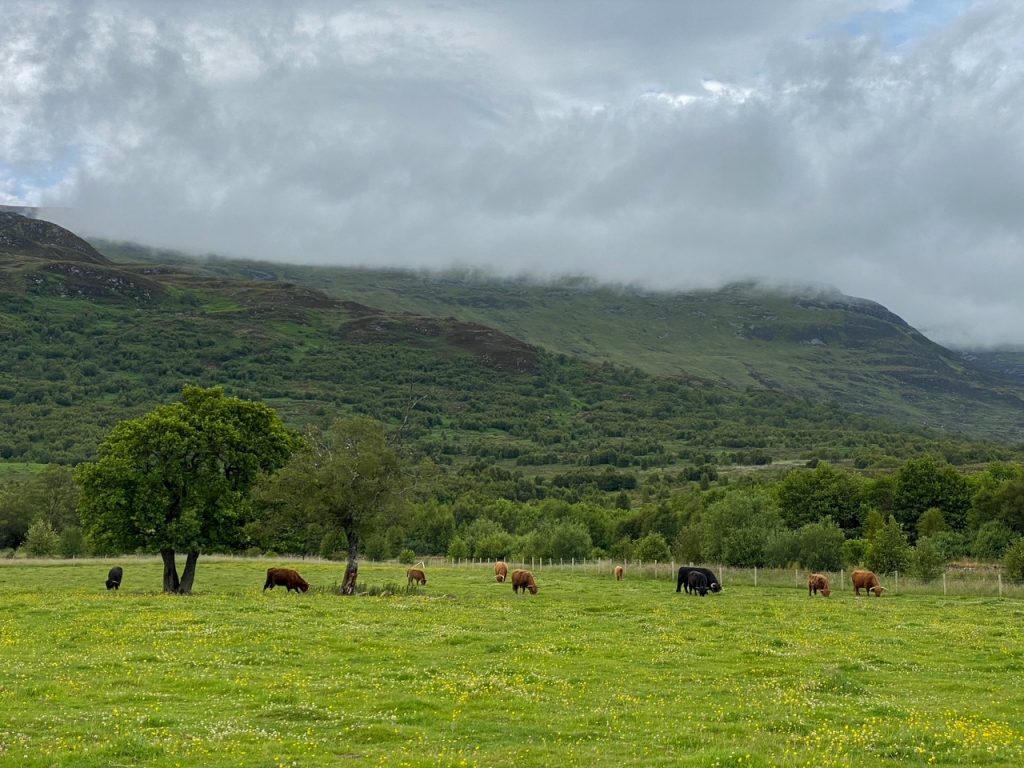 Something that we, especially Kelsey, had really been wanting to see was a Scottish Highland cow, i.e. coo. Our guide was kind enough to stop to let us see these beauties for a few minutes, and Kelsey couldn't have been happier!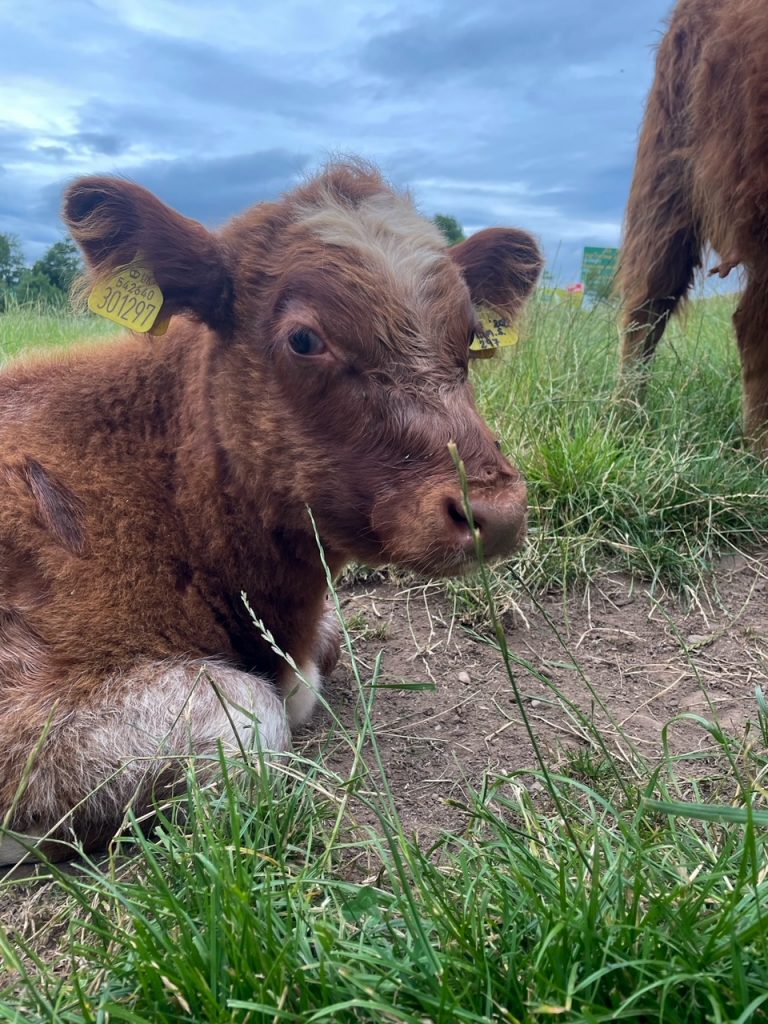 What's more is that during our last restroom stop at Taste Perthshire, we got to see even more Highland cows, including a cute, little baby coo.
Ending Our Day Trip from Edinburgh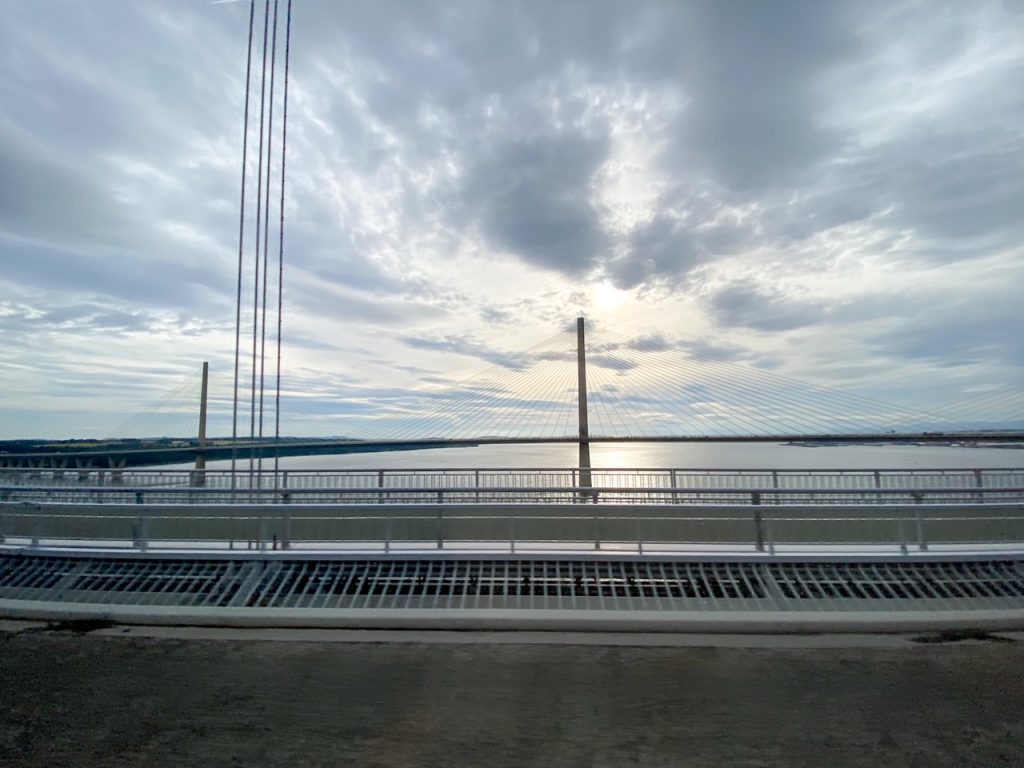 After loading up on snacks and buying a couple more souvenirs, we made our way back to Edinburgh, where we would conclude our day trip back at Rabbie's Cafe Bar. We were already ready for our next adventure, a great day trip from Edinburgh to St Andrews.
Our day trip from Edinburgh to Glencoe, Loch Ness and the Highlands was a huge success, and we can definitely recommend it for your next visit to Scotland!
XOXO Sara at Travel A-Broads