I'm a huge fan of free walking tours when exploring a new city, and Edinburgh is no exception! During our visit to Edinburgh, we did two free walking tours. We booked one through SANDEMANs New Europe (Free Tour of Edinburgh) and the other through City Explorers Tours (Free Edinburgh Ghost Tour).
These free walking tours take you to some of Edinburgh's major landmarks, while also teaching you about the city's history. Plus, if you do one (or both) of these free walking tours on your first day in Edinburgh, you can ward off any remaining jet lag from your flight too!
If you're a history aficionado or you're just excited to see some of the best places to visit in Edinburgh, then these free walking tours are for you!
Are Free Walking Tours Really Free?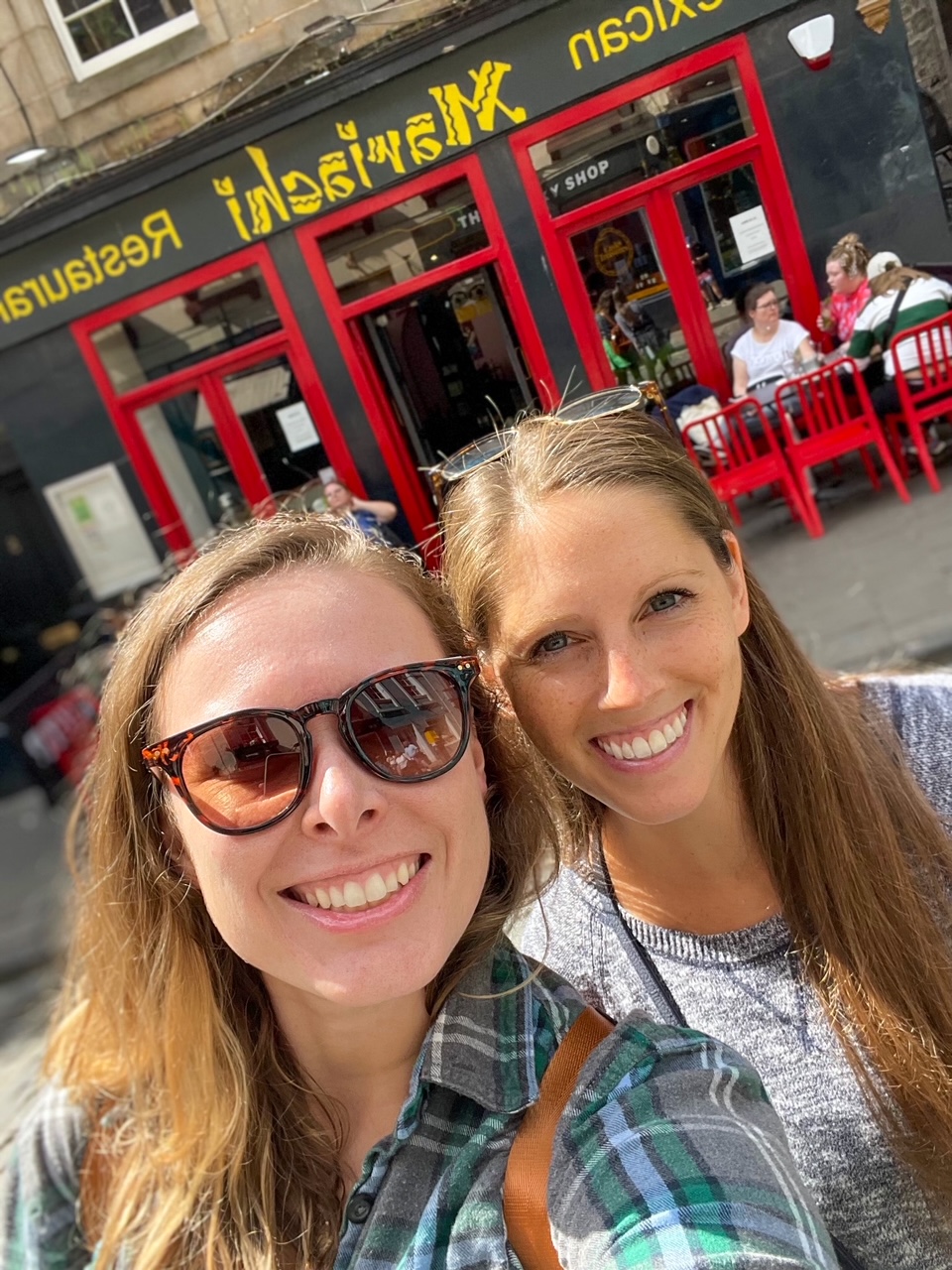 We should probably get this question out of the way before we go any further. Free walking tours are totally free to book, and there are no cancellation fees. However, the wonderful guides that lead these tours don't get paid by the companies they "work" for. That means that they rely on your tips. Some people give £10 and others give more. The great thing is that you get to choose the price based on the value you feel you got out of the experience. We each tipped £20 – and, both of our guides were super appreciative.
A Broad Recommendation: Scotland is part of the United Kingdom, which means that Scotland's currency is the pound (£). You may want to bring some cash, but we were able to tip via credit card for both of these.
Free Tour of Edinburgh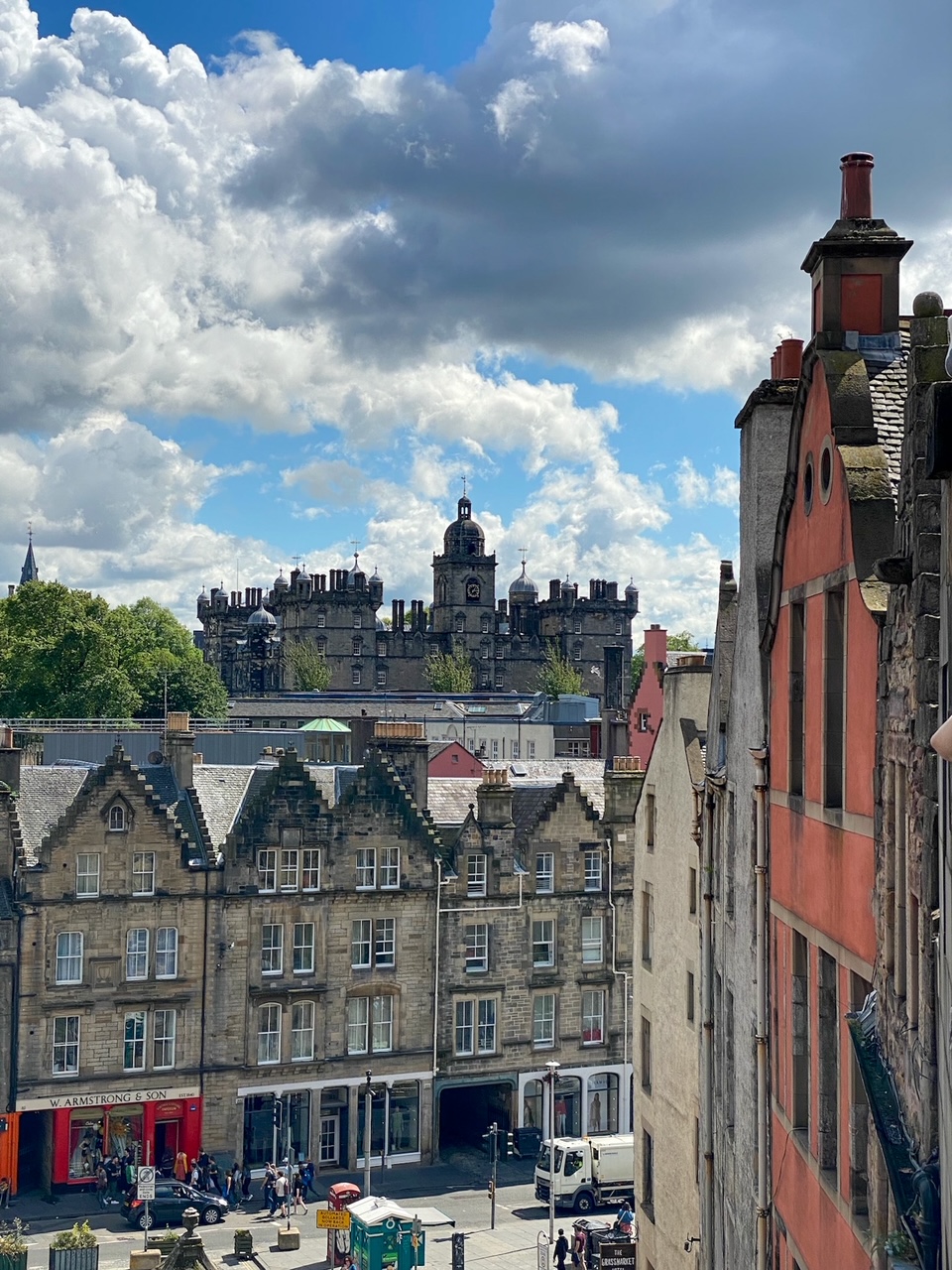 The Free Tour of Edinburgh starts at 130 High St, Edinburgh EH1, UK. We did have some trouble finding the meeting point, so give yourself plenty of time before the tour starts.
Our local, [Australian] guide, David (@thatguidewithglasses), led us through the historic streets of Edinburgh to some of the city's most popular spots. And, he was quirky and enthusiastic as he taught us about Edinburgh's interesting and somber past. Here are some of the places we visited during the first of our free walking tours in Edinburgh.
The Royal Mile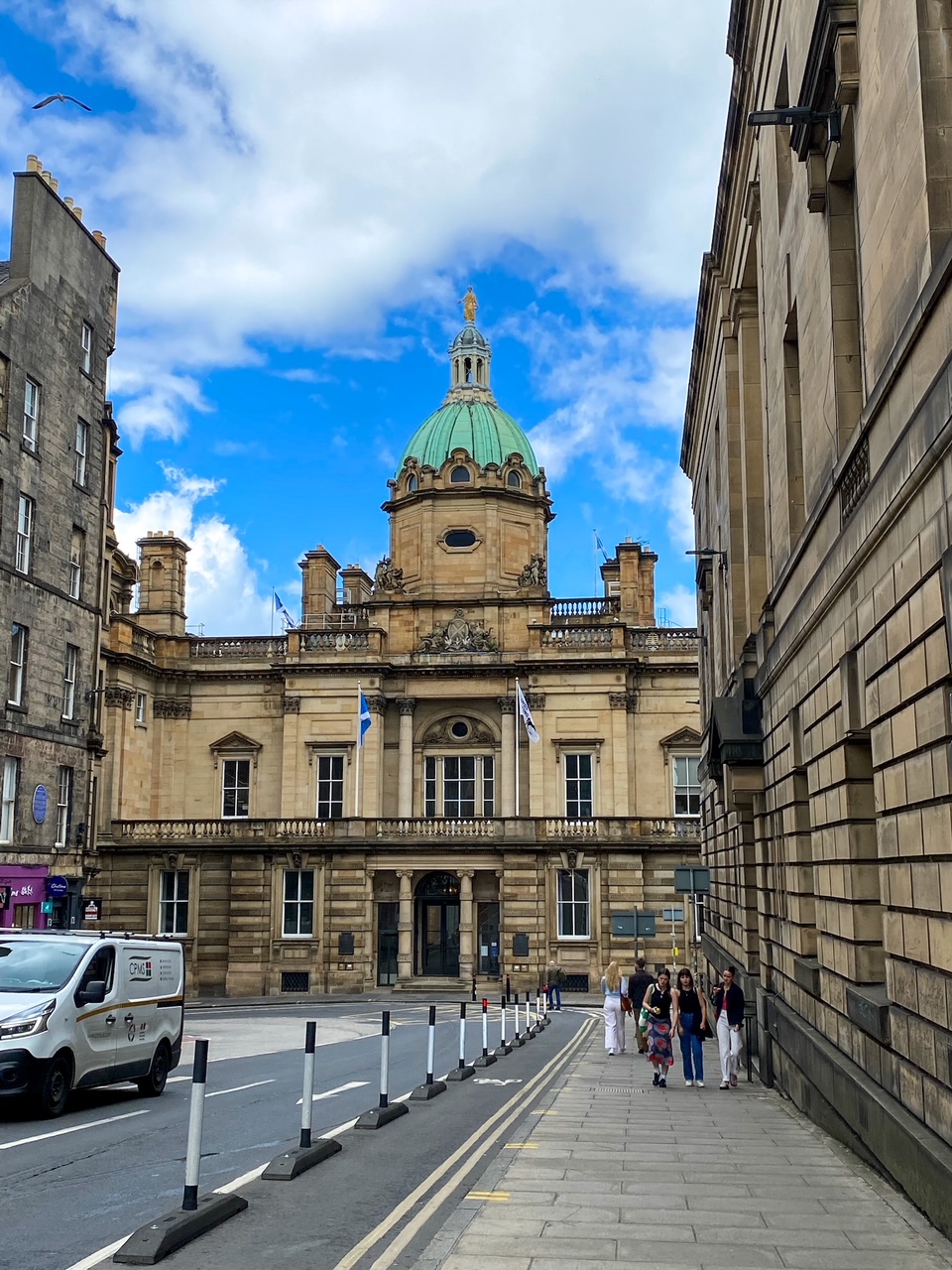 The infamous Royal Mile is the main road in Edinburgh's Old Town. It stretches from Edinburgh Castle to the Palace of Holyroodhouse and boasts beautiful architecture, fun shops, historic pubs, and more! Castlehill, Lawnmarket, High Street, Canongate and Abbey Strand all comprise the Royal Mile. Even if you don't do a free walking tour in Edinburgh, it's impossible to miss it.
Fun fact: people rub David Hume's big toe for good luck (see his golden big toe in the photo above). This tradition started when a group of philosophy students rubbed the statue's toe, hoping that some of Hume's wisdom would rub off on them. The traffic cone on his head is another tradition, dating back to the 1980s. It's a local joke that continued throughout the years, and various statues around Edinburgh are occasionally adorned with traffic cones.
The Grassmarket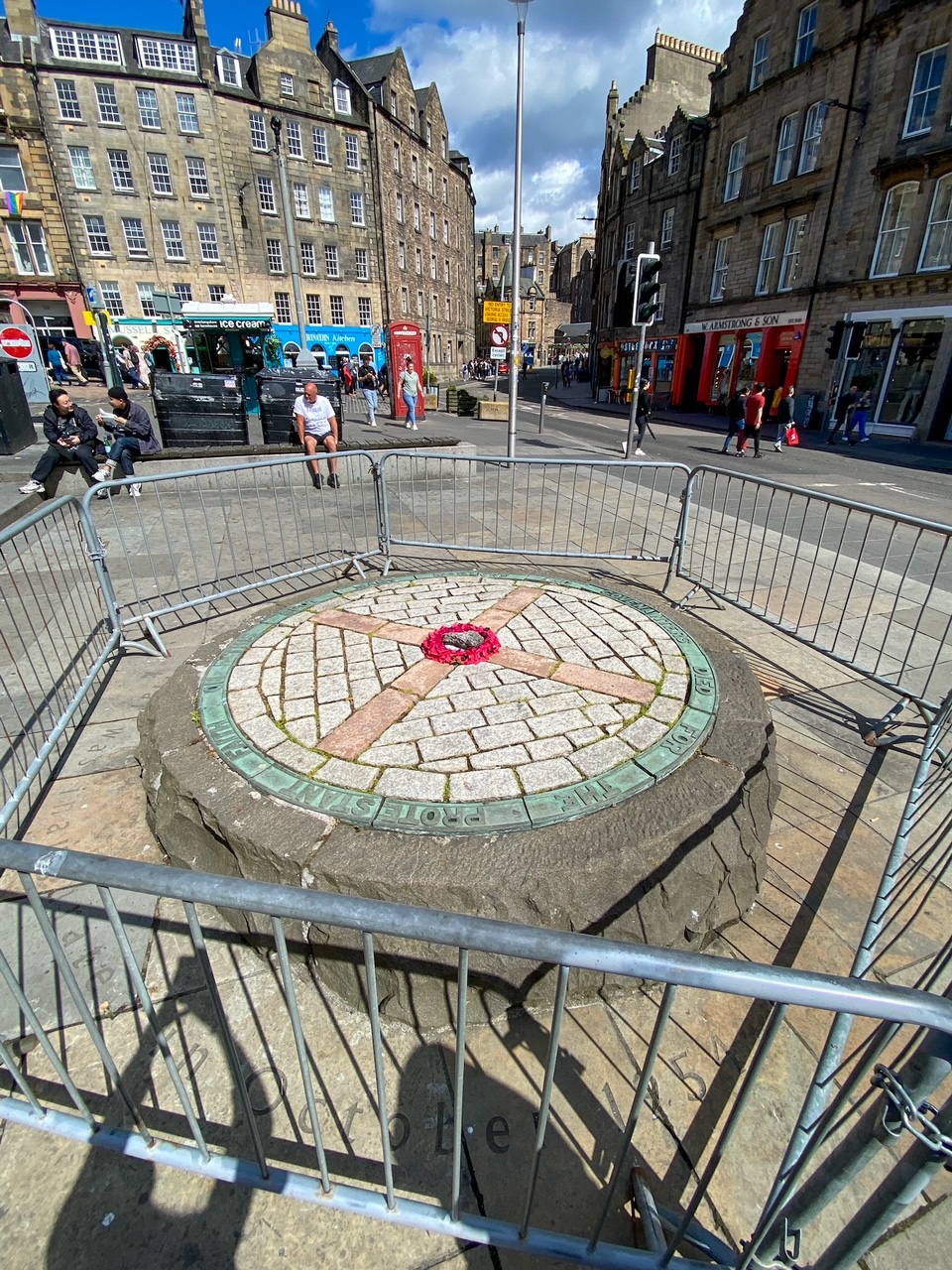 Dating back to the 14th century, the Grassmarket is one of the oldest parts of the city. During this time, the Grassmarket was one of the most predominant marketplaces in Edinburgh, mainly hosting cattle and horse fairs. But, the Grassmarket also has a more ominous history, like many other places in this city.
The eastern part of the Grassmarket was once used for public executions; the last hanging took place here in 1784. Today, the Covenanters' memorial marks this area.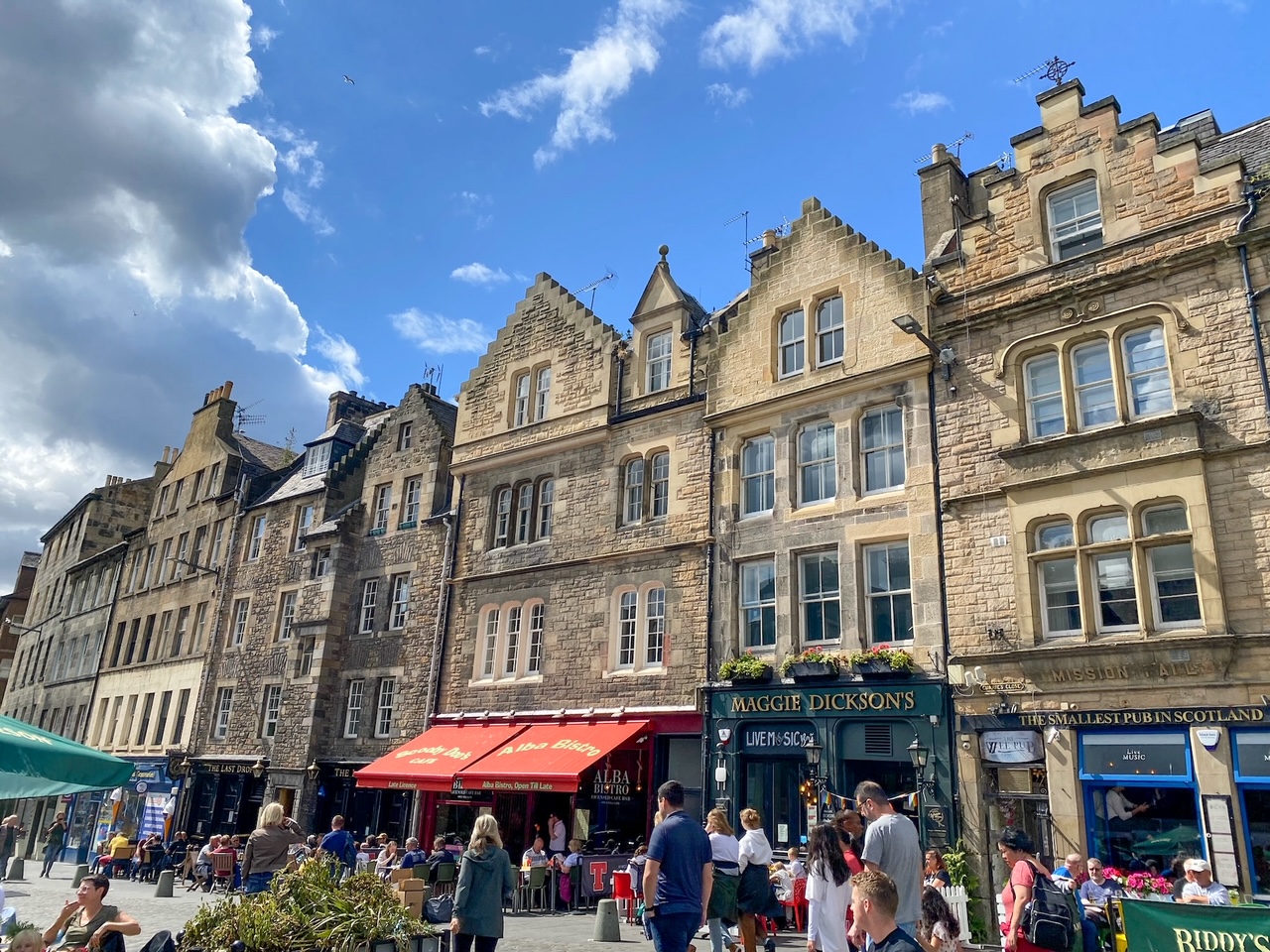 While we were here, David shared a story about a woman called "Half-Hingit Maggie" Dickson. Maggie Dickson was an 18th century fisherman's wife, who became pregnant while her husband was away and subsequently concealed the pregnancy until the baby arrived prematurely. It's unclear if the baby was stillborn or died shortly after the birth, but either way, Maggie abandoned it.
When the baby was discovered, Maggie was arrested, found guilty of murder, and hanged at a public execution at the Grassmarket. But, as her body was transported back to her hometown for burial, it was discovered that Maggie was still alive.
Since she was already declared officially dead, she could no longer be prosecuted. And, she was allowed to live out the remaining 40 years of her life as a free woman – wild!
Her story lives on at Maggie Dickson's Pub, which overlooks the spot of her execution.
The Scottish Parliament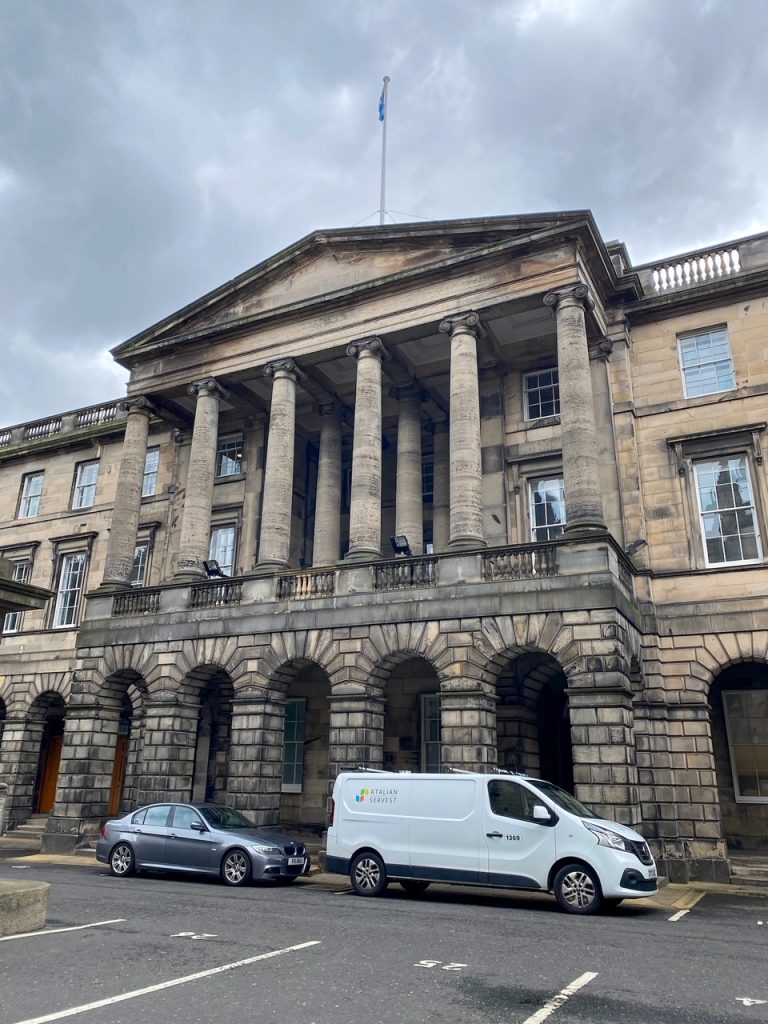 The Parliament House is a building complex that was once home to the Parliament of Scotland (from 1639 to 1707). Now, it's home to the Supreme Court of Scotland.
Close by in Parliament Square, Mercat Cross is a large, stone structure, topped with a unicorn. Wait, did you just say unicorn? Yes, you read that correctly! The lion is the national animal of England, and the unicorn is the national animal of Scotland. So, you'll find lions and unicorns throughout the city.
Most cities and towns in Scotland have a structure similar to the Mercat Cross, as they once marked the hearts of these towns, i.e. the marketplaces. Similar to the Grassmarket, public punishments and executions frequently took place at these spots.
Riddle's Court
As we walked under the archway and into the architectural gem that is Riddle's Court, we saw the Latin inscription, 'Vivendo Discimus', which means 'By Living We Learn'.
In 1590, a local government official petitioned to build a new mansion on the site of a ruined building. Eight years later, its courtyard was used to host a royal banquet for King James VI's brother-in-law, the Duke of Holstein. Since Edinburgh didn't have a grand town hall, it was typical for city officials to host events at their homes, as was the case here.
Later, in 1726, George Riddell, a wealthy tradesman, reconstructed parts of the building, specifically those facing the Lawnmarket, and the property became known as Riddle's Court. To build on the property's distinguished history, in 1751, the famous philosopher, David Hume (the same guy that has the statue with a golden toe), moved into an apartment here.
Greyfriars Kirkyard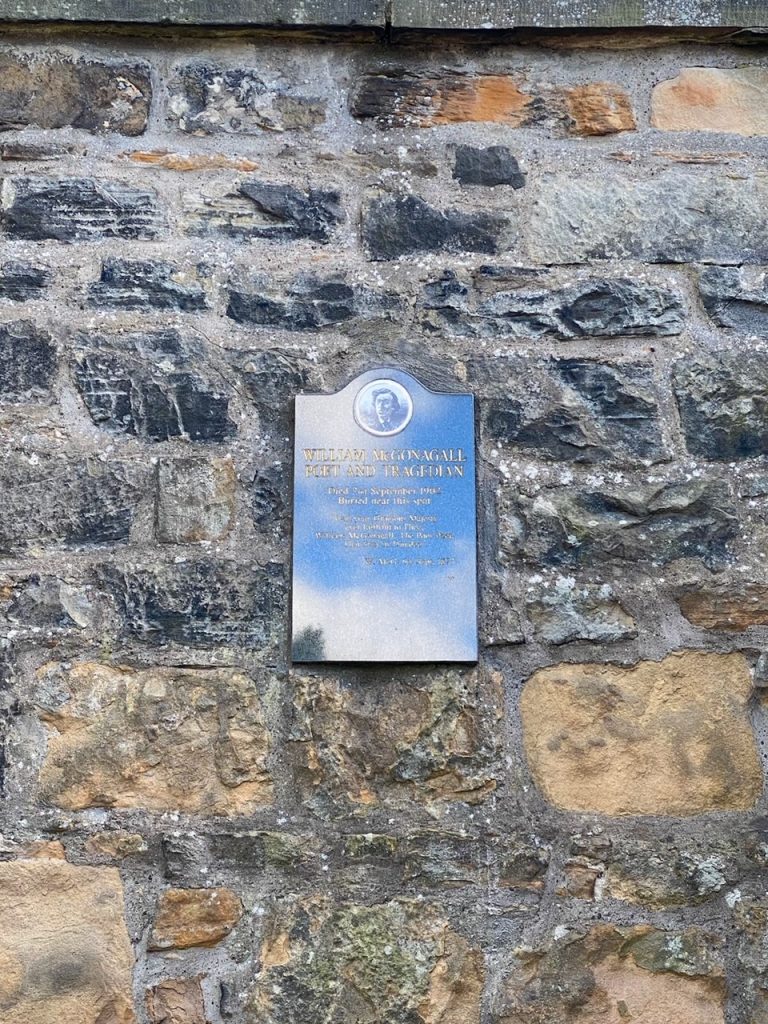 Founded in 1629, Greyfriars Kirkyard sits in the heart of Edinburgh's Old Town and was the first church built in post-Reformation Scotland. Here lie the graves that inspired the names of various characters from the infamous Harry Potter series, to include Tom Riddell, McGonagall, Moodie, Scrymgeour, Cruikshanks, and the Potters themselves. The graveyard is also rumored to have inspired the one in Godric's Hollow, where Harry's parents were laid to rest.
Fun fact: the real-life McGonagall is actually considered the worst poet in British history.
Greyfriars Kirkyard is also considered to be Scotland's most haunted graveyard. David told us that we could touch the doors of the Black Mausoleum, but if we did, strange things might happen to us, not only in the graveyard but also after we left.
Since 1998, there have been close to 500 reported incidents, ranging from scratches, bruises and burns to long-lasting scars or even losing consciousness, as a result of coming into contact with the mausoleum. Super creepy! This is probably obvious, but none of us touched the doors.
John Gray & Greyfriars Bobby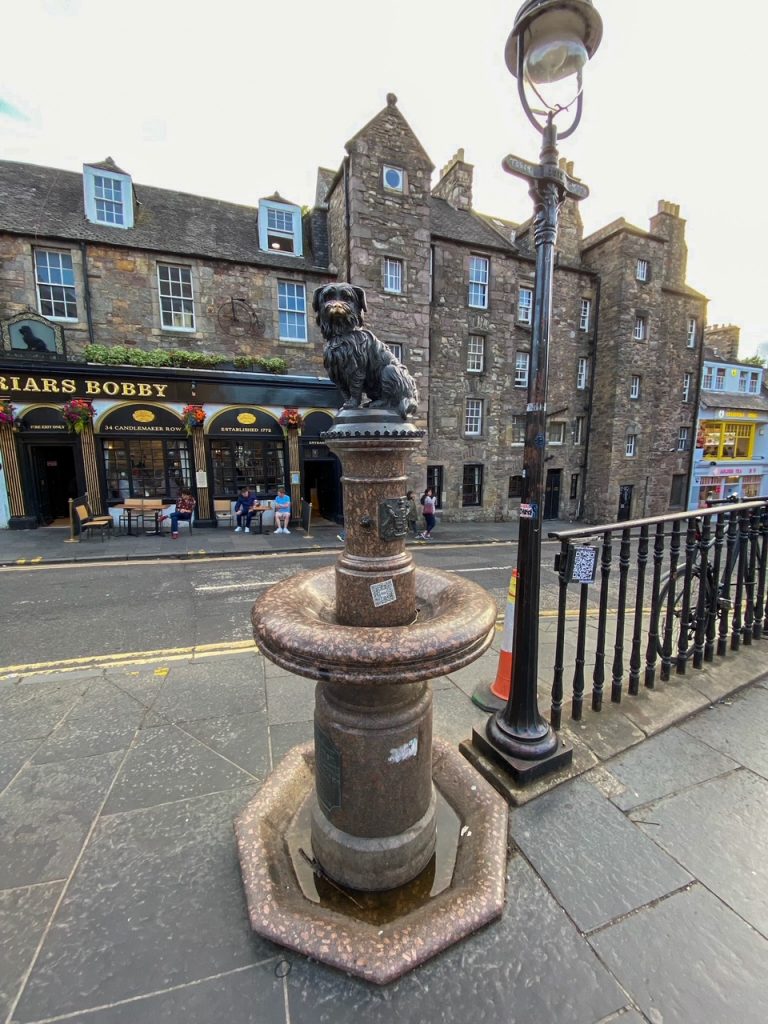 One of the most well-known stories in Edinburgh is that of John Gray and his Skye Terrier companion, Greyfriars Bobby.
John Gray worked as a night watchman for the Edinburgh City Police, and Bobby served as a 'watchdog'. When John passed away after years of guarding the old cobbled streets of Edinburgh, he was buried in Greyfriars Kirkyard. Bobby, who had become John's most loyal companion, spent the next fourteen years consistently guarding his grave.
Over the years, Bobby captured the hearts of Edinburgh's local residents. When he passed away, he was buried by the gate of Greyfriars Kirkyard, not far from John Gray's grave, and a fountain was erected close by in his honor.
Other Fun Facts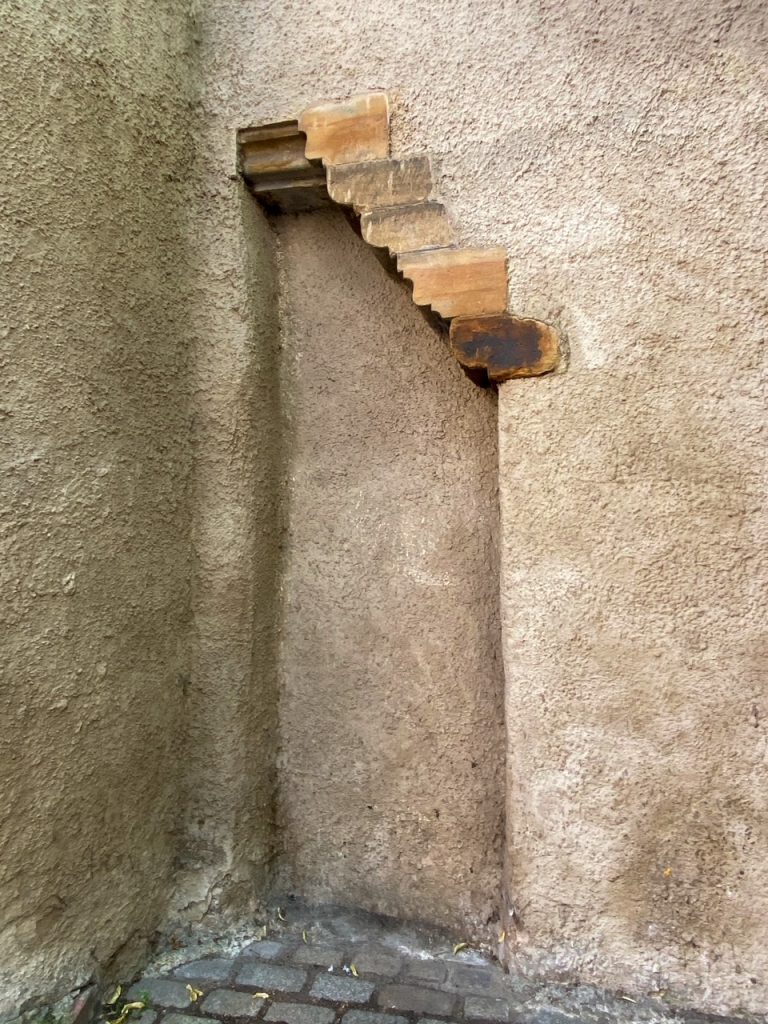 We learned A LOT of information during the Free Tour of Edinburgh – certainly too much to remember or to share here! So for now, here are a few more interesting things that we learned:
Protestant churches use a rooster on their steeple as a way of differentiating them from Catholic churches, which use a cross.
January 25th is Burns Night, which honors Scotland's favorite poet, Robert Burns. Locals recite Burns' Address to a Haggis before carving the haggis, Scotland's national dish.
Bagpipes were once classified as weapons of war. Deeply rooted in Scottish identity, they were used to signal tactical movements during battle and to instill fear in the enemy.
Some stairs in Edinburgh have one noticeably shorter riser. They were built this way to trip up potential burglars in the night.
Free Edinburgh Ghost Tour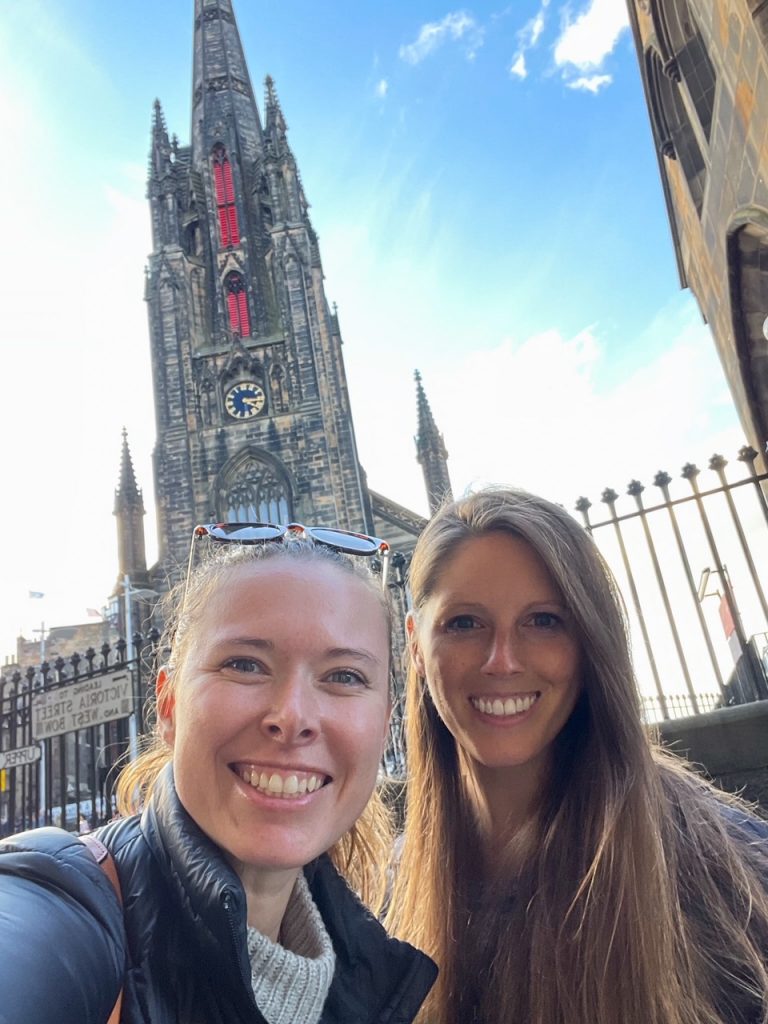 The Free Edinburgh Ghost Tour starts at 154 High Street, in front of Copper Still on the Royal Mile. During the tour, our guide, Fraser (@haggispope), taught us about the dark side of Edinburgh's past, to include tales of murder, witchery, the plague, and more. He was quite the blunt and eclectic fellow, but we all enjoyed his witty humor and sarcasm.
Here are some of the things that we learned during the tour. Note that we didn't take many photos, since the subject matter was a bit heavy, and we'd already visited some of these spots during our first tour.
The World's First Concentration Camp
Seventeenth century lawyer and Lord Advocate, Sir George MacKenzie, a.k.a. "Bluidy MacKenzie", organized the prosecution of thousands of Covenanters who refused to replace Scotland's Presbyterian Church with the Episcopalian Church.
After being defeated at the Battle of Bothwell Bridge in 1679, three thousand Covenanters were captured and brought to Greyfriars Kirkyard, where they were publicly tortured, hanged or beheaded.
The remaining men and women were incarcerated in an open-air prison, which has since been recorded as the world's first concentration camp. As the harsh Scottish winter set in, most of the prisoners died from starvation or disease. The surviving few were shipped off as slaves, but sadly, they died en route when a storm sunk their ship.
During this time (1680-1688), i.e. 'The Killing Time', MacKenzie was responsible for the deaths of an estimated eighteen thousand Covenanters. When he died in 1691, he was ironically laid to rest only yards from the concentration camp, where he had inflicted so much pain and death.
Queensberry House Cannibal
Next, we heard a story about cannibalism. The Queensberry House, which is now part of the Scottish Parliament and used for private events, has a grisly history.
James Douglas, the 3rd Marquess of Queensberry and Earl of Drumlanrig, was deemed mentally ill at birth. Thus, he was kept locked away from the outside world his entire childhood.
When James was ten years old, he was left unattended one night. Seizing the opportunity, he made his way to the kitchen. Here, he found a young kitchen hand, who he supposedly attacked, roasted in the oven, and ate for dinner.
Four years later, his younger brother, Charles, who would later become Privy Counselor and Vice Admiral of Scotland, replaced James in the line of succession. James Douglas went down in history as the Queensberry House Cannibal. However, many speculate that this tale of cannibalism was just a charade to justify his replacement.
Pardon of 16th-18th Century 'Witches'
On International Women's Day in 2022 – you read that correctly, 2022! – Nicola Sturgeon, First Minister of Scotland, issued a formal apology to the thousands of women who were accused of being witches, persecuted under the Witchcraft Act, and brutally executed in Scotland between 1563 and 1736. Sounds like a long time coming for this one!
Burke and Hare Murders
William Burke and William Hare were serial killers that murdered at least sixteen victims in Edinburgh between 1827 and 1828. Though, our guide said that many suspected it was far more than sixteen.
In the early 19th century, Edinburgh was a leading center of anatomical study. Since Scottish law only permitted medical research on the corpses of suicide victims, orphans, or those who had died in prison, cadavers were in especially high demand.
When a lodger died in Hare's house, he and his friend, Burke, decided to sell the body to an influential lecturer at the University of Edinburgh. After receiving a generous profit, the men, along with their wives, decided to murder at least fifteen more unsuspecting lodgers. This probably would've continued, but they were ultimately discovered about ten months later.
Hare received immunity from prosecution when he confessed – and essentially threw Burke under the bus. Burke wasn't so lucky though; he was tried for murder, found guilty, and hanged. Ironically, his corpse was dissected, and his skeleton was displayed at the Anatomical Museum of Edinburgh Medical School.
Again, we learned a lot of information during our second free walking tour in Edinburgh. Although we visited a lot of the same locations, we didn't feel like the history overlapped too much. We definitely can recommend the Free Edinburgh Ghost Tour if you're looking for more about the darker side of Edinburgh.
Which of these Edinburgh free walking tours would you try first?
Looking for more to do in Scotland? Check out one of these day trips from Edinburgh!
XOXO Sara at Travel A-Broads