One of Utah's Mighty Five, Arches National Park, has the densest concentration of natural sandstone arches in the world with more than 2,000 arches identified throughout the park – woah!
The history and geology of this area is simply fascinating and ever changing. Over the course of 65 million years, what started as a dry seabed with these red rock features buried thousands of feet below the surface, slowly transformed into the incredible arches that we see today. The same forces that created these arches will not only continue to create new ones, but they will also cause existing arches to collapse.
To read more about this interesting and evolving landscape, check out the National Park Service website.
Where's Arches National Park located?
Arches National Park is located just north of Moab, Utah in the U.S. It's a 30 minute drive from Canyonlands National Park, another one of Utah's Mighty Five.
How to Get to Arches National Park
We visited Arches National Park as part of a larger U.S. Southwest road trip. We started in Las Vegas and visited Zion, Bryce Canyon, Escalante and Capitol Reef on the way to Arches. Then, we made our way back to Las Vegas, stopping at Canyonlands, Monument Valley and Page, AZ (to visit Horseshoe Bend and Lower Antelope Canyon).
If you're looking for a straight shot to Arches, you should fly into Salt Lake City International Airport instead. The park is less than a four hour drive from Salt Lake City.
The only other airports near Arches National Park are Canyonlands Field and Grand Junction Regional Airport if you'd prefer to check those out.
A Broad Recommendation: due to the lack of cell service throughout this area, you should download Google offline maps and pack extra water, snacks and warm clothes in case of an emergency.
Where to Stay in Arches National Park
There are tons of hotels near Arches National Park. It takes only about 10 minutes to get from Moab to Arches National Park, making it a great home base.
We spent two nights at the MainStay Suites Moab near Arches National Park and really enjoyed our stay. The hotel was clean, modern and affordable and included a breakfast buffet. We booked with hotels.com and spent around $270 total for both nights.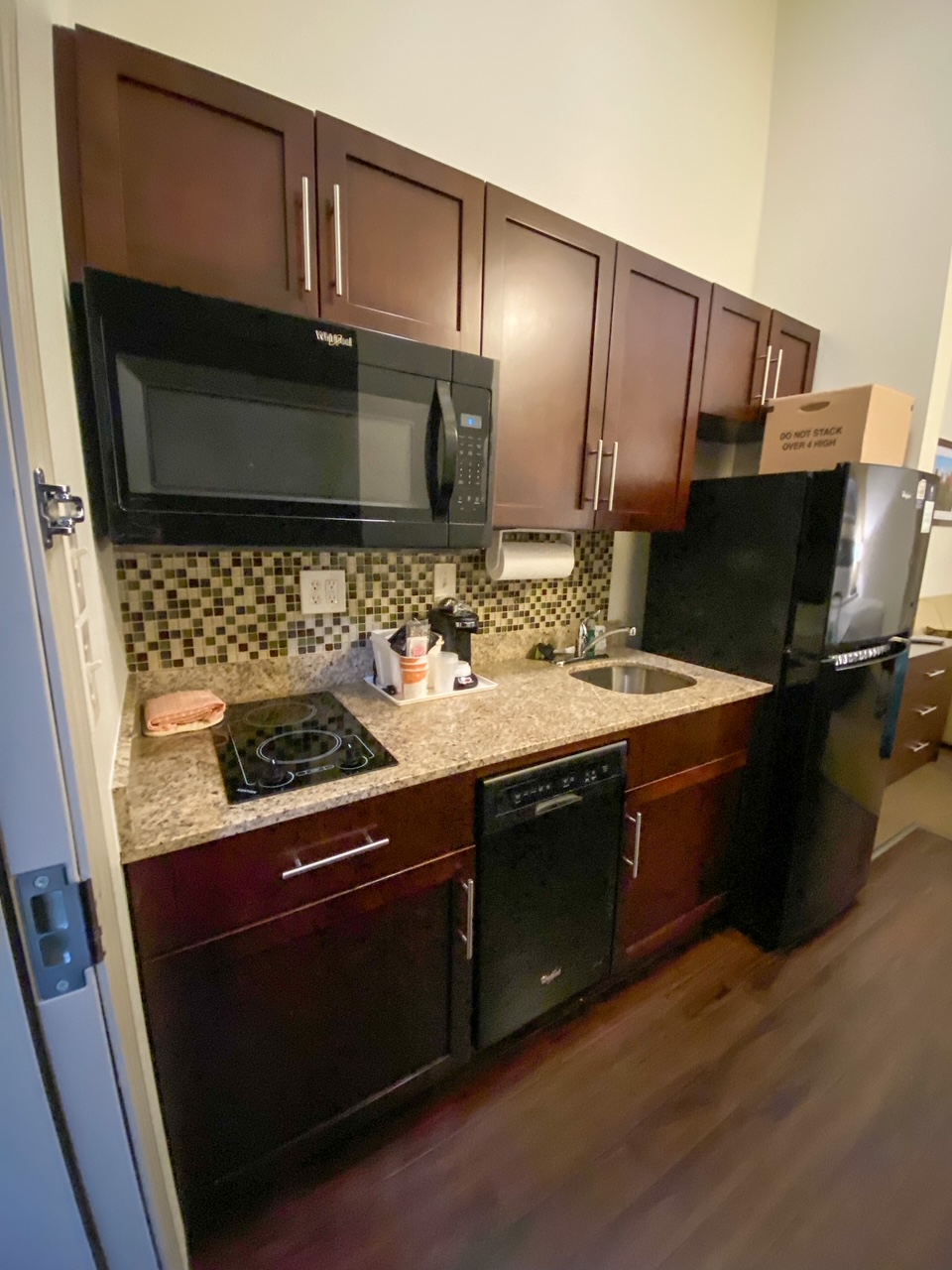 A Broad Recommendation: I love booking stays on hotels.com. They offer great deals and give you one free night for every ten nights you complete. I also use Rakuten at the time of my purchase to get cash back!
If you're looking to camp inside the park, Devils Garden Campground has 50 sites at $25 per site. Since campsites are limited, you should make a reservation in advance, especially if you're visiting between March and October. Note that pets are allowed at the campsite but not on any of the trails.
There are also plenty of campgrounds outside of Arches National Park. You can use this Guide to Camping in Arches National Park to find one that works for you.
Where to Eat Near Arches National Park
There are no restaurants in Arches National Park. We bought some lunch meat and bread, packed a cooler, and had a picnic inside the park.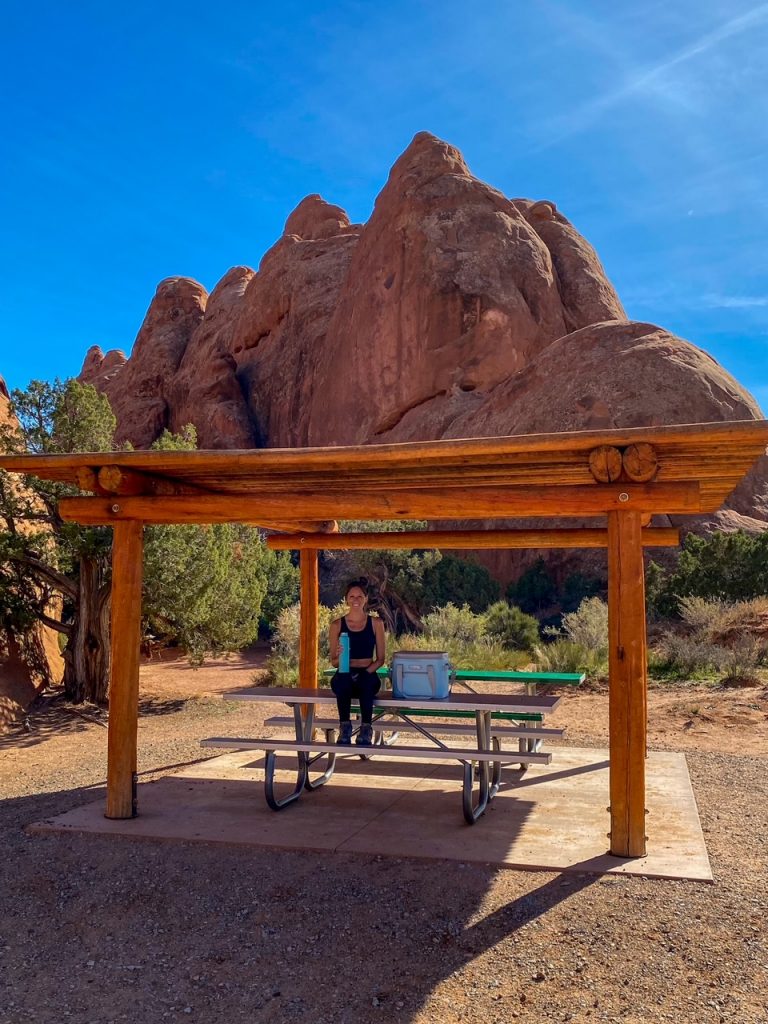 Moab offers a ton of food options though, as long as you're willing to leave the park for lunch or dinner. During our stay, we had dinner at Moab Brewery (only okay) and Thai Bella Moab (super yummy!).
Arches National Park Weather
The most popular seasons to visit are spring (April & May) and fall (September & October). We visited the first week of November, and the weather was perfect for hiking; evenings and early mornings were cool, but it was warm during the day. It also wasn't too crowded.
Temperatures can range between 0º to 20º F in the winter – brrr! – and sore above 100º F in the summer. Although snow can provide a beautiful contrast to the surrounding red rocks, winter snowstorms can also make trails and roads impassable. You'll also need to watch out for flash flooding in the summer.
No matter when you decide to visit, you should carry extra clothing to layer. Due to its location on part of the Colorado Plateau in Southeast Utah, the area can experience drastic temperature fluctuations throughout the day, sometimes more than 40º.
Current conditions for Arches National Park can be found here.
Arches National Park Entrance Fees
Arches National Park is open 365 days a year, and the visitor center is open daily from 9 am – 4 pm, with the exception of Christmas Day. The visitor center is open for longer hours from spring through fall.
Note that Arches National Park will be implementing a temporary timed entry reservation system starting April 3, 2022 through October 3, 2022. Reservations will be on a first-come, first-served basis through recreation.gov. The park will release reservations three months in advance in monthly blocks.
Entry fees vary depending on vehicle type and pass duration. Check out the National Park Service website for more information. The cost at the time of our visit was $30 for private vehicles and was valid for seven days.
A Broad Recommendation: we'd recommend that you forego individual national park entrance fees altogether and instead invest in the U.S. Park Pass. It's valid for a full year and covers your entry to thousands of national parks and other federally managed lands.
Arches National Park COVID Response
Consistent with CDC guidance, all visitors, regardless of vaccination status, are required to wear a mask inside park buildings and shuttle buses. This was strictly enforced during our visit.
One-Day Arches National Park Itinerary
Typically, we don't suggest strict timelines, but I felt that we optimized our limited time in Arches National Park pretty well and were able to avoid most of the crowds, so I wanted to provide our exact itinerary in case you'd like to follow along during your own trip.
7:30 AM: Hike to The Windows (easy) for sunrise
9 AM: Hike to Double Arch (easy)
9:45 AM: Hike the Delicate Arch Viewpoint Trails (easy)
10:15 AM: Stop at the Fiery Furnace Viewpoint (easy)
10:30: Hike the Sand Dune & Broken Arch Trail (easy)
12 PM: Hike the Devils Garden Trail to Pine Tree Arch, Tunnel Arch & Landscape Arch (easy)
1:30 PM: Eat lunch at one of the picnic areas in the park
2 PM: Hike to Skyline Arch (easy)
2:30 PM: Hike the Park Avenue Trail (moderate)
3:30 PM: Stop at the Visitor Center for souvenirs
4 PM: Hike to Delicate Arch (difficult) for sunset (part of the walk back may be in the dark)
*Bonus: if you arrive early enough the night before, hike to Balanced Rock (easy) for sunset
Of course, this itinerary can be tailored around your interests and time constraints. And, it's important to remember that we visited in November, so you'll want to adjust these times based on the time of year you visit, especially if you're trying to catch a sunrise or sunset. If you have more than one day, you could also check out some of these things to do in Moab.
Hiking at Arches National Park
Arches National Park has some of the best hikes, given that most are fairly easy and short with a high reward, i.e. great views at the end. Here are all of the trails we did and can, therefore, recommend. Instead of ordering these by difficulty level, I will order them based on our suggested itinerary. Note that we visited Balanced Rock the night before, so I'll put this one first.
Balanced Rock ✅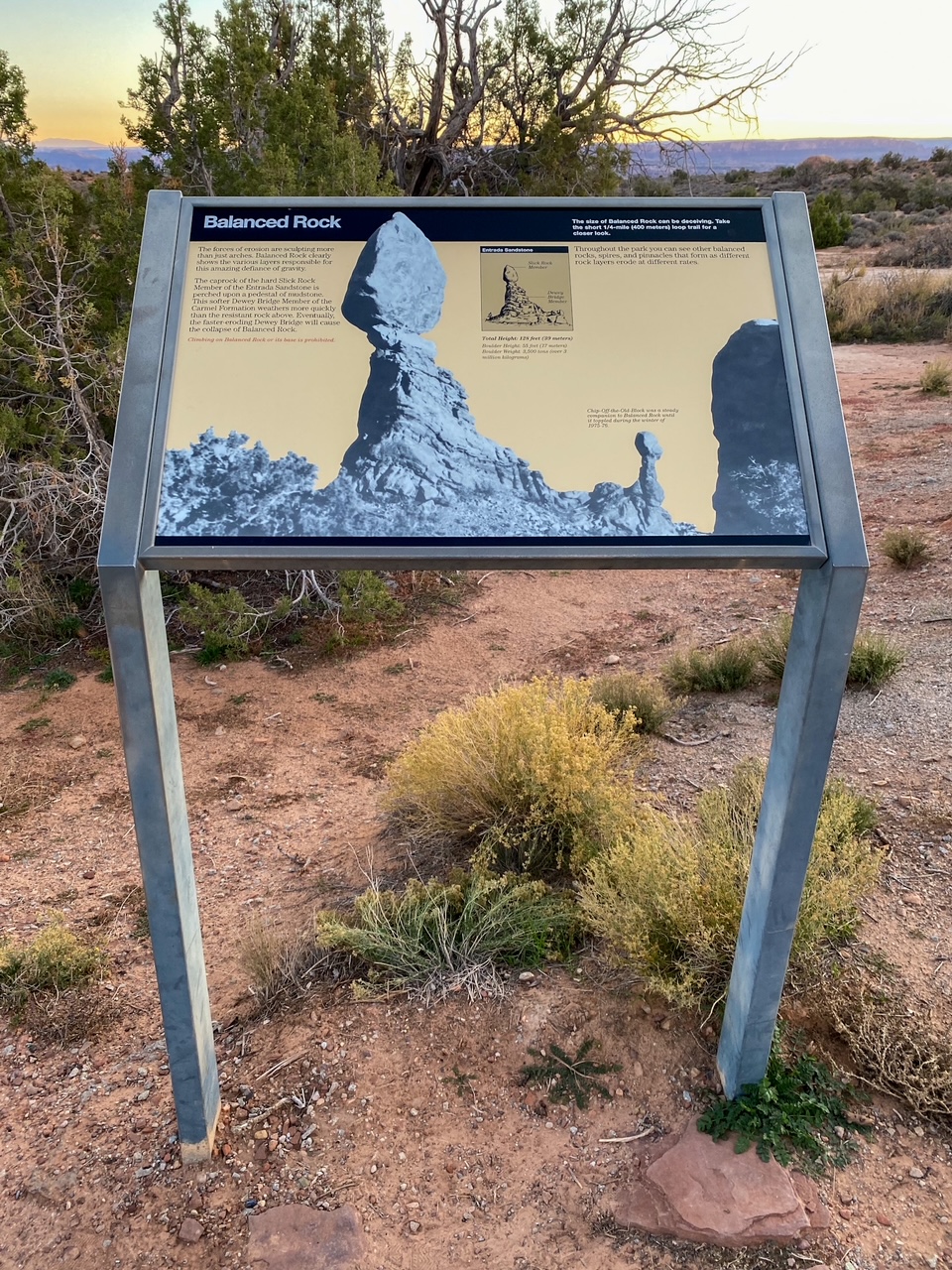 Distance: 0.3 miles
Difficulty: Easy
Hike Time: 20 minutes
Balanced Rock is one of the park's most popular spots. Located off the main road about 9 miles (or a 20 minute drive) from the park entrance, it's easy to get to and a great place to watch a sunset – more on that later!
A very short loop trail leads you to and around the base of Balanced Rock. The rock formation is 128 feet tall, and the balanced rock sits 55 feet above the base. Along the path, you can also see The Windows and the La Sal Mountains, which are simply stunning at sunset.
The Windows ✅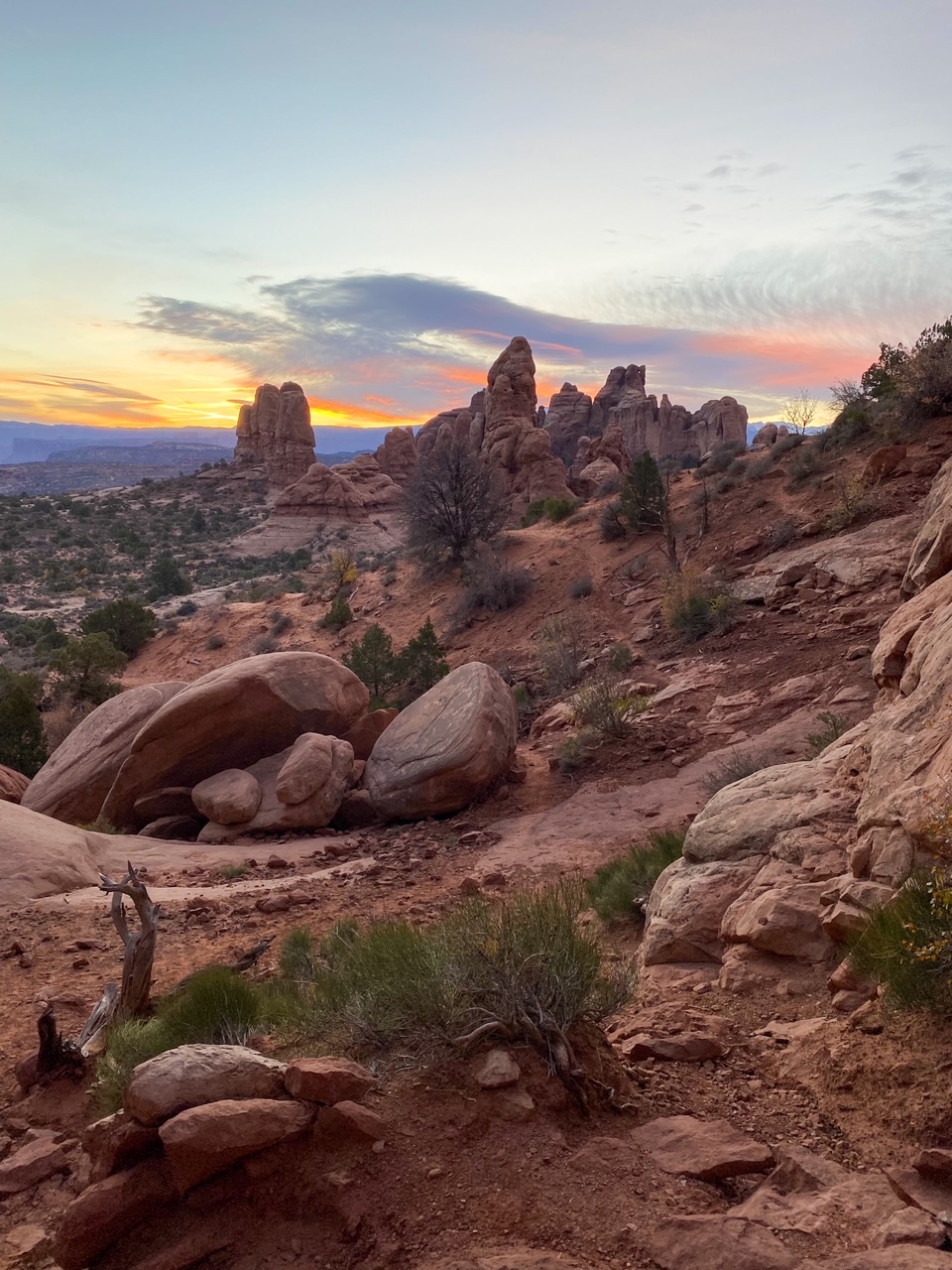 Distance: 1 mile
Difficulty: Easy
Hike Time: 45 minutes
The Windows Section of Arches National Park contains a large concentration of arches and is one of the most scenic spots in the park! It consists of the North and South Windows, Turret Arch and Double Arch, as well as other features like the Garden of Eden, Elephant Butte and the Parade of Elephants.
A gravel trail with a slight increase in elevation will lead you to the North and South Windows, as well as Turret Arch. You can head back the same way or take the slightly longer primitive trail around the Windows by starting at the South Window viewpoint.
This area is perfect for a sunrise; again, more on that later where I'll also share a cool photo opp!
Double Arch ✅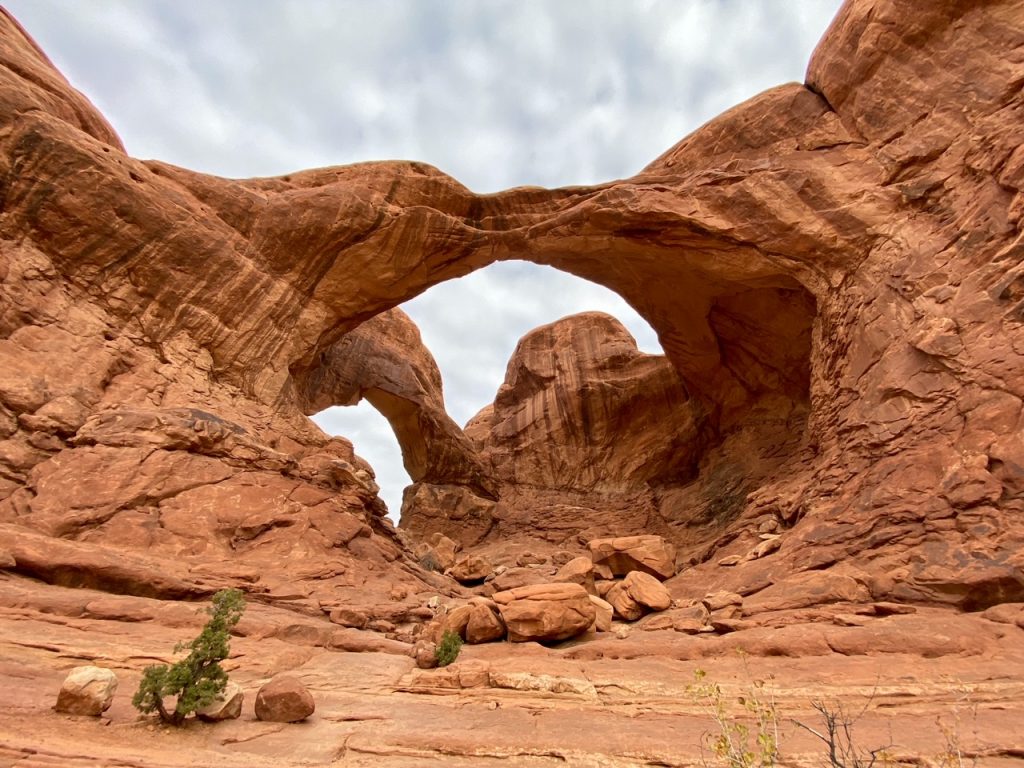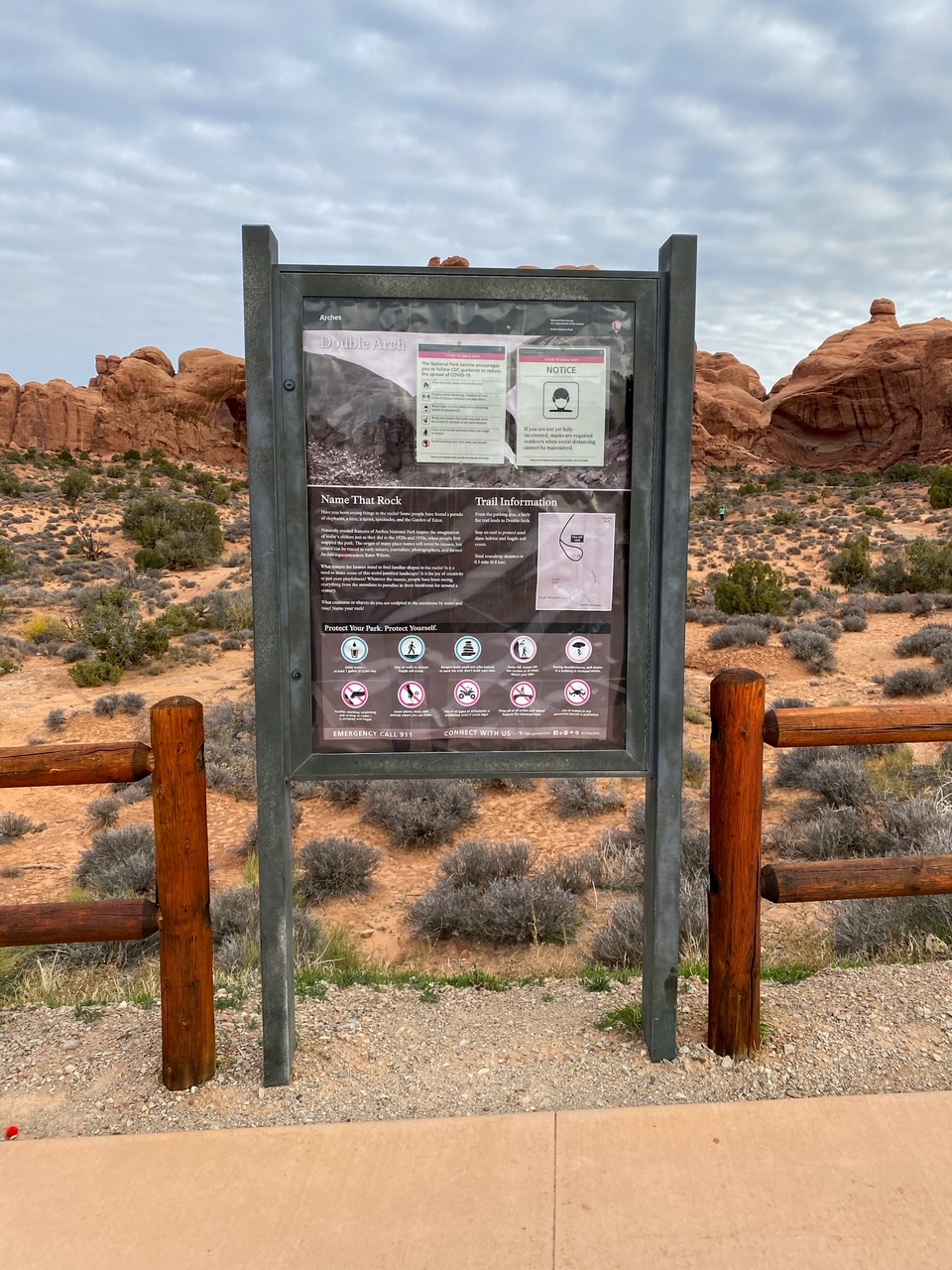 Distance: 0.5 miles
Difficulty: Easy
Hike Time: 20 minutes
Just across the street from the Windows and Turret Arch parking lot is a gravel trail that leads all the way to the base of Double Arch. Note: another option is to drive to the Double Arch parking lot.
Double Arch is comprised of two giant arches that are joined together on one side. The larger arch has a span of 148 feet and a height of 104 feet, making Double Arch the tallest and second-longest arch in the park.
Fun fact: Double Arch was used in the opening scene of the 1988 movie Indiana Jones and the Last Crusade.
Delicate Arch Viewpoints ✅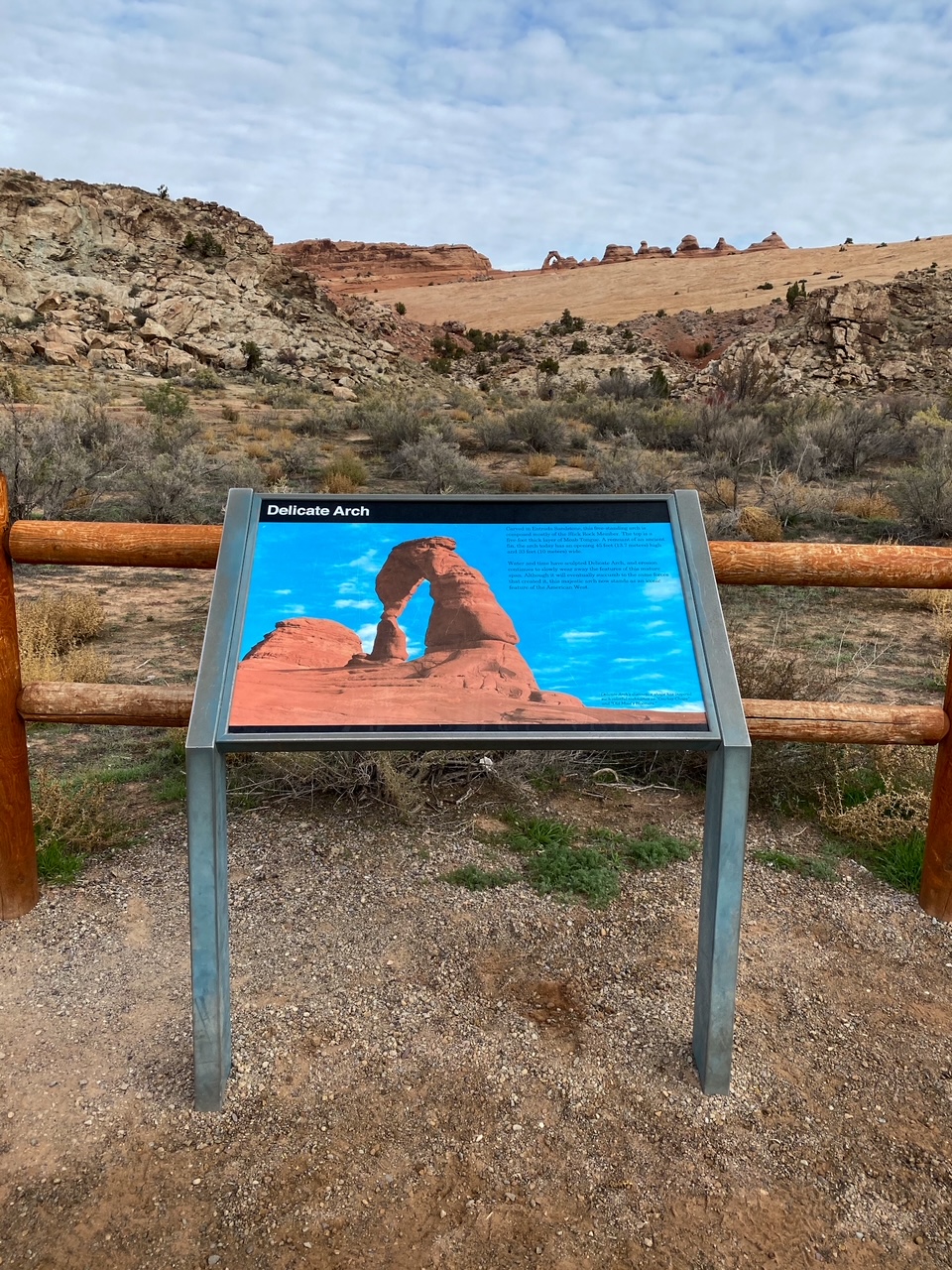 Distance: 100 yards or 0.5 miles
Difficulty: Easy
Hike Time: 10 or 30 minutes
For those who don't want to hike the more strenuous Delicate Arch trail, there are two viewpoints of the arch from a distance. Note: you can't reach Delicate Arch from this particular trail.
We decided to check out the viewpoints just for fun, but you can skip this if you're limited on time or if you're planning on doing the Delicate Arch hike.
Sand Dune Arch ✅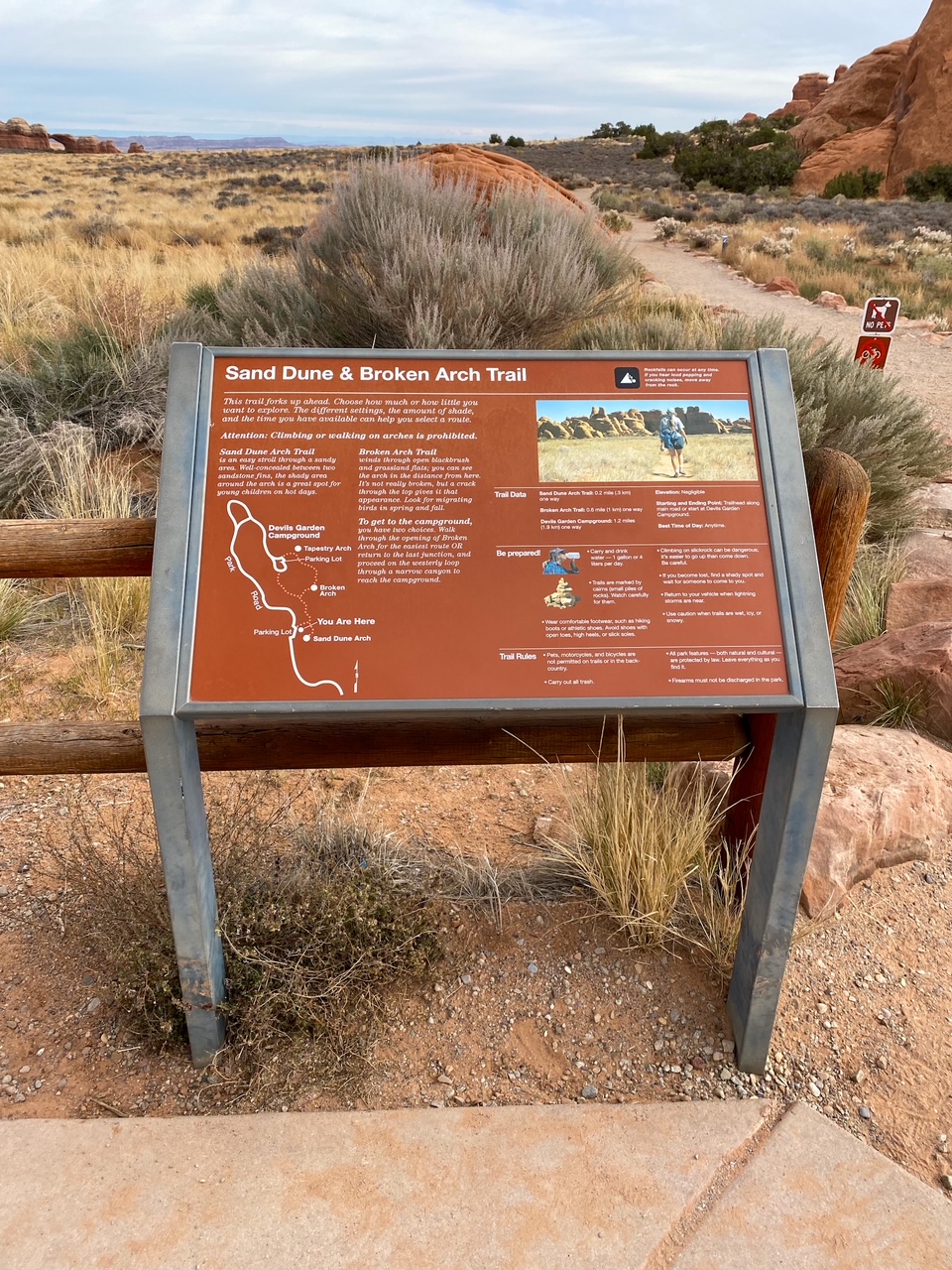 Distance: 0.3 miles
Difficulty: Easy
Hike Time: 20 minutes
Sand Dune Arch and Broken Arch share a trailhead. Starting at the Sand Dune Arch parking lot, a spur trail takes you down a sandy path and through fins of rock to a shady spot where Sand Dune Arch hides.
Remember to stay off of the arch; climbing on the arch is dangerous and is not permitted.
Broken Arch Loop ✅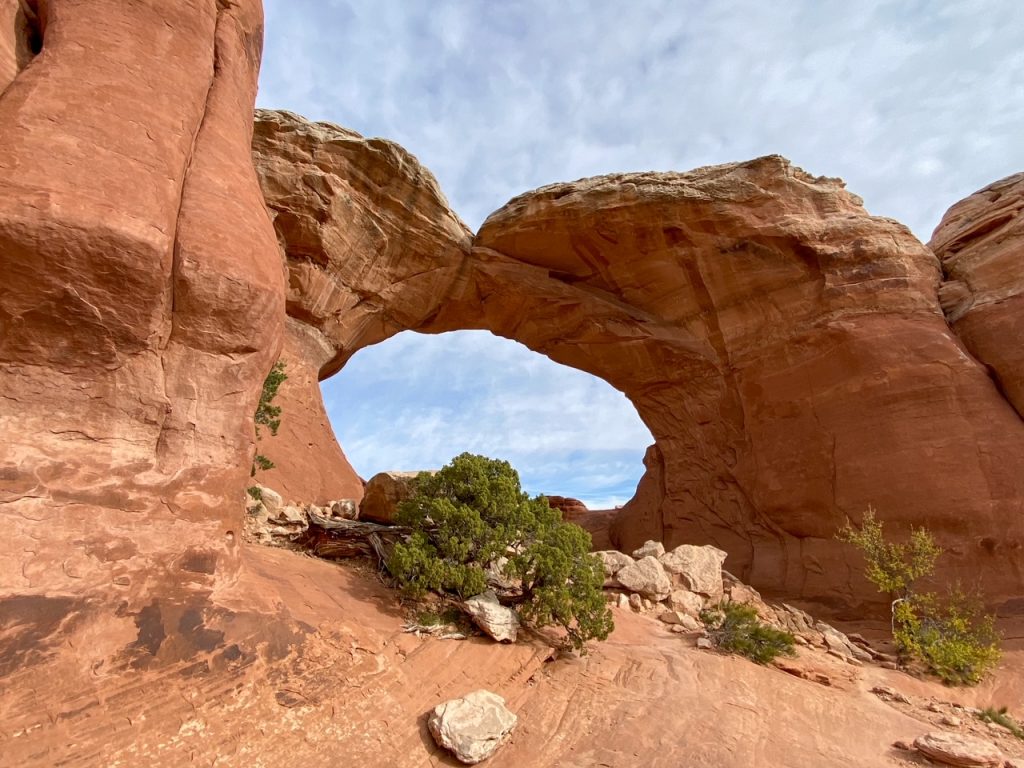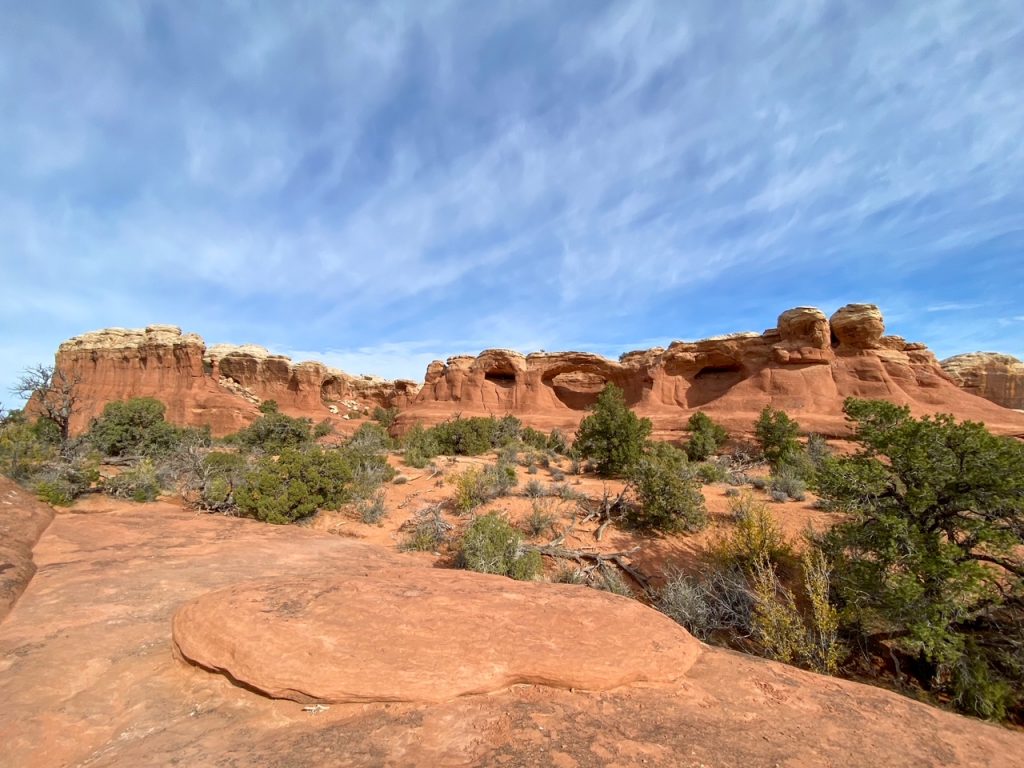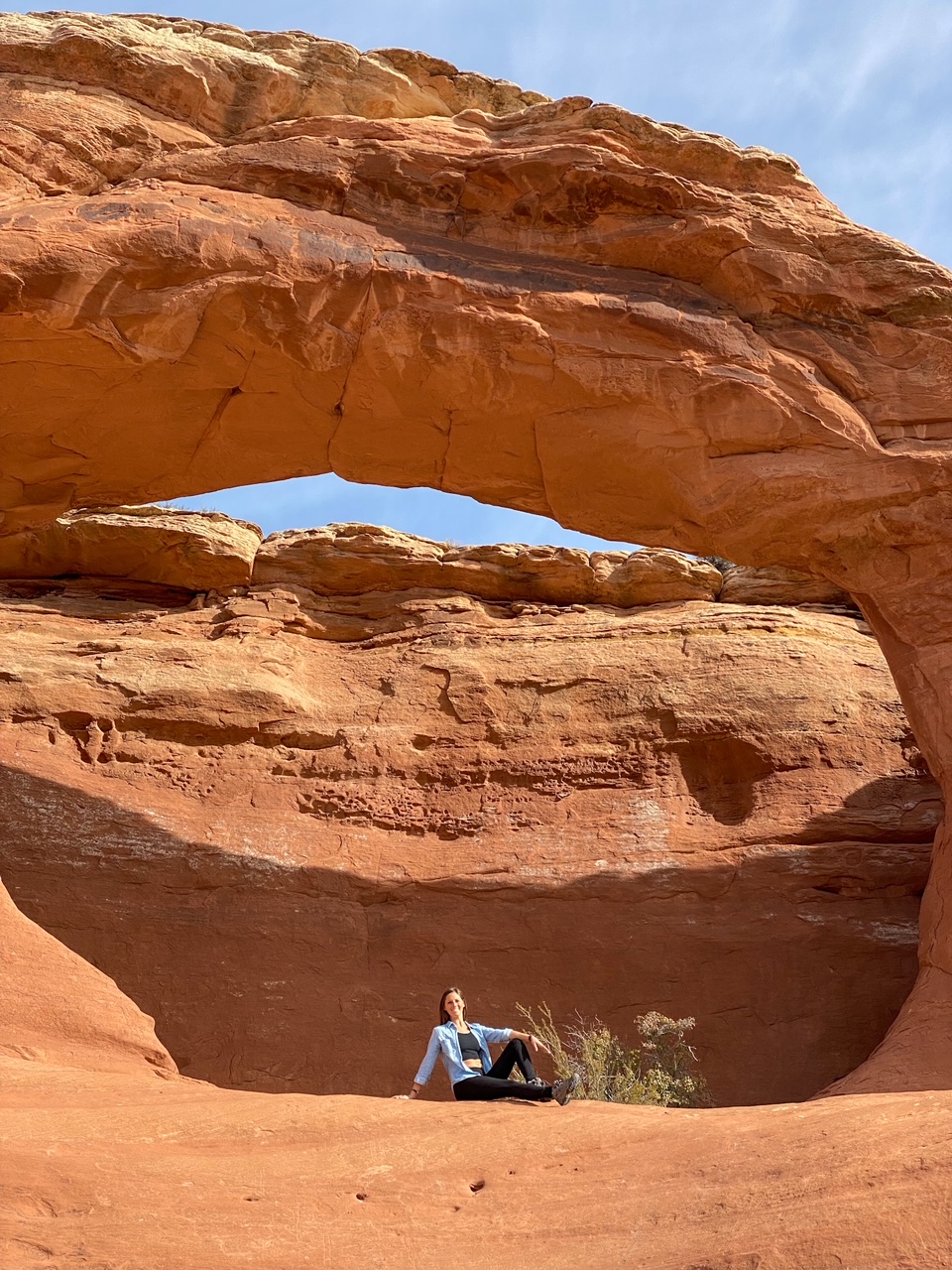 Distance: 2 miles
Difficulty: Easy
Hike Time: 60 minutes
From Sand Dune Arch, you'll cross a large meadow on your way to Broken Arch. From there, the trail continues under the span of Broken Arch and over sand dunes and slick rock to Tapestry Arch, a lesser known feature in the park.
To loop back to the Sand Dune Arch parking lot, you'll continue on through the Devils Garden Campground.
Note: After you pass Broken Arch, the trail requires some moderate scrambling and trail finding. If you choose to do the full loop hike, it's closer to 2.8 miles round-trip and requires between 1-2 hours of hiking time.
Landscape Arch ✅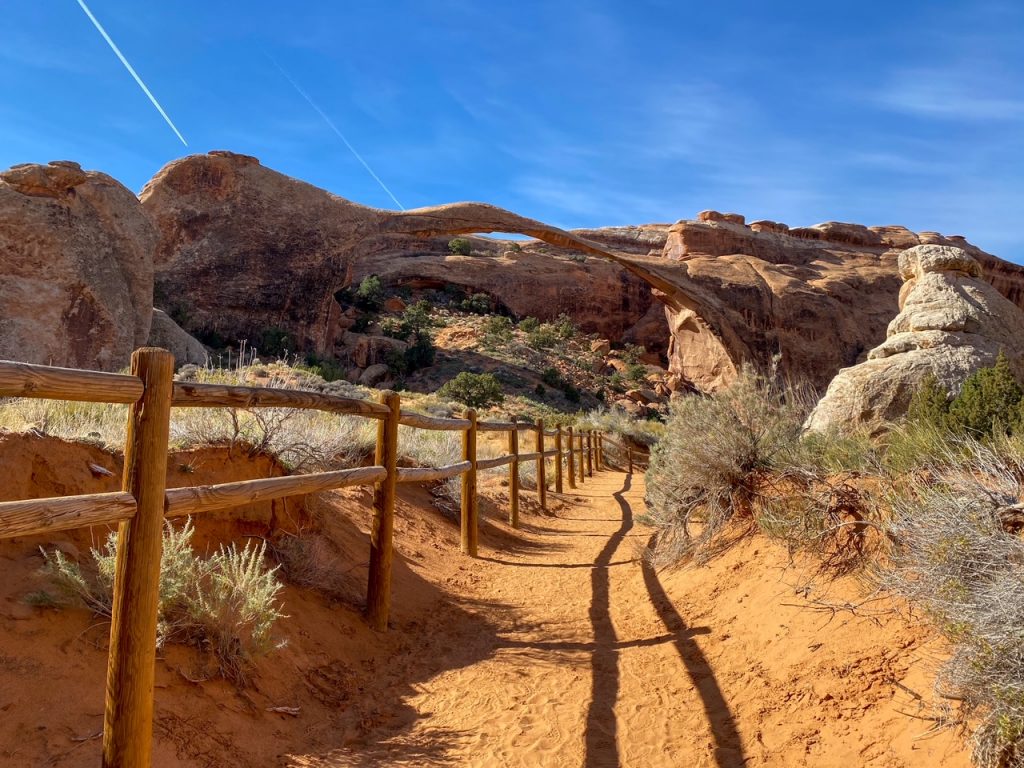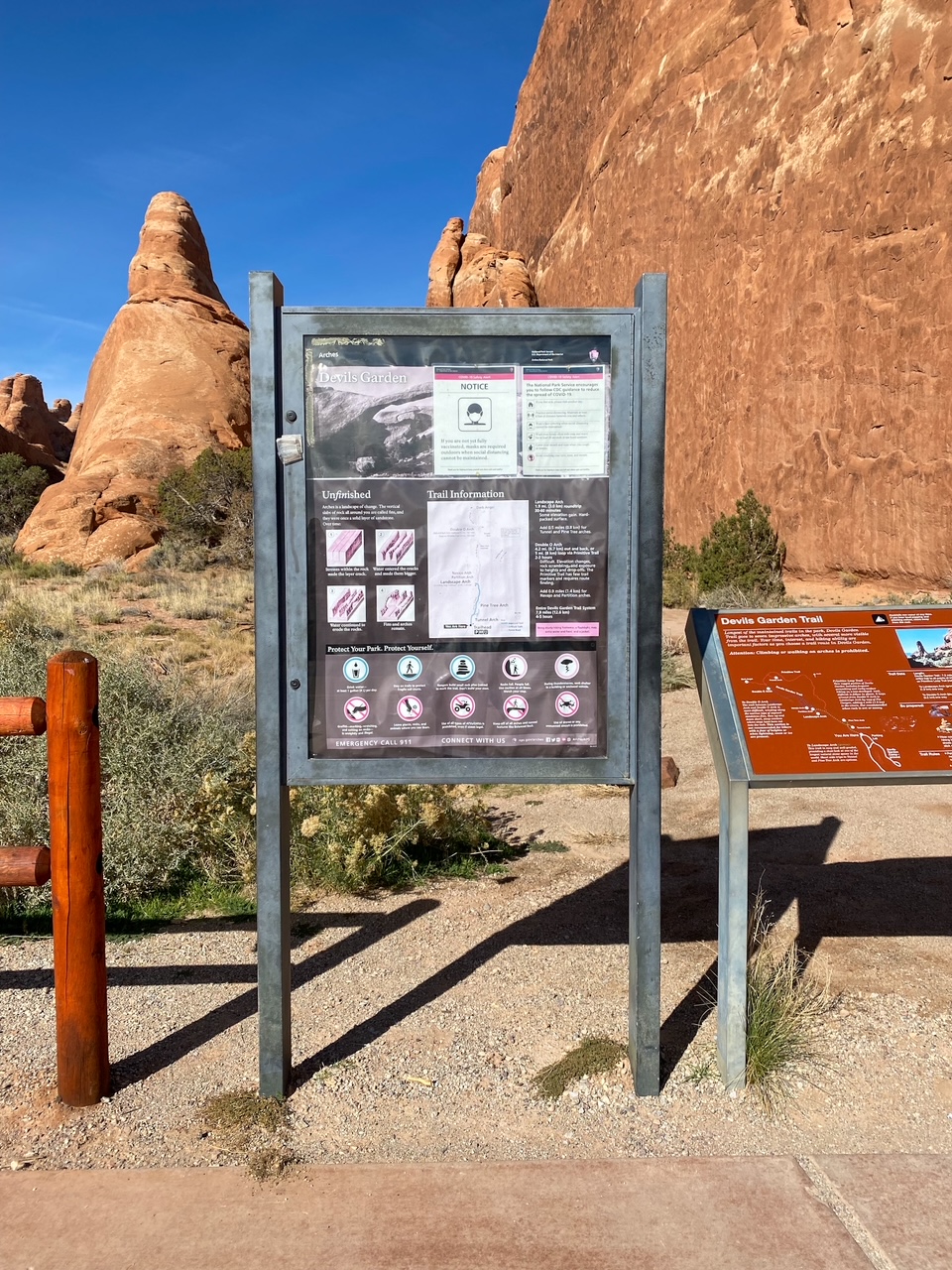 Distance: 1.9 miles
Difficulty: Easy
Hike Time: 50 minutes
Landscape Arch is the longest natural rock span in the world. At 306 feet wide, it's six feet longer than a football field – woah! The ribbon of rock is actually much thinner than it used to be; in 1991, a massive slab of rock fell off from its underside.
Starting from the parking lot for the Devils Garden Trailhead, a flat, gravel-surfaced trail leads to Landscape Arch with short spur trails to Pine Tree Arch and Tunnel Arch along the way.
The Devils Garden Trail also leads to Partition Arch, Navajo Arch, Double O Arch, Dark Angel and Private Arch, but the trail becomes much more strenuous with steep inclines, narrow ledges and exposure to heights and requires some rock scrambling – so we decided to skip these!
Skyline Arch ✅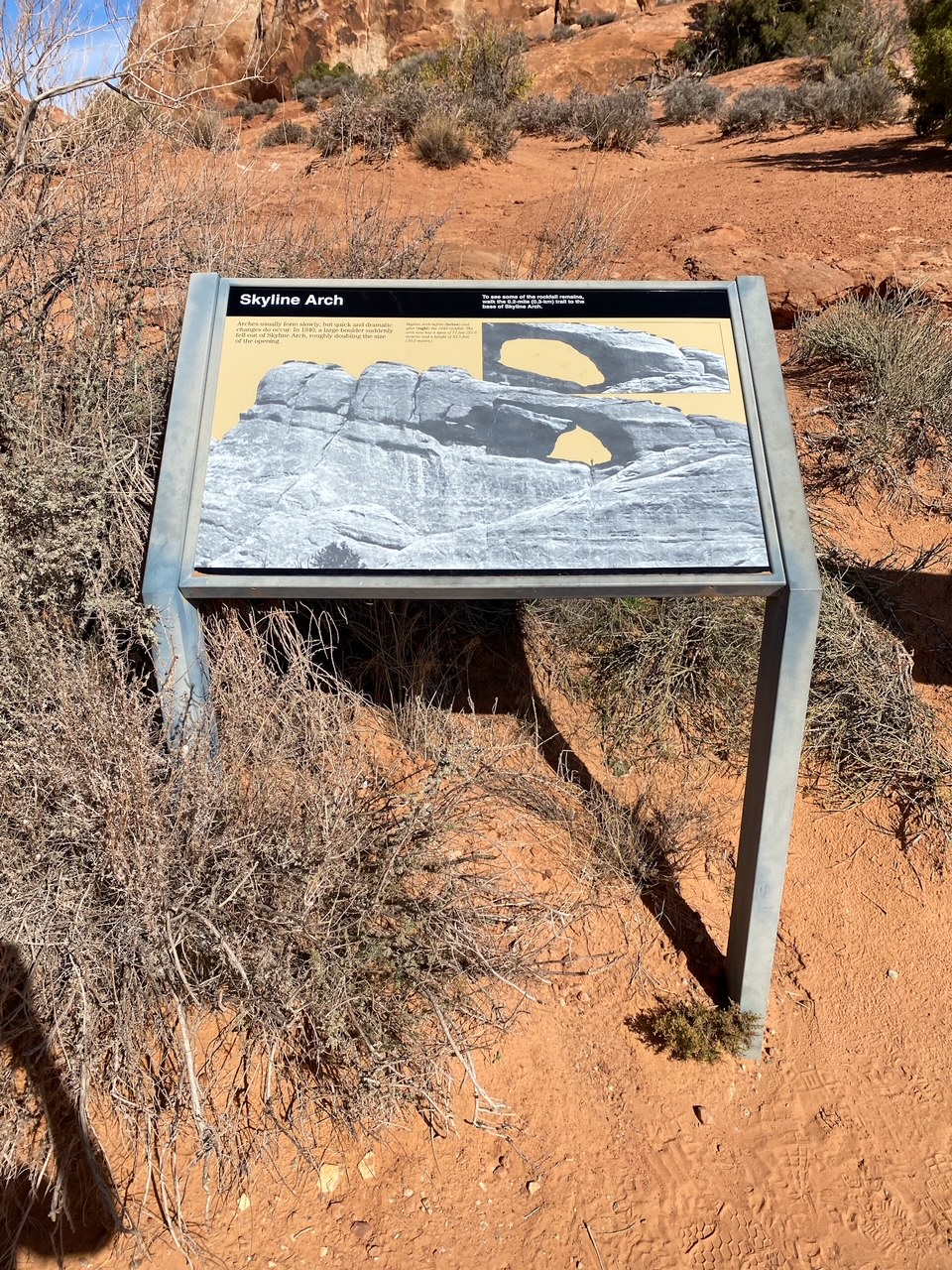 Distance: 0.4 miles
Difficulty: Easy
Hike Time: 10-20 minutes
Skyline Arch sits atop the rocks of the Devils Garden. A short, flat, out-and-back hike starting at the Skyline Arch parking lot will take you up to the arch itself.
As previously mentioned, the arches are constantly changing. Similar to Landscape Arch, a large boulder fell out of the Skyline Arch in 1940, nearly doubling the size of its opening; you can still see remnants of the rockfall less than a half mile down the trail.
Park Avenue ✅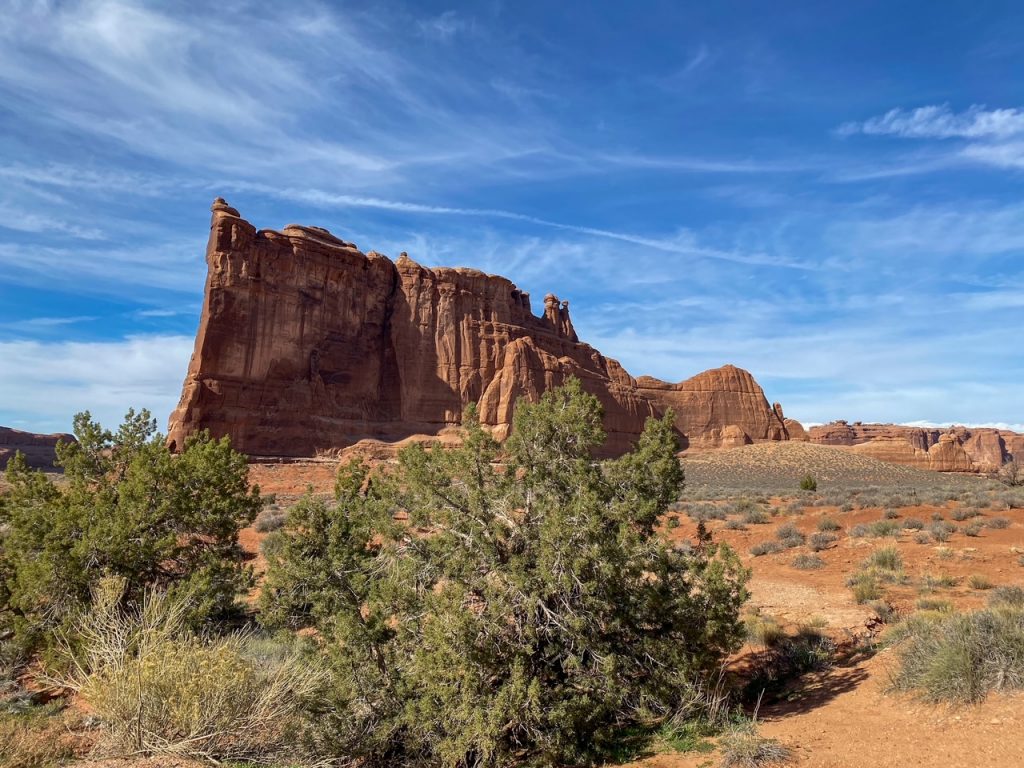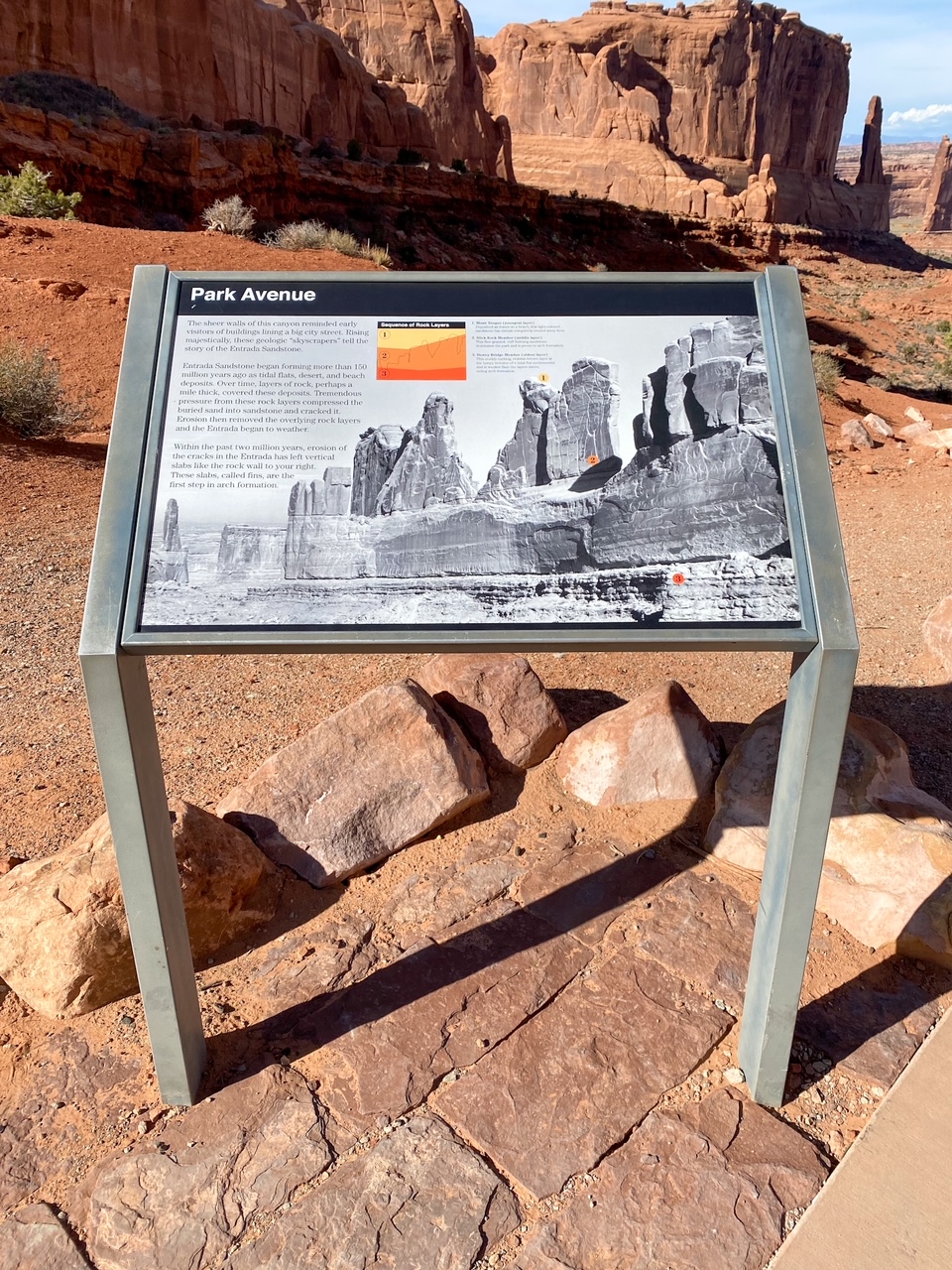 Distance: 2 miles
Difficulty: Moderate
Hike Time: 1.5 hours
Park Avenue is made up of large, sheer walls and resembles a cityscape of large buildings.
Park at the Park Avenue Viewpoint and Trailhead and follow the trail as it descends steeply into an incredible canyon and continues to the Courthouse Towers Viewpoint. Along the way, keep an eye out for the Three Gossips, The Organ, Tower of Babel and Sheep Rock.
If you have a shuttle driver, you can start at one end of the trail and get picked up at the other; otherwise, you'll need to treat this as an out-and-back hike, since you can't walk back along the road. The walk from the Park Avenue Viewpoint to the Courthouse Towers Viewpoint is mostly downhill, so be prepared for the elevation gain on the way back if you do it as an out-and-back hike.
A Broad Recommendation: We did this hike during the hottest part of the day because we wanted to end our day with a hike to Delicate Arch for sunset. Even in November, it was very hot! There's little to no shade, so remember to pack lots of water, snacks, sunblock and extra clothes to layer, especially if you plan to hike in the afternoon like we did.
Delicate Arch ✅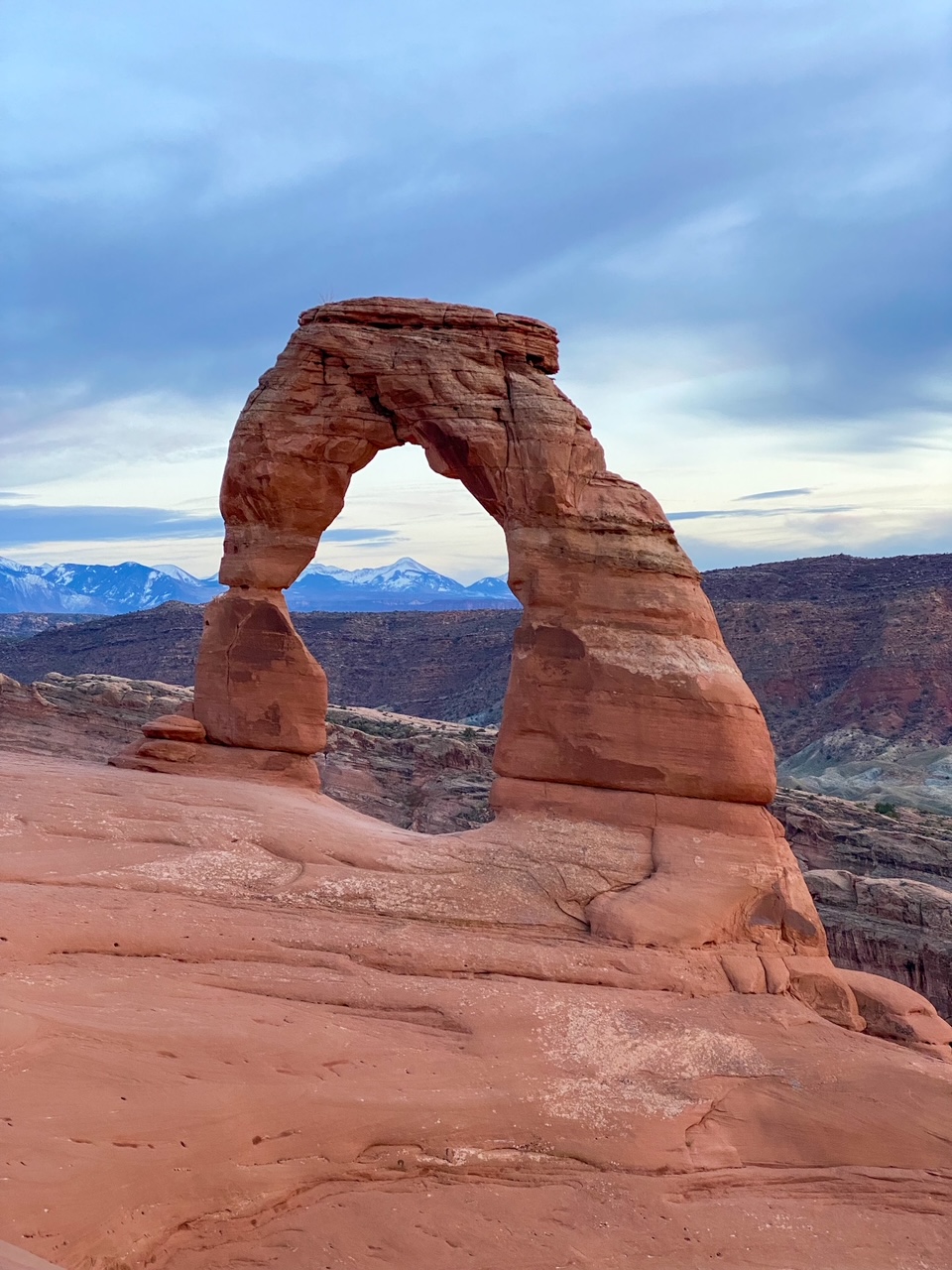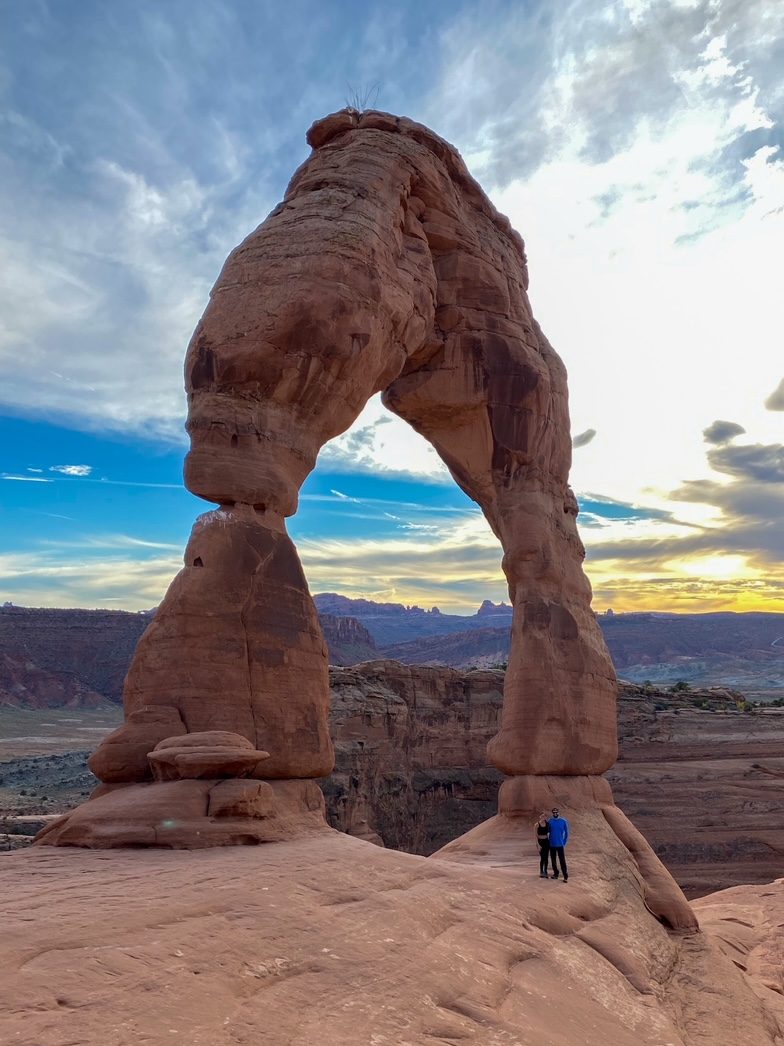 Distance: 3 miles
Difficulty: Strenuous
Hike Time: 2.5 hours
Delicate Arch is arguably the most popular and most impressive arch inside the park, and this is one of the best hikes in Arches National Park! People from all over the world visit the park to see Delicate Arch, which has become somewhat of a symbol for the state of Utah.
Delicate Arch is the largest free-standing arch in the park with the opening beneath the arch at 46 feet high and 32 feet wide.
The trail itself is over slickrock, requires some trail finding and has no shade. Along the way, you'll experience a steady incline until you reach the top of the rock face. There are portions of this hike that require walking along a narrow ledge (only for about 200 yards though).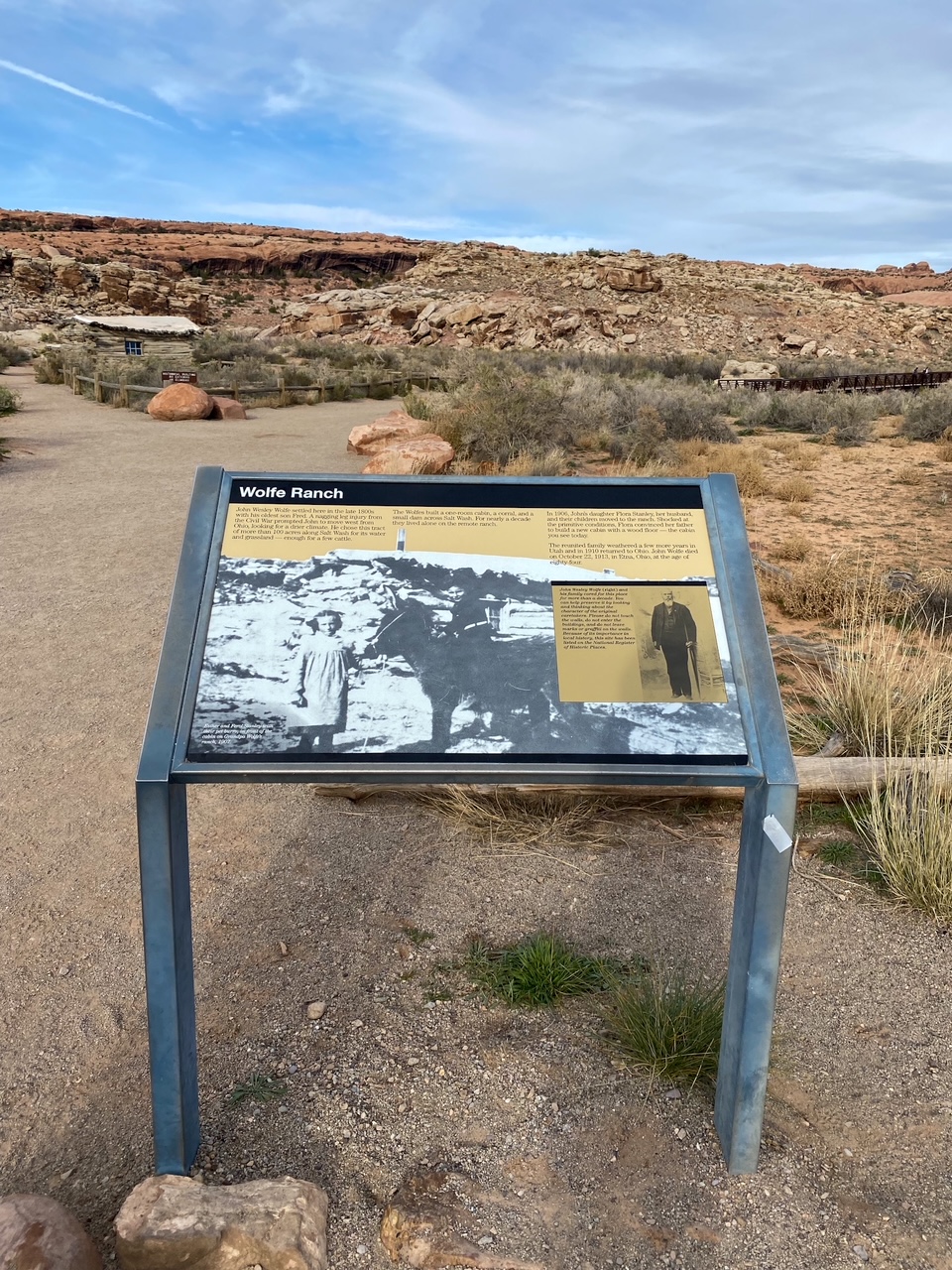 Along the way, you'll also pass the Wolfe Ranch cabin, which was built by John Wesley Wolfe in the early 1900s, and a wall of Ute Indian petroglyphs.
Sunrise, late afternoon and sunset are all great times to visit Delicate Arch, especially for photos. We visited for sunset, and we surely weren't disappointed!
Since this trail is so popular, the parking lot will fill up, but there's additional parking at the Delicate Arch Viewpoint parking lot.
Sunset is also a popular time to visit, so be prepared for crowds. We visited in November, so it wasn't too bad crowd-wise, but we still had to deal with some inconsiderate people – more on that later.
Other Hikes
We were only able to fit in a one-day visit to Arches National Park during our Southwest U.S. road trip, so we couldn't do all of the hikes here. For information on the hikes I mentioned and other hikes at Arches National Park, check out the NPS website.
Where to Watch a Sunrise or Sunset
Best Sunrise Spot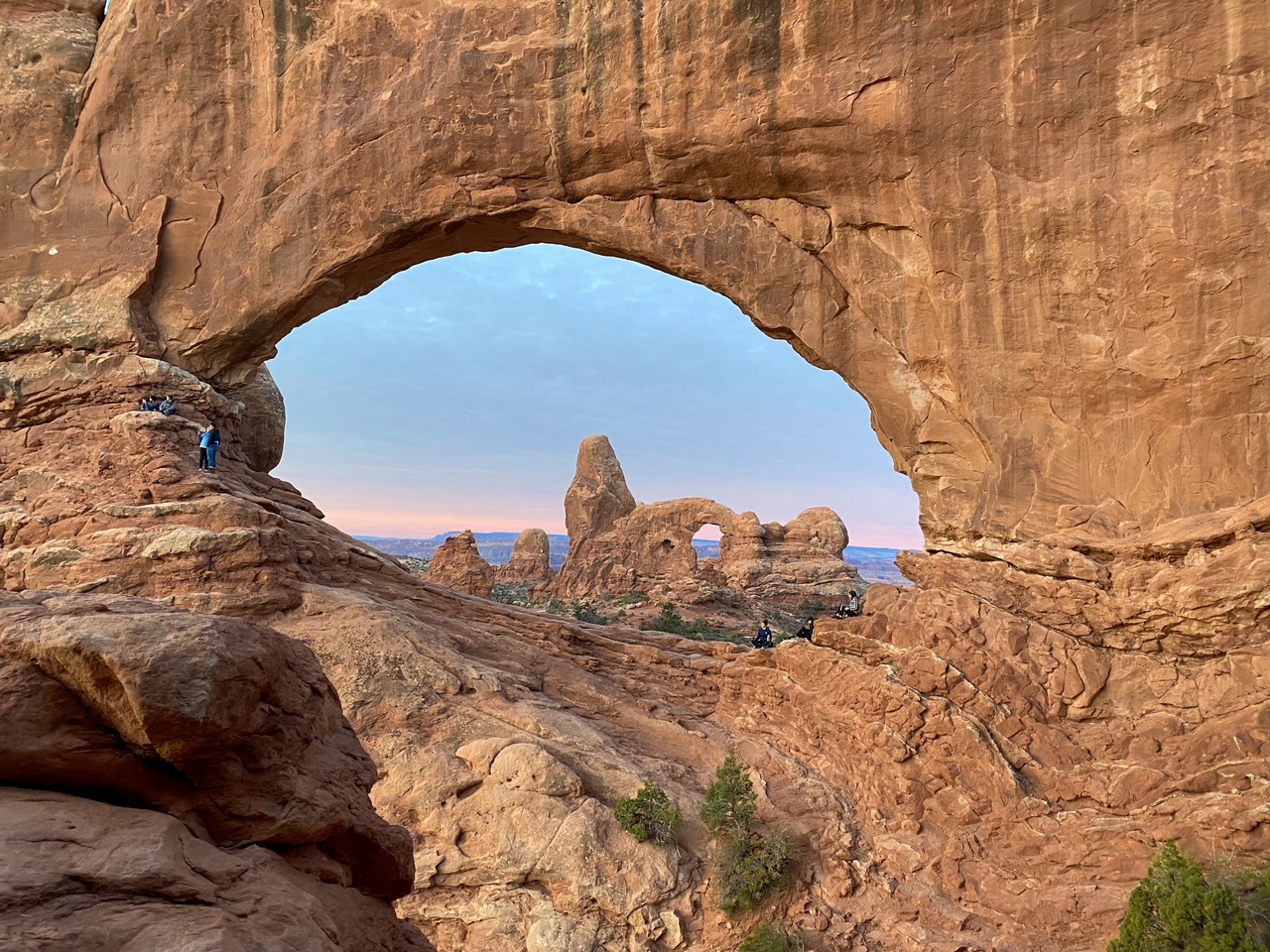 We hiked the short trail to the Windows, climbed through the North Window Arch, and posted up on a rock to photograph Turret Arch through the North Window at sunrise.
There were several other photographers here at this time, and as you can see from my photo, there were also plenty of people watching the sunrise from the North Window itself. I don't think you can really beat this view!
Best Sunset Spots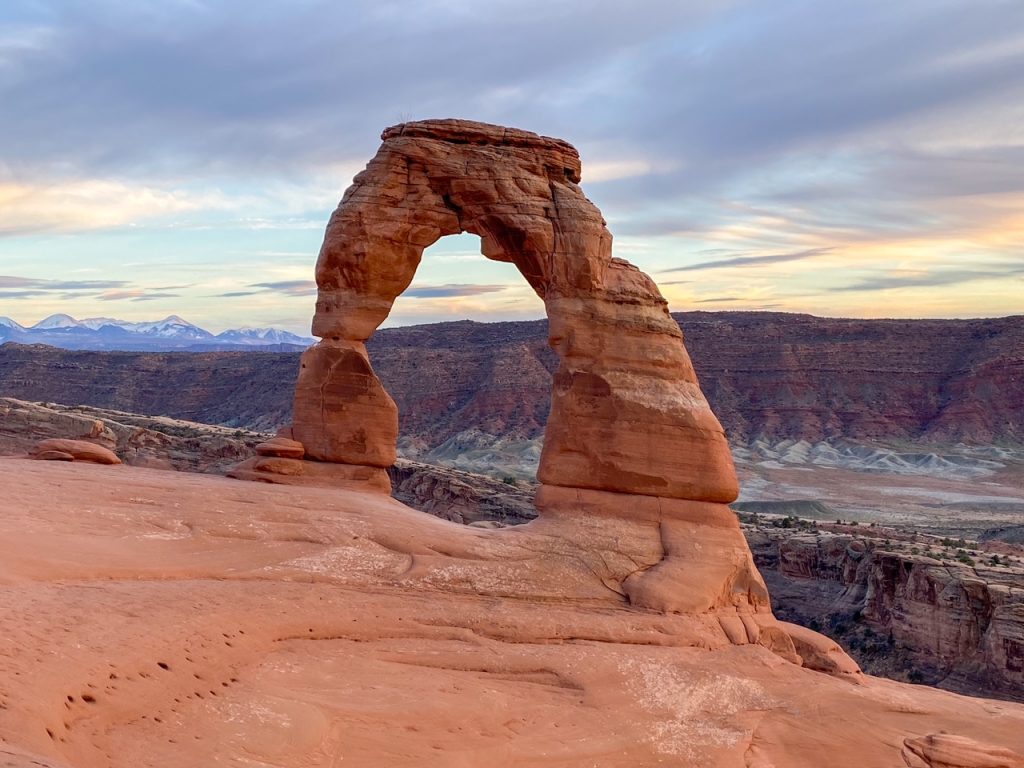 Delicate Arch is a popular spot for sunset. Capturing photos of the gorgeous La Sal Mountains through the arch during this time of day is simply stunning. We hiked here around 5 pm and waited for the sunset.
This area tends to get pretty crowded with photographers, and it's important to be respectful of folks who arrived early and waited for this moment. There was a group of college guys who arrived late and ended up standing right in front of us, blocking our view.
We ended up having to move to get our shots, but in the process, we made some friends and joked together about what had happened. And, we ended up running into these friends several other times over the next few days (we were even staying at the same hotel in Monument Valley) – too funny!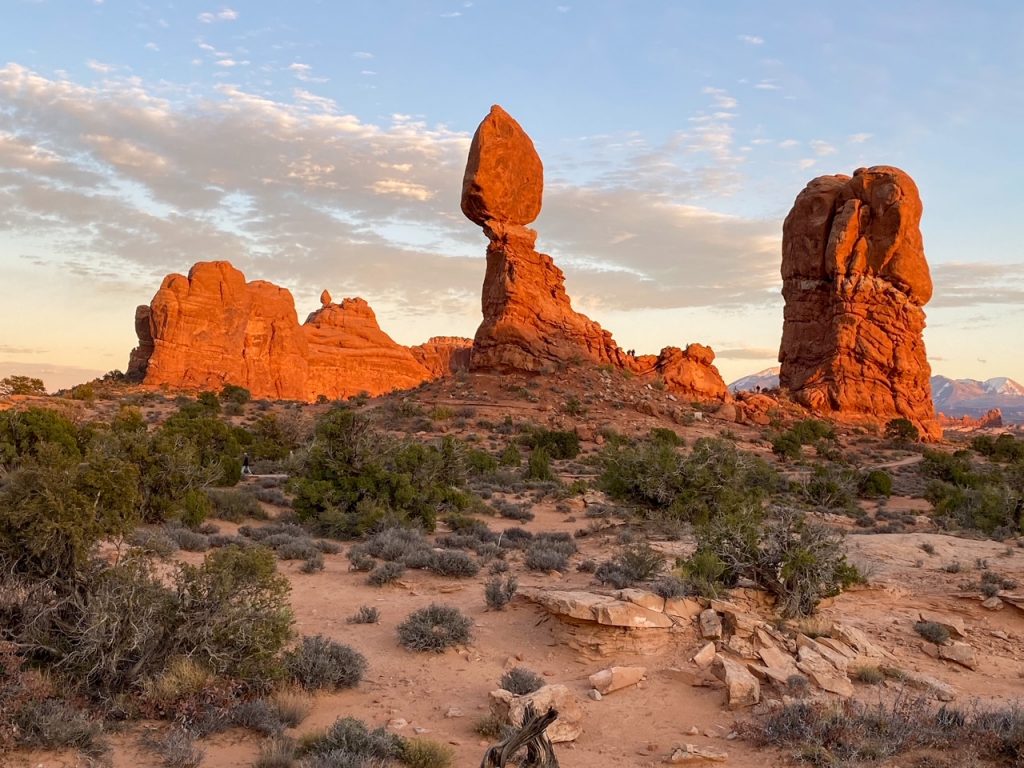 Since we arrived early enough the night before our full-day visit, we were able to pop into the park for sunset at Balanced Rock – and, we were blown away by the view! We'd highly recommend a stop here for sunset if it fits in your itinerary.
Getting from Arches to Canyonlands
Canyonlands National Park is only about a 30 minute drive from Arches National Park. Realistically, you could visit both in one day, but of course, you wouldn't be able to see nearly as much.
If you're headed directly from Arches to Canyonlands, you'll take US-191 N to UT-313 W and continue onto Grand View Point Road/Island in the Sky Road.
If you're staying overnight in Moab like we did, you'll follow the same route, but your drive time will be closer to 40 minutes. Keep this in mind if you're trying to catch the sunrise at Mesa Arch in Canyonlands National Park. Check out our next blog post (coming soon) for more on that!
Have you visited Arches National Park yet, and if not, have we convinced you to go? Leave us a comment below!
And, don't forget to pin this post to refer back to it later!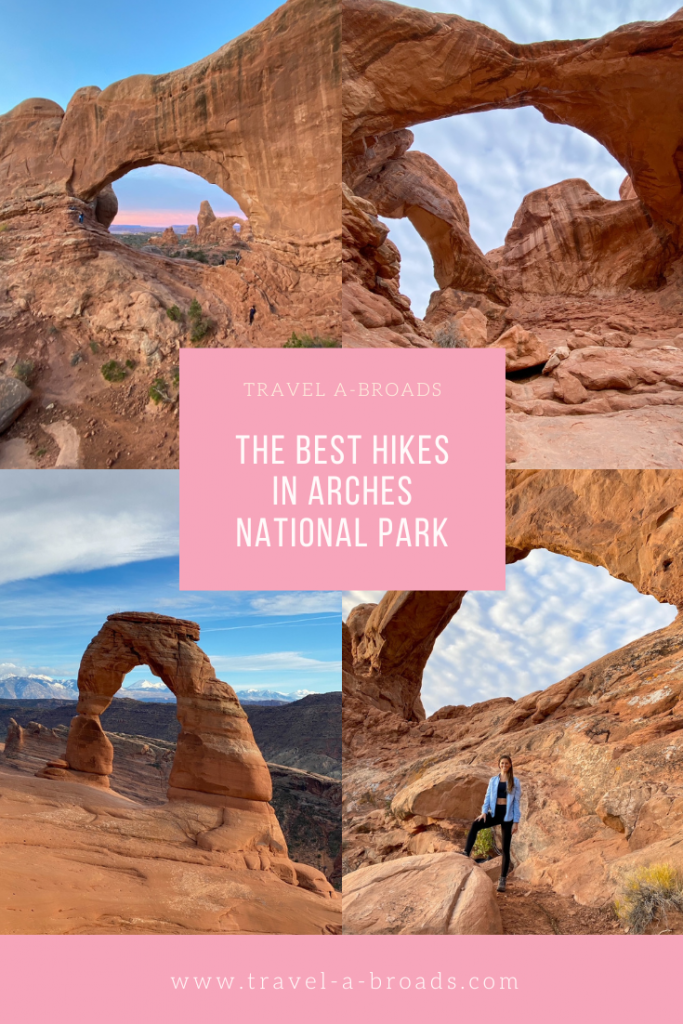 XOXO Travel A-Broads