Monument Valley, which translates to "valley of the rocks", is one of the most majestic and most photographed places in the world.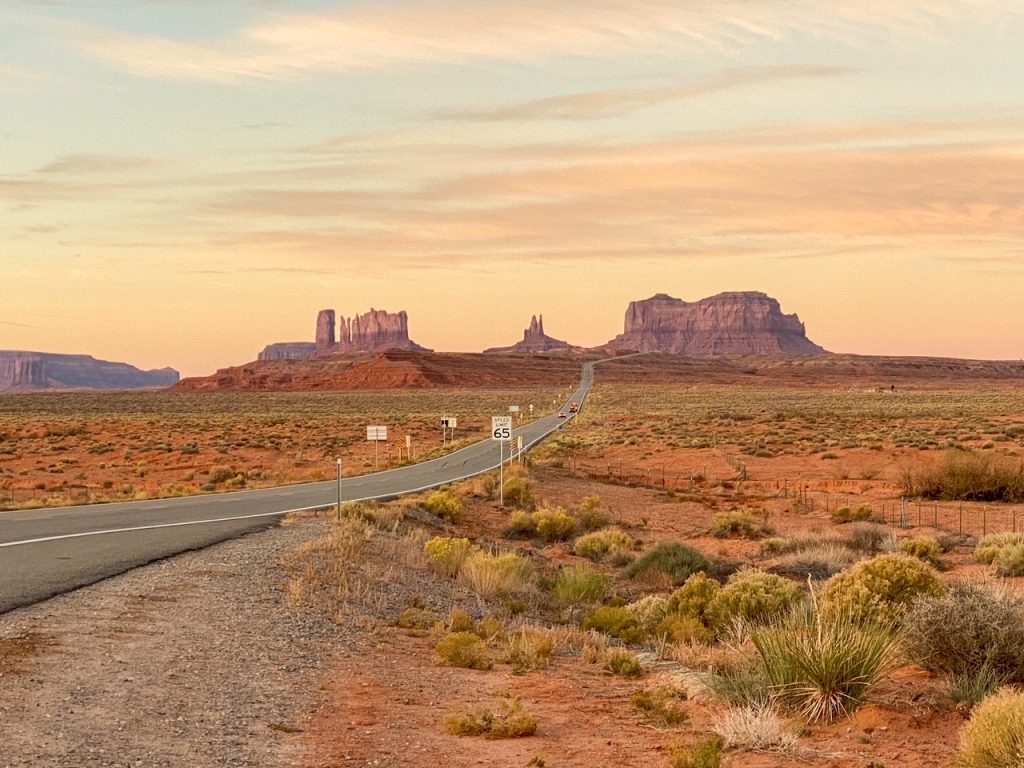 It's best known for its vast sandstone buttes that formed over hundreds of millions of years; the largest is approximately 1,000 feet above the valley floor – wow!
How to Get to Monument Valley
We visited Monument Valley as part of a larger U.S. Southwest road trip, starting from Las Vegas and stopping at Zion National Park, Bryce Canyon National Park, Lower Calf Creek Falls, Capitol Reef National Park, Arches National Park, and Canyonlands National Park along the way.
Monument Valley lies within Navajo Nation territory right on the Arizona-Utah state line and is part of the Colorado Plateau.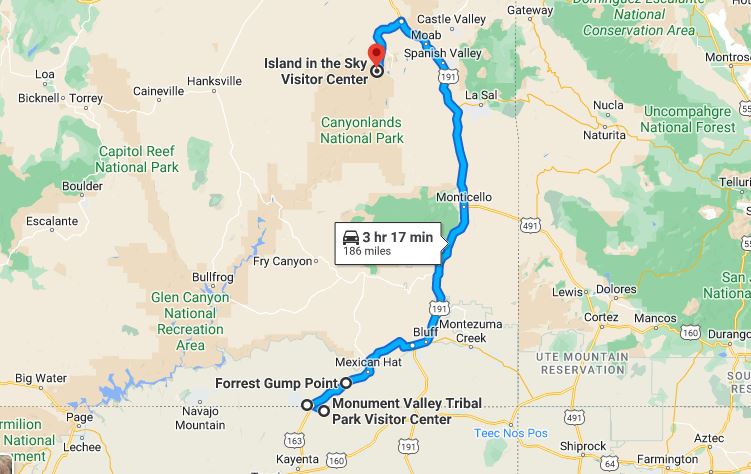 If you're heading to Monument Valley from Canyonlands' Island in the Sky district like we did, you'll start by heading north on Grand View Point Road. Grand View Point Road eventually turns into UT-313 E, which you'll follow for an additional 14.6 miles before turning right onto US-191 S. After another 116 miles or so, US-191 S turns into US-163 S/Hwy 163, and you'll follow this for another 41 miles before arriving in the Monument Valley area.
A Broad Recommendation: due to the lack of cell service throughout this area, you should download Google offline maps and pack extra water, snacks and warm clothes in case of an emergency.
If you aren't following the same route as us, you may consider flying into Salt Lake City International Airport or Las Vegas's Harry Reid International Airport; they're both around a 6.5-hour drive to Monument Valley. Albuquerque International Sunport and Phoenix Sky Harbor International Airport are closer, both located about 5 hours away, but these may have fewer flight options.
Monument Valley Lodging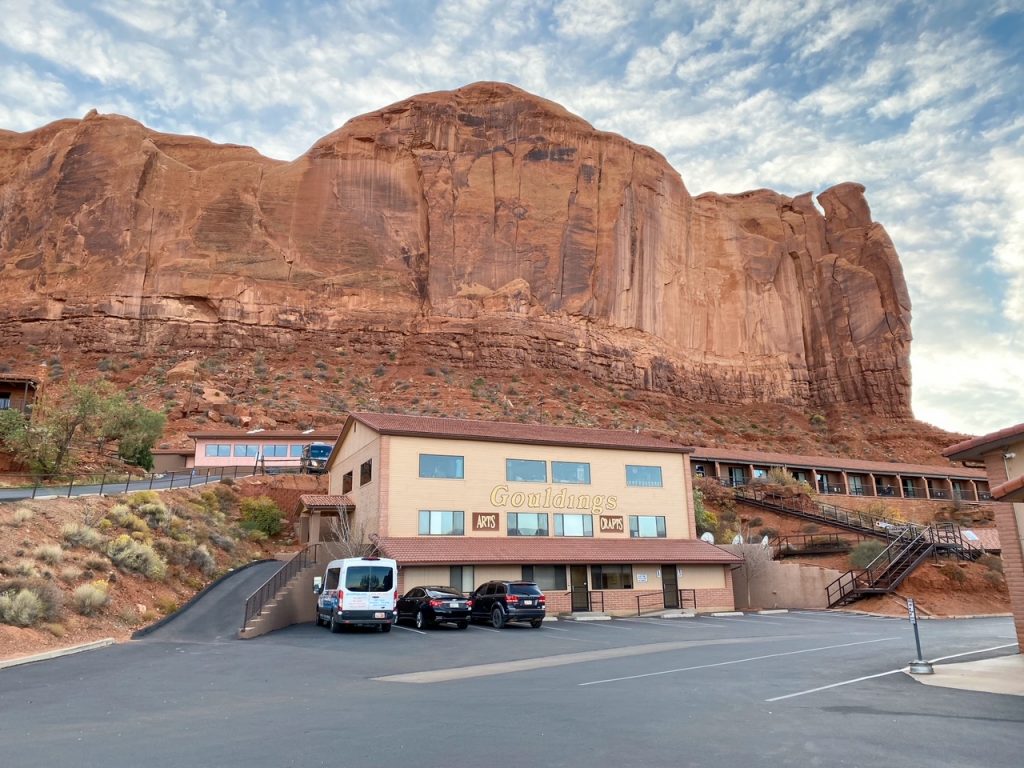 As you probably assumed based on the airport distances, Monument Valley is sort of in the middle of nowhere. We stayed at Goulding's Trading Post & Lodge, which is practically a town in and of itself.
Goulding's Lodge was established in 1923 by Harry Goulding and his wife, "Mike". It offers a restaurant, pool, gift shop, grocery store, museum, theater, gas station and even a private airstrip! They also have an RV park and campgrounds in addition to the lodge. And, if you're looking to book a Navajo guided tour of Monument Valley, they can help with that too.
We used hotels.com to book our stay and spent around $150 for the night.
A Broad Recommendation: We recommend using hotels.com. They offer great deals and give you one free night for every ten nights you complete. I also use Rakuten at the time of my purchase to get cash back!
Monument Valley Weather
Monument Valley has a desert climate with hot summers and cold winters. Due to the region's high altitude, summer temperatures rarely exceed 100°F, and winter temperatures rarely fall below 0°F.
The most popular times to visit are spring and fall when temperatures are more mild. We visited in early November and felt that this was a great time to visit!
We did a self-guided tour in our rental car, so the outside temperatures didn't affect us much. If you plan on doing a guided jeep tour, be sure to check the temperatures so you know what to expect before you go; the jeeps are open, so you'll be impacted by the weather.
Monument Valley Navajo Tribal Park Info
Monument Valley Hours
At the time of our visit, the park was open from 8 am to 2 pm for winter hours; these hours run from November 1st through January 31st. Regular hours of operation are from 8 am to 5 pm.
Monument Valley Fees
There's a $20 per vehicle entry fee plus $8 per additional person, according to the Monument Valley Navajo Tribal Park website, but prices are subject to change.
Monument Valley Facilities
During the summer months, the Haskenneini Restaurant, which specializes in both native Navajo and American cuisines, is open for dining.
There are year-round restroom facilities on-site, and at the time of our visit, the gift shop was also open, along with a coffee/tea/snack bar.
COVID Response
All Navajo Tribal Parks are following CDC guidelines and are requiring masks both indoors and outdoors, as well as social distancing.
In line with the 50% occupancy limit at all tribal park locations, five vehicles per hour will be permitted to drive the 17-mile loop road on a first come, first served basis.
Monument Valley Itinerary
We spent less than 24 hours in the Monument Valley area but really enjoyed our limited time here! Here's our suggested itinerary for your visit to Monument Valley.
Watch the Sunset at Goulding's Lodge
If you plan to arrive the night before your visit to the Monument Valley Navajo Tribal Park, make sure to grab a window seat at the Goulding's Lodge restaurant and watch the sunset. The view is spectacular!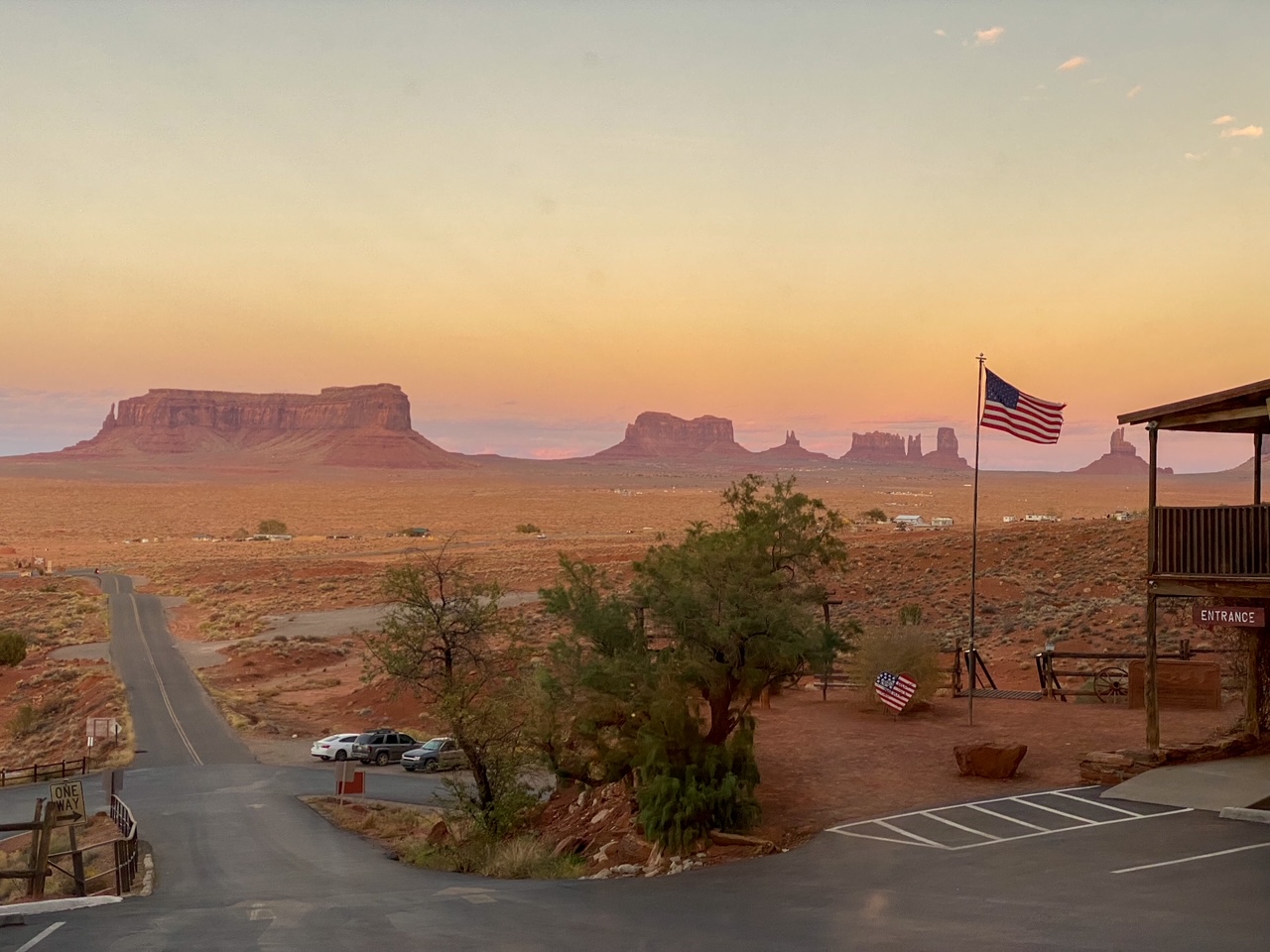 Catch a Sunrise at Forrest Gump Point
The next morning, wake up early, and head to Forrest Gump point for the perfect sunrise photos; the view is iconic and absolutely stunning!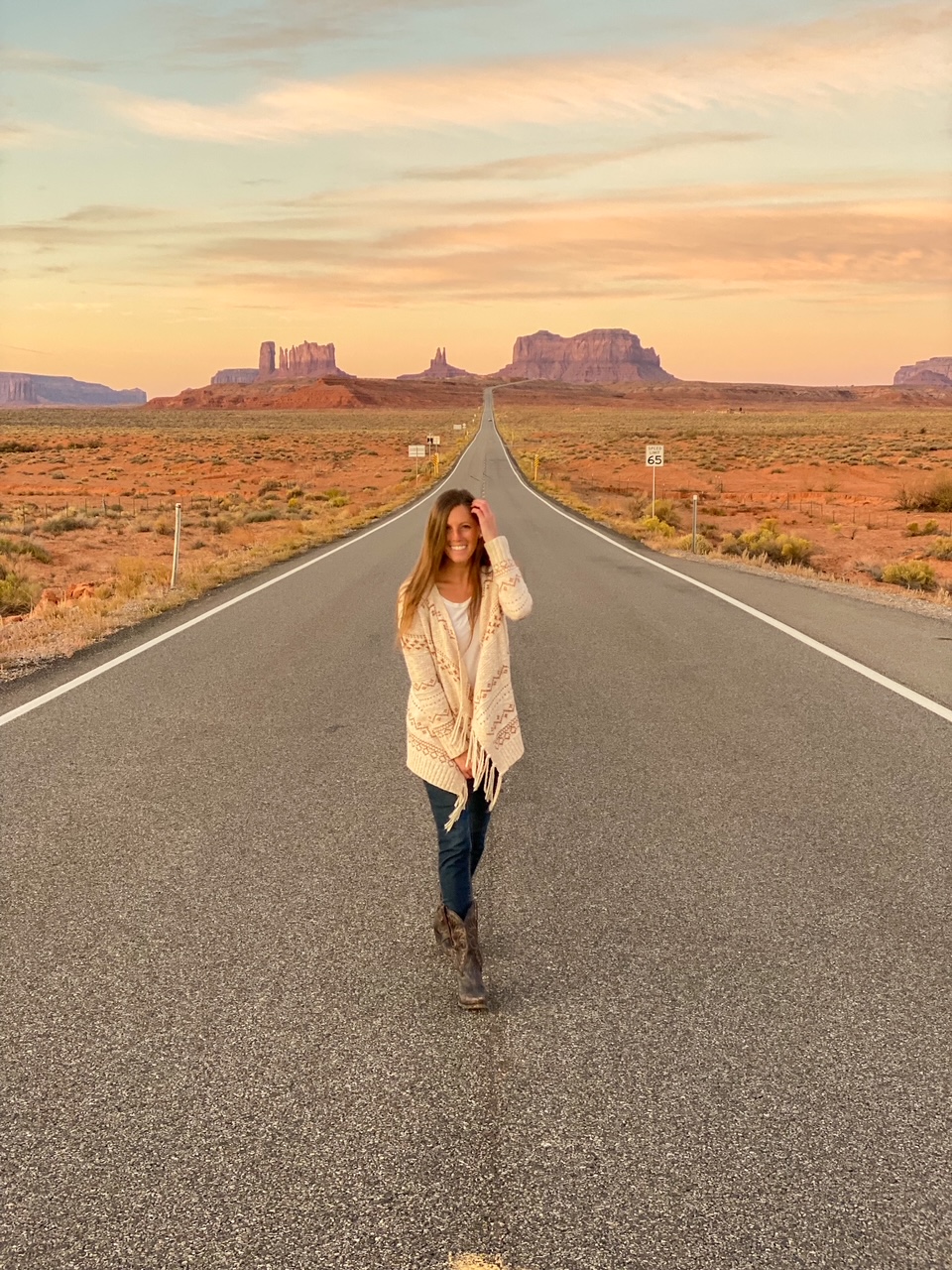 Note: we spent a while driving around, trying to find the best spot for photos. Be patient, and don't forget to bring a selfie stick & tripod to capture the moment!
Do the 17-Mile Scenic Drive
Next, head to the Monument Valley Navajo Tribal Park and do the 17-mile loop drive. There are 11 viewpoints that you can drive to on your own, and you'll receive a map with information about each of the stops when you arrive.
A Broad Recommendation: It's best to arrive early in the morning, since Navajo Nation limits the number of vehicles that can enter at any given time. Our visit was also limited to two hours due to COVID protocols.
You don't need 4WD, but be careful if you're in a low riding vehicle. The roads aren't paved, and some areas are pretty bumpy. We rented an SUV for our trip and didn't have any issues here.
Note: certain parts of Monument Valley, such as Mystery Valley and Hunts Mesa, are accessible only by guided tour. There are guided tours by Navajo tour operators available for purchase at the visitor center.
Take your time and take in all the views! Below is a list of all the stops in the order you'll see them on the drive.
#1 The Mittens and Merrick Butte
The East and West Mitten Buttes and Merrick Butte are the most famous and most recognizable formations in the park.
A butte is a rock formation that's smaller than a mesa and in its second stage of erosion; more on mesas later! The East and West Mitten Buttes look like hands (or mittens), but have a much deeper meaning; they're said to be the spiritual beings that watch over the valley.
Merrick Butte (and Mitchell Mesa) has a more somber story. These formations are named after two ex-cavalry soldiers who went in search of and discovered a silver mine in the valley, only to meet their demise in the process. Legend has it that Merrick and Mitchell were killed by angry Indians, and the location of the mine was never rediscovered.
#2 Elephant Butte
As the road veers to the right, you'll notice the sheer sandstone Elephant Butte facing west of the southwest desert and sitting atop a red ridge. Do you agree it looks like an elephant?
#3 Three Sisters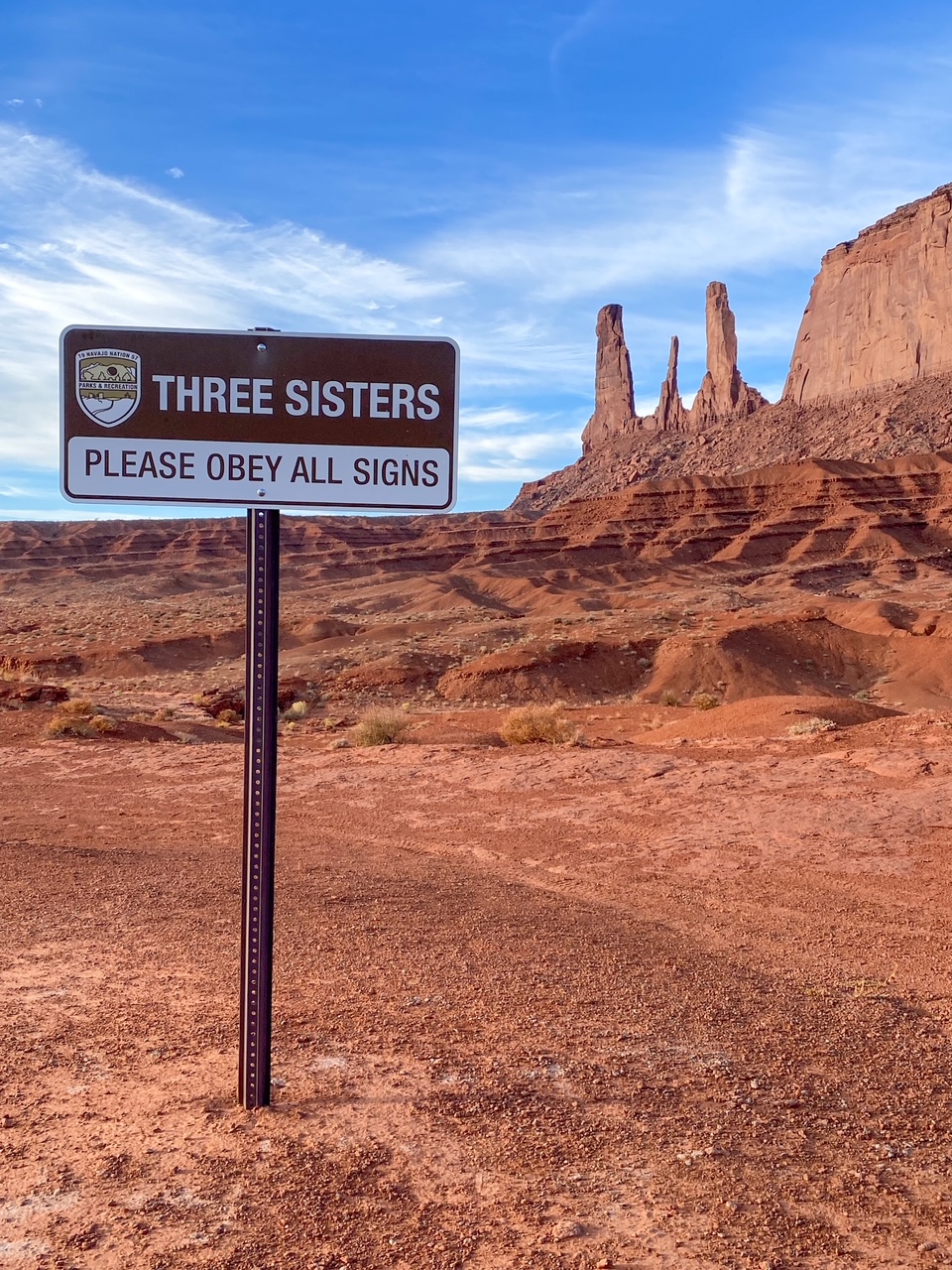 Stop number three is named "Three Sisters" – how fitting! We learned that the formation is believed to be a Catholic nun with two of her two pupils.
I pretended I was the fourth sister and took a quick picture with them.
#4 John Ford's Point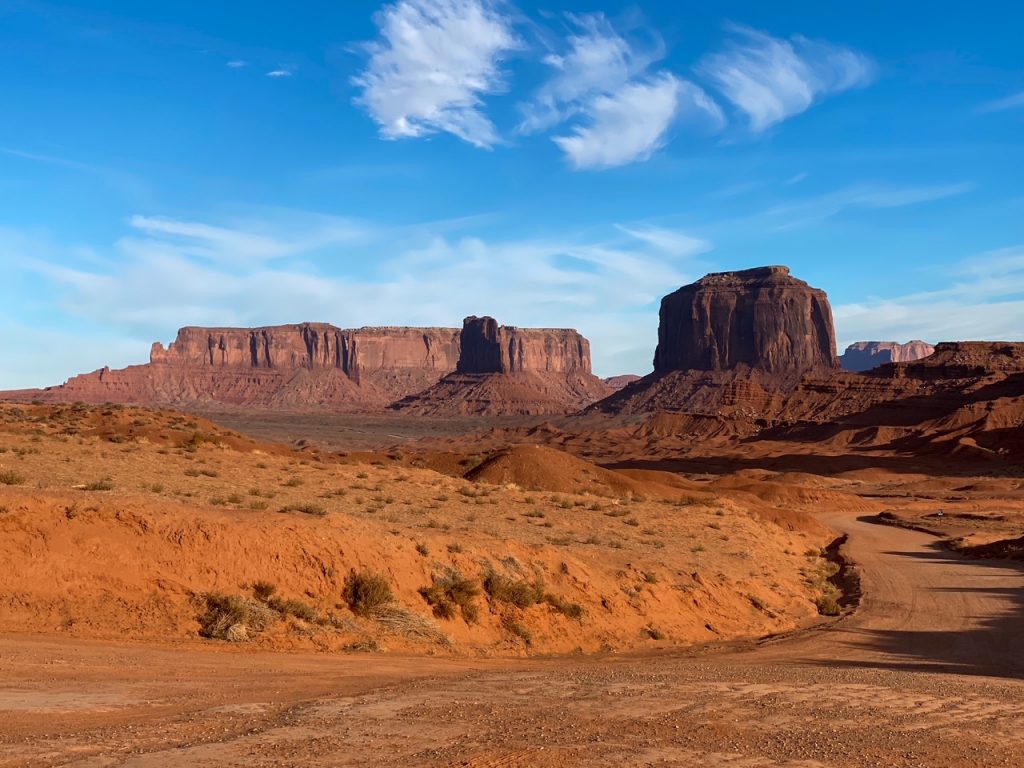 Since the 1930s, Monument Valley has been featured in various films and tv shows.
John Ford's Point, which is named after Hollywood director, John Ford, is one of the most iconic spots in the park. He's most well known for his works, "The Searchers", "Cheyenne Autumn", and "Stage Coach" – and for making John Wayne famous.
Pay attention to the road here; after this stop, it becomes a one-way.
#5 Camel Butte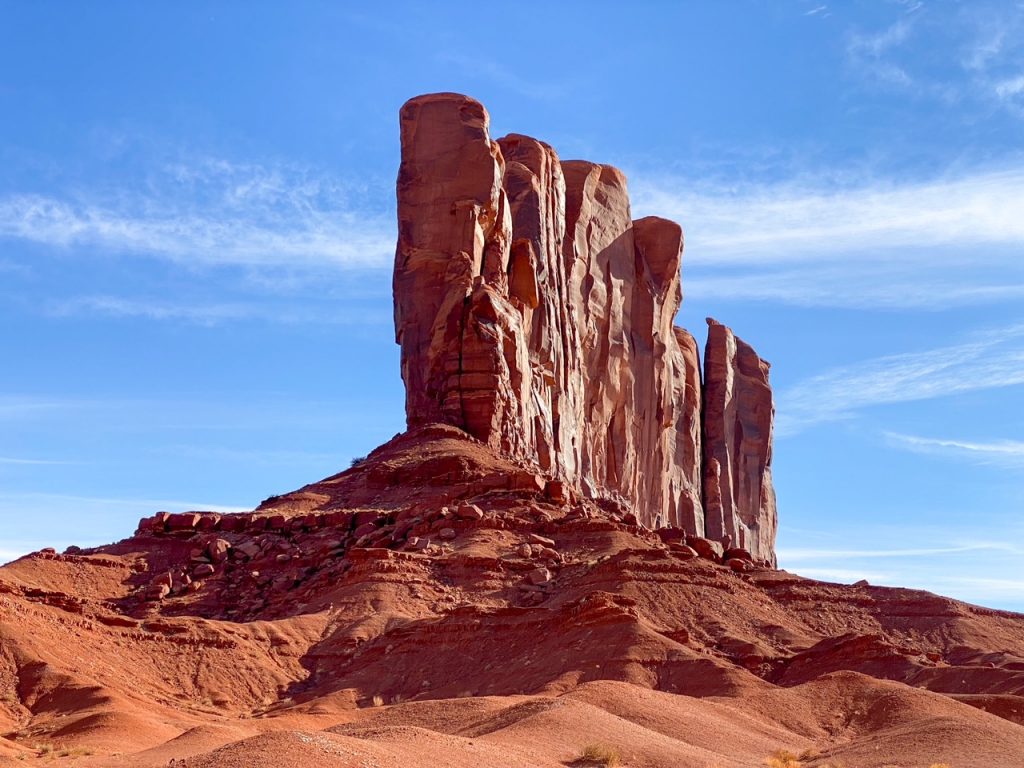 Camel Butte faces west and is the highest point of the drive. Can you picture the Middle Eastern animal this butte is named after?
The dirt road splits into various directions here, so be sure to remain on the self-guided scenic drive.
#6 Rain God Mesa and The Hub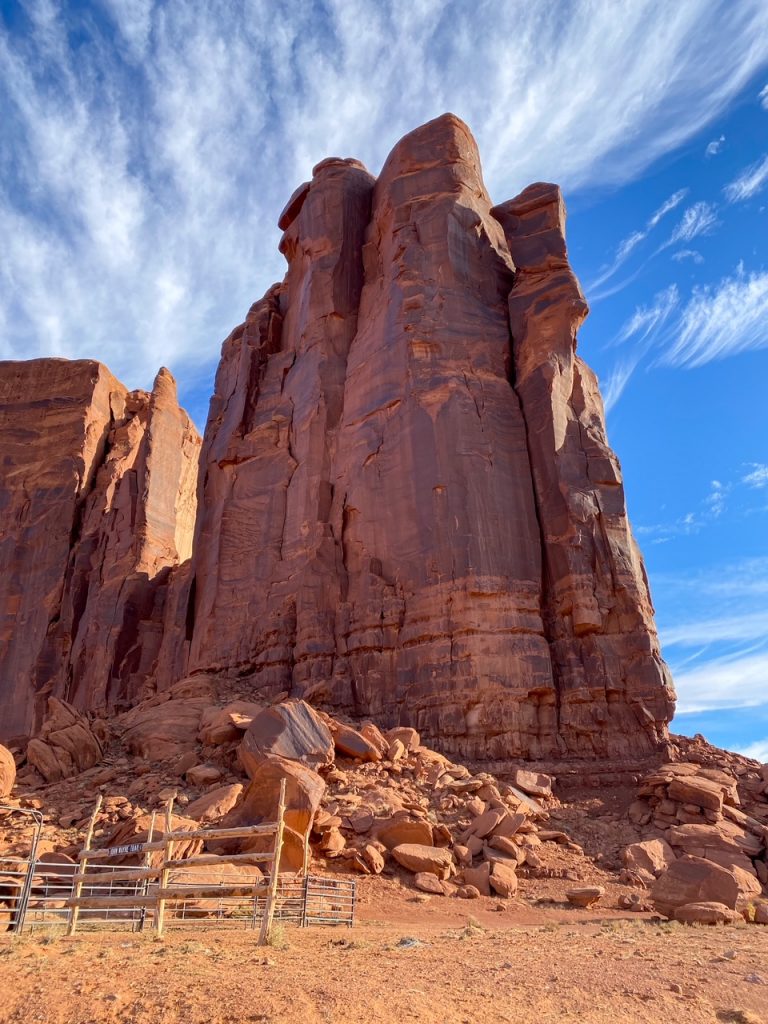 Rain God Mesa marks the geological center of the park. It's named for the Rain God, who Navajo medicine men pray and give thanks to and who is said to store water for its people.
Mesa is the Spanish word for table; thus, a mesa is a rock formation that looks like a table! They're usually wide and stable and are in the first stage of erosion.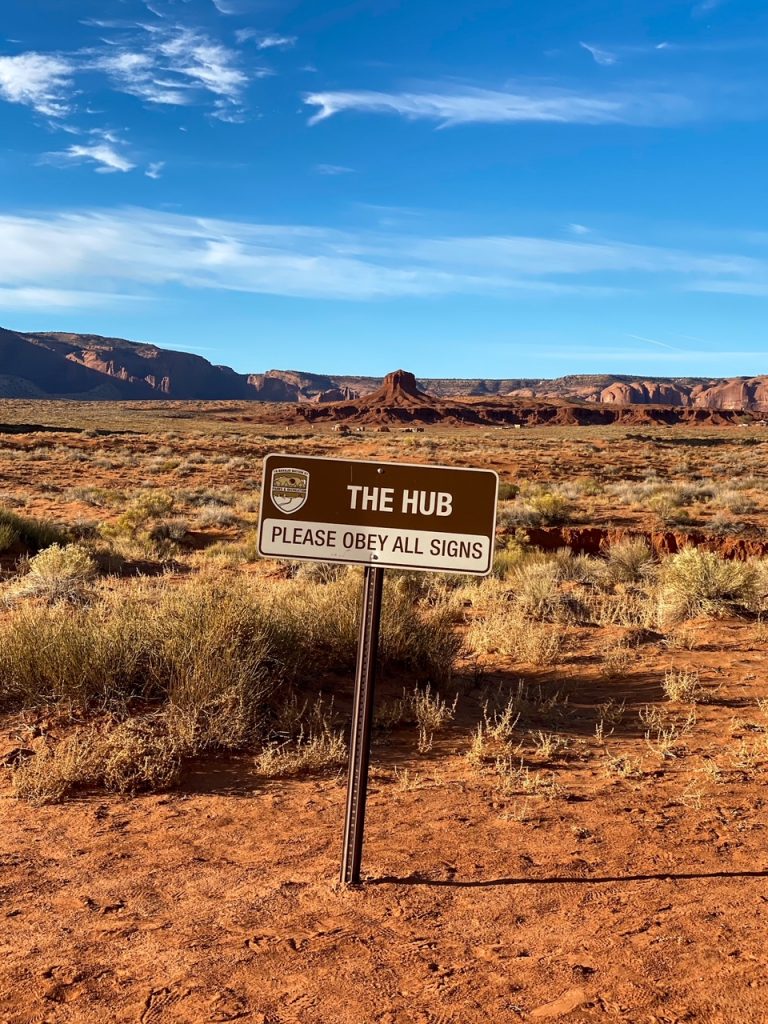 The Hub is a 150-foot-tall spire that sits in the middle of the valley. It looks like the hub of a wagon wheel, and the Navajos see it as a fireplace in the center of a gigantic Hogan, or Navajo home.
#7 Bird Spring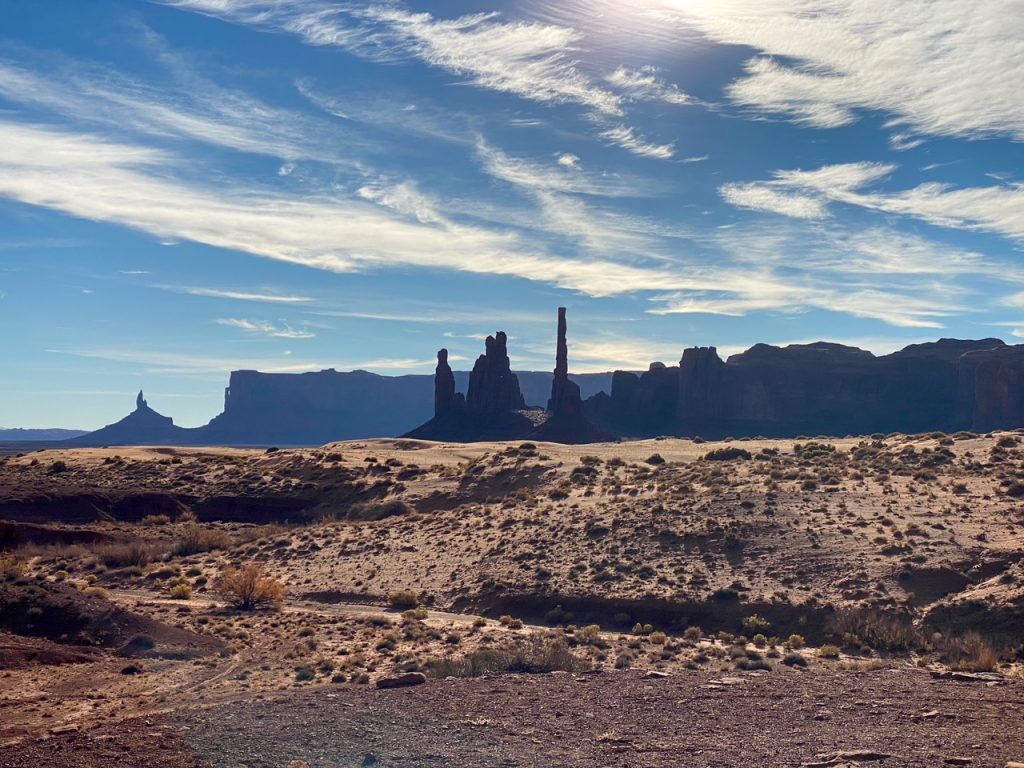 Bird Spring overlooks a vast sand dune, the bottom east portion of which is called Sand Springs. Here, a natural aquifer seeps out where the De Chelly and Navajo sandstone formations meet under the sand dune.
#8 Totem Pole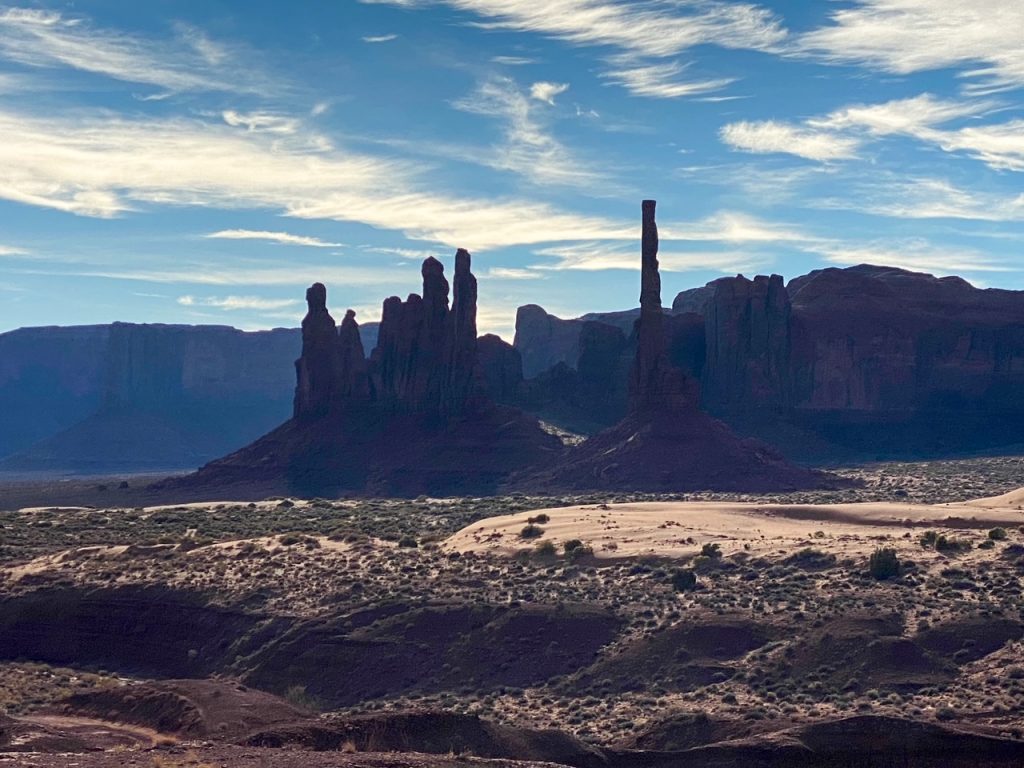 The Totem Pole spire sits next to Yei be Chei with Hunts Mesa behind them. A totem pole is a mythical marker created by Northeastern tribes, usually carved out of wood.
A spire is a rock formation in its final stage of erosion. At this stage, the rock becomes narrow and freestanding. Once fully eroded by wind and water, only the bottom Organ rock that holds up the sandstone remains.
An Organ rock looks like loose pebbles and acts as the pedestal for all monuments in the valley; it's the bottom layer and is most vulnerable to erosion.
Yei Bi Chei, or the Navajo spiritual gods, is located east of the Totem Pole and is said to be a formation of dancers emerging from a Hogan.
#9 Artist's Point
Artist's Point was our favorite stop along the scenic drive; this pull-off offers beautiful views of the East and West Mittens, Merrick Butte and the vast expanse of desert.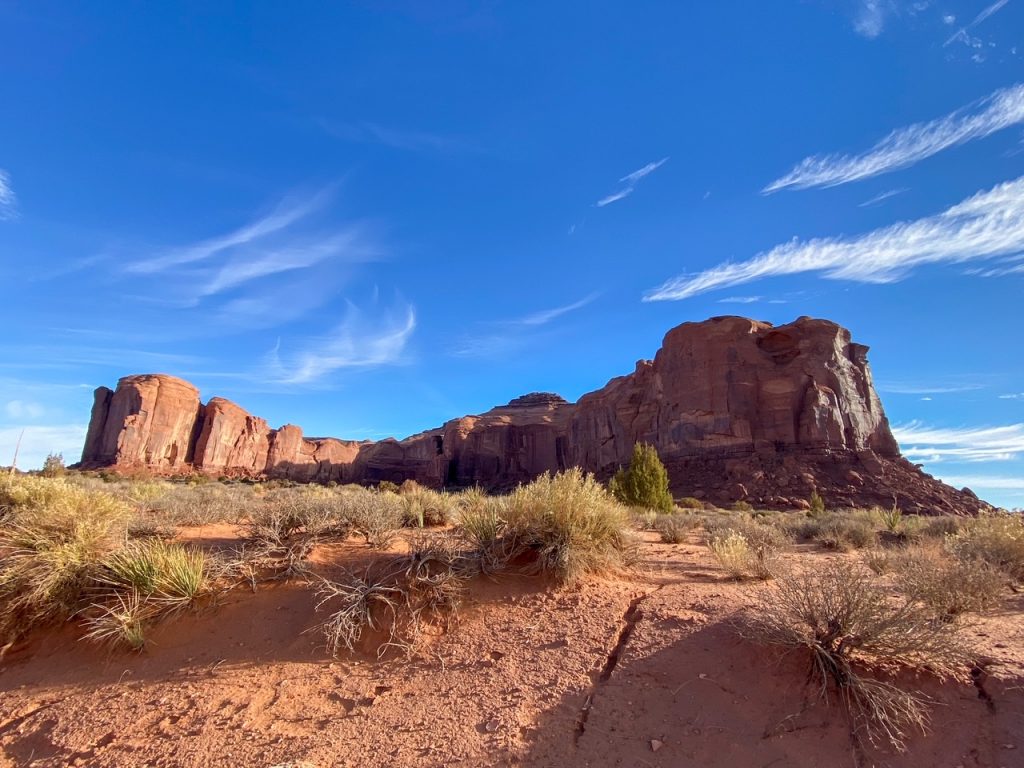 From here, you can also see Spearhead Mesa, which is attached to a spire monument that looks like the spear of an arrow.
#10 North Window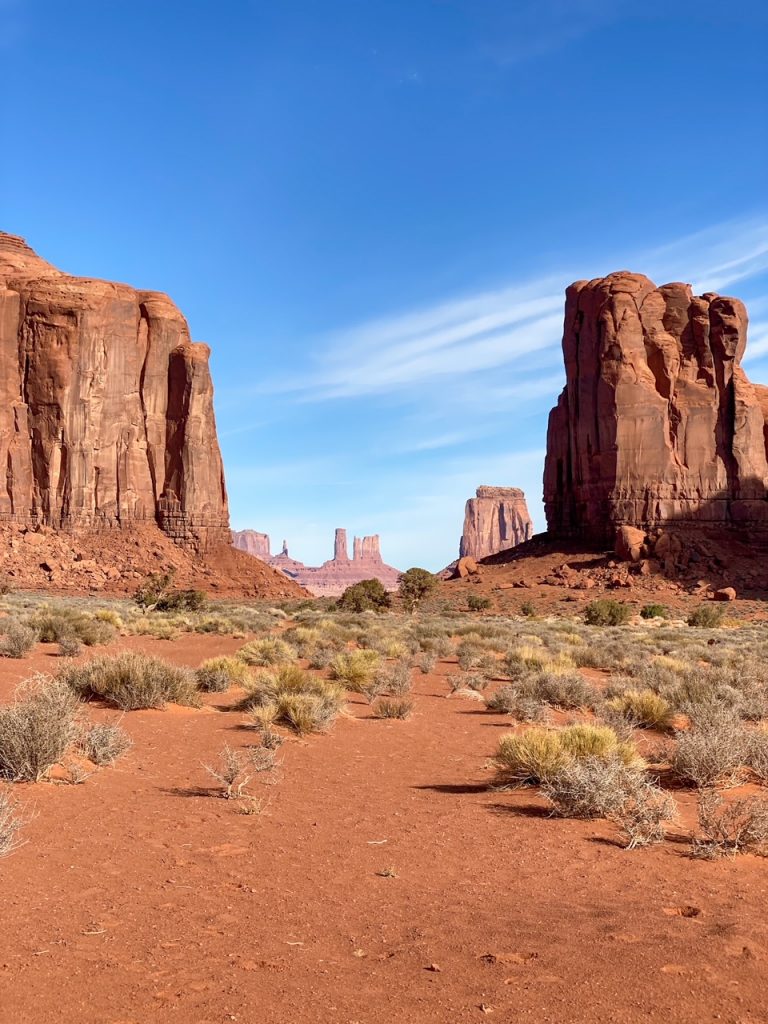 The North Window overlooks the northern view of the lower valley. On the left is Elephant Butte, and on the right is Cly Butte. Cly was a well-known Navajo medicine man, who's buried at the foot of the formation.
#11 The Thumb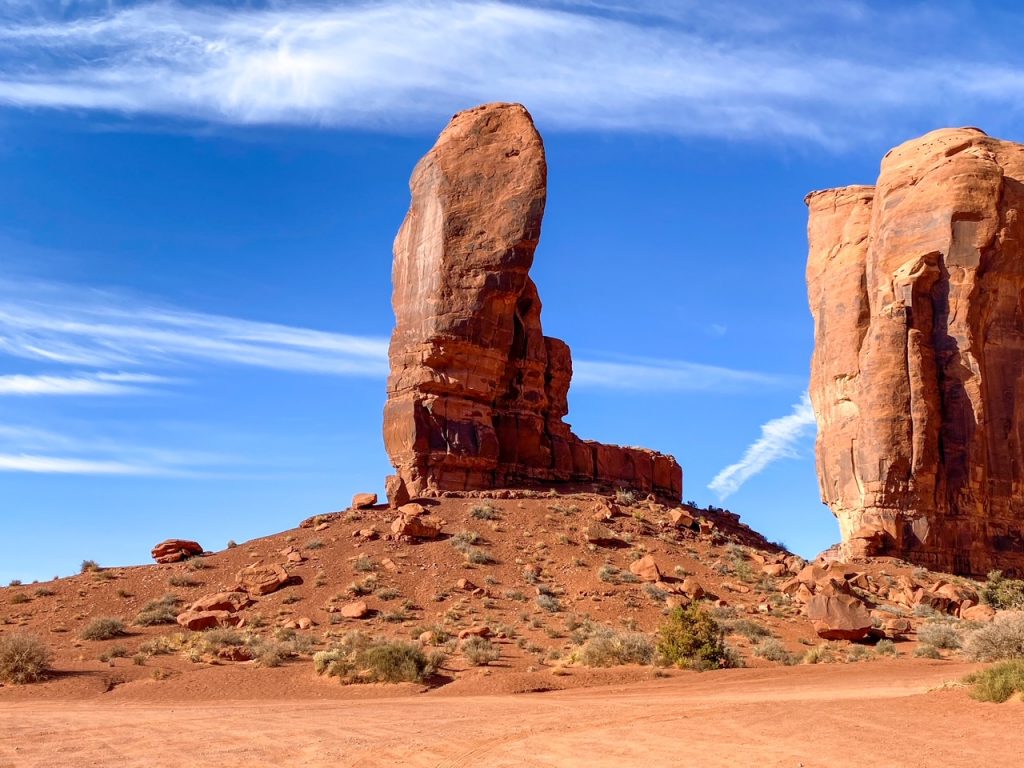 The last stop on the scenic drive is the Thumb. True to its name, this rock formation looks like a human thumb. If you look more closely though, it also resembles a cowboy boot.
Other Things to Do in the Area
If you have more time at the Monument Valley Navajo Tribal Park itself, you can hike the 3.2-mile Wildcat Nature Walk around West Mitten Butte.
Once you leave the park, you could also consider heading east to explore Mexican Hat Rock and the Valley of the Gods area.
We didn't have time to do any of these, but we would love to check them out on our next visit!
Monument Valley to Page, AZ
The next stop on our Southwest U.S. road trip was Page, AZ.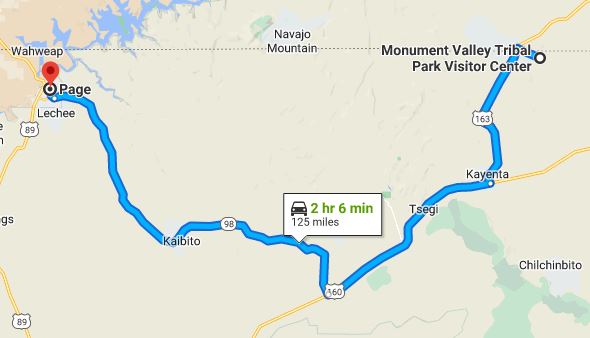 From Monument Valley, it's a two hour drive to Page. Get onto US-163 S/Hwy 163 and follow that for just under 24 miles. Next, turn right onto US-160 W and follow that for 32 miles before turning right onto AZ-98 W. Follow AZ-98 W for 64 miles, and you'll end up in Page, AZ!
If you went as far as Valley of the Gods, your drive back to Page will be closer to three hours. Either way, you'll gain an hour on your way back due to the time difference.
We hope you can visit Monument Valley soon; you'll sure be happy that you did!
XOXO Travel A-Broads