Zion National Park was Utah's very first national park, and it's one of the most visited in the whole country! Best known for its incredible canyons, Zion is one of the world's most popular places for canyoneering and offers other activities like hiking, camping, backpacking, climbing and more.
Zion can be a perfect add-on to a longer trip, or it can be a whole trip all on its own. There's a lot to do here and in the surrounding area, so make sure you give yourself plenty of time to visit; we would recommend at least two full days for your visit to Zion National Park.
Zion was our first stop on our epic Southwest U.S. road trip, and we ended up spending two and a half days here to allow for time to visit some of the other national parks in Utah.
Where is Zion National Park Located?
Zion National Park is located in southwest Utah near the Nevada and Arizona borders. It's near the town of Springdale.
How Much Does Zion National Park Cost?
Zion National Park entry fees vary depending on vehicle type and duration of pass. The National Park Service website has information on current rates, but to give you an idea, the cost at the time of our visit was $35 for private vehicles for a seven-day pass.
We personally recommend that you invest in the U.S. Park Pass, which is valid for one year and covers your entry to thousands of National Parks and other federally managed lands.
What's the Best Time to Visit Zion?
In our opinion, the best time to visit Zion National Park is in the late fall.
The weather in Zion is dependent on the season with temperatures reaching 100 degrees or more in the summer, warm days and cool nights in the spring and fall, and temperatures below freezing at night in the winter. Winter also poses the chance for potential snowstorms.
We visited in October, and the weather was perfect for us. Temperatures dropped to the 40s at night and rose to mid-70s during the day. With all the hiking we did, we can't even imagine visiting in the summer with all of that heat!
We didn't experience any wait times or crowds during our visit, but we've heard that the park is much more crowded in the summer. Winter and early spring also experience fewer visitors, making them optimal times to visit as well.
Current conditions for Zion National Park can be found here.
How to Get to Zion National Park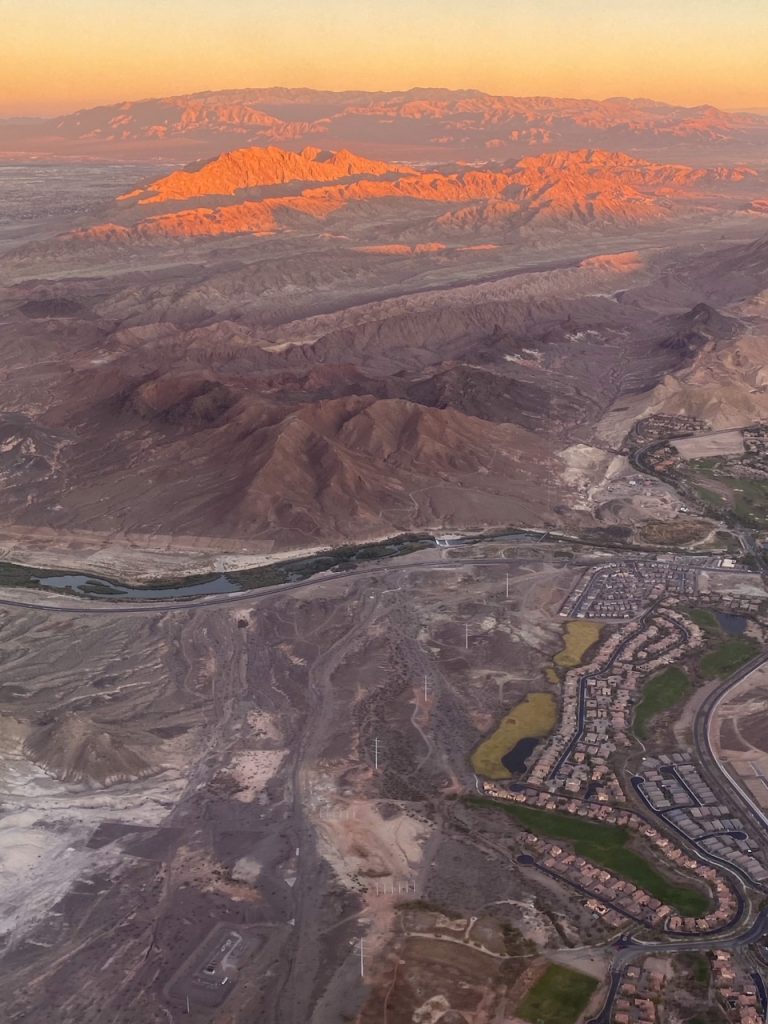 We flew into the McCarran International Airport in Las Vegas and started our road trip from there. We booked an early flight from Houston, and arrived in Las Vegas a little after 7 AM. Flying into Salt Lake City International Airport in Utah is also a viable option.
Arriving early in the morning gave us plenty of time to pick up our rental car from Fox Rent A Car. Note that we went with this specific company because of their affordable rates, but you'll have to take a shuttle from the airport to another shuttle spot, which will then take you to the rental car pick-up.
When we arrived, we were practically the first ones there, and we were on the road by 8:30 AM.
The drive to Zion is just under three hours. It's important to keep in mind that you'll lose an hour due to the time difference when you drive from Las Vegas to Springdale, the town right outside of Zion National Park.
We decided to hold off on picking up groceries and just stopped at McDonald's on the way for a quick breakfast. This allowed us to not waste too much time and to head straight to our hotel to park and catch the shuttle into Zion.
Where to Stay in Zion National Park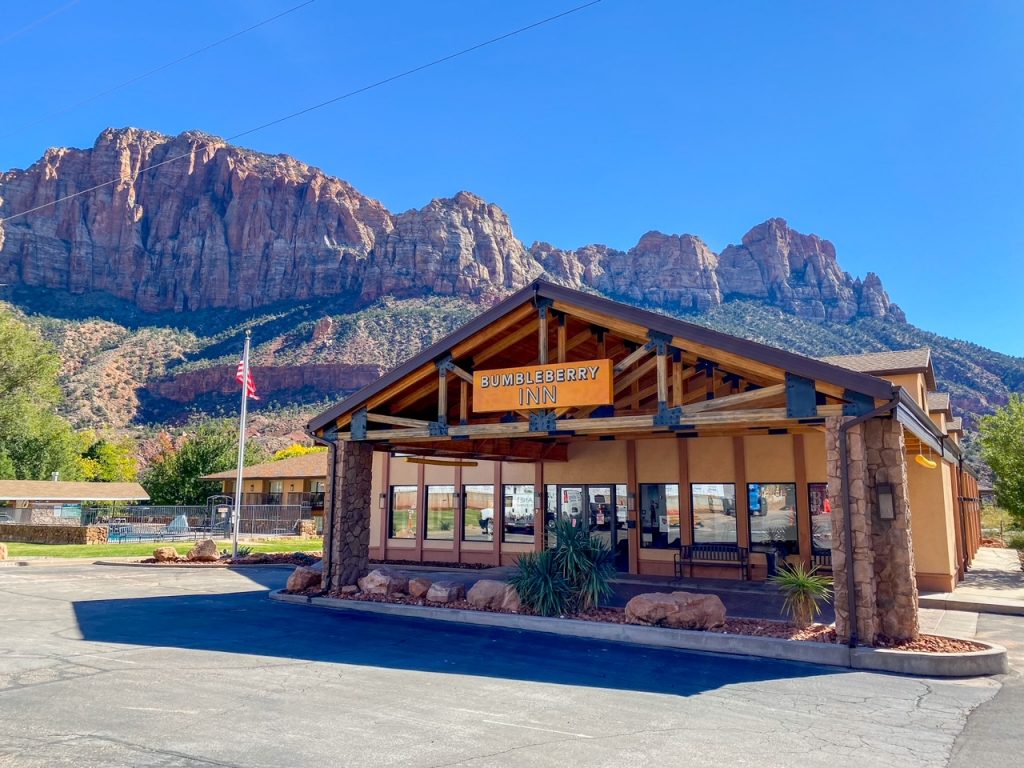 We chose to stay at the Bumbleberry Inn in Springdale. Since check-in doesn't start until 3 PM, they allow you to leave your car on-site, so you can head into the park while waiting for your room.
Although breakfast isn't currently offered onsite, guests receive a voucher for breakfast at Oscar's Café, which is right across the street. One downside is Oscar's Café doesn't open until 7:30 AM, and we wanted to get an early start each day to avoid the crowds. We made it work, heading out each morning for sunrise, stopping for breakfast and then heading into the park afterwards.
We used hotels.com to book our stay.
There are also many great Zion National Park Glamping options if you're looking for more of a camping experienced combined with some of the modern amenities of a hotel.
How to Use the Zion National Park Shuttle
Since parking is limited inside the park and fills up quickly, you'll likely need to use the Springdale shuttle service. If you're not already staying at a hotel in Springdale, there are paid parking options as well.
For some reason, I thought the shuttle service was going to be confusing; I guess I'm just paranoid about transportation and getting around in general. But, I'm happy to report that it was super easy and not confusing at all! The first shuttle from Springdale starts at 8 AM, beginning at the Majestic View Lodge (stop 9); the last shuttle for the day leaves from Zion Canyon Village (stop 1) at 8 PM.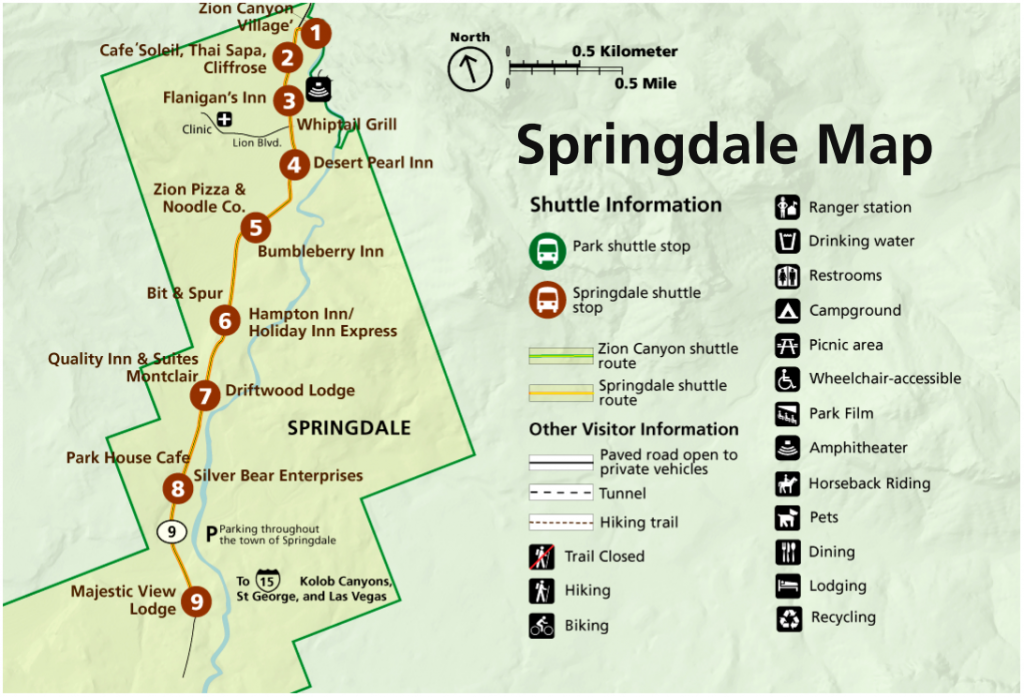 Sourced from: https://www.nps.gov/zion/planyourvisit/upload/Springdale-Shuttle-Map_7_7_17.pdf
Inside the park, the first and last shuttles leave the Visitor Center at 7 AM and 5 PM, respectively. The last shuttle out of the canyon from the Temple of Sinawava is at 7:15 PM; it'll arrive back at the Visitor Center around 45 minutes later. The shuttle is free and no longer requires tickets.
A Broad Recommendation: You shouldn't wait for the last shuttle of the day because it could be full by the time it reaches your stop. If so, you may end up having to walk home! During the time of the year we visited, the shuttles were never full, but this could be an issue in the summer, so use your best judgment.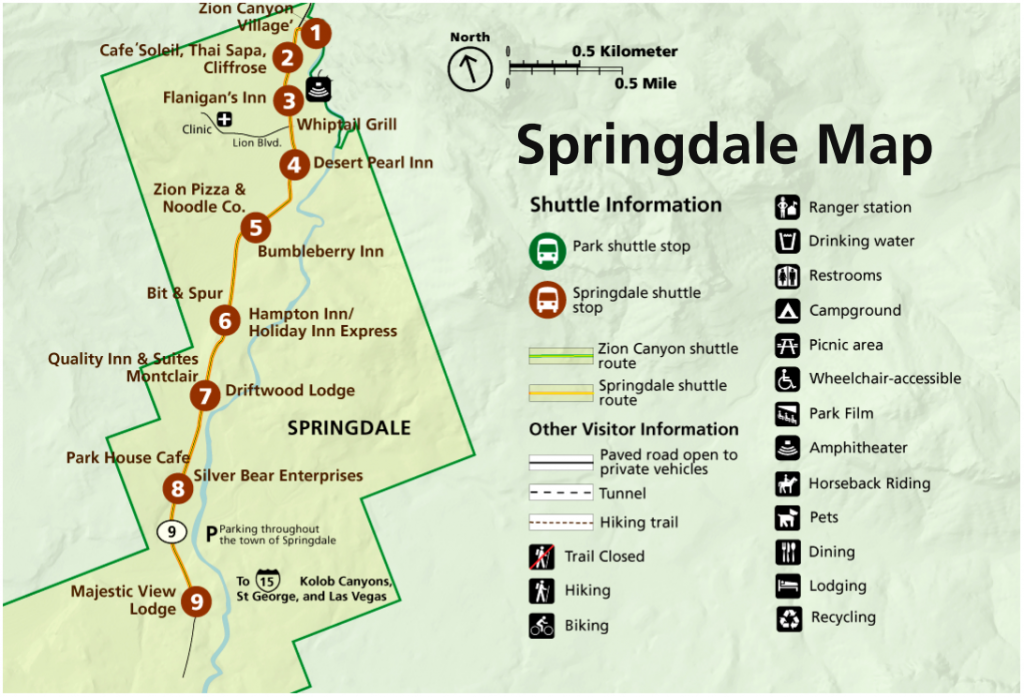 Sourced from: https://zionnationalpark.net/zion-national-park-shuttle-map/
These shuttle times are all based on the time of year we visited, which was in late October; schedules may differ throughout the year. The National Park Service website maintains the current shuttle schedule, as well as other important shuttle information.
*Note that there is one shuttle service in Springdale and one inside the park; these are different! If you're staying in Springdale, you'll be using both of these each day.
Every morning, we caught the Springdale shuttle, which takes you directly to the Zion Visitor Center (stop 1). From here, you can use the restrooms, fill up your water bottles, and take the park shuttle to the various trailheads and to other spots in the park.
Zion National Park and COVID Response
Consistent with CDC guidance, all visitors, regardless of vaccination status, are required to wear a mask inside park buildings and shuttle buses. This was strictly enforced during our visit.
Zion National Park Itinerary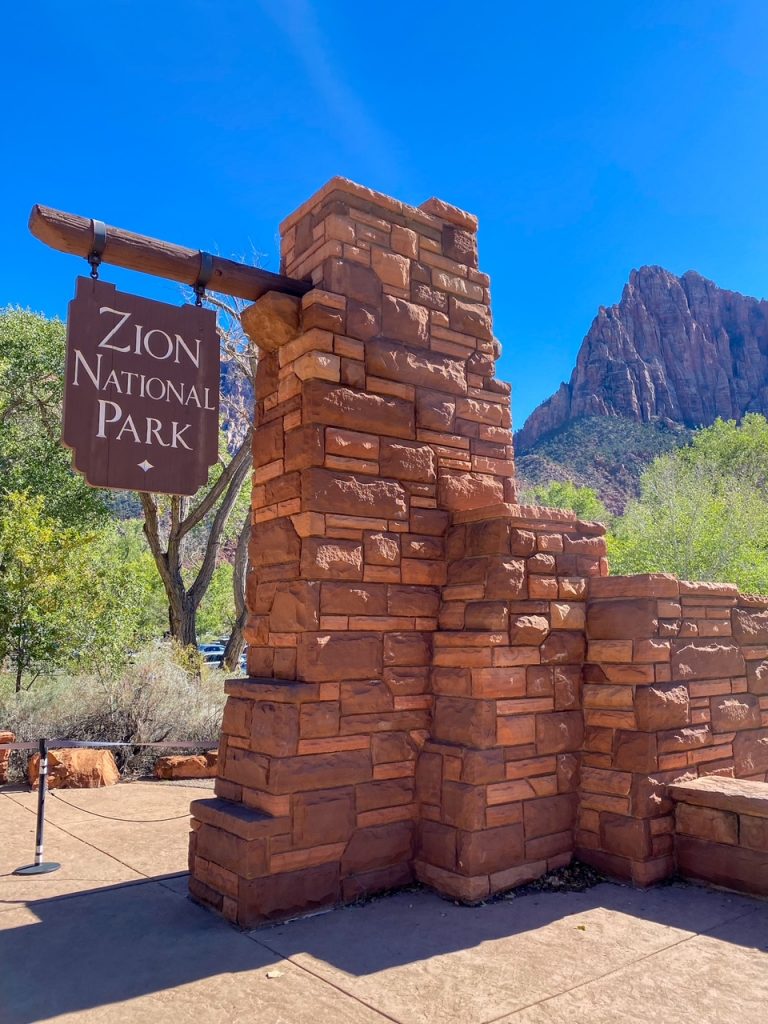 Day 1
Fly to Las Vegas on an early flight
Pick up your rental car
Stop for a quick breakfast on your three hour drive to Springdale
*One hour time difference – you'll lose an hour*
Stop at the hotel to let them know you'll be checking in later and to drop off your car
Get lunch in Springdale or head into the park
Hike the Watchman Trail
Hike Emerald Pools
Have dinner in Springdale
Day 2
Have breakfast in Springdale
Hike The Narrows
Have a late lunch in Springdale
Watch the sunset near Canyon Junction Bridge (however, you can no longer walk on the bridge)
Day 3
Hike the Zion Canyon Overlook Trail, and watch the sunrise over the canyon
Have breakfast in Springdale
Pack your car and leave it at the hotel
Hike Angels Landing and part of the West Rim Trail as far as you'd like towards Cabin Spring
Head to Bryce Canyon National Park (about a two hour drive)
What to Do in Zion National Park
Hikes in Zion National Park
The main thing we did in Zion National Park is hiking! Here are all of the trails we did and can, therefore, recommend. It's notable that during our visit, several of the trails were closed due to major rockfall.
The Watchman Trail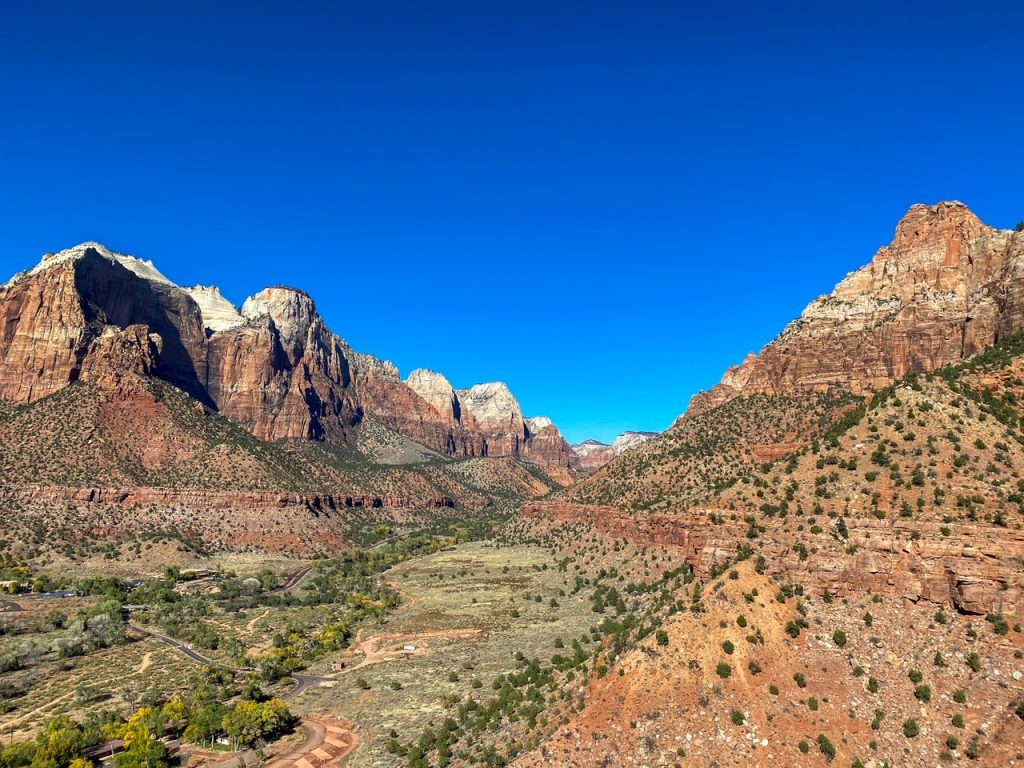 Since we arrived in the afternoon on the first day of our trip (close to 2 PM), we decided to start with the 3.3-mile, out and back Watchman Trail. This trail can be accessed from shuttle stop 1, and the trailhead location is up the canyon and across the road (on the north side of the road).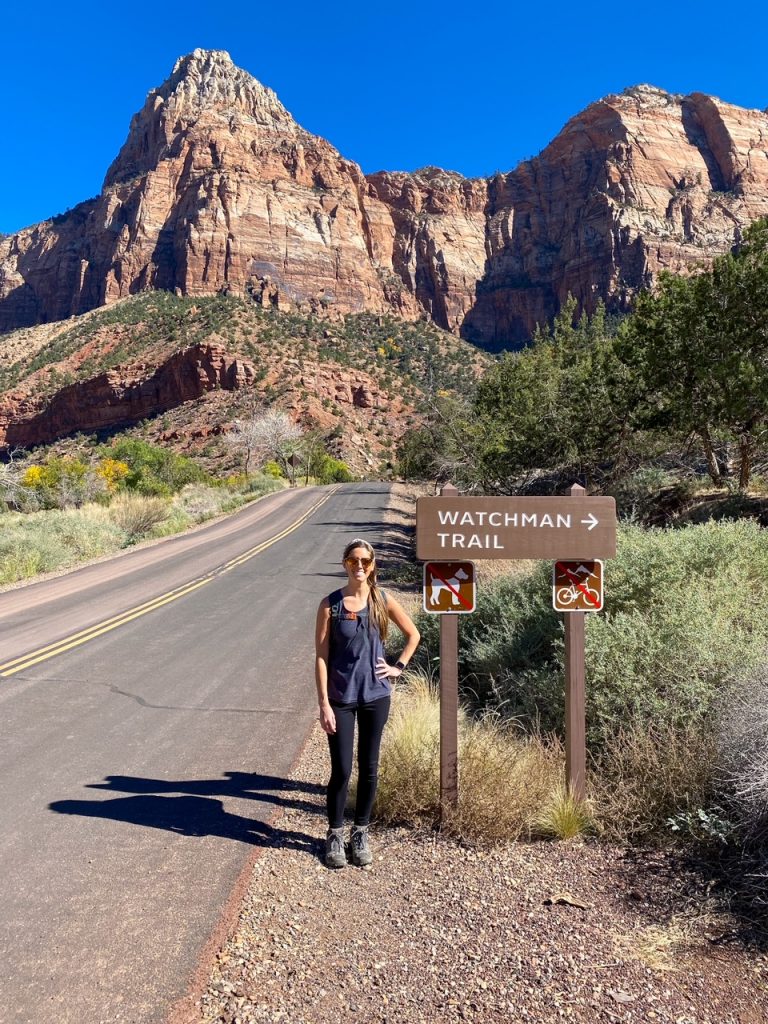 The hike is rated easy to moderate, with an elevation change of around 370 feet. It offers great views of the Temples and Towers, lower Zion Canyon, Watchman Peak, and Springdale. You'll want to give yourself around two hours to complete this hike.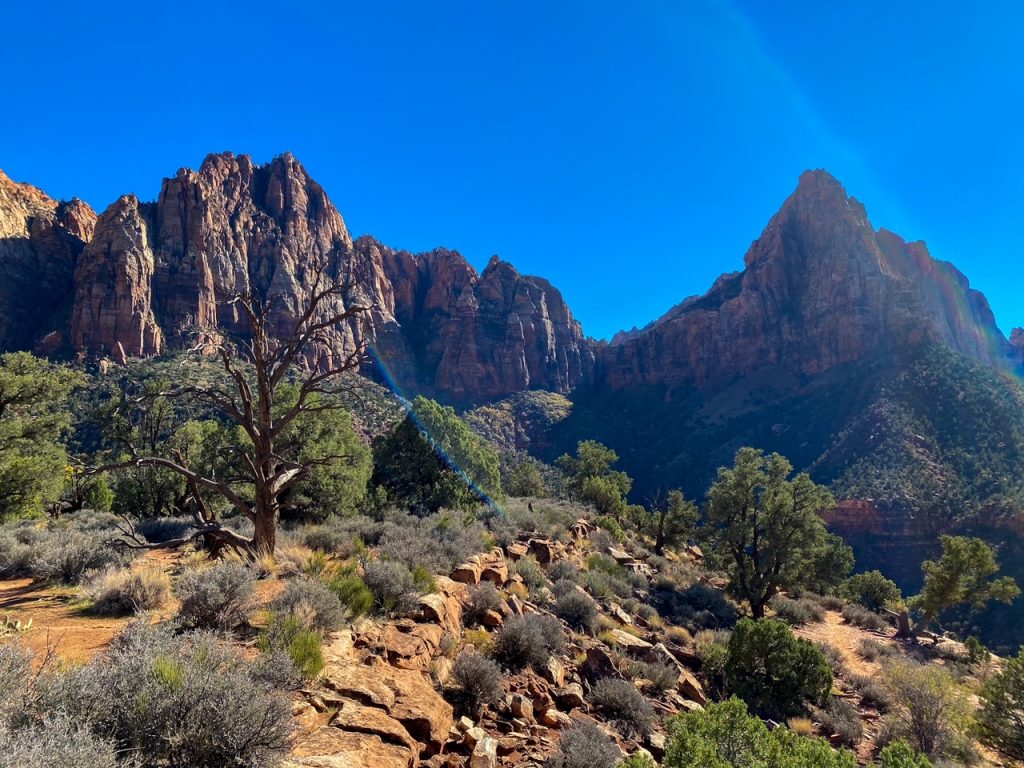 This trail doesn't actually take you to the top of the Watchman Mountain, but from the viewpoint, you can get a great view of it to the south. The trail was originally meant to go all the way to The Watchman's peak, but due to various challenges, the trail was never completed past the viewpoint loop.
I would recommend doing the short loop that begins at the viewpoint; it offers even more stunning views than the rest of the trail, in my opinion!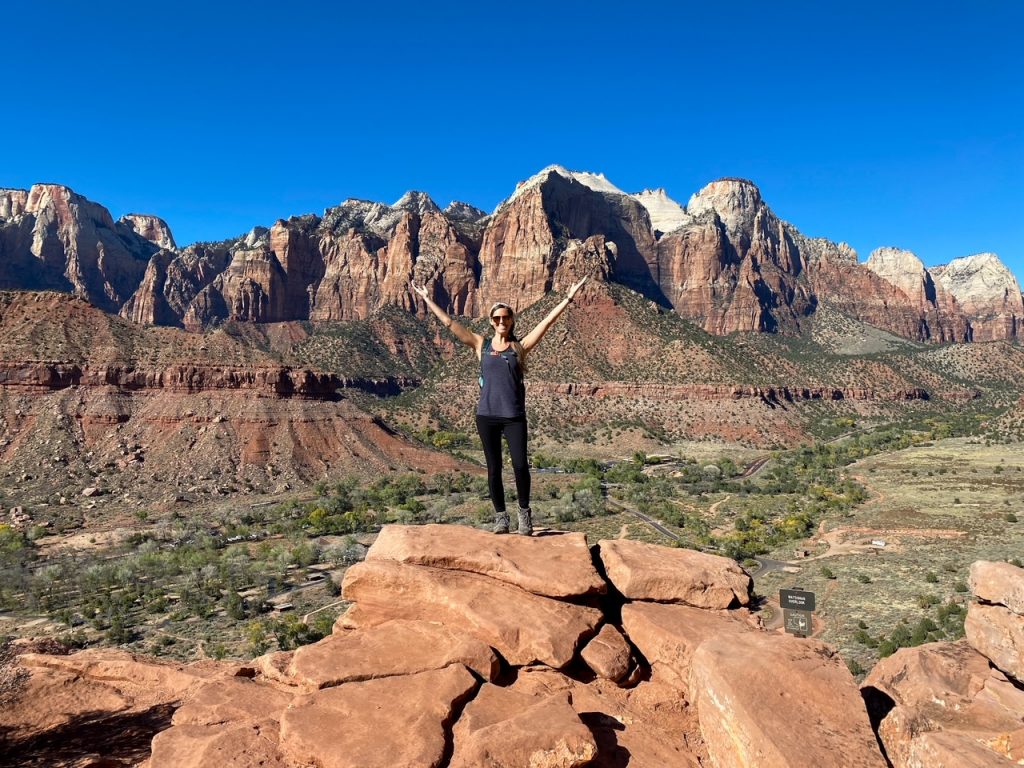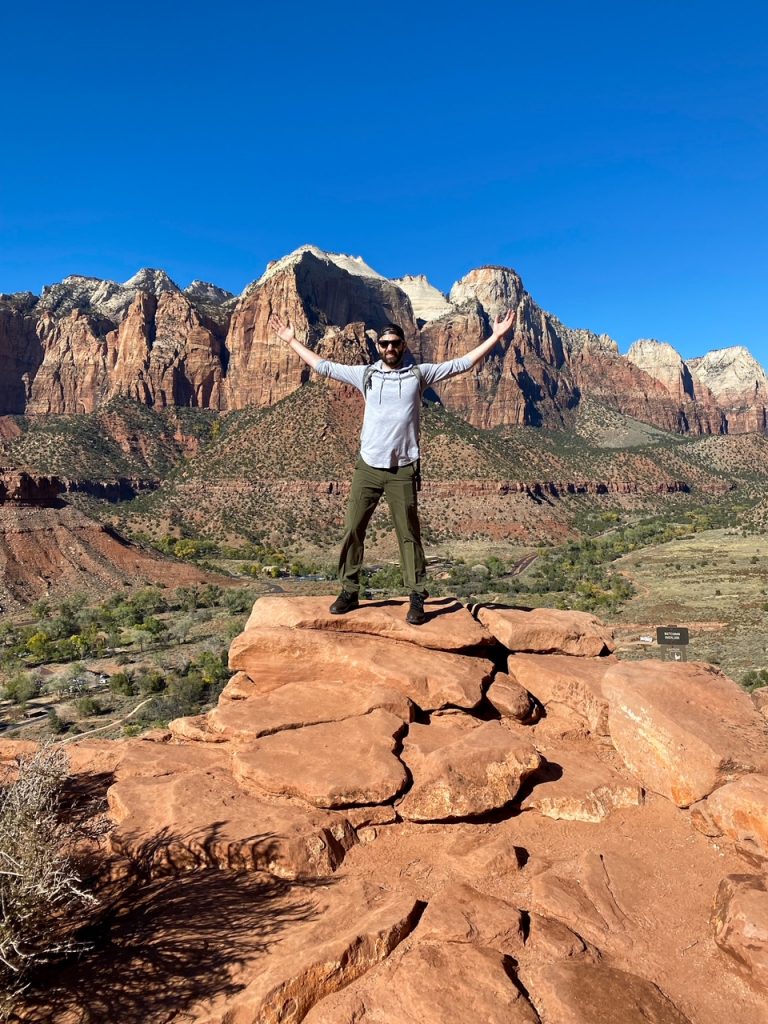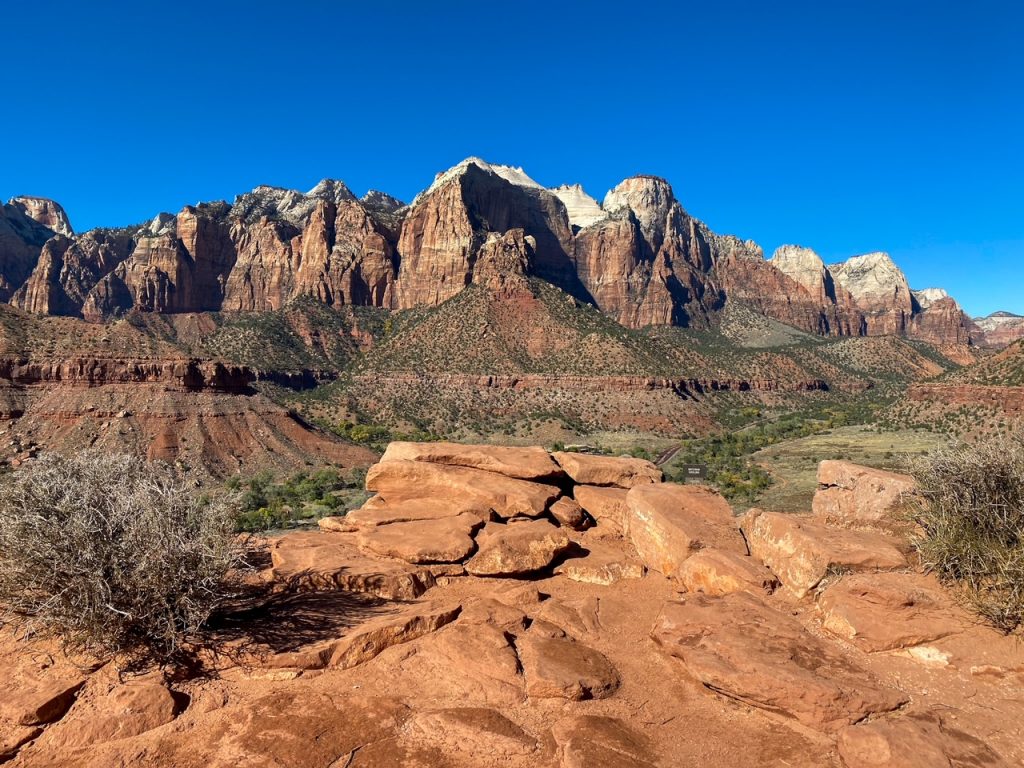 None of the hikes we did were particularly crowded this time of year, but during peak season, this hike is typically less crowded than some of the more popular trails.
If you're visiting during the summer, it's best hike this trail in the morning, as it can get very hot. Since we visited in the fall, the afternoon was perfect for us.
Emerald Pools Trail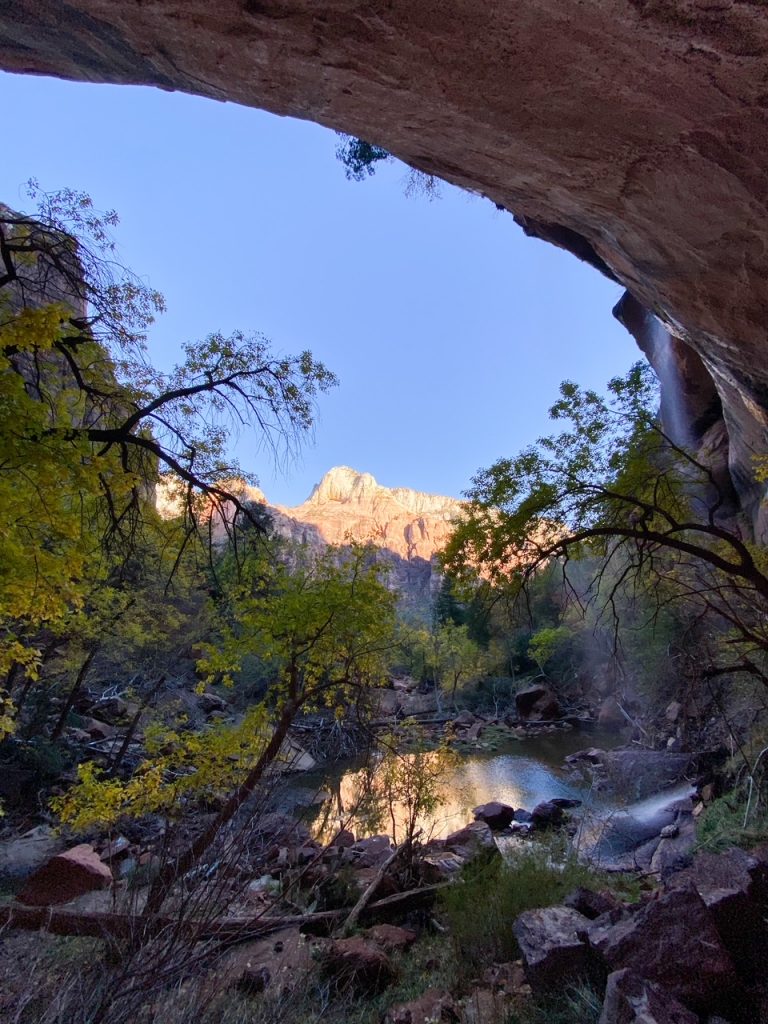 We were also able to fit in the Emerald Pools Trail on our first day, around 4 PM. This is an easy waterfall hike, starting at Zion Lodge (shuttle stop 5). A paved trailhead starts across the road from Zion Lodge, leads to the Lower Emerald Pool and waterfalls and connects to the Middle and Upper Emerald Pools trails.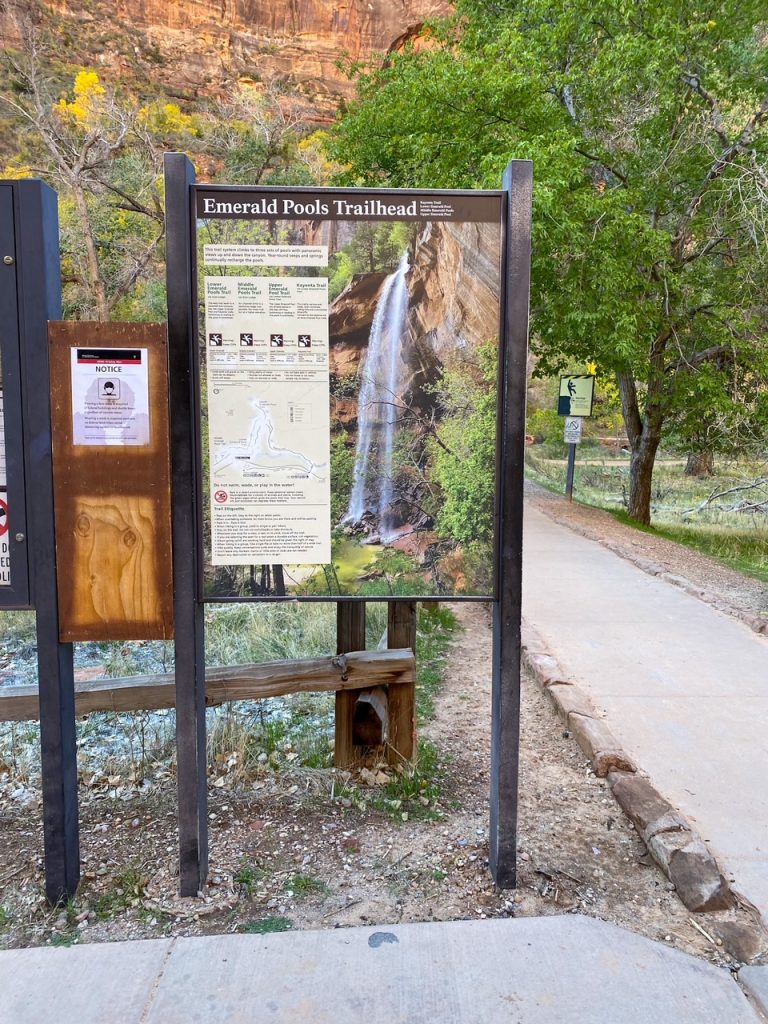 Since this hike is fairly easy and family-friendly, the trail gets crowded in the summer, but it's a great hike for first-timers to Zion.
The roundtrip distance for just the Lower Emerald Pools Trail is 1.2 miles with about 70 feet elevation change. This trail leads you to two tall waterfalls and the pools below. This hike can be completed in less than an hour.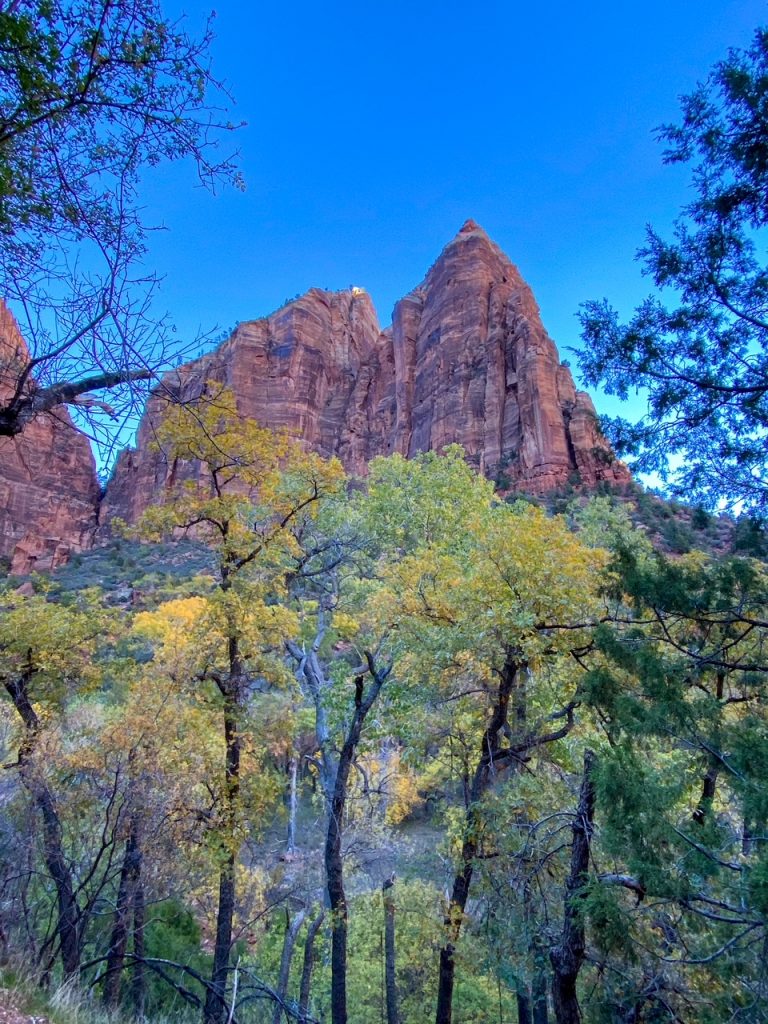 The Middle Emerald Pools Trail also starts across the road from Zion Lodge and then across the footbridge; there's a climb to a sandstone ledge that parallels the lower trail and connects to the other Emerald Pools Trails, as well as the Kayenta Trail. The total distance is around 2.2 miles with around 150 feet elevation change; time required for hiking is about 1.5 hours.
Since we were already on the Lower Emerald Pools Trail, we connected to this one during our hike instead. The trail gets slightly more difficult from here, requiring climbing some steps, making it a moderate hike.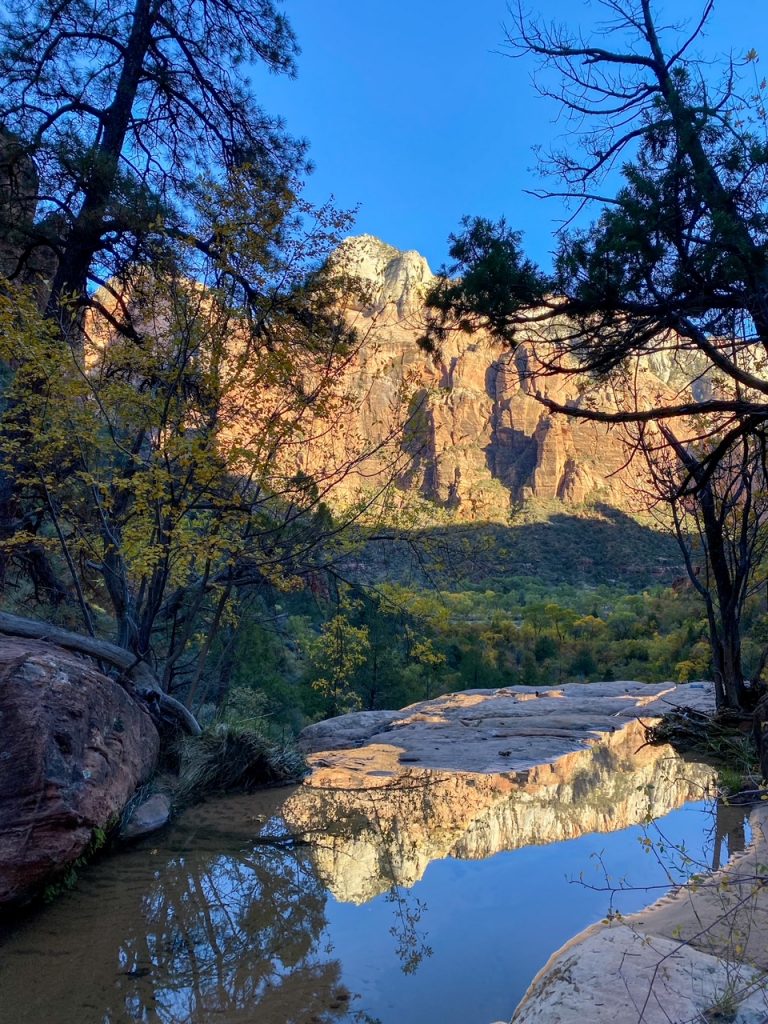 The Upper Emerald Pool Trail starts from the end of the Kayenta Trail and is one mile round trip from there; if combined with the Kayenta Trail, it's three miles round trip. The elevation change is around 200 feet, and it's estimated to take about an hour.
Again, we connected to the trail from Middle Emerald Pools, so it was much shorter. The trail leads you to the base of Heaps Canyon, from which a faint waterfall trickles down.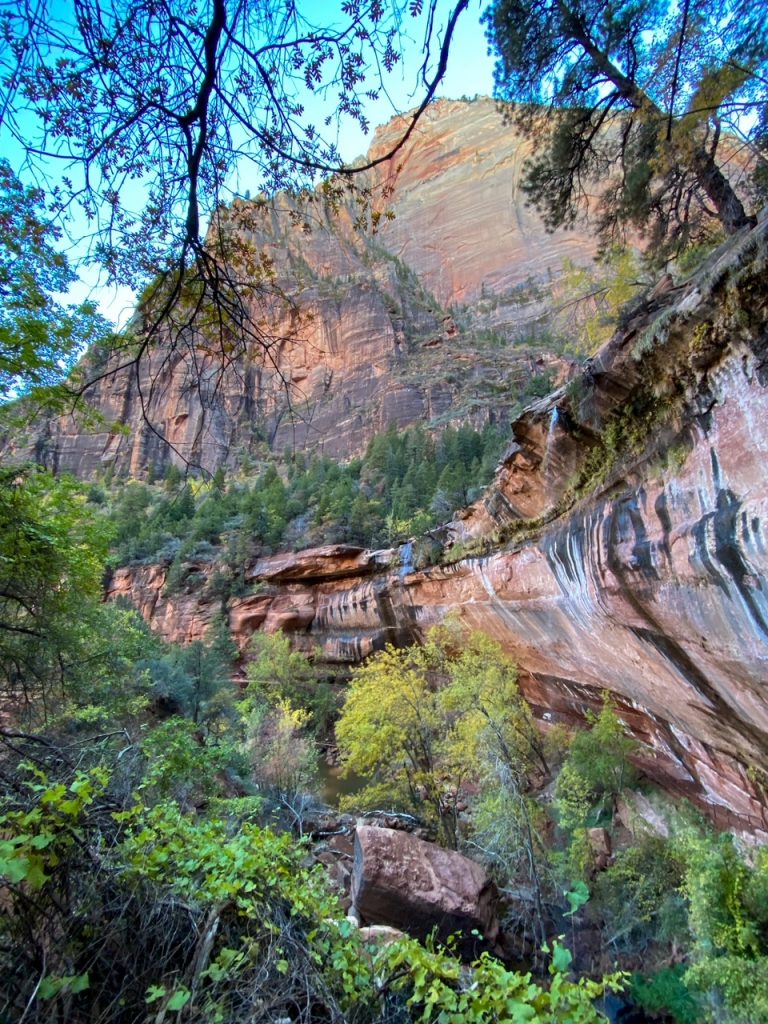 In total, the path we followed is roughly two miles, and you should give yourself at least two hours here. Note you can't swim in any of the pools, and the water flow varies depending on time of year. It's typically light unless you're visiting during the spring runoff or a rainstorm; in the summer, the falls can sometimes appear as no more than a trickle.
Riverside Walk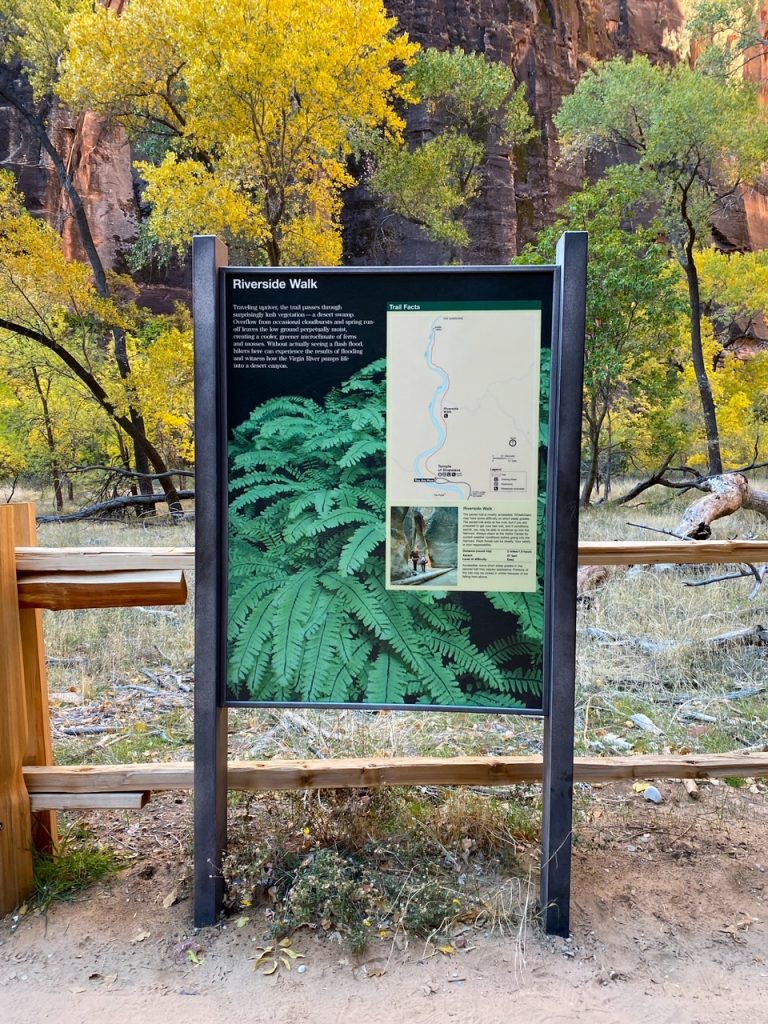 The Riverside Walk is a beautiful, paved trail that follows the Virgin River along the bottom of a narrow canyon. The trail is 2.2 miles round-trip and provides access to the bottom-up Narrows route. Give yourself about an hour and a half to hike this trail if you're not planning on doing The Narrows. If paired with The Narrows, you'll want to allot much more time; see The Narrows section below.
The Narrows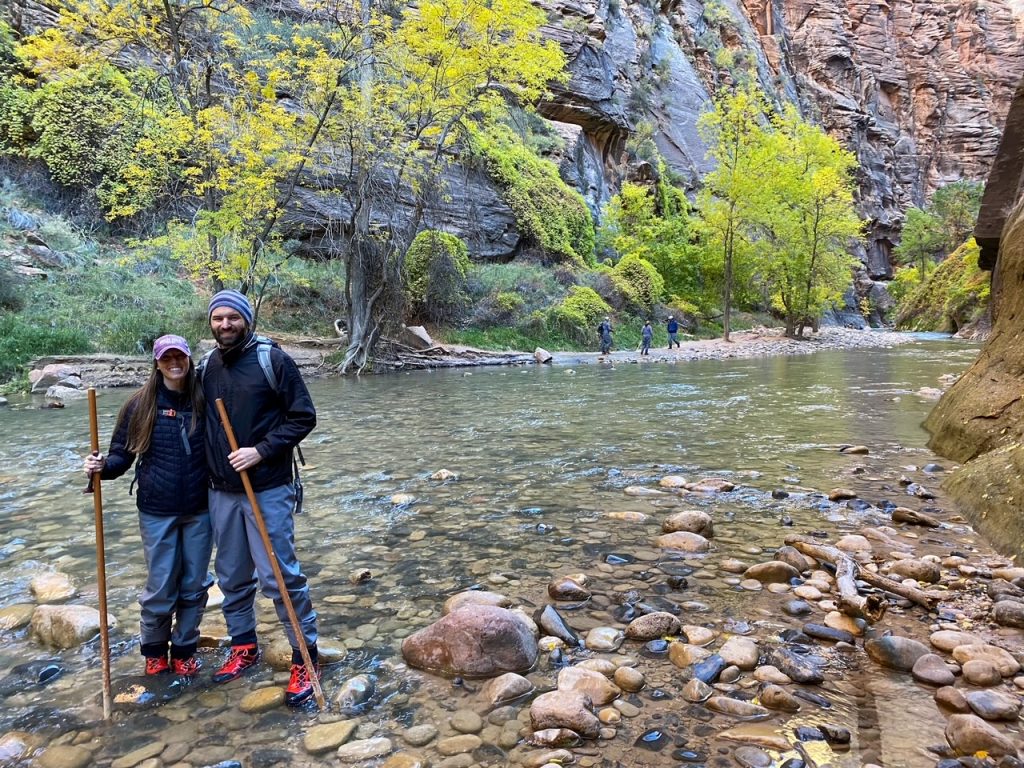 We chose to hike the Narrows on our first full day at Zion National Park. The Narrows is the narrowest section of Zion Canyon – its name makes sense, right? Its walls are more than a thousand feet tall, and the Virgin River flows through at just twenty to thirty feet wide in some spots.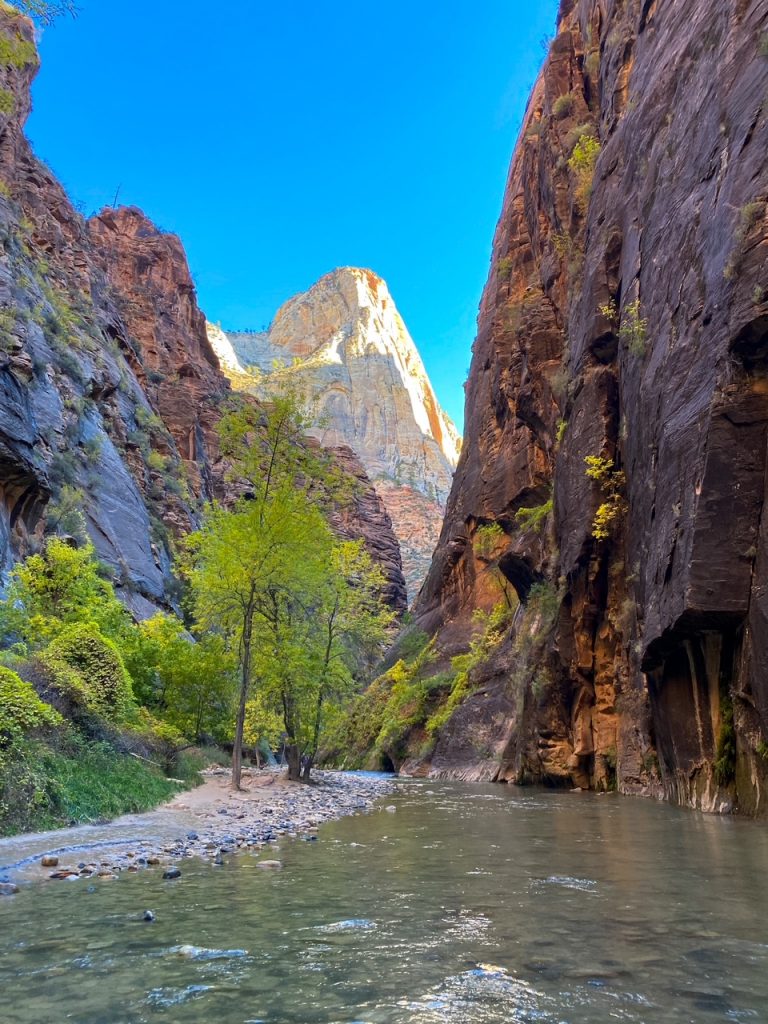 The Narrows is a popular, and therefore crowded, hike. To get to the trailhead, you'll need to take the shuttle to the Temple of Sinawava (shuttle stop 9). The trail starts adjacent to the shuttle stop and the restrooms and is accessed via the Riverside Walk. The total round-trip distance is up to 9.4 miles (up to an 8 hour hike) along the bottom-up Narrows route. This route doesn't require a permit, and you just hike in as far as you'd like, then hike back the same way.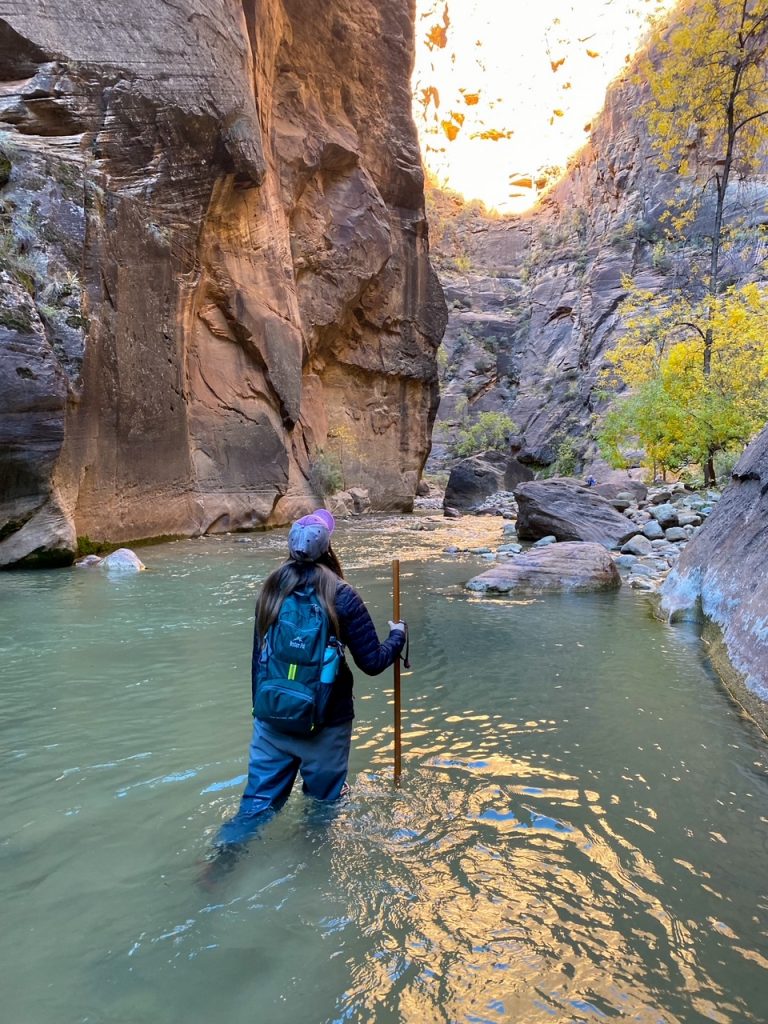 A little more than half of the hike is spent wading through water, so you'll want to rent gear for this hike. The type of gear you'll need varies by season. Thanks to one of my friends who visited earlier in the year, we had some places to choose from:
We ended up choosing Zion Outfitter; they're located right in Zion Canyon Village and allowed us to rent our gear the night before our hike. Anticipating some cold temperatures for the next morning, we each went with the "Dry Pants Package". When we asked about adding on a waterproof backpack, the guy at the counter told us that wasn't really necessary, which we very much appreciated!
Note: water temperatures and levels fluctuate depending on season and weather, and the current can become difficult to walk against. If water flow gets too high or there's a Flash Flood Warning, The Narrows will close.
There's an ongoing Cyanobacteria Warning, so you'll want to avoid submerging your head, splashing around or swimming in the water here. And, you definitely shouldn't drink the water here or from any of the other streams in the park.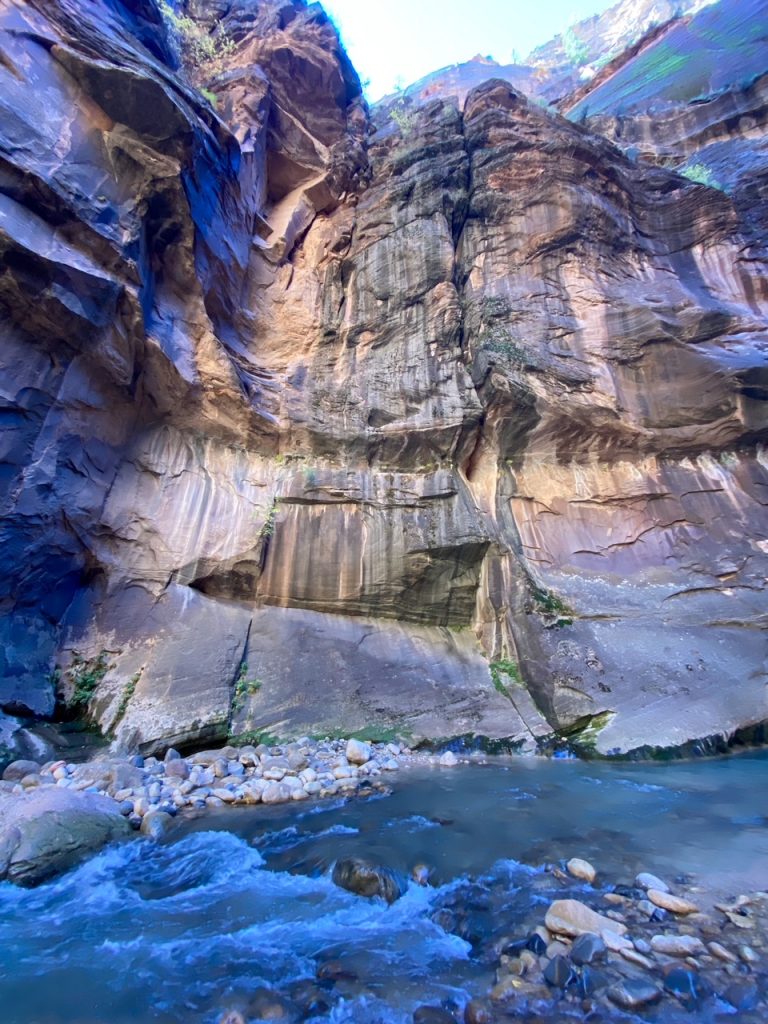 This hike was so much fun and unlike anything we'd ever experienced before! We would highly recommend hiking The Narrows if you feel comfortable enough to do so.
Pa'rus Trail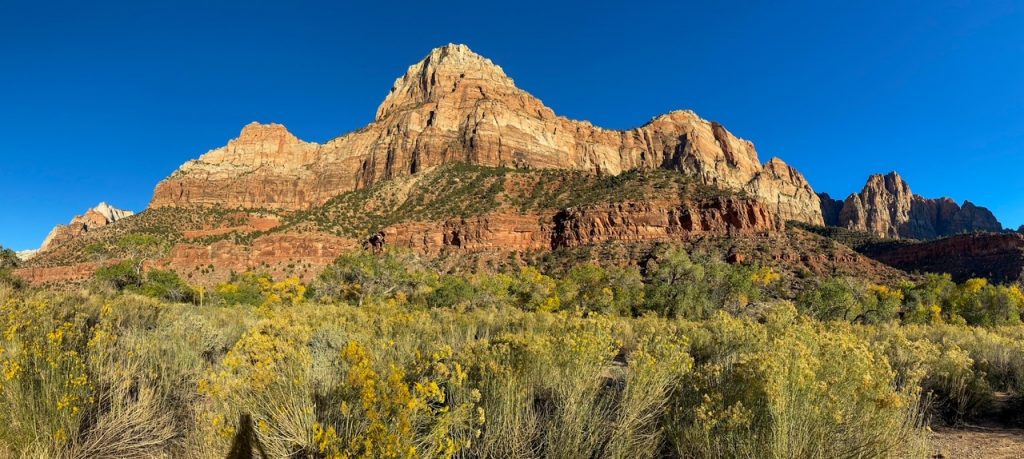 The Pa'rus Trail is a paved trail that follows along the Virgin River from the southern entrance of the park to Canyon Junction. The trailhead can be reached by walking up canyon from the Visitor Center (shuttle stop 1) and across the bridge adjacent to the South Campground.
This is a beautiful, flat, 3.5 mile round-trip hike that provides amazing views of The Watchman, a sandstone mountain summit whose name reflects its watchman role, guarding the south entrance to the park. It's the only trail in the park that allows both bicycles and pets.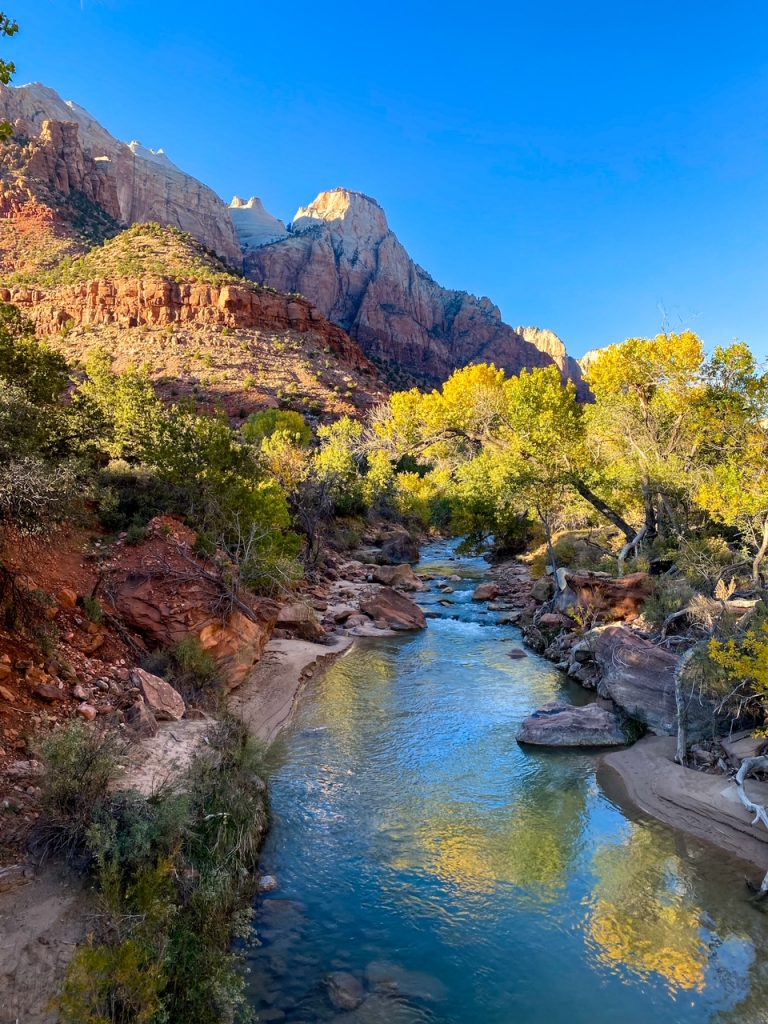 Our main goal was to hike this trail to the Canyon Junction Bridge, where we'd stop to watch the sunset. Unfortunately, Canyon Junction Bridge is now closed for walking and photography. Luckily, we were still able to snap a few, quick pics along the trail and near the bridge.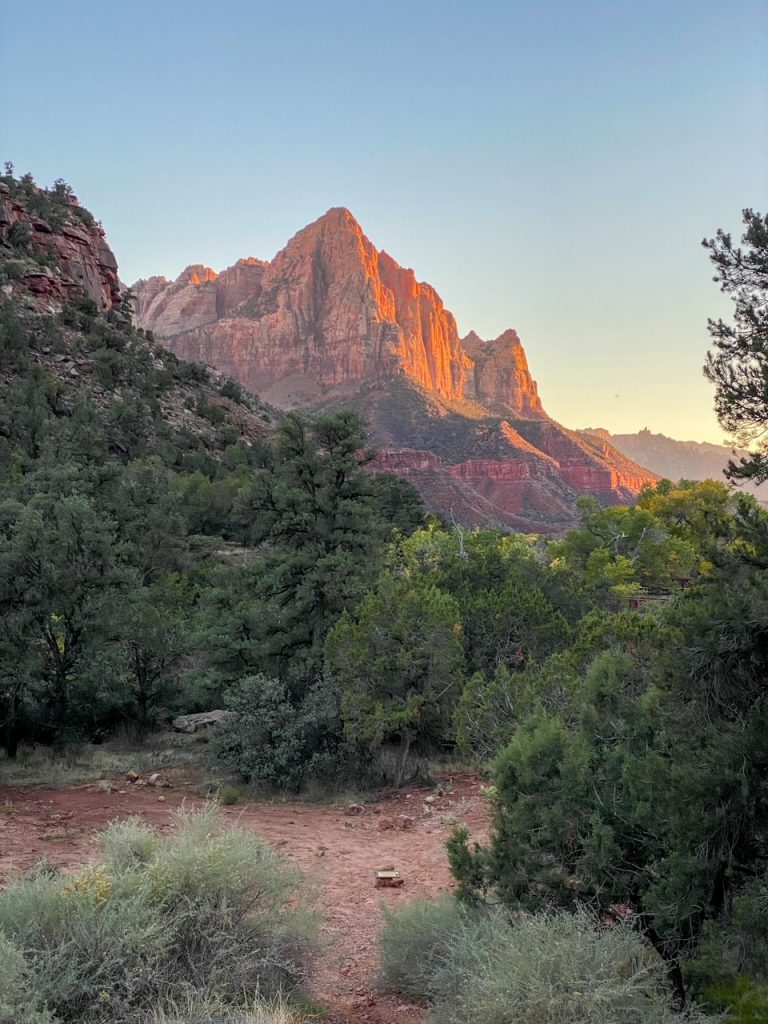 If you plan on taking a lot of photos, you'll want to give yourself about two hours for this hike. And, if you plan on going at sunset like we did, you may want to bring a flashlight for the walk back. We didn't need one until we were nearly back to the Visitor Center and just ended up using our phone flashlights, but it's always a good idea to pack one just in case!
Zion Canyon Overlook Trail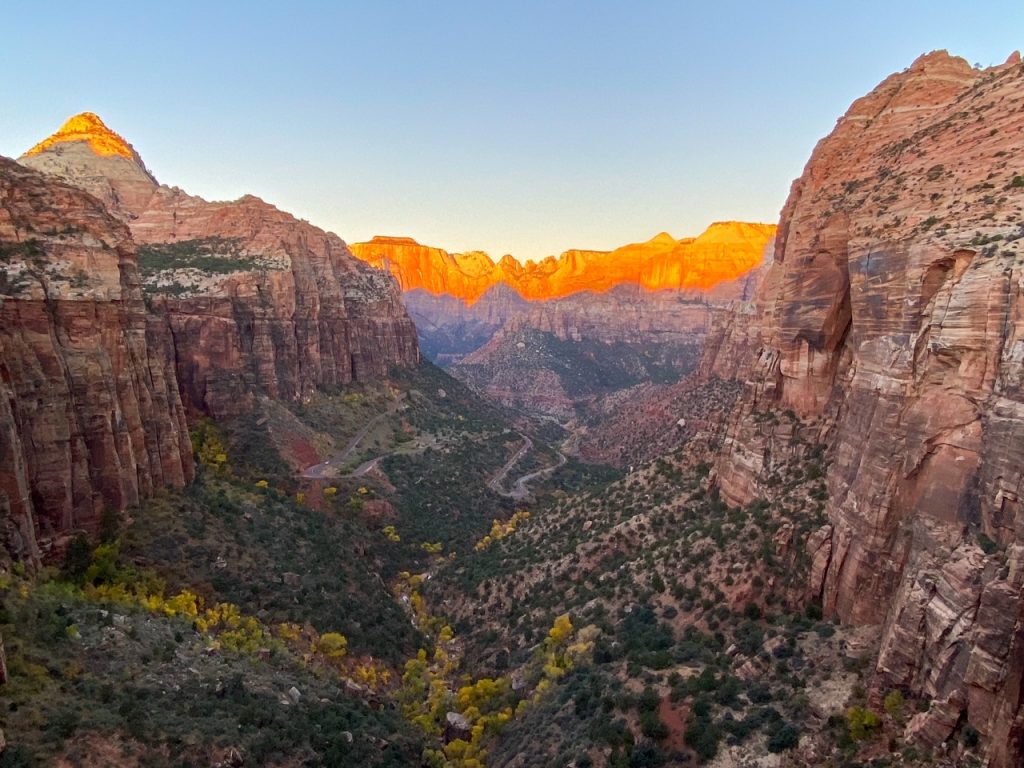 Our last day in Zion, we decided to hike the Zion Canyon Overlook Trail just before sunrise. That meant starting our hike in the dark – yet another good time to have a flashlight!
The Zion Canyon Overlook Trail is one of the few official trails in the upper East Canyon and provides an incredible view of Pine Creek Canyon, lower Zion Canyon and the Route 9 switchbacks below; in fact, it's one of the best photography spots in the entire park! This is an iconic view, and the hike is family-friendly and only one mile round-trip.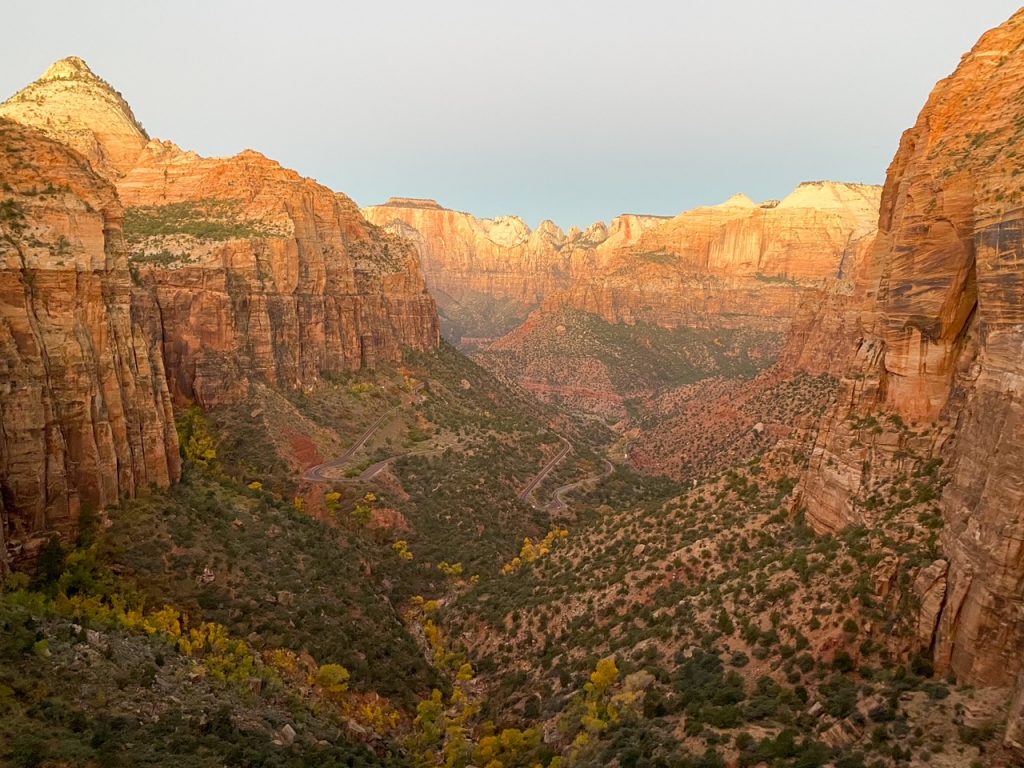 To reach the trailhead, you'll need personal transportation. You'll drive east on Route 9 through the Zion-Mount Carmel Tunnel. Then, you'll see the trailhead just beyond the tunnel (near the East entrance) across the road from the parking lot.
Parking is very limited and fills up quickly, especially in summer months. Since we arrived so early, we had no issues. There are several small overflow parking areas further east, but you'll have to walk along the road back to the trailhead if you park in one of those.
From the parking lot, you'll hike up some stairs before going through a large natural cave. Then, along the rocky trail, you'll experience more than 160 feet in elevation change and see some long drop-offs (they're mostly fenced in with railings).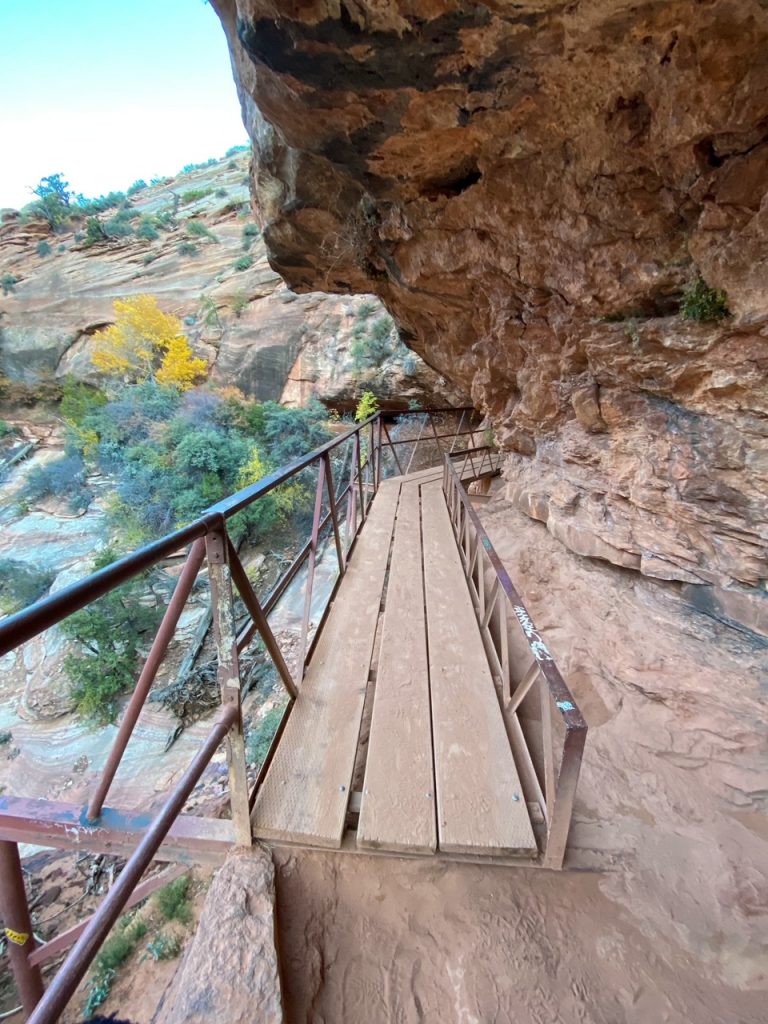 That being said, there are some exposed spots that could be dangerous, so make sure to pay close attention while hiking here, especially in the winter months, which could mean snow or ice on the ground. The reward for getting through all of these obstacles is totally worth it though!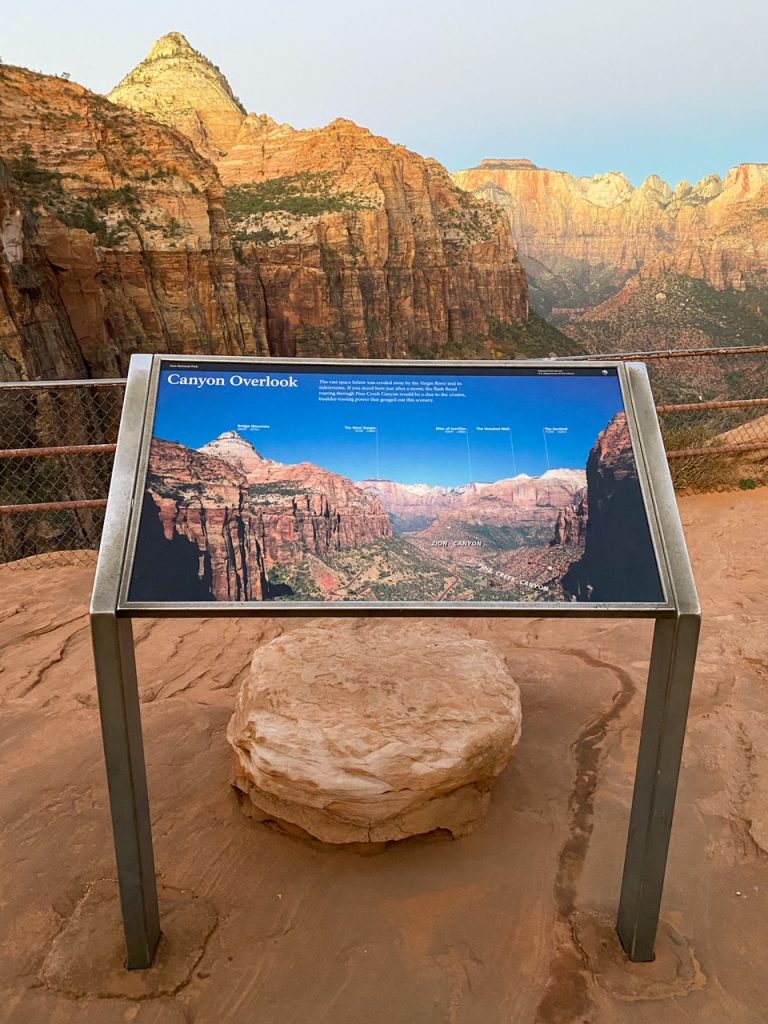 If this is your first trip to Zion, this one is a must-do hike!
Angels Landing via West Rim Trail
We started hiking Angels Landing just before lunchtime on the last day of our trip. Since we hiked the Zion Canyon Overlook Trail for sunrise, we wanted to head back to our hotel to park our car, then grab some breakfast before heading back out on another hike. Visiting in October lent itself to more relaxed mornings, since the crowds aren't as bad. Had we visited in the summer, we would've been on the first shuttle out of Springdale to start this hike.
The trailhead for the West Rim Trail begins across the road from The Grotto shuttle stop (stop 6), then across the footbridge; this will lead you to the trail for Angels Landing. Total hiking distance is 5.4 miles round-trip with nearly 1,500 feet in elevation change. You'll want to plan for at least four hours for this hike, leaving time to take lots of breaks for water, snacks and photos.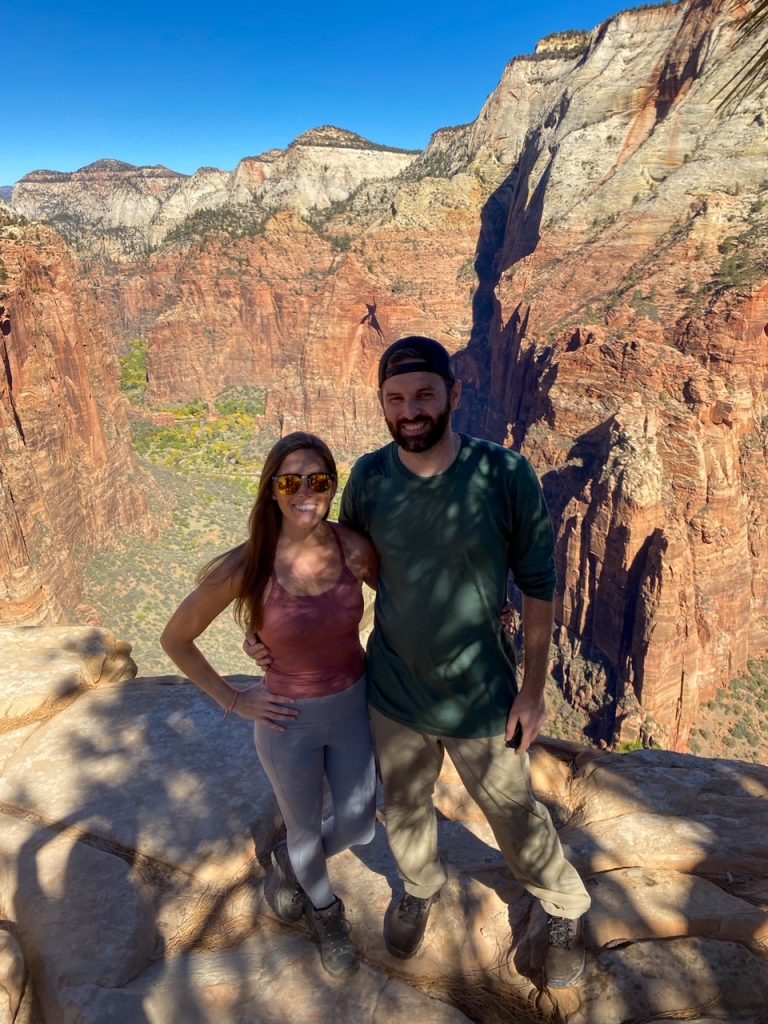 The trail includes walking along steep cliffs and holding onto chains for safety; it can be both physically and mentally demanding. Make sure to pack lots of water and snacks, especially if you'll be hiking in the heat of the day. For all of these hikes, but especially this one, it's essential to wear appropriate hiking attire, and a good pair of hiking boots is recommended.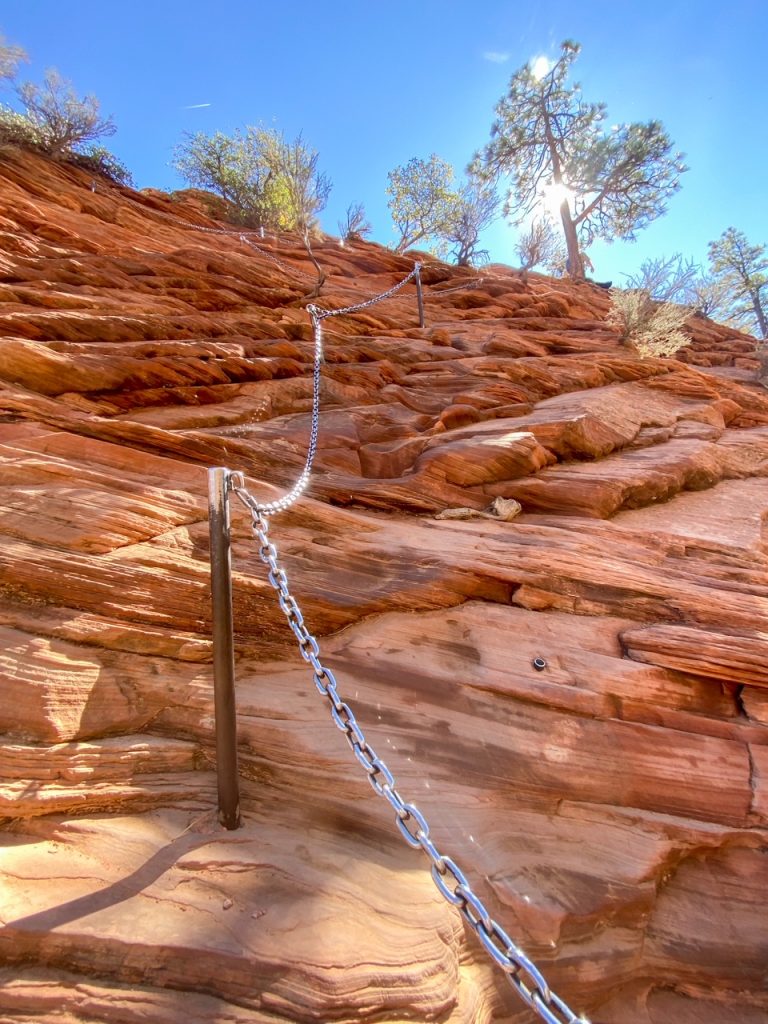 Young children or anyone who's afraid of heights should definitely avoid this hike; there are some steep drop-offs and the last section requires hiking along a steep, narrow ridge to the summit.
Early morning and late afternoon will give you the best light for photography, but you'll want to make sure you're off the mountain well before dark due to the dangerous footing.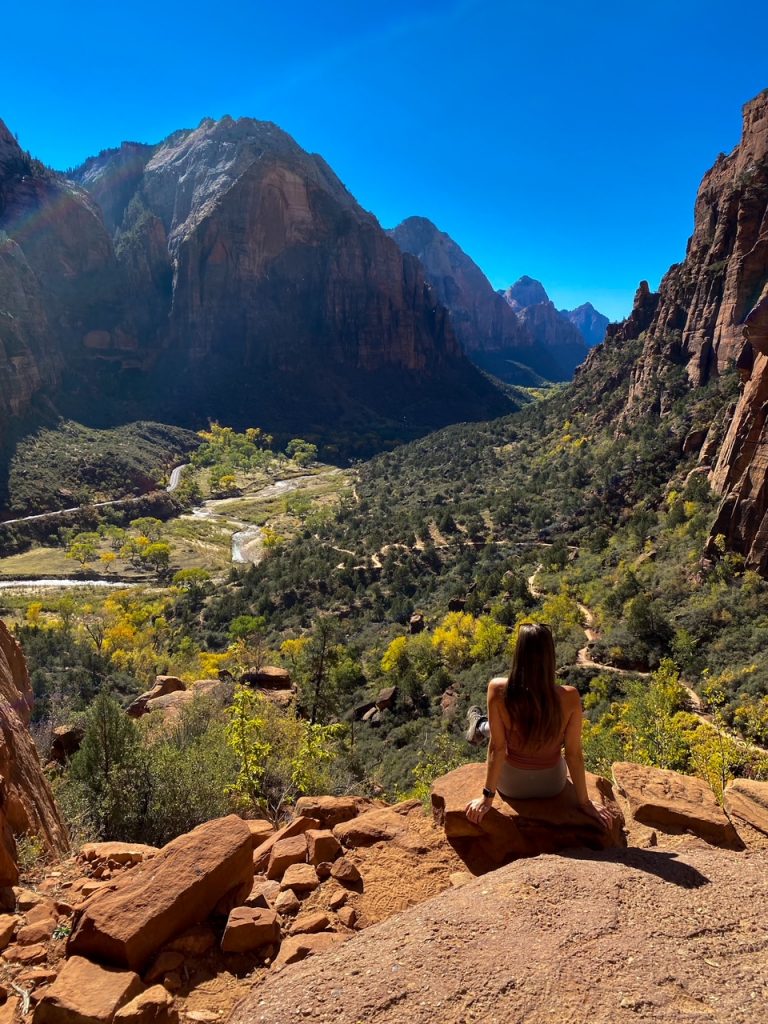 After completing Angels Landing, we made our way back to Scout Lookout and continued on the West Rim Trail toward Cabin Spring. This section of Zion is incredible and not nearly as crowded, and we walked for about a mile before turning back. Although we didn't hike all the way to Cabin Spring, which is said to boast the best viewpoint, we still really enjoyed this part of the hike.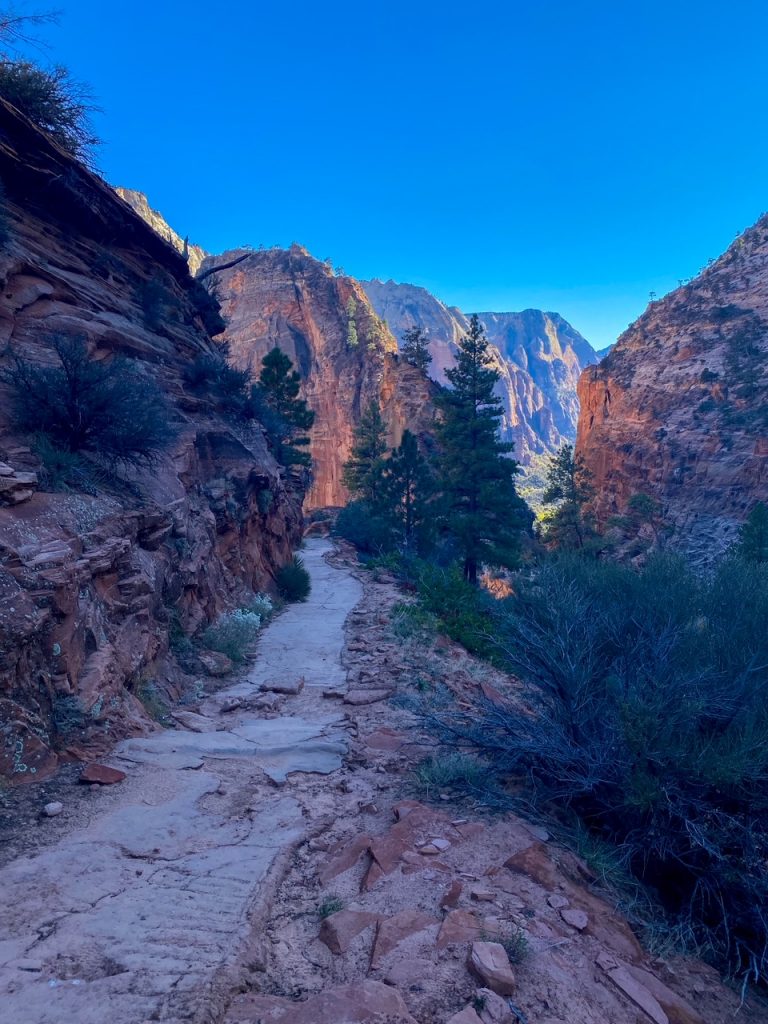 Of all the hikes we did in Zion National Park, these hikes were probably my favorite. If you're looking for an exhilarating adventure, these are the hikes for you!
Zion Sunrise & Sunset Spots
Sunrise
We heard that photographing the Towers of the Virgin from behind the Human History Museum is spectacular as soon as the light hits the peaks. So one morning, we drove to the museum just before sunrise, only to discover that it was temporarily closed!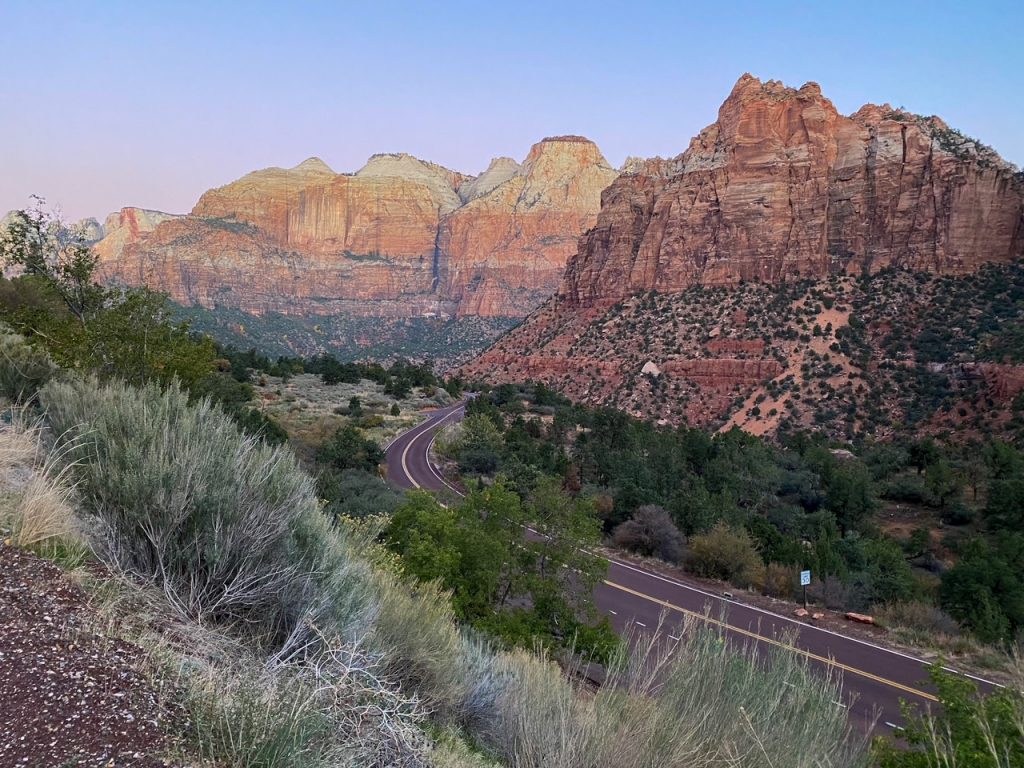 After missing the opportunity to watch the sunrise from behind the Human History Museum, we spontaneously started driving east along Route 9 and up through the switchbacks to the Zion-Mt. Carmel Tunnel. We ended up catching the sunrise over the Upper East Canyon.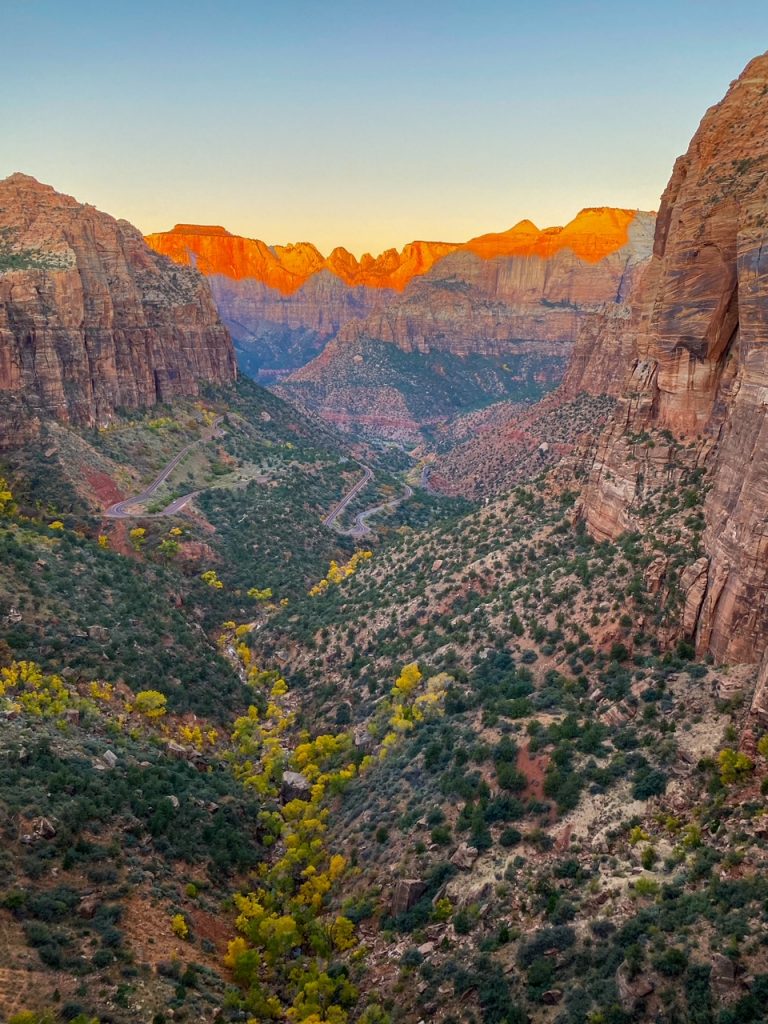 As previously mentioned, the Zion Canyon Overlook Trail has an amazing view of Pine Creek Canyon, lower Zion Canyon and the Route 9 switchbacks and is one of the best photography spots in the entire park. Refer back to the Zion Canyon Overlook Trail section for more information on watching the sunrise here.
Sunset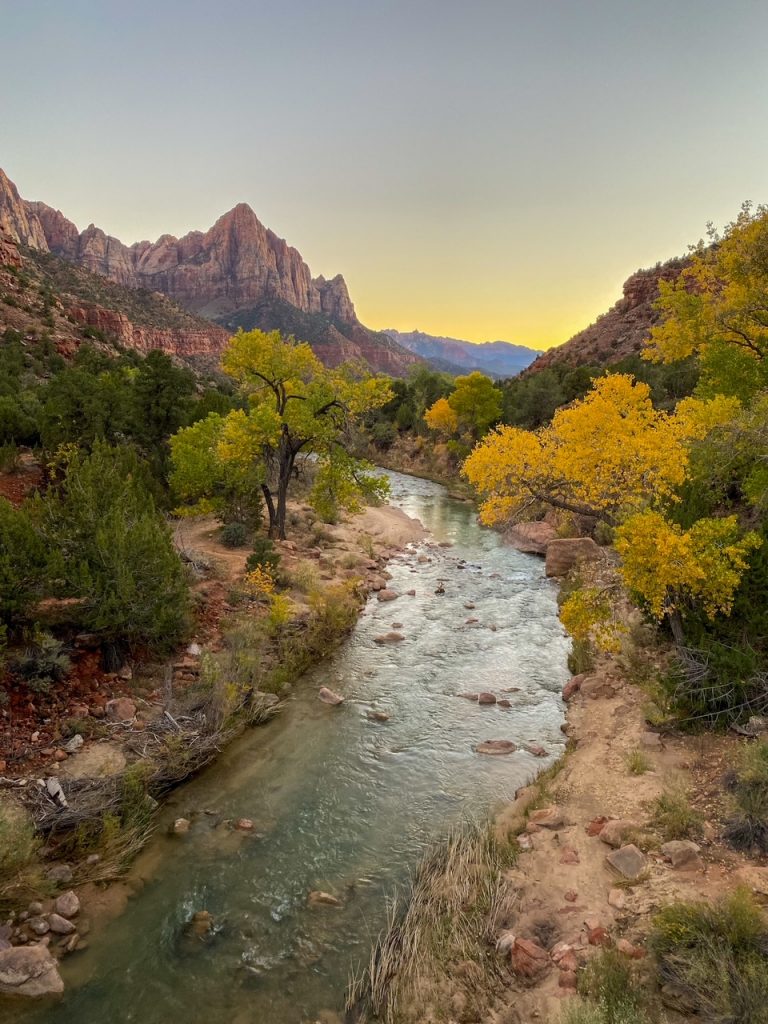 What was once a very popular spot for sunset lovers and photographers alike, the Canyon Junction Bridge is no longer accessible to pedestrians. This was probably the most popular photography spot in the past. The views along the Pa'rus Trail around sunset were still hard to beat, which is the trail we took to arrive at the Canyon Junction Bridge.
Eating in Zion National Park
Here's a list of places we ate at during our trip: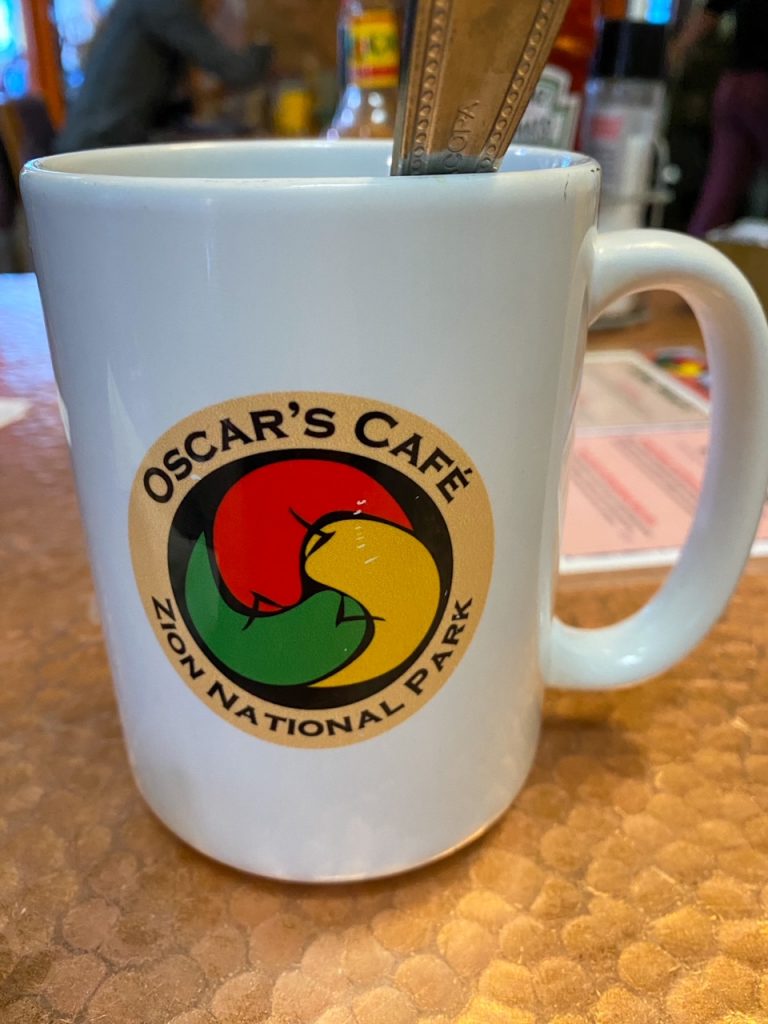 Note we bought some lunch meat and bread to make sandwiches for lunch (and even dinner some nights), so we don't have a ton of recommendations.
Here are some of the other places we heard were pretty good but didn't have time to try out:
The Parkhouse Café
Café Soleil
King's Landing Bistro
The Spotted Dog Café
Whiptail Café
Deep Creek Coffee Company
What to Do in the Surrounding Area
Kolob Canyons is a separate, less crowded part of the park. You can drive to the end for a spectacular view of Kolob Canyon, or if you're looking for more hiking, there are several trails available in the area. Unfortunately, we didn't have time to fit this into our itinerary, so we'll have to check out this area next time!
Getting from Zion to Bryce Canyon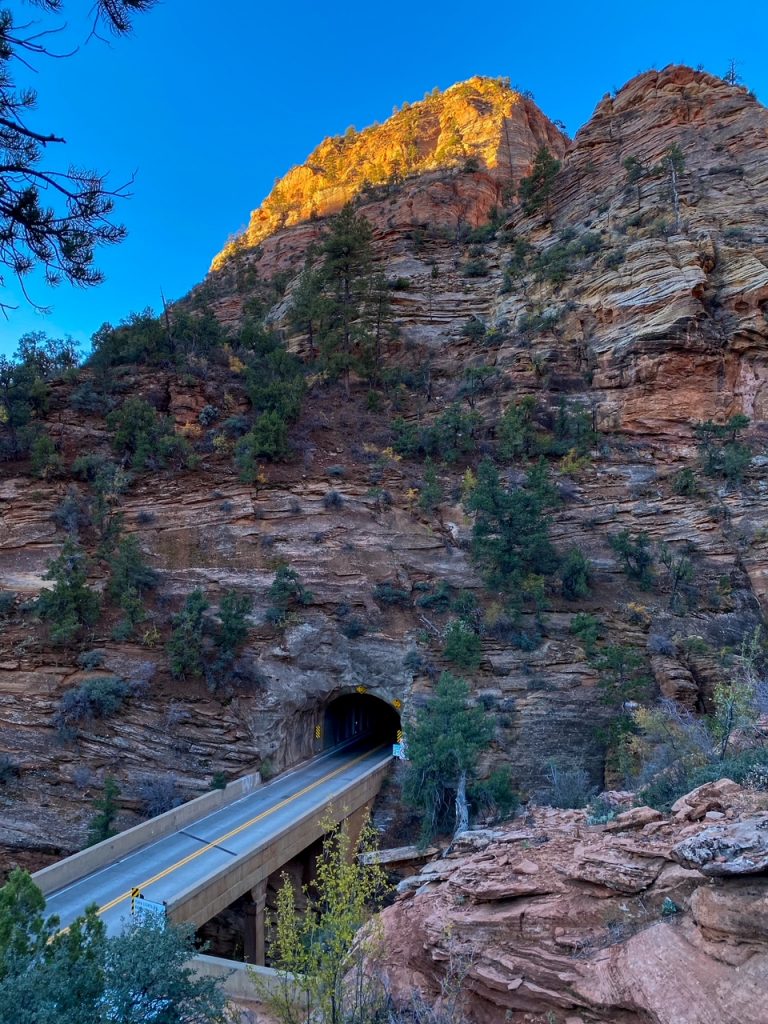 The next stop on our Southwest U.S. road trip was Bryce Canyon National Park. On your way out of Zion National Park, you'll follow the steep switchbacks up to the Zion-Mount Carmel Tunnel – a historic landmark completed in 1930 – then onto the scenic Zion-Mount Carmel Highway.
Along the way, there are several pull-offs, one of them being Checkerboard Mesa, whose sandstone has an unusual crack pattern that resembles a grid similar to a checkerboard.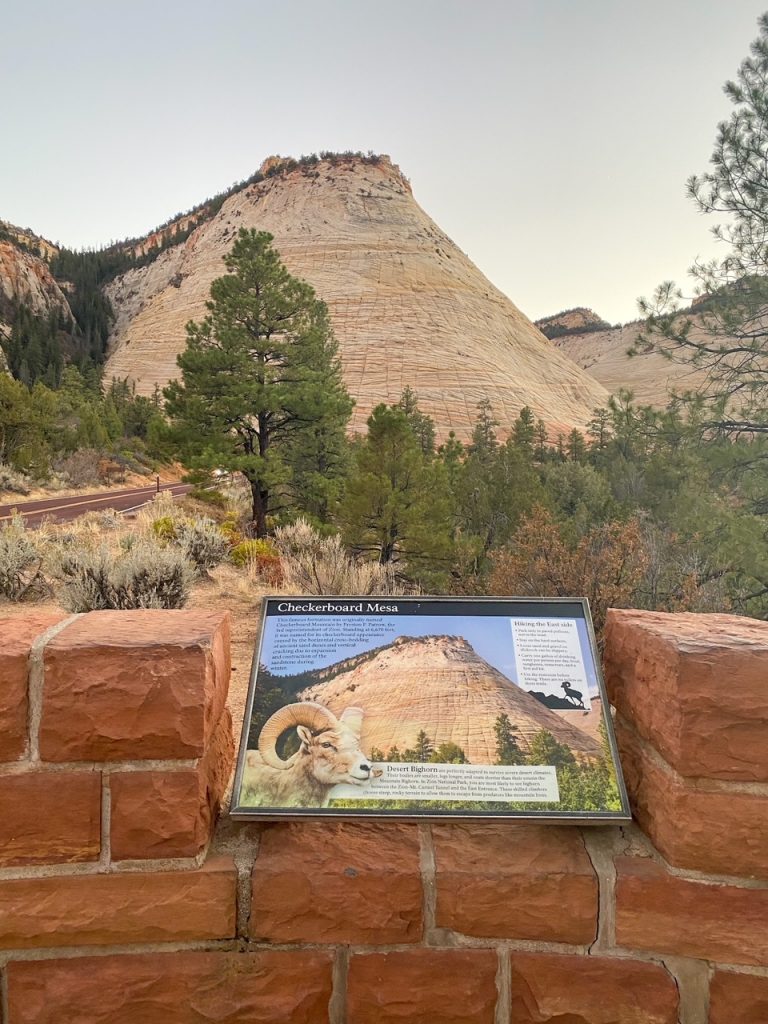 Follow the road out to US-89 N, then to UT-12 E. The drive is just under two hours, and you'll gain more than 4,000 feet in elevation, as Bryce Canyon has the highest elevation of all of Utah's national parks.
Due to the lack of cell service throughout this area, you'll want to make sure you've downloaded Google offline maps, packed extra water, snacks and warm clothes in case of an emergency.
Have you visited Zion National Park yet, and if not, have we convinced you to go? Leave us a comment below!
XOXO Travel A-Broads