Canyonlands National Park is the largest of Utah's national parks, preserving more than 300,000 acres of incredible rocky landscape. Despite being the largest, it's often overshadowed by some of the other national parks in the area like Zion, Bryce Canyon, and Arches, but Canyonlands still has a ton to offer photographers, hikers and outdoor aficionados alike!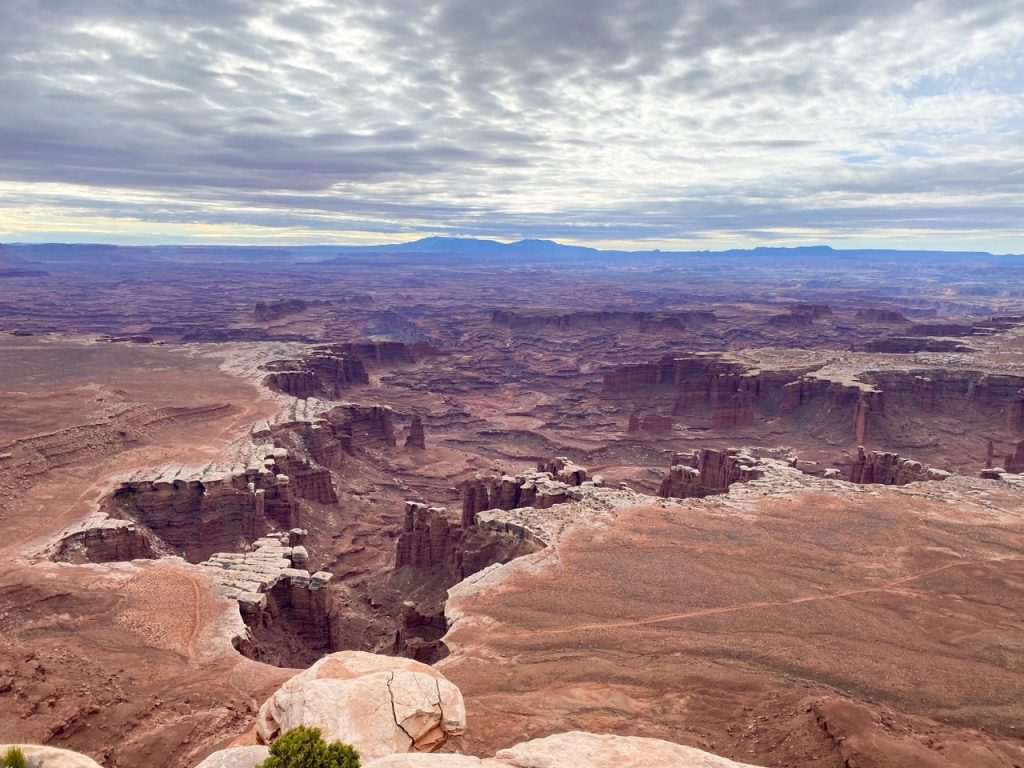 Canyonlands has four districts, which are divided by the Green and Colorado rivers. Each of these offers different hiking and exploration opportunities. However, most people find it difficult to visit more than one in a single trip. No roads directly link the districts, and traveling between them can be time consuming, i.e. anywhere between two to six hours by car.
It's imperative to come prepared with a map of the area or to have Google offline maps downloaded to ensure you know where you're going.
The Needles offers a backcountry experience and requires hiking and/or four-wheel driving to see the area's attractions.
The Maze is even more remote, requiring much more time and self-reliance to visit.
The Rivers offers flatwater trips on the Green and Colorado rivers and whitewater trips in the Cataract Canyon.
Island in the Sky is the most accessible, and thus, the most popular district. It's set atop a huge, level sandstone mesa between the Green and Colorado rivers and offers many overlooks, boasting incredible canyon views along the paved scenic drive; a four-wheel-drive road called the White Rim Road; as well as several hikes, varying in length and difficulty. This area is the easiest to explore in one day and has more than enough activities to keep you busy!
The rest of this blog post will focus solely on Canyonlands National Park's Island in the Sky district.
Canyonlands National Park Entrance Fee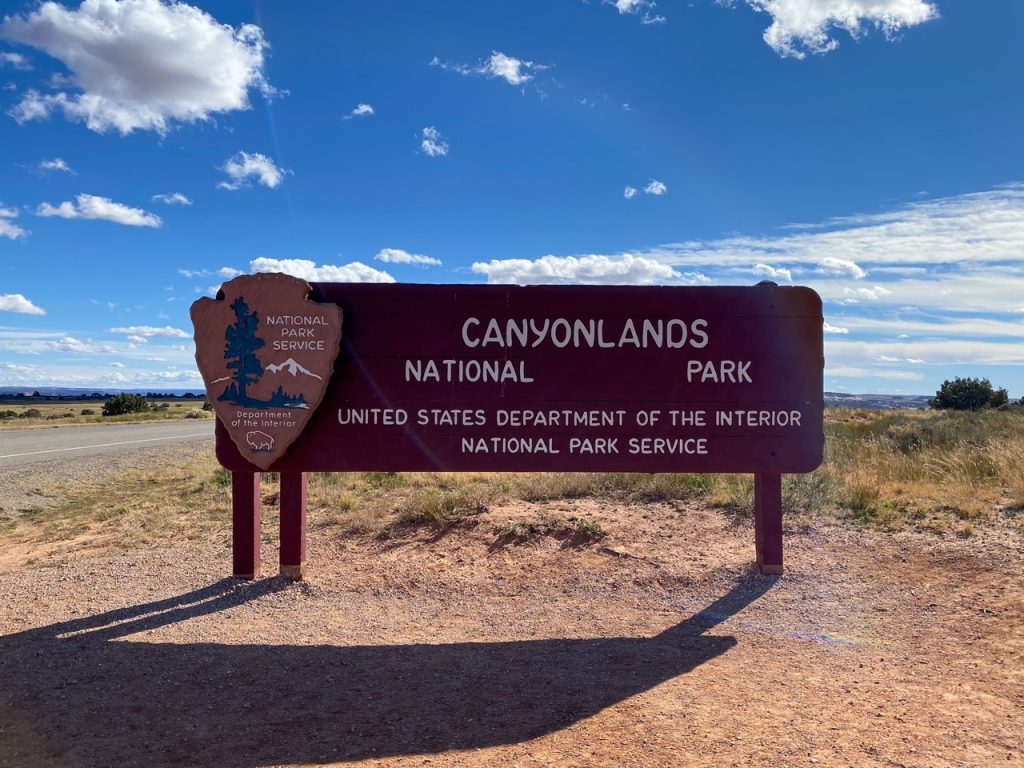 Entry fees vary depending on vehicle type and pass duration. Check out the NPS website for more information. The cost at the time of our visit was $30 for private vehicles and was valid for seven days.
A Broad Recommendation: we recommend foregoing individual national park entrance fees altogether and investing in the U.S. Park Pass instead. It's valid for a full year and covers your entry to thousands of national parks and federally managed lands.
Canyonlands National Park Weather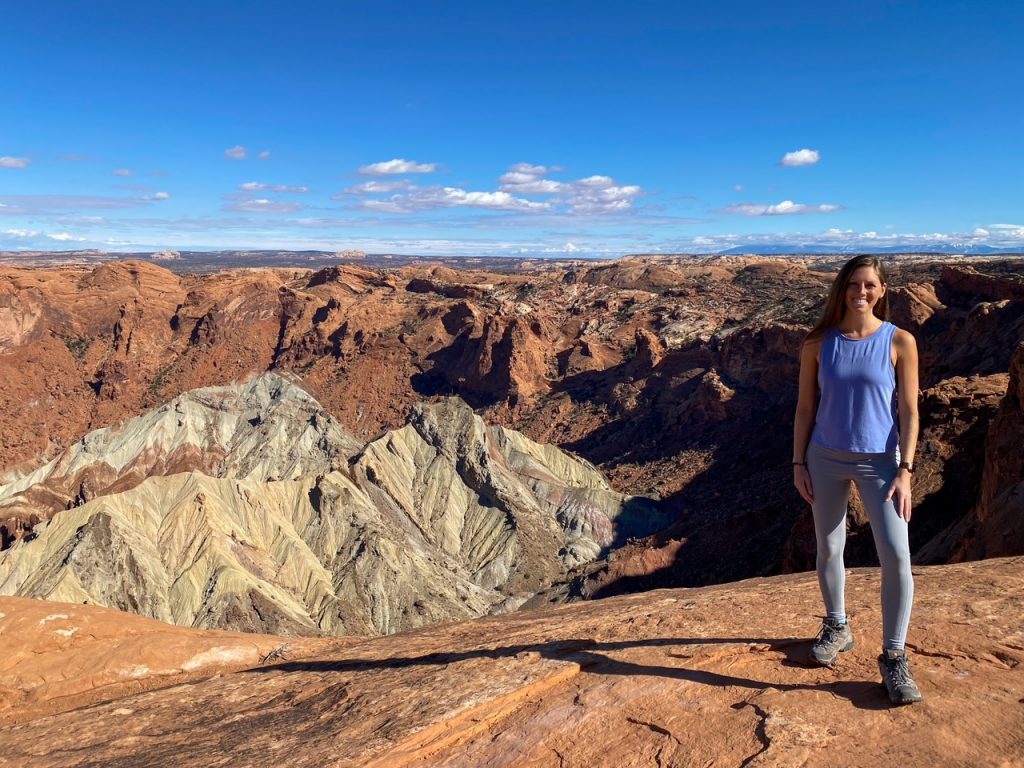 With the exception of Christmas Day, the Island in the Sky Visitor Center is open year-round, seven days a week in the spring, summer and fall and five days a week (Thursday through Monday) in the winter; hours vary by season.
The Canyonlands Visitor Center offers general information, exhibits, maps, backcountry permits, Wifi and a picnic area. There is also potable water here to refill your water bottles.
The most popular times to visit are April through May (spring) and September through October (fall) when temperatures are between 30º to 50ºF in the mornings and at night and between 60º to 80ºF during the day. We visited in early November and felt that this was also a great time to visit!
Winter and summer present various risks like snowstorms and flash flooding, both of which can make trails and roads impassable. And, with lows averaging around 0º to 20ºF in the winter and temperatures soaring above 100ºF in the summer, it's probably best to avoid these seasons altogether.
Current conditions for Canyonlands National Park can be found here.
Canyonlands National Park Directions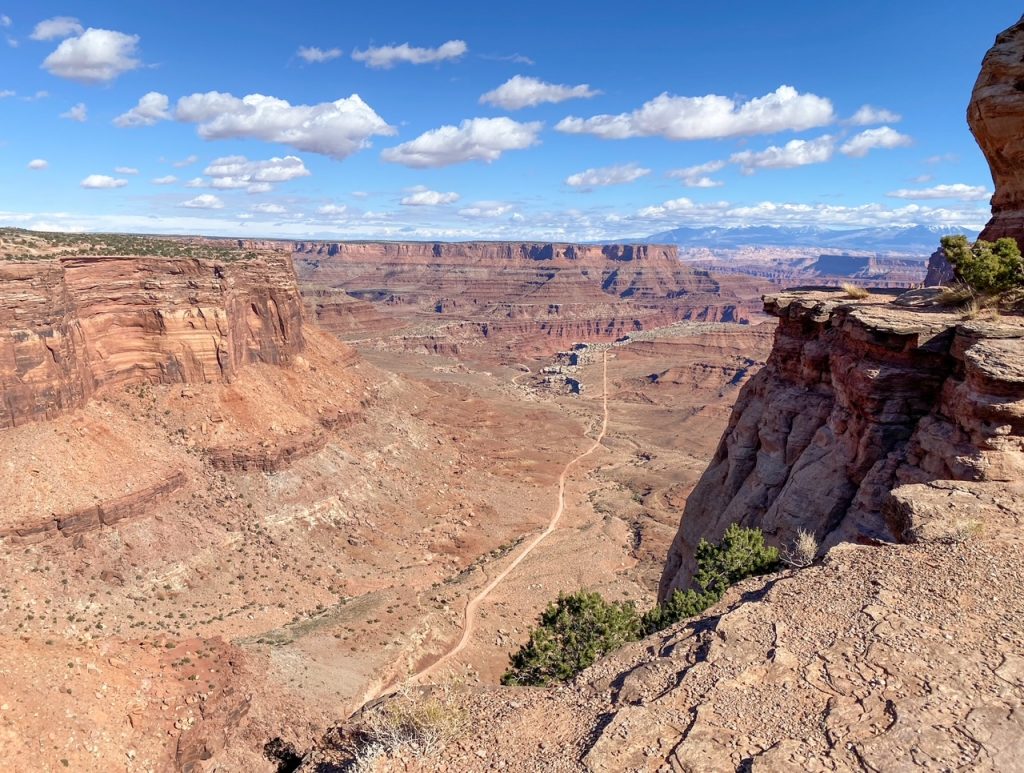 We visited Canyonlands National Park as a part of a larger U.S. Southwest road trip, starting from Las Vegas and visiting Zion, Bryce Canyon, Escalante, Capitol Reef and Arches on the way.
Canyonlands' Island in the Sky district is about 35-40 minutes from Moab. To get to Canyonlands from Moab, follow US-191 N for about 11 miles before turning left onto UT-313 W. After about 15 miles, UT-313 W turns into Grand View Point Road/Island in the Sky Road; you can follow that for about 7 miles all the way to the Island in the Sky Visitor Center.
A Broad Recommendation: due to the lack of cell service throughout this area, you should download Google offline maps and pack extra water, snacks and warm clothes in case of an emergency.
If you won't be following the same route as us, Salt Lake City International Airport is the closest major airport; the park is less than a four hour drive from there.
Canyonlands National Park Lodging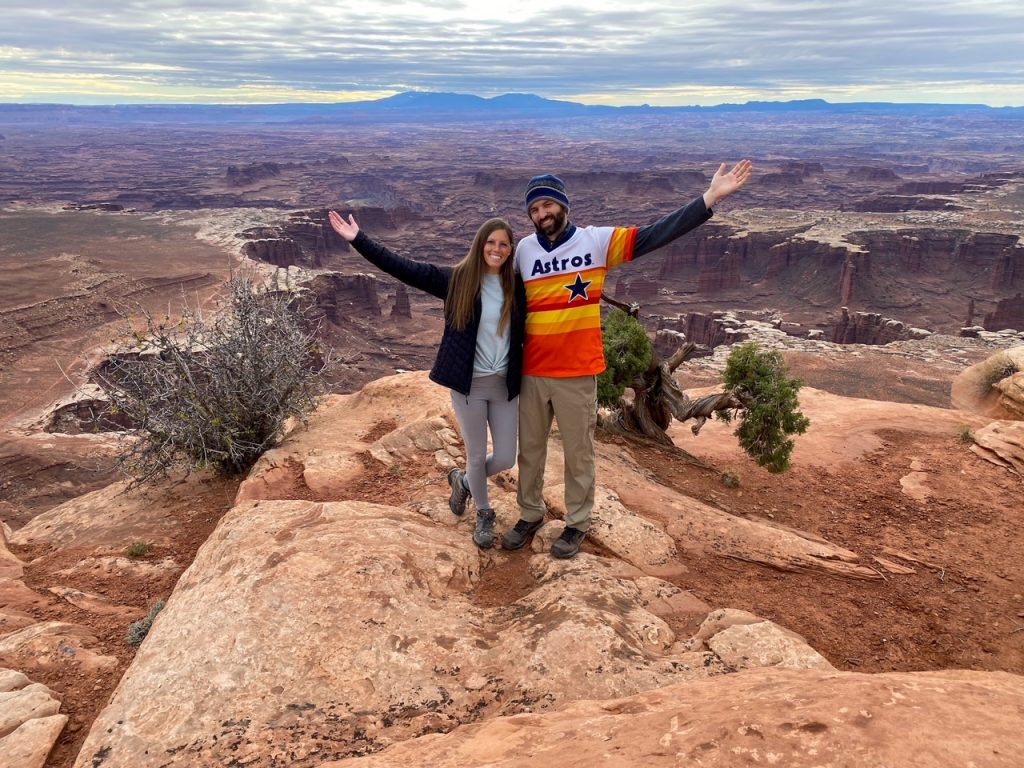 There are lots of hotels near Canyonlands National Park because of its location so close to Moab. Since we paired our visit to Canyonlands with a visit to Arches National Park, we spent two nights at the MainStay Suites Moab near Arches National Park. This hotel is nice and affordable, and breakfast is included.
We used hotels.com to book our stay and spent around $270 total for both nights.
A Broad Recommendation: We recommend using hotels.com to book your stay in Moab. They offer great deals and give you one free night for every ten nights you complete. I also use Rakuten at the time of my purchase to get cash back!
Camping at Canyonlands National Park is another alternative. Island in the Sky Campground (Willow Flat) has 12 sites at $15 per site; they are first-come, first-served. Since campsites are limited, they tend to fill up quickly during the spring through fall. It's notable that there is no water at the campground, so come prepared!
Canyonlands National Park COVID Response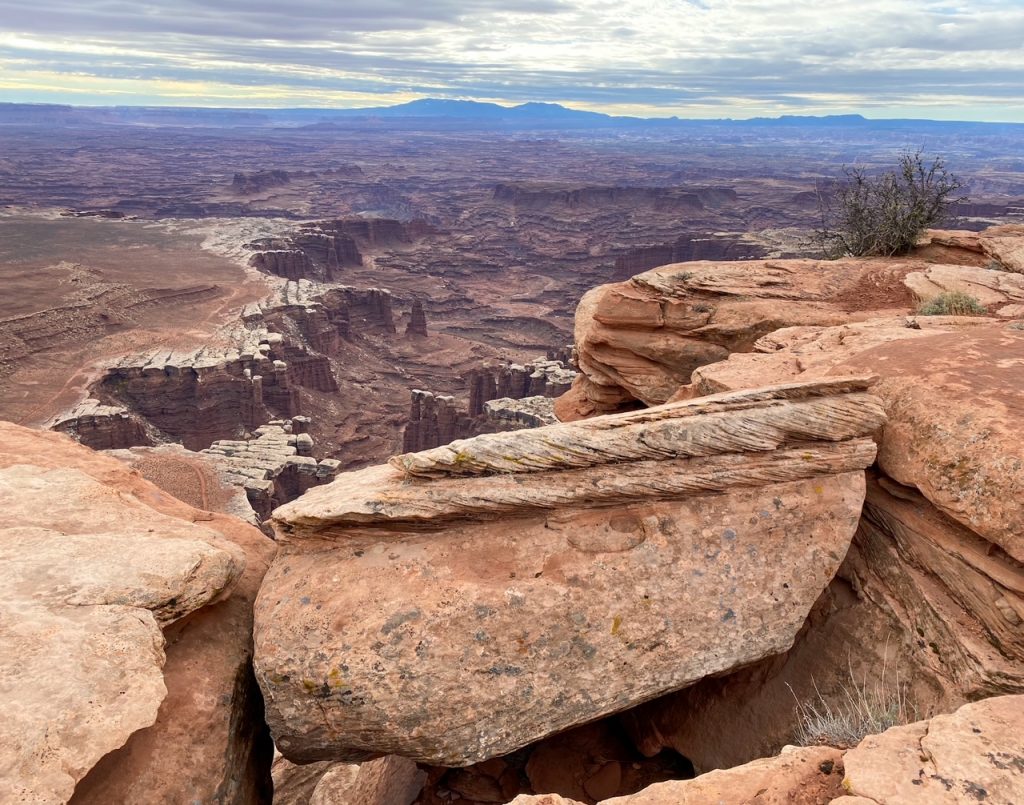 During our visit, we were required to wear masks inside of all park buildings, but requirements are constantly changing. At the time of this post, masks are now optional inside the Island in the Sky and Needles districts.
For more information before your visit, check out the NPS website.
Canyonlands National Park 1-Day Itinerary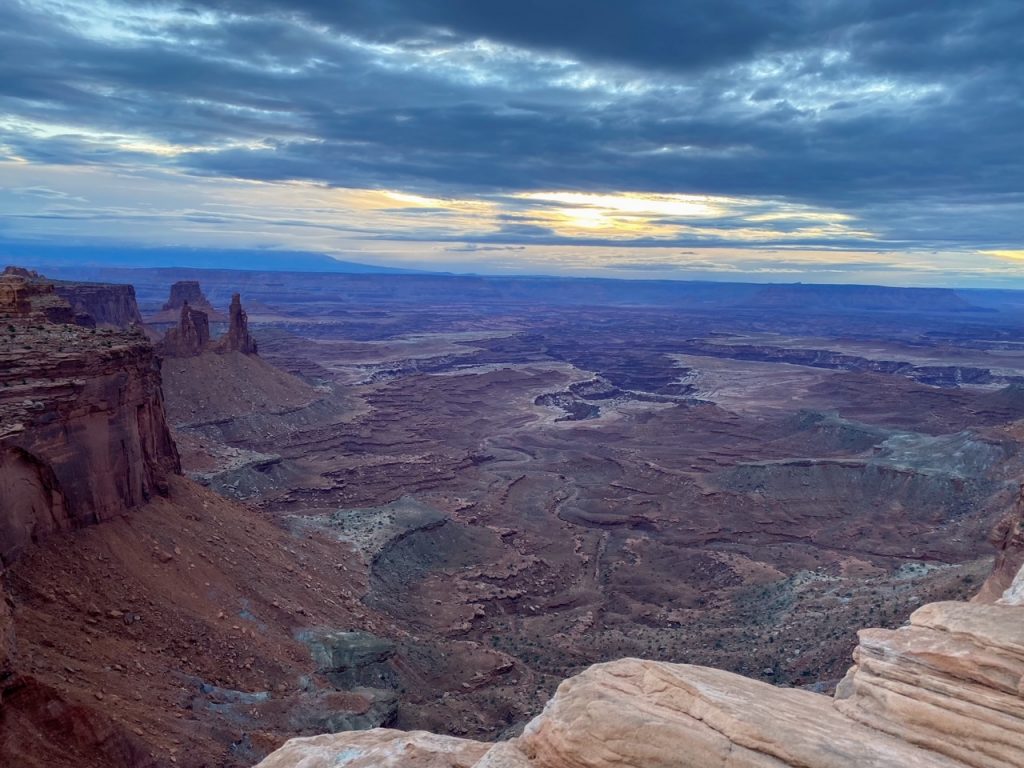 If you have just one day in Canyonlands National Park, you'll want to drive along Grand View Point Road, stopping at the overlooks and hiking some of the trails along the way.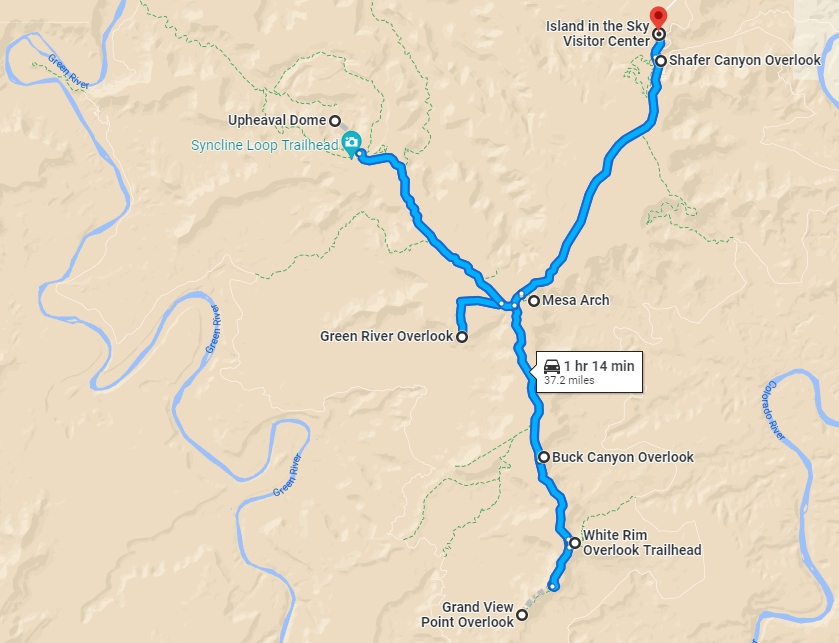 We suggest driving all the way to the Grand View Point Overlook Trail (after watching the sunrise at Mesa Arch) and working your way back to the Visitor Center:
Sunrise at Mesa Arch Trail
Grand View Point Overlook Trail
White Rim Overlook
Buck Canyon Overlook
Green River Overlook
Upheaval Dome
Shafer Canyon Overlook
Island in the Sky Visitor Center
Visitor Center Viewpoint
Canyonlands National Park Things to Do
The Island in the Sky district sits atop a large mesa about 1,000 feet above the canyon floor, and every trail and overlook offers a different perspective of the surrounding terrain.
Mesa Arch Trail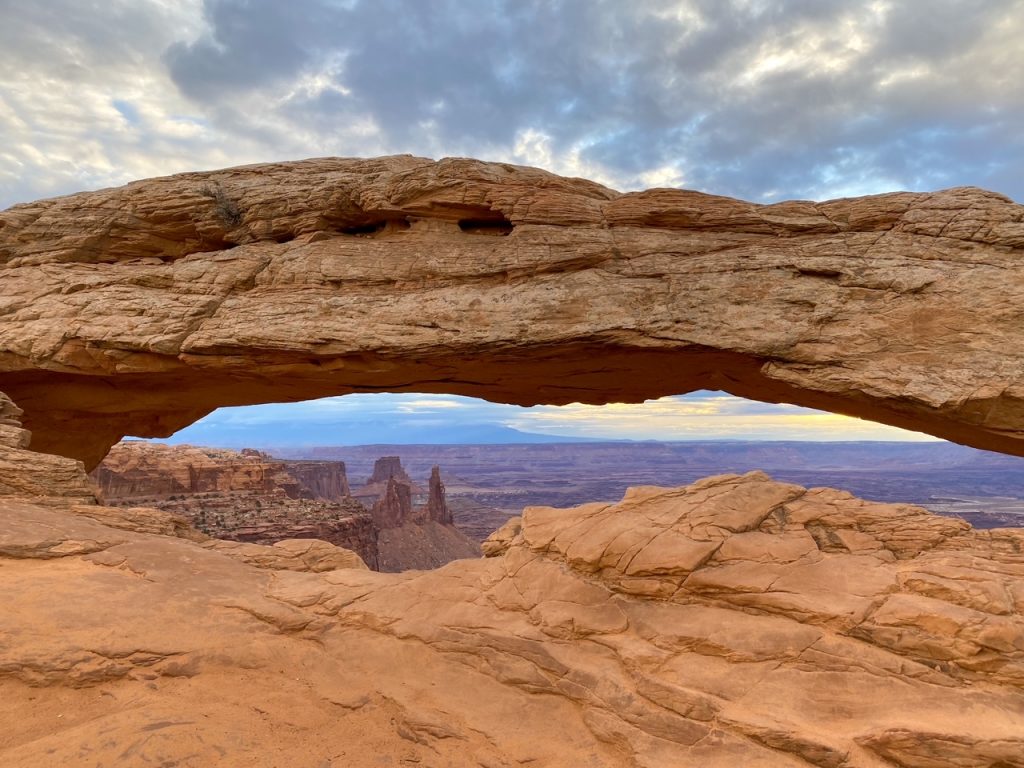 Difficulty: easy
Round-trip distance: 0.5 miles
Average time: 30 minutes
We would recommend starting your day at Mesa Arch, Canyonlands' most famous arch. A short hike leads to a cliff-edge arch and offers gorgeous views of the canyon below and of the La Sal Mountains in the distance.
This spot is especially popular at sunrise when the sun illuminates the underside of the arch. You'll be sharing the view with lots of photographers, so be ready to hike in the dark and get there early; when you see this view, you'll be happy you did!
If you don't want to brave the crowds right at sunrise, you can visit up to an hour after sunrise. The views are similar, and you'll likely have them all to yourself.
A Broad Recommendation: Although the average hiking time is about 30 minutes, you'll definitely want to schedule a larger block of time in your itinerary, especially if you plan on taking lots of photos. And, if you're driving in from Moab, give yourself plenty of time to get here. Remember to factor in both drive time and hiking time; the trailhead is about 10 minutes from the Visitor Center.
Remember to stay off the arch! It's dangerous and strictly prohibited to stand on, climb on or rappel off of any arch in the park.
Grand View Point Trail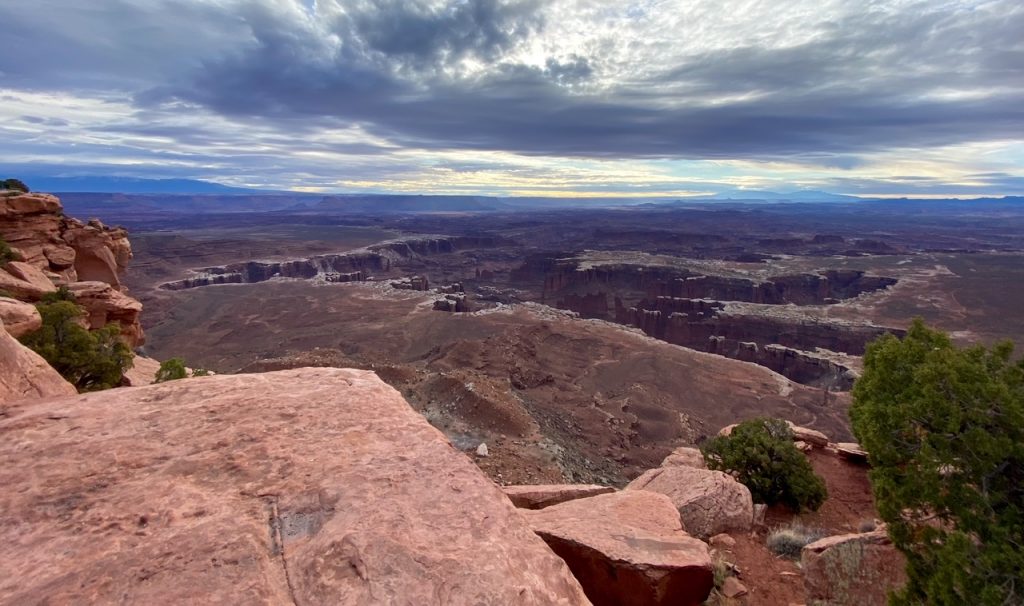 Difficulty: easy
Round-trip distance: 2 miles
Average time: 1.5 hours
After you've taken a sufficient amount of photos at Mesa Arch, drive another 15 minutes to the southernmost point of Grand View Point Road and stop at the Grand View Point Overlook.
A short, paved trail leads you to an incredible viewpoint where you can see panoramic views of the White Rim, The Maze and The Needles. If you choose, you can continue walking for as much as one mile to a second viewpoint. We didn't walk the entire way though because we heard that another trail offered similar views – more on that later.
While we were here, we saw a ranger giving a geology talk to some other visitors; I'm sure that was interesting!
White Rim Overlook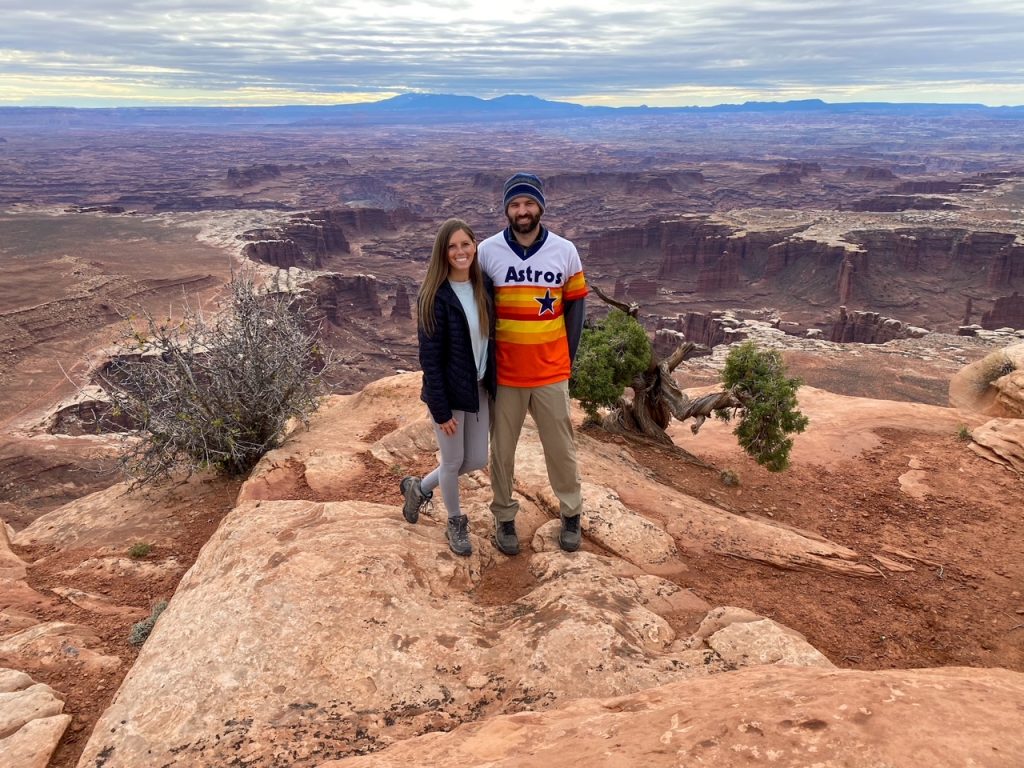 Difficulty: easy
Round-trip distance: 1.8 miles
Average time: 1.5 hours
Prior to our trip, we read that you don't need to hike the Grand View Point Trail and the White Rim Overlook Trail, since they offer similar views. The White Rim Overlook Trail is relatively flat and less crowded than the Grand View Point Trail, so it was a pretty easy decision for us!
Along the trail, you'll make your way to an east-facing overlook with views of the Colorado River, the Monument Basin and the La Sal Mountains.
Travel north on Grand View Point Road for about a mile, and parking will be on the right. This trail shares a parking lot with the Gooseberry Trail, making parking quite limited.
Buck Canyon Overlook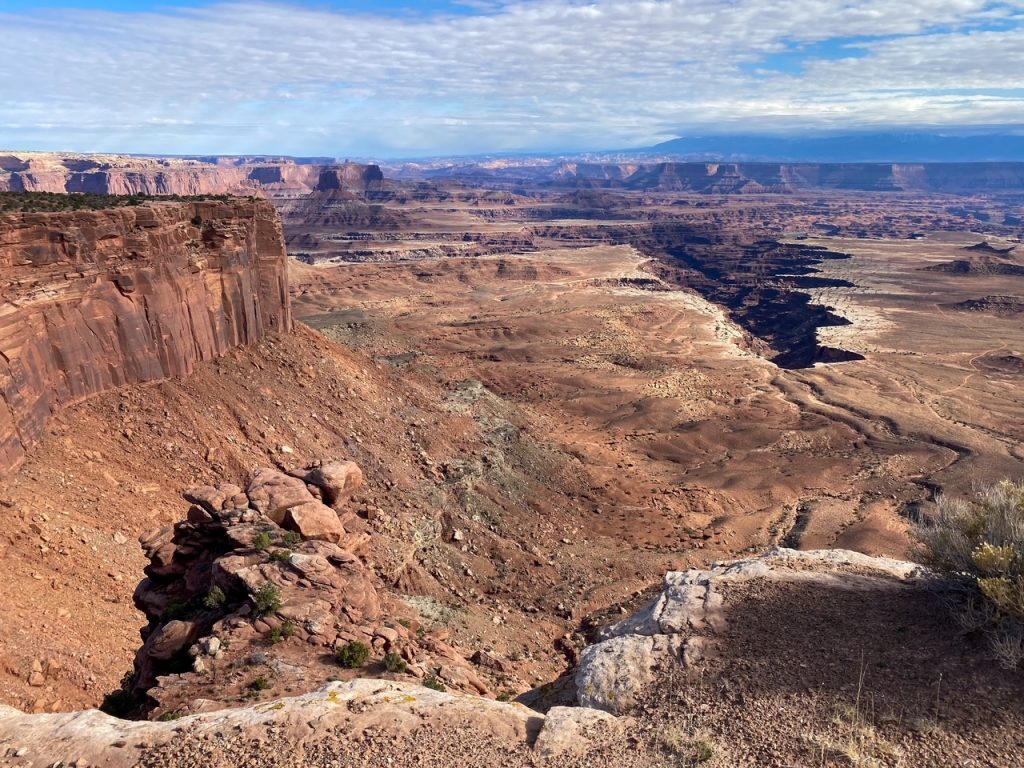 As you continue north on Grand View Point Road, you'll pass by various overlooks that offer amazing views with little to no hiking. Even if you do the aforementioned hikes, these viewpoints are definitely worth a stop.
Buck Canyon Overlook is 2 miles from the White Rim Overlook and requires no hiking.
Green River Overlook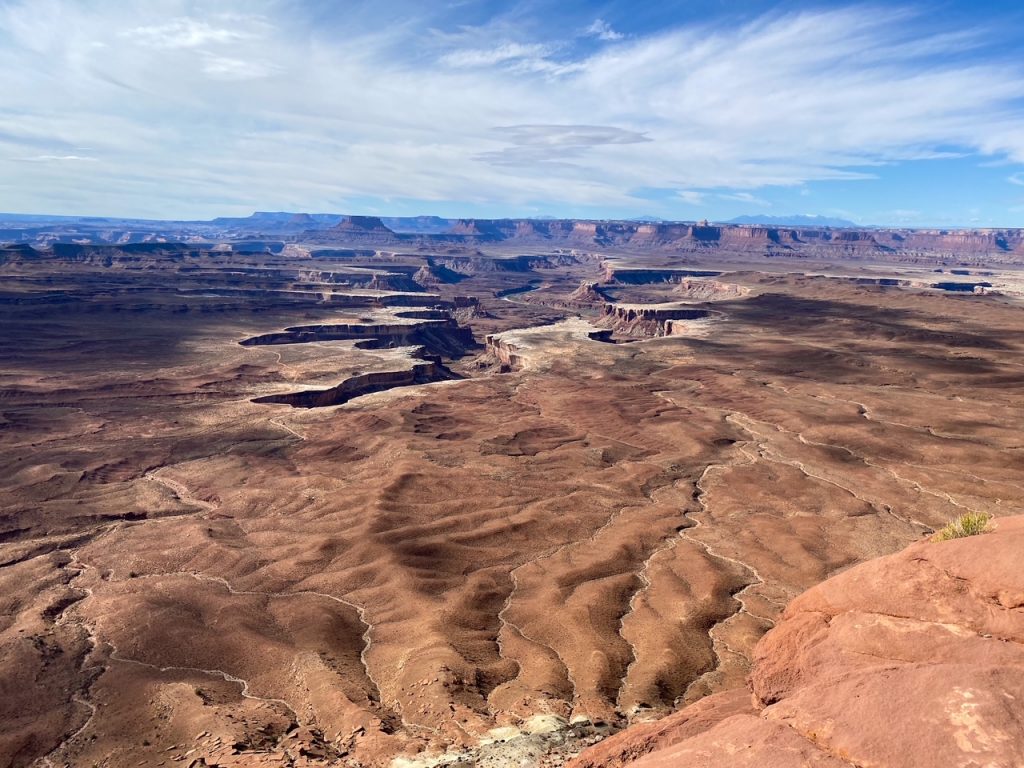 From Buck Canyon Overlook, continue driving north on Grand View Point Road for just under 5 miles.
The view from Green River Overlook includes the Green River (naturally), which is one of the rivers that helped carve the canyons at Canyonlands National Park, the Soda Springs Basin, and The Maze district.
Upheaval Dome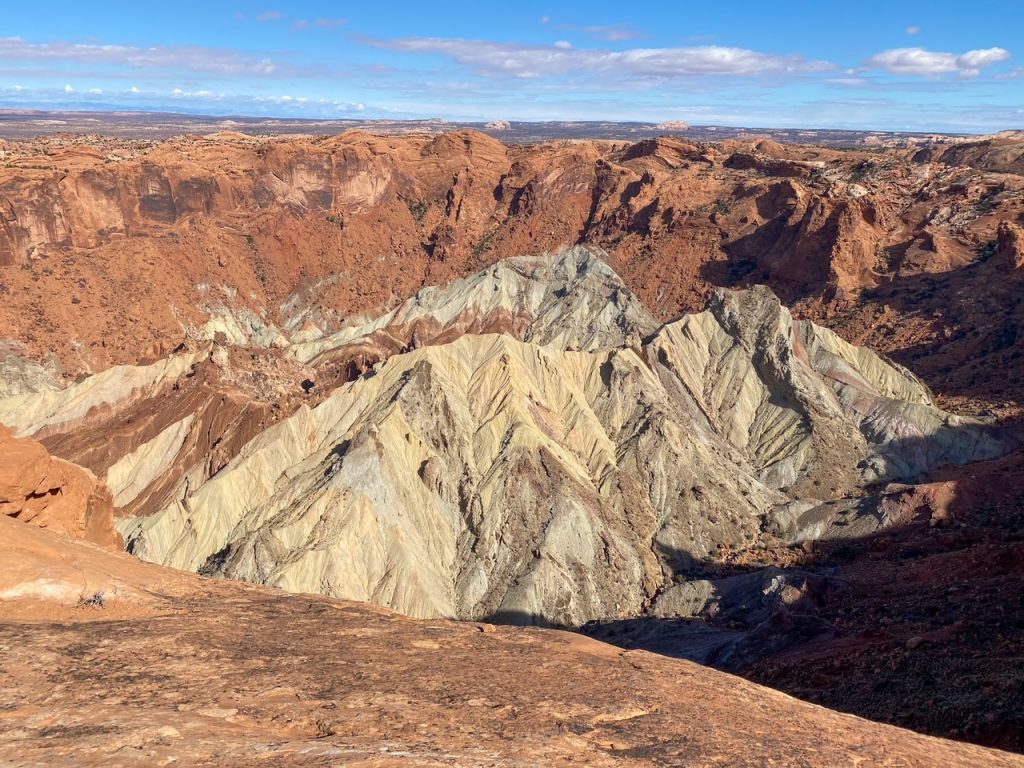 Difficulty: moderate
Round-trip distance: 1 mile for first overlook; 2 miles for second overlook
Average time: 30 minutes to 1 hour
From the Green River Overlook, turn left onto Upheaval Dome Road and follow that for 4.4 miles. There are two viewpoints, and we recommend visiting both of them if your schedule allows for it.
Upheaval Dome is a large crater that was most likely formed by a meteorite, although there are other theories about its creation.
A short, steep trail leads to the first viewpoint, which offers a clear view into Upheaval Dome. The elevation change is around 100 feet. The hike to the second viewpoint adds a mile and an additional 50 feet of elevation change.
This spot is really neat and totally different from anything else we saw in Canyonlands National Park or in any of Utah's other national parks for that matter.
A Broad Recommendation: Note that all trails are marked with cairns, but some do require moderate trail finding. Remember to pack lots of water, snacks, sunblock, basic first aid, a map and extra clothes to layer. It's also a good idea to avoid hiking during the hottest parts of the day, especially in the summer.
Shafer Canyon Viewpoint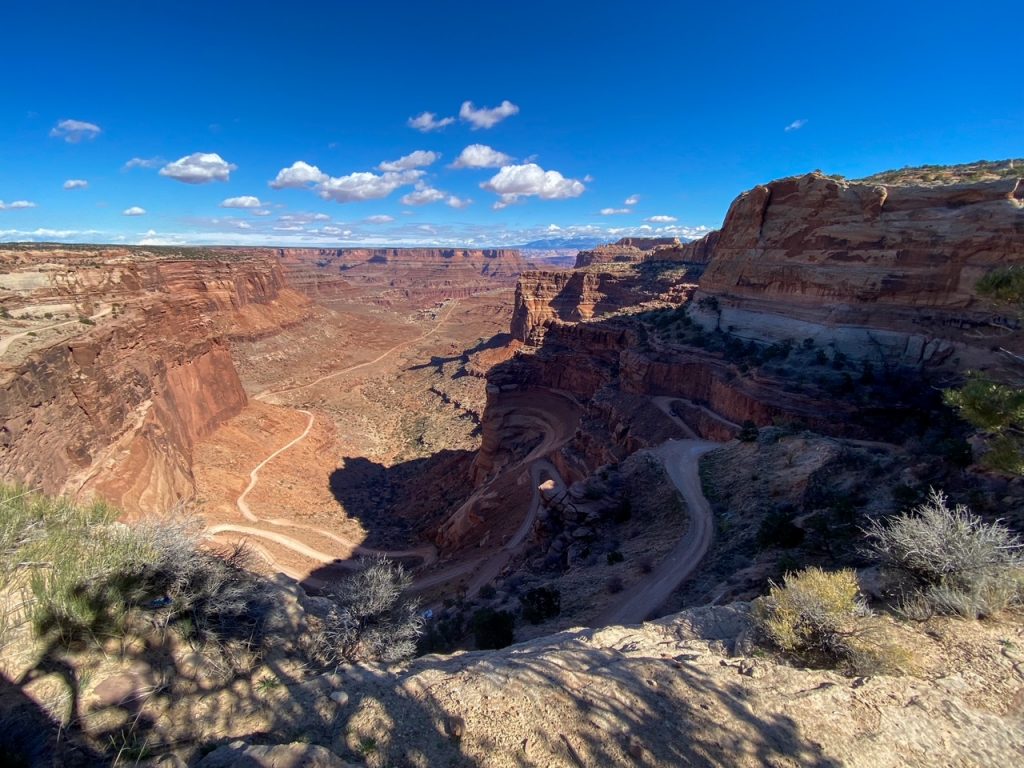 Turn left onto Grand View Point Road and head back towards the Visitor Center. Along the way, stop at the Shafer Canyon Viewpoint for a close-up of all of the switchbacks along Shafer Canyon Road.
Visitor Center Viewpoint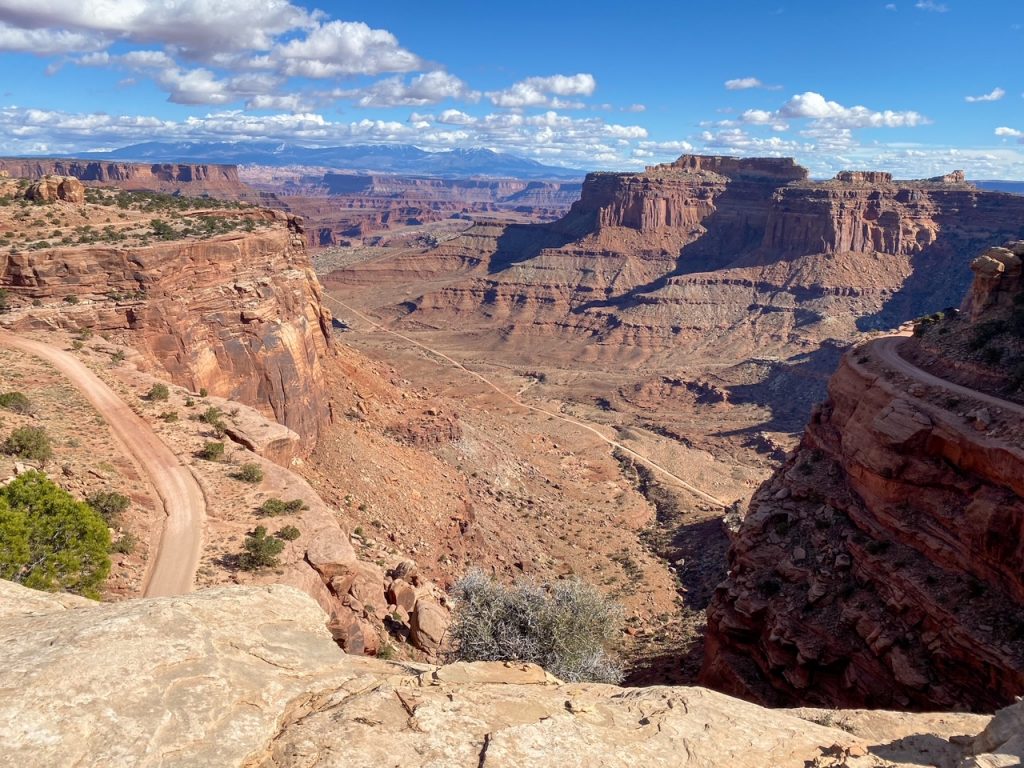 On your way out of the park, stop at the Visitor Center for souvenirs, then cross the street for another impressive viewpoint.
A Broad Recommendation: There are no restaurants inside Canyonlands National Park. We bought some lunch meat and bread, packed a cooler, and had a picnic inside the park. You should plan to do the same or drive back to Moab, which has a ton of food options. During our stay, we had dinner at Moab Brewery (only okay) and Thai Bella Moab (super yummy!).
Canyonlands to Monument Valley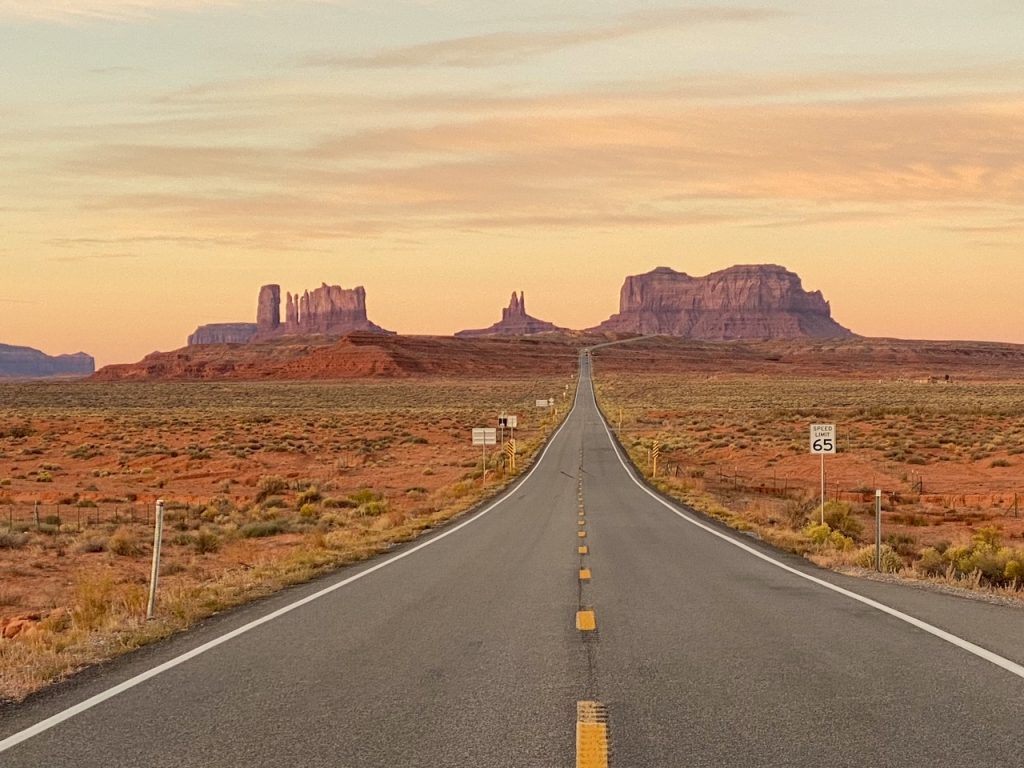 The next stop on our Southwest U.S. road trip was the Monument Valley Navajo Tribal Park. It's just more than a three hour drive from Canyonlands National Park.
If you're headed directly from Canyonlands' Island in the Sky Visitor Center to Monument Valley, continue north on Grand View Point Road for just under 7 miles. Next, continue onto UT-313 E for just under 15 miles. After that, turn right onto US-191 S and follow that for around 85 miles. Finally, turn left onto US-191 S/S Main St and follow that for 30 miles, continuing onto US-163 S/Hwy 163 for 41 miles.
Hopefully we've convinced you to visit Canyonlands National Park! Don't forget to pin this post to refer back to it later.
XOXO Travel A-Broads