After being blessed to see the Taj Mahal in all of its glory, it was time for Candace and me to head to Thailand for our Southeast Asian adventure!
*P.S. this post contains some affiliate links. At no additional cost to you, we may earn a small commission when you make a purchase.
To optimize our time in each location, we chose an overnight flight from Delhi to Chiang Mai with an early morning layover in Bangkok. We arrived in Chiang Mai around 10 AM, and and we were able to take a short cab ride from the airport to our hotel.
A Broad Recommendation: be sure you have local currency for your transportation, as cab drivers often won't accept credit card. If you coordinate your cab beforehand, even better, but it's not necessary for this airport.
We chose an adorable boutique hotel called Rinn Boutique House for our stay. From the moment we booked, they were overly helpful and super flexible! Since they don't normally have 24 hour counter service, I reached out to them via Facebook to request an early check-in or at least luggage storage, so we could explore the area luggage-free upon our arrival. They responded quickly – within a few hours, despite the 12 hour time difference between Houston and Thailand – and said that they could accommodate our request; all I had to do was share our flight details!
When we arrived, we were able to freshen up in the downstairs bathroom, which was very convenient. However, we quickly realized that the luggage storage was in the lobby, which we weren't overly comfortable with considering we had our computers with us. Noticing this, the staff went above and beyond to make sure we were comfortable and allowed us to leave our bags in a back room that could only be accessed by employees.
Man, Chiang Mai is cool! It's so different from anywhere else I've ever been. I researched top temples to check out, but there is certainly no shortage of temples here. We began meandering from our hotel and almost immediately stumbled upon several right along our path! At first, we were hesitant, but everyone was so welcoming and kind, so eventually, we felt comfortable enough to enter and explore inside.
Wat Chetlin caught my attention, as it sits beside a lake with lotus flowers and lily pads and has bamboo pavilions to sit at and relax. The bamboo walkway is colorfully decorated, leading to the monks' quarters.
Wat Fon Soi, the temple closest to the Chiang Mai Gate market, boasts a white stucco chedi.
We ran into so many temples that we couldn't keep up with all of their names! They were all so beautiful, so we wanted to share a few more pics:
Walking around in Chiang Mai in the middle of July can be hot, humid and draining. Basically, solely due to the fact that they had air conditioning, we made our way to the cutest restaurant ever, B. Sam Cook. We were instantly enamored by the coy pond and elephant display outside, as well as the adorable wooden swing at the entryway, which we totally played on.
When we walked in, we were treated like royalty! The waiters/owners immediately brought each of us free bottled water and a refreshing beverage on the house – obviously, this was a cheersing boomerang opportunity.
Our meals could have fed an army, the portions were so large, and the prices were reasonable. Naturally, I ordered the yellow curry, which not only looked amazing but also tasted amazing! At the end of our meal, they brought us ice cream bars also on the house. I'm not sure if they serve everyone in this way, but our experience of the service here was over the moon; you can check out the other raving reviews for the restaurant here.
We were so giddy from our amazing stroll and then even more so after our experience during our first meal in Chiang Mai – a true treat!
After lunch, we wandered a bit more before heading back to officially check into our room. Our room was clean, bright and white, with two twin beds, a desk, a wardrobe and a fridge, which we discovered did not stay on when we left the room (so our leftovers from lunch went bad while we were out later in the evening); it also had a fully functioning bathroom with shower.
Note: in Thailand, toilet paper/tissue is limited, so we had to request more or come prepared with our own – even in the hotel.
That evening, we naturally checked out like one million more temples, and it is definitely worth discussing a couple of these beautiful, must-see temples!
Wat Chedi Luang, a Buddhist temple in the Historical Centre of Chiang Mai, was one of our favorites. Apparently, an earthquake substantially damaged the chedi, and UNESCO and the Japanese government worked to restore the temple and to stabilize the site to prevent further damage. The top was never reconstructed, as there wasn't a clear idea of how it originally looked. The entrance fee was 40 TBH (~$1.26 USD) at the time, and luckily, it stayed open until 5 PM, so we were able to fit it in. Wat Chedi Luang is also famous for once housing the Emerald Buddha, one of the most important religious relics in Thailand.
Wat Chiang Man is a Buddhist temple located in Old City and is actually the oldest temple in Chiang Mai, going all the way back to the founding of the city in 1296. We just walked in; there was no admissions charge, and, of course, we immediately fell in love with all of the elephant statues.
Our final stop along the way was at the Tha Phae Gate on the eastern side of the Old City. The gate is part of a crumbling wall that once acted as a fortress back in the 13th century and is located near a bustling public square filled with souvenir, book and food vendors.
A Broad Recommendation: Check out the Tha Phae Gate on a Saturday evening to see a live band perform in front of the gate.
Similar to the rest of the day, we strolled all the way over to the Riverside area, which was a bit of a trek, before heading to dinner at The Good View. In my opinion, this one was nothing to write home about. We were mainly concerned with finding air conditioning again and ended up here after being disappointed with The Riverside Bar & Restaurant's AC situation.
After doing some quick research, it turns out that The Good View is actually a popular restaurant in Chiang Mai, overlooking the River Ping. Indeed, the restaurant is large, with an indoor section and an outside terrace with seating down towards the riverbank. I think, perhaps, since we were so sweaty from walking, and we requested to sit in the bar area, which was the coolest area temperature-wise, we may have missed out on some of the allure of this place; plus, I personally just didn't like the dish I ordered and thought the service was subpar in the area we sat in.
By this point, we were pretty worn out, so we hopped into our very first Tuk-Tuk to head back into the main part of town and had a blast and a half riding on that thing – Tuk-Tuks are similar to the Rickshaw I had zipped around on in Delhi.
A Broad Recommendation: Tuk-Tuk pricing varies from driver to driver, so make sure you have cash/exact bills on hand to negotiate if you feel it's too pricey.
Back in town, we found a neat night market with cheap/reasonably priced handmade goods and artwork. The market filled the streets with vendors and was a cool sight to see even if you didn't purchase anything.
Almost as quickly as we had started our walk through the markets, we found ourselves caught in a torrential downpour and spent some time hiding from the rain before deciding that our next move was to find a place to get foot massages.
After 45 minutes or so, we mustered the confidence to face the rain and found Thai Hexi SPA, a massage place just a couple streets away. Naturally, we find ourselves chatting with folks from the U.S. in the lobby and learn that some of them are from Seattle, where Candace lives, and have friends in Houston, where I live. So random! Not only that, but these folks had been in Phuket and were able to give us some advice on where to stay and what to do, since that was one of the places we were headed to later on our trip.
The massages were totally on point, and you can't beat the prices in Chiang Mai! A one-hour foot massage on special was 199 TBH (~$6.25 USD) plus 40 TBH tip (~$1.25 USD), and it was the best foot massage I've ever had. We took a pamphlet with us, since we had such a great experience and wanted to go back again before leaving Chiang Mai.
Our next day was absolutely amazing; it was one we had been anticipating for a long time! We were picked up from our hotel via a group shuttle to head to The Elephant Nature Park, where we were to spend the entire day hanging out with some really cool elephants.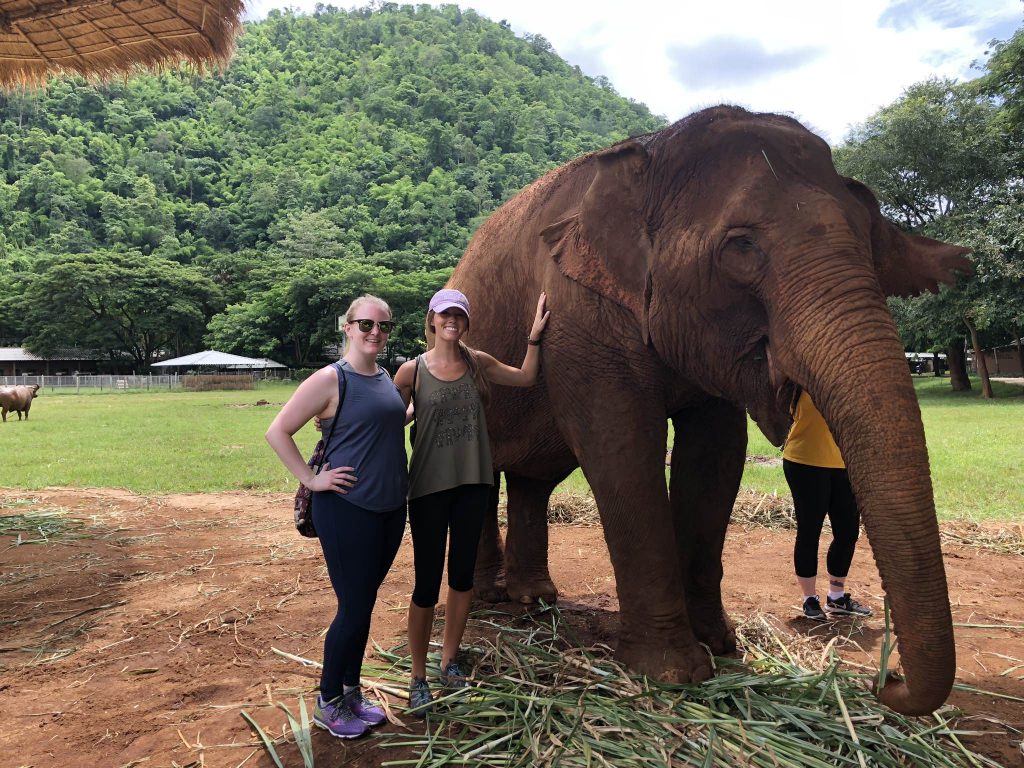 Check out our Elephant Nature Park post to read all about our visit; there's just too much to include in this post. For now, here's a few pictures as a sneak peek.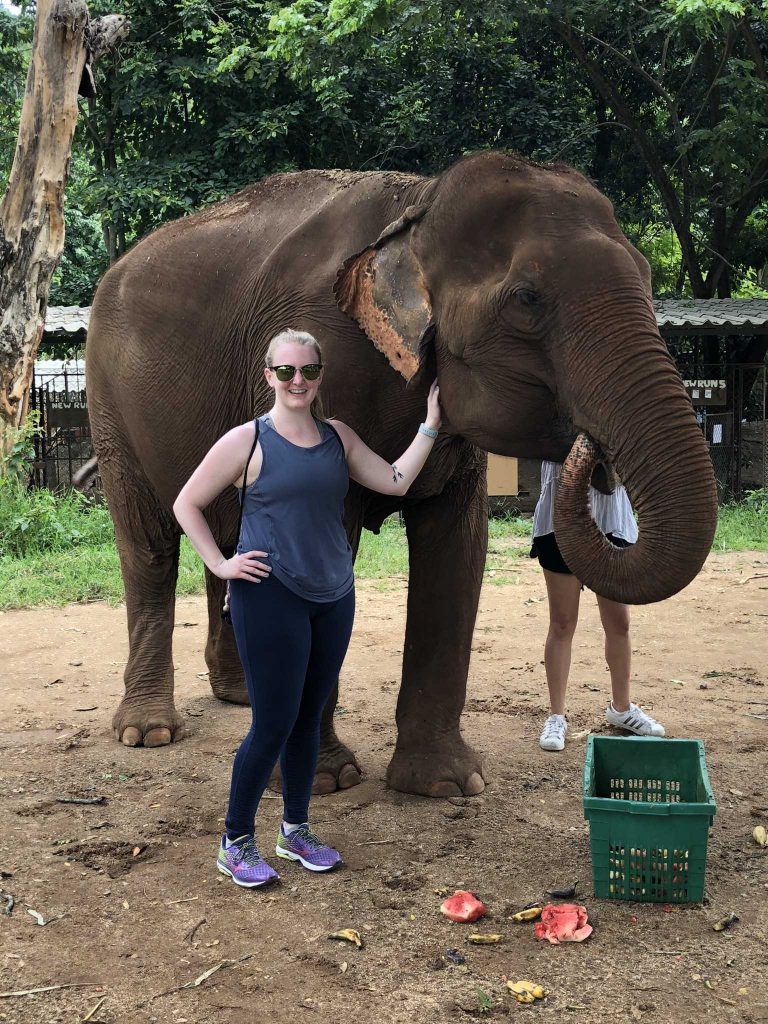 I think we took over one thousand photos on this day alone between Candace and myself, and she is NOT a photo taker by nature, so that's saying something!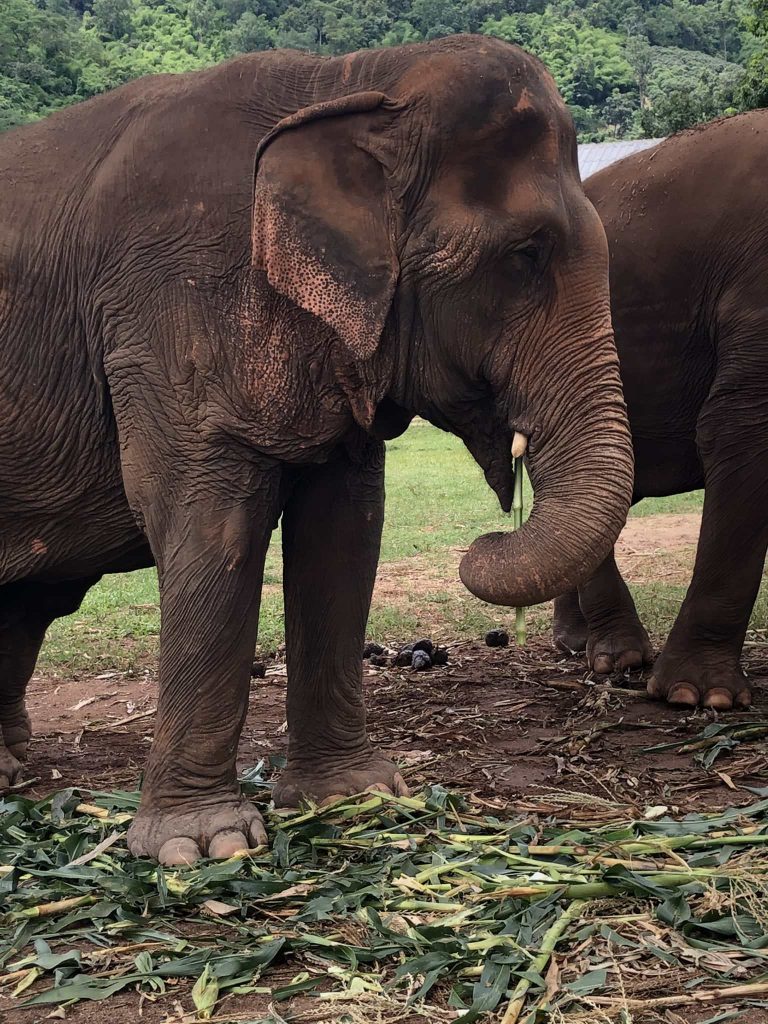 Not only was this an amazing experience for us, but with all of the work the park does in the community and the opportunities they provide, we can't recommend this place enough!
When we got back, we freshened up a bit before meandering our way to See You Soon, which was not only just a cute dinner spot with a vast menu but also an adorable boutique with fashionable clothing, jewelry and small souvenirs!
After our yummy meal, each of us picked out a cute top (or a few!) and had a very interesting time in the dressing room together – ha; they don't have mirrors! So, we were taking pics of each other and selfies trying to figure out if our outfits looked good or not; this was hilariously fun, and we ended up landing on a cute crop top for me and a sweater for Candace.
We decided to call it an earlier night after a long, fun-filled day and headed back to the hotel to do some planning for the remainder of our trip.
For our last day in Chiang Mai, we decided to hike the six-mile trek along Monk's Trail up Doi Suthep mountain to see Wat Phra That Doi Suthep, since this was boasted as another Chiang Mai must-see temple.
We used the Grab app, which is similar to Lyft or Uber, to call a driver to drop us off at the mysterious trail head just past Chiang Mai University; this cost us 305 TBH (~$10 USD). Considering we couldn't read the signs, we made the bold assumption that the drop-off location was correct and started off our journey strong with positive vibes.
We didn't have to go too far before we arrived at Wat Pha Lat, a smaller temple nestled among the trees. We stopped to meditate at the first lookout, reflecting and enjoying the serenity; it was truly magical sitting in silence among the trees and thinking about how blessed we were to be in Thailand.
After 15 minutes or so, we started exploring and thankfully, found some bathrooms.
Note: Again, always, always carry tissues or toilet paper and hand sanitizer wherever you go – there was no toilet paper or soap in the bathrooms.
After a bit of exploring and taking pictures, we continued our trek up the mountain; this is where things began to get pretty strenuous, as the remainder of the hike was uphill for the most part with few places to stop and rest (or to use the restroom).
A Broad Recommendation: pack a lot of water; there was a small cafe at Wat Pha Lat, but you will go through several water bottles on the way up from there – like at least three each, and we were still very thirsty when we reached the top. There are shops and cafes at the top of the mountain, but I can't speak to what types of food they offer, as we just got waters.
We ended up climbing 5,500 feet in elevation, which was totally worth it for the spectacular 360 degree views at the top; you can even see downtown Chiang Mai.
Wat Phra That Doi Suthep is a Buddhist temple that serves as a sacred site to many Thai people. Entrance to the temple costs 50 THB (~$1.50 USD) per person, and as with most temples, you will need to be dressed conservatively with shoulders covered. You will also need to leave your shoes outside of the temple. Don't worry! Shoes can be worn everywhere else on the premises.
Upon entering the temple, you will immediately notice the jaw-dropping golden chedi, as well as the five-tiered umbrella, which marks the city's independence from Burma and its union with Thailand. Lotus blossoms and other offerings are left at the shrines surrounding the chedi.
Other than hiking, there are several alternatives to getting to Wat Phra That Doi Suthep, including car, motorbike/scooter, or catching a ride in a red songthaew (red trucks that act as shared taxis throughout Chiang Mai). If hiking isn't your thing, it may be best to check out some of these alternatives.
The descent down, of course, was much less exciting, albeit a bit easier but still taxing on our knees. We were both yearning to make it back and get some food. When we finally made it back to the beginning of the trail head, which seemed to take so much longer in our minds than in reality, we called another Grab Taxi, which was only 160 TBH (~$5 USD) this time.
For lunch, we went right next-door to the Norn-Nanta House, where we had frequented for Thai Tea during our stay; if you have never had Thai Tea, you NEED to try it in Thailand.
The food was just okay; I think I only managed to finish half of the curry I ordered, as the portions were huge. I will say, we only spent 300 TBH, or ~$10 USD, total between our meals and the Thai Teas, so that was a steal for sure.
After lunch, we just chilled for a bit – phew!
Then, that evening, we took a Tuk-Tuk for a trivial 80 TBH, or $2.50 USD, (no more walking for us!) back to Thai Hexi SPA and each had absolutely fabulous three hour massages. Let me tell you: Thai massages are where it's at! We literally paid 3200 TBH (~$50 USD) each, and the massages were better than any massage I've ever gotten back home. We also tried to tip well (100 TBH, or ~$3.15 USD, per person), and the owner was so overly grateful that she would not accept the full amount, so we ended up tipping half as much. This was an amazing way to end our visit to Chiang Mai, and again, we highly recommend Thai Hexi SPA for their wonderful services.
After massages we ate at some random vegetarian place with air conditioning that we found near the spa and took another Tuk-Tuk home for 150 TBH (~$5 USD) to start packing and relaxing before our next leg of our journey.
Check back with us soon to see where we went next, and don't forget to pin it!
XOXO Travel A-Broads