When I thought about visiting Thailand, my first thought was ELEPHANTS. I've loved elephants since I was a kid, so when we started planning our trip I knew we needed to visit an elephant sanctuary; I also knew that a lot of places exploit and abuse elephants, and it was important to me that we not support any of those places during our trip. I was careful to do some research before booking this part of the trip, and in doing so, I learned that the Asian elephant is an endangered species, with an estimated 3,000 – 4,000 living in Thailand and 30,000 remaining in the world.
A Broad Recommendation: If the elephant parks you are looking at allow or advertise riding the elephants or seeing the elephants do circus-like tricks, then they likely abuse the animals and you should consider looking for another option.
Enter the Elephant Nature Park, which is located just outside the city in Chiang Mai. I'd be lying if I said I didn't choose to visit Chiang Mai mainly so that we could visit this nature park, which a friend of mine had actually been to a few months before!
Not only does the Elephant Nature Park serve as an elephant rescue and rehabilitation center, they also rescue and care for many other animals such as dogs, cats, and buffalo. There are several ways that you can visit this rescue, including a single day excursion, which is what we ended up choosing.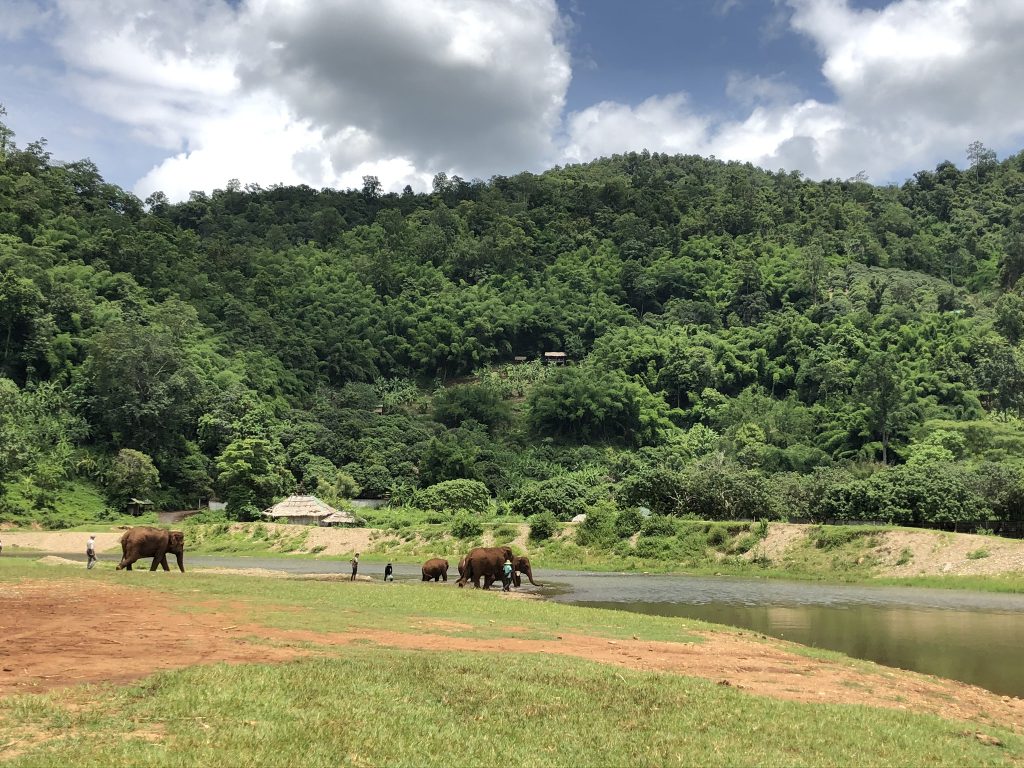 The day had finally arrived for us to visit the elephants, and to say we were giddy would be an understatement! As part of the day trip package, we were picked up by a shuttle that took us, along with the rest of the group, on the 90 or so minute journey from the city to the park.
A Broad Recommendation: You can bring one small bag with you on this day trip, so be sure to pack sunscreen, insect repellent and Thai Baht to pay the balance of your fees when you arrive. Note that you only pay a deposit online before the visit; there is an ATM available on site, but you won't be able to pay via credit card when you get there.
When we got there, it was everything we'd hoped for! There were elephants walking around and some who'd come up to the deck with their trunks resting there so they could be fed. We were shown how to feed the elephants by placing fruit, mainly watermelon and bananas, near their trunks and then got to watch them eat up.
We were then broken out into groups and given our tour guides for the day before setting off to interact with the elephants.
As the tour guide led us to the first group of elephants, he explained to us that the elephants gather into "families", generally with 2 or 3 elephants each, and these families live separately throughout the park. Given that all the animals are rescues, I asked how they determine these families, and he said that they allow the elephants to interact and ultimately choose their own families.
As we continued around the park, meeting the various elephant families, we learned that many of the elephants were either blind or injured. Those that were blind were simply due to cataracts that developed with old age – it turns out that elephants have a similar lifespan to humans, living on average to be in their 70s, and several of the elephants at the park were even in their 80s.
Fun fact, you can spot an older elephant by looking at the dimples above their eyes; the deeper they are, the older the elephant!
The elephants who had injuries didn't always have such a positive story; a few that we met had injuries on their feet from stepping on landmines prior to being rescued, and at least one of these still had to have her foot re-bandaged daily years later because the injury never fully healed.
Luckily, these elephants were likely to find families to bond with and to care for one another – one in particular was a family of three where two of the elephants guided the third blind elephant by walking on either side of her.
Around midday, they brought us back to the main viewing area for a vegetarian buffet that was included in our trip; note: all lunch options were vegetarian. During that time, we were able to eat and hang out on the viewing decks, which do have WiFi for those wondering; it was also a good time to check out the cat rescue area and to learn about the volunteer opportunities at the park, which I'll talk more about soon.
After lunch, we headed over to observe the elephants bathing; since 2018, the park no longer allows people to get in the water with the elephants in an effort to allow the animals to live as naturally as possible.
We learned that all of the elephants that we interacted with were females, as the males were too aggressive for us to meet and were kept in another part of the park. There were two exceptions to this rule, and those were the babies! There were three babies at the time, two of which were male and were allowed to stay with the females until they reached about eight years old, depending on their temperament.
Two of these babies – one male and one female – were born at the same time. Our guide called these three year olds the "naughty" babies, and they were a part of the largest family in the park. We learned that this is because the adult female elephants join together to raise the young instinctively, so their family consisted of about eight elephants.
You can tell which of the babies is male because Asian elephants, distinct from African elephants, only have tusks if they are male; the females have very short tusks that are mostly inside their lip and not noticeable. So the baby boy seen here is the one who noticeably has tusks.
We got to see this family of elephants bathe, play and eat their dinner. This was pretty hilarious given that we were warned the babies weren't aware of their size, and therefore, we should not get too close. As they played and came toward us, our group kept running to get out of their way, often separating from each other to do so, including our guides who were telling us to run!
Once we finished up with the last few elephant families, we headed back and had time to visit the gift shop, where I purchased super cute red elephant pants, before heading back to Chiang Mai.
Besides the excellent care for the animals they rescue, the Elephant Nature Park also helps with rain forest restoration through the planting of trees; cultural preservation through the employment of and purchasing of agricultural products from local villagers; and the education of visitors.
Here are some ways to get involved; check out the Elephant Nature Park website for more information:
Journey to Freedom – live in a tribal village in the mountains of Chiang Mai and learn about elephants, agriculture, and community, while also developing local school children experiences.
Elephant Nature Park – spend a week participating in hands-on conservation work, as you help protect a highly endangered species.
Dog Project – help care for rescued dogs for a week who have escaped flooding and the illegal dog meat trade, as they overcome malnutrition, disease, and abuse.
Volunteer Vet – for qualified veterinarians and veterinary students as part of course work credits.
Currently the COVID-19 crisis has had a huge impact on the ability for this rescue to provide food and proper veterinary care for the elephants and other animals. Here are some ways that you can help from home now:
I cannot over hype our experience at the Elephant Nature Park, and we both highly recommend you visit on your next trip to Thailand!
Check out our Chiang Mai post if you want to read more about our other adventures in this awesome city, and don't forget to pin it!
XOXO Travel A-Broads