When we started planning our trip to Thailand, my first thought was ELEPHANTS. I've loved elephants since I was a kid, so I knew we needed to visit an elephant sanctuary. I also knew that a lot of places exploit and abuse elephants, and it was important to me to avoid those places during our trip.
After some thorough research, I learned that the Asian elephant is an endangered species with an estimated 3,000 – 4,000 living in Thailand and 30,000 remaining in the world.
Enter the Elephant Nature Park, which is located just outside the city in Chiang Mai, Thailand. I'd be lying if I said I didn't choose to visit Chiang Mai mainly so that we could visit here.
*P.S. this post contains some affiliate links. At no additional cost to you, we may earn a small commission when you make a purchase.
What is the Elephant Nature Park?
Not only does the Elephant Nature Park serve as an elephant rescue and rehabilitation center, they also rescue and care for other animals such as dogs, cats and buffalo. There are several ways to visit the Elephant Nature Park, including a single day visit, which is what we did.
And, we could rest assured that this place was legit, since a friend of mine visited a few months before us. To say we were giddy to visit here would be an understatement!
A Broad Recommendation: If the sanctuaries you're researching allow or advertise riding elephants or watching them do circus-like tricks, then they likely abuse the animals, and you should look for another option.
Getting to the Elephant Nature Park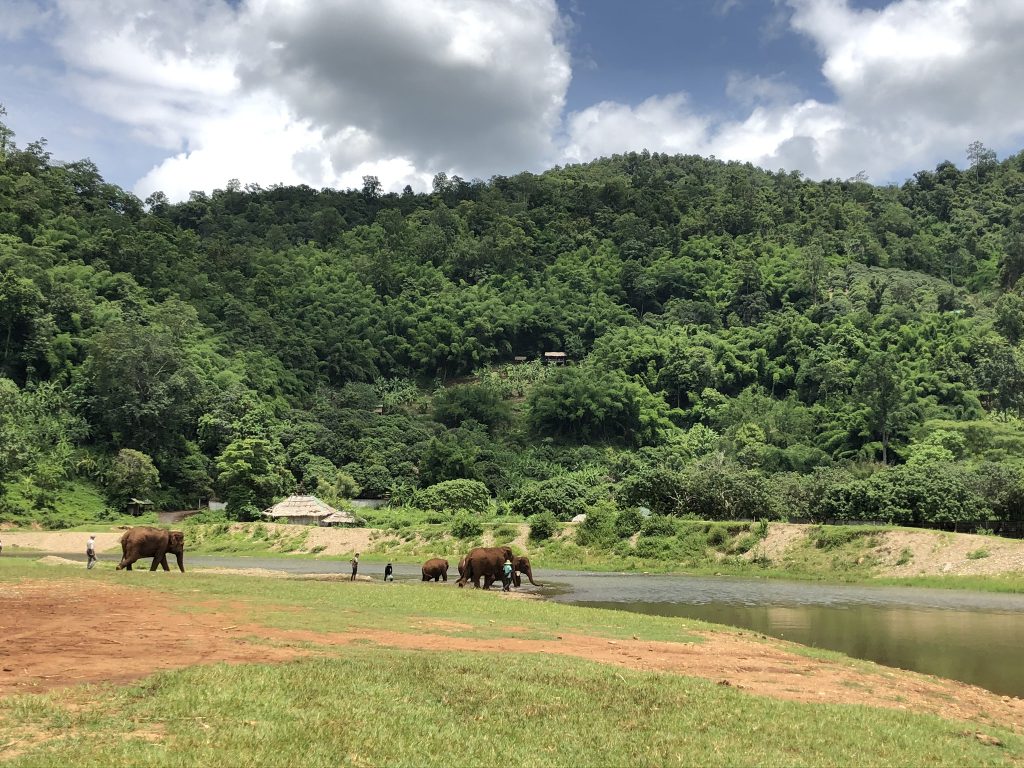 We were picked and driven by shuttle from Chiang Mai to the Elephant Nature Park; the drive is about 90 minutes or so.
A Broad Recommendation: You can bring one small bag on this excursion. Be sure to pack sunscreen, insect repellent and Thai Baht. When booking online, you only pay a deposit, and you'll have to pay the remaining balance in person. There's an ATM available on site, but you can't pay by credit card.
A Day at the Elephant Nature Park
Right when we arrived, we could already tell this day was going to be everything we'd hoped for! There were elephants walking around everywhere.
First, we learned how to feed the elephants. We placed some fruit, mainly watermelons and bananas, near their trunks, and watched them eat up.
Next, we split into groups and met our tour guides before setting off to interact with the elephants.
As our guide led us to the first group of elephants, he explained that elephants naturally gather into "families". A family typically consists of two or three elephants, and each family lives separately throughout the park.
Since most of the animals here are rescues, I was interested in hearing how the families are formed; our guide explained that they allow the elephants to interact and ultimately choose their own families here.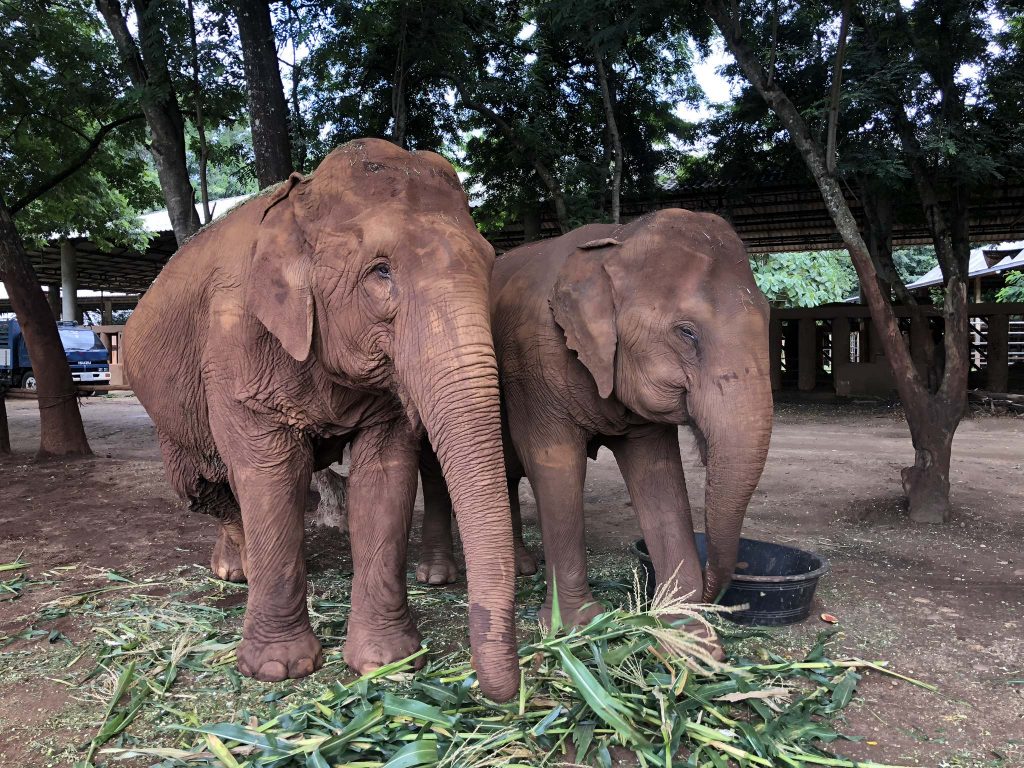 As we continued meeting the various elephant families, we learned that some of the elephants were blind; this was typically from cataracts that developed with old age. It turns out that elephants have a similar lifespan to humans, living on average to be in their 70s. Several of the elephants at the park were even well into their 80s!
Fun fact, you can spot an older elephant by looking at the dimples above their eyes; the deeper they are, the older the elephant.
There were also elephants that had been injured prior to rescue. A few had foot injuries from stepping on landmines, and one still had to have her foot re-bandaged each day years later because the injury never fully healed.
Luckily, all of these elephants found families to bond with that care for one another. One was a family of three where two of the elephants guided the third blind elephant by walking on either side of her. How amazing is that?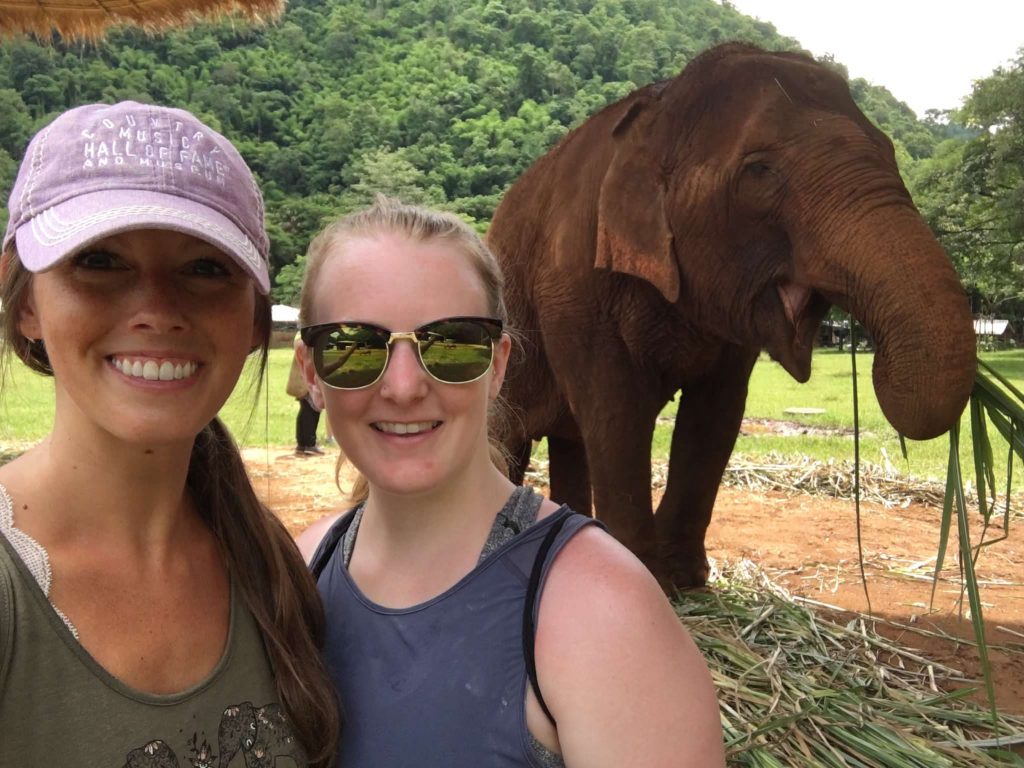 Around midday, we were brought back to the main area for lunch. Note: there's a vegetarian buffet included in your visit.
During our lunch break, we hung out on the viewing decks and enjoyed a bit of WiFi. We were also able to explore the cat rescue area and learn about volunteering opportunities at the park – more on that in a bit.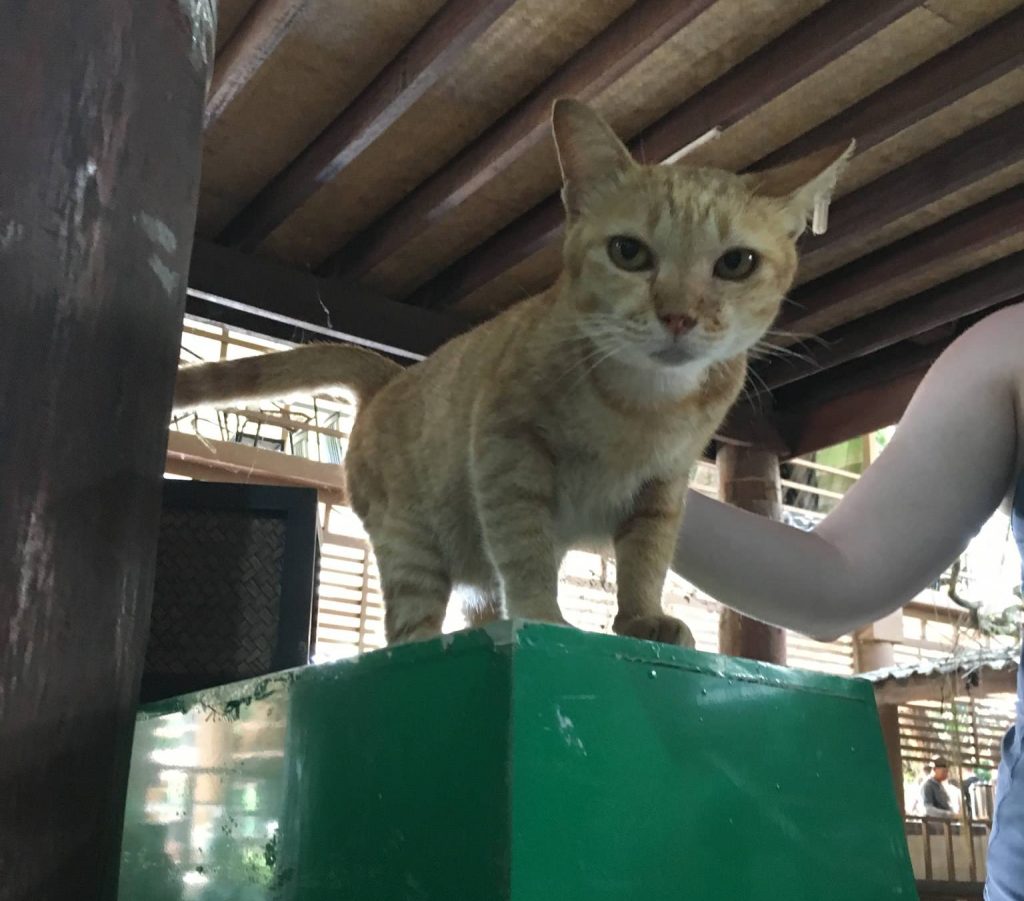 After lunch, we got to watch the elephants bathe; since 2018, the park hasn't allowed people to get in the water with the elephants. The hope is to allow the animals to live as naturally as possible.
Here, we learned that all of the elephants we had interacted with were females; the males apparently were too aggressive for us to meet and were kept in another part of the park. There were two exceptions to this rule, and those were the babies!
There were three babies at the time, two of which were male. The babies are allowed to stay with the females until they reach about eight years old, depending on their temperament. This meant that we got to meet them too!
Two of the babies – one male and one female – were born at the same time. Our guide humorously referred to these three-year-olds as the "naughty" babies.
You can tell which of the babies is male because only male Asian elephants have tusks; the females have very short tusks that are mostly inside their lip and not noticeable. This is distinct from African elephants.
Since adult female elephants join together to raise their young instinctively, this family consisted of eight elephants, making it the largest family in the park. We got to see the family bathe, play and eat their dinner.
The whole experience was actually hilarious. We were warned that the babies weren't aware of their size and thus, we shouldn't get too close. As they played and came toward us, the entire group had to run to get out of their way. And, we often got separated from each other and our guides who were the ones telling us to run in the first place!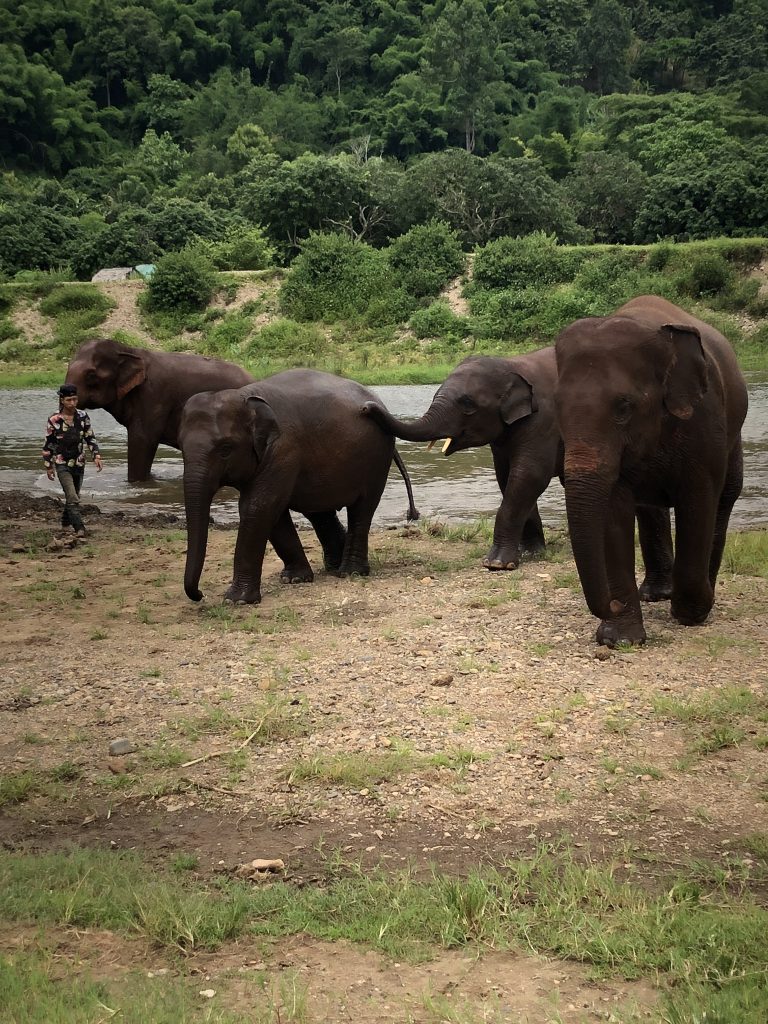 Once we finished visiting with the last few elephant families, we stopped at the gift shop before heading back to Chiang Mai.
How to Help the Elephant Nature Park
Besides providing excellent animal care, the Elephant Nature Park also helps with rain forest restoration through the planting of trees; cultural preservation through the employment of and purchasing of agricultural products from local villagers; and the education of visitors.
There are lots of ways to get involved! Check out the Elephant Nature Park website for more information:
Journey to Freedom – live in a tribal village in the mountains of Chiang Mai and learn about elephants, agriculture and community, while also developing local school children experiences.
Elephant Nature Park Weekly Volunteer – spend a week participating in hands-on conservation work, as you help protect a highly endangered species. You'll get to prepare the elephants' food, feed them and watch them interact in their natural habitat.
Dog Project – spend a week caring for dogs rescued from flooding and the illegal dog meat trade, as they overcome malnutrition, disease, and abuse.
Volunteer Vet – for qualified veterinarians and veterinary students as part of course work credits.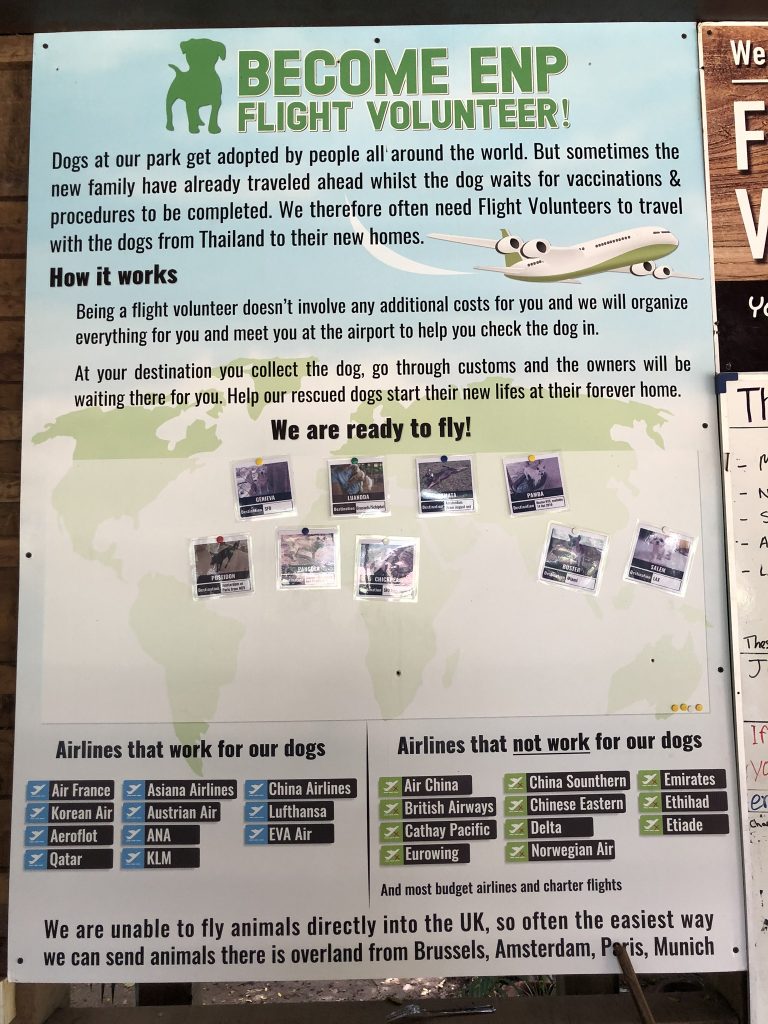 COVID-19 had a huge impact on the Elephant Nature Park's ability to provide food and proper veterinary care for the elephants and other animals. Here are some ways that you can help: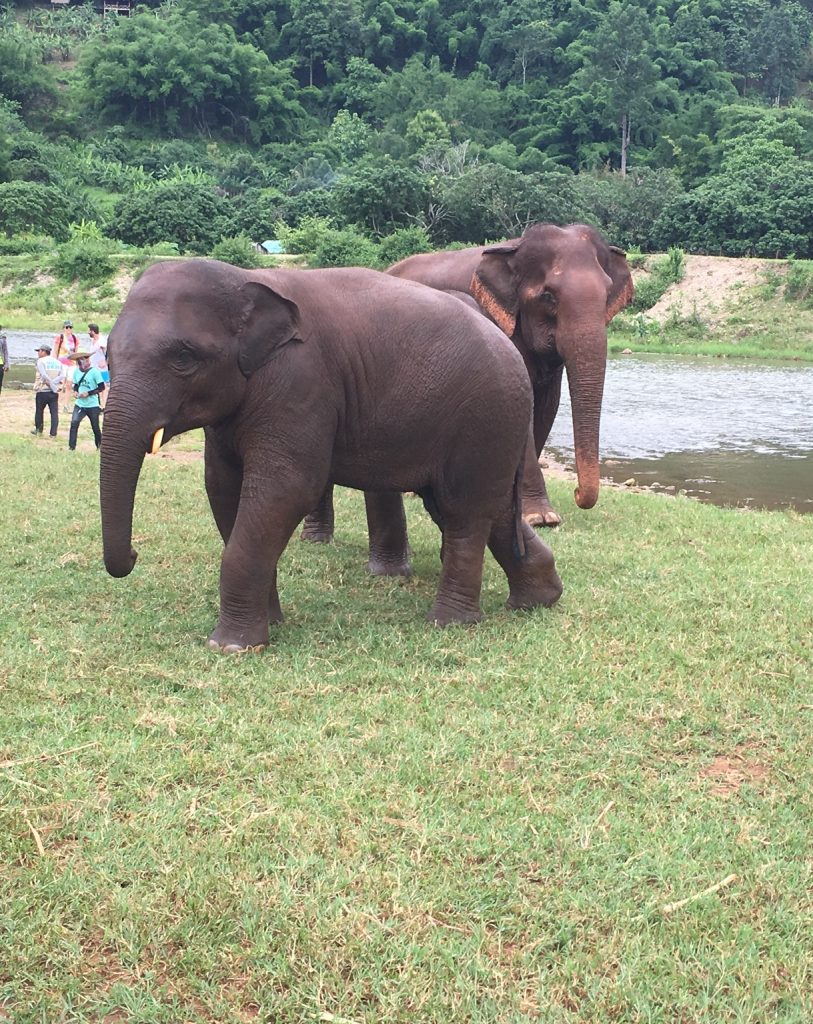 I cannot over hype our experience at the Elephant Nature Park and highly recommend a visit if you have at least two days in Chiang Mai, Thailand!
XOXO Travel A-Broads