After an absolutely amazing time in Chiang Mai, we headed to the airport for our short flight to Hanoi, Vietnam. And right away, things got pretty interesting!
*P.S. this post contains some affiliate links. At no additional cost to you, we may earn a small commission when you make a purchase.
The airport was a short taxi ride from where we had been staying, so getting there was a non-issue, but once we arrived, it became clear that Candace's Vietnam visa was not "valid". Although her visa had been approved online, she was unable to print it, and a printed copy was required to board the plane. We both had tried several times before the trip using various devices and browsers with no luck, and to our surprise, our airline representative wasn't even able to print it.
Note: unfortunately, if there is an issue with your visa, it's quite difficult to resolve in our experience; Candace tried calling/emailing before the trip and never received a response. She was unable to apply for another visa because hers was technically already approved/in processing. This is something we don't really have great advice for, but we wanted to share our experience as a heads up. Hopefully no one else has to go through this stressful process!
After a bit of initial panic, we were blessed to have the most wonderful airline representative ever call the Vietnam Embassy/Immigration Office to explain the situation and to put a flag on Candace's info, so we wouldn't have any problems when we arrived. Huge kudos to the AirAsia staff on this one – they were top notch in this dire situation.
A Broad Recommendation: if possible, try to sort our your visa before getting to the airport; we flew the same airline on another leg of our trip, and the representatives were not nearly as kind and understanding as they were at this airport, and they certainly wouldn't have bent over backwards for us if this had happened there.
We arrived in Hanoi around 3 PM and went directly to the visa help desk where they handed Candace her printed visa – phew! We were headed to the Hoan Kiem District and already had transportation booked through our hotel, Hanoi Morning Hotel; it took us around 40 minutes or so to get there.
The hotel wasn't really anything to rave about in my opinion; the AC was broken or non-existent in the hallways and in the elevator, which was a little bit miserable after being outside in the heat.
Quick note here to say that Vietnam is HOT and humid in July. Mentally prepare yourself for potential temperatures in the 100+ degrees (Fahrenheit) range even at night; as Candace would say she was "literally wearing a sweat rag disguised as a shirt" the whole time we were there.
The room was fine; the safe was missing when we checked-in, but the staff was happy to bring us one to secure our valuables. We had twin beds, a small bathroom and a TV, which is really all you need, and let's be real, the room only cost us $28 USD per night, so who are we to complain.
All of that being said, the staff was very kind and accommodating, and the location was perfect for us. Plus, we had a pretty neat view from our room.
We began by just walking around and exploring a bit like we had in Chiang Mai, but things were quite different here and much more crowded.
A Broad Recommendation: when crossing busy streets, walk at a normal pace and DO NOT slow down, speed up, or try to avoid the traffic; folks will go around you. We looked this up before our trip and although it felt strange at first, it actually worked great.
As we do, we searched for a restaurant with air conditioning and found a cute spot at the Essence Hotel for dinner. As the name implies, we did indeed eat at a fancy hotel, and the staff was absolutely amazing. Candace didn't love one of her dishes (she had thought she was ordering something different than what she actually got), and the waitress took it off the bill completely without us even asking. She also wrote us the sweetest note and told us some places to check out during our trip, i.e. good bars/clubs, girls' nights, etc.
After dinner, we headed to the Old Hanoi for drinks, a decision made simply by walking around Old Quarter and scoping out drink deals. Candace and I got into some deep conversations over six – or maybe it was eight – beers, and this restaurant had the perfect vibe for that.
The next morning, we woke up early and grabbed some of the hotel's complimentary breakfast before heading out for our amazing overnight cruise to Bai Tu Long Bay. This was such a cool experience that we gave it its very own post!
Fast forward a day and a half, and we were back in Hanoi and off exploring some more!
One of the things we had to see was St. Joseph's Cathedral, which to me, looks like a mini-Notre Dame of Paris, France. We stayed long enough to hear the ringing of the church bells, then moved on.
We walked over to Ngon Son, a temple that sits along Hoan Kiem Lake, but unfortunately, we arrived just a bit too late, and they were no longer allowing visitors. Again, we decided to meander on looking for another air conditioning-filled spot for dinner. This is when we stumbled upon Highway 4, and I must say that their food was delicious, especially the fried Taro cakes. Not to mention, they had several Hanoi Cider options on the menu that we were especially excited to try out.
After our ciders, we moved on to Always Coffee and Butterbeer, a Harry Potter-themed cafe that Candace was obviously obsessed with.
She was able to snag a Butterbeer, some small keepsakes and lots of pictures dressed up in her robe.
Next, we checked out the Hanoi Weekend Night Market, which is open every Friday, Saturday and Sunday, and runs from Hang Dao Street to the edge of the Dong Xuan Market. The streets bustle with food vendors and stalls set up with inexpensive, handmade jewelry, clothes, shoes, sunglasses, handicrafts, paintings, souvenirs, and more.
I love collecting ornaments and jewelry from every place I visit; my Christmas tree has ornaments from all around the world, reminding me of my fun adventures! The earrings I found here were absolutely adorable, and of course, the seller was more than grateful for my purchase.
We decided to head back early to watch some Big Bang Theory, which we had gotten into again on the trip, and to rest up for another day of exploring and travel.
The next morning, we went upstairs again for our complimentary breakfast and enjoyed the picturesque, nearly 360 degree views of the city.
Our first excursion of the day was to the French Quarter to visit Hoa Lo Prison; the entrance fee was 30,000 VND or ~$1.30 USD – yes, very well worth it for the visit, if I do say so myself. We chose to do the audio tour, which was an additional fee; again, the cost was nominal and having the audio was a game changer for us – this is coming from someone who doesn't typically enjoy audio tours too!
The visit was eerie and sad, as we learned the history behind each room. Hoa Lo loosely translates to "fiery furnace" or "Hell's hole", and the prison lived up to its name. Built by the French back in the 1800s when Vietnam was part of French Indochina, the prison was overcrowded with dangerous or long-term sentenced detainees, primarily political prisoners involved with the Vietnamese resistance.
Prisoners were malnourished, suffered from disease and were subject to torture by being held in stocks and in cramped or solitary confinement cells, and to execution by guillotine.
During the Vietnam War, the prison was repurposed to detain U.S. prisoners of war, mainly Air Force pilots that were shot down from the sky and captured from the jungle.
One of the most famous prisoners of war was John McCain, who many Americans would remember as the former U.S. Senator for Arizona and the Republican nominee for president in 2008.
While the Vietnamese government maintains that U.S. soldiers experienced comfortable prison conditions, there were rumors and accounts from U.S. soldiers stating otherwise. Indeed, the exhibit still portrays U.S. prisoners as well fed, clothed, playing sports and being taken care of at the infamous "Hanoi Hilton", as the prison was called during that time.
After the prison visit, we had our spirits lifted at the Lotte Observation Deck, which boasted 360 degree views of Hanoi and its beautiful lakes. This was a fun spot to walk around, relax and take in the views – plus it's air conditioned!
There were a couple of spots where you could stand on a glass floor, take pictures inside a heart or in front of some cute wings, and try to look down without freaking out! Rumor has it that if you spot the big red heart when looking down through the skywalk that means that Cupid has found you. How cute!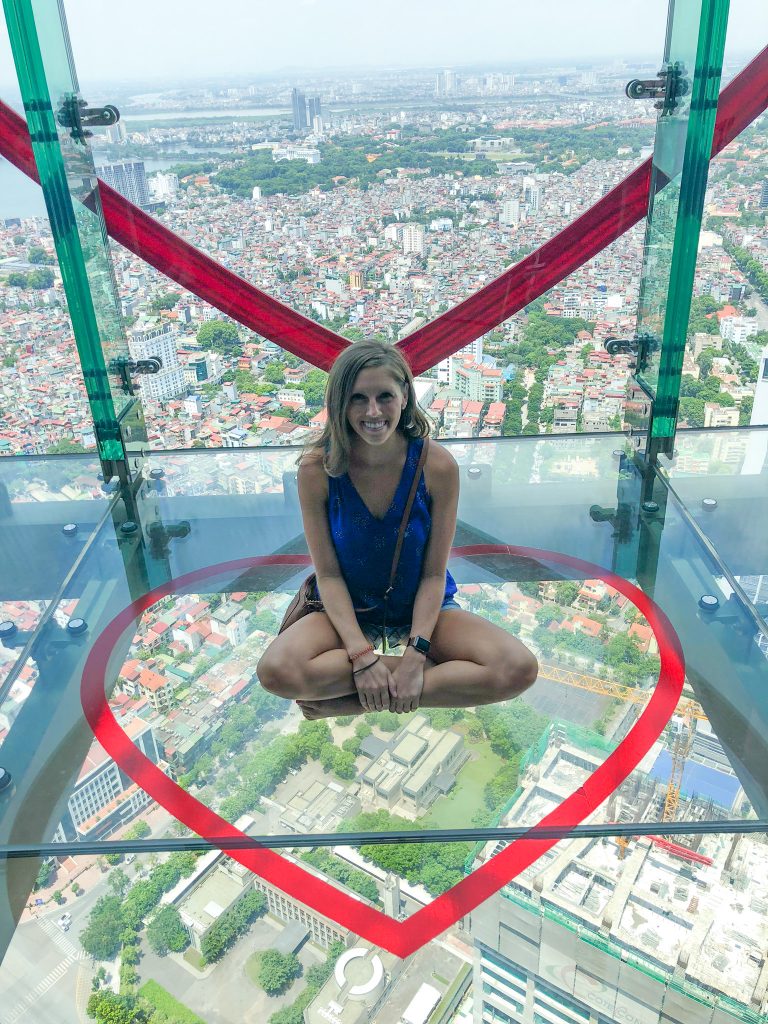 After taking approximately one million pictures, we decided to grab a bite to eat and some wine at the sky lounge, surrounded by the epic view.
The Lotte Observation Deck was truly another great experience on our Hanoi itinerary!
Afterwards, we went back to the hotel to pack our things and to get ready to head to the airport for yet another flight. Luckily, we were able to request a late checkout to give ourselves the opportunity to shower after our day's adventures and before our next flight. It was totally worth the extra fee for the opportunity to leave our luggage behind while we explored Hanoi one last time; I want to say it was $20 USD or less to do so.
If you have more time in Vietnam, check out this 10-day itinerary for Vietnam: From North To South.
Our experience with AirAsia wasn't quite as pleasant this time around; let's just say that we were very lucky that Candace's visa issues were resolved before this point! The representatives here strictly enforced their luggage policies, so we ended up paying an additional $80 USD per bag to check our roller bags – the same bags we'd carried on from Thailand.
A Broad Recommendation: AirAsia weighed our bags and enforced the 7 kg limit. That's the total weight limit for all of your suitcases and hand luggage, i.e. purses, book bags, etc., so if you have a roller bag, chances are you will have to check it. You can do this online before your flight, and it will be cheaper than what we ended up paying. How strictly they enforce this policy does vary from airport to airport, so totally up to you if you'd like to press your luck!
To avoid any issues, we just paid the fee and hopped on our flight to Bangkok, where we spent the night taking turns sleeping during our layover. This ended up working out perfectly, since we didn't have to spend all night worrying about our bags' whereabouts while we tried to catch some shut-eye.
A Broad Recommendation: a neck pillow, earplugs and a sleep mask are must-haves if you ever need to sleep in an airport. The airport stays brightly lit, which is great for security but not great for sleeping!
Where did we head to next? Check out our Khao Sok National Park post! And, don't forget to pin it!
XOXO Travel A-Broads