The last leg of our Southeast Asia trip was spent on the white sandy beaches of Phuket, i.e. the "Pearl of the Andaman" and Thailand's largest island. We planned this so we would end our action-packed adventure relaxing on the beach and getting lots of Thai massages before flying back to India and then, all the way back to the United States.
We considered several beaches, all on the west coast, before deciding on Karon Beach, one of the longest beaches on the island that's most popular with families and couples.
Patong Beach, the most popular and crowded of the beaches, is deemed a major party spot and is lined with nightclubs and bars. Well-known for its Bangla Road, one of the craziest party streets in all of Thailand, Patong has a bit of a risque vibe, which really wasn't what we were looking for after a few weeks of traveling.
We were hoping for a more laid-back, quiet experience, and that's not to say that Karon Beach doesn't have restaurants, bars, shops, nightlife, night markets, etc., but they are just more low-key than Patong. We also considered a couple of other beaches that seemed to be even more low-key and secluded than Karon Beach, so we settled for a happy medium.
We arrived in the afternoon after being transported on the four hour or so ride from Khao Sok National Park – check out our post on Khao Sok to learn more about that part of our trip!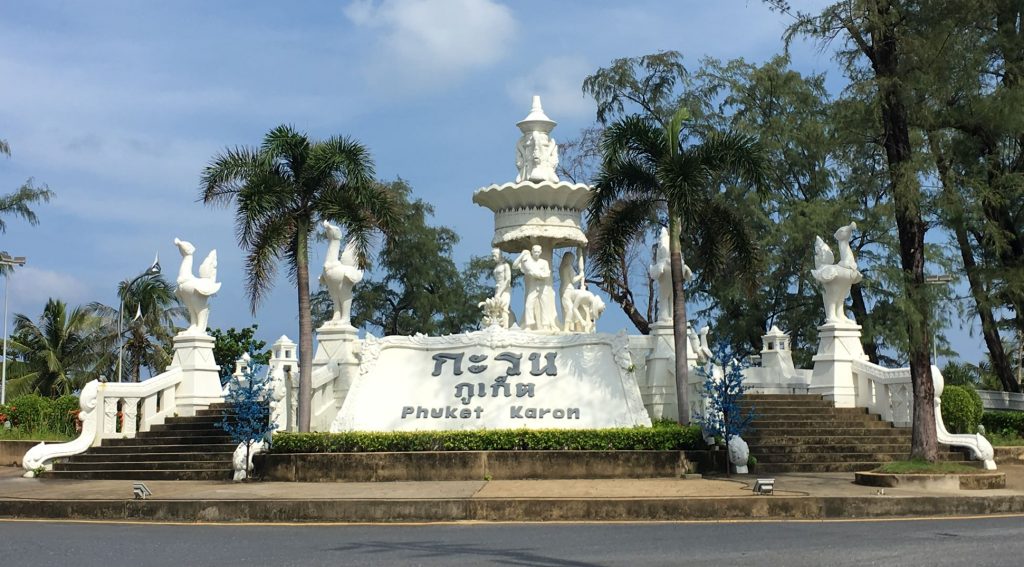 Although late in the day, we were still able to catch some rays on the beach and to feel the water; it was our very first time experiencing the Indian Ocean, which was just so cool!
We chose to stay at the Karon Cafe Inn, which we booked very last minute; even booking just a week before, we ended up getting a steal and paid just $12 per night plus taxes. The place was perfect for us! It had a king bed, a TV, a full bathroom with shower, air conditioning, and a safe. What else do you really need?
Similar to all of the other places we visited in Thailand, the staff were very pleasant and accommodating, but at times, it was difficult to communicate due to the language barrier. The only time this was even remotely a concern was when coordinating our drop-off to the airport, since we had a very early flight and a long drive to the airport. We ended up asking them the night before our departure and this resolved any confusion we may have caused during check-in, and we indeed were picked up very timely and without a hitch!
A Broad Recommendation: I booked all of our hotel stays throughout Thailand and Vietnam (other than our overnight excursions) via hotels.com and they helped me snag some really great deals. An awesome feature is that you get one free night for every ten stays or a discounted night if your eleventh stay is more expensive than the average cost of your first ten stays; hey, I'll take it! Who doesn't love free things? I also used Rakuten, formerly named eBates, and got even more cash back. Of course, the cash back was nominal on these purchases, since everything we did was so darn cheap, but I love free things, so I did it anyway!
The first night, we just did some exploring to get a feel for the area. We checked out the shops and searched for souvenirs before eating dinner at Deepavali Indian Restaurant. Obviously, we didn't get enough Indian food in India, so we needed more in Thailand…LOL.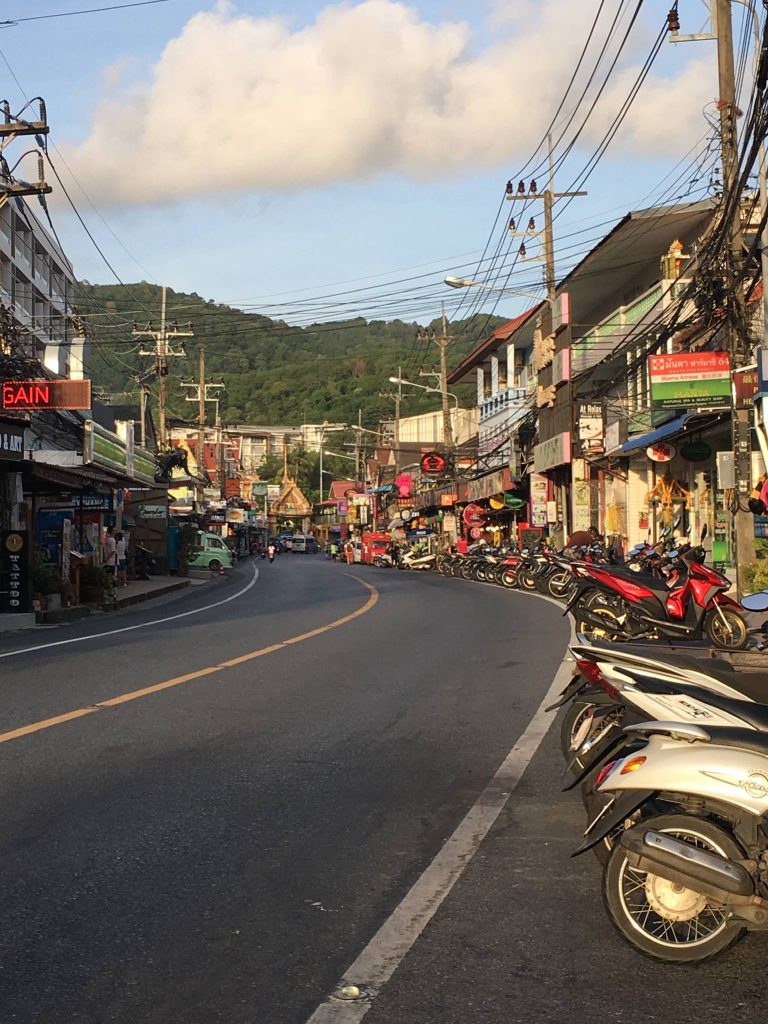 After dinner, we made our way to The Garage OG where we had a couple of Chang beers – because you know, when in Thailand, have Thai beers – and listened to a fun band covering some popularized American music. We also obviously made friends with the stray pup that was hanging around our table; note: we didn't pet it just to be safe.
The next day was a beach day! Finally, some much needed relaxation for us after all of our flights, long drives, and boat rides. First, we picked up a couple of towels for 300 Thai Baht per person (~$10 USD), since we hadn't packed any.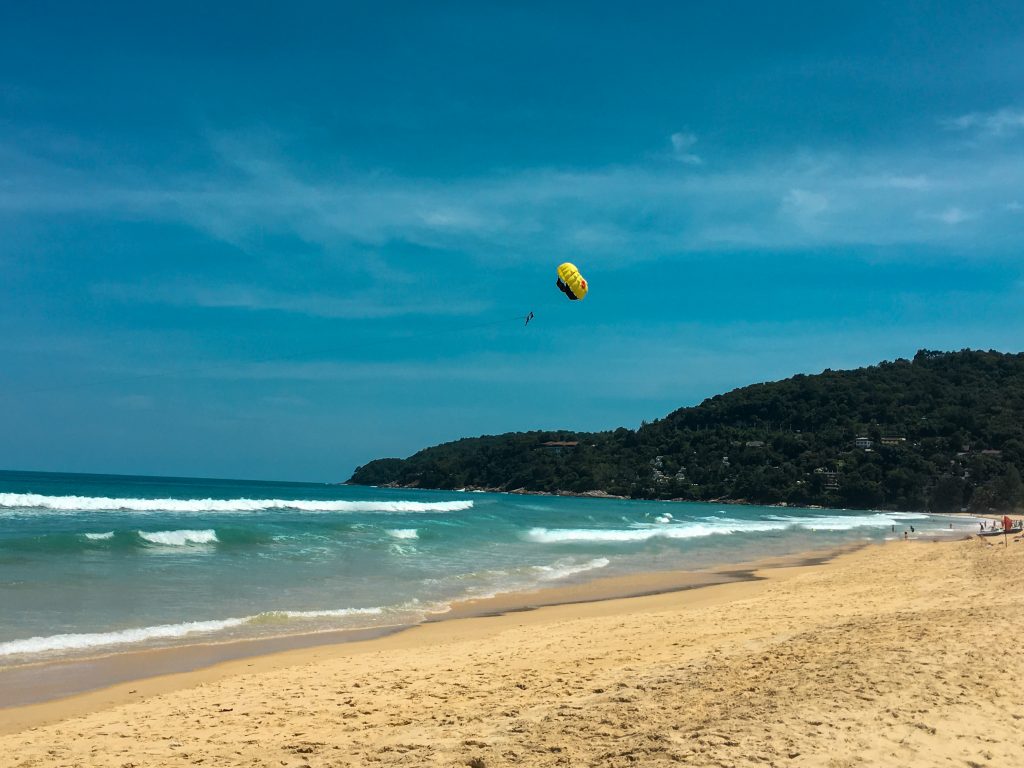 A Broad Recommendation: We recommend not packing bulky items like towels when traveling to another country. You can always pick these up during the trip and even take them home as souvenirs, space permitting! Worst case, they are fairly cheap and can be left behind if you don't have room to carry them home with you.
We also made friends with one of the chair rental guys the day before when he let us sit for free, since it was already so late in the day. Because of his kindness, we promised to rent our chairs and umbrellas from him the rest of the trip; this was only around $5-10 USD per day if I'm remembering correctly and totally worth it for the shade.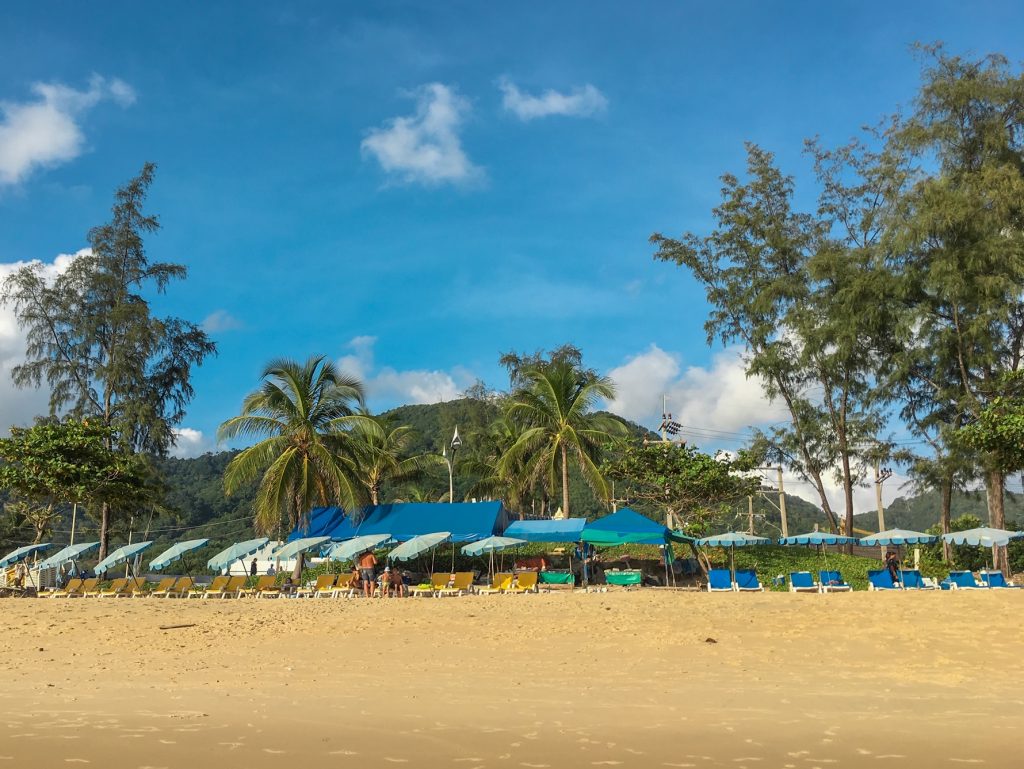 There's lots to do in Karon Beach like windsurfing, kayaking, banana boat rides, water skiing, wakeboarding, jet-skiing, parasailing, etc., and Karon Beach is also the ideal snorkeling and diving spot on the island. We chose not to participate in any of these, but definitely good to know they were options had we chosen to!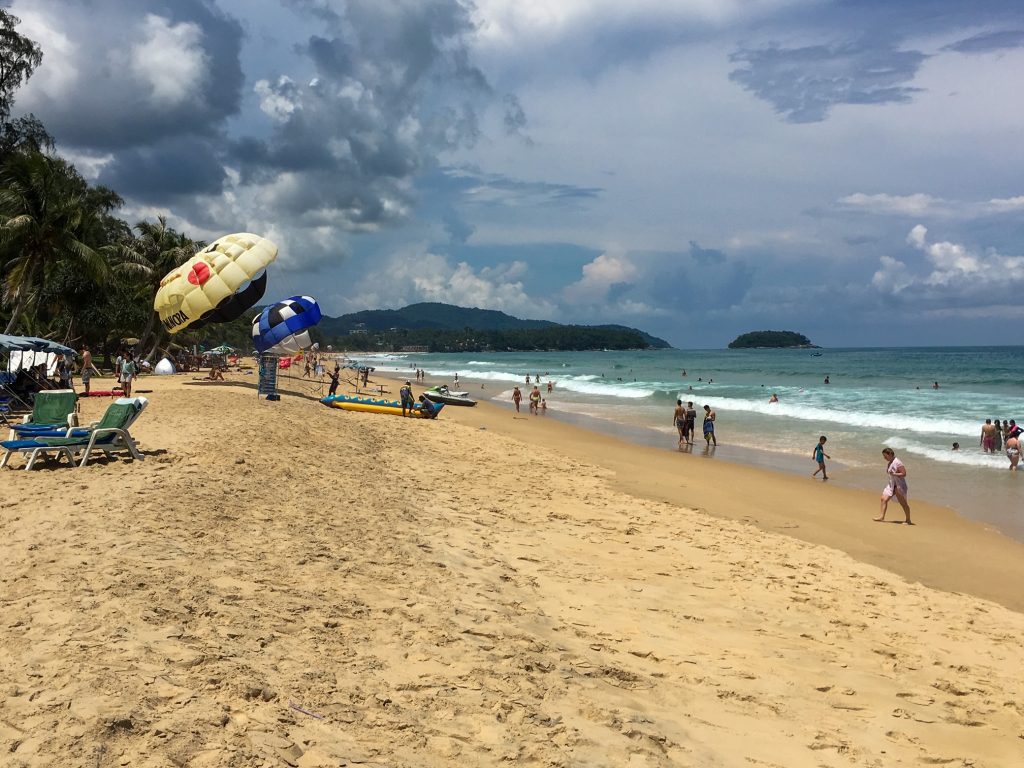 We are both avid readers, so we instead brought a couple of books along to enjoy while relaxing by the water. It was wonderful!
A Broad Recommendation: If you see any sea turtles on the beach, let your hotel know because the Phuket Marine Biological Center has efforts to help grow the sea turtle population and will rescue any injured turtles or eggs left behind in the sand.
We headed to lunch and found a small spot just off the beach called Mama Restaurant just as it started to pour down rain! Lucky us, we made it without getting wet. Here, I enjoyed a tasty bowl of green curry with white rice, and we caught up with the rest of the world for a bit, since they had WiFi.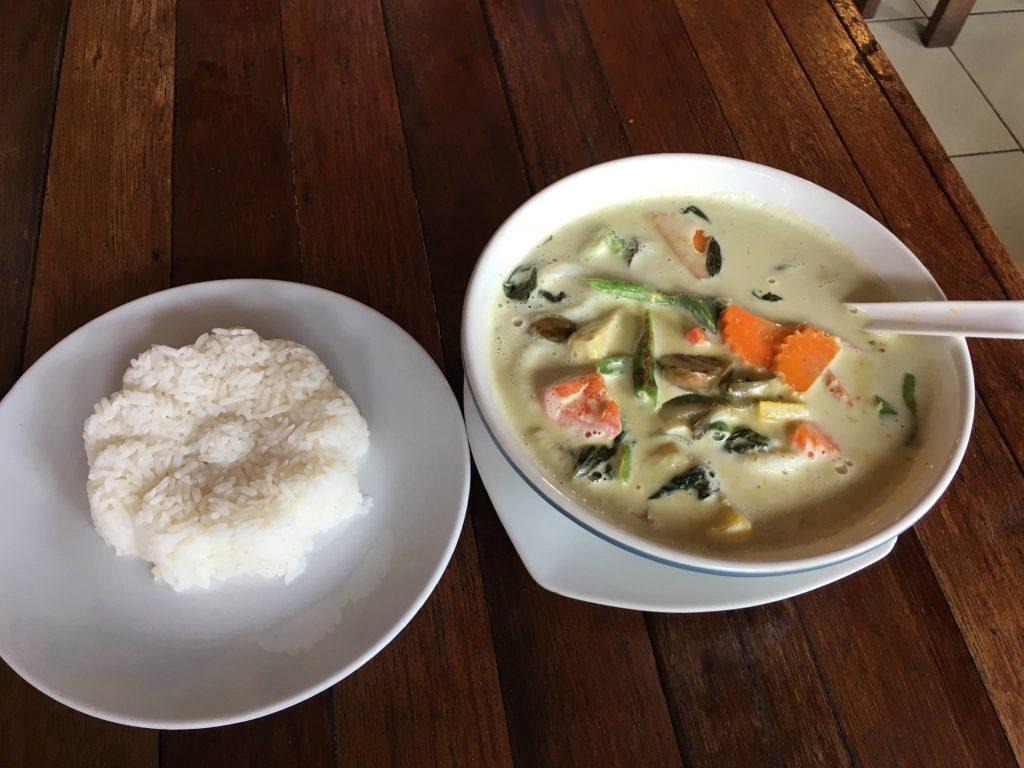 Since our hotel didn't have a pool, we decided to go to the Karon Whale Resort to use theirs. They do ask you to pay a minimal fee to use the pool, but I can't remember exactly how much – it was no more than $10 USD a day from what I can recall.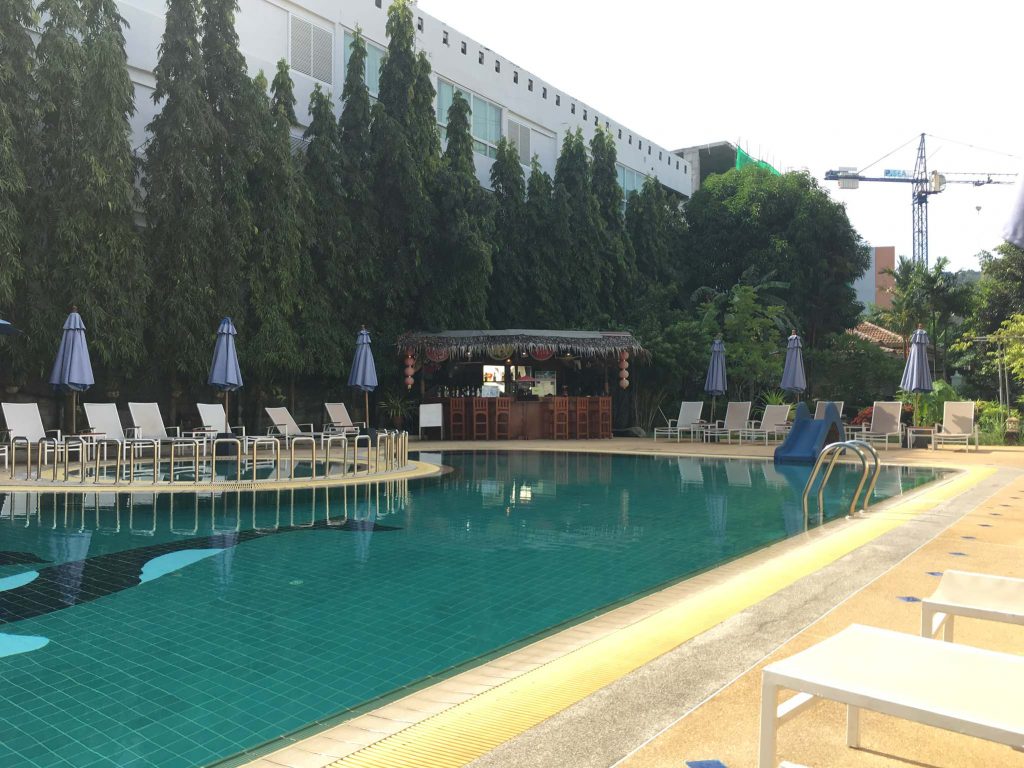 Behind the pool was a serene garden for all of you folks out there who love to meditate. It was definitely a cute spot to relax and cool off.
Later that evening, we discovered our favorite restaurant ever, Two Chefs Bar & Grill, since even on the other side of the world, I have to partake in "Taco Tuesday" – yes, I know I'm extra. Not only was the food great here, but we also enjoyed live music from two gals who came to recognize us over the couple of the days, since we ended up back here again – ha!
Our last full day in Phuket was basically a repeat of the above to include the same restaurant for dinner. We enjoyed it so much the first time that we didn't even bother looking for other options after that.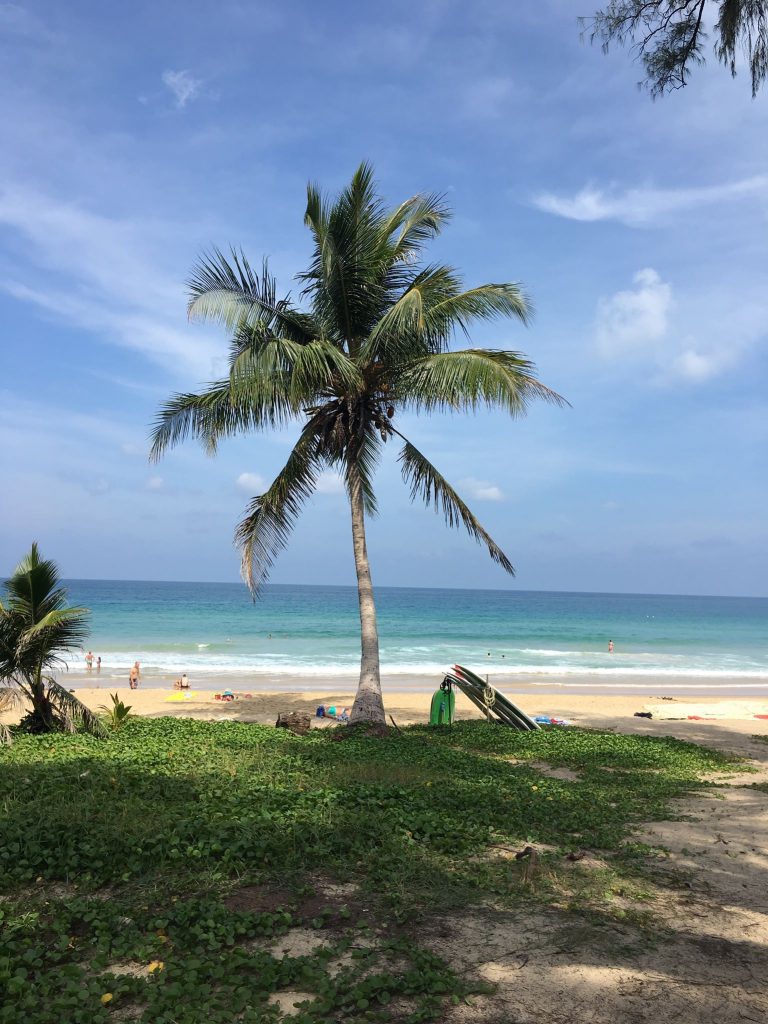 Then, because like I said, we are extra, we decided to book another three-hour massage session. I say "another" because we did the same thing in Chiang Mai and basically had the best massages of our life, so we weren't missing another opportunity to experience our beloved Thai massages!
Unfortunately, I can't remember the name of the place we went to, but in our opinion, you really can't go wrong with any Thai massages in Thailand. We thoroughly enjoyed ours in both Chiang Mai and Phuket.
We ended the evening with some Green Tea Fried Ice Cream, which was oh so yummy, before heading back to the hotel to pack up for our early morning departure back to the Phuket Airport.
We researched lots of things to do in Phuket, but because we were feeling lazy, we opted out on these. Here are some great ideas in case you want to check them out:
Big Buddha is a giant white marble statue sitting on top of a high hill with beautiful views of Chalong Bay and is one of Phuket's most popular landmarks.
Wat Chalong is the largest and most well-known temple in Phuket.
Karon Viewpoint is located in Kata and has stunning views of the ocean and some of the beautiful beaches.
Bang Pae Waterfall is a National Park with hiking trails and beautiful scenery; plus, you can swim here!
Phi Phi Island is one of the most scenic islands in Thailand, popularized by Maya Bay, a green lagoon surrounded by rocky limestone cliffs. There is great snorkeling here due to the vibrant corals and diverse marine life. Note that this one is a bit further out (a couple hours away), so it would require a full-day excursion at a minimum.
Early the next morning, we made the hour or so drive to Phuket Airport and flew back to Delhi, India, since Candace had stored all of her luggage from her six weeks in India at the hotel.
I spent the day working out and chilling by the pool at the Trident Gurgaon, and Candace went for yet another massage; she had so many credits from staying with Trident all summer both in Gurgaon and in Hyderabad, so she needed to use those up!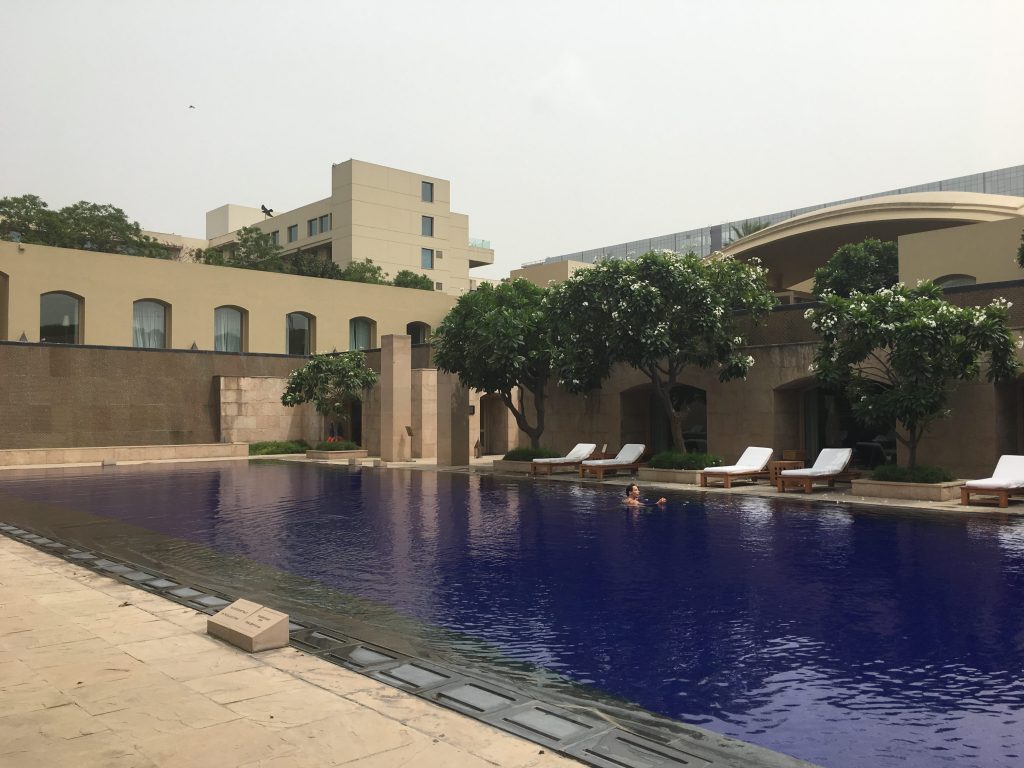 We ended on a dinner at Konomi, the Japanese restaurant in the hotel, which we both thoroughly enjoyed, then headed onward to our respective flights out of Delhi.
Unfortunately, I ended up spending a lot of time in the airport. Candace's flight was earlier than mine, so I had an hour wait after her flight departed; then, my flight got delayed even further. I ended up leaving closer to 4 AM, which was pretty rough. Then, upon my arrival in Frankfurt (definitely not my favorite airport), there was a security issue that delayed me and everyone else at the airport even further.
The woman at the security desk noticed I was a bit panicked and told me to go to the priority line. Luckily, many folks let me cut in front of them – a couple made rude comments, but whatever. I wasn't interested in getting stuck in a foreign country after a three-week-long trip! One gentleman near the front of the line even helped me load my luggage on the conveyor belt, which was super sweet.
My flight was already boarding when I sprinted across the airport to my gate. After I boarded, the flight got delayed to allow for other passengers that were stuck in the same security mess as I was. I didn't mind waiting it out for them, since I totally understood the stress they were feeling.
I had a non-eventful flight (totally a good thing) and followed the same process as I did when heading to Delhi, i.e. I changed my clocks backwards so I was on Houston time and planned my sleep schedule accordingly. When I arrived back in Houston safely around mid-afternoon, my boyfriend's mom picked me up and drove me back home.
What a wonderful and inspiring adventure! Our Asia trip had come to a close, but we have so many wonderful memories to last a lifetime. If you are interested in reading more about any of our destinations from this trip, you can check them out here:
And, don't forget to pin it!
XOXO Travel A-Broads