If you read our Delhi post, you know that we went to dinner at a wine bar and stayed up late the night before our planned 3:00 AM trip to Agra.
Apparently, the wine hit us ladies pretty hard because we slept through all of our alarms (we are talking about six different alarms here). Candace's coworker, Spencer, who was working in Hyderabad had flown in late the night before, arriving at the hotel around 1:00 AM and had been waiting in the lobby, worried that something had happened to us.
Candace and I only woke up when we heard the pounding of her other coworker, Tammy, at our door around 6:30 AM, regrettably sharing that we had missed not only our wake-up calls but also our driver, and we would not be going to see the Taj Mahal as planned. Apparently, the hotel had tried to call our rooms and ring our doorbells, and because Spencer wasn't a guest of the hotel, they wouldn't let him back to knock on our doors to try to wake us up himself. The fact that none of us woke up to any of our alarms still baffles us to this day.
Spencer was forced to send the driver away after three hours of waiting – we are actually THE WORST, and Tammy, Candace and I were in utter shock, feeling so guilty that we had messed up Spencer's plans.
We walked into breakfast so devastated by our mistake. It felt like we were in one of those bad dreams where you're late to class or miss your flight but then you wake up and all is well; well, this was actually happening in real life, and all was not well!
We took a moment to regroup before deciding to attempt to salvage the day by checking with the hotel to see the going rate for a driver to take us on the six or seven hour round trip drive to Agra. Unfortunately, using the hotel services was going to be way more expensive than our original driver; like, $500 more expensive.
Then it hit me, why didn't we just call our original driver back? He would have been spending the day with us anyway, and we could pay him a premium (just not a $500 premium like the hotel). As luck would have it, he agreed to come back to pick us up; bless his soul. And, we were on our way to Agra!
Since Spencer, Candace and I had flights out of Delhi that evening, we had to skip breakfast in Agra (luckily we had already achieved that at the hotel) as well as visiting the Agra Fort, which we all felt we could live with.
When we arrived after the three and a half or so hour journey, our guide was there ready to meet us for our tour of the Taj Mahal.
We were all beyond grateful and ecstatic that everything was working out perfectly, and everyone involved was so willing to accommodate our major mess-up. Phew! Because of that, we were able to see one of the New Seven Wonders of the World. How cool!
*P.S. this post contains some affiliate links. At no additional cost to you, we may earn a small commission when you make a purchase.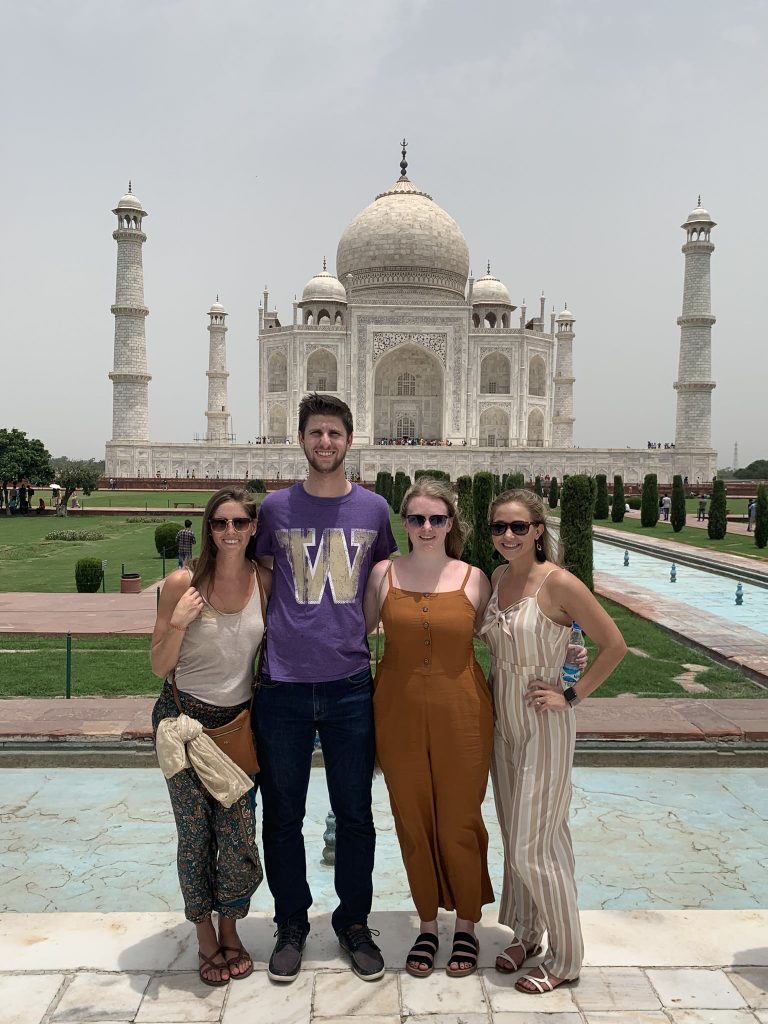 As we walked to the main gateway, or the "gate of the mausoleum", our guide explained that the calligraphy was carved with progressively larger script as they went up the structure so that to the reader on the ground, it would look to be the same size throughout.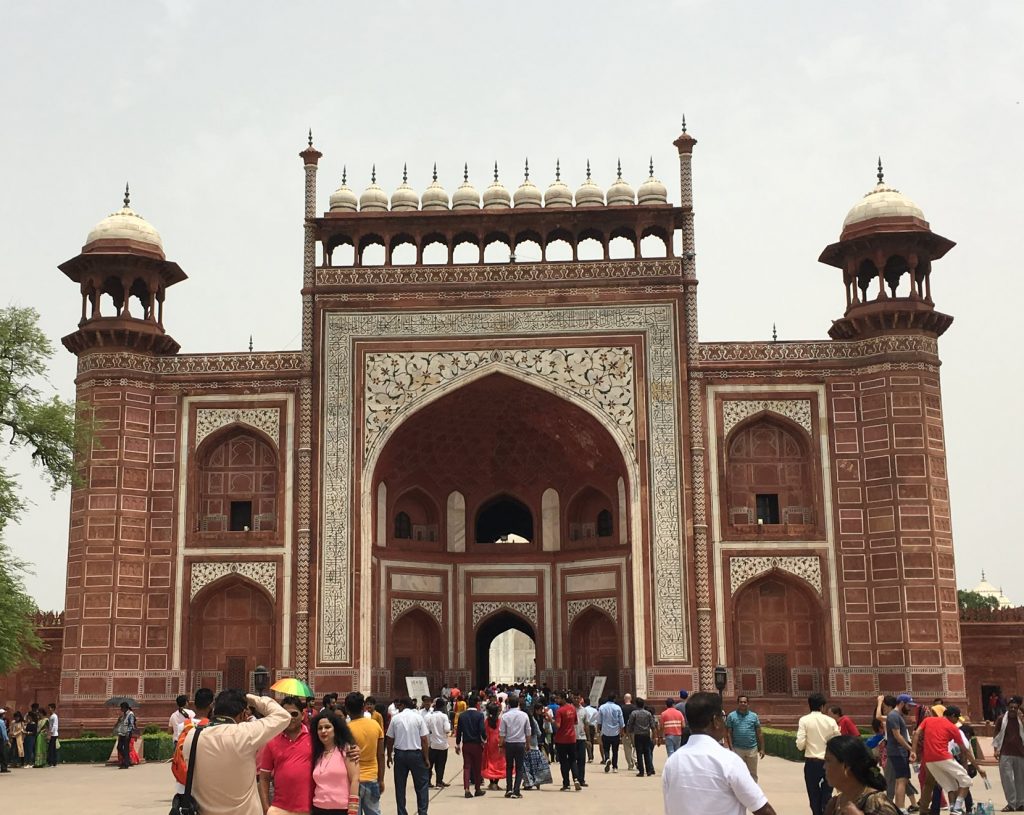 Just on the other side of this gateway, sits the Taj Mahal, which is an absolutely stunning site. We were so in awe of its beauty that naturally, we wanted a ton of pictures. Luckily, Spencer had forgiven us, and as it turns out, he was a great fake Instagram boyfriend for the three of us, holding our purses while also taking on the role of photographer, as seen below.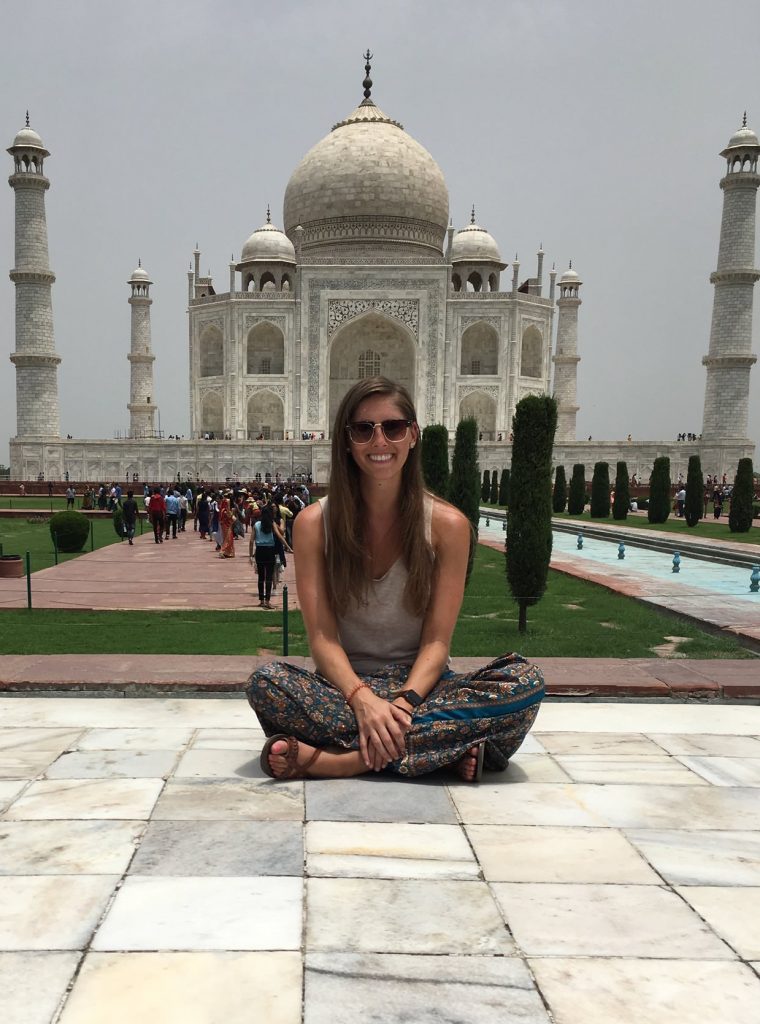 For those of you unfamiliar with the structure, the Taj Mahal is an ivory-white marble mausoleum that began construction in 1632 and took two decades to complete. The Mughal emperor Shah Jahan commissioned it to be built to house the tomb of his "favorite" wife, Mumtaz Mahal, and later himself.
The tomb is the centerpiece of the complex, which also includes a mosque, a guest house, a large square Mughal garden, and a reflecting pool in the middle.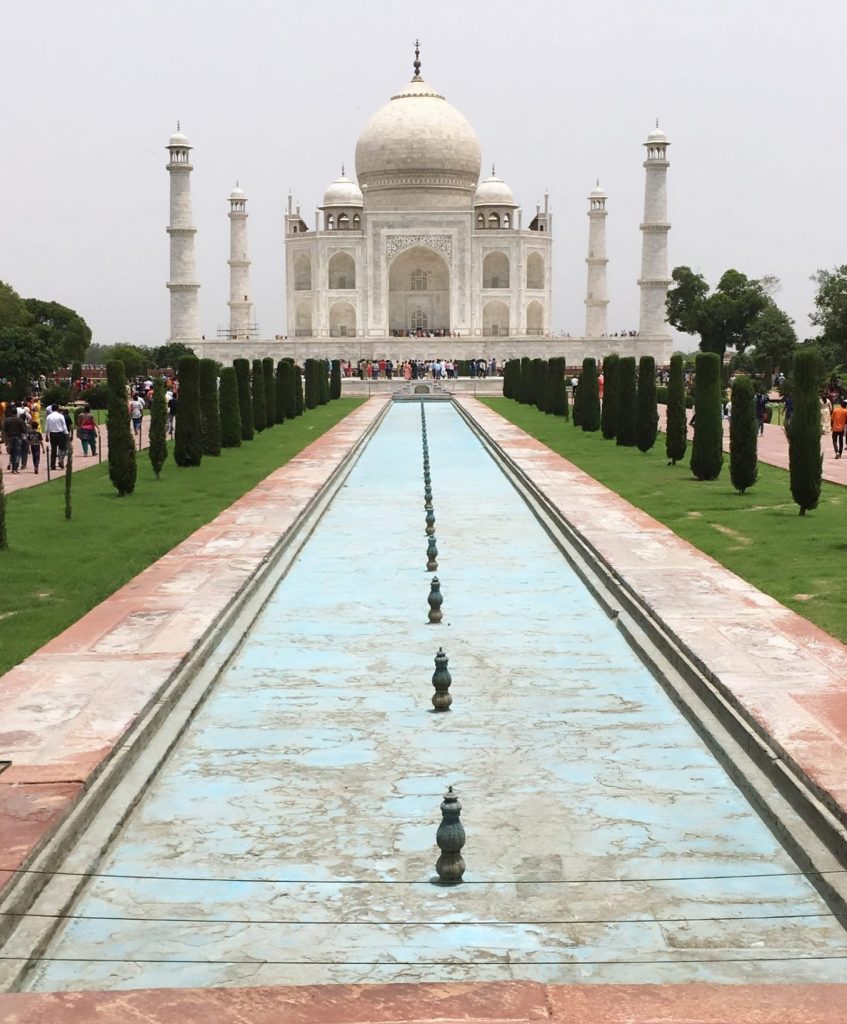 Legend has it that Shah Jahan commanded that the hands of the artisans and craftsmen who were involved in the construction be chopped off, so that they would never again build such a wondrous monument like the Taj Mahal. To some, this may seem like an extreme act, but to others, it's seen as romantic and a sign of great love for his wife. That being said, there are no facts to back up this popularized claim.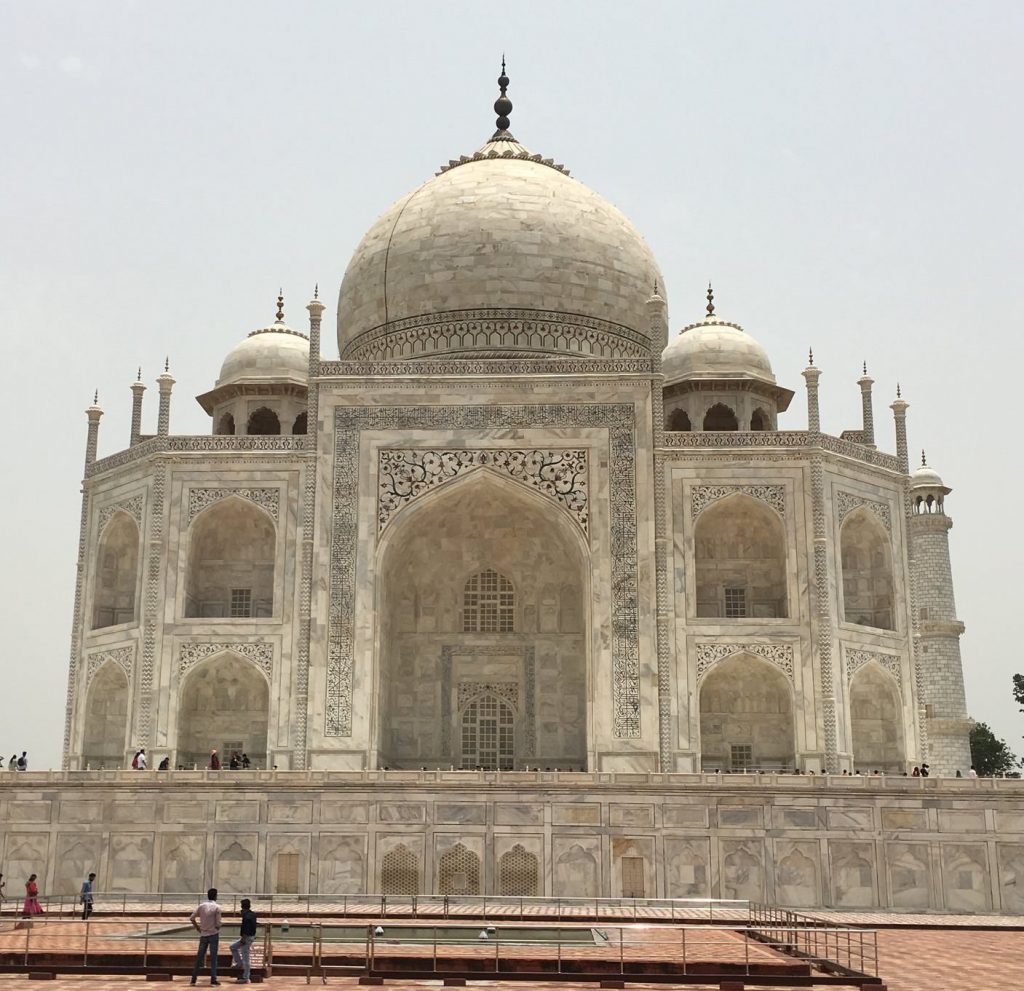 Inside the main structure is the "false tomb" housing Shah Jahan and Mumtaz Mahal, which is decorated with marble and semi-precious stones. It's called a "false tomb" because the actual remains are well below this point at garden level in a more modest tomb. If you have never been to the Taj Mahal, you may be surprised that this small room is the only place you enter, considering it looks like a palace!
It costs ~$15 USD to enter, which we would definitely recommend, especially if it's your first time visiting. To go inside, they will give you coverings to wear over your shoes, and you must wear something to cover your shoulders as a sign of respect.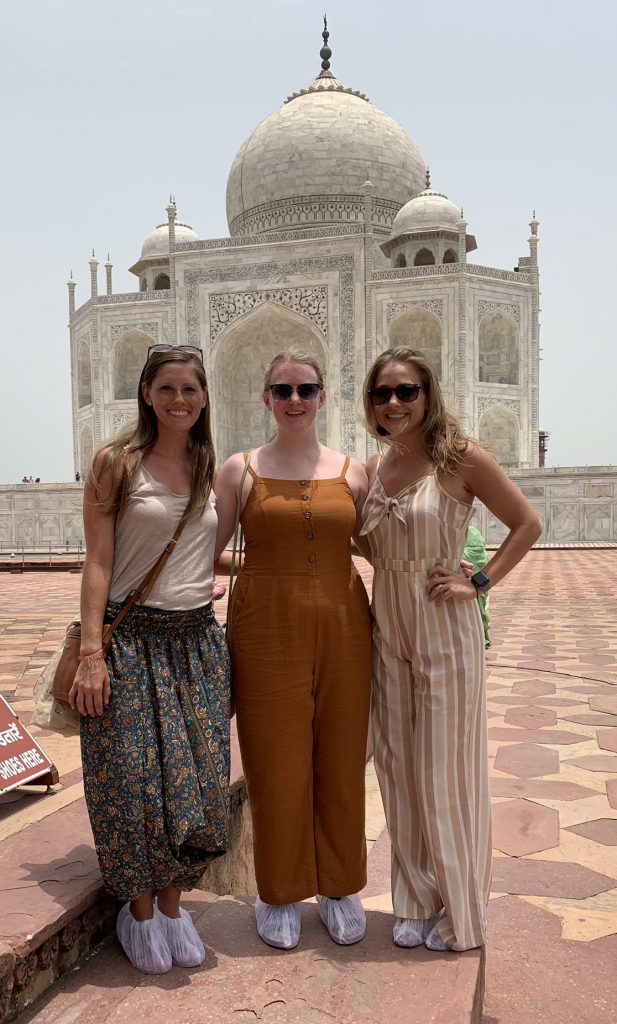 A Broad Recommendation: Considering we were there during the extreme heat of July, we were glad to have scarves that we tied around our purses until we entered the tomb. You can check out our other tips for traveling in India here.
Our guide taught us some really awesome things throughout our tour, despite his disbelief that we only had about 90 minutes to visit so that we wouldn't risk hitting traffic on the drive home and miss our flights. For example, the marble pillars enclosing the main structure are angled slightly out, so you can clearly see it in pictures. This also ensures that if they were ever to fall, the pillars would fall away from the domed structure housing the remains of Mumtaz Mahal.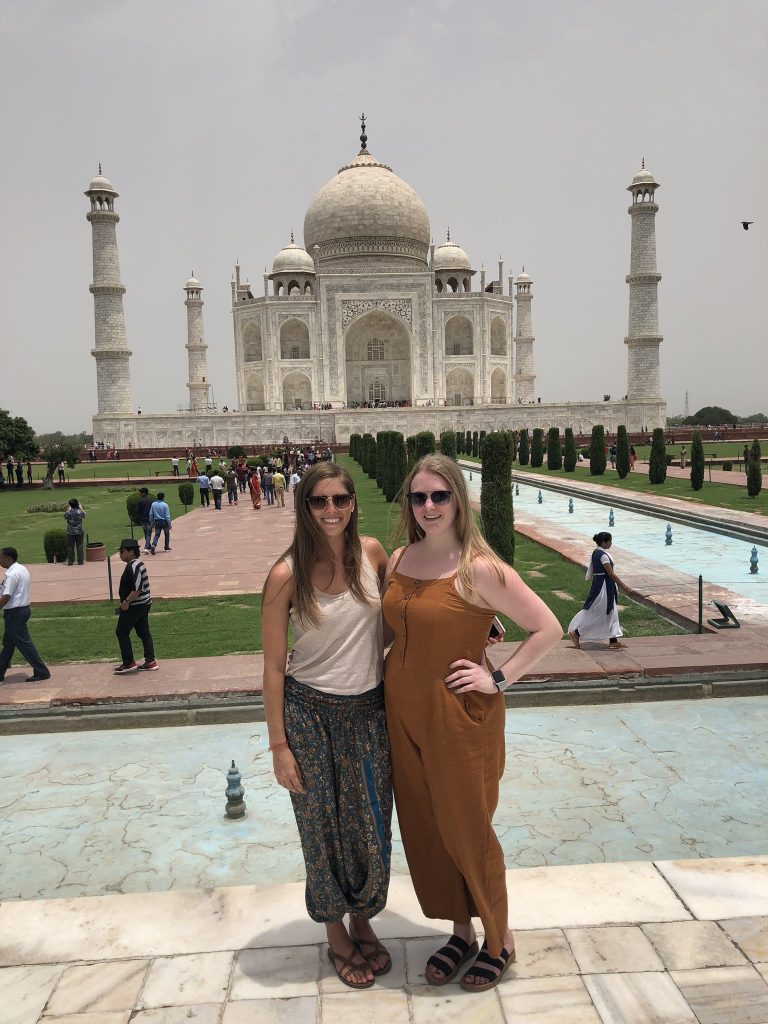 Our guide noted that the artwork on the exterior of the Taj Mahal includes calligraphy and designs with flowers/vegetation or abstract forms, distinct from many of the Hindu temples that we visited, which include insects and other living things in their artwork. This is because Islamic art isn't supposed to depict living beings.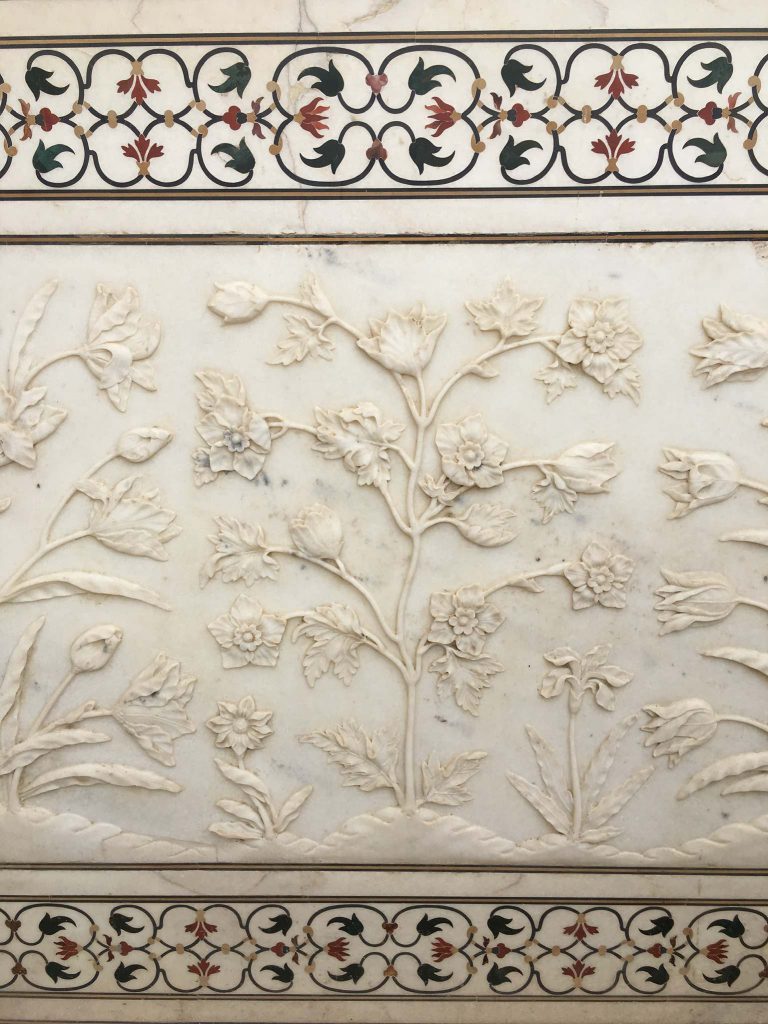 Overall, the Taj Mahal is a breathtaking, must-see experience!
We were all exhausted and basically slept the entire way back, making it back with plenty of time to catch our flights. Candace and I even had time to eat dinner at the hotel one final time before departing for the airport for our flight to Chiang Mai, Thailand.
Check out our post to see how amazing Chiang Mai was, and don't forget to pin it!
XOXO Travel A-Broads