2019 was a special year for me – not only because I was turning 30, but also because I had so many incredible trips planned. My friend, Abby, and I had been looking forward to visiting Iceland for years. And, luckily for me, Abby is an avid planner! She pretty much squared away every last detail of our trip before I even booked flights – which was literally the only thing she left for me to do.
P.S. check out our Iceland: A-Broad Overview page for bonus material to help you plan your own trip to Iceland.
Day 1: Traveling to Iceland
Abby and her husband, Deep, drove to Washington D.C. and my boyfriend, Tim, and I flew to Dallas to catch our overnight flights to Iceland. We were set to arrive within less than twenty minutes of each other the next morning. How perfect!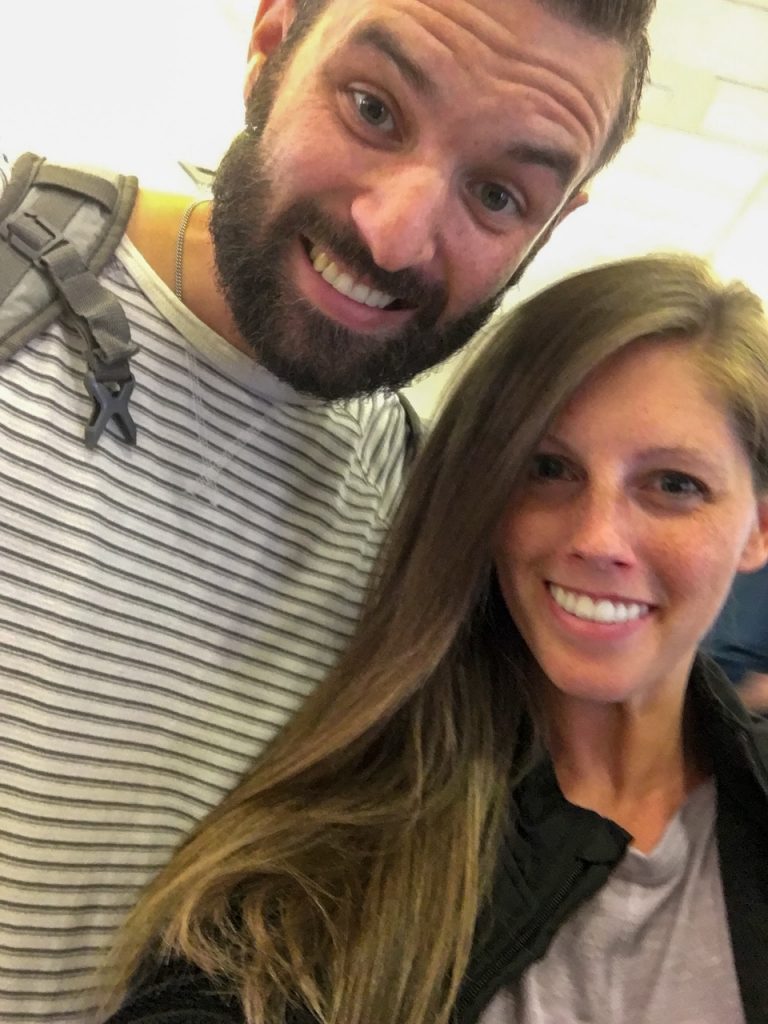 A quick aside: Flight prices were higher than expected, so Tim and I chose not to pay for seat selection (American Airlines charges extra for this). When we checked in the night before, we noticed that that Tim didn't have a seat assignment at all! We called American Airlines to express our concern and to request that we be seated together. Unfortunately, this couldn't be confirmed until our arrival at the Dallas airport.
When we got to the check-in counter, the line was basically a mile long and totally chaotic. Luckily, we ended up sitting together, but it was much more stressful than just paying the fee upfront.
A Broad Recommendation: Splurge and pay the extra fees to select your seat ahead of time. Even calling ahead won't guarantee that your seats will be together. Shout-out to Icelandair, who allowed Abby and Deep to pick seats together beforehand free of charge; I think this is wonderful when you're already paying hundreds of dollars or more for international flights!
Day 2: Renting a Car and Hiking Near Reykjavík in South Iceland
Not surprisingly, we boarded behind schedule, and Tim and I arrived in Iceland more than an hour late.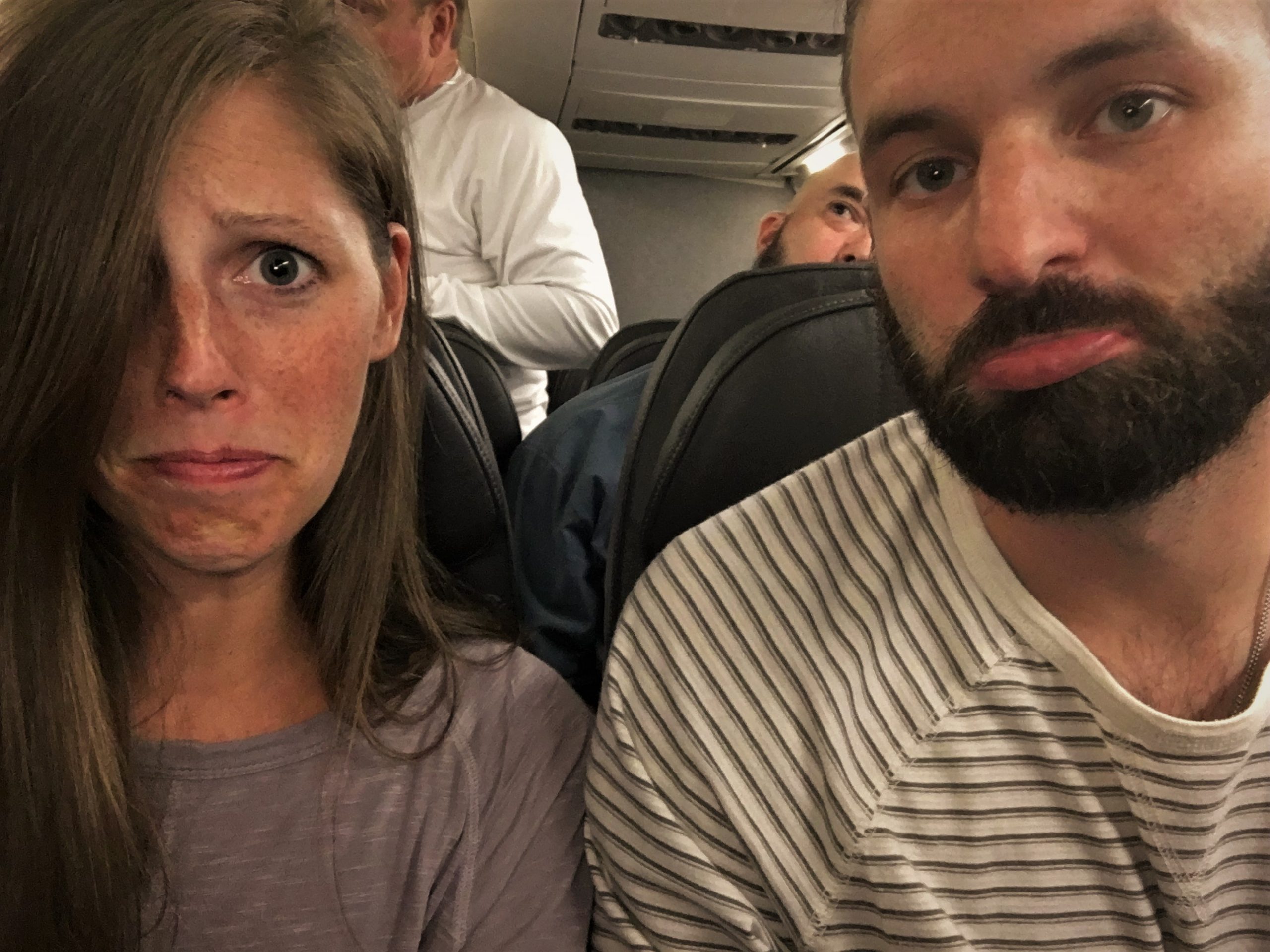 Luckily, we were only about 45 minutes behind our friends, who were originally supposed to arrive after us. We ate dinner the night before and breakfast on the planes, so we didn't have to worry about eating right away.
After meeting up, we caught a free shuttle bus – which runs about every fifteen minutes – to SADCARS where we picked up our VW Golf-sized vehicle. I'm not going to lie, we got nervous when we saw the size of this car and how much luggage we had to fit into it.
Since Tim and I would be taking the back seat and he's a fairly tall dude, we didn't want to put any of the roller bags back there. Luckily, I am a magician with packing and that includes packing a trunk! I was able to puzzle piece our bags into the perfect position where each one fit – just barely though.
I will also note that although the car was fine for the most part, a larger car would have been better for some of the rougher terrain and for the longer car rides. It was a snug fit for all of us plus our luggage, backpacks and groceries, which we got from the Bonus Grocery Store after picking up the car.
Note: the Keflavik SADCARS office is open 24/7, so there is no concern around when your flight arrives.
By 3 PM, we were hiking at Reykjadalur, one of Iceland's most frequently visited natural bathing spots. Reykjadalur was carved out by glacial erosion and is known for its geothermal activity, stemming from the roots of an extinct volcano that was active 120,000 years ago.
Near the hot streams thrive lush wetland plant communities, including blue water-speedwell and small adder's-tongue, both of which are on Iceland's red list of threatened species, in addition to some endangered moss species. It's a great place for sheep grazing due to prolonged access to vegetation.
We were already in awe of Iceland's breathtaking views just minutes into the trail.

The mountainous terrain and small waterfalls and streams that cut through it were incredible. And, the hot springs with steam rising off them were so neat – something none of us had ever seen before.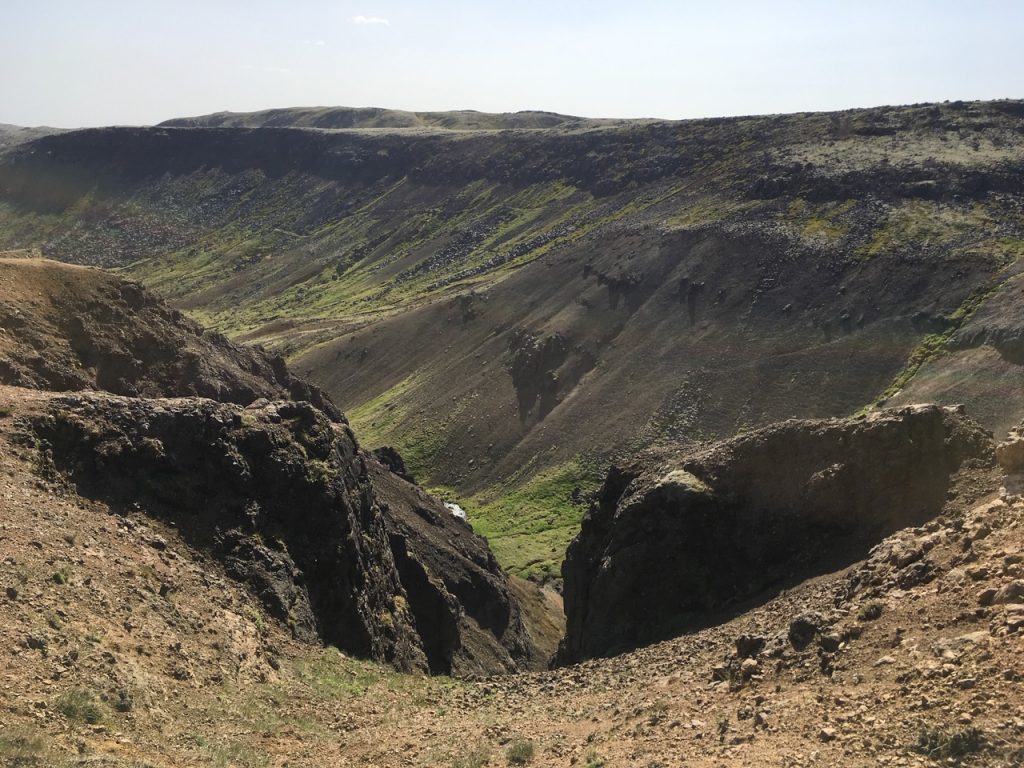 In some cases, we even saw small puddles of mud bubbling up to the surface.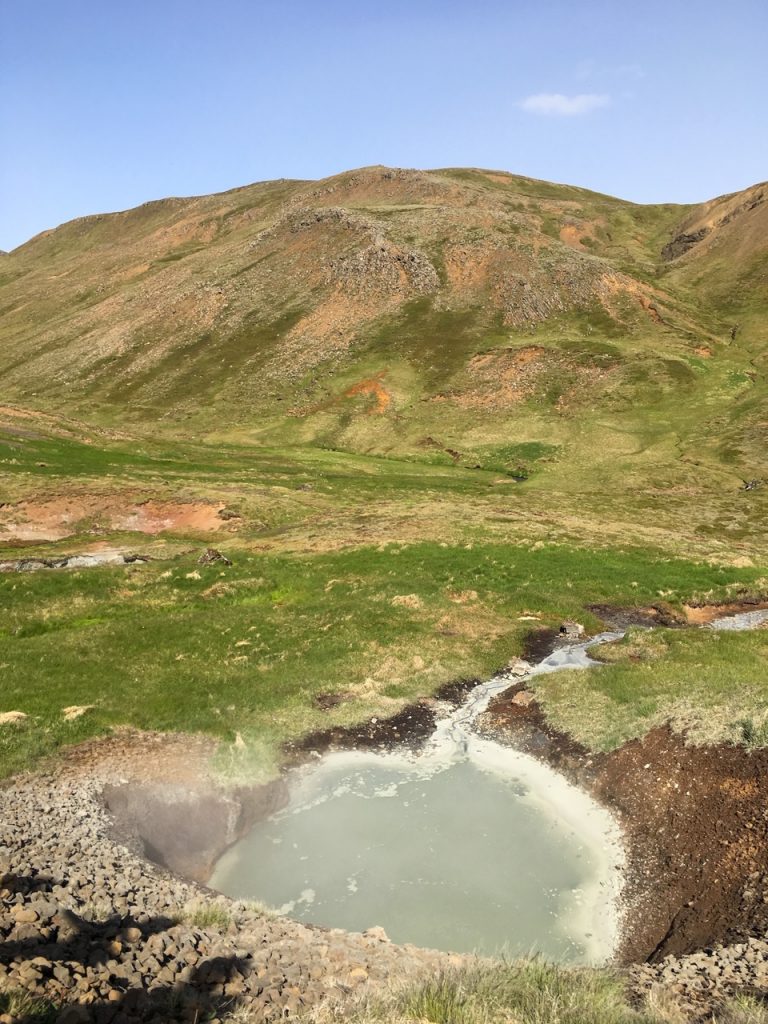 About an hour in, we made it to an area where people were hanging out in the streams and enjoying the lovely, albeit slightly chilly, weather. Not to worry though because if you remember, the streams are naturally heated!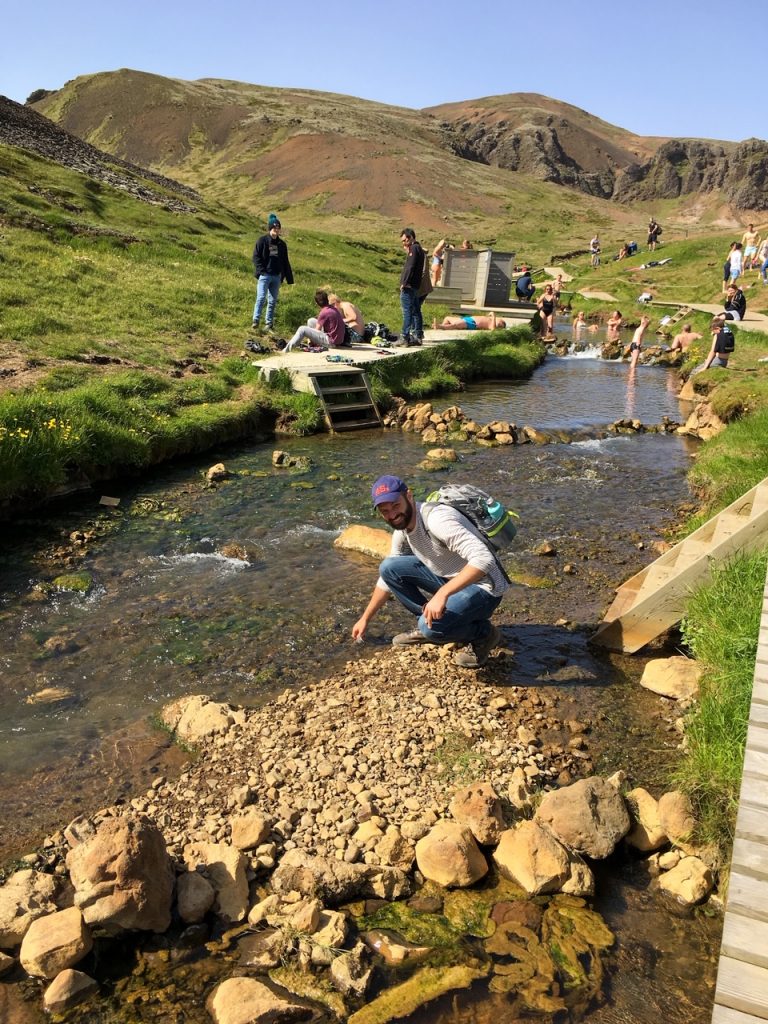 Since we had come straight from the airport and running our errands, we hadn't changed into our bathing suits and weren't prepared for a swim, but I bet it was a fun time hanging out there in the water. Instead, we decided to turn around and hike back. We had started off a couple of hours later than planned and had only allotted four hours for this excursion.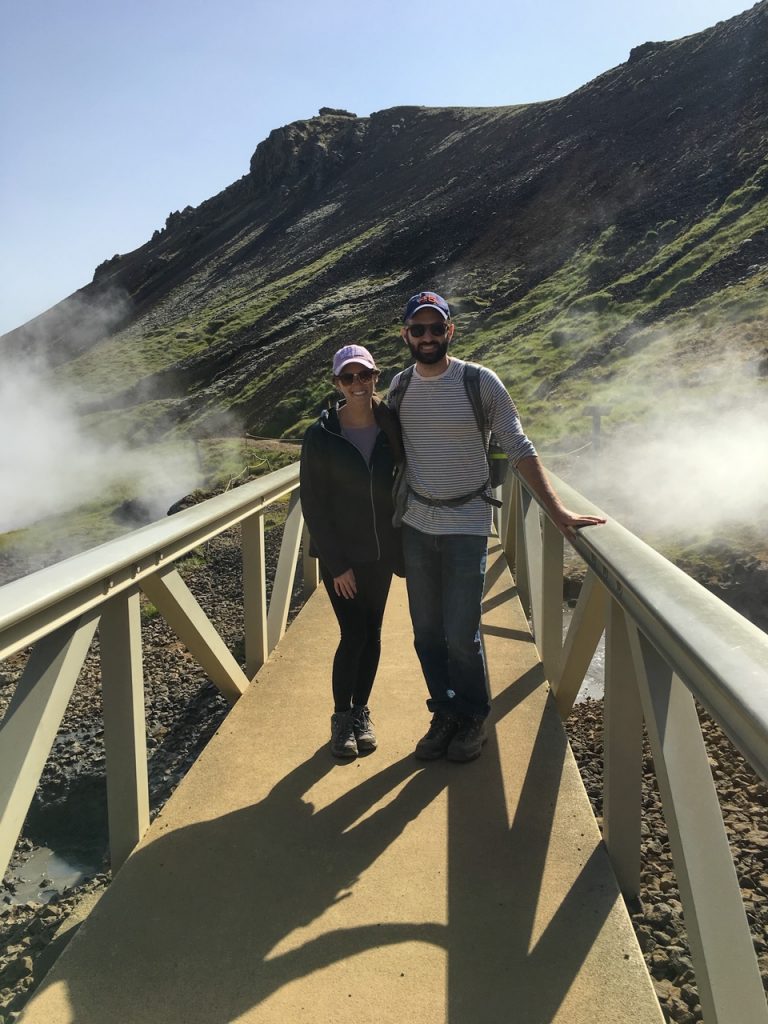 A Broad Recommendation: Each day, I wore light-weight clothes in layers that I could remove as I started to warm up. I packed a hat, sunglasses, rain jacket and, of course, lots of water on every hike. And, I wore hiking boots pretty much the entire trip. Sunblock was also a must, since it was daylight practically the entire time we were there in June.
By 5 PM, we were back to the car and within the hour, we were outside taking pictures of the Kerið (or Kerid) Crater.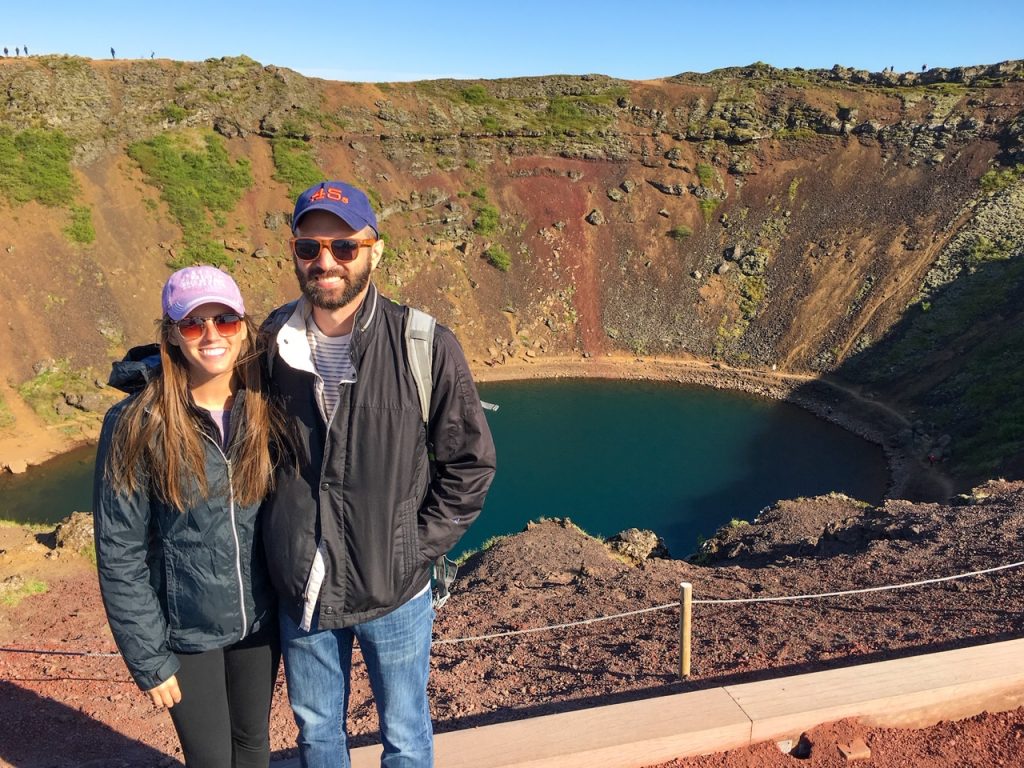 Formed approximately 6,500 years ago, the Kerið crater lies at the northern end of a row of craters known as Tjarnarhólar within Iceland's Western Volcanic Zone. It's oval shaped, about 180 feet deep, 560 feet wide and 890 feet across, and is covered in red volcanic rock instead of the typical black volcanic rock you might expect. Filling the caldera is stunning, sapphire-colored water.

Most craters like this are formed by volcanic explosions, but studies in this region found no evidence of such an explosion. Instead, it's believed that Kerið was a cone volcano that erupted and emptied its magma reserve. When the magma was depleted, the weight of the cone collapsed into the empty magma chamber.
We paid 400 ISK (~$3 USD) to the land owners to check out this beautiful sight. We were able to walk around the crater and take photos from various angles. And, we were even able to go all the way down and touch the water – well worth the price, if you ask me!
Around 30 minutes from here was our precious Airbnb in Laugardalur, i.e. "hot spring valley". This area was primarily used for washing laundry in the geothermal hot springs until the 1930s but later became the capital's main sports area. It boasts a large open-air, geothermal-heated swimming pool – the most visited in Iceland after the Blue Lagoon – a soccer stadium, a sports hall, a botanical garden, a park and a zoo.
The Airbnb was claimed to be a "one room with a double bed and two twin beds". But, when we arrived, we discovered that all of the beds were twins – two of them were just pushed together to form a "double" – and there was actually a door separating the rooms, meaning us couples didn't have to completely share the space. The bathroom was super chic and modern, and we loved the decor throughout the place.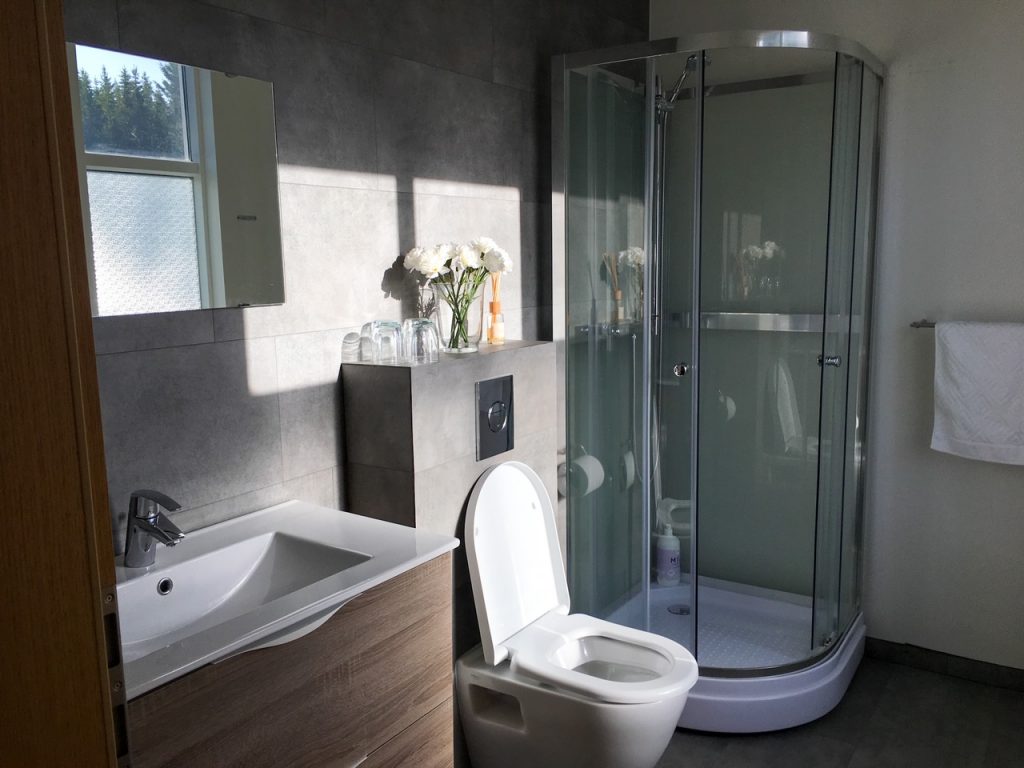 Originally on a mission to find snacks, Tim and I took a stroll outside while Abby and Deep showered. That's when we discovered this beautiful pathway that led to the water.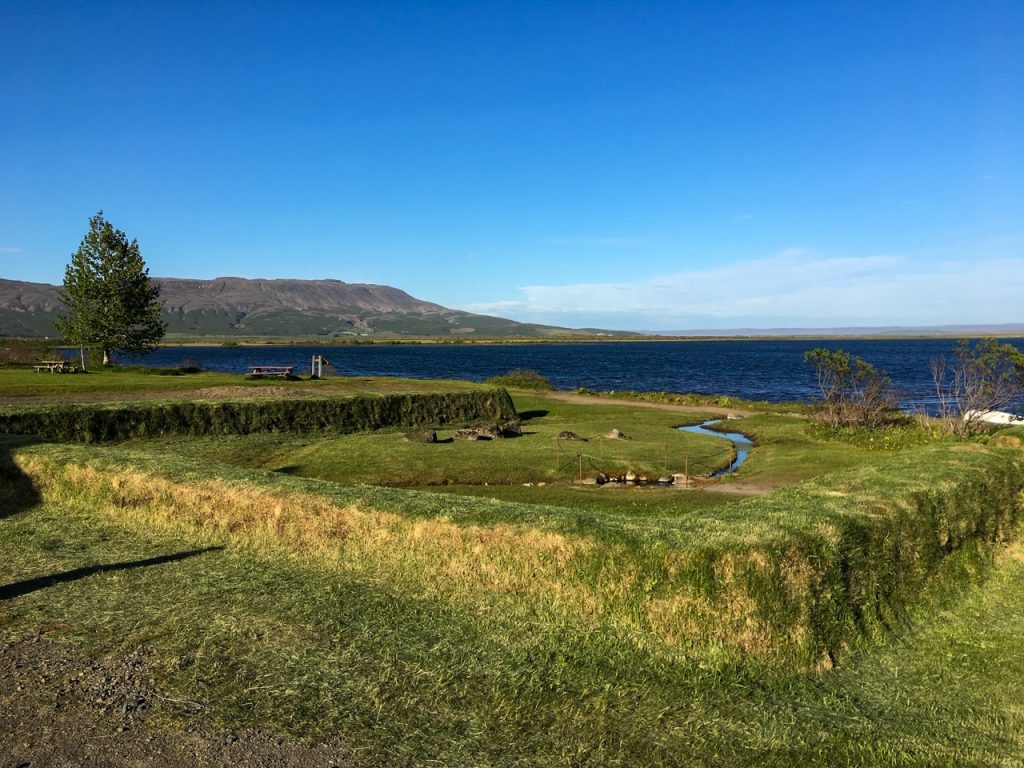 Along the way, we passed by the consecrated pool and bier stones. According to the Kristni Saga, Christians came here to be baptised at the hot pool at Reykir (instead of being immersed in the typical cold water). It's also claimed to be the burial site of the Bishop Jon Arason and his two sons, following their beheading. The six stones are known as the Likasteinar or "body stones" and are where the coffins were placed.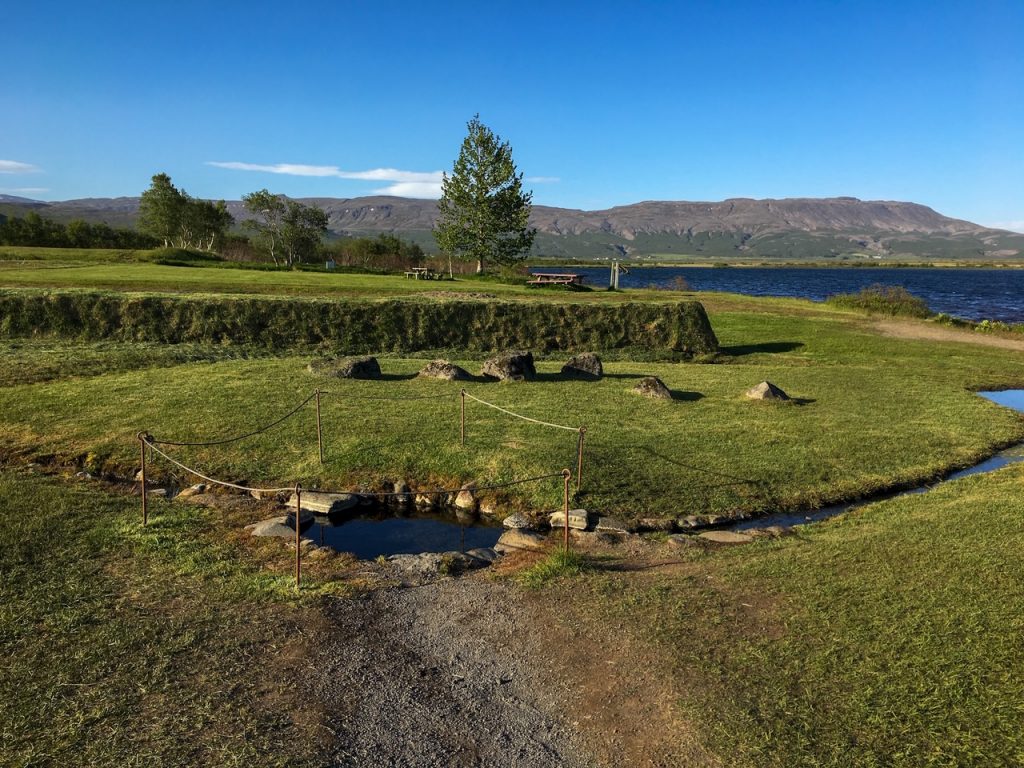 One of the signs said that some people still believe the waters have healing powers, specifically for eye disorders. Pretty interesting stuff!
Unsuccessful in finding snacks, we headed back to our Airbnb. We showered, ate some of the nuts and granola bars as our dinner, and got ready for bed.
The only negative thing about this particular Airbnb was the "blackout" curtains over the windows didn't really do their job. It was still pretty bright in our rooms as we tried to catch up on some sleep after all of our travel. Oh, and did I mention I was sick with a sinus infection before we left for our trip? Just like me to be sick on a trip – I know! So, I was definitely looking forward to some much-needed sleep.
A Broad Recommendation: Although the summer months, July and August, typically have the warmest weather and are popular for tourism, Iceland experiences 24 hours of daylight in June, making it a great time to visit. That being said, bring a eye mask to ensure you get a full night's sleep.
The cost of our Airbnb was $191.83 for one night. Comment below or send us a message if you would like specific details about our booking.
Day 3: Visiting Along the Popular Golden Circle Route in South Iceland
The next morning, we woke up early – around 7 AM – and left by 8 to head to the Geysir-geothermal area. This is one of the most popular tourist attractions in all of Iceland! Located along the Golden Circle, the Geysir hot spring area is full of boiling mud pits and exploding geysers – how cool is that?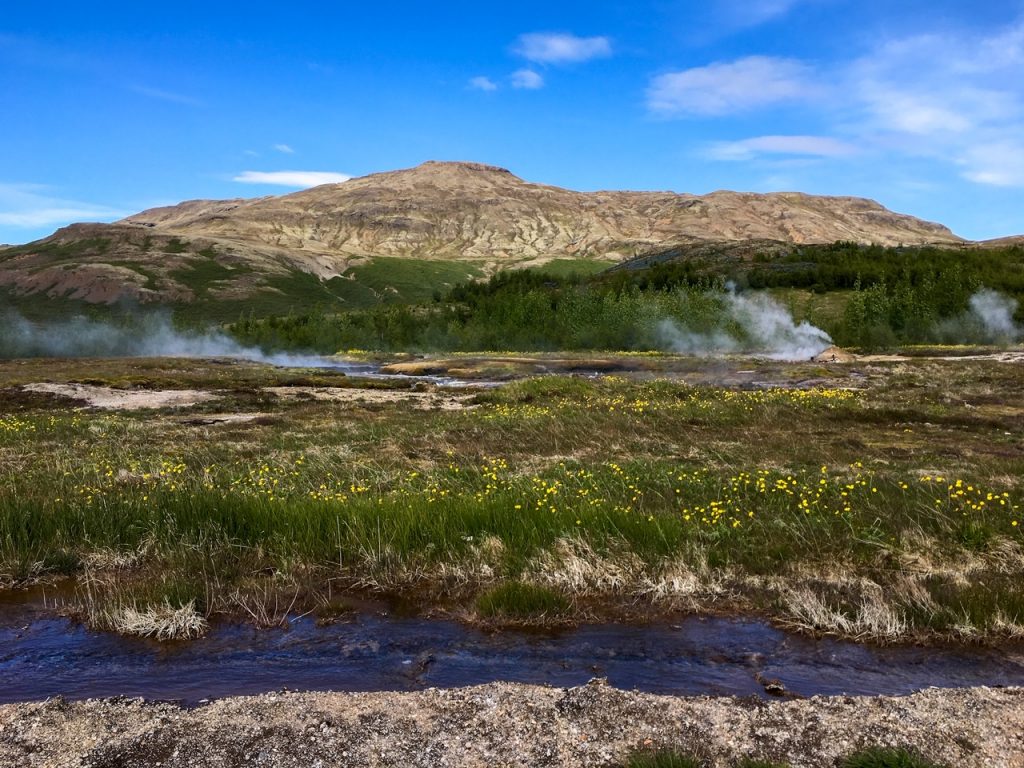 The geothermal field has a surface area of just under two miles squared and has been active for more than one thousand years. Strokkur, a lively geyser on the premises, sprouts water 100 feet high into the air every few minutes. And, we obviously stuck around to watch this happen several times!
Geysir is one of the most famous geysers in the world, along with the one in Yellowstone National Park. And, it's the geyser that all others were named after.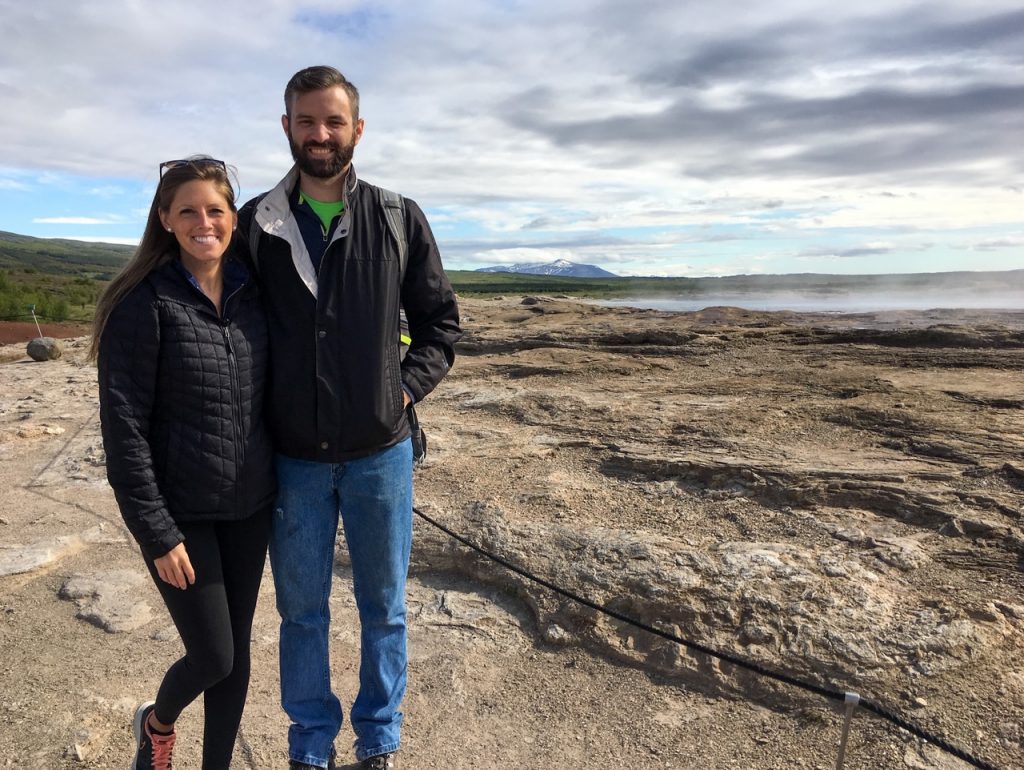 You can visit Geysir from a distance and look at the large bowl surrounded by geyserite. Although mostly dormant now, it's fenced off for safety purposes, since earthquakes can trigger an eruption, and the frequency of eruptions can change dramatically. Maybe you'll be the lucky person who gets to see it erupt again! Note that you can't use drones in this area, though I'm sure that would be a stunning photo.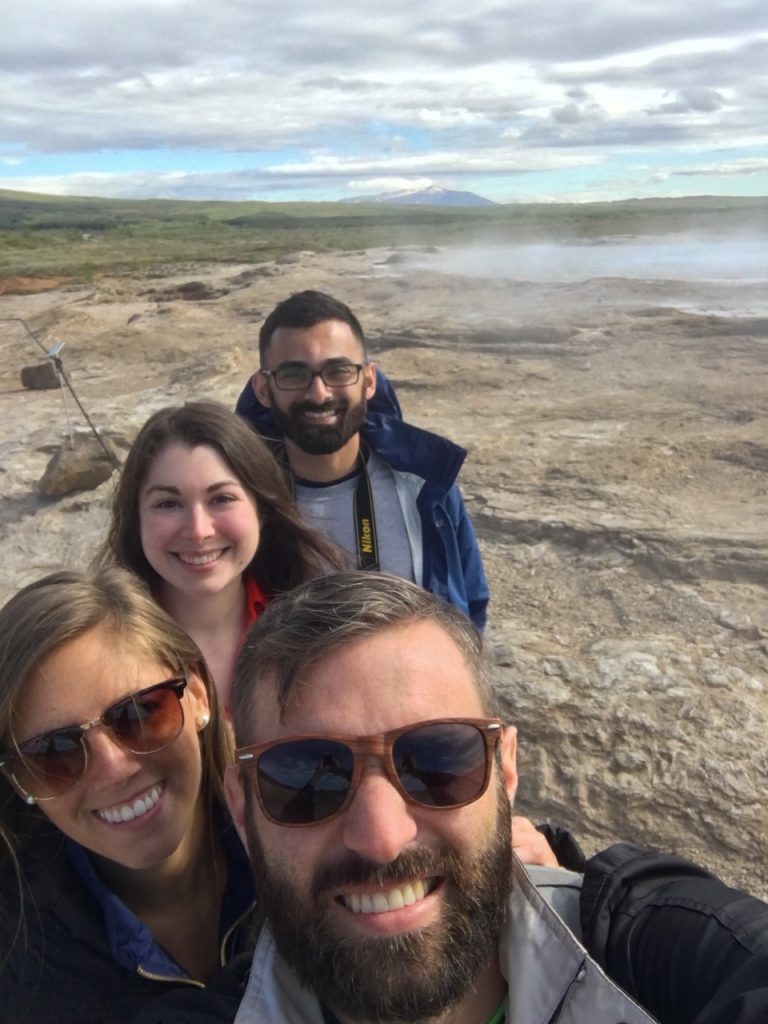 Beyond the super cool experience of watching Strokkur erupt (like five times!), the scenery from every angle was stunning here. The Geysir-geothermal area is definitely a must-see on any trip to Iceland.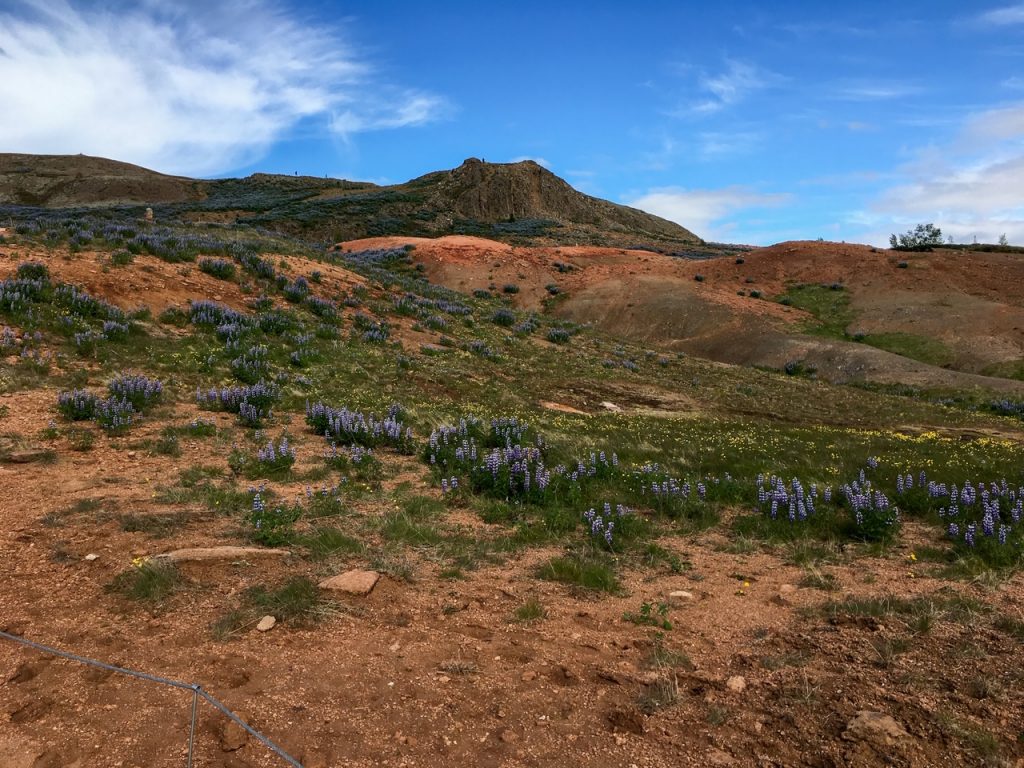 We obviously had to pop into the gift shop to look for souvenirs and to dress up as Vikings – you know, as you do.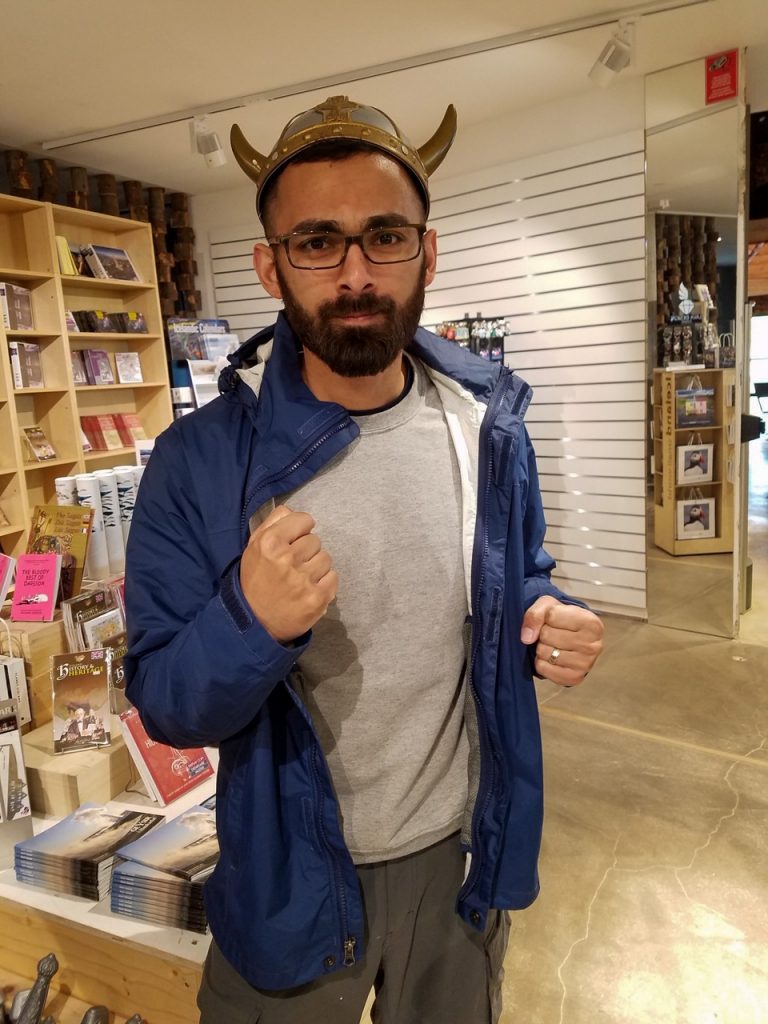 Just about ten minutes down the road is Gullfoss, a breathtaking waterfall located in the canyon of the Hvítá river.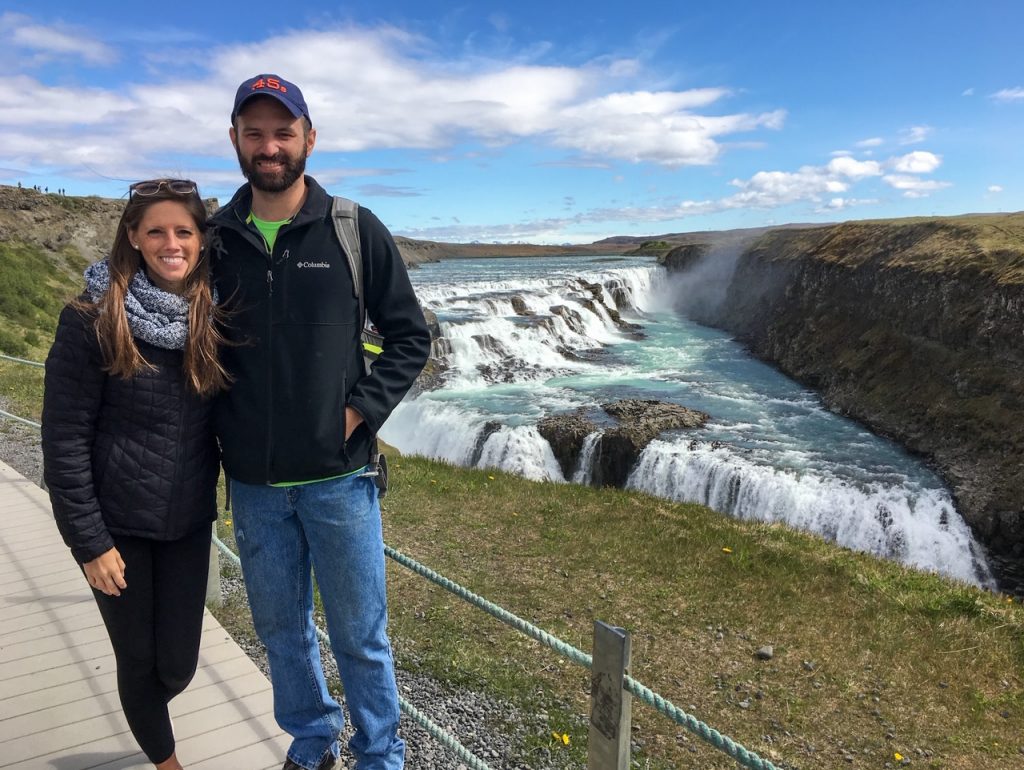 Gullfoss was formed by a flash flood that forced its way through the cracks in the basalt lava layers. The floods were so intense, in fact, that the waters could've filled fifty Olympic-sized pools at a rate of one pool per second, and thus, filled the 100-feet-tall gorge all the way to the top.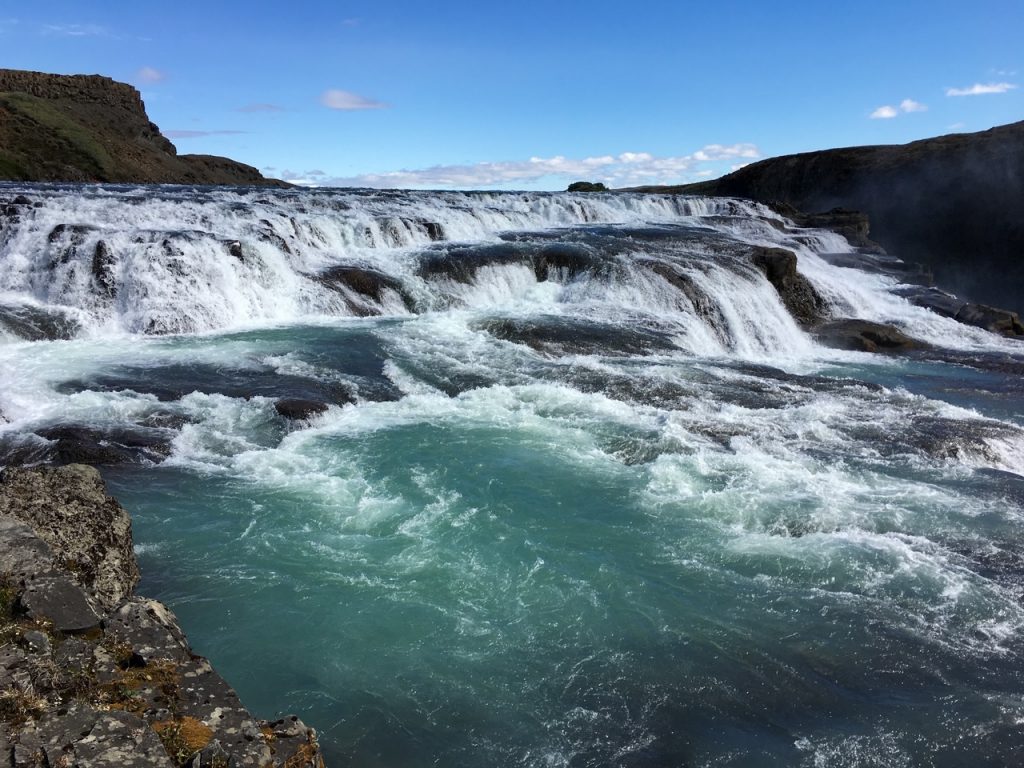 There are several theories around how Gullfoss got its name. Some say it's because of the golden evening hue, which often colors its glacial waters. Others think it's from the rainbow which often appears when sunshine hits the water-spray thrown up by the waterfall. There is also an old legend of a farmer who had so much gold that he couldn't bear the thought of someone else ever having it, so he threw it in the waterfall. This is yet another theory on how the name came about.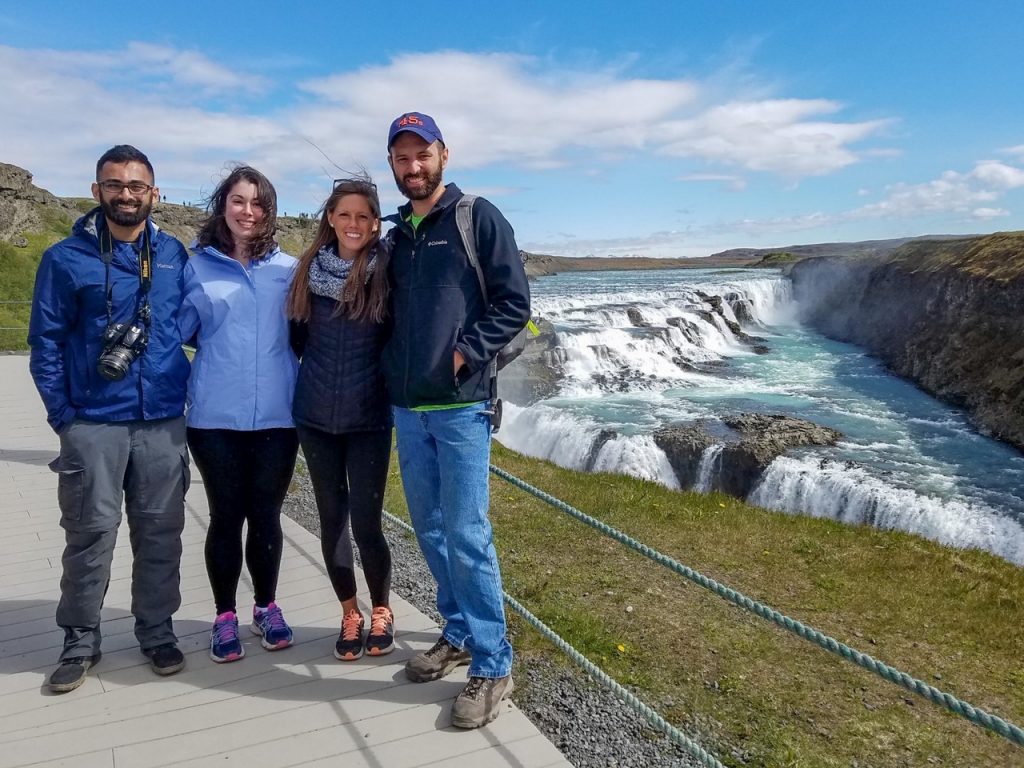 It was designated a nature reserve in 1979, after a failed attempt by investors to use the waterfall to generate electricity. And, the trail was ultimately dedicated to the late Sigríður Tómasdóttir, a well-known conservationist for the waterfall.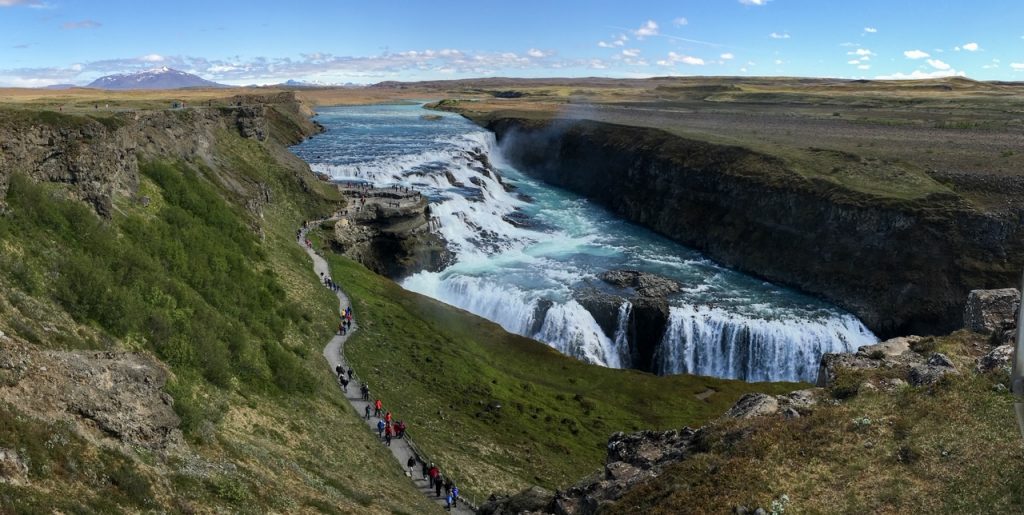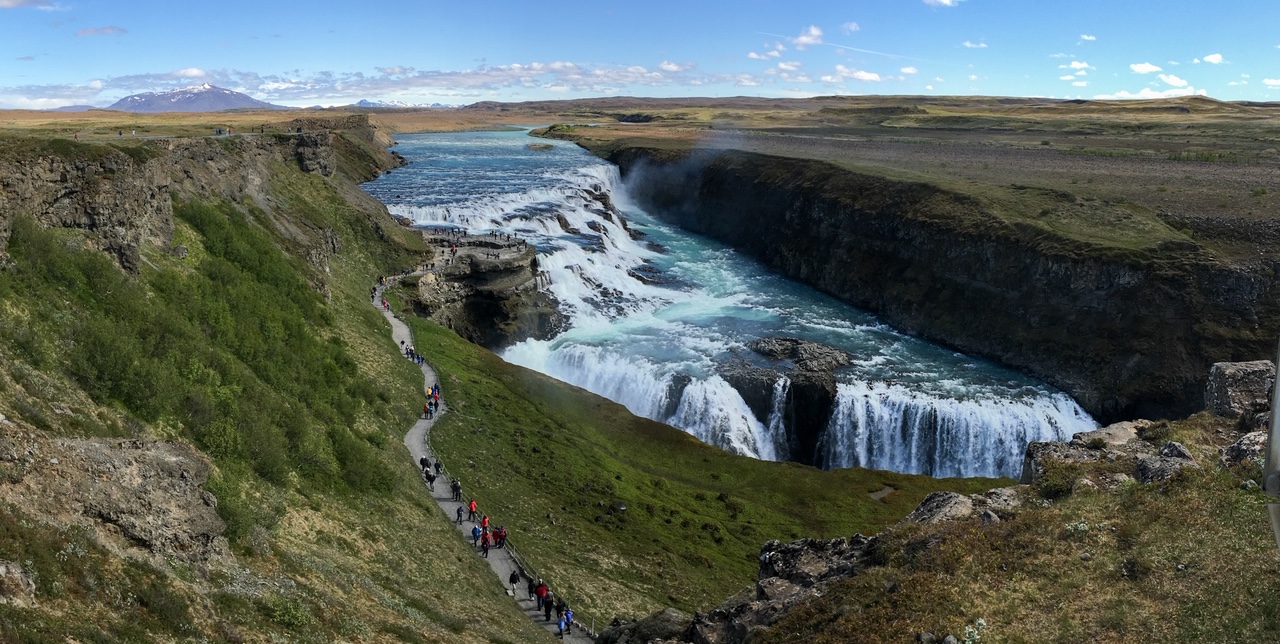 Located in the Golden Circle, this is another one of the most popular tourist attractions in Iceland. We really enjoyed our visit here and can highly recommend it!
Around noon, we headed to the Secret Lagoon, which is the oldest natural hot spring in Iceland. The drive was around 30 minutes from Gullfoss.
A Broad Recommendation: We avoided dining out most of our trip and used our longer car rides to eat snacks or gas station-bought sandwiches. This was was both efficient and cost-effective, since Iceland is generally pretty pricey.
The Secret Lagoon is located in a small village called Fludir, located in the Golden Circle area. It's the most natural and unique of the pools in Iceland, giving visitors an experience similar to that back in 1891 when the pool first opened. Swimming lessons were taught between the years of 1909 and 1947. But, the pool eventually fell into oblivion, only to be renovated and reopened years later.

The cost is 3,000 ISK (~$22 USD), and you're required to shower beforehand. Don't worry though because there are showers onsite to do so. If you're interested in taking pictures while in the lagoon, I would recommend bringing a waterproof phone case or cover. This was such a cool experience and one well worth capturing to remember through time!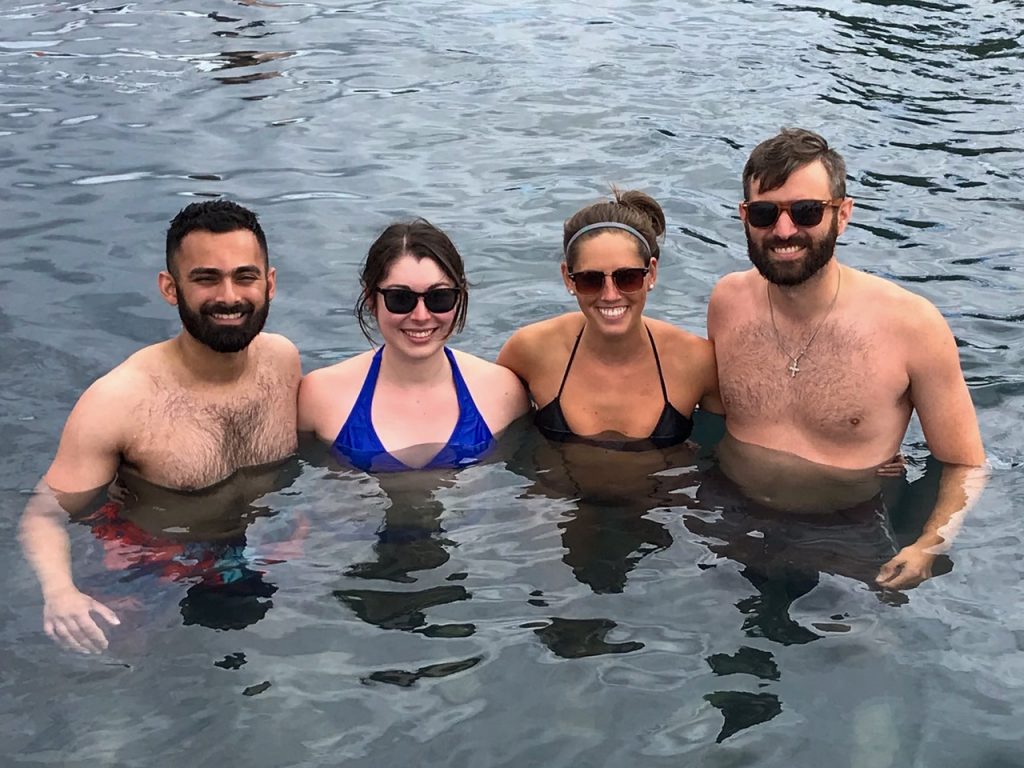 The lagoon stays above 100 degrees Fahrenheit year-round, and the surrounding area boasts several other geothermal spots and a small geyser that erupts every five minutes or so. In the winter, you can even see the northern lights from here – too bad we missed that!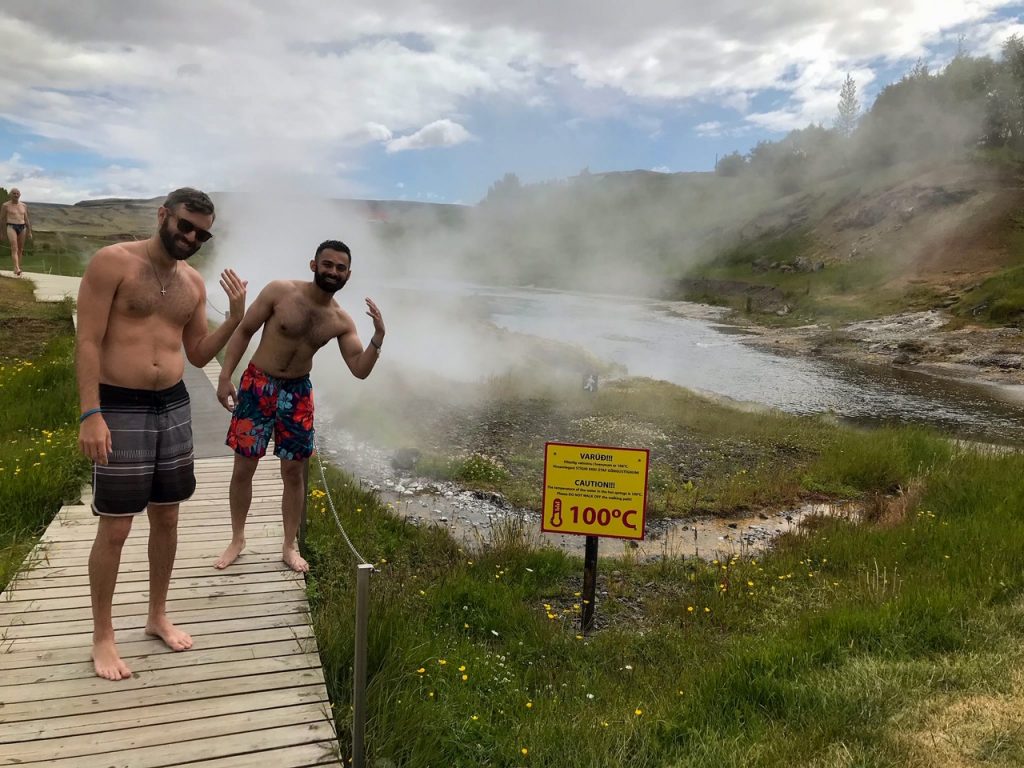 If you've ever been to a Nordic spa, the experience of getting in and out of the hot water and feeling the cold air against your skin is quite similar. Remember to bring your towel along, so you can wrap up after – or you can pay extra to borrow one. Of course, you will need a bathing suit, so don't forget to pack one!
We probably could've spent a bit more time here, but we wanted to stay on schedule. We only stayed for about an hour plus the time it took us to shower and change afterwards.
Some areas were a little slimy, and you're definitely going to want to shower afterward, so bring a change of clothes. They have soap and shampoo/conditioner inside, albeit in a communal shower area – have fun 🙂. Note: you can totally wear your bathing suit if it makes you feel more comfortable – we did!
An hour-long drive and another hour-long walk took us to the hidden treasure, Gjáin. We basically left our car on the side of the road and began trekking through what looked like Mars. Technically, you can drive to Gjáin, but the road is restricted to four-wheel drive vehicles only.

Gjáin is known as one of Iceland's "Pearls of Nature" and is hidden deep within the Þjórsárdalur Valley. It really is quite picturesque. Appearing practically out of nowhere, almost like a mirage in the expanse of the lava fields that surround it, Gjáin is covered with waterfalls, rivers, columnar basalt, and other volcanic formations. From here you can also see the volcano Hekla.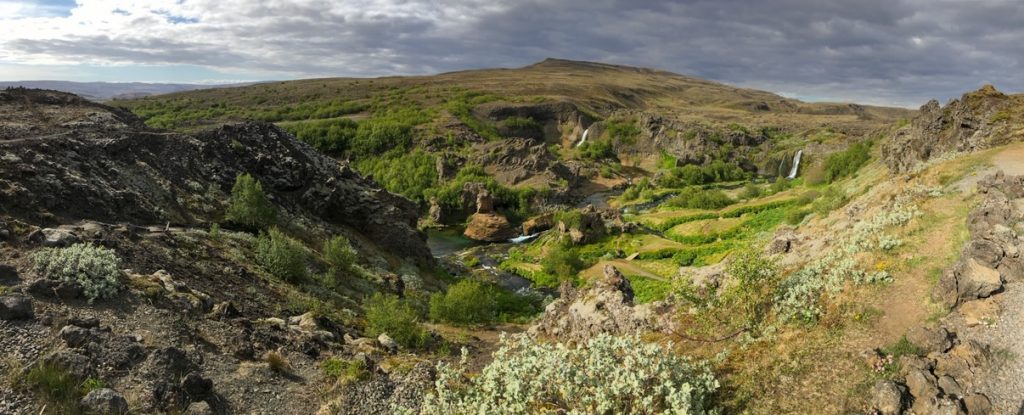 Many native Icelanders believe that elves and trolls live here, but it reminded us more of the movie The Land Before Time. It really was unlike anything we had ever seen before. For all of you Games of Thrones lovers, there were some scenes filmed here.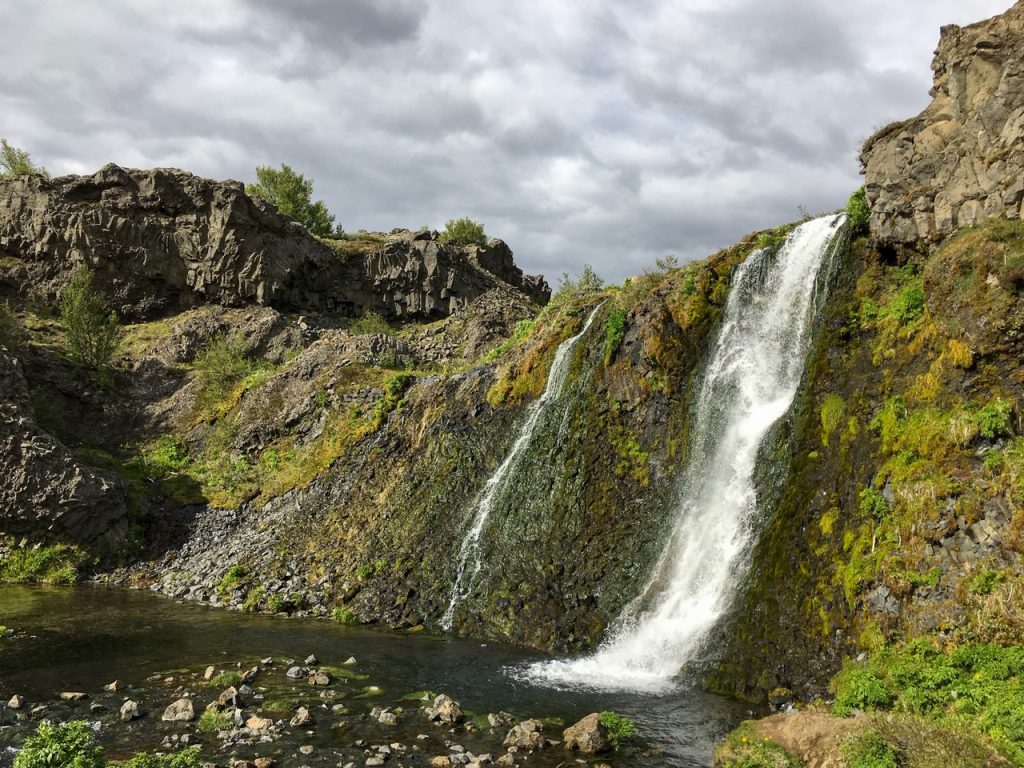 Note that some of the paths leading to the waterfall, Gjárfoss, are rocky and steep. We definitely recommend wearing hiking shoes here. And, unfortunately, Gjáin is covered in snow and inaccessible in winter months, so you won't be able to visit then.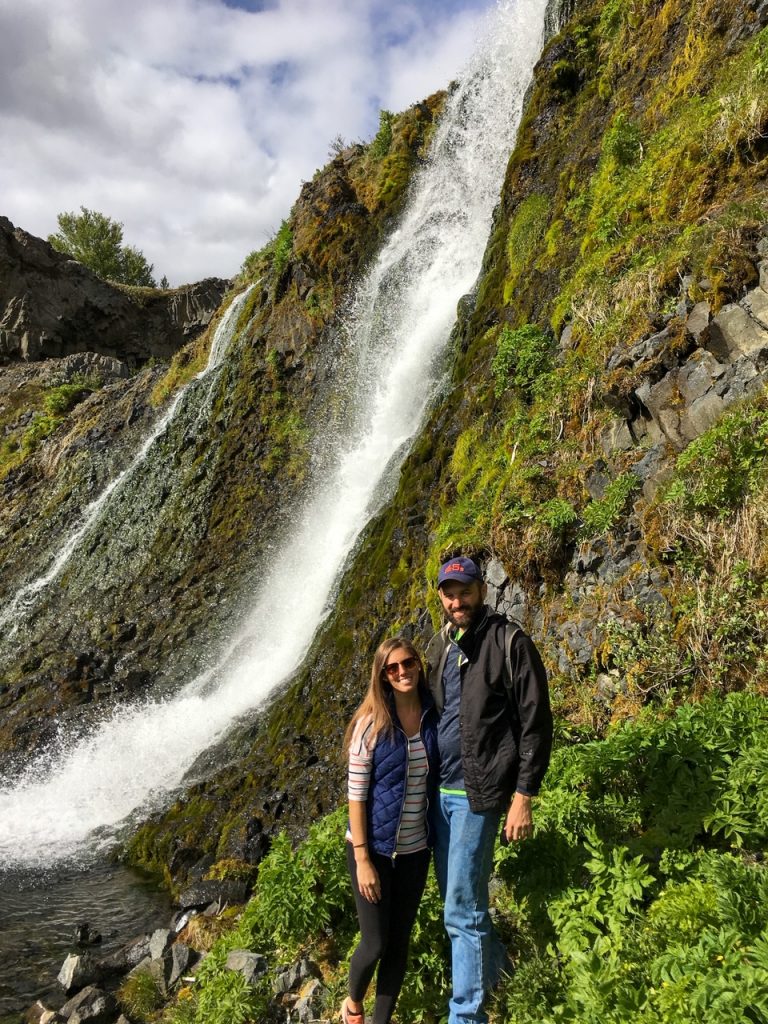 We walked the hour or so back, which seemed a lot longer to us this time, and got back into our car, which was left undisturbed – likely because we were in the middle of nowhere…ha!
Around 8:30 PM, we arrived at Hotel Lambafell. Although there was a bit of trouble getting in and connected to the WiFi, we absolutely loved this place. I mean, look at that view! So epic.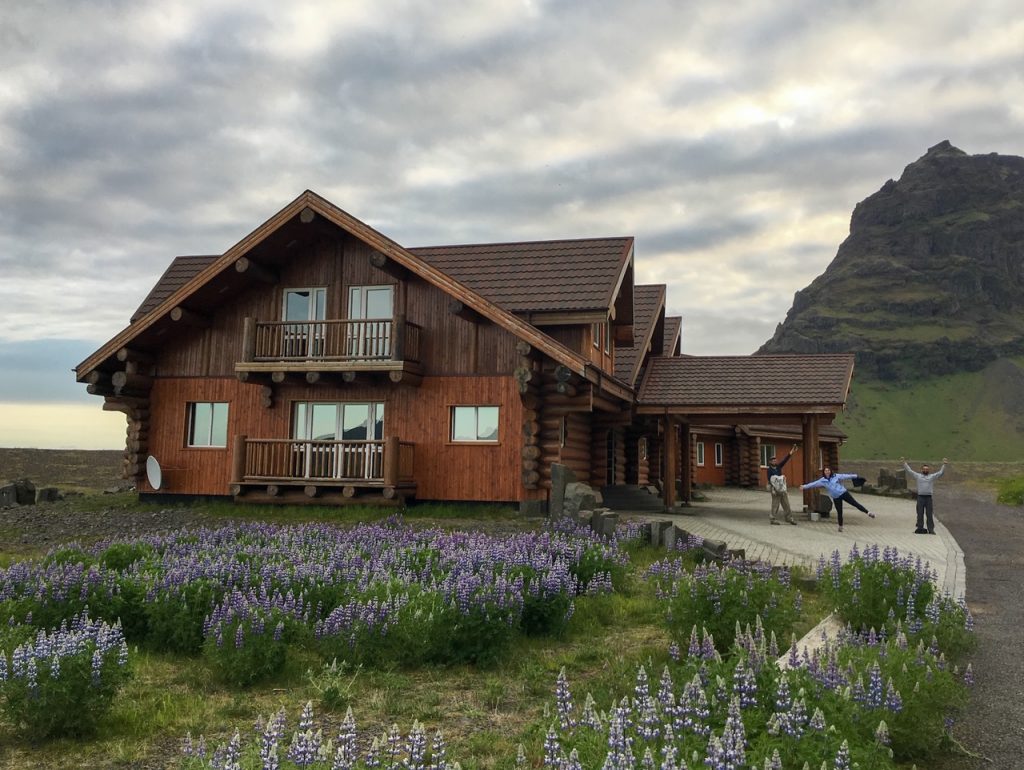 We shared a quaint room between the four of us with four single beds, two of which were pushed together on either side of the room, and one bathroom.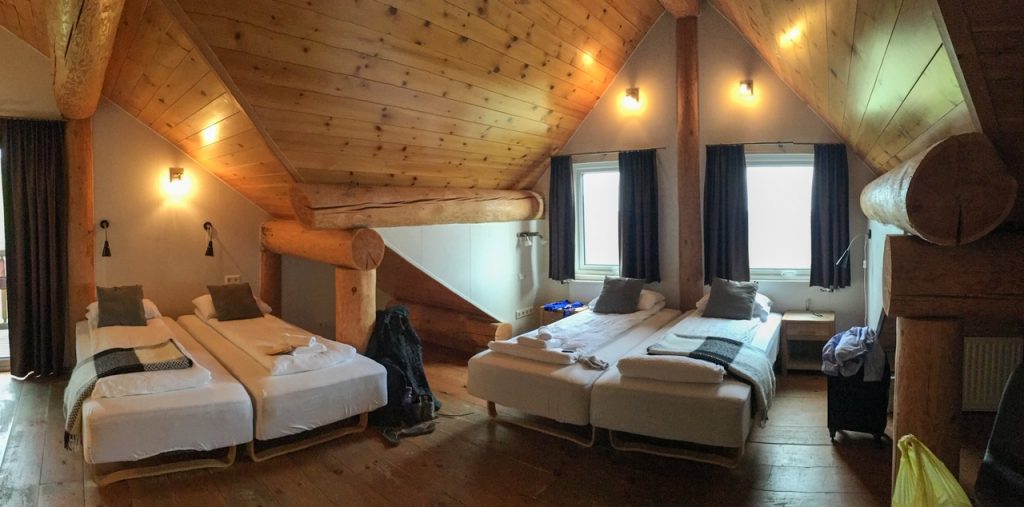 I know, I know – you might be thinking that sharing a room is a little weird, but these are some of my best friends and we were doing Iceland on a budget!
There was a communal area downstairs with a small mini-fridge to store our snacks. And, breakfast was hosted down there as well.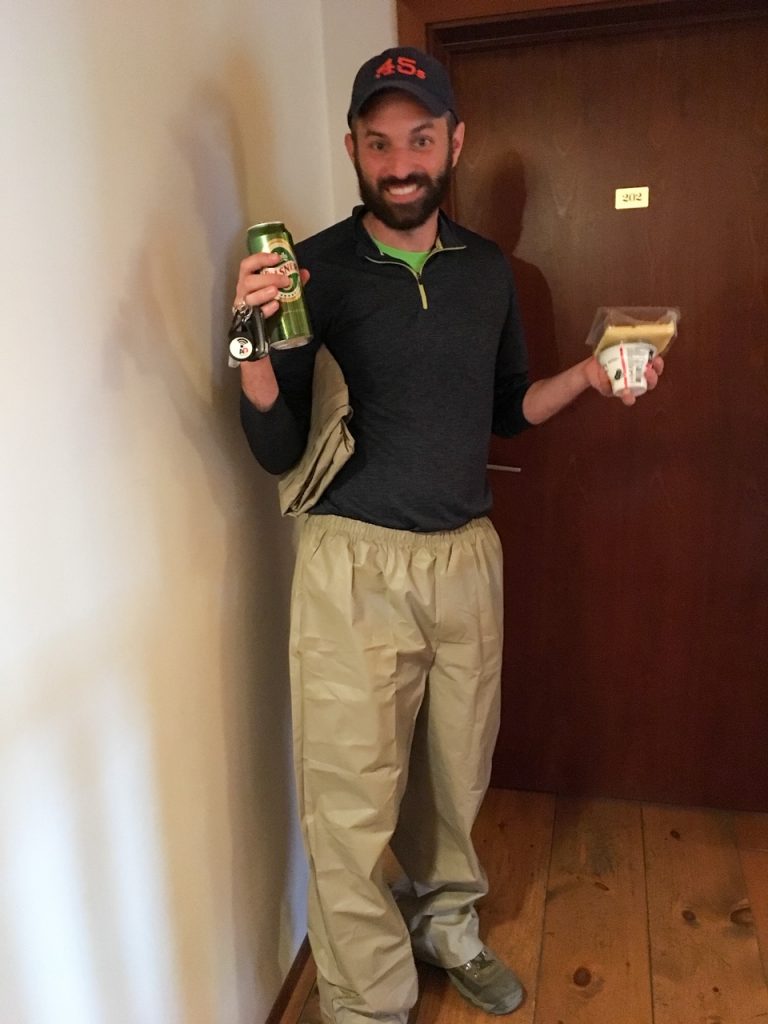 Outside, there was a hot tub overlooking the stunning vista of mountains and rolling hills.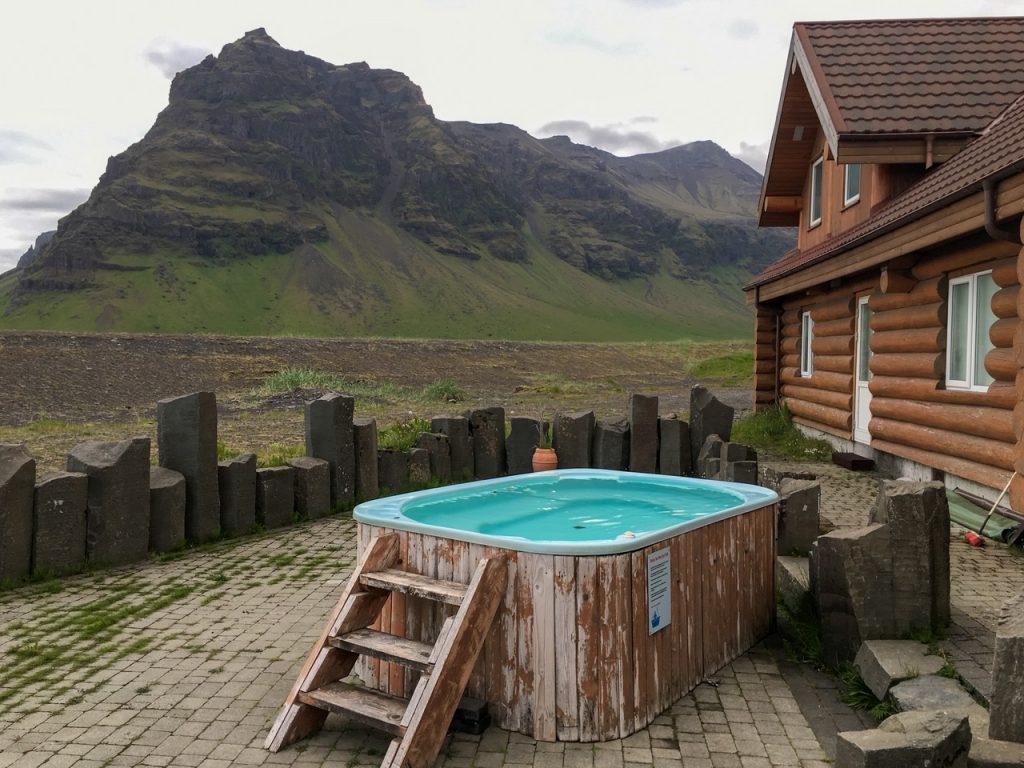 Since it was still light out around 10 PM, we drove out to Gljúfrafoss and Seljalandsfoss, two incredible waterfalls.

Gljúfrafoss is another hidden gem, tucked away behind a cracked cliff, where its waters flow deep into a cave covered in moss and greenery due to the moist surroundings.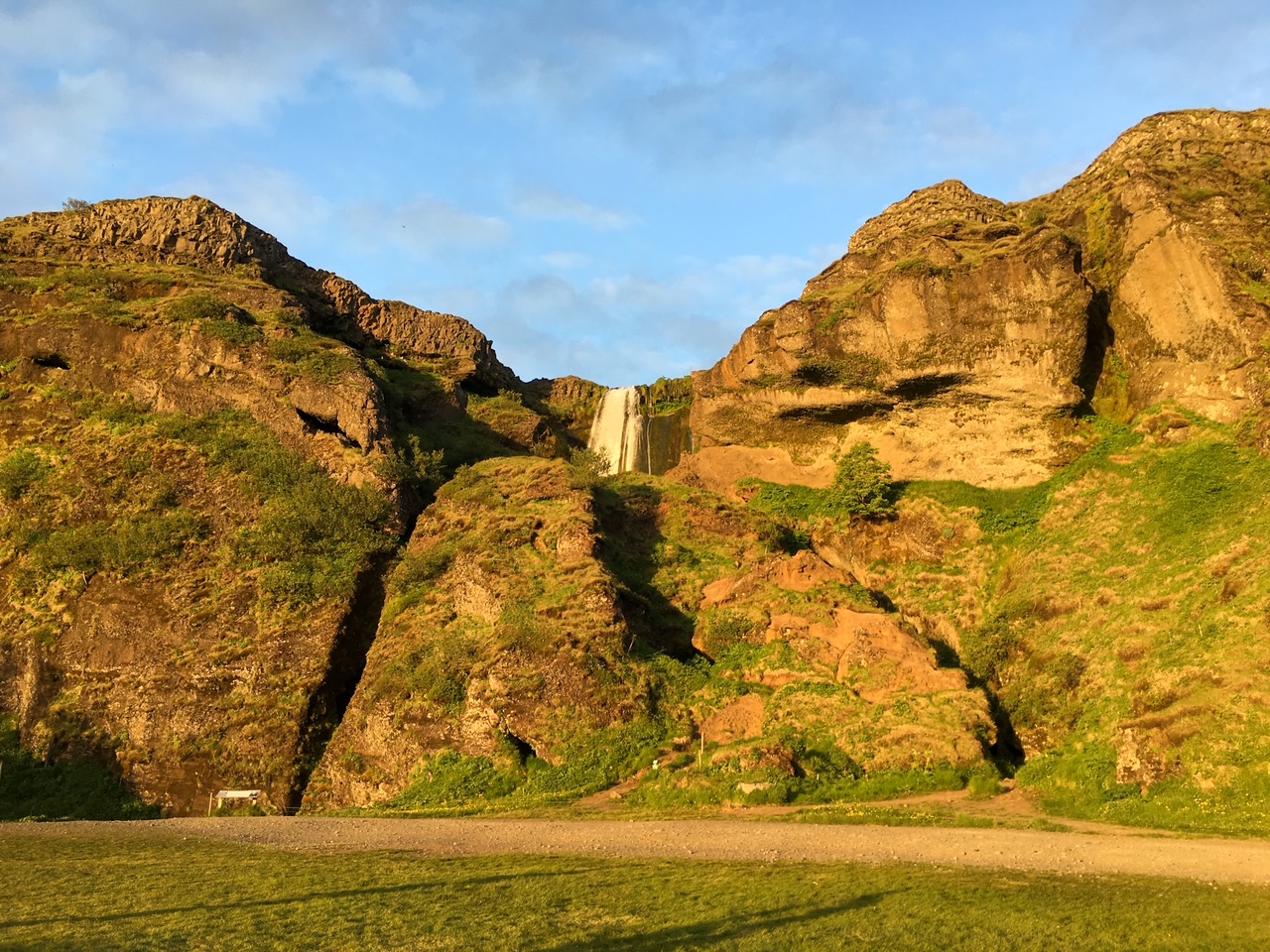 A Broad Recommendation: This would be a great time to wear your waterproof jacket, pants and hiking boots because you will get wet! Visitors are able to climb into the cave and make their way back to the waterfall for an even cooler perspective. You may be wading through water if you aren't good at balancing on rocks. I waited until the last minute, i.e. two days before our trip, and ordered these Columbia Women's Anytime Outdoor Boot Cut Casual Pants. They ended up arriving right on time and were perfect!
You will also want to make sure your camera and/or phone, AppleWatch, etc. are in a waterproof bag or sandwich baggie. I always bring lots of these along on trips just in case there's water or dust to worry about.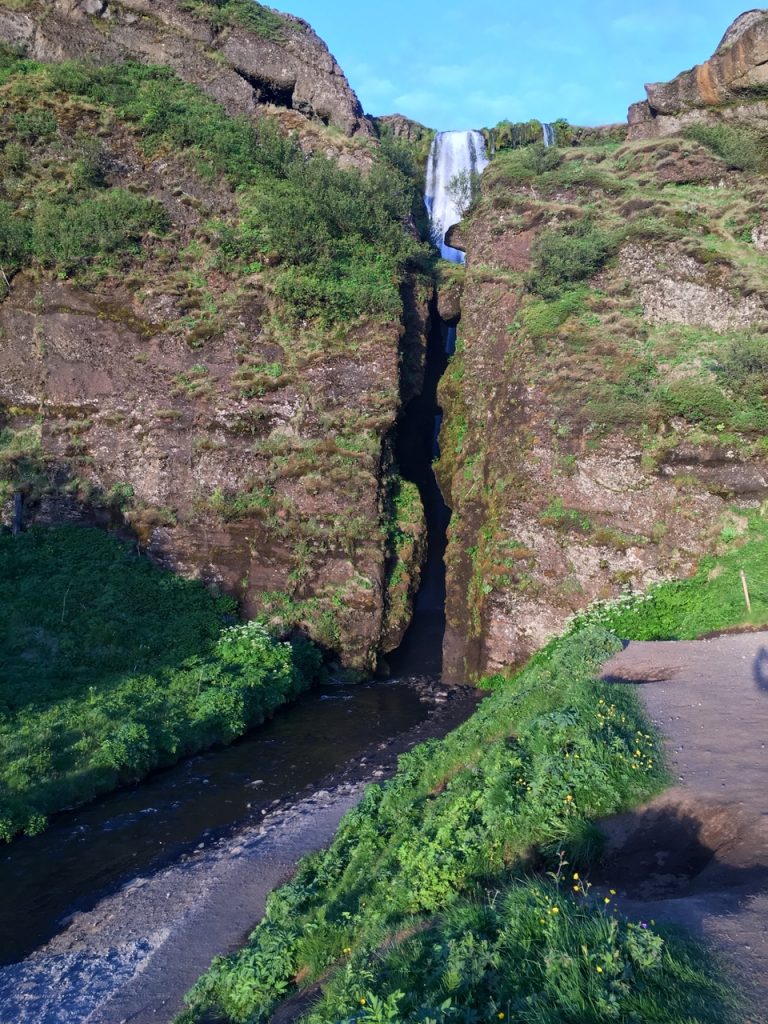 There's a trail with a wooden staircase that will take you to another viewpoint, but we chose not to do this because we were ready to check out Seljalandsfoss, and it was already getting pretty late.
Seljalandsfoss is one of the country's most famous, most visited, and most photographed of all the waterfalls. It's part of the Seljalands River that originates from the volcano glacier Eyjafjallajökull. Back in 2010, when the volcano erupted, havoc was wreaked to air traffic all the way in Europe. Ash made its way to the UK, Scandinavia and parts of Germany – say what?!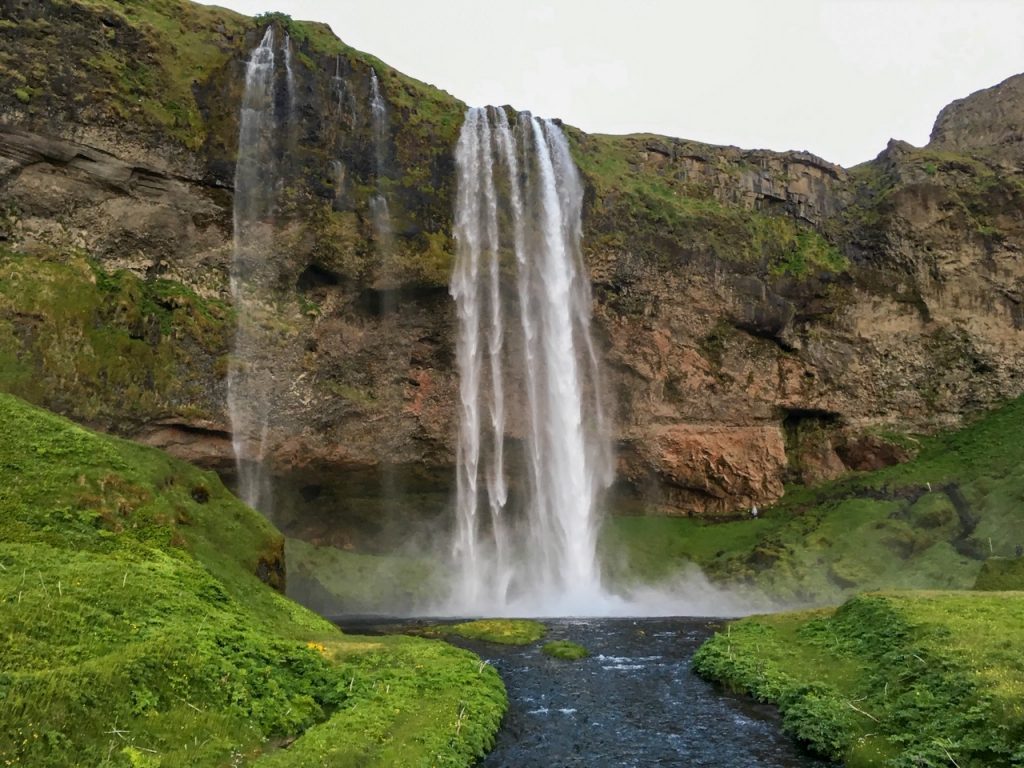 The waterfall can be fully encircled, meaning you can walk behind the falls into a small cave and watch the water flow down from another perspective, which is exactly what we did. This was one of the coolest experiences of our entire trip, and a must-see for any trip to Iceland. We watched the sunset through the waterfall – and because Iceland is so neat, we saw the sun rising on our way out!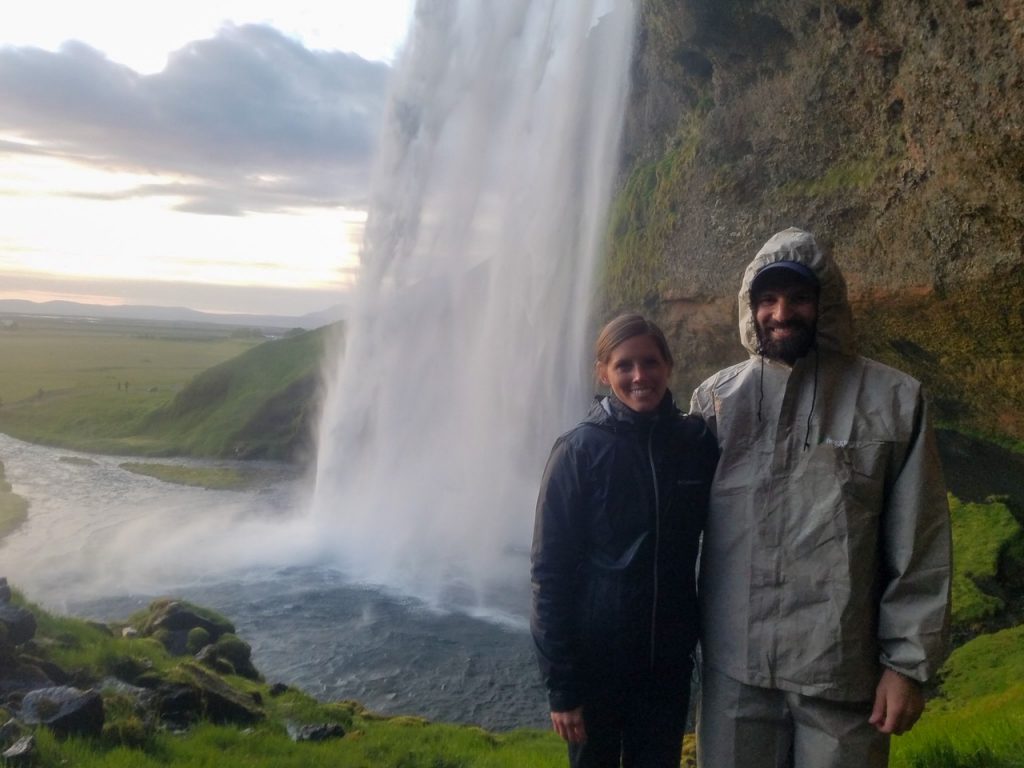 Note that, again, we were here in the summer; it may not be safe or accessible to do this in the winter. We heard stories of icicles or boulders falling and almost hitting people in the past, so remember to be extra careful and stay aware no matter what time of year you're visiting.
Also, fun fact: Seljalandsfoss was featured in The Amazing Race 6 and in one of Justin Bieber's music videos (the 'I'll Show You' video for all you Beliebers out there – don't worry, I wasn't going to leave you hanging!).
Again, you're going to want to wear your wet gear here because the mist will get you and your phone. If you go for sunset, no matter what time of year you're visiting, it will likely be cold, so keep that in mind too.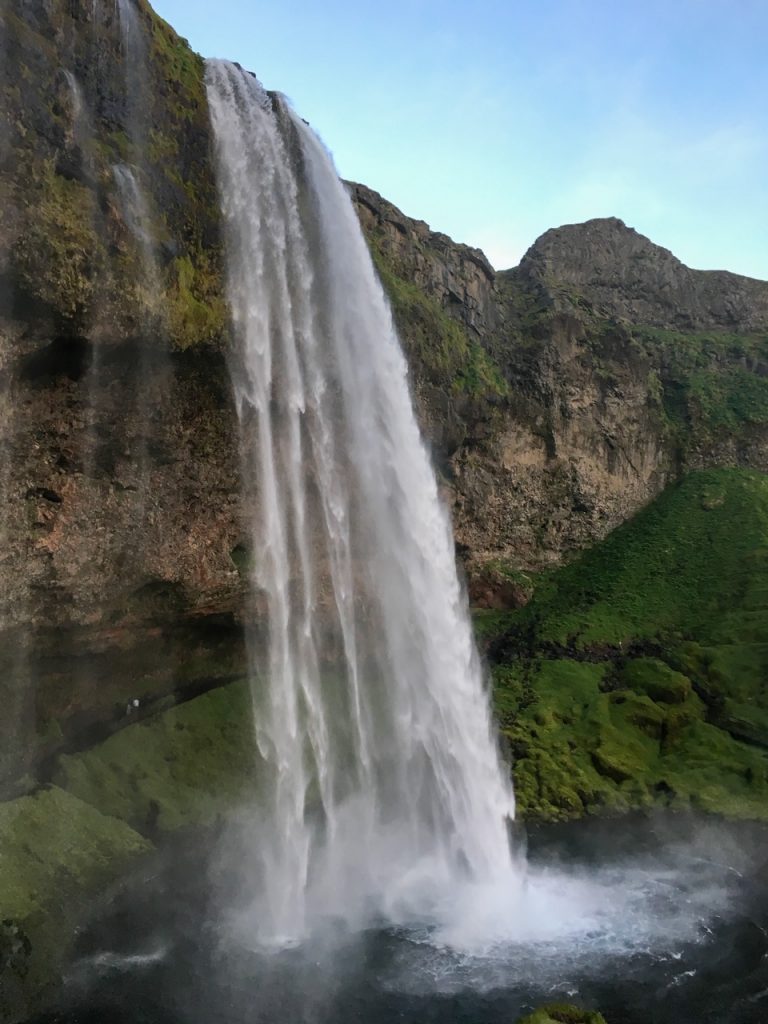 We headed back to the hotel where we warmed up in the outdoor hot tub for a bit before taking turns showering and getting ready for bed. This was getting to be way past our bedtimes by now!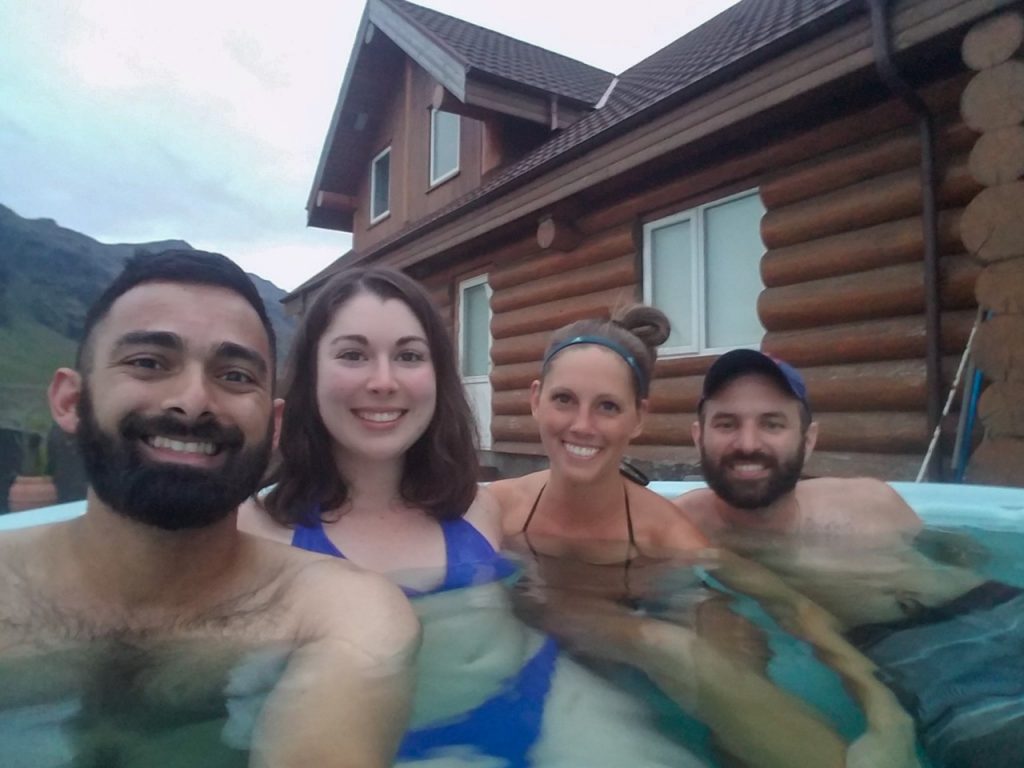 Hotel Lambafell was definitely one of our favorites of the trip; the cost was $240.96 for one night, split between the four of us.
Day 4: Making Our Way to and Through Vatnajökull National Park
The next morning, we were able to see Eyjafjallajökull in the distance before driving the 15 or 20 minutes to Skógafoss. If you haven't caught on yet, the Icelandic term for waterfall is "foss".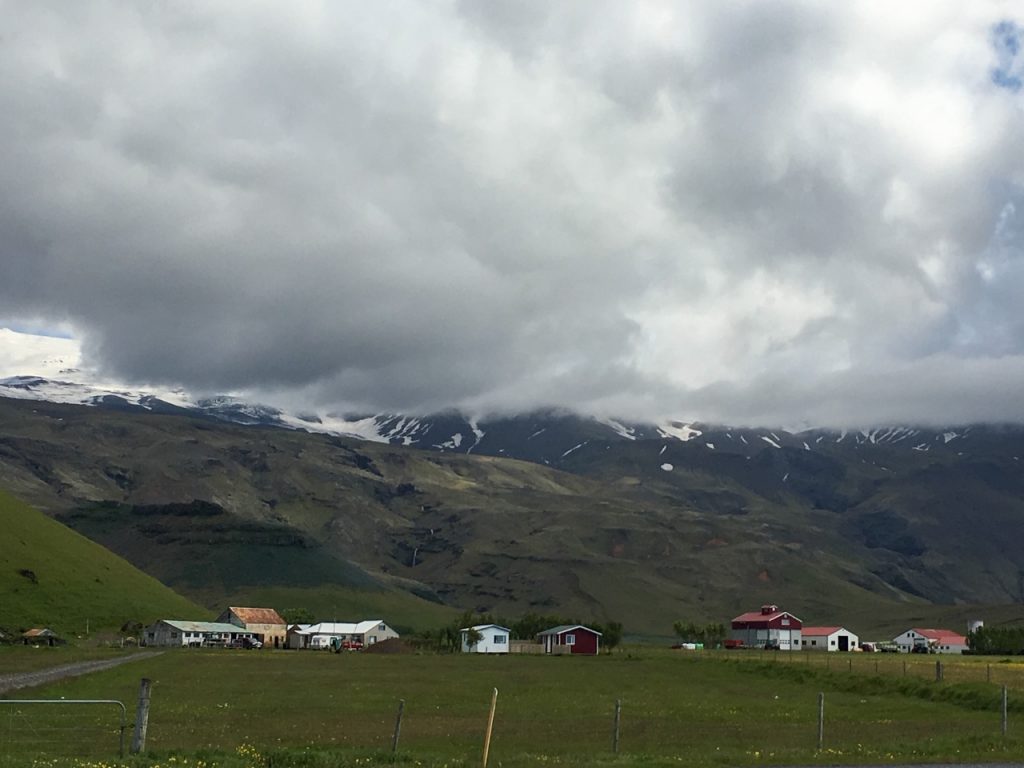 Situated on the Skógá River, Skógafoss is considered to be one of the most beautiful waterfalls in the country, and it's one of the largest at 82 feet wide and 200 feet tall.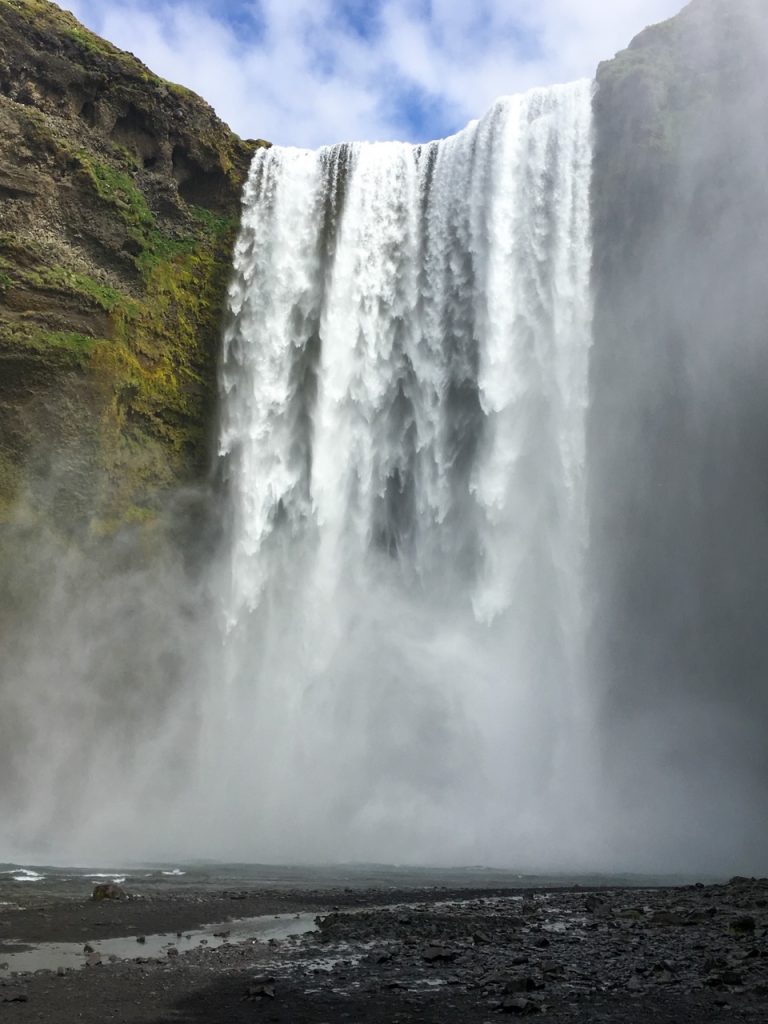 According to legend, a Viking settler named Þrasi Þórólfsson hid a chest of gold behind the waterfall, where it would be difficult to reach. It sat there for many years with one end visible through the waterfall. Three men once tried to retrieve the chest, but when they pulled with all their might, an iron ring from the side of the chest was ripped off, and they were unsuccessful in moving it. The ring was placed on the door of the church in Skógar before being moved to the Skógar Folk Museum.
You can walk right up to Skógafoss, and because we went in the morning, we got some amazing, people-free shots!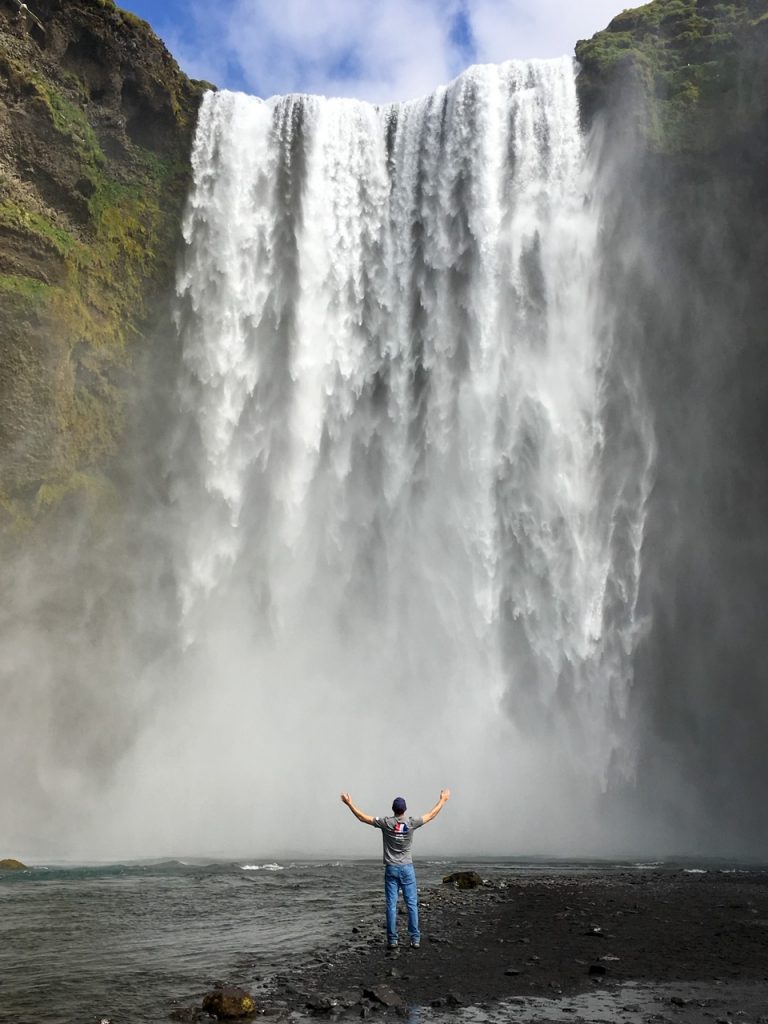 My only wish is that I had a nicer camera on this trip; I used an iPhone 6s for all of my photos here. I've since upgraded to the iPhone 11 Pro, and the difference in photo quality is striking.
If you decide to go all the way up to the waterfall, be prepared to get wet (again)! I wore my waterproof jacket, pants and boots again, and you can see here with a quick turn of the wind, we had to run away to avoid getting drenched.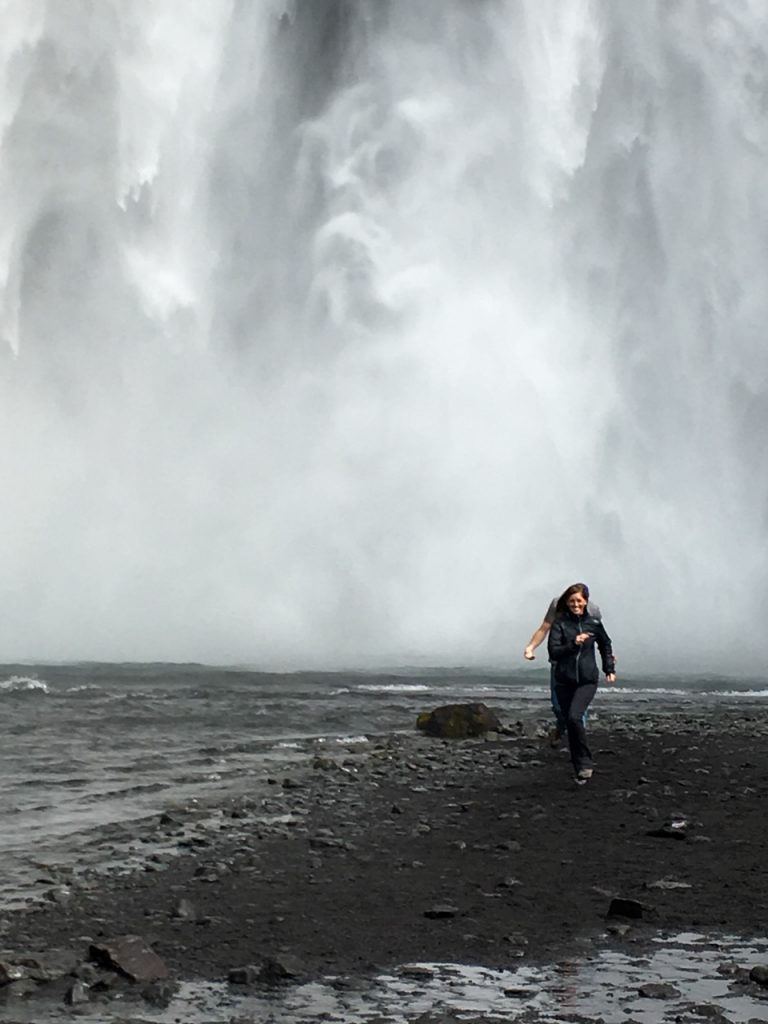 More fun facts: this area used to be a coastline that receded seaward, leaving the cliffs behind and forming a clear border between the coastal lowlands and highlands. On most days, you can see at least one rainbow in the falls.
Steps lead up to an observation platform where you can admire Skógafoss from a different perspective. On the eastern side, the Fimmvörðuháls pass, a famous hiking trail between the glaciers Eyjafjallajökull and Mýrdalsjökull, leads to the Þórsmörk valley.

You'll be excited to hear that this one was ALSO featured in JB's music video. How fun!
On another hour and a half-long drive, at some point, Abby really wanted to stop to pet the sheep. I guess these sheep weren't very nice because she came running back to the car, haha.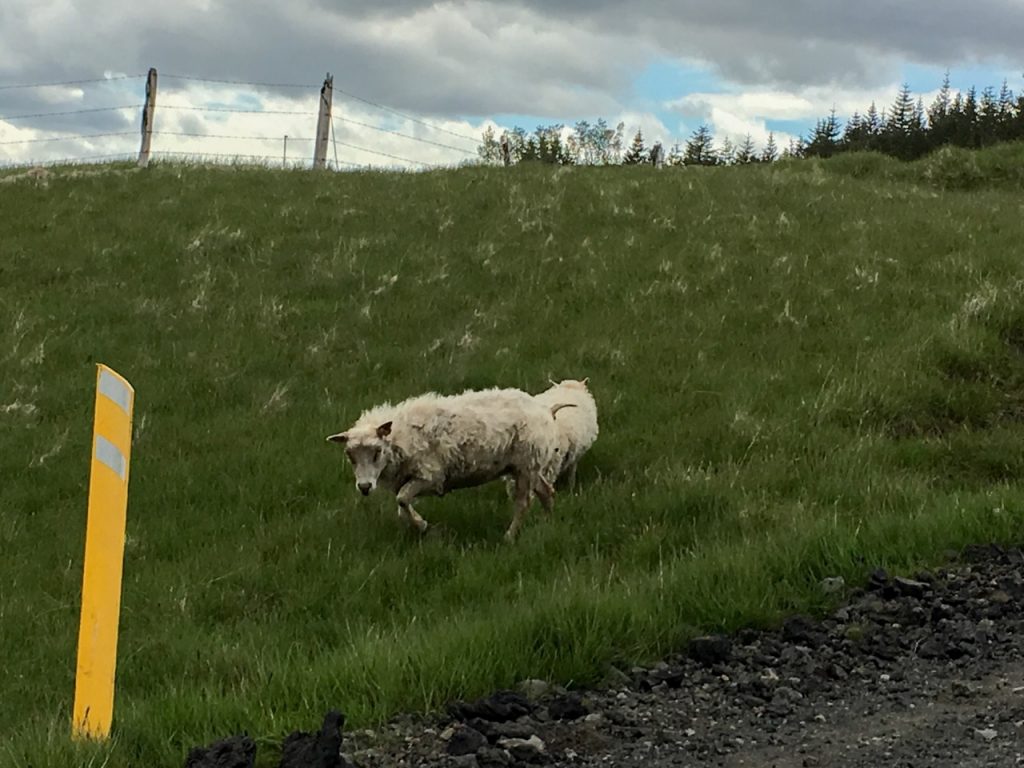 Next up was Fjaðrárgljúfur, a.k.a. "Feather River Canyon". More than 300 feet deep and around a mile long, Fjaðrárgljúfur is a narrow canyon with steep, "sheer" walls, a serpent-like shape, and palagonite bedrock from the cold periods of the Ice Age. It's believed to be around two million years old, forming at the end of the last Ice Age – how cool!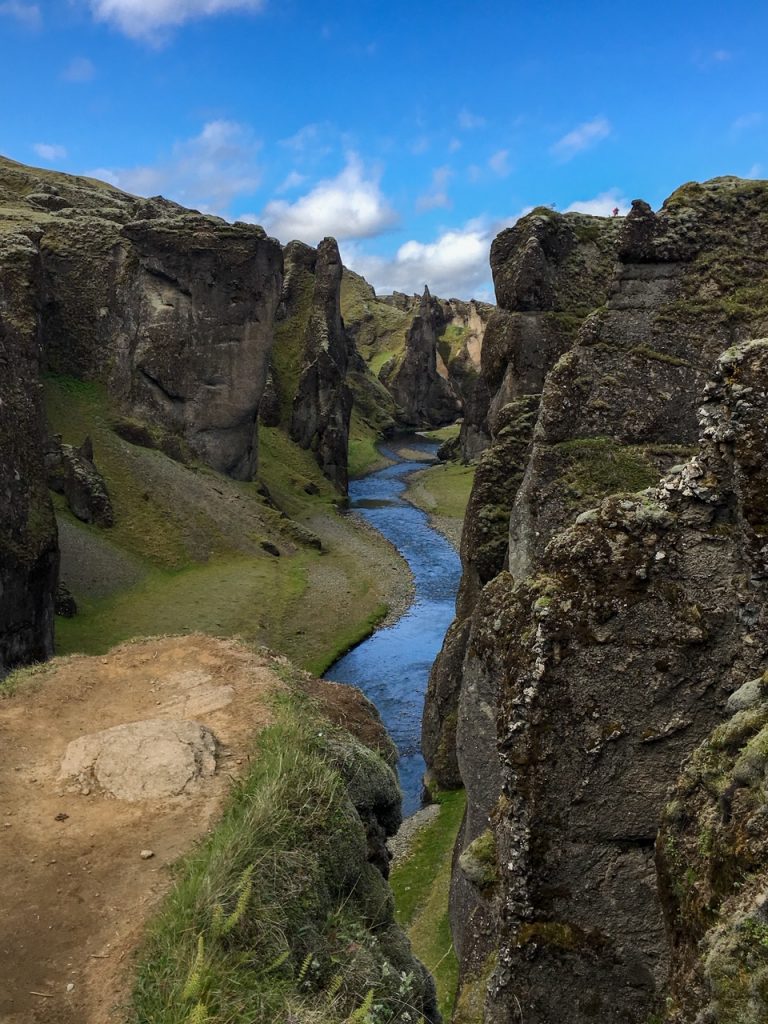 Tourists came flocking to this once little-known location after the release of JB's music video, but the canyon couldn't withstand all of the foot traffic that was damaging the vegetation, so it was closed from March to the beginning of June in 2019 – thanks a lot, Biebs. We got so lucky that we visited just after it reopened!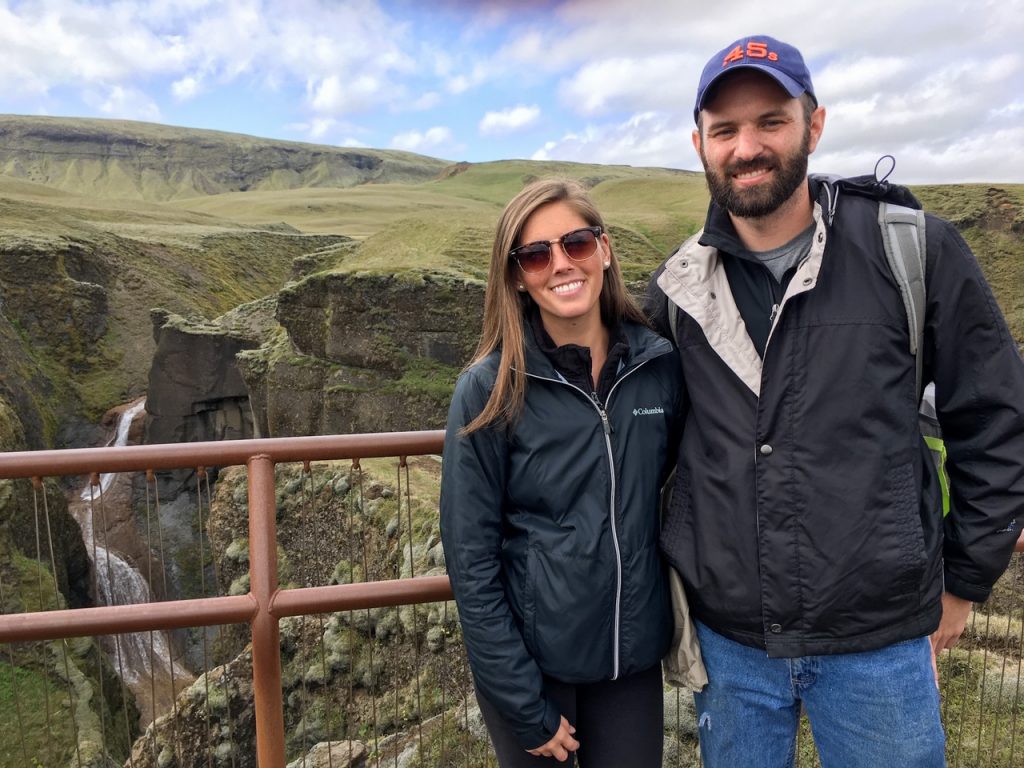 We loved walking out all the way to the edge and taking in the views, and sorry, mom! I may have taken one quick shot sitting up on the railing; luckily, there were two bars.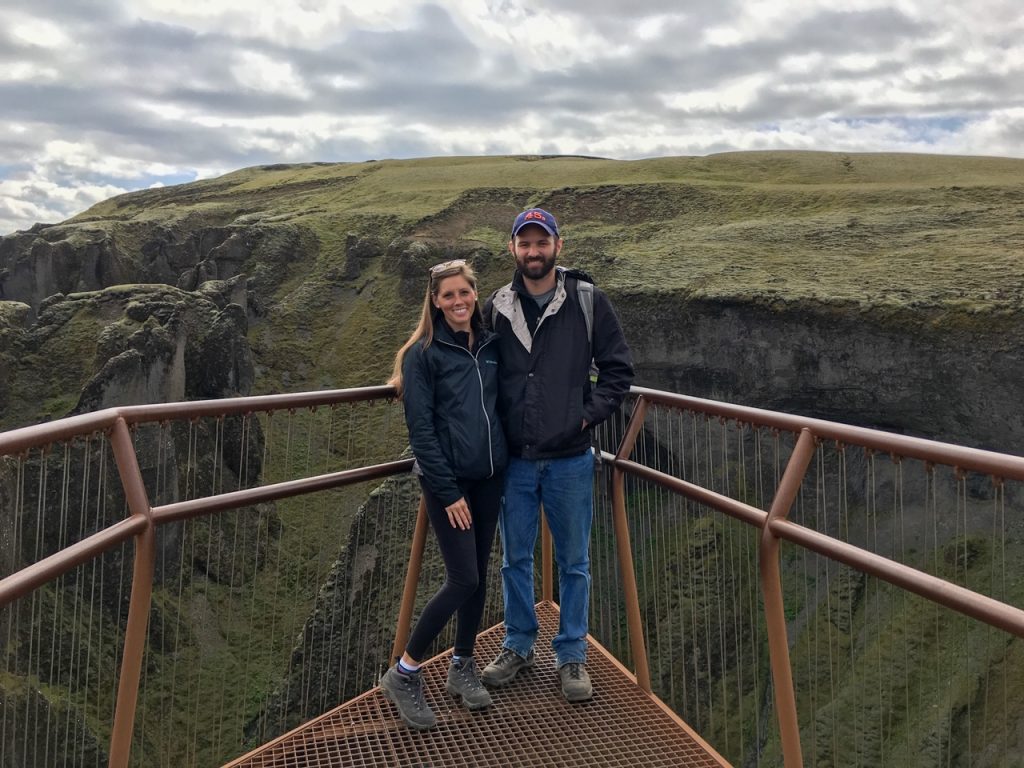 We set out on another hour-long drive to Vatnajökull National Park, the largest national park in the country, but we had to stop along the way to check out this gorgeous view.

The drives in Iceland, although long, have the most incredible scenery. It's hard to not want to stop every few minutes to capture some photos, especially when there are waterfalls in view.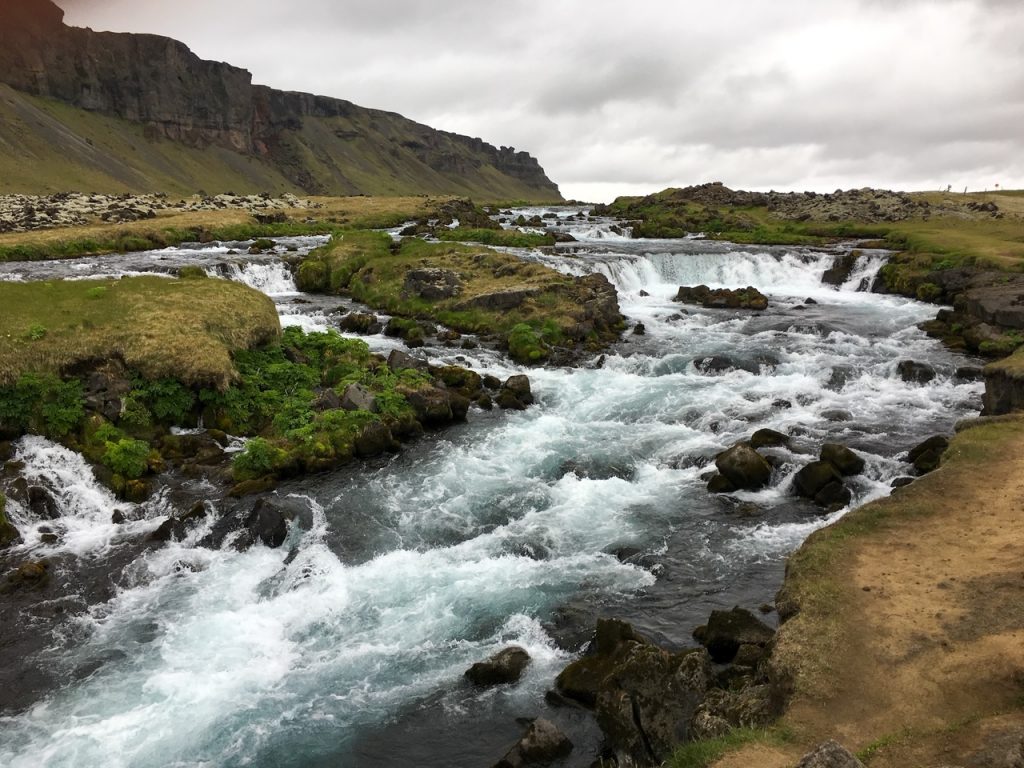 Once we arrived at the national park, we set out on our first hike of the day to visit Svartifoss, also known as "the Black Waterfall" or "Black Falls". The dark, hexagonal basalt columns that surround the waterfall give it its name and look similar to the pipes of a giant organ; they are formed from lava cooling over centuries.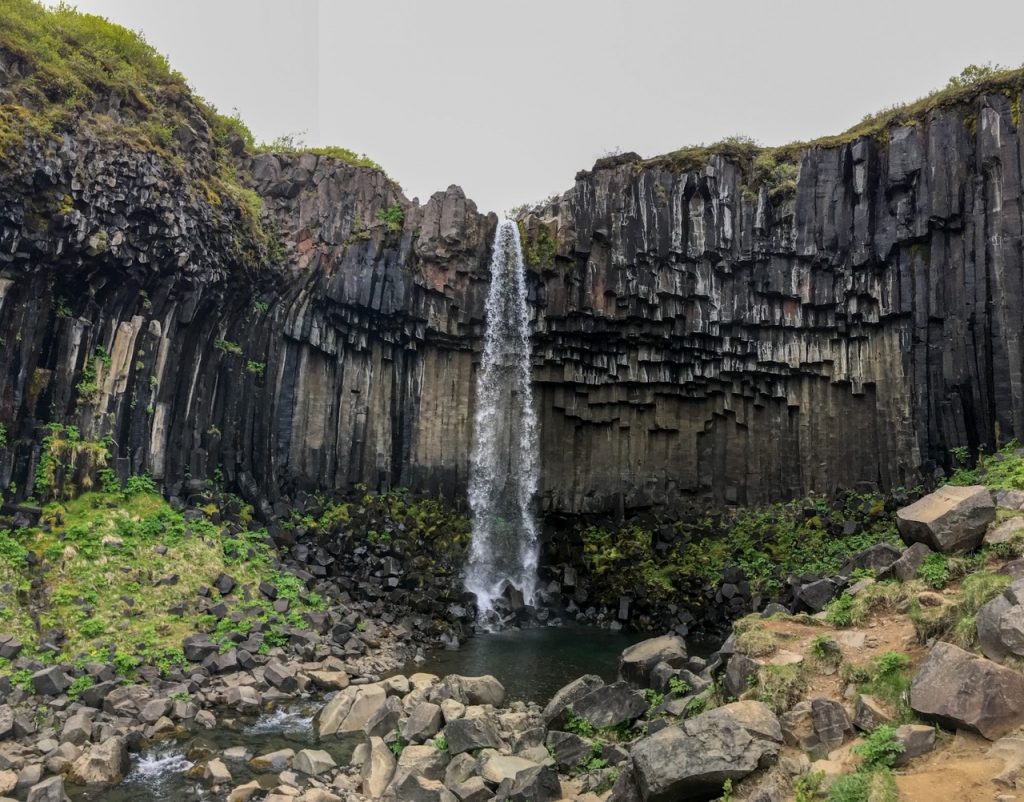 These columns are similar to those found in Northern Ireland at the Giant's Causeway, which I've actually visited before – how neat! Devil's Tower in Wyoming, United States and the island of Staffa in Scotland also have similar columnar jointing formations; guess we'll need to visit those as well.
Ice-cold waters from the Svínafellsjökull glacier flow over the columns from 80 feet above, and if hearing ice-cold waters doesn't bother you enough, the sharp rocks at the bottom of the falls should be even more reason to avoid getting in the water here.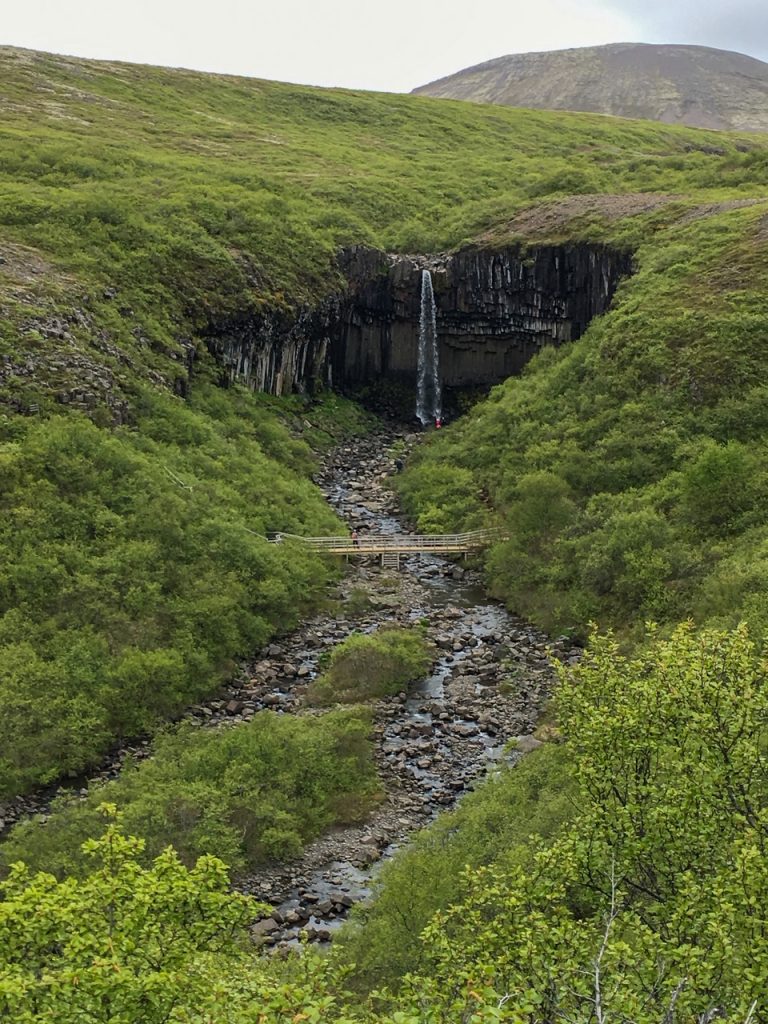 The trail leading to the waterfall is just around a mile and takes between 35-45 minutes one-way. It has some loose gravel along the paths, so be careful as you trek along. Paths can also be slippery, especially in rain or frost. Removing stones or plants and disturbing the vegetation or wildlife are prohibited, along with littering, of course.
There is also a moderately-priced campsite in the park if you choose to stay around here; the waterfall itself is free to visit.
After another hour drive, we arrived at Jökulsárlón, a large glacial lagoon in the southern part of the National Park. Let me pause here to just rave about how in love I was with this place. It honestly may have been the coolest thing I've ever seen in my life, and I don't just mean literally because it was also pretty cold temperature-wise, haha.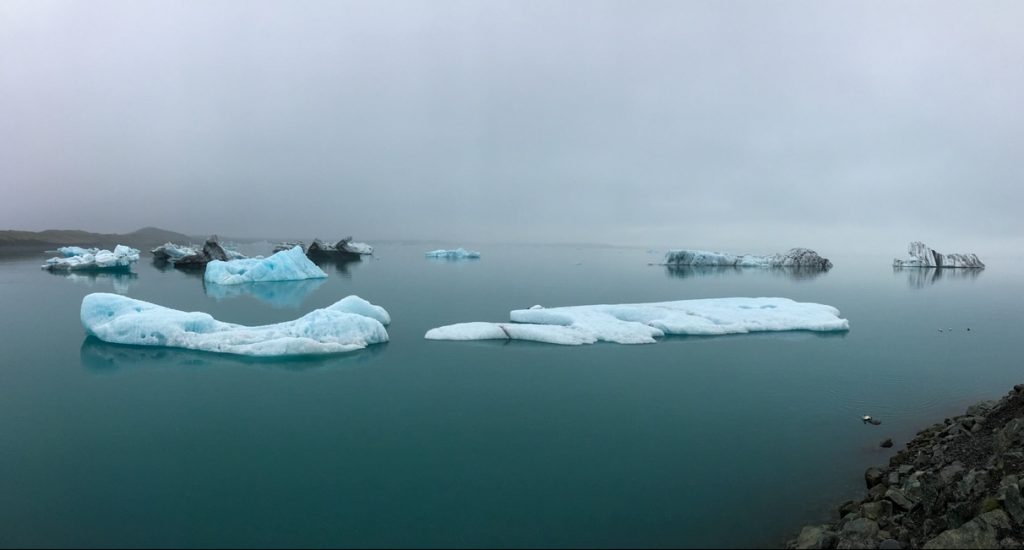 I've even joked with Tim that I want engagement and/or wedding pictures here – that's how much I loved it. To hold us over until then, we just took some pretty cute shots in our travel clothes.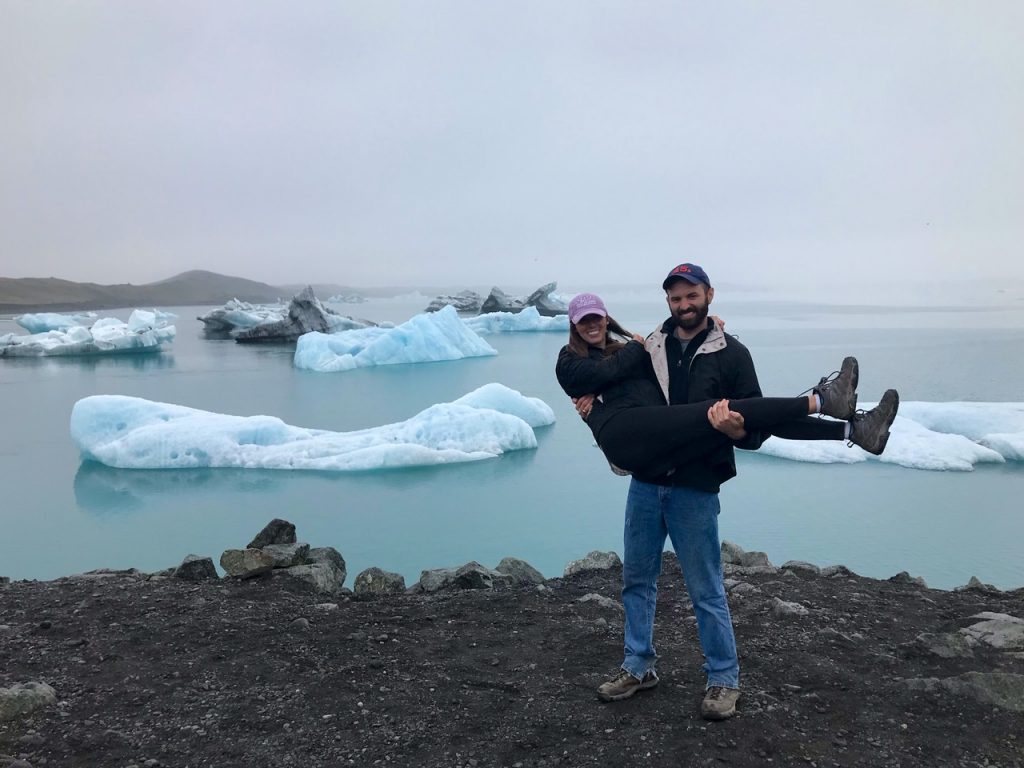 Situated at the head of the Breiðamerkurjökull glacier, the lake formed after glaciers began receding from the edge of the Atlantic Ocean. It has since grown due to glaciers melting over the past 60 or so years. It was once the deepest lake in Iceland and is considered one of the natural wonders of the country, which we can certainly attest to.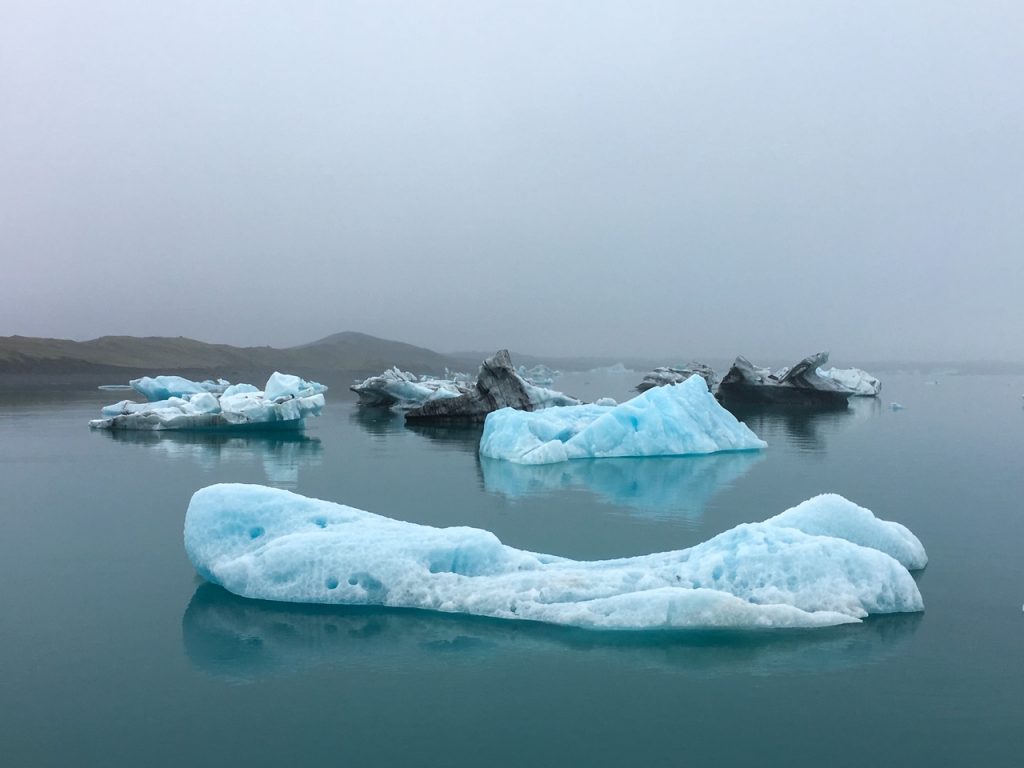 There are various boat and ice cave tours, which we didn't have time for, but I can only imagine how magical those would be. It's one of Iceland's most filmed locations, featured in various movies like James Bond and Tomb Raider.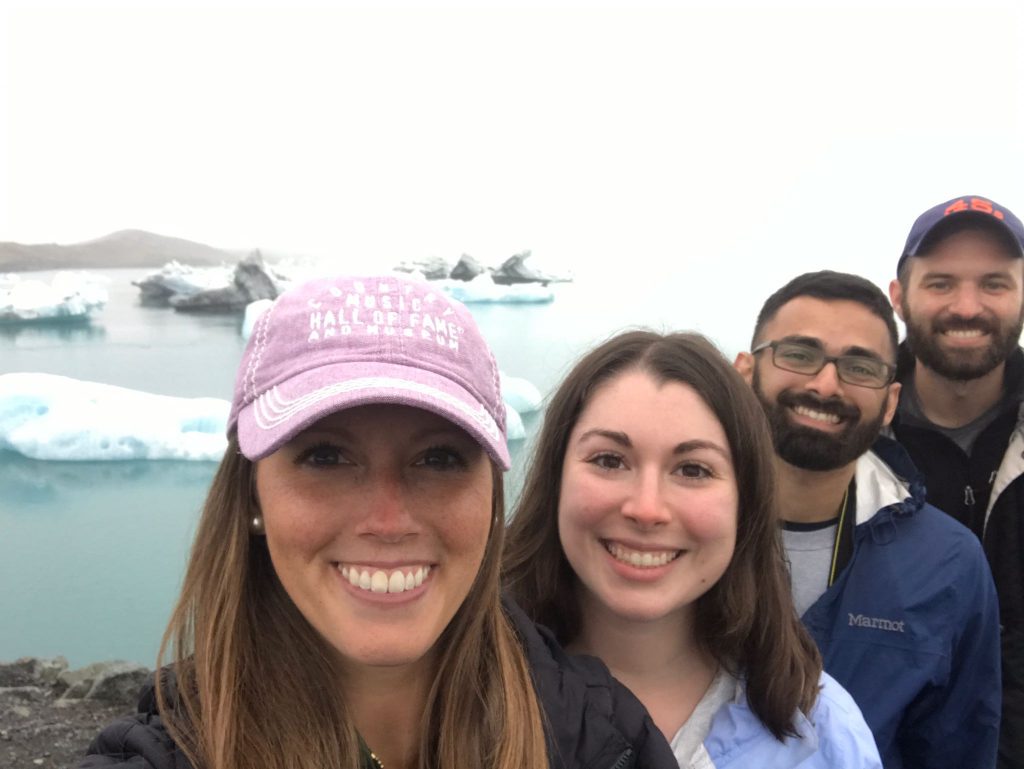 We crossed the street and walked a bit along the jet-black beach, Breiðamerkursandur; it's nicknamed "Diamond Beach", since it's covered in the translucent ice sculptures that wash ashore from the North Atlantic Ocean and glisten like diamonds.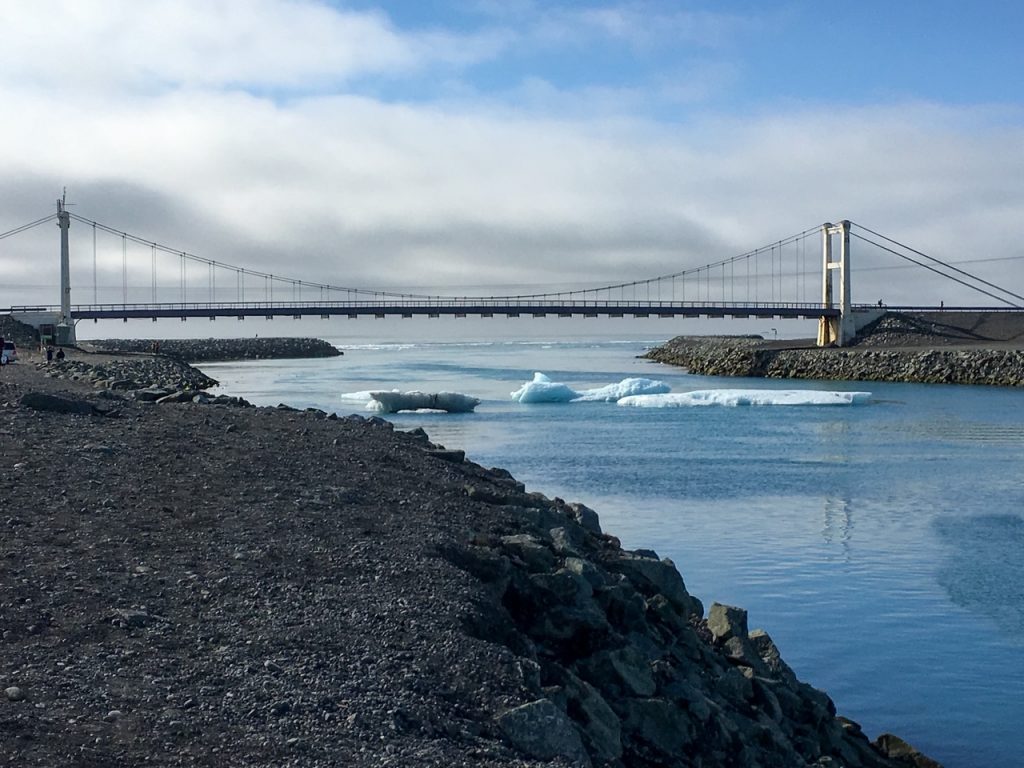 Here, we saw a bunch of seals laying along the shoreline and playing in the water. They can be seen year-round here, as they head to the mouth of the lagoon to catch fish.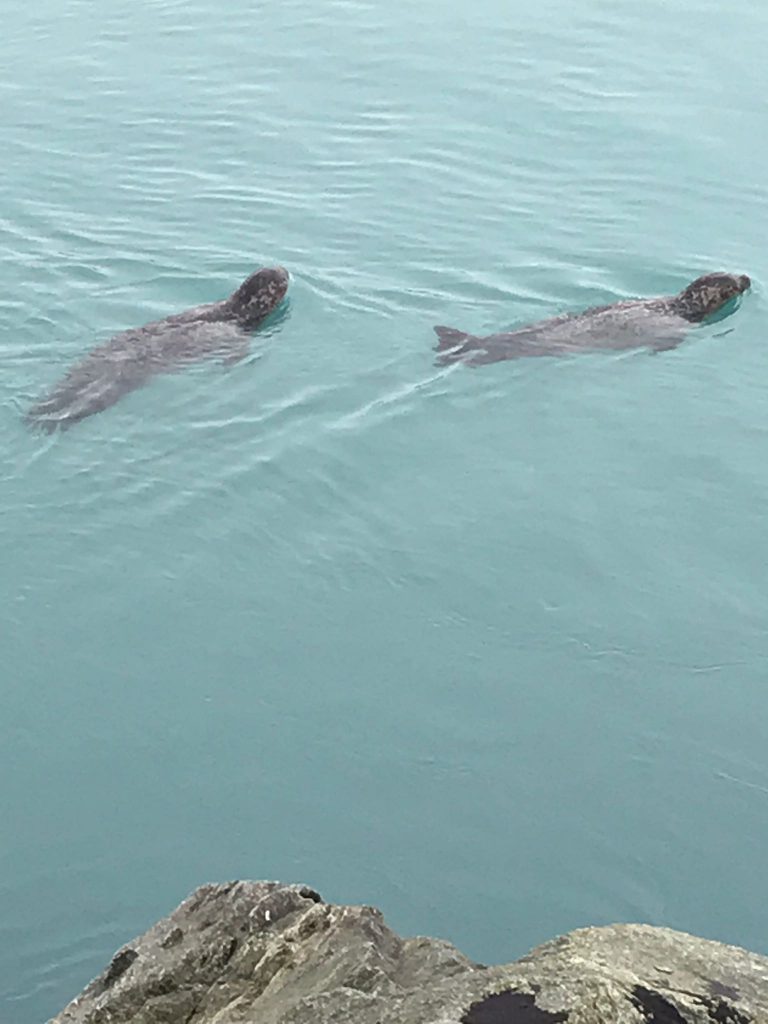 We headed on another 30 minute drive before arriving at Vagnsstaðir Hostel, where Abby and I enjoyed our twin beds, and Deep and Tim took the bunk beds. We did a lot of close bonding on this trip!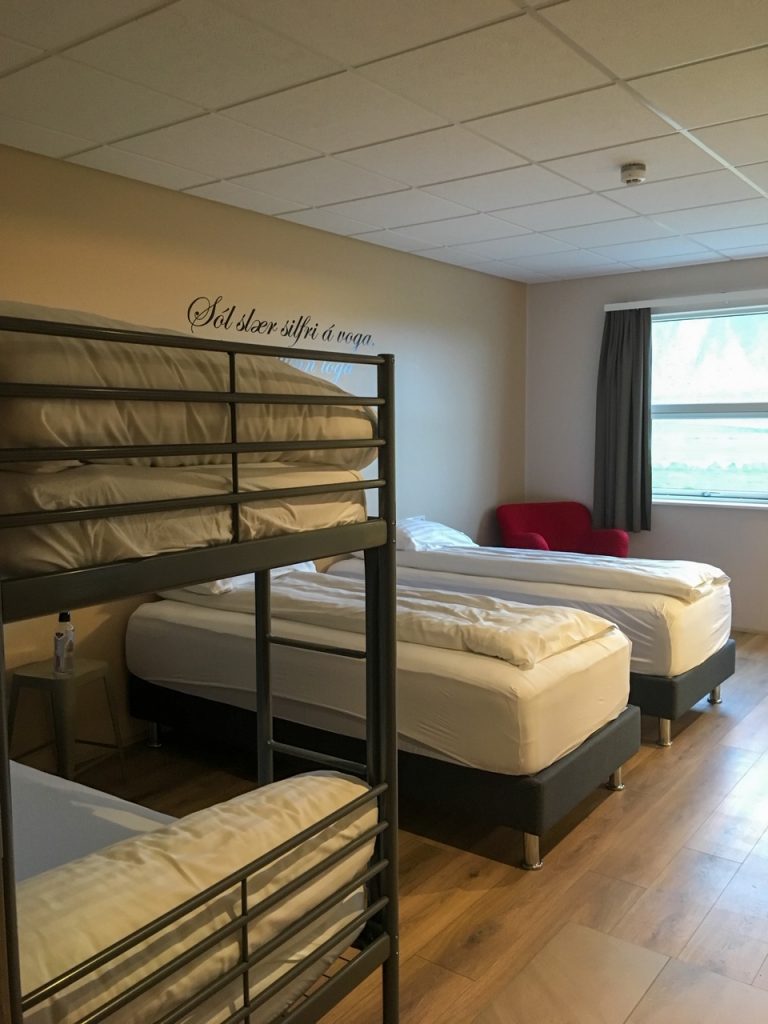 Check-in was seamless here, and breakfast the next morning was included; we paid $266.94 split between the four of us for our one-night stay. And, we got to see some sheep right outside!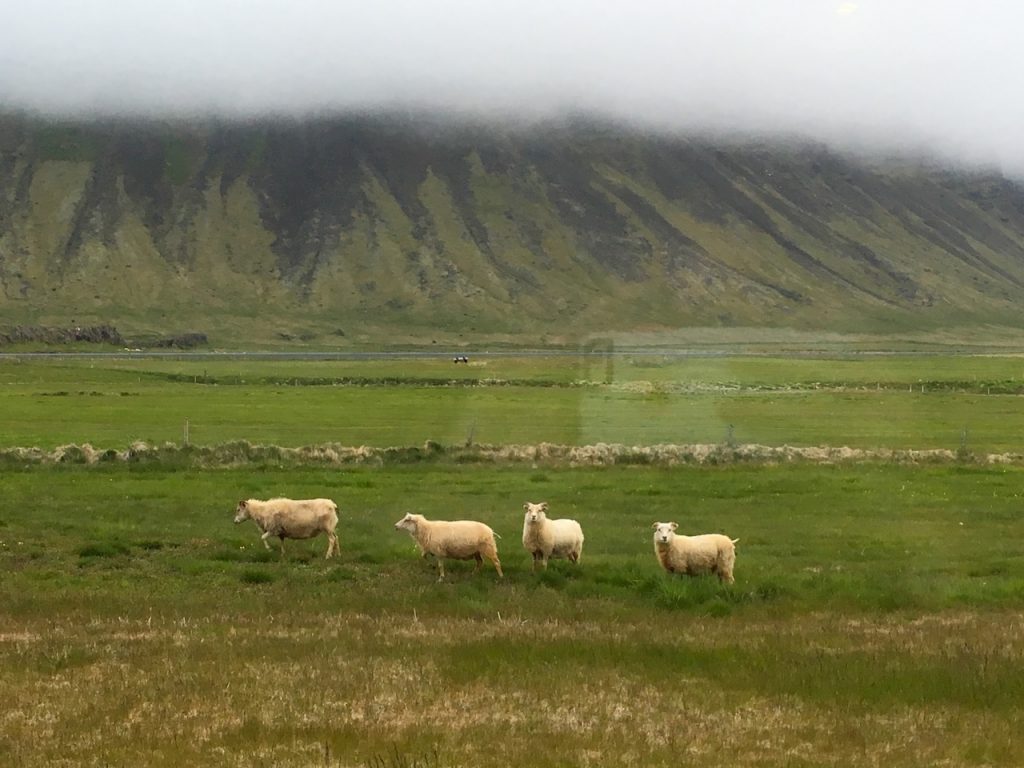 Day 5: Exploring the Beautiful Canyons and Waterfalls of East Iceland
When we woke up, we decided we just had to go back to Jökulsárlón before heading along on our way. It was too beautiful to pass up seeing this on a sunny day. The day before was a bit gloomy, albeit still magical despite the weather!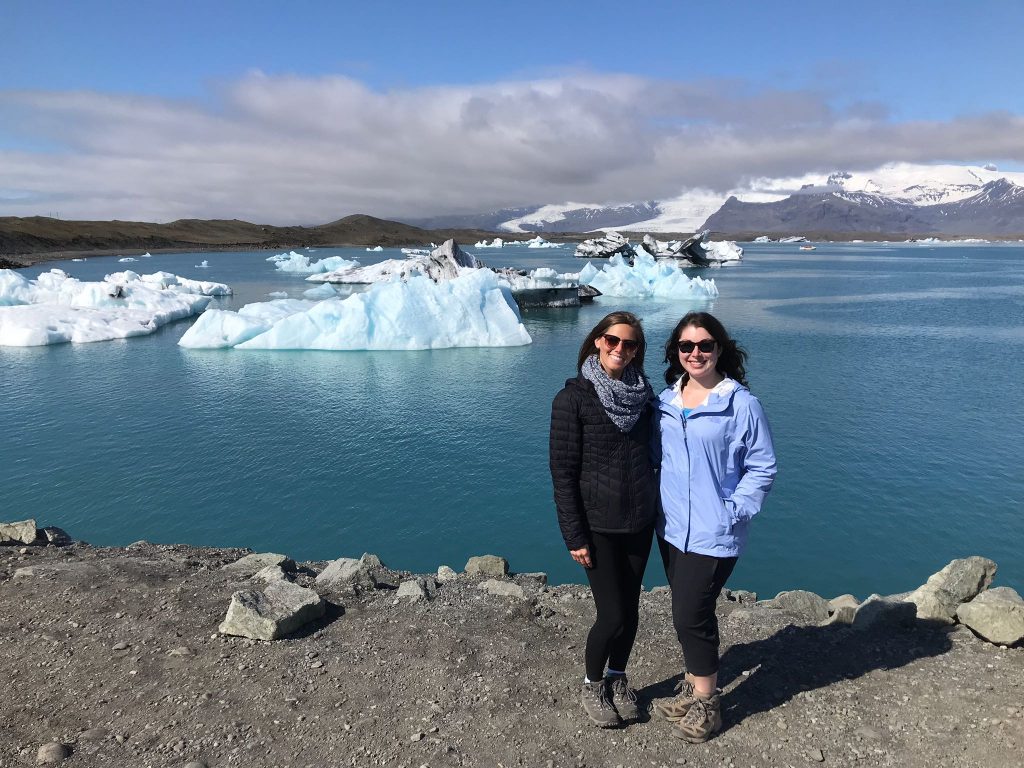 I don't know if I can say this enough, but this is a definite must-see on any trip to Iceland!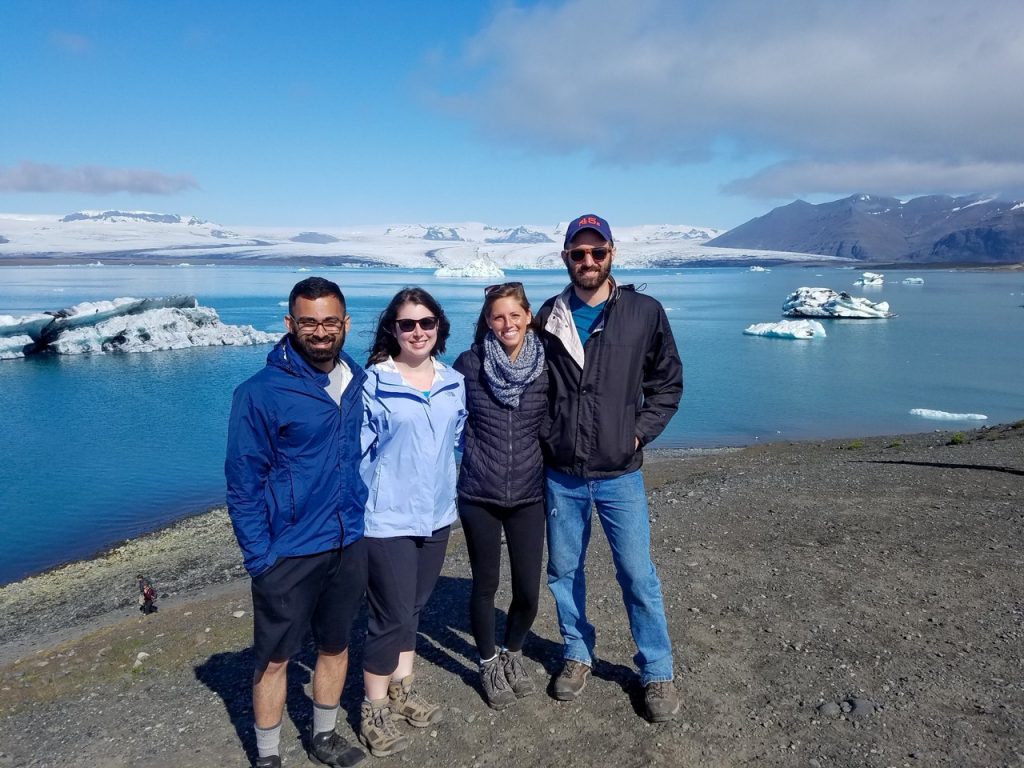 By 10 AM, we were making our way along a long stretch of driving, which was absolutely stunning. Abby thought we should have allotted more time for this, and I tend to agree because there are a ton of waterfalls along the way, and we could've taken the time to stop and see some of these up close. We did stop at one point to take a quick shot of the coastline.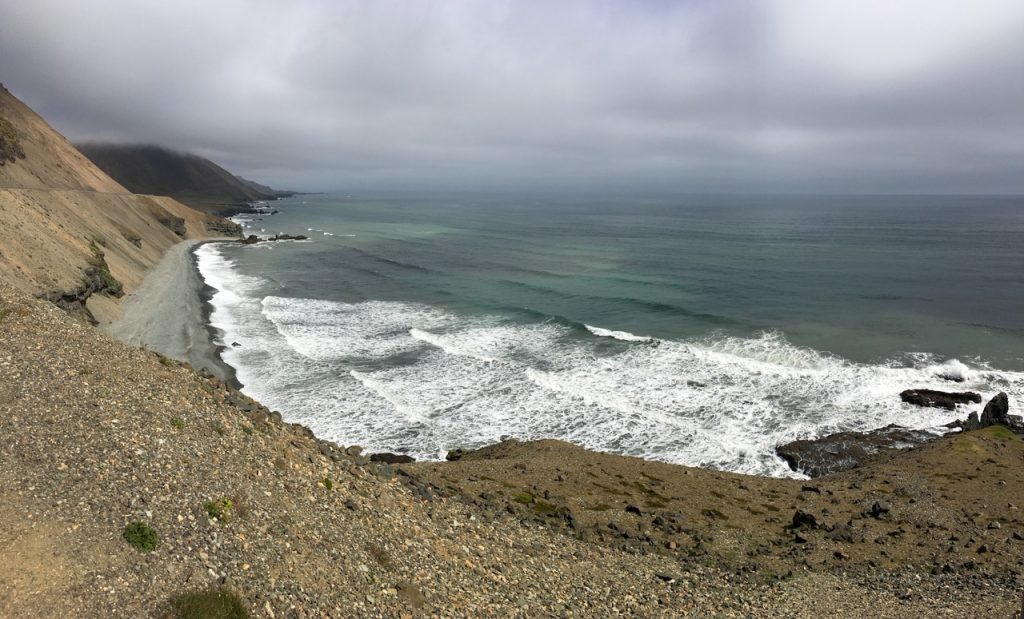 We entertained ourselves with a good true crime podcast, 'The Root of Evil' – highly recommend – and again felt like we were bonding even more over this journey.
I would recommend getting a bigger car with four-wheel drive for this part of the journey because we were climbing some steep mountains, and there were patches of loose gravel road that seemed impassable at times. Luckily, we made it through with flying colors, but it was definitely scary at times!
We stopped for some photos at Berufjörður, a fjord in Eastern Iceland. A fjord is a long, narrow, deep inlet of the sea between high cliffs that is typically formed by submergence of a glaciated valley – I had to look this one up, so thought you might want to know too.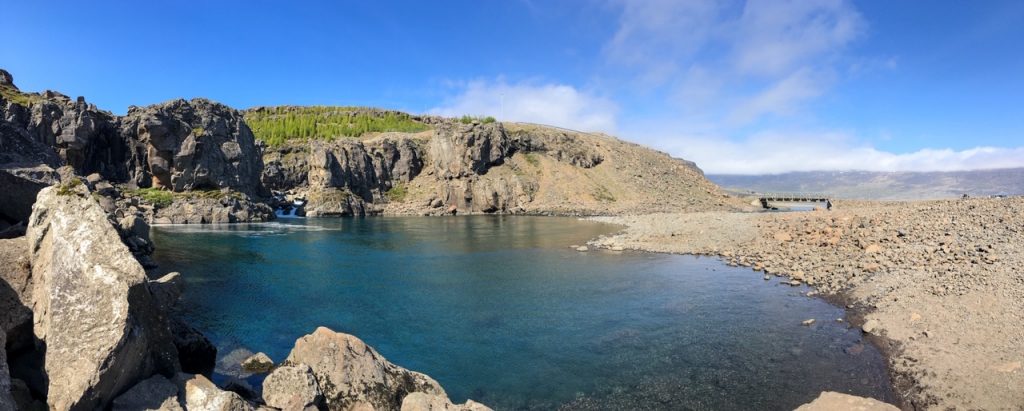 Berufjörður is around 12 miles long and 1-3 miles wide depending on the area. It's home to the village of Djúpivogur, where less than 500 people live; yet, it's still a major attraction due to its public artwork. It's also the home of Iceland's first black settler, escaped former slave, Hans Jonatan.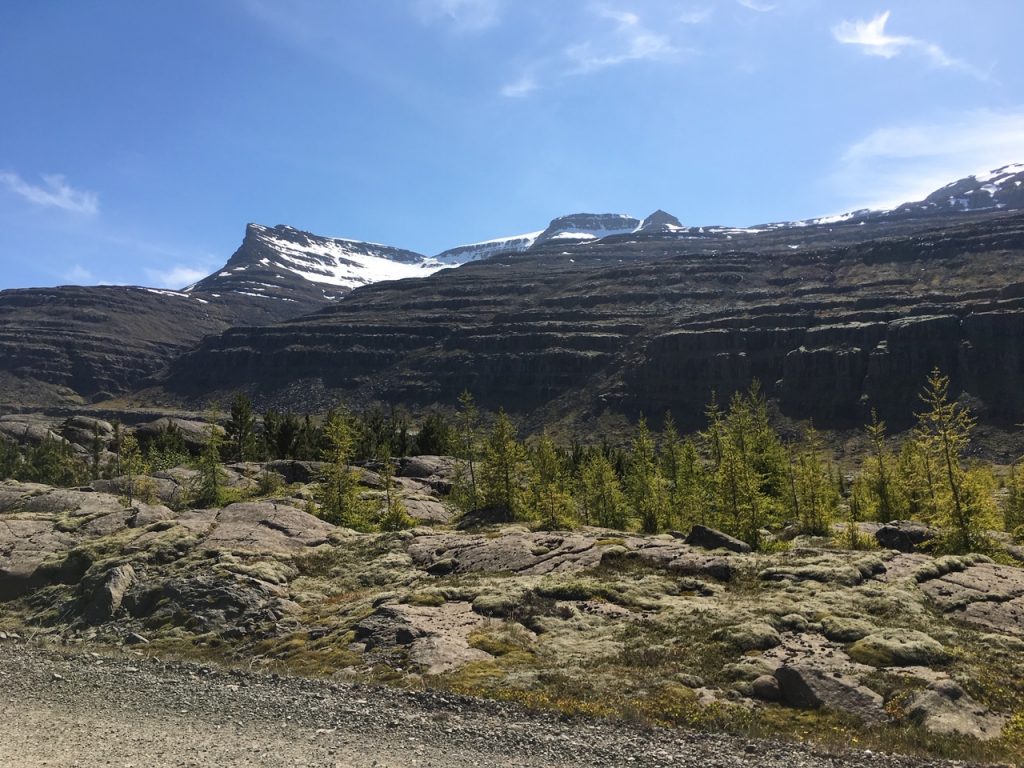 Fossa, a.k.a. Waterfall River, is a stretch of river where 30 or so waterfalls flow along the Fossárdalur valley.
It's sometimes possible to see whales and migratory seabirds in the summer, as well as seals and dolphins throughout the year, but we, unfortunately, didn't spot any.
Somewhere along the way, we stopped for a quick bathroom break and to stock up on snacks. And, we naturally played with some of the toys before heading back out. Check out my puffin hat!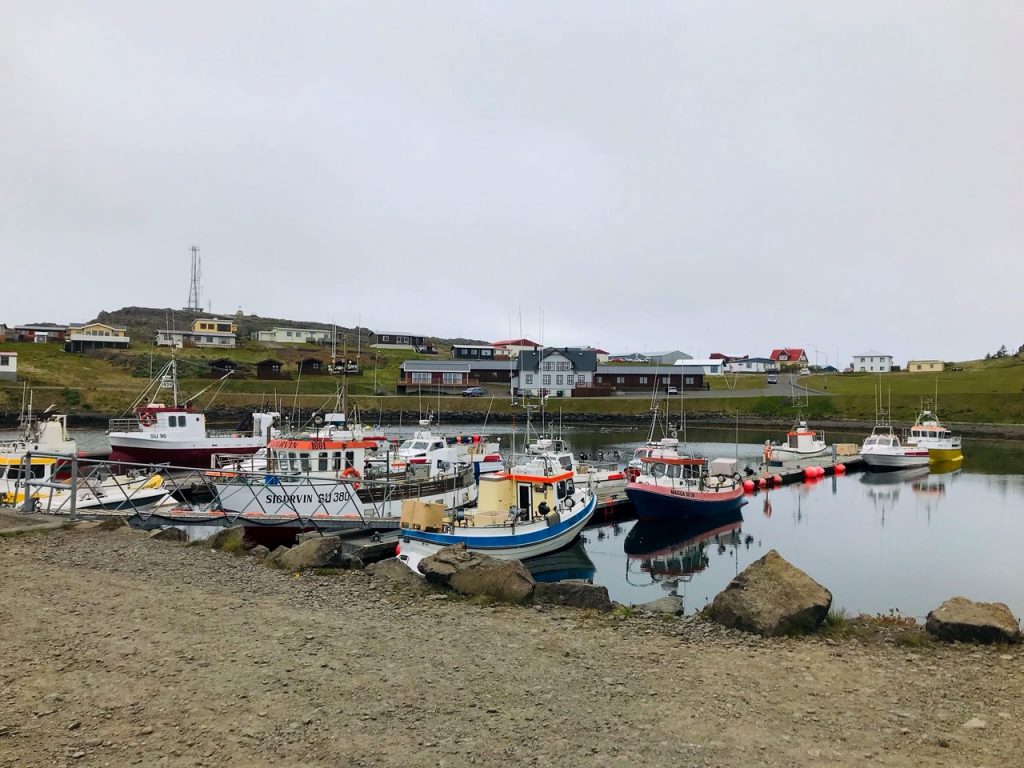 Next up was Hengifoss, the third highest waterfall in Iceland, which is located in East Iceland. Surrounded by basaltic patterns and thin, red layers of clay, it's almost 400 feet high, and the top of the waterfall is close to 1,500 feet above sea level.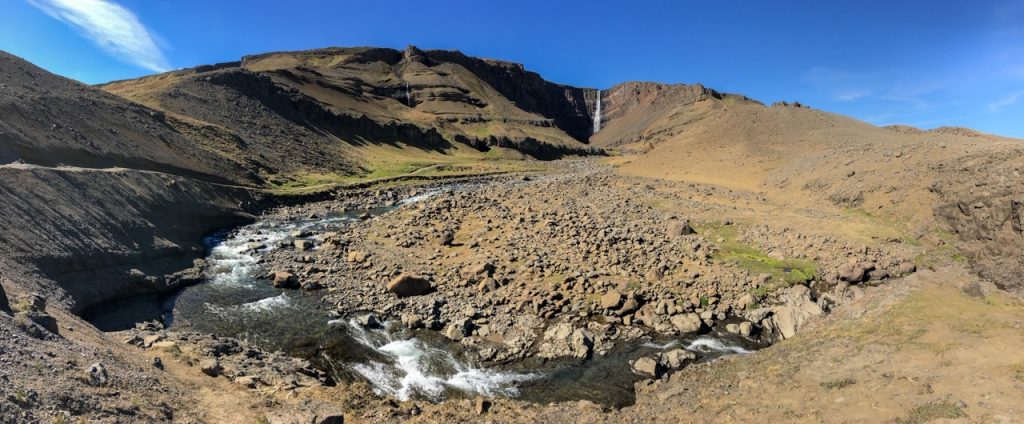 To reach the waterfall, we hiked for close to an hour, much of which was uphill; in fact, it's the most popular hiking site in East Iceland, and the trail is quite scenic along the way. Once you get to the waterfall, you can climb behind it and explore a small cave too.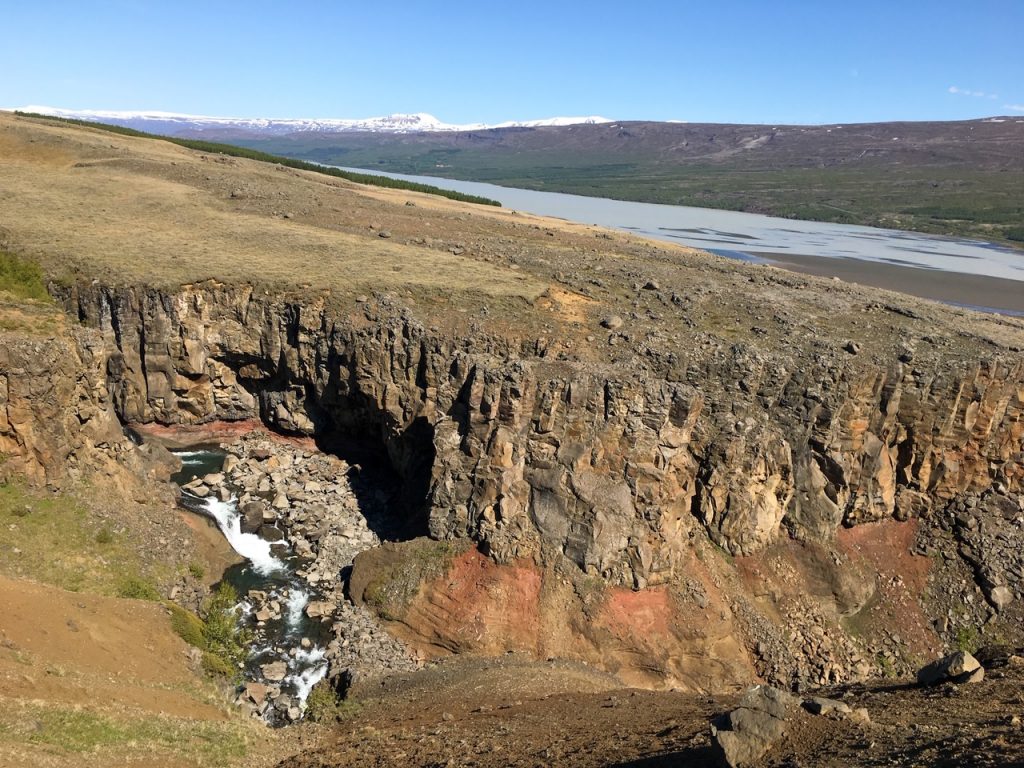 The trail also leads to Litlanesfoss, which is also covered in incredible basalt stone columns. I don't recall if we visited this one, but I don't think we did.
We drove for a couple of hours to Grímstunga Guesthouse to check in and drop off our things. For our stay, we had two separate rooms, both with two twin beds. We shared a communal shower, bathroom and kitchen with everyone else. The lounge area looked pretty cool, but we didn't spend any time there.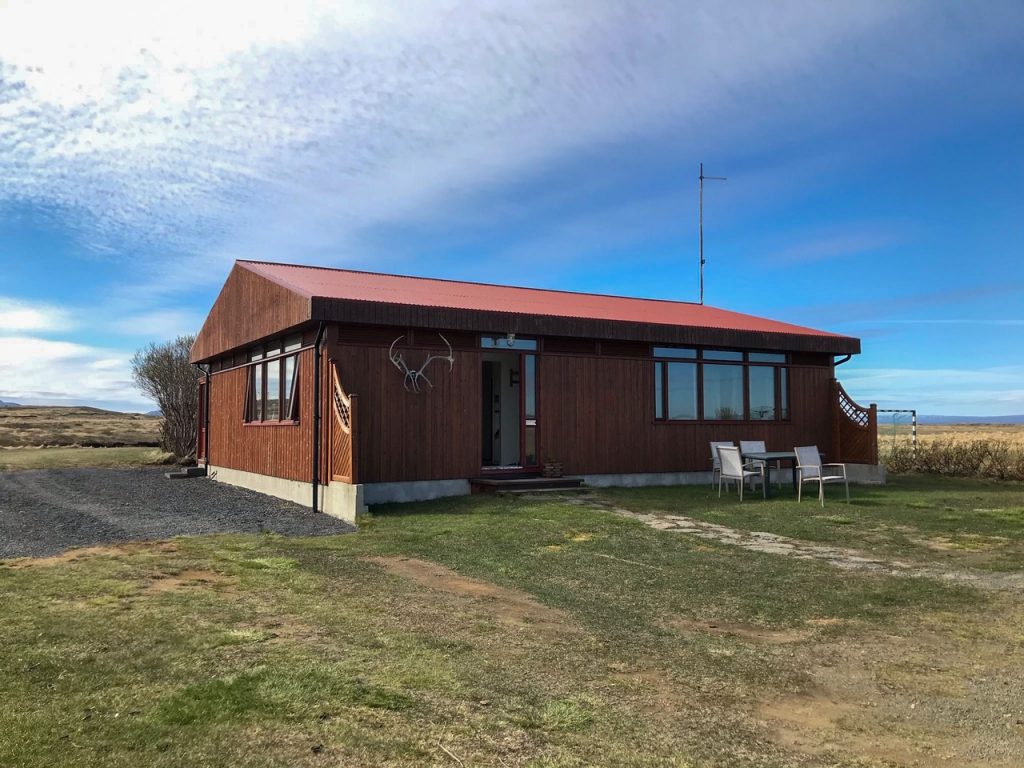 I will say that this wasn't one of my favorites in regards to housing, specifically with the shared bathroom situation. It was $228.42 for the night, and breakfast was an additional $15, which we opted out of.
Around 8 PM, we made our way to Stuðlagil Canyon and Stuðlafoss Basalt Column Waterfall. Stuðlagil, or Basalt Column Canyon, is located in upper Jökuldalur, an incredible glacier valley in East Iceland. The valley is well-known for its forceful glacial river, which is one of the largest and most powerful glacial rivers in all of Iceland – so strong, in fact, that it divided the valley into two separate sides, making communication difficult for centuries and the river dangerous to cross.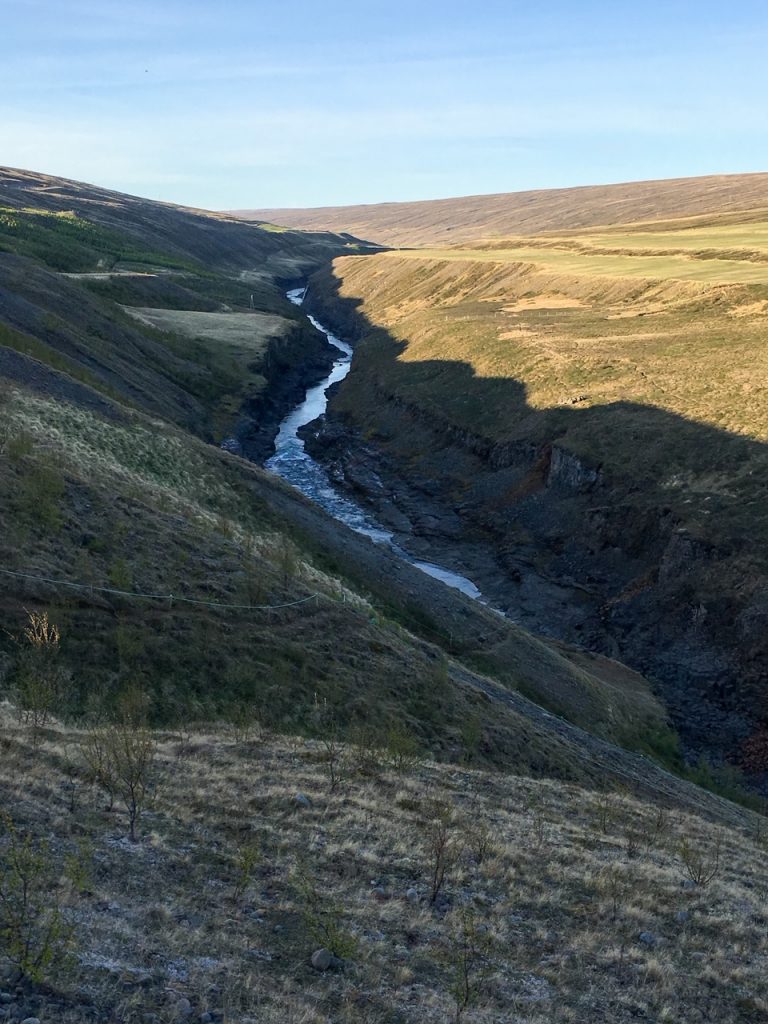 Tim and I did some of the hike down while holding onto the ropes (it was very steep), but after going a bit of the way, Abby and Deep decided to turn back for safety reasons and explored from a higher altitude.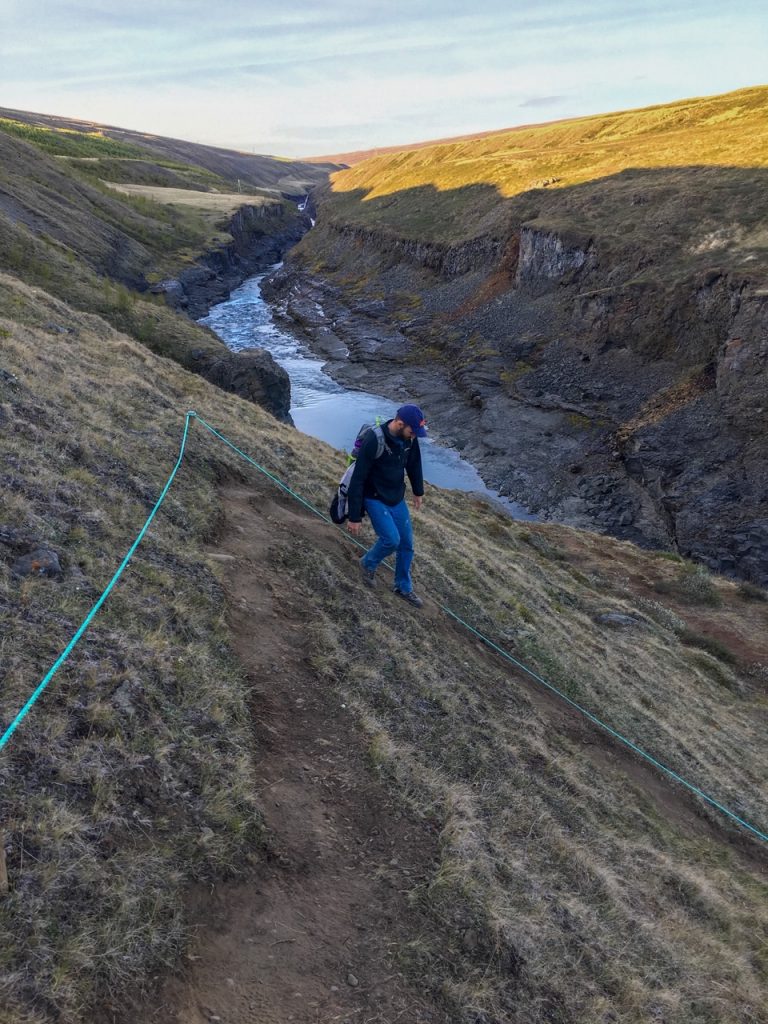 The area is still not very accessible and thus not well-explored, making this natural wonder one of the most beautiful hidden gems in Iceland. If you are willing to take the path less traveled, you are definitely in for a treat. There was no one here at all!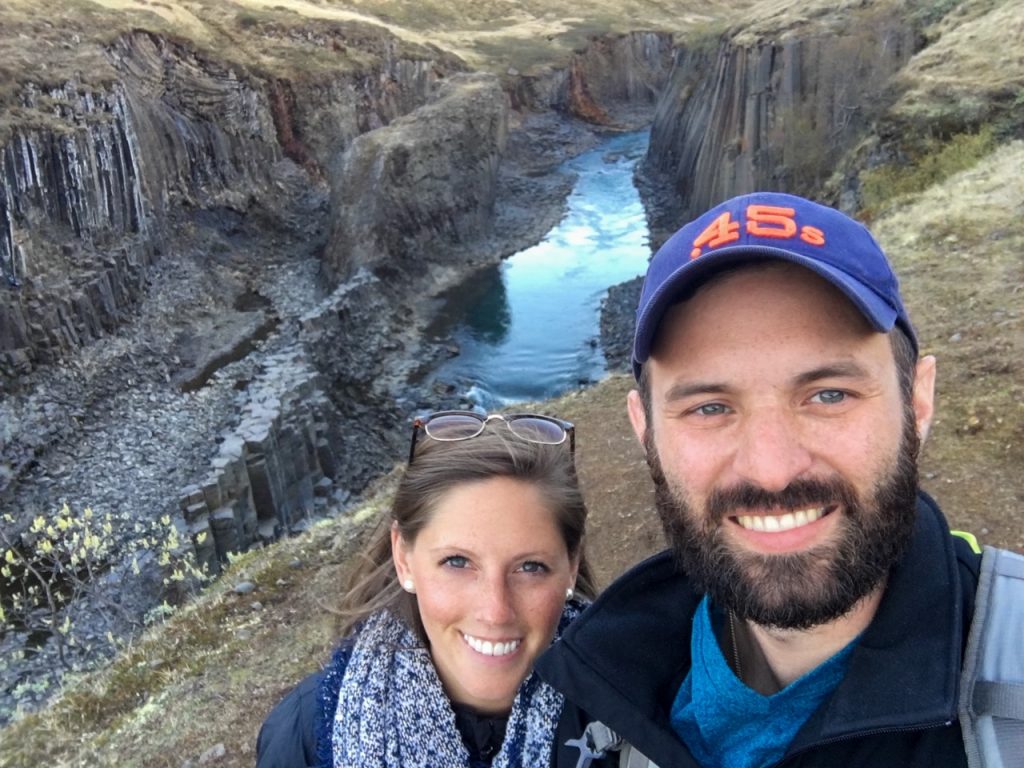 Stuðlagil itself has one of the largest collections of basalt columns in the country. The pictures we took here don't really do it justice! We visited later in the day, so there were lots of shadows; I really should have invested in a new phone/camera for this one as well 🙂.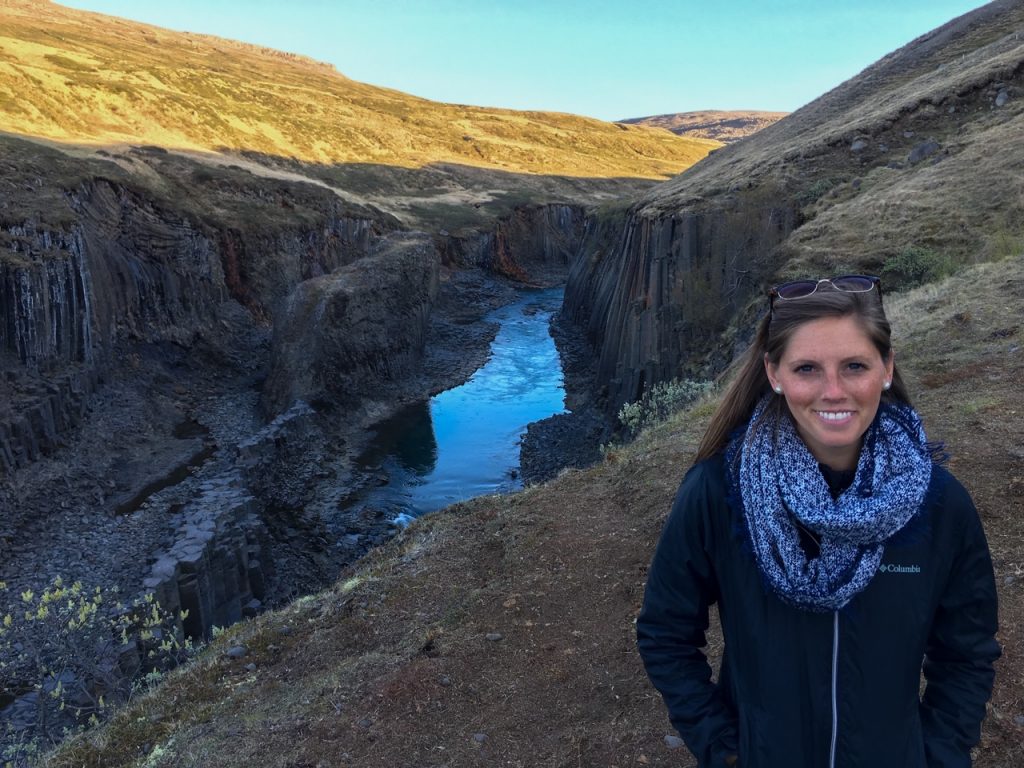 We made our way back up around 9 PM and spent the next couple of hours walking to a close by waterfall and taking pictures. It was so much fun!

We kept joking about being in the middle of nowhere after listening to a true crime podcast, while basking in how grateful we were to be in Iceland and enjoying the daylight so late into the night.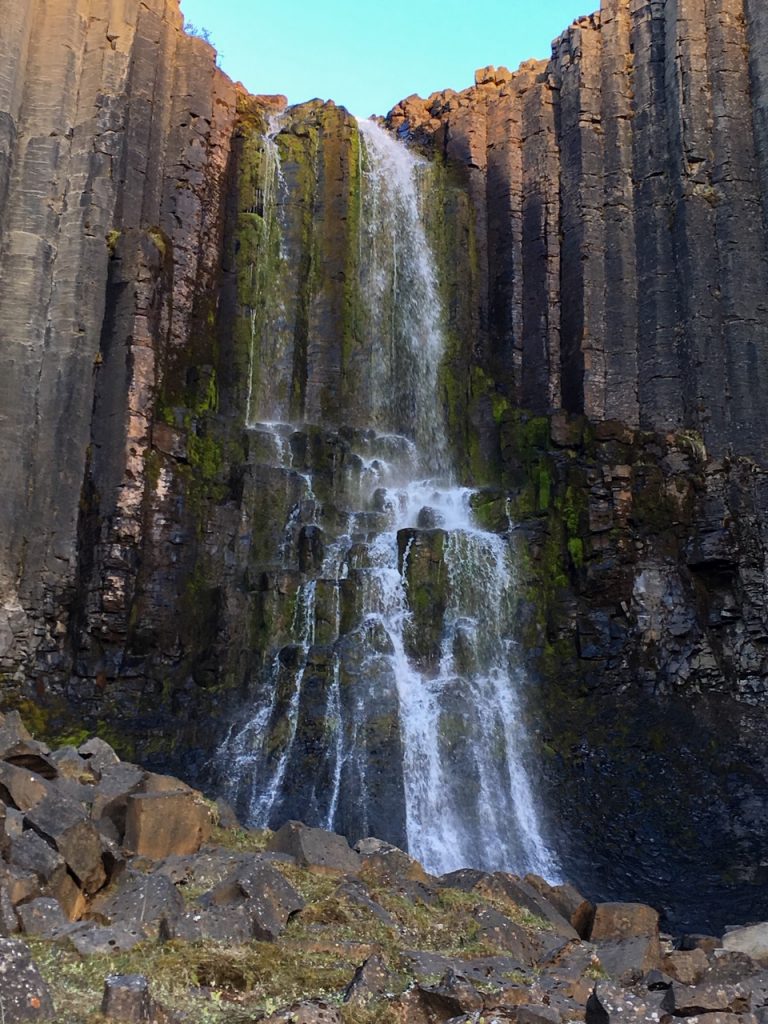 Walking back to the car and driving back to the guest house, we saw some impressive views as the sun began to set.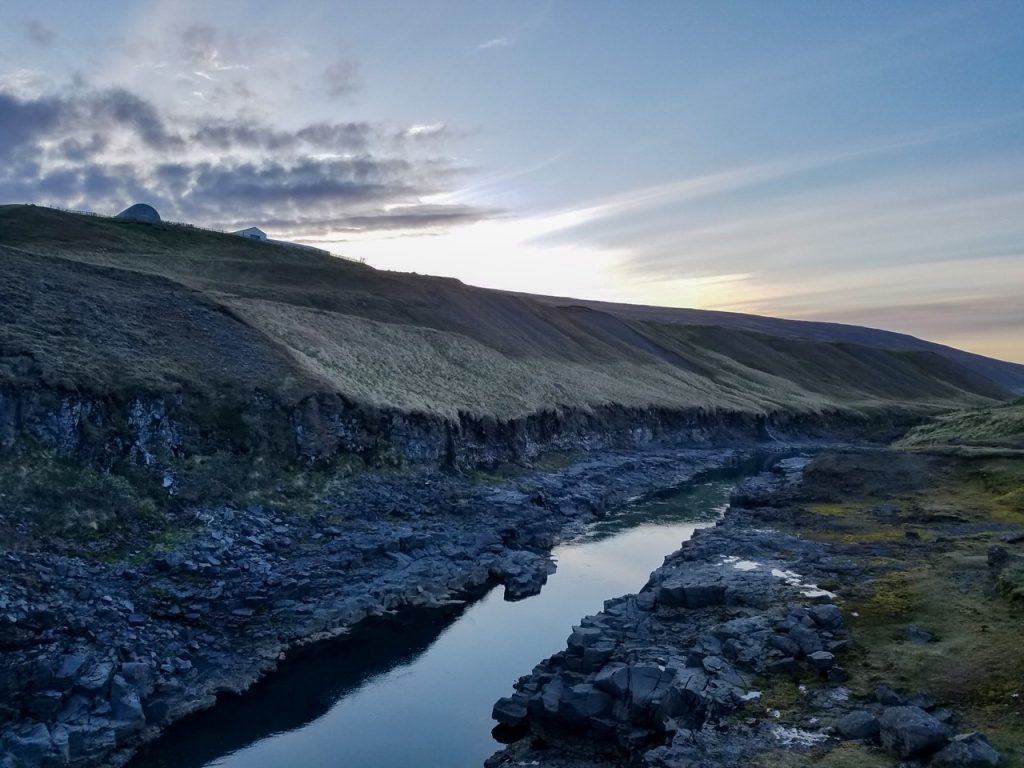 We also saw these little cuties at some point.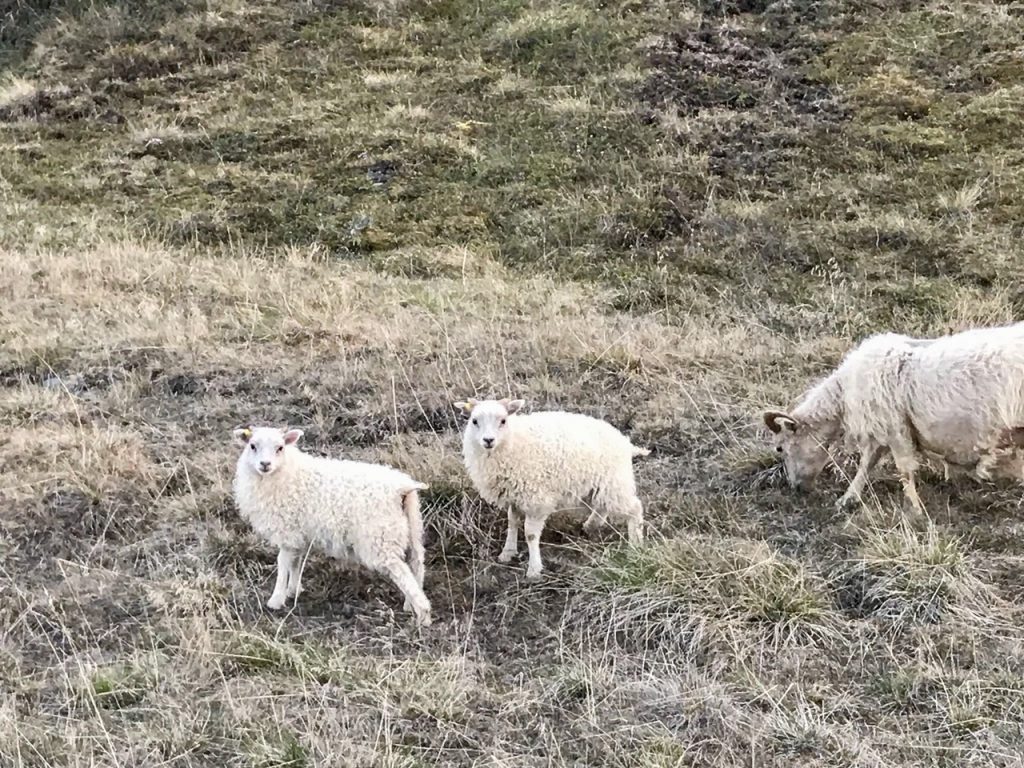 Another wonderful day had come to a close, and we were ready for some much-needed sleep.
Day 6: Touring the Diamond Circle Route in North Iceland
We had a leisurely morning, leaving after 9 AM and arriving at our first waterfall, Dettifoss, around 10 AM.
Located in the northern part of the Vatnajökull National Park on the Jökulsá á Fjöllum river, Dettifoss is the second most powerful waterfall in Europe, following Switzerland's Rhine Falls and the second largest waterfall in Iceland in terms of volume, following Urriðafoss in southwest Iceland.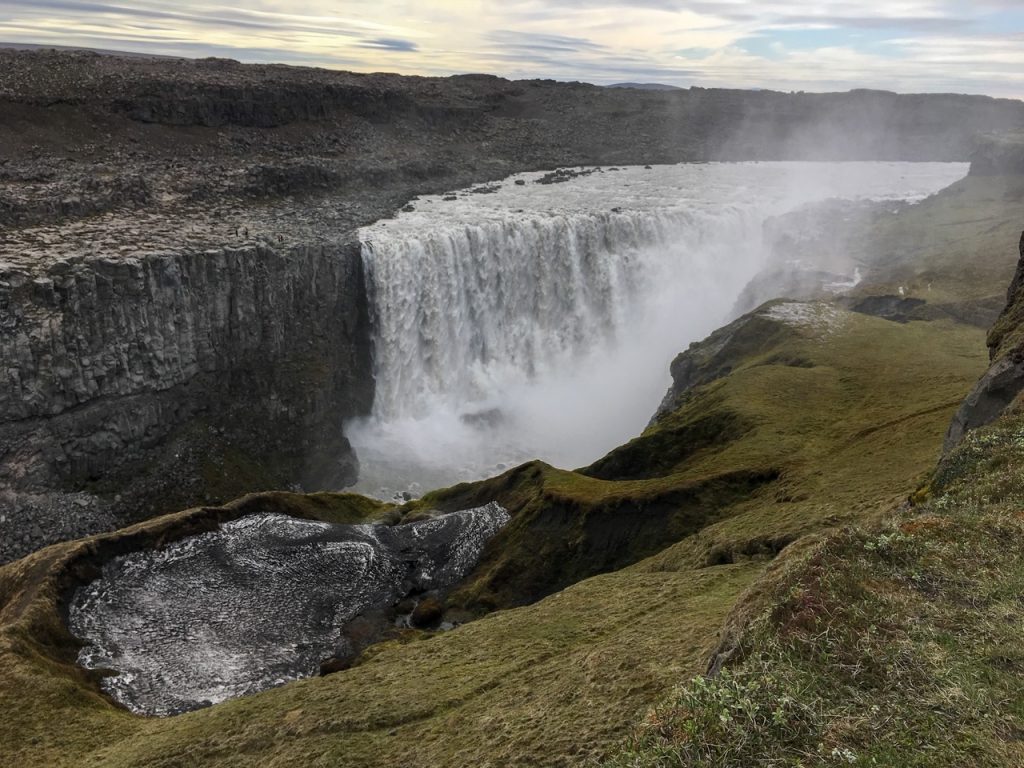 It's around 330 feet wide with a drop of approximately 150 feet into the Jökulsárgljúfur canyon. Its waters are grey-white due to the glacial erosion and sediment run-off from its origin, Vatnajökull, the largest glacier in Europe.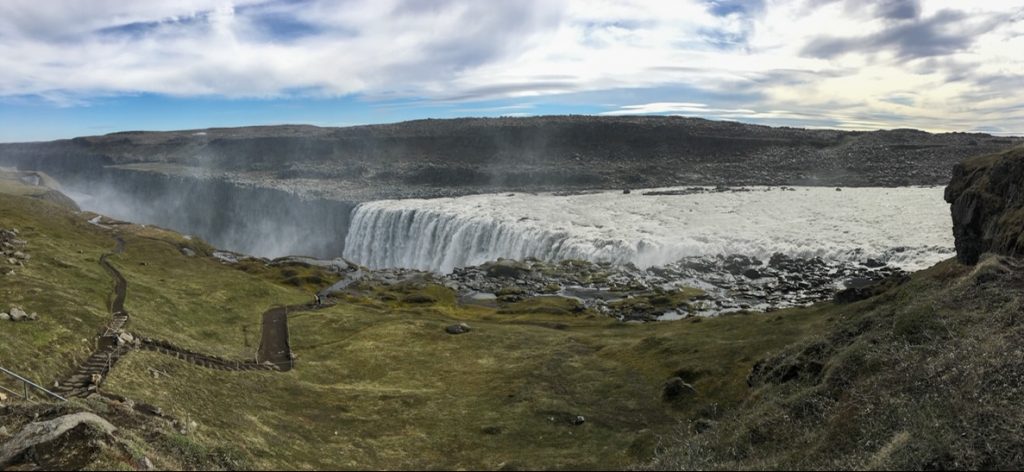 Although Dettifoss is located on a popular tourist route called the Diamond Circle, being a part of the largest national park in the country means that Dettifoss is well protected.
A Broad Recommendation: Take your time and be careful here. As the signs warn, the spray from the waterfall makes the surrounding areas wet and slippery, and there are some loose rocks along the way where you could lose your footing. This area is especially dangerous during winter months. Some roads may even be impassable in the winter, so check into that before booking your excursion.
There are two other waterfalls fed by the same river, Selfoss and Hafragilsfoss, and since it's just a short walk south of Dettifoss, we were able to visit Selfoss.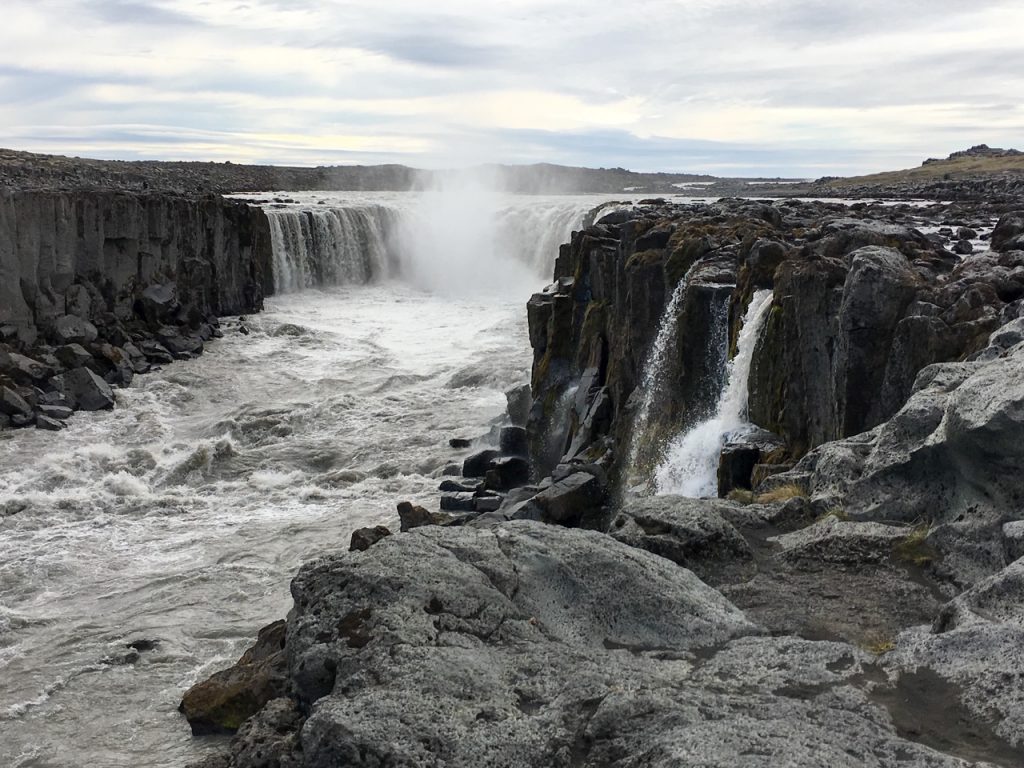 Sometimes forgotten and overshadowed by Dettifoss, Selfoss is another one of Iceland's hidden gems. We actually enjoyed visiting here more than Dettifoss! Depending on the season and any volcanic activity, the water flow may vary.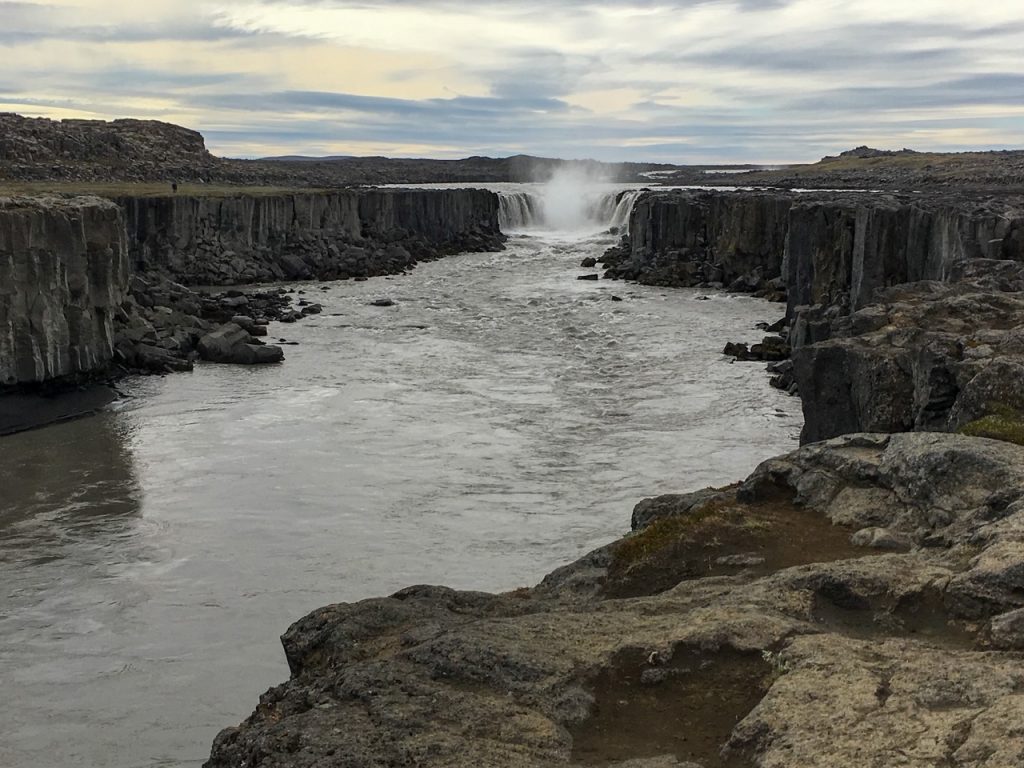 We visited on the east side of the waterfall, which is recommended, and didn't need to move our car, since it shares a parking lot with Dettifoss. Don't confuse this with the town Selfoss, as they are in quite different locations!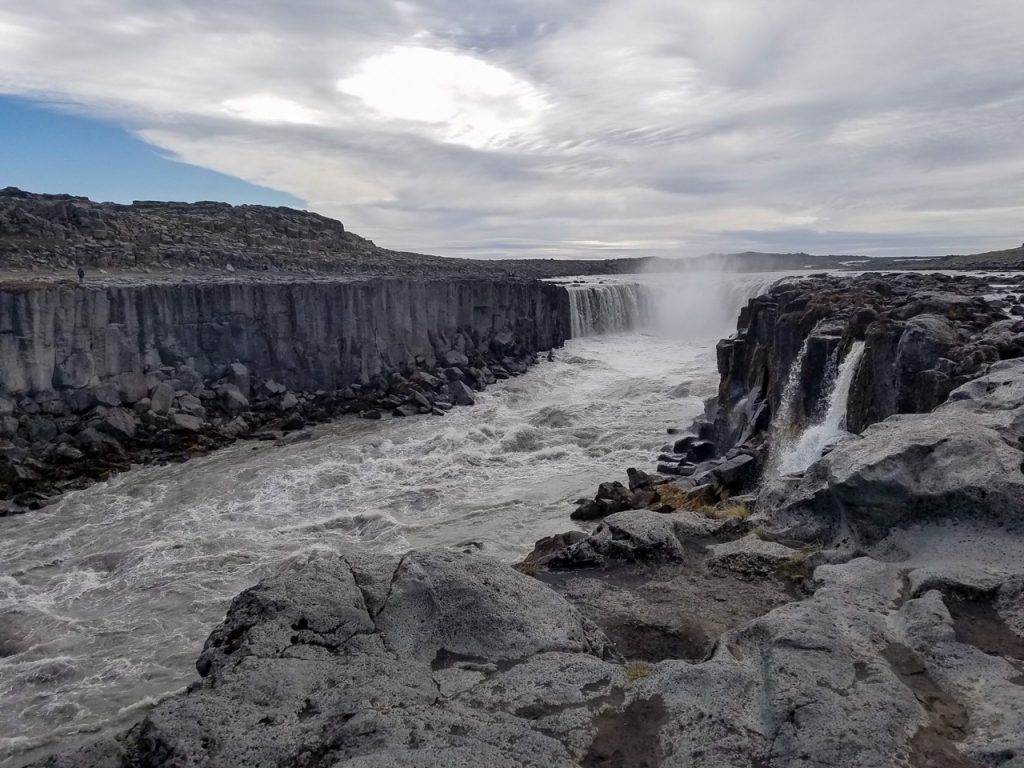 We made it back to the car, had some snacks and drove onwards to Krafla, which took about an hour. Here, we checked out another neat crater, called Viti Crater, and walked around leisurely to take some photos.
Located near Lake Mývatn on the slopes of the Krafla volcano in Northern Iceland, Viti Crater is filled with stunning turquoise, blue-green water and is surrounded by a geothermal area, lava fields and breathtaking mountains.

Formed during a five-year-long period of eruptions at the beginning of the Mývatn Fires in 1724, Viti Crater is just under 1,000 feet in diameter. It was named after the Icelandic term for "hell" due to the geothermal violence that occurred here.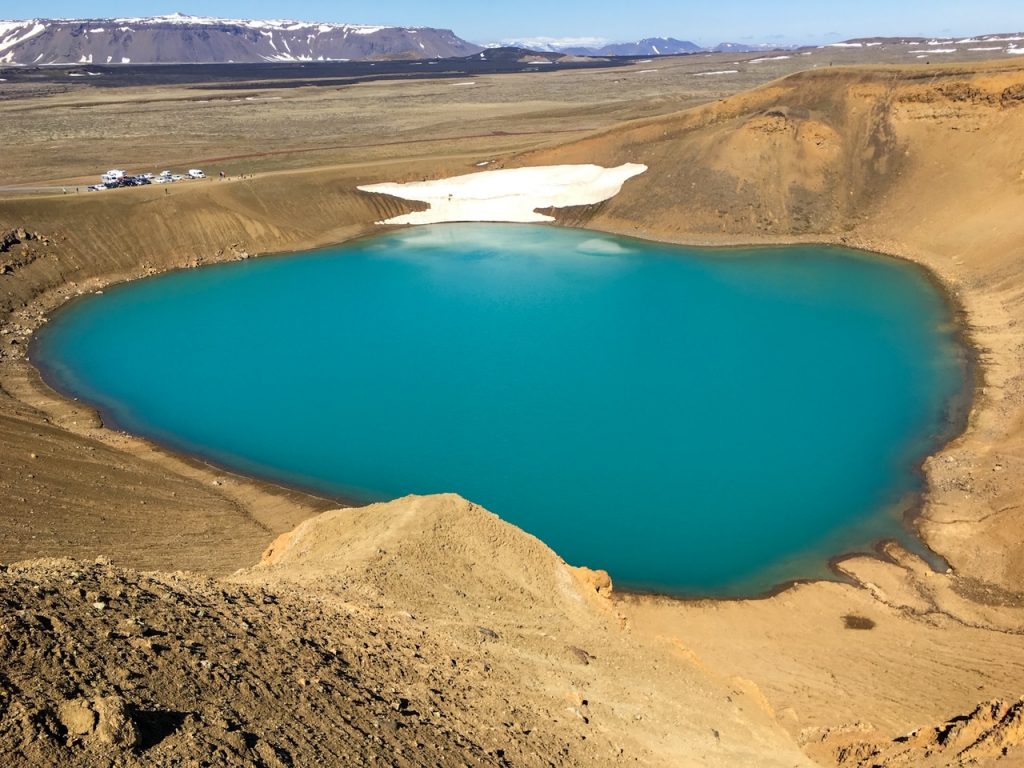 The trail begins at the parking lot and since it's a rim hike, you can walk in either direction. We went to the right and probably only walked a quarter of the way or so before Abby and Deep turned back to take more photos at the front. Tim and I walked a bit further to snap a few more shots before turning back; we spotted this neat, small second lake off to the side.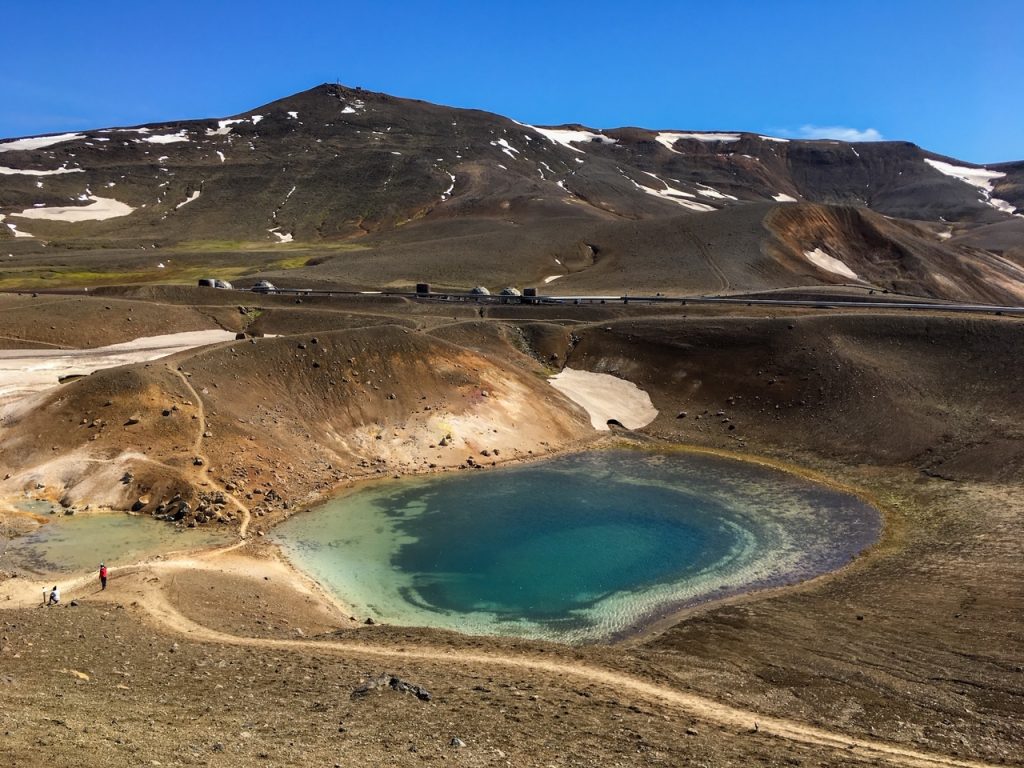 The entire hike could be completed in around an hour, and there is an option to go down to the water, which sounds a bit more challenging (mainly in terms of getting back up). Unfortunately, we didn't have time to do all of that.
Next up was Leirhnjúkur, a geothermal area with volcanic terrain, lava fields and bubbling sulfuric pits, located in the Krafla Caldera. Mt. Leirhnjúkur, specifically, is a rhyolite formation/hill that's around 160 feet above the surrounding lava field and has turned to clay in some places due to the geothermal heat, giving it the nickname, "Clay Hill". I'm not sure that I realized this was a volcano at the time of our visit, but a little research proves this to be the case.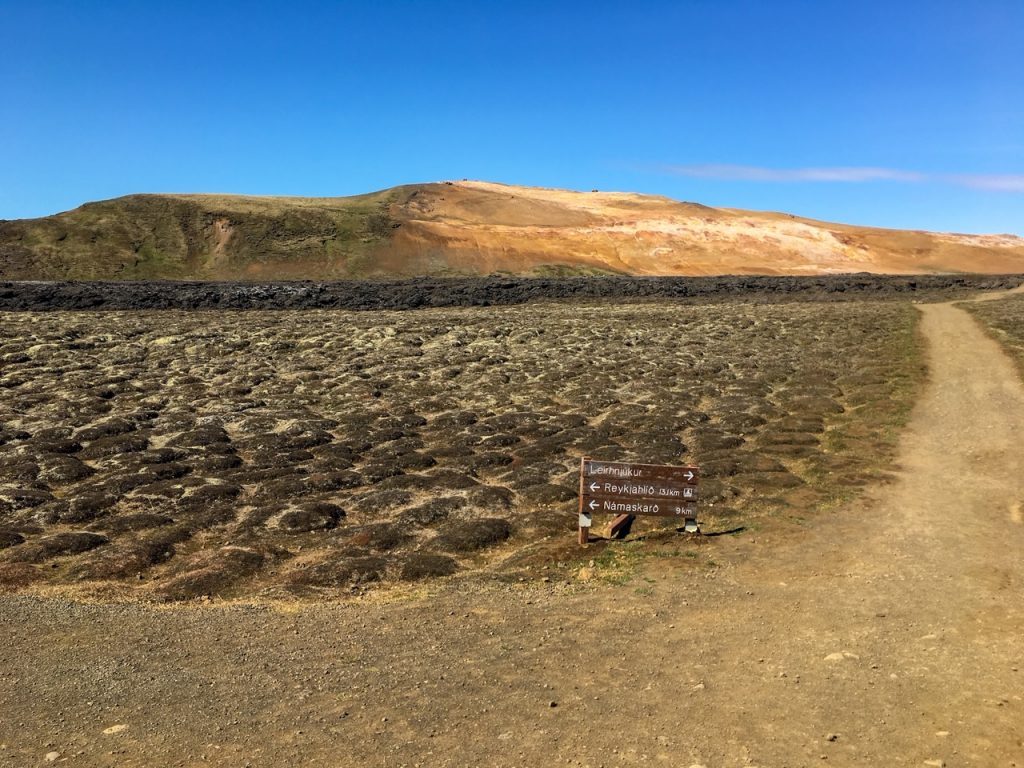 Here, you can walk along a trail that begins at the parking lot and admire the Mars-like terrain and aqua-colored hot springs. How neat are these? One of these was shaped like a swimming pool, but I certainly wouldn't want to swim in that scalding hot water!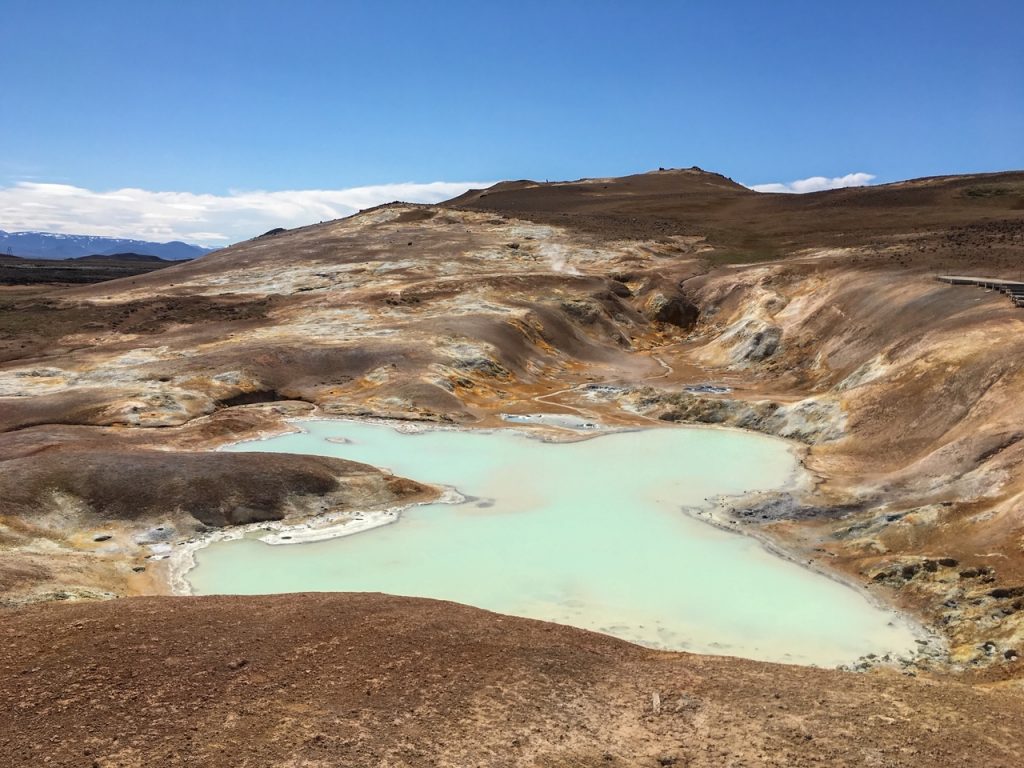 The Mývatn Fires (1724-1729) and the Krafla Fires (1975-1984) are notably the two major periods of volcanic activity in this area during the past few centuries. The lava field formed from its most recent eruption in 1984, and we were able to walk around and explore the impacted area.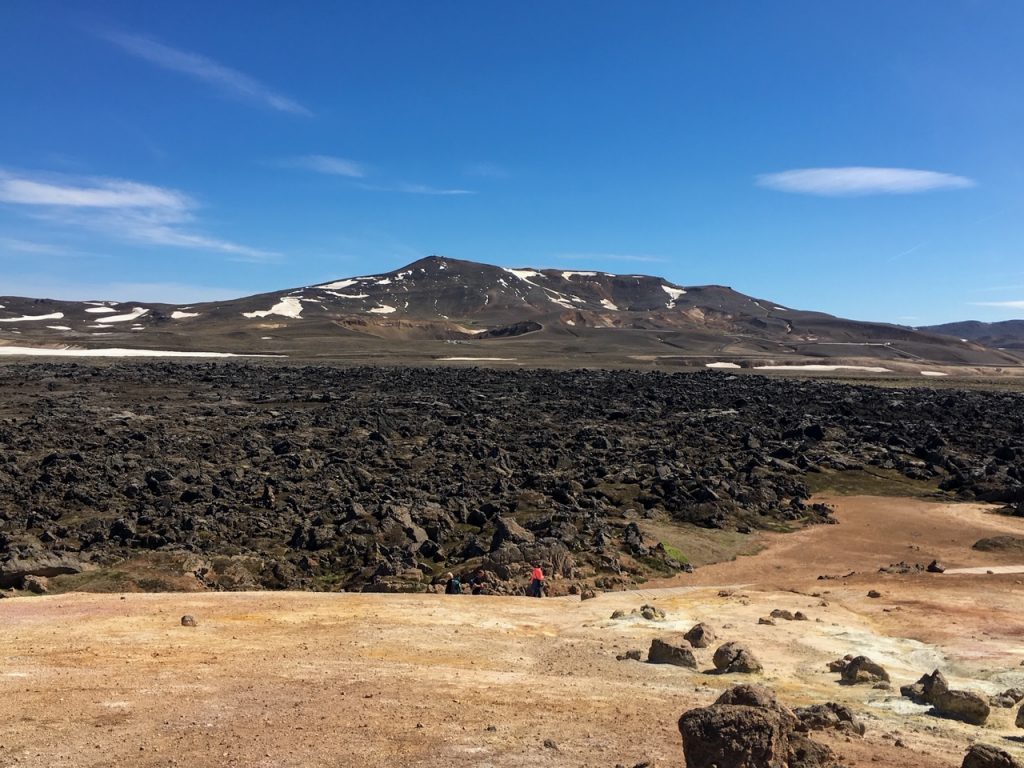 Be careful to stay on the trails! Even thirty years after the last volcanic event, steam is still rising from the ground, and the area beneath is extremely hot and dangerous. You might melt the sole of your shoes or get burnt if you're not careful here.
Our next stop was Námaskarð – also referred to as Hverir or Hverarönd – another geothermal area full of fumaroles, hot springs, mud pools and mud pots. Since it's large and easy to access, this spot was quite crowded.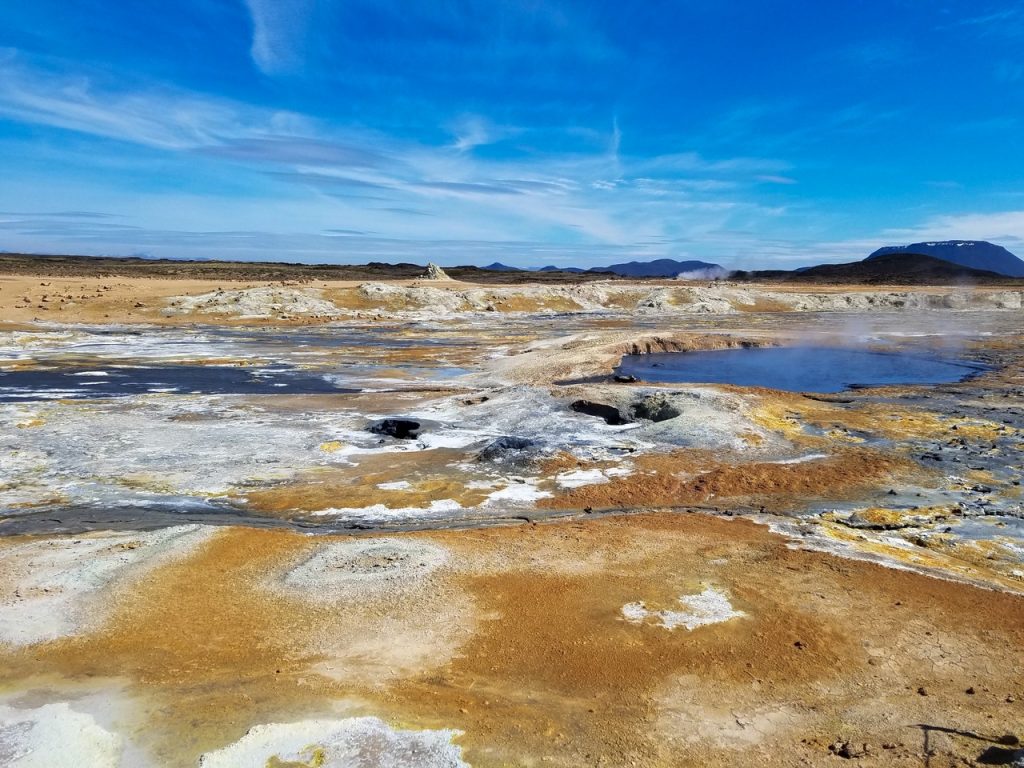 A fumarole is an opening in the Earth's crust, usually near a volcano, through which hot sulfurous gases emerge and emit steam.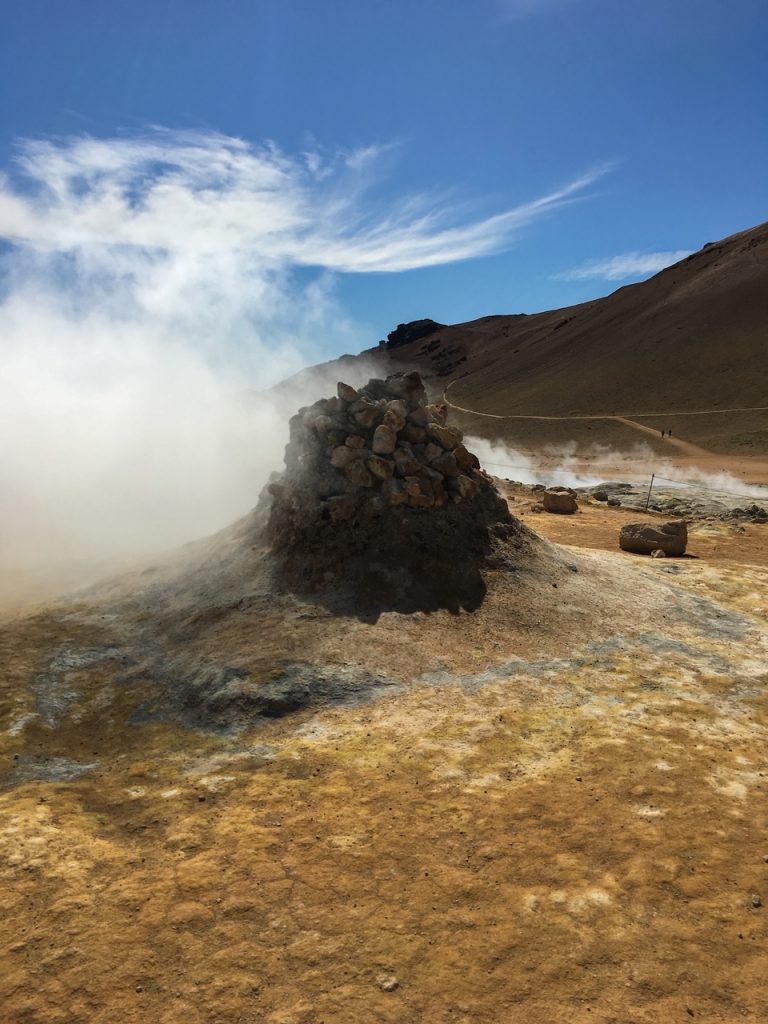 When water collects in the volcanic ash surrounding one of these, mud pools or mud pots can form. Mud pots are similar to hot springs, but they have a lower water supply; gas or water vapor heats up and pushes through the mud, which then creates bubbles.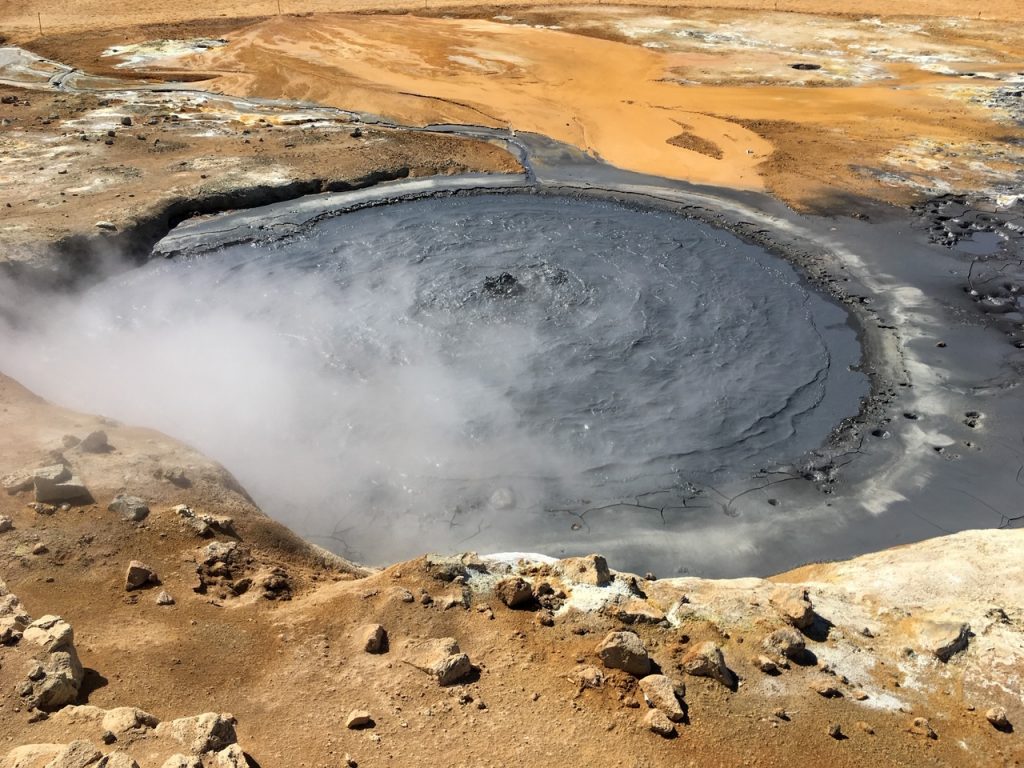 Due to the sulphur, you can't miss the smell of this place. It smells something like rotten eggs, and from the resulting acidity of the ground, there isn't much vegetation in sight. Again, at times, we felt as if we were on another planet here.
Deep may have been pretending to jump the rope, but as you may expect, the ground is extremely hot in some areas, and it's important to stay on the marked paths and trails.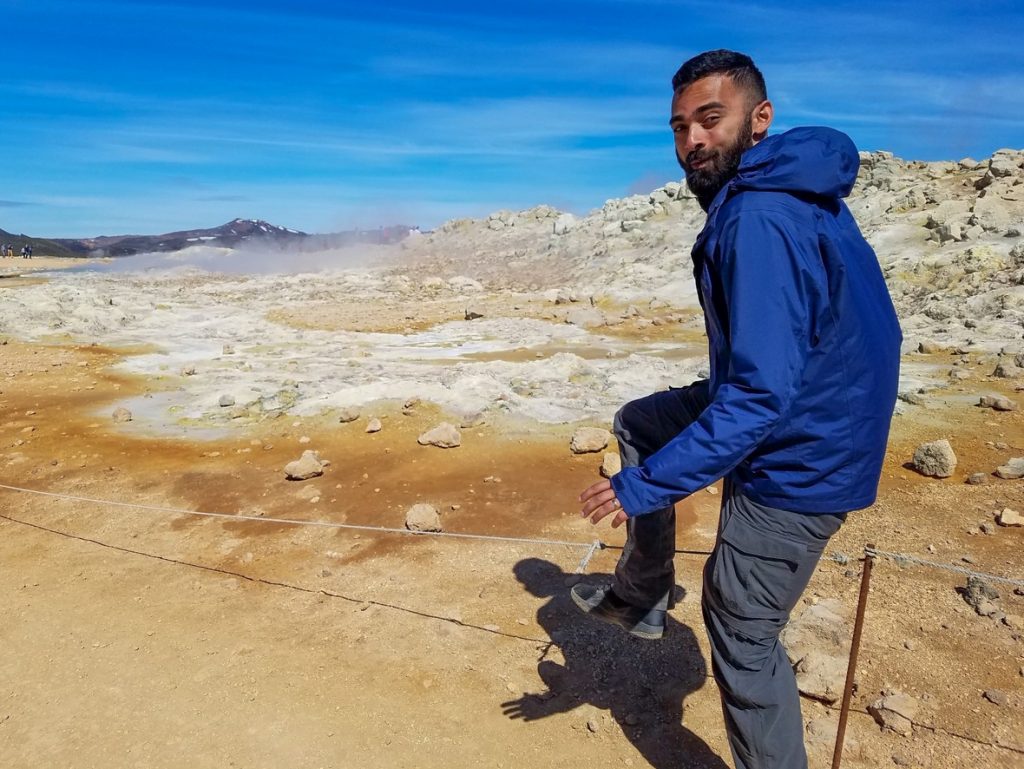 Next up was Grjótagjá Cave. It was a popular bathing place for decades before the 1975-1984 volcanic eruptions at Krafla, i.e. the Krafla Fires we learned about at Leirhnjúkur. During that time, flowing magma streams resulted in sharp rises in water temperature, reaching nearly 140 degrees Fahrenheit. Although the water is now between 110-115 degrees Fahrenheit, the caves present other dangers like falling rocks. The public is now prohibited from bathing or using the caves for anything other than looking around and photographing.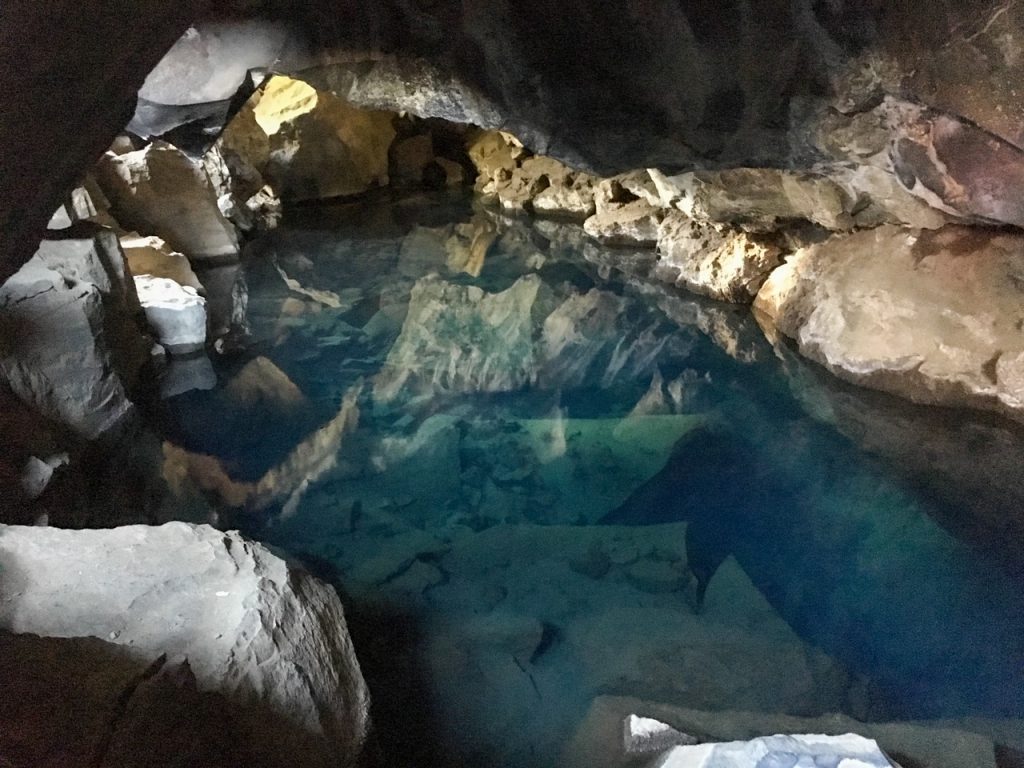 This cave was also featured in Game of Thrones – I don't watch the show, so I can't give much more detail around it, but I know Abby, Deep and Tim were all excited to learn this.
We had planned to visit Hverfjall lava cave for a hike, but after seeing the area, we decided to skip this. Instead, we moved up our plans to visit Dimmuborgir, a.k.a. "The Black Fortress" or "Dark City", which is an area of unusually shaped rocks and lava fields east of Mývatn. Lake Mývatn is located on the intersection of the tectonic plates of America and Eurasia, which are constantly drifting apart, therefore, making the area very volcanically active.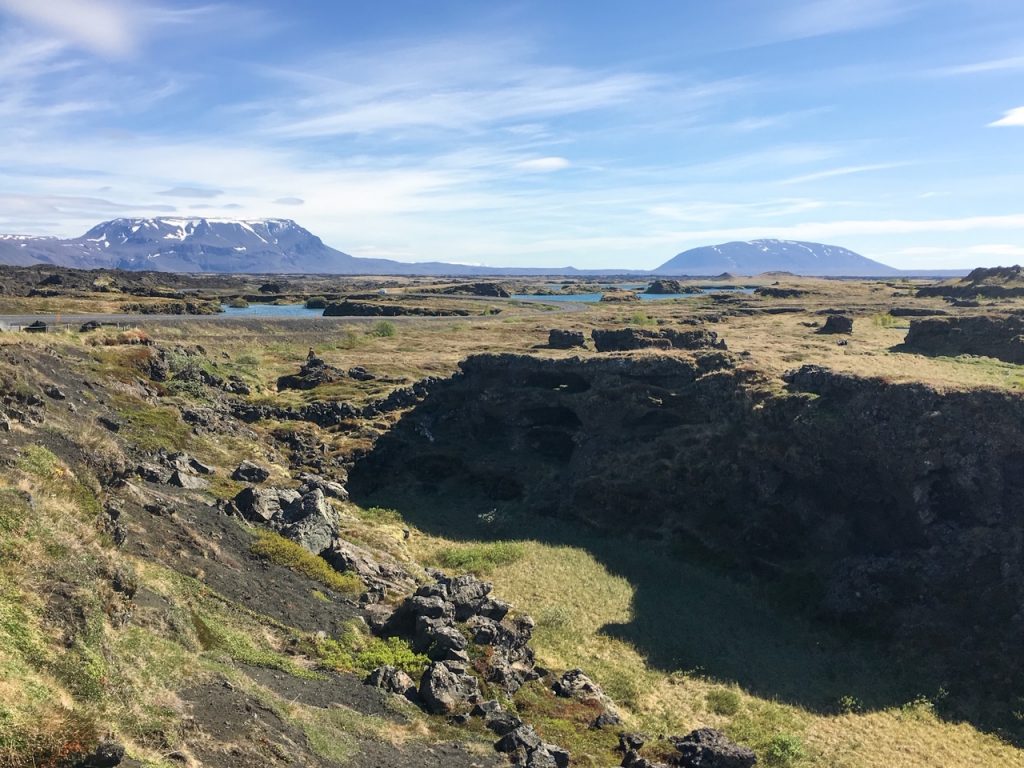 Around 2,300 years ago, the lava from several gigantic volcanic eruptions flowed over the then Lake Mývatn, causing it to boil and simultaneously quickening the cooling process of the lava. Reminiscent of an ancient collapsed citadel, the magnificent geological formations that remain are the creation of emptied lava lakes, and such lava pillars, dramatic rock formations and caves are rarely found on land – how neat that we got to see them!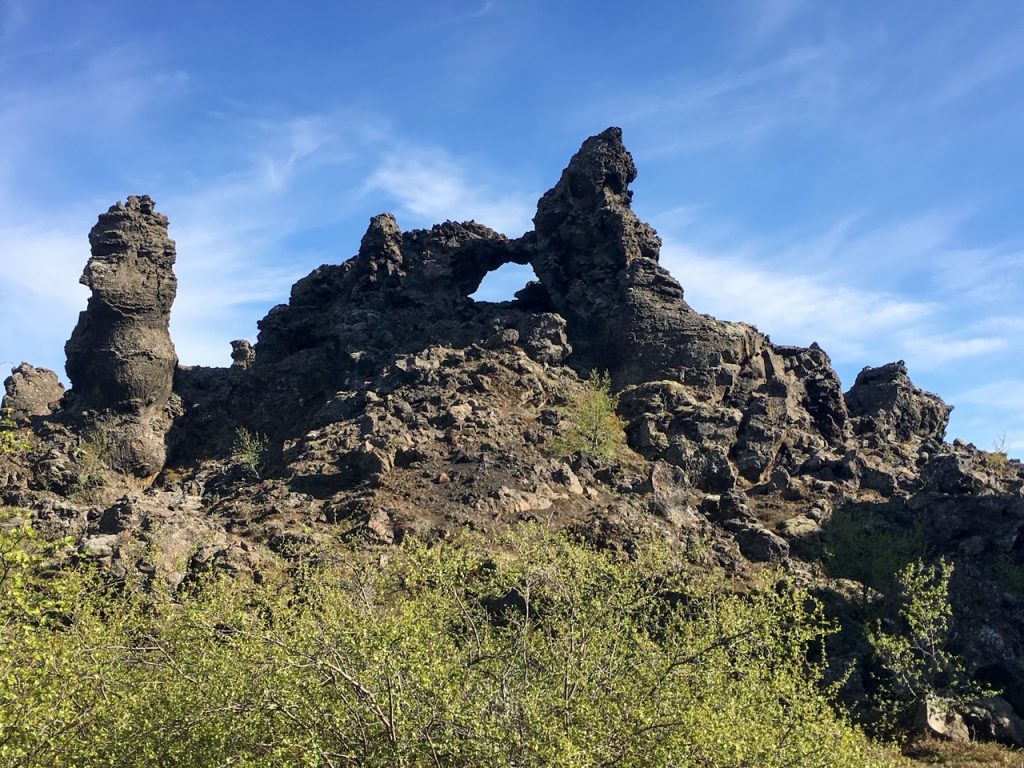 We saw lots of references to Icelandic folklore here. Dimmuborgir is said to be the gate between Earth and hell, as well as the place where Satan landed when he was cast from the heavens. These lava caves are also known as the homes to the nation's most terrifying trolls, some of which are half-troll, half-ogre and eat children – oh my!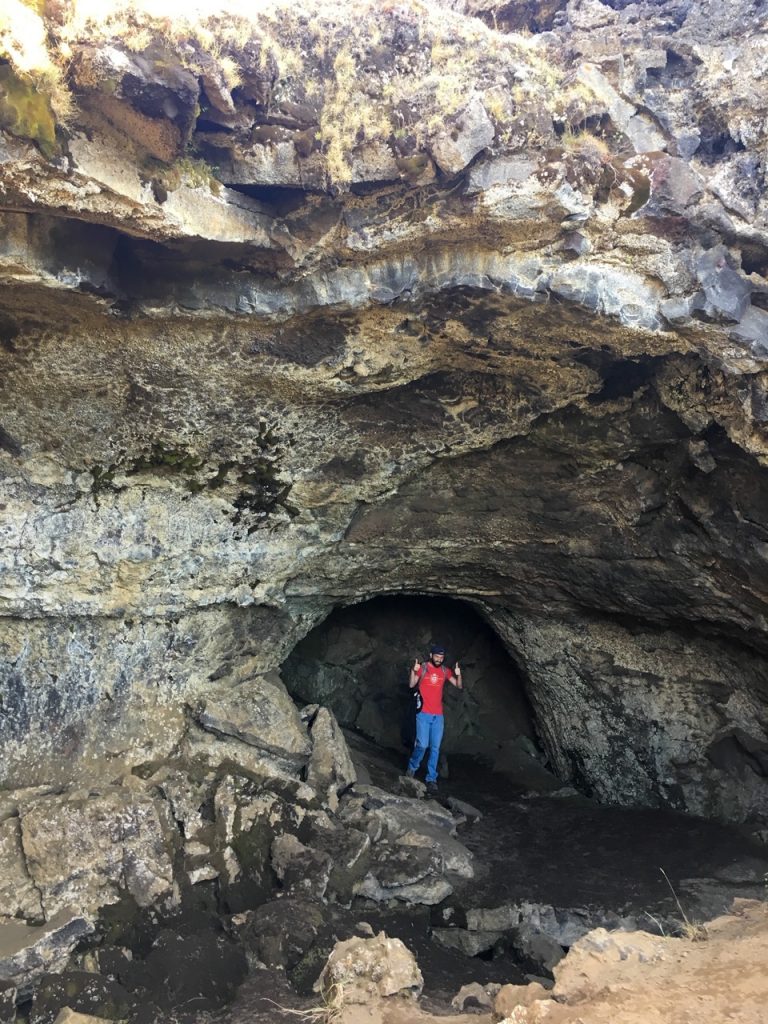 Grýla, one of the most famous trolls, and her husband had thirteen sons who lived in Dimmuborgir. They're known as the "Yule Lads", and each troll makes its debut on one of the thirteen nights before Christmas, terrorizing Icelanders in their own unique ways. Originally intended to steer children away from going out into the cold Icelandic nights and getting lost, the story of the trolls has since changed, and they now wear Santa costumes and bring gifts to children instead.
Dimmuborgir is one of the most popular tourist destinations in northern Iceland, and even more so after being featured in Game of Thrones. There are five marked trails within the area, all designated with their own color. You will need to stay on the trails to respect and preserve the area; the soil is sensitive due to wind erosion, and the rocks are brittle. A conservation program has been in place since the early 1940s.
The Skútustaðagígar pseudo craters are also found in the Lake Mývatn area, and this was our next stop. Pseudo-craters form when molten lava flows over water or wetlands and the water becomes trapped under the lava field and starts boiling. The pressure from the steam then causes explosions where it escapes to the surface, and the repeated explosions rip apart the lava, leaving lava piles around the steam vent. The resulting formation is called a pseudo crater – pretty interesting, right?
Skútustaðagígar was historically a swampy wetlands, and the remaining pseudo craters were formed from similar steam eruptions.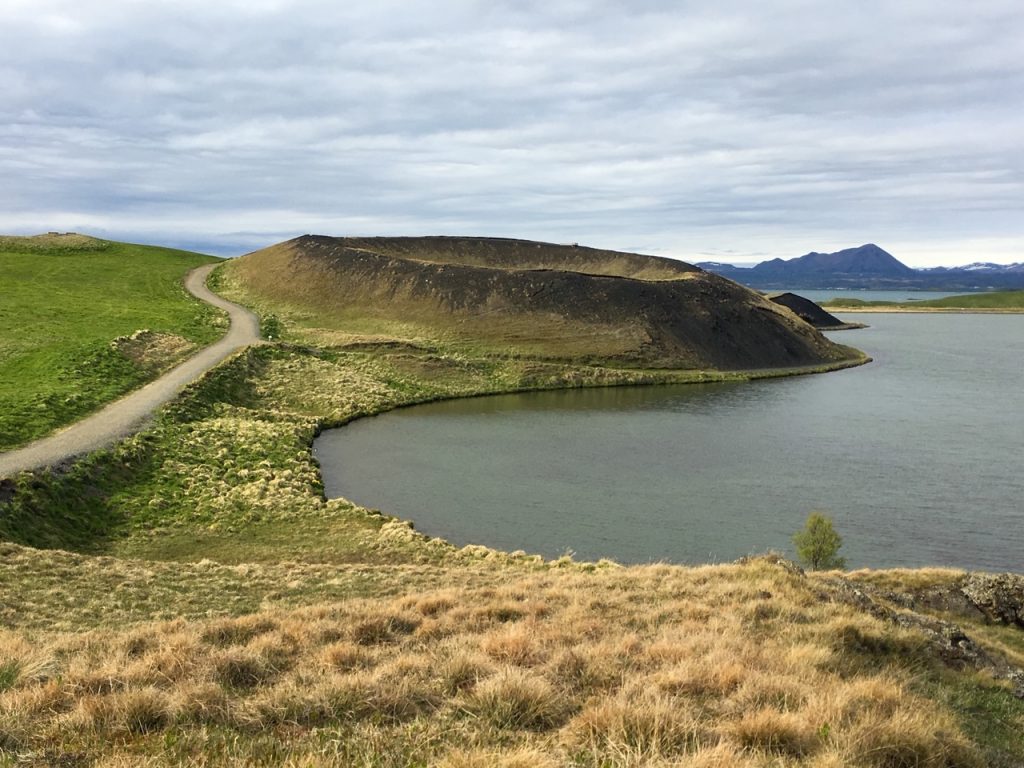 There are a couple of hiking trails here, both less than two miles. One takes about 30 minutes and the other an hour. Despite being a popular area for birdwatchers, the area is infested with bugs, and we had to cover up as much as possible and wore sunglasses to avoid getting hit in the face. If you don't have much time, both Abby and I would recommend skipping this stop; it was interesting, but it's not the end of the world if you can't make it here.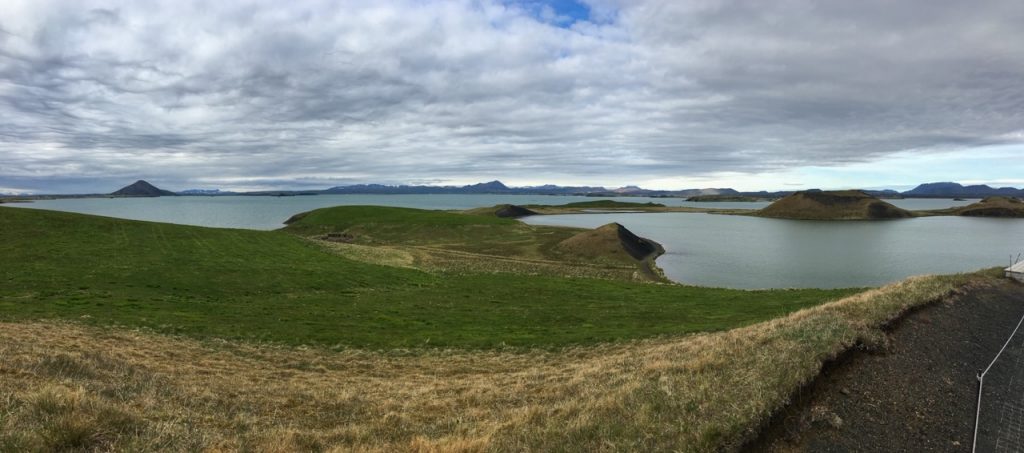 We made our way to Guesthouse Storu-Laugar shortly after where we had two separate rooms, each fully equipped with twin beds, storage and their own bathroom. This place was super cute, and the woman running the front desk was very kind. They also had free breakfast in the morning.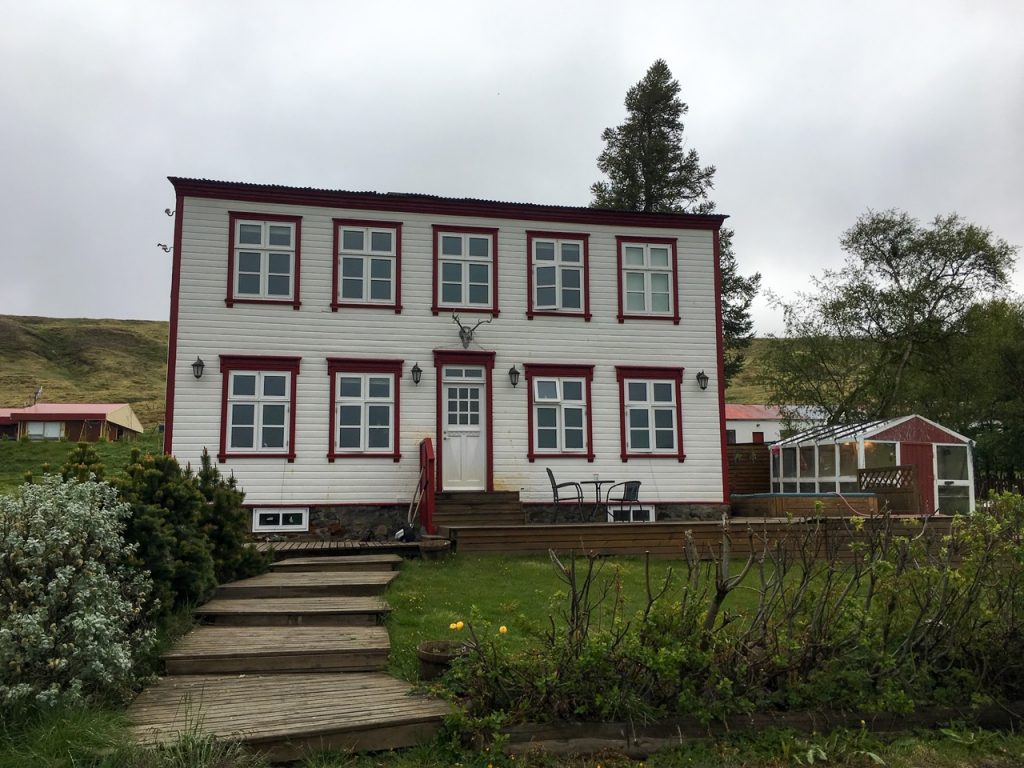 Around 8:30 PM, we made our way to the Mývatn Nature Bath. We originally planned to do this earlier but decided to save it as a relaxing way to end the day.
Situated by the hills of Jarðbaðshólar, the area belongs to the goelocially active zone that runs southwest to northeast through the island. The surrounding area is a volcanic landscape with craters, fissures, lava formations and steaming hills.

Historically, locals have used the natural steam for bathing, the tradition being to build a stone shelter over a steaming fissure for people to bathe in the moist steam.
Drawing from this tradition, Mývatn Nature Bath opened in 2004. With all of the minerals, silicates and geothermal micro-organisms, the warm, soothing waters benefit the skin and spirit and have other health benefits, to include improving arthritis symptoms.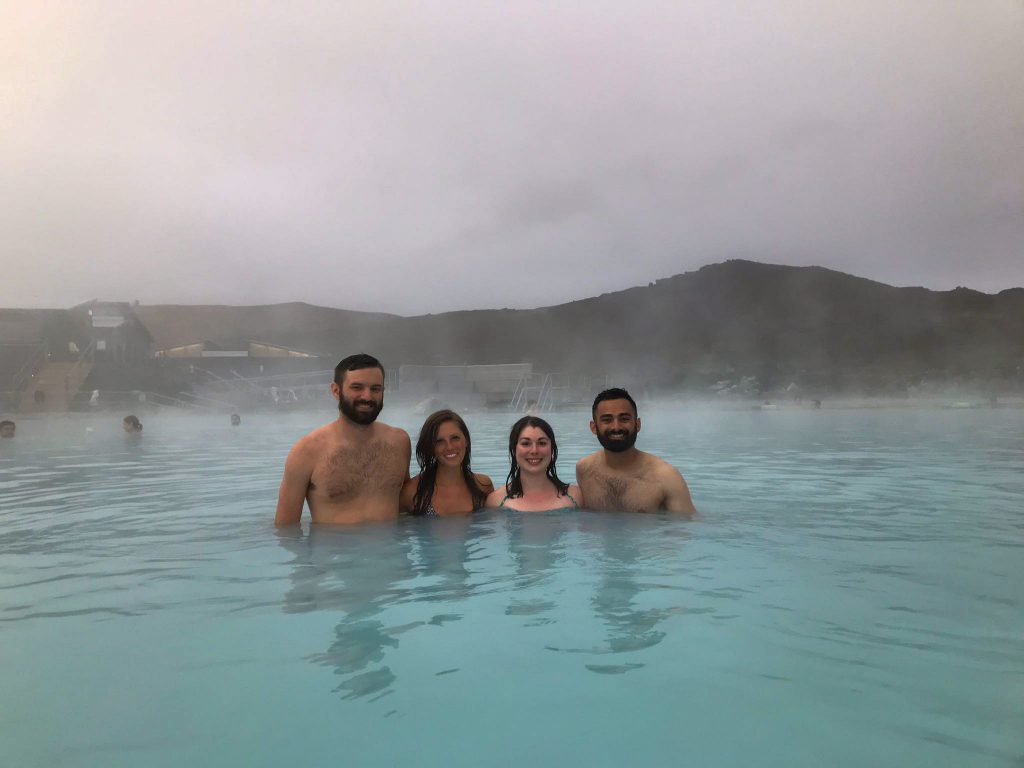 We spent around two hours here, sipping on some ciders and beers. This was our favorite of the lagoons we visited in Iceland, including the Blue Lagoon which we visited later on our trip!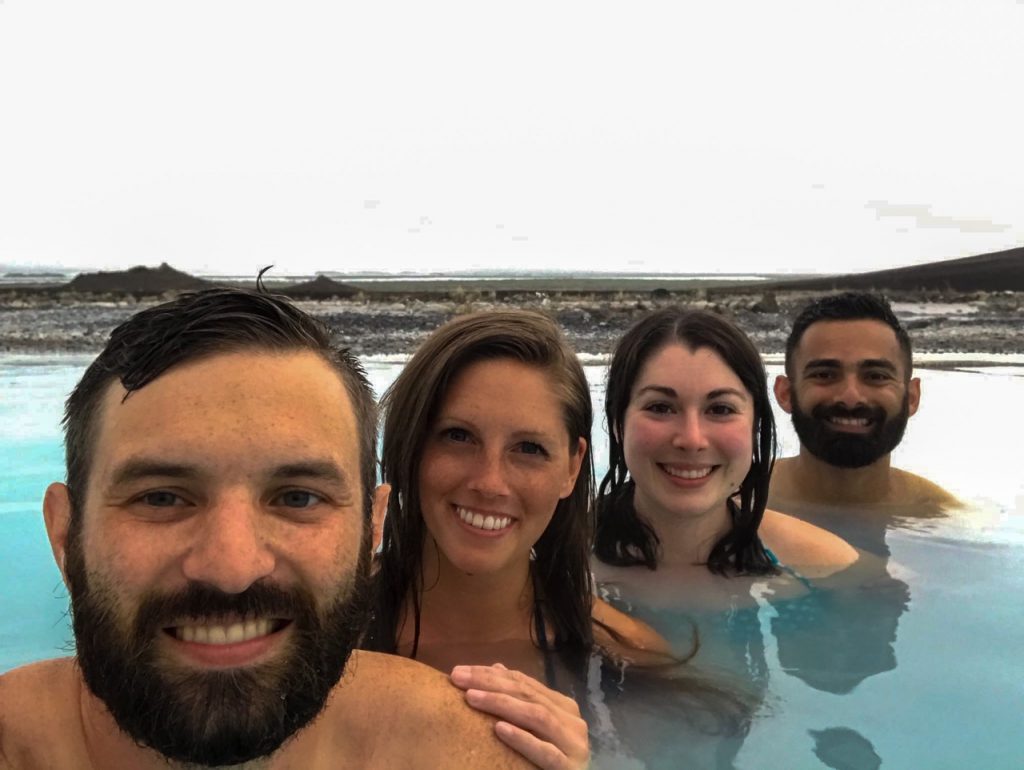 Similar to the Secret Lagoon, you must shower beforehand and remove all jewelry, so as to not impact the natural lagoon. You're also going to want to shower after, so bring a change of clothes in with you. They have soap and shampoo/conditioner inside, and I believe this one had options for showering alone vs. using the communal shower if I'm remembering correctly.
The cost was around 5,500 ISK (~$40 USD), and it costs extra to borrow towels, so we advise you bring your own if possible.
Day 7: A Road Trip from North Iceland to the Westfjords in the Northwest
The next morning, we enjoyed a nice, free breakfast and visited the cute (horse) neighbors before hitting the road.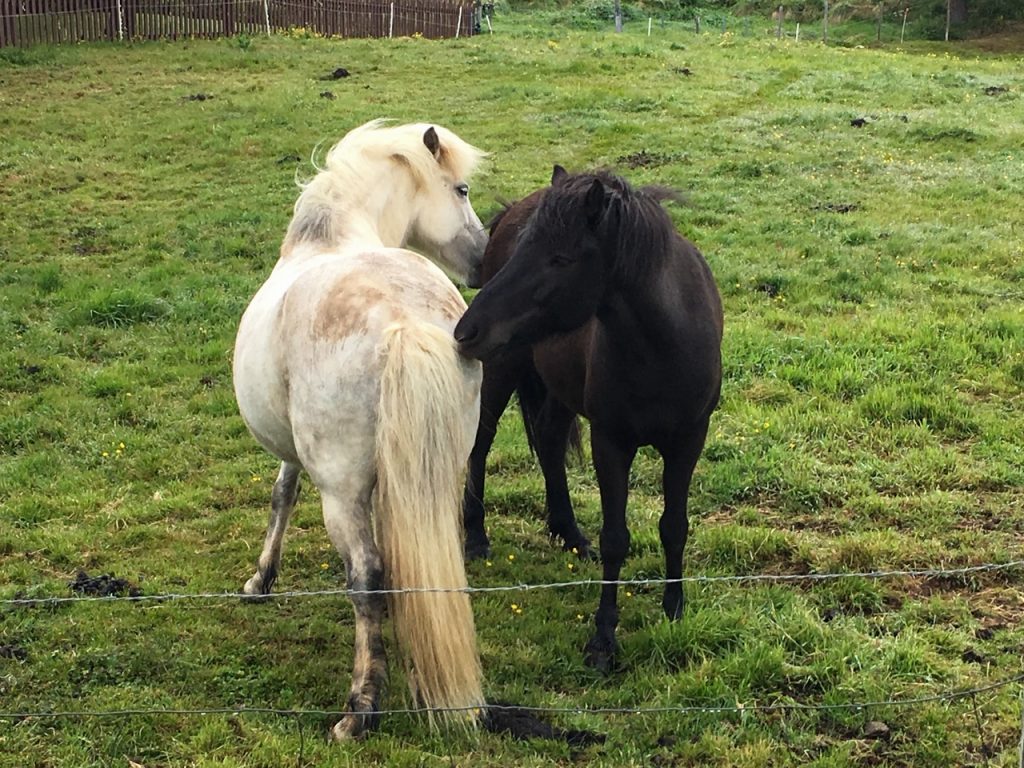 Our first stop was Goðafoss waterfall. Sometimes referred to as the "Waterfall of the Gods", Goðafoss is one of Iceland's largest waterfalls, falling from a height of around 30 feet over a horseshoe-shaped width of around 100 feet. It's fed by the Skjálfandafljót river and is certainly a spectacular sight.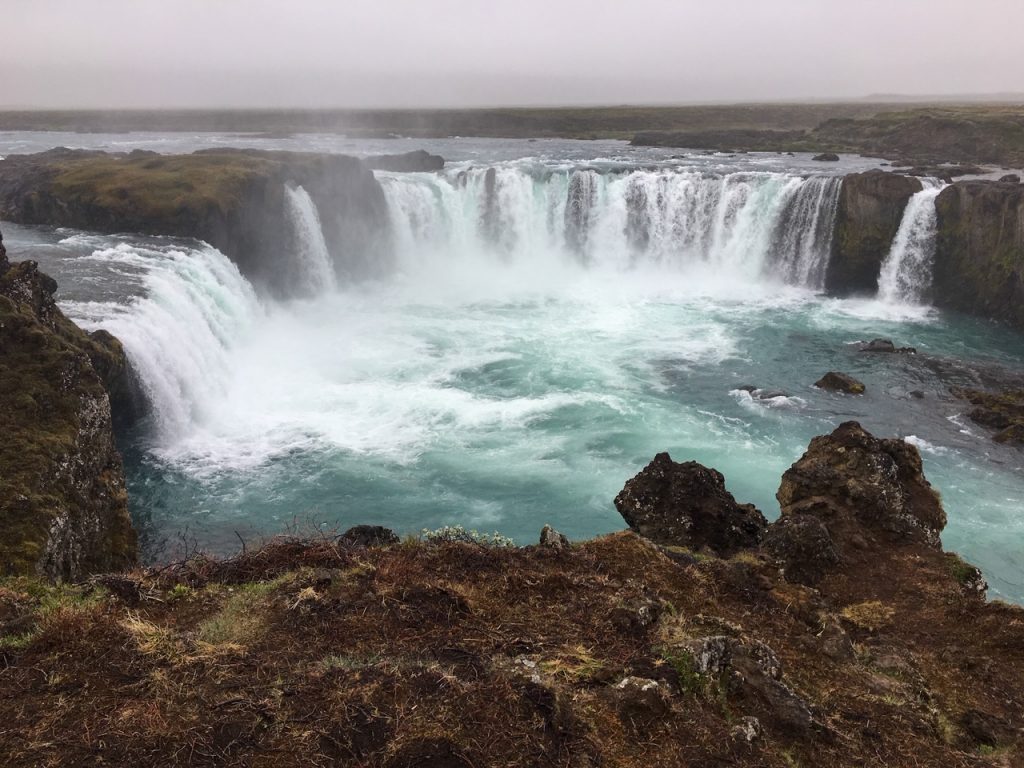 From here, we drove three hours to Kolugljúfur, or Kolugil, gorge, through which the Víðidalsá river flows. The gorge was named after a female troll, Kola, who according to folklore actually dug the gorge herself. It's believed that she lived on the edge of the gorge and would reach into the river to catch and eat salmon. Kola and her treasure are buried up on a hill in the hayfield at Kolugil and are still protected by her spell to this day.
There are several beautiful waterfalls that flow into the gorge, the most impressive being Kolufoss. The gorge is a little over a half of a mile long and around 150 feet deep.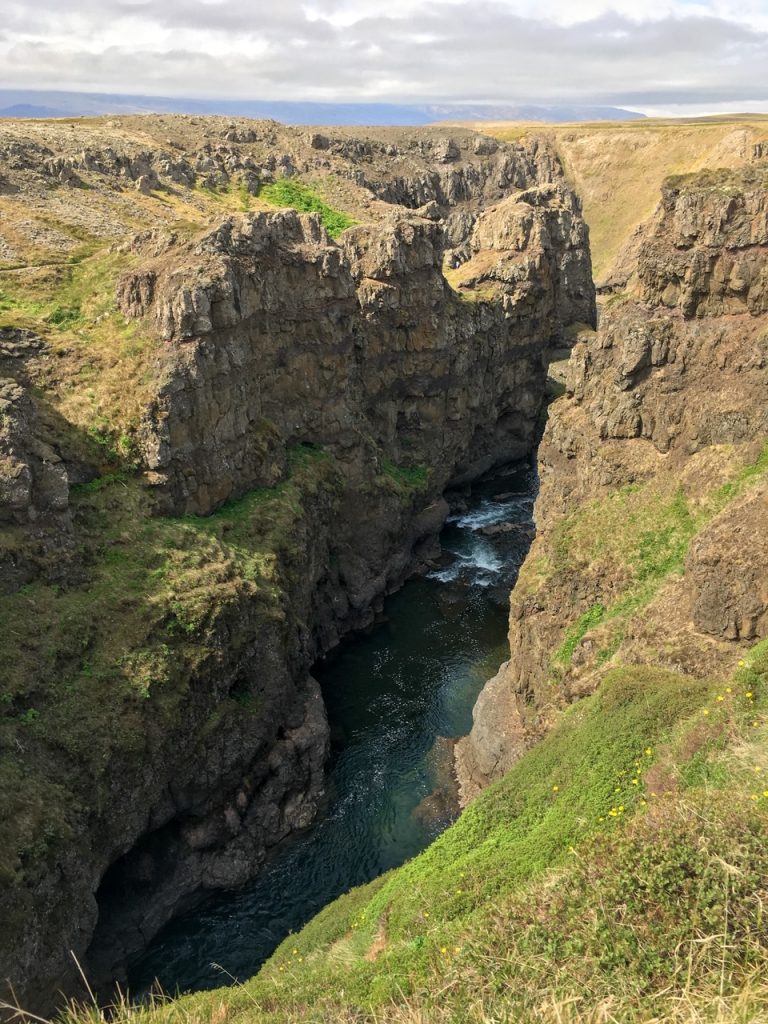 Be careful here to not get too close to the edge; in some areas, it looked like rocks had started breaking off and it could become quite dangerous.

We were all very amused to see signs like these throughout Iceland. Safety first!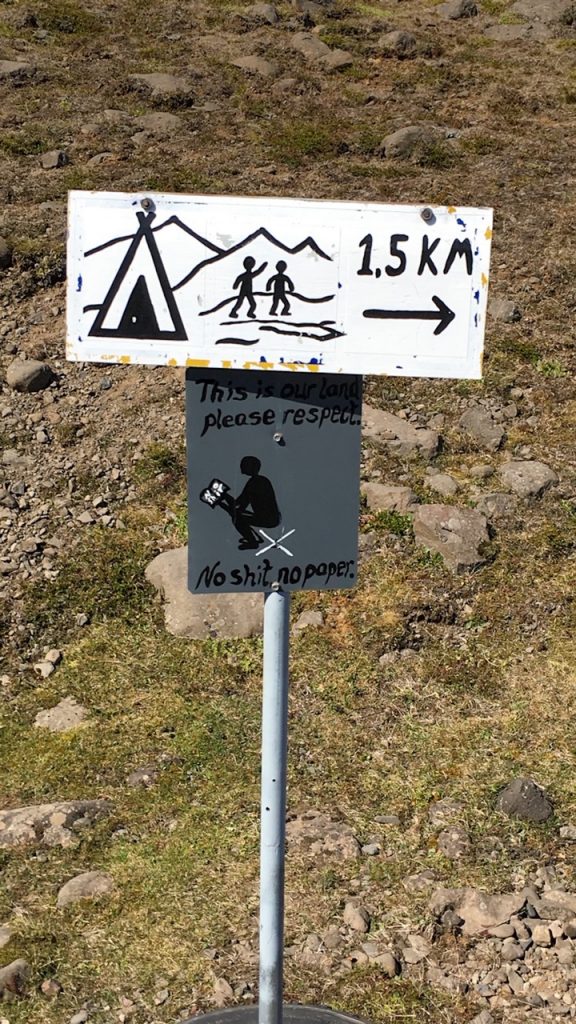 We had another four hour drive ahead of us, and it was another scary one. There were lots of gravel roads, and there weren't any guardrails in some areas. I will say that the views were beautiful though.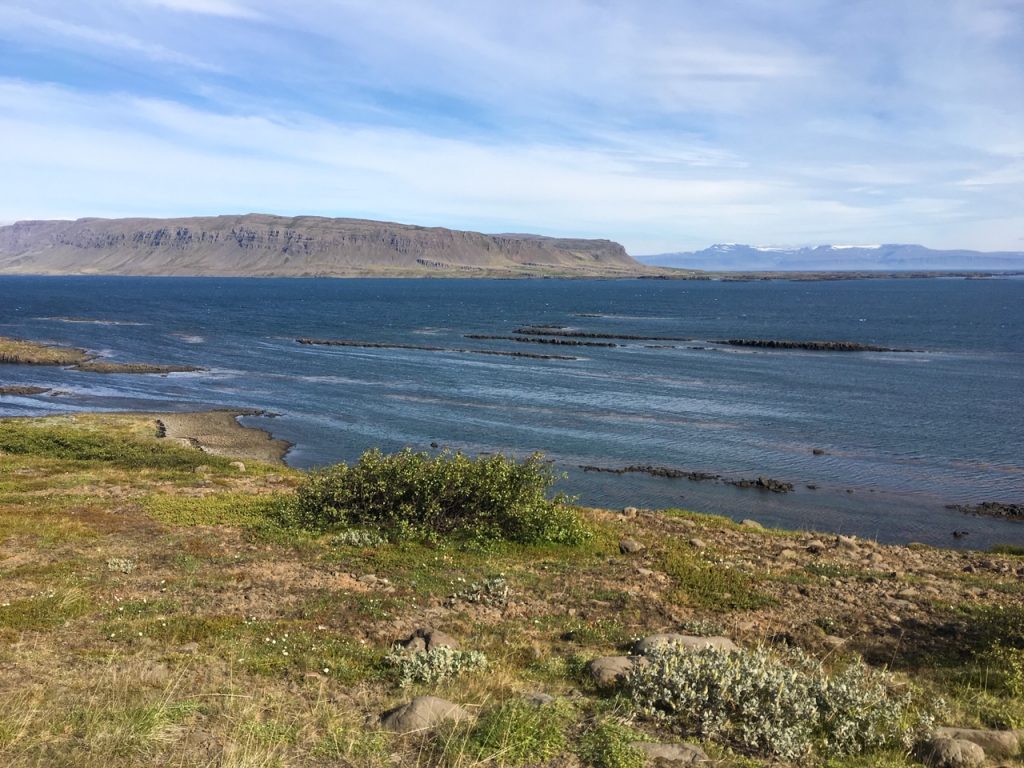 Luckily, we made it out unscathed after whipping through another podcast and arrived at Dynjandi around 7:30 PM. Dynjandi has been a protected natural monument since 1981, protecting the waterfalls and the entire water catchment of the Dynjandisá river.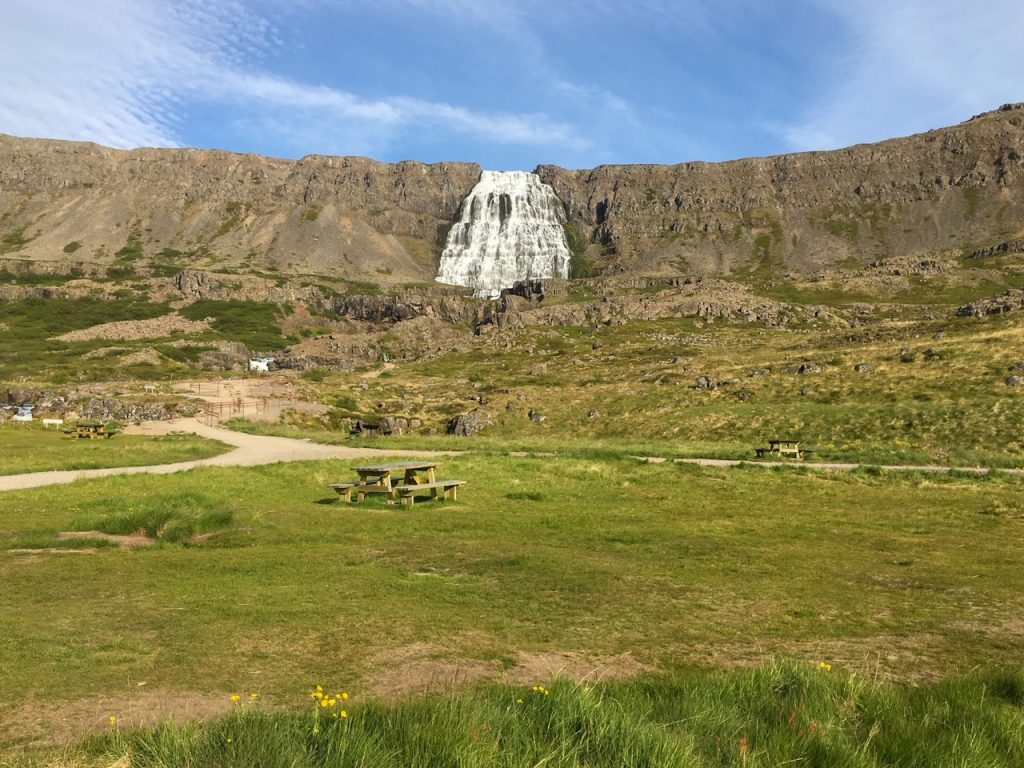 The name Dynjani means "thundering noise", and we can attest that it lives up to its name! It's known as the "jewel of the Westfjords", which are the oldest part of Iceland. We learned from one of the signs that they originated during a series of volcanic eruptions which took place during the Tertiary Period around 14 to 16 million years ago.
After an ice age, which ended about 10,000 years ago, the progression of a glacier carved deep valleys and fjords in the landscape, leaving behind layers of rock of different degrees of hardness, which ultimately formed the terraced waterfall Dynjandi.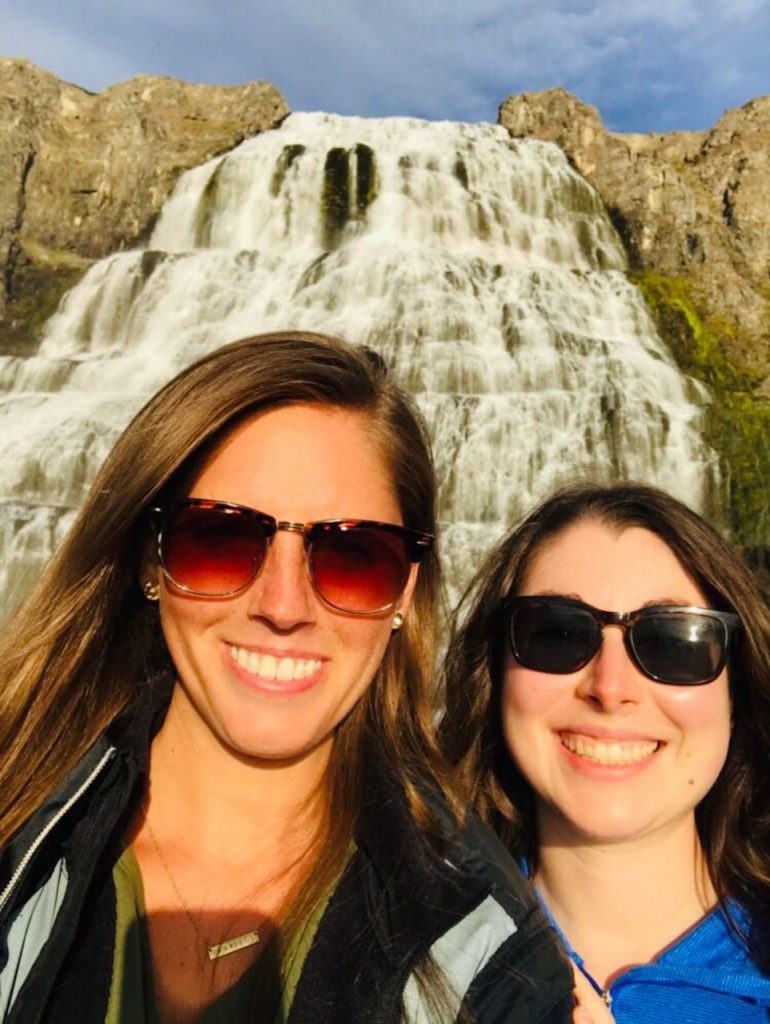 As you make the fairly short hike, you'll see six other waterfalls below the main waterfall, each with its own name; Dynjandi, of course, is the most impressive though, towering at 325 feet high and close to 100 feet wide.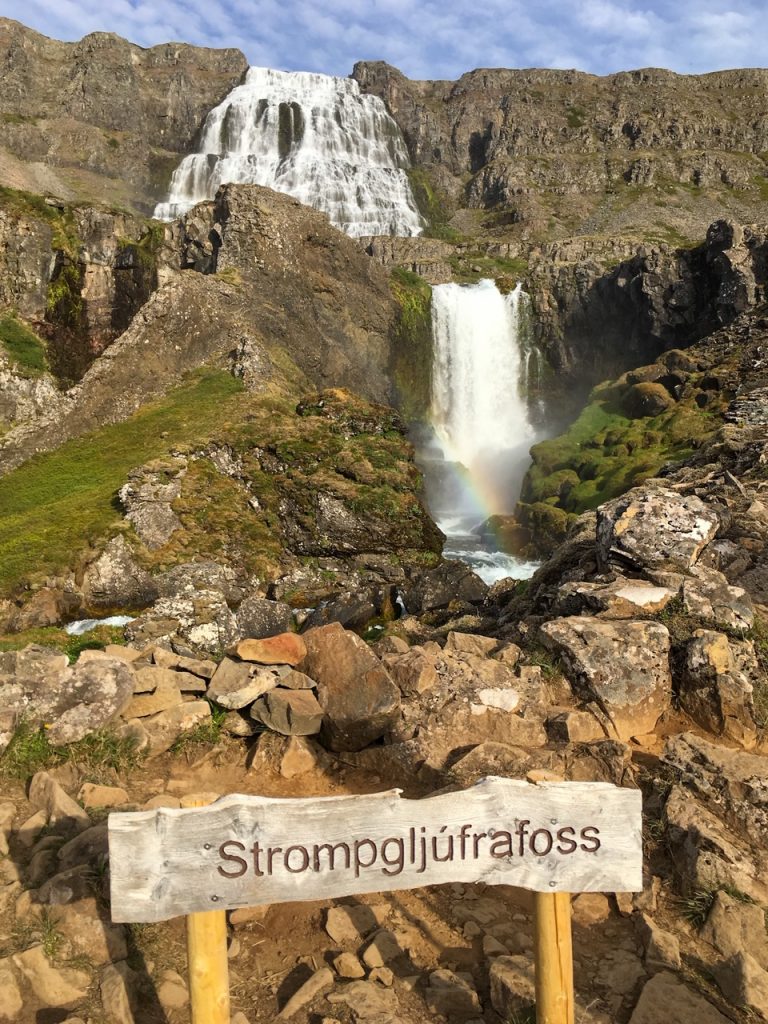 A Broad Recommendation: We spent about two hours exploring here, so give yourself plenty of time. We would also recommend applying bug spray or lotion beforehand. We love this long-lasting Sawyer Products SP533 Premium Ultra 30% DEET Insect Repellent in Liposome Base Lotion. The controlled release formula provides up to 11 hours of protection and comes in an airline-friendly 3-ounce bottle.
Although it was pretty late and we had a long drive ahead of us, it was amazing to watch the sunset here.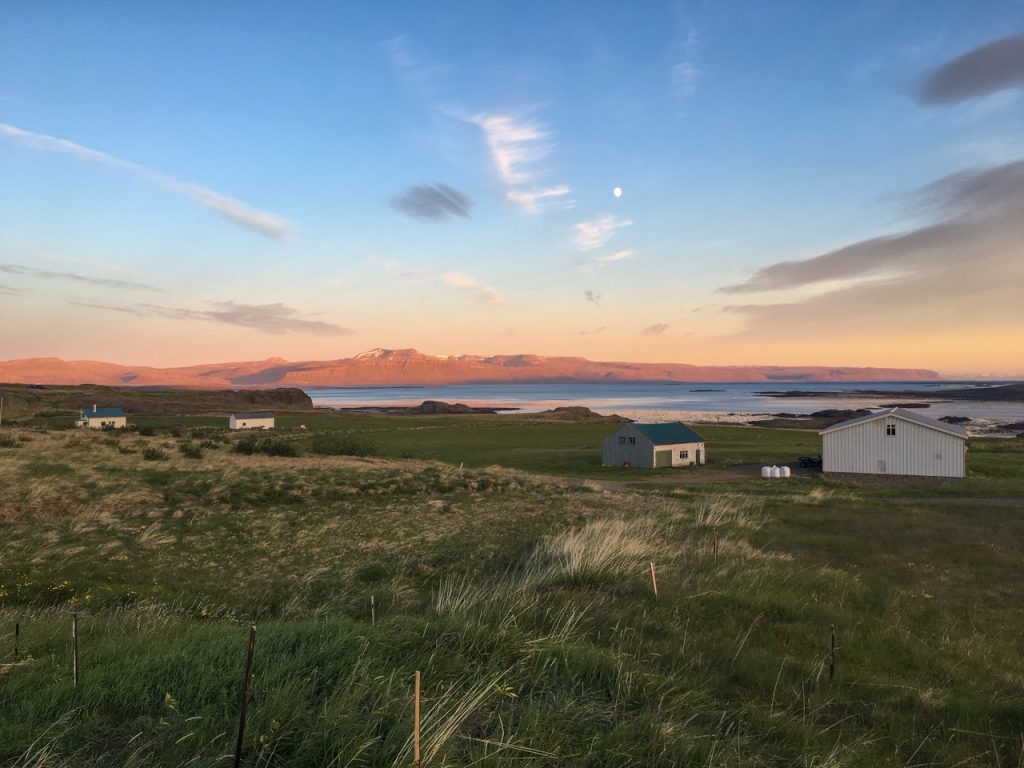 We stayed at Hotel Edda Laugar in Saelingsdalur, where we had two separate rooms each with twin beds pushed together as a double bed. This hotel was more like a hostel with communal bathrooms and showers; it was one of our least favorite of the trip but still totally fine. Breakfast was not included, and the total cost was $189.04 for both rooms.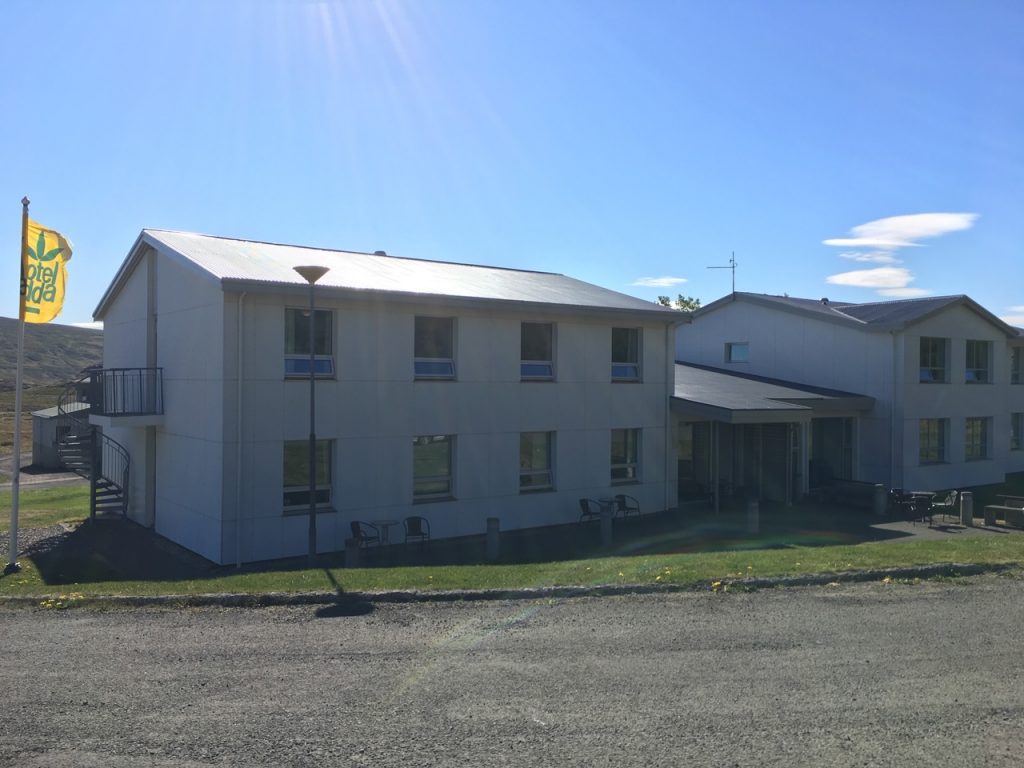 Day 8: A Day Visit to the Snæfellsnes Peninsula in West Iceland
We left close to 10 AM the next morning to embark on an easier drive, albeit still with some gravel roads and no guardrails, and arrived at Kirkjufellsfoss around noon.
Kirkjufell, also known as "Church Mountain", is a famous, triangularly shaped mountain located on the north shore of Iceland's Snæfellsnes Peninsula. Its name comes from its resemblance to a church steeple, and it's one of the most photographed mountains in Iceland.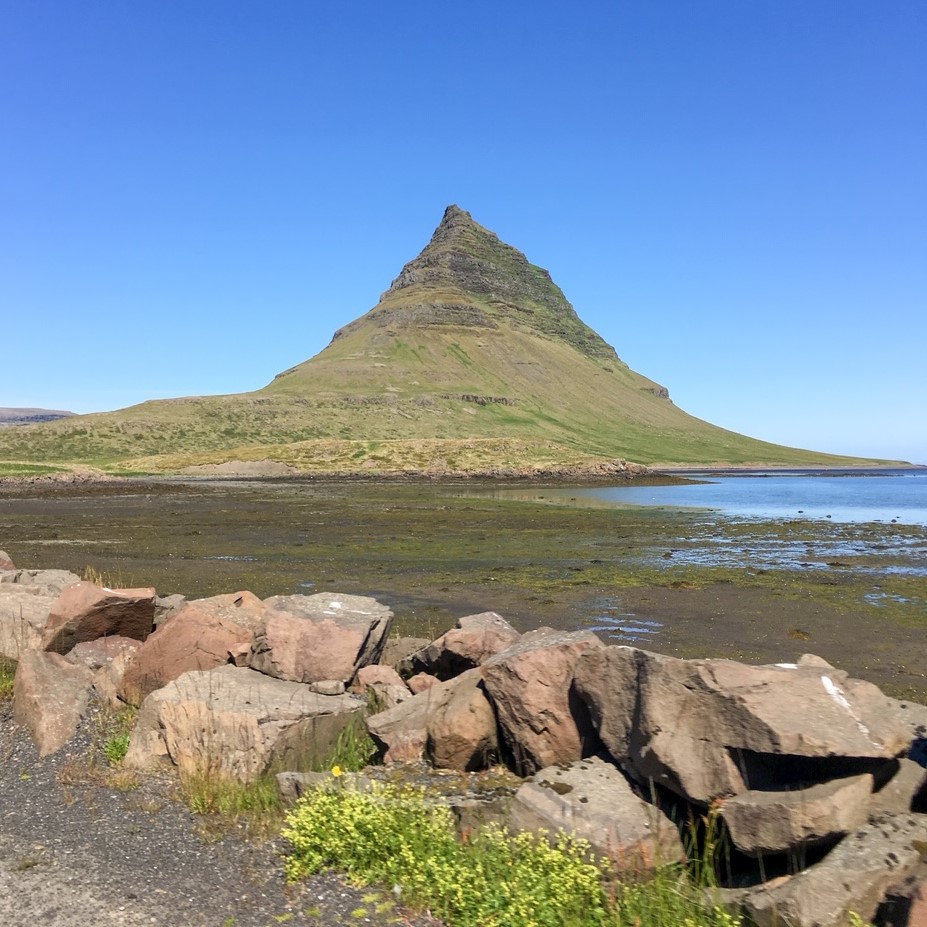 A Broad Recommendation: the most popular spot to photograph Kirkjufell is casually from the side of the road leading up to it. That's where we took the shot above.
Kirkjufellsfoss, or "Church Mountain Falls", is walking distance from the mountain, and there's a short path that leads you around the falls. After seeing so many other impressive waterfalls, this wasn't as exciting, but it was still beautiful and a nice way to break up our long drives.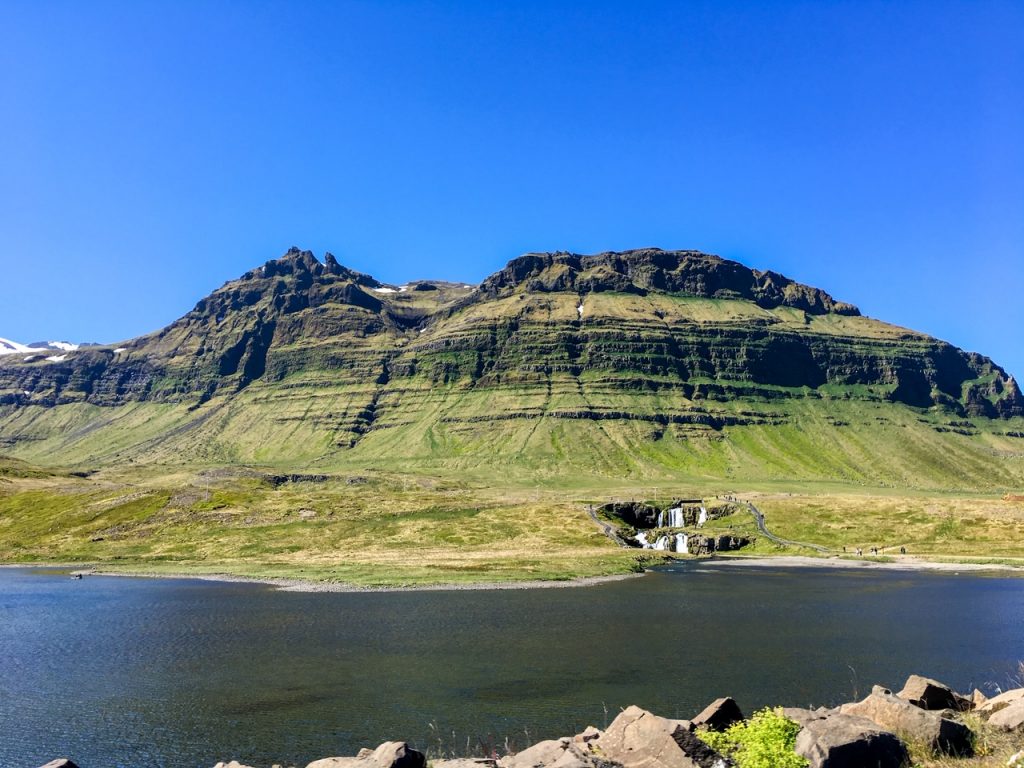 That being said, the scenery around the falls was breathtaking, especially with this famous mountain in the background.

Fun fact: this is yet another spot where Game of Thrones was filmed. We spent about 45 mins here, including the time it took us to walk to and from the falls.
Just around an hour away on the Snæfellsnes Peninsula, is Djúpalónssandur, a black sand and black pebble beach speckled with large, rocky lava formations.

The smooth, black pebbles give the beach its nicknames, "Black Lava Pearl Beach" and "pearls of the deep lagoon". Note that these pebbles are protected by law, and you shouldn't take any home with you.
One large lava formation called Gatklettur has a hole in the middle, through which you can see Snæfellsjökull glacier. Another called Söngklettur, or "singing rock", is a large lava rock with a reddish hue, which is said to be a "Church of the Elves" and is deemed a natural monument in the area. Several other formations are believed to have been trolls that were turned to stone.
Of course, it's important to respect these natural wonders, and we advise you not to climb on them.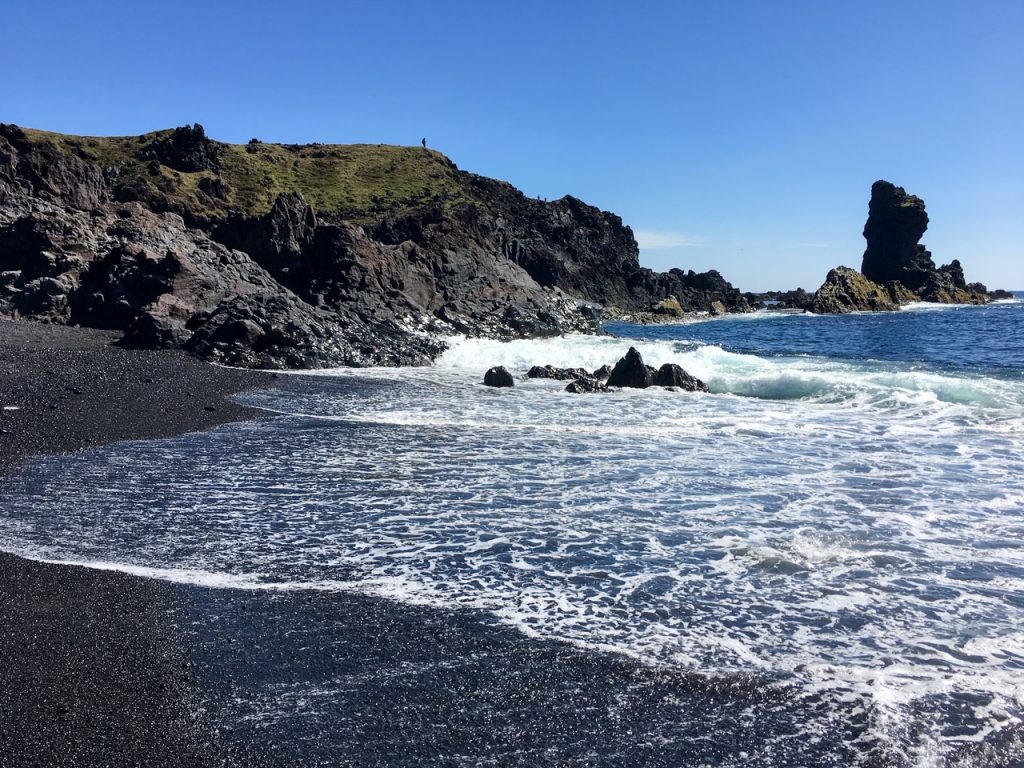 There are also two freshwater lagoons in the area called Djúpulón, i.e. "The Deep Lagoons", and Svörtulón, i.e. "The Black Lagoons", the former of which is actually not that deep at all at around 16 feet, and the latter of which was blessed by Bishop Guðmundur góði (or Guðmundur the Good) in the late 1100s and is still believed to possess healing properties.
Snæfellsnes Peninsula once was one of the most active trading posts of the island but has since become a tourist spot. The waters are actually quite treacherous, and the suction of the Atlantic Ocean is very strong here, so the beach should only be admired from a safe distance. One of the signs reads: "Very strong sea currents. Sharp increase in depth. Dangerous waves. Entering the sea may be life-threatening.", so please remember to use extra caution and don't go into the ocean.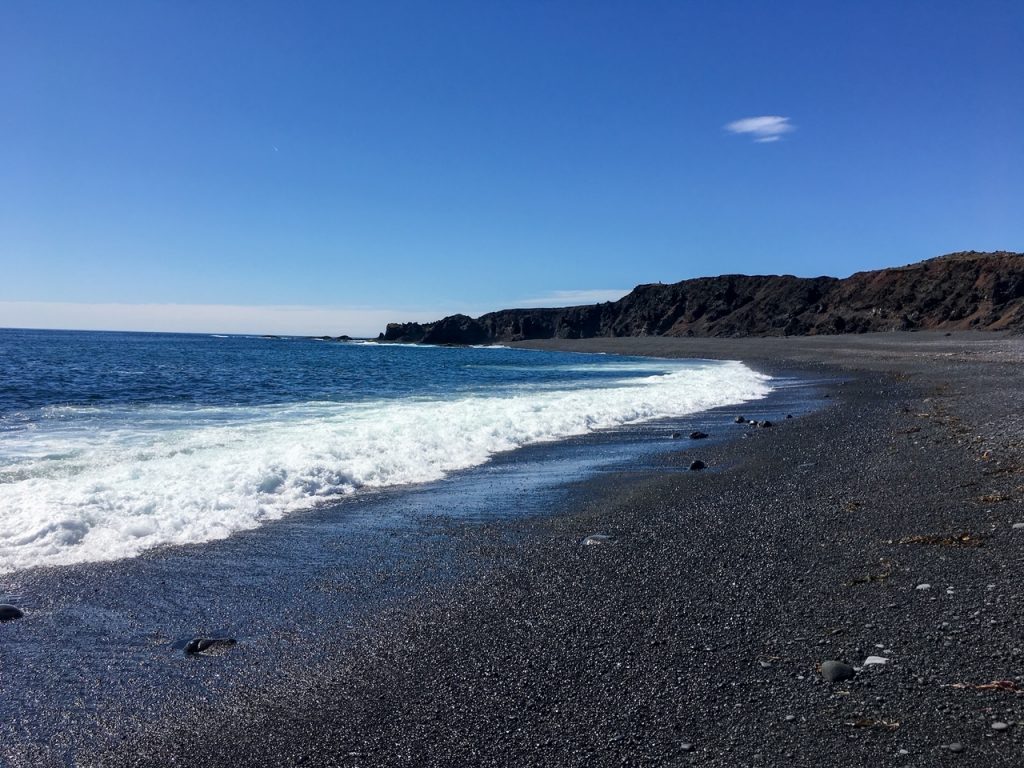 Remnants of a shipwreck in 1948 can still be found scattered across the beach to this day. The iron pieces are now protected as a monument in honor of those who perished, so these should not be disturbed or removed from the area.
We spent about an hour exploring here and had fun pretending it was a real beach where we could lay out and bask in the sun (in our clothes), while watching the waves crash for a bit.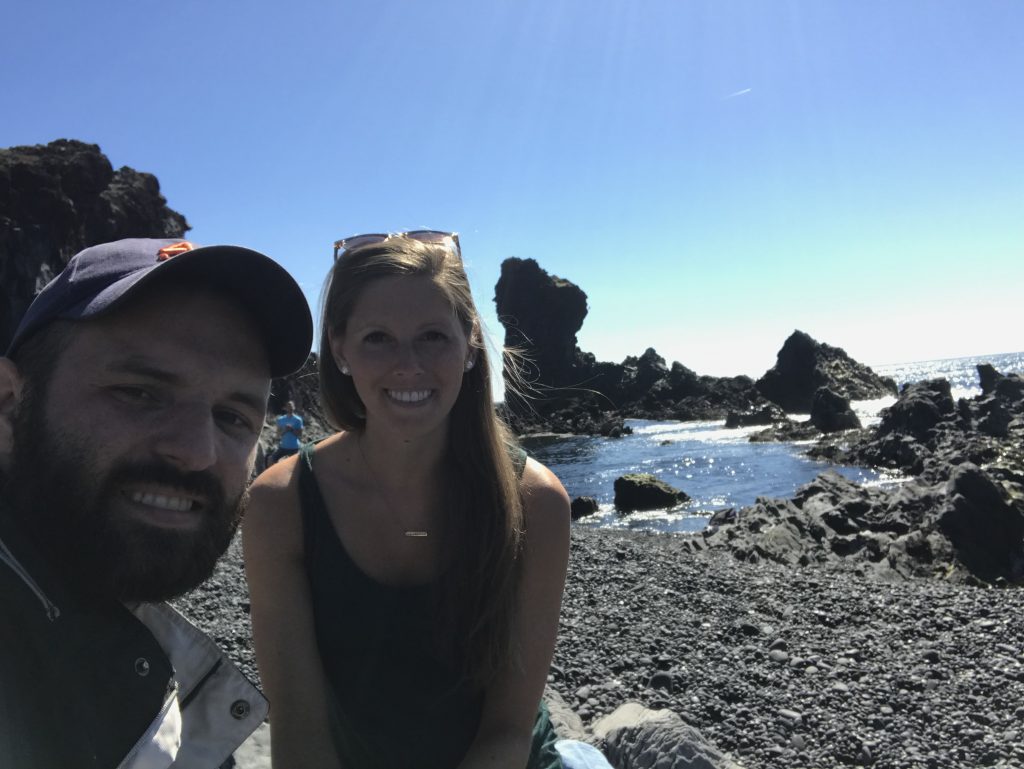 We were actually on schedule today, and arrived at Lóndrangar just slightly after 3:30 PM. Lóndrangar is comprised of two impressive basalt rock pinnacles rising up from the ocean near the seashore of Snæfellsjökull National Park. The larger of the rocks is around 246 feet tall and the smaller is closer to 200 feet tall; they are thought to be the remains of a crater which has since eroded away.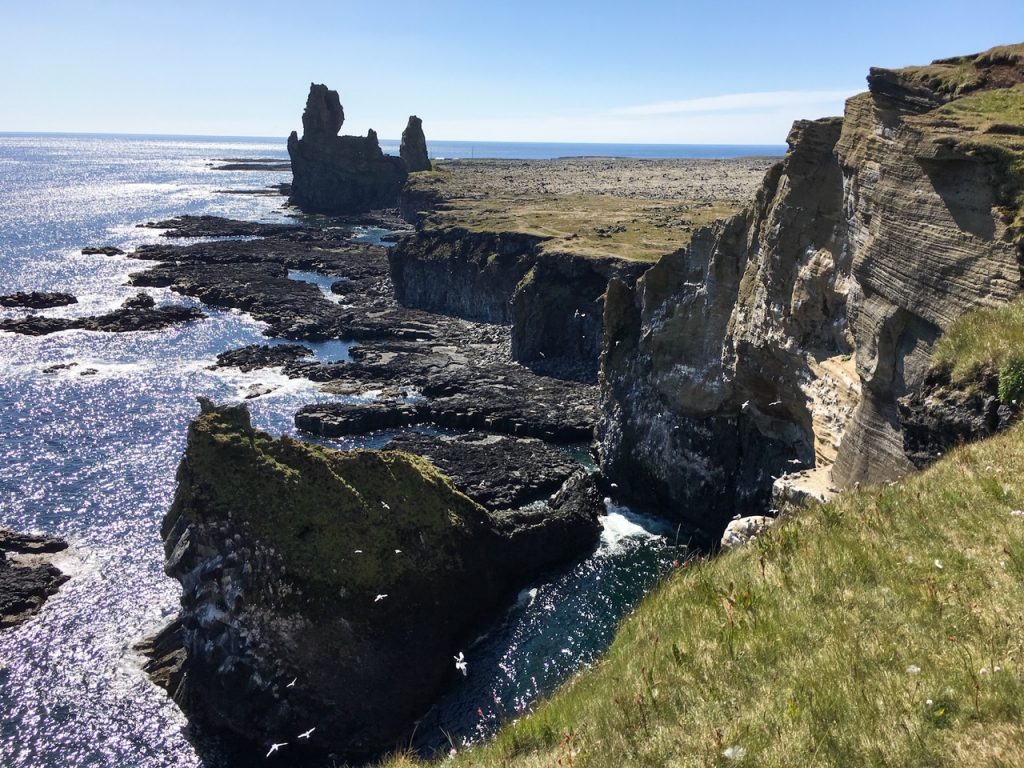 Lóndrangar is home to many seabirds, some of which we watched flying around, and the cliffs are covered in bird poop – that part is not so pretty – ha!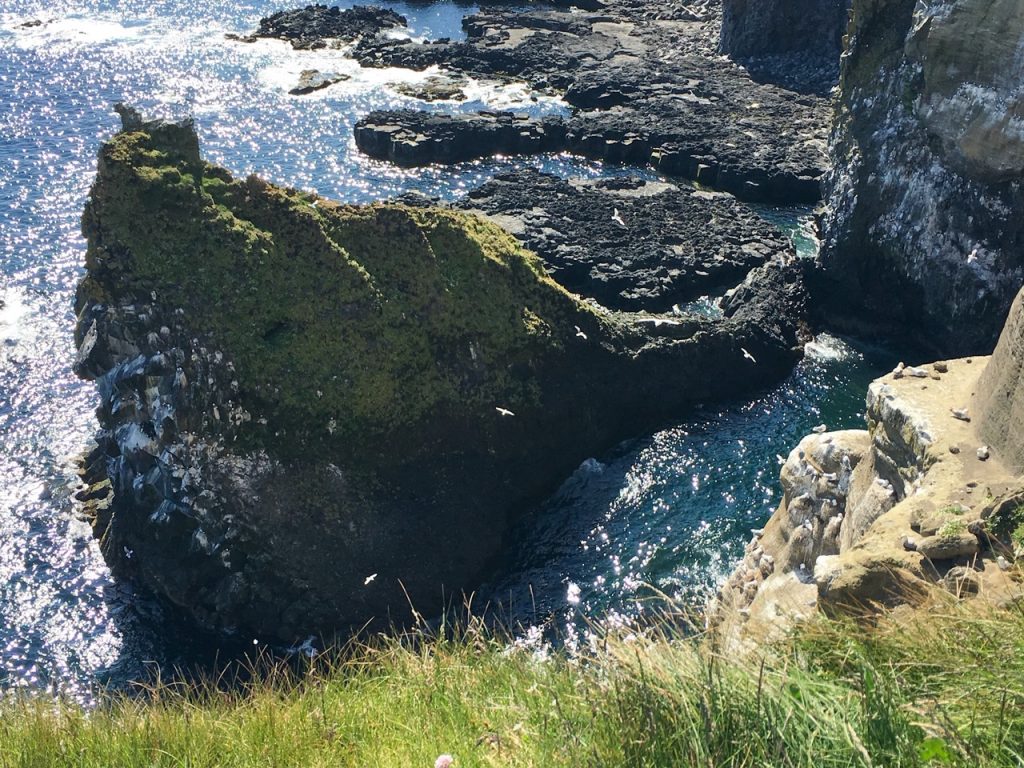 We spent twenty minutes or so here exploring the various viewpoints before heading on to Hellnar viewpoint – but not before capturing this entertaining shot!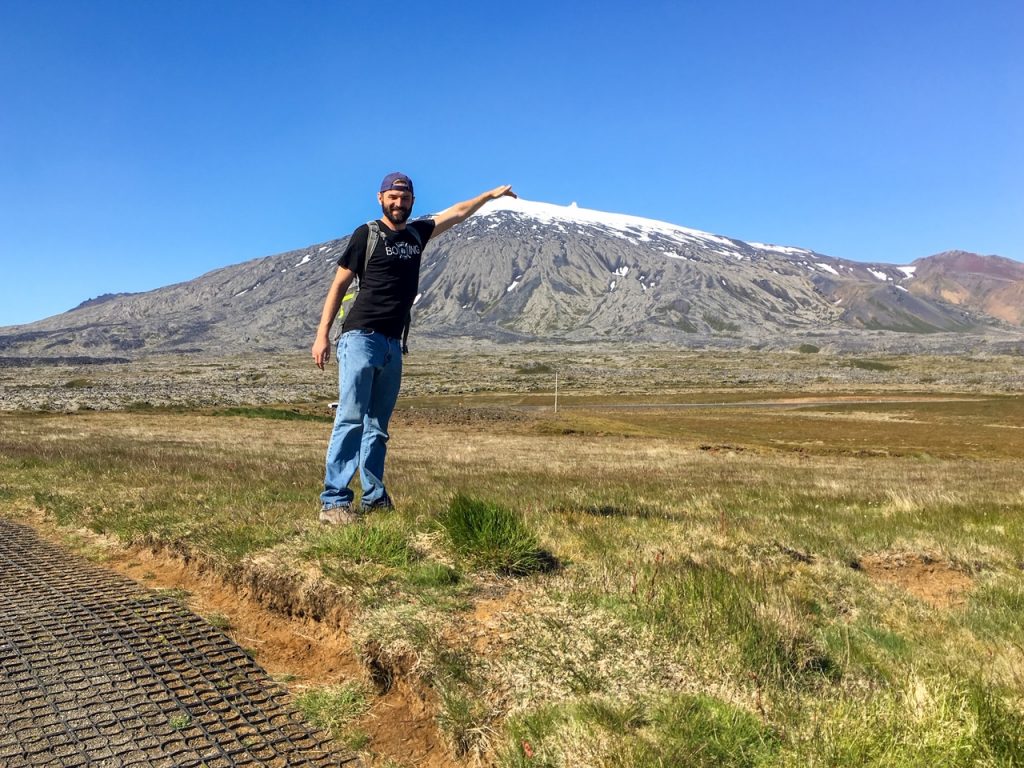 Two small villages, Hellnar and Arnarstapi, sit adjacent to each other at the foot of Snaefellsjökull, Iceland's most famous volcano. The surrounding area is known to be one of the most mystical energy centers on earth, and many hikers come here to experience this unique energy.
Hellnar was once among the largest fishing villages, and is now visited for Valasnös, a spectacular cliff protruding into the ocean, and Baðstofa, one of Iceland's most peculiar, colorful caves. The shore is, again, full of black and white polished rocks; if you walk to the cave, be careful and take your time, as they can get extremely slippery.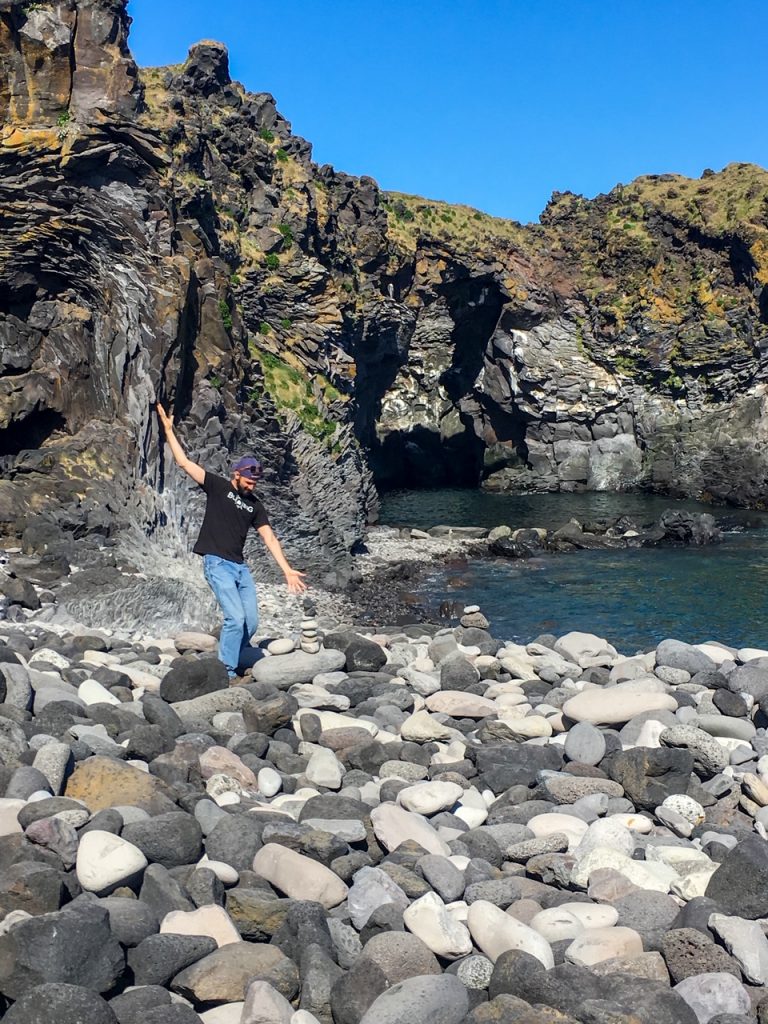 It's said that the Virgin Mary once appeared in the cold water spring (Maria's Spring – Maríulind) at the lava's edge, and the water still has healing powers.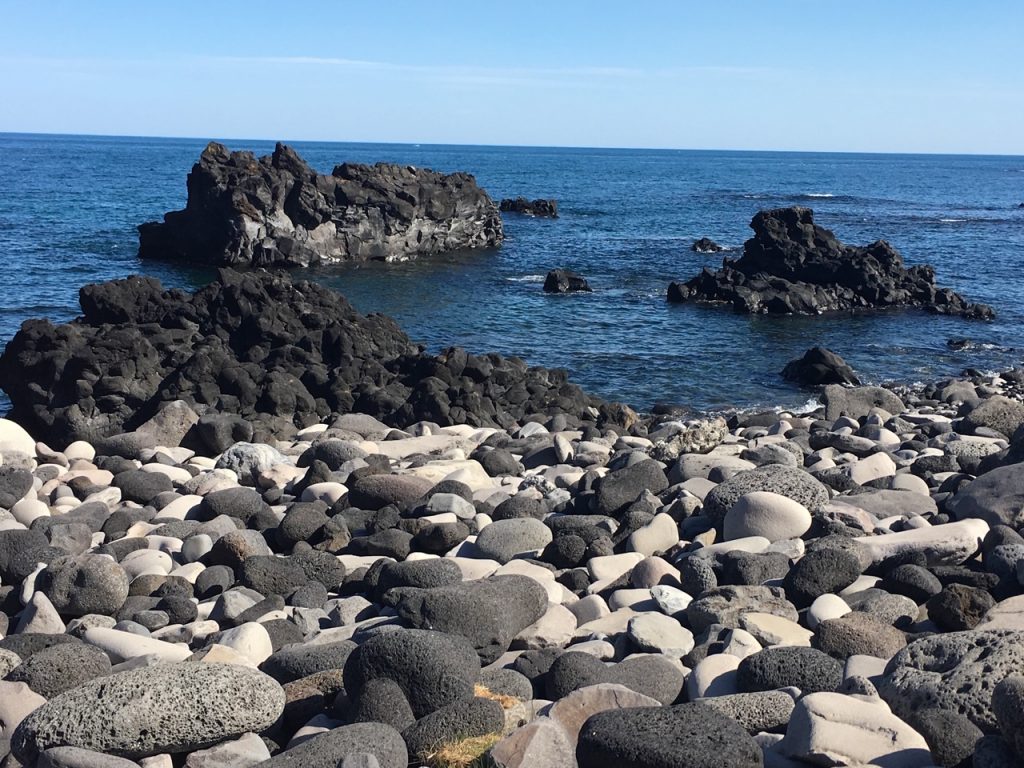 We also saw a cute café up on the hill, but we decided to keep moving after 40 minutes of exploring, so we could hit the rest of the items on our itinerary.
Bárðar Snæfellsáss, who was half-man, half-troll, lived in Hellnar at the end of the 9th century, and his brother, Porkell, lived in Arnarstapi. One of Porkell's son's, Rauðfeldsgjá, pushed Bárðar's eldest daughter onto an iceberg, and it's said that she drifted all the way to Greenland. Although she was unharmed, Bárðar was furious and killed both of Porkell's sons, pushing Rauðfeldsgjá into a canyon, now called Rauðfeldsgjá Canyon, and pushing Sölvi off a cliff nearby, now called Sölvahamar Cliff.
A popular place to explore, a stream runs through Rauðfeldsgjá Canyon, and it narrows the further you get inside; if you make it through, you can see a clear view of the sky, where it's believed Bárðar is still watching over to this day.
We walked the short trail here and made our way inside, but we saw some serious hikers/rock climbers that were drenched, and it looked slippery and a bit dangerous, so we decided to turn back almost as soon as we started.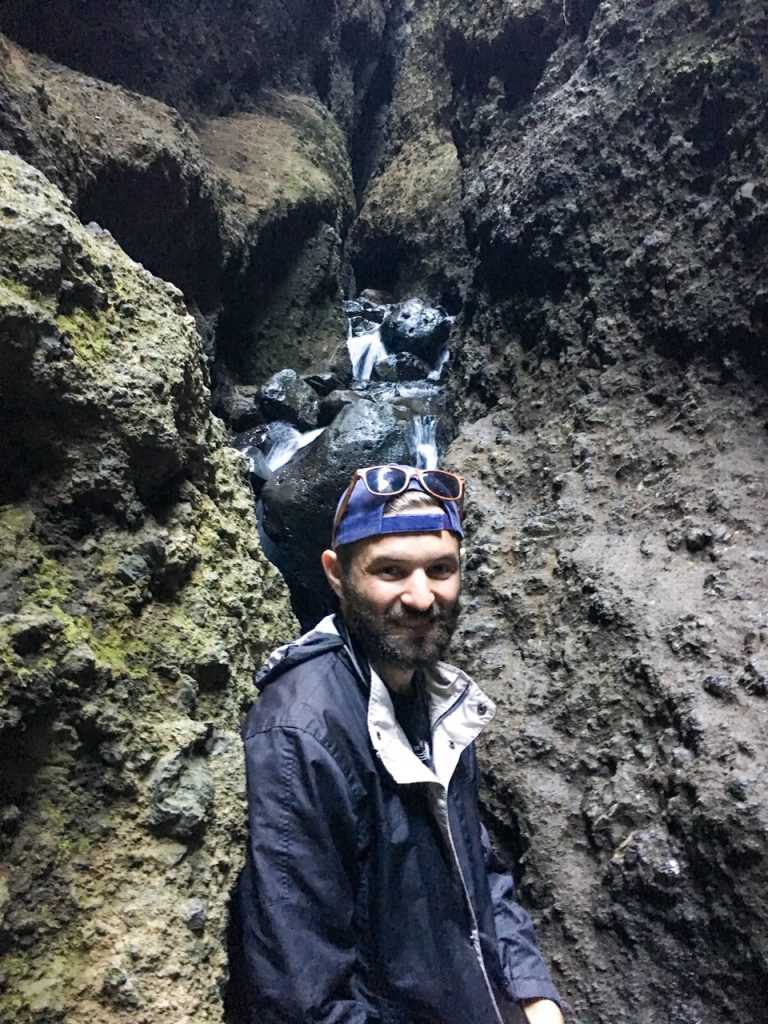 Next up was Snæfellsjökull View Point where we were interested to learn of Axlar-Bjorn, the only known serial killer in the entire history of Iceland. He was claimed to offer travelers room and board at his farm and then murder them during their stay. He was eventually found out and put to death.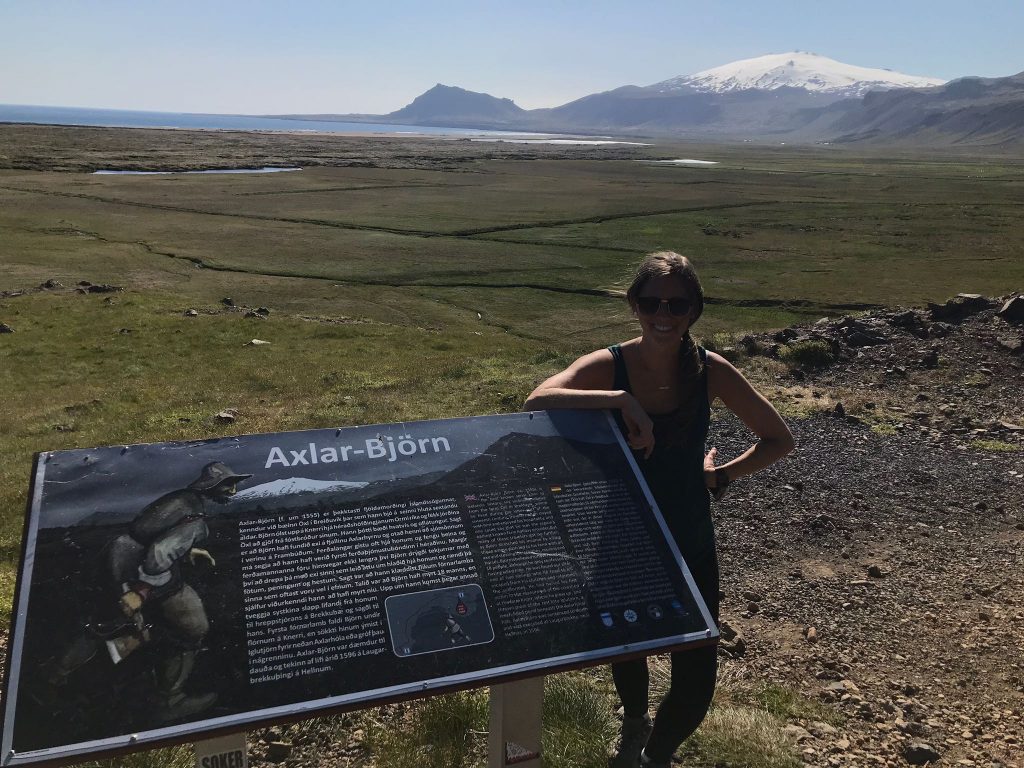 Next up and just a few minutes away was Bjarnarfoss, a beautiful waterfall that can be seen from the road. Bjarnar is Icelandic for Bear, which seems odd, since bears aren't native to the area. However, Polar Bears have been known to make visits on icebergs that occasionally drift over from Greenland – say what?!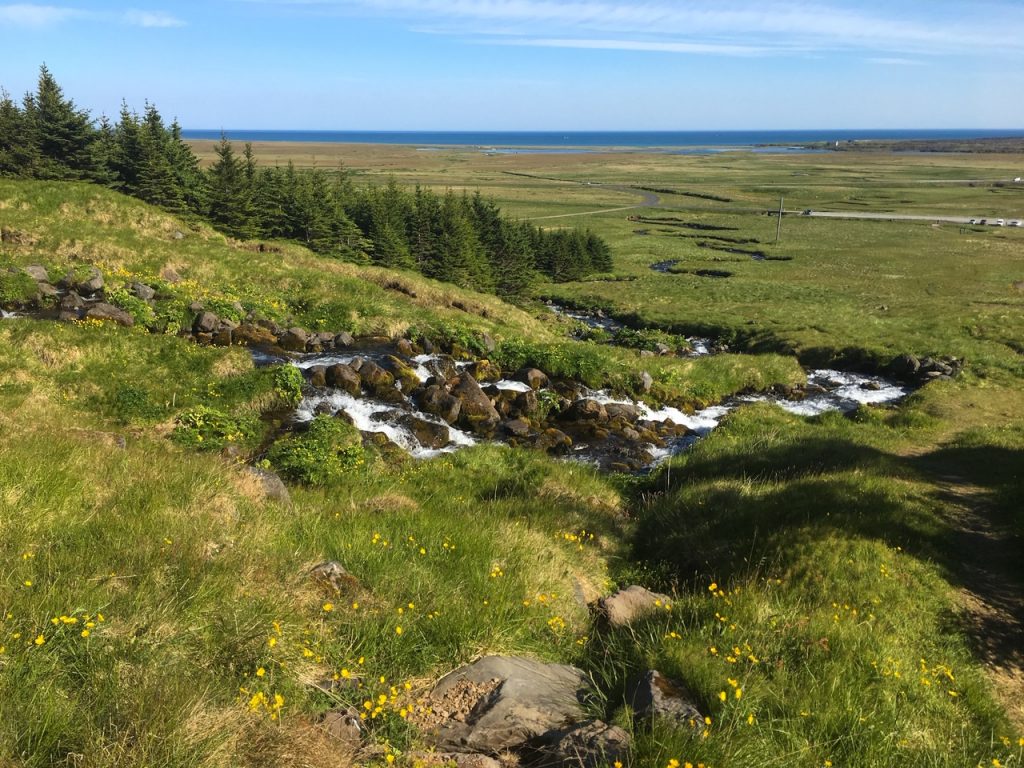 The most interesting part of the waterfall is said to be up in the cliffs, which requires hiking the steep slope along the stream coming from the waterfall. We opted out on doing this and just grabbed some photos from the road.
Another short drive landed us in Búðir, a small settlement that sits in the Búðahraun lava field, which is now grown over with grassy flora. It's home to Hotel Búðir, a popular country inn and restaurant, and Búðakirkja, an old, small, black church.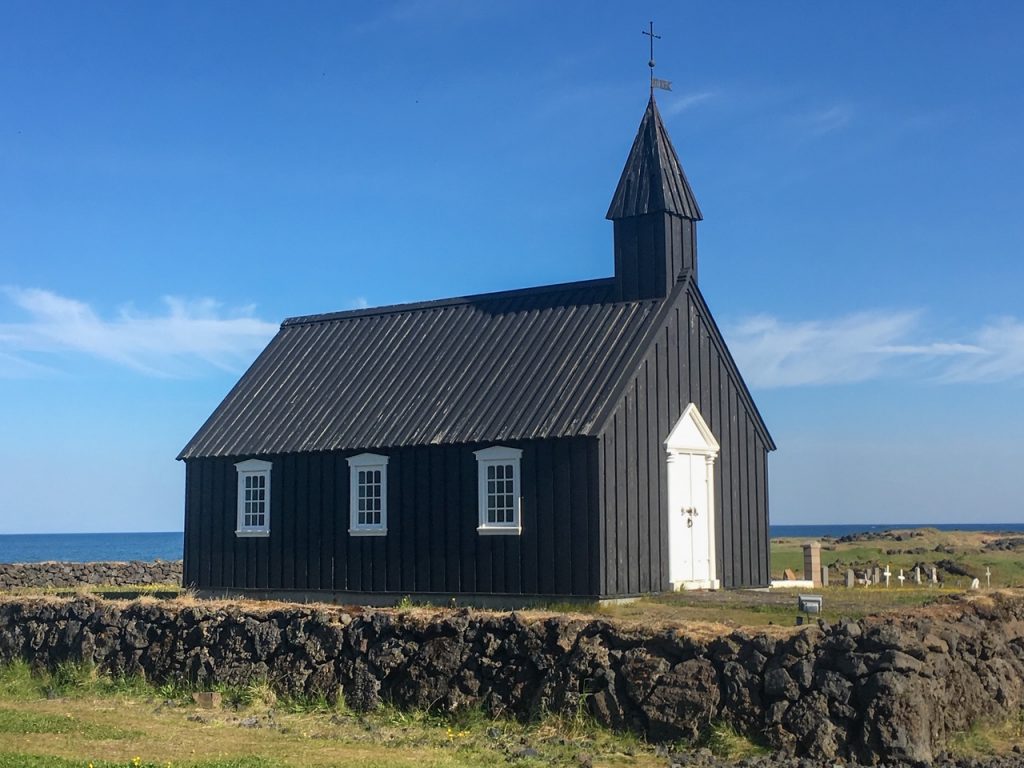 The first Búðakirkja was built in 1703 but was eventually deconstructed due to a lack of parishioners; it was later reconstructed in 1987. Today there is still a historic graveyard, a bell and a chalice from the time when the church was first erected.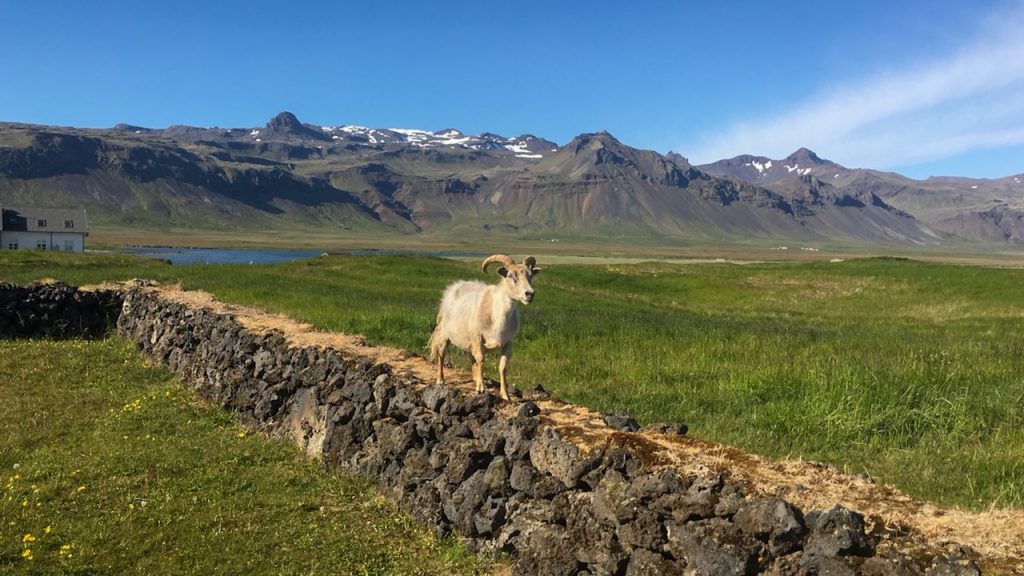 Around 8:30, we made it to Hótel Borgarnes, where we had one room with four twin beds. We were pretty pooped and decided to call it an early night after showering and eating some snacks/gas station-bought sandwiches and chips. This place was nicer than the night before, and we had a bathroom in the room, which we all appreciated.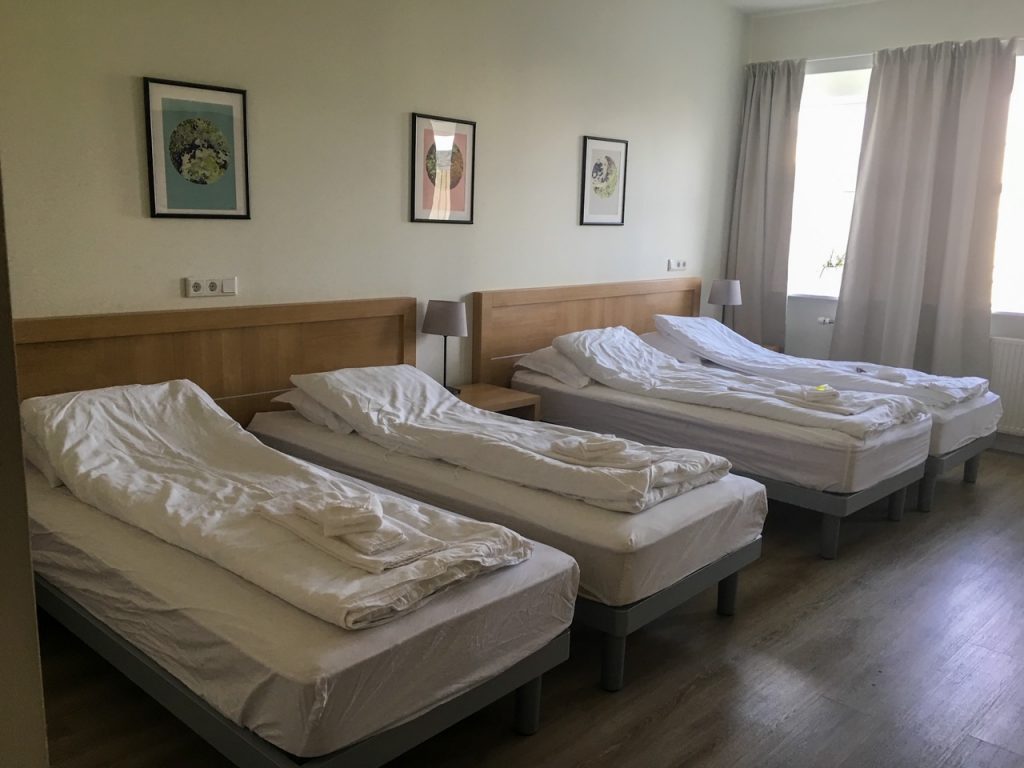 The cost was $246.41 for the night, and breakfast the next morning was also included.
Day 9: Finding Our Way Through West Iceland and Back to Reykjavík
Although we had planned to leave a bit later, we actually got an early start to the day, leaving around 8 AM and arriving at our first stop, Hraunfossar, just before 9 AM.
Appropriately named after the Icelandic word for lava (hraun), Hraunfossar is a series of springs and waterfalls streaming out of the Hallmundarhraun lava field, which flowed from an eruption of one of the volcanoes under the glacier named Langjökull.

Surface water and melt water from the glaciers run between the lava layers and emerge to form the falls. The pillow lava is believed to have been formed around 800 AD, shortly before the first settlers arrived in Iceland.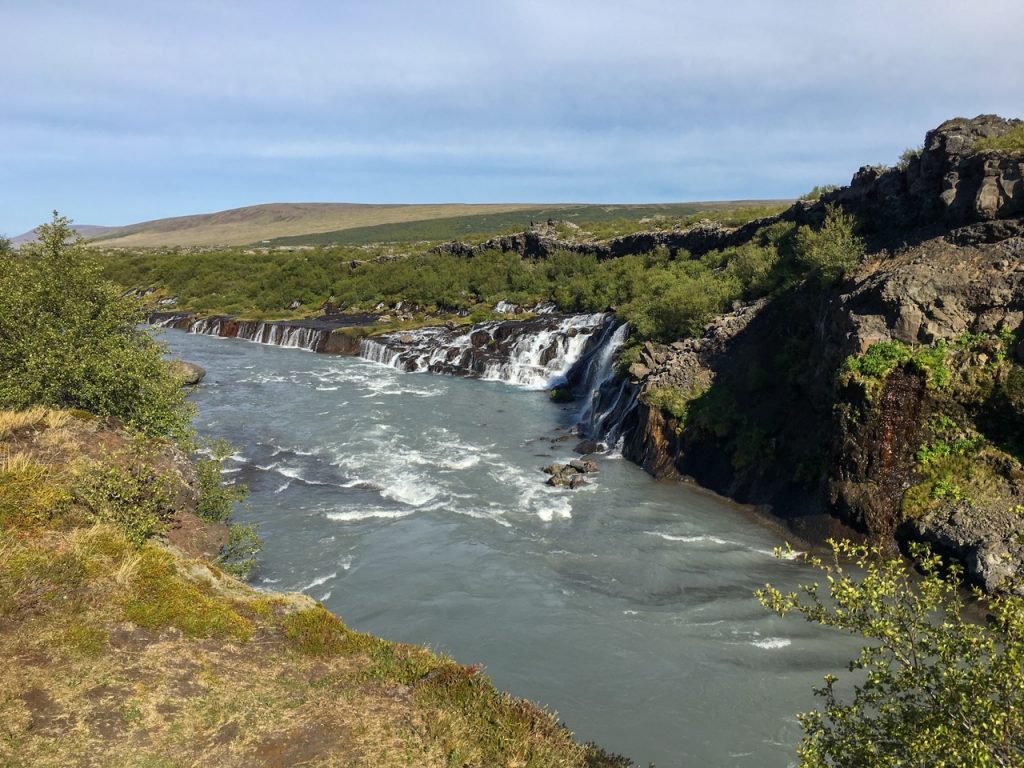 Another waterfall called Barnafoss is close by and is known to have water that can appear either bright blue or milky grey depending on when you visit. It's said that the name, "the waterfall of the children", came from an accident where two children fell to their deaths while crossing a natural stone arch bridge formed over the waterfall; their mother later had the bridge demolished.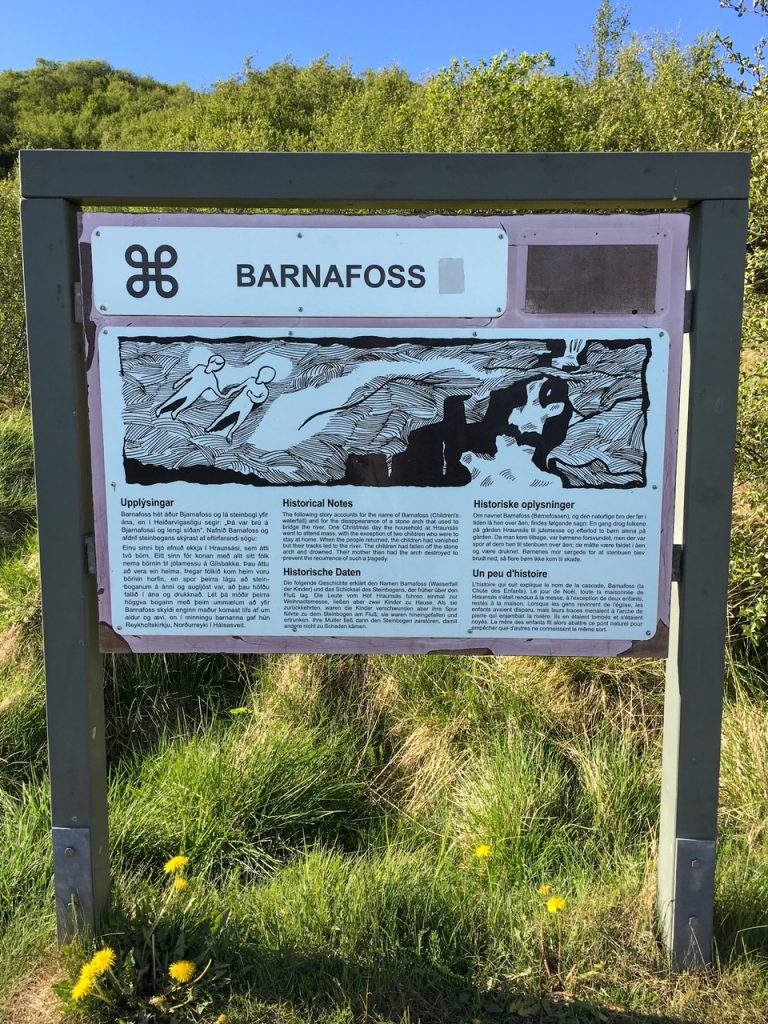 We spent just around 30 minutes here. Although interesting backstories, these waterfalls were definitely less impressive than some we had already seen.
After another hour and a half drive, we made our way to the Glymur hiking trail, which was set to be our hardest hike of the trip, averaging around 4-6 hours round trip (I don't think it took us nearly this long though).
We were immediately impressed by the striking beauty of the trailhead and all of the wildflowers that speckled the landscape.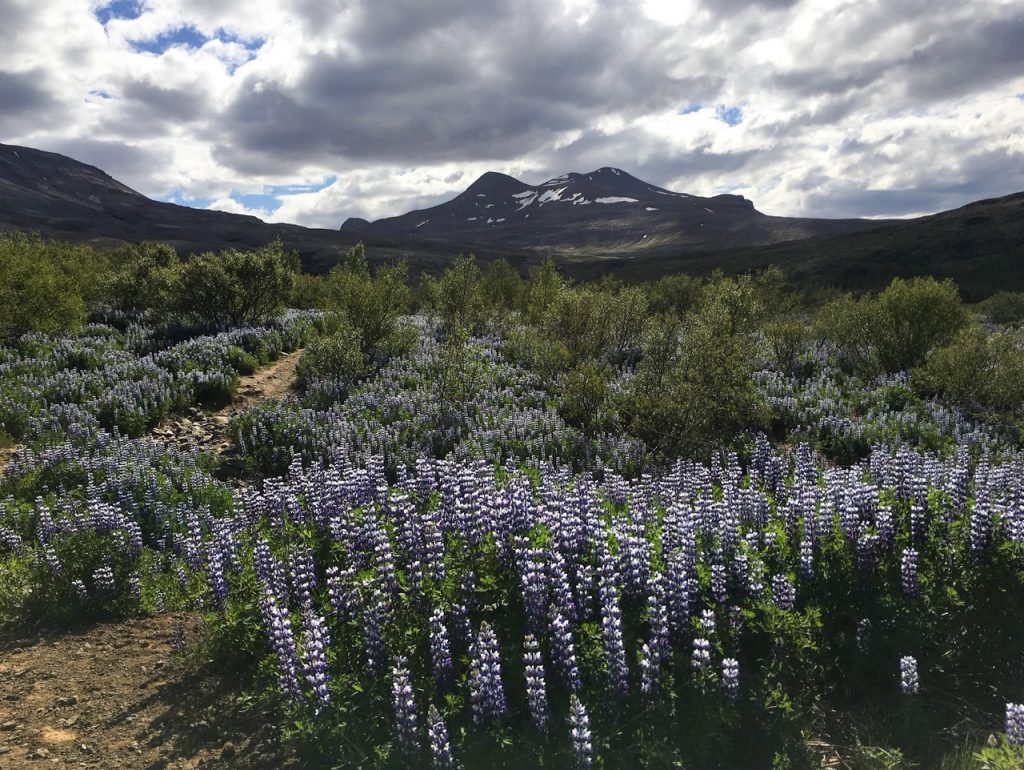 Glymur, in the river Botnsa, is the highest waterfall in Iceland. Botnsa runs from the lake Hvalvatn and tumbles from a height of around 650 feet above sea level down a short, but very deep canyon into the valley, Botnsdalur. The lake is the second deepest lake in Iceland.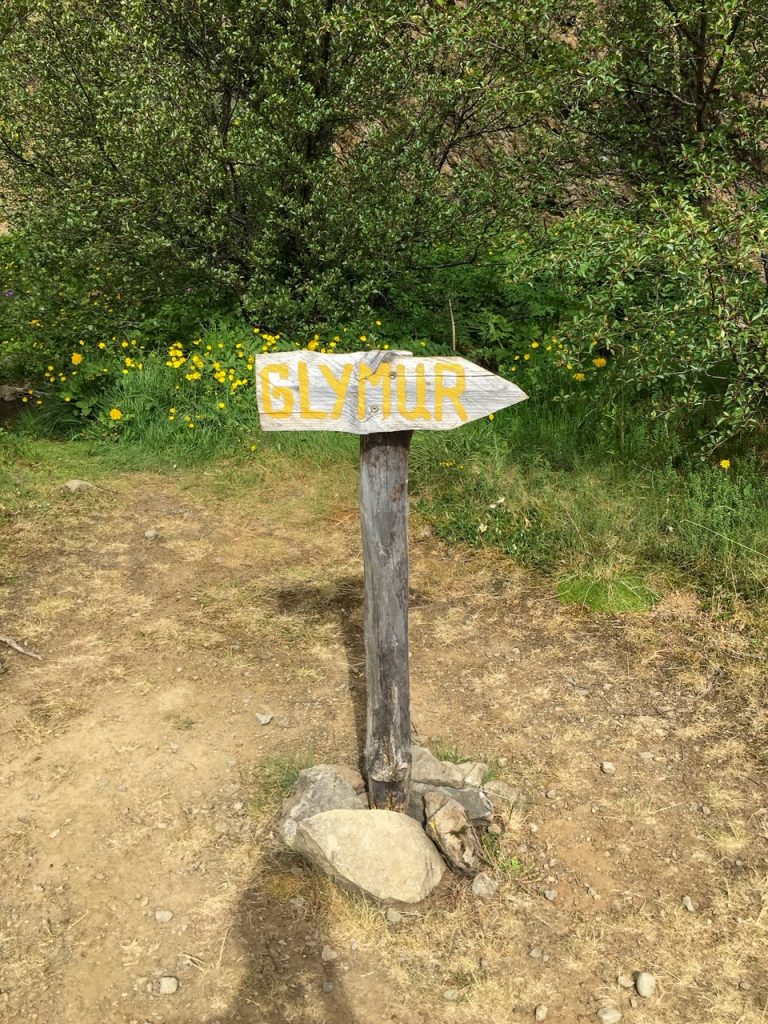 There are marked trails to the viewpoints, Steojasnos and Hellupallur, (the signs say it's about three hours round trip to these) and other unmarked trails where you can continue walking up along the canyon. You can also wade across the river, and from there, you can walk down along the west side of the canyon – we opted out of these options as to not get too wet.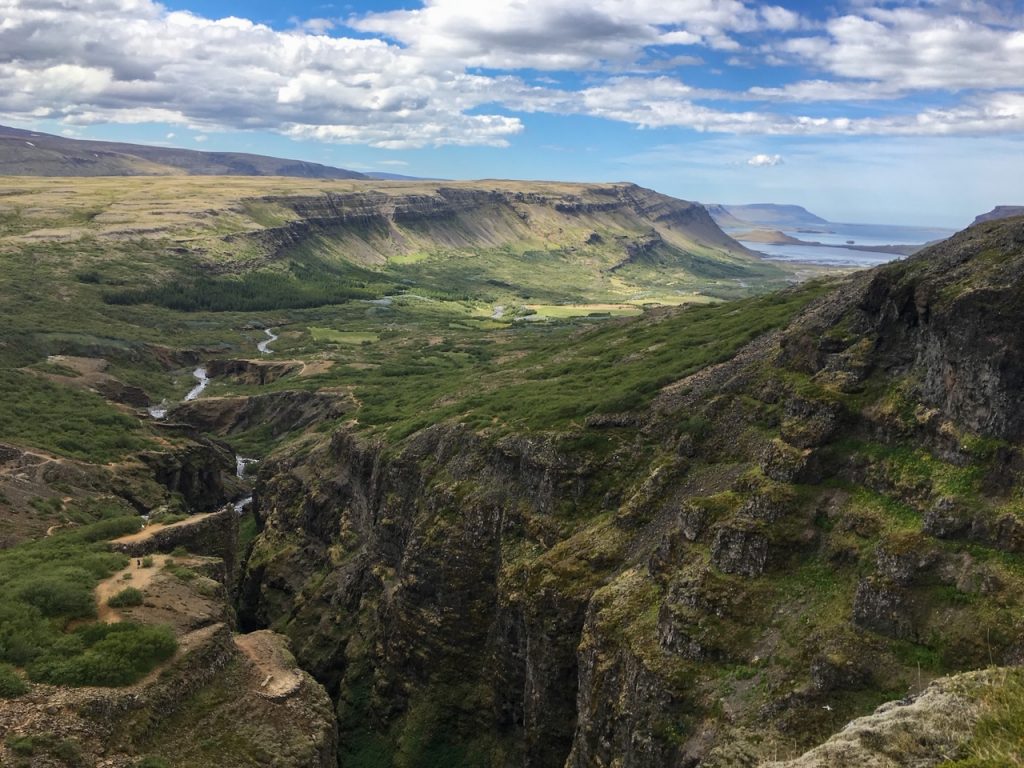 A Broad Recommendation: wear waterproof hiking boots for this excursion. There can be crumbling rocks in some places and slippery surfaces. If it rains and the river floods, hikers must wade across the river even along the marked hiking trails.
The trail has some interesting obstacles like going through Pvottahellr cave, walking across a log over the river, and using chains to climb up and down the side of the cliffs. Don't worry, though; none of these were too hard.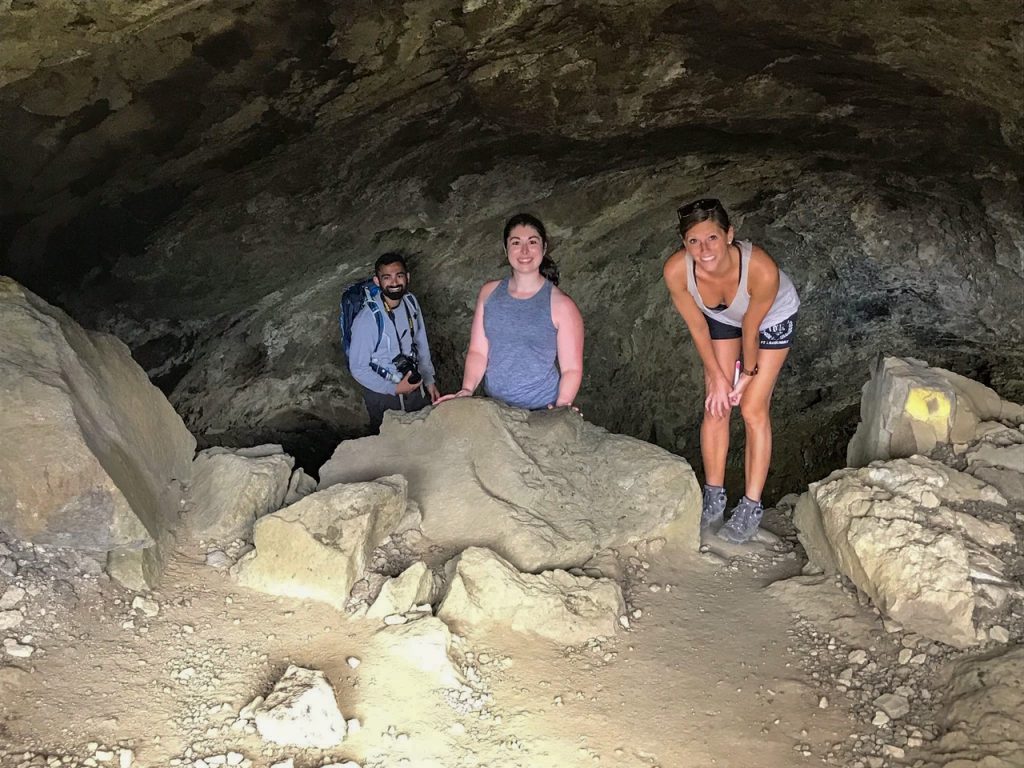 In reality, I think the hike time for us was closer to three hours total. We even enjoyed some peanut butter and jelly sandwiches once we reached the top. If you decide to eat lunch here, you will definitely have a nice view!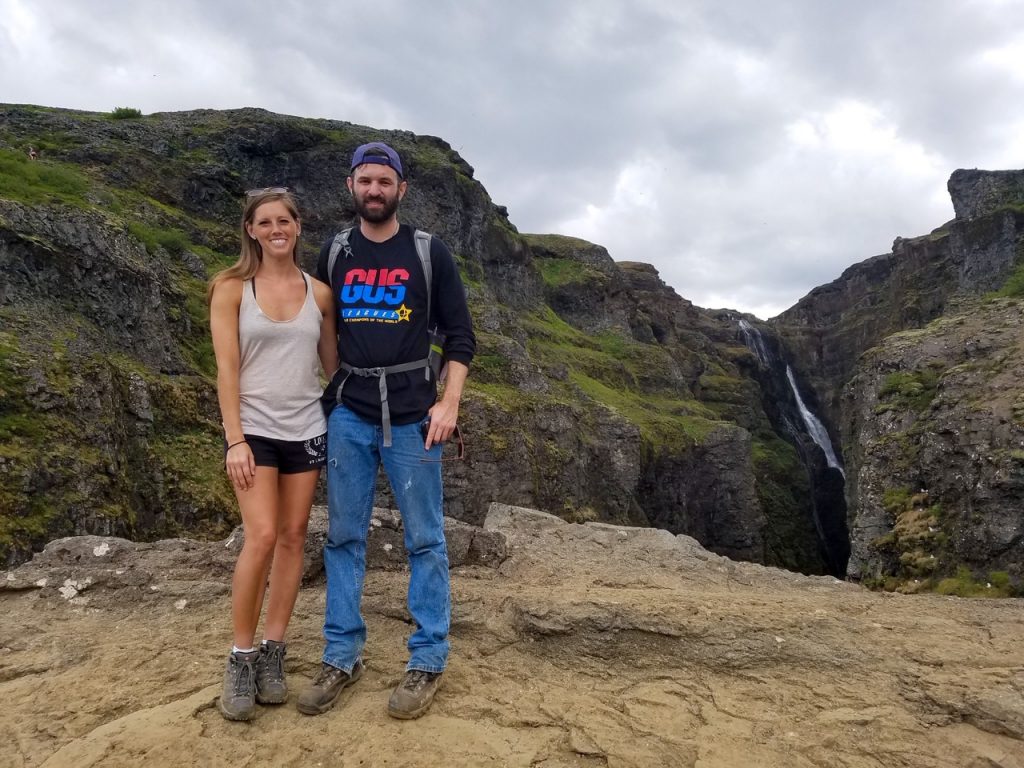 Two hours after our hike, we arrived at Thingvellir National Park, which lies in a rift valley situated on the boundary between the North American and Eurasian tectonic plates at the crest of the Mid-Atlantic Ridge.
Once the site of the Alþiing, the annual parliament of Iceland, this area has a lot of history and is a site of cultural and geological importance. For that reason, it's now a protected area of the Icelandic nation and also a very popular tourist attraction. We spent around 45 minutes here, walking along the trail to some small waterfalls and purchasing a few souvenirs.
If you're running tight on time, you could skip this stop, but it's still neat to see once. For more information on this location and about booking your visit here, check out the Thingvellir National Park website.
Around 7 PM, we headed to Tapas Barinn, a highly-rated tapas restaurant (4.5 stars at the time we went).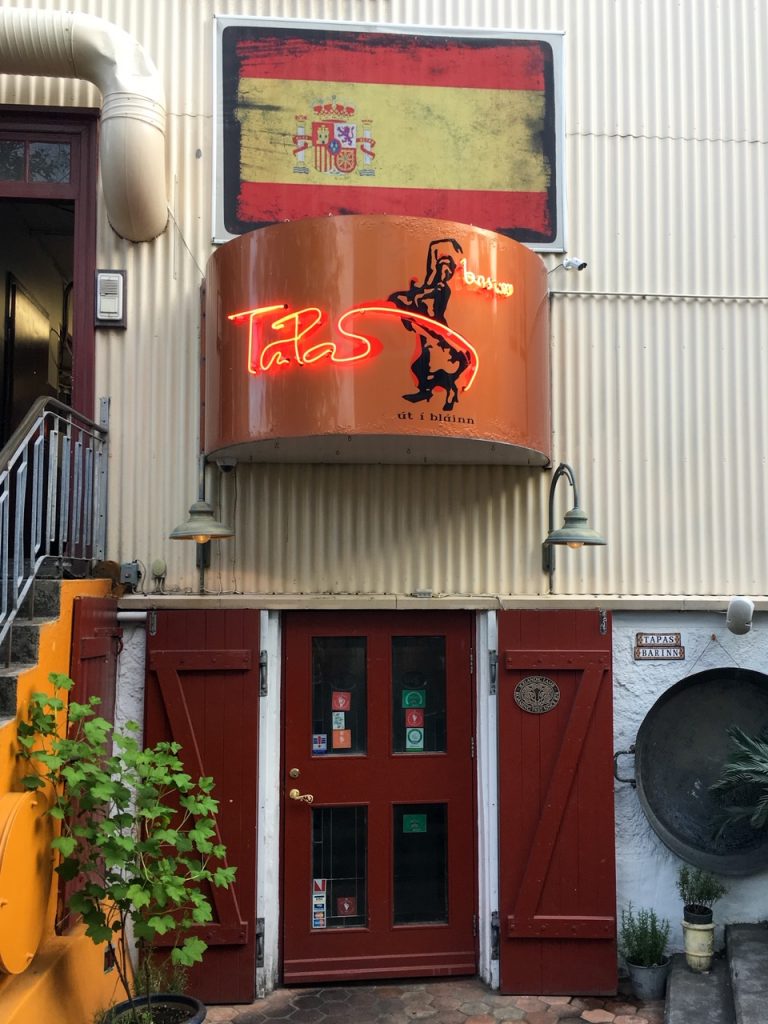 Abby and Deep went with the "Icelandic Gourmet Feast", which is the most popular menu item for travelers; it consists of the following dishes:
A shot of Icelandic "Brennivín"
Smoked puffin with blueberry "brennivín" sauce
Icelandic Arctic Char with candy-beets salad, asparagus and elderflower-hollandaise sauce
Lobster Tails baked in garlic with grilled bread
Pan-fried line caught Blue ling with lobster sauce, truffle mashed potatoes, asparagus and dill-oil
Icelandic Lamb tenderloin with beer-butterscotch sauce, cauliflower purée and spanish salsify
Minke whale with sweet mashed potatoes and malt sauce
White chocolate "skyr" mousse with passion coulis and passion sorbet
Tim and I were feeling less daring and went with "A Journey into the Unknown". This is the most popular set menu option, starting with an apertif followed by seven tapas chosen by the chef containing a mixture of meat, fish and vegetables and a dessert.
Both meals were 8,990 ISK (or around $65 USD per person), and honestly, I don't think you can go wrong with anything here; the food was so delicious, and we really enjoyed the overall vibe – and the impeccable service.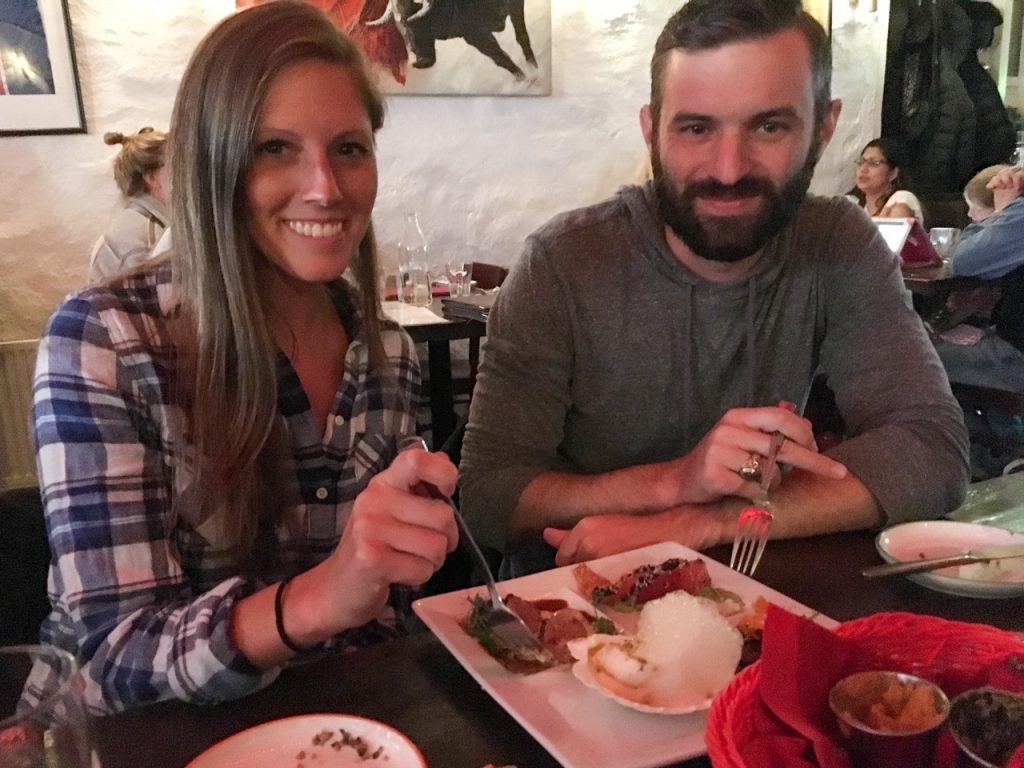 Finally, it was time to hit up the Blue Lagoon, another geothermal spa located in a lava field near Grindavík; it boasts a mask bar, an in-water bar (for drinks), saunas, steam rooms, a restaurant and more!

Similar to the Mývatn Nature Baths, the Blue Lagoon offers a rejuvenating experience while relaxing in geothermal seawater. It's a wonderful way to end any trip to Iceland! It's also fairly close to the airport, making it an easy visit for layovers too.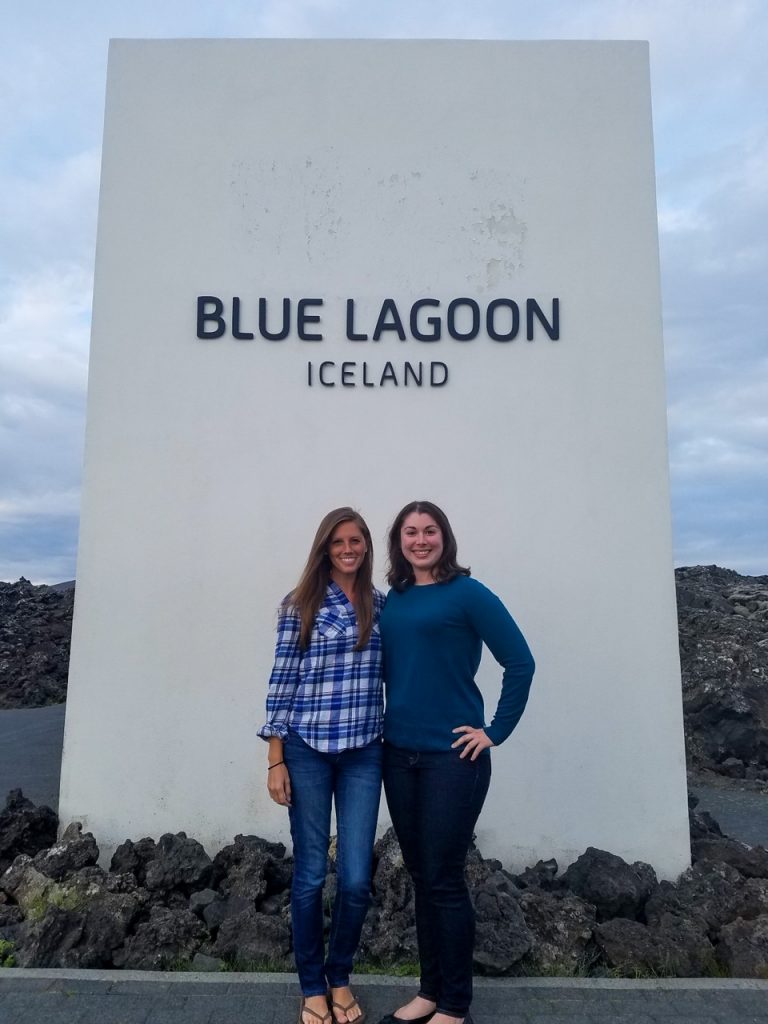 We totally could've spent more time here, but we didn't arrive until 9 PM, and they close at 11. It was the priciest of the lagoons and not our favorite; although, it did include a drink and a fun, mud-like face mask, which we all really enjoyed.
A Broad Recommendation: you should book in advance, as the Blue Lagoon is typically fully booked throughout the year, and you don't want to miss your chance to visit here! They will not guarantee entry for guests who arrive late; you have a one-hour window of flexibility, meaning you can arrive up to one hour after your booking time.
Similar to the Secret Lagoon and the Mývatn Nature Baths, you must shower beforehand and remove all jewelry. They advise putting extra conditioner in your hair due to the high levels of silica in the seawater. They have complimentary soap and shampoo/conditioner, and I believe this one also had options for showering alone vs. using the communal shower.
The cost was around $50 USD, but you don't need to bring your own towel for this one; a towel is included in the price of your booking.
Since it was our last night, we decided to stay up late and headed to Hallgrímskirkja, an iconic Lutheran parish church in Reykjavík, around 12:30 AM.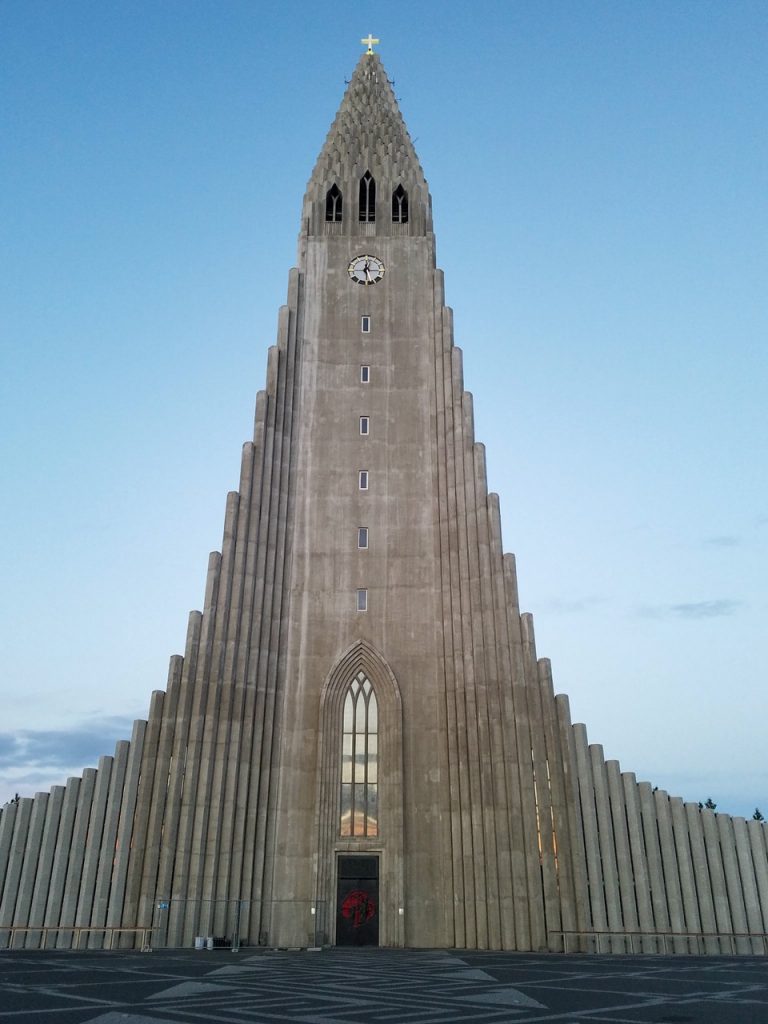 Situated on a hilltop near the center of Reykjavík, it's visible throughout the city and is one of the city's best-known landmarks. Of course, we had to take a couple of photos here.
Next, we went for second dinner and grabbed some hot dogs from Pylsuhúsið. Iceland is well known for having the best hot dogs in the world, and it's recommended that you order them with "the works", i.e. all the condiments. I'm not a huge hot dog fan, but I will say Nordic countries tend to get these right!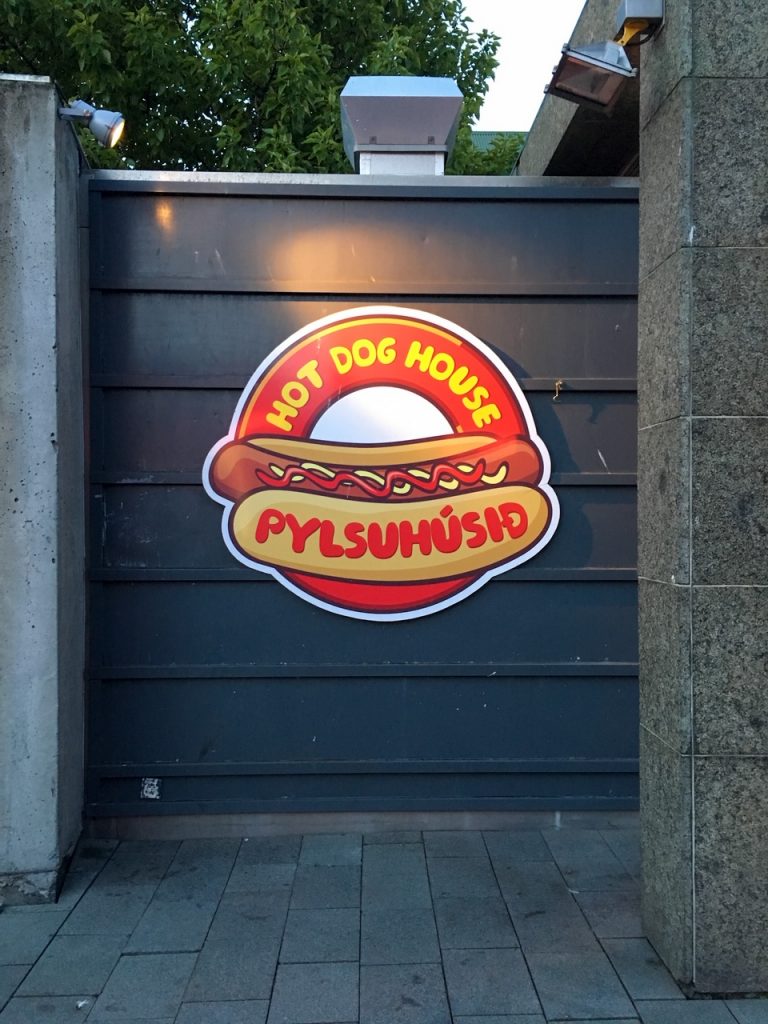 After this, we walked around for a bit. It was interesting seeing so many tall, Icelandic, "model-looking" people out and about in their finest attire even though it was still light out!
Around 2 AM, we made it back to our Airbnb. Here, we had two separate bedrooms – one with a double bed and one with two twins – and a shared bathroom and kitchen. We noticed that the fridge was strangely in the closet, and it wasn't plugged in; luckily, we didn't have any leftovers. How odd!
Overall, this place was fine. The total cost was $275.12 for the night, and we had the entire place to ourselves. Feel free to comment below or send us a message if you want specific details about this place.
Day 10: Heading Home With Lots of Amazing Memories From Our Trip!
Unfortunately, the only flights out of Iceland headed for Dallas, Texas that Sunday were much earlier than Abby and Deep's, so they had to leave early along with us to drop us off at the airport.
Again, we didn't have the best luck with American Airlines. When I went to check-in and select seats for our return flight, there was a "system error". Luckily, when we got on the plane, a girl offered to switch seats with me so that Tim and I could sit together; she was the best part of our American Airlines experience!
Beyond that, our outlet didn't work, so we arrived with uncharged phones. We didn't have individual TVs, which is standard for international flights, and we weren't able to watch movies on our phones either.
Upon arriving in Dallas, our 6:25 PM flight was cancelled altogether, and they tried to put us on a flight for 8:20 PM – the NEXT DAY. Luckily, I'm not one to take "no" for an answer, and after a bit of convincing, they booked us on one of the few flights still available that evening. The only problem with that was it was already supposed to have left!
We sprinted across the airport and found ourselves at the gate where the gate representatives were pleasantly waiting for our arrival; that was actually pretty nice. The flight had been delayed (but to our relief, not cancelled), and we were able to board and even found seats together. Phew!
This was great news, since my new manager at work was starting very next day, which I had only found out about during our trip, and I didn't want to call out of work on his first day. Thankfully, we got home, albeit quite late that night, and Abby and Deep made it home with no issues.
What an action-packed, amazing adventure! We're still reminiscing years later about all of the fun we had and hoping to go back again someday.
Have you ever been to Iceland? Leave us a message about your experience in a comment below!
Looking for something else to read? Check out some of our other European adventures:
XOXO Travel A-Broads