After our trip to Fredericksburg, TX, Sara and I had that itch to travel – even more so than the past year when we couldn't! Even so, neither of us had been vaccinated yet, though we both are now…yay! With that in mind, we were trying to come up with some more ideas to travel "locally", i.e. within Texas, but Texas is actually pretty huge, so that didn't narrow down our options much.
I just stumbled upon Getaway, our ultimate destination, via Instagram, and of course after mentioning it once, I was getting ads for it every time I logged in – the internet is very creepy sometimes. But the creepiness worked because I started to get really excited about this idea and shared it with Sara.
Getaway has locations all over the U.S. and the concept is very fun in that you get to go camping in what essentially is a tiny house. We had a toilet, shower and two queen sized bunk beds in our own little, private house, while still being out in nature and able to disconnect. And, they are dog friendly, so my dog, Misha, got to come with us!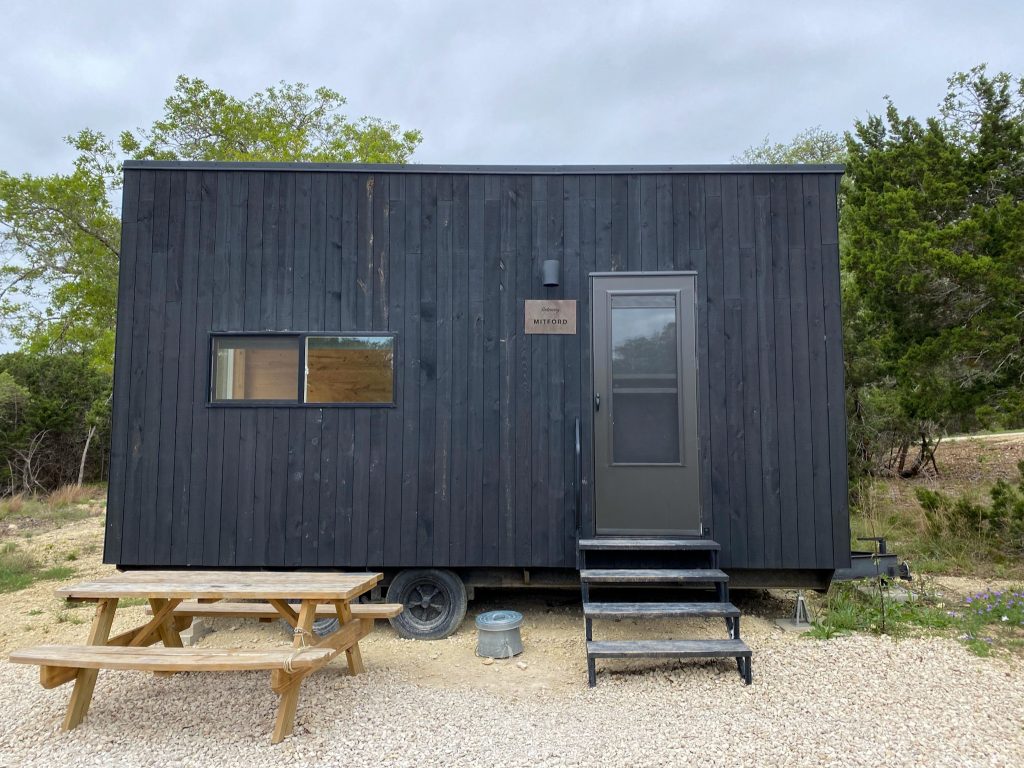 They have three locations in Texas, and we chose the one that's about an hour away from Austin in Wimberley. Note: the others are located about an hour from Houston and Dallas respectively.
Wimberley was perfect, since neither of us had ever been before. It's known for having a lot of hiking and outdoor activities, as well as several wineries, so we could really make this trip into whatever we wanted it to be.
Getaway has really thought of pretty much everything, so once we decided to book this trip, the rest was easy. We decided on a mid-week trip, partly because it was cheaper than the weekends, which were booked out for months, and partly because we felt we deserved to take some actual vacation days!
We chose a cabin with two queen sized bunk beds. Misha and I would of course be taking the bottom bunk, as my four-legged baby likes to take up half the bed, and I doubt Sara wanted to share with her. The beds are up against a huge window, so you can wake up to the sunrise and enjoy the gorgeous views.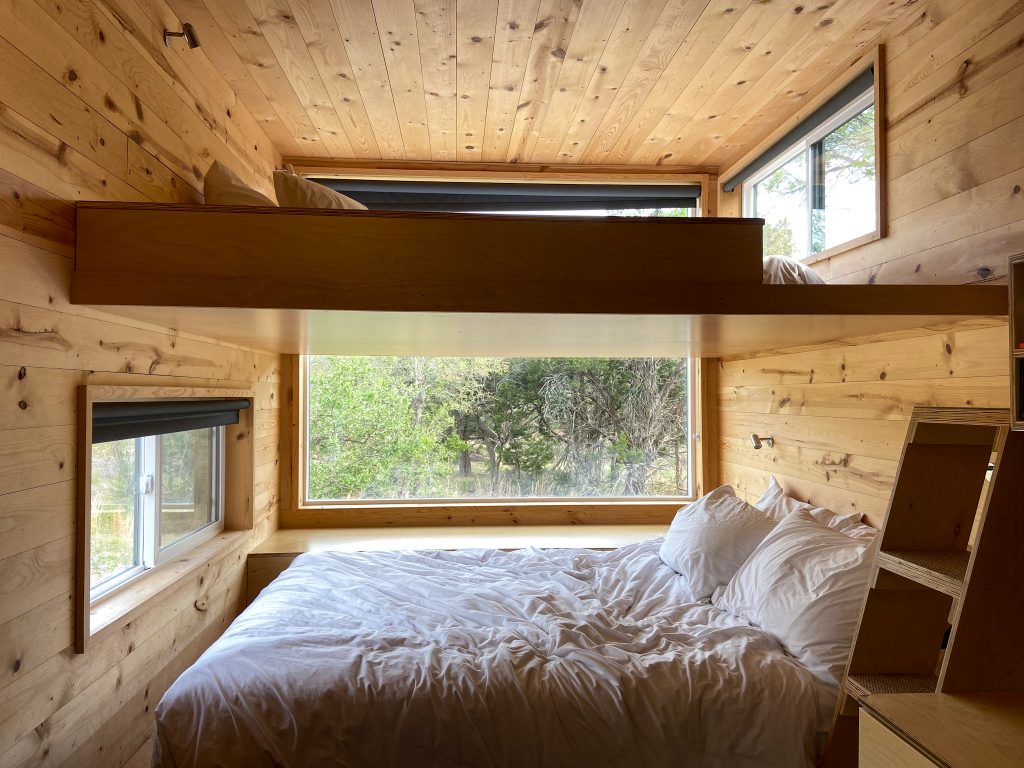 For those of you like us who love nature but prefer to sleep in a cozy bed, this is the perfect set-up. All the cabins come equipped with AC/heat, shampoo and conditioner, pots and pans, a mini fridge, stove, salt, pepper, olive oil, coffee, and tea, and they all have an outdoor fire pit, picnic table and chairs.
They also have the option to purchase a meal pack which includes oatmeal, pasta, soup, jerky and candy for about $30. But, given I don't eat meat and Sara gave up candy this year, we opted out and just went grocery shopping for the essentials before we got there.
Their website also has sections for recommended packing lists, campfire recipes, cocktails, and 'places to explore near your cabin', which is specific to the location you're staying at. This ended up being super helpful for our planning – again, they had thought of everything!
When it was finally time for our trip, Sara drove up to Austin, and we had a night here before heading out on our "camping" trip. I put the air quotes there because I know any die-hard campers will not view this as quite the same thing, but it's the closest to a true camping trip I've taken in years, haha.
We packed pretty lightly for this three-day, two-night trip and loaded up the car with our bags and my dog. On the way, we stopped for groceries based on the recipes we had liked on the website. Given we were not eating candy on this trip, we ruled out s'mores but decided to go all in on some campfire avocado grilled cheese sandwiches with a side of veggie skewers.
Sara made the mistake of letting me run into the store for the groceries, which obviously meant I came out with a few bottles of wine as well, but overall, I stuck to our list, which also means we kept our costs for this entire trip low!
When we arrived in Wimberley, we went straight to check in and drop off our stuff. Getaway had texted me earlier in the day letting me know our cabin, Mitford, would be ready at 3 PM and that they would text me within 30 minutes of our check-in time with the key code to the cabin. Each cabin has its own name, which was super cute as we drove through the camp looking for ours. Getaway is very Covid-19 conscious, which we also appreciated.
When we pulled up and parked the car, we both were immediately in love with the space. Despite it being small, it was perfect!
When I walked inside, I noticed right away that they had dog bowls for Misha and a pack of doggie s'mores – that were made of oats and actually smelled super tasty – so my pup would instantly feel at home too.
There was also a note and map of the nearby areas that we'd already seen online. The cabins are internet-free and not reliable for cell service, so they gave us these as a reference, which was super helpful.
We got settled in and decided to sit by our fire pit, reading and soaking in the gorgeous weather. Then, I set to work on making our grilled cheeses. It turns out that neither Sara nor I actually know how to start a fire, even with the starter packs and wood that we purchased on-site, so I ended up using the stove inside to make our dinner, while Sara kept reading Harry Potter outside.
Note: Sara is reading Harry Potter for the first time ever, and as an avid fan I will pretty much do whatever is needed to keep her fed and watered while she does this!
That night, we had our virtual seminar, and we were able to use our hot spot to join while sitting outside – the view behind us looked fake, but it was so wonderful.
Afterward, we considered what we would do in the morning. We decided to be super ambitious and go for a sunrise hike at Old Baldy. This viewpoint overlooks Wimberley and although it's only around a quarter mile hike, it's pretty steep and would be an impressive feat for us non-morning people.
We read some more, and then went to bed with the hopes that we would wake up to our alarms.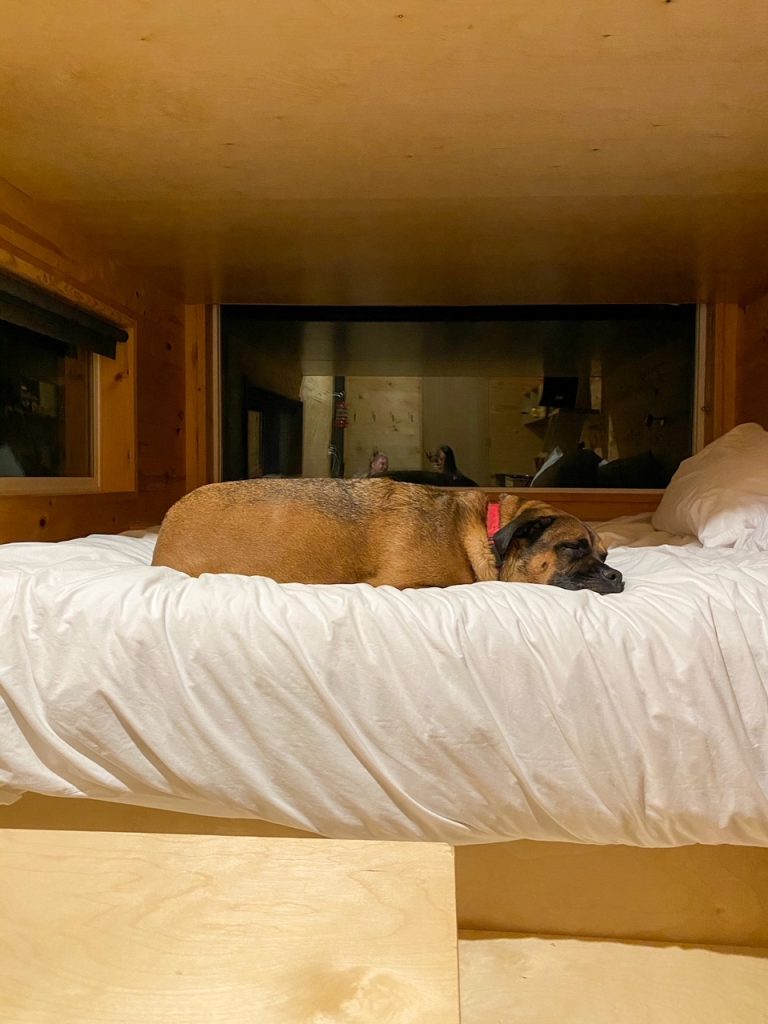 Sara was the main reason we actually achieved our early morning hiking goals. She woke up to her alarm and started to get ready, making a little more noise than she needed to (she confessed this to me later) so that I would wake up too, and it totally worked.
We drove right past the parking area when we got to Old Baldy, but this actually ended up meaning we got to see a herd of deer up close and personal as they seemed to be on their morning walk as well.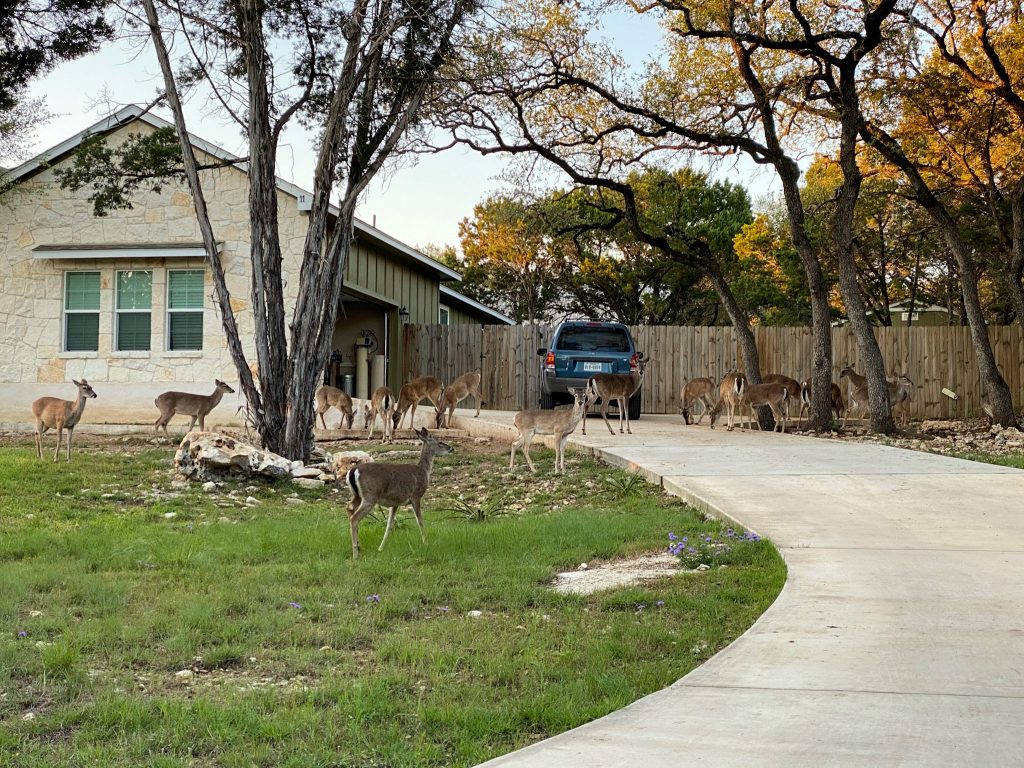 The stairs were either really intense or we're just out of shape because we were pretty winded by the time we got to the top. But, boy was it worth it to actually see the sunrise and enjoy the beauty of the morning.
Once the sun was up and we took some lovely pictures of the view, we headed back to the car for our morning of hiking.
Our next stop was Cypress Creek Nature Trail and Reserve. When we got to the location where our GPS took us, we were surprised to see that we were basically right in downtown Wimberley – the trailhead was right off the main road. Despite this unexpected element, we were excited to explore the trail. It felt like the trail we were expecting, other than the fact that we could hear trucks and other noises from the street from time-to-time.
The other thing that was odd about this trail was that everything we had seen beforehand said it was about a 2.3-mile loop (including the map left for us in the cabin), but unless we completely missed a turn off – which is possible – we were back at the trailhead after just over a mile walk. We checked the trailhead sign and tried to look online to see if we had done it wrong, and again, I suspect that we did, given everything we saw said it should've been twice as long. We never did figure that out!
Given we had already achieved two of our three planned hikes for the day before 9 AM, we decided to grab a coffee at a café down the street before heading to hike number three. On our way, we passed some cute shops and this funny sign.
We grabbed coffees inside, and then went to sit on the patio. It turns out we were obvious tourists because the patio was actually part of the restaurant next door, and the waitress promptly asked us what we'd like for breakfast. We opted to just go with the flow rather than make it weird, so we ordered a light breakfast and chatted on the patio for a while.
When we were about to pay and leave, a couple came in and sat at the table next to us with their dog. Misha and this dog were NOT friends, which definitely sped up our departure. In Misha's defense, she had been quietly laying under our table the entire time and caused no disturbances until this dog showed up. So, I may be an overly protective momma, but I'm going to say the other dog was the problem child here.
After breakfast, we decided to explore a path nearby to see if we could figure out where we went wrong on our hike and stumbled upon this beautiful tree!
Next up was Blue Hole Regional Park, which is well known for it's swimming hole. To Sara's disappointment, the swimming hole didn't open until May 1st, and dogs aren't allowed in that area of the park, so we had to skip it this time – but that just means we'll have to come back sometime soon!
As far as hiking and walking trails are concerned, Blue Hole was definitely the best of the day. There are several miles of trails going in different directions, so we were able to meander around and explore without needing to know exactly where we were headed.
We spent at least an hour here exploring before deciding to head back – Misha was clearly getting a bit too hot with the sun on us all morning, and it was time to rest up a bit.
We tried to hit one more spot before heading home and drove over to Jacob's Well. However, it became apparent that this trail isn't dog friendly, so we didn't get to explore at all. If you're hiking without pets though, it's another set of trails that are several miles long and looked very fun. That being said, there wasn't much tree coverage, so don't do this one during the hottest part of the day.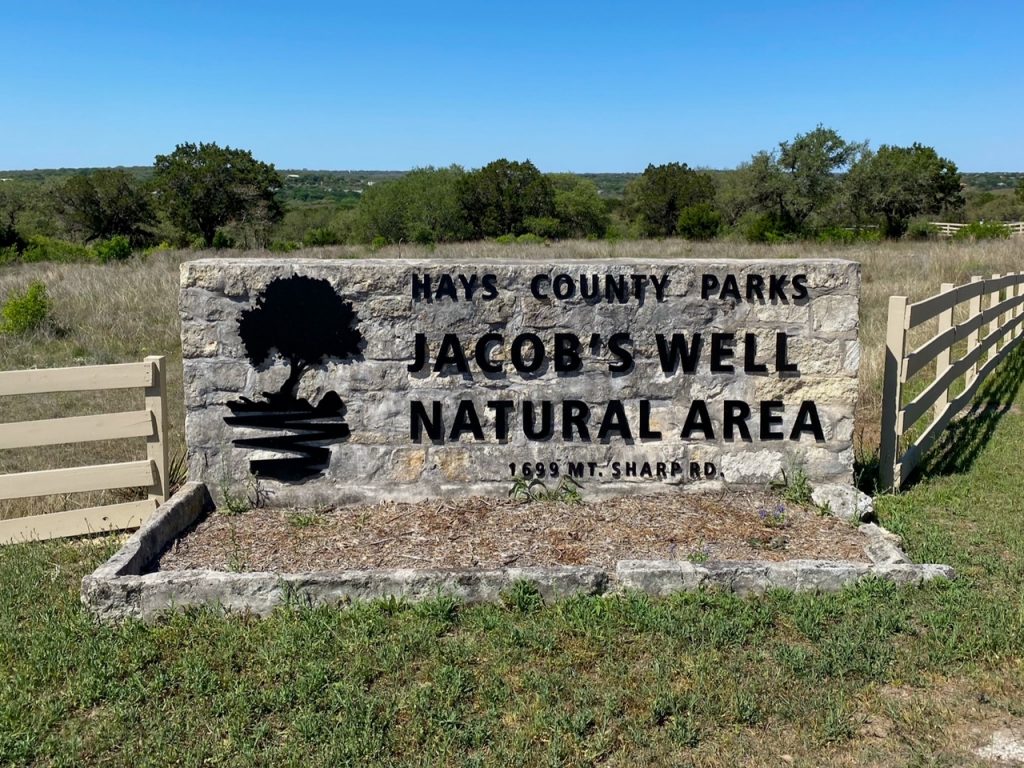 When we got back to our cabin, we hung out inside for a bit with the air conditioning, as we'd been in the sun all morning and the outside area didn't really have any tree coverage during the day.
While resting up, we ate some lunch and started brainstorming about our upcoming blog posts.
Around 3 PM, we got changed and headed over to the Driftwood Estate Winery. I'd already called ahead of time to confirm that their patio was dog friendly, so we knew we could hang outside with Misha.
The only tastings they were doing at the time due to Covid were inside, but we were able to purchase by the glass or bottle and sit outside overlooking their beautiful estate. I'm not usually a big fan of white wines, but the woman who served me spoke so highly of their 2019 Cuvee Blanc that we gave it a shot, and we liked it so much that we ended up getting two bottles!
While soaking up those hill country views, we considered stopping to get takeout on our drive back to the cabin, but we were proud of ourselves for choosing to cook what we had brought instead. But, the real reason was that we both were craving Indian food, and they didn't seem to have anywhere in town for that, haha.
When we got back, we decided to try to make a real fire. We got a lot closer than we had the first night, but it was pretty windy, and we weren't really able to get it going. Instead, we went back inside to read and talk, while planning our Indian food lunch back in Austin the next day.
The following morning, we woke up naturally and enjoyed our last few hours in the cabin. We sat in the window and enjoyed our complimentary tea while reading. Before heading out, we took a walk around the campsite, since we hadn't spent much time exploring our own little area over the past few days.
Check out was at 11 AM, so we cleaned up and started the drive back to Austin. Our original plan was to drive along the Devil's Backbone, which is known as the most haunted stretch of highway in Texas. But, we were feeling pretty wiped out so decided to go straight home instead. This ended up being the right call, as Sara got car sick on the drive, so the winding roads definitely wouldn't have helped.
This getaway was one for the books, and we can't wait to explore more areas close by like this one! In the meantime, check out some of our other adventures throughout the United States:
XOXO Travel A-Broads