If you've opted out of reading our longer Kenya post and are just interested in learning about what to do in the Maasai Mara, then you're in the right place! Let me catch you up first, so you have a bit of context.
---
A BROAD REFRESHER
---
My boyfriend, Tim, and I, along with our friends – two other couples, Allison, Ryan, Emily and Bryan – are on a twelve day trip to Kenya!
Allison, Ryan, Tim and I had A LOT of issues getting to Nairobi, Kenya, which we may reference in this post.
Dennis, our driver through Sense of Africa, is the man!
It's Saturday, February 8, 2020, and we are on day 8 of our trip when we make it to Maasai Mara.
I have been sick with some sort of respiratory infection for five days now.
---
*P.S. this post contains some affiliate links. At no additional cost to you, we may earn a small commission when you make a purchase.
Of our eight planned, action-packed days in Kenya, we spent three days (two full days and two half days) exploring Maasai Mara. We left from Lake Elmenteita around 9 AM, stopped at a couple of places along the way, including for lunch, and then made our way through the Mara in the early afternoon. Total drive time was around five hours.
Note: if you are heading straight to the Mara from Nairobi, it will take you about five hours driving as well.
First things first, we stopped for a super cool Maasai village tour.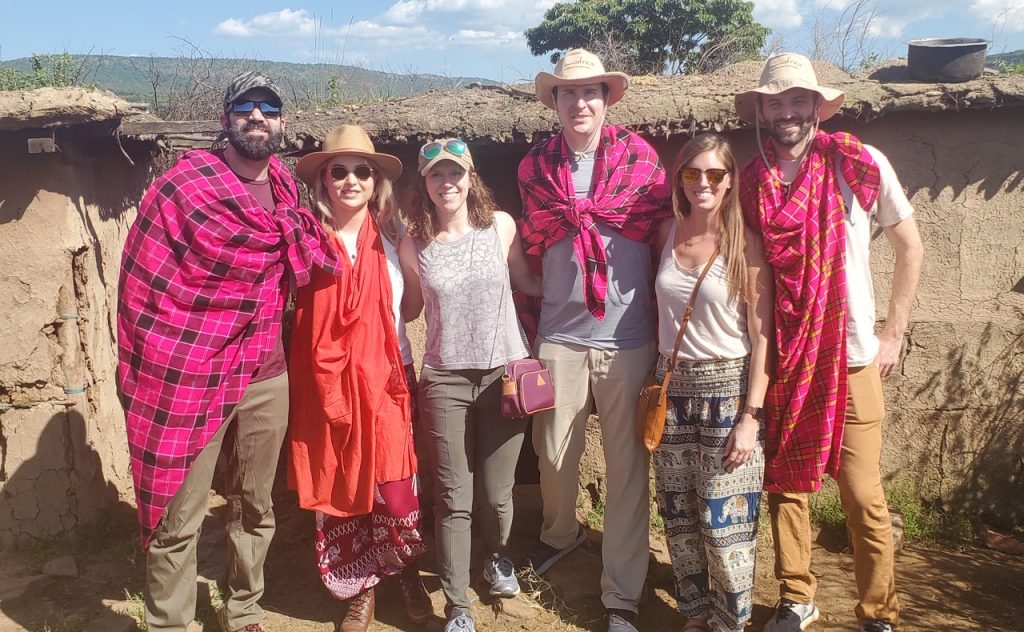 Here, we got to practice high jumps, a very important cultural competition among the men.
And, we got to sing and chant with both the men and women and to go inside a typical Maasai home, all while learning about the culture.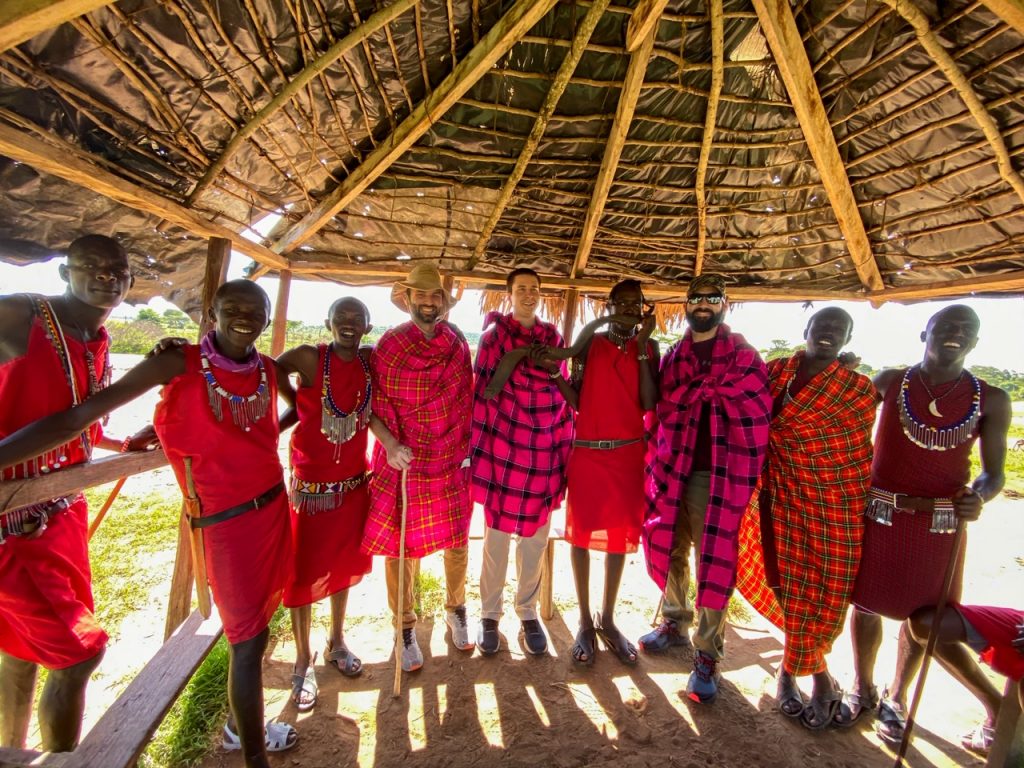 Women are in charge of building the homes with each move, which happens frequently, as the Maasai tribes are nomadic and move with the weather. This is something we had previously learned about the Samburu tribe during the presentation we saw at the Samburu Intrepids Camp.
Men can have many wives, which they pay for with cattle to show status in the community, and they are allowed to sleep with other men's wives. Men are also able to leave and go to school and work, after which they are welcome to come back to their tribe. Maasai people eat the meat and drink the milk from their cattle, and on occasion, they drink the blood as well.
To contribute to the village, we all purchased ornaments and some other small souvenirs. Tim and I spent $18 for an ornament and a magnet. This was such a neat experience!
As we continued on our way, we drove through the Maasai Mara National Reserve, the only region in Kenya where it's still possible to see the same amount of animals that existed a century ago. A photographer's paradise, the reserve has an abundance of elephants, giraffes, lions, buffalo, and cheetahs; leopards and the endangered black rhino hide in the dense forests, and hippos and crocodiles swim in the Mara River.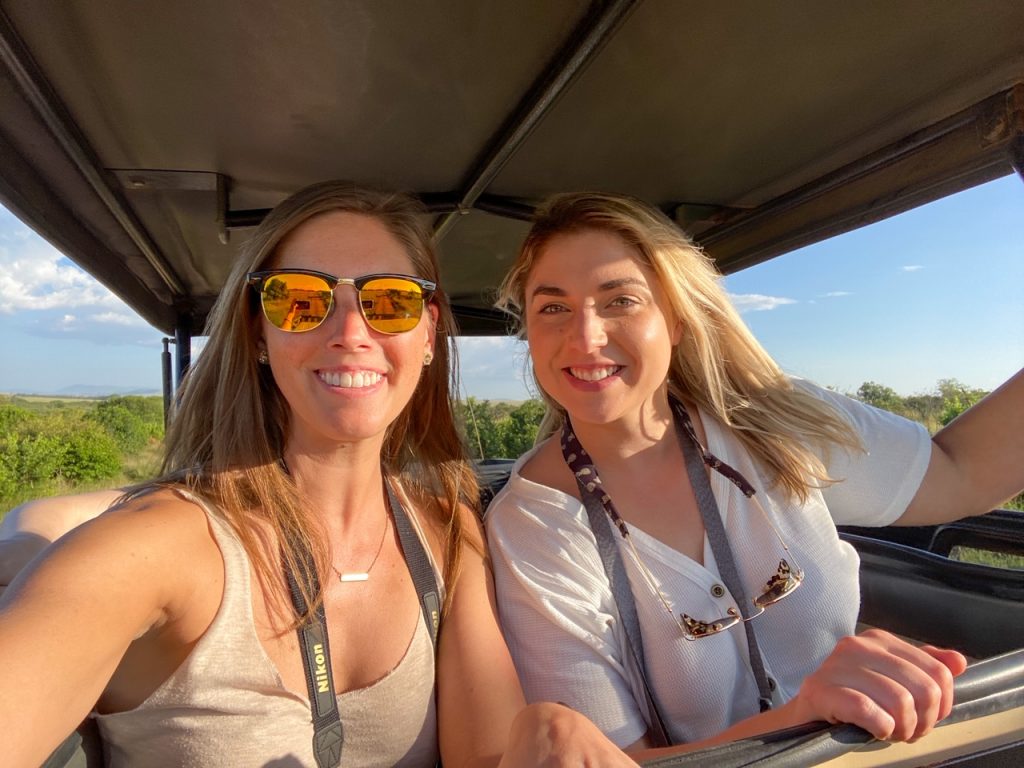 Situated in the southwest of Kenya, the reserve covers about 583 square miles and has breathtaking vistas and endless plains. The concentration of game is prevalent year-round to include the more than two million wildebeest, zebras and antelopes that make up the famous Great Migration.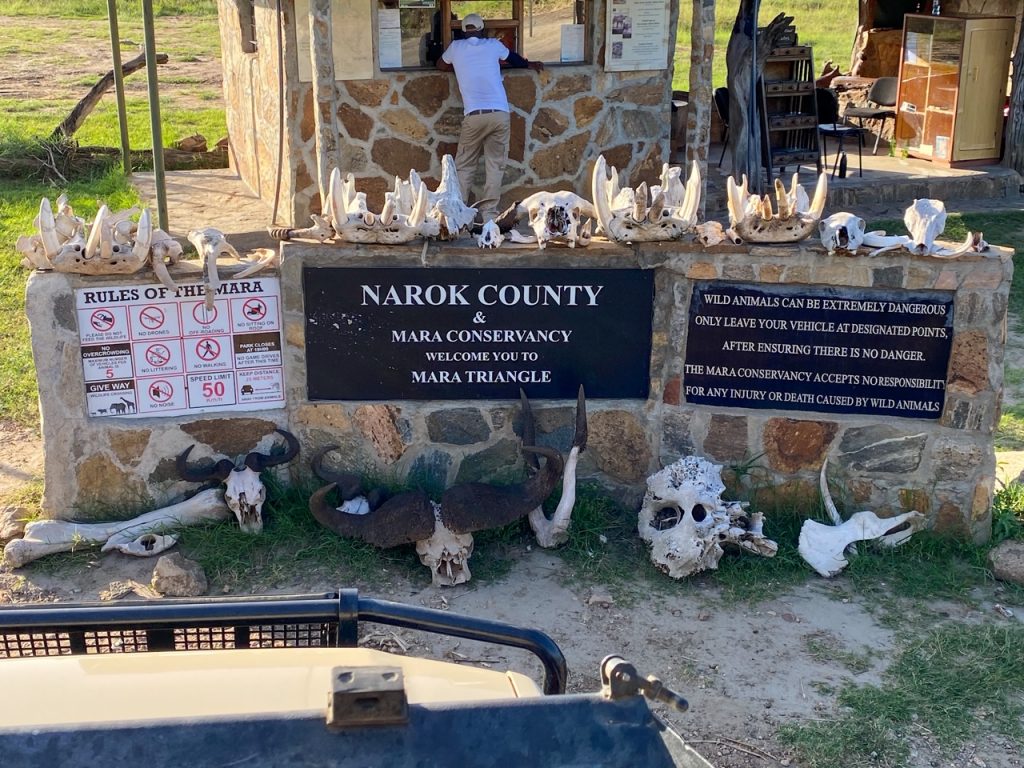 Dennis, who was extremely articulate in African wildlife, spent some time teaching us the various "fives", and we even came up with some of our own.
Big Five: Lion, African Elephant, Rhinoceros, Cape Buffalo, and Leopard
Small Five: Elephant Shrew, Ant Lion, Rhinoceros Beetle, Buffalo Weaver, and Leopard Tortoise
Shy Five: Porcupine, Bat-eared Fox, Aardvark, Meerkat, and Aardwolf
Ugly Five: Hyena, Warthog, Marabou Stork, Wildebeest, and Vulture
Samburu Special Five: Grevy's Zebra, Somali Ostrich, Gerenuk Antelope, Beisa Oryx, and Reticulated Giraffe
Scaly Five: African Rock Python, Black Mamba – any Kobe lovers out there? RIP, Green Mamba, Crocodile, Puff Adder – the snake that kills the most people in Africa, Vipers, etc. (okay, I guess there's more than five of these, and luckily, we didn't see most of them – I hate snakes!)
Along the way, we also ran into a bunch of giraffes and impalas, a boa constrictor, a hyena, a black-back jackal, hippos, zebras, elephants, lots of birds, and a Topi, a.k.a. the Blue Jeans antelope.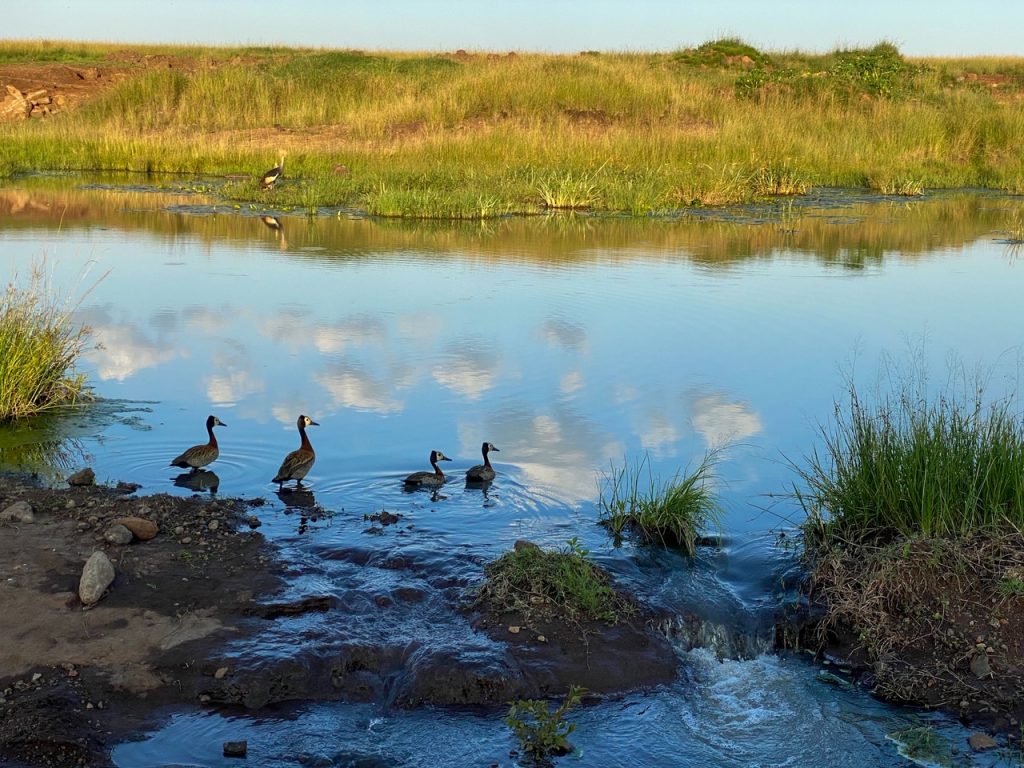 And this guy came right up to the vehicle! Shall we name him Geoffrey?
We arrived at the Mara Serena Safari Lodge close to 6:30 PM, and once again, we were totally stunned by its beauty. I mean, look at this place, you guys!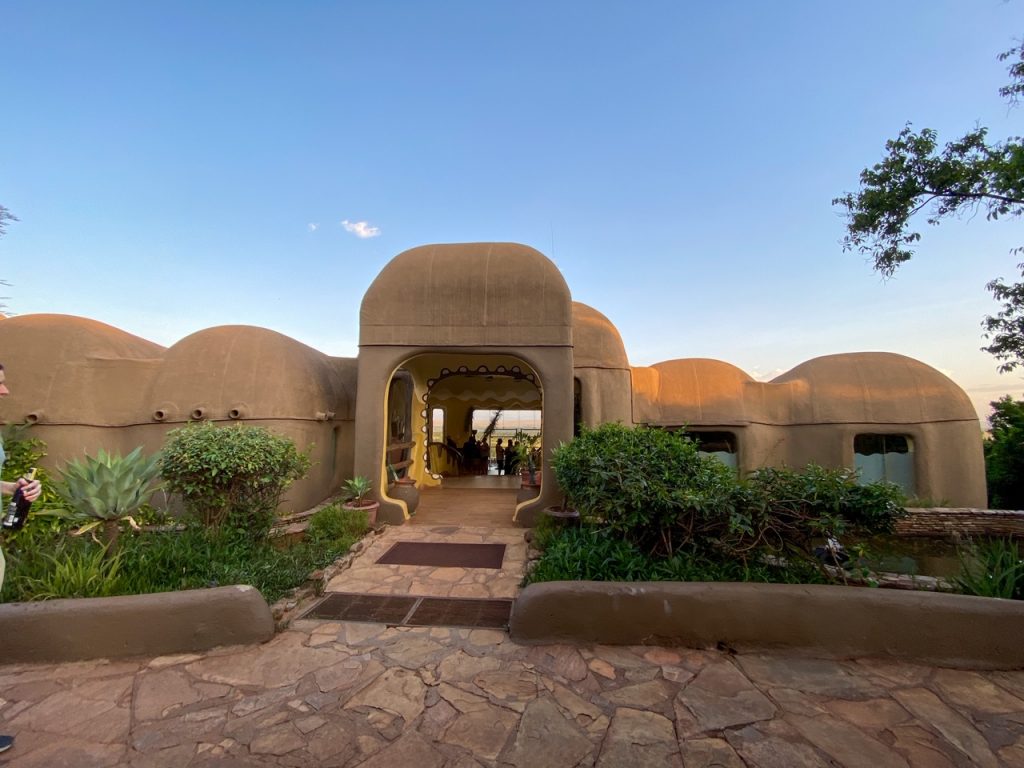 Located deep within the Maasai Mara National Reserve, the lodge is set high on a bush-covered hill, overlooking the rolling grasslands of the savanna, and during the summer months, it serves as an epic viewing spot for the legendary wildebeest migration. Embracing Maasai cultural motifs, it boasts a cluster of domed, mud-colored huts decorated with vibrant colors and Maasai art. And, each room has its own balcony with views of the breathtaking vistas.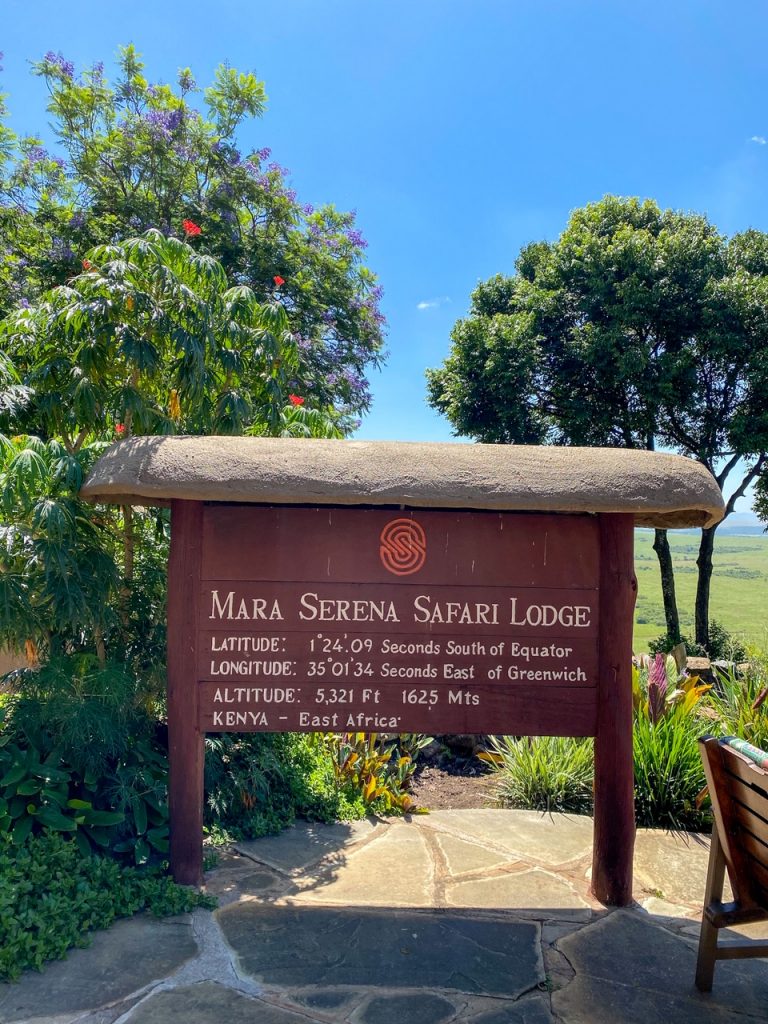 A Broad Recommendation: heed the warnings about keeping the balcony door locked at all times. Baboons can and will open the door and get into your room! You can even ask Allison and Ryan about this one, since they caught a baboon red-handed trying to slide their balcony doors apart. Thank goodness for the lock!
Unfortunately, keeping your doors locked won't keep out the lizards; Allison and Ryan had a lizard friend living in their room for several days at this lodge…haha.
The lodge also had a gorgeous swimming pool overlooking the savanna, a large restaurant, a gift shop, a spa, a gym, and a bar/lounge area.
We met for a lovely dinner on the back patio of the restaurant around 7:45 PM. We were served drinks and soup by a waiter, but there was no set menu here, so it was a free-for-all in the buffet lines.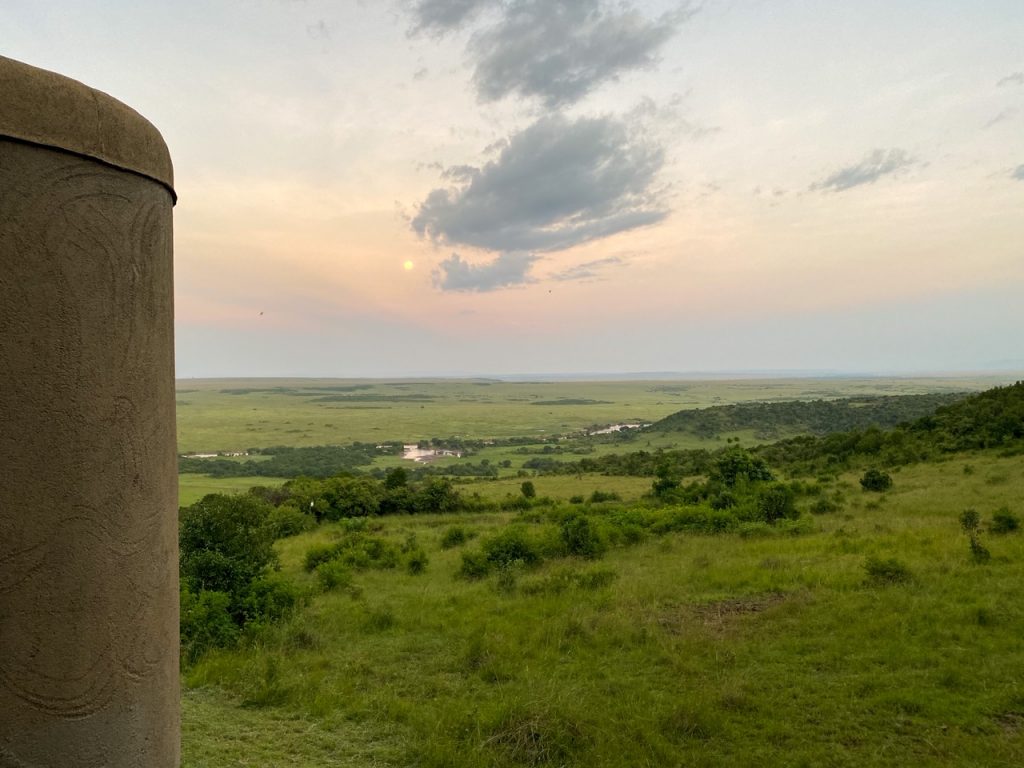 Note that there was WiFi in the common areas and in the rooms, but it was quite slow in the rooms if it even worked at all, so most of us were catching up on missed messages during dinner.
After dinner, we grabbed some drinks and enjoyed another Maasai tribe demonstration, similar to the one we had seen earlier in the day, before calling it an "early night". All of the long drives and early mornings were tiring, so we found it difficult to stay up too late throughout the trip.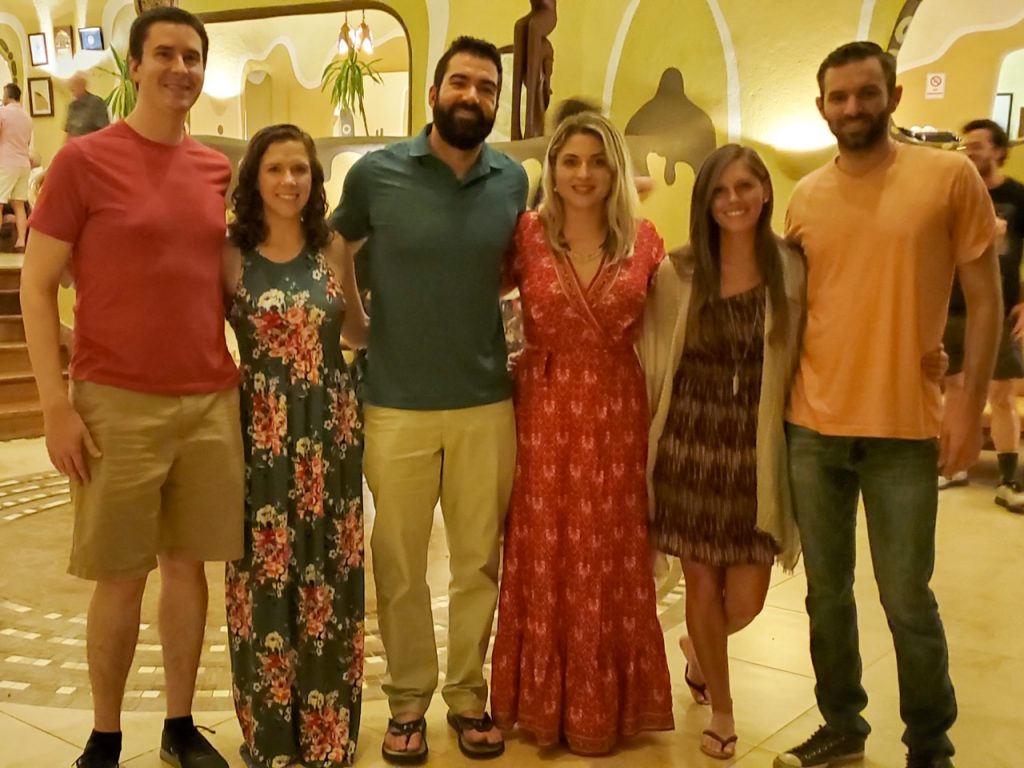 The next day was one we had anticipated for quite some time. Drum roll, please! It was SHIRT DAY!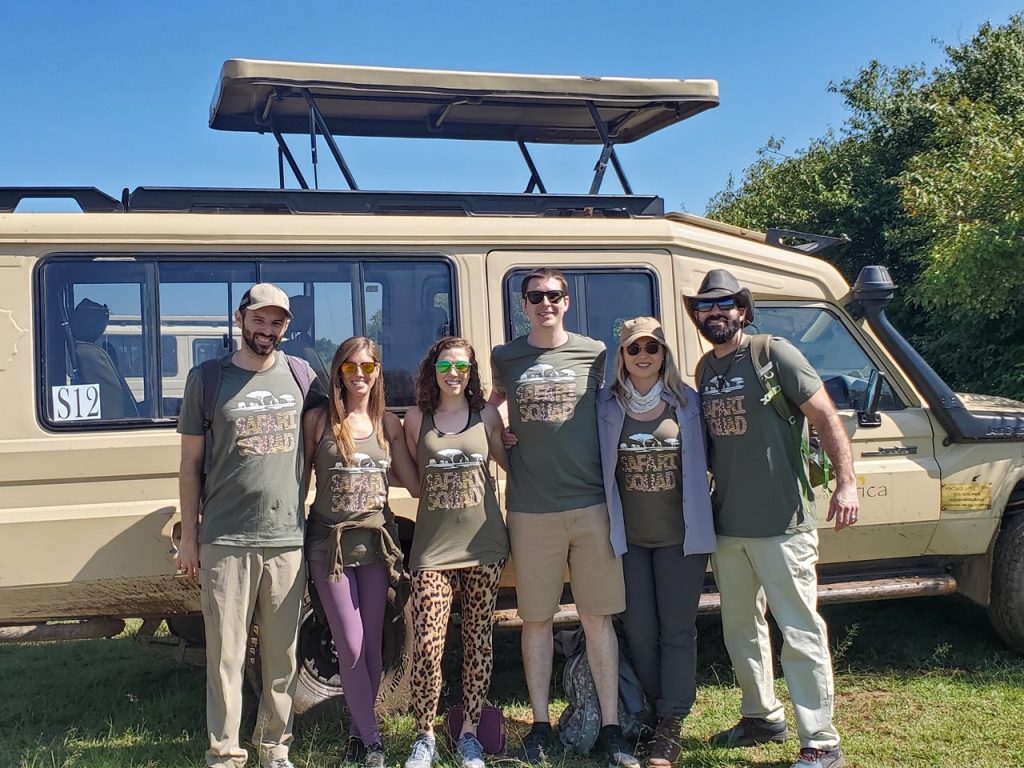 Allison's friend had custom made us girls tank tops and the guys short-sleeved shirts that all said "SAFARI SQUAD". I mean, how cute are we? We obviously had to take a bunch of pictures throughout the day in our shirts!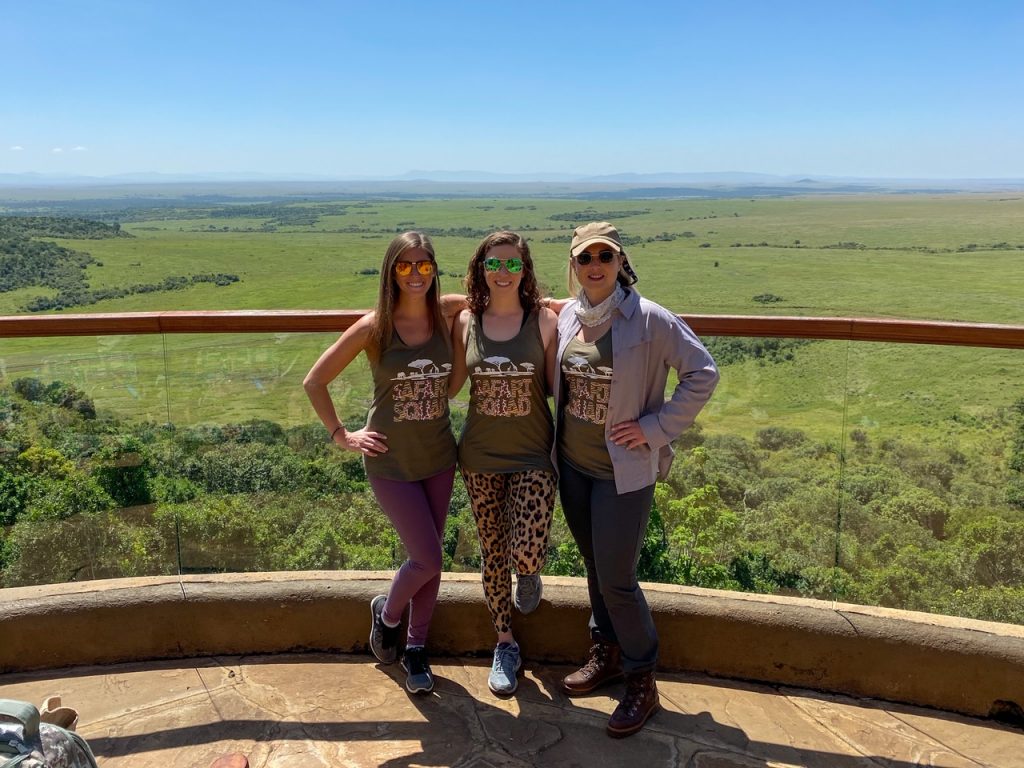 We started the day very early with a 6:30 AM pick-up, and I caught a shot of a hot air balloon going up from the viewing deck before meeting up with the group. Just stunning!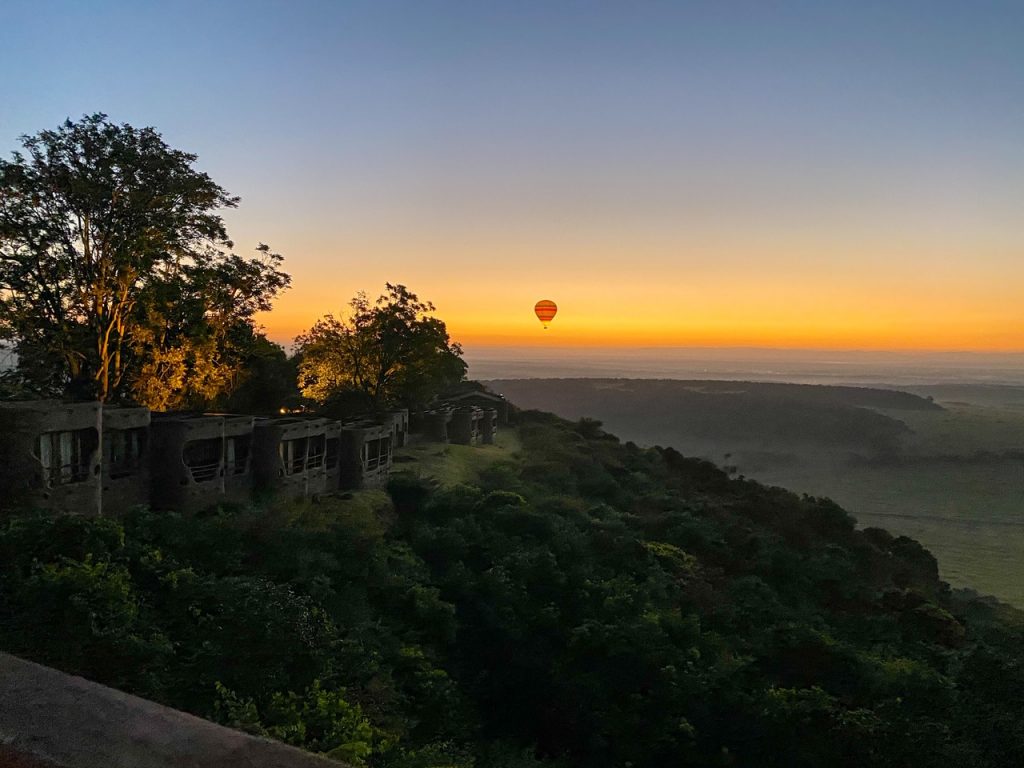 The sun was just rising as we made our way through the reserve, and we spotted some giraffes right away.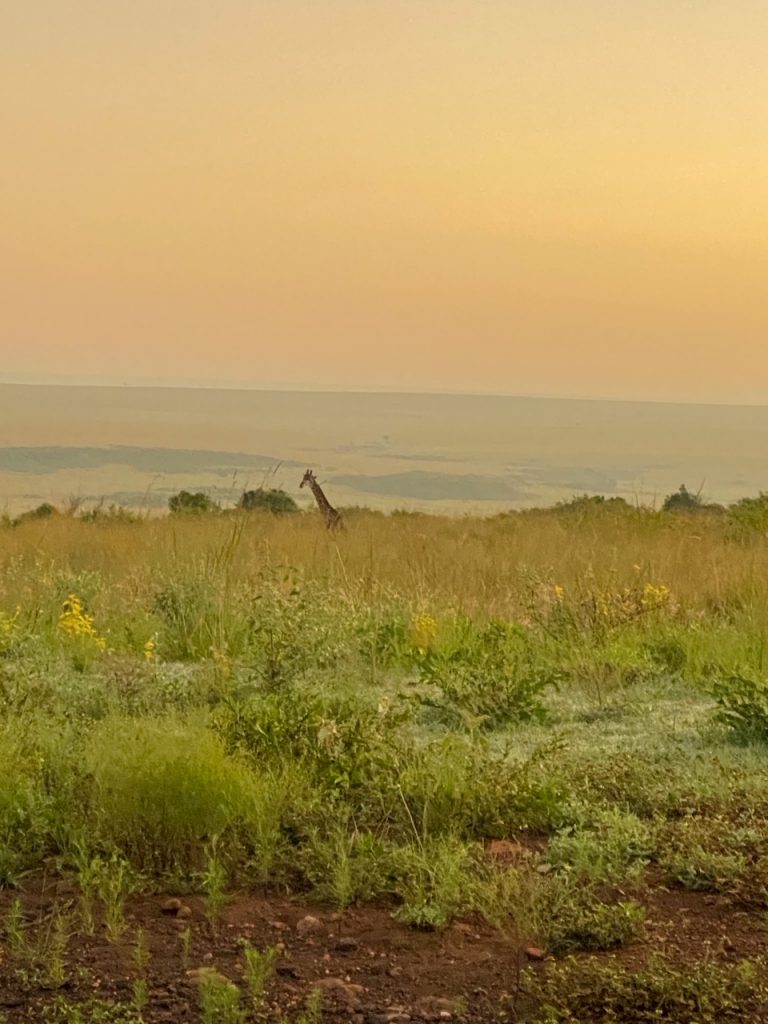 Next, we saw a couple of lions hanging out in the tall grass and watched them for a bit until they walked into the abyss.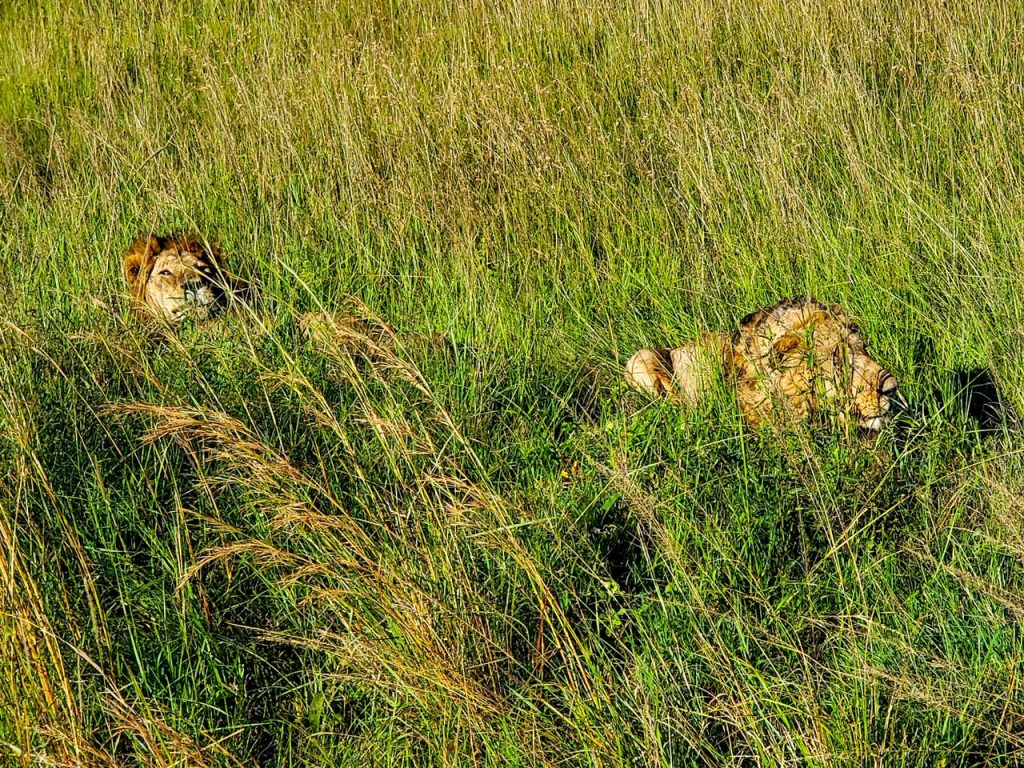 We definitely took our time to get to breakfast, and the views were just so pretty along the way! When we arrived for our "Hippo Breakfast" – don't worry guys; we didn't eat any hippos – we were again greeted with some champagne and set up at a nice table underneath the trees and overlooking the river where a bunch of hippos were hanging out.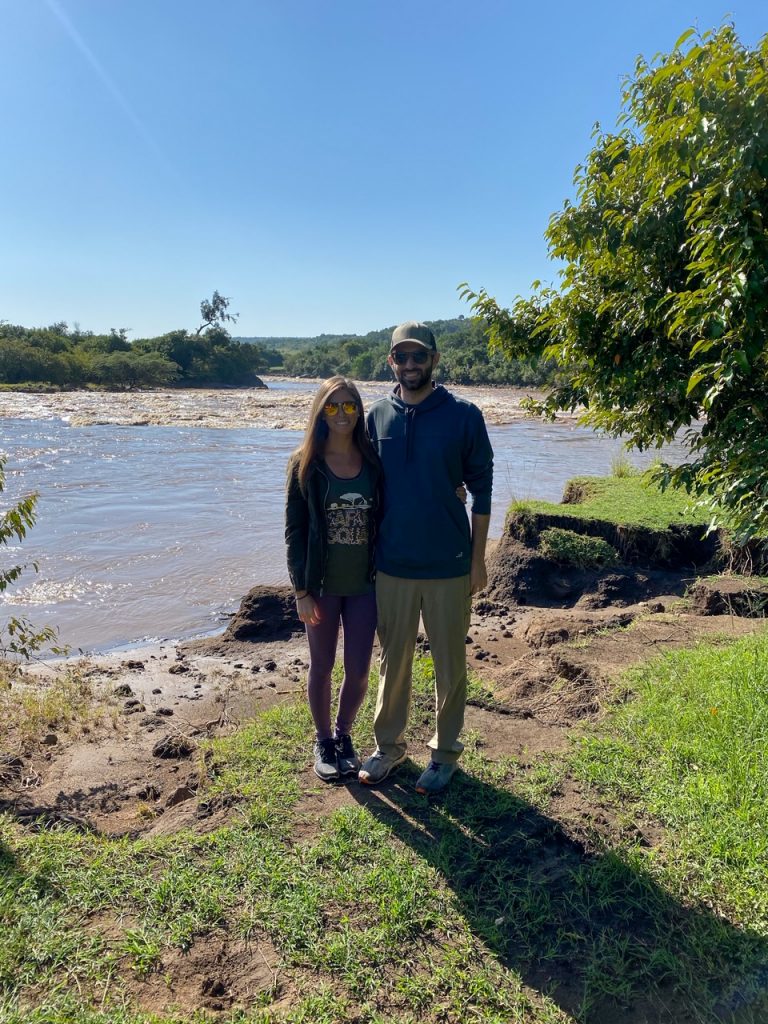 I posed the question, "on a scale of 1 to hippo, how hungry are you guys right now?", since it was getting late into the morning by now, and I was starving. Anyone get my reference and remember the game Hungry Hungry Hippos?
Breakfast, of course, was delicious, and we spent time after snapping some pictures of a pile of hippos that were hanging out on the riverbank.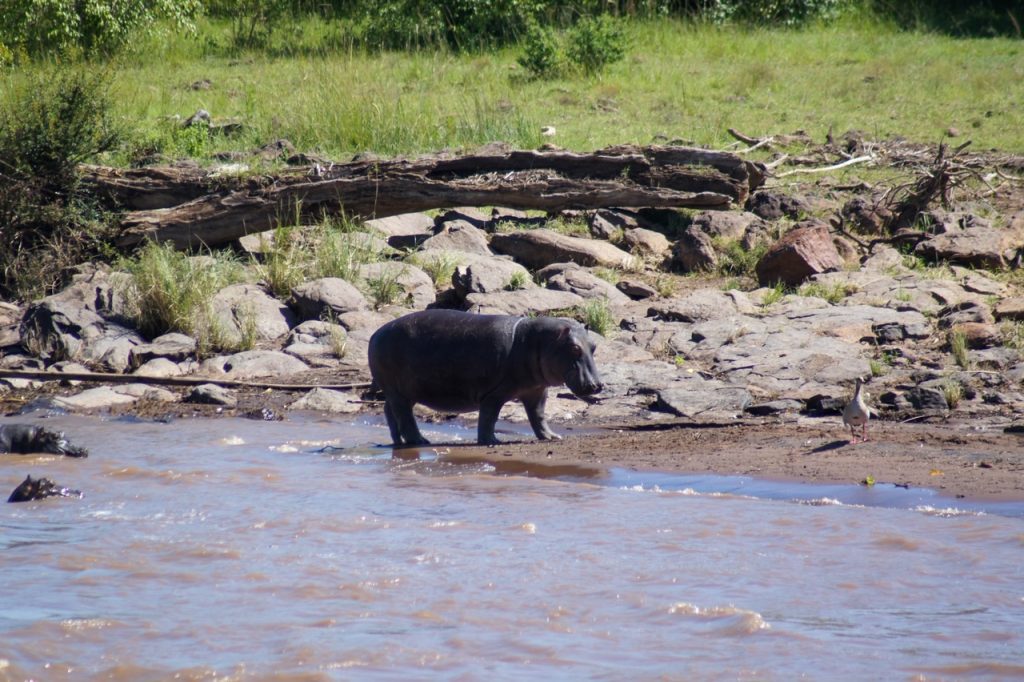 Note: there were bathrooms here, and they were nicer than some of the others we had encountered on our long drives, so it's totally okay to go all out on the champagne and various juices they offer at breakfast.
On our way back to the lodge, we did another mini-game drive, and spotted some tommys, ostriches and zebras.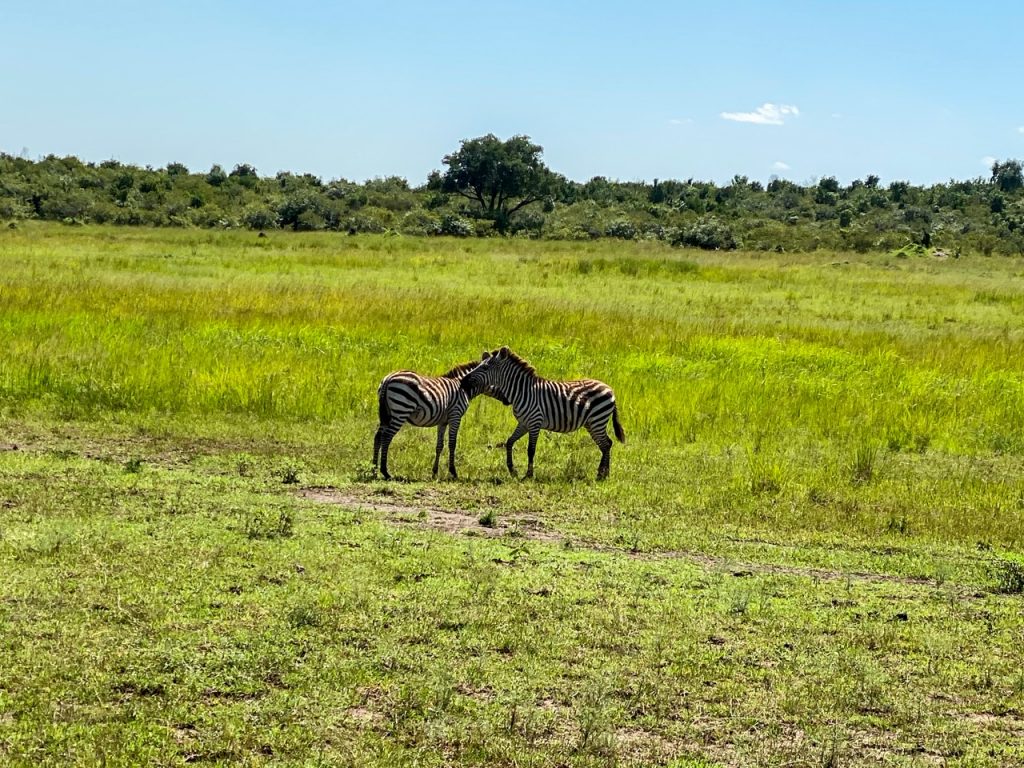 Our afternoon was spent lounging by the beautiful pool where we tried the infamous Husker Cider – it was only okay; a little too sweet for our tastes, but it grows on you a little bit with each sip!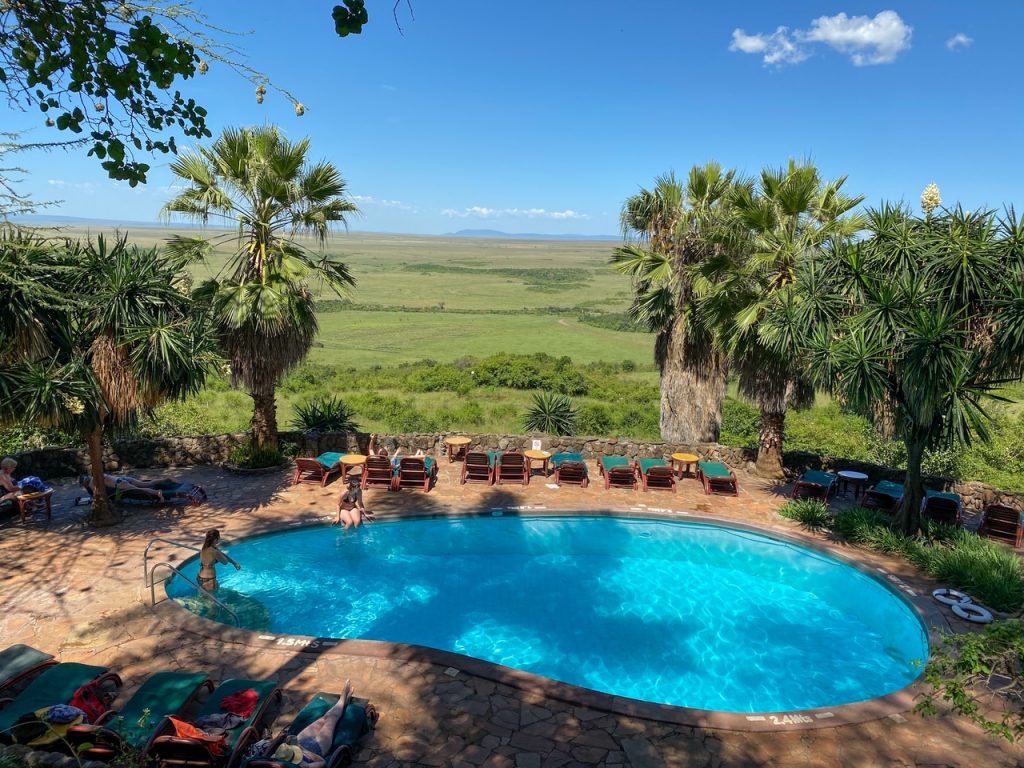 With all of the travel, being sick, etc., most of us ended up falling asleep for a bit, and I woke up with a killer sunburn. Being near the equator is no joke! I typically don't burn at all, and I had sunblock on, so here is your reminder to wear sunblock and reapply frequently to ensure you don't burn up.
After the pool, a few of us went for lunch before getting ready to go back out for our afternoon game drive. Typically, the gals sat up front because some of us get motion sickness, but we decided to let the boys sit up there this time, and naturally, they had the time of their lives!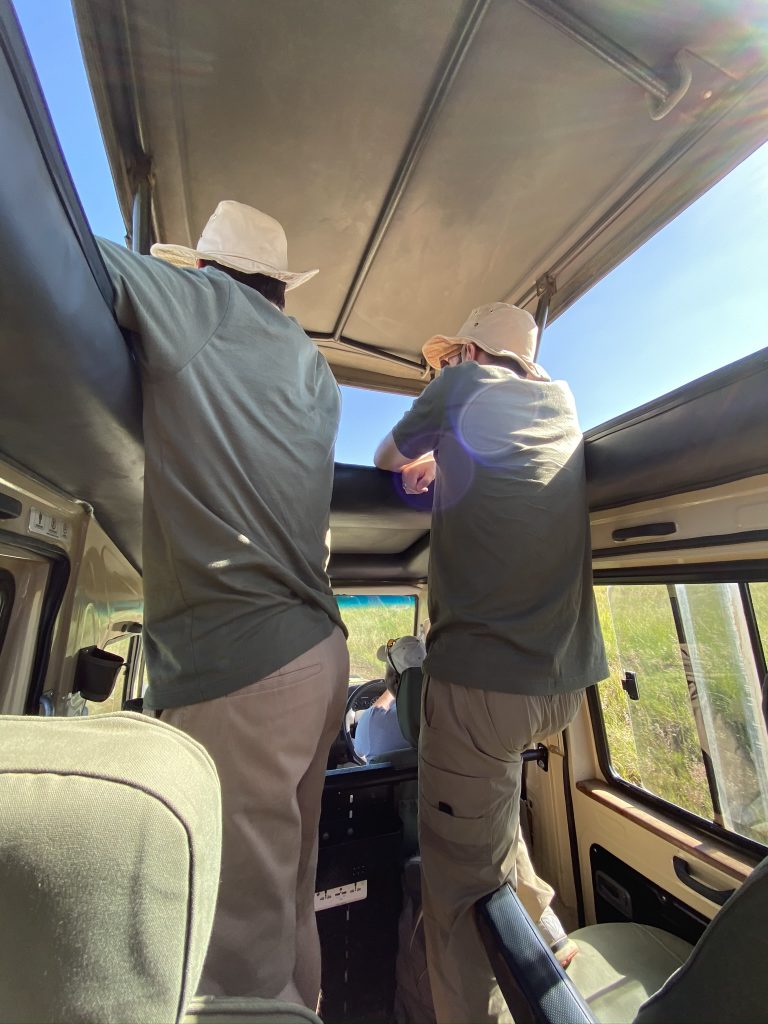 We were all excited to see yet another lion and to finally see some hyenas, one of which was in the middle of the road right in front of us!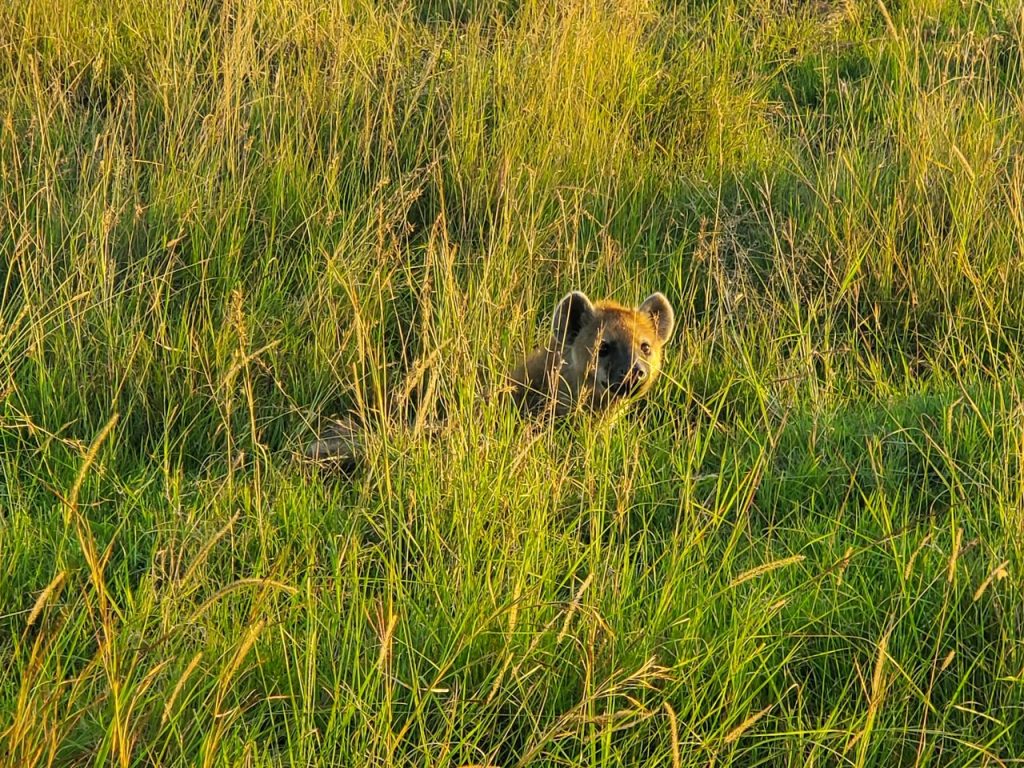 Funny story about these cuties! Allison and Ryan were walking back from dinner one night when they "almost got eaten by a hyena", as they remember it. But seriously, it was a pretty traumatic experience because the hyena was literally right next to them. I guess all the animals just love them, since this was the third animal encounter by their room.
We also were lucky enough to see a lone, endangered black rhino.
And of course, we were excited to see another baby elephant crossing the road too. So many babies on this trip!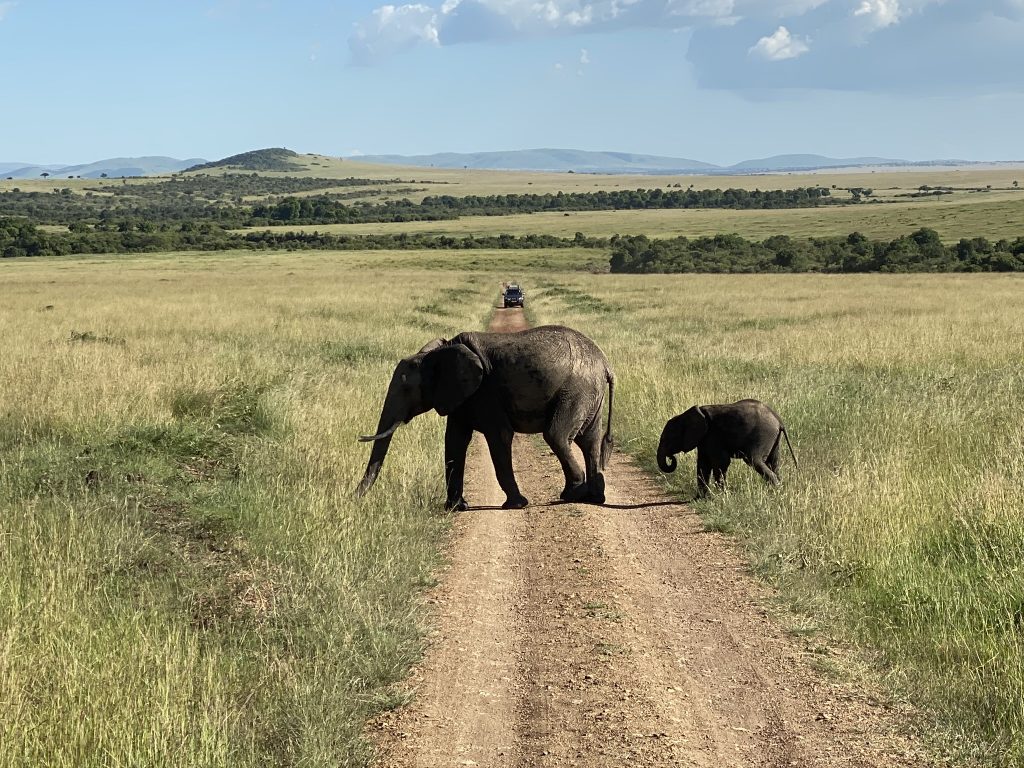 We came back to the hotel for our buffet dinner before calling it an early night, after waking up so early that morning. We had another early morning planned for the next day, so we really needed to rest up.
There was just one last thing we needed to do, and that was for the fake Iceland crew to take some shots with our "I was in Iceland" bag in our Safari Squad shirts! If you don't know what we are talking about, check out our full Kenya post to read about how the four of us randomly ended up in Iceland on this trip.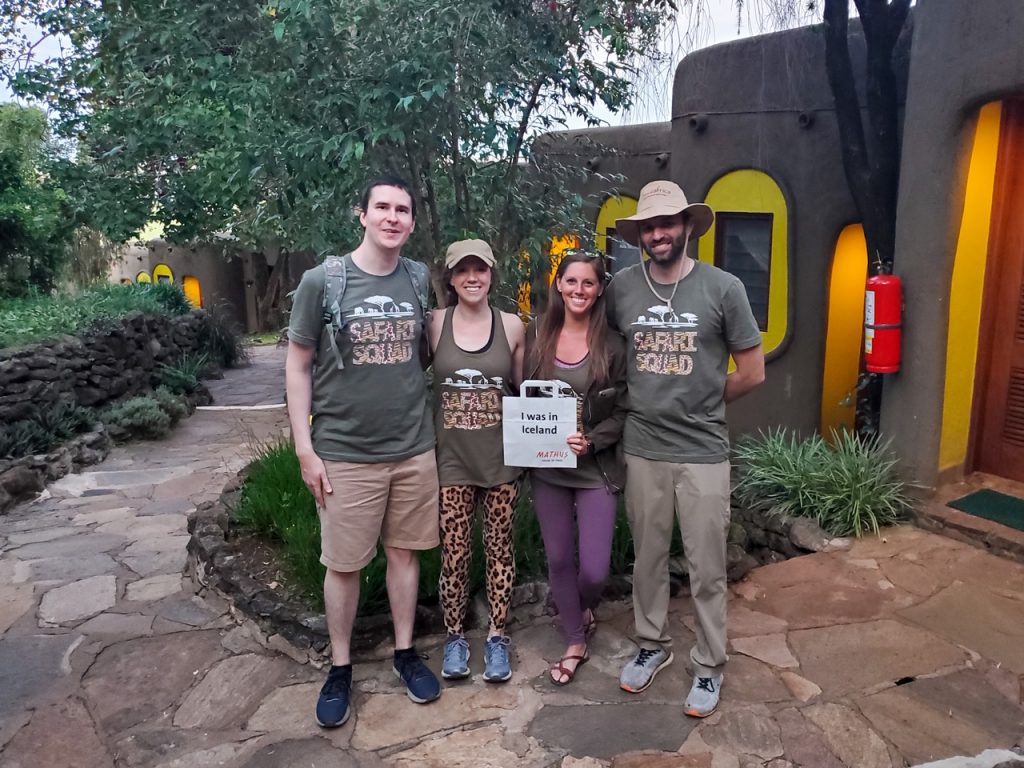 Fast forward to the next morning, and talk about a case of the Mondays! We had an early pick-up time, so we woke up around 4 AM to load up on sunblock and bug spray in anticipation of our hot air balloon ride and our champagne breakfast to follow. We had all been super excited about this – except for maybe Bryan – and couldn't believe this day had finally arrived.
We loaded up into a jeep-like vehicle (we had a different driver and vehicle for this excursion), and it was a chilly, hour-long drive to the take-off location. On our way there, we stopped in the middle of the road, shut off the lights, and watched two lionesses walk directly by the side of our vehicle. This was a little nerve-wracking considering this particular vehicle had plastic flaps for windows vs. our normal vehicle, and the front of the vehicle was completely open with the windows down.
Luckily, they walked right past us without a care in the world. That all would've been fine if we hadn't gotten stuck in the mud about thirty seconds later. Not gonna lie – this is when we all started panicking and thinking that the lionesses would come back to eat us.
We were stuck for a couple of minutes, and our driver even had to get out of the vehicle to put it back into four-wheel drive. We all assumed we weren't going to get out of the mud at this point after several minutes of him trying, but luckily we did. Phew! That was a close call.
And for what? We arrived and were informed that the wind was just too strong for us to go up in a hot air balloon that morning. Wow. Clearly, we were all very upset by this and frustrated, especially since we had basically risked our lives to get there…LOL.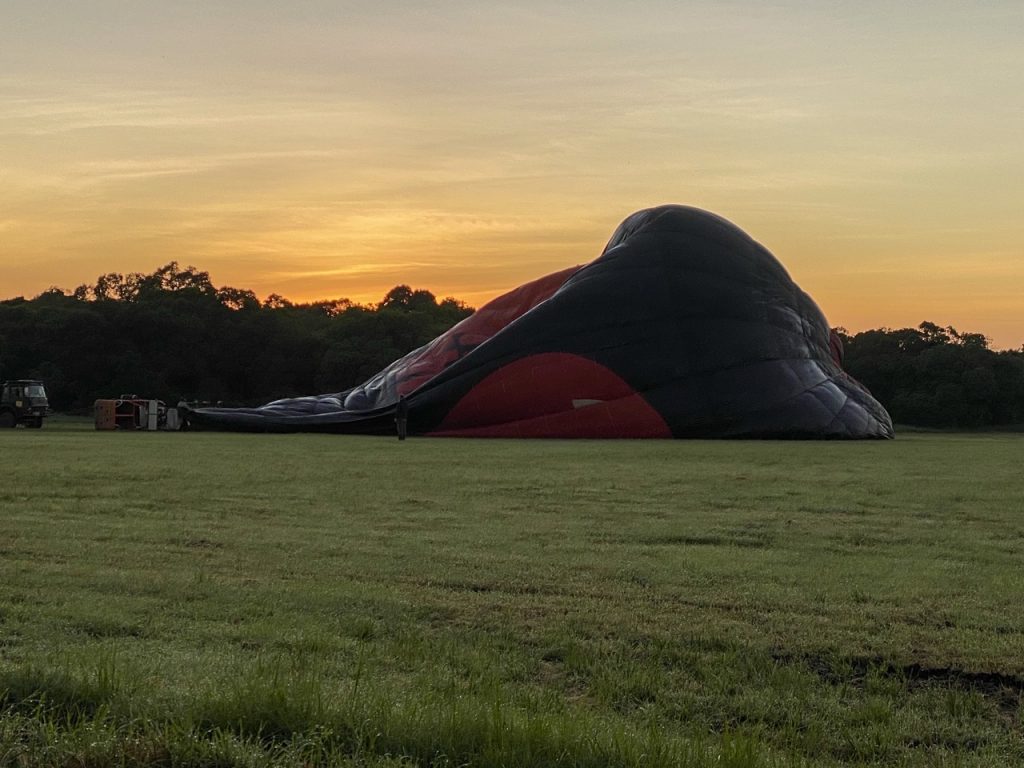 Although definitely not at fault, our driver felt bad and took us on a lovely game drive to make up for what we had missed out on, as we made our way back to the hotel.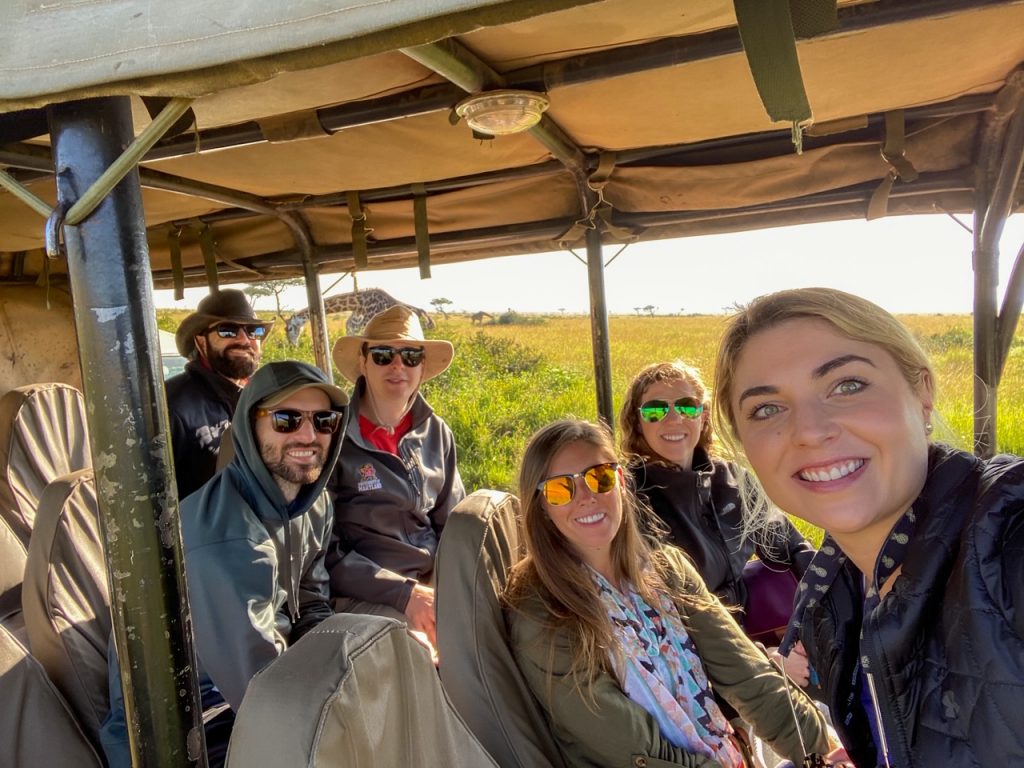 We even saw the same two lionesses from earlier, and now, they were hunting for prey. We sat here for quite a while before we had to head back to the lodge.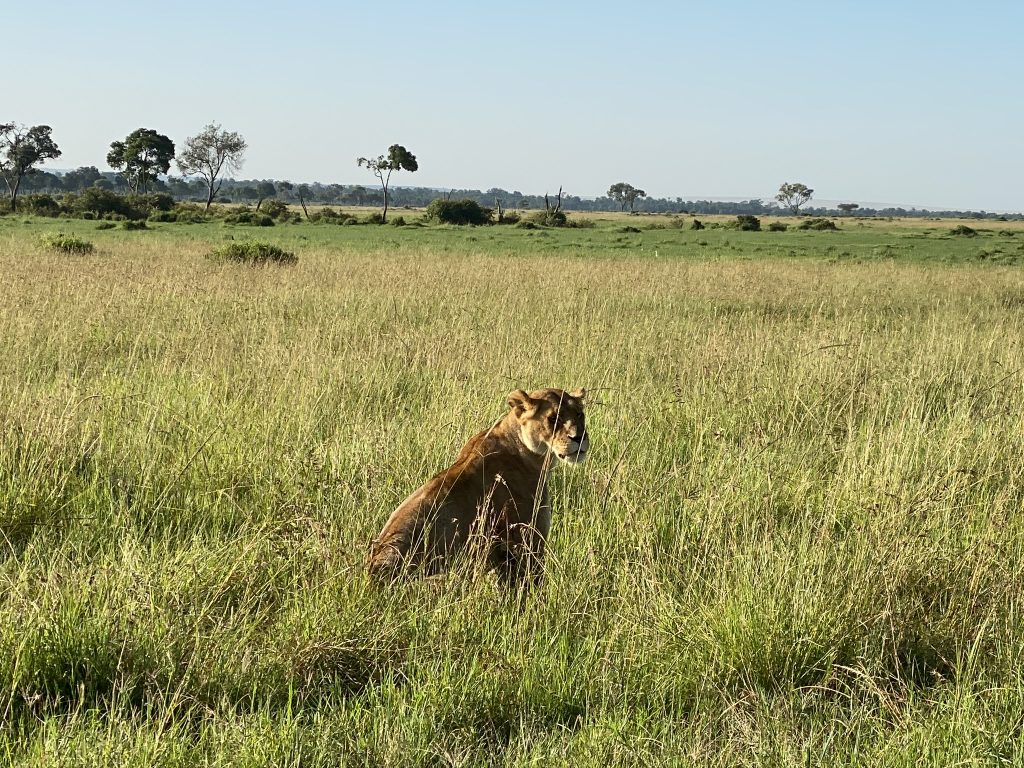 By 9 AM, we were back at the hotel for a late breakfast, and by 10 AM, our OG driver, Dennis, was back to pick us up for another late-morning game drive.
This was particularly amazing, since we ended up seeing two cheetahs hanging out in some bushes. They were pretty tricky to see, but luckily, with our binoculars and Emily's camera we were able to spot them and take a couple of photos.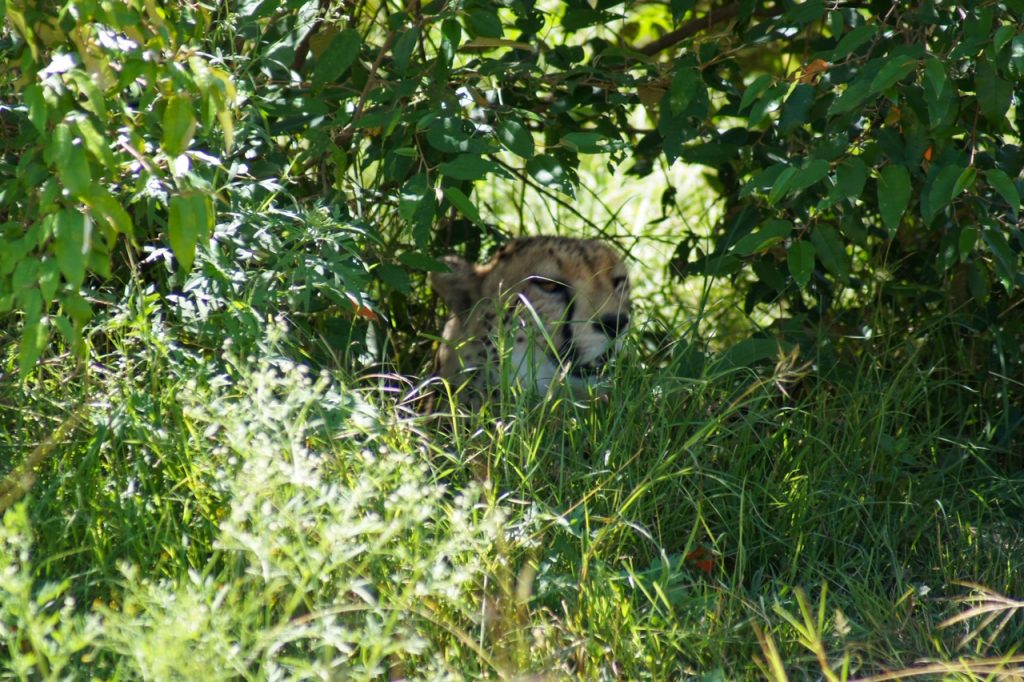 Because Dennis is the man, we stopped at the stone splitting Kenya and Tanzania where he let us get out of the vehicle to take some pictures and lots of selfies – we even got one with Dennis!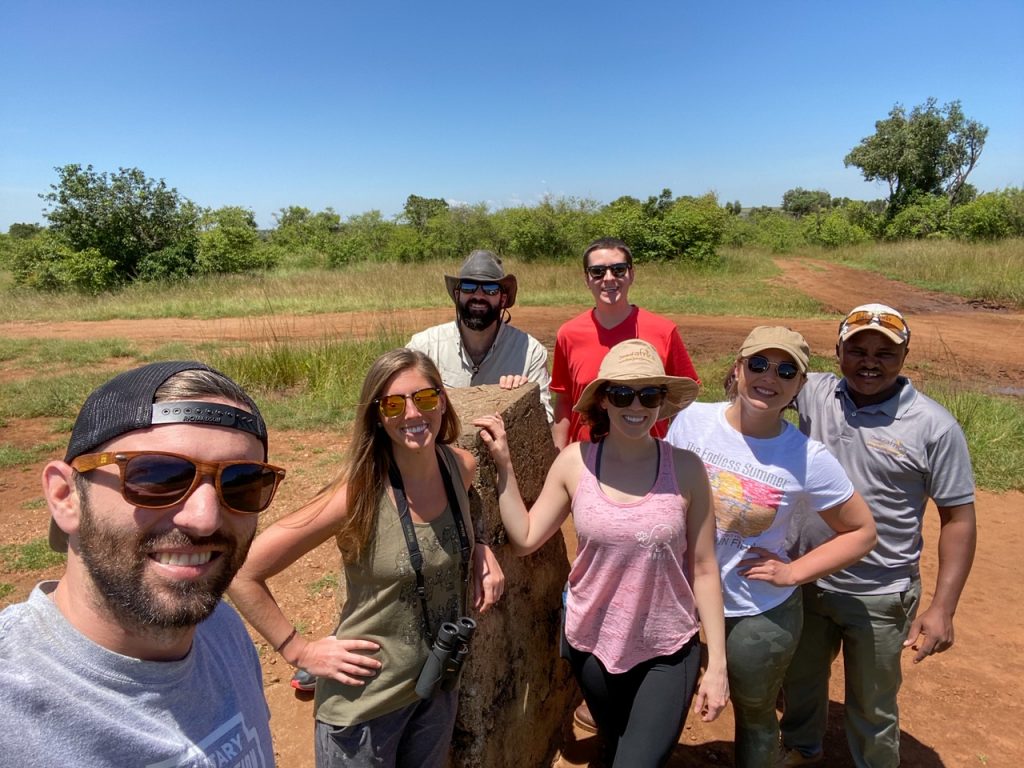 If you've ever seen the movie A Walk to Remember, you may recall when Landon helps Jamie cross "being in two places at once" off her bucket list by taking her to straddle the state line; well, this totally reminded me of that! We straddled the line between Tanzania and Kenya and were technically in two countries at once – how cool!
We had to snag a couple selfie with the vehicle too, since we didn't have any! Luckily, no animals came after us…haha.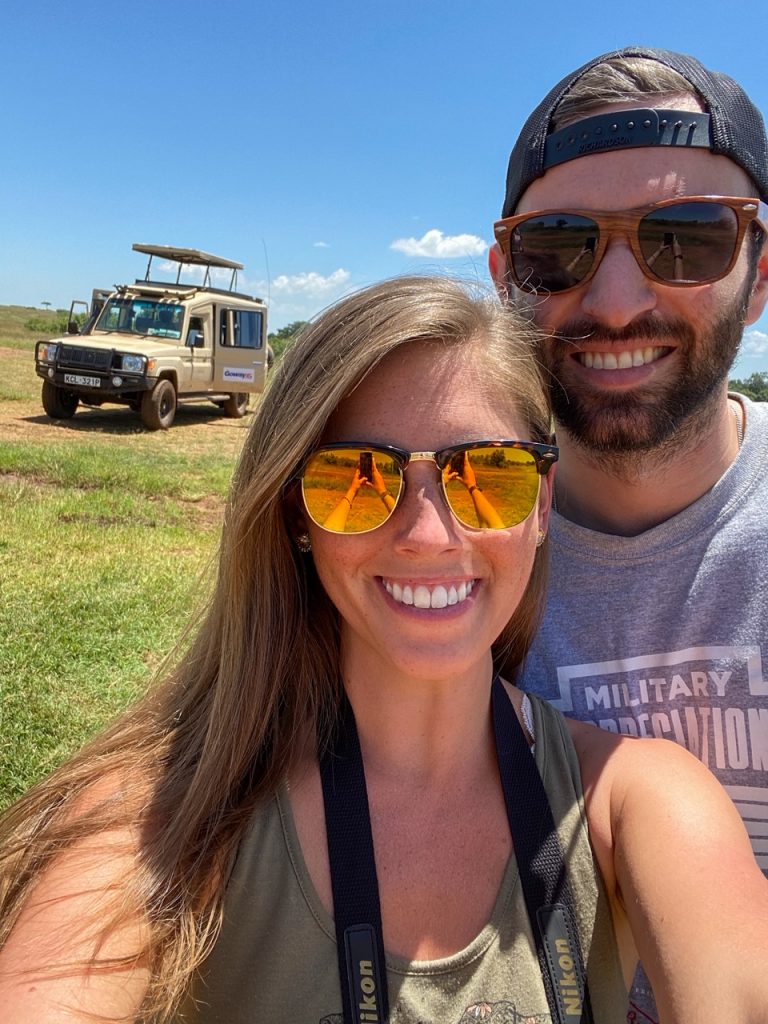 On the way back to the hotel, it was really hard to keep our eyes open; half of us fell asleep, so it's hard to tell what we may have missed. I did capture a pic of the beautiful landscape at one point. Can you imagine waking up to this every day? We were certainly going to miss these views!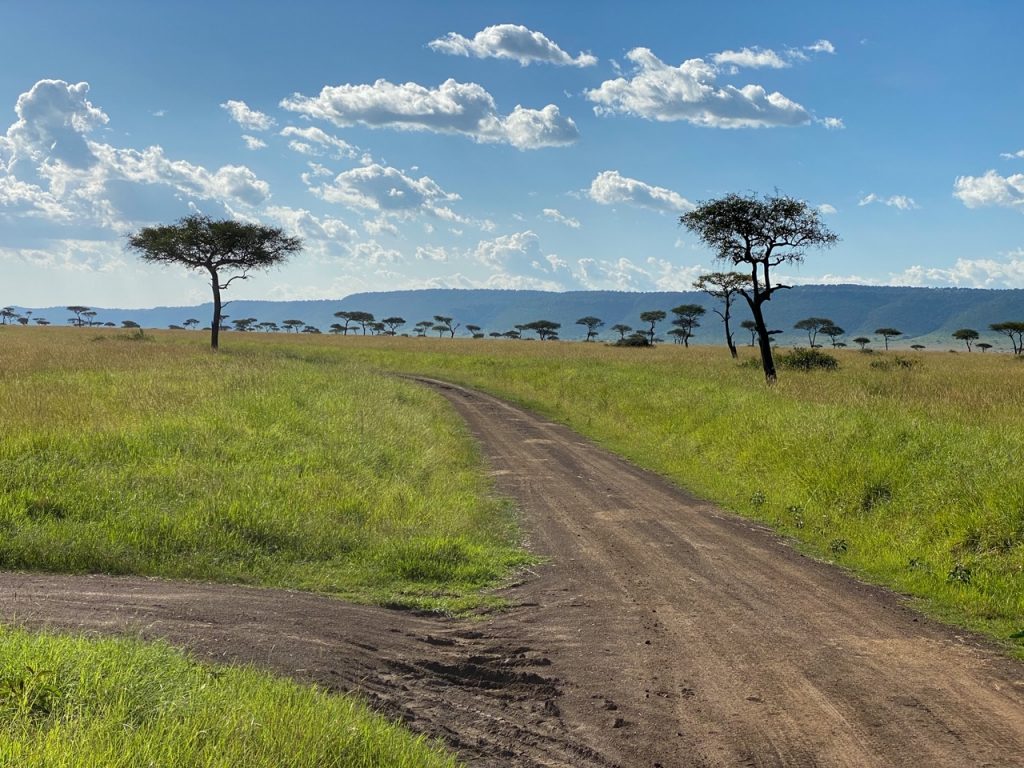 We headed straight to lunch when we got back, since it was nearly 1:45 PM, and lunch ended at 2. By 2:15 PM, Tim and I were back outside to read and animal watch from the outdoor bar area, while the other couples went for naps and massages (which we heard were pretty great!). Here, we spotted this little warthog friend.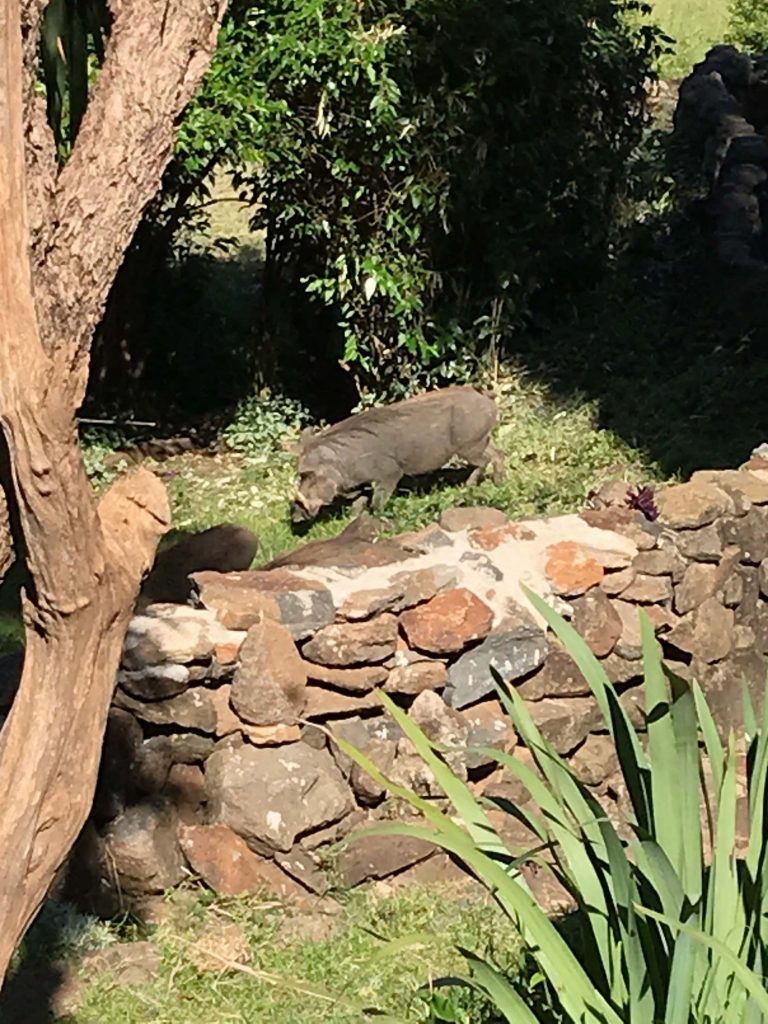 Around 4 PM, we headed back out for our final official game drive. We saw lots of giraffes doing some peculiar things, which we all found pretty hilarious to watch.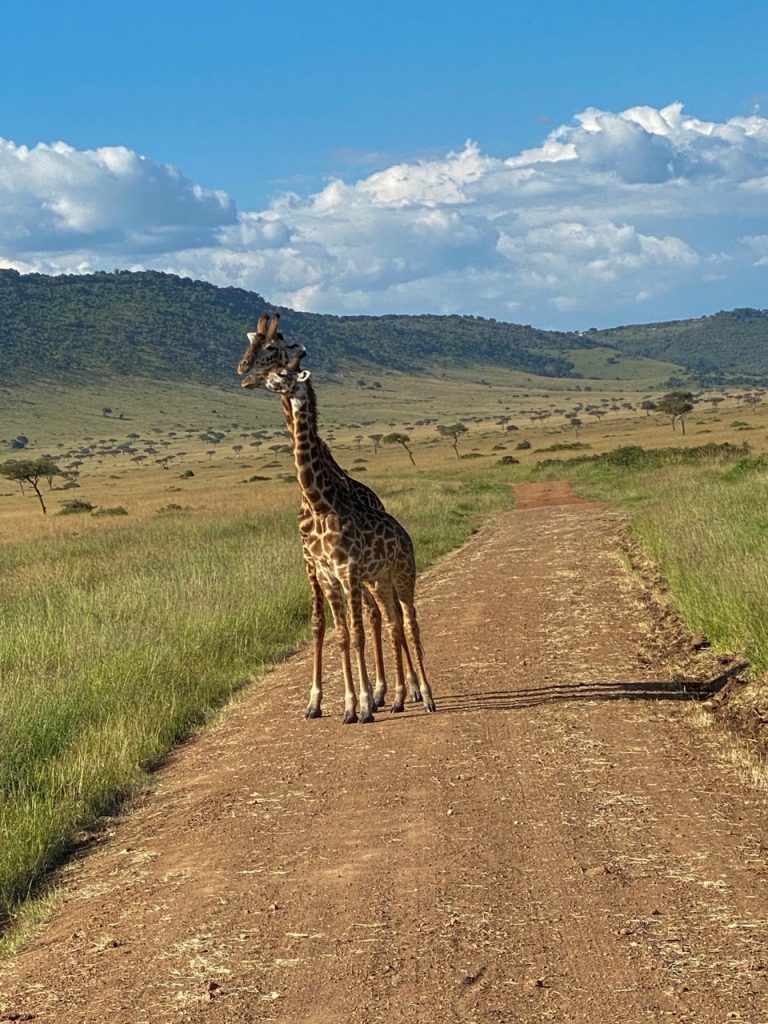 Our last full day also afforded us the best sunsets we had seen so far on the trip, and we were all caught up in taking pictures when out of nowhere, a leopard dashed right in front of our vehicle!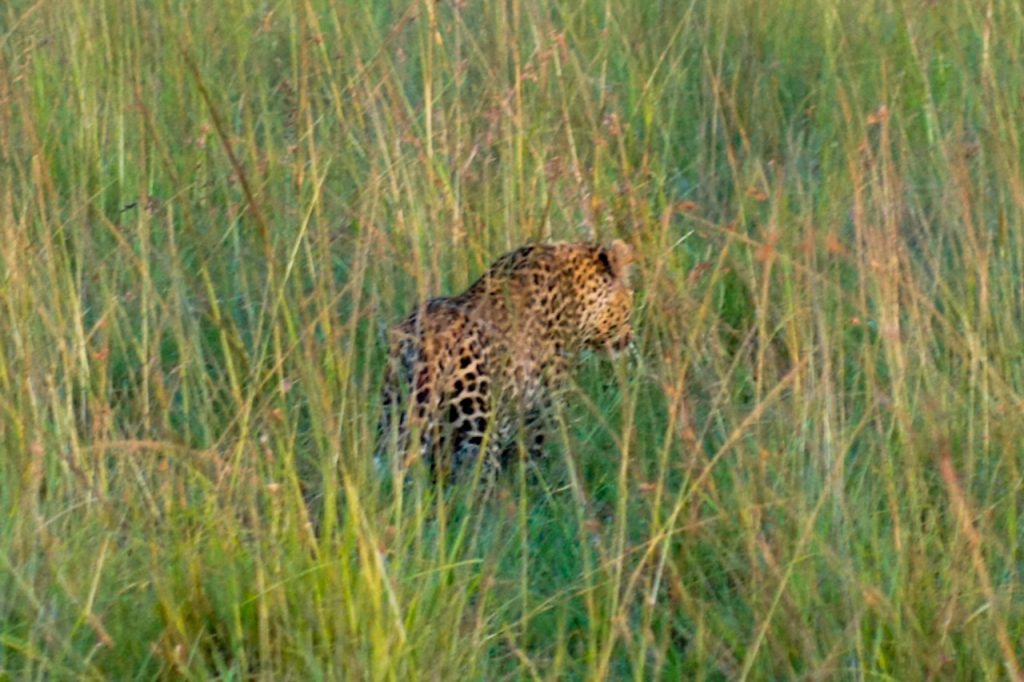 Dennis was brimming with excitement and probably thought we were crazy for almost missing this for a sunset picture. Leopards are quite elusive, and he was shocked we had seen one; he told us we were very lucky, which is pretty funny considering all of the things that had gone wrong on our trip…haha.
And, back to the sunset! But seriously, you guys! Aren't these sunset photos breathtaking?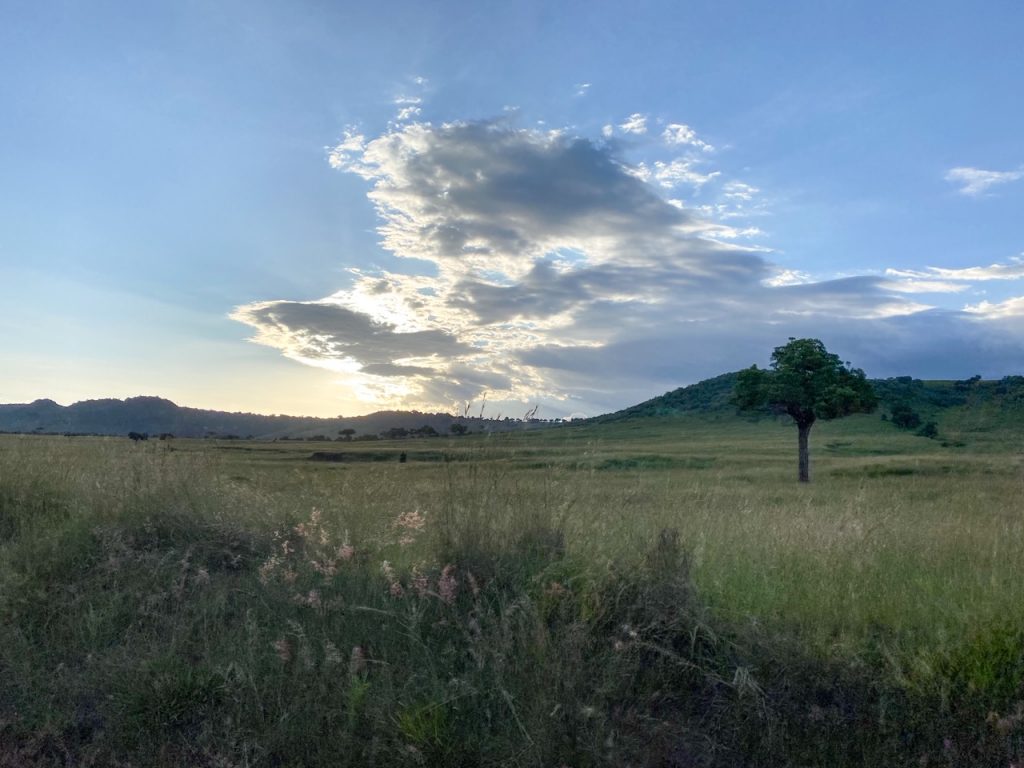 Since we had taken so long on our game drive, Dennis was zipping around trying to get us back before his curfew. At one point, we literally had to drive through a mini-lake.
Then, going like 70 MPH (this may be an exaggeration…haha), Dennis slammed on the brakes because he had spotted a Dung beetle in the middle of the road, rolling up a ball of dung.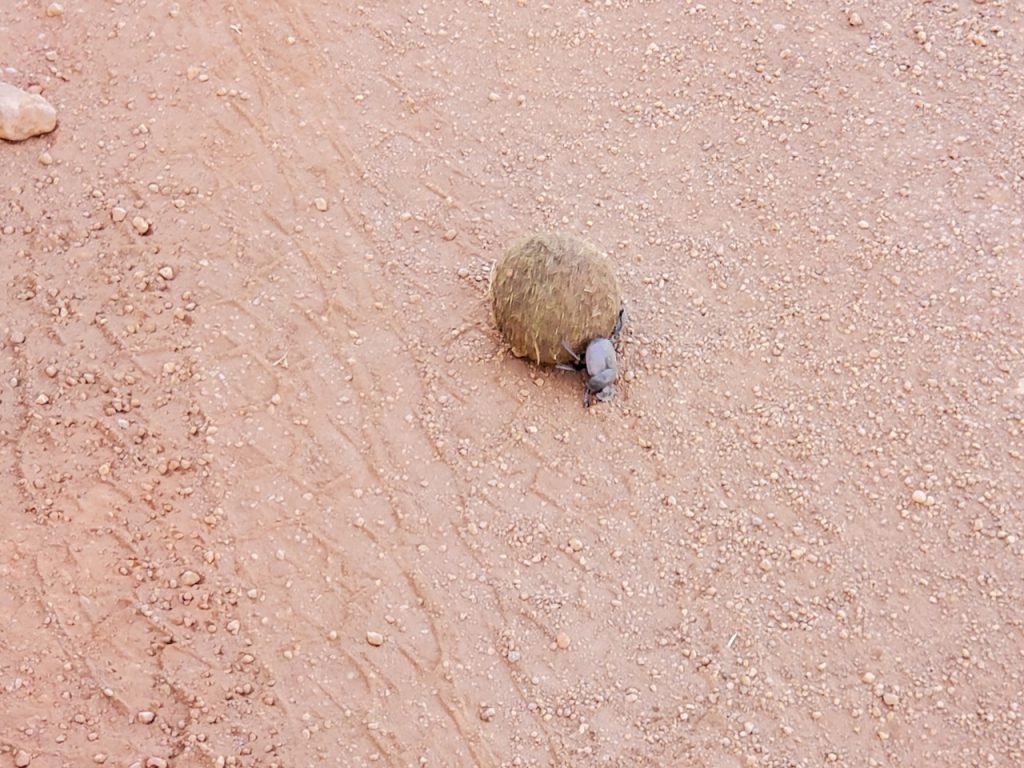 Clearly, Dennis has stellar vision! This little guy was tiny and hard to spot, but he knew that Ryan had been obsessed with hearing stories of Dung beetles throughout our trip, so he just had to stop for us! Ryan may have been more excited for this than the leopard but not sure.
Sadly, Dennis may have gotten a slight reprimand for coming back in late, but we really had the time of our lives and appreciated him taking the risk on us. After seeing a leopard, we were able to say that we had seen the "Big 5" – how neat!
We had another buffet dinner and headed to bed after an exhausting, animal-filled day.
Because Dennis is the coolest guy ever, he had called the balloon place for us to reschedule our ride. Once again, we woke up at 4 AM and were picked up by yet another driver to attempt our journey back to the hot air balloon place.
Upon arrival, close to 6 AM, we had a glimpse of hope when the pilot notified us that the weather was looking MUCH better today, and we saw one of the balloons start to go up. In the distance, we also saw two other balloons make their way into the sky just around sunrise. We were getting really excited now but trying not to get our hopes up.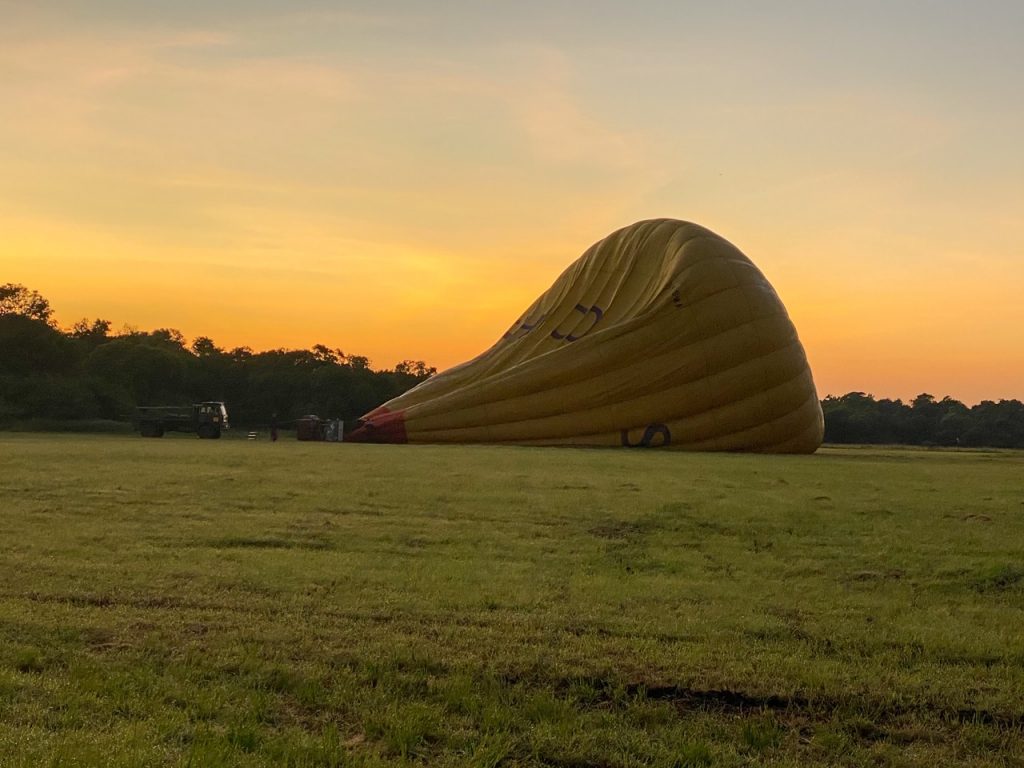 Closer to 7 AM, the pilot tried to inflate yet another balloon due to technical difficulties with the first balloon and eventually came back to break the bad news that yet again, we had missed our window, and he had tried his best, but we would not be going up in the balloon again today. WHAT A BUMMER! This was one of the things some of us were most looking forward to, so it was a huge let down.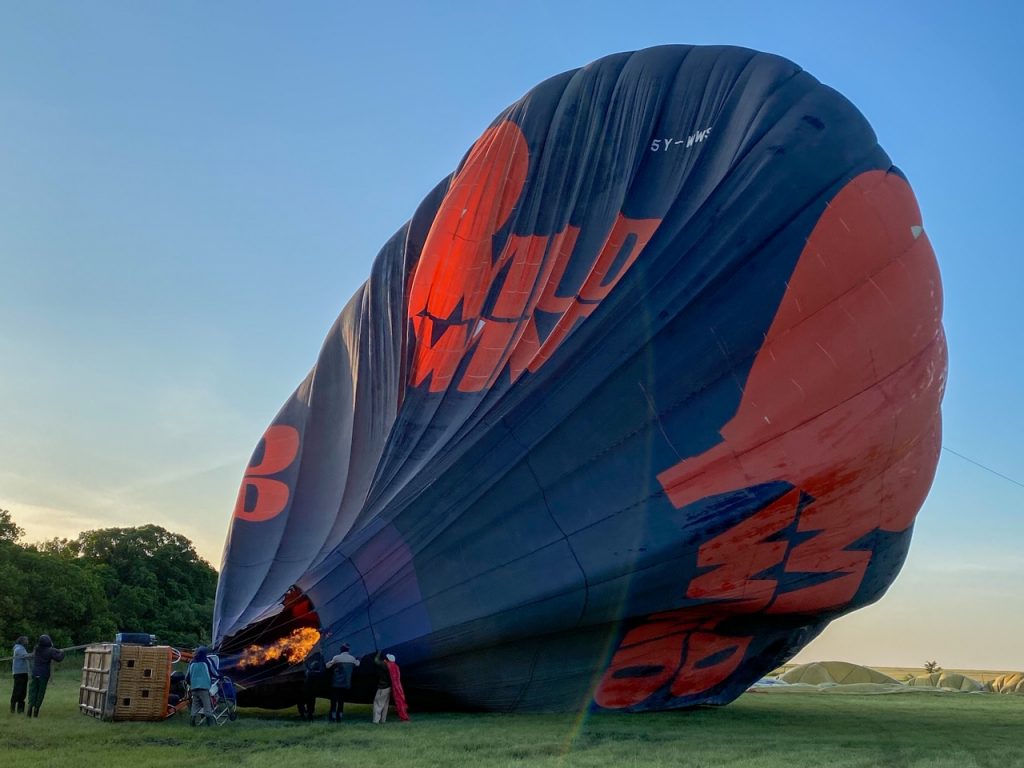 Despite our momentary heartbreak, we had an eventful game drive back to the hotel where we saw a hippo on land right by our vehicle, as well as some more giraffes, elephants and Cape buffaloes.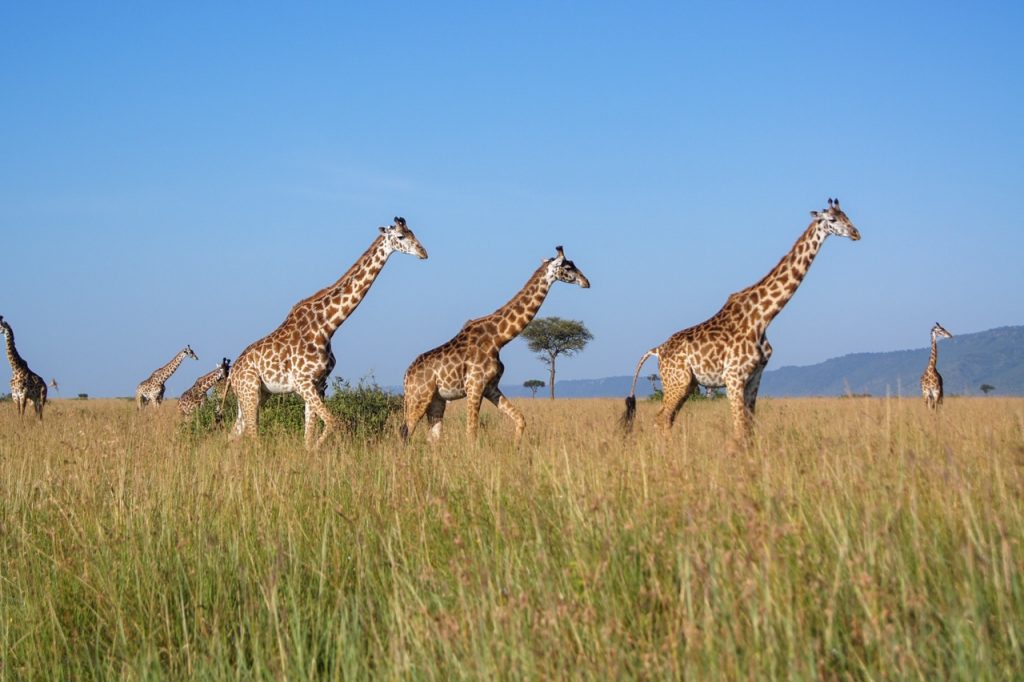 We grabbed some breakfast, then started the long journey back to Nairobi where we were all slated to eat at the Carnivore restaurant, which basically is a smorgasbord of meat, before catching our flights out late that evening.
We really enjoyed our visit to the Mara and would highly recommend visiting here during your trip to Kenya!
Check out our Nairobi post to see what we did there, or if you want to hear about our whole African adventure down to the crazy flight experiences, long drives, lunch spots, equator demonstrations, souvenir shops, etc., check out our full Kenya post instead.
And, don't forget to pin it!
XOXO Travel A-Broads