If you've opted out of reading our longer Kenya post and are just interested in learning about what we did in Nairobi, then you're in the right place! Let me catch you up first, so you have a bit of context.
---
A BROAD REFRESHER
---
My boyfriend, Tim, and I, along with our friends – two other couples, Allison, Ryan, Emily and Bryan – are on a twelve day trip to Kenya!
Allison, Ryan, Tim and I had A LOT of issues getting to Nairobi, Kenya, which we may reference in this post.
Dennis, our driver through Sense of Africa, is the man!
We started and ended our safari trip in Nairobi.
I was sick with some sort of respiratory infection basically the entire trip.
---
Of our eight planned, action-packed days in Kenya, we spent just a half day in Nairobi – we had plans to spend more time here, but our flight was diverted and we ended up spending a full day at an airport in Iceland instead; check out our full Kenya post for more on that.
After arriving a full day later than we had planned around 7 PM, Tim and I were picked up at the airport by a Sense of Africa representative and Dennis, who would be our driver for the entire trip.
On the way to the hotel, we learned a bit of Swahili, the official language of Kenya. Here are a couple of phrases we learned:
Jambo – Hello
Asante Sana – Thank you very much
Karibu – Welcome
Hakuna Matata – All is well
We also learned that approximately 10% of Kenya's population, i.e. 4.4 million people, live in Nairobi, and there are 44 tribes in Kenya alone. Nairobi is East Africa's most cosmopolitan city and is Africa's 4th largest city, serving as a great starting point for African safari trips around Kenya (yes, that is a lot of 4s!).
When we arrived at the Nairobi Serena Hotel, we checked in and immediately headed to dinner at one of the hotel restaurants to meet our friends. We were so happy that we had finally made it, and we spent the entire dinner catching up, joking and laughing about all that had ensued on our journey so far. After dinner, we split a bottle of wine that our travel agent had left us and then finally went to bed and got some much-needed, real sleep.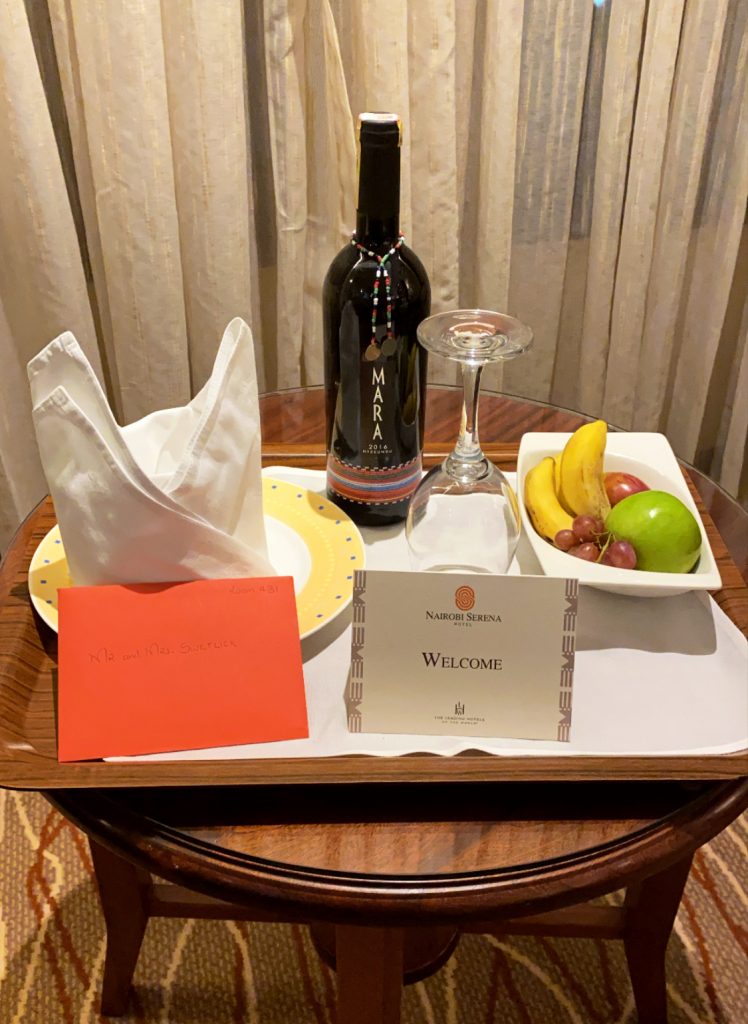 Unfortunately, we just got to see one restaurant and our room here, but we were told that the Nairobi Serena Hotel is nestled among lush gardens at the edge of Nairobi's Central Park. The room itself was beautiful and included satellite TV, a minibar, a coffee/tea station, free newspapers, and free WiFi. The hotel also has three restaurants, a coffee bar, a pool bar, a heated pool, and a spa.
Although we can't provide any recommendations, more information about the hotel can be found here: Nairobi Serena Hotel.
From here, we headed out on our African safari adventure! Kudos to our travel agent for planning a low-key first day to account for any travel issues. We were very lucky that we didn't miss any of the days planned for our safari.
If you are interested in reading about any of the places we went to during our safari, here is the full list:
Fast forward to the last day of our trip, and we are back in Nairobi.
Since we had missed the first day, Tim and I (again, thanks to our great driver and a little extra money) were able to visit the Giraffe Centre and the Sheldrick Wildlife Trust, which the other two couples had already done.
Created by the African Fund for Endangered Wildlife, a Kenyan non-profit organization, the center serves to educate Kenyan children about wildlife and the environment and to give local and international visitors an opportunity to come in close contact with giraffes and even feed them.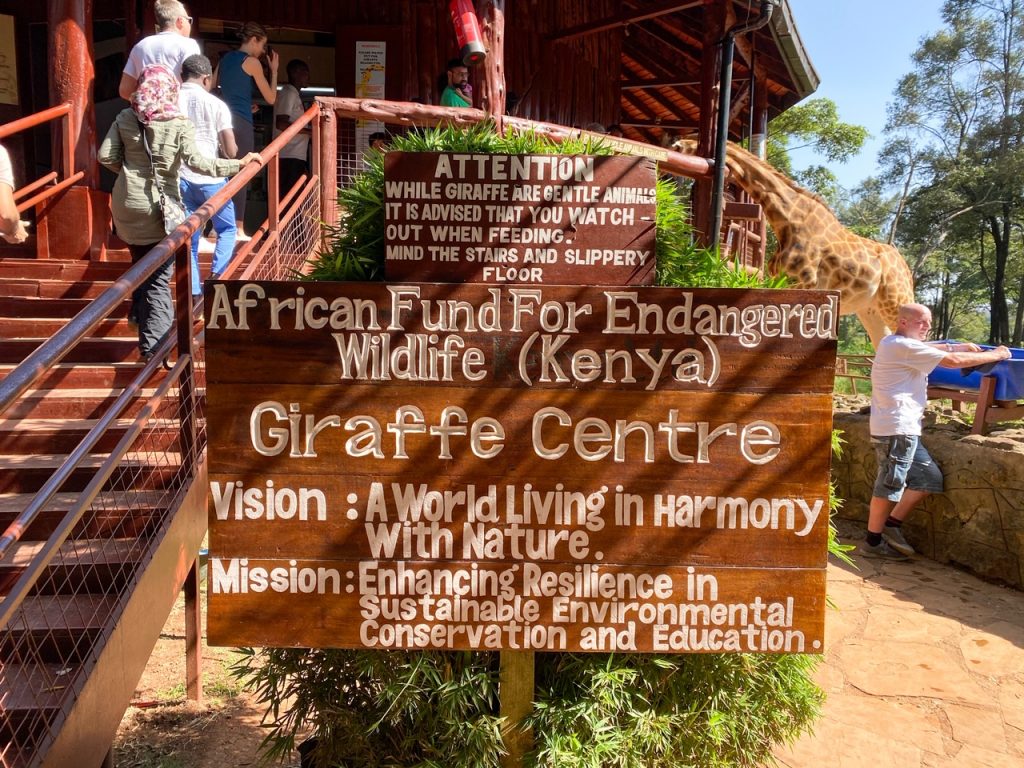 We had lots of fun feeding the giraffes, but it was extremely crowded and a bit claustrophobic considering there were only three or four giraffes we could interact with.
Originally, we were set to spend one or two hours at the Giraffe Centre, but due to timing constraints, we spent around 15 minutes here. The cost was $15 USD per person and was paid at the entrance. More information can be found on the Giraffe Centre website if you are interested in planning a visit here.
Next, we zipped on over to the Daphne Sheldrick Wildlife Trust & Elephant Orphanage for our small adopter's group tour, for which all three couples had adopted elephants.
The Sheldrick Wildlife Trust is the most successful orphan-elephant rescue and rehabilitation program in the world and one of the pioneering conservation organizations for wildlife and habitat protection in East Africa. Their mission is as follows: "Working across Kenya, our projects include anti-poaching, safeguarding the natural environment, enhancing community awareness, addressing animal welfare issues, providing veterinary assistance to animals in need, rescuing and hand rearing elephant and rhino orphans, along with other species that can ultimately enjoy a quality of life in wild terms when grown."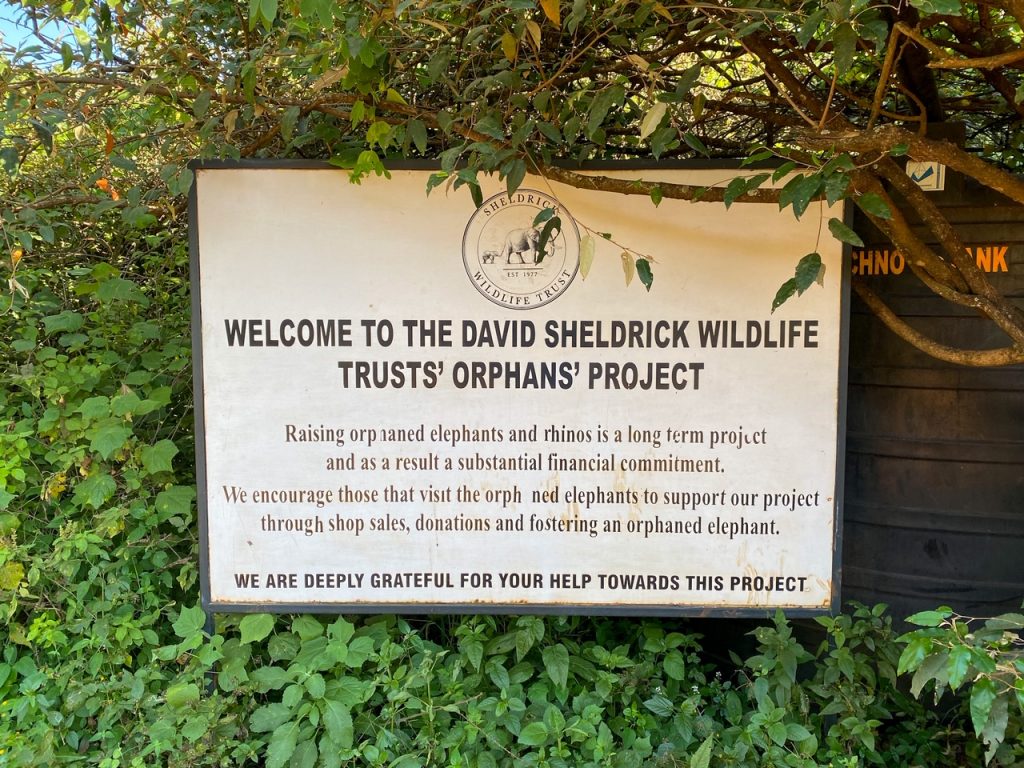 To date, the trust has hand-raised over 244 infant elephants and effectively reintegrated the orphans back into wild herds. More information can be found on the Sheldrick Wildlife Trust website, including how to adopt an elephant, rhino or giraffe for yourself!
Although, my most favorite adopted animal ever, Apollo the rhino (who I had originally adopted), wasn't there, there was a resident rhino named Maxwell that we saw right when we walked in. Maxwell hung out by himself, and we learned that he was blind.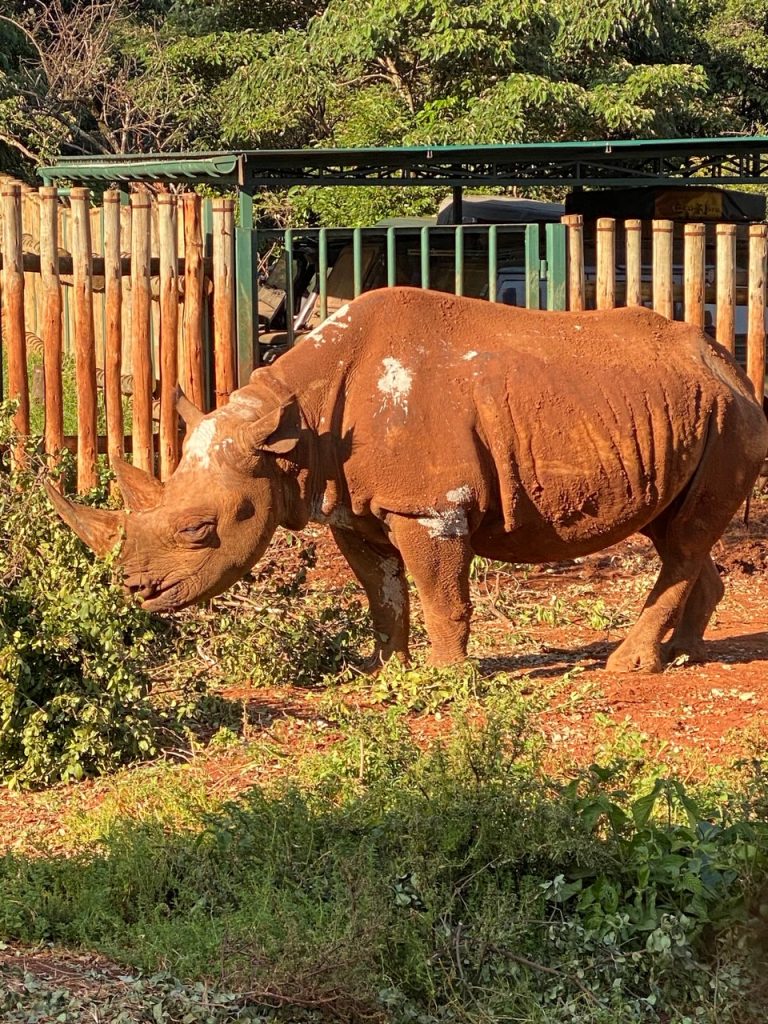 We waited in the hot sun for a few minutes before we saw a stampede of elephants racing back from the forest. How neat!
After going over some basic rules, we got to visit our second adopted animal, Kiasa, and she was absolutely beautiful!
We were able to see all of the other elephants that were at the nursery, and we could hear a giraffe, who was actually in timeout, from his room. Because I was obsessed with this before the trip, I recognized most of the elephants by name and recalled seeing a video of this particular giraffe being saved and airlifted to the nursery.
The whole experience lasted just under an hour, but we were so grateful we got to visit with and pet some of the animals; we were lucky they had allowed us to reschedule, since there is a limit on the number of people allowed in each day.
A Broad Recommendation: a visit to the Sheldrick Wildlife Trust is a must for any visit to Nairobi. It doesn't take much time, and the animals are wonderful. We also recommend doing some research beforehand, so you know more about the animals you will be visiting with. It was like placing a face with a name for us, and we were so excited to see these cute friends!
Unfortunately, there were some things we weren't able to do but would recommend checking out if you have time on your trip:
Giraffe Manor: an exclusive, beautiful boutique hotel set on 12 acres of private land within 140 acres of indigenous forest. It's referred to as one of the most instagrammed properties in the world, and given that it only has twelve rooms, it's typically booked out for years in advance. A resident herd of Rothschild's giraffes will visit throughout the day, poking their long necks into the windows.
Karen Blixen Museum: one of the National Museums of Kenya, which was previously the centerpiece of a farm owned by Danish Author Karen Blixen and her husband, Baron Bror von Blixen Fincke. It gained international fame with the release of the movie "Out of Africa", an Oscar winning film based on Karen's autobiography, and is open to the public daily from 9:30 AM to 6:00 PM.
Karen Blixen Coffee Garden & Cottages: a cute lunch spot we had planned for our first day.
We headed back to the Carnivore restaurant to pick up the other two couples; they had dinner here and got to experience the all-you-can-eat smorgasbord of wild game/meat like ox, beef, ostrich, crocodile, etc. We heard this was a must-do on any trip to Nairobi and our friends can attest that it was pretty tasty. Unfortunately, Tim and I couldn't be in two places at once, so we chose the two excursions we did instead – guess we will have to check this out next time!
Then, we were dropped off at the airport where we said our goodbyes to our man, Dennis. Dennis was an exceptional guide and driver and went above and beyond to make our experience one of a lifetime. We would highly recommend Sense of Africa, and Dennis in particular, for any safari in Kenya!
If you want to read more about our whole African adventure down to the crazy flight experiences, long drives, lunch spots, equator demonstrations, souvenir shops, etc., check out our full Kenya post, and check back in soon to see where we traveled to next!
And, don't forget to pin it!
XOXO Travel A-Broads