Looking for what you should do during one day in Nairobi? Then you're in the right place!
Nairobi is a great starting point for any African safari trip around Kenya. Approximately 10% of Kenya's population, or about 4.4 million people, live in Nairobi. It's East Africa's most cosmopolitan city and Africa's fourth largest city (yes, that is a lot of fours!).
*P.S. this post contains some affiliate links. At no additional cost to you, we may earn a small commission when you make a purchase.
Of our eight action-packed days in Kenya, we spent just a half day in Nairobi. We had planned to spend more time here, but our flight ended up in Iceland, and we spent a full day at an airport there instead; check out our Kenya post for more on that amusing story.
This blog post details what we did while we were in Nairobi and thus, what we can recommend for your own trip! For more information about traveling to Kenya, what to pack, travel documents, local currency, transportation, and other handy tips, check out our Kenya: A-Broad Overview page.
Stay at the Nairobi Serena Hotel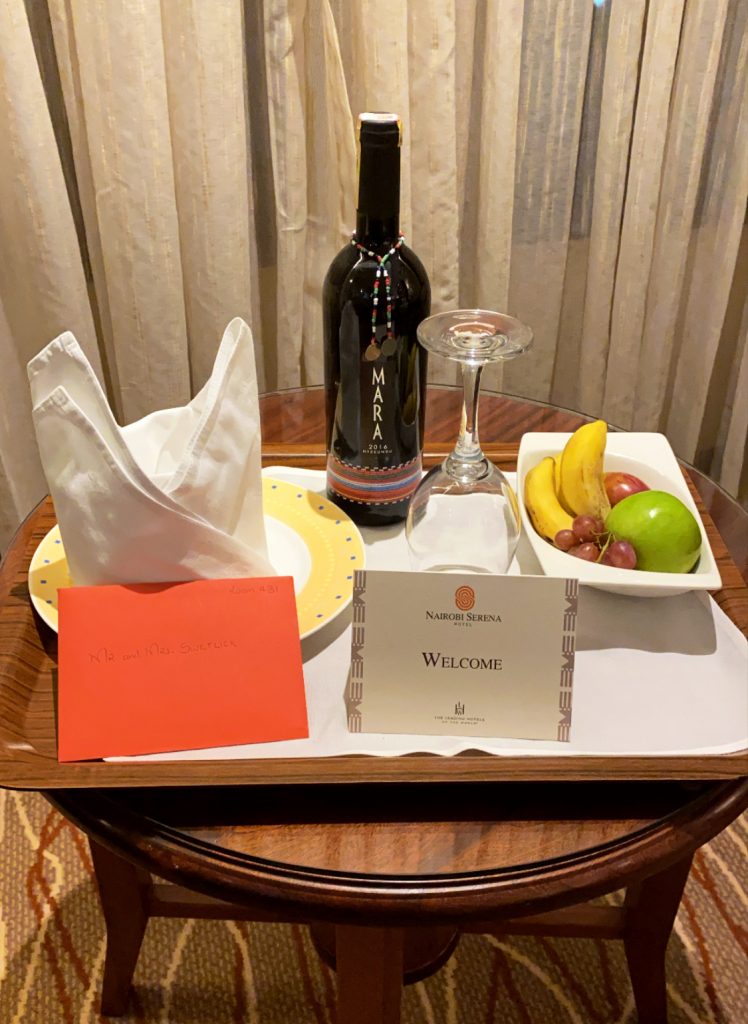 The Nairobi Serena Hotel is nestled among lush gardens near the edge of Nairobi's Central Park. Unfortunately, due to our travel issues, we only got to see our room and eat at one restaurant. The room itself was beautiful and had a satellite TV, a minibar, a coffee/tea station, free newspapers, and free WiFi. The hotel also has two other restaurants, a coffee bar, a pool bar, a heated pool, and a spa that we sadly weren't able to take advantage of.
To book your own stay and to learn more about their amenities, check out the Nairobi Serena Hotel website.
Feed Giraffes at the Giraffe Centre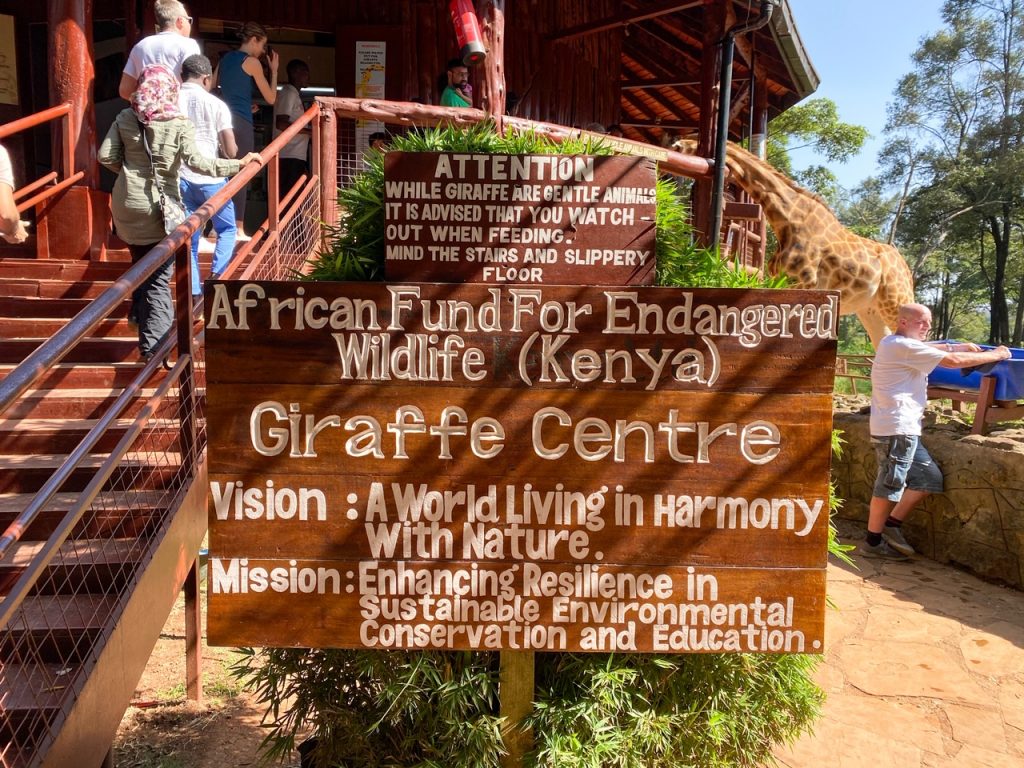 The Giraffe Centre was created by a Kenyan non-profit organization called the African Fund for Endangered Wildlife. Its mission is to educate Kenyan children about wildlife and the environment and to give local and international visitors an opportunity to come in close contact with giraffes – and even feed them!
We had so much fun interacting with and feeding these magnificent creatures, but we felt a bit claustrophobic at times. There were crowds of people surrounding the three or four giraffes out at that time, and it was difficult to move around.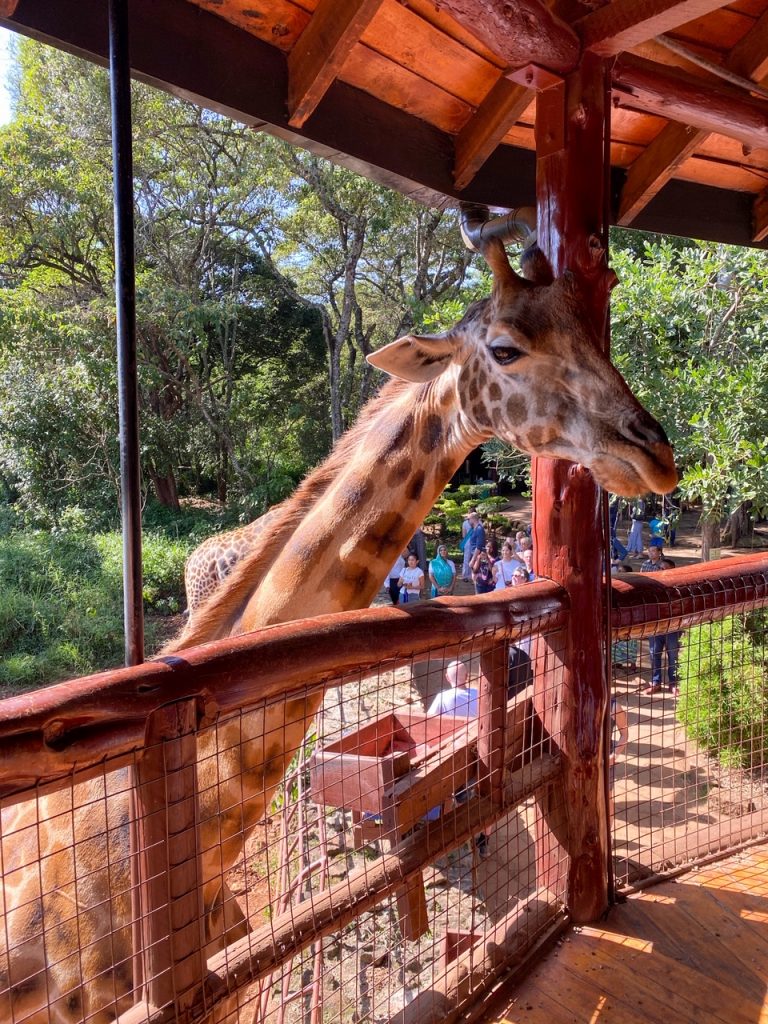 We were supposed to spend one or two hours at the Giraffe Centre, but due to timing constraints, we only spent about fifteen minutes here. The cost was $15 USD per person, and we paid at the entrance. If you'd like to plan your own visit, check out the Giraffe Centre website.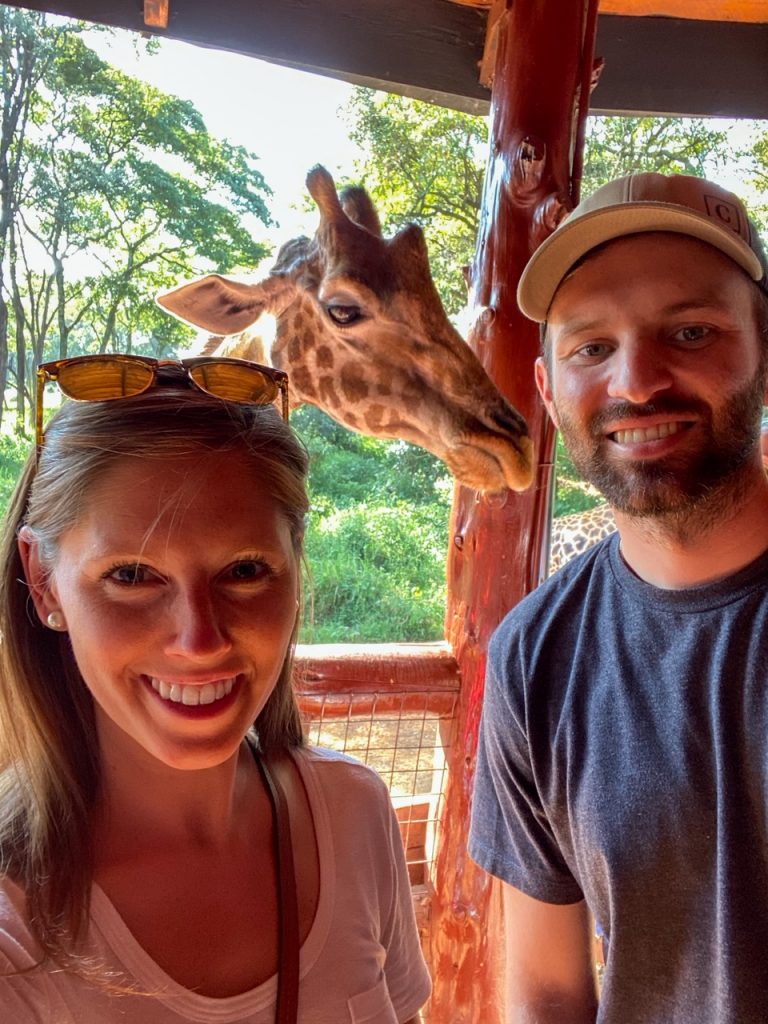 Adopt an Elephant, Giraffe or Rhino
Before our trip, we adopted an orphan from the Sheldrick Wildlife Trust; this reserved our spot for our Nairobi Nursery visit. My boyfriend and I chose the cutest of all rhinos, understanding that we wouldn't get to meet him in person, since he was at a different location. See Apollo, the cutest rhino who ever lived, below.
Photo sourced from: Sheldrick Wildlife Trust. https://www.sheldrickwildlifetrust.org/orphans/apollo. Accessed December 19, 2019.
Later, we were advised to choose a different orphan, so we could actually meet him or her in person. We ultimately changed our adoption to an adorable elephant named Kiasa; more about her in a moment!
Visit the Orphans at the Sheldrick Wildlife Trust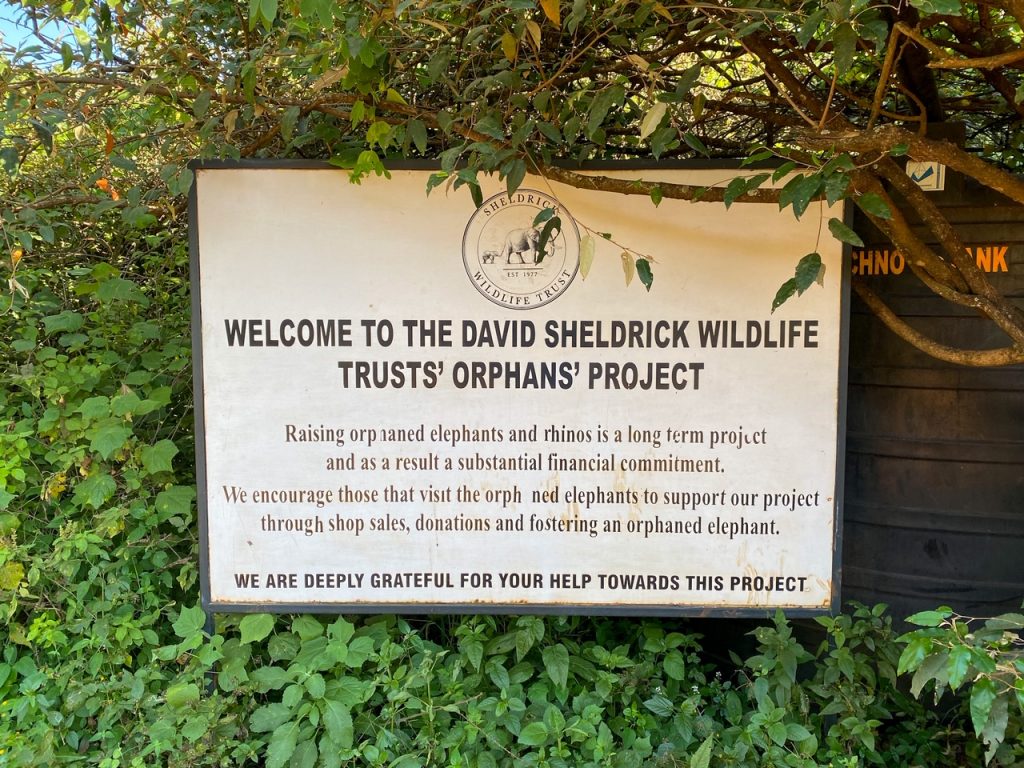 A fifteen minute drive from the Giraffe Centre, the Sheldrick Wildlife Trust is the most successful orphan-elephant rescue and rehabilitation program in the world. It's one of the pioneering conservation organizations for wildlife and habitat protection in East Africa, and their mission is as follows:
"Working across Kenya, our projects include anti-poaching, safeguarding the natural environment, enhancing community awareness, addressing animal welfare issues, providing veterinary assistance to animals in need, rescuing and hand rearing elephant and rhino orphans, along with other species that can ultimately enjoy a quality of life in wild terms when grown."
To date, the trust has hand-raised more than 244 infant elephants and effectively reintegrated the orphans back into wild herds. Wow! More information about the organization and how to adopt an orphan can be found on the Sheldrick Wildlife Trust website.
When we walked in, we saw the resident rhino named Maxwell right away. What a treat, considering I wouldn't get to meet the rhino I had originally adopted. Maxwell hung out by himself, and we learned that he was blind.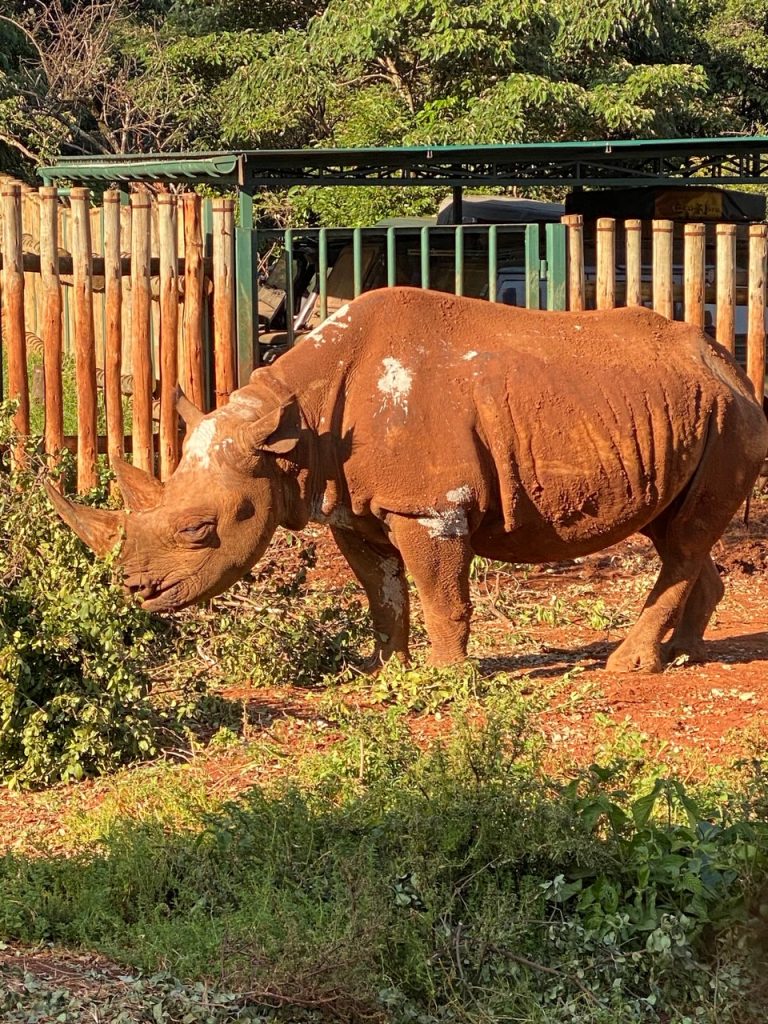 Next, we got to watch all of the elephants race back from the forest. How neat!
After discussing some basic rules, we got to meet our new adopted orphan, Kiasa, and she was absolutely beautiful!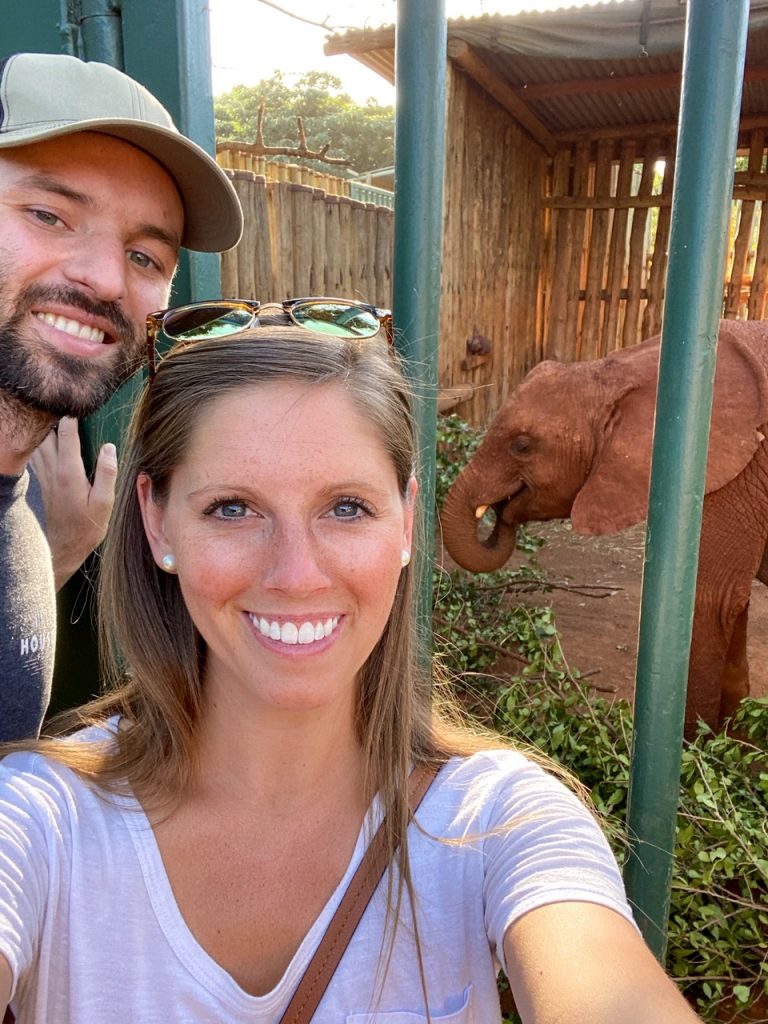 We were also able to visit the other elephants, and we could hear a giraffe, who was "in timeout", from his room. Considering I was obsessed with this place, I did a lot of research prior to our visit and recognized most of the elephants by name. I also recalled seeing a video of the giraffe's rescue and airlift to the nursery – too bad we didn't get to meet him.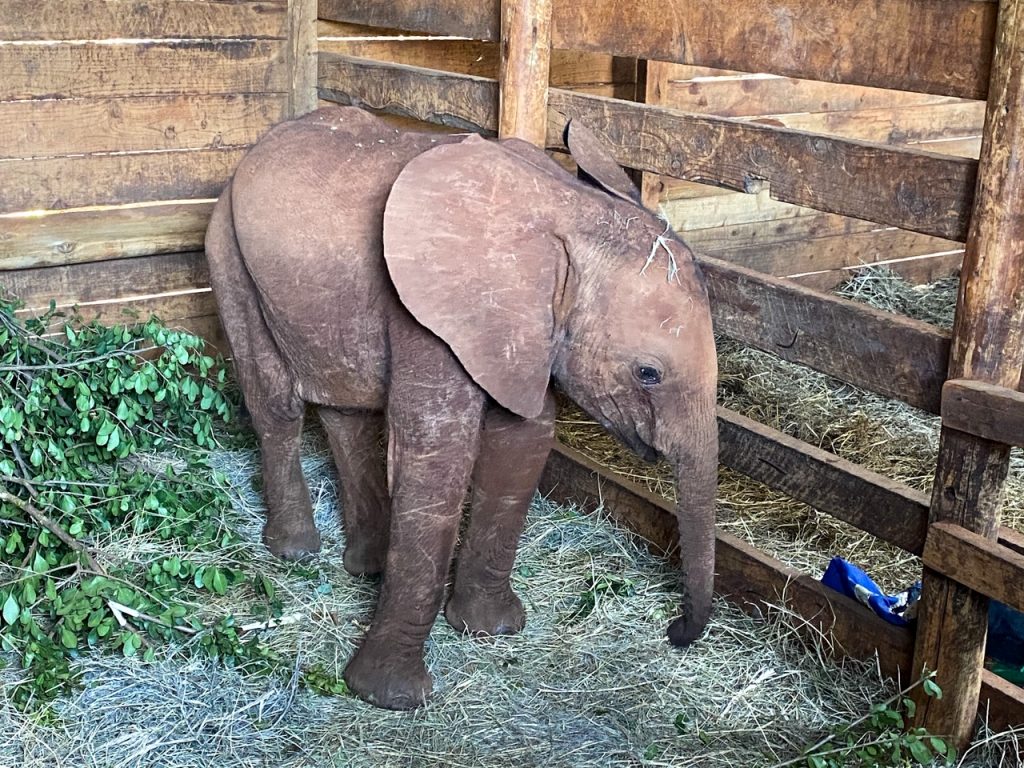 The whole experience lasted just under an hour, but we were so grateful we got to visit and pet some of the animals.
A Broad Recommendation: a visit to the Sheldrick Wildlife Trust is a must for any visit to Nairobi. It doesn't take much time, and the animals are wonderful. We also recommend doing some research beforehand to learn about the animals you'll be meeting. It was like placing a face with a name for us, and we were so excited to see these cute friends!
Eat at Carnivore
Although we missed eating here due to our travel delays, our friends had dinner at Carnivore. They had an all-you-can-eat smorgasbord of wild game/meat like ox, beef, ostrich, crocodile, etc. We heard that this place is a must-do, and our friends can attest that the food was pretty tasty. Unfortunately, my boyfriend and I couldn't be in two places at once; guess we'll just have to eat here next time!
Other Things to Do in Nairobi
There are lots of other things to do in Nairobi that we didn't have time for during our visit:
Giraffe Manor: an exclusive boutique hotel set on twelve acres of private land within 140 acres of indigenous forest. Known as one of the "most Instagrammed" properties in the world, a resident herd of Rothschild's giraffes visit throughout the day, poking their long necks into the windows. The hotel is generally booked up for years in advance, as there are only twelve rooms.
Karen Blixen Museum: one of the National Museums of Kenya. Once the centerpiece of a farm owned by Danish Author Karen Blixen and her husband, Baron Bror von Blixen Fincke, it gained international fame with the release of the movie "Out of Africa", an Oscar winning film based on Karen's autobiography. The museum is open to the public daily from 9:30 AM to 6:00 PM.
Karen Blixen Coffee Garden & Cottages: a small, exclusive poolside restaurant. Surrounded by trees and lush gardens, this is a cute breakfast or lunch spot.
We loved our time in Nairobi! If you're interested in exploring more of Kenya with us, we've also created blog posts for the other places we visited:
If you want to read about our whole African adventure down to the crazy flight experiences, long drives, lunch spots, excursions, souvenir shops, etc., check out our full Kenya post.
And, don't forget to pin it!
XOXO Travel A-Broads