If you've opted out of reading our longer Kenya post and are just interested in learning about what we did in Lake Nakuru National Park and Lake Elmenteita, then you're in the right place! Let me catch you up first, so you have a bit of context.
---
A BROAD REFRESHER
---
My boyfriend, Tim, and I, along with our friends – two other couples, Allison, Ryan, Emily and Bryan – are on a twelve day trip to Kenya!
Allison, Ryan, Tim and I had A LOT of issues getting to Nairobi, Kenya, which we may reference in this post.
Dennis, our driver through Sense of Africa, is the man!
It's Friday, February 7, 2020, and we are on day 7 of our trip when we make it to Lake Nakuru National Park and Lake Elmenteita.
I have been sick with some sort of respiratory infection for four days now.
---
*P.S. this post contains some affiliate links. At no additional cost to you, we may earn a small commission when you make a purchase.
Of our eight planned, action-packed days in Kenya, we spent just half a day exploring Lake Nakuru National Park and Lake Elmenteita. We left from Mount Kenya National Park around 8 AM, stopped at a couple of places along the way, including for lunch, and then made our way through Lake Nakuru National Park in the early afternoon. The total drive time was around four hours.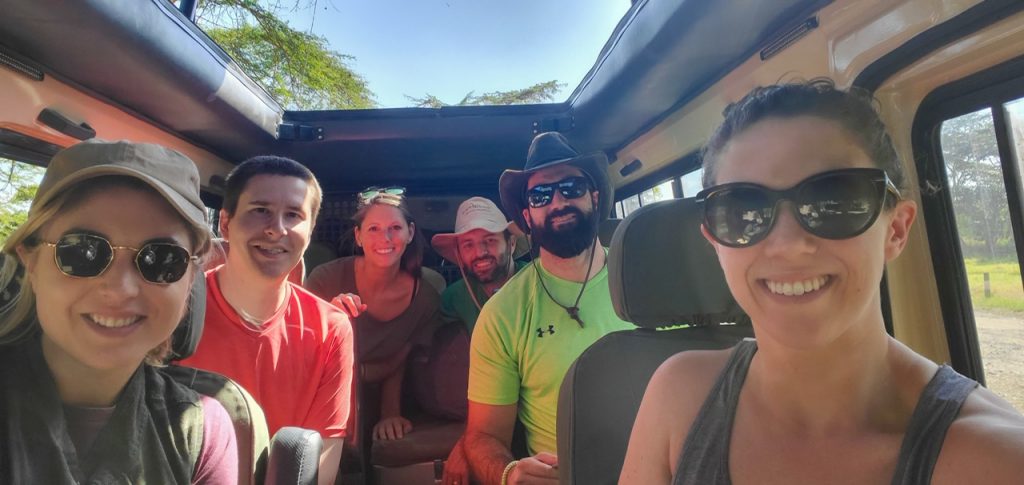 Note: Lake Nakuru National Park is just around three hours from Nairobi and Lake Elmenteita is only two hours from Nairobi if you don't plan on visiting Mt. Kenya National Park first.
Lake Nakuru National Park is home to thousands of lesser and greater flamingos, black and white rhinos, lions, leopards, hippos and the endangered Rothschild's giraffes. Due to rising water levels back in 2014, many flamingos fled but some have since returned, and the lake is now surrounded by drowned trees.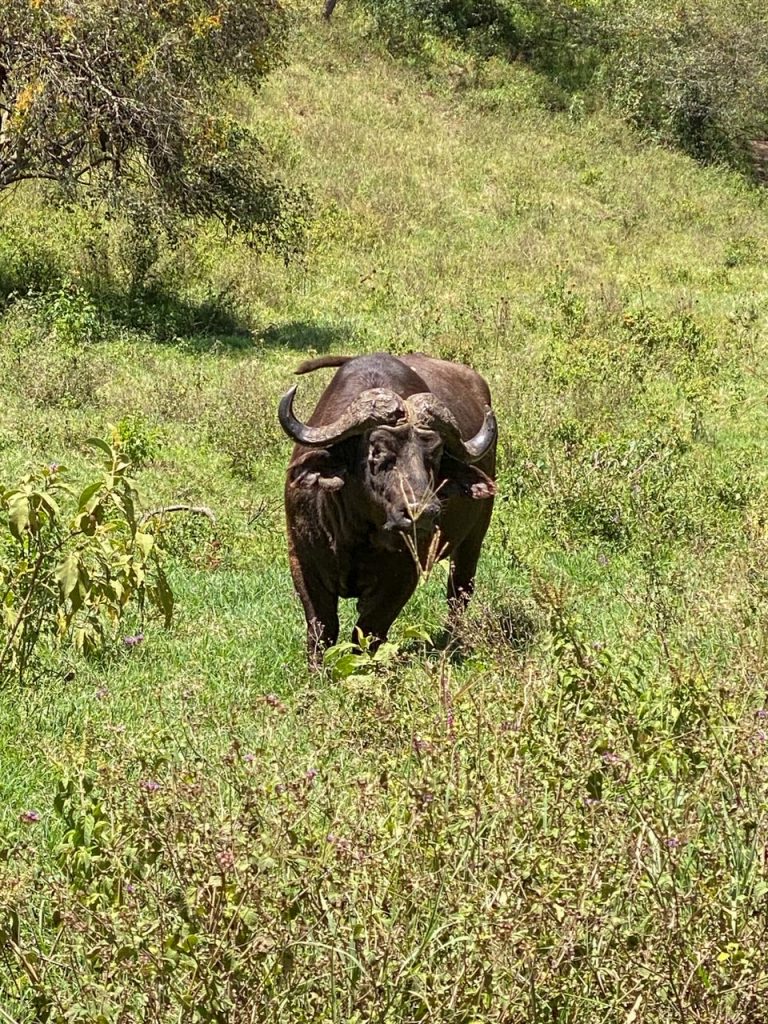 Almost right away, we saw lots of baboons and their adorable babies. We had seen many of these throughout the trip so far, and these were super close to the vehicle, so we spent a good bit of time watching them.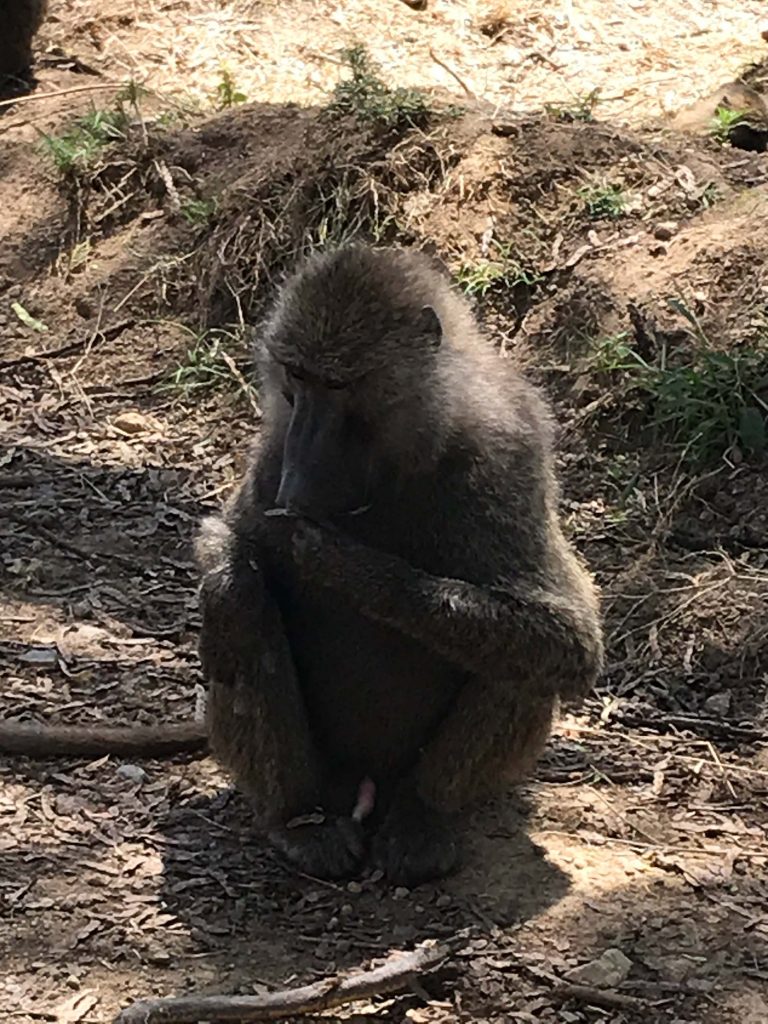 A Broad Recommendation: you should be very careful around monkeys, as they are smart and can get into just about anything; they also carry debilitating diseases like rabies, so steer clear of touching any of these guys – even if they come right up to your vehicle.
Then, we couldn't have been any happier when we saw two lions shading themselves under a tree right next to the road! We literally pulled up right next to them, and I thought I was going to start crying I was so excited. We had been waiting for this moment the whole trip!
Dennis mentioned that he noticed the lions seemed to be monitoring the area, meaning there may have been cubs hidden down below. Given the amount of flies and that these lions looked pretty young themselves, he predicted it was probably a fresh kill instead. Unfortunately, we didn't spot any cubs – that would've been incredible.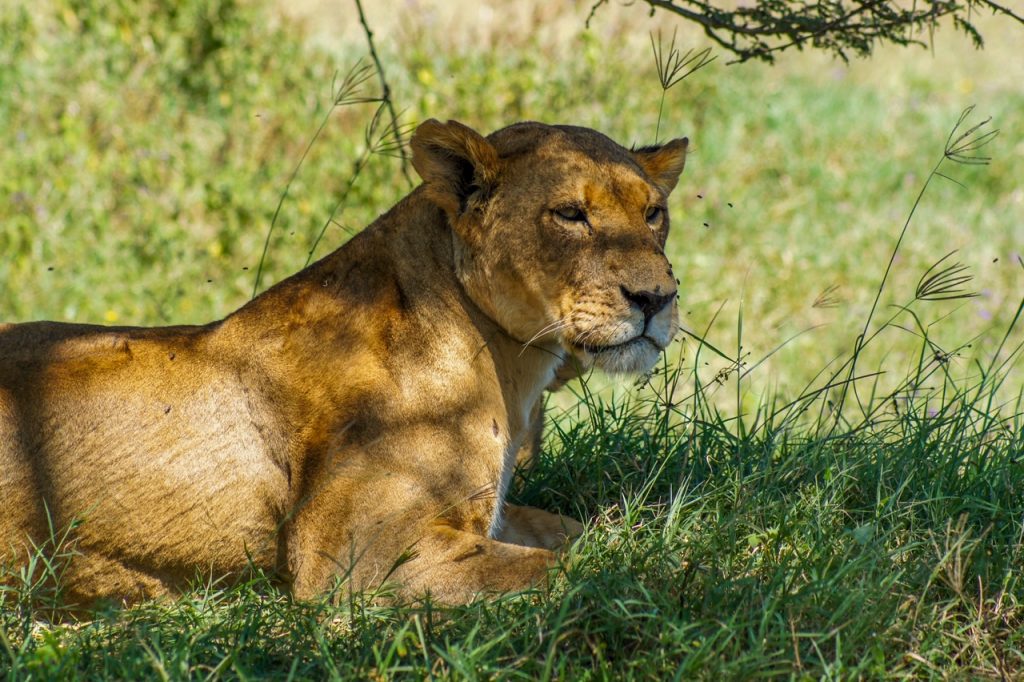 We obviously needed to take a million pictures, and of course, we needed to remember this moment with a selfie of us and the lions. Ha!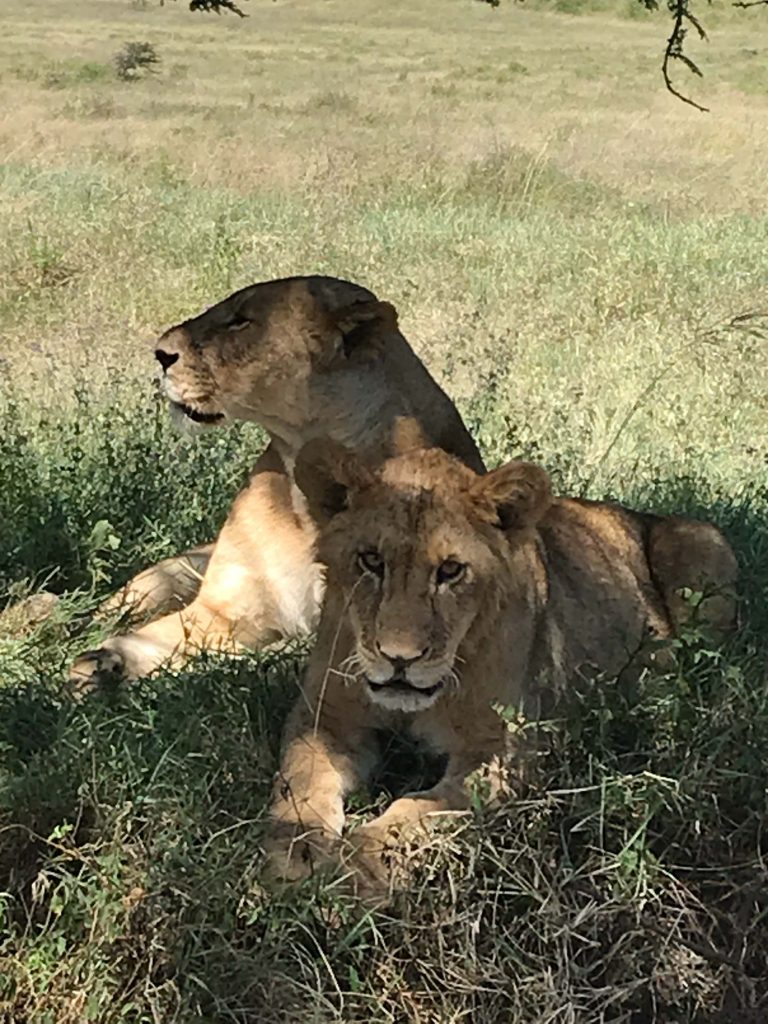 After that, another one of my dreams came true and I actually did start crying. I was so sick and couldn't speak at this point, so crying was the best way to express my excitement…haha. We came upon a crash of white rhinos, and there was even a baby rhino!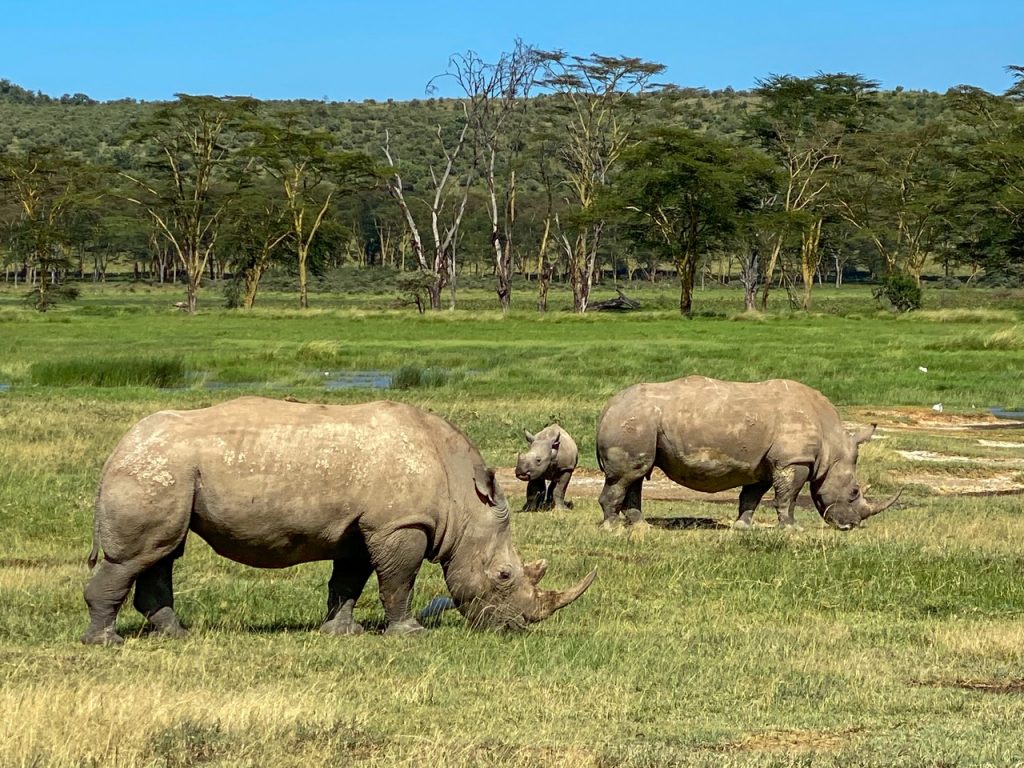 If you read our full Kenya post, you know I adopted a baby rhino from the Sheldrick Trust, and unfortunately, I didn't get to meet the little guy, so this definitely made up for that. This little guy was very cute!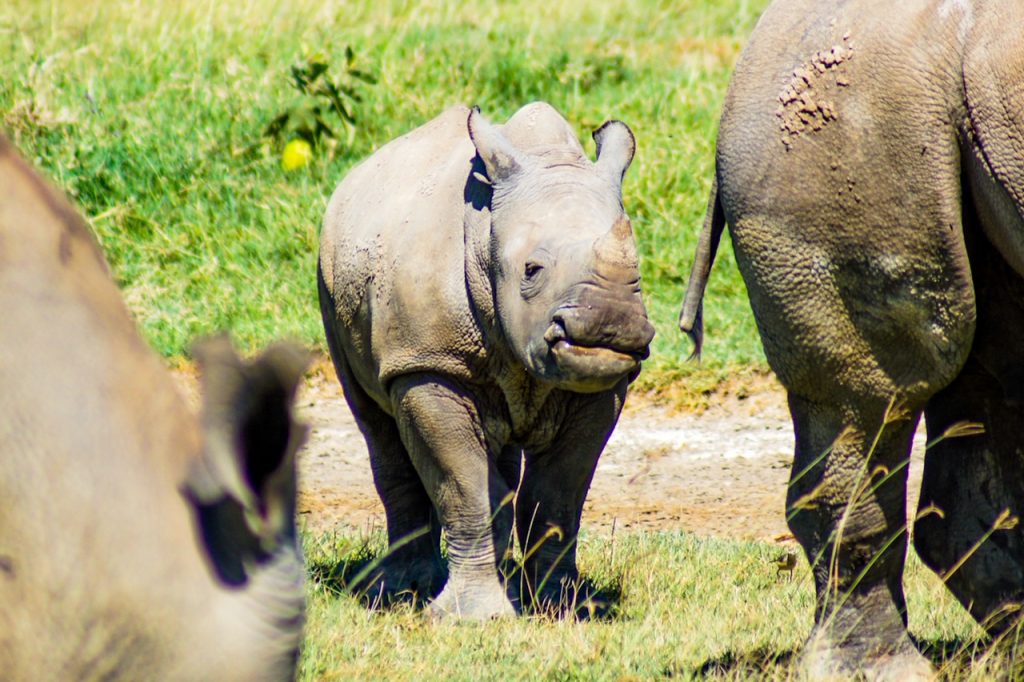 Here are some quick, fun facts about white rhinos:
The white rhino is one of Africa's two rhino species.
They are grazers that need to feed daily, but they can survive for up to 5 days without water.
Female rhinos often live in groups called "crashes". Males, who are typically solitary, will often be seen following a crash of females.
In the late 1800s, the white rhino population was as low as 100, but this has luckily improved to a current population of more than 18,000!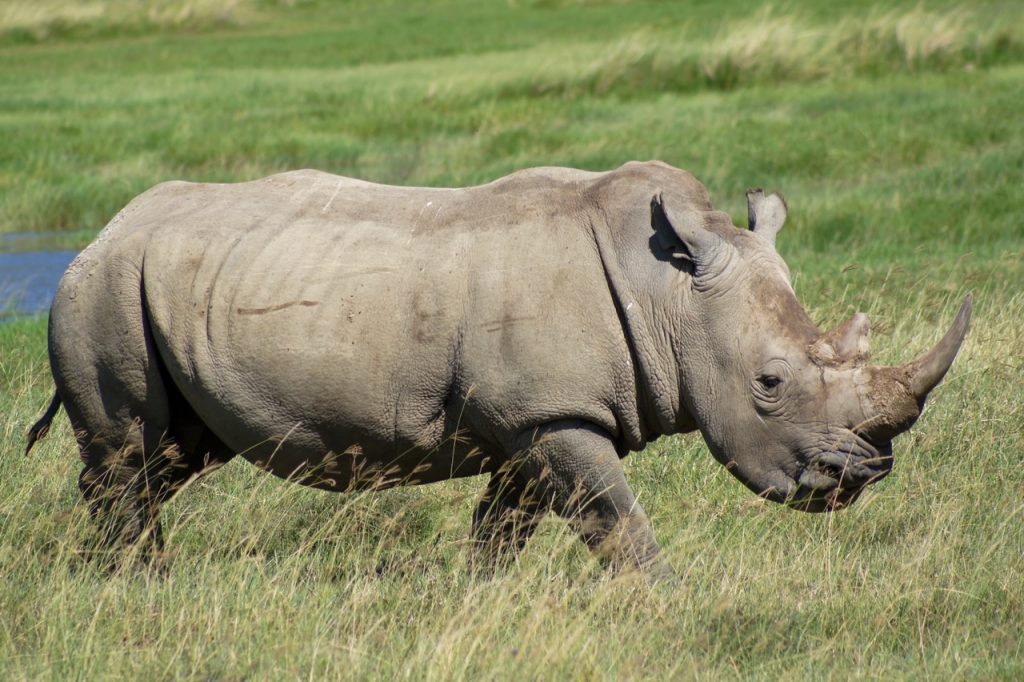 After driving away from the rhinos, we hopped out of the vehicle – which typically isn't advised, and Dennis snapped a few shots of all of us in front of the beautiful setting.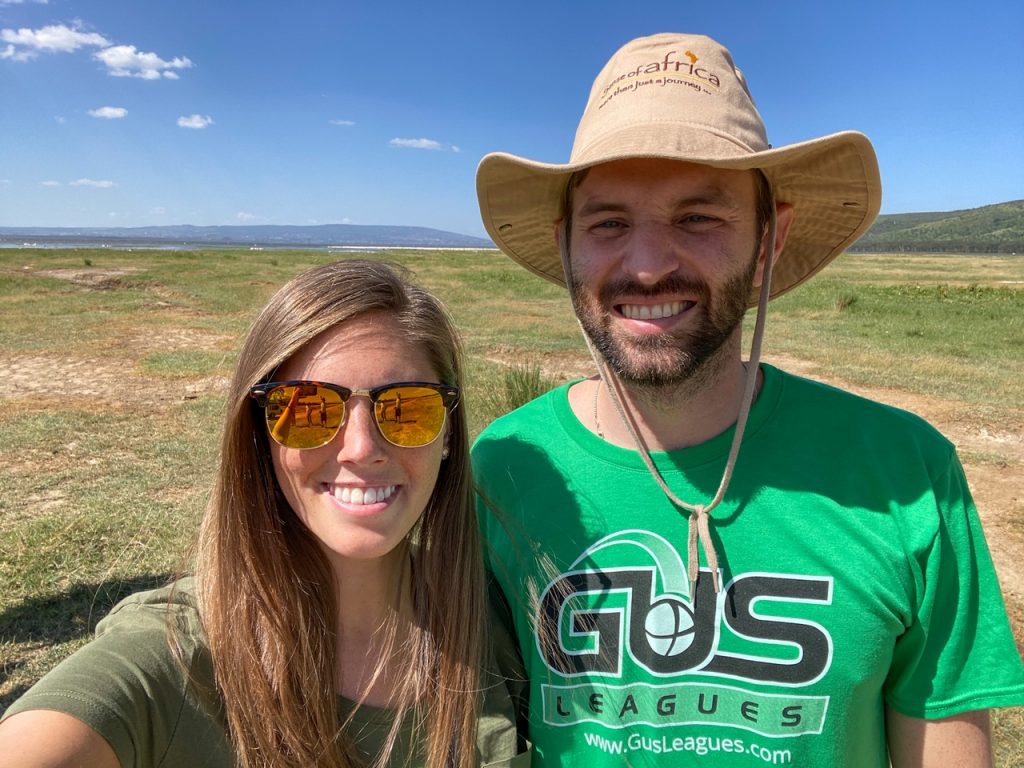 Around 4:30 PM, we made it to Lake Elmenteita Serena Camp and were promptly greeted with glasses of champagne all around – Dennis included. What a special welcome treat!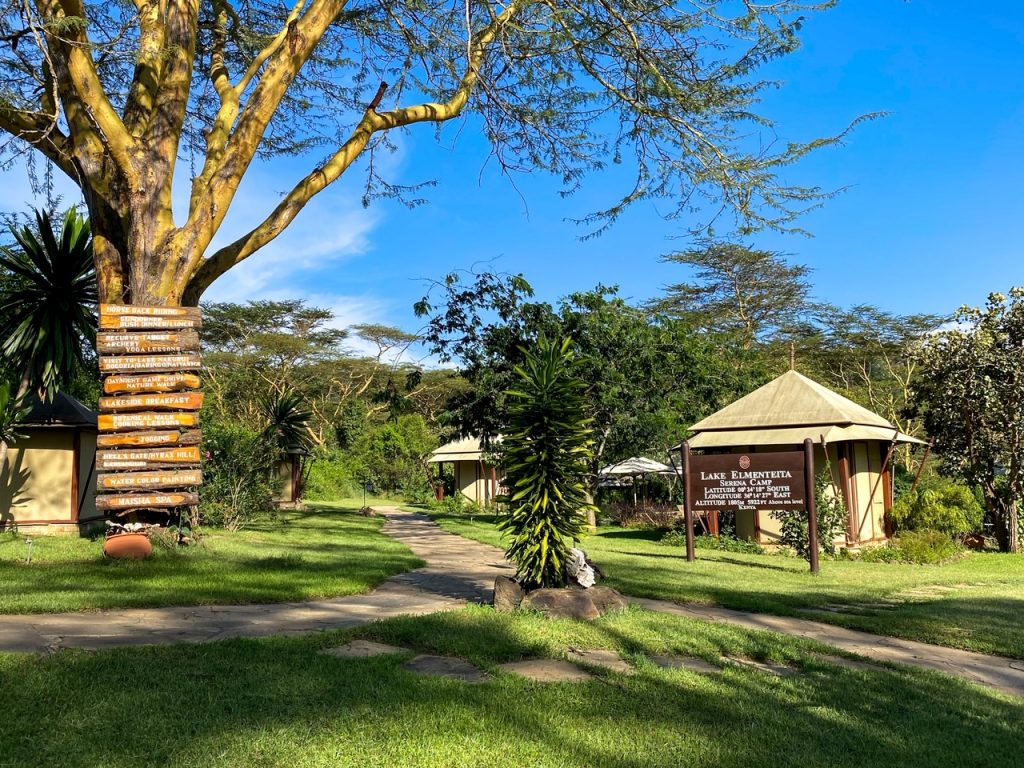 Located in Kenya's Soysambu Conservancy, the camp offered stunning views and overall was absolutely fabulous. The rooms were massive with king beds, decks, showers that could fit like 10 people, etc., and there was a huge outdoor swimming pool. Massage services were also available on-site, and again, breakfast, lunch and dinner were all included with our stay.
I mean, c'mon you guys – look at this place!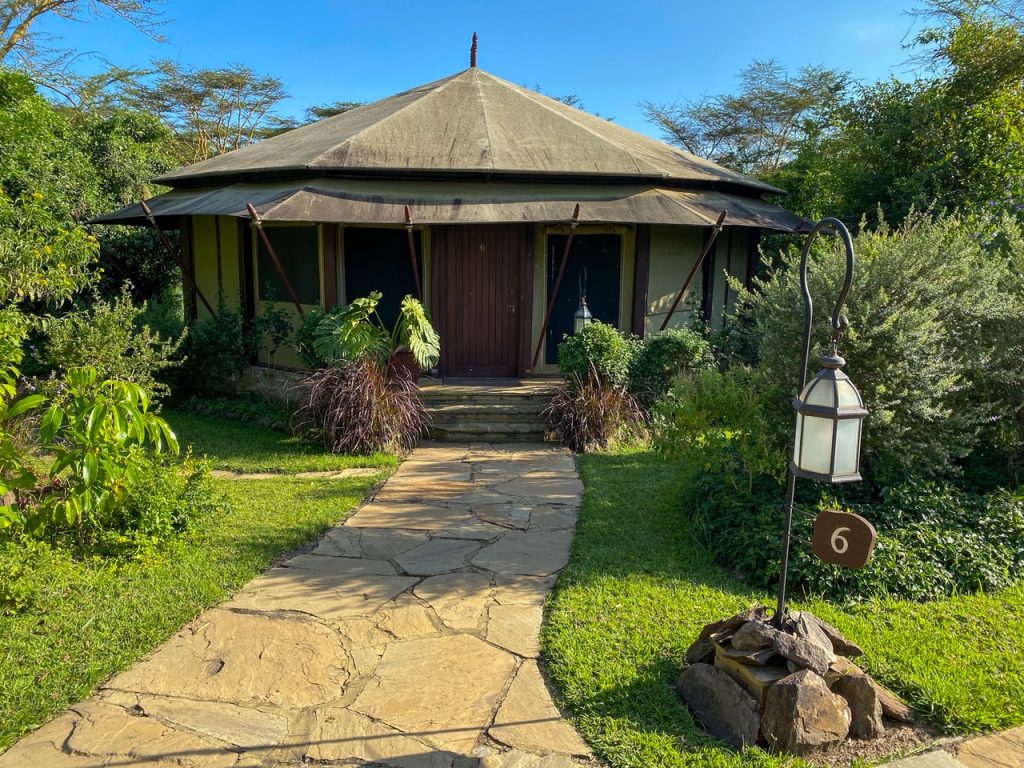 And, look at this incredible pool! We spent the rest of the afternoon here, popping bottles of champagne and taking in the breathtaking views, before getting ready for dinner.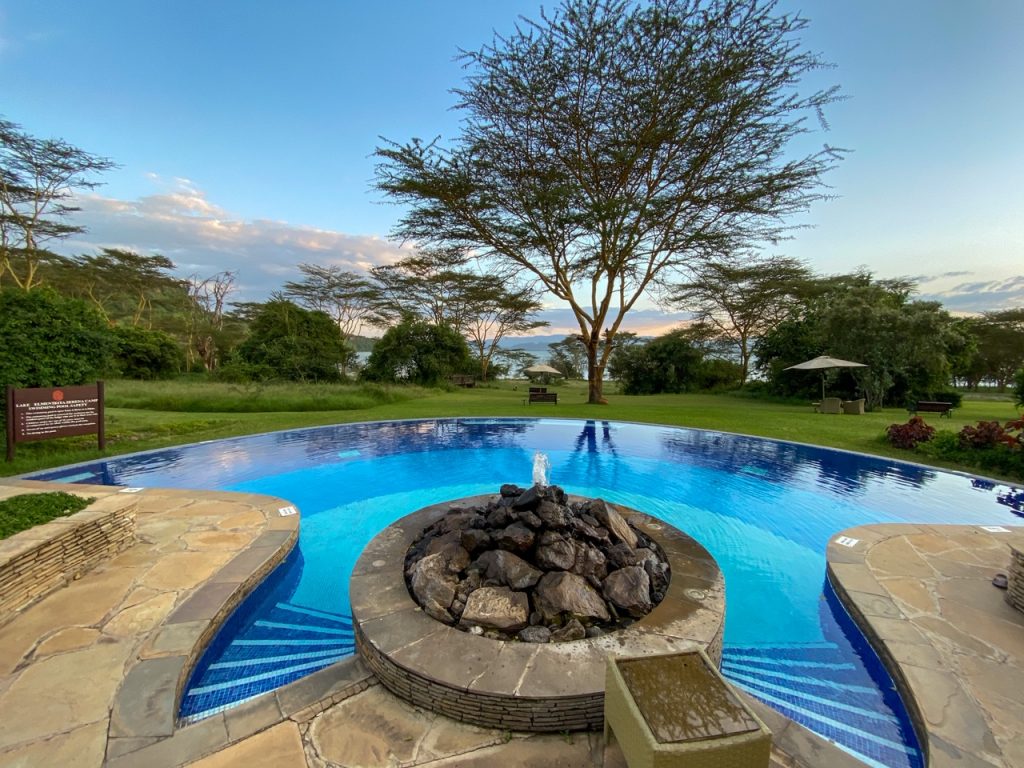 This was by far my favorite lodging of the entire trip, and I just couldn't get over how beautiful everything was. Elmenteita, which means 'place of dust', is a small soda lake which attracts flamingos and 400 other bird species. It's a World Heritage Site and is where Kenya's most famous settler Lord Delamere lived and did most of Kenya's early agricultural experimentation. The shores are often alive with wildlife like eland, kudu, zebra, gazelle, and warthog families.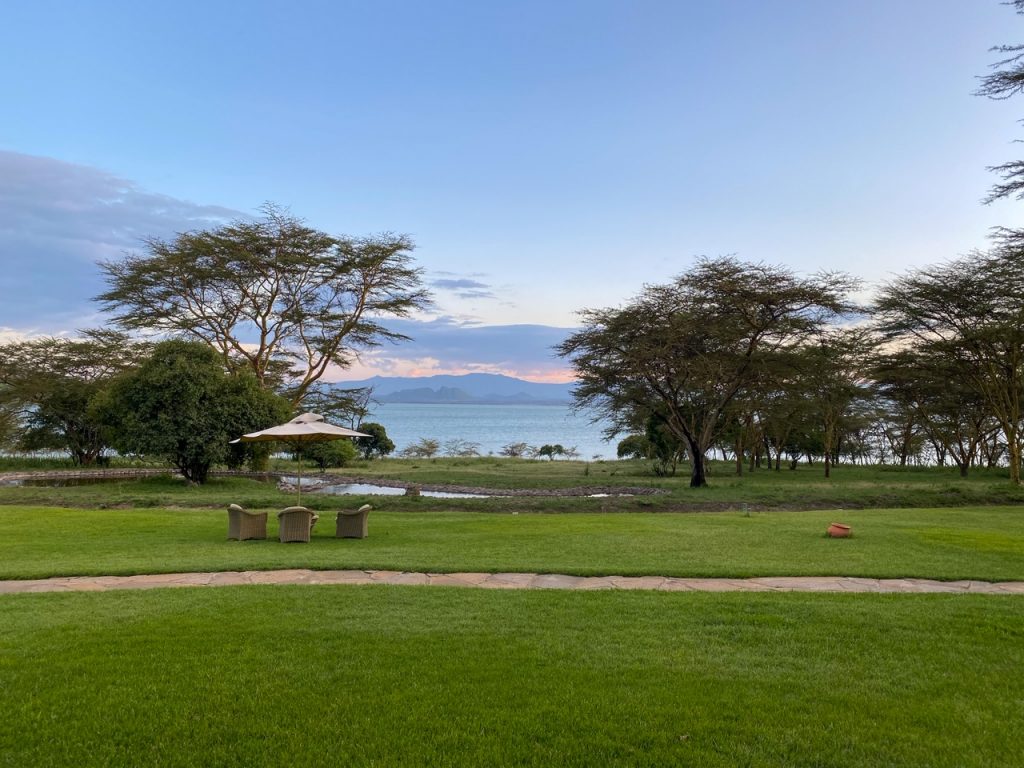 For dinner, there was a set menu, which had been typical of the trip so far; there were a few options for appetizer, aperitif, main course, cheese and crackers, dessert and coffee/tea, and we were practically the only group there by 8 PM.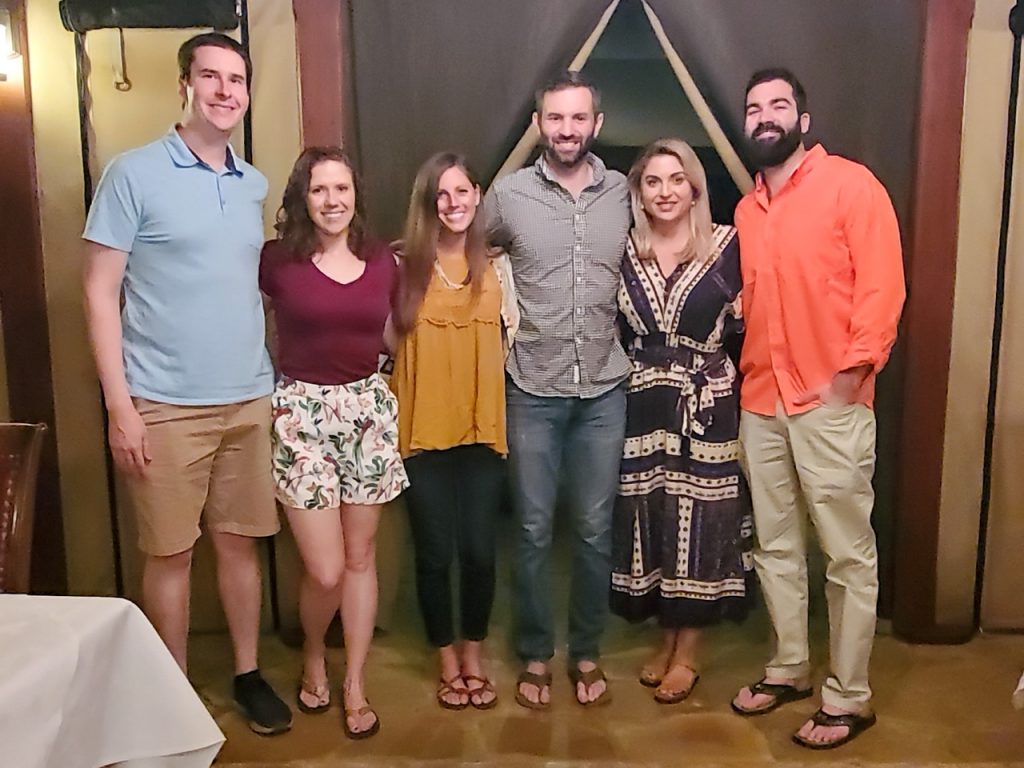 From our table, we could see zebras grazing and drinking from a watering hole just outside the camp boundaries. How neat!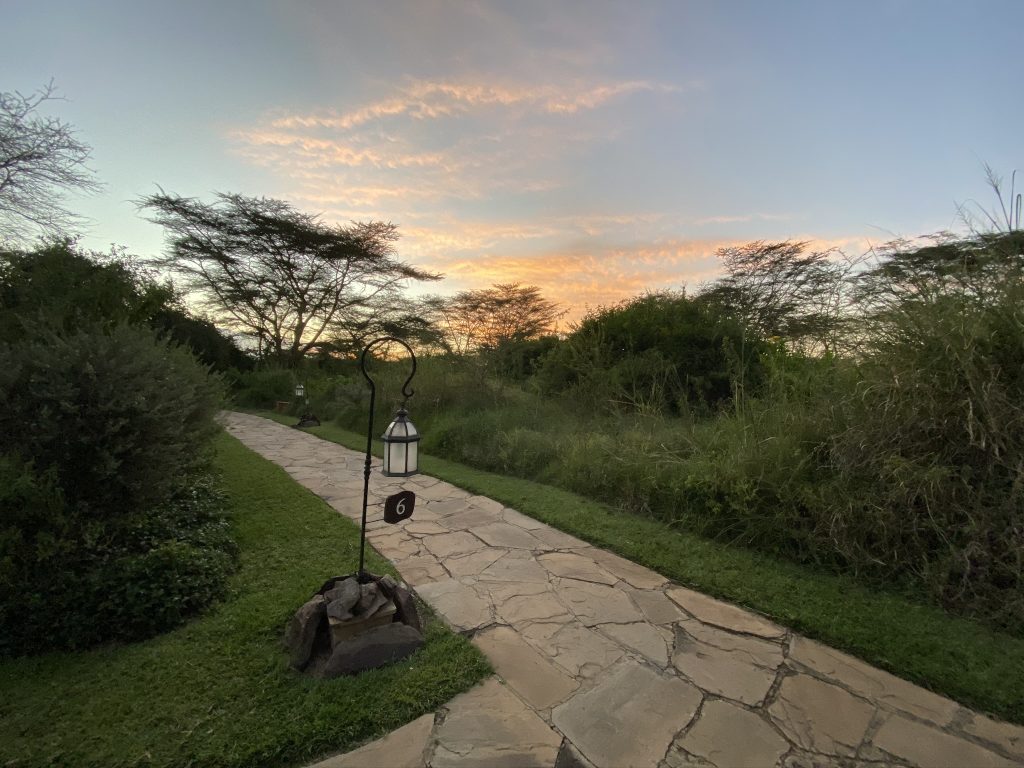 The next morning, we had a surprise breakfast planned. Some of the hotel staff walked us down a grassy path into the bush where the most adorable table was set up overlooking the lake and all the flamingos.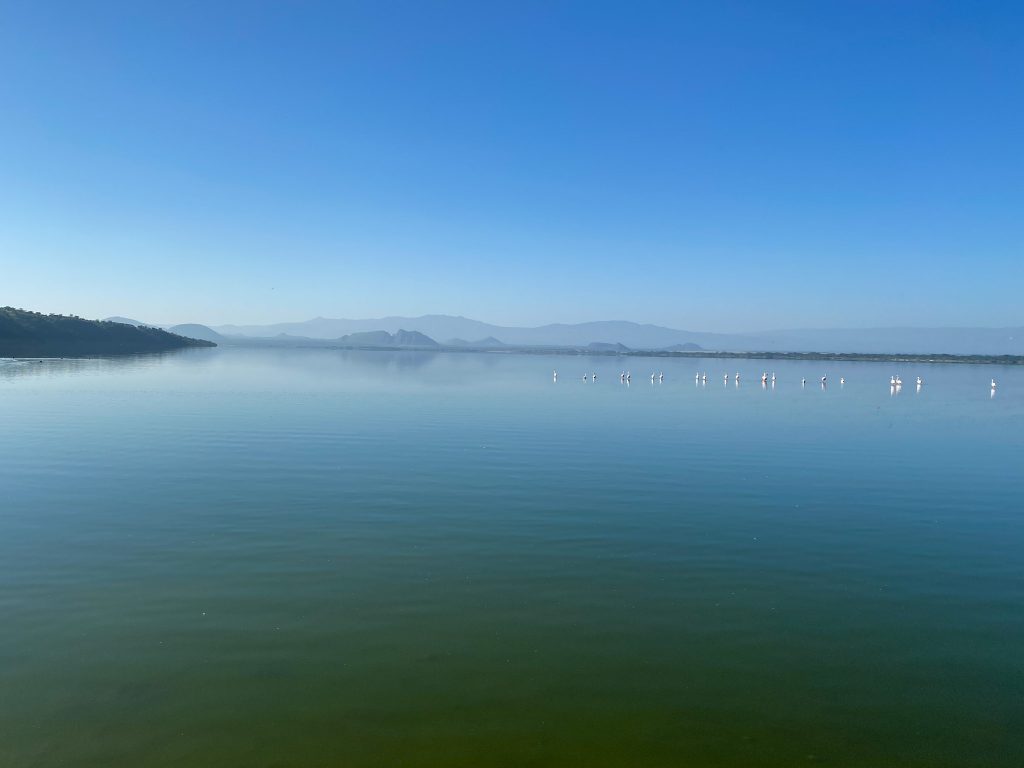 We were served champagne, and the staff was practically waiting on us hand and foot.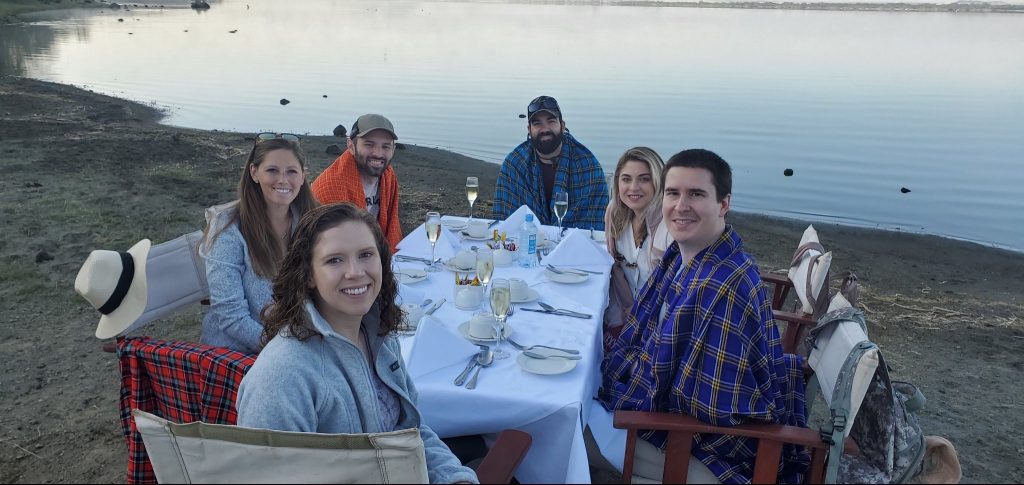 Everyone was having an amazing time, but by this point, as Allison would say, I was basically a walking "medicine cocktail" from all of the Mucinex, malaria pills, DayQuil, NyQuil and now antibiotics I was taking, so I was not feeling well at all.
The service was so impeccable that at one point, one of the waiters came over to check on me to see why I hadn't finished any of my breakfast – to this, I immediately responded by standing up, turning around and running approximately two to three steps before projectile vomiting everywhere. OH MY GOSH. So embarrassing!
A Broad Recommendation: Malaria pills and antibiotics can mess with your stomach during your travels. Make sure to eat first before taking medicine. I was feeling so bad that I took my medicine upon waking up, and this clearly didn't not pan out well.
Side note: this was the only time on our trip that anyone was given free water – I guess I earned it!
The staff offered to take me to the hospital, but I was feeling much better after throwing up and was able to finish eating my breakfast. I was even able to muster a couple shot in front of the beautiful backdrop before we headed back up to the camp.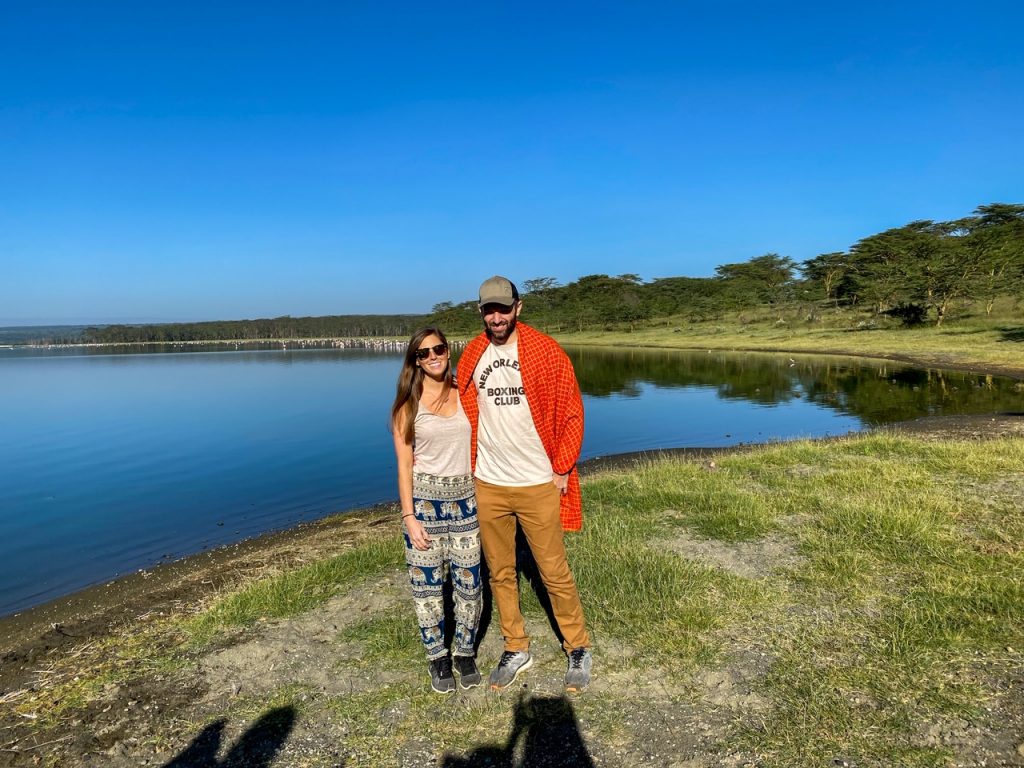 Originally, the plan was to be picked up by 8:15ish AM, but we ended up leaving around 9 instead due to unforeseen circumstances. From here, we made our way to the Maasai Mara National Reserve where we would wrap up our African adventure.
We really enjoyed our visit to Lake Nakuru National Park and Lake Elmenteita and were all obsessed with the Lake Elmenteita Serena Camp. We would've loved to spend more time here if our trip had been longer! We would highly recommend visiting here during your trip to Kenya!
Check out our Maasai Mara National Reserve post to see what we did there, or if you want to hear about our whole African adventure down to the crazy flight experiences, long drives, lunch spots, equator demonstrations, souvenir shops, etc., check out our full Kenya post instead.
And, don't forget to pin it!
XOXO Travel A-Broads