2021 brought a new year and new (albeit modified) travel plans! Our first trip was to celebrate my 30th birthday in early January, and given the Covid vaccine was not readily available to most people our age at that point, we wanted to make sure we were super cautious.
Ultimately, I decided on a local trip to Fredericksburg, TX, which is better known as part of Texas Wine Country! We figured this was a good option – assuming we got lucky with the weather – because vineyards tend to have outdoor seating, and we would be able to plan in a way that everyone coming on the trip would feel comfortable. This did limit the number of people who could join us, and we ended up with a group of seven friends who all live in Texas and therefore would be able to drive.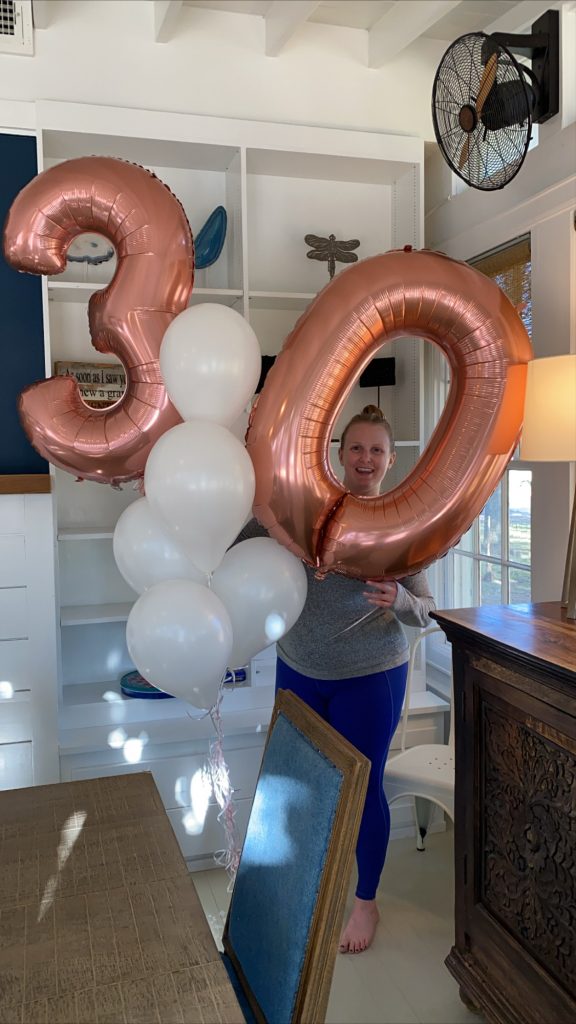 In the spirit of being extra cautious, I requested that everyone get a Covid-19 test the week of the trip – and they all came back negative, so we were ready to go!
---
A BROAD SUMMARY
---
Lodging: New Designer's Retreat booked through Airbnb
Tour: Reserve Tours for amazing service and assistance in planning your winery tours!
Wineries: Signor Vineyards, Ron Yates Wine, and Ab Astris Winery
Food: Altdorf Biergarten for some German cuisine
Groceries: H-E-B just off of Main Street
---
Sara and I drove up early on Friday with our friend Chloe and grabbed a quick bite to eat at the Altdorf Biergarten, located right on Main St.
Fun fact: For those who are not aware, Fredericksburg is a German town in Texas, so that theme is found throughout.
The outdoor seating here was super nice, and it was lucky that even in the first week of January, the sun was shining for us. We split a 'Warm Soft German Pretzel' as an appetizer and enjoyed a super delicious grilled cheese sandwich that we fortunately had the foresight to split (it was gigantic)! We stayed here for a bit and then went to the HEB with our pre-made list to buy groceries for the weekend, including some wine for the house.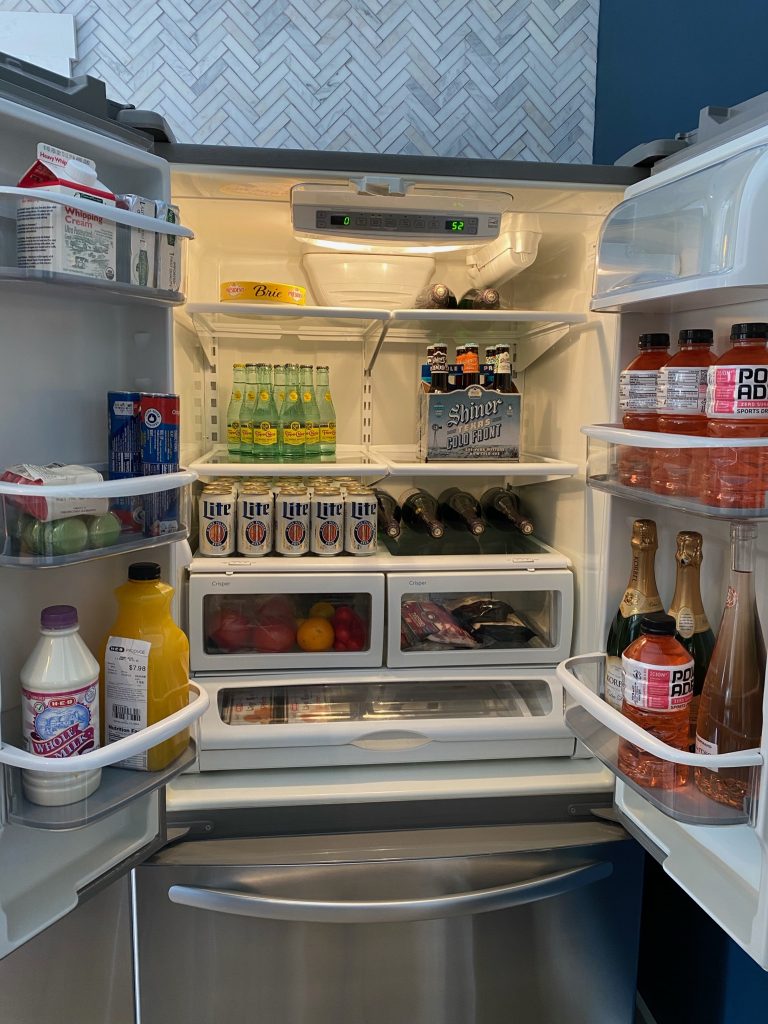 A Broad Recommendation: If you're traveling and staying in an Airbnb, or similar type of lodging, planning ahead, making a menu for the group and buying groceries to have at the house is a great way to save money while still have super yummy meals!
When we arrived at the house, ready to unload the car and unpack our bags, we were so pleasantly surprised! It was only about a quarter mile off of Main St. and had the perfect layout for our group.
When we decided to stay at an Airbnb, I tried to find one that had a good layout for a group our size, given that our plan was to arrive at various times on Friday and to hang out at the house for the most part, other than a trip to the wineries on Saturday.
The house I booked – super last minute because that's how I roll – ended up being a huge hit; the pictures on the website just don't do it justice! The house was actually two separate buildings, the first of which had two large bedrooms, a living room, and a huge kitchen with an eat-in kitchen area and an additional dining room.
Outside was another dining table that sat under a gorgeous tree with twinkle lights that came on at night, a fire pit and the front porch to house number two, which had two beds and a bathroom.
This was where Sara and I stayed, along with one other friend (we let the two couples on the trip have the privacy of their own rooms). Sara's favorite part of this house was the huge bathtub, though I'm not sure she got a chance to enjoy it.
Originally, we considered going somewhere in town with outdoor seating while waiting for everyone in our group to arrive, but the house was so nice that we opted to stay in and waited for everyone to arrive when they could. In the meantime, we poured ourselves some wine, grabbed a few snacks and sat in the backyard, enjoying the beautiful day.
That first night, we took the easy way out and ordered pizza delivery for dinner – we were having way too much fun to stop and cook. Sara had never met most of my friends before, but they all loved her right away and she fit in like she'd always been a part of the crew.
We turned on the fire pit when the sun started to go down, since it had gotten way colder than we had expected, and we talked, roasted marshmallows for some s'mores, played music and danced around until about 11 PM, which was the time our hosts had requested we go inside so we wouldn't disturb the neighbors.
Going inside definitely didn't end our party though – we continued to hang out and talk and dance around the kitchen for several hours (and got through more of the wine than we'd intended to on that first day – oops!).
Saturday morning, the lovely gentlemen in our group made us all some breakfast tacos with the groceries we'd purchased the day before, and then we got ready to head to some vineyards.
This part of the trip took the most research on my end because I was very concerned about not using Ubers or other ride-share options due to Covid. I ended up finding Reserve Tours, which provides vans that look similar to airport transportation, but the insides have been renovated to look more like limos.
They had a minimum requirement of eight guests for the weekends according to their website, and we would only have seven people, so I'd called them hoping they could make an exception (they charge per person, so I wasn't sure if they'd be able to accommodate us).
It turns out that I had nothing to worry about! The woman I spoke to, Leigh, was so kind and said it would be no problem. Not only that, she said they were out of cars for our size group for that day, but she would upgrade a larger group to one of their vans that holds twenty people so that we could use the smaller van. So nice!
She then asked me what we were looking for in terms of wineries, and I told her we were hoping for outdoor seating at locations that were taking social distancing seriously. She got back to me later that same day with some recommendations for boutique wineries that could accommodate our group size and my specific requests. Once I signed off, she handled making the reservations on our behalf, and we were even able to opt in to have them tip 20% at each location, so that at the end of the day, we just paid once directly through them.
The other benefit of this option was that on Saturday morning our driver, Kris, picked us up right at the house – and, he was so nice!
Our first stop was Signor Vineyards and was probably my favorite location of the day. We pulled up and the gardener was standing right out front with these huge shears, which obviously cracked us up. Once we walked 'inside' though, it was absolutely beautiful.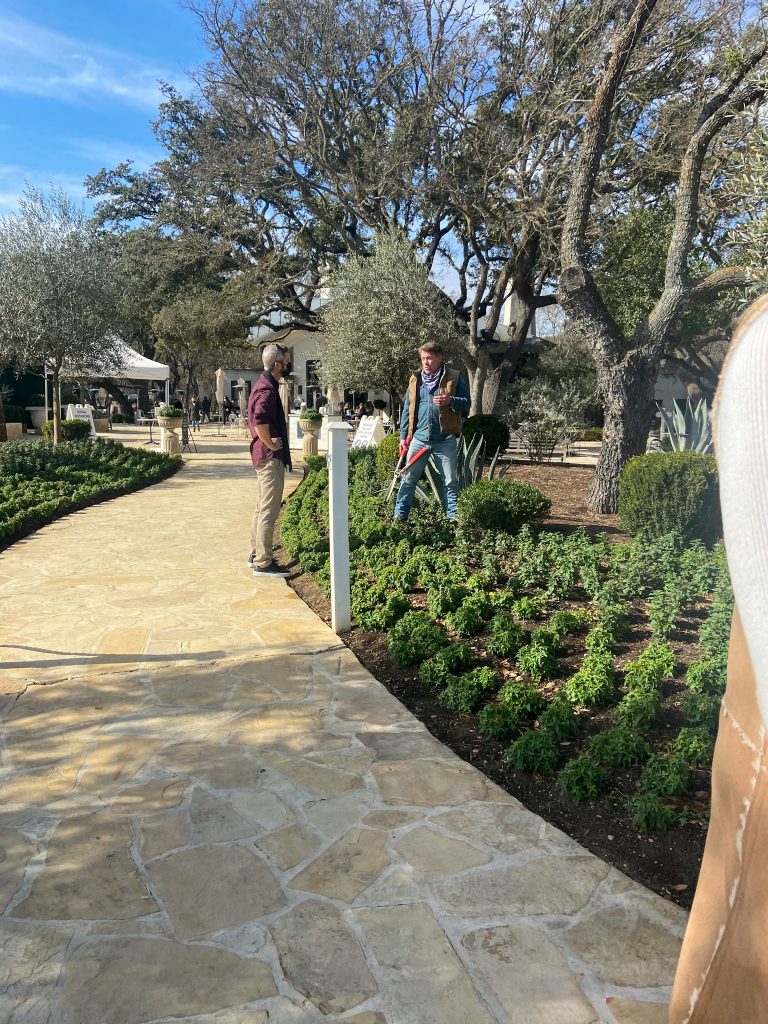 Our reserved table was off to the side in a private, little nook; the only downside was the heaters were a bit far from us, so we just had to ask them to bring one over. The tasting we did here included four wines, two white and two red.
When we were close to the end of our time, Kris came over to let us know and to inform us that there was a cute boutique shop on site called Joanna's Market. We were concerned because a few of us were still drinking our last bit of wine, but it turns out we were allowed to take it with us!
After a bit of perusing, we all loaded up back in the van to head to our second stop! Due to the cold and dry weather, we had a last minute change of plans and headed to Ron Yates Wines instead of our original choice, Sandy Roads Vineyards, where we had planned to sit outside by a fire (marshmallows included for roasting).
Here we received a private tour of the facilities and ended up sitting inside (but we were the only table) while our guide gave us background on each wine, along with a delicious plate of cheese and meats. They even gave us the option to request they open the garage doors if we were uncomfortable with the indoor seating, but given we were the only people there we didn't feel the need to do that.
We had an absolute blast at our private party here and entertained ourselves by asking our guide mathematics questions.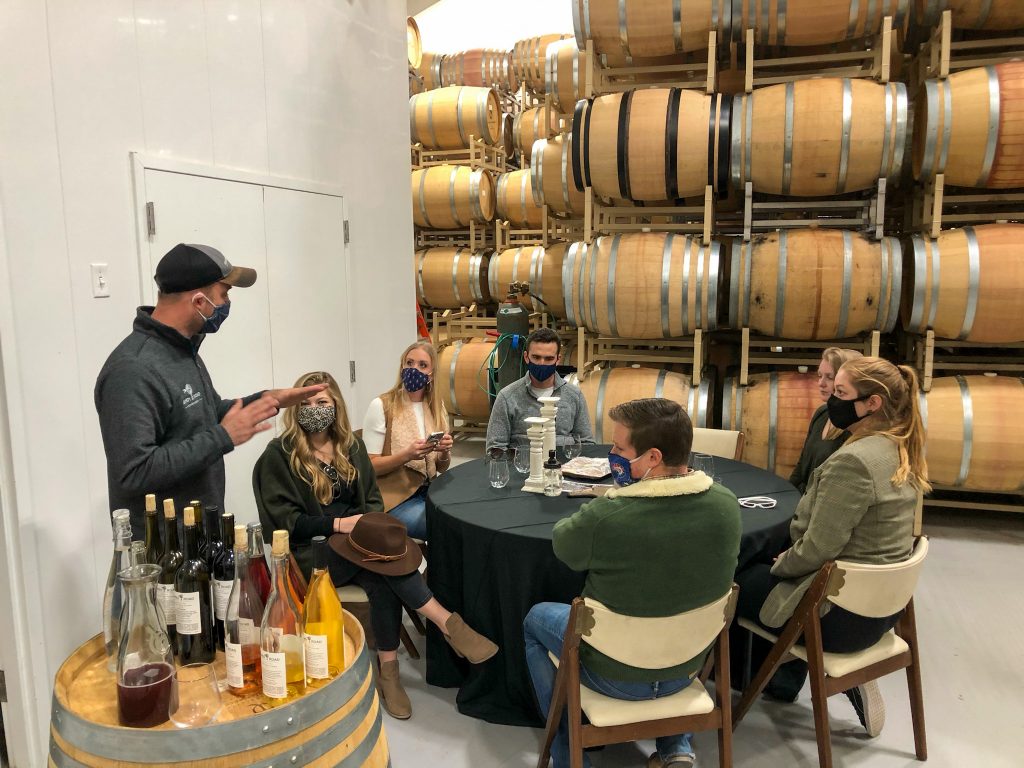 Stop number three was Ab Astris Winery, which was the most crowded spot that we'd been to all day – granted we arrived here around 2:30 PM, so it makes sense more people were out by then. Even so, our table was reserved and separate from the general crowd. They brought over blankets for each of us, since it was so cold outside by this point, and they also had live music, so the atmosphere here was really fun.
Kris kept us on track and herded us back toward the van when it was time to head out, and he even stopped at HEB for us so one person could run inside to get the provisions we'd forgotten to buy the day before.
The drive home was a mini party on the bus, as we were able to hook up our own music and put the divider up so we weren't distracting Kris too much as he drove us home.
When we got back, a few people from the group, Sara included, walked over to Main St. to window-shop – there are lots of cute stores in town – while the rest of us napped and watched a movie. Obviously, we had to watch 13 Going On 30 since it was my 30th birthday, and I was in fact thirty, flirty and thriving!
That night, my friend, Cole, made us two types of pasta – his famous cheese pasta, as well as a fancier, more grown up pasta. We then spent another evening outside by the fire, and everyone dispersed to bed a bit earlier after our full day of activities.
We woke up the next morning to snow falling – which is super rare in Texas!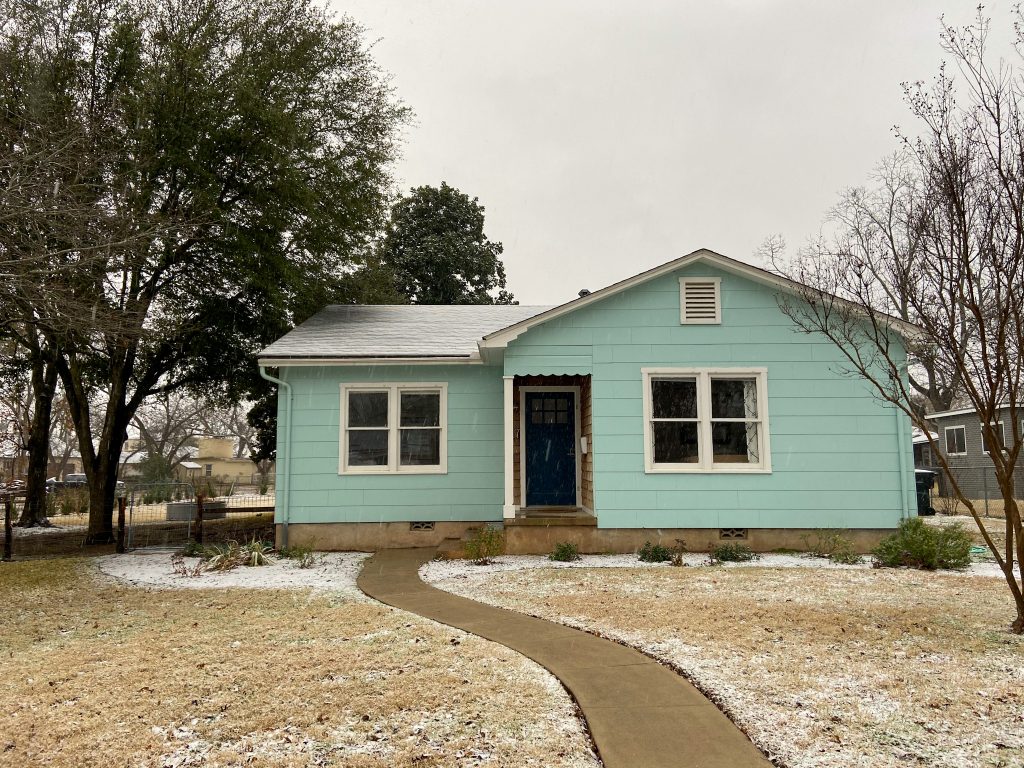 Some of my friends had woken up earlier, since they had a longer drive, and they cleaned up most of the house for us – so sweet! We just had to go through leftover groceries to divvy them up before we could head home.
A Broad Recommendation: When traveling in a group try using an app to track all your spending. We recommend Splitwise, which lets you all track your spending in one place and then pay up at the end of your trip via Venmo – linked right in the app!
The snow had us all a bit worried, so we left earlier than we'd planned, but this was still a trip for the books, and we would definitely recommend this little getaway!
Back in 2019, Sara visited Fredericksburg with some of her friends as well, and we wanted to share some of her favorite spots from that trip (note: though these may be open, we haven't done our own research in terms of safety concerning Covid-19, so we highly recommend you do so before visiting to ensure you are comfortable with your experience):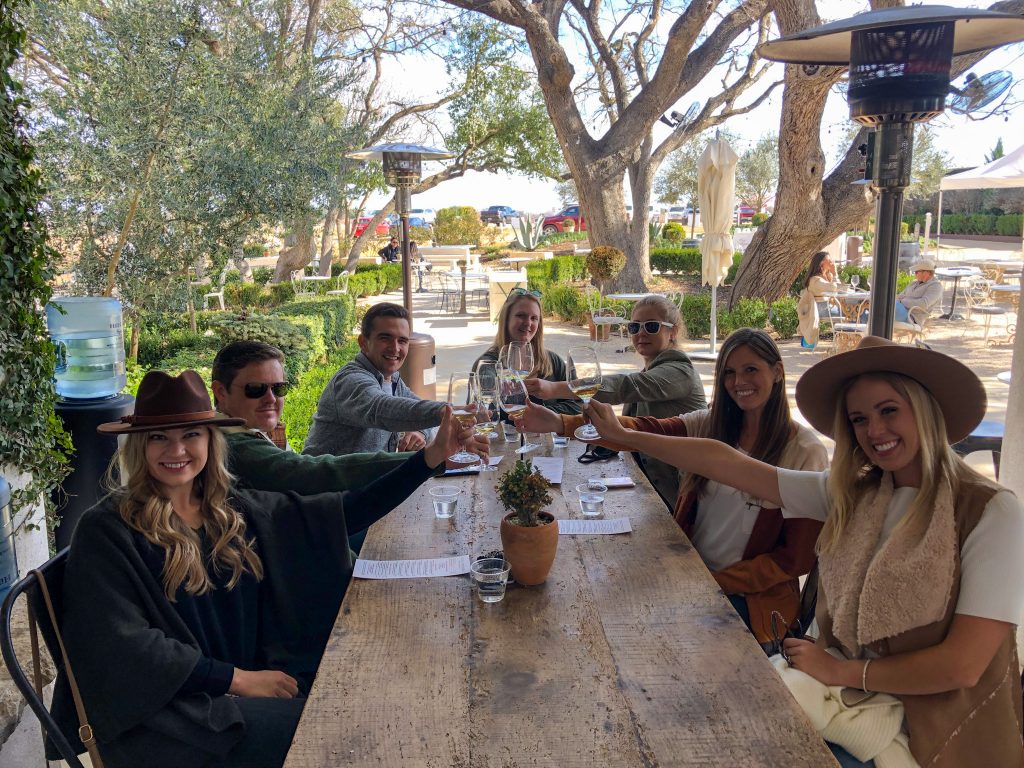 Have you ever visited Texas Wine Country? Let us know in the comments!
Check back soon to see where we went next! And, if you are traveling in the U.S., check out some of our other blog posts here:
XOXO Travel A-Broads