With COVID-19 still looming and almost a year of stalled travel plans, my boyfriend, Tim, and I made the somewhat risky decision to join my brother, Don, and his fiancé, Kristina, on their trip to Deerfield Beach, Florida for Don's 30th birthday.
Day 1: Getting to Deerfield Beach
Drive/Fly to Deerfield Beach
Don and Kristina left early Saturday morning, planning to drive most of the fifteen or so hours from Maryland. But, they ultimately decided to stay overnight near the border between Georgia and Florida. Tim and I flew out Saturday afternoon, arriving at Fort Lauderdale-Hollywood International Airport around 6 PM. From here, we took a $43 (including tip), forty minute Uber to the apartment in Deerfield Beach, where we would be staying all week.
A Broad Recommendation: We are always looking for a good deal! We booked round-trip flights through Southwest Airlines for just shy of 11,000 points each (which would equate to about $50-$70 each way without points) – quite a steal! After not flying for almost a full year, we both had a lot of points racked up, and I have a Southwest Rapid Rewards credit card, which gives me even more points.
A Broad Recommendation: we double masked, found a row on the plane entirely to ourselves, wiped everything down, including seats, seatbelts, overhead lights/fans, armrests, tray tables, etc., and kept hand sanitizer handy throughout the flight. We also made sure not to sit anything on the middle seat between us (even though we wiped it down) or in the seat-back pockets – just not worth the risk!
Stay at Cost Este in Deerfield Beach
We found Costa Este Beach Vacation on hotels.com. It was very affordable and easily walkable to the beach – so basically perfect for us! And, Don and Kristina were able to change their original reservation, so we ended up in the apartments right next door to one another.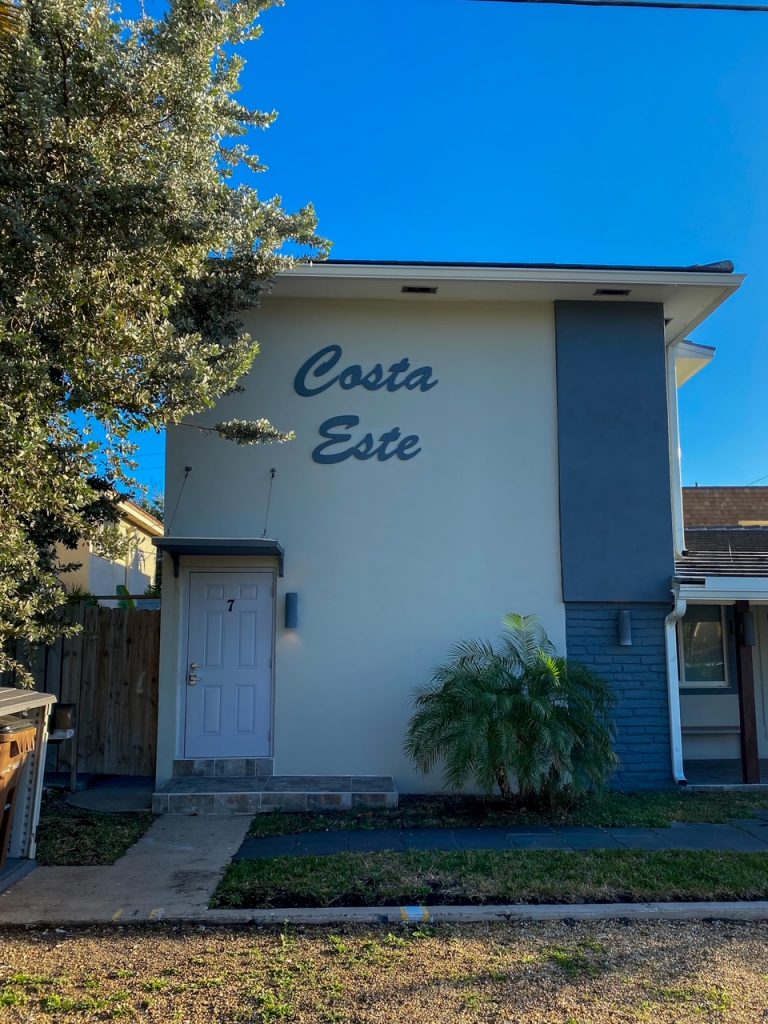 The apartment was a standard studio with one queen bed, a bathroom, a desk, a full-size fridge, and a kitchenette. In our opinion, just over $800 for six nights with free cancellation was totally worth it; Don and Kristina paid even less (albeit for five nights) with the non-refundable option.
A Broad Recommendation: I love booking stays through hotels.com and have used them throughout Thailand, Vietnam and the United States. They typically help me snag some really great deals. And, they give you one free night for every ten nights you complete or a discounted night if your eleventh stay is more expensive than the average cost of your first ten. Who doesn't love free stuff? I also used Rakuten, formerly eBates, at the time of my purchase to get cash back as well – how neat! For this trip, I got almost $36 back.
Eat at JB's on the Beach
After dropping off our stuff, we walked to the Deerfield Beach Boardwalk to find food. Most places had a fairly long wait, considering it was now 7:30 PM on a Saturday, but we were lucky enough to find JB's on the Beach. They had open seating options in the outdoor bar area, which was perfect for us!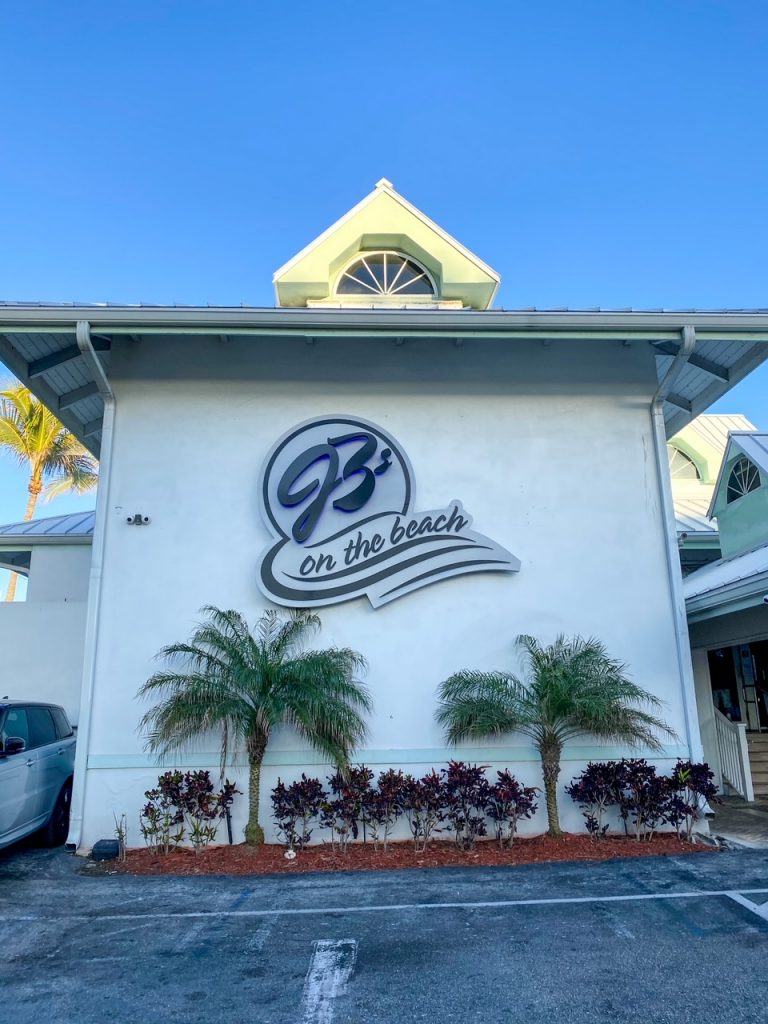 We found a high-top table socially distant from others and noticed that all of the hostesses and waiters/waitresses were wearing masks, which made us feel more comfortable eating here. We ordered the Dynamite Scallops appetizer, some wine and beer, and the Market Fresh Fish Sandwich and JB's Land & Sea "Popper" entrées. Everything was delicious, and our waitress was also kind and attentive.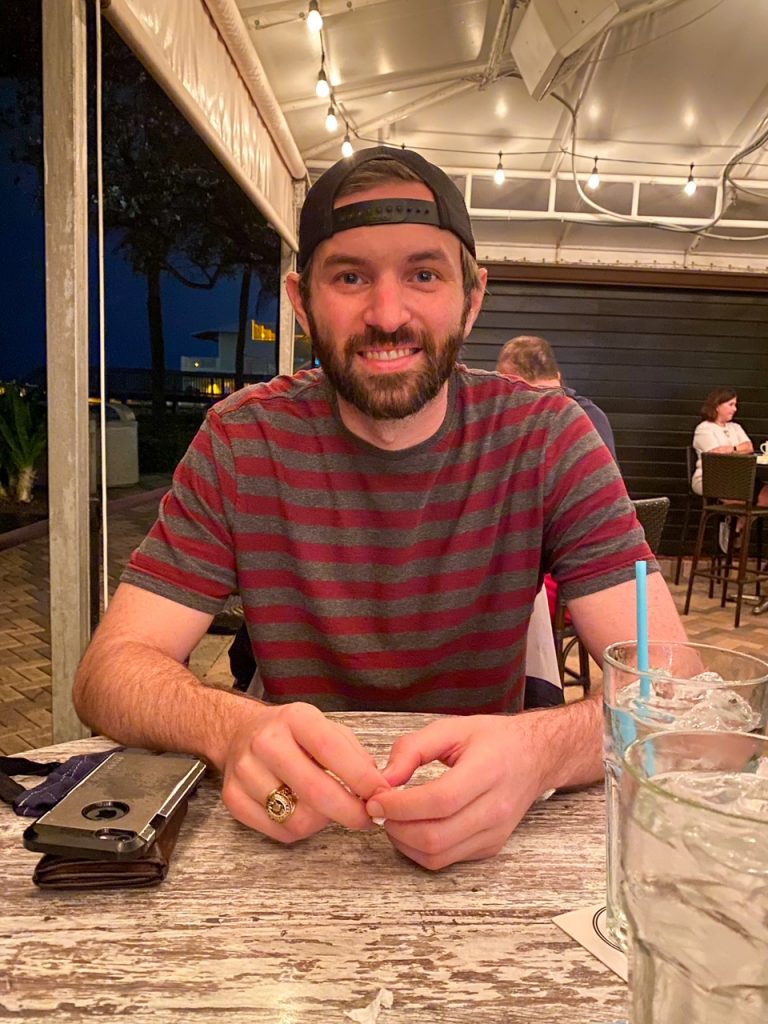 We spent around $110, but it was totally worth it, and I would definitely recommend this place! We even considered eating here again once Don and Kristina arrived, but ended up trying out some new places instead.
After dinner, we walked back to our place to get out of our airplane and restaurant clothes and masks. We showered and hung out for a while before getting some shuteye.
Day 2: Beach Day & Exploring Nature
Spend Time on the Beach
Since Don and Kristina still had a four or five-hour drive the next morning, Tim and I woke up early, packed water, snacks and towels, and walked to the beach.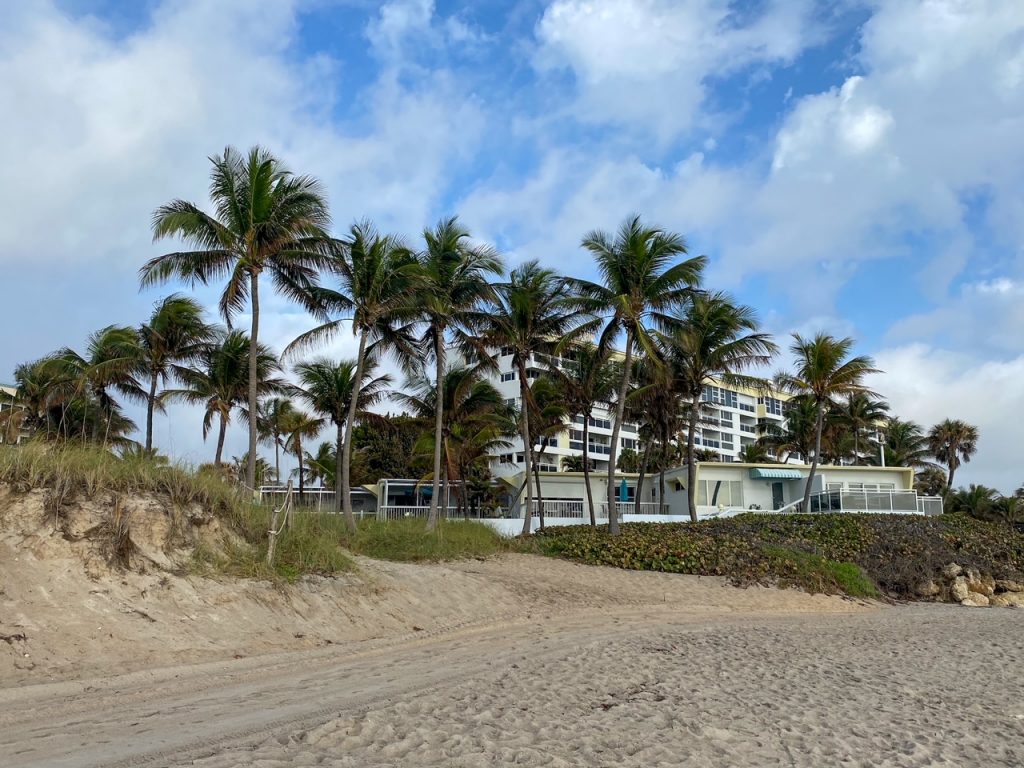 We were surprised to see large rock formations everywhere, and there was a beautiful pier in the distance. Plus, we were especially surprised that the beach was nearly empty. How nice! This was obviously the perfect opportunity to take a million photos.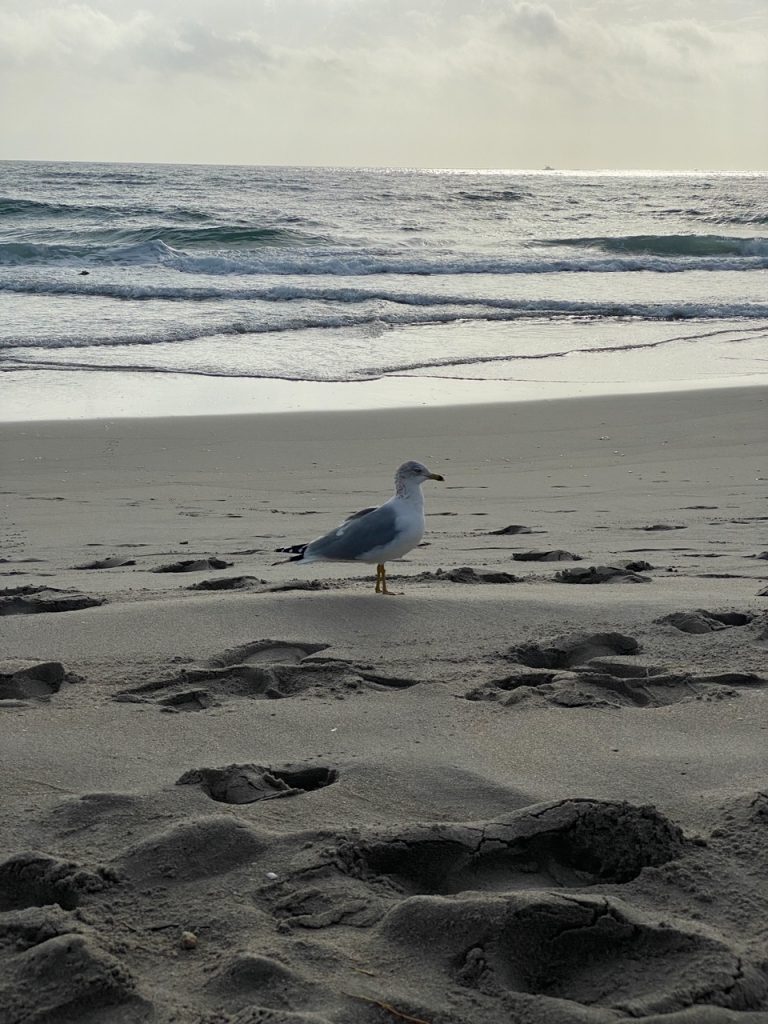 A Broad Recommendation: We packed granola bars, Cliff bars, pistachios, Emergen-C, and the works from home and ended up eating those every morning for breakfast and as snacks. We love doing this on trips to save time and money!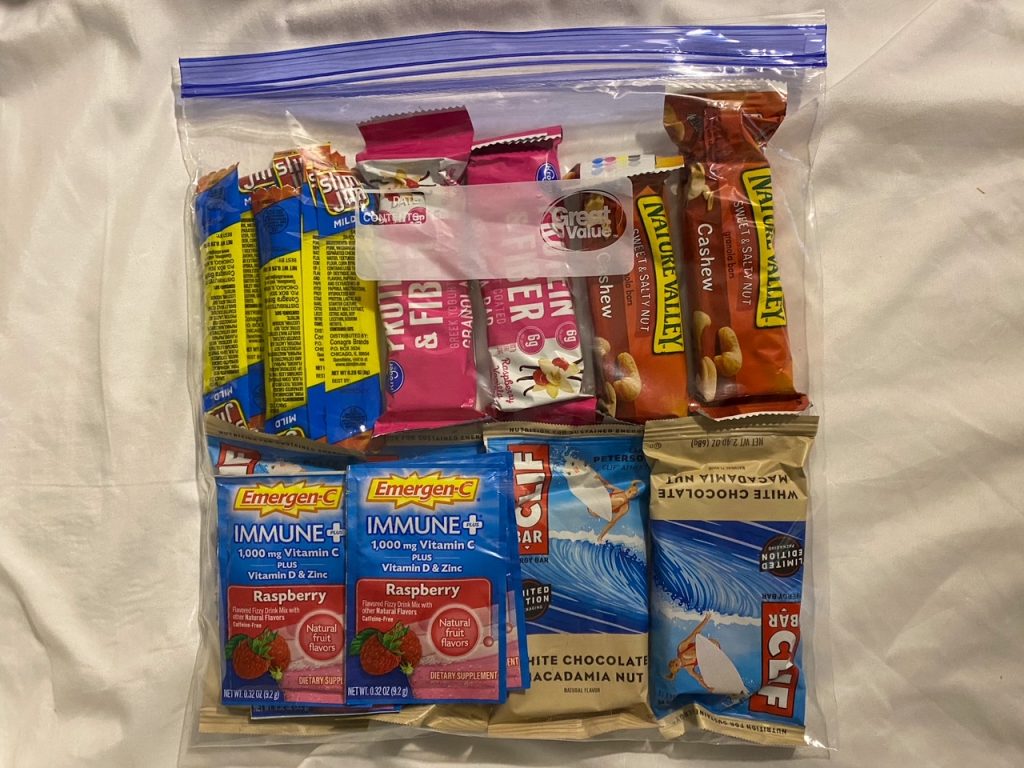 Don and Kristina arrived around 11 AM, and after a few hours of sun, Tim and I were ready to walk back.
Eat at Flanigan's
They freshened up a bit. Then, the full group headed to lunch at Flanigan's, one of the restaurants we had spotted the night before on the Deerfield Beach Boardwalk that also had outdoor seating.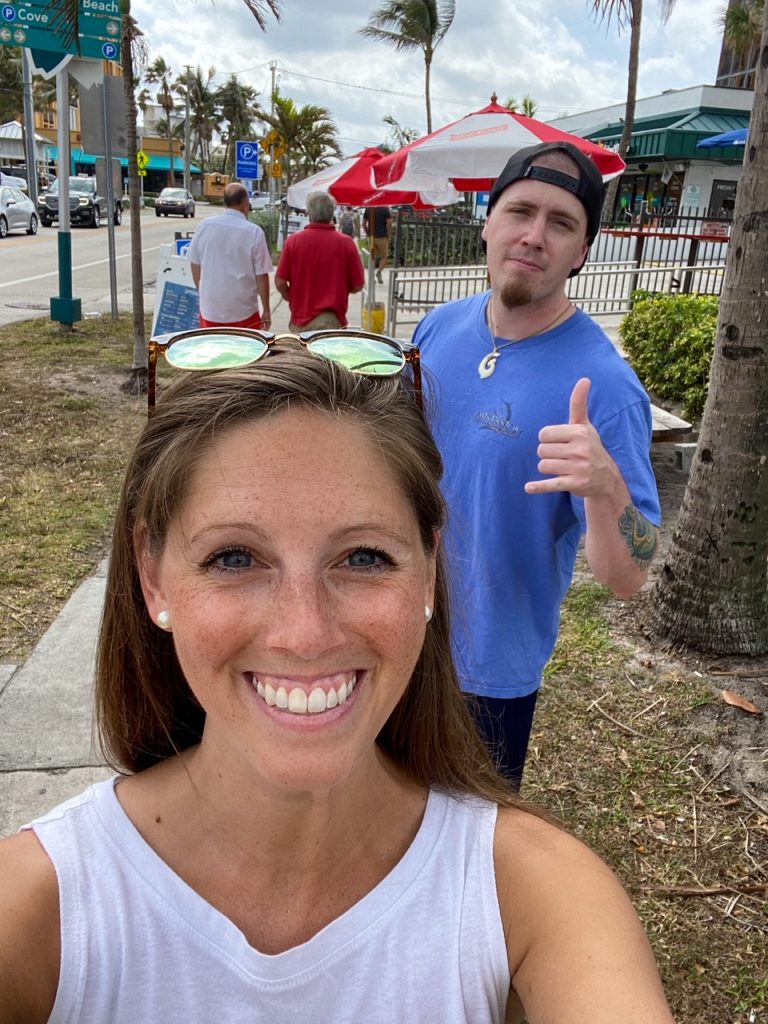 Don ordered the Smoked Fish Dip for the table and a Philadelphia Cheesesteak for himself. Kristina got the Dolphin Sandwich, and Tim and I shared a Chipotle Chicken Stack Sandwich.
We enjoyed our meal and again, felt safe, since masks are required except while eating or drinking, and the waitress was wearing her mask properly. Between the four of us, lunch was about $60; granted, Tim and I shared a meal.
Explore the Highland Scrub Natural Area
After lunch, we walked back to our apartments and loaded up the car with water and snacks to head to the Highland Scrub Natural Area. Formerly known as "the Jungle", this is one of Broward County's last substantial sand pine scrub communities. This type of community is rare, extremely dry and unique to Florida.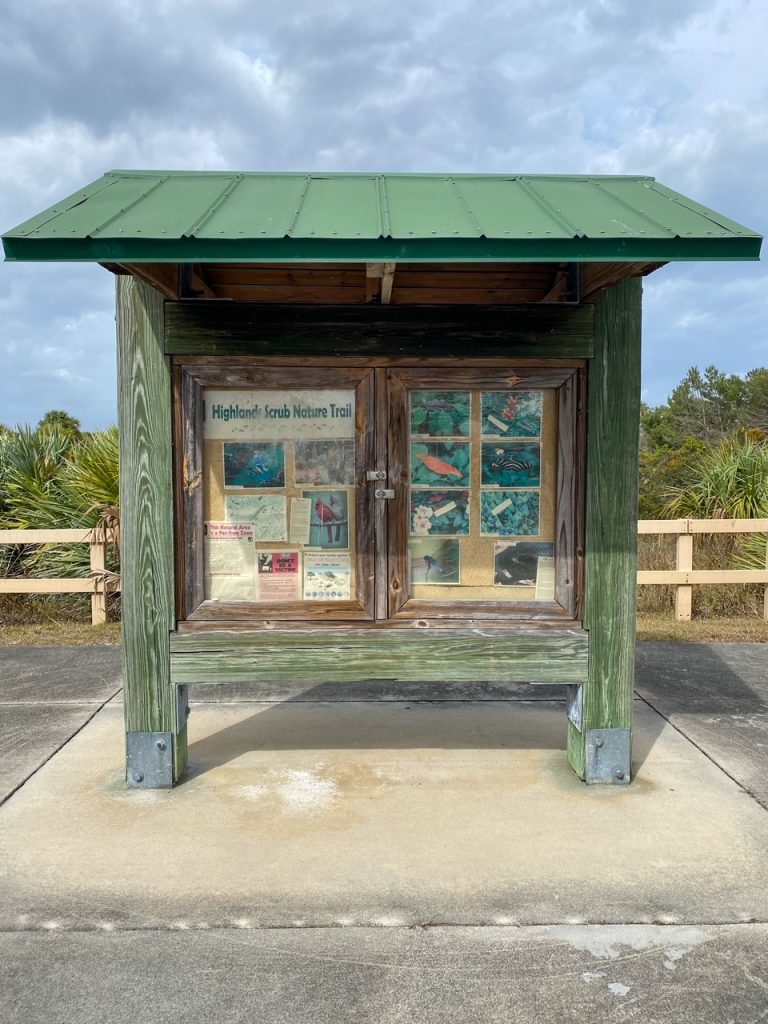 The term "scrub" refers to an area dominated by shrubs. Florida scrub is found on ancient inland and coastal dune systems that were once islands, sculpted by rising and receding seas thousands of years ago. Sadly, only 2% of the original scrub in the county remains.
The paved trail is around a quarter of a mile, and the park is open for walking and hiking. You must wear a mask and practice social distancing at all times. Dogs and groups of more than ten are not permitted.
We walked around for a bit, ran into some cute, little lizard friends and even saw a snake – eek!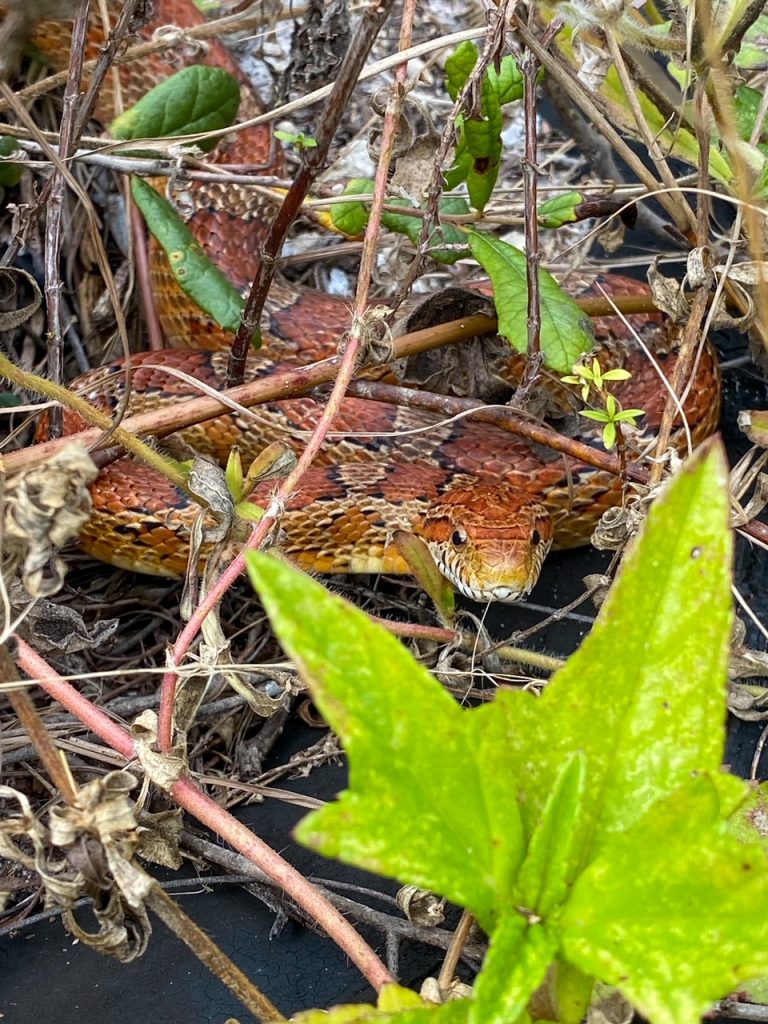 The address and opening hours can be found on the Broward County website. Entry is free.
Visit the Fern Forest Nature Center
Around 3:30 PM, we made our way to the Fern Forest Nature Center, an urban oasis and a Designated Urban Wilderness Area.
The area features 244 acres of wilderness with ten plant communities and lots of wildlife, such as bobcat, coyote, fox, raccoon, squirrel, gopher tortoise, indigo snake and various species of birds and butterflies, among others – most of which we didn't see during our walk, unfortunately. We did see some cute, little turtles though!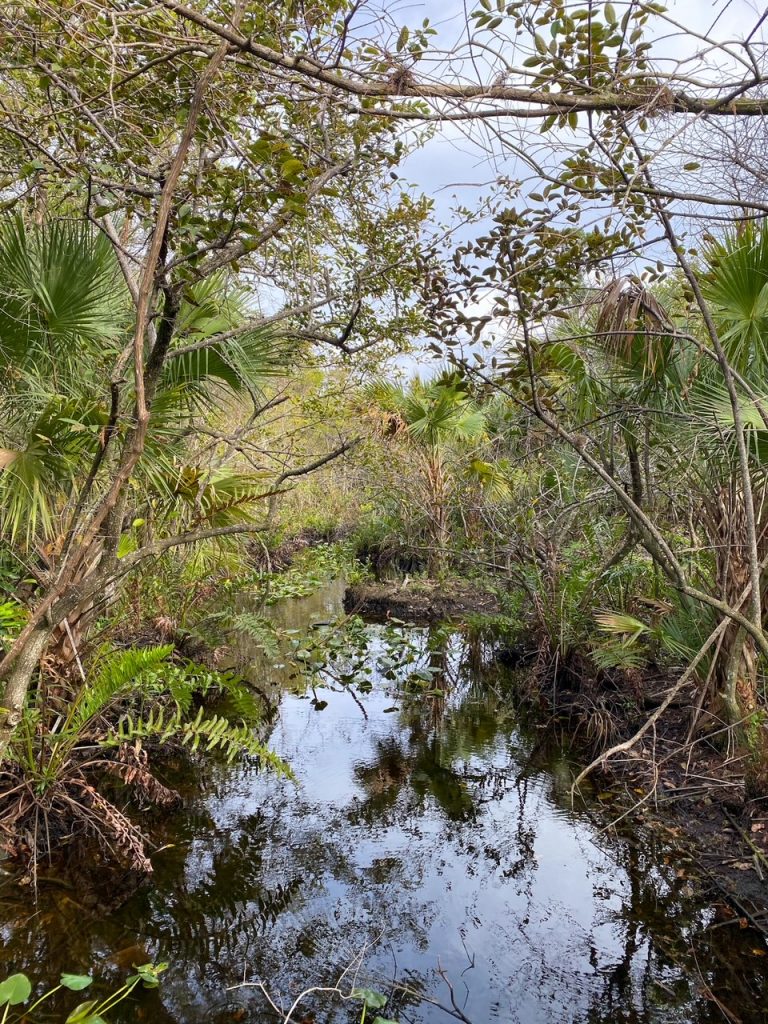 There are four distinct nature trails that total 2.2 miles, beginning at the Cypress Creek Boardwalk. We don't know exactly which trails we did, but during our visit, some were too muddy to trek down.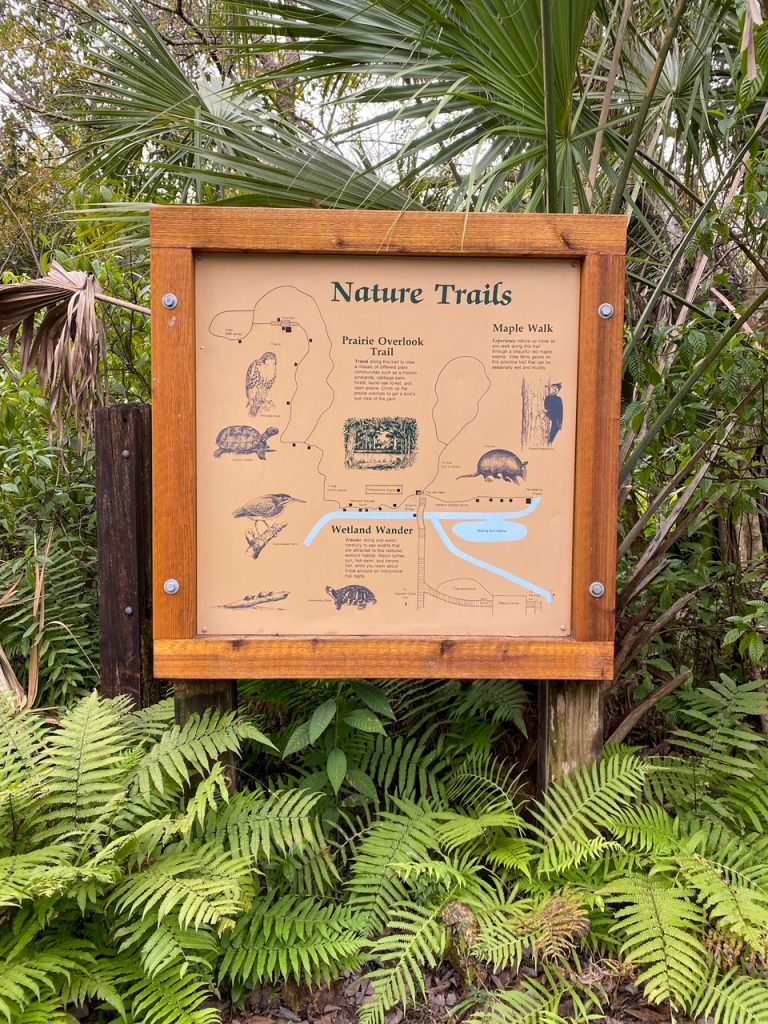 The Fern Forest Nature Center was also enforcing COVID-19 precautions, and again, pets aren't allowed. The trails are for walking or hiking only; no skates or bicycles. Entry is free, and the address and opening hours can be found on the Broward County website.
Eat at Bru's Room
Around 5:30 PM, we walked back to the Deerfield Beach Boardwalk in search of an outdoor option to watch the Super Bowl. Considering that Tim and I had been diverted to Iceland on our way to Kenya the previous year and ended up staying overnight in Germany unexpectedly during the last Super Bowl, we were really hoping to catch this one!
While Don and Kristina stopped at a small grocery store, Tim and I found Bru's Room. It had no wait for the outdoor seating, which was coincidentally directly in front of a TV – great!
Tim ordered the Cuban Sandwich, Kristina had the Spinach Dip, and Don and I shared some of my Buffalo Chicken Tacos and his Mahi Tacos. Admittedly, I preferred both Don's Mahi Tacos and Tim's sandwich to my choice, though my leftover Buffalo Chicken Taco kept well and made for a tasty breakfast the next morning. We spent around $130, which included seven beers and a mixed drink between the four of us.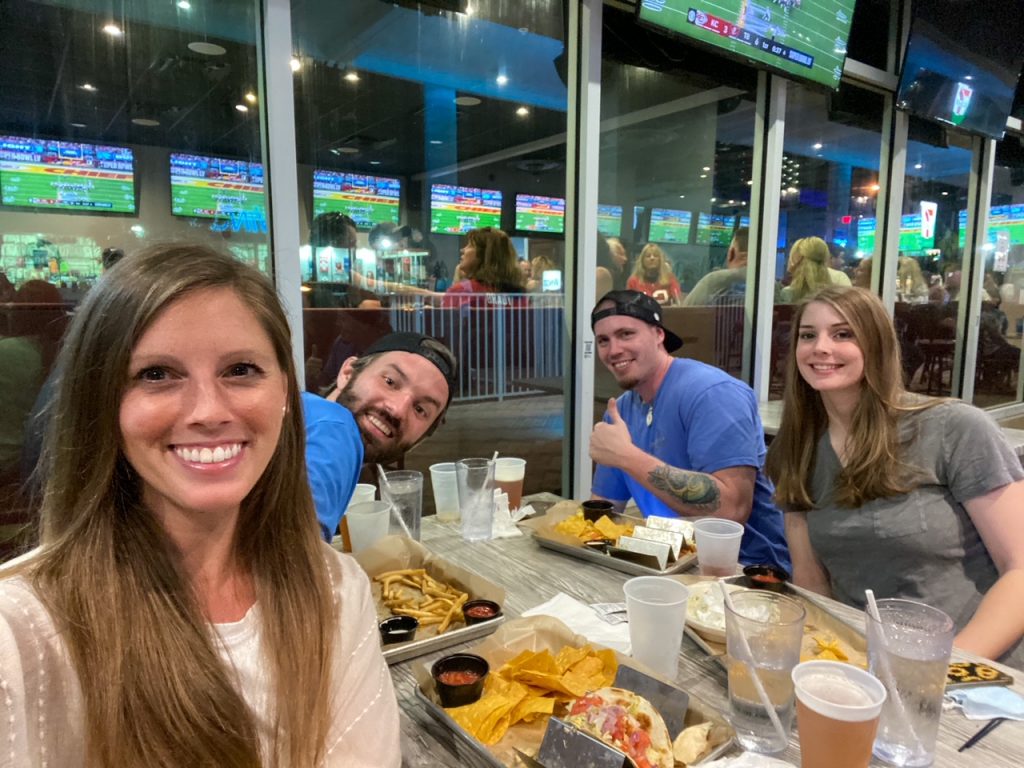 We decided to call it a night after halftime, since Don and Kristina had an early morning, six-hour fishing trip the next day. Tim and I watched the rest of the game from our room and went to bed shortly thereafter.
Day 3: Another Lazy Beach Day
Spend More Time at the Beach
Although the next morning was an early one for Don and Kristina, Tim and I didn't wake up until around 9 AM. We hung out in the room for a while, snacking on leftovers and granola bars, then made our way down to the beach.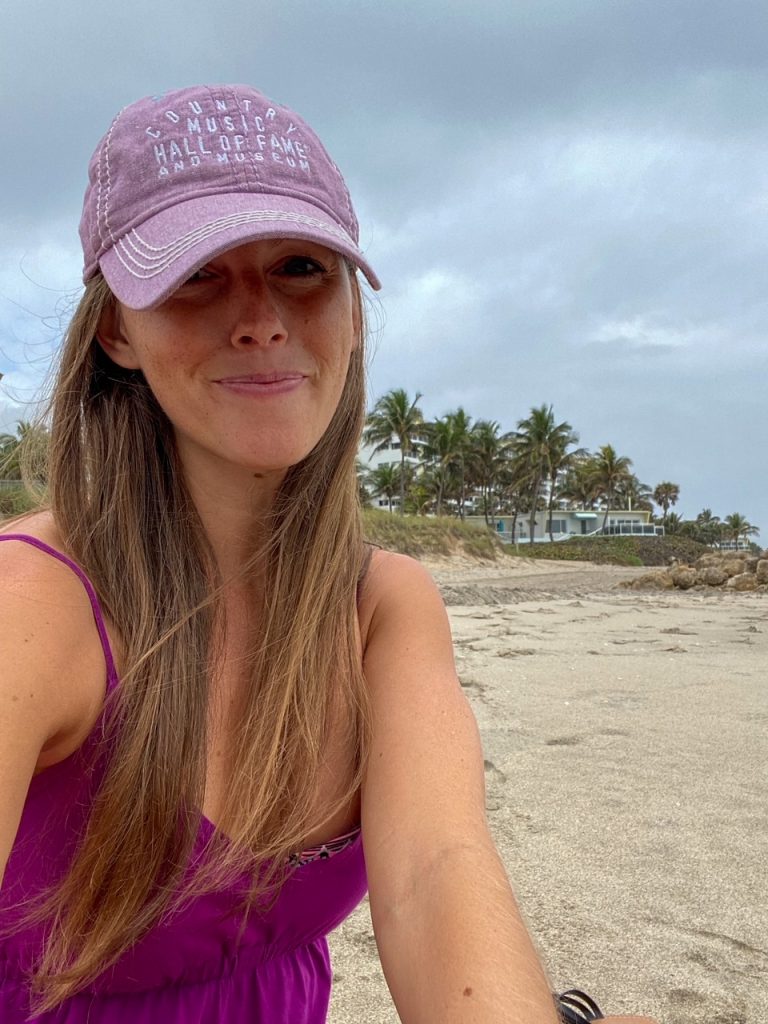 We spent the day on the beach, relaxing and reading, and I, of course, played on the rocks again! Deerfield Beach is so much fun.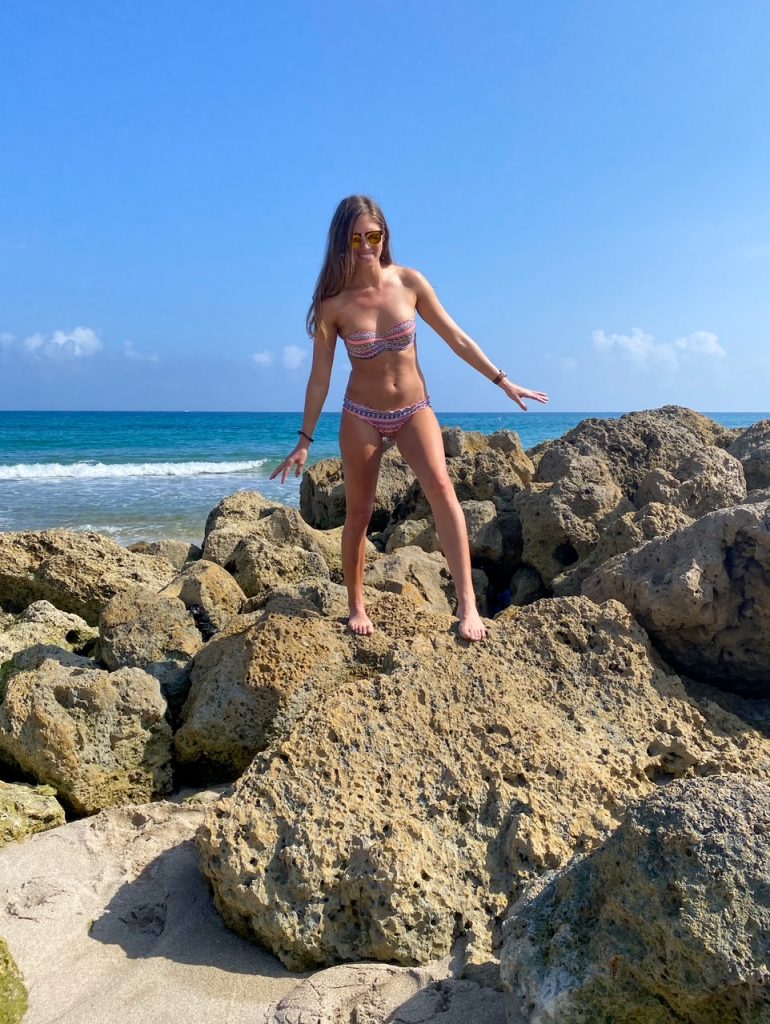 Around 2 PM, we walked back to eat our leftovers, since Don and Kristina had eaten the fish they caught. We all ended up back at the beach together where we rounded out our afternoon – and where Don napped after such an early morning.
Try a Full-Day Fishing Trip
---
A quick aside: Don later shared about their experience on the boat, which I'm happy to include here.
Don and Kristina chose Fish Envy Charters out of Boynton Beach for their offshore fishing adventure.
With Captain Robert and Mate Tyler onboard, they started off trolling, which for us non-fishermen means to fish by trailing a baited line behind a boat. They were hoping to find a wahoo, which is a type of fish that can be found in South Florida's offshore waters this time of year. Unfortunately, shortly into their trip, it started raining and they didn't have much luck with that. They did manage to land a king mackerel (or kingfish) though!
As they continued trolling, the fishing was pretty slow, so they switched to bump trolling with live pilchards, hoping for a hungry Atlantic sailfish. Unfortunately, that was also to no avail.
Finally, they stopped by a channel where they hooked up with a large snook. During the brief struggle, the fish jumped and spit the hook, which essentially ended their excursion. So, they headed back, took their kingfish to Two Georges at the Cove for the "cook your catch", and had some delicious fish and chips.
---
Eat at The Whale's Rib
For dinner, we put our name down at The Whale's Rib, a restaurant on the Deerfield Beach Boardwalk that Tim had been wanting to try. They originally had a 30-45 minute wait, but surprisingly, they sat us within less than five minutes! Once we were seated is when the real wait began – we experienced the slowest service of the entire trip.
That said, the margaritas and Bloody Marys were good, and we all agreed that the food was delicious too! Tim and I shared the Coconut Shrimp, Stuffed Clams and Lobster Bisque. Don had the Wahoo Sandwich, and Kristina had the Fish Dip, which was surprisingly different from the one we shared at Flanigan's.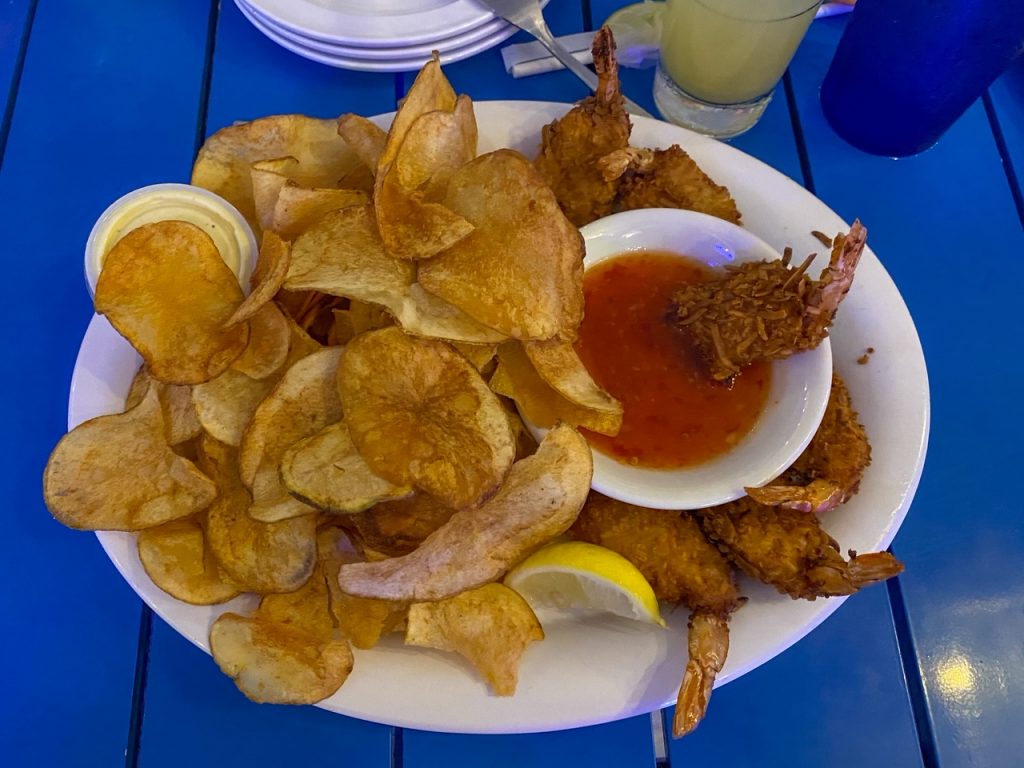 Considering that Don and Kristina had such an early morning and they generally go to bed early anyway, Tim and I followed suit. We all went back to the apartments for another early evening before our action-packed plans the next day.
Day 4: Lions, Flowers & Gators, Oh My!
Do a Drive-Through Safari
Tuesday was all about animals and nature! We woke up early and were in the car by 8:30 AM on our way from Deerfield Beach to Lion Country Safari in rural West Palm Beach County. Their mission is to "be a leader in animal care, conservation and education to inspire people through connections with wildlife in a fun, family-friendly environment."
Opened in 1967, Lion Country Safari was developed to bring the experience of an African game park to families who would never be able to experience a "real" African safari, and it has been a licensed wildlife rehabilitator ever since. It was the first drive-through safari park in the country and introduced the new concept of "The Cageless Zoo."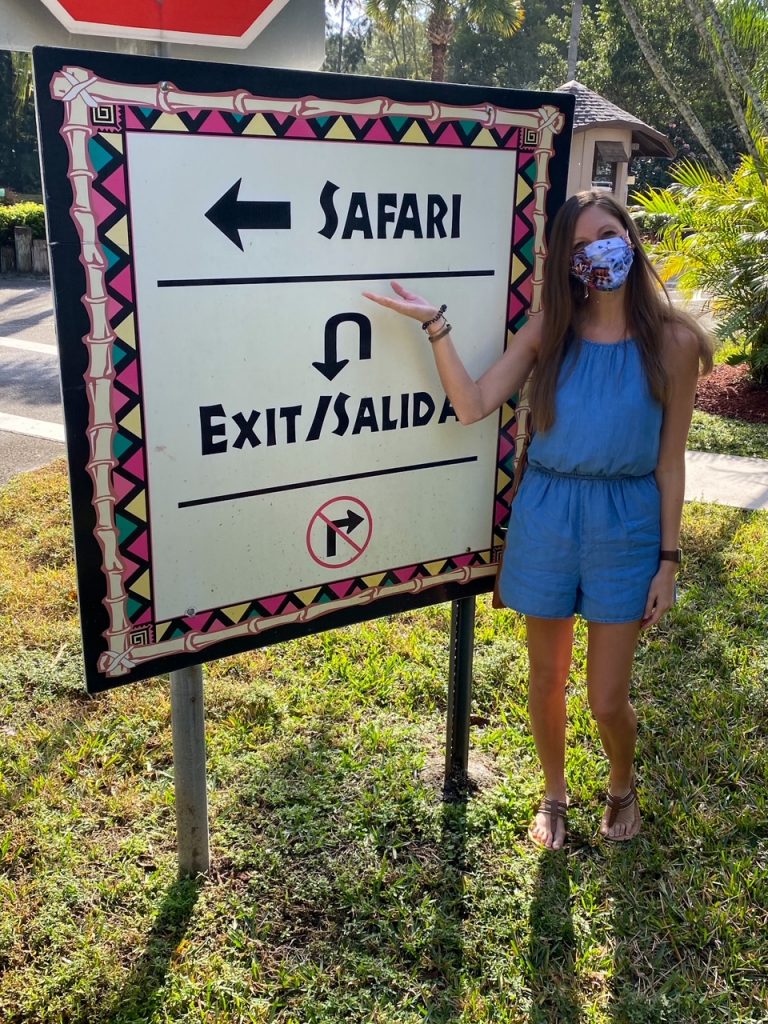 Today, it's home to more than 1,000 animals, including lions, white rhinos, chimpanzees, zebras, giraffes and many others. And, they have been named "One of the top 10 best drive-through animal safaris" by USA Today, and "One of the top 10 most amazing zoos" by The Weather Channel.
We drove through the four-mile preserve and watched animals roaming around their wide-open habitats, while listening to the streamable audio tour. Note that the lions were in cages for safety reasons.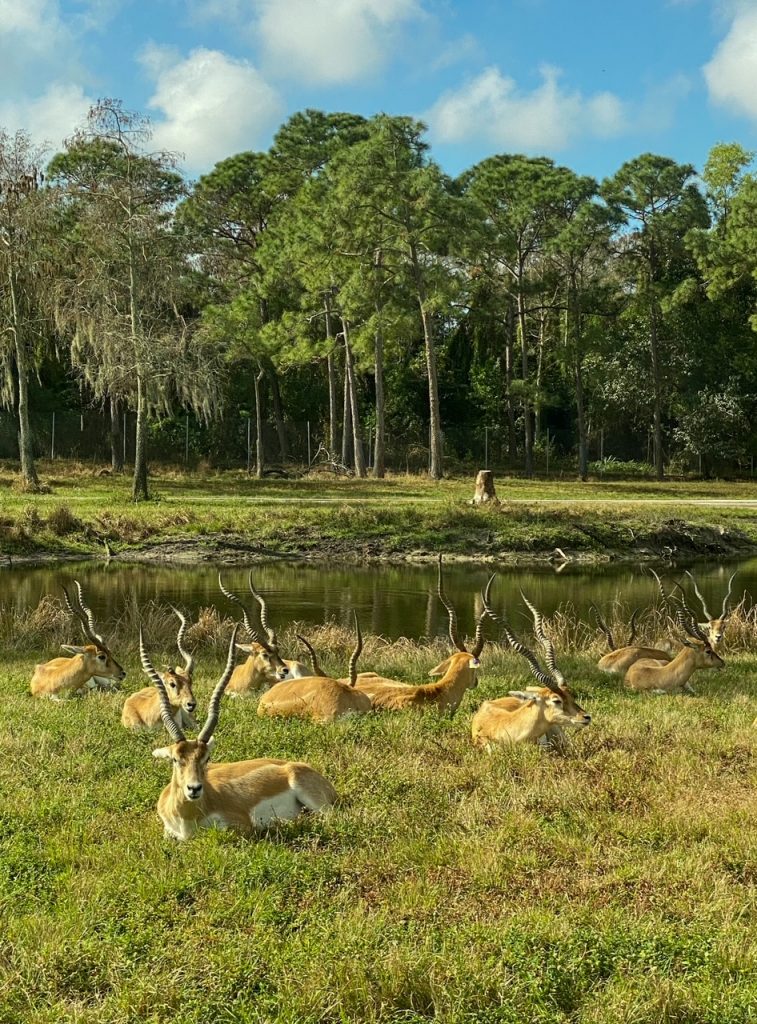 My personal favorite part was seeing lots of white rhinos roaming around freely with their babies. If you know anything about me or read my Kenya post, you know that I regularly cry when seeing baby rhinos. And, per my usual, I was SO giddy after seeing these guys running right in front of our vehicle!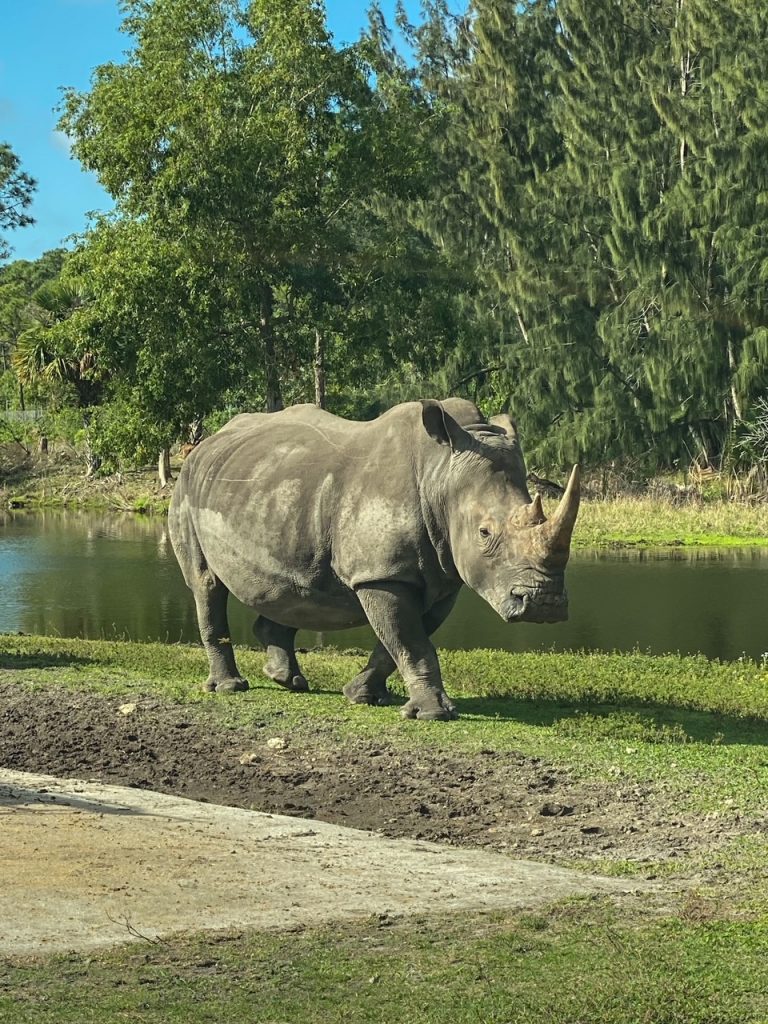 We also got pretty excited when we saw lots of zebras, emu and giraffes. It's just such a cool experience watching these majestic animals.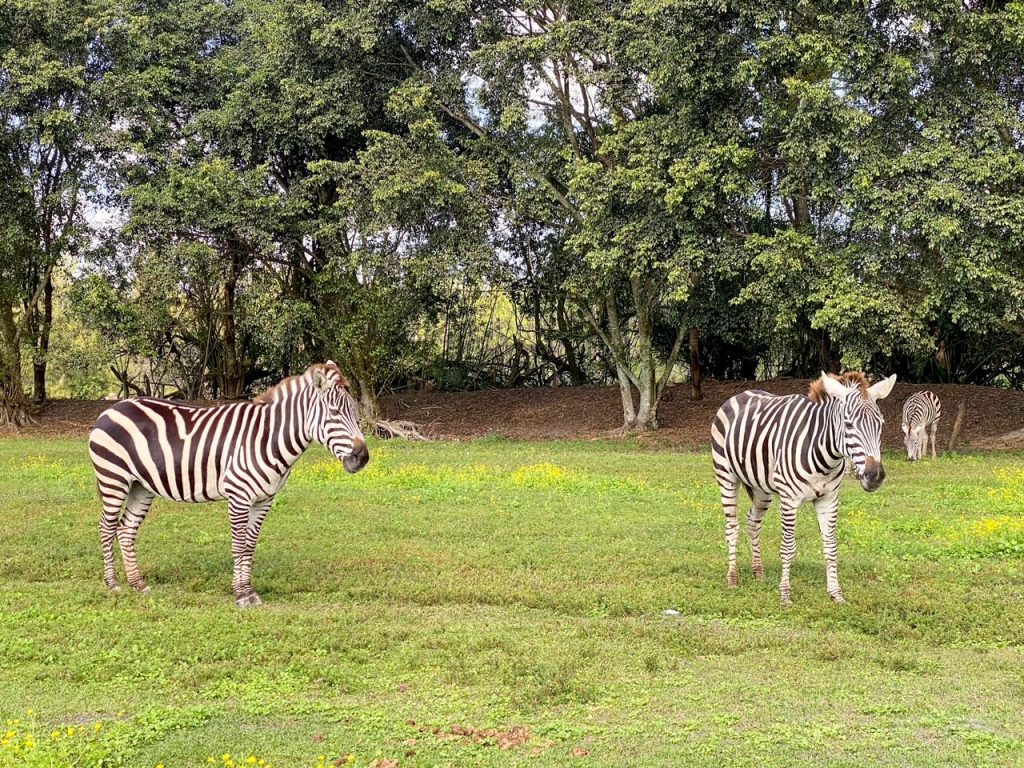 The drive typically takes about an hour, but we spent a bit longer watching the animals and taking pictures. Windows must be up at all times and you absolutely cannot exit your vehicle at any time.
The park also has campsites, gift shops, food, a veterinary hospital, an animal demonstration theater and even a gas station. It also offers a number of educational programs and camps for school and tour groups.
A Broad Recommendation: Book your tickets in advance online and receive a discount off regular general admission pricing.
After the safari, we did the short Nature Walk trail and watched some chimpanzees play across the lake from us.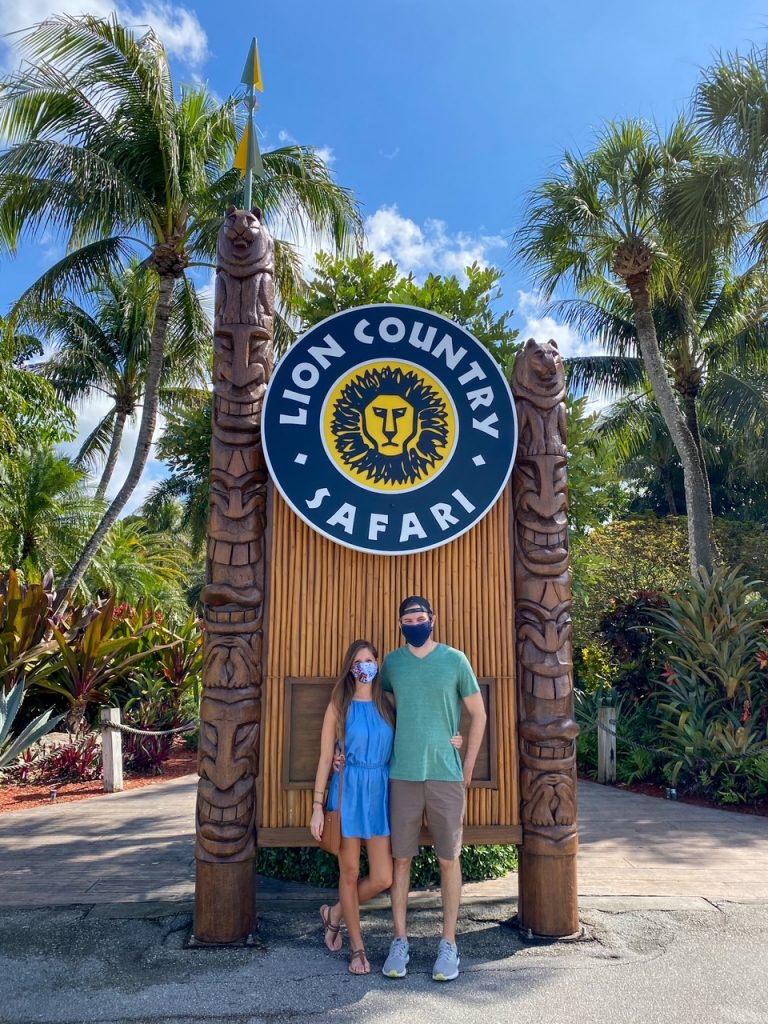 Stop and Smell the Flowers
Next, we made our way to Mounts Botanical Garden, Palm Beach County's oldest and largest botanical garden.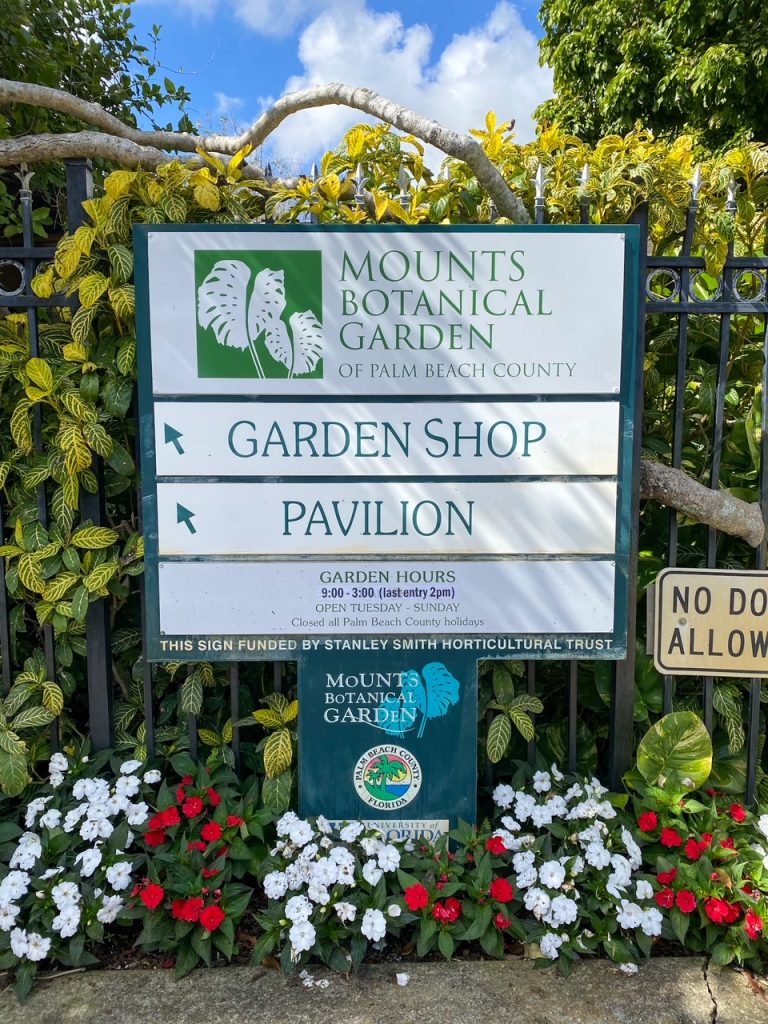 Named after Marvin U. "Red" Mounts, who served Palm Beach County farmers for more than 40 years and was Palm Beach County's first assistant agricultural extension agent, their mission is to "inspire and educate through nature".
Located behind Palm Beach International Airport, the garden is an oasis amongst the hustle and bustle surrounding it. Twenty-five gardens span fourteen acres and are home to more than 2,000 tropical and subtropical plant species.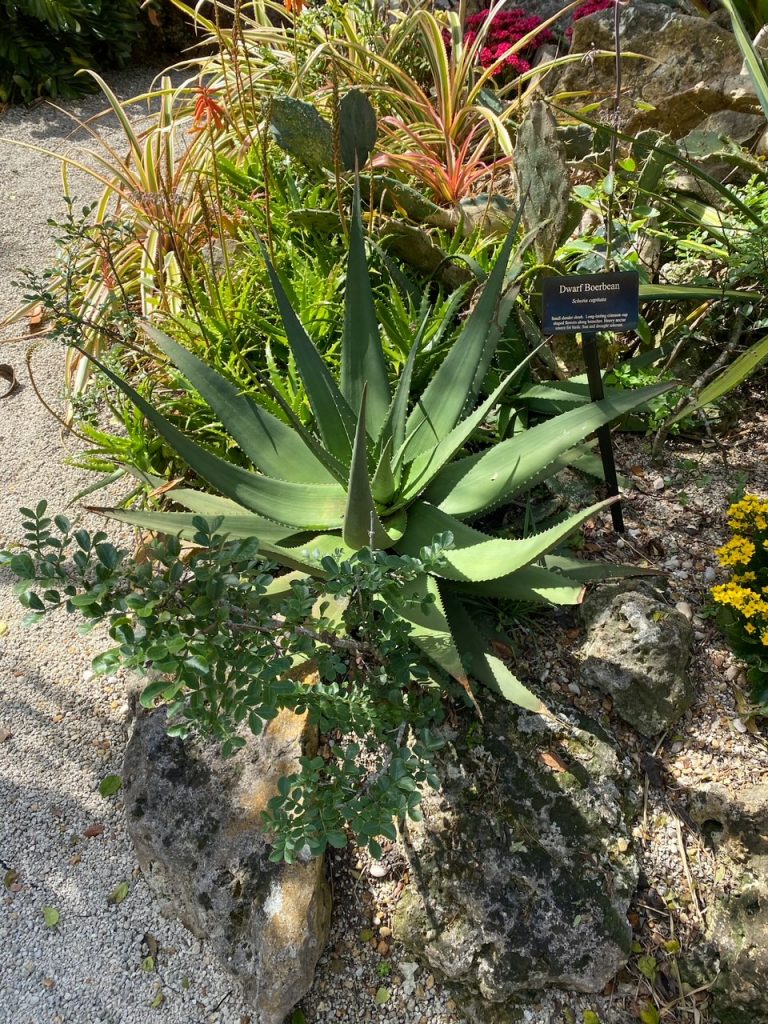 Both relaxing and inspiring, the gardens also offer a lot of information about the plant species found in each area. We had a lot of fun exploring and enjoying all that the gardens had to offer!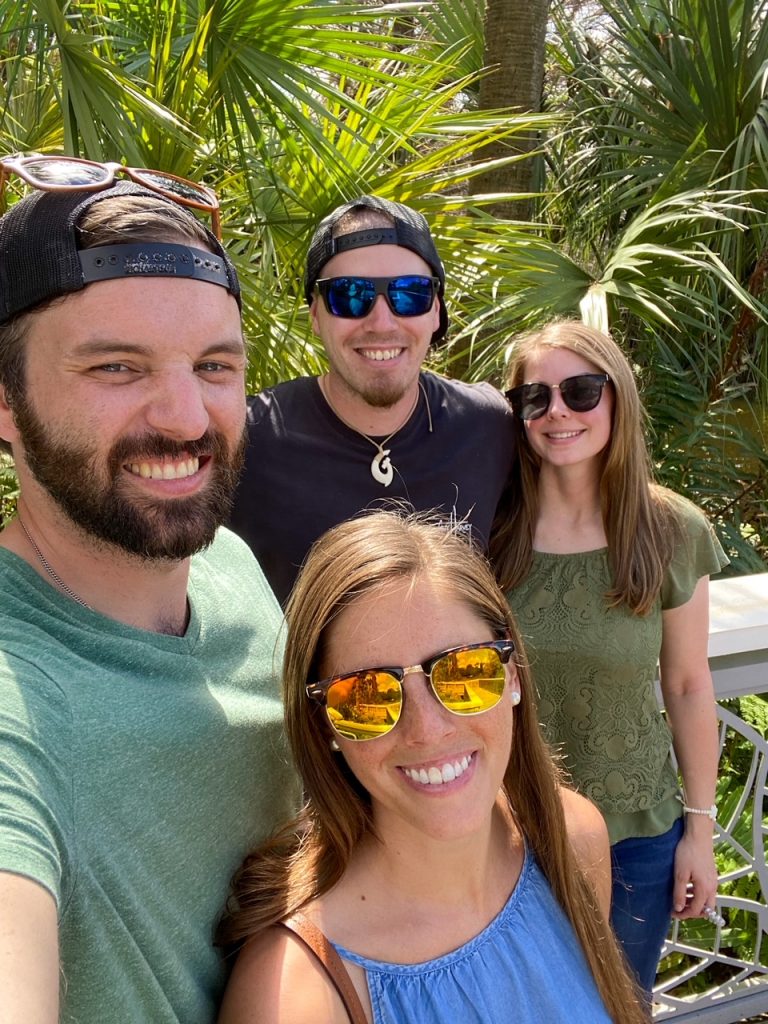 Try Some Authentic Tacos
By now, we were all pretty hungry and started looking up random restaurants when we found El Paso Taco Restaurant (for which I couldn't track down a website). Upon first glance, this place looked like a hole in the wall, and I didn't have high expectations.
Tim and I ordered the Authentic Tacos (Al Pastor and Carne Asada) and were pleasantly surprised! They tasted just like the tacos we are used to in Texas, which is a good sign in our opinion – haha. I also ordered a tamale, and both Don and Kristina ordered quesadillas off the lunch menu; they also thoroughly enjoyed their meals. Including fountain drinks and tip, our meal was $44 total. Not bad for four people!
Walk at Winding Waters Natural Area
Up next was Winding Waters Natural Area.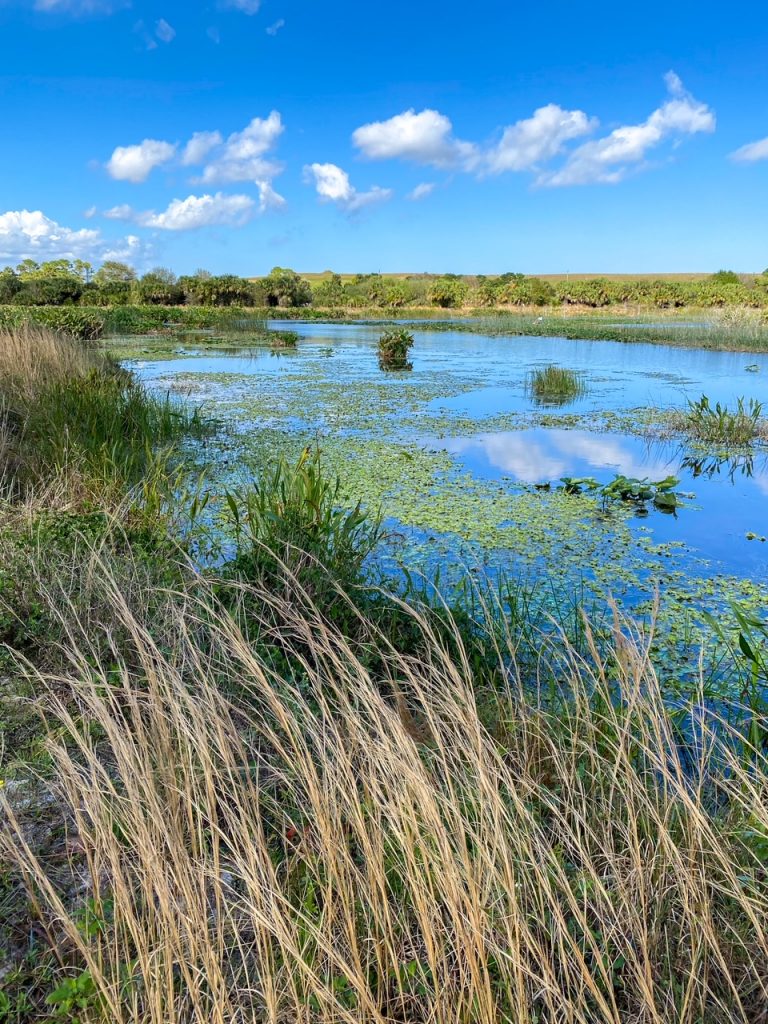 The area sits on 548 acres of natural preserve, boasting mesic flatwoods, hydric hammock, depression marsh, wet prairie and dome swamp, as well as an abundance of birdlife. There are several hiking trails, a canoe/kayak trail, and an observation deck, and we saw someone fishing during our visit.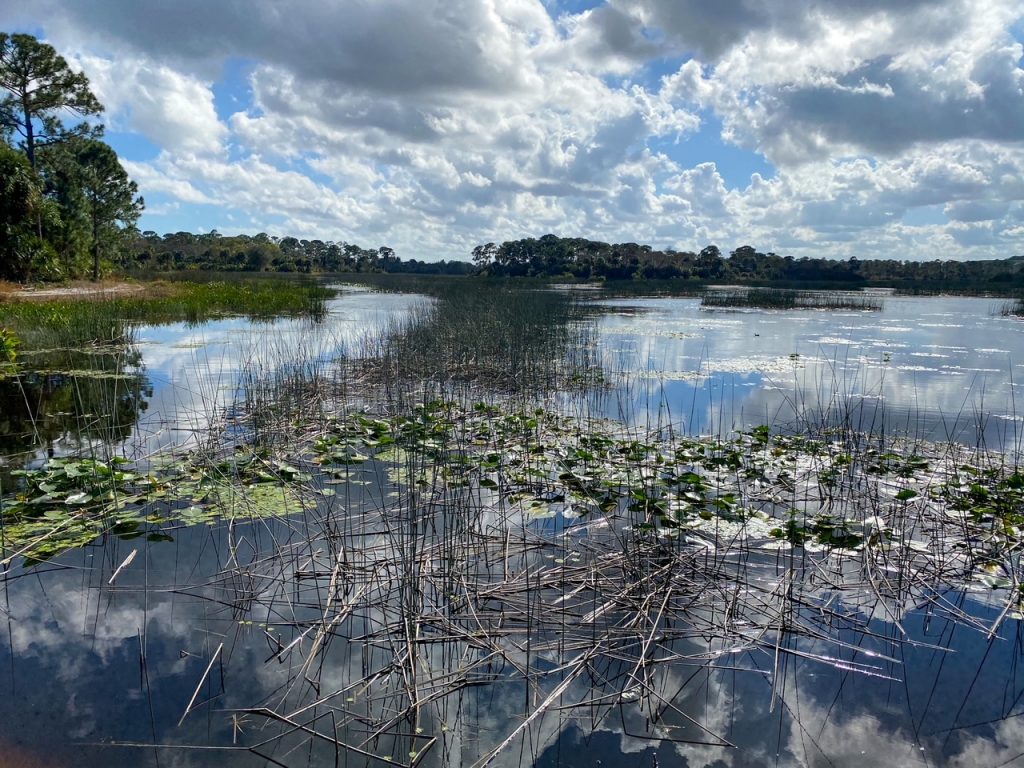 A Broad Recommendation: Wear tennis shoes and sunblock. Some of the paths aren't paved, and even in February, the sun was beating down on us, and there wasn't a lot of cloud cover. You should also pack water! There are no water fountains or restroom facilities onsite. If you are prone to mosquito bites, you may want to wear insect repellent as well, though we didn't have any issues while we were there.
Personally, this wasn't my favorite hike, but Don in particular really enjoyed this one for its unique landscape. We also chose to visit here during the hottest part of the day. I'm sure I would've enjoyed it more had we gone earlier or later in the day.
Watch the Sunset at Deerfield Beach
Back to Deerfield Beach by 4:30 PM, Tim and I decided to walk to the beach to take some pictures and to watch the sunset.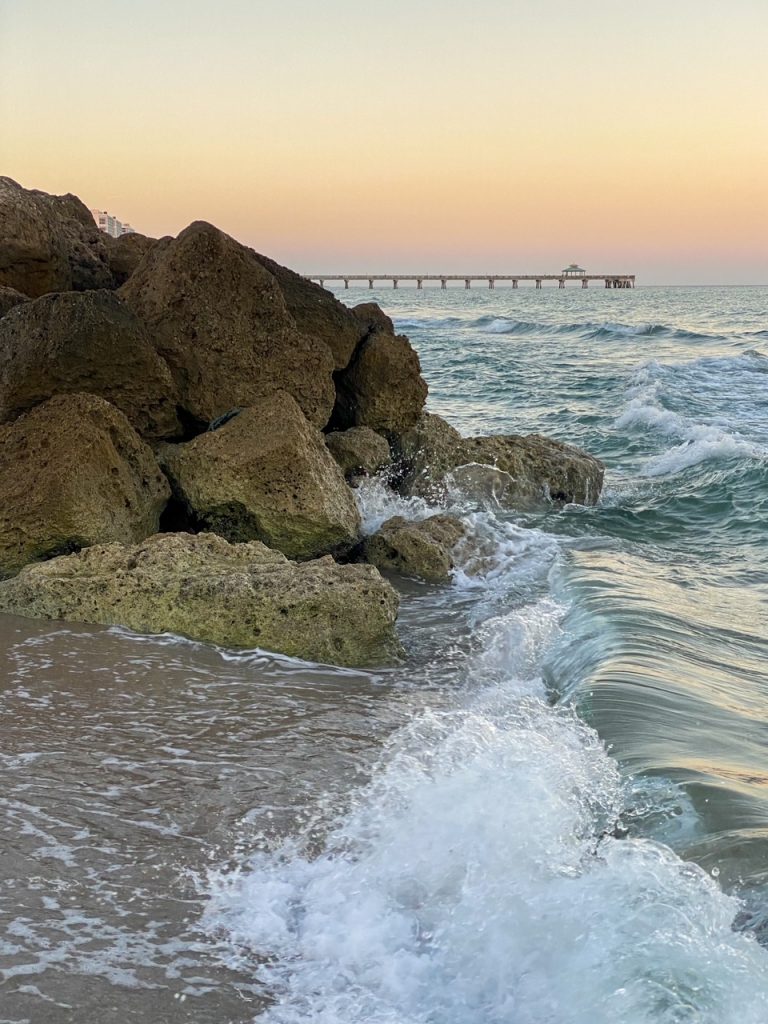 Split a Pizza at Umbertos of Long Island
Around 7 PM, we made our way to Umbertos of Long Island. We sat outside and all shared a large, cheese pizza. The pizza was good, but there was a group of teenagers next to us that were being particularly loud, which took away from the experience a little bit for us.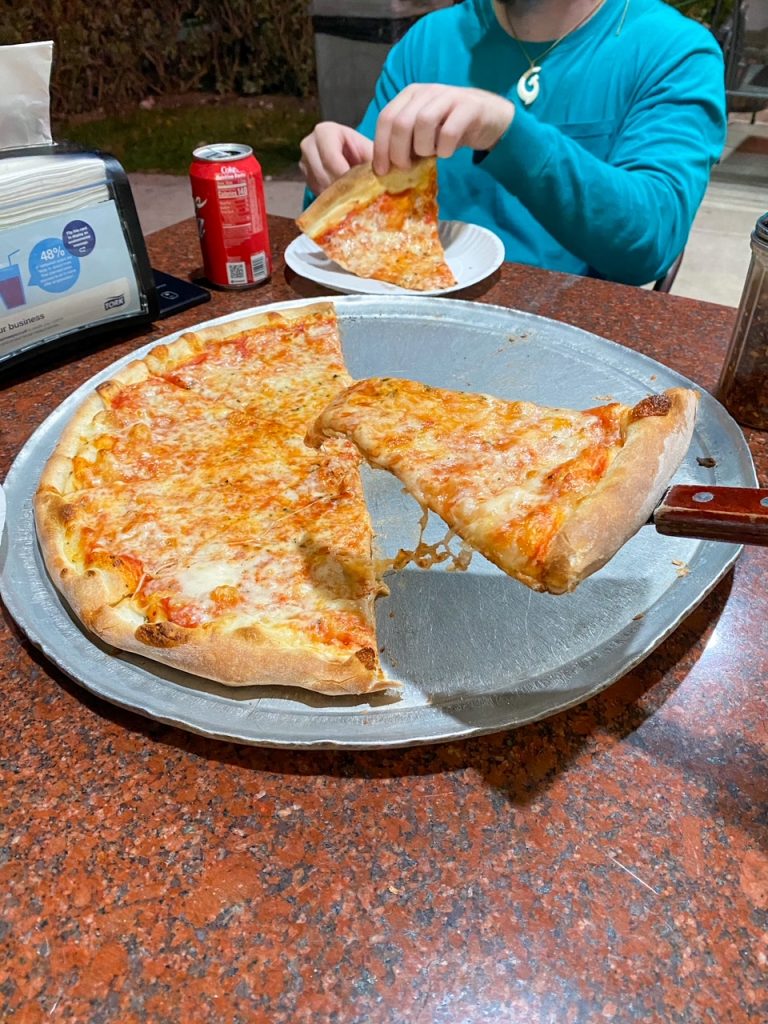 Get Dessert from Kilwins
We rounded out the night with some ice cream from Kilwins. This place offers a lot more than just ice cream, but I gave up candy for my New Years resolution and stood my ground. I can attest that the ice cream was delicious though!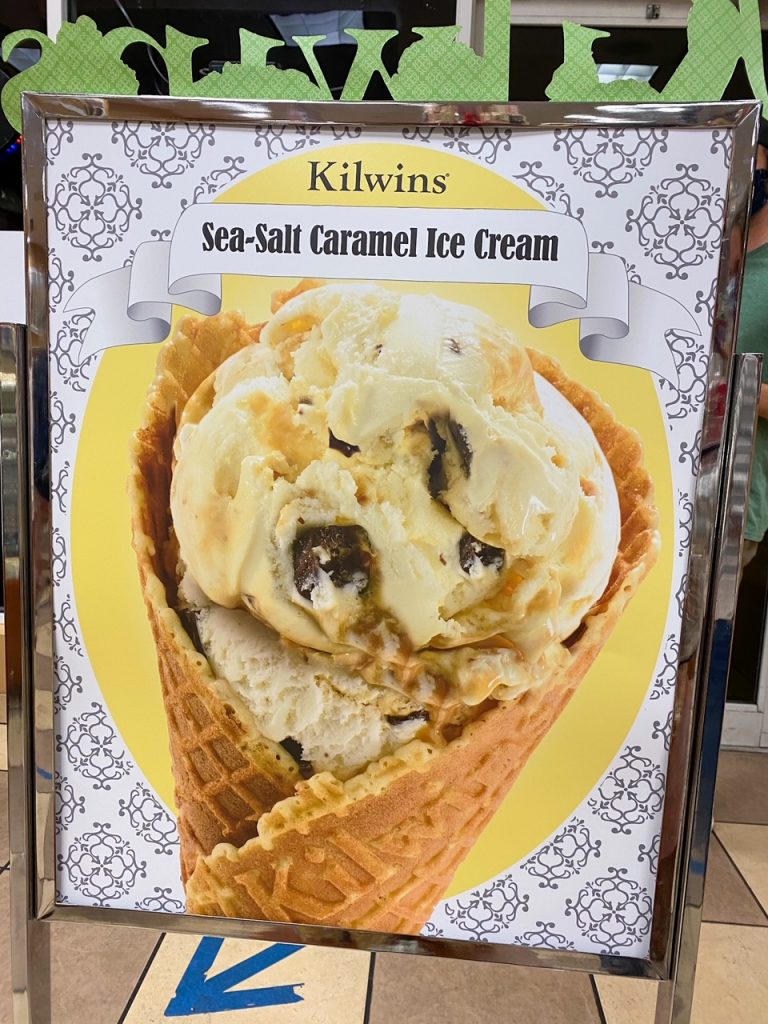 We had a very early morning ahead the next day, so we called it an early night yet again.
Day 5: Explore the National Parks
Watch the Sunrise at Homestead Bayfront Park
Per our mom's suggestion, we left for Biscayne National Park by 4:45 AM the next morning. We just typed "Biscayne National Park" into Google Maps, which took us directly to the visitor center, though much of the drive seemed to be out in the middle of nowhere.
The visitor center was closed at this hour, but right beyond it was Homestead Bayfront Park, where we decided to watch the sunrise.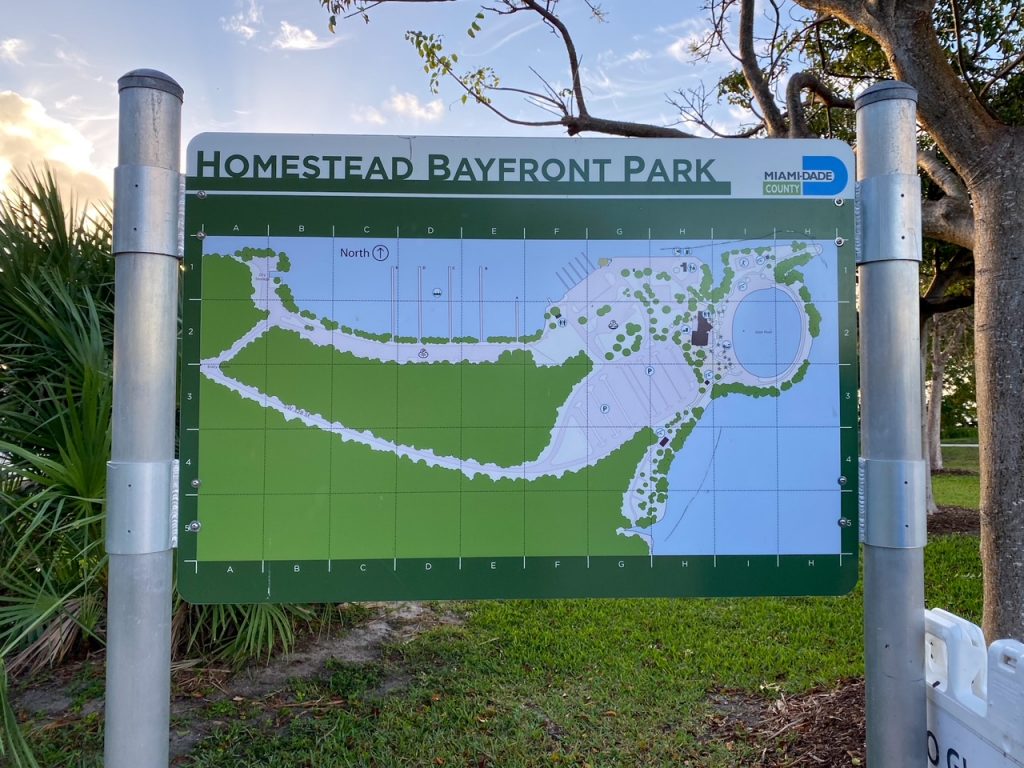 Right as we walked in, we caught a glimpse of this breathtaking view! But after being in the car for more than an hour, we needed to find some restrooms – luckily, they were open!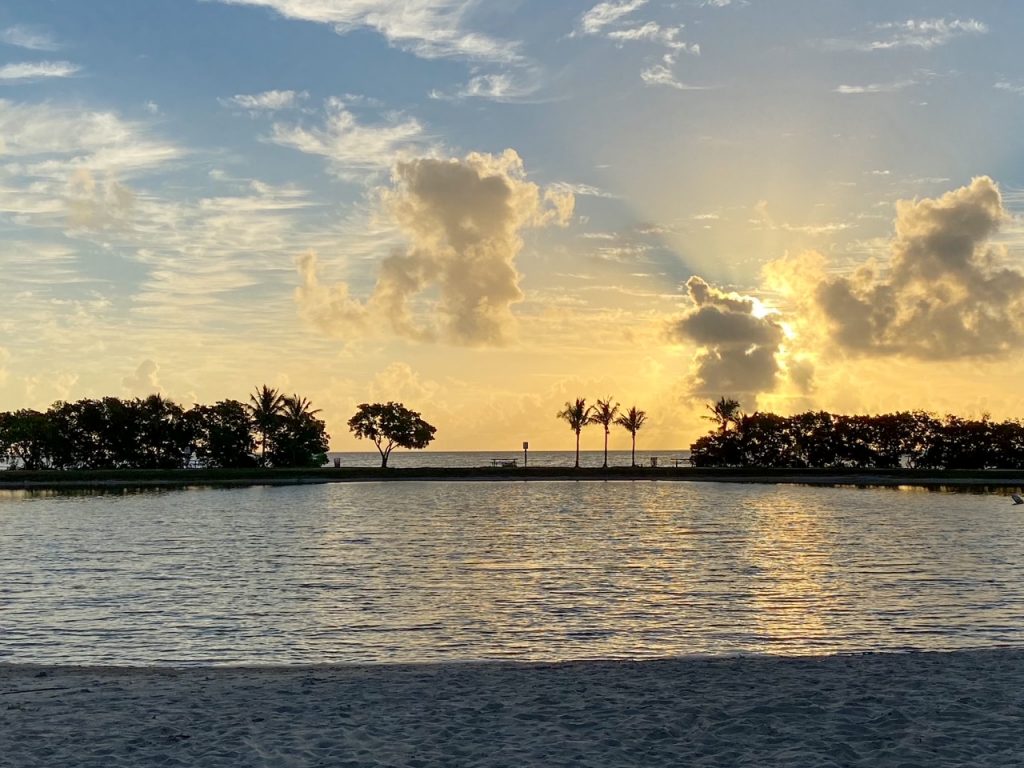 Our mom had shared some photos she'd taken a few years back with some incredible reflections in the water. Despite missing this, we certainly weren't disappointed with the show we got!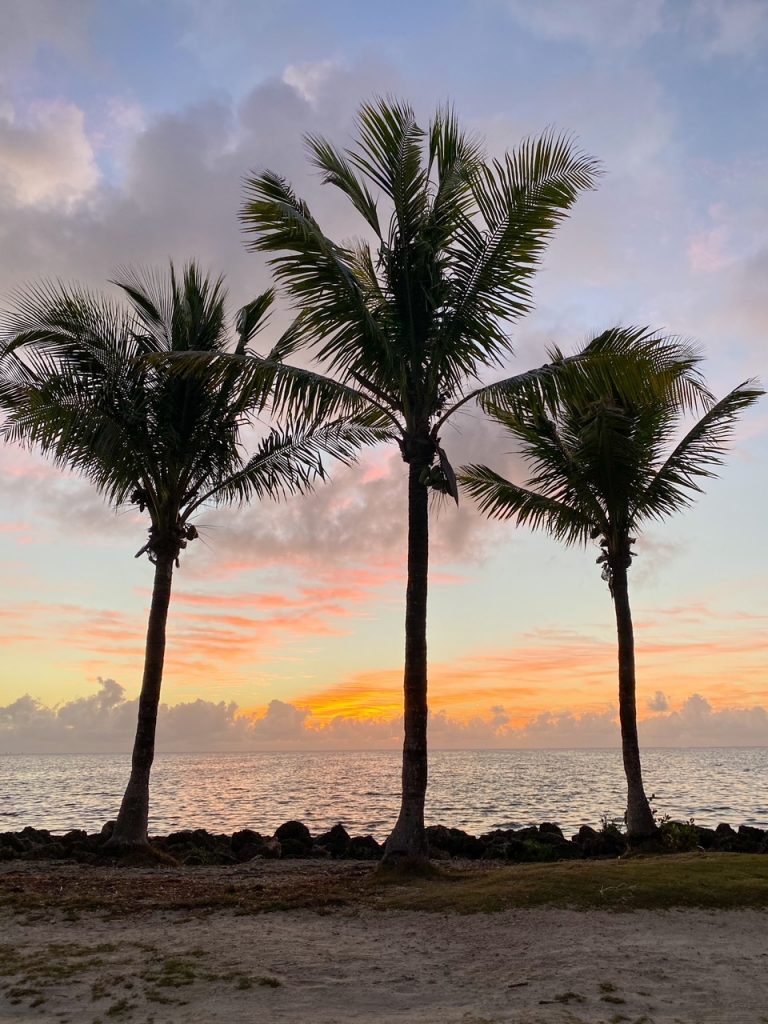 Exactly how many palm tree, sunrise pictures is too many?
A Broad Recommendation: Bring a portable phone charger. We each somehow managed to take hundreds of photos, ultimately killing all of our phone batteries!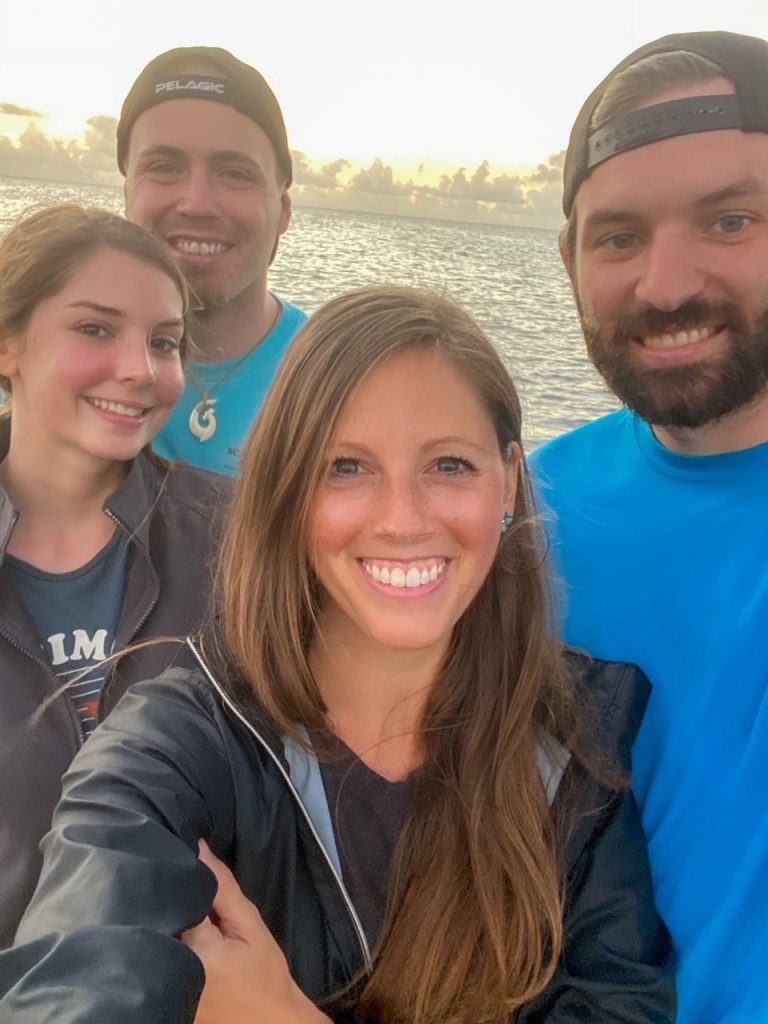 We stuck around this area until close to 7:30 AM when the sun had fully risen.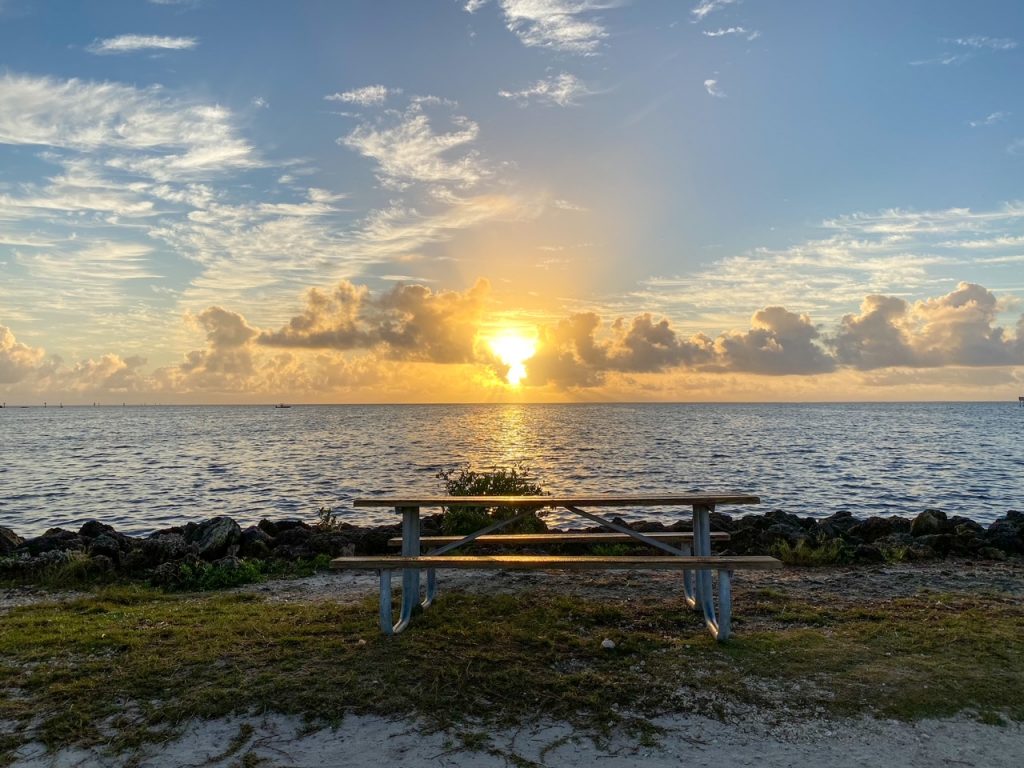 On our way back, we explored the area a bit more, capturing a few more fun photos!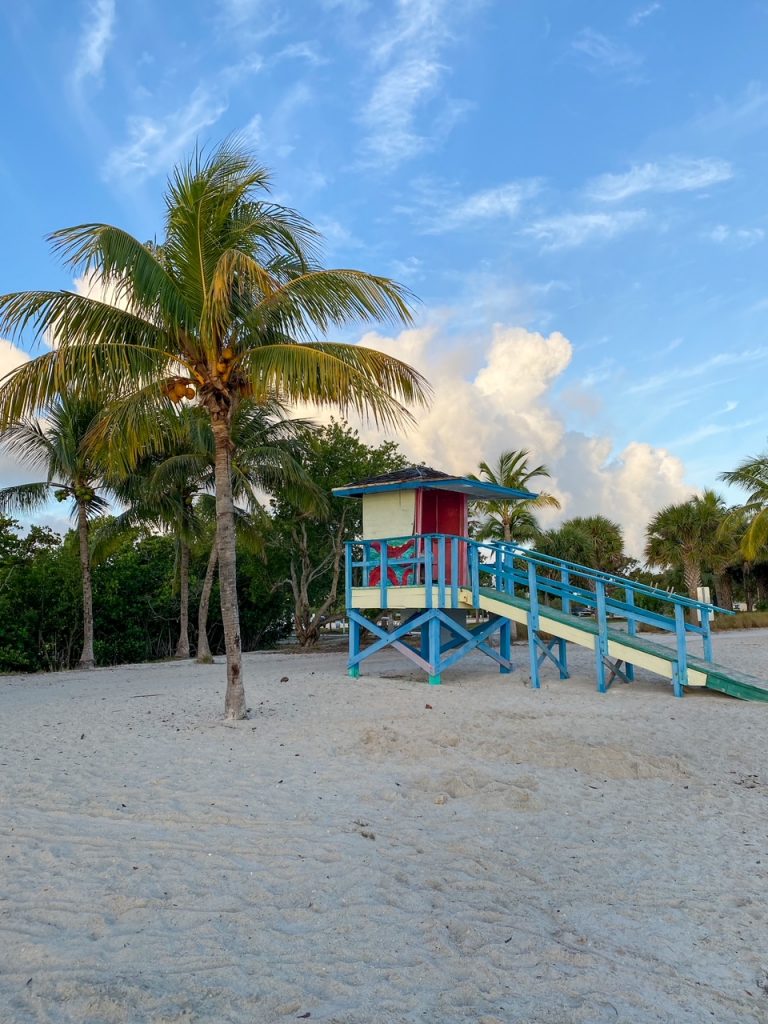 Take an Airboat Tour at Gator Park
When we made our way back to the visitor center, we saw that it wouldn't be open until 8:30 AM. It would've been nice to explore more here, but Don wanted to press on to the Gator Park The Everglades. After some quick research on his phone, he stumbled upon this place and saw that they opened at 9 AM.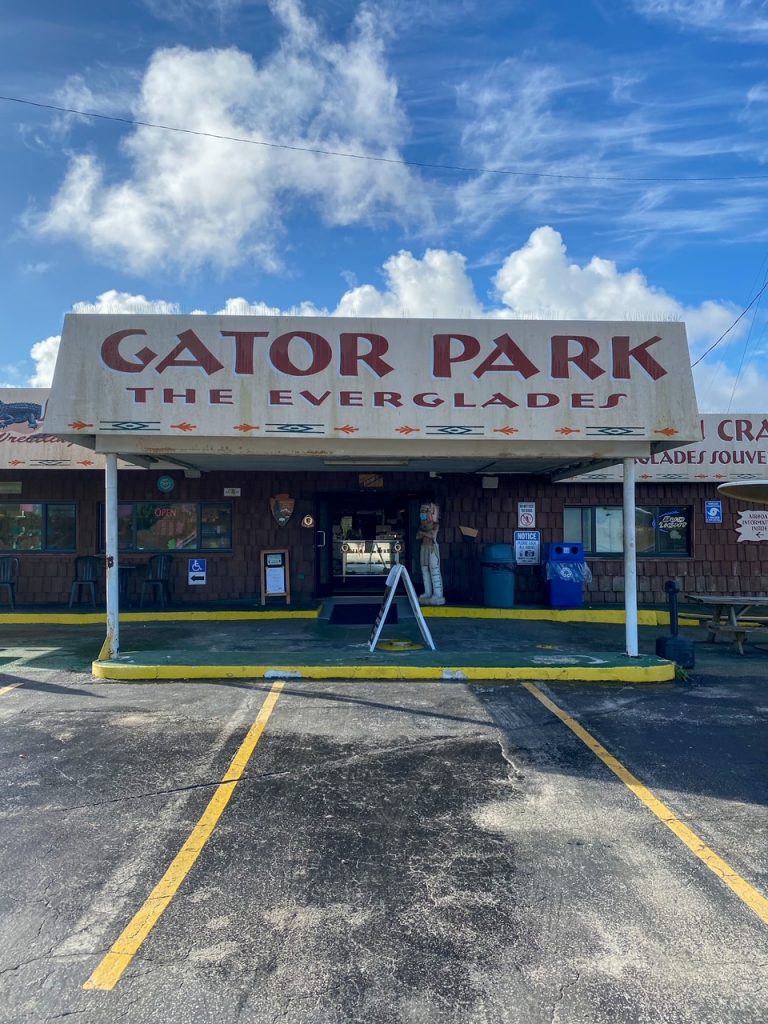 When we arrived, we waited a few minutes for them to open before going inside. Tickets were $28 plus a $5 National Park fee to enter the Everglades (per person). We could've paid online and received a discount, and we would recommend doing this in the future, but we wanted to go inside and check the place out first, since we didn't know anything about it.
The first tours start between 9:30 and 10 AM. While waiting, you can walk around, observe some alligators around back and check out a small observation deck.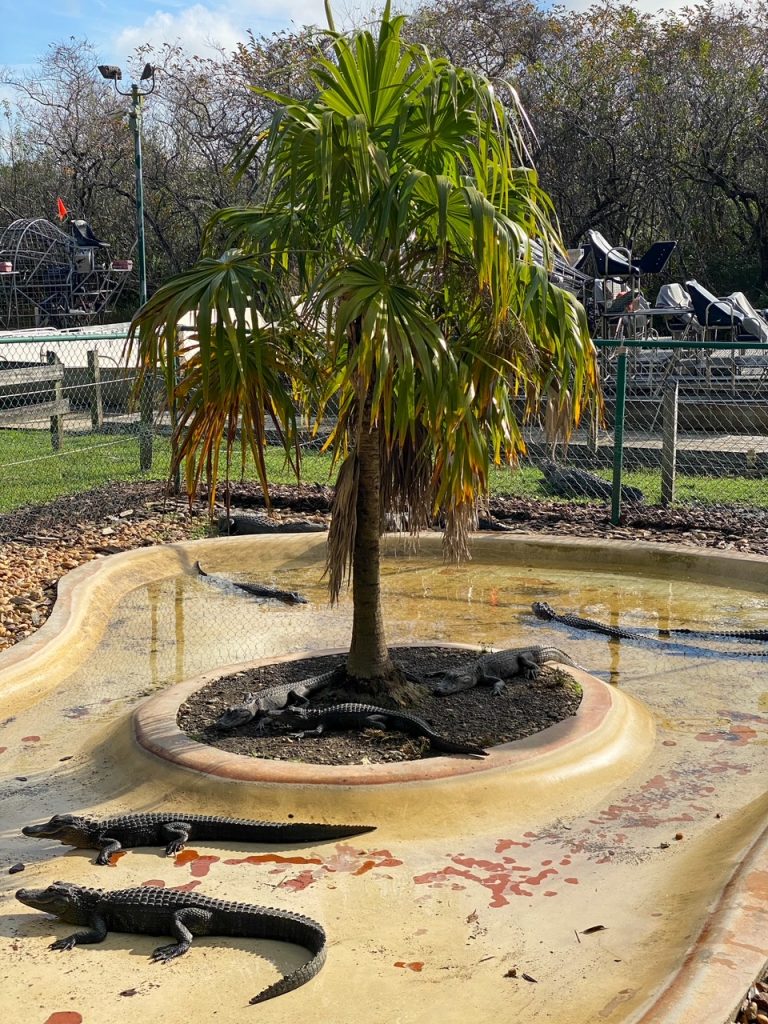 To be honest, there's not much to do otherwise, and it would've been nice to not have to wait so long. We didn't end up going out until 9:50 AM, and just when we were about to leave, another couple showed up. It would've been nice to get a private tour though!
The tour lasted just around 30 minutes, which was a bit short in my opinion, but we did manage to learn some history and information about the Everglades and to see a few alligators.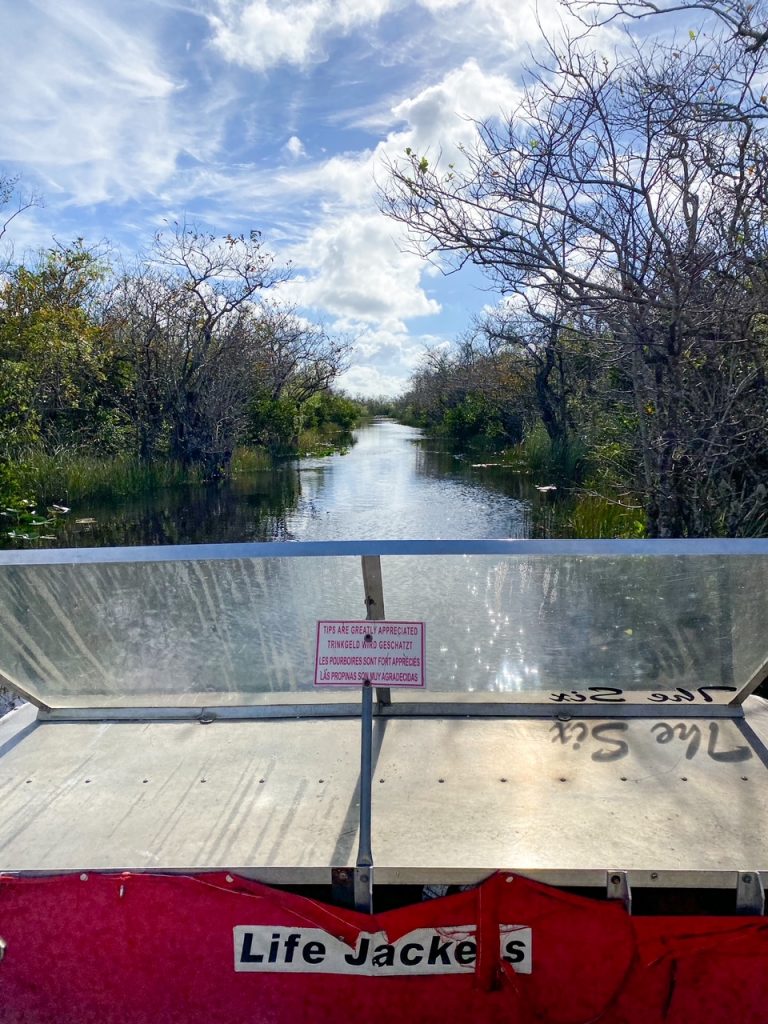 Back at the dock, we tipped our guide and noticed there was a whole tour bus pulling up. Seems like we had arrived at the right time!
We made our way to a small arena where we watched a 15 minute alligator and crocodile demonstration. We learned the difference between the two; apparently, crocodiles are much more dangerous than alligators. We also learned that southern Florida is the only place in the world where alligators and crocodiles coexist. Pretty interesting stuff!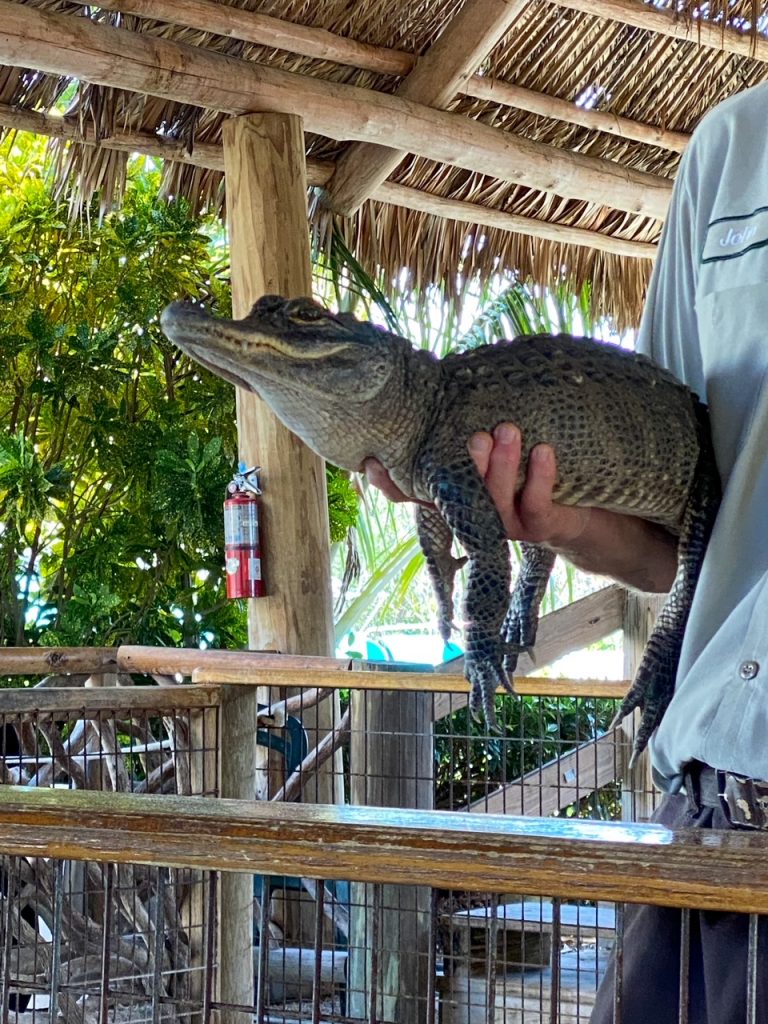 After the show, you can get your picture taken with one of the baby alligators, but we opted out of this.
Eat Lunch at the Rustic Inn Crabhouse
I hopped on a work call while the rest of the gang tracked down a spot for lunch. They landed on the Rustic Inn Crabhouse. This place was super cute, and we were able to sit outside, which was really nice. Their menu offered a lot of options, and the food was delicious!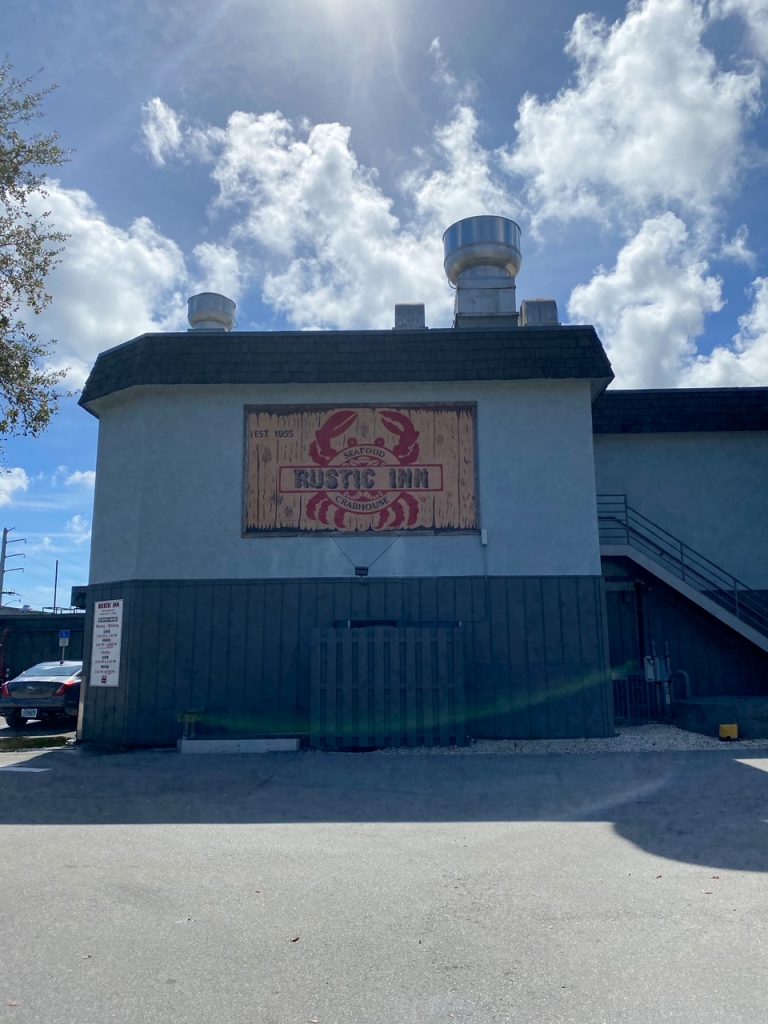 All of us would definitely eat here again and recommend this restaurant. I will say that our waiter was a little odd. He basically didn't make eye contact the whole time, but he was very efficient! We had drink refills before our empty cups ever hit the table. He also didn't charge us for our drinks. I'm not sure if that was his choice or if that's just how this place rolls! Either way, it was a pleasant surprise when the bill came.
Take a Stroll at the Secret Woods Nature Center
Up next was the Secret Woods Nature Center. It's a one-mile loop trail that is family-friendly and good for all skill levels. We got here around 2 PM and immediately looked for some bathrooms. Now, these were literally the nicest bathrooms of the entire trip. And, I've certainly never seen such nice and clean bathrooms at any nature center or trails.
Opened back in 1978, the Secret Woods Nature Center, is a 57-acre designated Urban Wilderness Area and was Broward County's first nature center. It's home to three vegetative communities: an inland freshwater cypress and maple wetland, a pond apple and mangrove community, and a laurel oak hammock.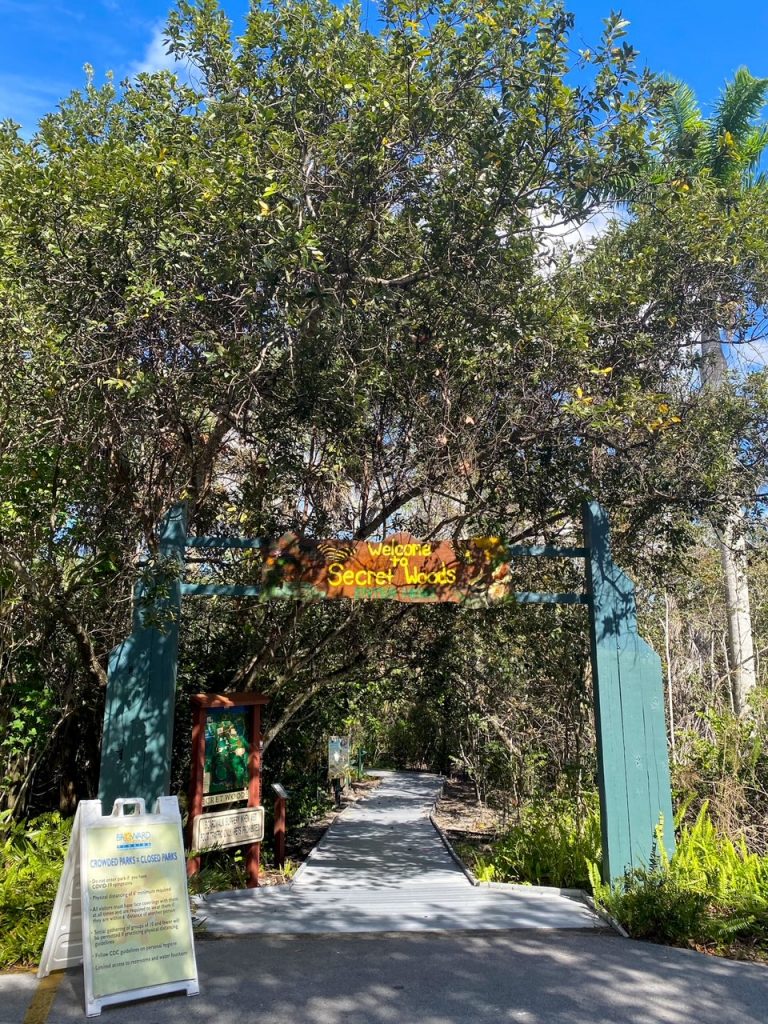 There are several trails to choose from:
Laurel Oak Trail – a 1,200-foot mulched nature trail that starts with a hardwood hammock and continues through a tidal marsh area and back. The trail boasts laurel oaks, live oaks, sabal palms, wild coffee, green- and red-tipped cocoplum, beautyberry, white stopper, leather ferns, pond apple trees, white mangroves, and several palm varieties.
New River Trail – a 3,200-foot boardwalk trail, constructed almost entirely from recycled plastic lumber. The trail also starts with a hardwood hammock. It offers similar vegetation as the Laurel Oak Trail, and as you approach the river, a tidal marsh area emerges.
Butterfly Island – a 3,800-square-foot walk-through butterfly garden with more than 20 different species of plants that attract butterflies.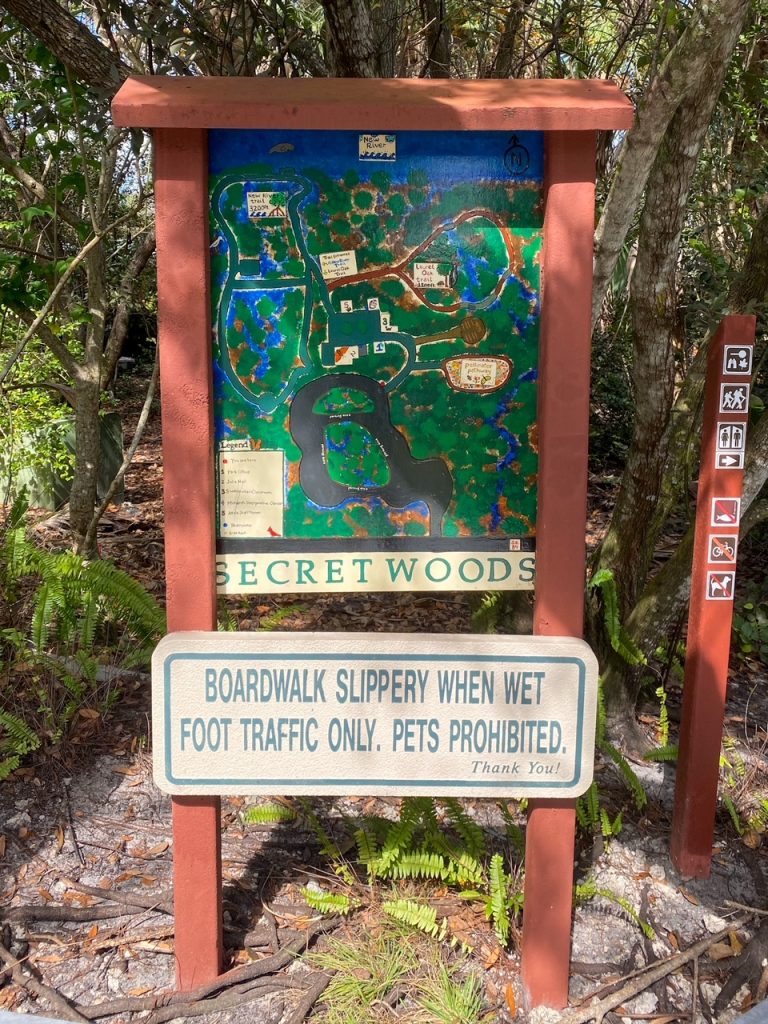 Along these trails, you may see birds, squirrels, crabs, and lizards, and there are several seating areas along the way.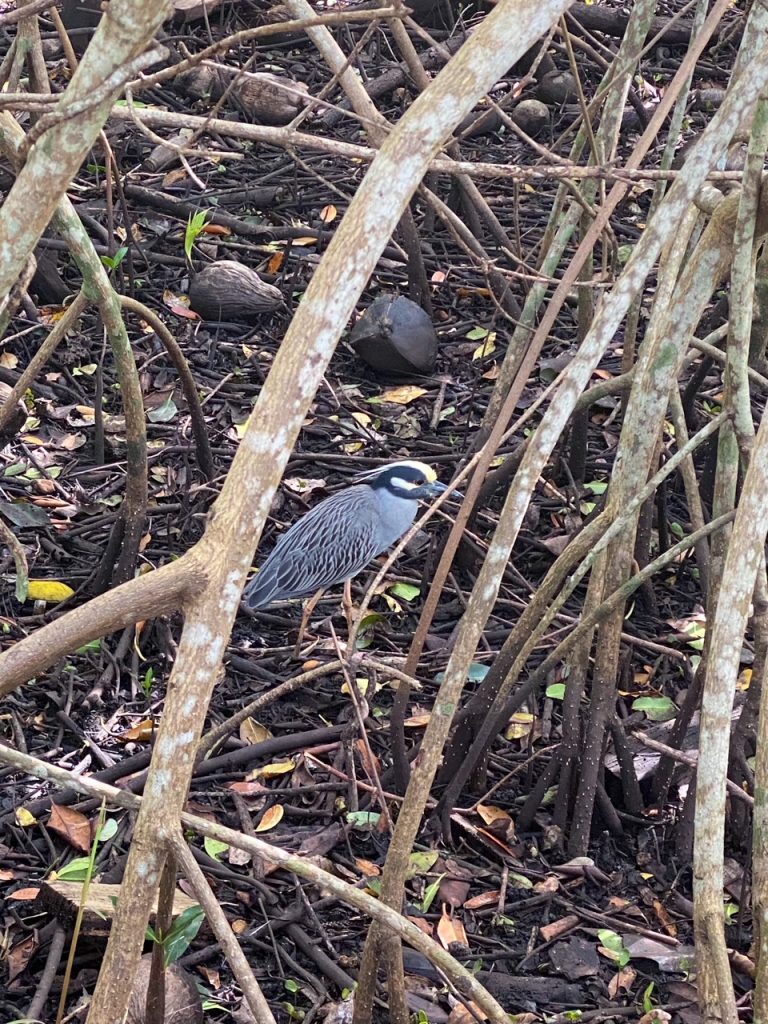 Find Your Way Through Hugh Taylor Birch State Park
We arrived at Hugh Taylor Birch State Park, one of the Florida State Parks, around 3 PM. The entrance fee is $6 per vehicle, but someone ahead of us paid for ours, so our visit was free! How kind. Once we parked and started walking around, we almost immediately saw this little tortoise friend.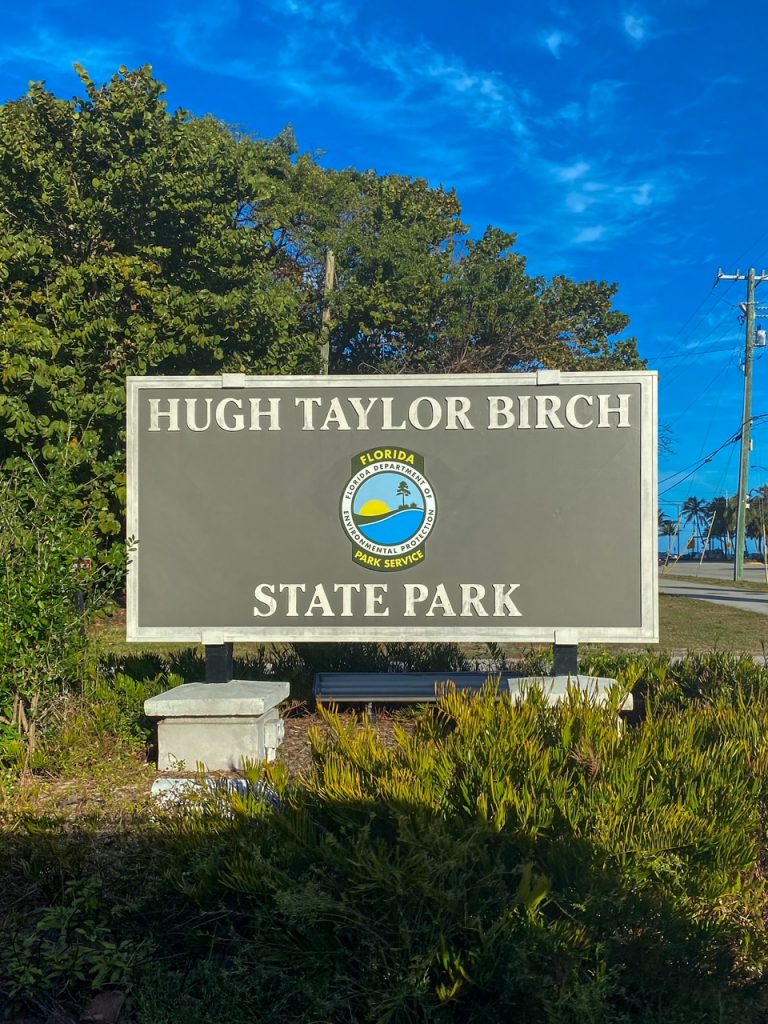 We noticed a beach area that was accessible for an additional fee, as well as a site map that referenced several trailheads. For some reason, we had the toughest time finding any of the trailheads. We wandered around for a while and started following a random path. Having no idea which trail we were on – haha, we eventually came upon this unique tree and noticed someone relaxing up among the branches!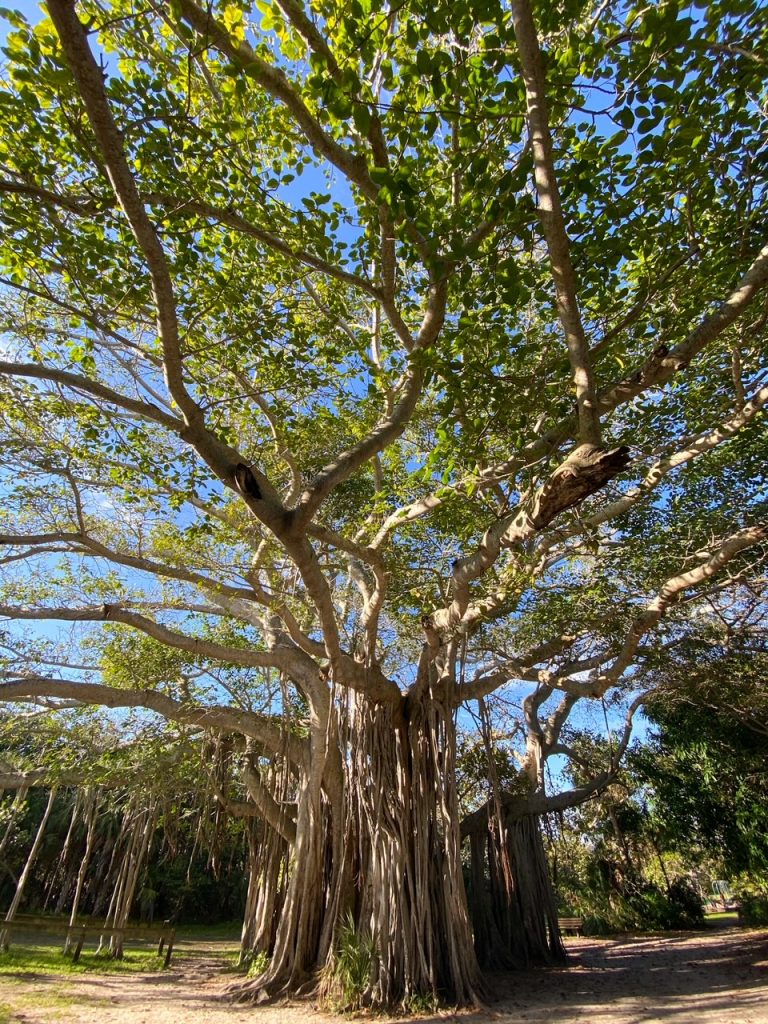 We continued through the random trails and at some point, found ourselves by the water. And, we even made a quick stop at the meditation garden onsite.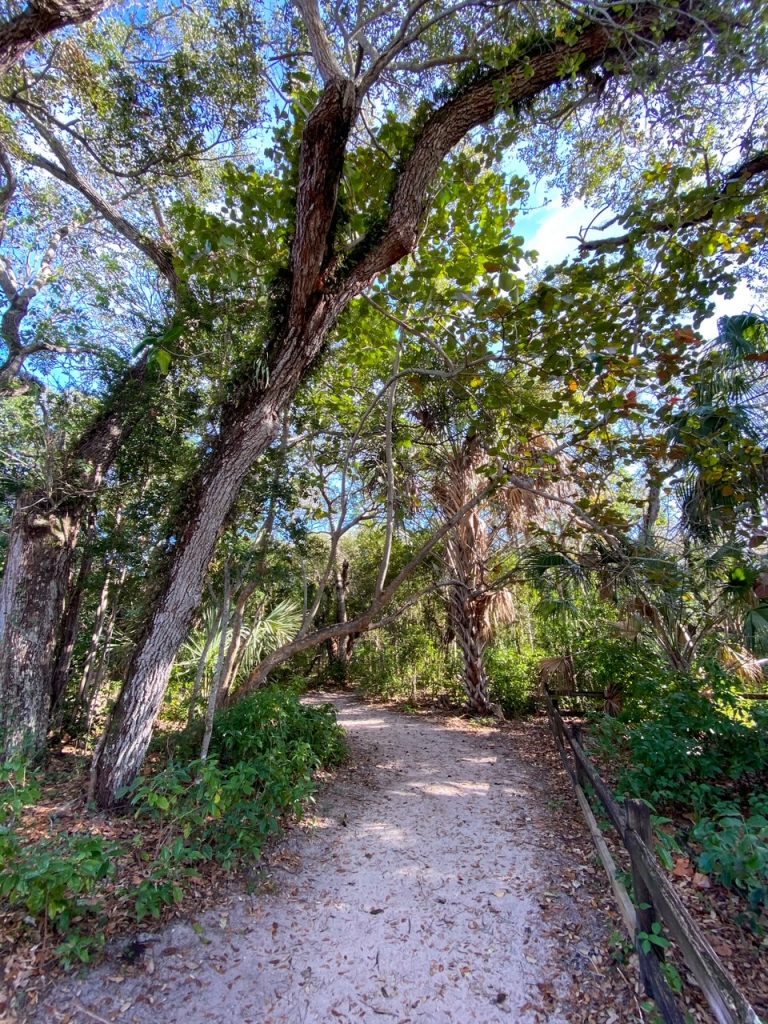 Catch Another Sunset at Deerfield Beach
When we got back to the apartments in Deerfield Beach, we headed to the beach to watch the sunset. Here, we stumbled upon a bunch of jellyfish that had washed up on shore. P.S. make sure not to touch them! Tim was once stung by one these guys even after it had washed up on the shore.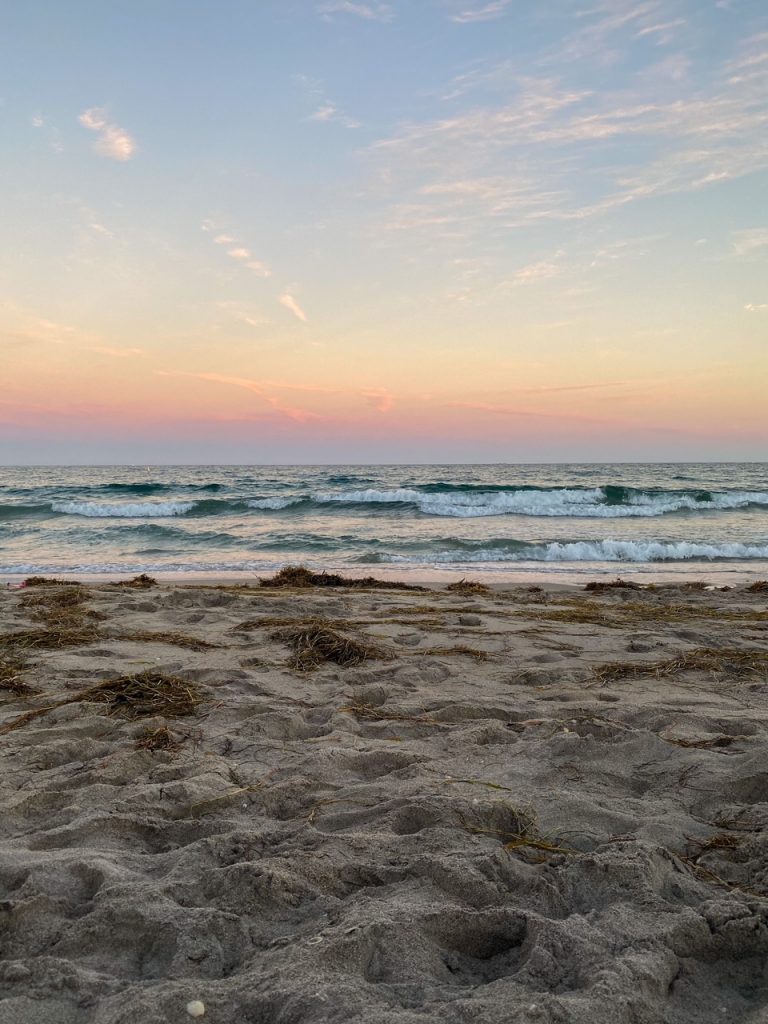 Eat Dinner at Sushi Song
Then, we met the gang at Sushi Song for dinner. The staff were adamantly enforcing mask policies, which we appreciated. Although there wasn't outdoor seating, we were able to find a table that was off in the corner and away from the other customers. Sorry, we were too hungry to remember to take any photos. We can attest that the sushi was pretty delicious, though!
Once again, we headed back after dinner, since our final day would be another early one.
Day 6: Deep Sea Fishing
Catch an Atlantic Sailfish
Around 6 AM, we drove to Boynton Harbor Marina for our half-day, i.e. four hour, deep sea fishing excursion. Don had really been looking forward to this and was hoping to reach one of his goals: landing an Atlantic sailfish. Again, Don chose Fish Envy Charters, and this time, Captain Chris, the owner of the boat, would be joining us to share his kite fishing expertise, along with Captain Robert and Mate Tyler.
A Broad Recommendation: There are public bathrooms available at the dock and we highly recommend using these before boarding. There was a very small toilet on board, but ladies, you don't want to use this one if you don't have to – that's all I will say, haha. Of course, every boat is different, so you may get lucky!
We set sail around 7 AM, and we enjoyed watching the sunrise and riding the waves. After a while, the waves even started rocking some of us to sleep!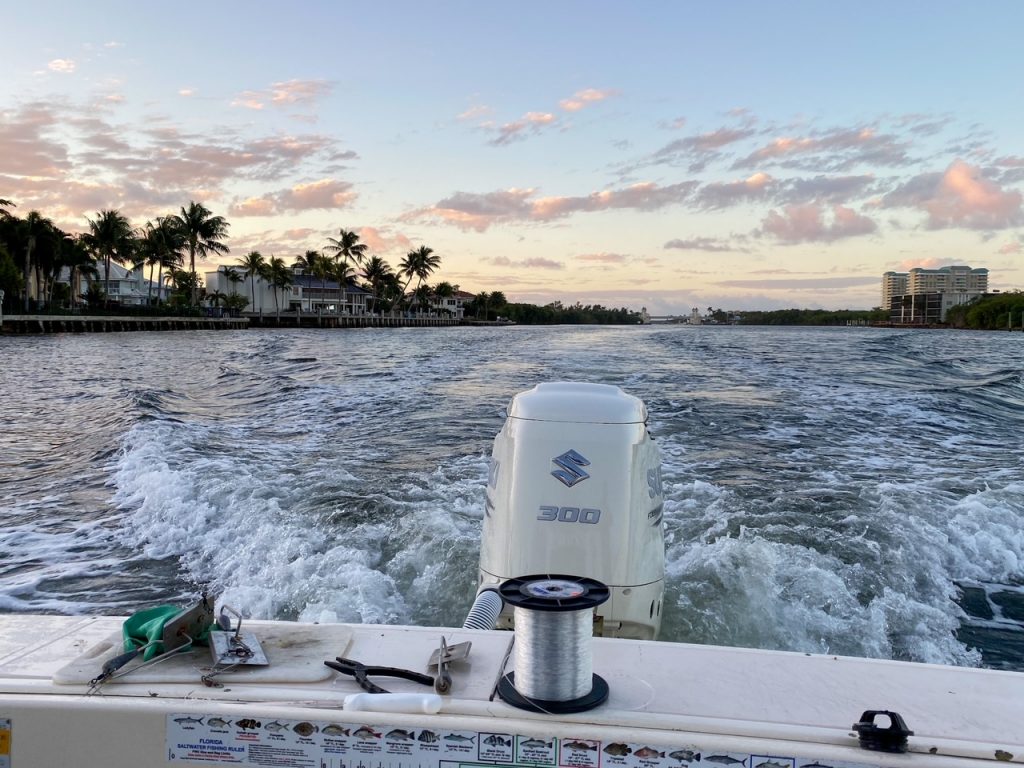 A Broad Recommendation: I ate a granola bar while on board thinking that it would be a good idea to fill my stomach. This actually made me feel nauseous with all of the waves crashing against the boat, so be careful with what you choose to eat.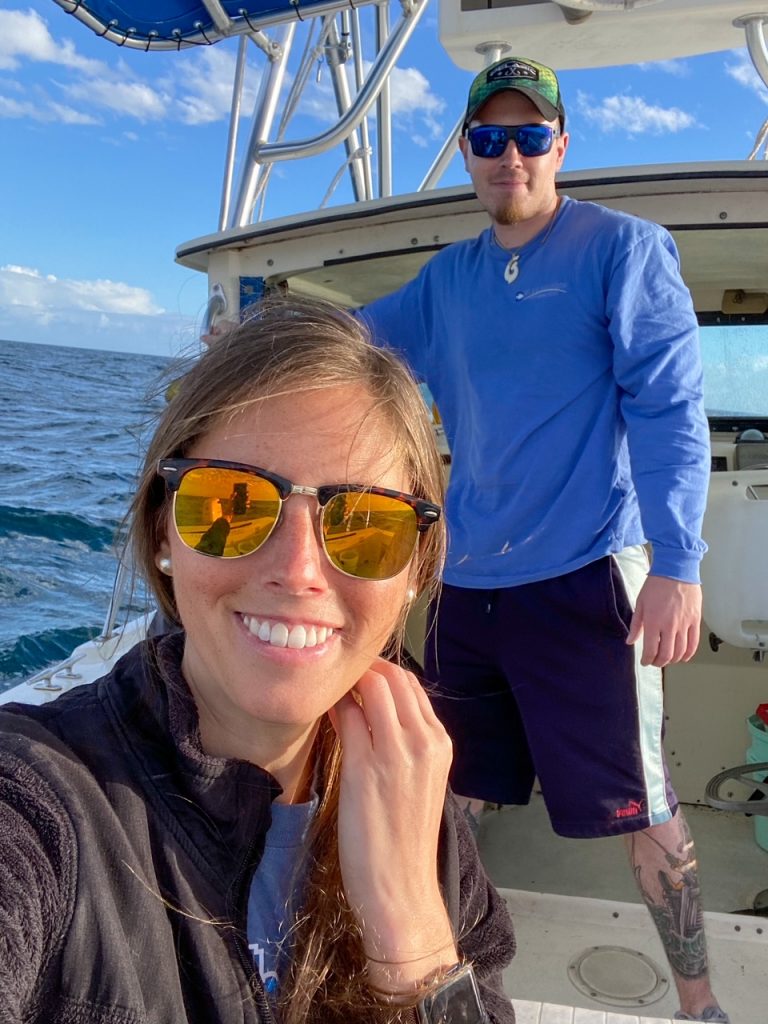 Along the way, we stopped to buy some live bait (specifically, goggle-eyes) for a pricey $100 per dozen. Before we even made it all the way out and were still trolling, Don reeled in a ten-pound kingfish. Considering he and Kristina go fishing all the time, this was no surprise to any of us!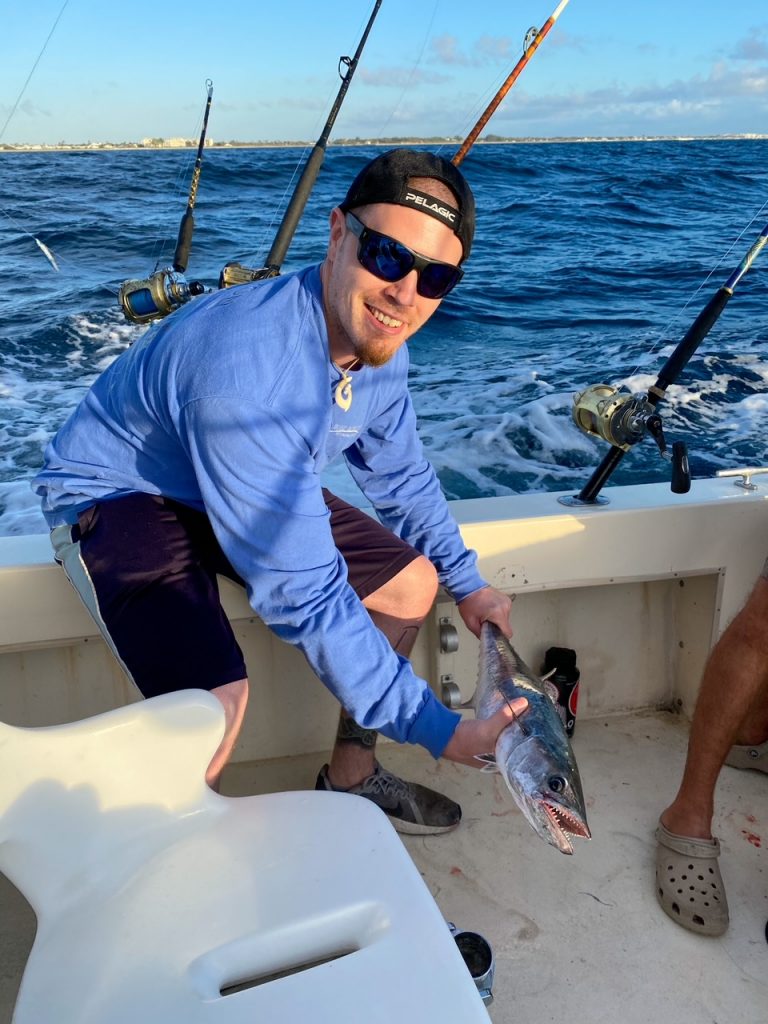 Once we reached a depth of about 100-200 feet, the team set up the kites for sailfish fishing. We waited a bit before one of the lines started moving, and we saw a goggle eye disappear beneath the surface, as a line came off the kite. We had hooked something!
Tim took the rod, but the crew couldn't understand why the fish was acting funny. They thought it could be a foul-hooked sailfish or maybe even a mahi-mahi (also known as dolphin or dorado). After a long game of tug of war, we finally saw what Tim was up against: a six-foot silky shark! We left it in the water, snapped a few quick photos and safely released it back into the abyss.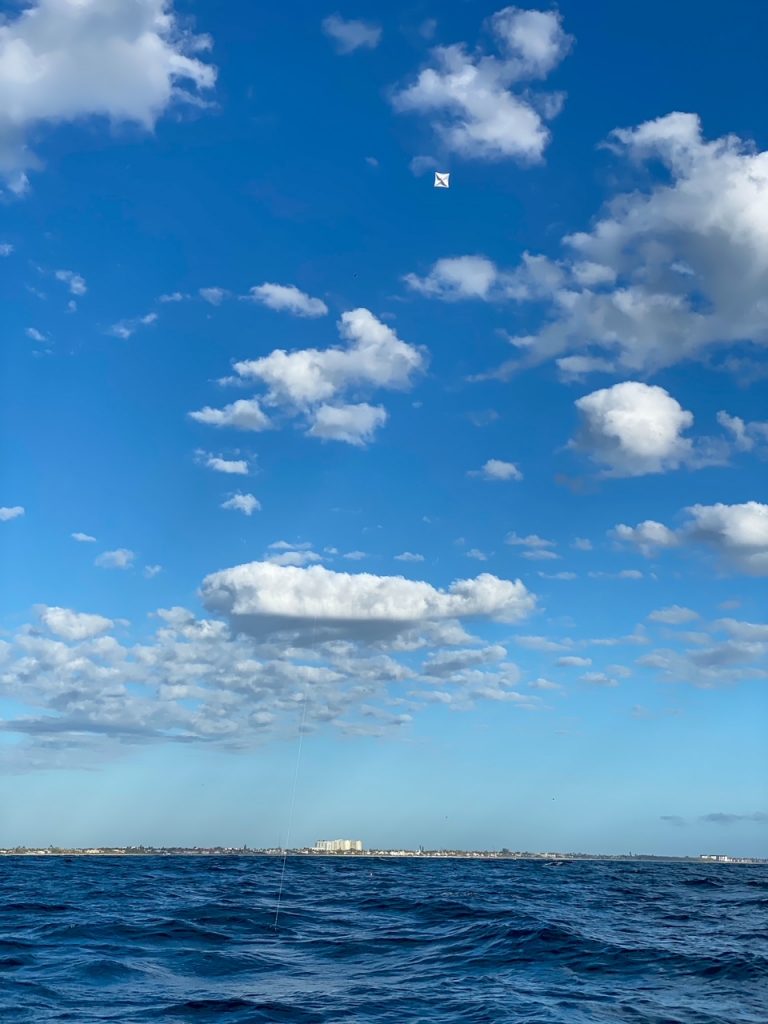 The lines were reset on the kite, and we waited in anticipation for another bite. The water was getting pretty rough at this point, but the high winds made for some great kite fishing! With about 30 minutes left, we started having some doubts. That's when we suddenly saw a glimmer of an Atlantic sailfish just beneath the surface out in the waves. Captain Robert shouted, "I have two…no, three sailfish behind the boat!". Fortunately, one grabbed our bait, and in Don's words, "we were hooked up".
We knew that catching a sailfish was one of Don's dreams, so Kristina and I let him reel in this 80″ beauty. Again, after some quick photos, the fish was safely released – and Don had accomplished his ultimate goal!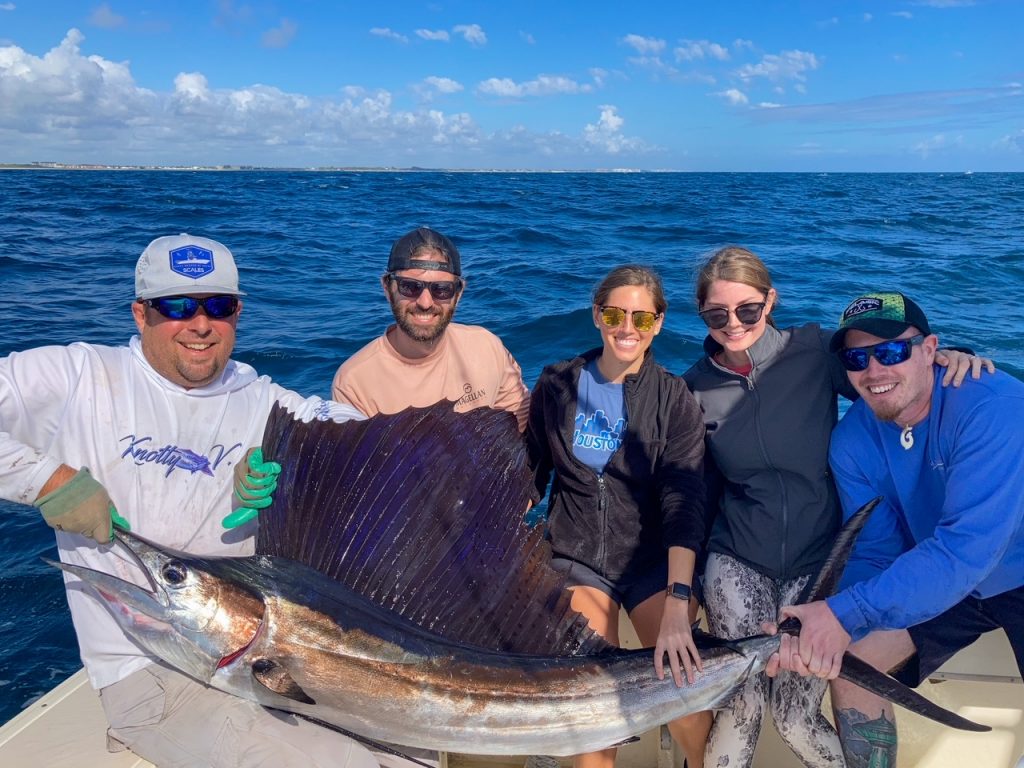 After catching a sailfish, it's typical to show your pride by raising a flag on your way back to shore.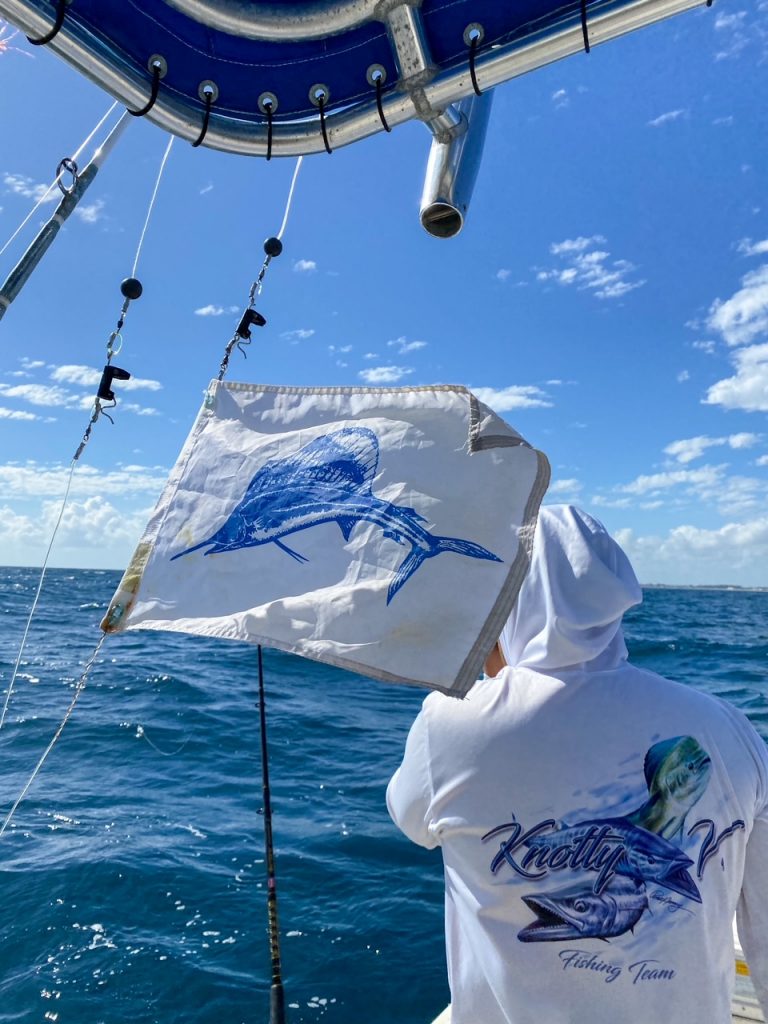 A Broad Recommendation: Take Dramamine the night before and the day of your deep sea fishing trip. Even with it in my system, I still felt spurts of sea sickness from time to time. If it's your first time out on the water or there's any chance of you getting sick, I'd highly recommend taking some.
Try the Catch & Cook at Two Georges
Once we made our way back to shore, we headed to Two Georges at The Cove for lunch where they cooked up the one fish we hadn't released, the Kingfish. They served it "fish and chips" style, and it was pretty delicious; this is something I never had experienced before either! Pretty cool.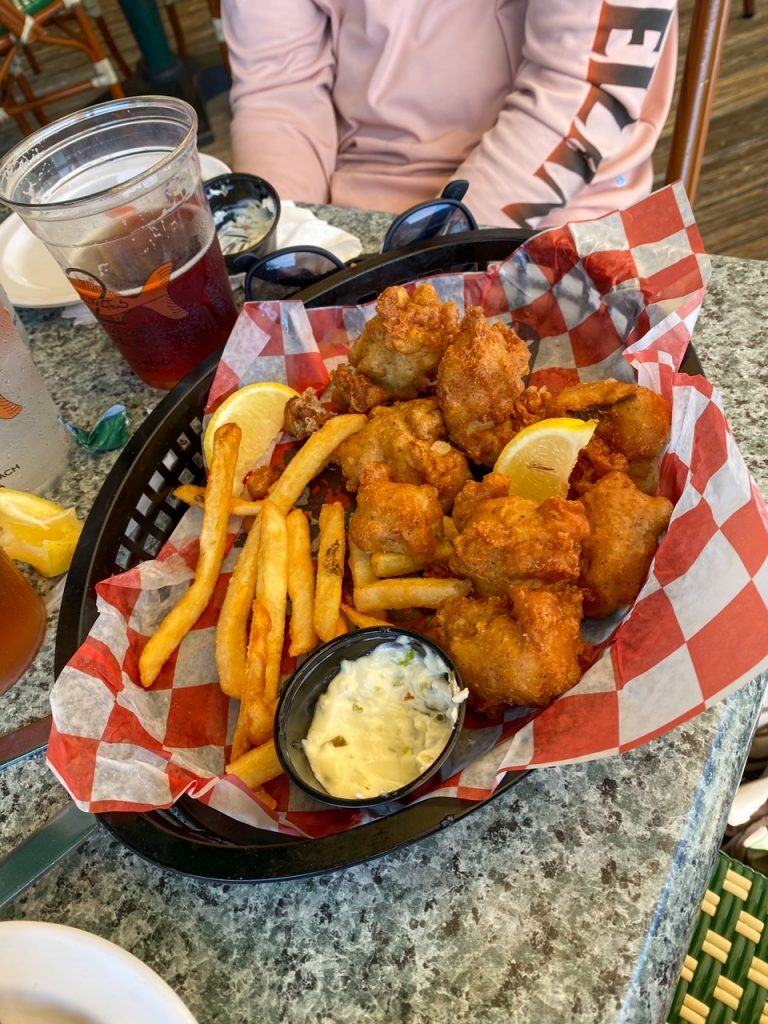 Read or Nap at the Beach
By 12:30 PM, we were back at the apartments. Tim and I decided to go to the beach for the rest of the afternoon. Don and Kristina wanted to walk along the Deerfield Beach Boardwalk, explore and do some shopping.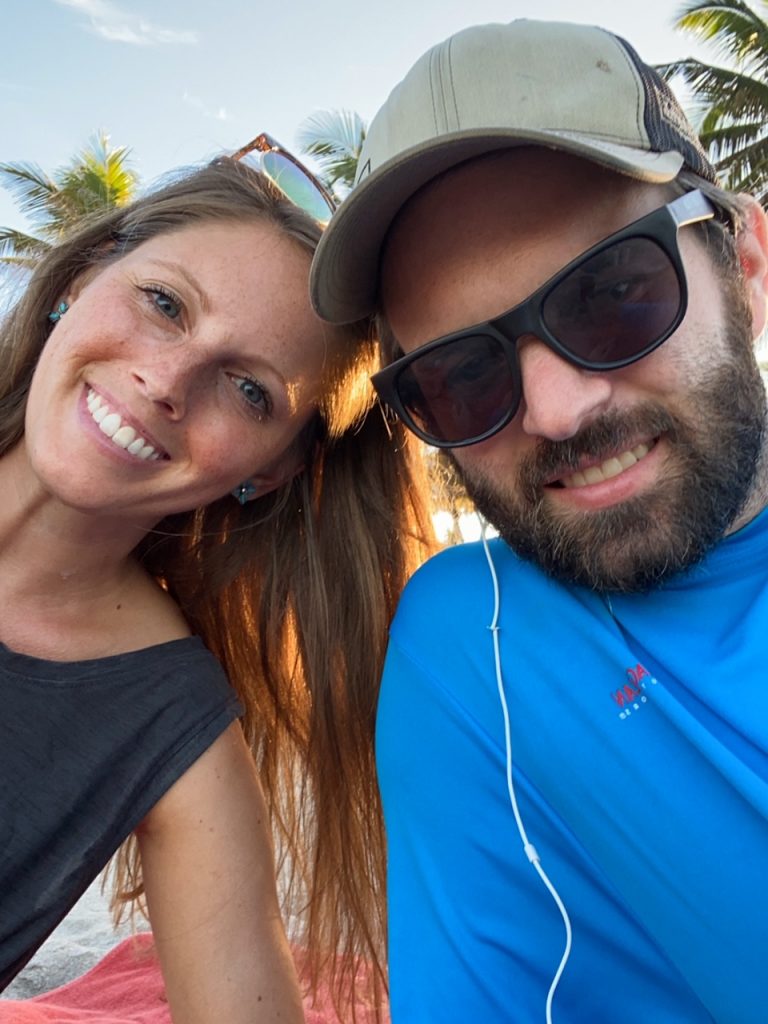 Have Dinner at Playa Bowls
We met back up around 5:30 PM to walk along the beach, watch the sunset and grab dinner.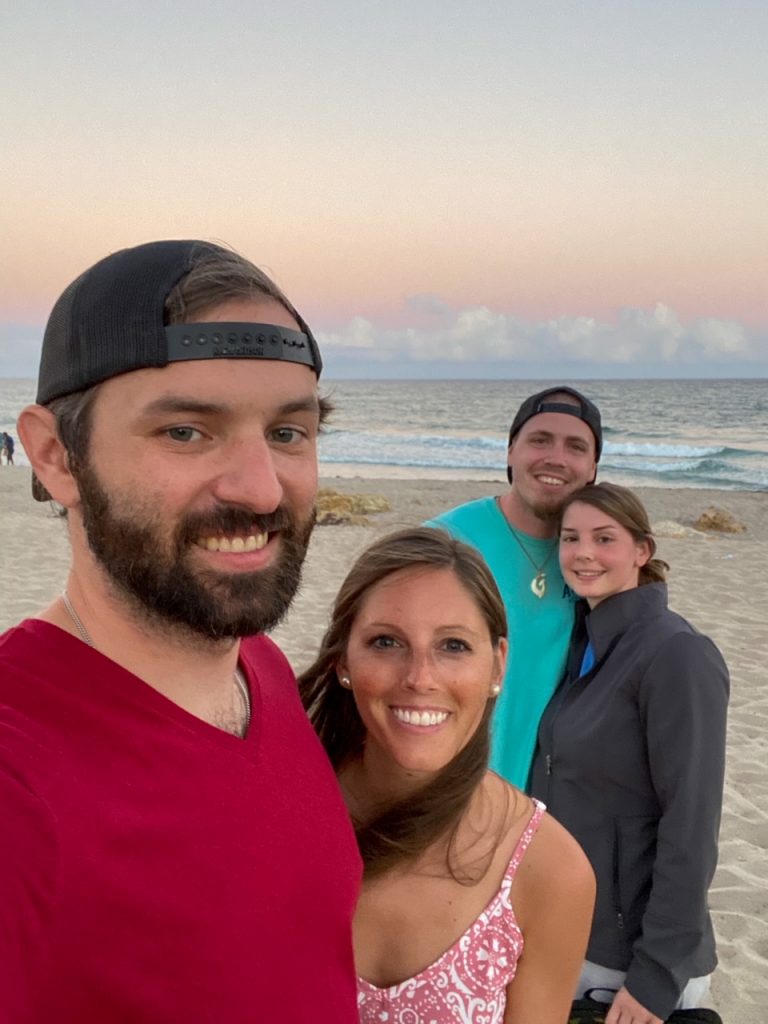 We were intrigued by a place we had passed a couple of times called Playa Bowls. After eating out for most of our meals that week, we decided this might be a lighter and healthier alternative. And, we all agreed that our meals were yummy. At some point, I realized I had eaten at this same place back in Ocean City, Maryland. How funny!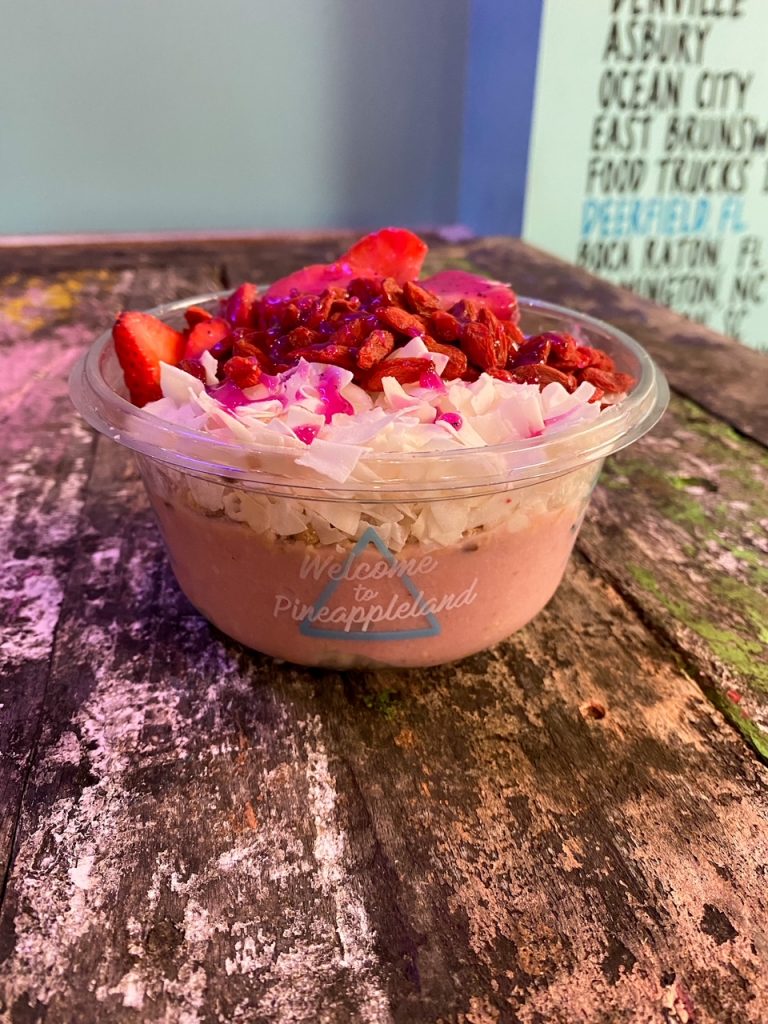 Sadly, our wonderful Deerfield Beach trip was coming to a close. Don and Kristina needed to head to bed for their early morning drive home.
Day 7: Beach Day & Heading Back Home
Soak in One Last Bit of Sun
Don and Kristina woke up around 4 AM and started their drive with the goal of making it all the way back to Maryland before an incoming snowstorm hit.
Tim and I slept in until around 10:30 AM, then spent the day at the beach.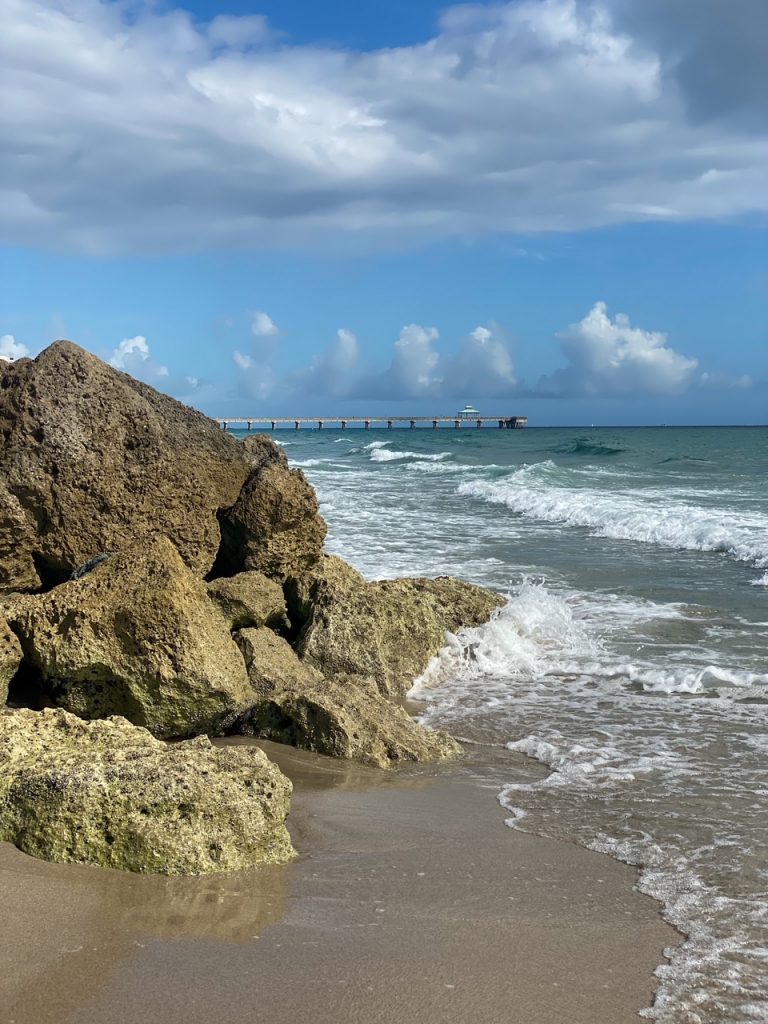 Check Out and Fly Home
Around 2 PM, we got ready to check out of our apartment. The lady who runs them was so sweet and gave us free late check out. Apparently the guests who stayed before us had messed up the stove, which she had called me about before our visit, and when I asked for late check out, she was happy to oblige. Overall, she was great with communication and provided top notch service. The toilet paper situation was our only complaint (we only had a half of a roll and ended up just buying another).
We hung out on one of the benches just outside the apartments and ate some leftovers. Then, we called an Uber around 3 PM, not realizing it was going to take as long as it did. When all was said and done, we arrived at the airport, which was only around 25 minutes away, close to 4 PM.
A Broad Recommendation: Check the Uber wait times ahead of your desired departure time. We waited a while for one to become available, then we waited another 20 minutes for it to arrive. I had never experienced such a long wait time before, and I'm not sure if this is a common occurrence in Deerfield Beach.
Luckily, we had given ourselves plenty of time, and no lie, it took us less than two minutes to get through security at FLL! Note: we checked in online with Southwest 24 hours prior to our flight time, and we never check our bags. Leave more time for this if you need to check one.
Then, our flight got delayed due to bad weather wherever our plane was coming from. This was annoying, but once we got on board, we had some pretty spectacular views of the sunset – our last sunset of the trip!
Once we landed in Houston, we had to wait for nearly another hour to deplane! Apparently the winter storms were impacting other flights too, and the airport was having trouble managing all of the flight changes. Little did we know that we were returning to arctic temperatures. Houston was about to experience its first snow storm since I moved there more than six years prior!
Reminisce About Your Trip to Deerfield Beach
Our trip to Deerfield Beach, Florida was certainly one for the books! We all had such a blast, and it was great spending my brother's 30th birthday with him; he may have even said it was one of the best trips of his life, but who knows :).
Check back in soon to see where we went to next! And, in the meantime, check out some of our other adventures throughout the United States:
Have you ever been to Deerfield Beach, Florida? Leave us your thoughts in a comment below!
And, don't forget to pin it!
XOXO Travel A-Broads