In March of 2022, I, along with seven other gals, traveled to Tamarindo, Costa Rica to celebrate our beautiful friend and bride-to-be, Courtney.
Located on the North Pacific Coast of Costa Rica, Tamarindo, Guanacaste is a small beach town known for its gorgeous white sand beaches, crystal clear waters, sunny days, killer surf, and stunning sunsets.
Tamarindo is quickly becoming one of the most popular areas to visit in all of Costa Rica, and it's a perfect tropical getaway for surfers, families, and bachelorette party goers like us!
Despite its popularity, the North Pacific Coast is one of the least populated areas in Costa Rica, offering some of the most beautiful and unspoiled beaches, as well as kayaking, stand-up paddle boarding, sailing, fishing, hiking, horseback riding, and more, in addition to the more common beach activities like sunbathing, swimming and surfing.
*P.S. this post contains some affiliate links. At no additional cost to you, we may earn a small commission when you make a purchase.
Costa Rica Entry Requirements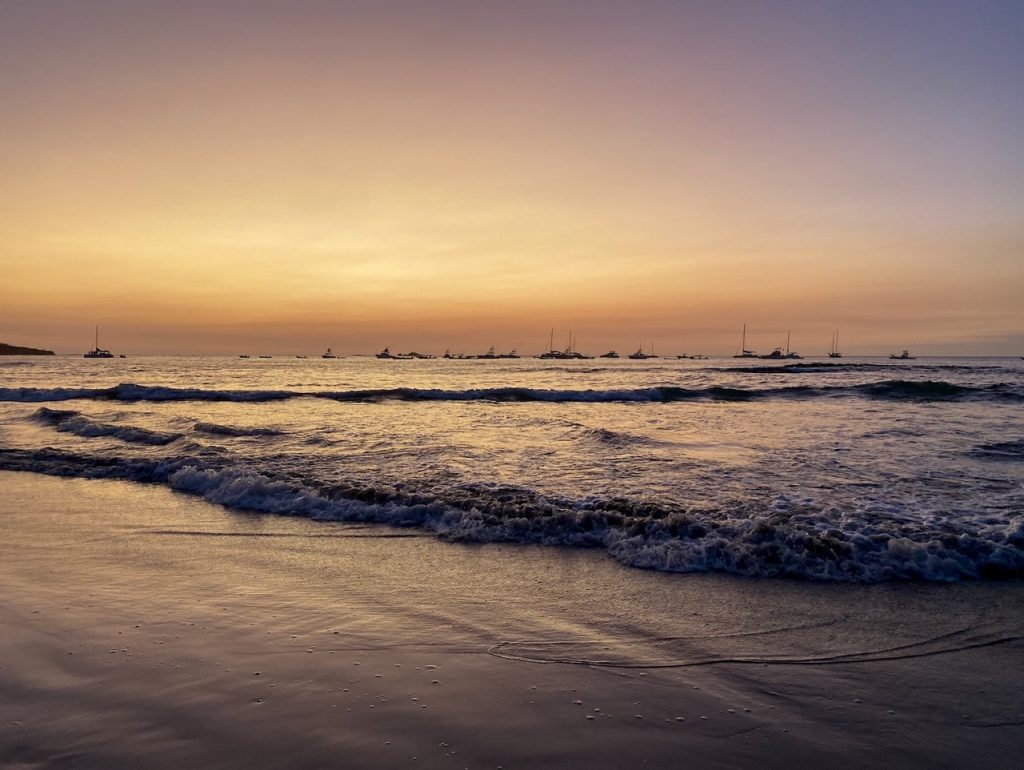 First things first, if you're planning a trip to Tamarindo, Costa Rica, you'll need a passport that has at least three months remaining before expiration (this is based on your arrival date).
Proof of a return flight ticket is also required to enter Costa Rica. Your country of origin determines the amount of days available to stay in Costa Rica as a tourist. For U.S. citizens, the limit is 90 days.
The full list of entry requirements can be found here.
Note: as of April 1, 2022, visitors are no longer required to complete the epidemiological form (Health Pass) nor do unvaccinated visitors need to show proof of medical insurance. Masks are also no longer required, and capacity is back to 100% for restaurants, bars, etc.
A Broad Recommendation: remember to download the Tamarindo area on offline Google Maps, so you can access directions even without cell service or WiFi.
Costa Rica: The Basics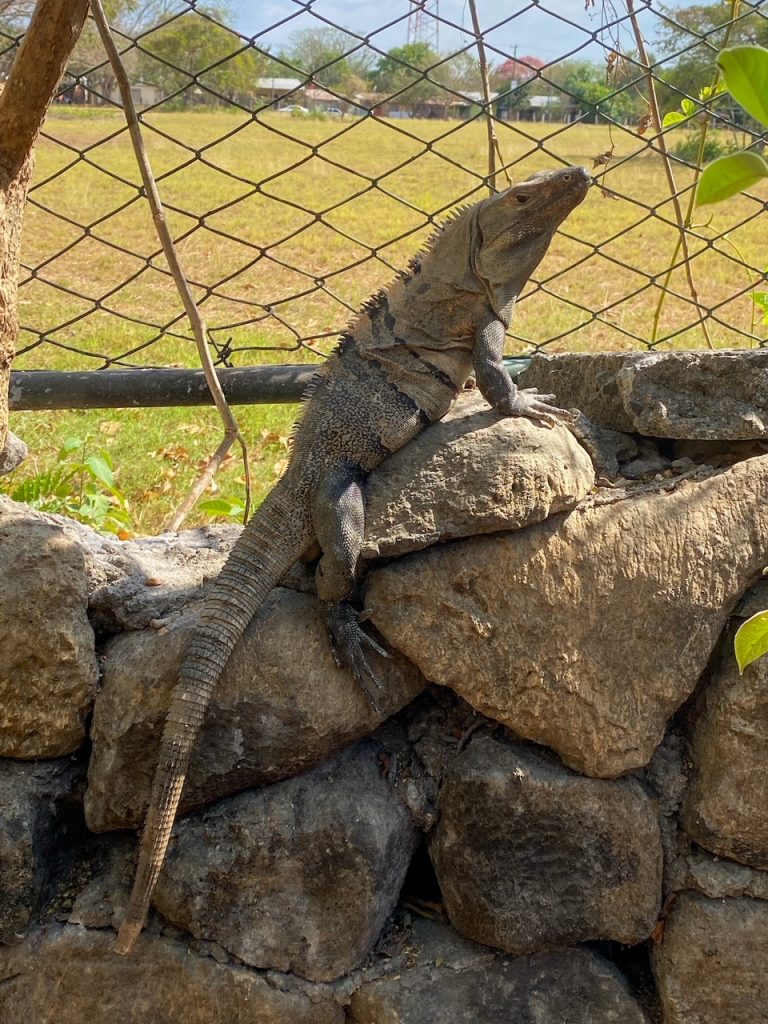 "Pura Vida" means "simple life" or "pure life", and in Costa Rica, it's more than just a saying – it's a way of life. No wonder Costa Rica has been named one of the happiest countries in the world! It's also one of the safest countries, making backpacking Costa Rica quite popular.
Costa Rica's currency is the Costa Rican colón (CRC), but most places in Tamarindo will accept USD or credit card, so you probably won't need to worry about currency exchange before or during your trip.
A Broad Recommendation: avoid exchanging currency at the airport, as you'll likely receive a disadvantageous exchange rate. Costa Rica openly accepts USD, so you probably won't need Costa Rican colones during your visit anyway.
It's generally safe to drink tap water, and it's safe to eat most fruit.
Tipping is accepted but is always at your discretion. We tipped with these guidelines in mind:
Restaurants: 10% of the bill unless a service charge is already included
Private driver used for an entire day or excursion: 10%; for shorter drives (4 hours or less): $3-5
Guide used for an entire day or excursion: 10%
Someone taking photos or helping with some other small favor (solicited or unsolicited): $3-5
Cleaning services: $1 per day
Always be mindful of the wildlife. Make sure to watch out for endangered sea turtle eggs, don't pet stray cats or dogs, and don't play with the monkeys, iguanas, etc. I get it; they're all so cute, but these animals could also have rabies or be carrying some other diseases, so it's best to keep your distance.
What to Pack for Tamarindo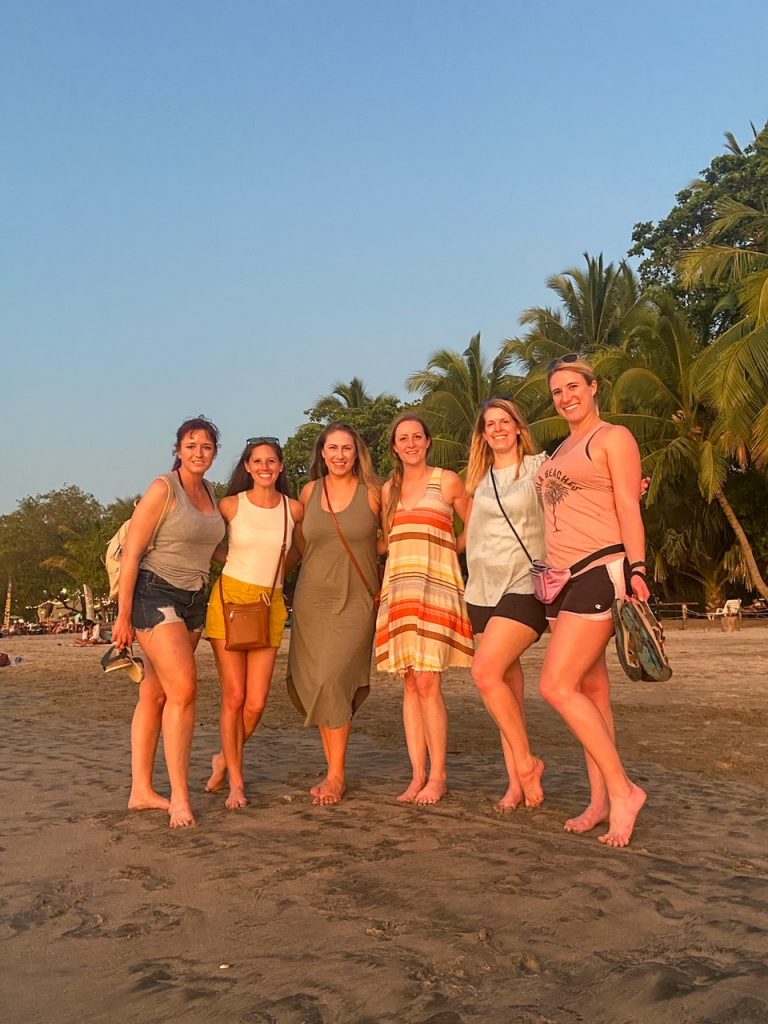 The most important thing to remember is your passport! Consider making a photocopy of your passport, bank/debit and credit cards, and any insurance and vaccination cards in case they get lost.
It's also a good idea to have cash on hand; for a five-day trip, we recommend bringing about $250 (USD) per person, since some places don't take credit cards, and you may want to tip throughout your trip.
During the time of our visit, we had to take Covid tests to get back into the U.S. This is no longer a requirement, but you may still want to bring test kits and extra masks in case you start feeling ill while traveling or in Costa Rica – safety first!
Speaking of safety, don't forget to pack a first aid kit; it's always good to be prepared, especially when traveling internationally. You should also pack any medications you take regularly, feminine products and any other medications you may want to have handy like medicine for sinus congestion, cough, upset stomach, etc.
You also will want to remember to pack your toiletries, bug spray, anti-itch cream, sunscreen, after-sun lotion, hand sanitizer and tissues.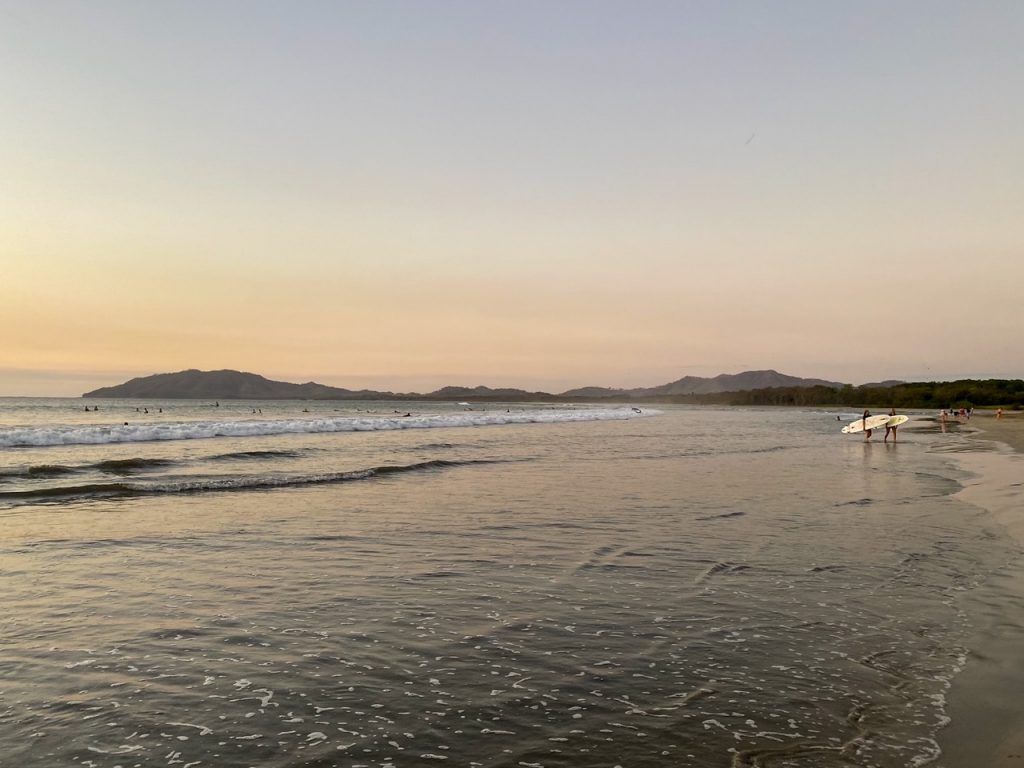 Since Tamarindo, Costa Rica is a beach town, you'll want to bring your bathing suits, cover ups, flip flops, beach hat, sunglasses, beach bag, waterproof cell phone case, and a small bookbag or dry bag for excursions. You'll also want to bring your favorite summer dresses, rompers, shorts, etc.
Lots of people will be walking around in bathing suits, so I'd recommend just packing casual clothes that you'll feel comfortable in. If your hotel/Airbnb has AC, bring along a sweater or sweatshirt and a pair of socks (or a few) and some leggings to lounge in.
It's also a good idea to have a rain jacket or foldable poncho on hand in case of any sporadic rain showers. If you plan to do any hiking or waterfall excursions, bring your hiking or water shoes along too.
We also always travel with reusable water bottles. You can buy large jugs of water at the convenience/grocery stores in Costa Rica and refill using that instead of buying smaller plastic bottles. Plus, it's safe to drink the tap water.
In summary, here's the final list of everything you'll want to pack for your visit to Tamarindo, Costa Rica:
Cash – around $250 USD per person
Debit card and credit card(s)
Passport + a photocopy to keep stashed away in case it gets lost
Health insurance, vaccination card + photocopies
Covid kits
Face mask, eye mask and ear plugs for the plane
First aid kit + birth control + tampons + meds (sinus, cough, stomach, etc.)
Toiletries
Bug spray
Anti-itch cream
Sunscreen
After-sun lotion
Tissues
Hand sanitizer
Beach hat/sunglasses
Bathing suits + cover ups
Dresses/summer clothes
Sweater/sweatshirt
Workout clothes
Pajamas
Beach shoes/flip flops
Tennis shoes or water shoes
Rain jacket (though, we are visiting during the dry season)
Beach bag/waterproof bag for bathing suits
Small bookbag or dry bag
Waterproof cell phone case
Reusable water bottle
Camera/GoPro
How to Get to Tamarindo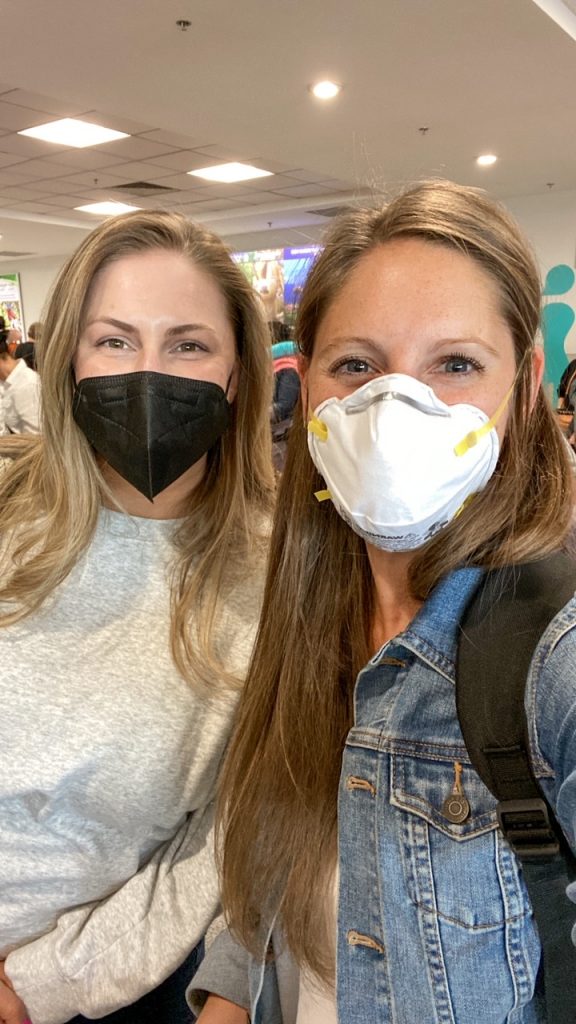 We flew from Houston, Texas's George Bush Intercontinental Airport (IAH) to Liberia Guanacaste Airport (LIR); we chose United and did an early morning flight to ensure we'd have some daylight to explore the area when we arrived.
Alternatively, you can fly into San José International Airport or take a domestic flight to Tamarindo, the first of which is around a four hour drive from Tamarindo, and the second of which is closer but likely more expensive.
You'll want to book transportation to your hotel or Airbnb in advance. This will ensure that someone is waiting to pick you up at the airport and that you won't get stuck paying for overpriced transportation services.
We chose LIR Shuttle, as they prioritize customer safety and comfort and offer private transportation to Tamarindo.
Their drivers are friendly and knowledgeable and are happy to answer any questions you may have. Our driver even let us stop for snacks and drinks on the way to our Airbnb!
Our drive was about an hour and a half long, and we paid $99 for six travelers one-way and $79 for two travelers one-way.
A Broad Recommendation: we didn't find it necessary to rent a car during our visit. Most tours will pick you up directly from your hotel or Airbnb or somewhere close by, and most grocery stores, markets, bars, restaurants, beach, etc. are within walking distance. If you do need to rent a car, remember that there may be specific insurance required, and rentals may be a bit more expensive than what you're accustomed to in the United States.
Where to Stay in Tamarindo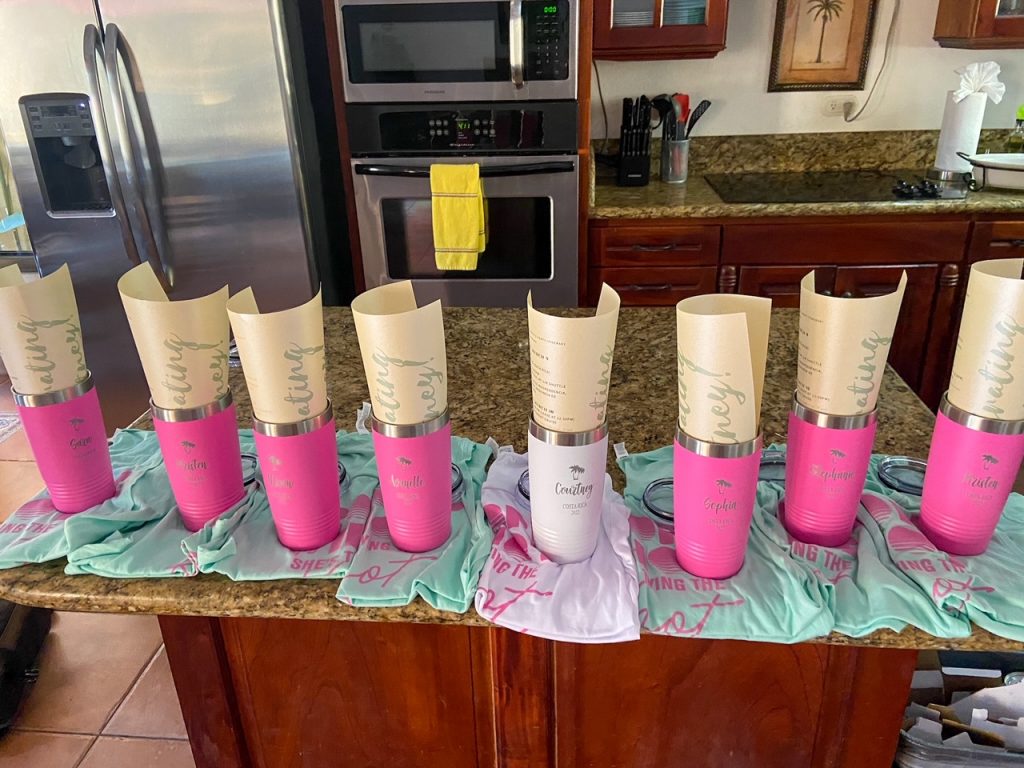 We stayed at a villa hosted by a "superhost" with great reviews on Airbnb.
The 3,000 square-foot Casa Del Rey Villa is centrally located in the heart of the famous Tamarindo and has 4 bedrooms and 3 1/2 bathrooms with enough space for up to 10 people.
The property is gated, has a private pool, fully equipped kitchen, smart TV, Wi-Fi, air conditioning and more, and offers long-term rentals.
What to Do in Tamarindo
Take a Catamaran Sunset Cruise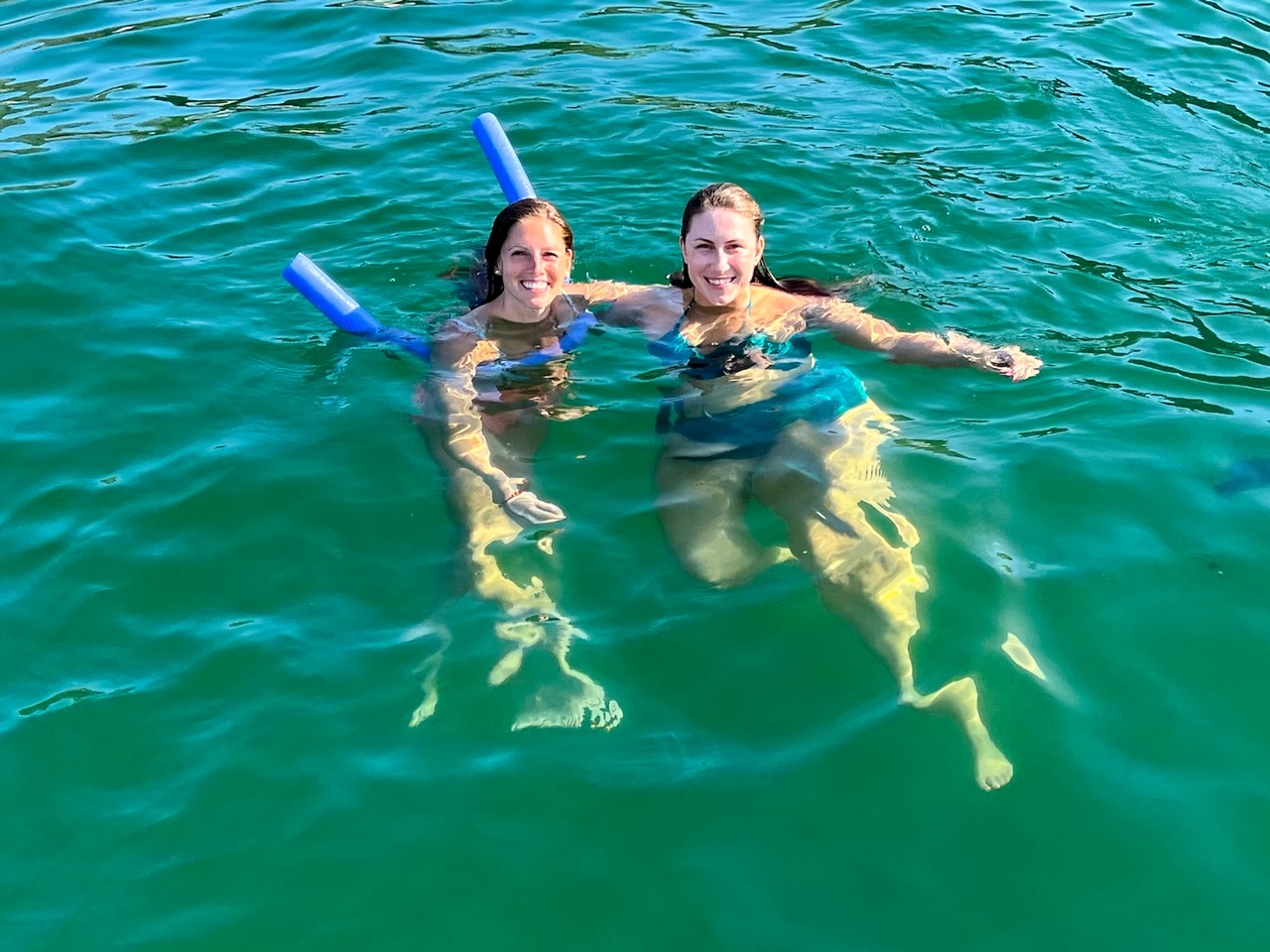 What better way to celebrate the bride-to-be than to dress up in matching tank tops and spend the afternoon boating around on a catamaran, drinking from an open bar, discovering secluded beaches, swimming, snorkeling and admiring a beautiful sunset.
The excursion begins with what seemed like a fairly long boat ride (don't worry, you'll be enjoying all the free alcoholic beverages during the ride, so it'll be fun) out to a private area where you can swim, paddle board, snorkel, or relax on the beach. Don't forget to apply sunscreen and drink lots of water!
On the way back, you'll have a buffet lunch, and end the excursion with a gorgeous sunset.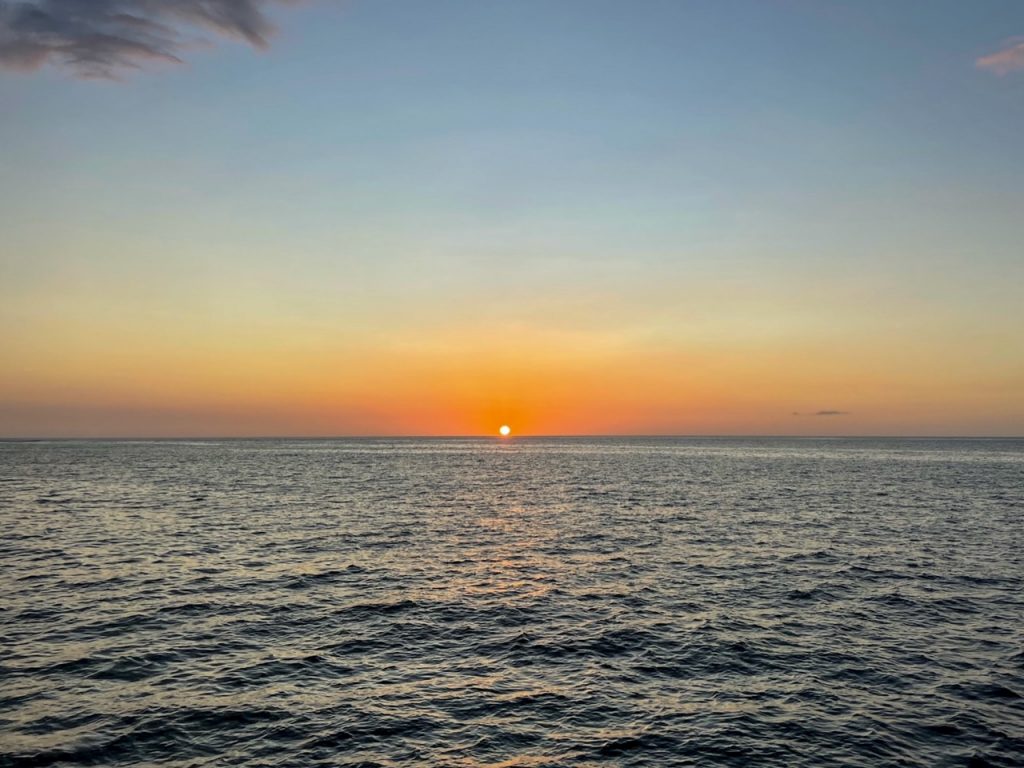 This excursion includes:
Open bar
Lunch buffet
Snacks
Snorkeling equipment
Paddleboards (although, we didn't see any of these)
Floaties/noodles
We booked our 4.5-hour Dream Chaser Catamaran Sunset Cruise through Get Your Guide and paid $89 per person plus tip.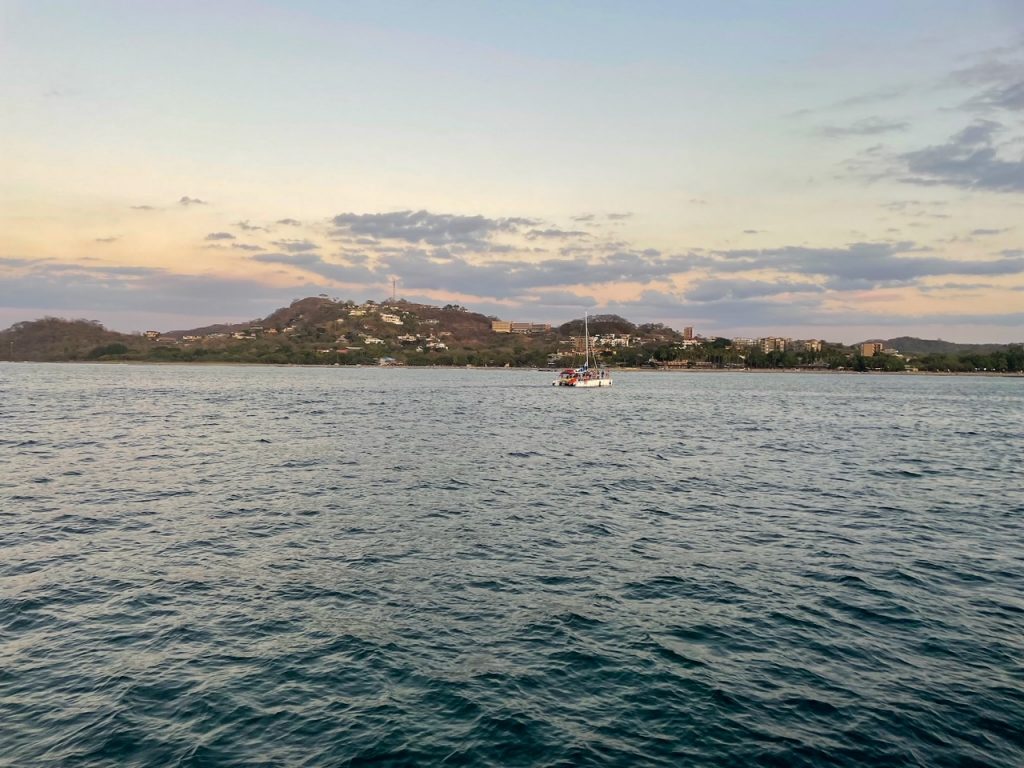 Note: this is not a private excursion; the catamaran can hold up to 30 passengers, so get ready to cozy up to some strangers and to make some new friends!
Tours take place unless there is lightning/thunderstorms, but you can cancel up to 24 hours in advance to receive a full refund, so there's really no penalty to booking this excursion in advance.
Relax on Tamarindo Beach or at the Pool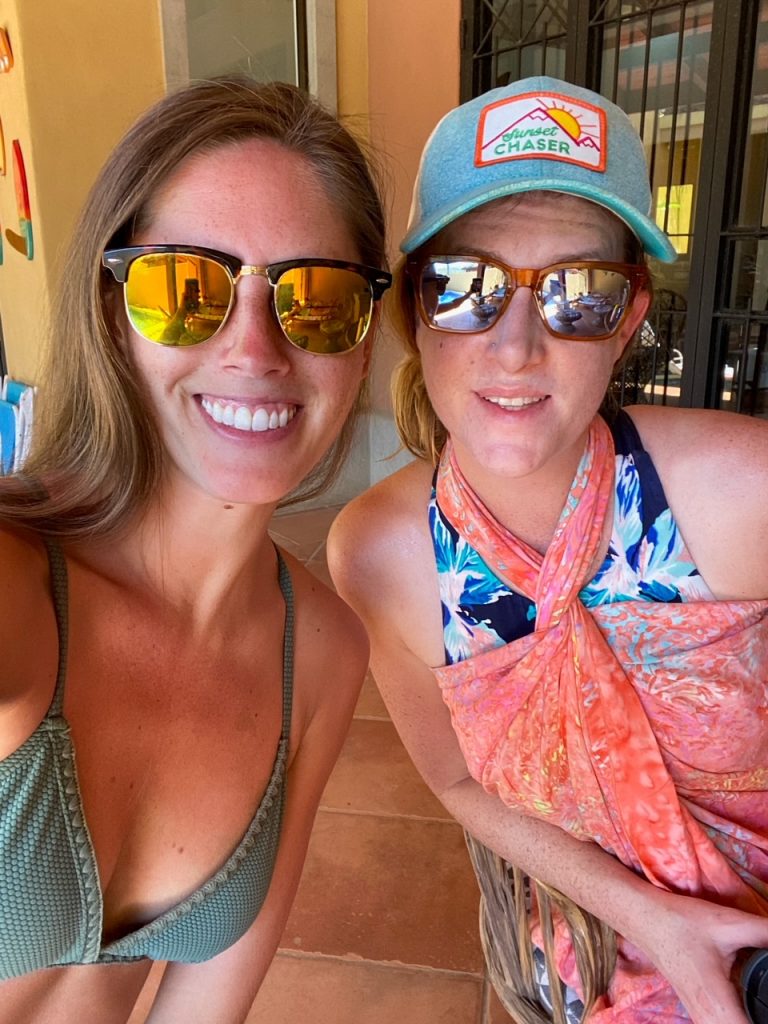 Okay, this one may be obvious, but don't forget to plan some time to just relax on your vacation. Lots of properties have pools or are just steps away from the beach, so why not take full advantage of that?
Plus, you'll definitely want some downtime between all of your travel, excursions, and other activities. Bring a good book, hunker down on a floatie or a beach chair, and get comfy for a day of rest and relaxation!
Note: if your Airbnb or hotel doesn't have a pool, you can likely pay for a day pass at one that does.
Book a Private Waterfall and Coffee Tour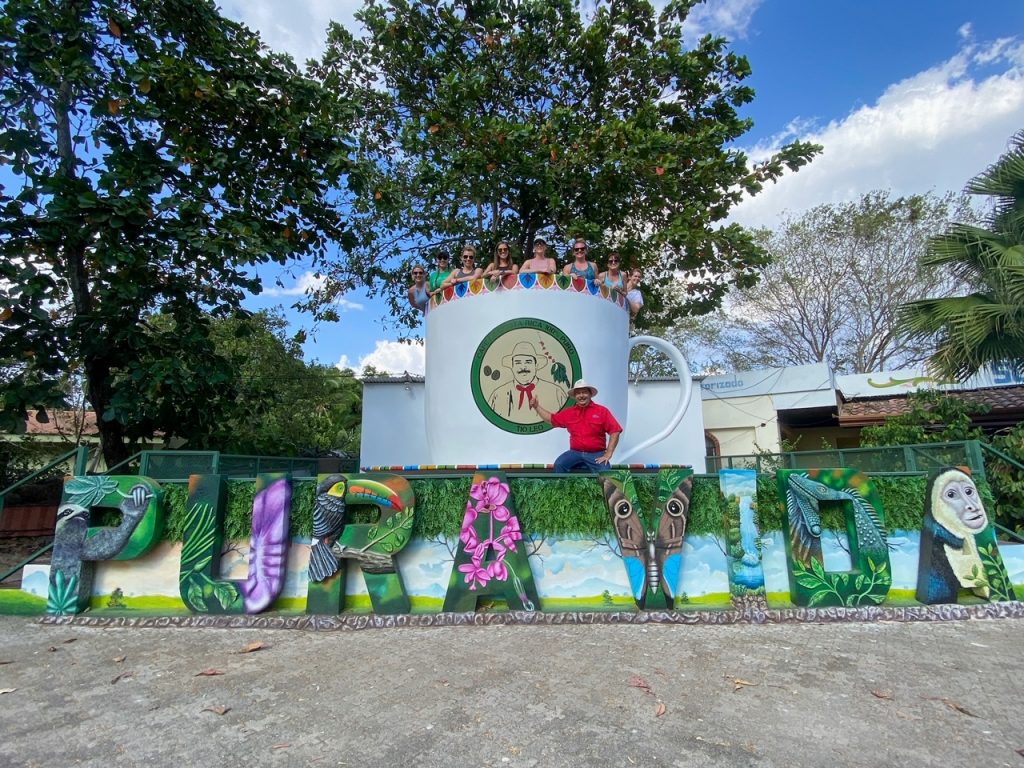 Another great group excursion is the Llanos del Cortez Waterfall and Coffee Tour.
This full day trip starts with an early morning pick-up directly from your hotel or Airbnb – super convenient! – and takes you to two fun and interesting attractions, a gorgeous waterfall and a working coffee farm. What's even better is that it's totally private, meaning you won't have to share transportation with any other groups!
Llanos del Cortez Waterfall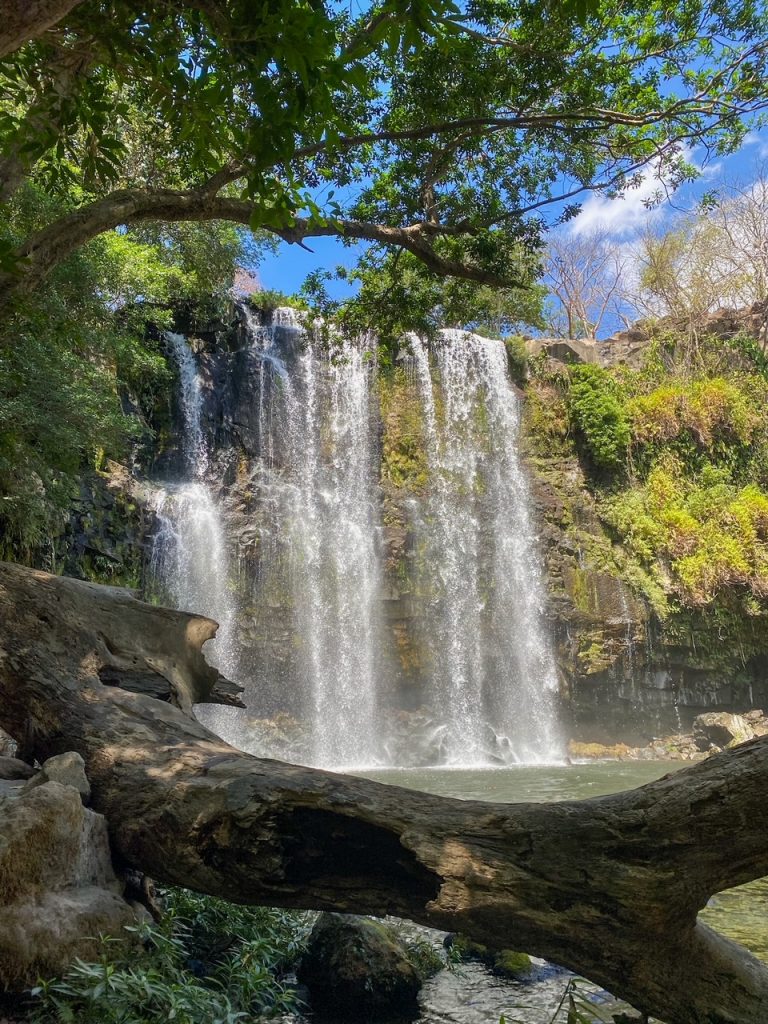 On your first stop of the day, you'll get to take a dip in the Llanos del Cortez Waterfall. A hidden gem in a part of the country that is mostly flat and dry, the Llanos de Cortez is one of Costa Rica's most beautiful waterfalls.
I'm not going to lie, when I first read the description for this excursion, I totally thought it was a hike and packed what I thought was appropriate footwear. You DO NOT need tennis shoes or hiking boots for this; the "hike" is just a climb down 60 or so paved stairs (with a handrail) that lead you to a beach at the base of the waterfall.
If you're worried about getting in the water without shoes, you can bring an old pair of flip flops or water shoes; however, most of us went in barefoot and were completely fine. And, if swimming isn't your thing, there's also a sandy area where you can hang out and sunbathe instead.
Note: if you plan to visit on your own, there may be an admission fee. Ours was covered by the excursion.
Lunch at Chicharronera Abierto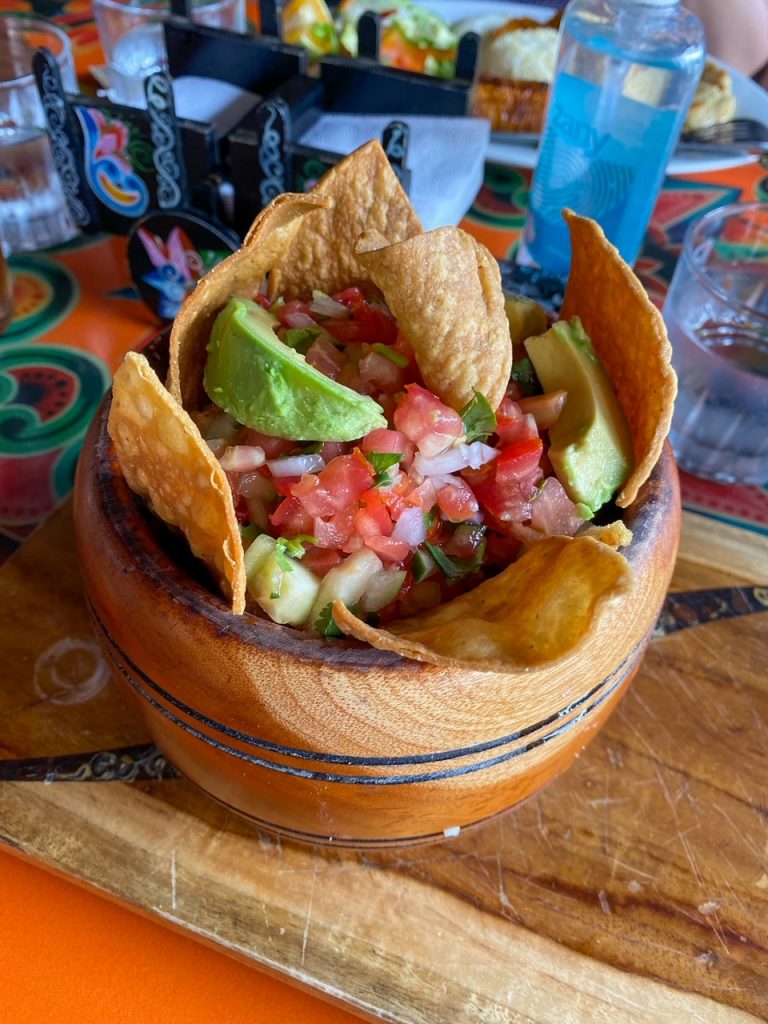 Next, you'll get to try a traditional Costa Rican lunch at the Chicharronera Abierto restaurant. The food was yummy, the drinks were refreshing, and the restaurant is located right next to the next part of the excursion!
Tio Leo Coffee Tour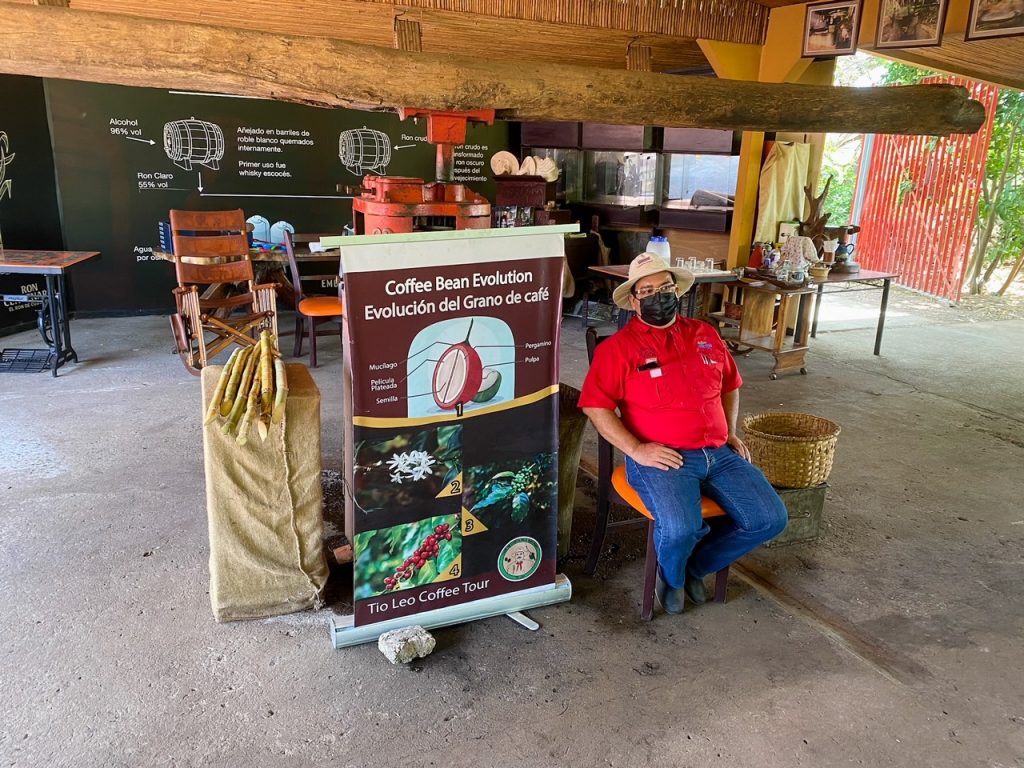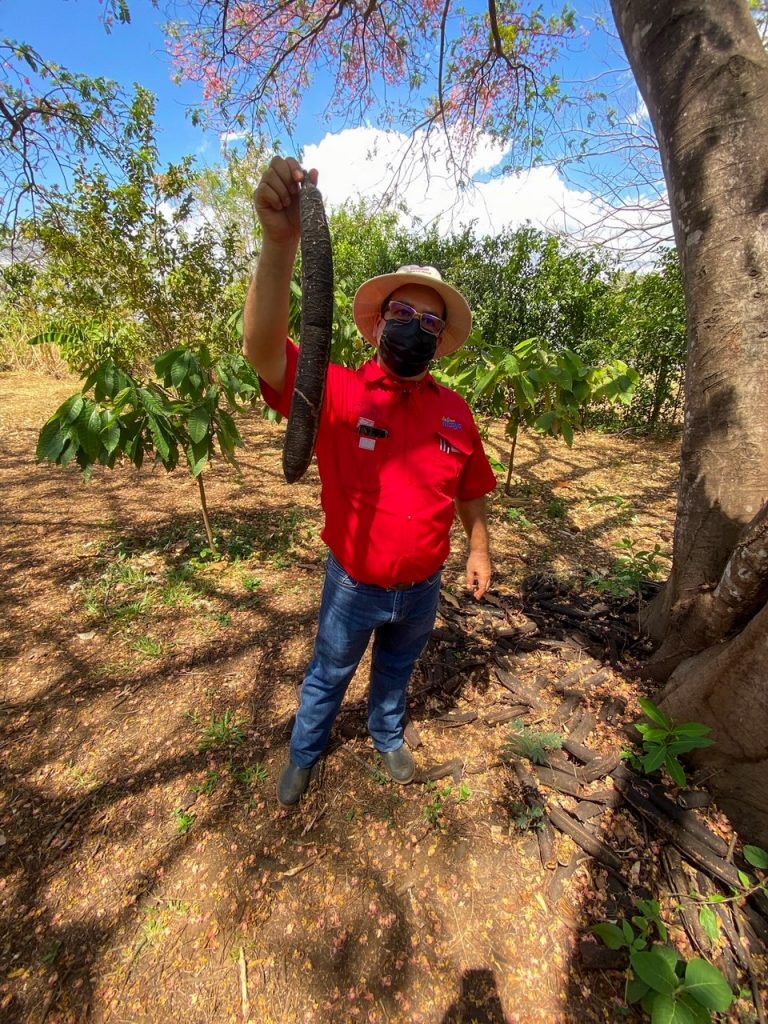 Finally, you'll have the chance to explore the coffee plantation, learn about the coffee roasting process from bean-to-cup, try some chocolate and sugar cane, and even make some empanadas.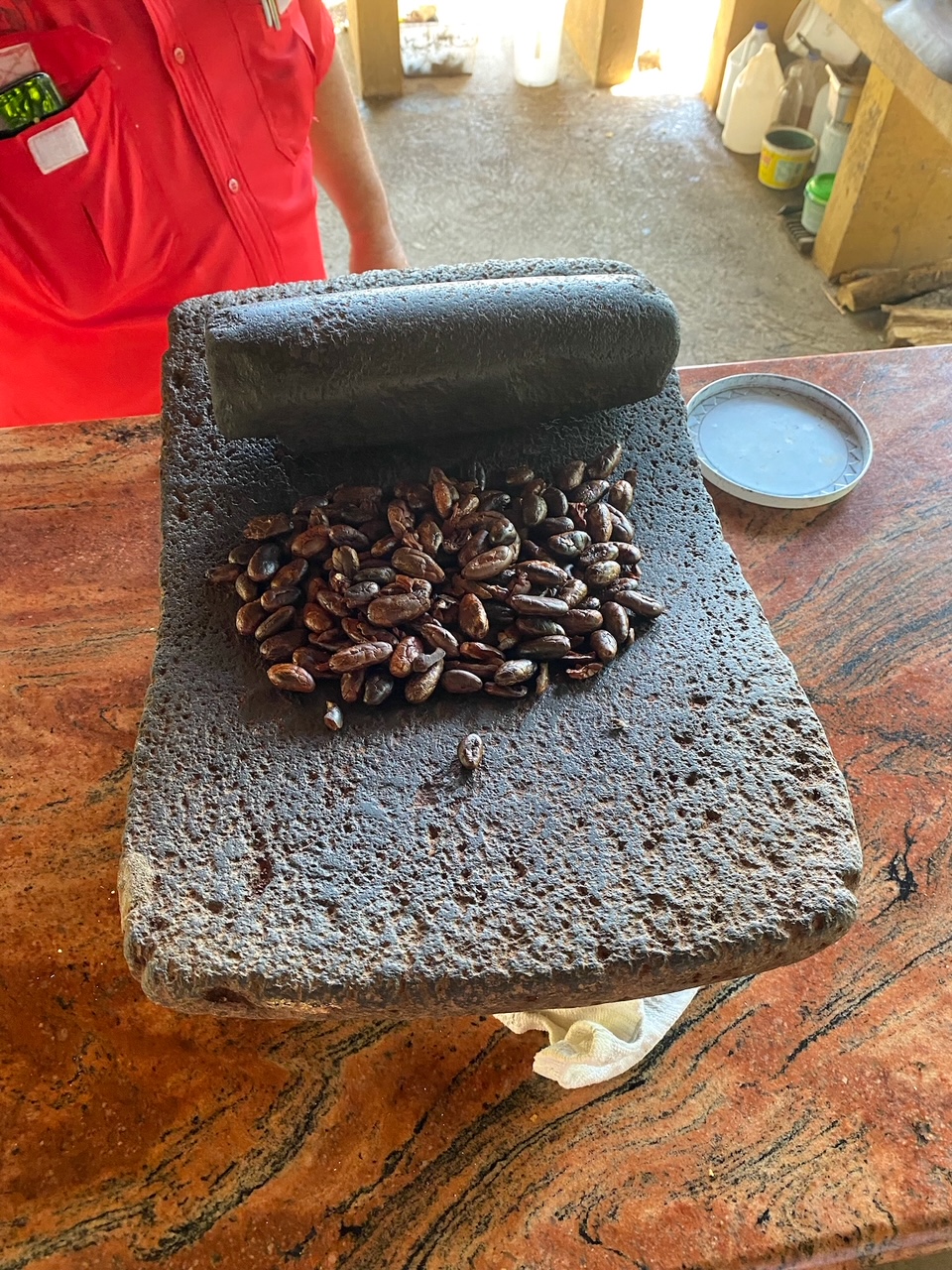 This tour more than exceeded our expectations and was well worth the price of the excursion all on its own!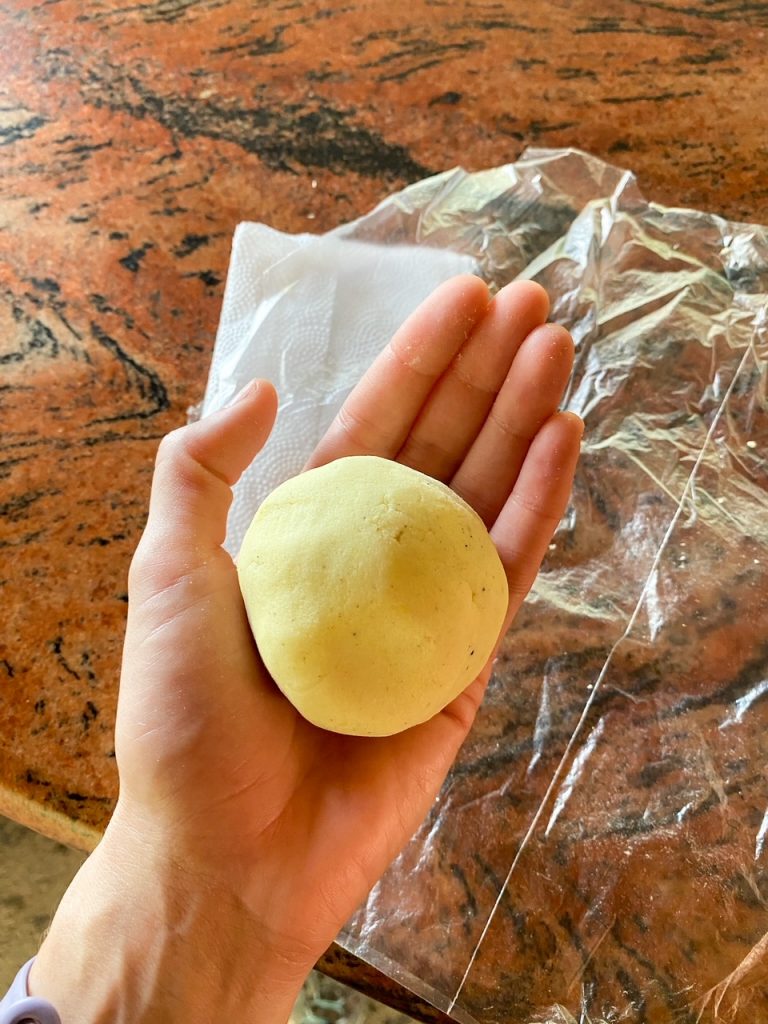 At the time of our booking, this excursion cost $155 per person (plus tip). And similar to the catamaran cruise, you can book with confidence with Viator because of their free cancellation policy.
Watch a Sunset on Tamarindo Beach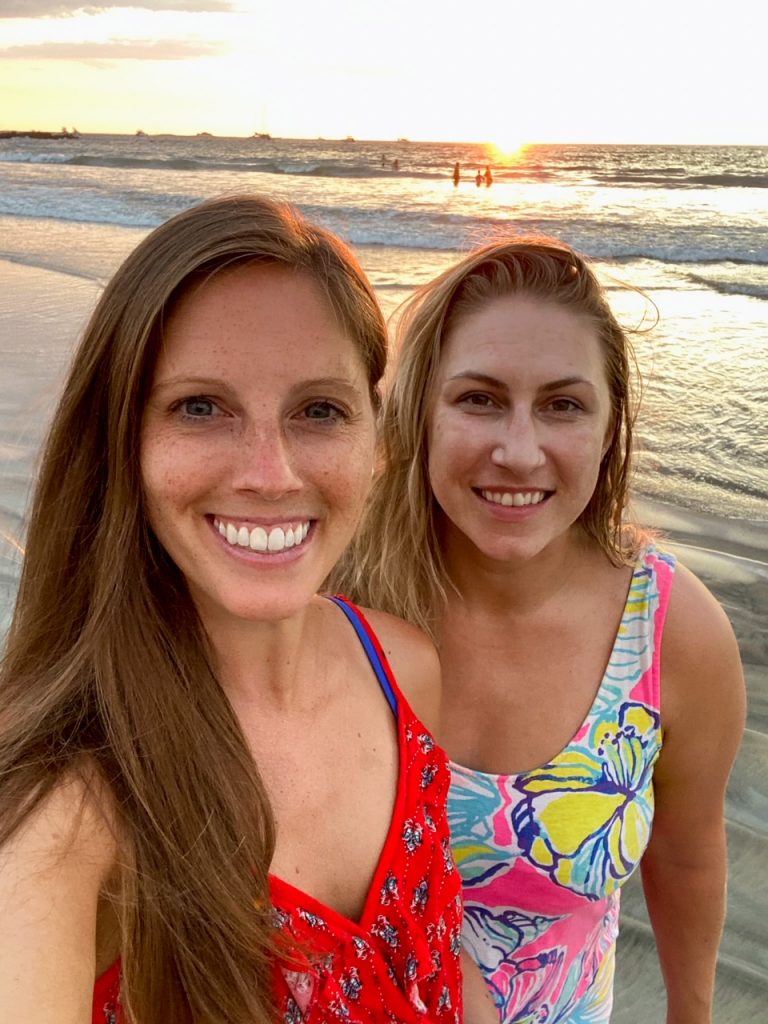 In my experience, Tamarindo sure does offer some pretty incredible sunsets! Don't forget to slow down after a long day of activities, take a walk on the beach, and watch one.
Where To Eat in Tamarindo
Tamarindo Bars and Restaurants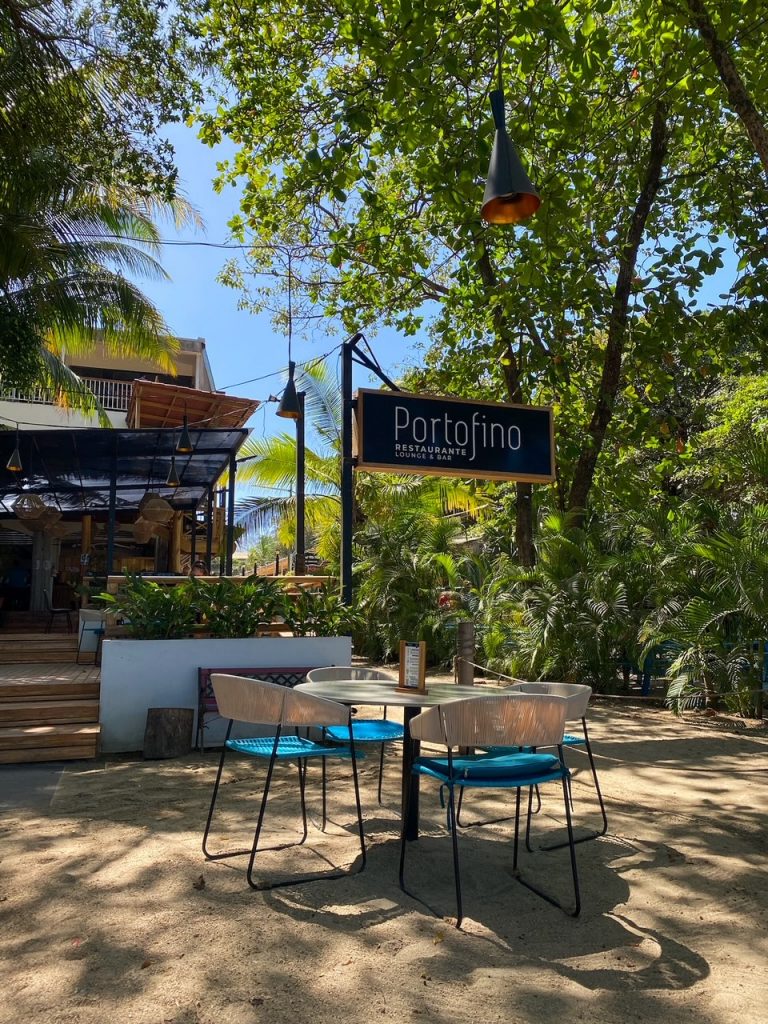 Tamarindo has a ton of bars and restaurants lining the beach. Here are some of the spots we tried:
Breakfast: Portofino
Lunch: Joe's Surf Café
Dinner: El Chiringuito
Drinks: La Palapa
All of these had outdoor seating, were low to moderately priced, and were pretty tasty! None of us are big foodies though, so take our recommendations with a grain of salt.
Treat Yourself to a Private Chef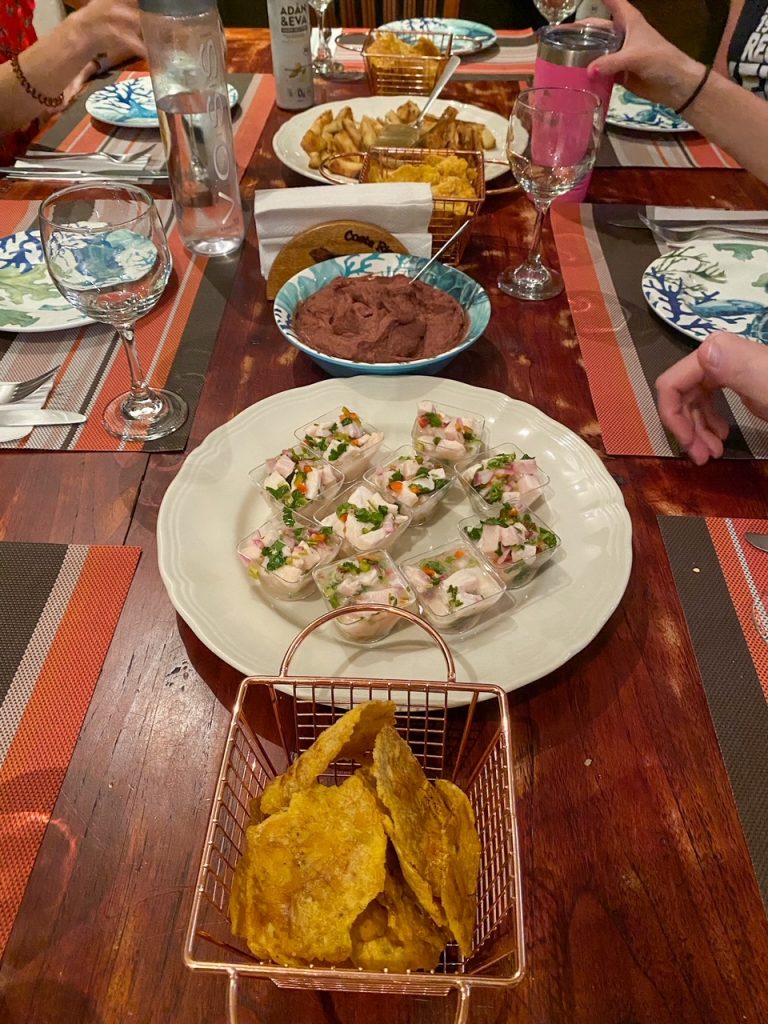 If you don't feel like cooking while on vacation, and you'd rather not leave the comfort of your own Airbnb, a private chef is a great option!
Catering Chef Gourmet offers affordable private chef services, cooking up delicious dishes right inside your home. Their chefs have been trained in hospitality schools and in internationally renowned restaurants and "have developed a cuisine updated with novel techniques, respecting the local products with influences from cultures from other countries."
Currently, Catering Chef Gourmet has eight menu options online (two of which are party menus, i.e. small bites). We went with the "Costa Rican Menu" for the true Costa Rican experience, and our meal consisted of the following:
Appetizers: Tico style fish ceviche, guacamole, and tortilla chips
Entrée: Patacones (fried plantains) with black bean purée & farmer's cheese
Main: Guanacaste-style achiote chicken served with salted vegetables, cilantro rice and salad
Maybe we can try another one on our next visit!
Take a Cooking Class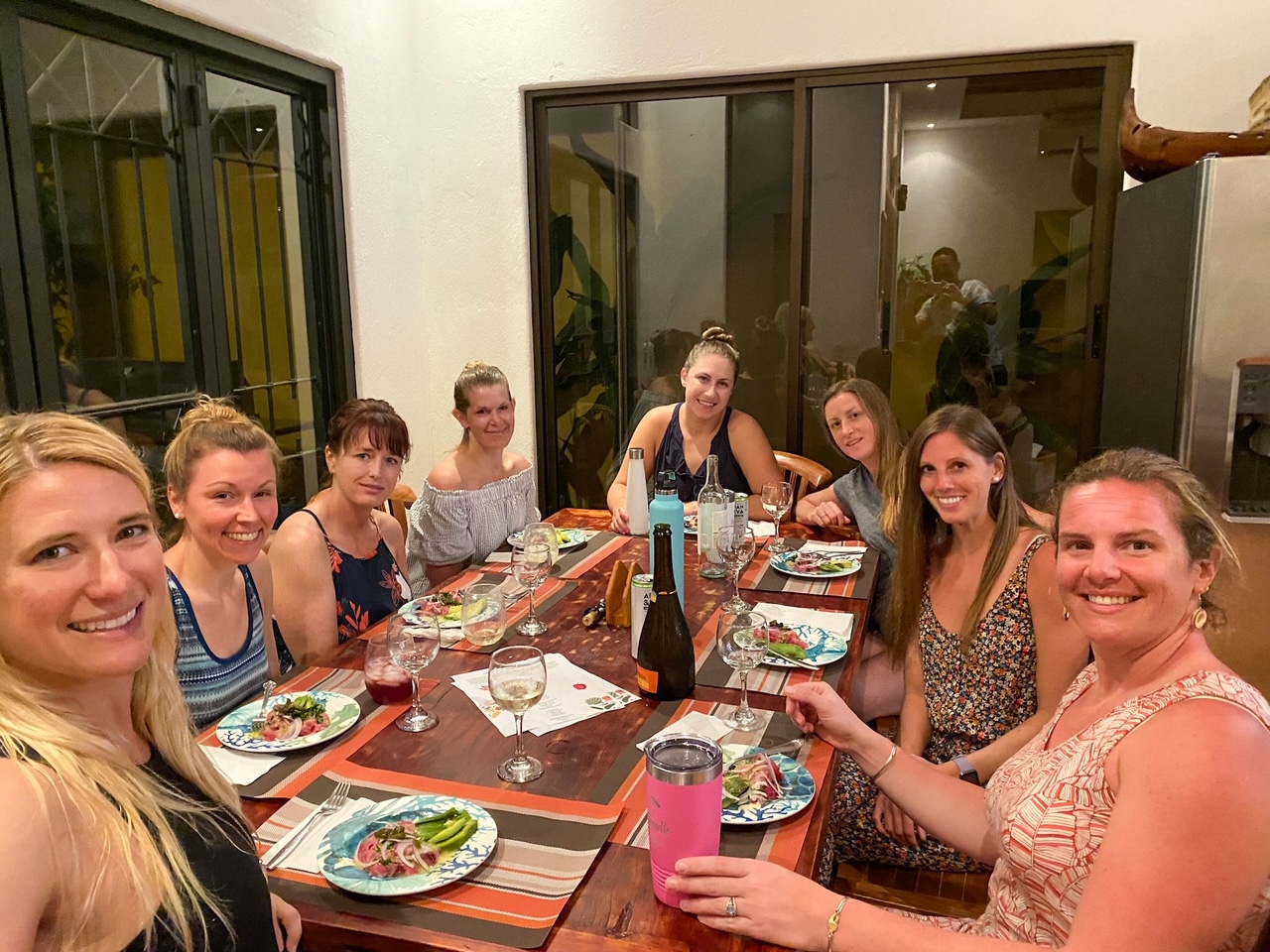 Another great alternative to eating out, is making a meal yourself at home. Need some guidance? Why not try an authentic cooking class experience?
Catering Chef Gourmet also offers cooking classes that are customizable to any food preferences and dietary restrictions. They offer a wide selection of ingredients, including fresh fish, premium meats, and local fruits and vegetables.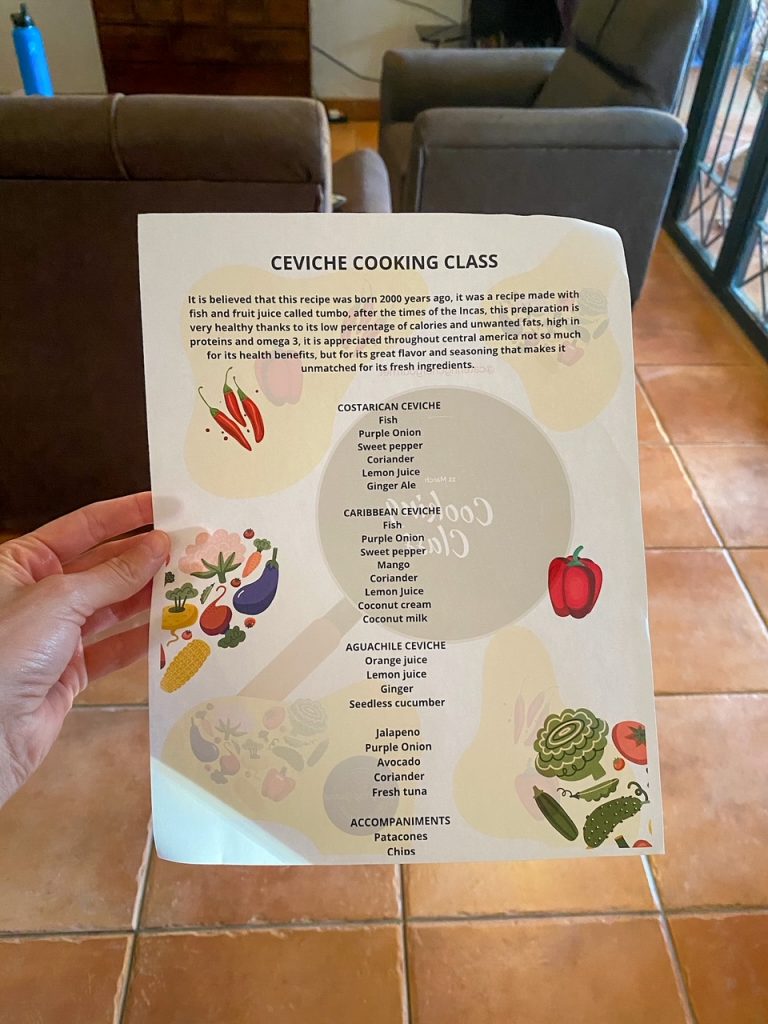 They offer three different cooking classes: ceviche, pasta, and Pura Vida-style, and we chose the ceviche class.
It's believed that the recipe for ceviche was first created thousands of years ago by the Moche civilization of Peru; it was made with fish and fruit juice and capitalized on healthy nutrients like proteins and omega 3s, while also being low in calories and unwanted fats. But what made it really popular in Central America was its great flavor.
We got to make and taste three varieties: Costa Rican, Caribbean and Aguachile – and, they were all delicious.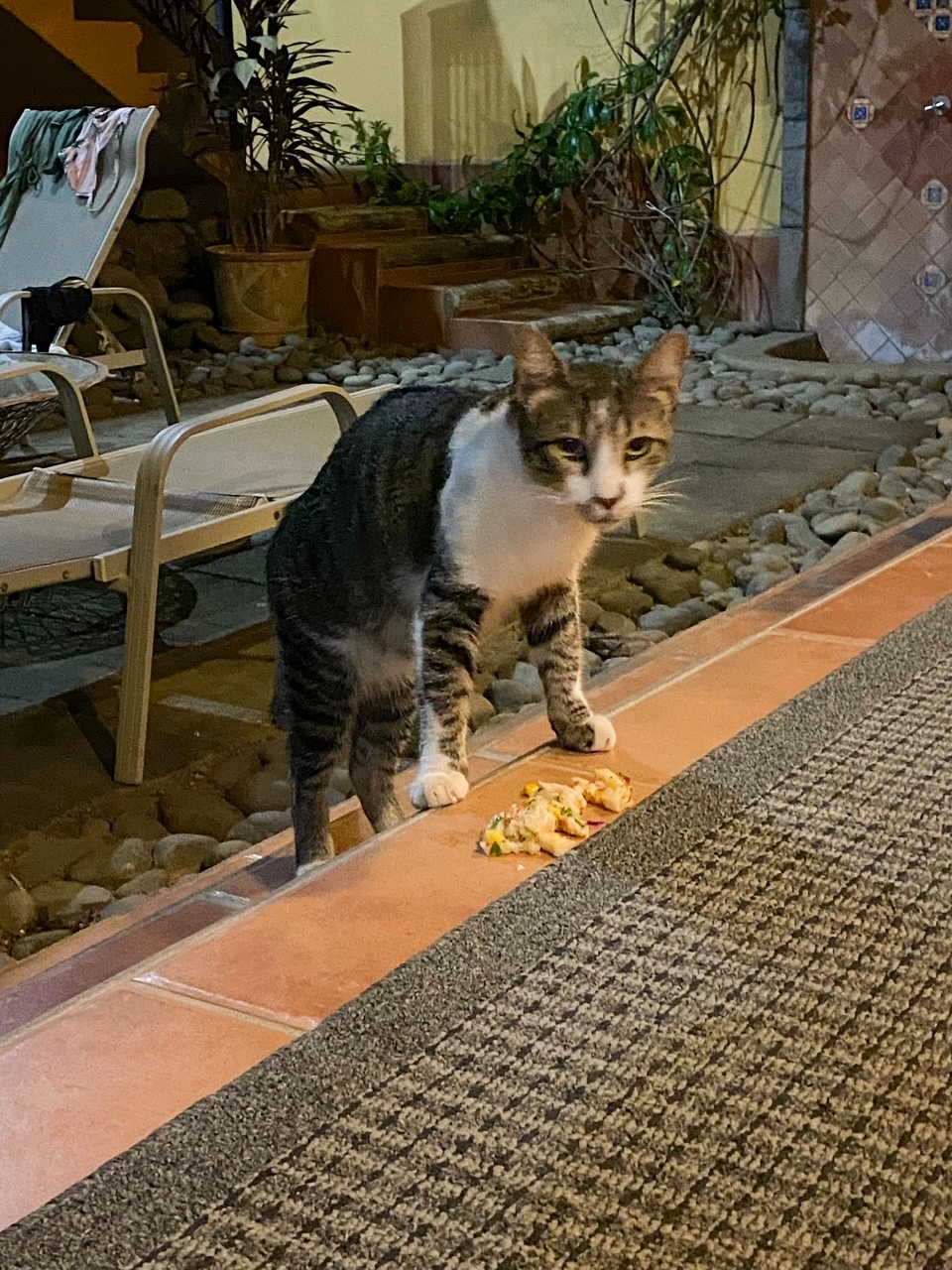 Catering Chef Gourmet claims that "You'll leave with a full stomach and the skills to recreate some of your favorite dishes at home.", and we can attest that our stomachs were very full and so was our fridge – we literally had leftovers for days! In fact, we had so many leftovers that even the stray cats didn't go hungry. P.S. we didn't pet this cute, little guy (you know why!).
Tamarindo, Costa Rica Itinerary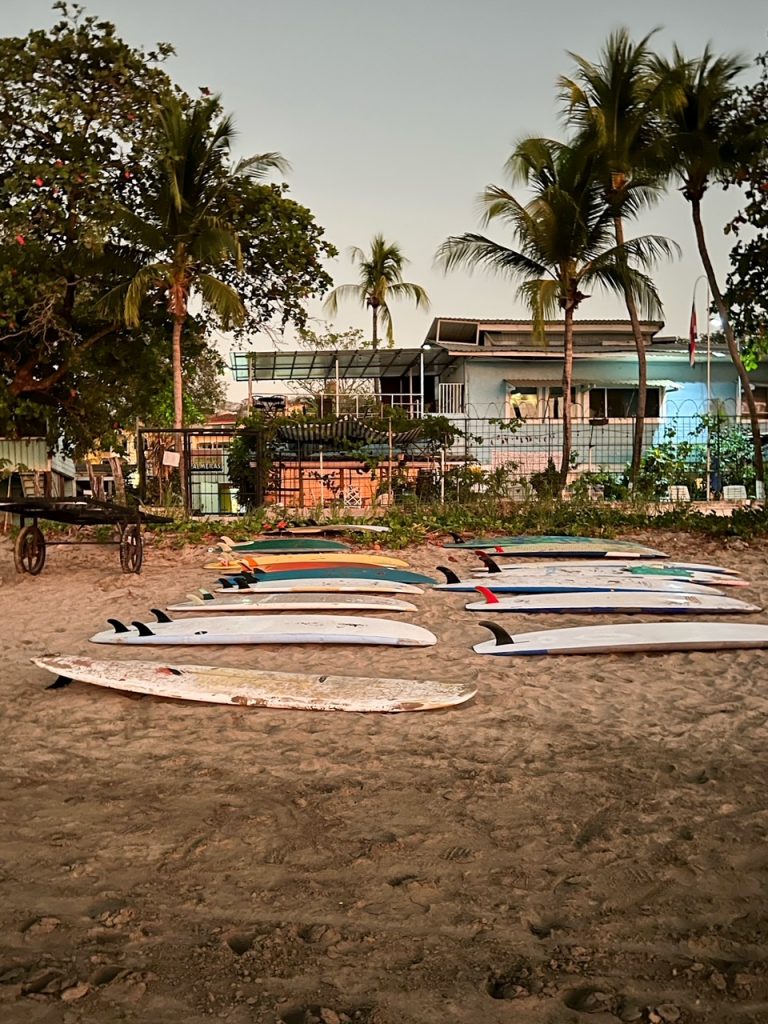 We traveled to Tamarindo on a Wednesday, spent three full days in Costa Rica, and flew back home on a Sunday. Here is the rough itinerary we followed, but feel free to mix and match for yourself!
Day 1:
Fly to Liberia Guanacaste Airport (LIR), and take a private shuttle to Tamarindo
Walk to the beach, eat a late lunch/dinner at Joe's Surf Café, and watch the sunset
Day 2:
Breakfast at the Airbnb
Lunch and drinks at La Palapa
Catamaran Sunset Cruise (~4.5 hours and goes until sunset)
Dinner at El Chiringuito (the meeting spot for the Catamaran Sunset Cruise)
Day 3:
Breakfast at Portofino
Beach or pool day
Cooking class at the Airbnb for dinner
Day 4:
Llanos del Cortez Waterfall and Coffee Tour (pick up from Airbnb)
Sunset walk on the beach
Private chef at the Airbnb for dinner
Day 5:
Breakfast at the Airbnb
Take a private shuttle to the Liberia Guanacaste Airport (LIR), and fly home
We were only here for five days and couldn't possibly do all there is to do here! What other suggestions do you have for Tamarindo, Costa Rica?
Looking for another beach vacation? Check out one of these awesome destinations next:
XOXO Sara at Travel A-Broads