Looking for a fun and affordable beach vacation here in the U.S.? Might we recommend Gulf Shores, Alabama?
I know what you're thinking – wait, Alabama? Does Alabama even have beaches? Yes, you read that correctly, and yes, they do! Little did we know that the Gulf Coast has some of the most beautiful beaches in the world, and Gulf Shores Beach is a hidden gem with sugar-white sand, turquoise water, salty air and spectacular sunsets.
Gulf Shores is a city in Alabama located on the Gulf of Mexico and offers unspoiled, natural beaches. With its subtropical climate, i.e. hot summers and mild and sunny winters, the area is a great travel destination year-round!
In late 2020, my boyfriend, Tim, and I, along with our friends, Allison and Ryan, were searching for somewhere to go over Labor Day Weekend. Due to the Covid-19 pandemic, we decided that flying wasn't an option, so we landed on a trip to Gulf Shores, Alabama.
Gulf Shores was drivable for us, since Tim and I live in Houston, and Allison and Ryan conveniently lived near the midpoint of our drive in Baton Rouge, Louisiana at the time. We decided to stay with them for a night and to work remotely from their house the next day. I'd been working from home for almost six months, and Tim had only started going back into the office part-time, so we were lucky enough to have the luxury to do so!
*P.S. this post contains some affiliate links. At no additional cost to you, we may earn a small commission when you make a purchase.
Drive to Gulf Shores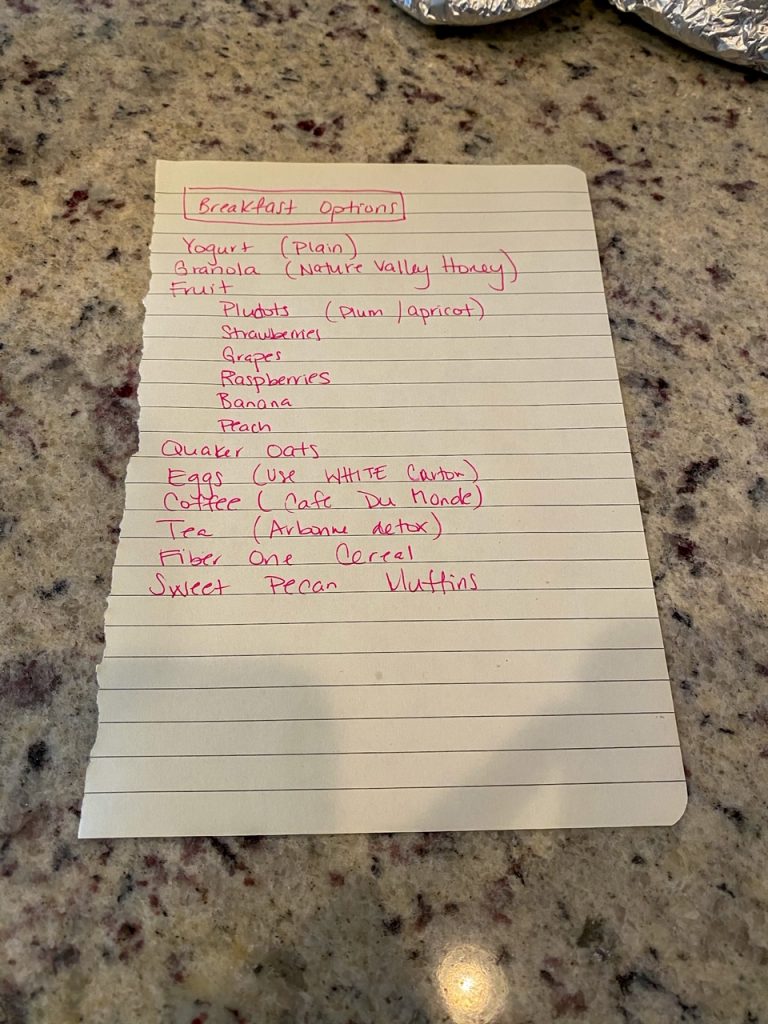 After work on Wednesday afternoon, we loaded up Tim's truck with our luggage and at least 6 bottles of wine and champagne – you can never be too prepared! – before heading out on our 4-5 hour journey to Baton Rouge.
The next morning, Allison headed into work, and Ryan, Tim and I worked from home. We woke to find that she had graciously left us a breakfast bar of options – isn't she the sweetest?
Around 4 pm, when she arrived back home, we started our drive to Gulf Shores. Along the way, we stopped at Longhorn Steakhouse for dinner and made a mandatory Buc-ee's stop for snacks. If you've never been to a Buc-ee's, you're going to need to get with the program! They have snacks galore, along with anything else your heart may desire, ranging from full blown meals, alcohol and Slurpee's to beach chairs, candles, home decor and more. Basically, this place is amazing!
Where to Stay in Gulf Shores, Alabama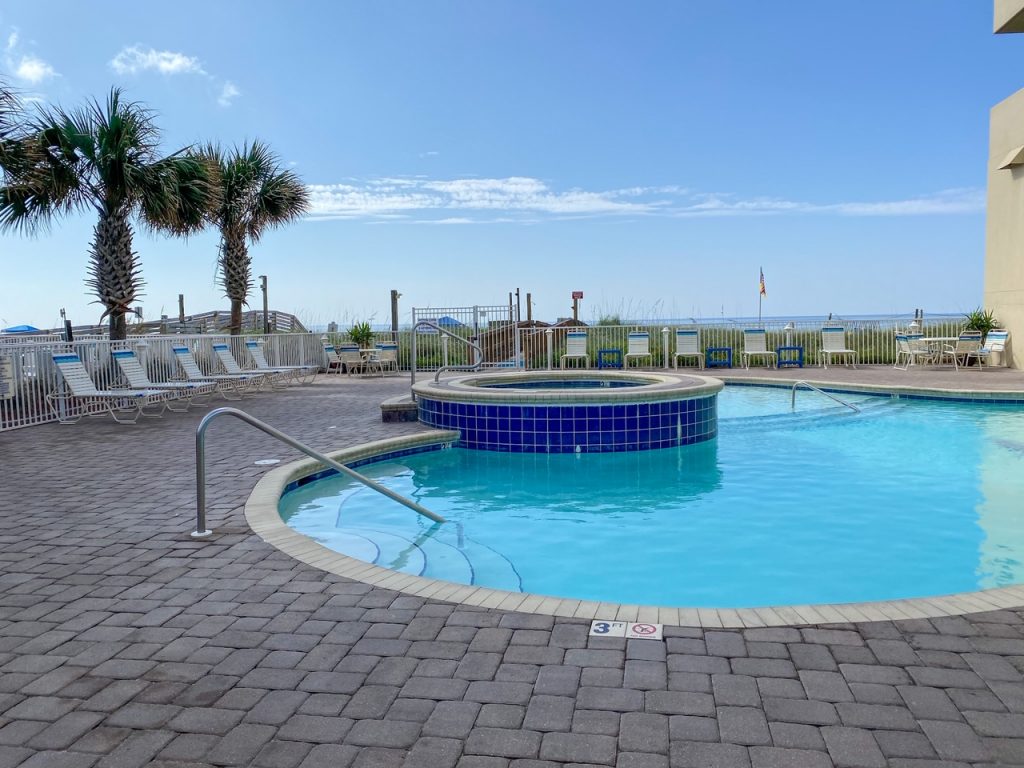 When we arrived in Gulf Shores, Alabama, we checked into our Airbnb, the PotteryBarn Gulf Front 2/2 sleeps 7. The process was seamless, as there was a keypad on the door, and our host had been great with communication prior to the trip.
There were charcoal grills, a fitness center, a game room and an indoor/outdoor pool on-site, though we didn't use any of these. We did notice, however, that the pool was a bit small and crowded throughout our trip.
A Broad Recommendation: check-in was after 3 pm, which was no problem for us since we arrived late in the evening. You may want to request early check-in if you plan to arrive prior to 3, but there may be an additional charge. There were two parking passes and plenty of wristbands, which are required for pool and private beach access, though no one was really checking.
Gulf Shores, Alabama 3-Day Itinerary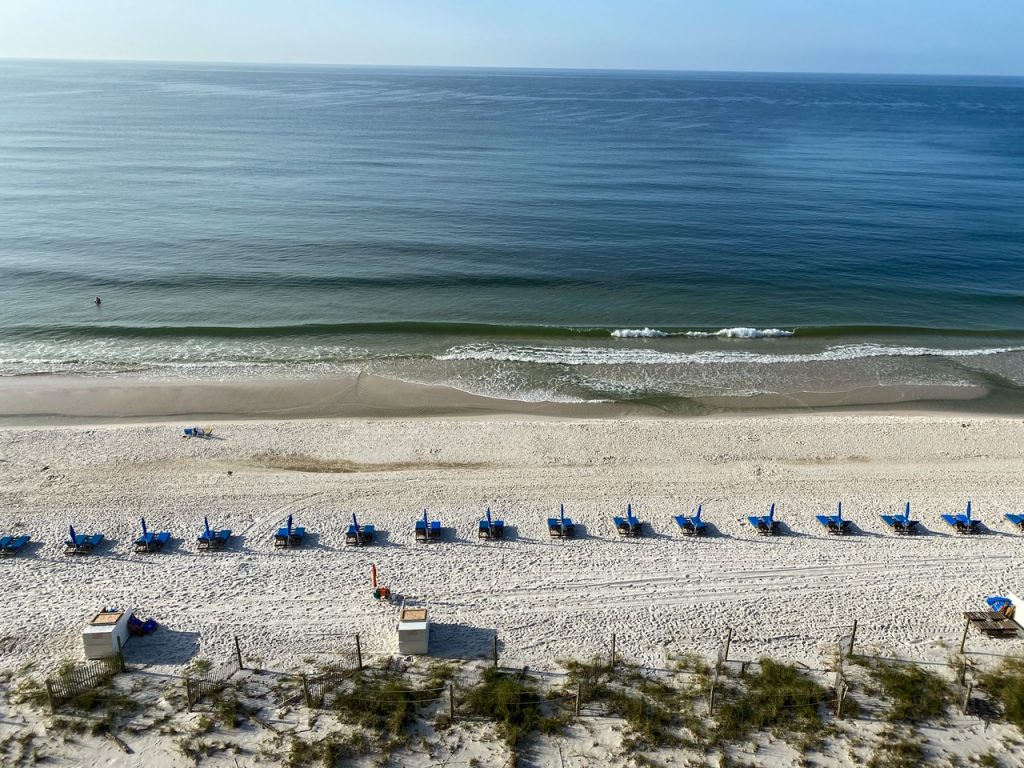 Day 1 in Gulf Shores, AL
Meditate or Read on the Balcony
The next morning, I woke up around 8 am to enjoy some light reading on the balcony, overlooking the beach and listening to the waves. I could certainly get used to this! It was so peaceful sitting up on the balcony taking in the beautiful view.
Grab Coffee from West Beach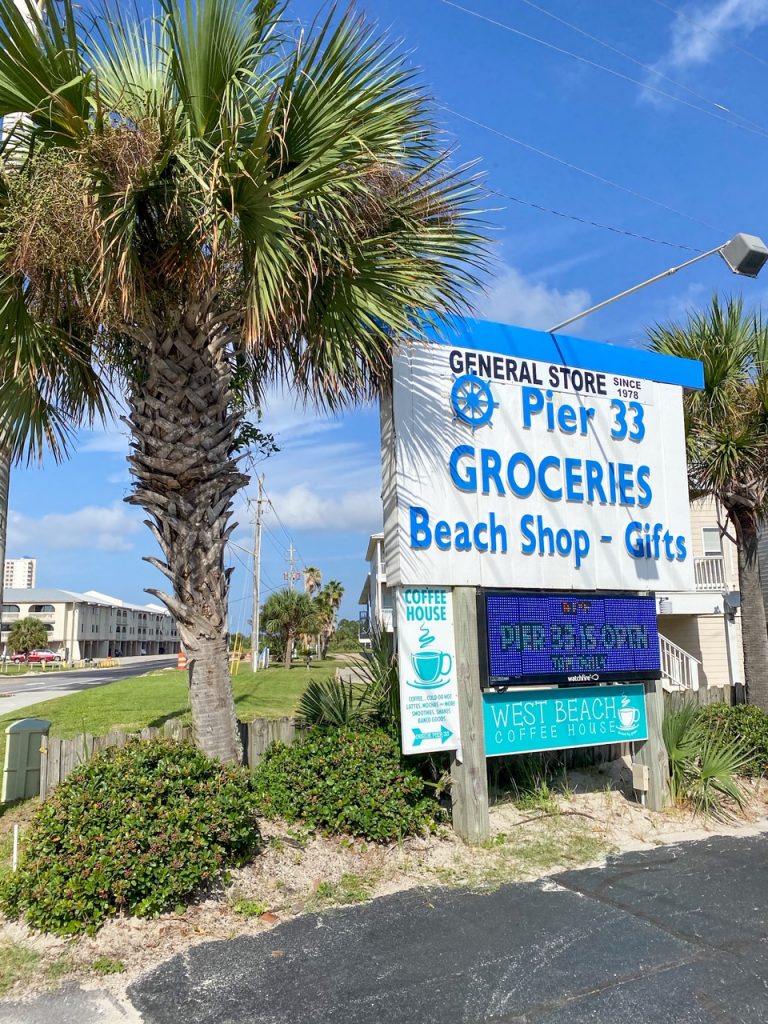 Our friends slept in, so around 9:30 am, Tim and I walked to Pier 33 Groceries and West Beach Coffee House, which were located in the same building just down the street.
Although conveniently located, we decided to get groceries elsewhere. Pier 33 offers your basic needs, like milk, lunch meat, cheese, yogurt, snacks, etc., as well as sunblock, beach toys, and souvenirs, but they're pricey.
But, we did get drinks from West Beach Coffee House. I got an Iced Vanilla Chai Latte, and it was yummy!
Spend the Morning on the Beach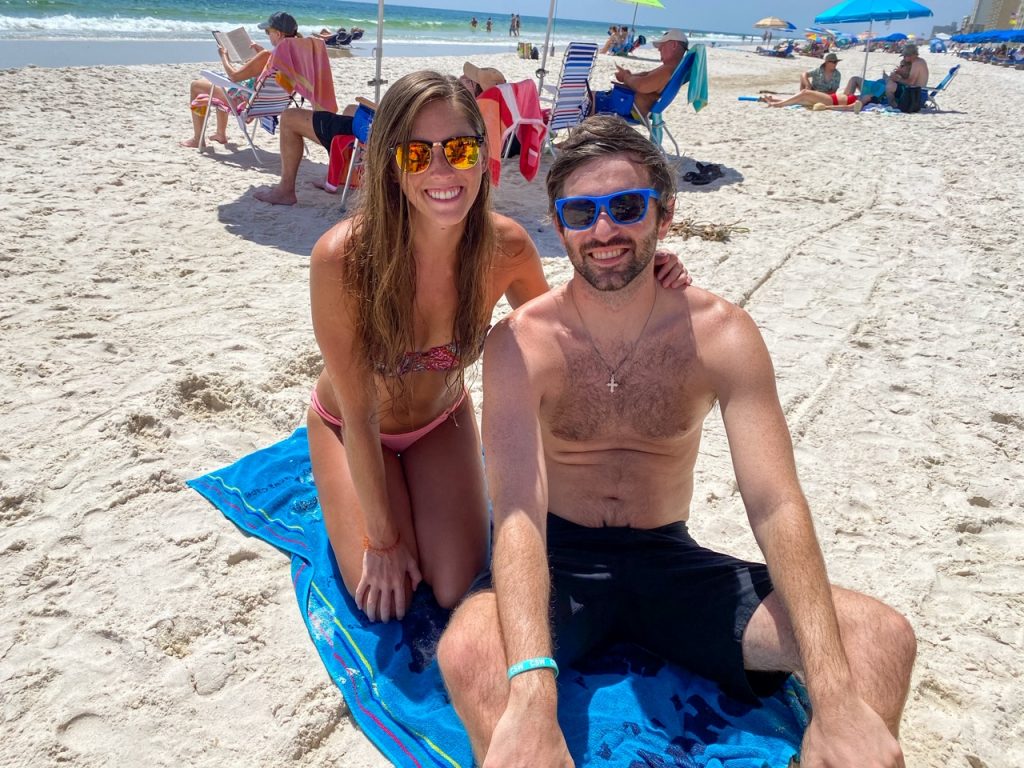 By 11 am, we'd made our way back to the Airbnb and were ready to walk to the beach. The beach was just downstairs through the pool area and easily accessible. Allison and Ryan brought their own chairs and umbrella, so Tim and I were able to use the complimentary ones from our host. It's notable that they actually had more than two chairs for us to use, had we needed them.
A Broad Recommendation: our Airbnb host provided beach chairs, a small umbrella and a closet full of beach toys for our visit. If you'd prefer to book your own beach chairs or a cabana, Ike's Beach Service is available on-site.
We had a ton of fun relaxing on the beach, reading books and listening to audiobooks and music, and the weather was beautiful!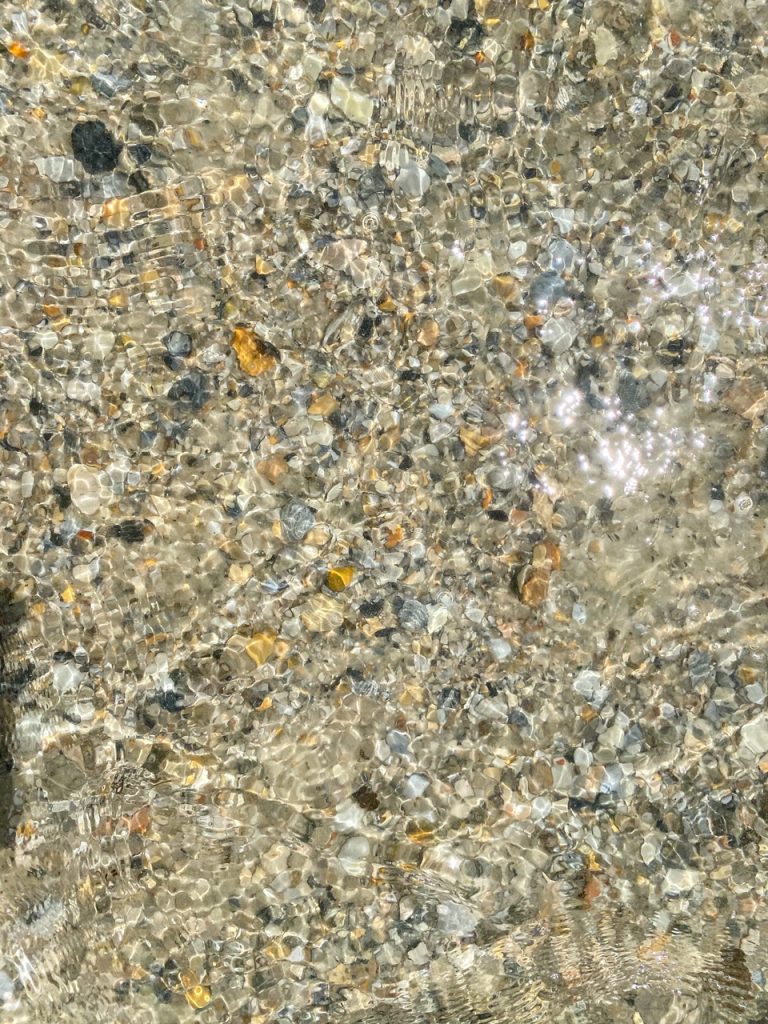 However, when we got in the water, we immediately realized that Gulf Shores is a jellyfish wonderland. The mornings were okay, but by mid-afternoon, there were jellyfish everywhere! We kept joking that we were getting baby stings the whole time, and at times, we were actually getting stung.
A Broad Recommendation: be sure to pack some Hydrocortisone cream or a Benadryl Extra Strength Itch Relief Stick for the jellyfish stings. We also heard that vinegar can be quite effective! I'm not sure if these little guys are out and about year-round, but it was a little concerning getting in the water with all of them, especially in the afternoon.
Eat Lunch at Efes Greek Kitchen
Around 1 pm, we drove to Efes Greek Kitchen, where we ordered Mediterranean food from the drive thru, then ate at the picnic tables in front of the restaurant. The three of us can attest that the Gyro Combo was delicious, and Tim had the Cheeseburger Combo, which he also said was tasty.
Note: the food was good, but this place is small, so if you have a larger group, you probably won't be able to eat here.
Grab Groceries from Walmart
After lunch, we grabbed groceries from Walmart with a goal of not having to go out again for lunch for the rest of the trip. Plus, we had grab some other essentials like a birthday cake for Tim!
Spend the Afternoon on the Beach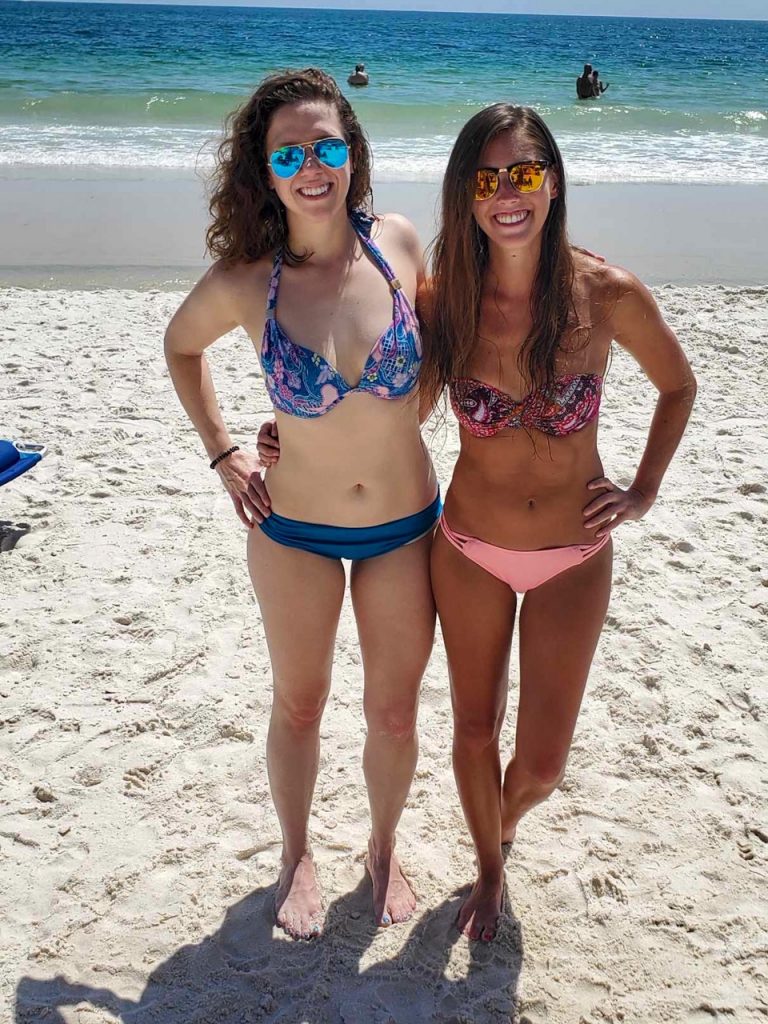 By 4 pm, we were unpacked and back on the beach, where we spent the rest of the afternoon/early evening and watched the sunset.
A Broad Recommendation: you can leave your beach chairs, towels and umbrellas on the beach while you're gone. Gulf Shores, Alabama is safe, and no one will bother your stuff, but remember to put your umbrella down so it doesn't blow away while unattended.
Eat Dinner at Bahama Bob's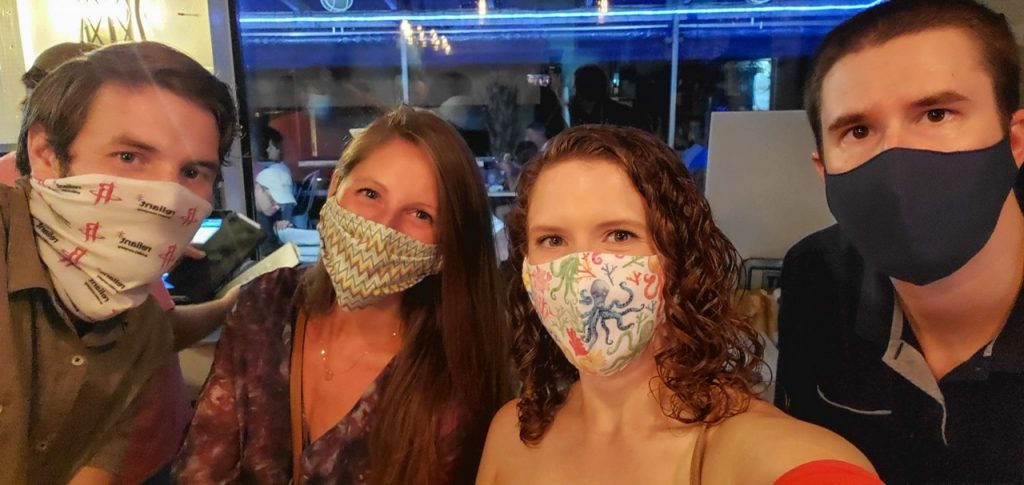 After freshening up and enjoying some wine on the balcony, we walked over to Bahama Bob's Beach Side Café, one of the top-rated restaurants in Gulf Shores, Alabama. When we arrived around 8:30 pm, it was packed, so we ordered a round of drinks at the bar and sat outside. It took us about 45 minutes to be seated.
A Broad Recommendation: make a reservation before walking here if possible. We arrived during a busy time and had to wait a while. If you don't mind taking it easy and grabbing some drinks at the bar, then it doesn't matter if you book ahead!
Tim and I ordered the Fried Captain's Platter; I think we probably would've preferred something that wasn't fried – our mistake! The vibe inside was also just okay, but we were seated next to the bathrooms, so maybe that was just our experience. It looked like they had a nice outdoor seating area too.
Play a Board Game at the Airbnb
After dinner, we walked back to our Airbnb and spent the rest of the evening playing Ticket to Ride, one of our favorite board games, before calling it a night.
Day 2 in Gulf Shores, AL
Watch the Sunrise from the Airbnb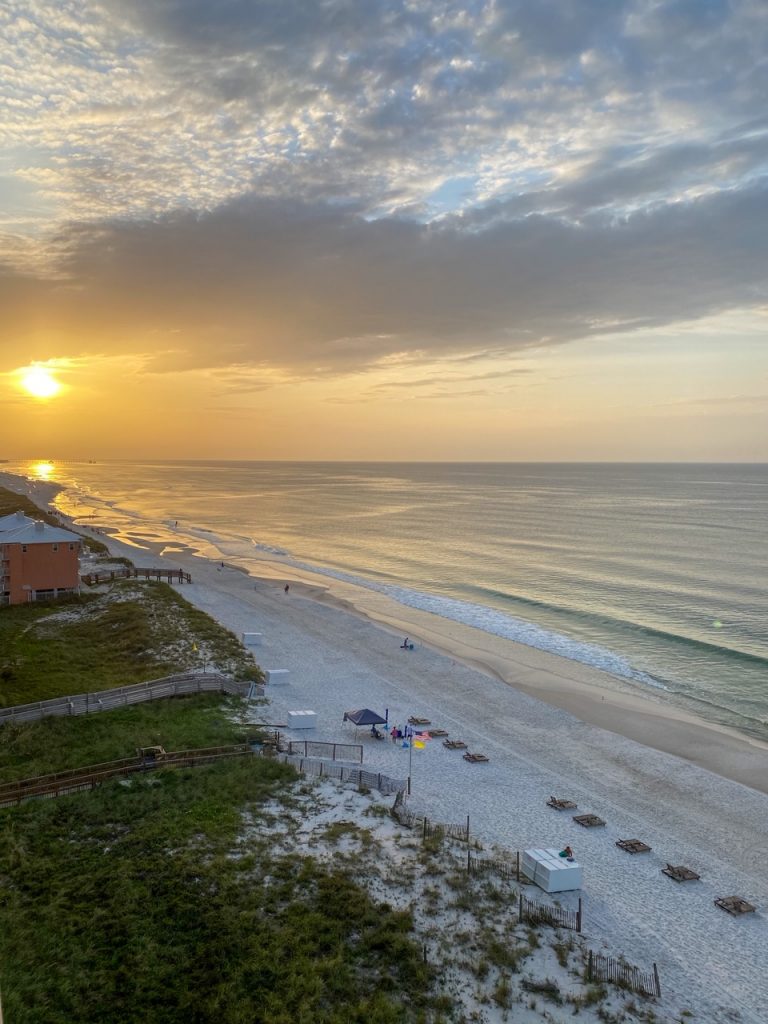 The next morning, I woke up around 6:50 am, just as the sun was rising, and spent some more time reading on the balcony. Man, this is the life! I never wake up this early and wonder if I lived at the beach, if I would be more inclined to do so.
Coffee from West Beach (Again)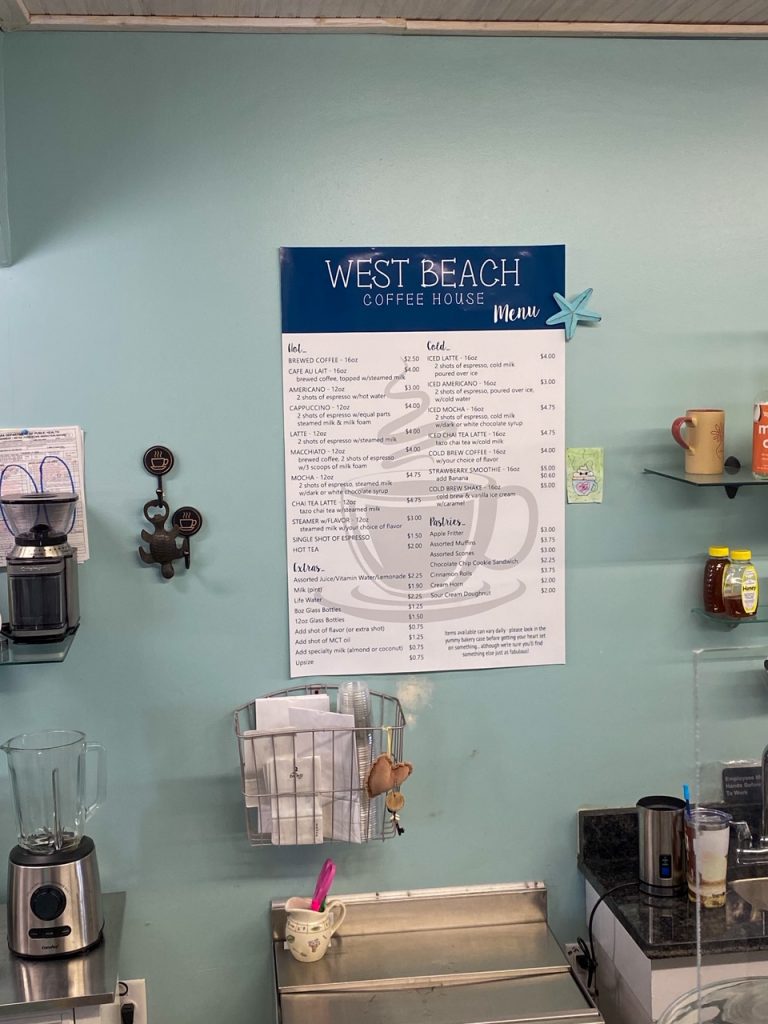 We walked to West Beach Coffee House again for our morning brew, and Tim even bought some coffee beans to bring home. This was probably one of his favorite places in Gulf Shores.
Another Morning on the Beach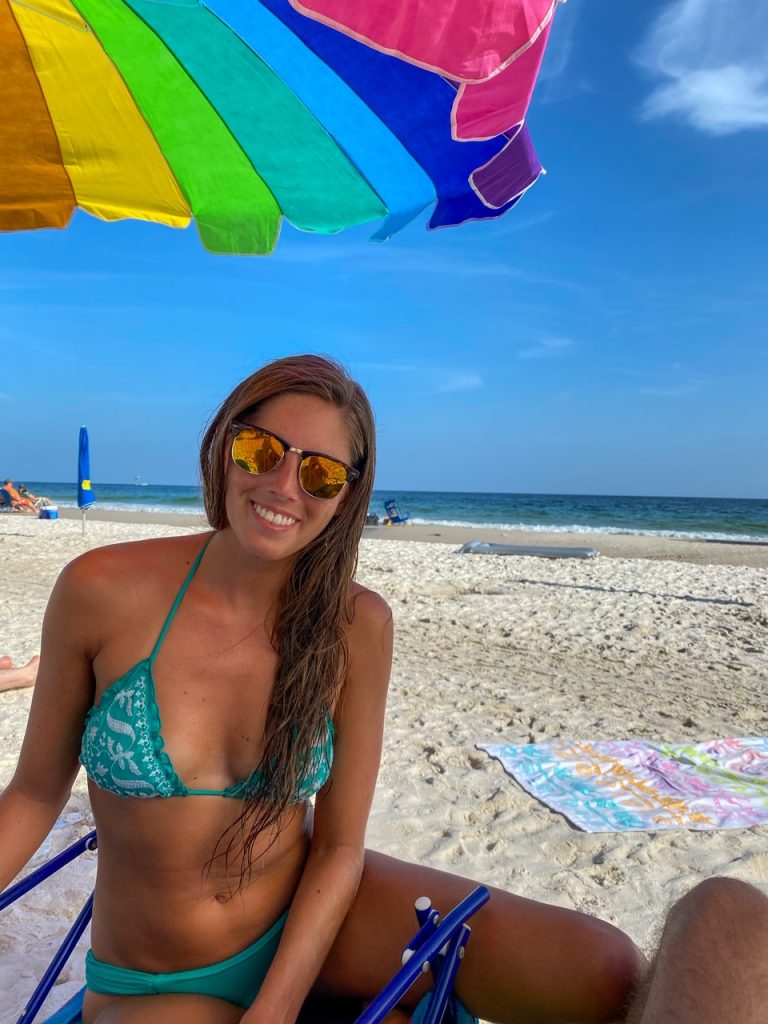 When we got back, we enjoyed some fruit and muffins that Allison had made before our trip. Then, around 11 am, we headed out to the beach.
Note: we didn't have any problems finding a spot on the beach, despite us making our way out later in the morning each day. I will say that it was much more crowded this particular day, since it was a Saturday and a holiday weekend, but, again, we really had no issues.
Eat Lunch at the Airbnb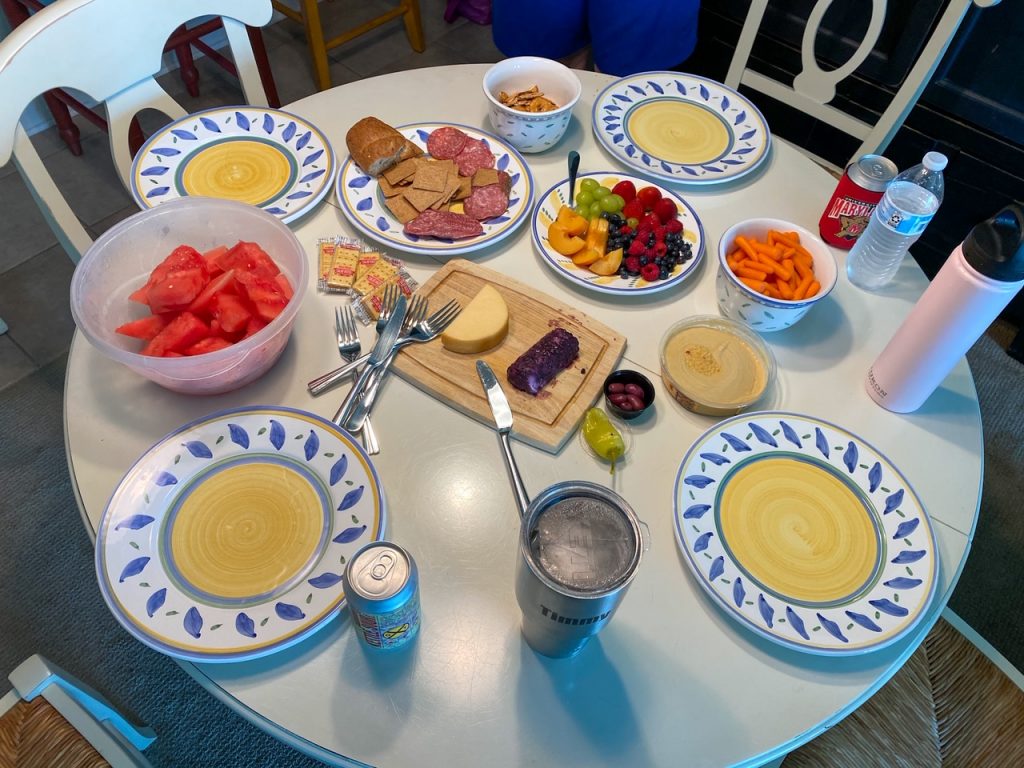 Around 1 pm, we headed back up for our charcuterie board lunch that we'd planned the day before and popped a bottle of champagne to go with it!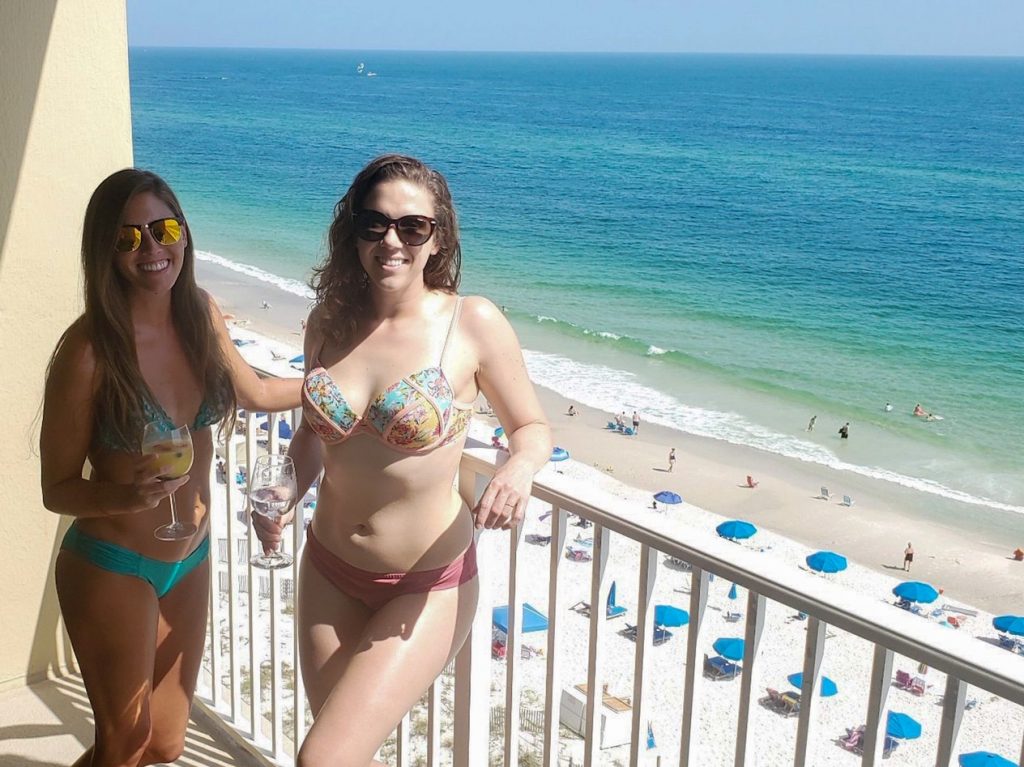 After lunch, we hung out on the balcony for a while to avoid being in the sun during the hottest part of the day.
Play Kan Jam on the Beach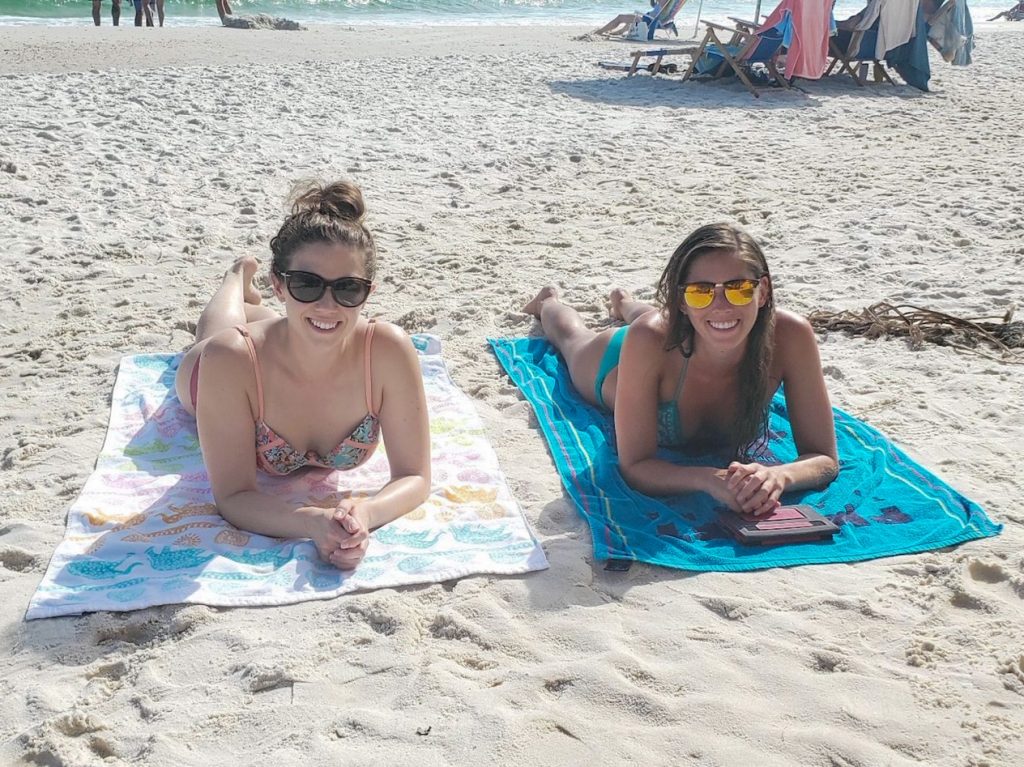 Around 4 pm, we headed back down to the beach for some late-afternoon sun and relaxation. We were really liking this daily schedule!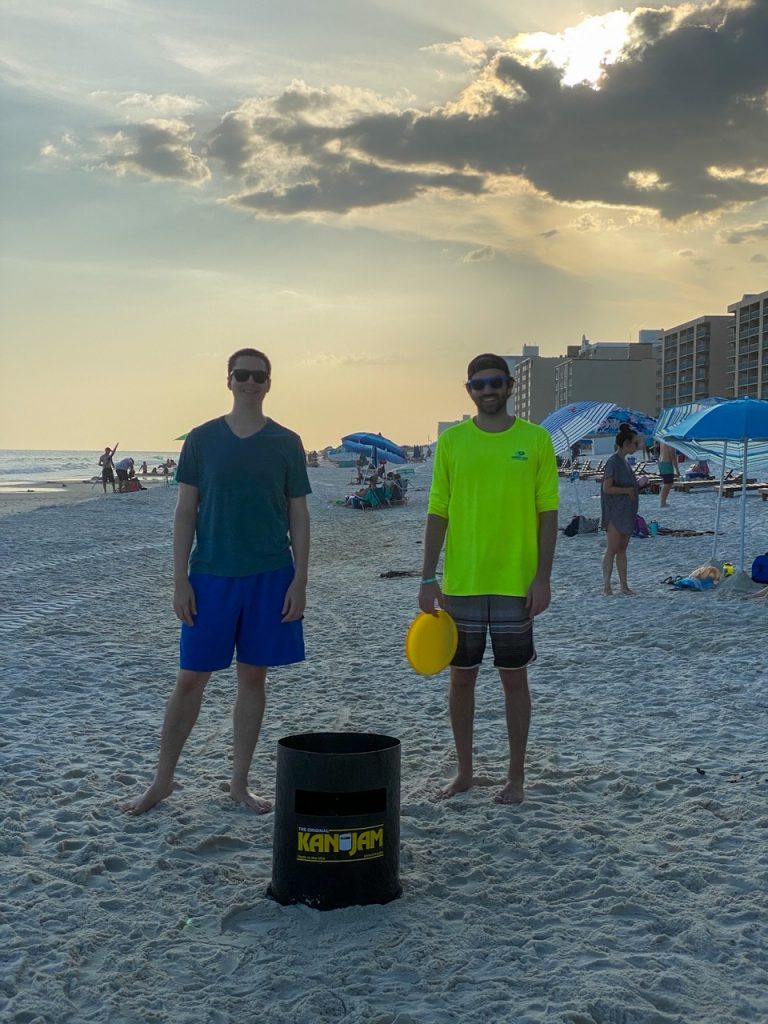 We also played Kan Jam, a super fun game that showcases one of my hidden talents. Every time I've ever played, I've "slotted it", i.e. thrown the frisbee into the "Instant Win" slot 😊, which you can probably guess by its name, automatically wins the game! In fact, I slotted it twice on this trip, and Tim and Allison each slotted it once, so we're practically experts.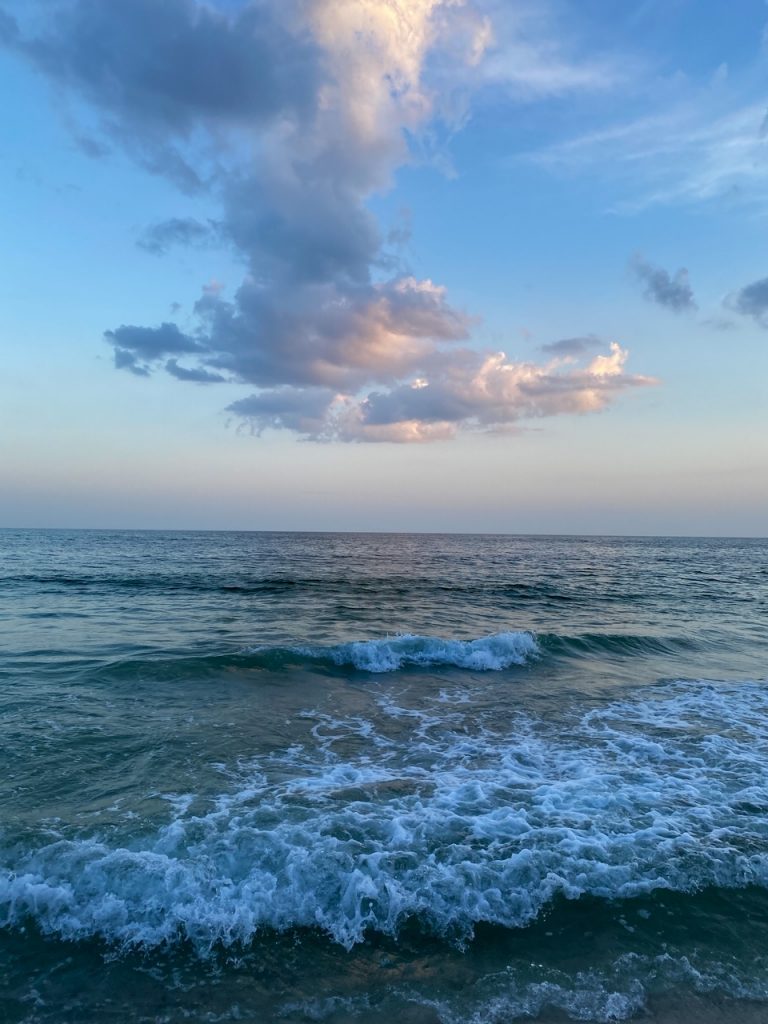 We really enjoyed spending the afternoons down on the beach and loved catching the captivating sunsets.
Eat Dinner at the Airbnb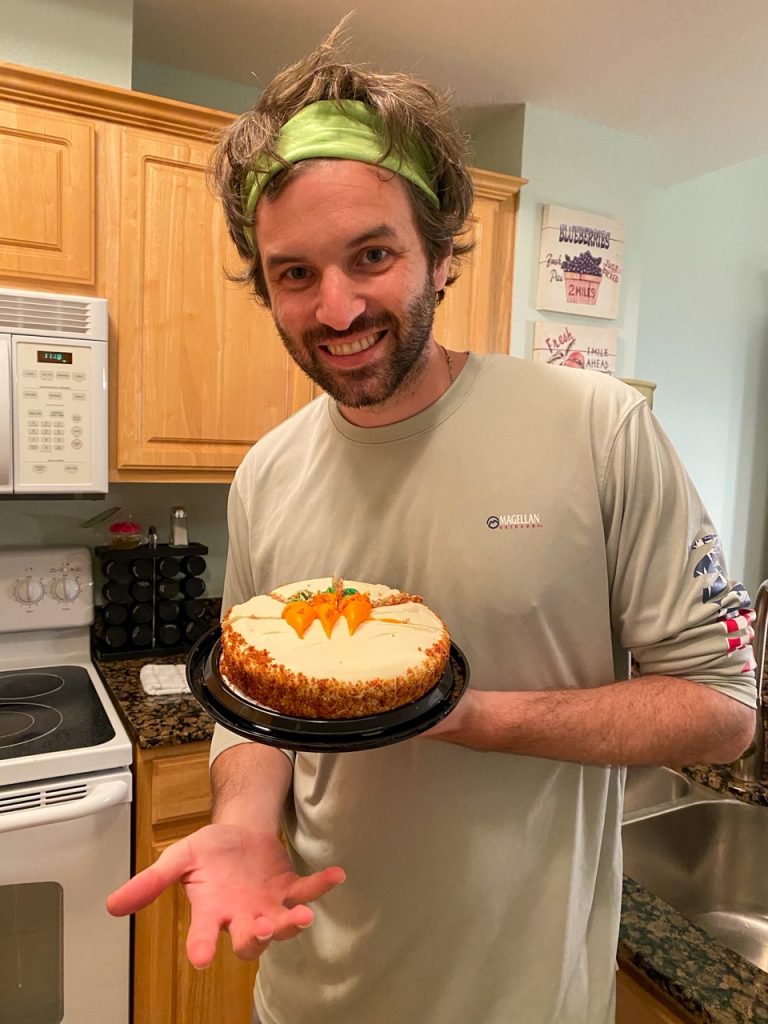 Back at the Airbnb, Allison and Tim graciously prepared a delicious dinner for us. Al picked up some steaks from a local farmer's market before the trip, and we made sweet potatoes, asparagus and broccoli to go with them.
We also celebrated Tim's birthday month with our Walmart-purchased carrot cake.
Enjoy an Evening Stargazing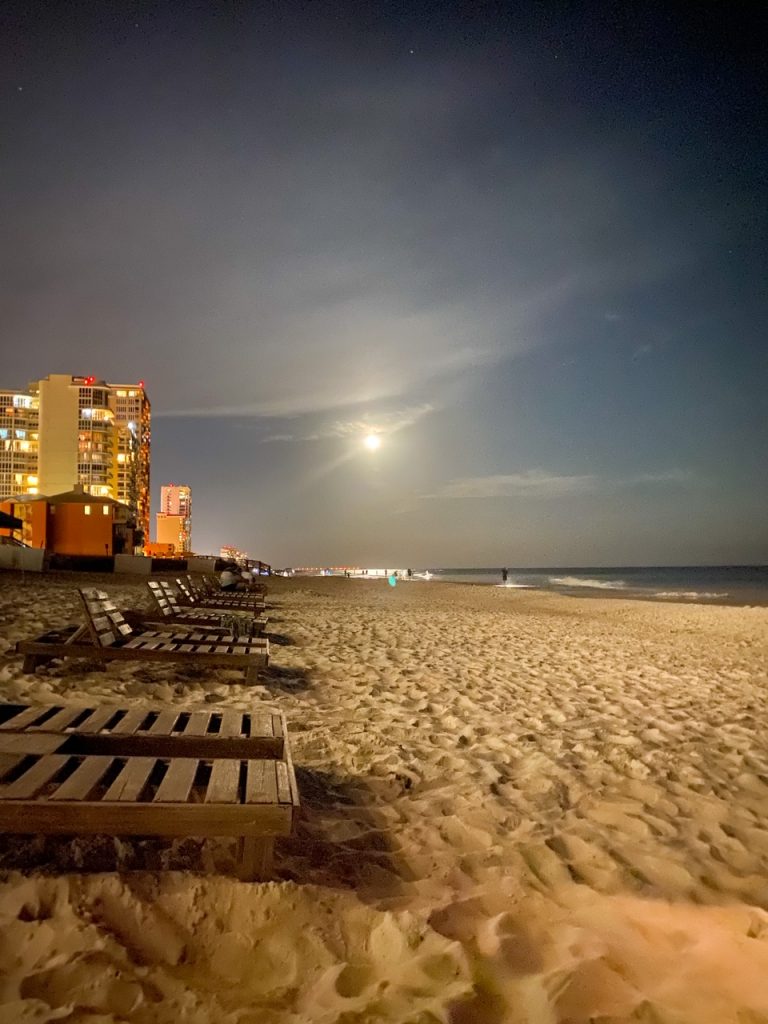 Around 10 pm, we headed back out to the beach to enjoy the amazing weather and to observe the stars – and even some planets!
Play Another Board Game
Then, we played Sagrada, a game that Tim and I had never played before but quickly became one of our new favorites! Tim actually almost won, but Ryan swooped in at the end, rounding out first place.
Day 3 in Gulf Shores, AL
Sleep In and Head to the Beach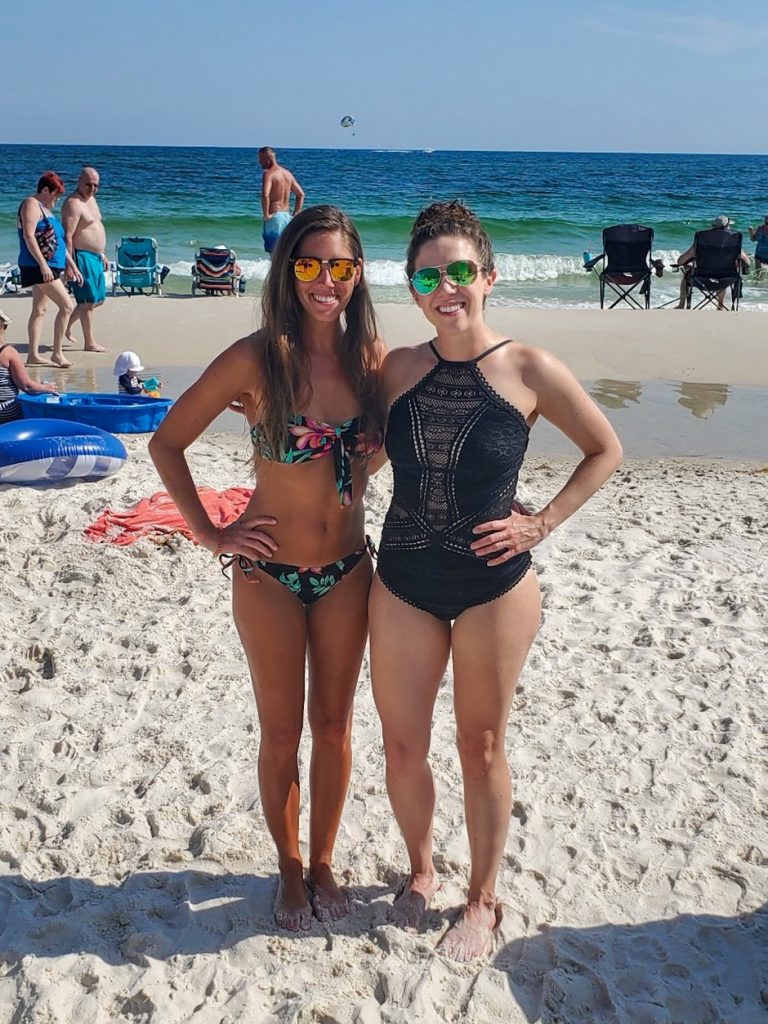 We were all ready for a lazy Sunday, and Tim and I slept in until 10 am. We enjoyed some more fruit and muffins for breakfast, and you guessed it! – we made our way down to the beach again around 11 am.
Eat Lunch at the Airbnb (Again)
After another sun-filled morning of reading and napping on the beach, we came back up around 1:30 pm for round two of our charcuterie lunch buffet with champagne.
Kan Jam on the Beach (Again)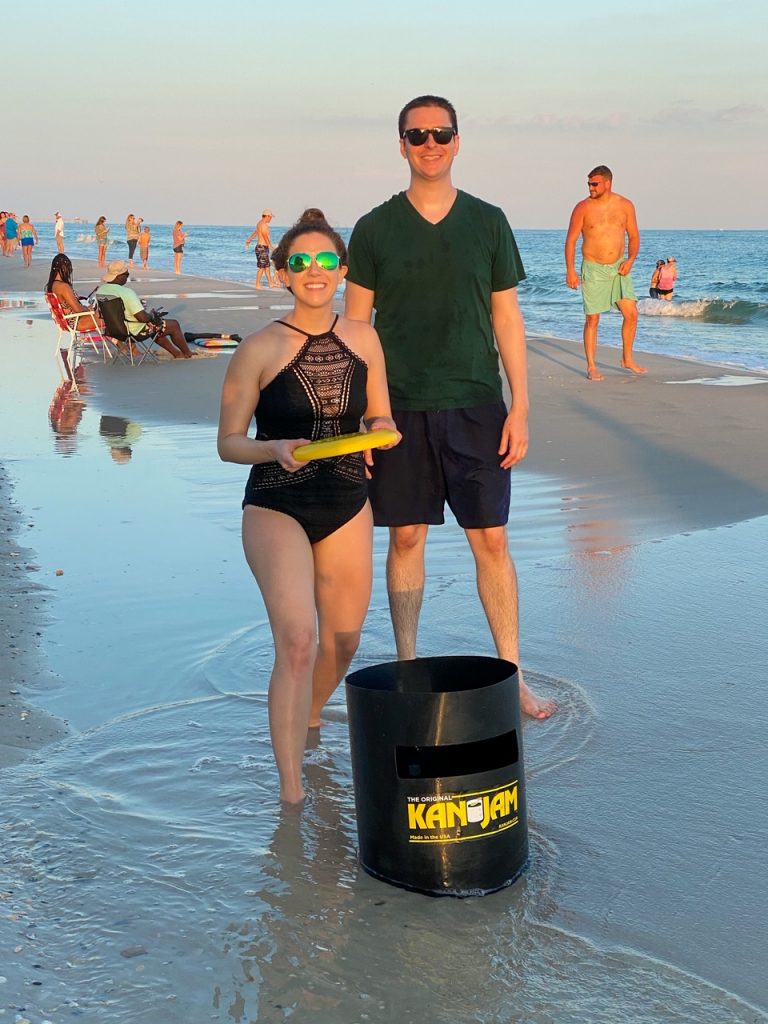 Taking our time again, we made it back to the beach around 3 pm, which was impressive for us compared to the previous two days – ha. And, we kicked off another rousing game of Kan Jam, this time in a small pool of water that had formed closer to the ocean.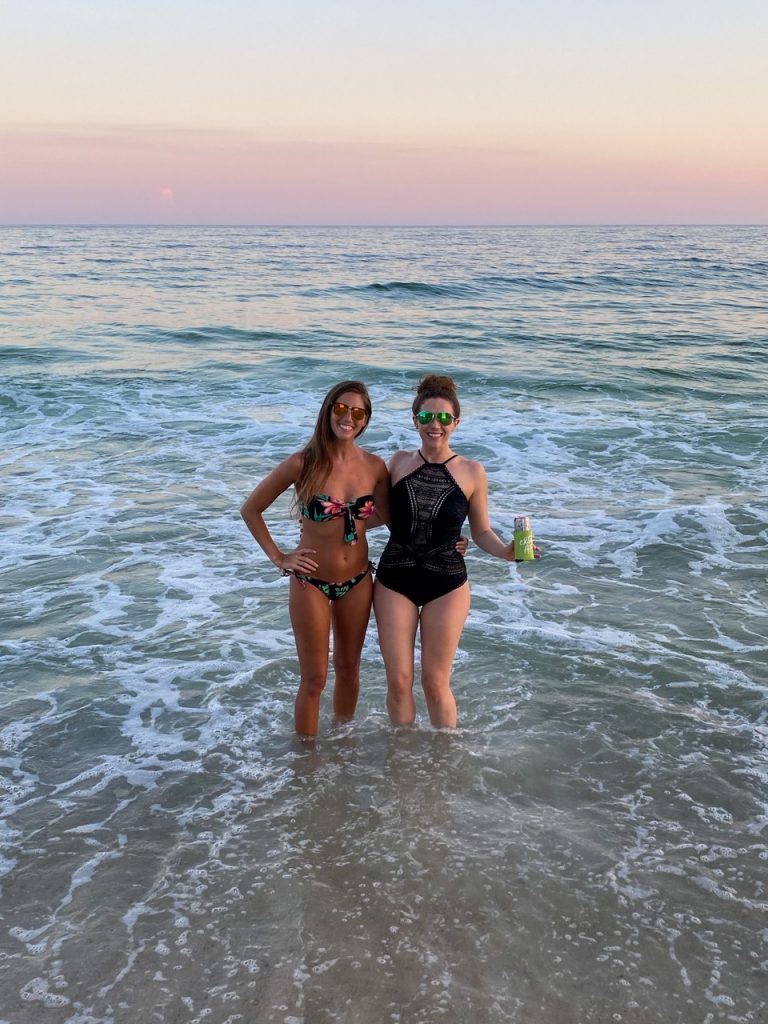 We had so much fun that we could hardly tear ourselves away from the beach, and of course, we had to capture the moment with a million pictures. Yes, I know – we took enough pictures for 2+ weeks, haha.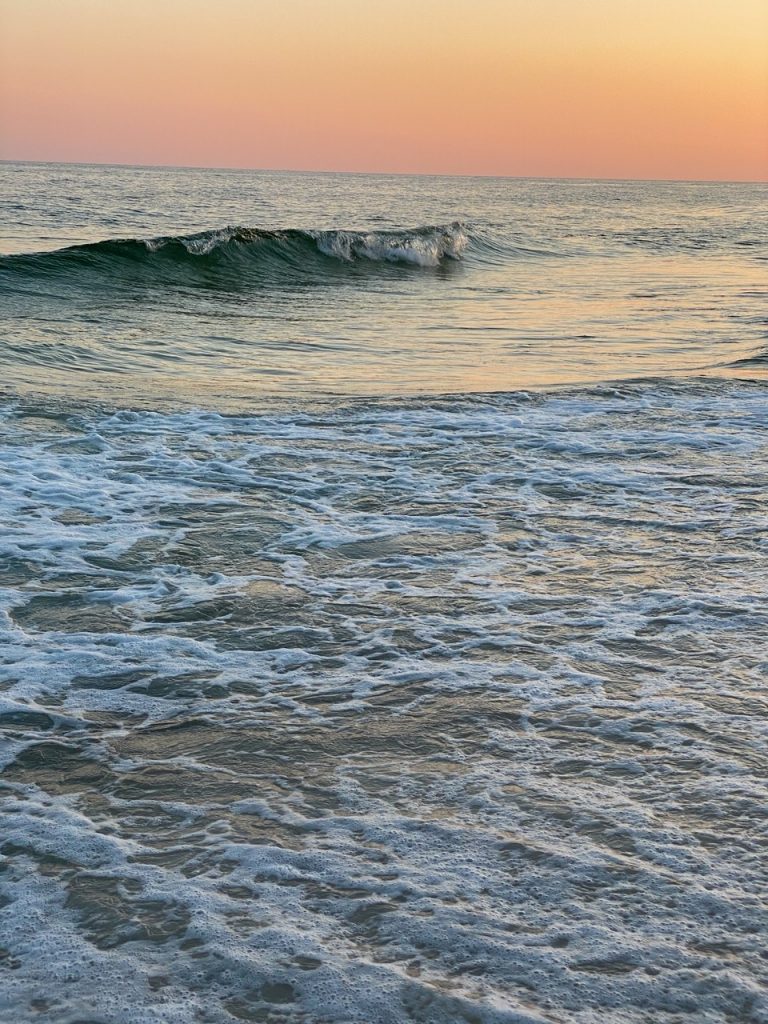 But, I mean, look at this sunset, you guys! We just couldn't get enough of it.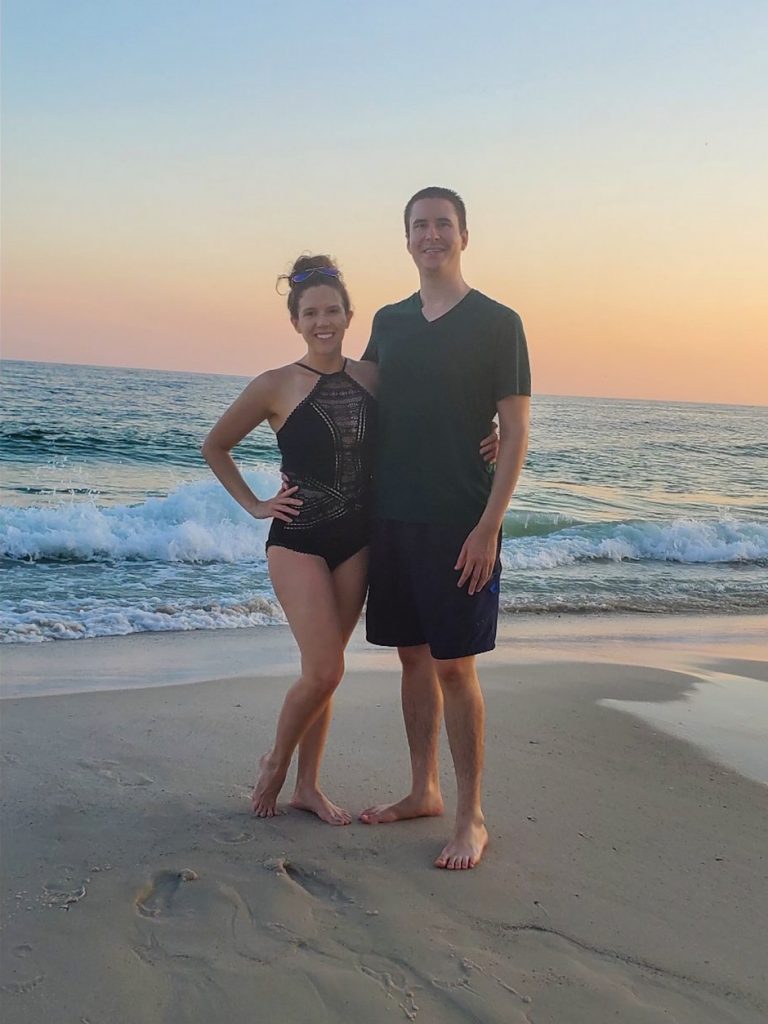 We started taking some couple shots when someone offered to take a full group shot – how kind! We were happy to get one that wasn't just a selfie.
Grab Take Out from Aji Sai
After lots of fun on the beach, we pre-ordered dinner from Aji Sai Asian Cuisine and drove to pick it up. It was a bit of a wait, but the food was pretty yummy! Ryan and I would highly recommend the Volcano roll.
Spend Another Evening Stargazing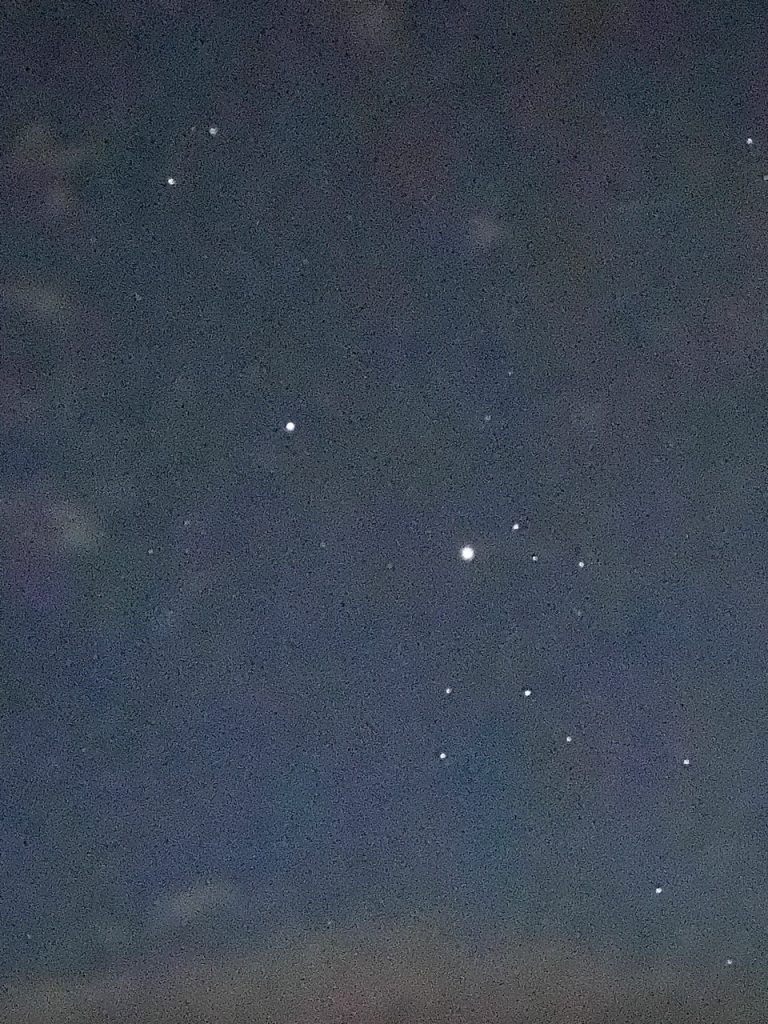 After dinner, we downloaded the Skyview Lite app to figure out which stars and planets we'd seen the previous night. Then, we made our way back to the beach, where we discovered we'd seen Mars, Jupiter and Saturn – how cool!
We decided to call it a night when we came back up, in anticipation of our early morning departure the next day.
Drive Home from Gulf Shores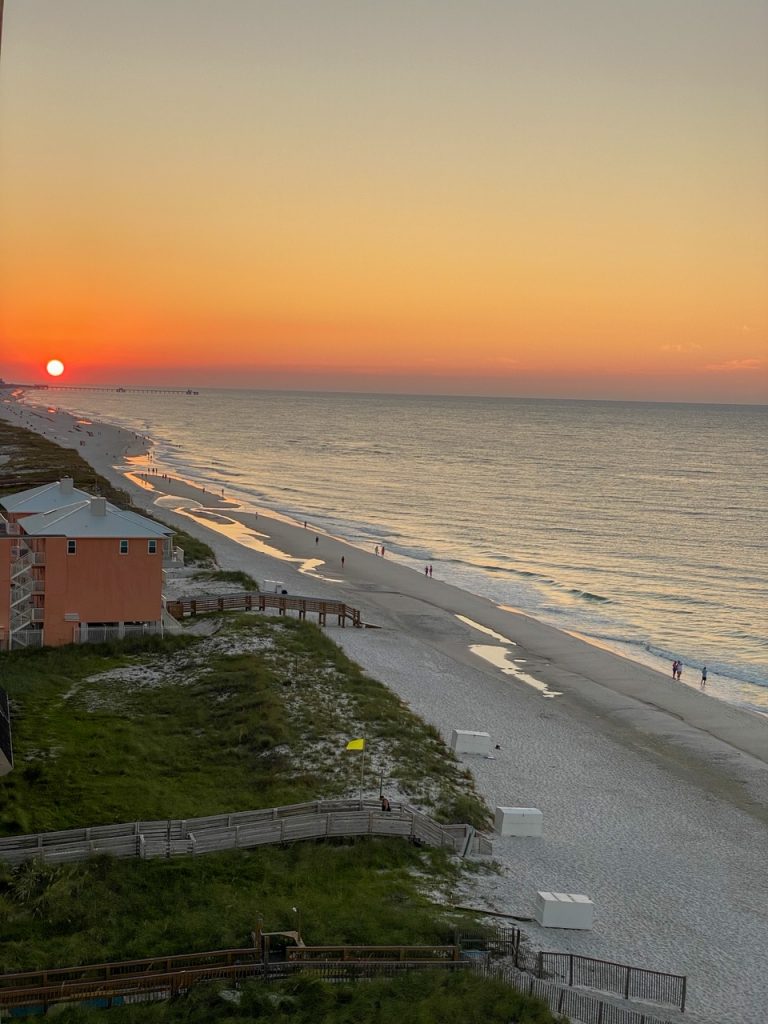 The next morning, I woke up around 6:15 am to watch the sunrise again.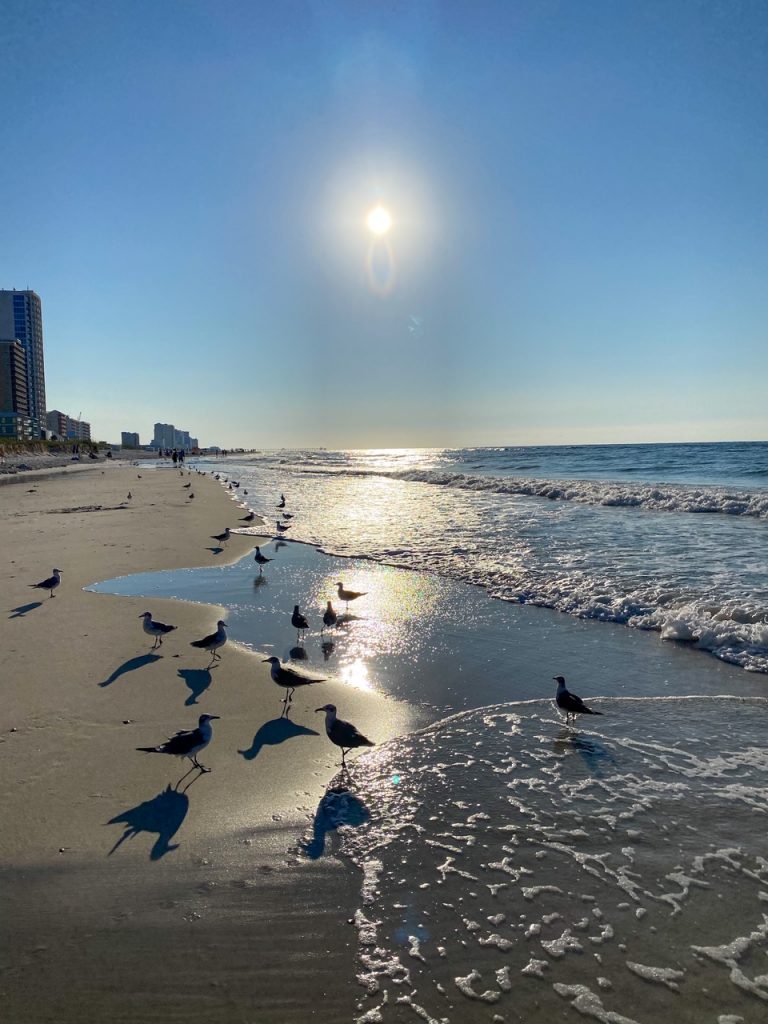 By 7:30 am, Tim and I were out on the beach strolling along the ocean when we ran into these bird friends!
After about an hour, we made our way back to the condo to help clean up and pack. We had a 10 am check-out time and ended up checking out just mere minutes before.
Apparently leaving around 10 am on a holiday weekend was a bad idea! It took us a couple hours just to get out of the area and nearly 7 hours to make it back to Allison and Ryan's house in Baton Rouge.
From there, Tim and I had another 4-hour drive back to Houston, which ended up taking us around 5 hours. Luckily, we'd learned during our 10-Day Iceland Road Trip that podcasts are a great way to fill the time, so we listened to The Habitat and The Dating Game Killer on our way back to Baton Rouge and Houston, respectively.
Summary of Our Visit to Gulf Shores
Lodging: PotteryBarn Gulf Front 2/2 sleeps 7 booked through Airbnb; total cost was under $1500 for 4 nights divided by 4 people
Groceries: Pier 33 Groceries @ 900 W Beach Blvd #6302, Gulf Shores, AL 36542; Walmart @ 170 E Fort Morgan Rd, Gulf Shores, AL 36542
Breakfast/Coffee: West Beach Coffee House located upstairs inside Pier 33 Groceries
Lunch: Efes Greek Kitchen @ 1550 AL-59, Gulf Shores, AL 36542
Dinner: Bahama Bob's Beach Side Cafe @ 601 W Beach Blvd, Gulf Shores, AL 36542; Aji Sai Asian Cuisine @ 160 Cotton Creek Dr, Gulf Shores, AL 36542
Note: both dinner spots were rated 4+ stars and labeled $$ on Google
Have you ever been to Gulf Shores, Alabama? Would you consider visiting after hearing more about it? Let us know in the comments below!
Looking for other places in the United States to spend a long weekend or for Labor Day weekend this year? Check out some of these destinations:
XOXO Sara at Travel A-Broads