You may have wondered, "what better way to gain exclusive access to ten of Oregon's most prestigious vineyards and wineries than to walk, run or hike through them?" Well, first, just to be clear – we will run for wine! And, second, we have the perfect answer to that question.
In early 2018, my friend, Courtney, and I decided that we wanted to run a half marathon. This would be my first one, so why not pick an extremely hilly and difficult course? Makes total sense, right? So, we landed on the Fueled by Fine Wine race in Dundee Hills, Oregon, where we would climb two thousand feet in elevation and have rare access to the aforementioned wineries and vineyards, albeit, profusely sweating and panting while taking in the views.
That being said, we decided to make a whole trip of it and flew into Portland midday on Tuesday, July 3rd.
*P.S. this post contains some affiliate links. At no additional cost to you, we may earn a small commission when you make a purchase.
Portland, Oregon: Three-Day Itinerary
Through Airbnb, we booked a "Homey NE Portland Apartment" where Candace, my fellow Travel A-Broad, would join us later in the week. She lived in Seattle at the time, so it was an easy flight for her to hop on over and meet us for the weekend.
We had the entire downstairs guest suite, and this place was perfect for us! It was close to local shops and cafes and a park where we would do some pre-training for our race.
A Broad Recommendation: Unfortunately, I don't see this place listed on Airbnb any more, but we wanted to include it in case it ever resurfaces. At the time of our booking, the total cost for three nights was $427.94.
Day 1: Bridge of the Gods & Multnomah Falls
Around 4 PM, we ate a snack and grabbed some drinks at the Thunder Island Brewing Company. This place was super cute, the service was friendly, and we loved the overall vibe.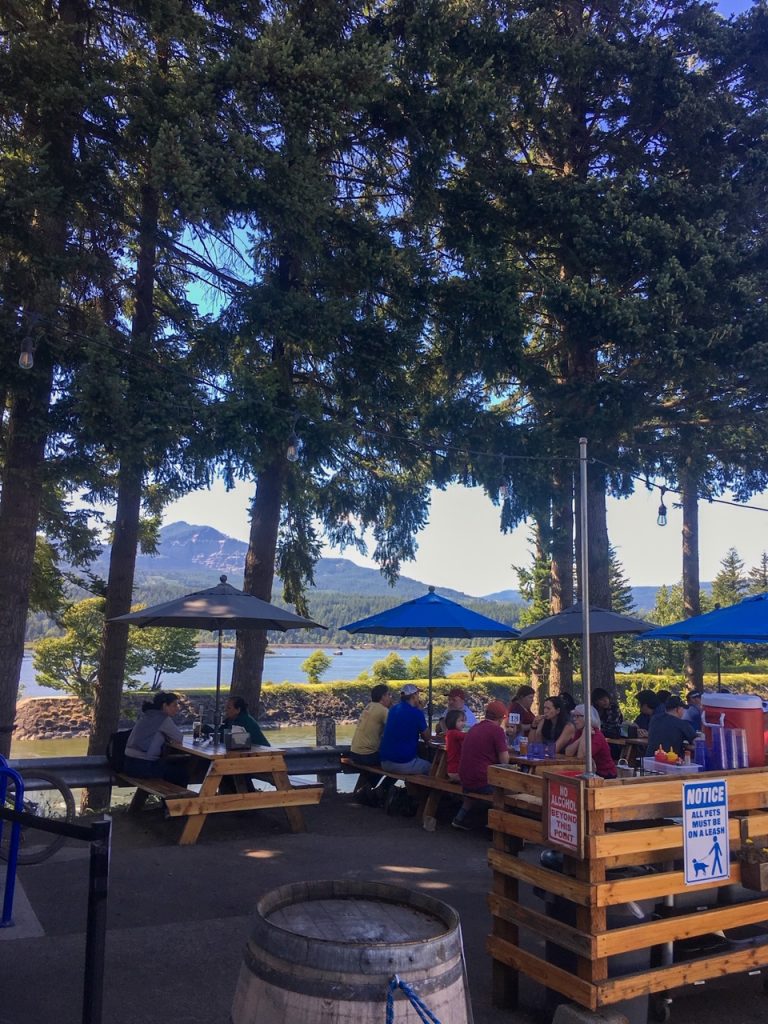 Might I recommend the Marionberry Cider? It was delicious, as was the food; I believe we stuck with vegetarian options, but I can't exactly recall.
Note that Thunder Island Brewing Company has since moved locations, so we can't speak to the new spot, but we read that it has views of the Columbia River, the Bridge of the Gods and the Cascade Mountain Range, outdoor seating options – for dogs too! – and onsite parking.
Here are some of the amazing views from their former location.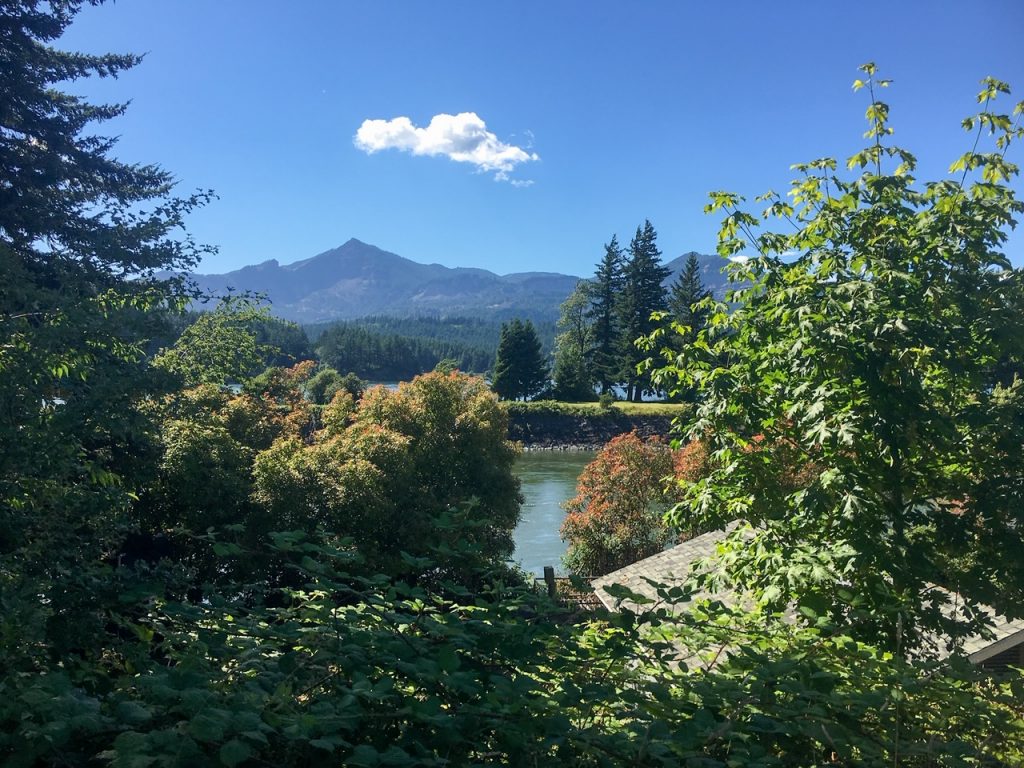 After our snacks, we walked around for a bit and explored the area. Spanning the Columbia River between Cascade Locks, Oregon and Washington state, the Bridge of the Gods is by far one of the most beautiful bridges we've ever seen, with jaw-dropping views in every direction. We were totally in awe, and I couldn't stop staring!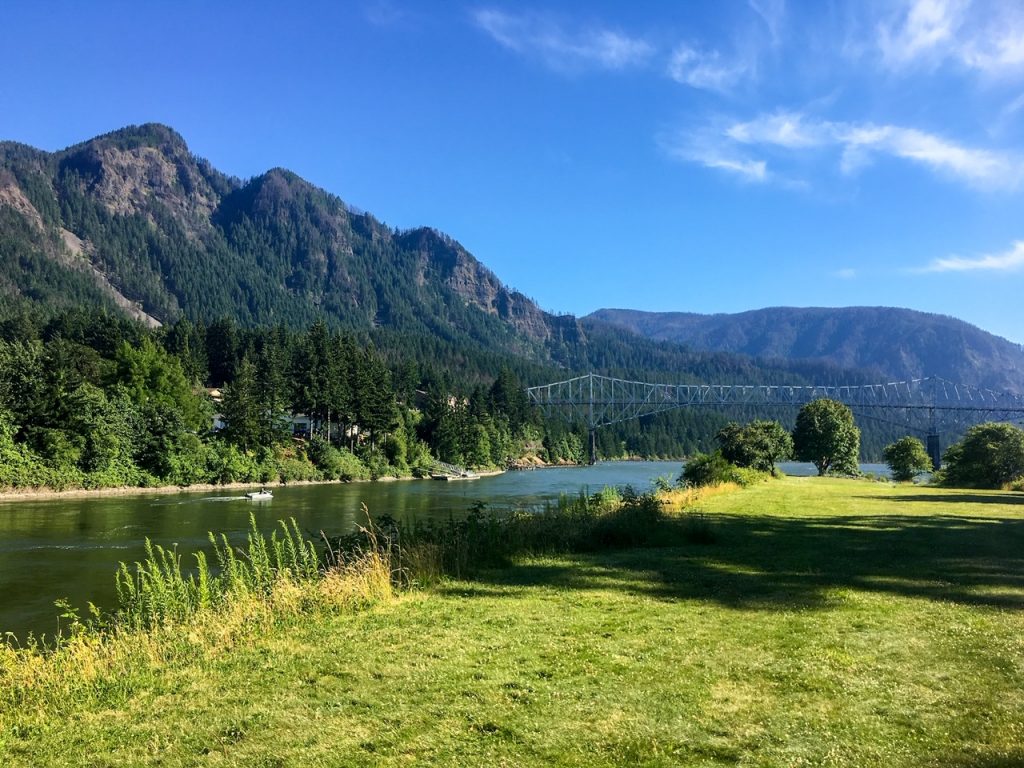 Fun fact: The well-known Pacific Crest Trail spans California, Oregon and Washington and reaches its lowest point of elevation when crossing over the Bridge of the Gods, which is just above sea level.
Moving on! By 6 PM, we were at Multnomah Falls, the tallest and most photographed waterfall in all of Oregon. Located just 30 minutes outside of Portland, it's fed by underground springs from Larch Mountain.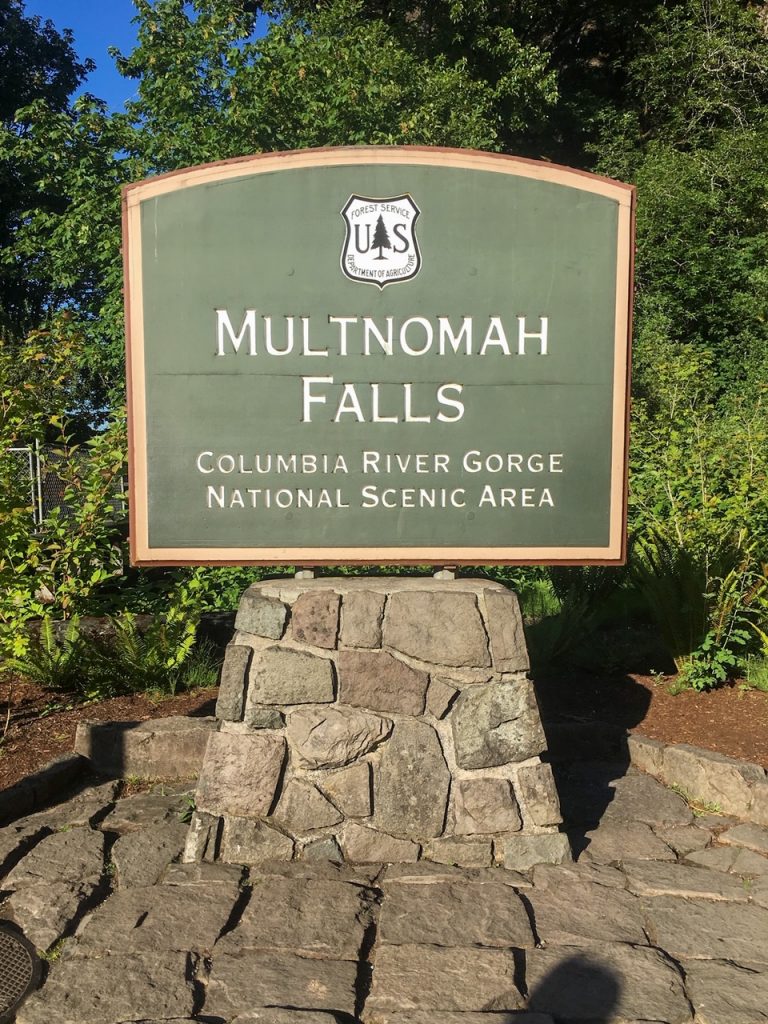 The top of the 620-foot-tall waterfall is visible from the road and for a closer look, it's just an easy five minute walk from the parking lot. Once you reach the paved trail, you can walk another several hundred feet to a bridge that's located at the base of the first step of the falls, as pictured below. If you have the time (and energy), you can hike another mile from here – note that the path is quite steep – to the top of the falls where you can glimpse beautiful views of the Columbia Gorge.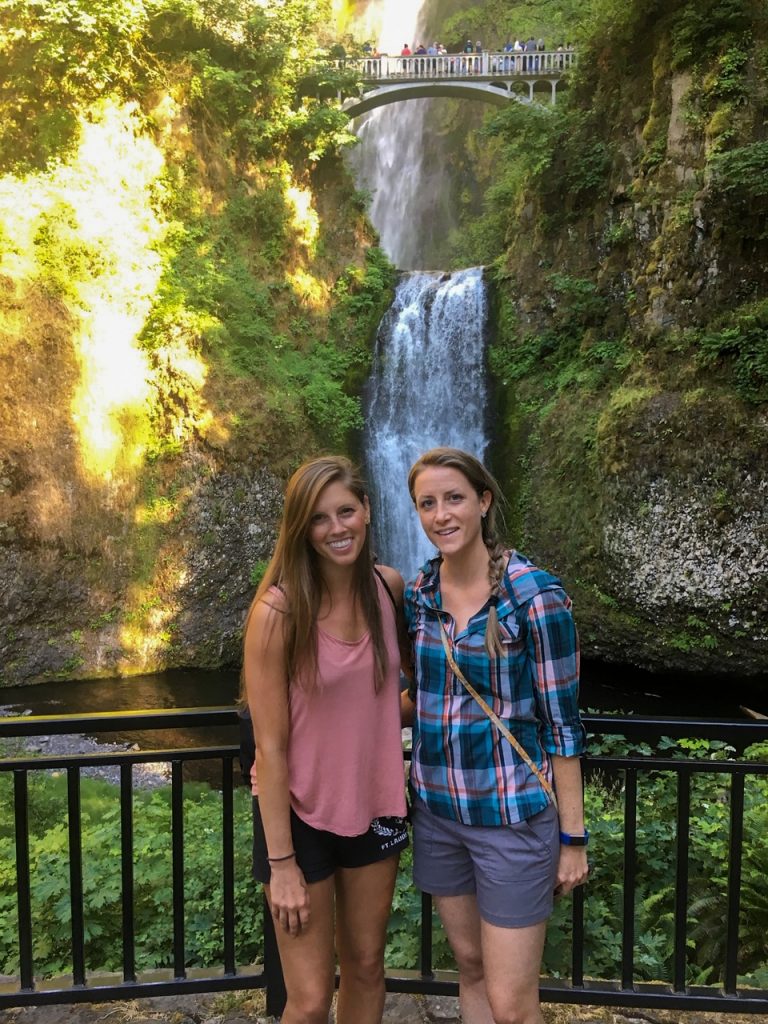 According to Native American legend, Multnomah Falls was created for a young princess who wanted a hidden place to bathe. Okay, we see you, girl – but not literally.
It's not hard to believe that Multnomah Falls is the most visited natural recreation site in the Pacific Northwest; it's breathtaking, free to visit and can be seen year round, since it doesn't dry up in the summer like many other falls in this part of the country. More than two million people visit here each year!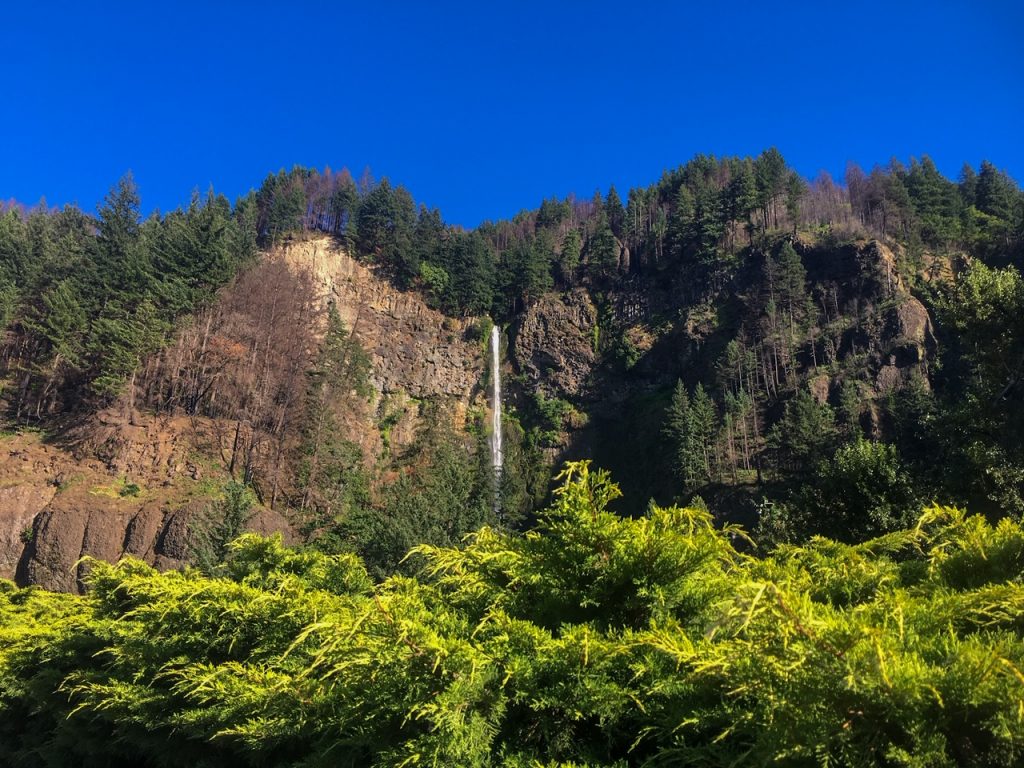 Also on-site, the Multnomah Falls Lodge has bathrooms, a visitor center, a snack bar, and a restaurant, but we didn't explore these and can't provide any additional details or recommendations.
That evening, we had a fancy dinner at Salty's. If I'm remembering correctly, I had the Smoked Columbia River Steelhead ($38.00 at the time of this post), and Courtney went all out, adding lobster to her meal.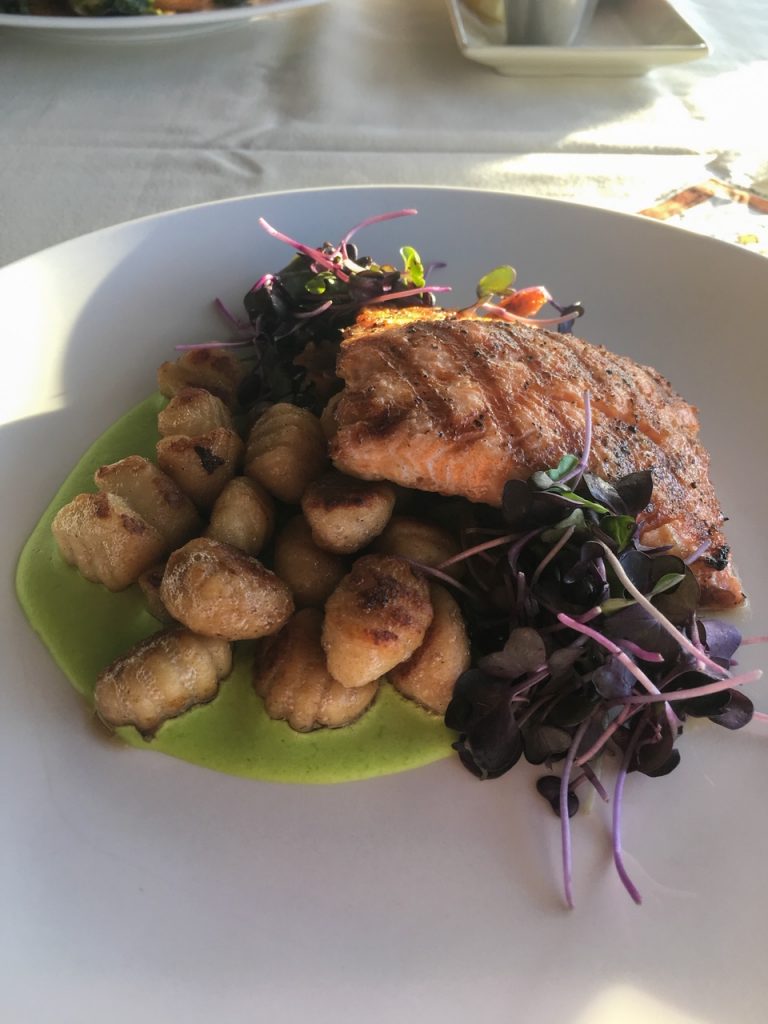 The food was well-plated and delicious, the service was great, and the views were stunning along the Columbia River.
Day 2: Exploring Like a Local
We originally planned to wake up around 7 AM the next morning to go for a run, but we skipped that and instead woke up closer to 8 AM with the goal of finding some breakfast.
We started walking and discovered Woodlawn Coffee and Pastry, an adorable coffee shop just down the street from our Airbnb. Our coffee and meals were so delicious that we decided we'd have go back again.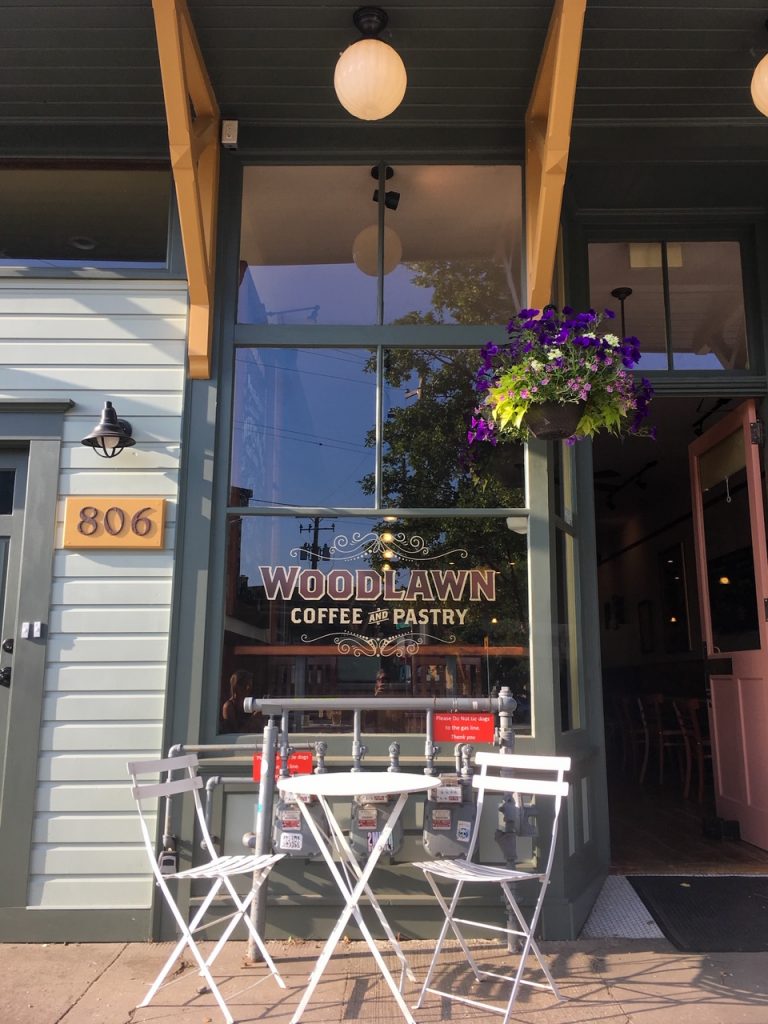 After a slower morning, we made our way downtown to check out Powell's City of Books, the largest independent new and used bookstore in the world – and any book worm's dream! Occupying a full city block, the book store has nine color-coded rooms with over 3,500 different sections, and they buy around 3,000 used books per day.
Being the avid readers we are, we just had to visit here! I had to refrain myself from buying anything, since I'd have to lug it around with me for the rest of the day and the trip, but it was still fun perusing the stacks.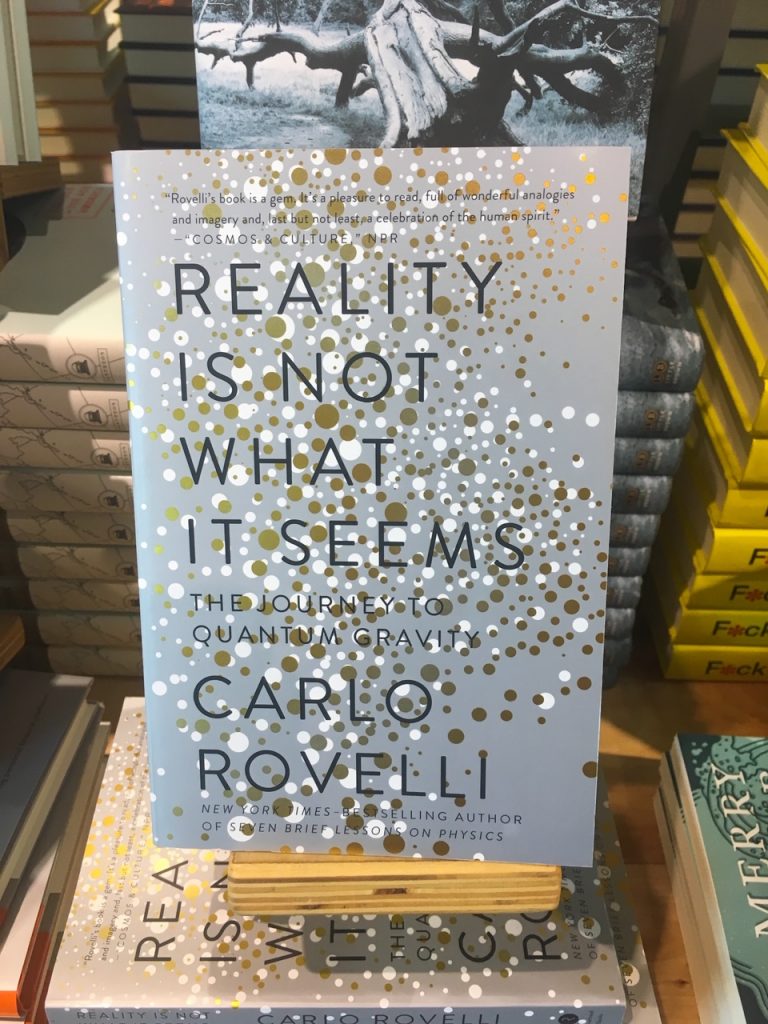 Next on the agenda was the Waterfront Blues Festival, for which we pre-ordered tickets for $15 each. The outdoor event takes place at the Tom McCall Waterfront Park over four days and features performances by – you guessed it – blues musicians. Similar to any music festival, there are tons of vendors for food, water, clothes and souvenirs, and the views over the Willamette River are spectacular. Not a bad place to relax and listen to some music!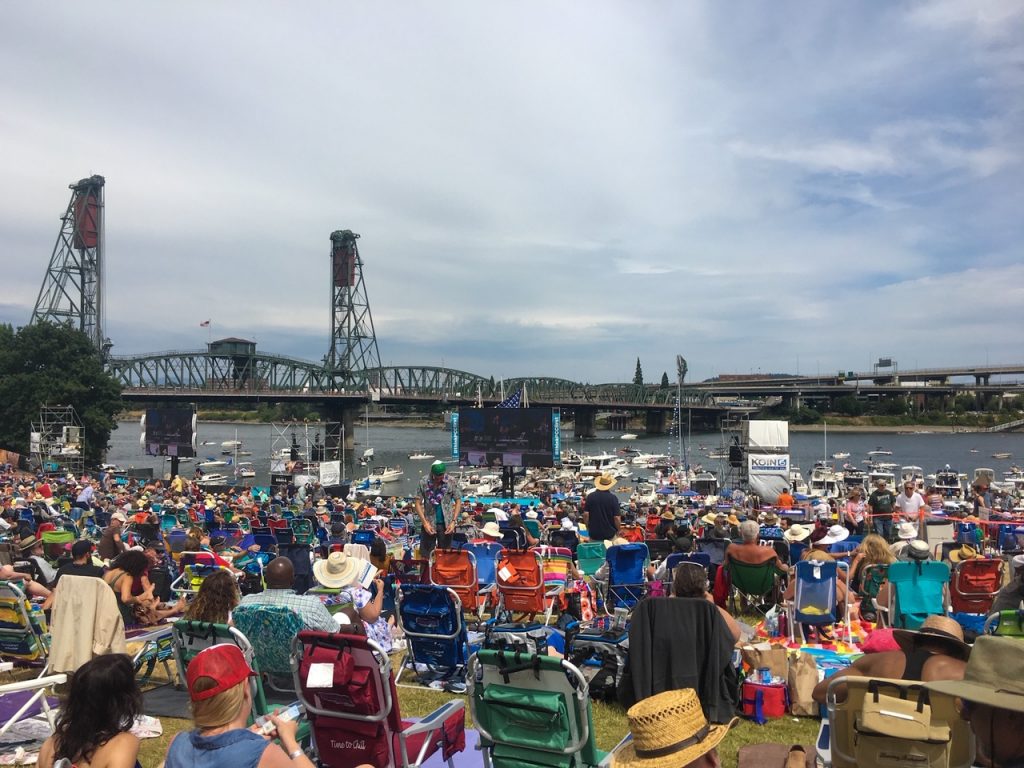 A Broad Recommendation: You should plan on paying around $15-$20 for parking in downtown Portland, so have some cash handy. You may also want cash for other small purchases at the festival, and remember to bring a reusable water bottle.
We stayed for a couple of hours before heading out for our next stop: the Portland Pickles (whose mascot is Dillon the Pickle – LOL!) vs. the Cowlitz Black Bears baseball game. We got some snacks and drinks and stayed through the end for the fireworks, since it was the 4th of July after all. Tickets were $14 each.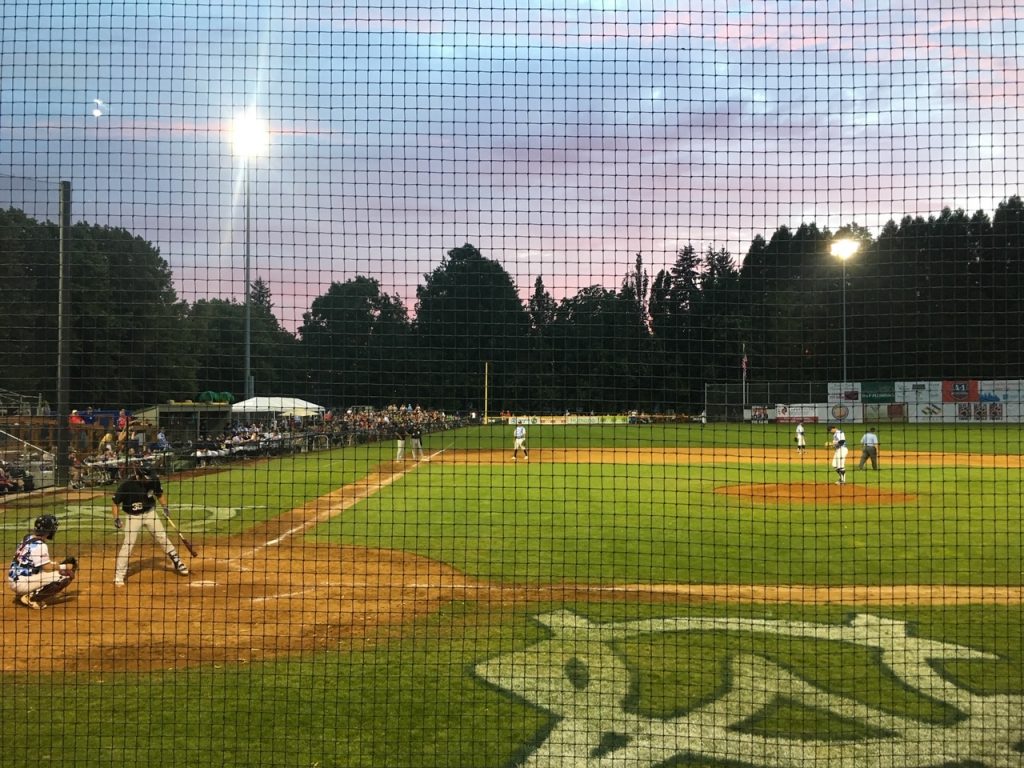 After a fun-filled day exploring like a local, we headed back to our Airbnb for some shut-eye before another action-packed day. My only regret was missing the fireworks at the Waterfront Blues Festival, after hearing that those were particularly fabulous.
Day 3: Rooster Rock State Park, Cannon Beach & Washington Park
Like I said, we had enjoyed Woodlawn Coffee and Pastry so much the day before that we decided to go back again the next morning before heading to Rooster Rock State Park. Had we stayed a few more days, the staff probably would've memorized our orders, since we got the same thing both days.
Located east of Corbette, Rooster Rock State Park stretches alongside the Columbia River and features beaches and a lagoon for swimming, windsurfing, boating, fishing, etc.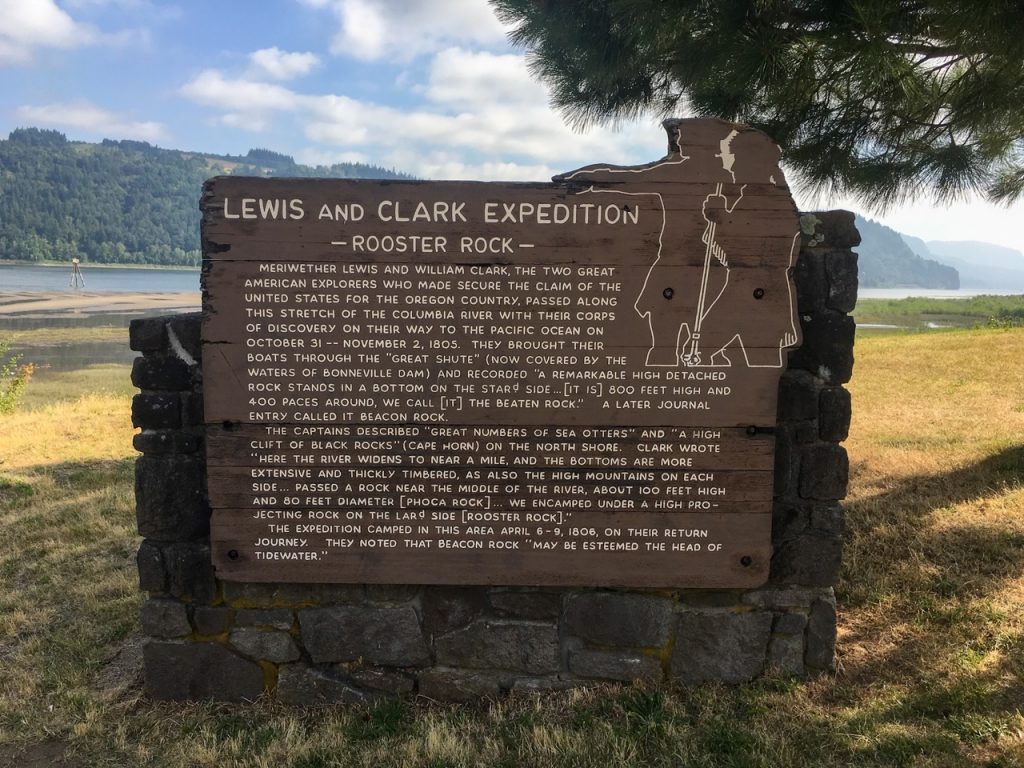 We were surprised to read that the beaches were clothing optional, and at one point, we stumbled across some folks taking advantage of this.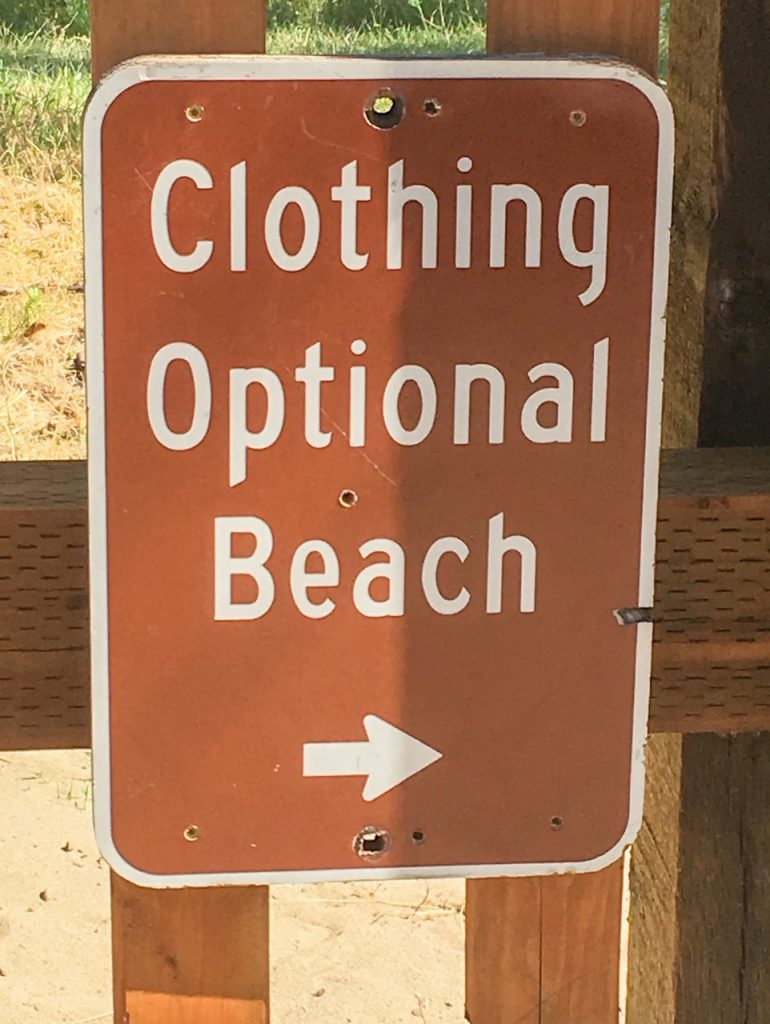 A quick note: the trailheads were difficult to find, as some were completely covered in brush, and we definitely got lost a few times. In fact, we got so lost on our way back to the car that we were late picking up Candace from the airport – oops!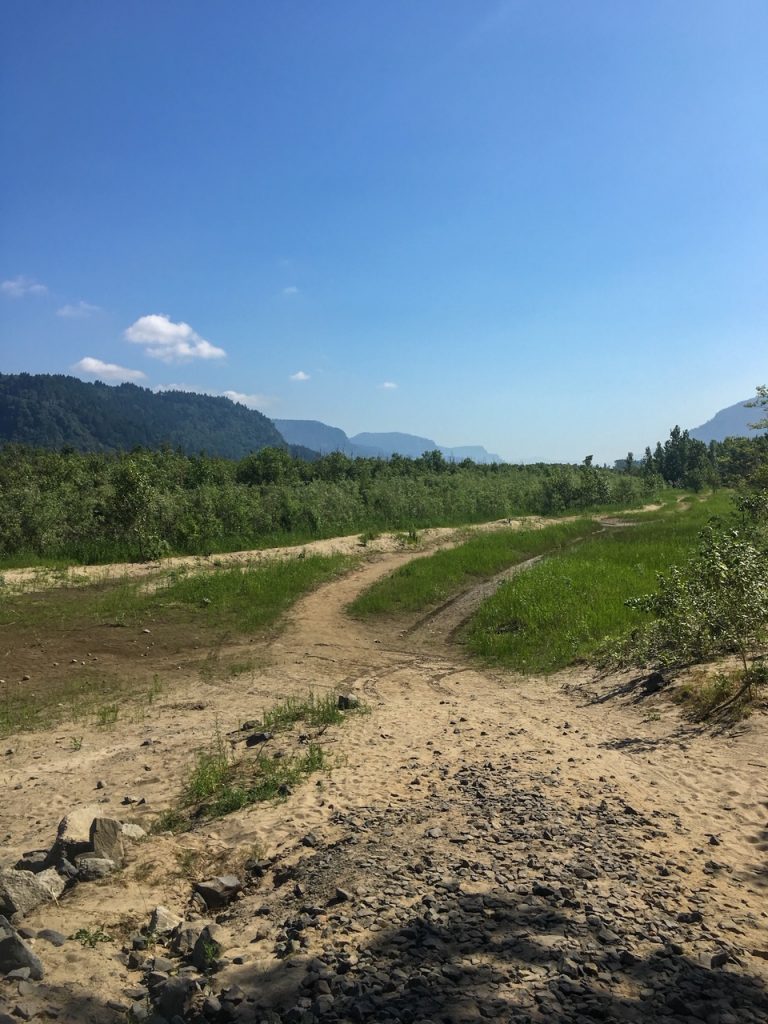 Personally, I didn't feel like Rooster Rock State Park was anything to write home about. It wasn't my favorite state park, and the confusion with finding the trailheads ate up too much of our limited time.
After picking up Candace from the airport, we drove to Cannon Beach, a small coastal city in northwest Oregon known for its long, sandy shore. Here, we explored and ate lunch at Driftwood Restaurant & Lounge.
I can't remember much about the food because we were so excited to learn that Candace and my boyfriend's younger sister went to same high school; what a small world! We had been friends for a while now but had never made the connection, since Candace had since moved to Seattle.
After an eventful lunch, we spent some time walking along the beach.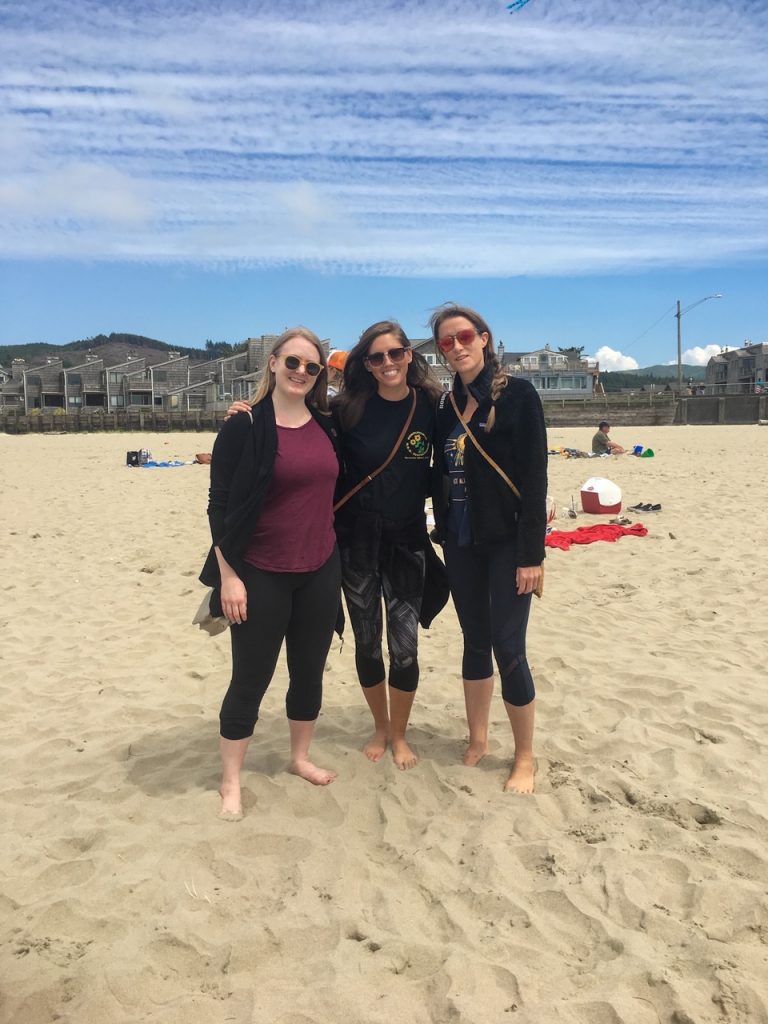 It wasn't the most beautiful beach we had ever seen, and it was a bit chilly, but it was nice being near the water nonetheless.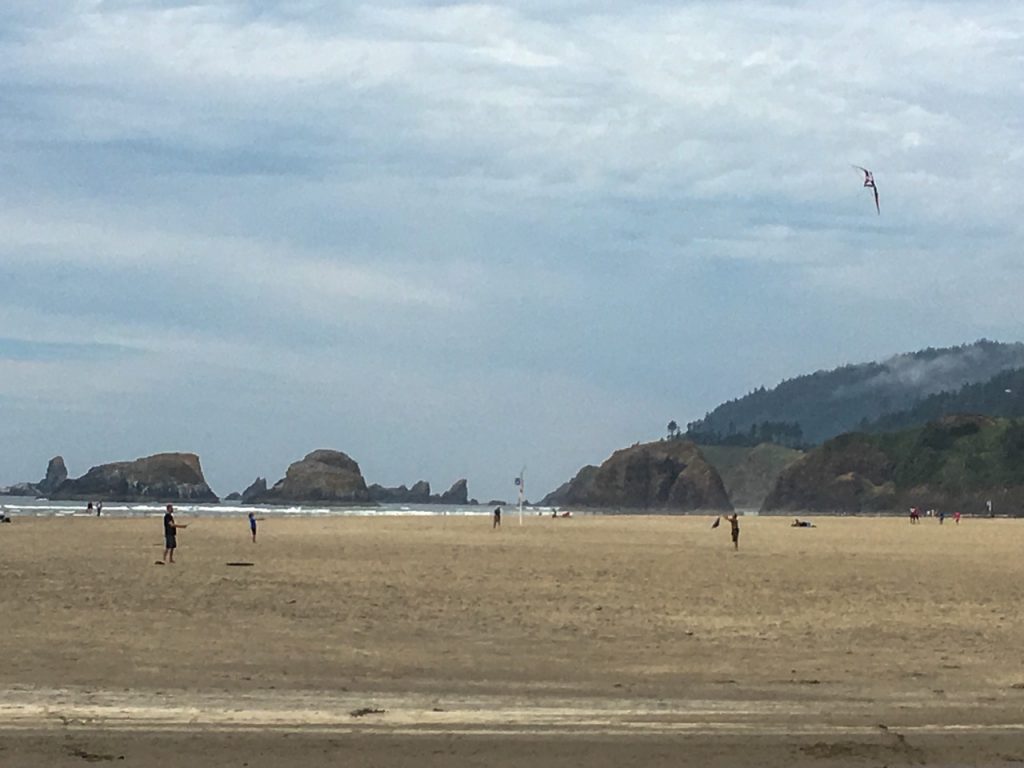 We popped into Insomnia Coffee Company, which Courtney especially loved, since it was her first time trying almond syrup (thanks for reminding me about this place, Courtney!). Candace also introduced me to lavender lattes here!
We spent some time popping in and out of some of the shops and boutiques and and used the free public restrooms; these are always a plus, especially if you're like me and have to pee all the time, haha.
Around 5:30 PM, we made our way to the Portland International Rose Test Garden and the Portland Japanese Garden, both of which are located in the hills of the iconic Washington Park.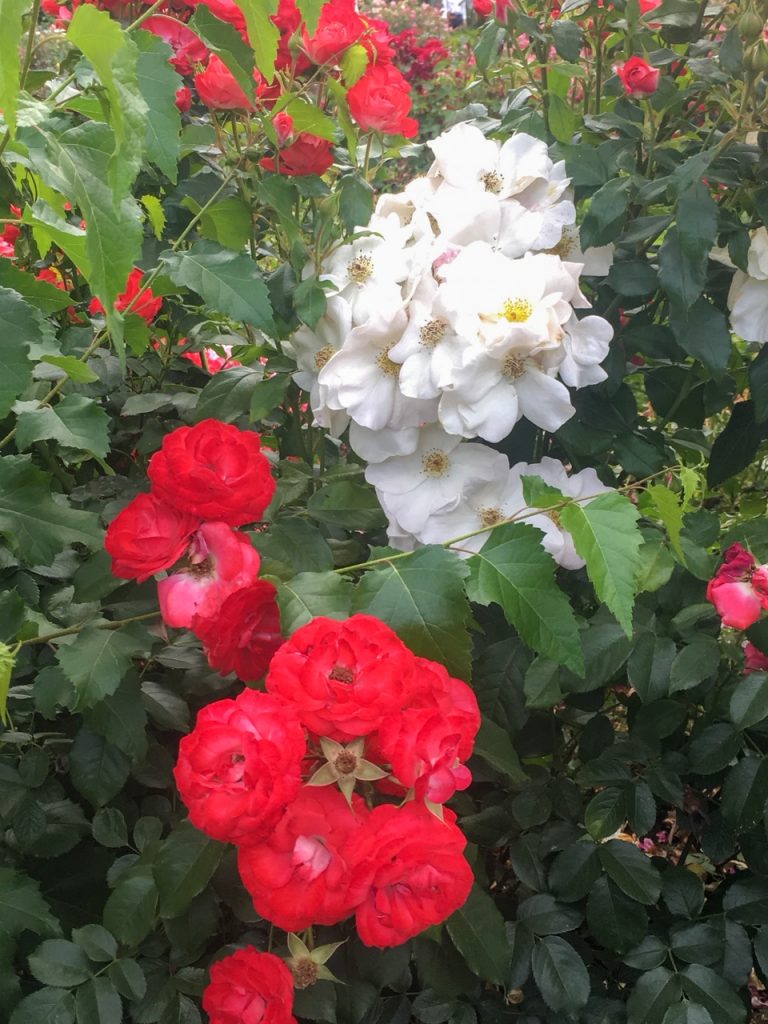 The oldest official continuously-operated public rose test garden in the United States, the rose garden showcases more than 10,000 roses. Created in 1915 by Oregon Journal editor, Jesse A. Currey, the garden served as a safe haven for hybrid roses grown in Europe during World War I.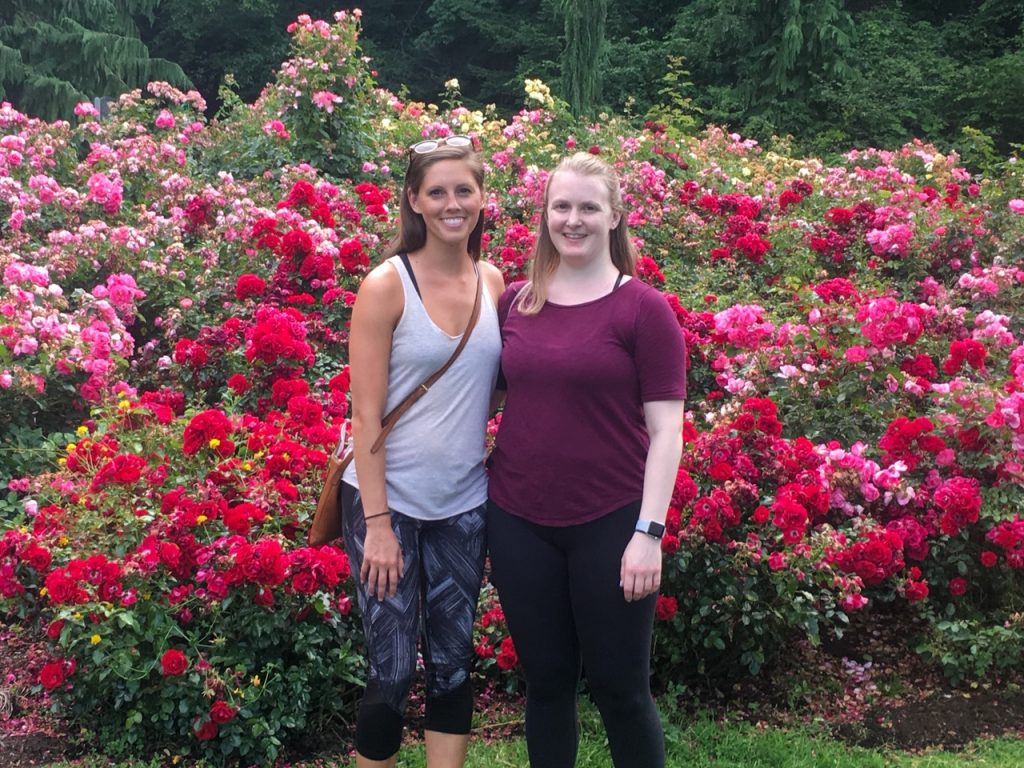 Admission is free, but we did have to pay for parking on the street (less than $10). The best months to visit the rose garden are May through September; luckily, we were here in July! It was beautiful, and the flowers were in full bloom, as you can see in all of our photos.
Just across the street, you can immerse yourself in one of the most authentic and beautiful traditional Japanese Gardens in the world – outside of Japan, of course – and connect with the tranquility of nature by traversing across twelve acres of gardens, enjoying a stop at a Japanese Tea House, and taking in the magnificent view of Mt. Hood.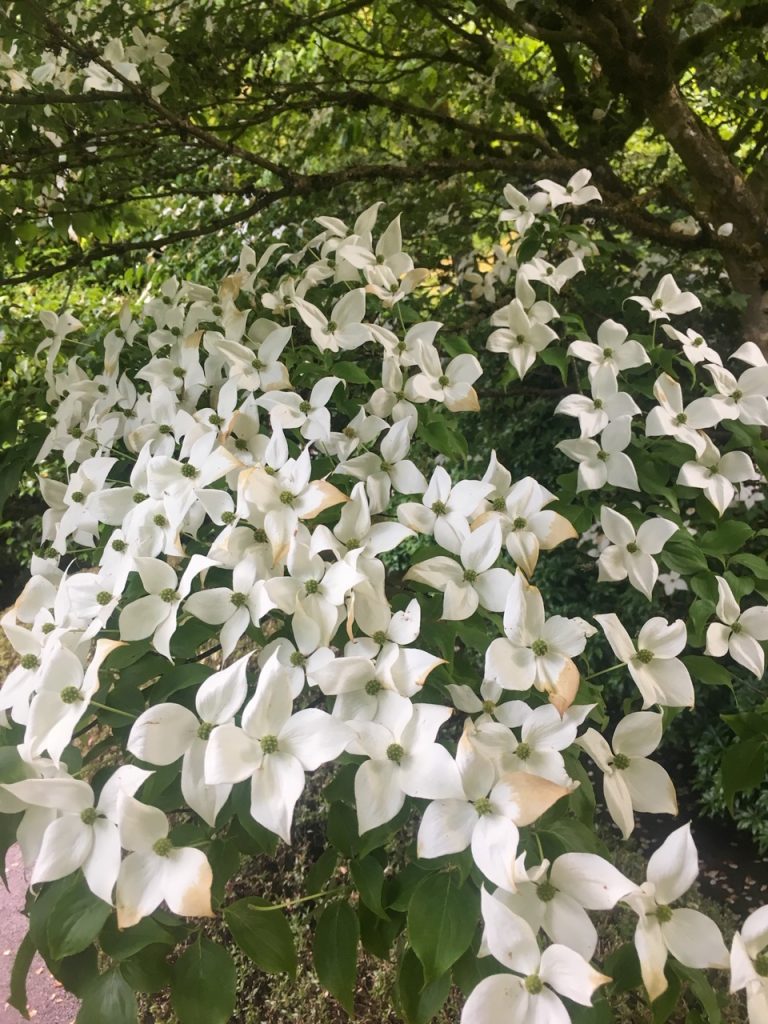 To help teach traditional Japanese culture, the garden offers seasonal activities and performances, the playing of the koto, i.e. a Japanese harp, and shakuhachi flute, tea demonstrations, and Ikebana, i.e. the art of flower arranging.
Admission to Portland Japanese Garden is around $20, and unfortunately, we didn't have as much time to explore after arriving so late in the day. We would recommend giving yourself at least a half day to explore this area.
For dinner, we met up with one of Candace's friends at Deschutes Brewery Portland Public House. Candace and I were able to build our own flight of beers, which we taste tested then split up based on who liked which. Ah, the days before COVID-19, am I right? And, we all enjoyed some yummy bites as well.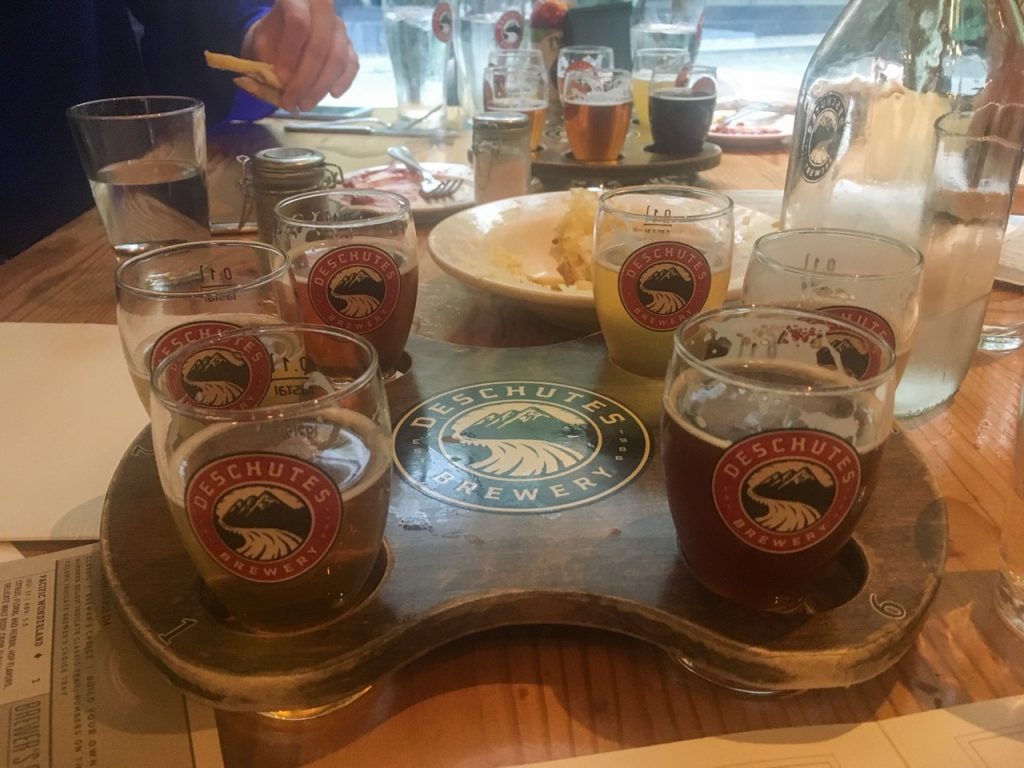 Both the food and drinks were delicious, and the vibe was super fun. We would definitely recommend eating and drinking here during your Portland visit.
After dinner, we headed back to our Airbnb to rest up for another full day of travel and adventures. Given that the downstairs apartment only had one bedroom, Courtney opted to take one for the team and slept on the pull-out couch, while Candace and I shared the bed. Overall, it worked out perfectly for what we needed.
Newberg & Dundee, Oregon: Three-Day Itinerary
After our training run, we needed to introduce Candace to our favorite breakfast spot, Woodlawn Coffee and Pastry, of course! Then, we made our way to Newberg, Oregon to stay at the "Little Red Cottage", which we also booked through Airbnb. The cost was $361.45 for three nights, and Candace took one for the team this time by sleeping on the couch, while Courtney and I shared the only bedroom.
The cottage was an older, vintage home that was previously a general store in the 1940s through the 1960s. This was really neat and all, but for some reason, I was a little freaked out by this house. Maybe it was just the random sounds from the goat friends that were living next door that kept waking me up – haha, yes you read that right. There were goats in the yard, and we definitely befriended them.
In reality, all we really did was double checked that the doors were locked, and we were totally fine.
Day 4: Winery Hopping through Dundee Hills
Although advertised as eight blocks from downtown and convenient to walk or bike to coffee, shopping and restaurants, we opted for Ubers or Lyfts the entire stay. It didn't seem walkable enough for our vibes.
After getting set-up at the house, we called a Lyft and headed out for some winery hopping! First up was Archery Summit.
The world-renowned Willamette Valley stretches roughly 100 miles from Portland to Eugene and is one of the most prized wine-growing regions in the world. Commonly referred to as the Red Hills because of its iron-rich soils, Dundee Hills rests in the core of the valley among high-elevation terrain.
Because I couldn't say it any better myself (believe me, I tried), I will quote the Archery Summit website's description of Dundee Hills:
Valley-carving volcanic flows and subterranean rifts molded the Dundee Hills over the course of millions of years. When the Missoula Floods submerged the Willamette Valley in water some 15,000 years ago—depositing sedimentary soils along the way—the Dundee Hills were untouched, perched above the flood line and able to retain their volcanic pedigree.

Our Story. (2020, July 31). Retrieved December 19, 2020, from http://www.archerysummit.com/our-story/
And, really – how cool is that?
Archery Summit is known for their elegant, vineyard-driven Pinot Noirs. Launched in 1993 by Gary Andrus, an award-winning Napa Valley winemaker and Pinot Noir aficionado, Archery Summit's location was chosen for its similarities to Burgundy France, which is home to some of the world's most acclaimed Pinot Noir vineyards.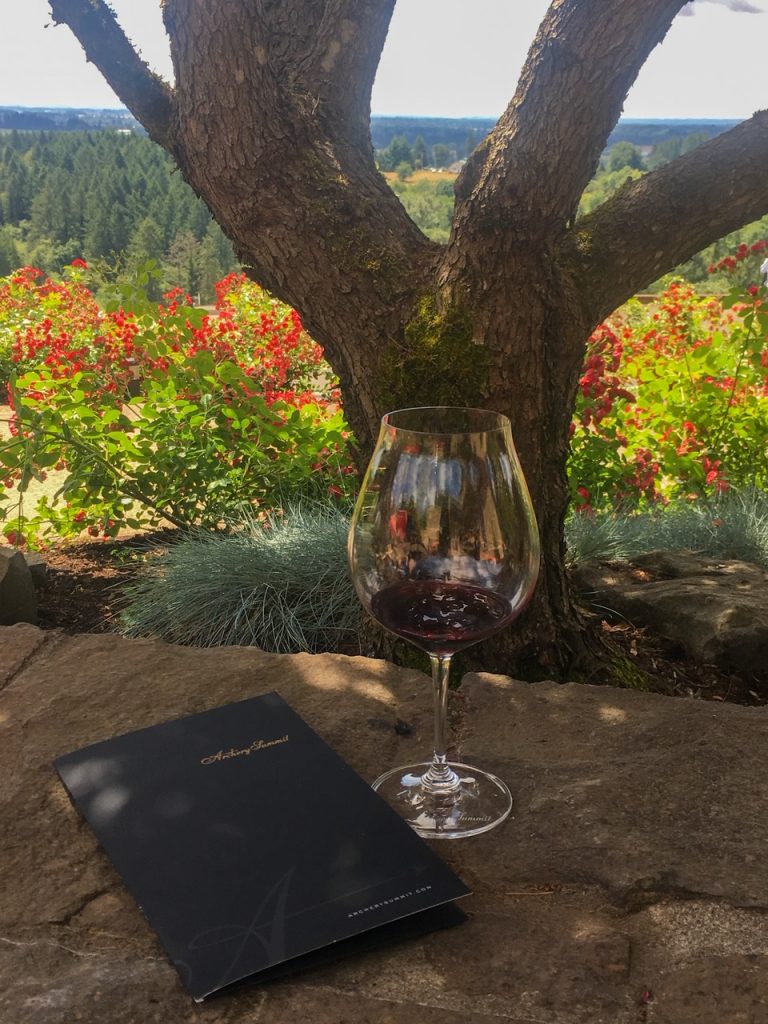 With indoor and outdoor seating available at their hilltop location, guests like us can enjoy an intimate tasting experience surrounded by natural beauty and picturesque vineyards.
We really enjoyed our visit here and were honestly just so excited to try our first sips of wine! And, of course, we were excited to take a few pictures with that stunning backdrop.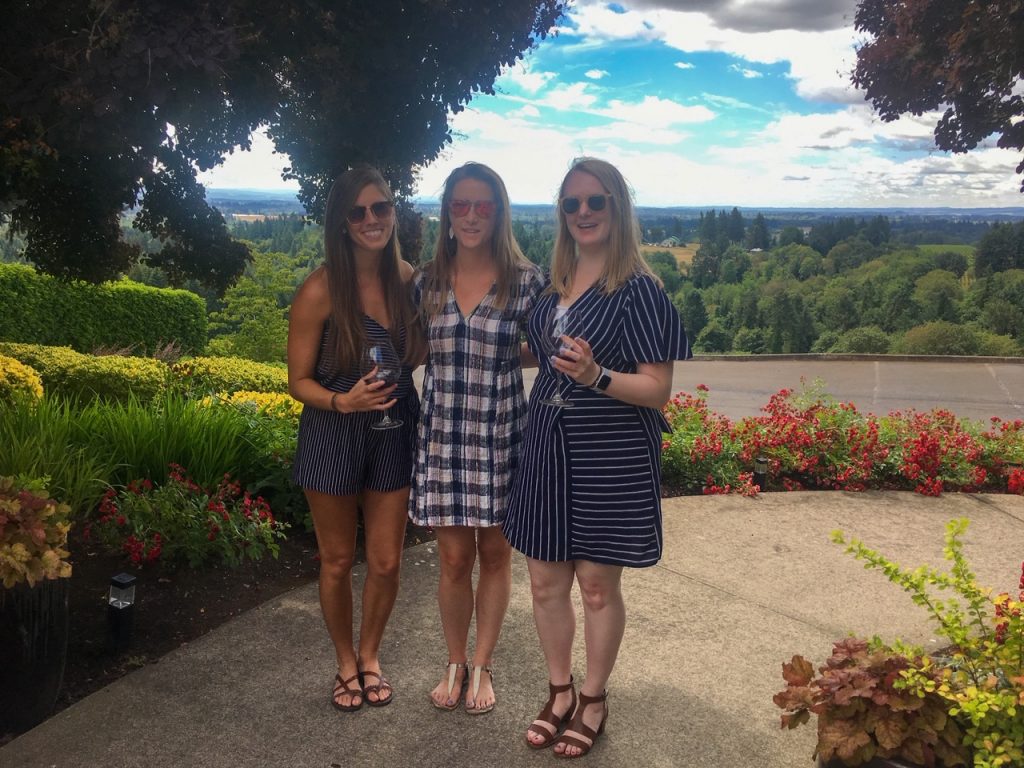 Our next stop was REX HILL, a luxury boutique brand also known for its elegant Pinot Noirs. Founded in 1982 by Paul Hart and his wife Jan Jacobsen, REX HILL was one of the eight wineries honored at the October 2017 Inaugural Wine Advocate Extraordinary Winery Awards – not too long before we visited.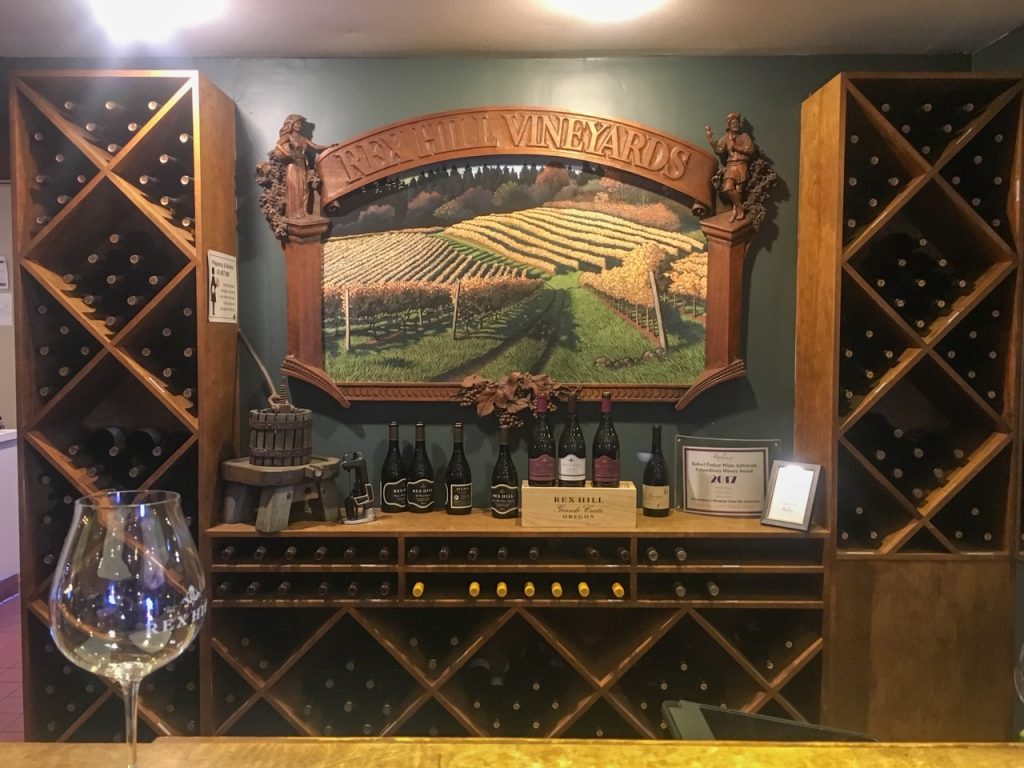 Again, with both indoor and outdoor seating options and food onsite, guests can choose their preference for their tasting.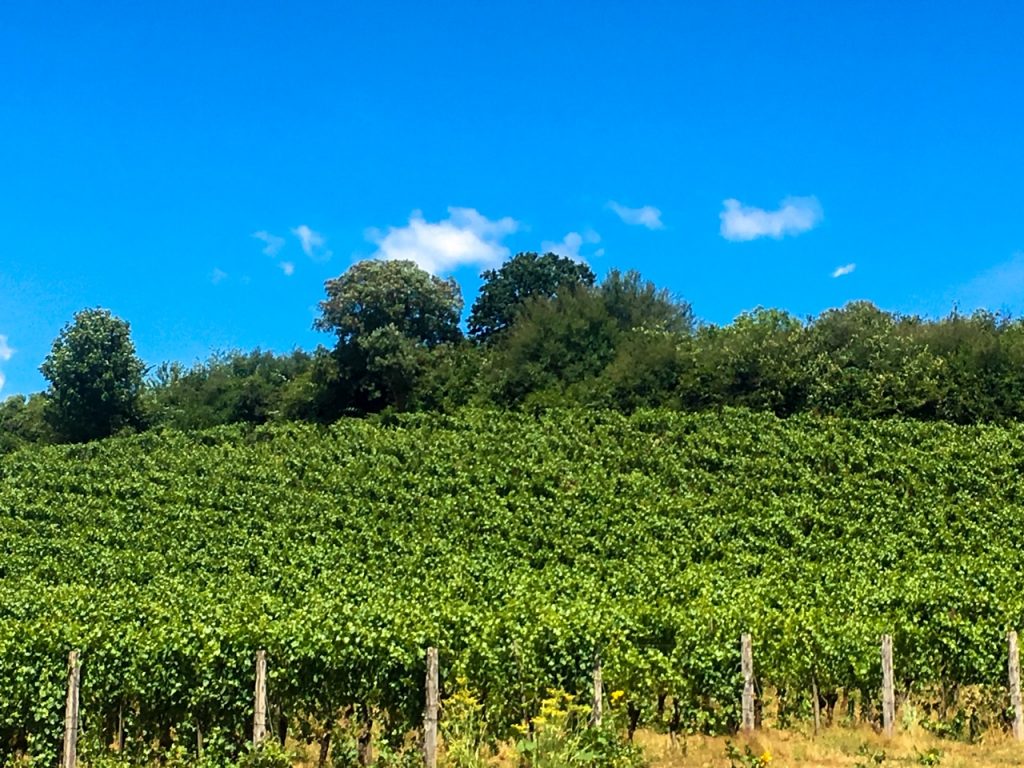 We, of course, went with the outdoor seating option to enjoy the nice weather and the stunning vistas.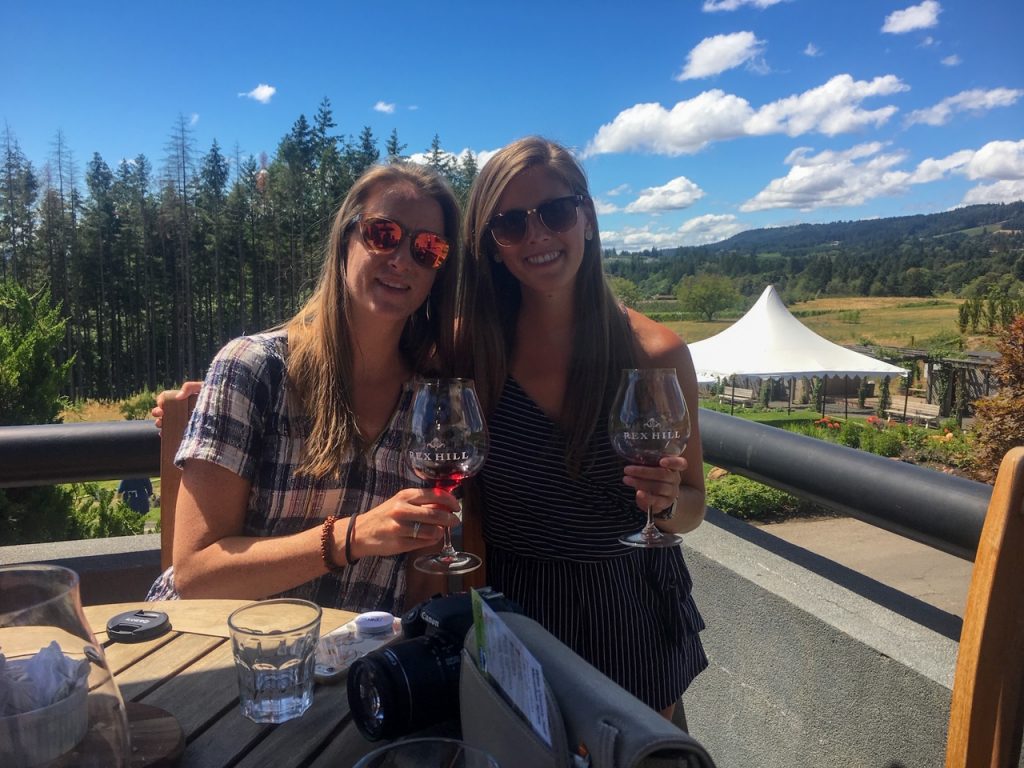 Fun fact: all of REX HILL's shipping is carbon neutral.
Our final stop for the day was Archer Vineyard, and I can't recall if their wine was my favorite, but I can definitely remember the experience, and the service here really can't be beat! They treated us like queens, and we enjoyed several conversations (and even a photo) with our girl here, also named Sara!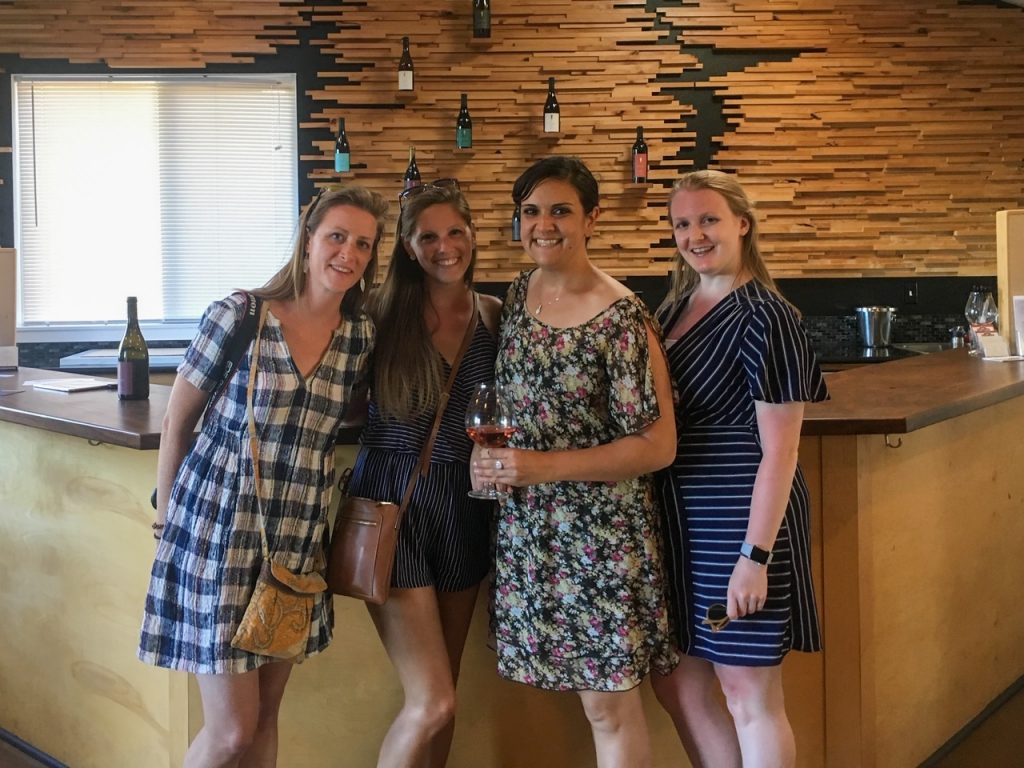 Similar to others in the area, Archer Vineyard produces old-vine Pinot Noir and Pinot Gris. Their vision is to enrich the local community and to create unique events to gather people together and unlock the pleasures of wine.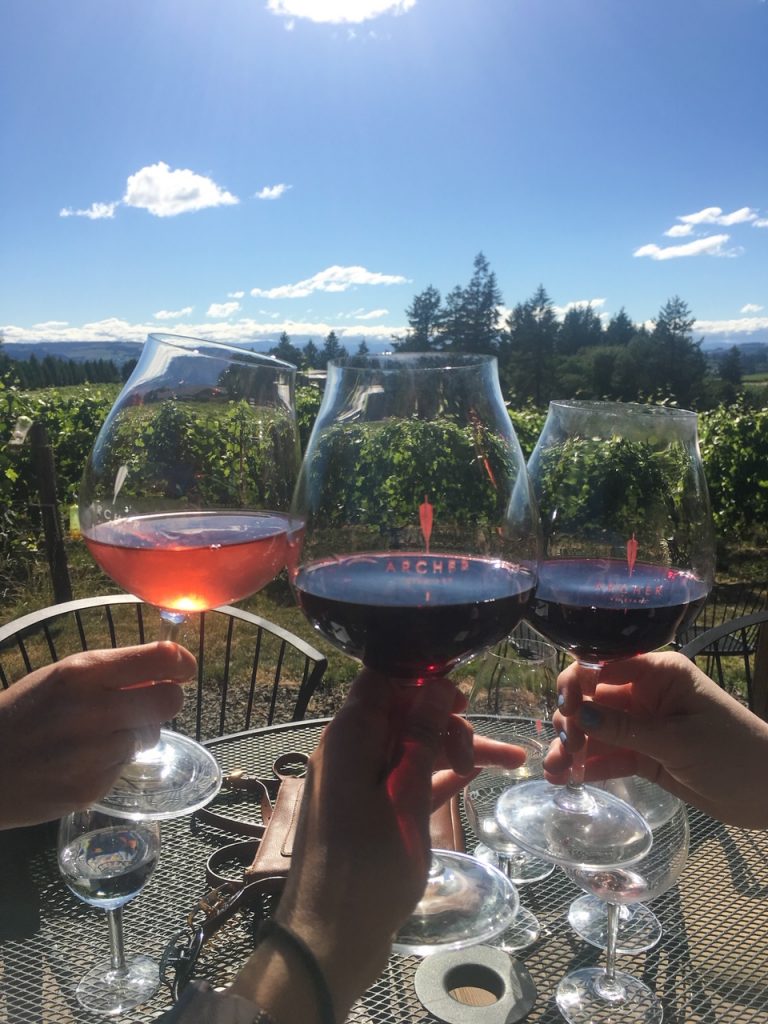 Their tasting room is a transformed, modernized horse barn, their sitting room is bright and has 180-degree, elevated views of wine country, and their patio is just feet from the vineyard. We, again, went with the outdoor option and sat on the patio.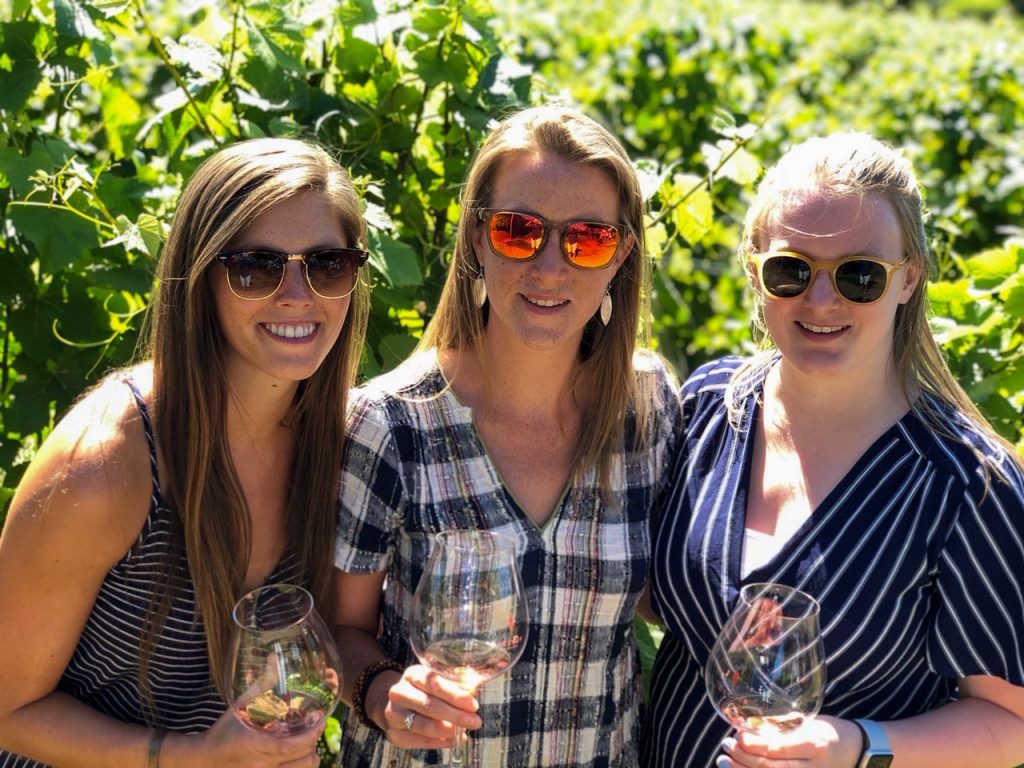 Courtney clearly loved the wine here, and she ended up leaving with an entire box-full to take back to Texas!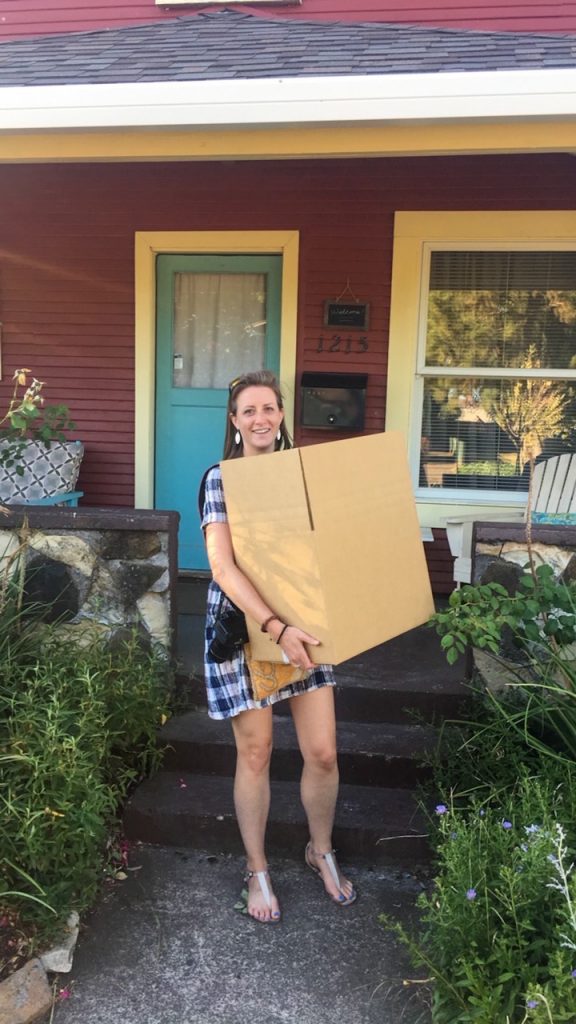 Note that we created our own wine tour during this trip, but if you're looking for a more structured experience, you might try Friends Wine Tours, which offers customized tours of the Willamette Valley, Yamhill Valley, and Dundee Hills.
Since we had nothing better to do, we spent the evening exploring the weirdest (and somewhat sketchy, in my opinion) local convenience store. It seemed like a dumping ground for obscure candy flavors like marshmallow M&Ms and pineapple licorice. I honestly can't remember the exact flavors, but they were something like that, and to me, they all seemed disgusting!
After our mini-adventure, we ordered Dominos and watched Titanic, which in our defense, was one of the only options at the house and still always a good choice.
Day 5: Chasing Waterfalls
The next morning, we woke up around 8:30 AM and chose Newberg Bakery for breakfast.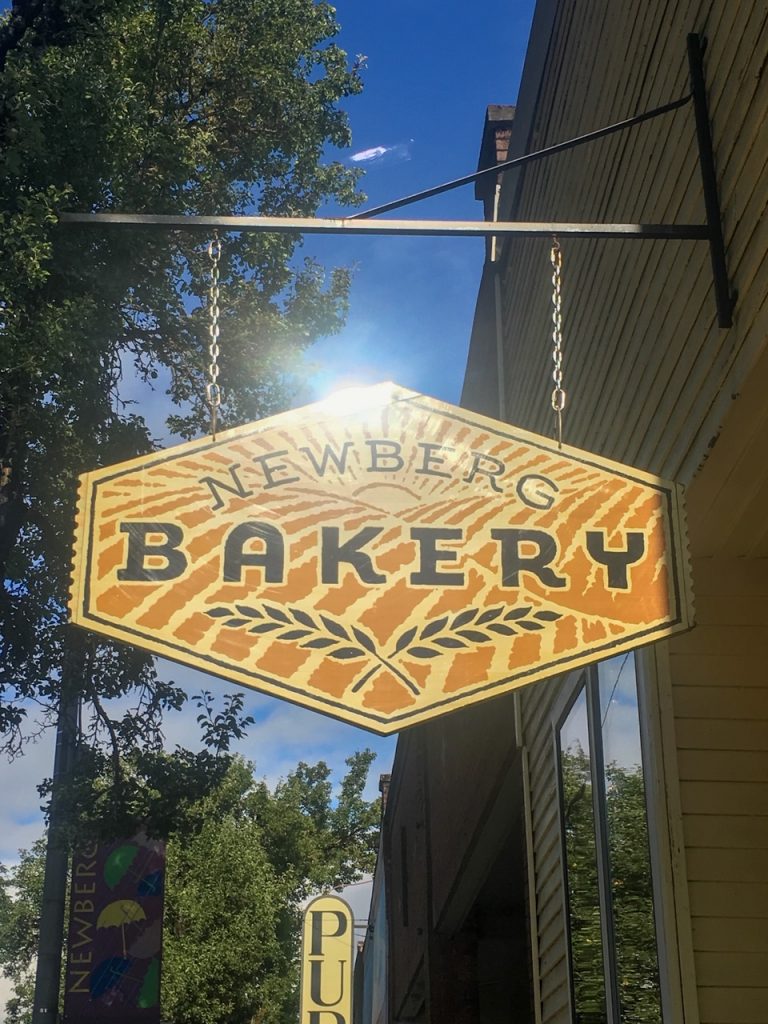 We walked around for a bit before heading to Winter's Hill Estate Vineyard & Winery to complete our packet pick-up for our race the next day. Although there was a fun event planned, offering both food and wine, we opted out to keep exploring the area.
For some reason, we thought it would be a great idea to do an eight mile hike the day before our half marathon, and for this, we chose the South Falls Historic District, specifically the Trail of Ten Falls. This was a suggestion from the lady who served us at REX HILL; it begins at the South Falls Lodge and runs through the Upper North Falls.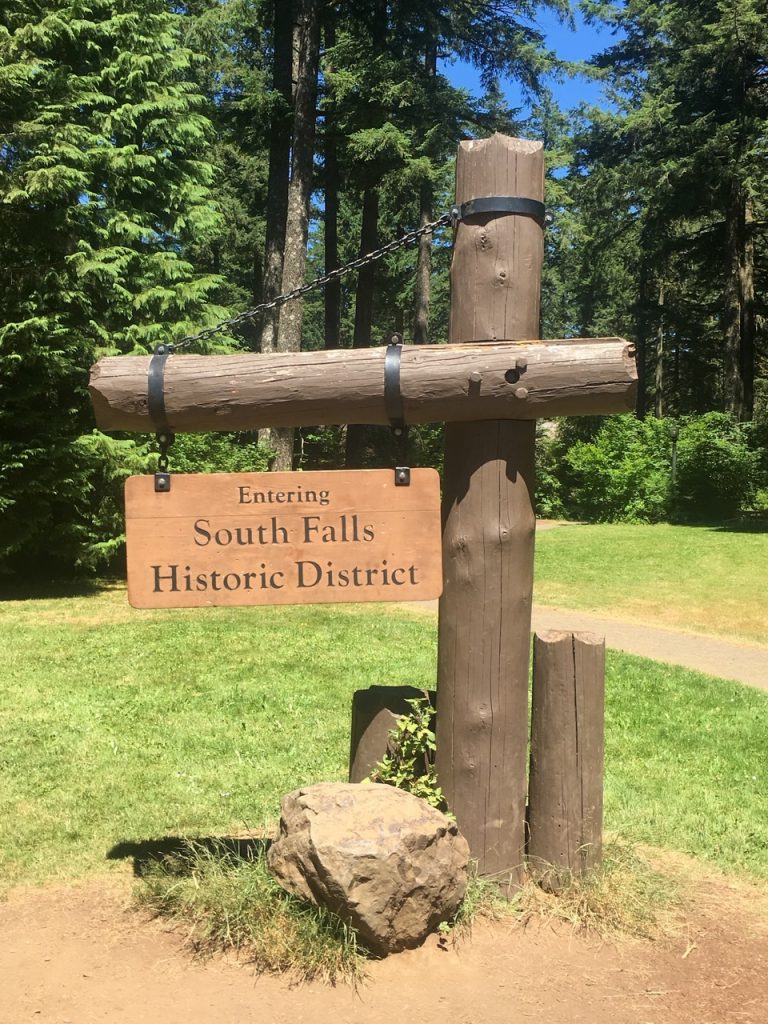 Okay, so, at least we didn't drink wine all day again!
Known as the crown jewel of the Oregon State Parks system, Silver Falls State Park is Oregon's largest state park and boasts one of the most impressive single-day waterfall hikes in the country. You can expect to find lots of visitors here, as it's a popular hiking trail. Although only moderate in difficulty, there is an approximate 1,300 feet elevation gain during the hike.
Along the way, you can expect to see – you guessed it – ten waterfalls! They are:
South Falls: at 177 feet tall, South Falls is the first waterfall you will encounter and the second highest waterfall in the park. It's one of the most photographed waterfalls in Oregon, along with Multnomah Falls, the one Courtney and I visited earlier on the trip, and Punch Bowl Falls.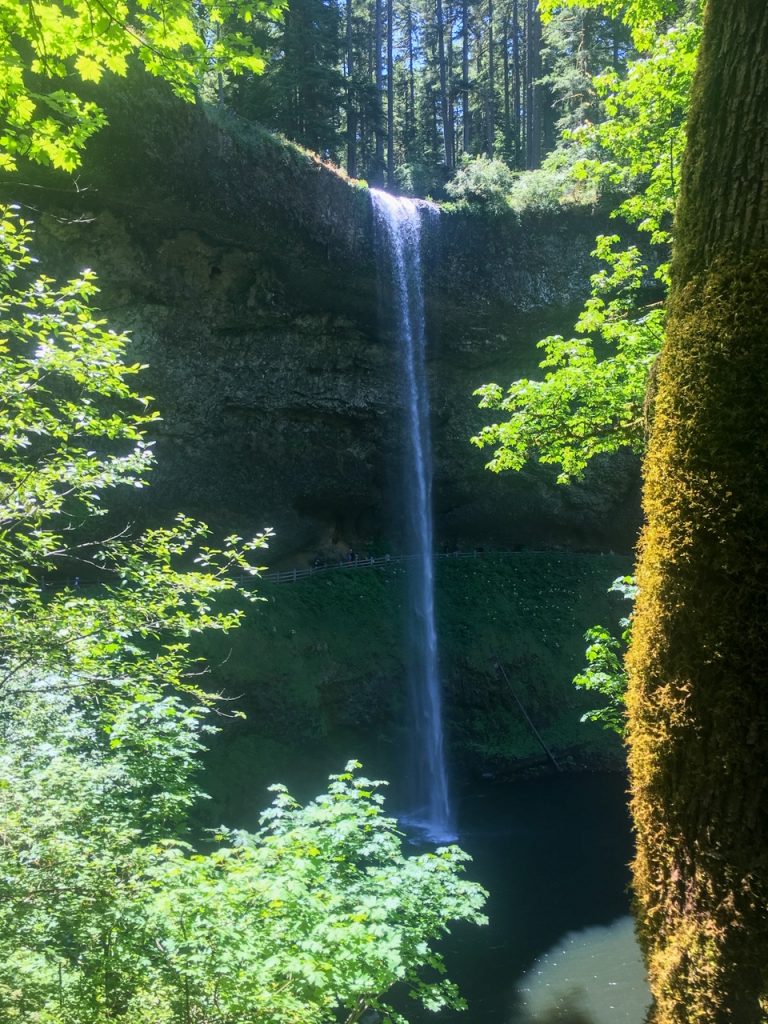 Lower South Falls: after another mile, you'll arrive at Lower South Falls, which is beautiful both in the winter and spring when water flows are highest.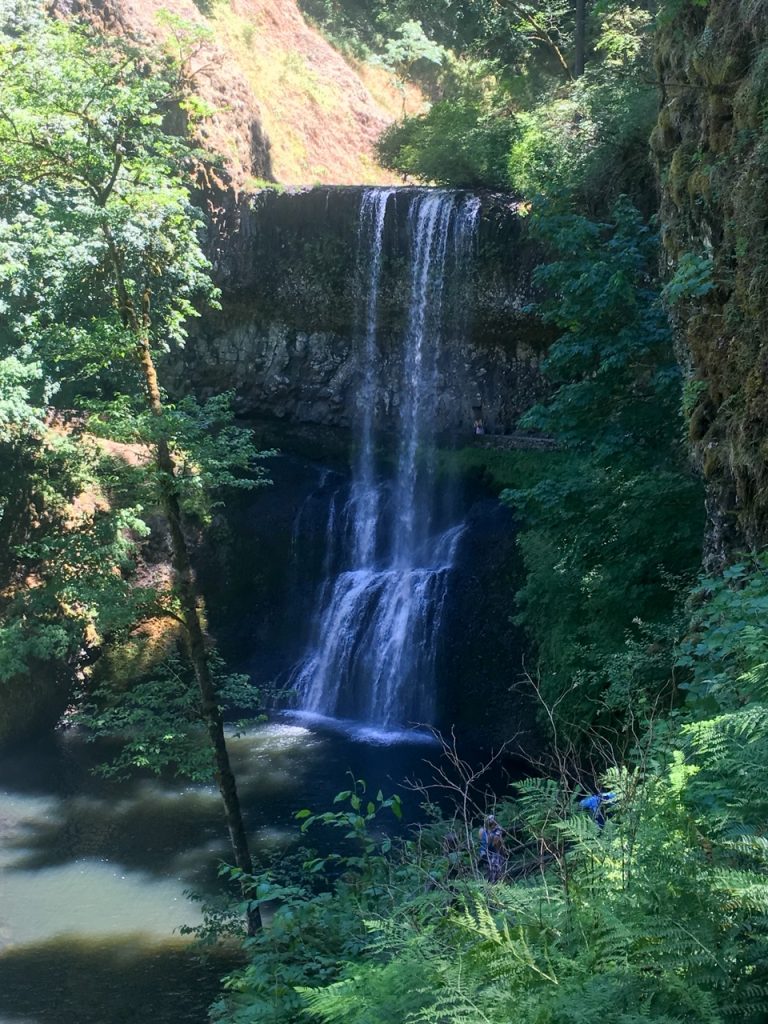 Lower North Falls: around 1.25 miles from Lower South Falls, you'll come to the 30-foot-tall Lower North Falls.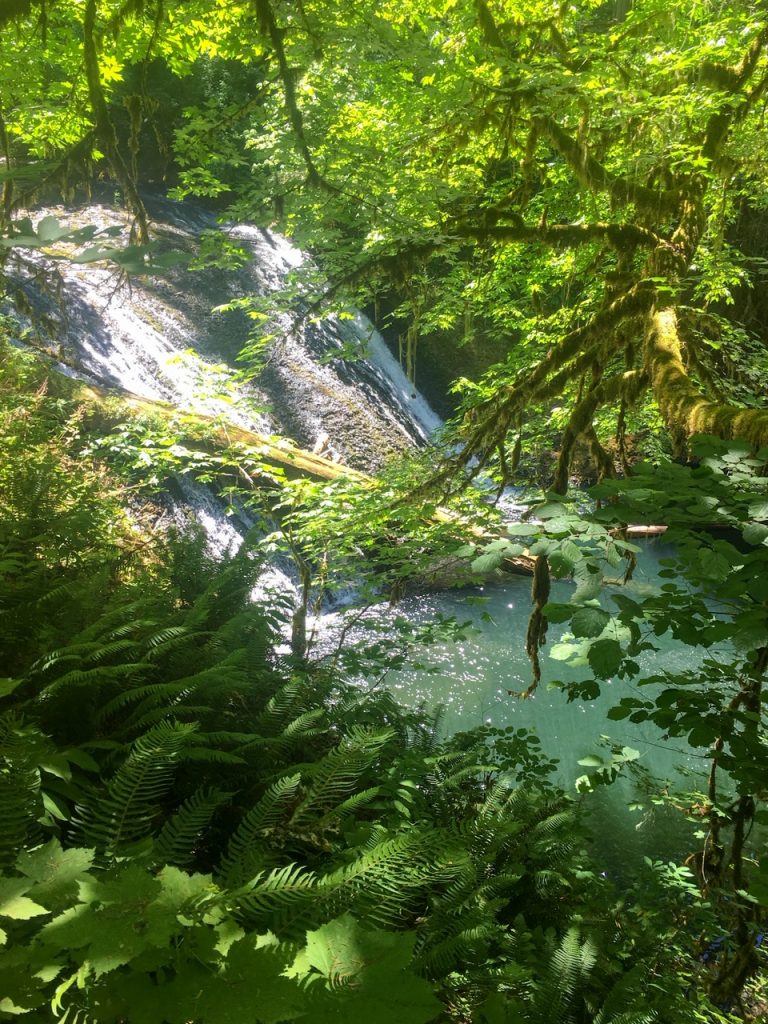 Double Falls: the tallest waterfall on the hike, at 178 feet, Double Falls shines during the wet winter and spring seasons. Although we visited in summer, we did see water here, but that's not always the case this time of year (or in the fall).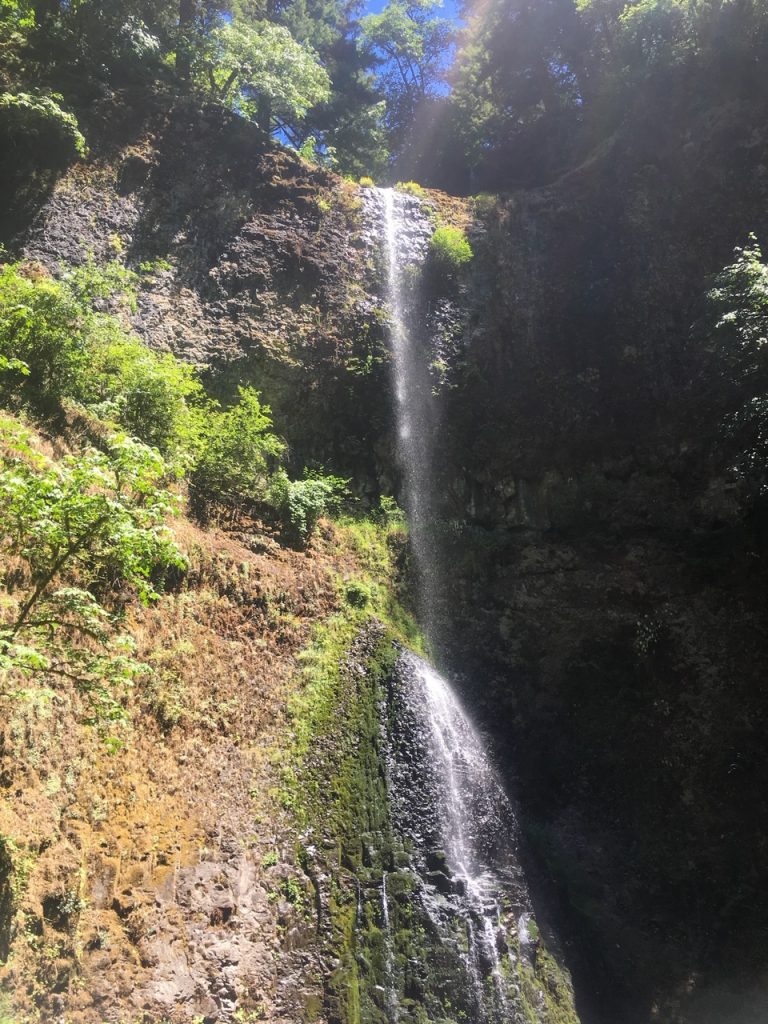 Drake Falls: although this is the smallest waterfall on the hike at only 27 feet tall, there is a nice viewing platform here where you can rest and enjoy the surrounding beauty.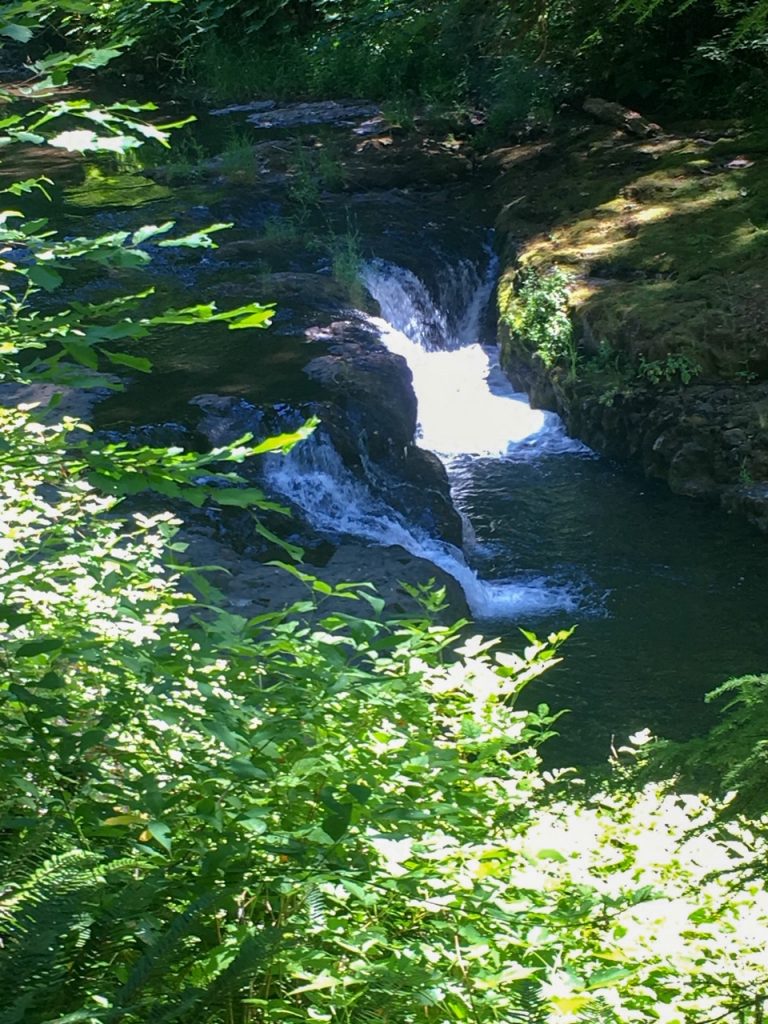 Middle North Falls: at 106 feet tall, a short trail will lead you underneath this one.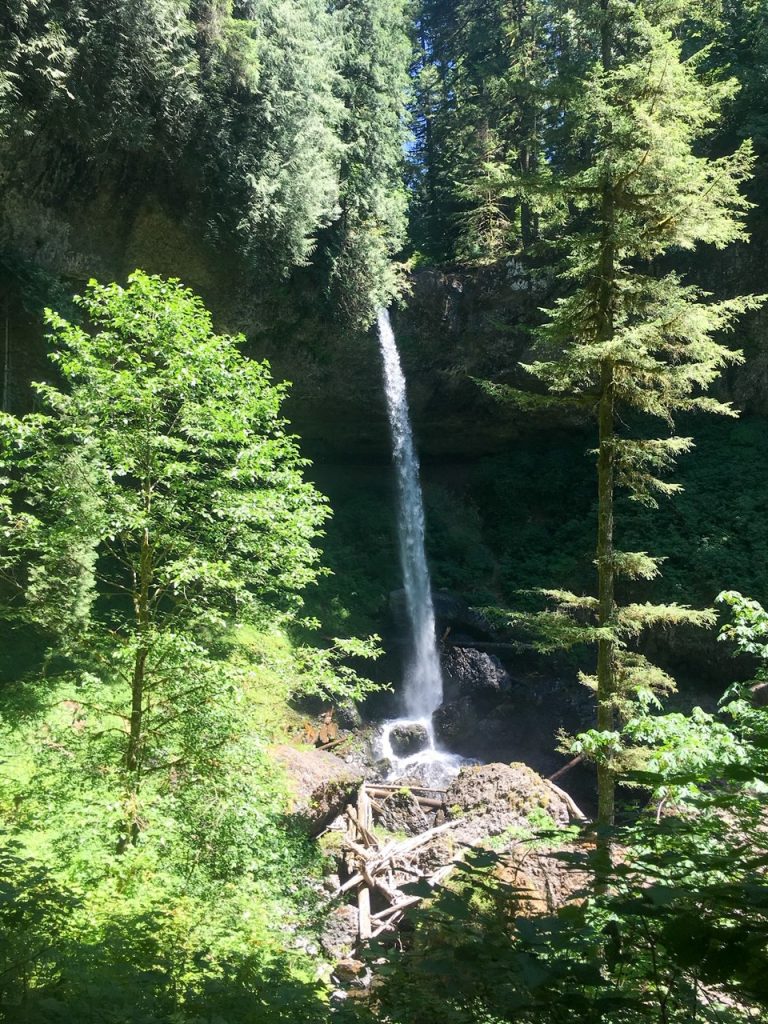 Twin Falls: at only around 31 feet tall during months of high flow, Twin Falls is unique as the water splits into two cascading streams. That said, I don't think we even took a picture of this one because it wasn't great this time of year.
North Falls: this 136-foot-tall beauty has carved out a cave behind it through the erosion of softer rock buried by lava flows millennia ago, while the hard basalt remained intact. Since the trail takes you into the cave, North Falls has been deemed one of the coolest waterfall experiences in the Pacific Northwest.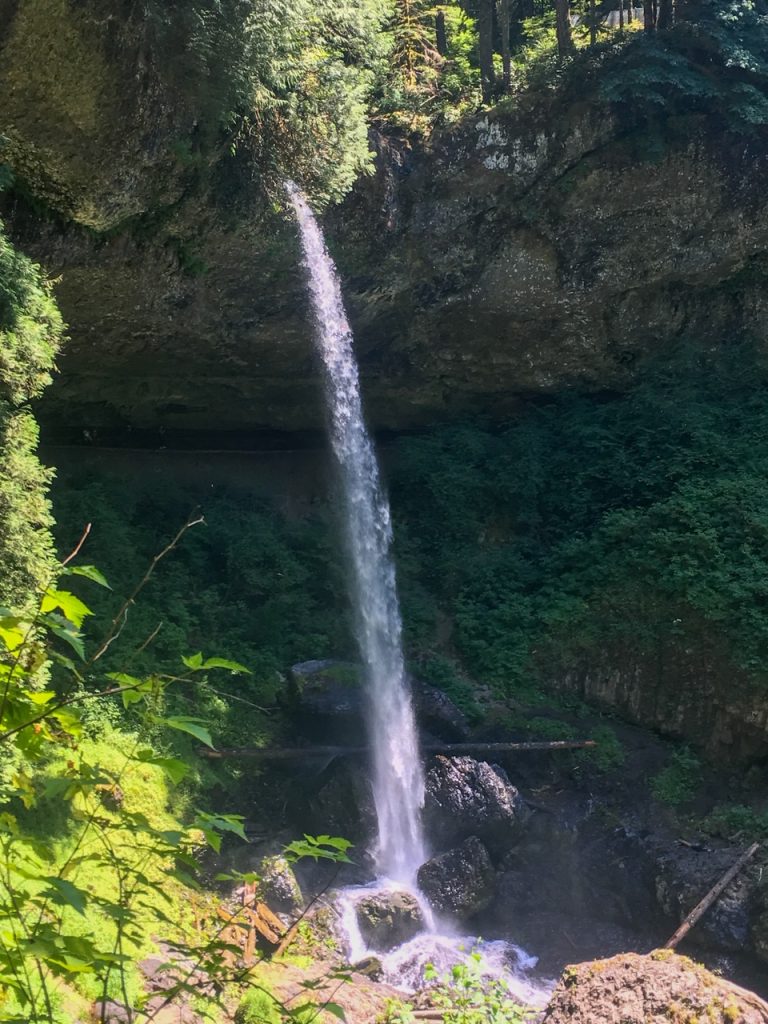 Upper North Falls: Upper North Falls is a 65-foot-tall beauty that cascades off a basalt cliff formed by lava flows long ago into a calm pool below. Sadly, we didn't take any pictures here either, meaning it must not have been that impressive during the time of our visit (or we could've just totally missed it!).
Winter Falls: to get to the 134-foot-tall Winter Falls, you need to walk about a half of mile along the Winter Trail. As you can probably guess based on its name, it's a spectacle in the winter (and also in the spring). If you visit the park during one of the dry months, you can skip this one, since it likely will be dried up.
After an invigorating day of hiking, we ate dinner at Red Hills Market, which had yummy food and a wonderful outdoor eating set-up. They also had a super cute indoor shop with all kinds of knickknacks like candles, totes and journals. We apparently really like our routines because we ended up eating here again the next day too!
Day 6: Race Day!
The next morning, we rose bright and early for race day. When we arrived, we saw two hot air balloons rising into the air. How cool! Not a bad way to start the day.
For the next approximately 2 hours, 19 minutes and 7 seconds – ahem, yes, I do remember my exact time – Courtney and I ran, walked, and at times, drudged through several vineyards and wineries.
Being my first ever half marathon, crossing the finish line was a truly momentous occasion and a bit emotional. Okay, so I cried.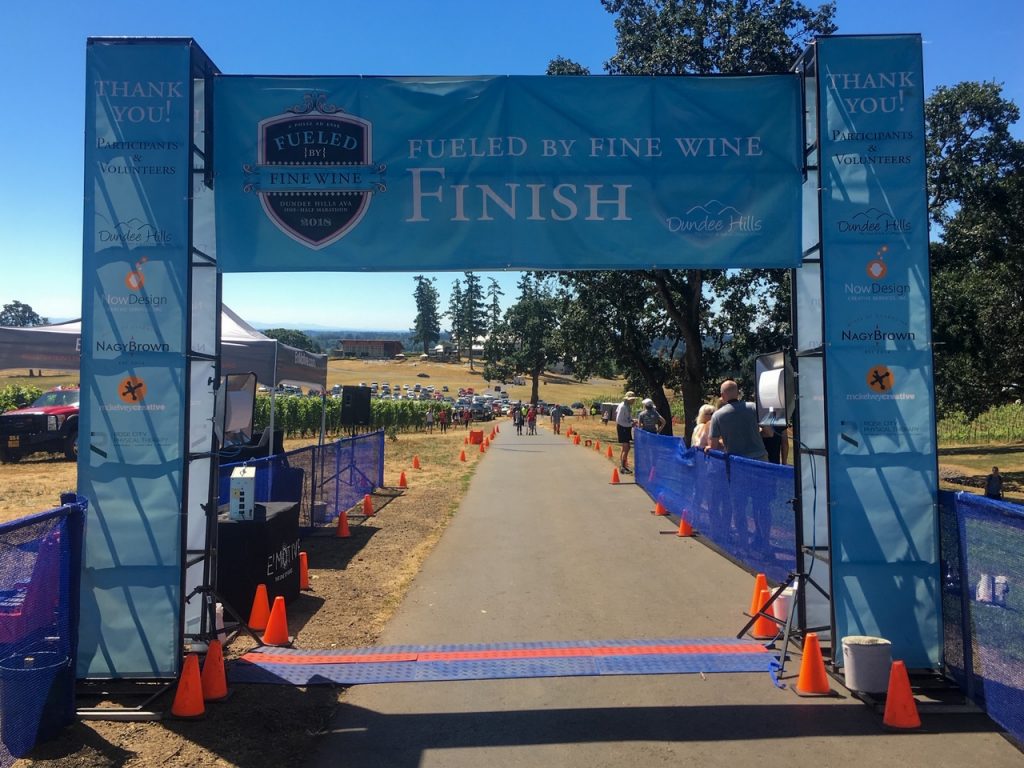 To prepare our stomachs for all the wine and to commemorate our fine accomplishment, they had pizza and bananas at the finish line, along with our fun, shiny medals.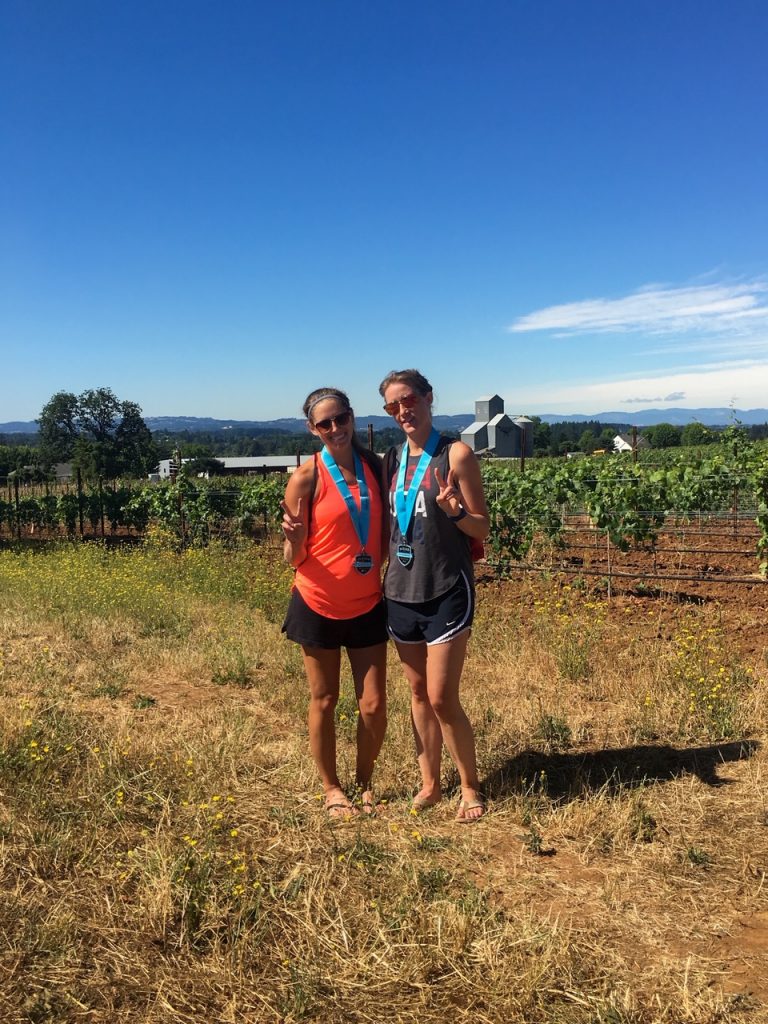 Then, we were able to walk around and try some free wine – you know, exactly what you want to have right after you burn 1,000+ calories.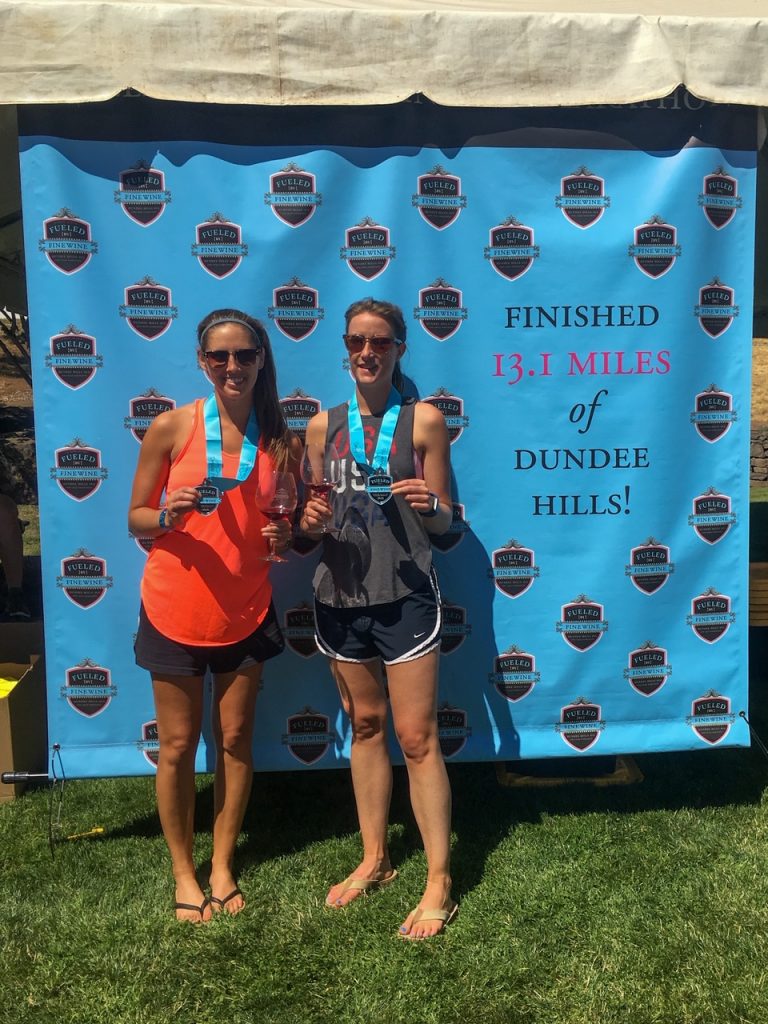 After we finished our drinks, we headed back to our place to change and freshen up a bit before heading back out.
A Broad Recommendation: To register for the Fueled by Fine Wine Half Marathon, check out the Foot Traffic website. The cost at the time of our race was $75.00, which included the race, an official race shirt, a logo'd wine glass, a finishers medal, a custom race bib and a punch card for the post-race wine tasting tent.
After catching a second wind, we headed to Argyle Winery, which offered a free tasting and appetizers to all race runners – how fun! This included Candace, since she technically was a registered runner even though she had opted out of race day due to an injured hamstring.
Founded in 1987, Argyle quietly established its reputation as an Oregon icon with its collection of sparkling wines, Chardonnays, Pinot Noirs and Rieslings. Lettie Teague of the Wall Street Journal called it "Oregon's best-known Champagne-method sparkling wine house".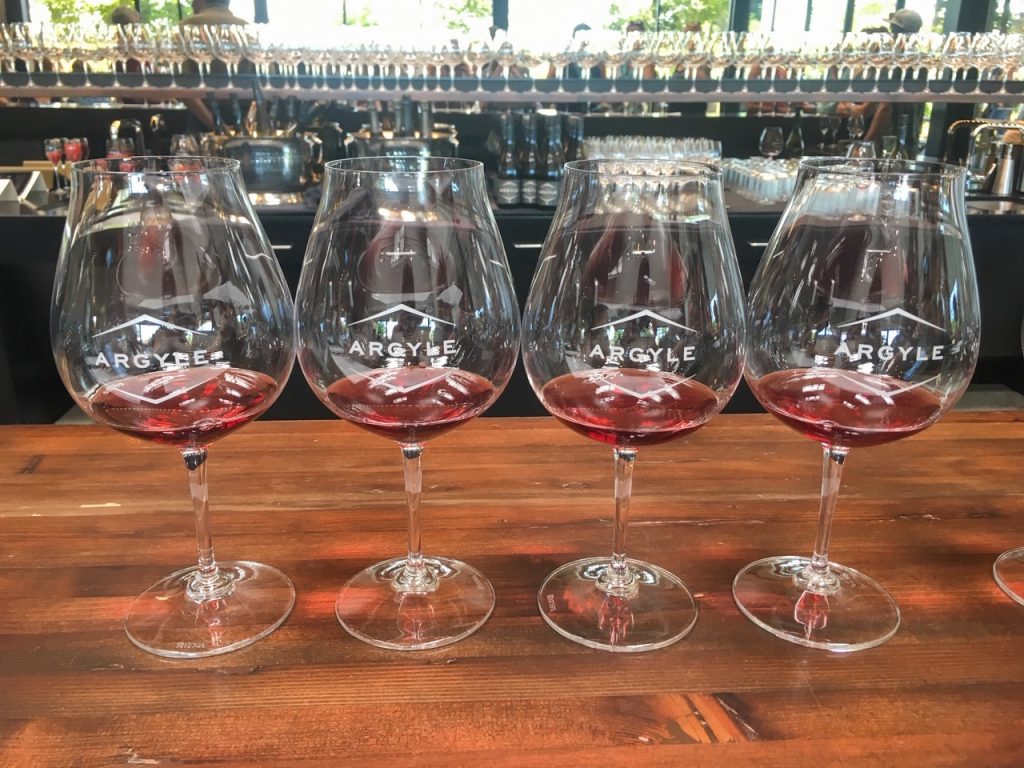 There are indoor and outdoor seating options, and they allow well-behaved pets at their outdoor tables.
We had a fabulous time here, and got a little tipsy after all of that running! Candace and Courtney also enjoyed the sparkling wine so much that they each got a bottle to take home.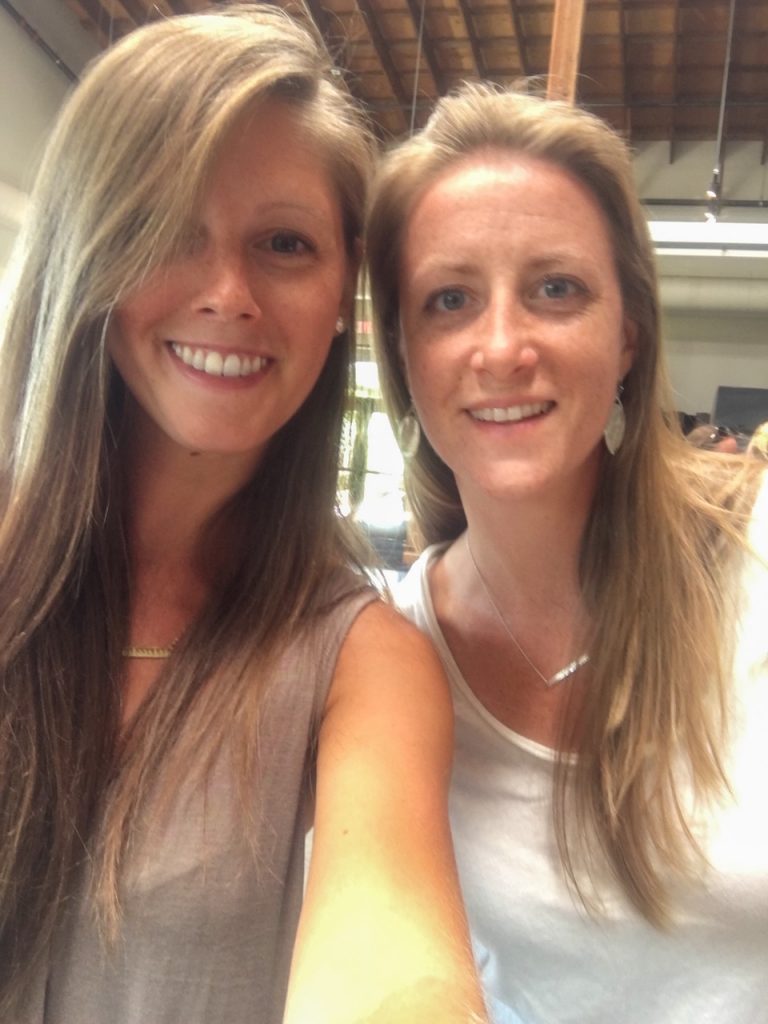 Just down the road from Argyle is Fox Farm Vineyards, where we rounded out our evening. Fox Farm Vineyard wines aren't available in stores but can be found in some upscale restaurants, resorts, hotels and casinos.
We sat outside at a picnic table in their large courtyard; they also have covered outdoor and indoor seating options. Unfortunately, I didn't capture any photos from this place, but I don't recall it being anything to write home about either.
We found our way back to Red Hills Market for dinner, but this time, Courtney's friends, Tiffany and Ben, joined us. It was a lovely way to end our fun-filled day, and the two of them actually came back with us and camped outside of our Airbnb for the night.
We rounded out the night with a nice yoga class by Candace, who is a yoga teacher in her "alternate life", as she would call it, which included plenty of stretching after our long run.
Day 7: Travel Day to Head Home
Candace had an early morning flight the next day, so all three of us loaded up the car and headed back to Portland to drop her off and then to drop off our rental car.
Courtney and I had an afternoon flight back to Texas, so we just hung out at the airport and grabbed a bite to eat. Both of us could barely move at this point after running so much the day prior, which made for a super comfortable flight back, as you can imagine!
A Broad Recommendation: Although we didn't visit any of these spots during our visit, my coworker had graciously put together a list of her favorite spots in Portland prior to our trip, and I would be remiss if I didn't pass them along for others to try out. She recommends Pok Pok for their wings, Tasty N Alder for brunch, Nicholas Restaurant for Lebanese food, and Nong's Khao Man for great chicken and rice.
Our Oregon trip was one for the books, and we can't wait to visit again someday! Check back soon to see where we went next, and for more on our other adventures in the U.S., check out these blog posts:
XOXO Travel A-Broads