If you've opted out of reading our longer Kenya post and are just interested in learning about what we did in Mt. Kenya National Park, then you're in the right place! Let me catch you up first, so you have a bit of context.
---
A BROAD REFRESHER
---
My boyfriend, Tim, and I, along with our friends – two other couples, Allison, Ryan, Emily and Bryan – are on a twelve day trip to Kenya!
Allison, Ryan, Tim and I had A LOT of issues getting to Nairobi, Kenya, which we may reference in this post.
Dennis, our driver through Sense of Africa, is the man!
It's Thursday, February 6, 2020, and we are on day 6 of our trip when we make it to Mt. Kenya National Park.
I have been sick with some sort of respiratory infection for three days now.
---
*P.S. this post contains some affiliate links. At no additional cost to you, we may earn a small commission when you make a purchase.
Of our eight planned, action-packed days in Kenya, we spent just half a day in Mt. Kenya National Park. We left from the Samburu National Reserve around 8 AM and arrived at the Serena Mountain Lodge mid-afternoon after driving for around four hours. We were pretty giddy to check this place out, as you can probably see from Allison's face below. It was quite different from the camp we had come from.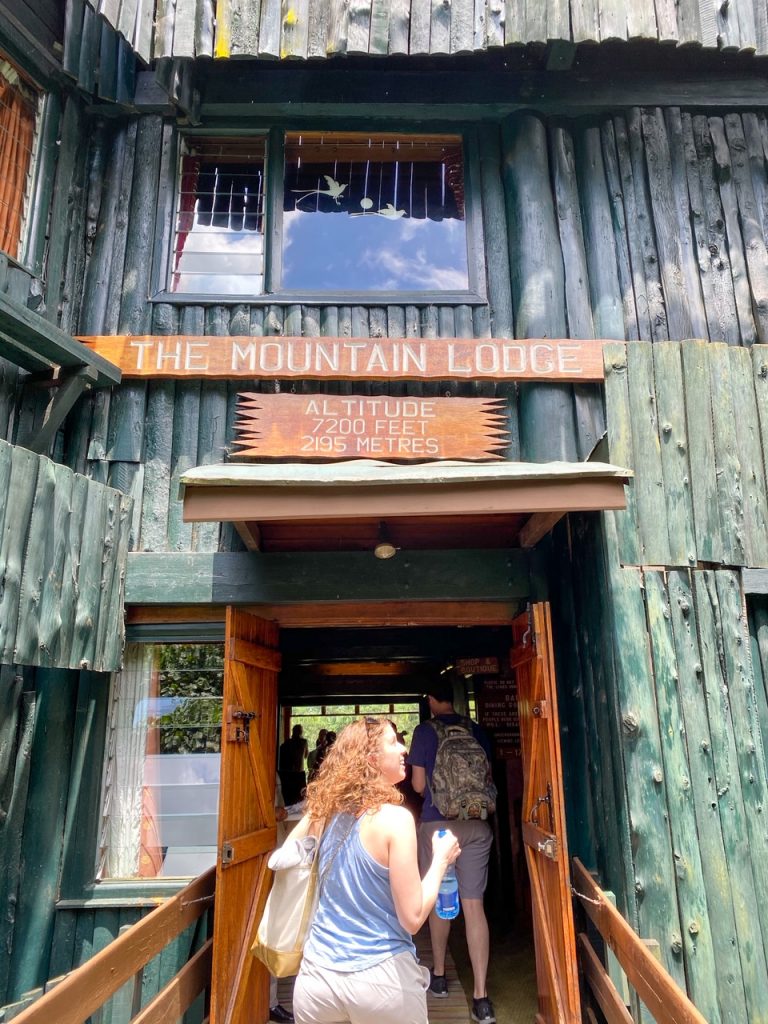 Note: the Serena Mountain Lodge is just around three hours from Nairobi if you don't plan on visiting the Samburu National Reserve first.
When we walked inside, we spotted a monkey roaming around the lodge; it must've gotten in somehow!
I was quickly disappointed to learn that the porters had broken my suitcase, so I asked them to take a look to see if they could track down the missing part while we went off to lunch at the tree-top-level dining room.
The dining room was surrounded by windows and sat on stilts, which gave the illusion of us floating above the forest and provided some nice views. Here, they came to tell me that they couldn't find the missing leg from my suitcase, and I must've broken it off myself – okay, so not quite the top quality customer service we had experienced before LOL.
After lunch, we paid $30 per person (a little pricey in my opinion) to go on a two-hour guided nature walk through the Mt. Kenya forest. We were equipped with rain boots, rain jackets and an armed companion for protection from the wildlife, along with our guide.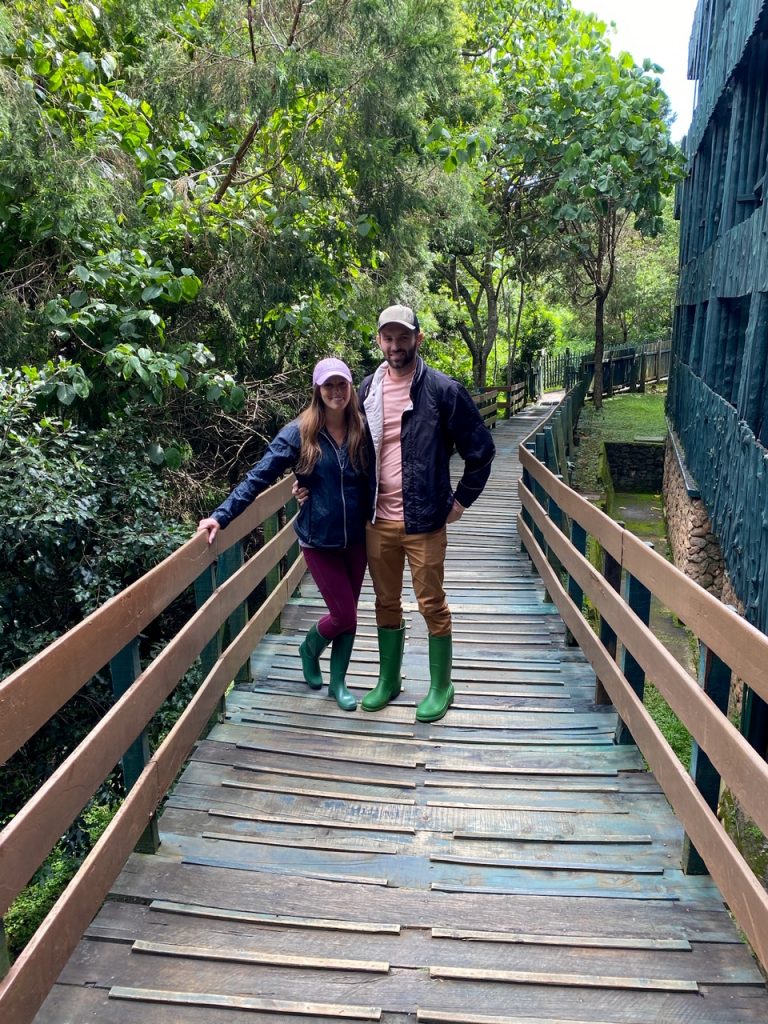 A Broad Recommendation: you should bring along a TON of bug spray, sunglasses, binoculars, a hat, hand sanitizer and your phone to use as a camera on a trek like this. I don't think they would even let you go out without a guide, but either way, we highly advise using a guide.
We learned a bit about Mt. Kenya, its history and the wildlife that's nestled within the rainforest. Mt. Kenya is Kenya's highest mountain and Africa's second highest mountain. Both Mt. Kenya and Mt. Kenya National Park are revered as UNESCO World Heritage Sites and UNESCO Biosphere Reserves. The mountain is sacred to the Kikuyu tribe; members of the tribe keep their doors open to face the mountain and some come to pray to the throne of Ngai, their old high god.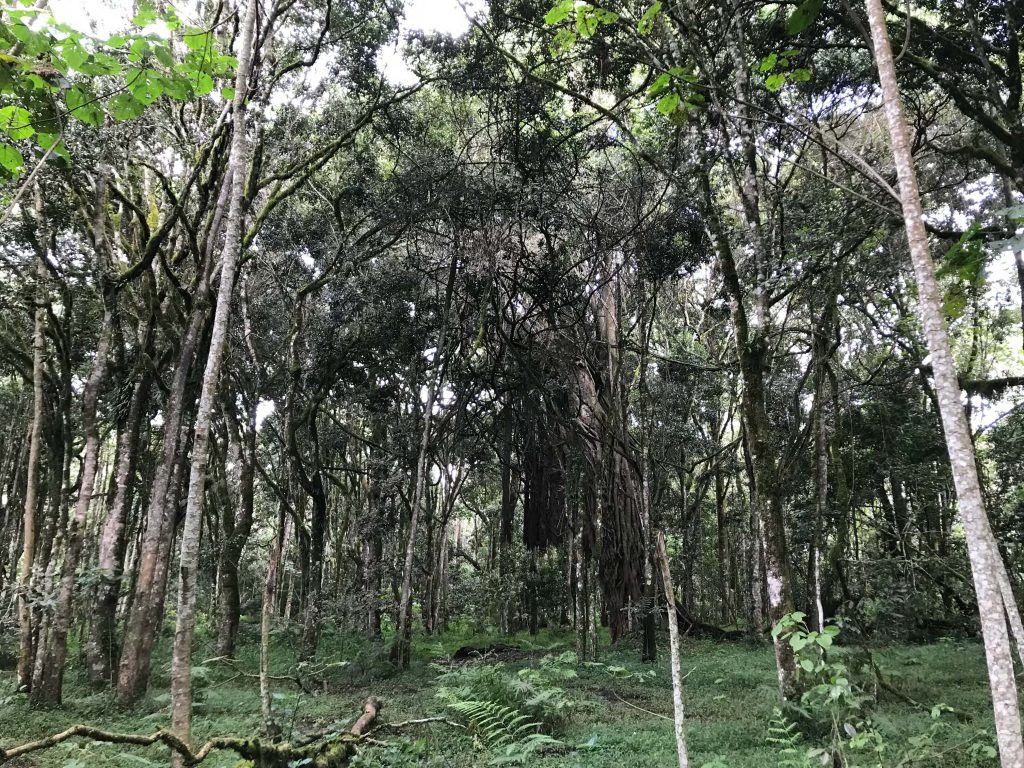 Although we spotted and learned of many trees and vegetation along our hike, we didn't see many animals. Near the end of the walk, they had set up an adorable surprise "Dawa" treat, and we used logs as seats and tables and drank tea and coffee as if we were at a small outdoor cafe.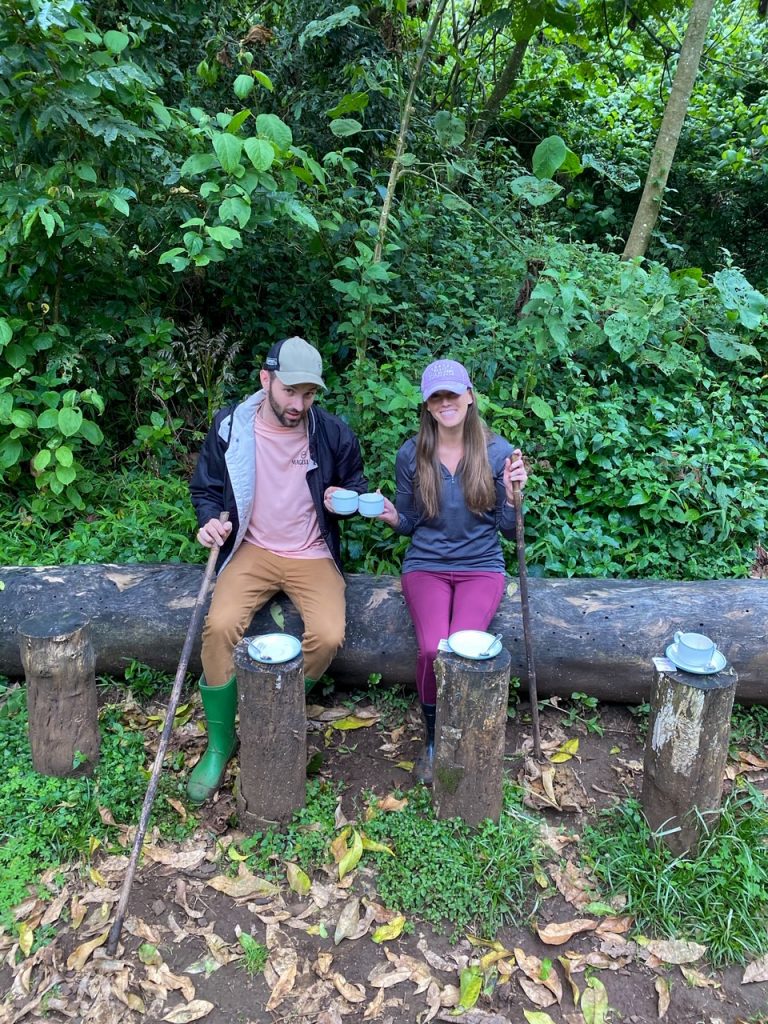 Shortly after, we made it back to the lodge to hang out for the remainder of the evening. The Serena Mountain Lodge is known as the only "tree hotel" ever to be built on the slopes of Mt. Kenya, located at an altitude of 7,200 feet and overlooking a watering hole that provides exciting game viewing opportunities.
When we arrived back, there were lots of Cape buffalo posted up napping and hanging out by the watering hole.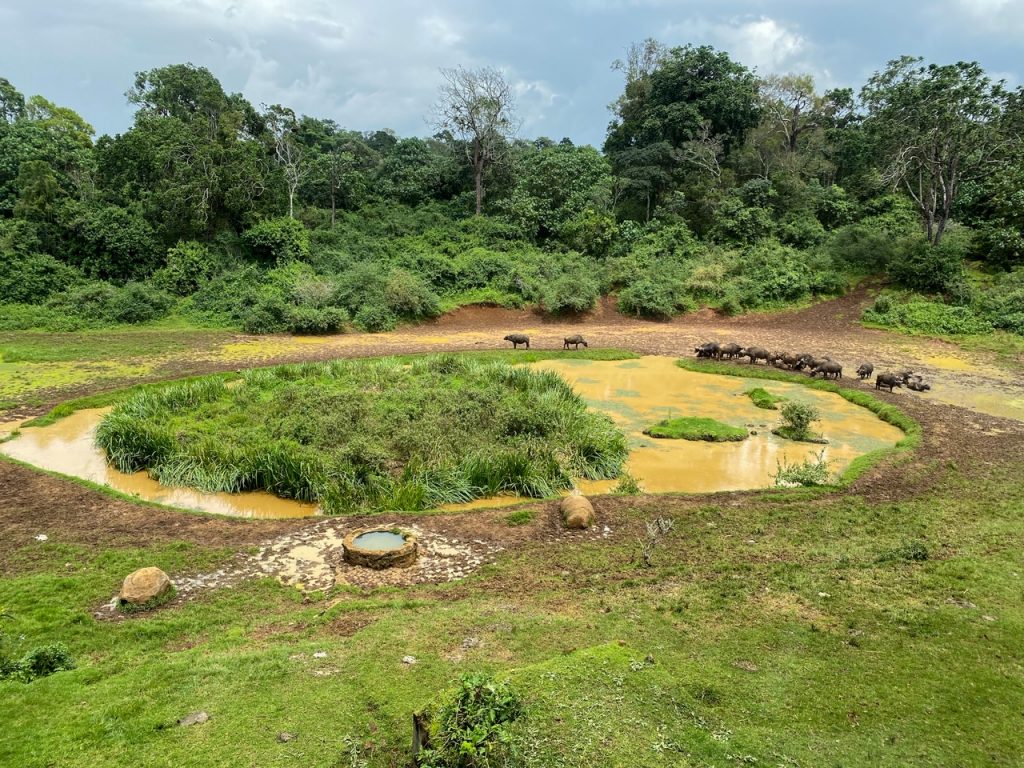 We spent much of the evening sitting on the open-air bar deck watching small animals come and go to drink from the watering hole.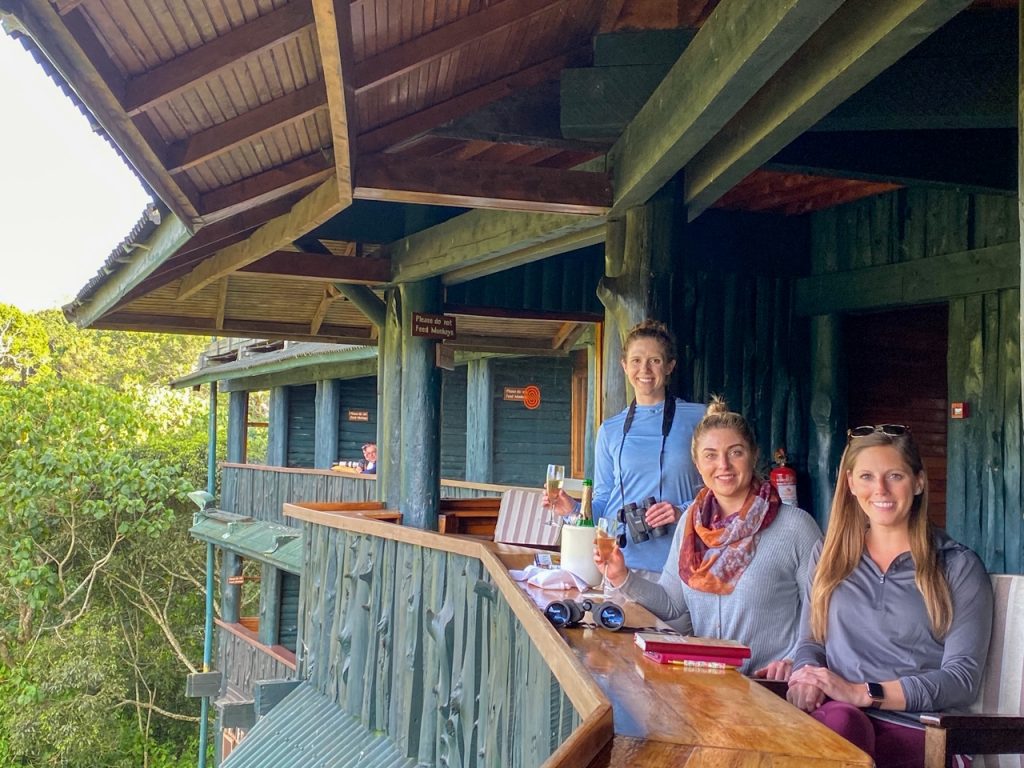 The gals split a bottle of champagne (except for me because I wasn't feeling up to it), and the guys grabbed a few rounds of Tusker beers, their obsession throughout the trip.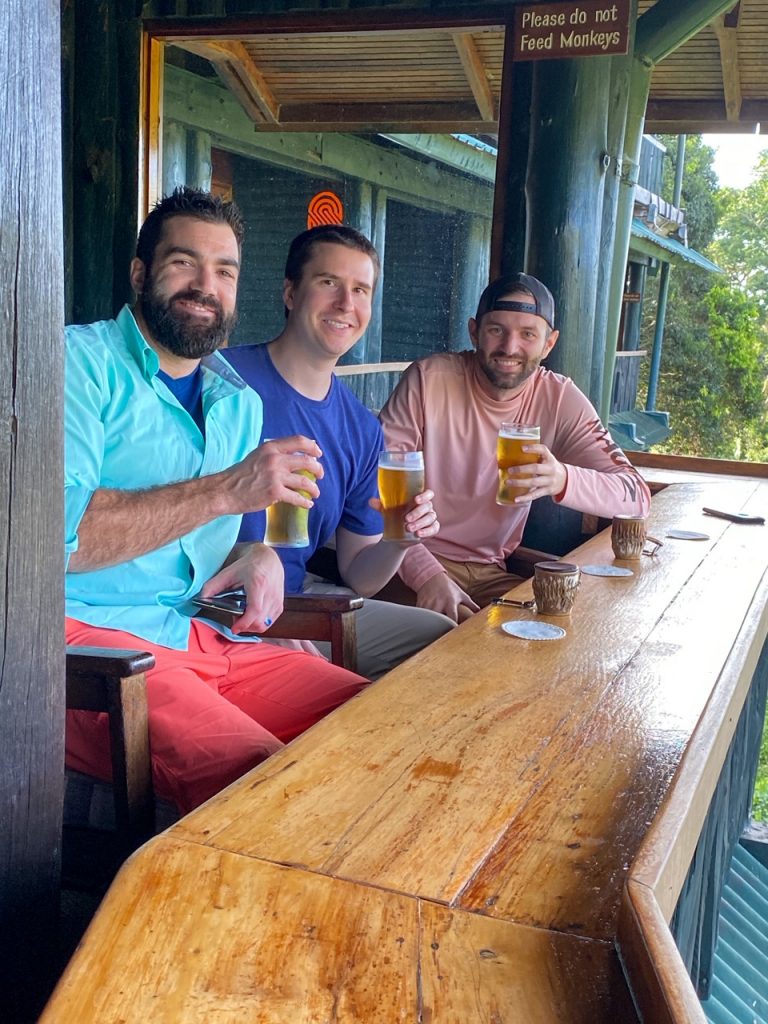 Our favorite sighting was a super playful monkey that kept running back and forth across the ledge of the deck right in front of us and was stealing food from some of the rooms!
A Broad Recommendation: don't leave anything out on the bar ledge that you don't want a monkey to steal and/or eat or drink; they will come and grab your stuff and you likely will never get it back. We kept a close eye out on our phones, Kindles, beers, etc.!
Once it got dark, we decided to head to dinner where we enjoyed another several-course meal. They had found the missing piece to my suitcase and awkwardly handed it to me while we were eating – at least I could fix my bag when I got home from the trip, so it was much appreciated.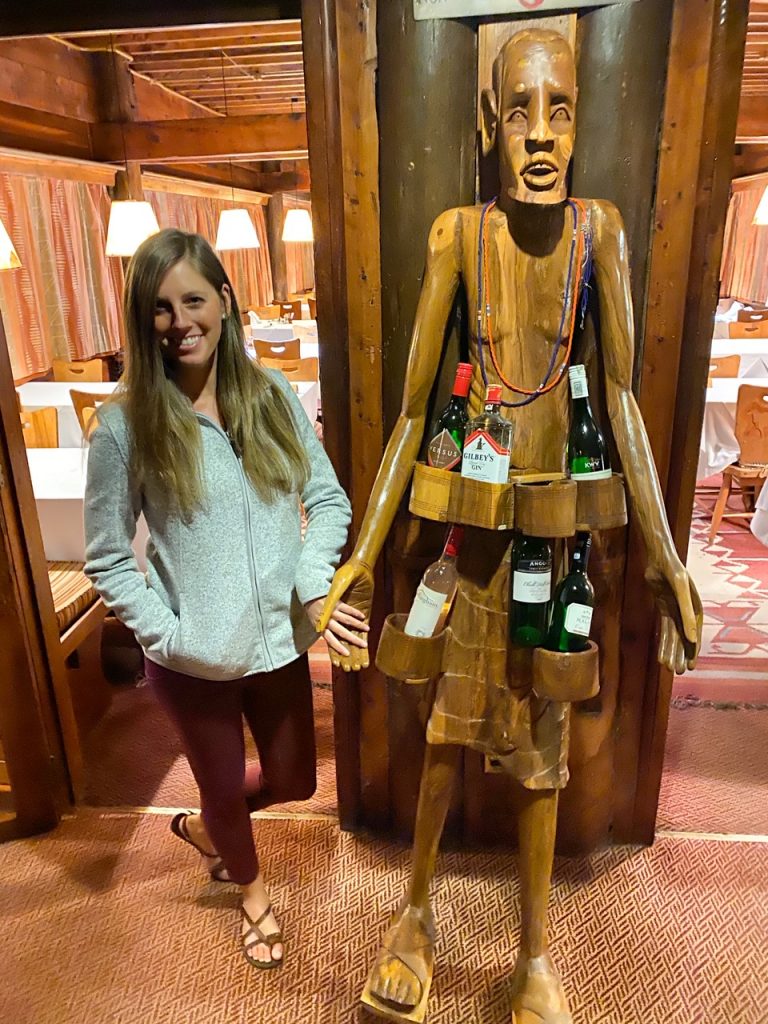 After our meal, we were asked to complete a form that specified which animals we would like to see. If we had a particular animal checked, and one of the hotel staff saw it around the watering hole that night, they would come and knock on our door to wake us up to check it out!
Before bed, we were offered an informative power point presentation that Emily was interested in checking out. With the lights dimmed for the show, half of us fell asleep during the presentation. Whoops! We ended up needing to cut this one short and headed back to our rooms.
The rooms had a cabin-y vibe with thick-pile, locally woven rugs, African design-printed comforters and turn-down service where they added heated warmers under the sheets. Each room also came with its own adorable balcony for private game viewing.
Unfortunately, none of our must-sees made their way to the watering hole that night, and we were only woken up once for the sunrise around 6:30 AM, which was the final option on the list. That being said, this was probably for the best, since I was still feeling awful and unable to sleep through the night as it was. And, the sunrise was a beautiful sight!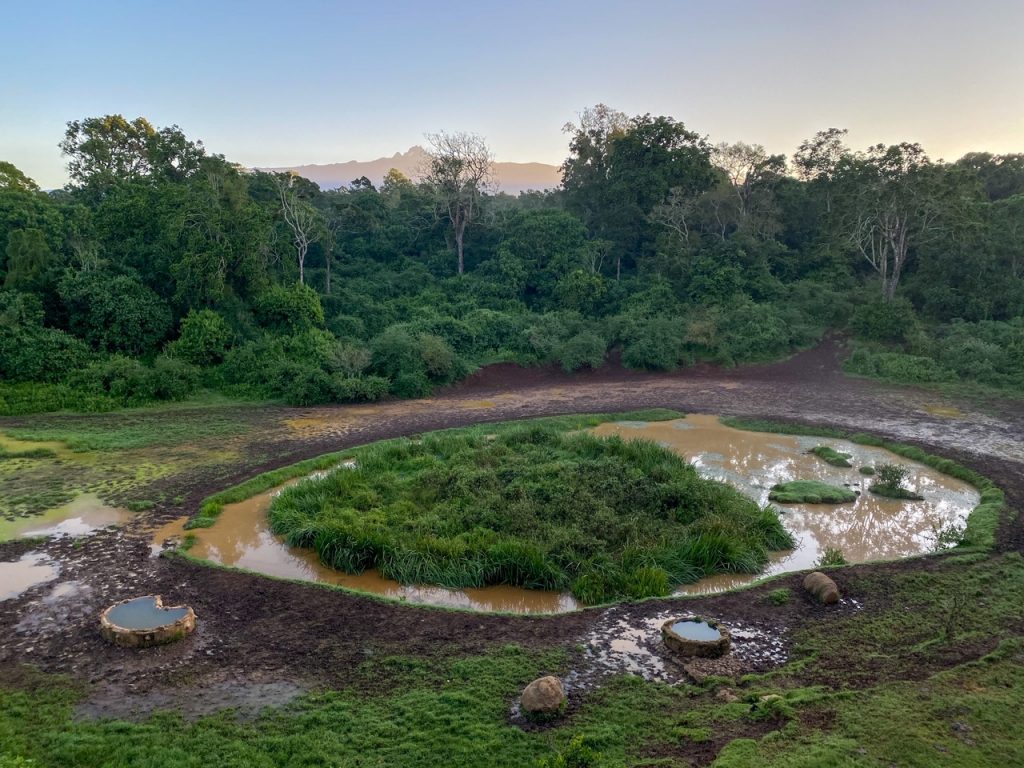 Note: the lodge also offered a bar with central fireplace, gift shop, business center, spa, board games, wedding venues, and a special animal-viewing bunker in addition to its forest trails, moorland hikes and mountain climbing opportunities.
The next morning, we had a buffet-style breakfast – to be honest, this was probably the worst breakfast of the trip for me because I'm not big on pastries and the like – before leaving around 8 AM for yet another long drive to Lake Nakuru National Park and then on to Lake Elmenteita.
We enjoyed our visit to Mt. Kenya National Park and would've liked to spend another day here if we had the time. We would recommend visiting here if you are planning to start your safari trip in Nairobi!
Check out our Lake Nakuru National Park and Lake Elmenteita post to see what we did there, or if you want to hear about our whole African adventure down to the crazy flight experiences, long drives, lunch spots, equator demonstrations, souvenir shops, etc., check out our full Kenya post instead.
And, don't forget to pin it!
XOXO Travel A-Broads