Did you know that there are lots of free things to do in Las Vegas that aren't on the strip?
People from all over the world visit Vegas, i.e. "The Entertainment Capital of the World", to gamble, to shop, to dine, to admire the resort-style hotels, to experience the nightlife and shows, and to see some of the best photo spots in Las Vegas. But for some of us, we'd rather spend our time away from the hustle and bustle, and see beyond the strip.
Let's start with the basics: where to stay and where to eat during your visit.
*P.S. this post contains some affiliate links. At no additional cost to you, we may earn a small commission when you make a purchase.
Where to Stay Near Las Vegas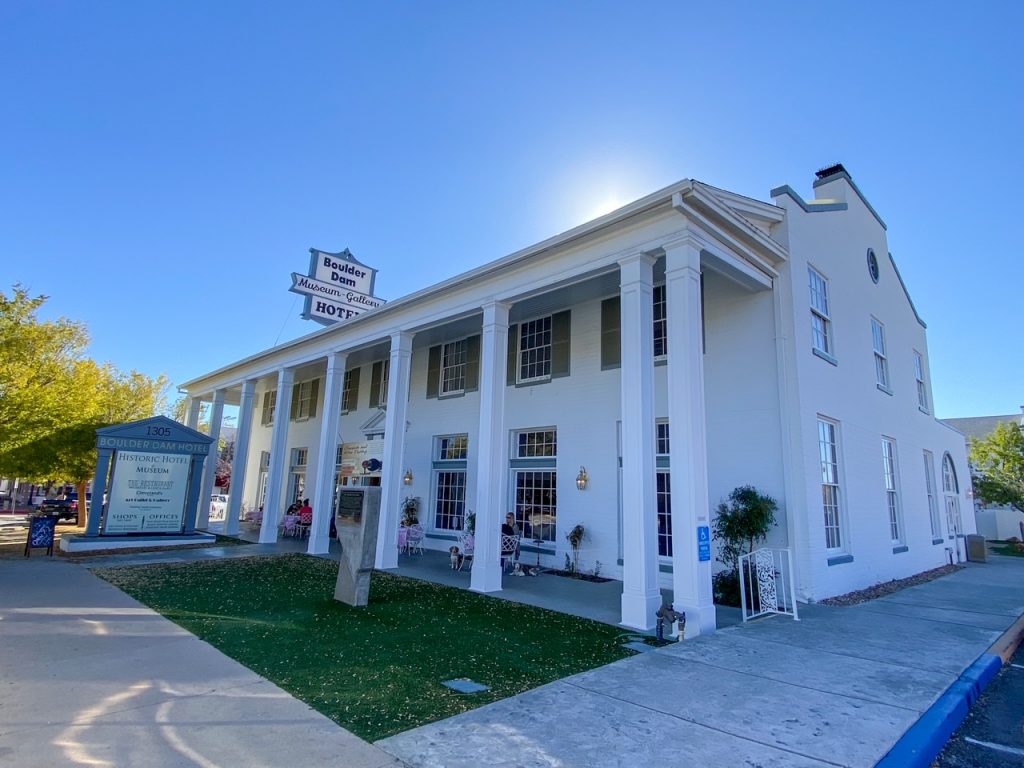 Should you stay on the strip in Vegas? We don't think so. We stayed one night at the Boulder Dam Hotel in Boulder City, Nevada and spent around $125. This was way cheaper than any of the alternatives directly in Las Vegas and on the strip.
A Broad Recommendation: Book through hotels.com. They offer great deals and give you one free night for every ten nights you complete. I also use Rakuten at the time of my purchase to get cash back.
Since we were here on a longer road trip – starting from Las Vegas and stopping at all of the Utah national parks, Lower Calf Creek Falls, the Monument Valley Navajo Tribal Park, and Page, Arizona along the way – we had a rental car, which made staying outside of Vegas accessible to us.
The Boulder Dam Hotel was born from a vision of "what Boulder City needed". It became a popular spot with visitors to the Hoover Dam (then called the Boulder Dam), as well as famous business people and movie stars. At the time, the hotel boasted such amenities as private baths, air conditioning, and more.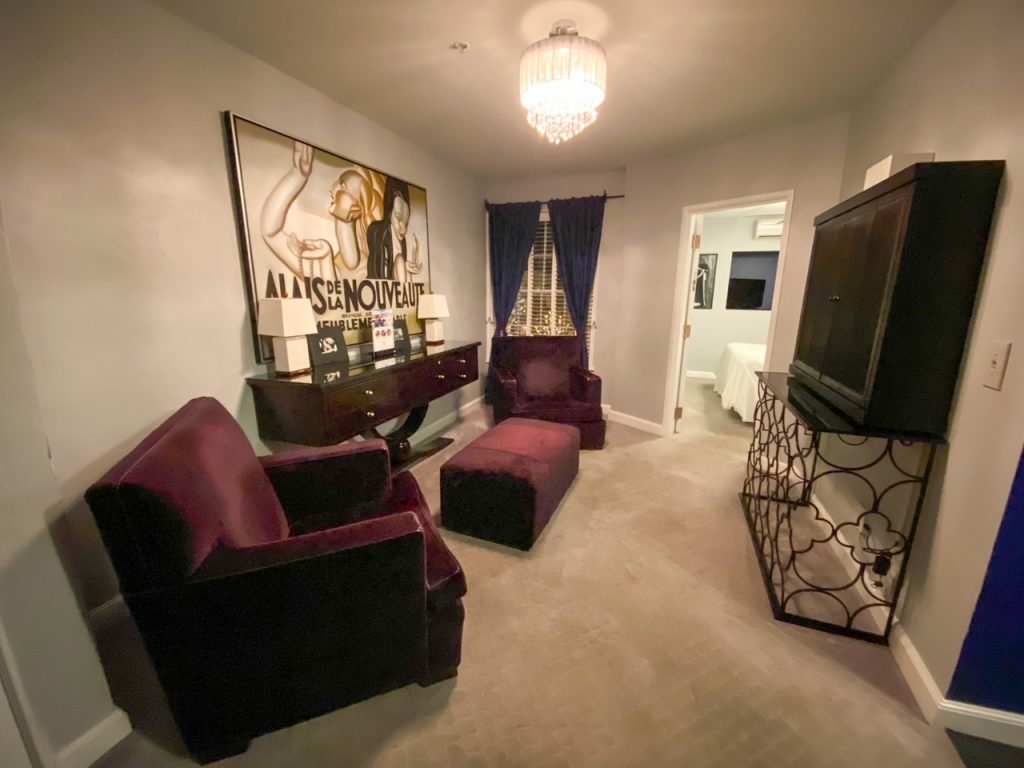 In 2005, the Boulder City Museum and Historical Association restored the hotel after decades of lack of occupancy, ownership changes, and renovations; it has since become the highest-ranked accommodation in Boulder City. This charming, boutique-style hotel was probably our favorite of our entire Southwest USA road trip!
Within the hotel itself is a restaurant, lounge, museum, art gallery, gift shop and more. But its location in the heart of a vibrant and artsy historical town is what makes this hotel so special.
Where to Eat Near Las Vegas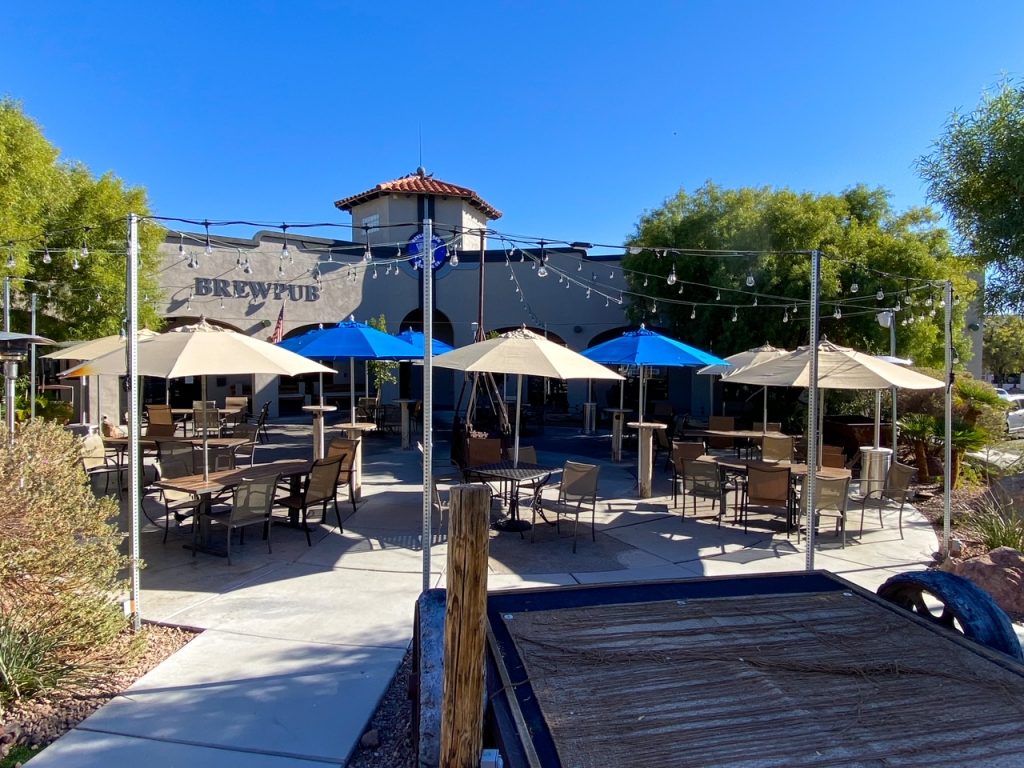 We enjoyed dinner at the Boulder Dam Brewing Company our first night in Boulder City. The service was great, the food was yummy, and there was live music. We were also able to sit outside, which was a relief since strict Covid precautions were still in place at the time. Plus, this place was right across the street from our hotel; very convenient!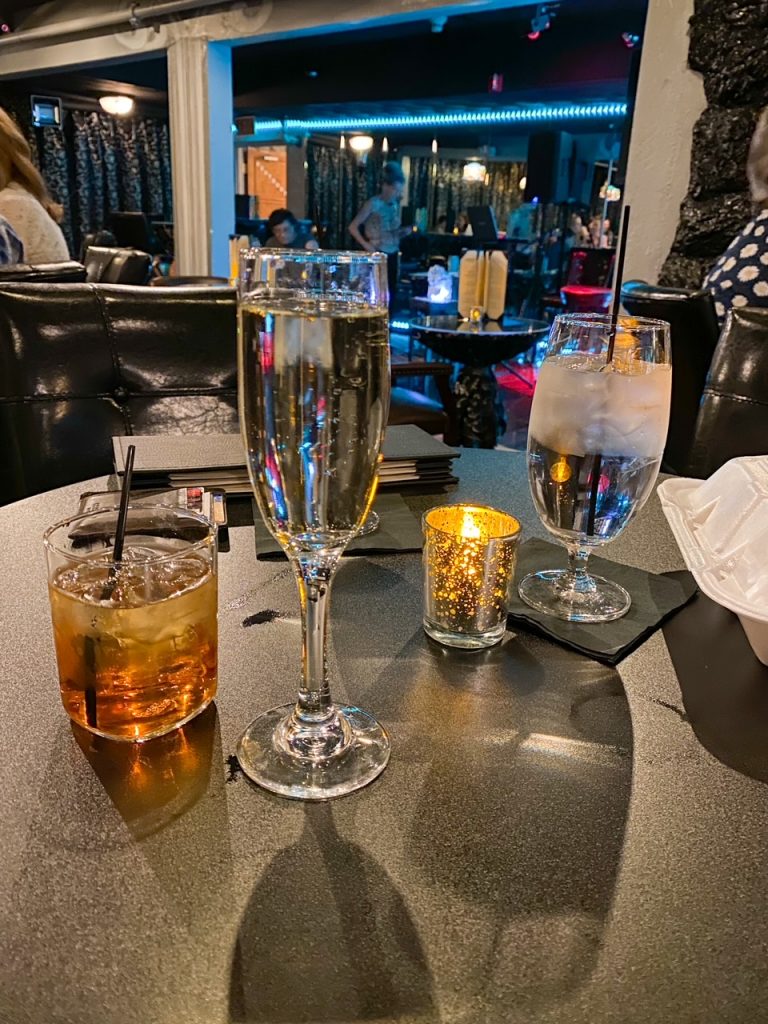 After dinner, we stopped by Cleveland's Lounge, located inside our hotel, and had a couple of drinks. Again, there was live music, and the saxophone player was coincidentally from Houston just like us! We bonded with him and his wife and got to request a couple extra songs.
The next morning, we had breakfast at the hotel restaurant, which was also quick and delicious.
Although we didn't try it ourselves, the Coffee Cup Cafe is world famous and very popular. It was even featured on Guy Fieri's Diners, Drive-Ins and Dives!
What to Do Near Las Vegas
Next, let's talk about what to do outside of Las Vegas. There are lots of places to visit near Las Vegas by car. Our favorite things to do in or near Las Vegas are off the strip and mostly outdoors.
Explore Boulder City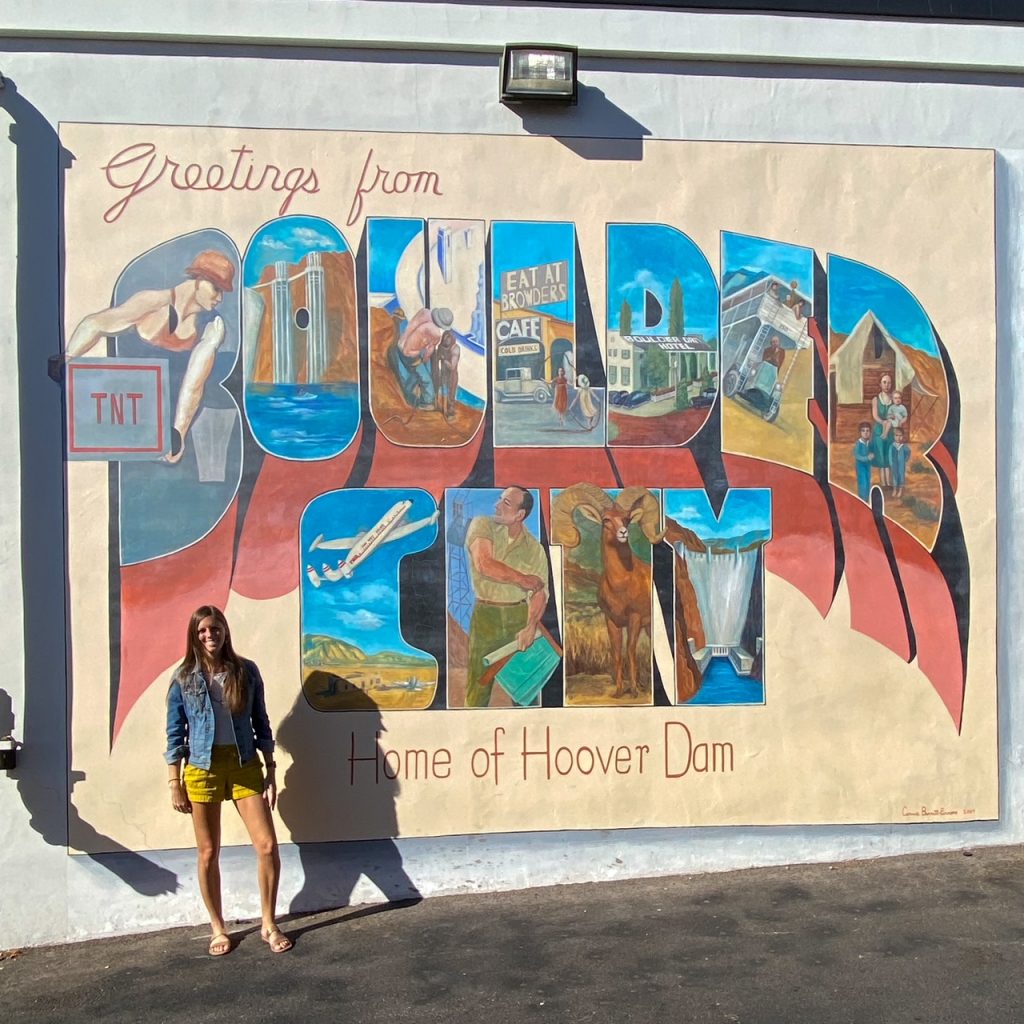 Created to host Hoover Dam construction workers, Boulder City is a municipality located about 30 miles southeast of Las Vegas.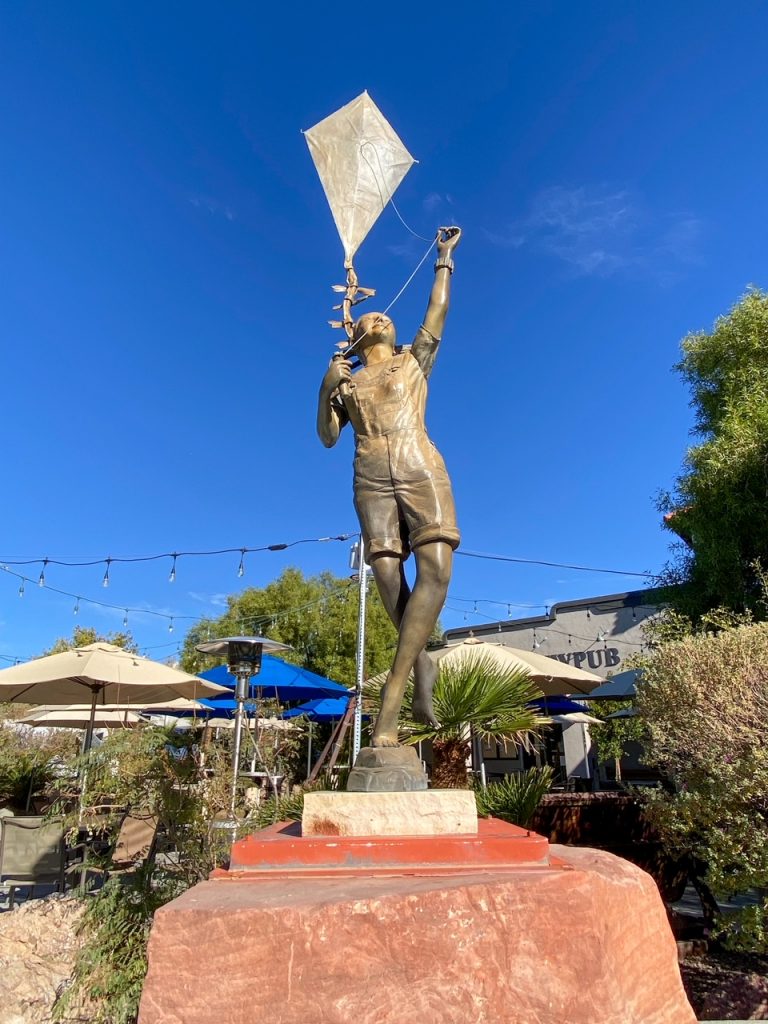 It's quite charming, so we spent some time after breakfast walking around and exploring the area. Everywhere we looked, there was a new sculpture! The area also offers lots of cute shops, cafes and bookstores.
Tour the Hoover Dam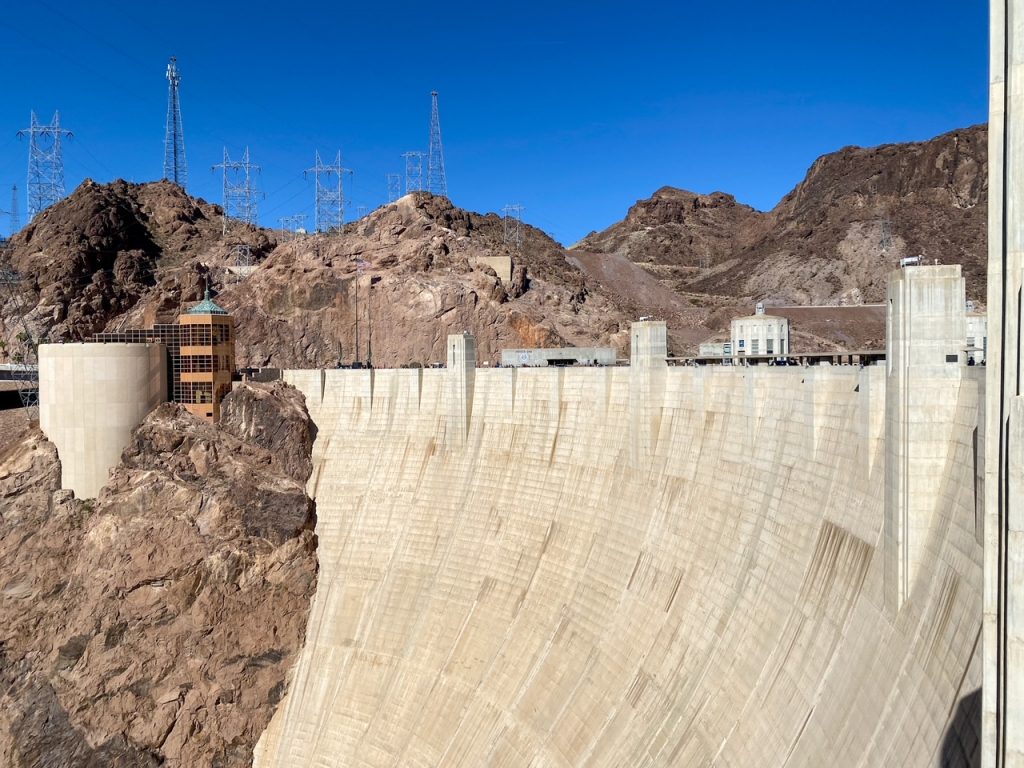 If you're staying in Boulder City like we did, a visit to the Hoover Dam is a must!
The Hoover Dam is a National Historic Landmark located on the Arizona-Nevada border in the Black Canyon of the Colorado River; and, it's "a testimony to a country's ability to construct monolithic projects in the midst of adverse conditions".
The now world-renowned structure was authorized by Congress in 1928. It was later built from 1931 to 1936 (during the Great Depression) with goals to control floods, to produce hydroelectric power and to provide irrigation water.
Such a structure had never existed before, and its construction required a massive effort from thousands of workers. There was a lack of facilities near the site, and summers were brutal; more than one hundred men lost their lives during the construction.
Originally named after President Herbert Hoover, the dam was dedicated in 1935 by President Franklin D. Roosevelt, whose administration changed the name (temporarily) to Boulder Dam.
Since then, it's been rated by the American Society of Civil Engineers as one of America's Seven Modern Civil Engineering Wonders and has become a major tourist attraction, bringing in nearly one million visitors each year.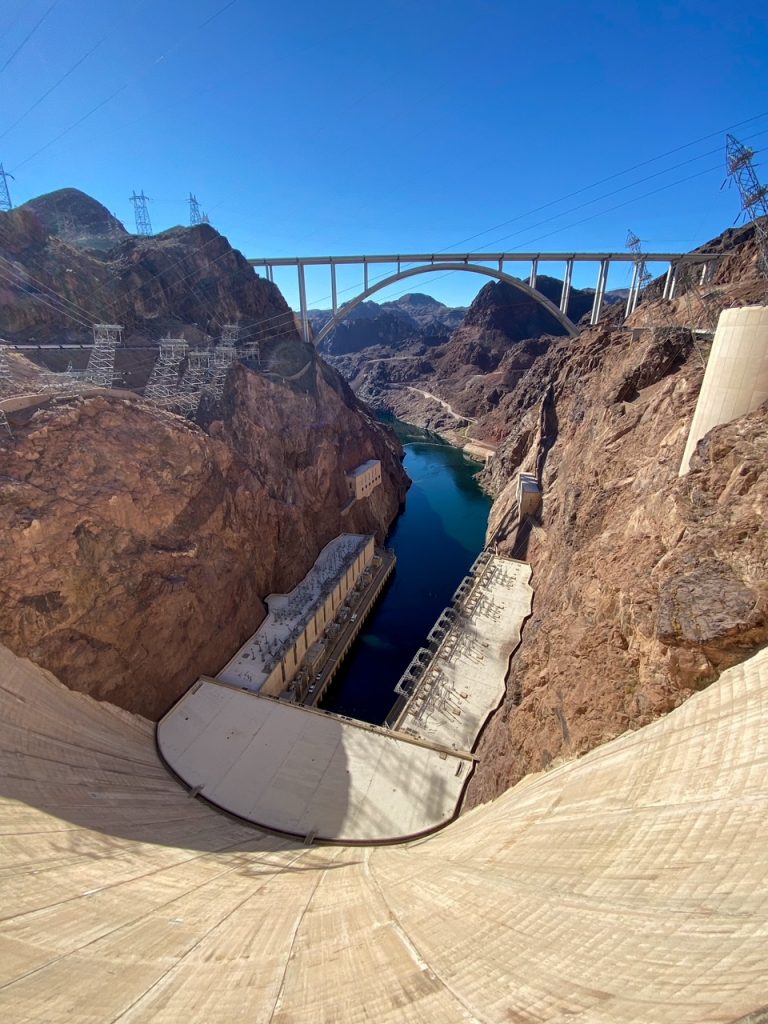 Hoover Dam is open daily from 5 am to 9 pm; the visitor center is open daily from 9 am to 5 pm (except for Thanksgiving and Christmas Day).
It's possible to visit for free (like we did!). However, there are also several tour options, each of which is inclusive of the former. The Self-Guided Visitor Center Tour is $10 and includes immersive exhibits that detail the history of Hoover Dam, as well as a 360-degree view of the dam, the Colorado River, Lake Mead and the Hoover Bypass Bridge from the Observation Deck.
The Guided Powerplant Tour is $15 and includes the Self-Guided Visitor Center Tour in addition to taking you through the original construction tunnels, to eight of the commercial generators in the Nevada Powerhouse, and to a viewing platform that overlooks a 30-foot-diameter penstock.
The Guided Dam Tour costs $30 and includes both the Guided Powerplant Tour and the Self-Guided Visitor Center Tour. Additionally, you'll take the original elevator to the top of Hoover Dam and get a view of the Colorado River through the inspection ventilation shaft.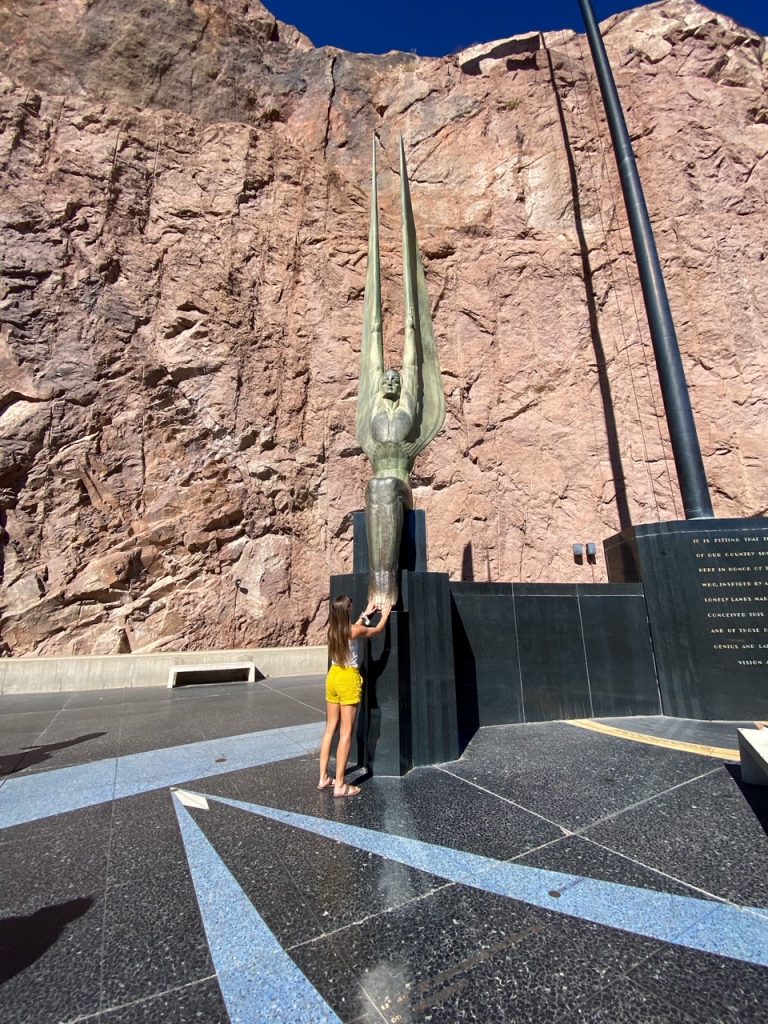 Hoover Dam doesn't have a street address, but we didn't have any issues finding it on Google Maps. The coordinates are N 36.016222, W -114.737245 just in case you need them.
There's a large parking garage (on the Nevada side) and a parking lot (on the Arizona side), both of which cost $10. Sorry, but unfortunately, parking isn't free!
Visit the Welcome to Fabulous Las Vegas Sign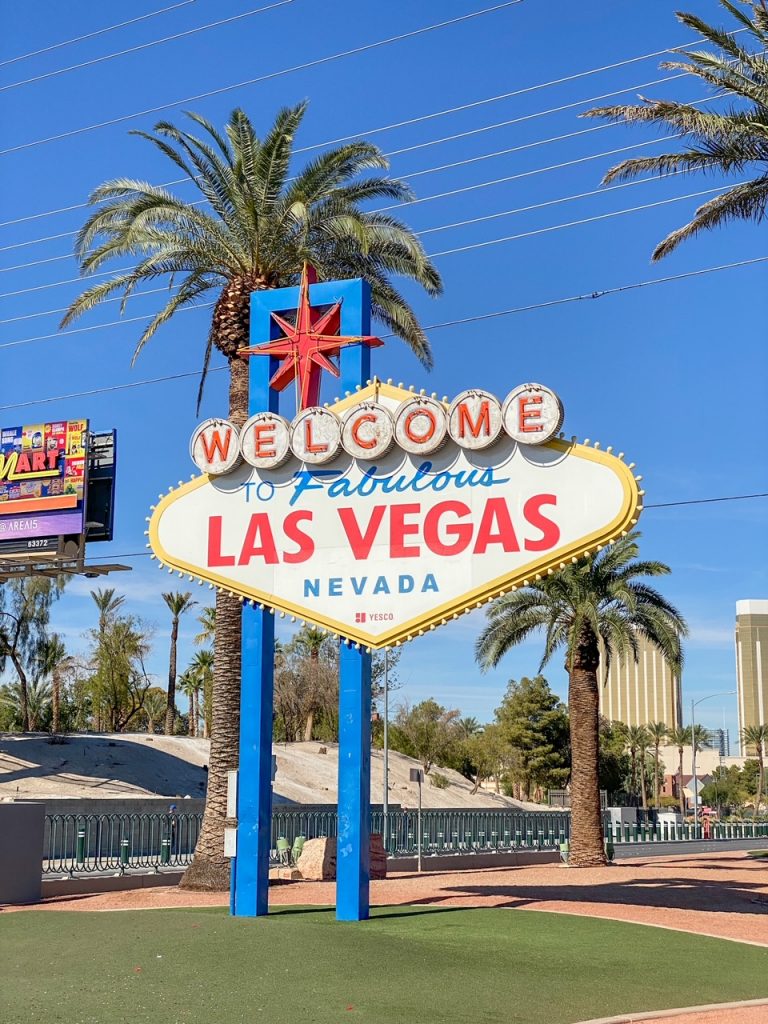 Getting a photo with the Welcome to Fabulous Las Vegas sign is another popular (and free) thing to do in Las Vegas off the strip.
Commissioned by Clark County and built and installed by Western Neon in 1959, the 25-foot-tall Welcome to Fabulous Las Vegas sign is one of the world's most visited tourist attractions – woah!
The sign was listed on the National Register of Historic Places in 2009 and was added to the State Register of Historic Places in 2013.
When Betty Willis, the sign's designer, died in 2015, Clark County commissioners declared May 5th "Betty Willis Day".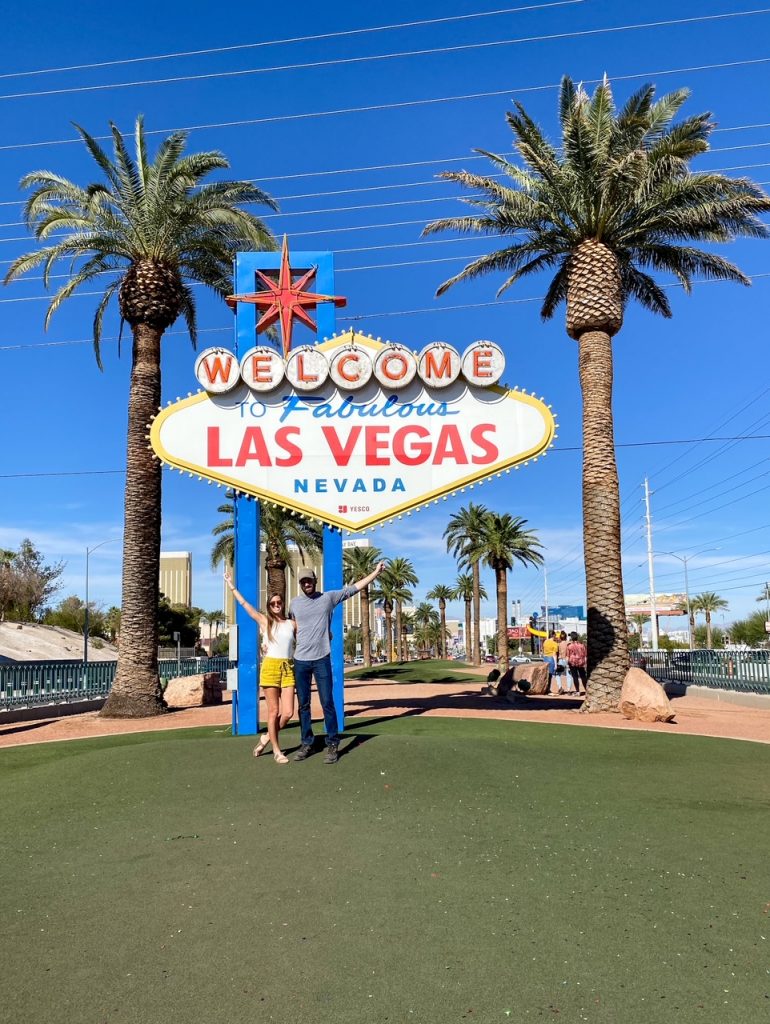 Although a popular tourist attraction now, this spot hasn't always been so easy to visit. Prior to 2008, photographing the sign was risky, as there was nowhere to park. Luckily, there have been ongoing site improvements since then to include the creation of parking spaces, loading areas for buses and limousines, crosswalks, traffic signals and more.
The sign is located at 5200 Las Vegas Boulevard South and is open 24 hours a day, 7 days a week. Make sure to get here early, or you'll be stuck waiting in line for a while like we did. We waited around 30 minutes for our quick photo opp.
A Broad Recommendation: plan out your photos beforehand and bring a tripod along instead of relying on someone else to take your photos. There will likely be folks onsite asking for payment to take your photos, and you may even run into some Elvis impersonators. Be sure to tip these folks if you engage with or take photos with them.
Admire the Seven Magic Mountains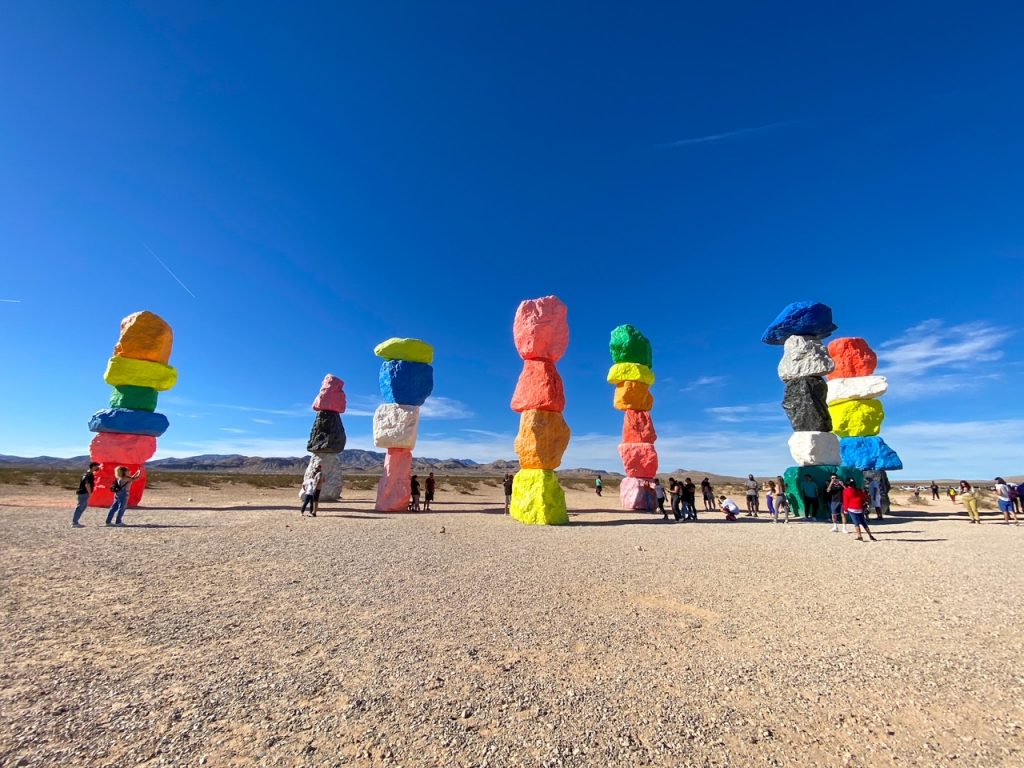 Another fun and free thing to do near Las Vegas is to visit the Seven Magic Mountains. If I'm being completely honest, visiting this exhibit was one of the driving forces behind planning our entire Southwest U.S. road trip!
Created by renowned Swiss artist, Ugo Rondinone, Seven Magic Mountains is an art installation located in the middle of the desert outside of Las Vegas. It features several 30- to 35-feet-tall multi-color totems made from locally-sourced boulders. These are similar to the stone cairns that mark the way for hikers on trails and travelers traversing unfamiliar landscapes.
According to the Seven Magic Mountains website, Rondinone chose this particular location, as "physically and symbolically mid-way between the natural and the artificial: the natural is expressed by the mountain ranges, desert, and Jean Dry Lake backdrop, and the artificial is expressed by the highway and the constant flow of traffic between Los Angeles and Las Vegas". He invites visitors to "contemplate the desert space and its history of human intervention".
The location is also significant in that it's near Jean Dry Lake, a place that's integral to the history of Land Art in the American West and where artists Jean Tinguely and Michael Heizer placed their artwork.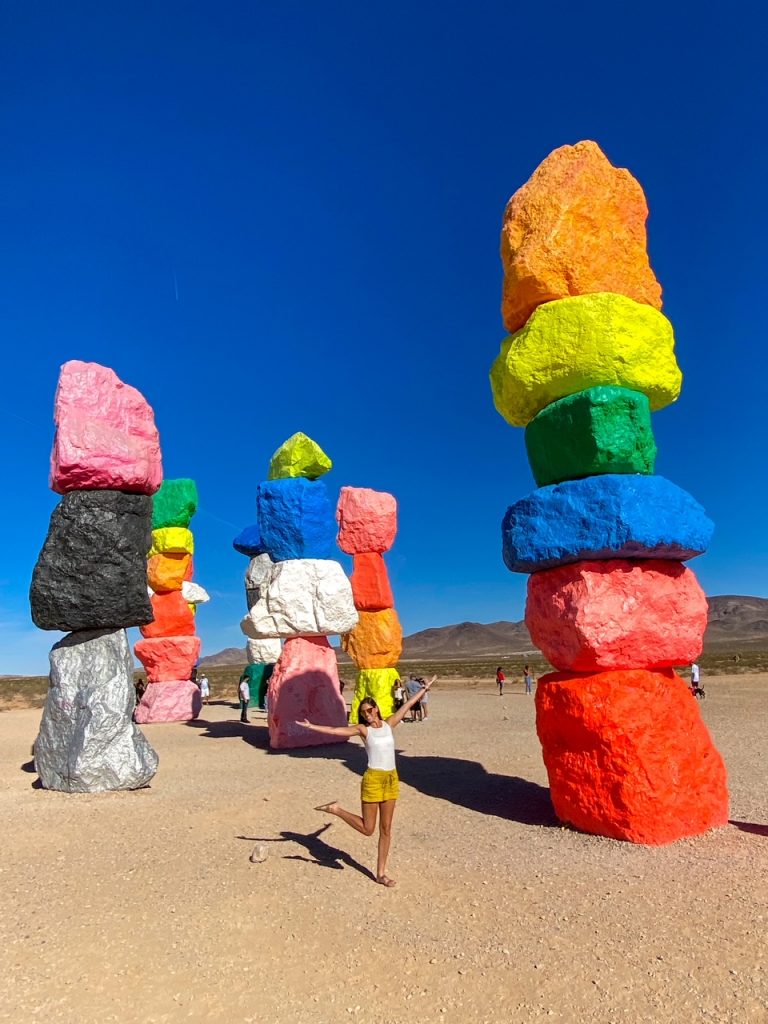 The address for Seven Magic Mountains is S Las Vegas Blvd. There are a few different ways to get to Seven Magic Mountains, including car rental, rideshare and group tours. If you're driving yourself, park in the designated parking lot, and follow the unpaved walking path that leads to the sculptures.
During your visit, leave no trace, take your trash with you and clean up after your pet; yes, they're welcome but must be on a leash! And, don't climb on or disturb the sculptures in any way.
Preferred visiting hours are from sunrise to sunset; camping isn't allowed.
Day Trip to the Valley of Fire State Park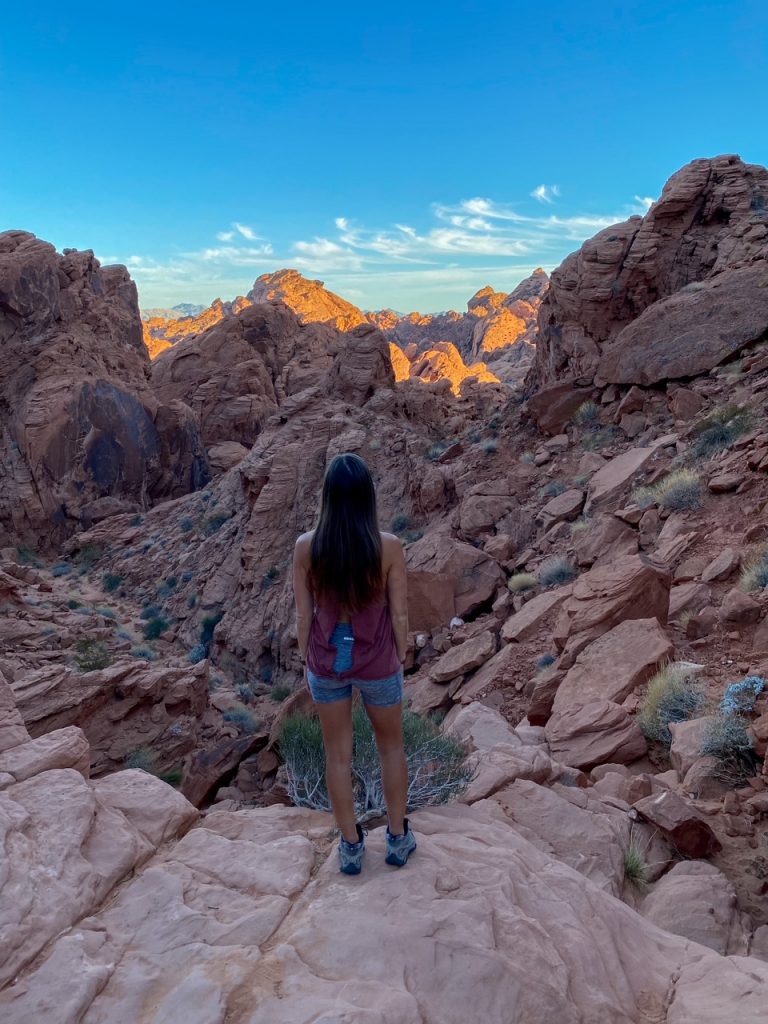 Located just one hour from Las Vegas, the Valley of Fire State Park is a great day trip spot! It offers unparalleled panoramic vistas, scenic drives, hiking trails, petroglyphs, and more. It's Nevada's oldest and largest state park and hosts more than 40,000 acres of red Aztec sandstone formations.
The park is open year-round from sunrise to sunset; the visitor center is open daily from 9 am to 4 pm.
You'll want to spend at least a half day here to experience all that the Valley of Fire has to offer. If you're looking for more information about what to do here, we've got you covered in our blog post, How to Visit the Stunning Valley of Fire State Park in Nevada.
Other Day Trips from Las Vegas
Beyond the Valley of Fire State Park, Las Vegas is also a great starting point for lots of other day trips. If you have more than a couple of days here, you may want to try one of these ten incredible day trips from Las Vegas.
What other recommendations do you have for things to do near Las Vegas? Leave us a comment below!
Pin this post, so you can refer back later!
XOXO Travel A-Broads