Heading to Frankfurt, Germany and looking for things to do in Frankfurt in one day (or more)? Whether you're visiting for a few days and using Frankfurt as a home base (like we did) or just here for a day or on a layover, Frankfurt has a lot to offer! This post details some of the best things to do in Frankfurt, what to see around Frankfurt, where to stay, where to eat and more. Let's dive in!
*P.S. this post contains some affiliate links. At no additional cost to you, we may earn a small commission when you make a purchase.
A Brief Intro to Frankfurt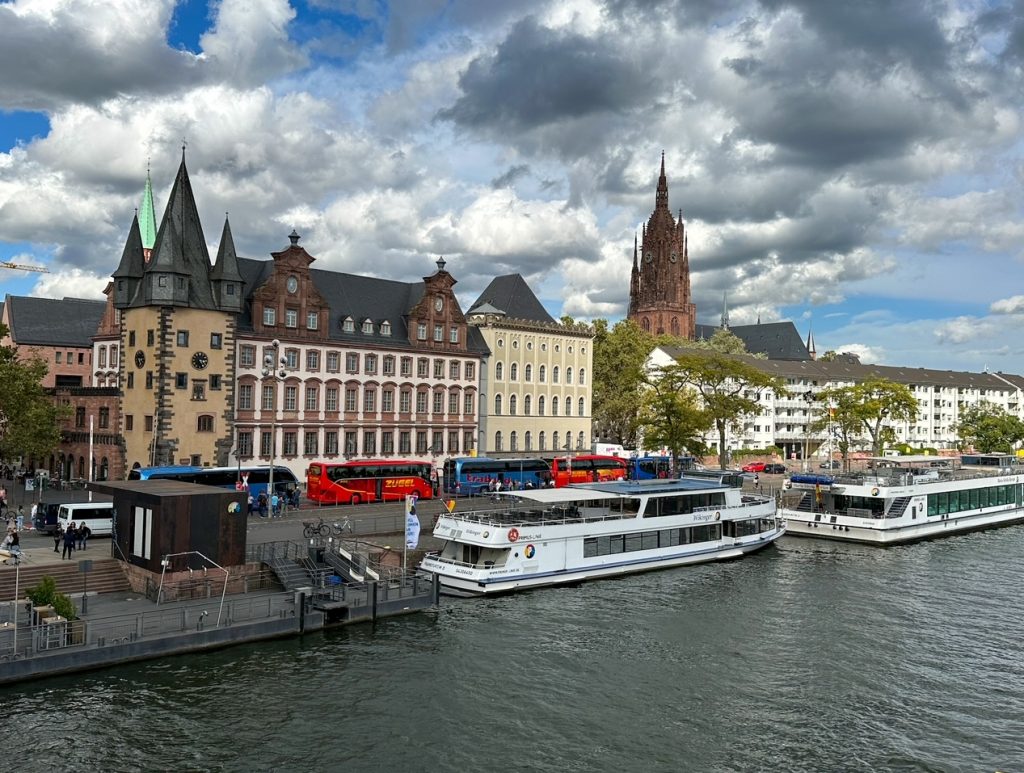 Located on the Main River, Frankfurt, officially Frankfurt am Main, is one of the most populous cities in Germany and is the heart of the Rhine-Main metropolitan region.
Frankfurt is a modern city that was largely destroyed and rebuilt after WWII and is a global hub for commerce, culture, finance, education, tourism and transportation. It's home to many global and European corporate headquarters, as well as the European Central Bank, Deutsche Bundesbank, the Frankfurt Stock Exchange and several large commercial banks.
The city is also home to many expatriates and foreign nationals and is culturally, ethnically and religiously diverse. Frankfurt is the most expensive city in Germany and one of the most expensive in the world, so have your wallet at the ready!
For nearly five centuries, Frankfurt was a city state called the Free City of Frankfurt and was one of the most important cities of the Holy Roman Empire, serving as a site for Imperial coronations. However, it lost its sovereignty upon the collapse of the empire in 1806 and then again in 1866, when it was annexed by the Kingdom of Prussia. Since 1945, it's been part of the state of Hesse.
A Broad Recommendation: If you're a book lover like me, plan your trip around the Frankfurt Book Fair. This is the world's largest book fair and takes place in mid-October!
Getting to Frankfurt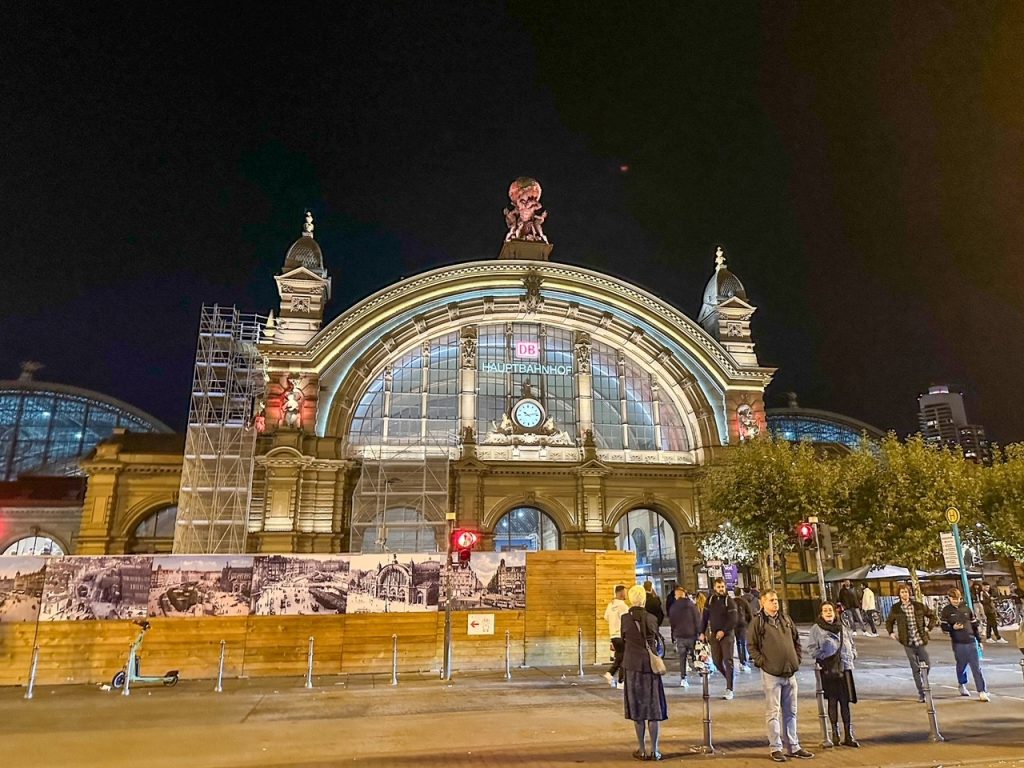 We took an overnight United flight from Houston and arrived in Frankfurt before noon the next day. Frankfurt Airport is the busiest airport in Germany and one of the busiest airports in the world, as it has the most direct routes and is the primary hub for Lufthansa, the national airline of Germany.
The easiest way to get to the Frankfurt city center from Frankfurt Airport is to take the S-Bahn light rail (S8 & S9) trains in the direction Offenbach or Hanau to Frankfurt's Hauptbahnhof, i.e. Frankfurt Central Station, Germany's second-busiest railway station. This will take around 15 minutes and costs around €5 per person.
Another option is to take the №61, 77, 72, 58, 62 (daytime buses) or N81 and N7 (night buses). The Frankfurt Airport bus №61 takes around 30 minutes and also costs around €5 per person. You can purchase your tickets from the driver before boarding.
Where to Stay in Frankfurt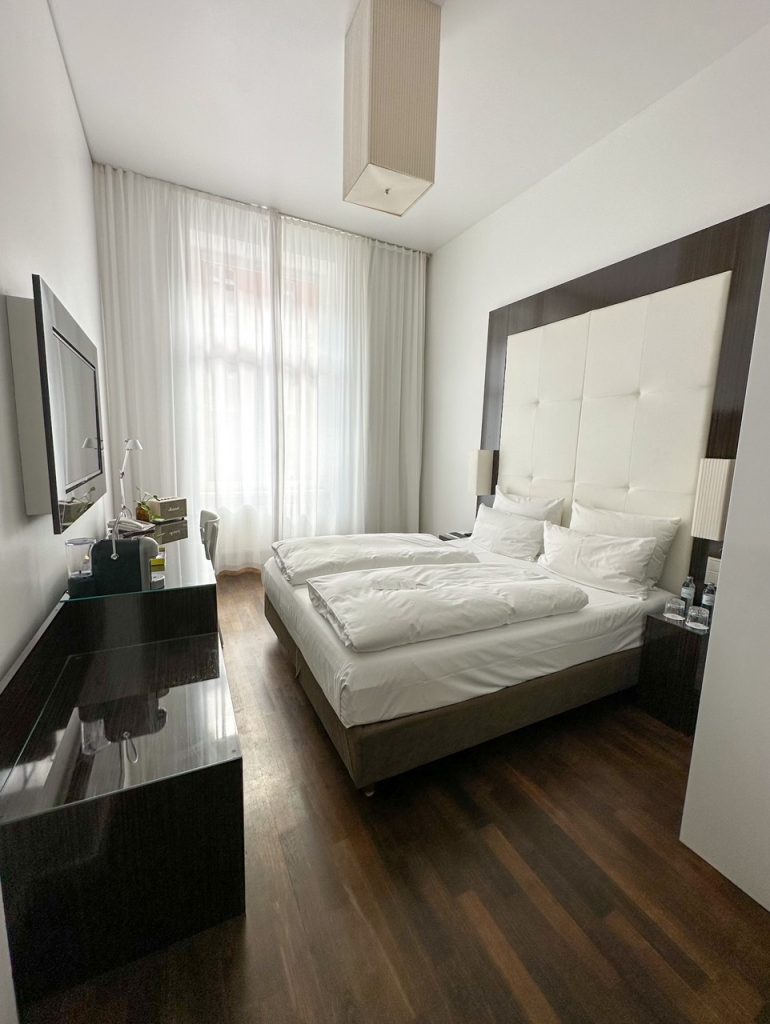 We stayed at The Pure, a Member of Design Hotels at both the beginning and end of our Germany trip, since we flew in and out of Frankfurt Airport. The hotel is lovely and has a nice bar and lounge downstairs and a 24-hour sauna and gym (that we unfortunately didn't have time to use). Plus, you really can't beat the location, which is just a short walk from Frankfurt Central Station.
The bedrooms were warm at night, which isn't ideal if you run hot while sleeping like I do. Luckily, the weather was nice during our visit, so we were able to open the windows to cool off.
A Broad Recommendation: Ask for a room on one of the higher floors and away from the street, as there's some street noise at night, especially on the weekends. You'll also want to opt in for the breakfast buffet—it's delicious!
Things to Do in Frankfurt
There are tons of things to do in Frankfurt! However, since we arrived in Frankfurt just before noon, we only had one full afternoon to explore. Here's what we did.
Explore Historic Römerberg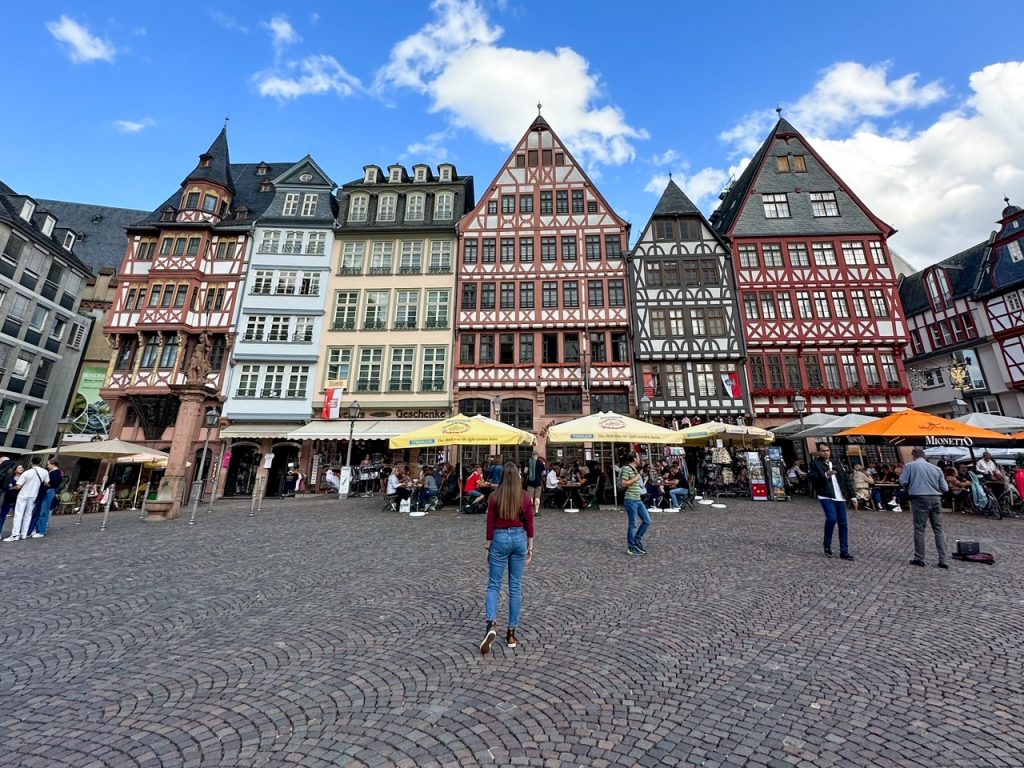 First, we made our way to Römerberg, a lively and historic market square situated in the heart of Frankfurt's Altstadt (Old Town). Römerberg translates to 'Roman Mountain' and was formerly the site of the Holy Roman emperor's coronation ceremonies. Now, it hosts various trade fairs and the popular Frankfurt Christmas Market and is one of the most popular things to do in Frankfurt.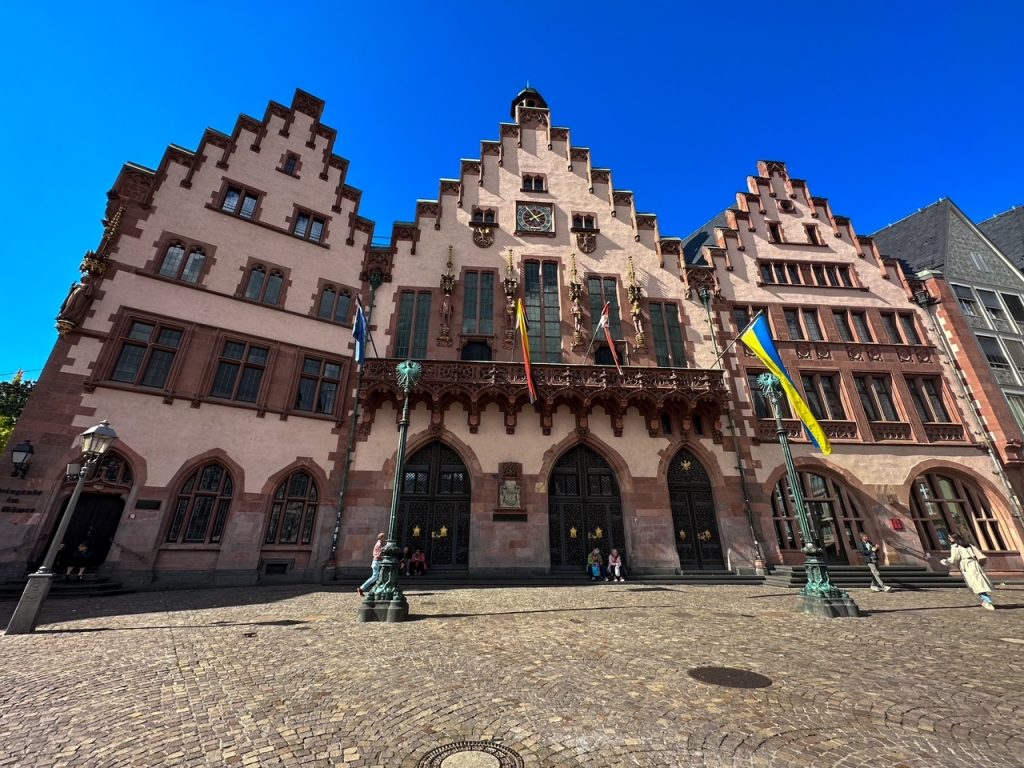 Located opposite the Old St. Nicholas Church, the Römer is one of Frankfurt's most important landmarks. This medieval building has served as Frankfurt's city hall (Rathaus) for more than 600 years. When you look at the set of three interconnected buildings with ridged roofs, the Haus Römer is in the middle.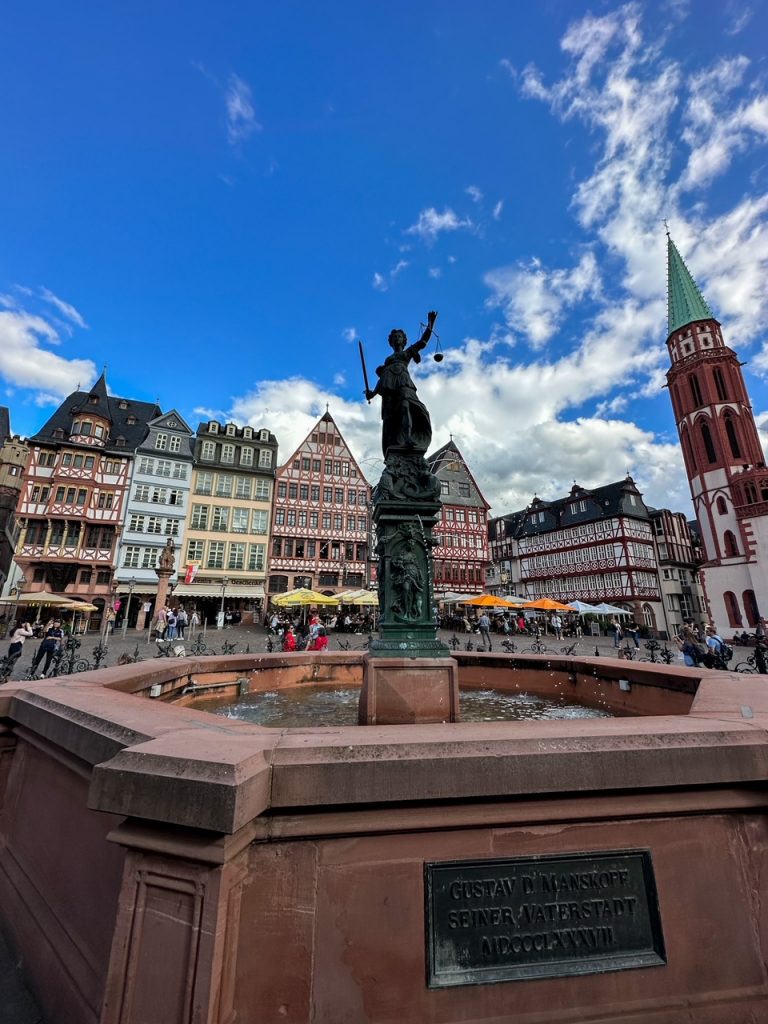 Römerberg was once the largest timber-framed old town in Europe. But, in 1944, much of the area, including the Römer, was destroyed in one of the heaviest bombings of WWII. After the war, the buildings were restored, albeit in a simplified form, and the cute row of half-timbered houses opposite the Römer offer a glimpse into the quaint old town that was once here.
Hours: All day
Cost: Free
Time to Visit: 20 minutes (or more if you plan to shop, eat or drink here)
Visit Frankfurt Cathedral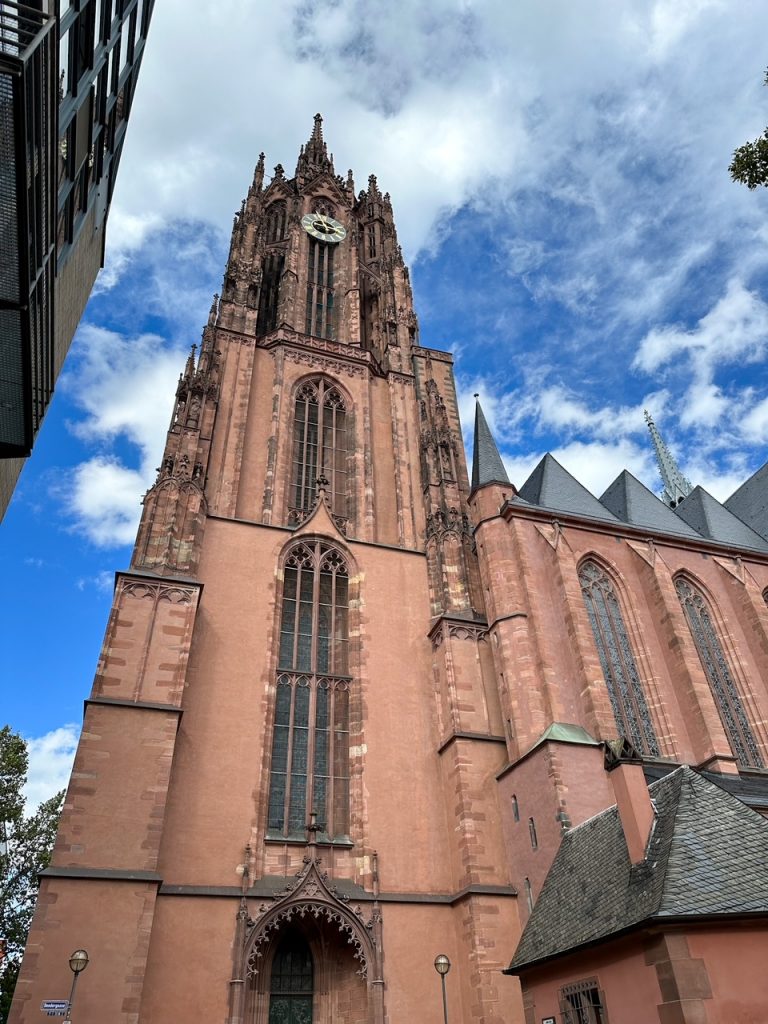 St. Bartholomew's Cathedral, or more simply Frankfurt Cathedral, is a Roman Catholic Gothic church and the largest religious building in Frankfurt.
It's a former collegiate church and the former election and coronation church of the Holy Roman Empire. Between 1562 and 1792, ten Holy Roman Emperors were elected and crowned here, and because of its significance in Imperial history, St. Bartholomew's Cathedral was seen as a symbol of national unity in Germany during the 19th century.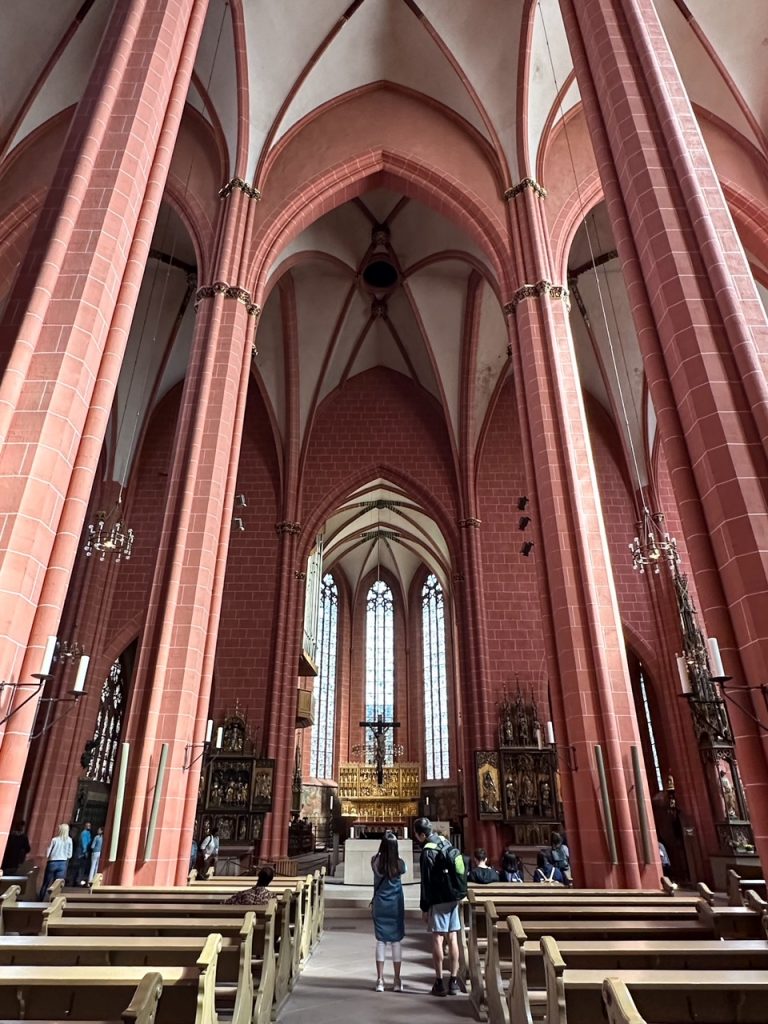 The present church is the third to be built on this site, and excavations have revealed buildings that can be traced all the way back to the 7th century—wow!
The cathedral was destroyed during a fire in 1867 and again during WWII. It was rebuilt and reopened in 1955. The 15th century, red, sandstone chapel of Sleeping Mary (to the left of the high altar) was too large to move and was thus fortified with sandbags prior to the bombings of WWII. Both the altarpiece and the fine stained glass next to it survived.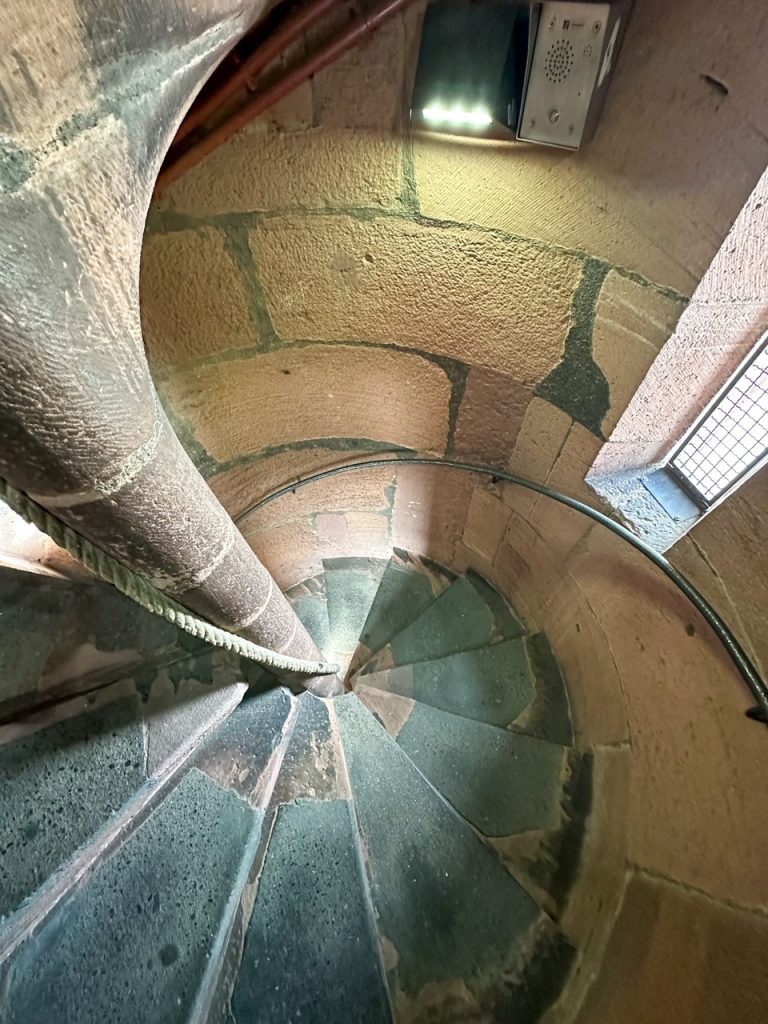 One of the best things to do in Frankfurt is to climb St. Bartholomew's 328-foot-tall tower via its (very narrow) spiral staircase. The top offers unparalleled views of the Old Town and the renowned Frankfurt skyline. The Frankfurt skyline features some of Europe's tallest skyscrapers and is sometimes referred to as 'Mainhattan', a name that references both New York City's Manhattan and Frankfurt's River Main.
Hours: 9:00 am – 8:00 pm
Cost: Free to enter the cathedral & €6 per person to climb the tower
Time to Visit: 1 hour
Stroll Along the Mainkai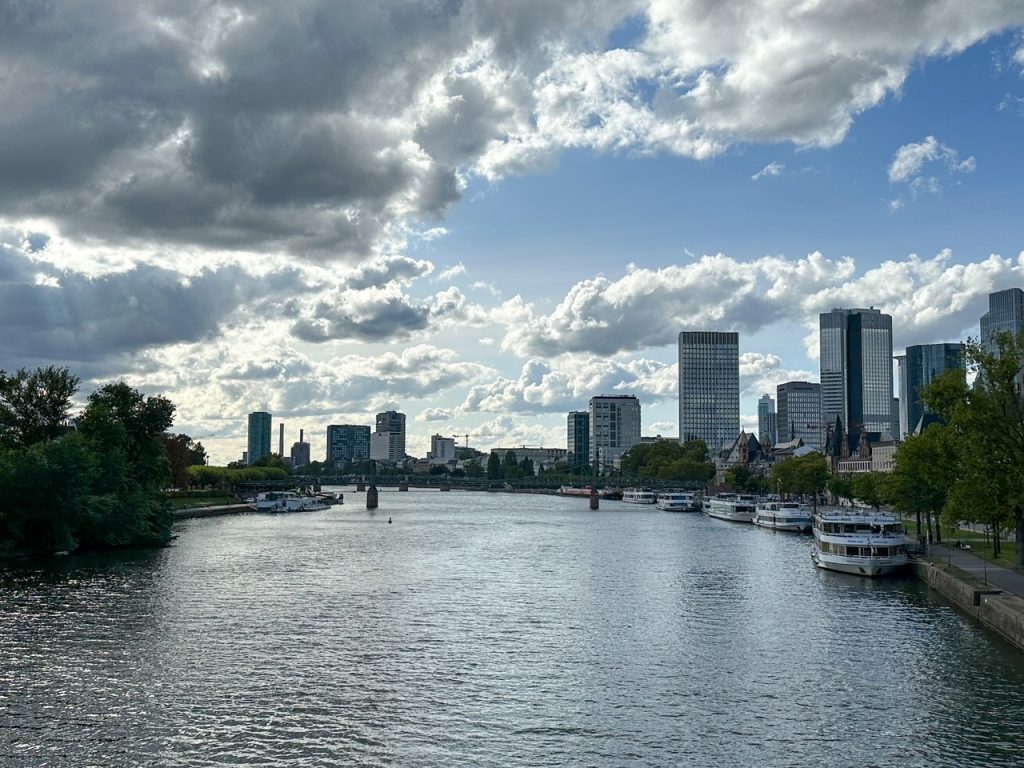 Located on the right bank of Frankfurt's Main River, the Mainkai is the main promenade for pedestrians and cyclists. It's a great place to take a stroll, to have a picnic and relax, and to take photos, as the trail follows the water and offers views of the river, several bridges and churches and the Frankfurt skyline.
You can also consider popping in to a cozy riverside café or beer garden or booking a boat tour or river cruise from here.
Hours: All day
Cost: Free
Time to Visit: 20 minutes
Walk Across the Eiserner Steg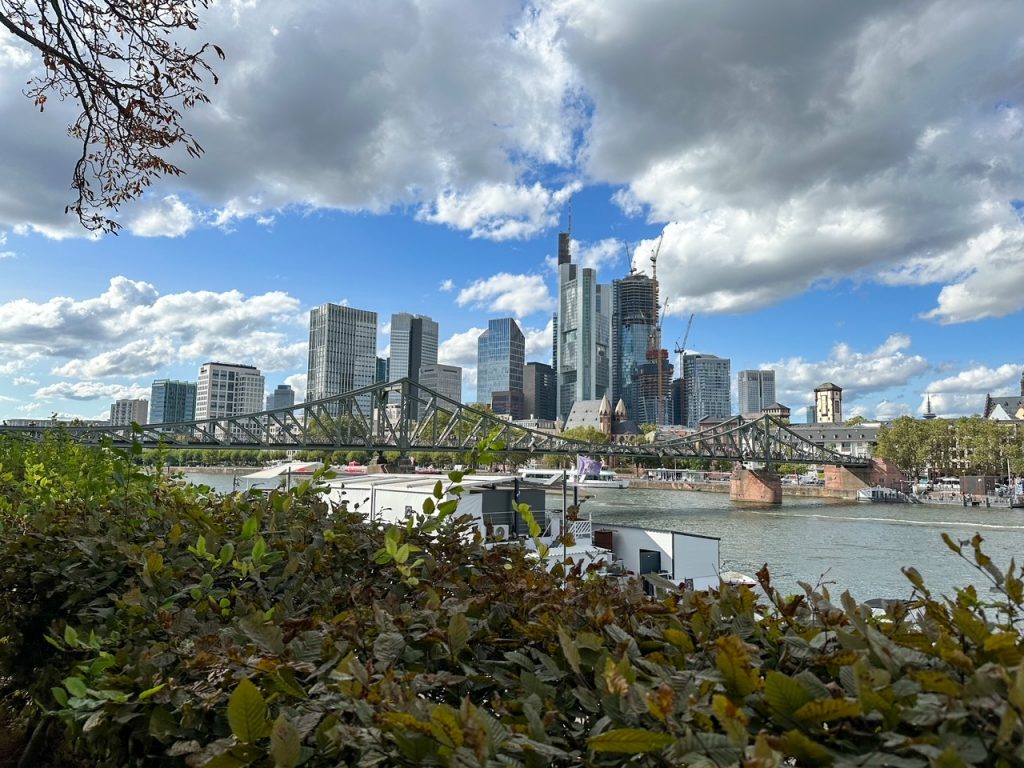 Another one of the top things to do in Frankfurt is to cross the Eiserner Steg, a neo-Gothic-style, iron and concrete footbridge that spans Frankfurt's Main River.
It was first built in 1868 and has gone through several changes since then. One of these occurred shortly after WWII, since the bridge was destroyed during the final days of the war. The last round of renovations took place in 1993.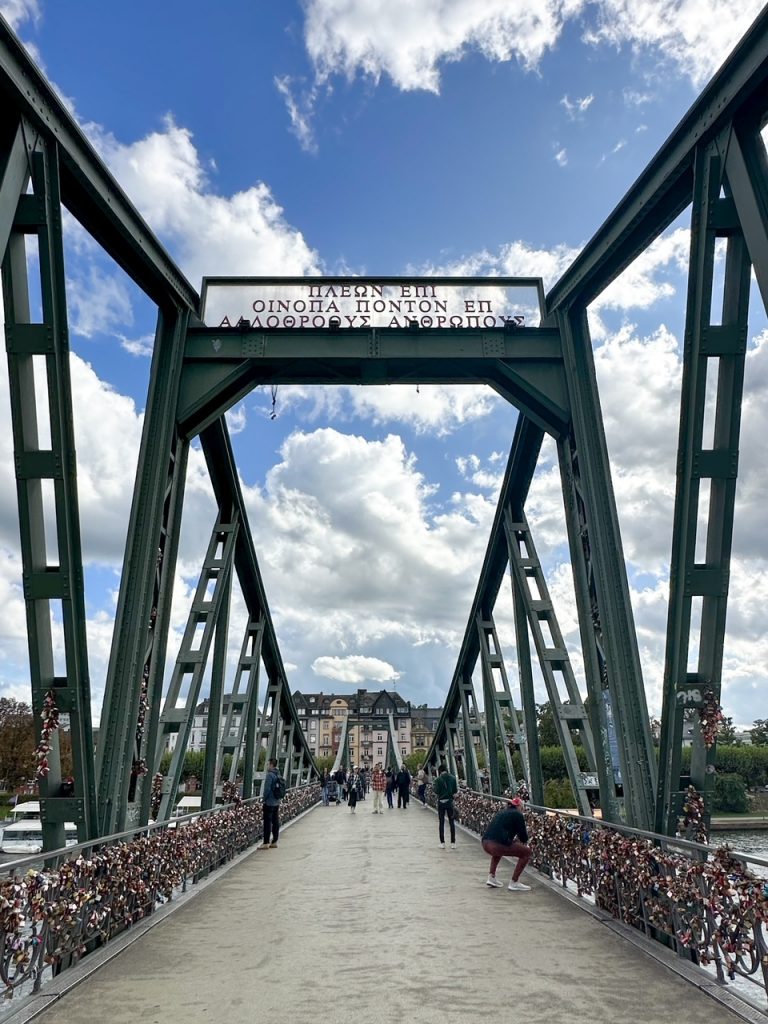 Now, the Eiserner Steg is crossed by more than 10,000 pedestrians each day. It connects Frankfurt's city center with the district of Sachsenhausen. It also offers one of the best views of the Frankfurt skyline and is one of the most popular photo spots in the city.
Hours: All day
Cost: Free
Time to Visit: 20 minutes
Have a Drink at Balthasar Ress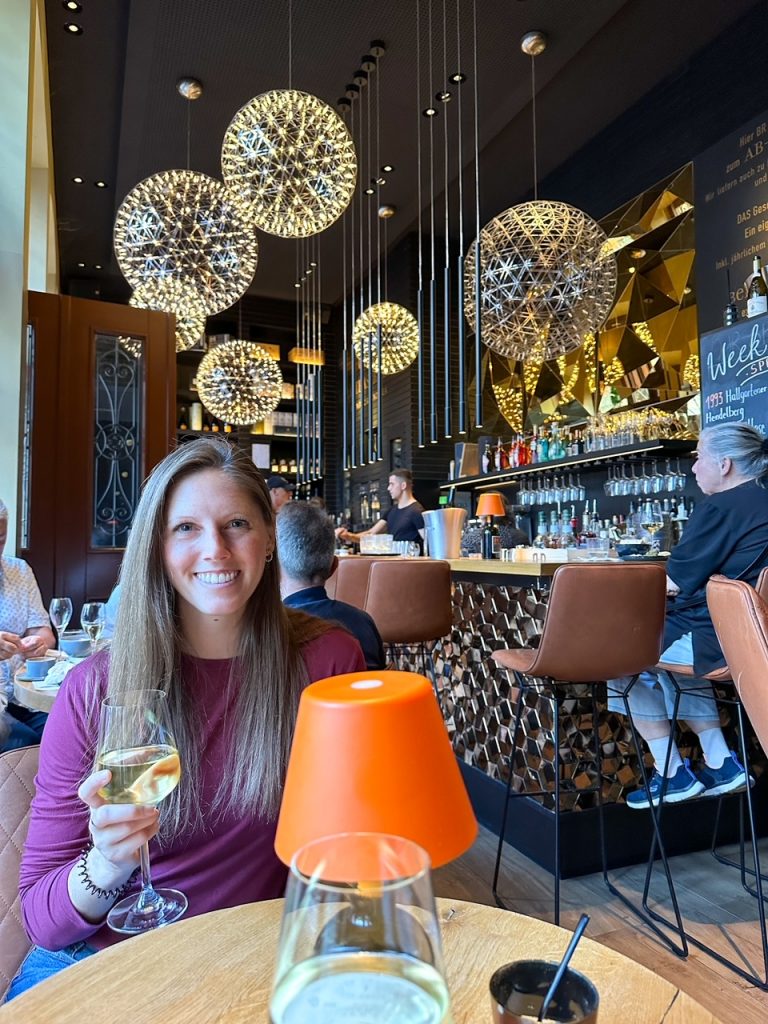 Known as a "cosmopolitan spot" in the New Old Town of Frankfurt, Balthasar Ress combines style and class into a bold and elegant wine bar.
They offer a variety of their own wines, which are grown in the beautiful Rheingau wine region, in addition to other international and local German wines and yummy mixed drinks. Their bistro kitchen also offers small dishes to go with the wine.
We loved this spot, and it seems to be quite popular! We visited during a lovely, fall day in September. All of the seats outside were taken, but the windows were open, creating a lovely experience inside as well.
Hours:

Monday – Wednesday: 3:00 – 10:00 pm
Thursday – Friday: 12:00 – 10:00 pm
Saturday: 11:30 am – 10:00 pm
Sunday: 11:30 am – 8:00 pm
Closed on public holidays

Price: $$ – $$$
Enjoy Dinner at Emma Metzler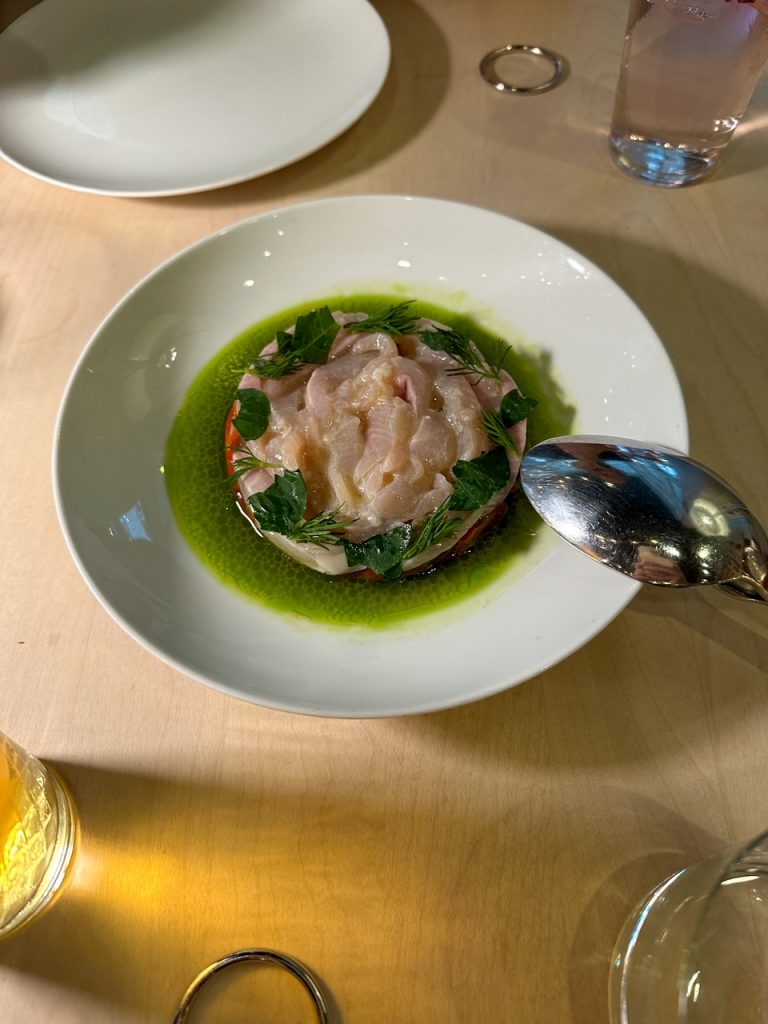 According to Time Out Magazine, Emma Metzler is one of the best restaurants in Frankfurt. The restaurant is located in the Frankfurt Museum of Applied Arts on the Museumsufer and offers a French-German menu created by chef and owner, Anton de Bruyn.
De Bruyn gained a lot of experience in international star cuisine after working in Hamburg, Vienna and London and incorporates one of the latest trends in top international gastronomy, neo-bistro cuisine. All of Emma Metzler's dishes are derived from local products, which are provided by local suppliers.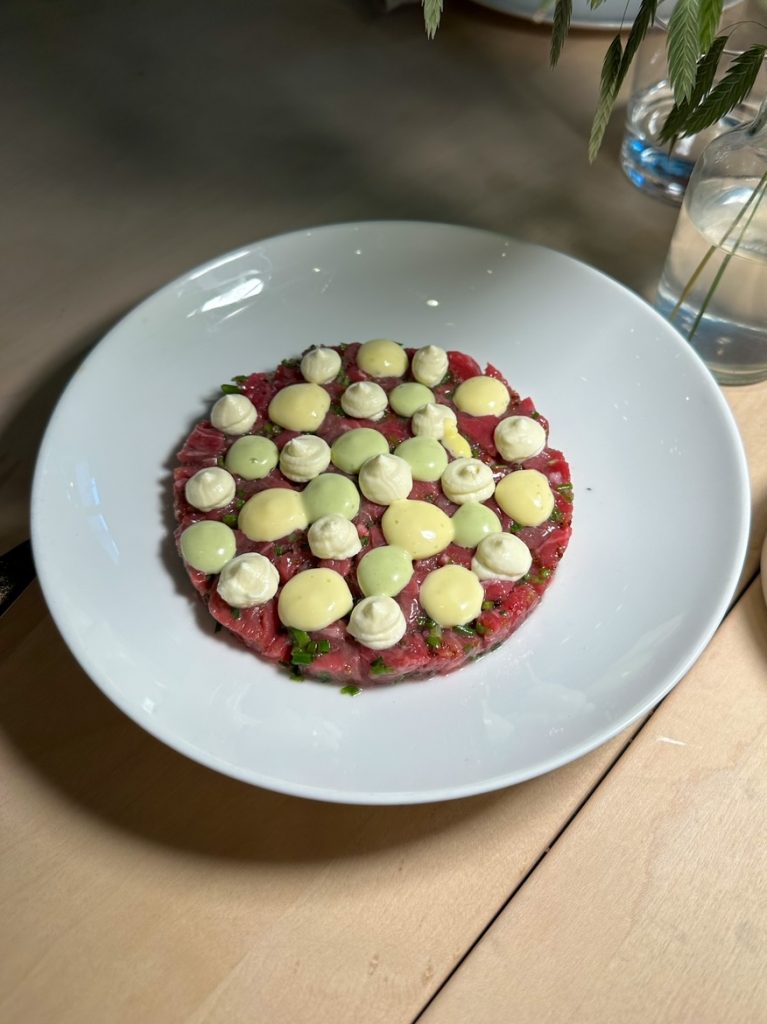 A Broad Recommendation: When in Frankfurt, be sure to try some traditional German cuisine like Apfelwein (apple wine), Grune Sobe (green sauce), Handkase bit Musik (marinated cheese) and Schnitzel.
The restaurant's design mimics the bistro theme and boasts a modern, contemporary style with its fresh, colorful accents and décor. The simple chairs and light maple table tops are reminiscent of the inns that were once typical in Frankfurt and the surrounding area and make the restaurant feel like a museum itself!
If the weather is nice, you can also opt to eat outside on the spacious terrace, which has a view of the museum park.
A Broad recommendation: If you visit on the last Saturday of the month, your entrance to the Frankfurt Museum of Applied Arts is free.
Hours:

Tuesday – Friday: 12:00 – 2:00 pm & 6:00 – 10:00 pm
Saturday: 12:00 – 3:00 pm & 6:00 – 10:00 pm
Sunday: 12:00 – 3:00 pm
Closed Mondays

Price: $$$$
Other Things to Do in Frankfurt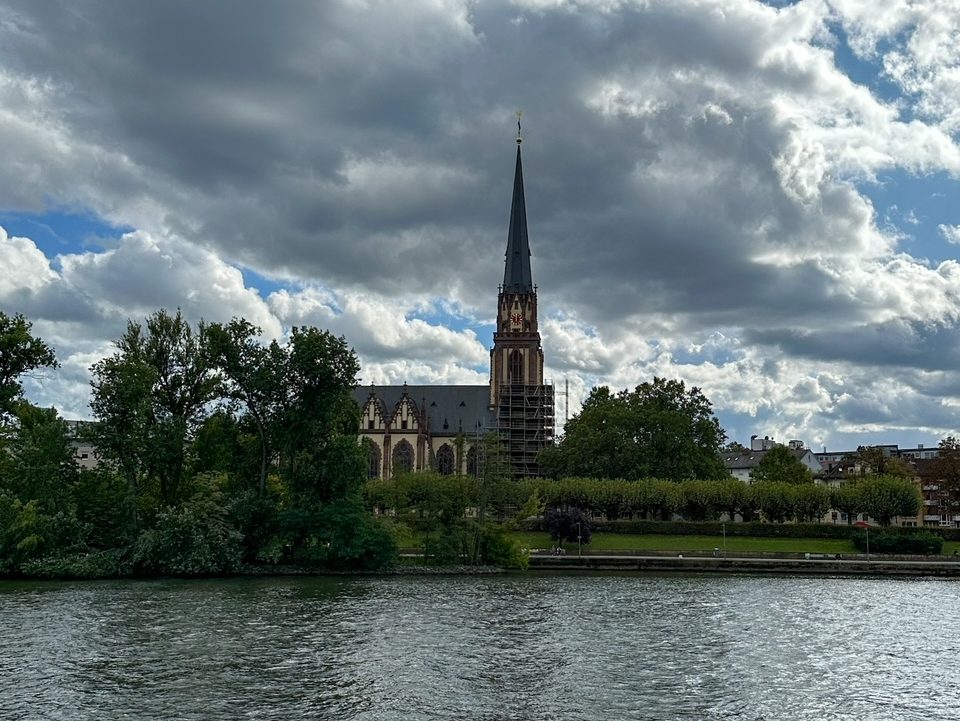 Of course, we couldn't see everything in Frankfurt in one day. Here are some other things to do in Frankfurt that we'd like to try next time.
Palmengarten Botanical Garden – a botanical garden that houses around 13,000 plant species
Zeil – a lively department store-lined pedestrian street
Museumsufer – Frankfurt's museum embankment, which consists of nine museums that line the Main River along Schaumainkai, the riverside promenade across the river from Römerberg
Saalgasse ('Hall Street') – a lane of postmodern buildings that echo the buildings that stood here before WWII
Have you ever been to Frankfurt? If so, what were your favorite things to do in Frankfurt? And if not, what would you do first from this list?
XOXO Sara at Travel A-Broads